Amazon FBA Dropshipping: Tips & Opportunities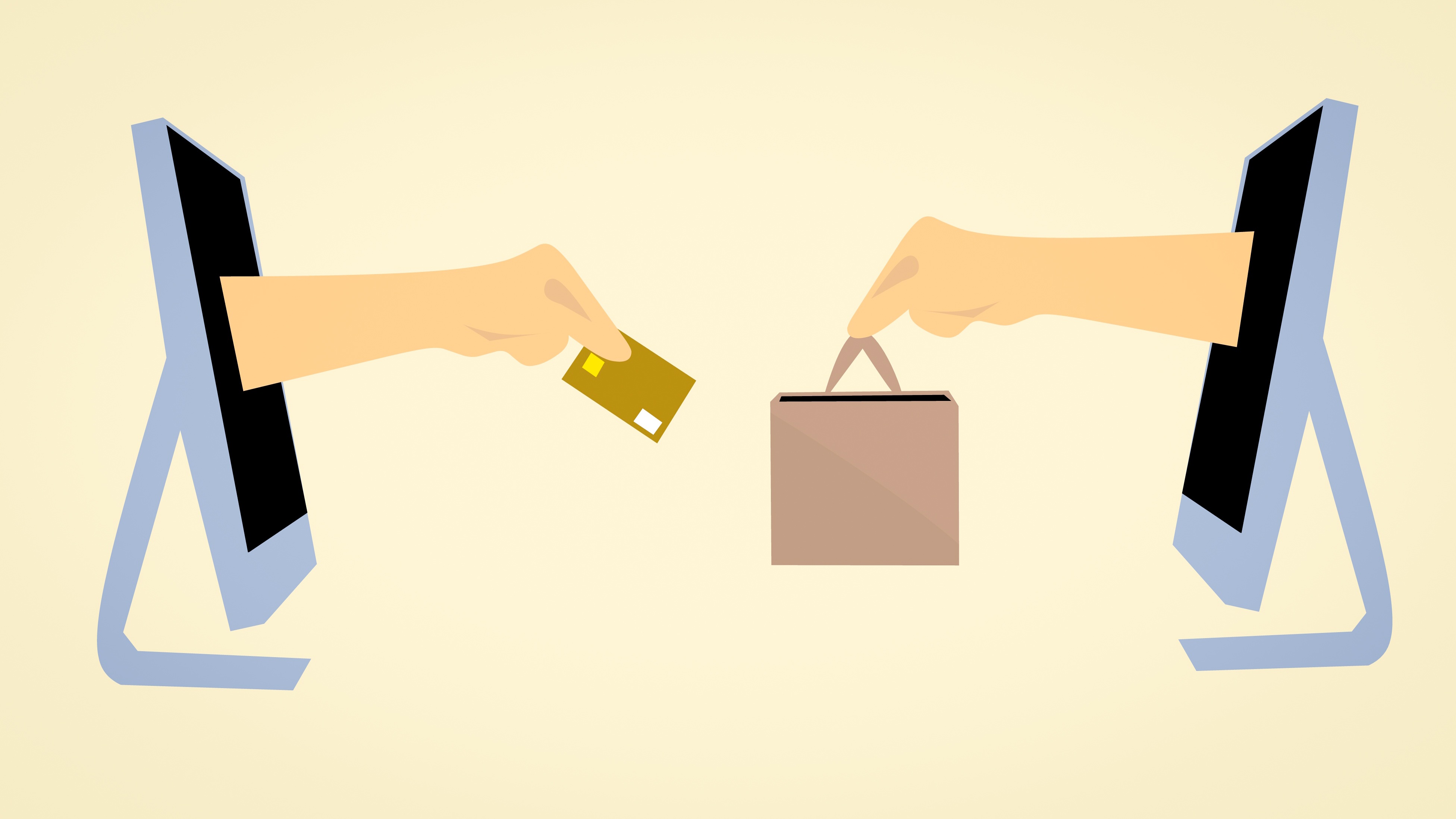 Amazon FBA Dropshipping
Amazon FBA dropshipping is a retail method in which online retailers list their products on Amazon as third-party sellers. This FBA model (which stands for fulfilled by Amazon) is simply a means of running an online store that allows you to benefit from Amazon's tremendous reach and huge user base. Think of it as a collaboration with Amazon, in which both parties benefit. On one hand, Amazon can offer its users a variety of merchants with differing prices, thereby allowing them to remain competitive in online retail. On the other hand, dropshipping retailers benefit from Amazon's dominance in the global marketplace and the immediate sense of legitimacy that it grants its third-party merchants.
In other words, operating within this e-commerce business model gives you a certain degree of independence while still benefiting from Amazon's reputation and tremendous reach with online shoppers. It can be highly profitable if the right tools are implemented; in fact, learning how to be a dropshipper on Amazon is a fairly intuitive process with the proper guidance.
Benefits of Amazon for Dropshipping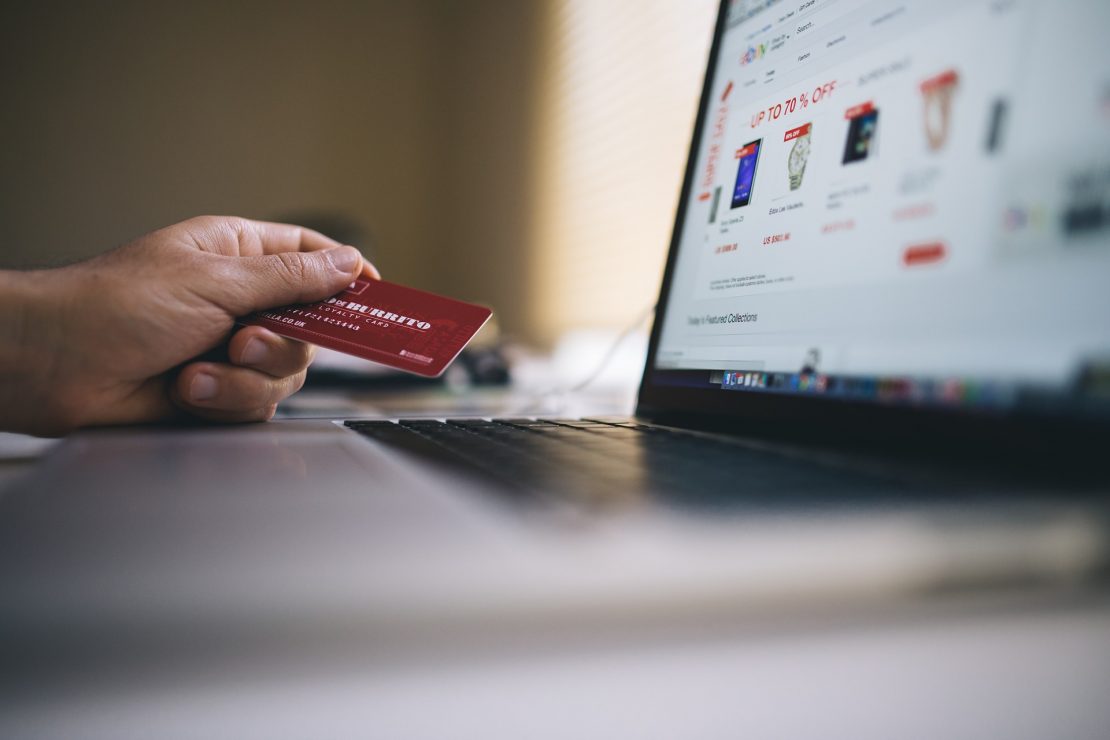 There are a number of excellent reasons for dropshipping on Amazon, including:
Consumers trust Amazon since it's been around for almost 25 years (it started in 1995).
You will have access to Amazon's 2.5 billion monthly shoppers.
According to a recent SWOT analysis, Amazon's annual revenue in 2017 was $3.033 billion – a 30.8% increase from the year before. Additionally, over 50% of these sales come from third-party sellers.
Online retailers who use FBA experience a 30 to 50% increase in sales.
Your e-commerce business will be easily scalable – you can make your online store as big or small as you like.
There are various kinds of sales estimation software that help you predict your sales in advance (see section below).
According to a study conducted by BloomReach, 9 out of 10 consumers will price check a product on Amazon.
As you can see, these are all very compelling reasons. But let's take a moment to look at number 7) a little more closely. What's particularly striking about this figure is the fact that these consumers will price check on Amazon even if they have found the same product at another online store!
What does this mean exactly? Well, Amazon has to be visited every time a consumer is shopping online. Shoppers no longer view it as optional – it is a must-see website. This is because it has developed a stellar reputation based around its competitive pricing, reliable customer service, and quick shipping. As an FBA dropshipper, you will effectively benefit from this excellent reputation. Essentially, shoppers will view you as an extension of Amazon even though you are technically an independent, third-party seller. It's a win-win proposition for everyone involved!
What Is the Ideal Product for Amazon FBA Dropshipping?
Are you trying to find the perfect product to sell on Amazon? Here is a checklist you can use to help you out:
Choose products that are in the "sweet spot": $20 to $100. This will ensure that your profit margins stay healthy and do not get overwhelmed by FBA fees.
Find products that are in demand and have at least 10 sales a day.
Make sure that your product names have keywords that people are searching (see below for relevant keyword research tools).
Choose products that aren't seasonal and can be sold throughout the year.
Try to find products that are lightweight (up to 5 pounds), compact, and not fragile.
Pick a niche or a category of products that can be easily expanded to include related products (essential oils plus essential oil diffusers, for example).
Try to choose a category in which consumers you will come back to purchase products  – remember, you always want regular customers.
These are general guidelines and do not need to be adhered to exactly. Additionally, you can avoid any issues by choosing a great dropship supplier. For example, some suppliers offer excellent pricing plans for shipping items of varying weights and even specialize in packaging fragile items.
Tools You Need to Succeed at Amazon FBA Dropshipping
As an online retailer, it's absolutely vital that you take every chance to get a leg up in a highly competitive retail environment. Amazon FBA dropshipping is popular because it is so convenient and potentially profitable. As a result, you should use these free tools to give your e-commerce business the greatest chance at success.
Price Trackers
These are crucial for online retailers as it allows you to figure out how much other merchants are charging for a specific good. Remember that dropshipping is highly competitive, and if you want to draw customers in, you have to offer products at excellent prices. Using a price tracker tool means that you can determine the best possible price in order to keep your profit margin healthy while keeping customers happy.
Camelcamelcamel: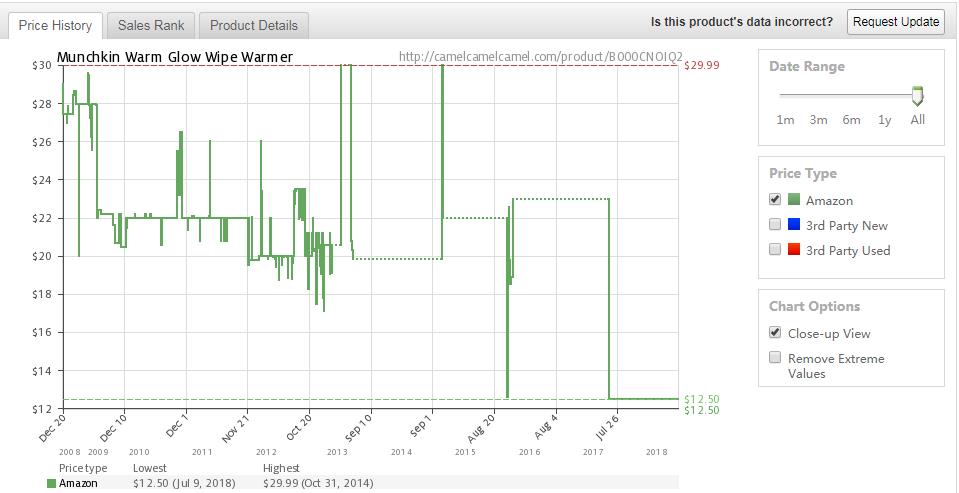 Camelcamelcamel is a price tracker that is absolutely vital for any FBA seller. It has a highly customizable price history graph with settings that can be configured to show a given product's price history for the previous 1 through 12 months. You can also use the slider bar to display price histories from third-party sellers as well as Amazon itself.
If you don't want to pore over the details of price history, then you can also access a sales rank graph that displays information for the previous 1 to 12 months. Finally, for maximum efficiency and convenience, you can use a Google Chrome extension called Camelizer that provides much of this information in real-time.
Keepa: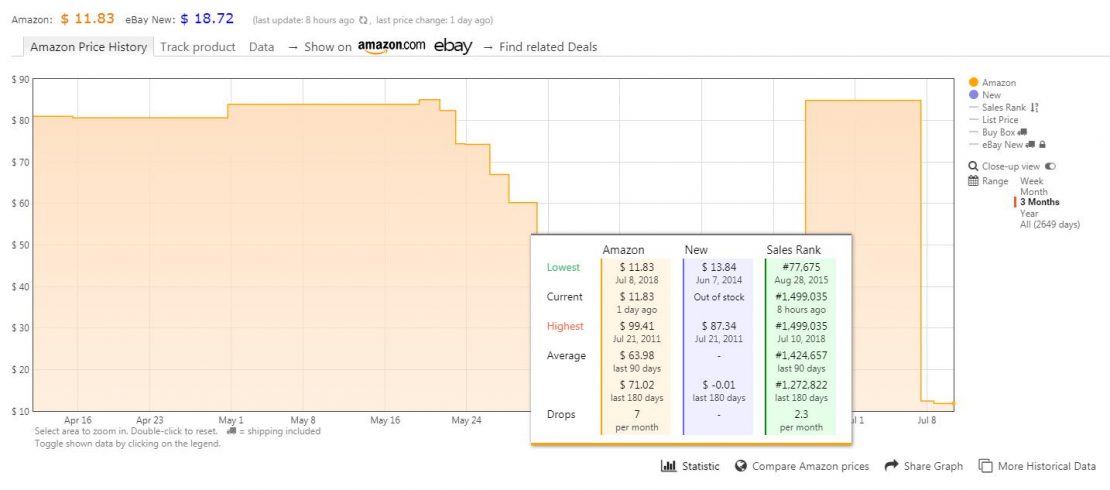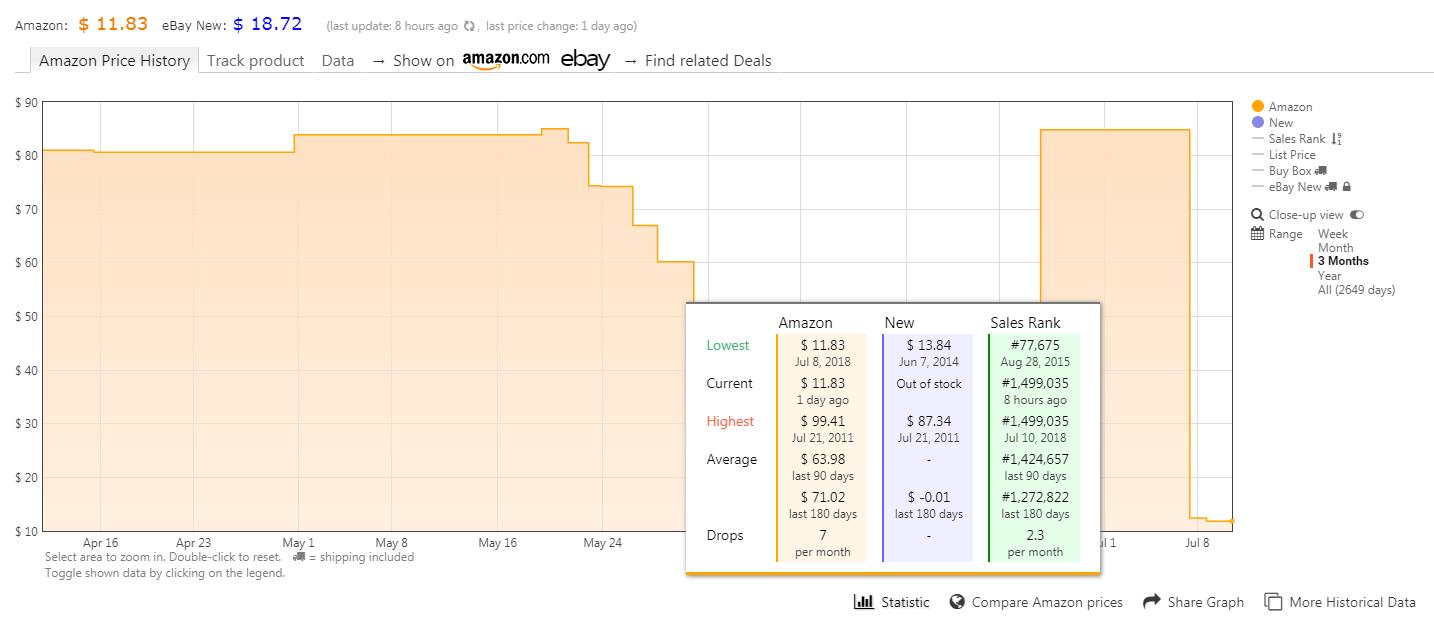 Keepa is another price tracker tool that provides more granular retail analysis. In other words, the data does not go back as far but is much more detailed. It also has a highly intuitive user interface (UI) with four primary colors to keep track of. The Amazon marketplace is orange, new items are marked blue, used items are in black, and the sales rank of a given product is green.
If you focus in on the data, you can even keep track of which items Amazon has in or out of stock! To access this wealth of lucrative information in real-time, you can install it as a Firefox or Chrome extension.
Product Research
Doing product research for Amazon is necessary in order to analyze current trends in the marketplace and choose "winning" items. This means having an inventory filled products that can generate excellent sales. Basically, you want to find products that are inexpensive at wholesale and which can be sold at competitive prices with enough of a markup to give you healthy profit margins.
With this in mind, the Unicorn Smasher website is an excellent way to speed up and maximize your Amazon product research. It is chock full of useful information, downloads, statistics, and customer support. For example, this information includes fulfillment details, monthly estimates, revenue estimates, data analysis, or export tools. All of these are crucial for you to excel at Amazon FBA dropshipping – don't forget that you want to use every tool at your disposal.
Unicorn Smasher is also extremely helpful because it easily integrates with another tool: AMZBase. This Chrome extension gives online retailers quick and easy access to product descriptions and product ASIN numbers. Don't underestimate the importance of a killer product description; in many cases, this may make or break the final sale.
Keyword Research
In order to make your products searchable, you have to choose the right keywords by conducting extensive and thorough keyword research.
Sonar is a great place to start since it doubles as an idea generator as well as a keyword research tool. By using proprietary algorithms that are complex and highly accurate, Sonar gathers and collates all data on the products that consumers are searching for and then combines them in a single database. This extension also allows users to optimize their back-end keywords and develop their very own profit dashboard. Because of how far-reaching and comprehensive its searches are, Sonar is great for users who have not yet chosen what to sell on Amazon.
Keyword Tool is an essential tool as it's both free and does not require registration. You can search for keywords in Amazon, YouTube, Google, Bing, eBay, and even the App stores. This can be further refined and filtered by country so you can hone in on your target audience. Keyword Tool will provide up to 750 long-tail keyword suggestions for each search query you make and is up to 99.99% reliable.
Last but certainly not least, you can also turn to Google's Keyword Planner. This powerful tool is crucial, although it is sometimes overlooked in the context of Amazon FBA dropshipping. That's because a recent survey by Adeptmind indicated that only 34.6% of shoppers started their product search on Google (compared to Amazon's whopping 46.7%). However, 34.6% is still millions of shoppers! So be sure to include Keyword Planner into your overall keyword research regimen. Don't forget that this tool is especially useful in conducting searches that use general words or phrases to generate ideas. In that sense, it is best used in conjunction with Sonar to generate new ideas.
Don't Forget These Smaller Tools!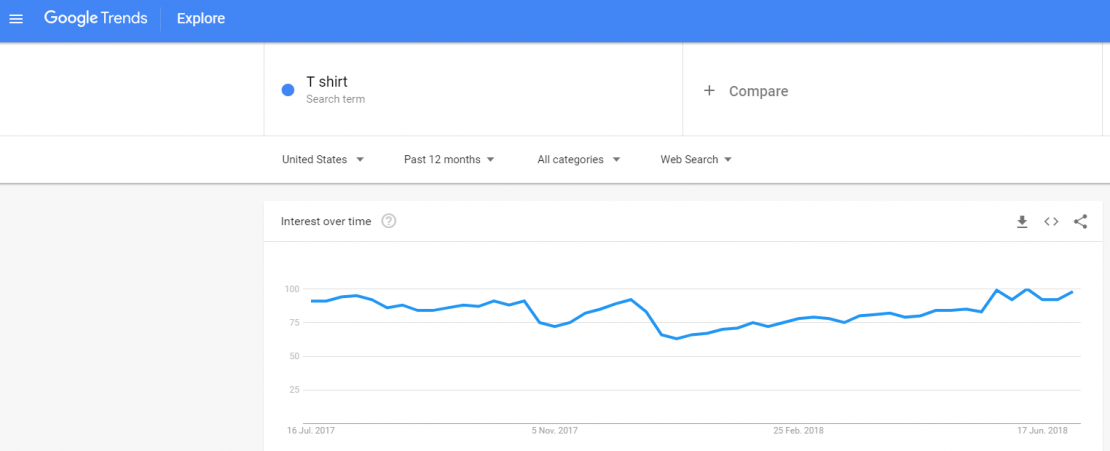 With all the tools listed above, it's sometimes easy to forget that we can also use smaller and more limited tools for Amazon FBA dropshipping. For example, DS Amazon Quick View is another Chrome extension that is a productivity tool. It allows users to easily and quickly add seller information and Amazon ranking to any given search. This gives a comprehensive view of the product that you may be searching, thereby making you more efficient in your research.
Google Trends is another essential tool for FBA sellers. Using this particular tool will give users an effective view of what's trending, including historical data that can be adjusted to various timeframes, in order to keep track of what's hot and what's not. Remember, the internet shifts quickly and shoppers are fickle – what's trendy one day can be obsolete the next week. Tracking these various trends can give you a richer understanding of the marketplace's contours and consumer behavior.
Be sure you use the AMZFinder tool to keep track of user feedback and reviews. This information can make or break a sale – most shoppers at least glance over this when deciding to make a purchase. This review management tool also offers you an automatic email plan for connecting with your customers. Anyone can use up to 500 emails a month without charge in order to increase sales and optimize listings. Remember, you always want to try and create regular customers, and reaching out to them via email is an excellent way to do so.
Finally, if you are including any links in your written content, be sure to use Bitly to optimize the URLs.
Use Amazon FBA Tool to Calculate Your Profit Margins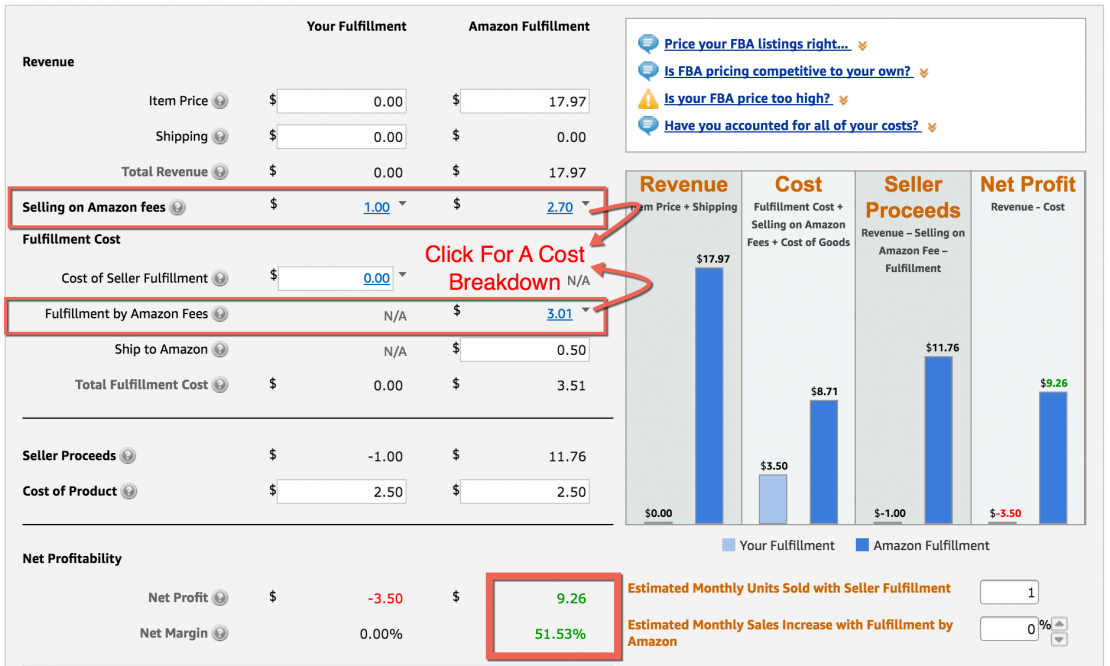 Although Amazon FBA dropshipping inherently has fairly low risk, online retailers should always be looking for methods to decrease these levels. One way to do so is to make accurate predictions about your profit margins. It should be noted that nearly 38% of first-time Amazon sellers will lose money because they haven't calculated their actual profits. This is where an FBA calculator tool comes in handy.
Let's Break It Down – Costs and Fees
First, let's go over your basic costs and fees. You can break your costs down into three primary categories:
Upfront costs – These include the cost of goods, samples (if applicable), product photographs, or shipping.
Variable costs – These include storage fees, product returns, and FBA fees.
Marketing costs – These include pay per click (PPC) and promotions (if applicable).
These can vary from seller to seller. Luckily, Amazon FBA dropshipping keeps these costs very low, especially if you are working with an excellent dropshipping supplier. But there are FBA fees, which include the following:
Handling the order
Pick and pack
Outbound shipping
Handling weight
Item storage
Inbound shipping
Calculate Your Fees and Profit Margin
If you break these down, it is usually 15% of an item's price plus $3.00 for shipping and handling. But these are small costs considering all the benefits you get with Amazon FBA dropshipping.
You can precisely calculate these figures using FBA Calculator for Amazon, a Chrome extension available here. To start, you simply go to the right column, enter the price of the item, the shipping cost, and the total cost per unit. Then hit calculate and it will give you a total breakdown of your fulfillment by Amazon costs, including any associated fees.
You can see exactly how much money you end up with by checking the Net Profit and Net Margin values. If you want to have an ultra-accurate view of your potential profitability, you can take these figures and then use them with the Fetcher analytics tool. This comprehensive accounting program even allows you to integrate inventory information into its business metrics, thereby allowing you to truly understand the health and profitability of your online store.
Greendropship and Amazon FBA Dropshipping
Dropshipping is an innovative and potentially lucrative business model. With it is low startup costs and user-friendly setup, it's easy for both seasoned entrepreneurs and business novices to start generating sales. However, in order to have a lucrative e-commerce business, it's absolutely essential that you choose the right dropshipping provider.
Think of your relationship with your dropshipping provider in similar terms to your relationship with Amazon FBA dropshipping – both of these are collaborations that will benefit you. So how does this work between you, your provider, and Amazon? Let's take a look at the following steps:
Customers place FBA orders with the dropshipping provider, who then process and package them according to your instructions. For example, you can specify how you want the products prepped. You can tell the provider to pack them as singles or 2-packs or if you want the items polybagged. It's up to you; remember, it's a collaboration!
The provider sends you the packaging details (weight, dimensions, etc) and product expiration dates so that you can generate UPS shipping labels for the FBA order.
Send these labels back to the provider and they will immediately ship the items to Amazon's warehouse.
Amazon then takes over and processes the package and ships it to the customer.
Greendropship is the perfect provider for any online retailer looking to get into Amazon FBA dropshipping. With over 20,000 natural and organic products, Greendropship has an extensive inventory to meet your customers' demands. They are also well-versed in FBA dropshipping model, making the whole process exceptionally easy and efficient.