How To Use Instagram Ads For Dropshipping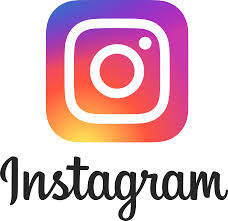 Dropshippers can get a huge leg up on competitors with Instagram ads for their online retail stores. Instagram has over one billion users. Many of these people make a lot of their purchases based on ads they see online. This is especially so with Instagram. Makes good business sense to learn how to create Instagram ads for dropshipping for your retail store.  Check out the following so that you can get started at making your Instagram ad today.
Why Use Instagram Ads For Your Dropshipping Store
Whether you're an established entrepreneur online or just starting out, getting traffic to your website is always one of your biggest challenges. The same goes for exposure to your brand. That's why having ads on social media platforms such as Instagram is a smart, easy, and quick way to get your products in front of consumers and build traffic. 
As an entrepreneur who just launched their dropshipping store, the biggest challenge is to get traffic to your website and get more exposure for your brand. That's why having ads on social media is an easy and quick way to get your products in front of your potential customers.
Fact is, social media ads aren't the only way to drive traffic to your dropshipping store. But ads on Instagram deliver results much faster than doing search engine optimization (SEO). While SEO is important and you should definitely create an SEO strategy for your website, getting high search results on search engines for your business can take months. 
On the other hand, with Instagram ads, your products will be visible to your desired audience immediately. Another bonus is that you can integrate your Instagram and Facebook ads so that they show up on both social media platforms upon posting them. 
Finally, there's the amazing statistics regarding Instagram and online shoppers. Over 80% of Instagram users discover new products using the platform. But that's not all: 
81% of Instagram users research products and services. 

80% of Instagram users decide to buy products or services while on the platform. 
Clearly, Instagram is a built-in advertising tool for online retailers. It's just a matter of starting an Instagram account and creating your ad. 
How To Set Up Instagram Ads
Step 1: Create A Business Account
The first step is creating a business account. This is separate from a personal account so please keep that in mind. Creating a business account on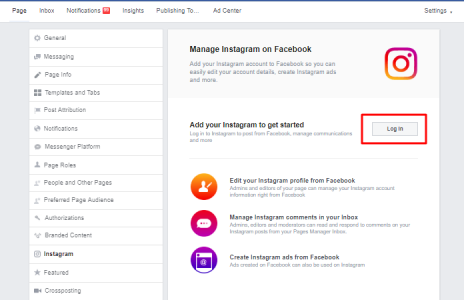 Instagram is easy to do. Check out the following instructions: 
If you don't already have an Instagram account download and launch the app. You can find it at the App Store, Google Play, or Windows Phone Store. You can also go to this Facebook link which will walk you through the process. 

Set up your free business account. There you can add business content such as store hours, phone number, and any other pertinent information you'd like customers to see. 
Step 2: Set Up A Free Business Profile
Once you have a business account, you can add relevant business information like store hours, business address, phone number and a link to your website. Facebook also offers a great tutorial:  Learn How To Start Using Instagram For Business. The quick course will guide you through the initial steps in marketing and advertising on Instagram. 
Step 3: Post Content And Follow People
Before you embark on creating your ad for Instagram, it's a good idea to post content on your business profile as well as follow other people and businesses on the platform. Posting content could be images of your products. Blog posts from your website. You can even post images of yourself! To get a good idea of what kinds of content you think would work well on your Instagram business profile, check out other business profiles. This especially applies to profiles that are already established with a strong following. The idea is to do what the winners do. Examine their posts and particularly comments. All of this will serve to help you better understand the kinds of content you'd like to feature on your business profile.
One last thing: be sure to use relevant hashtags on the content you'd like to see in your feed. And content as well that you've posted for your followers. 
Select Your Ad Objective, Target Audience & Ad Format With Ads Manager
Ads Manager uses the same incredible advertising features as Facebook.  Actually, it's the nerve center of your advertising ads. You can set up,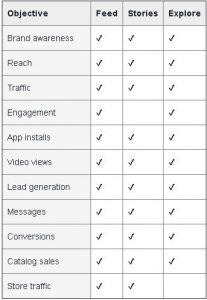 make changes and see results for all your Instagram campaigns, ad sets and ads in one place. Ads manager is available on desktop and mobile.
Instagram offers a multitude of ad objectives you can use to find out interest in your ad or particular results such as traffic, lead generation, video views, and conversions. Along with that, you're able to set up a target audience for your ad to hone in on customers most likely to buy your product. Lastly, you want to use an ad format that will most attract customers. Let's quickly look at all three in the following: 
 

Ad Objective
Instagram offers a multitude of ad objectives you can use to find out interest in your ad or particular results such as traffic, lead generation, video views, and, conversions. In the Ad Manager center, you select the ad objectives you desire and those objectives will be tracked by Instagram and provide you with the results.  
 

Target Audience
Instagram allows you to choose your target audience based on the following: 
You can also create detailed targeting for specific locations, interests, and behaviors. You can save the audience you've created for future ads. Or, you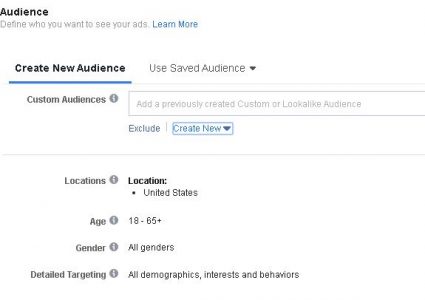 can create a customized audience for each individual ad. 
 

Ad format
Instagram offers several ad formats to advertisers. They're designed to help you choose the most optimal way to communicate with your audience. Look at the following: 
Story Ads
Story ads are actually a combined set of images on a full screen with a vertical format. You can share photos and videos of your products. Instagram Stories Ads allow you to insert a short advertisement between users' stories. The ads fit the format of a story, keeping the user experience consistent and the flow uninterrupted.  
Story ads are a great way to immerse consumers with a variety of products.  This ad format is an outstanding way to connect with potential customers. It's also one of the few formats that offer you complete audience attention. 
Photo Ads
Tell your story through a clean, simple and beautiful creative canvas. Photos can be in a square or landscape format. Photo ads are a great way to
showcase products simply and beautifully. Photos in the ads can be square or landscape depending on your taste. 
Video Ads
You can feature a video ad for up to 60 seconds long. Your video can tell a great story or showcase your products with an immersive appeal that combines sight, sound, and movement.  For more information on how to make video ads, check out our article How To Make Video Ads For Dropshipping, which goes into detail about creating a successful video ad for social media.
Carousel Ads
Carousel ads allow you to deliver another layer of depth to campaigns where people can actually swipe to view additional photos or videos in a single ad.
Collection Ads
You can use Collection to visually inspire and help your audience discover, browse and purchase products. The ad can be integrated with both video or images of multiple products via storytelling. 
Determine Your Budget 
The next, and the final step before you create your Instagram ad itself, is to set how much you want to spend on your Instagram ads and how long you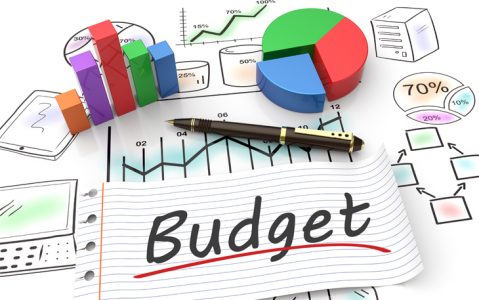 want to run the ads.
Your Instagram ads cost depends on the bidding option you choose. Instagram gives you the choices of cost per click (CPC), cost per thousand impressions (CPM), cost per action(CPA) or cost per like. You can also choose between automatic and manual bidding.
Instagram's average CPM is between $5-$6 on the buyer side and the average CPC is calculated to fall in the range of 56 cents and 72 cents. Instagram ad bidding works exactly like Facebook ad bidding. After all, both of these ad types are managed on the very same platform. This means that when publishing an Instagram ad campaign, you'll be entering a worldwide auction for people's attention.
Instagram gives you the option to set a daily or lifetime budget. The daily budget is the average amount you'll spend on your ads every day. The lifetime budget is the total amount you'll spend over the lifetime of your ads. Instagram allows you to schedule your ads to run continuously until you've reached your lifetime budget limit. You can also pause your ads or create a start and end date.
Owl Metrics has created a comprehensive guideline on how to determine your budget for your dropshipping store.
Measure Your Ad Performance 
Just like a spreadsheet, the reporting table in ads manager allows you to see the performance of your Instagram ads at a glance. You will be able to see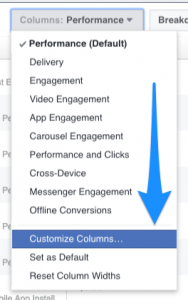 metrics such as the results obtained by the ads, the cost of the ads, and the amount spent.  You can also make changes. Check out the following: 
Go to Ads Manager.
Click on the campaign name that contains the ad you'd like to see ad metrics for.
Click View Charts
You should see a section at the top that includes Performance, Demographics, Placement, and Delivery data. Click Placement. If you selected Instagram as a placement, you should see it listed.
Depending on the objective you chose, you'll see different results available. For example, if you created a Page post engagement ad, you'll see how many post engagements your Instagram ad has received as well as total reach.
Instagram Ads Tips For Your Dropshipping Store 
The following tips are to help ensure that your Instagram ads get the most bang for your buck. You want your ads to perform for your dropshipping store so check out these tips for optimum results for your business profile and your ads.
Keep A Consistent Posting Schedule 
It's important that your business profile be active with fresh content posted on a regular basis. Decide on your posting schedule and stick to it. It can be every day or multiple times a week. Just be sure to be consistent. The objective is to increase your followers and consumer engagement. A neglected business profile demonstrates that you are not enthusiastic about your business. So why should your followers be? Always maintain consistent posting for best results in the engagement of followers and curious newcomers. 
Use The Question Sticker In Your Ad Stories
Question stickers are a powerful way to encourage engagement among readers and followers.  You can ask any question you like with the question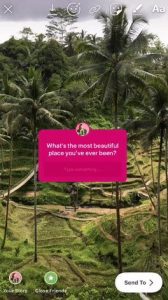 sticker. You'll find your responses to your question in your notifications panel on your business profile. Best of all you can respond to submissions and share any responses in a new story. 
This feature can offer you great information on customers and get valuable feedback on your products and business. You can ask customers what they like about a product, any suggestions for improvement and any other ideas about your business that you can come up with. 
Most importantly, the question sticker helps you to form relationships with your customers for loyalty and marketing information purposes. 
Promote Existing Posts
An easy way to set up ads on Instagram is by promoting your existing posts on your business page. This will help you reach more users and bring more traffic to your online store.
To select the post you want to promote, make sure you view your data and choose a post that your audience engages with the most. That way, potential customers will be more likely to engage with your ad as well.
Include A CTA In Your Ads 
Whatever ad format you choose, always be sure to include a call to action (CTA).  Your customers need you to tell them what to do next. For example,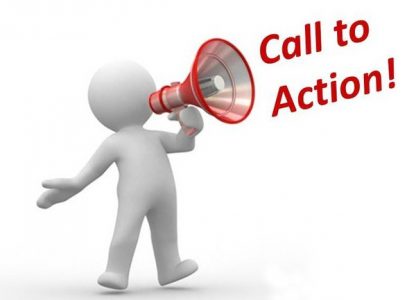 if you're advertising one of your products in an ad, your CTA goal is to have users go to your website and purchase the product. "Shop Now" will be a good CTA to use in that case. If you're looking for subscribers for your newsletter, your CTA could be to sign up for your newsletter.
CTAs are powerful ways to guide your customers to the next indicated step. Plus with Instagram, you can monitor responses to your CTA just like you would any other metric. Try experimenting with different CTAs to see what works best for your ads. You want your CTAs to be eye-catching while telling consumers what they need to do next. A good CTA can create a bigger volume of traffic and more conversions.
In creating Instagram ads for dropshipping you're doing your online retail business a huge service along the lines of marketing. Instagram has over 1 billion users. Why not take advantage of this built-in audience to promote your business? Get an Instagram business page and start creating your ad today.
Want to learn more about dropshipping? Contact us today to start or build your online store.