Product Research: How To Find Products For Your Store

One of the greatest challenges for an online retailer is finding the right products to sell in their dropshipping store. Figuring out what shoppers want can be really tough; it can be like a guessing game with no clear answer.
That's why doing product research for your dropshipping business is so important. Finding the right products to sell is not only critical for your success, but you'll also be able to identify your target audience.
Any successful entrepreneur will tell you that knowing your products and your audience is a necessity, so you should use every tool at your disposal!
In this post, we'll go over what you need to know about product research for your dropshipping store as well as the top research tools that you can use.
To make it easier to navigate, you can skip around with the following links:
Why Is Product Research So Important For Your Dropshipping Store?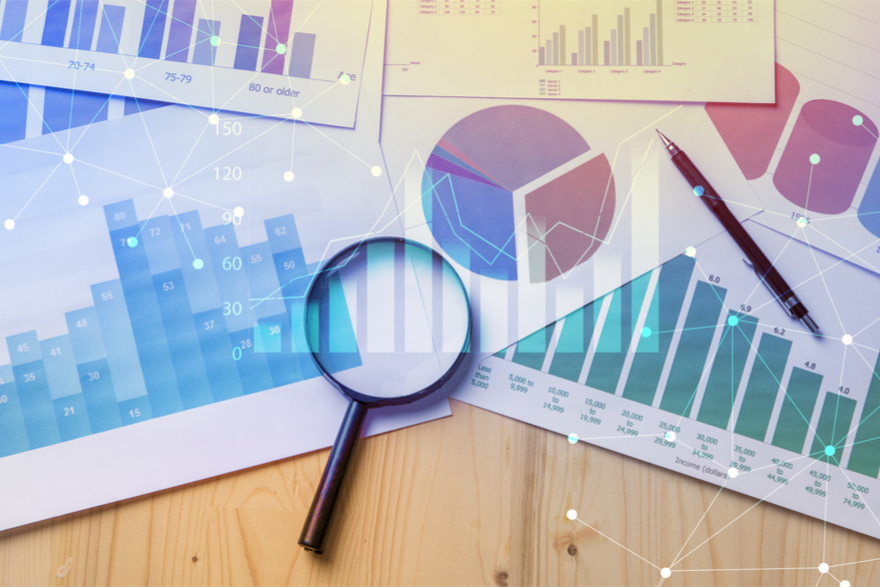 Let's take a look at the list of reasons why product research is so important for your dropshipping store:
Online retail is competitive, so you want to make sure that you are offering consumers what they want.
The best dropshipping suppliers will have a large inventory, so don't overwhelm shoppers and offer curated content based on market research.
Running a dropshipping business takes time and resources, so you'll want to use your time as efficiently as possible.
Finding good products will help you harness your sales and marketing techniques to give you the best return on investment (ROI).
Without product research, you'll just be taking shots in the dark and not properly connecting with potential customers.
If you choose the right products, then you can take advantage of dropshipping opportunities to maximize your profits.
What Should I Look For In Dropshipping Products?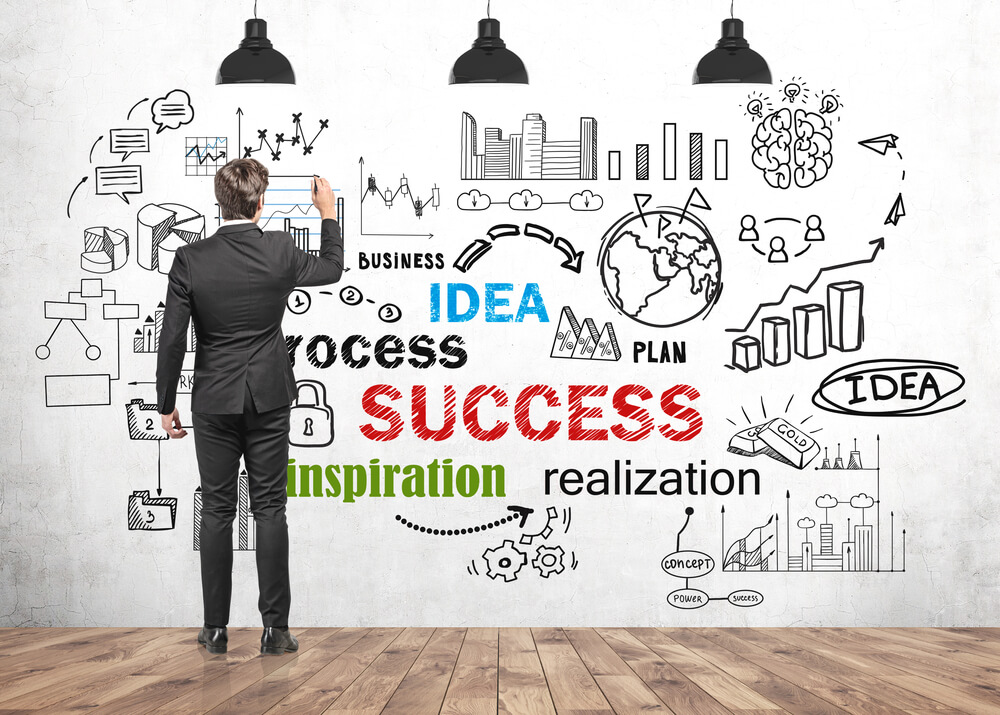 As an online retailer, you need to develop your skills in identifying viable and profitable products. In other words: Do your research. This is arguably the single most important step in the entire dropshipping process.
Keeping that in mind, let's look at the basic criteria you should examine when choosing products for your e-commerce store:
Price. This is a big one! Remember, you set your own price. Look at your supplier's wholesale prices and aim for a profit margin that's 10% to 20%.
Shipping costs and methods. Not all products can be easily shipped, so the best dropshipping suppliers will have effective methods for shipping fragile or perishable goods.
Demand. This may seem obvious, but you need to find products that consumers actually want! This is where product research really comes in to play.
Seasonal trends. Ideally, you should offer products that sell consistently throughout the whole year or a regular selling season that you can take advantage of.
If you're on the hunt for a great dropshipping supplier, GreenDropShip has thousands of natural and organic products to choose from.
This includes a wide variety of categories, including groceries & gourmet foods, beauty, health, vitamins, supplements, haircare, skincare, aromatherapy, home goods, and baby products.
We also have a Shopify dropshipping app that makes the dropshipping process easier than ever!
What Types Of Brands Should I Sell?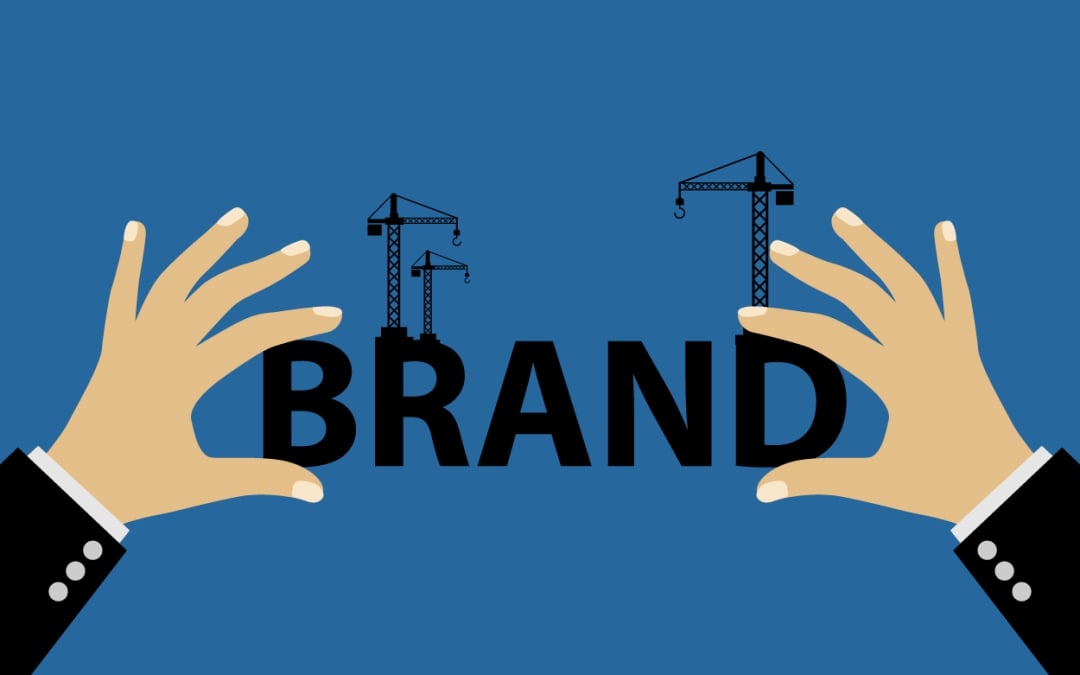 As you go through the product research process, you'll probably come across tons of products from all kinds of brands. Obviously, some of these brands will be better known than others.
So that brings us to some important questions:
What kinds of brands should I sell?
Should I only choose well-known and highly recognizable brands?
Or is it better to choose new and emerging brands?
What are the pros and cons of each?
These are some fundamental questions in the Ecommerce and dropshipping game. At some point in time, you'll most certainly have to answer them while you research products to sell.
1) Well-known & recognizable brands
On the surface, these might seem like the best bet, but that's not always the case! Of course, more consumers will know about them, meaning that they have higher brand recognition.
This makes it easier for you to market the products since the online shopper is already familiar with who they are, what they do, and what to expect. However, choosing products with high brand recognition also means that the primary selling points will depend on you:
Offering the lowest prices possible
Keeping shipping times/rates better than your competitors
Unfortunately, it's very difficult to compete with the Ecommerce giants – especially Amazon – on prices and shipping times. It can be done, but it is not easy and it's a constant battle.
RELATED ARTICLE: How To Handle Shipping Times When Dropshipping
First of all, you'll have to accept that some products you just won't be able to match with Amazon in regards to price. That's just a fact of running an online store.
Secondly, even if you choose the right dropshipping supplier, like one that's based in the US instead of China, and you keep your shipping times short, Amazon will on average be at least a little faster.
RELATED ARTICLE: Best Made In USA Wholesale Dropshippers
Finally, the primary drawback is that well-known brands will frequently reach market saturation, making both the demand and prices plummet. Once this happens, it becomes even more difficult to turn a healthy and consistent profit.
2) New & emerging brands
On the other hand, you can also choose to sell products from new and emerging brands. While brand recognition will obviously be lower, that doesn't necessarily mean that they'll be less profitable.
As a matter of fact, if you choose the right products from the right emerging brands and you market them properly, then they can be incredibly profitable!
RELATED ARTICLE: Powerful Content Marketing Strategies For Dropshipping
That being said, let's take a look at some of the major benefits. If you choose new and emerging brands, then you can:
Avoid saturated markets to stay profitable
Engage curious customers looking for new brands or products
Build authority by acting as the go-to source for these brands
Be at the forefront of emerging trends in the Ecommerce market
Offer products that you may be covering in your blog or content
Limit direct competition with retail giants like Amazon
Help develop the brand's identity in your marketing strategy
That being said, there's also more allure to choosing new and emerging brands – the opportunities are limitless. Plus, you can really customize and tailor how you want to communicate the brand's benefits, functions, and identity to both new and pre-existing customers.
There are lots of curious shoppers out there who are on the lookout for newer brands and there are plenty of other shoppers who are open to trying a new brand if you market it correctly.
RELATED ARTICLE: Top Email Marketing Strategies For Dropshipping
Plus, it's important to remember that, even if you try a newer brand, the dropshipping model will still protect you from many of the risks of a conventional, inventory-holding model.
For example, let's say you decide to sell natural face wash from some newer, lesser-known brands. If you decide to use the dropshipping model, you never run the risk of ordering too much wholesale product and ending up with an unsold surplus.
Finally, if you choose a supplier or wholesaler that offers both dropshipping services and the ability to buy bulk wholesale, then you can test out new products via dropshipping and – if they sell well – order them in bulk!
3) Emerging brands are for Innovators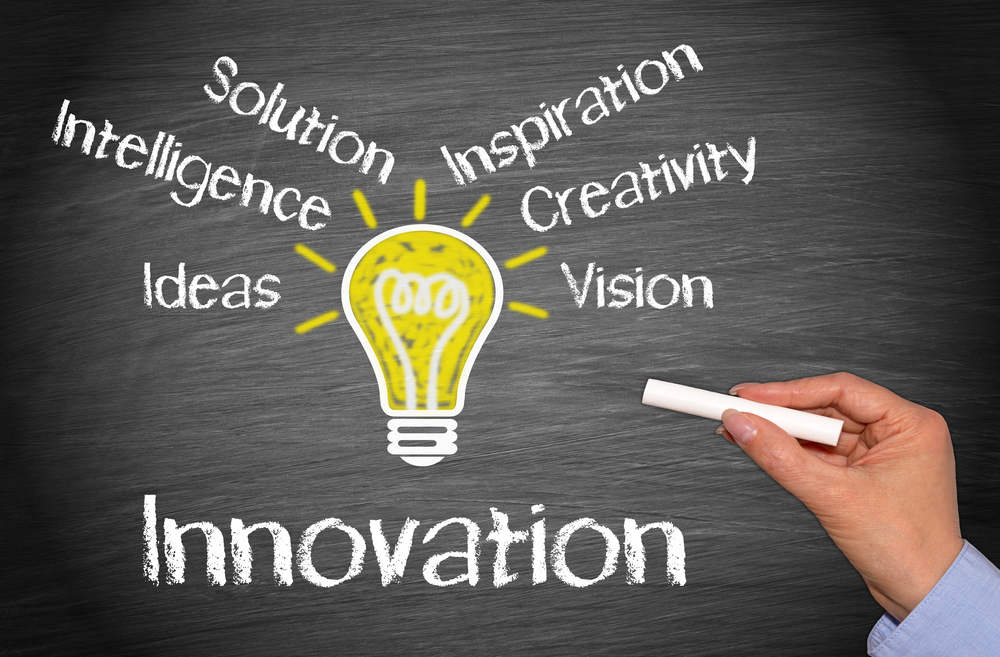 At the end of the day, each of these options has its relative pros and cons. But, one thing is for certain: new and emerging brands are more appealing to innovators.
For many retailers, the excitement of finding fresh new brands is more fulfilling than going with a more conventional, "safer" option. However, don't forget that if you're dropshipping, then trying an untested brand still doesn't mean that you'll take on any risk.
It's the best of both worlds! You get the exhilaration and excitement of the hunt for new products while avoiding a ton of risk.
Most innovators are turned off by seeing an out-of-the-box solution that holds itself out as affordable, simple, and a revenue generator. In fact, many of them even interpret this as a kind of "get-rich-quick-scheme".
Sure, you can try the same old brands, but there's less reward in that. If you identify that hot new brand that hasn't totally taken off yet, then you'll take the lion's share of the sales until other stores catch up.
In other words, the rewards are greater, and – with enough commitment and experimentation – you can build a highly profitable, interesting, and exciting business.
Finally, emerging brands are also appealing to achievers. Members of this group "act as anchors of the status quo", meaning once they find a brand that's got lots of promise, it'll very likely catch on with consumers.
Once that happens, then you're talking about a brand that might generate tons of sales as online shoppers flock to buy its products. In that case, you definitely want to be ready to offer them what they want!
7 Tips To Find Dropshipping Products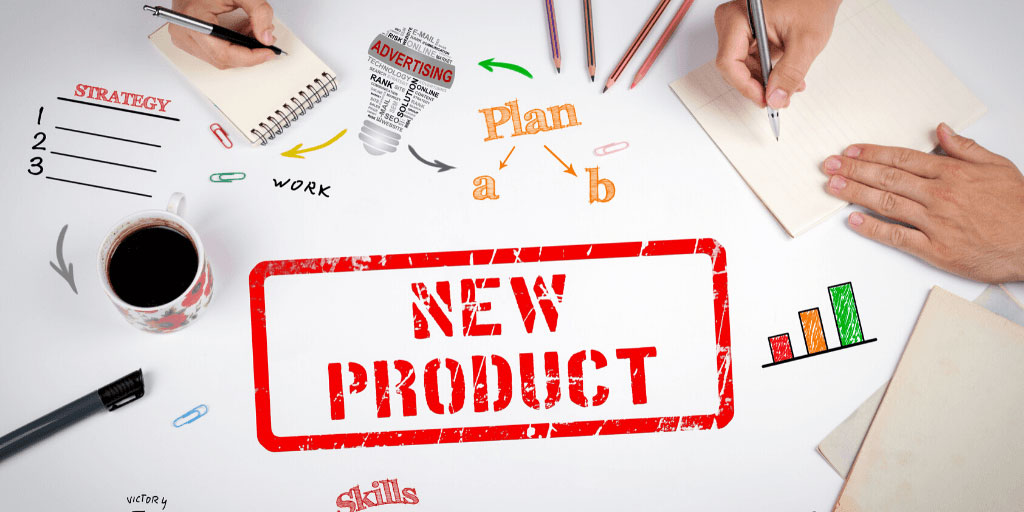 We've established just how important product research is, so now we should go over the basics of how to get it done effectively.
When looking for products to dropship, make sure you follow these simple tips:
1) Identify the products that your customers need
Success in online retail is all about fulfilling a need– if you can identify something that consumers need, then you can sell to them. It's important to remember that sometimes consumers don't even realize they need something until they find it online.
If the product effectively solves a problem, there is likely to be a market for it. The problem can be big or small, depending on what you want to sell. Plus, good product ideas don't have to be super complicated – sometimes simplicity is best!
This is where good research really makes a difference. If you understand both the products you're looking to sell as well as your target audience, then you can effectively predict what your potential customers may need.
2) Offer your customers options that are guilty pleasures
Not every product solves a problem or fulfills a need. In some cases, consumers make impulse buys simply to feel happy or to treat themselves.
It's important to remember that consumer demand can be driven by multiple factors – sometimes people buy something because they need it and sometimes they buy something because they want it.
This demand isn't always constant – it can follow seasonal trends. For instance, back-to-school products will probably be something that the consumer – or their child – needs. On the other hand, Christmas gifts will more likely – but not always – be something that the consumer wants.
3) Find a good dropshipping niche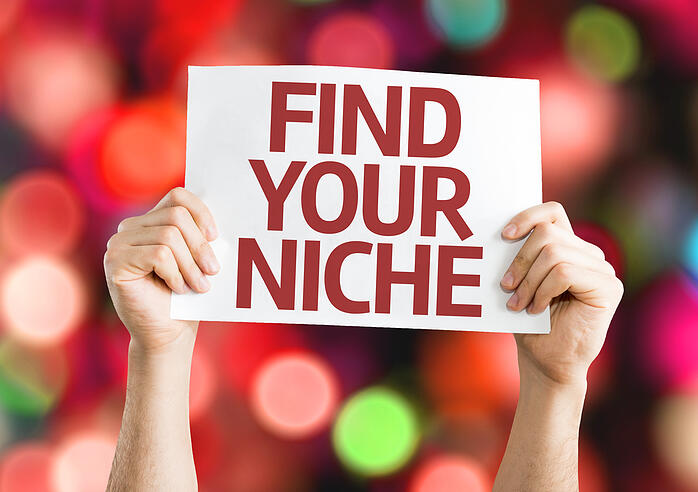 Dropshipping is highly competitive, so it's best to find a good dropshipping niche in order to serve the needs and wants of your target audience. In other words, sometimes it's more about quality and not quantity!
For example, you'll never be able to compete with the selection of products that you find with the retail giants like Amazon or WalMart.
As a result, it can be better to offer a more targeted selection of products to a narrower segment of the overall market. This is also known as curated content.
Identifying a strong dropshipping niche lets you:
Focus on a chunk of the market with less competition.
Become an expert in a given product category.
Build trust and recognition with consumers.
Work with products that you may be passionate about.
Create loyal customers who'll return to your store regularly.
4) Choose products that you or your customers care about
If you are trying to find profitable products that you can sell, consider something that you are passionate about. Your work will be more enjoyable and your natural enthusiasm will easily translate to your potential customers.
This is especially true if you're using dropshipping as more of a side hustle. While there are plenty of entrepreneurs who treat dropshipping as their full-time job, a lot of people use it as just a way to make a little extra coin on the side.
If that's the case, why not choose something that you're passionate about? If you can effectively convey that you care about the products you're selling, you'll more likely than not encounter potential customers who will share your enthusiasm for a specific niche.
This is a golden opportunity to make a connection with them and turn one-time visitors into regular customers.
Remember, they'll never get that kind of personalized or intimate experience with a huge retailer like Amazon! This is what will set you apart.
5) Get in early on trends
If a product really explodes in popularity, eventually consumers will lose interest once market saturation sets in. As a result, it's best to keep an eye out for potential trends and beat your competitors to the punch.
Retail is all about waxing and waning trends – what's hot one month can be totally passé the next month. Becoming a successful dropshipper is all about research and identifying products and niches that trend upwards.
The best tool for this is Google Trends – make sure you check out the section below for a discussion on how to use this handy tool.
6) Find products that have good branding potential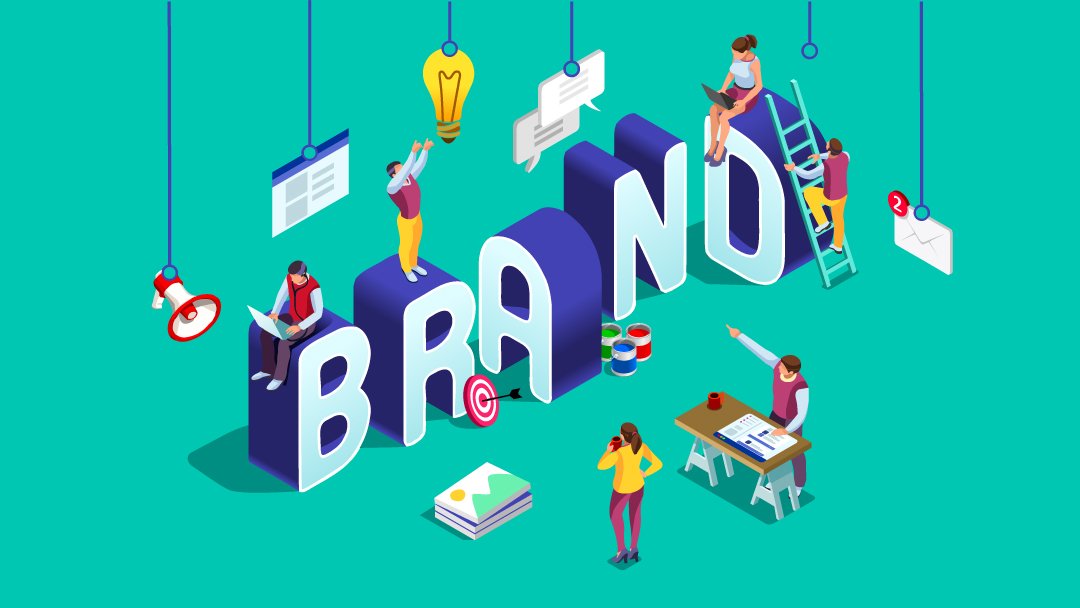 Developing a strong personal brand is crucial to the success of your dropshipping store! You want consumers to remember the experience of shopping with you so that they return and become regular customers.
RELATED ARTICLE: Dropshipping Branded Products: Guide for Online Retailers
When researching your target audience, ask yourself these fundamental questions:
What does your target audience need or want?
How is the product right for your audience?
Does the product complement your store brand (and vice-versa)?
Are you effectively communicating your brand?
Good design is a critical part of your store brand, so make sure you check out the following blog posts:
7) Choose products that consumers buy regularly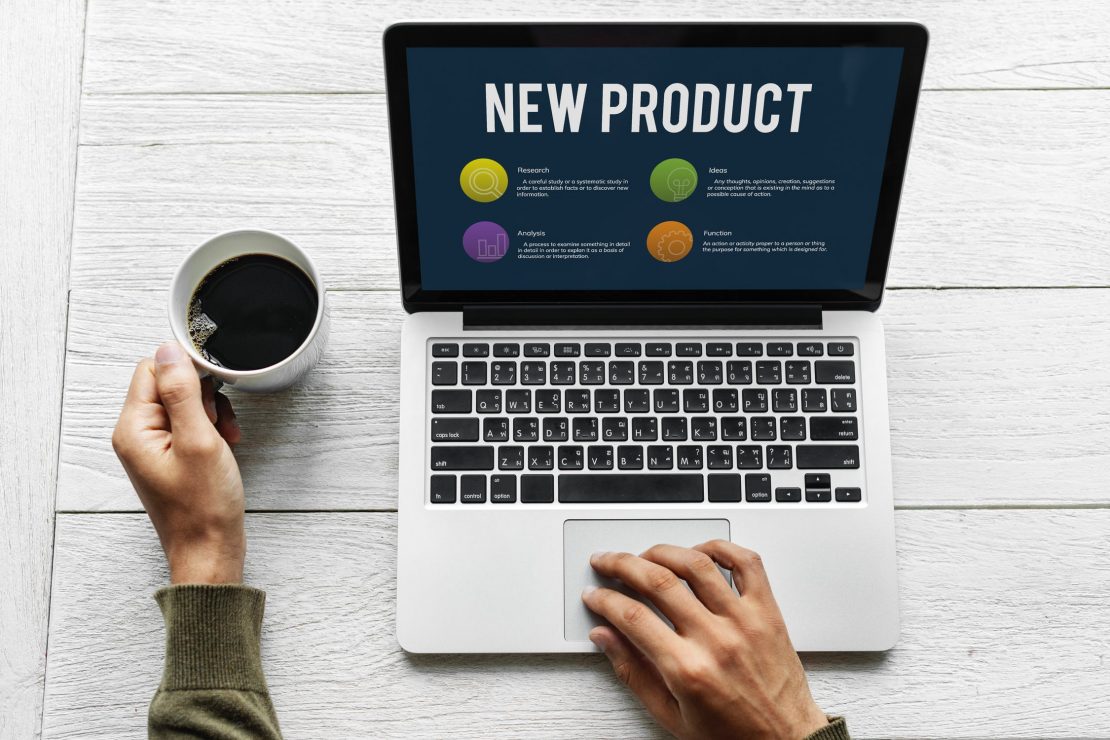 If you have developed a strong store brand, then you should foster brand loyalty by focusing on items that consumers buy on a regular basis. This will help ensure that you turn one-time visitors into regular customers.
Strictly speaking, this isn't 100% necessary – you could always offer products that consumers just buy occasionally (or even once). Remember the difference between products that consumers need and products that consumers want.
However, if you have a dropshipping store, your best bet is to choose products that consumers buy regularly. This is your single greatest advantage over a store with a virtually unlimited inventory – you're offering a more personal experience and connecting with the customer.
To learn more about how to build a successful store, make sure you check out our blog post Top 10 Dropshipping Tips You Need to Know.
Top Product Research Tools For Dropshipping
Luckily, there are quite a few product research tools that you can use to determine what you should sell in your dropshipping store, some of which are even free!
Let's take a look at the best ones available as of 2023.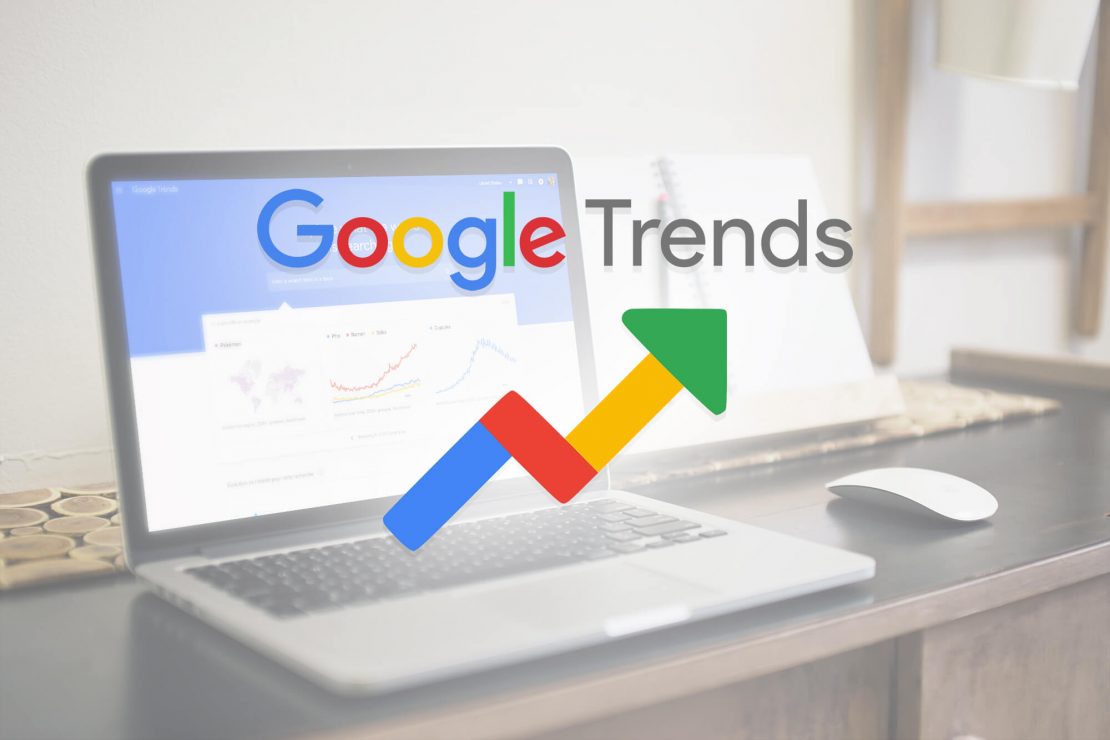 First of all, if you want a detailed discussion about how to use Google Trends to find niches and products as well as understanding the types of trends that you'll see, be sure to check out: How To Use Google Trends For Dropshipping.
In that blog post, we go over everything you need to know on how to do product research with Google Trends. This section below is just a quick summary to get you started!
Google Trends is one of the most powerful product research tools that you can use. It harnesses all the data and information on what people are searching for to give you an accurate view of what's popular and what's not. When it comes to dropshipping product research, it's a priceless tool!
Be sure to follow these tips:
1) Check the trend over a long period of time
If you are trying to determine the popularity of a certain product, it's always best to get a broad view by using the Interest over time to expand the search. You can choose to see the search volume from the past hour to 2004-present. You can even choose a custom time range!
Zooming out and looking at the data for the past several years will give you the most accurate representation of the trend. You want to avoid keyword unicorns – these are buzzwords that become super trendy and then vanish quickly.
2) Find related products
Use the Related Topics function to find what else people are searching for. This will give you good ideas for related ideas for niches, products, or even brands. When you're scanning through the results, you can choose either:
Top. Most popular topics or queries on a relative scale of 0 to 100.
Rising. Biggest increase in search frequency – Breakout means it's surged tremendously.
Let's take a look at a screenshot for the Related Topics function for the search phrase vegan protein powder: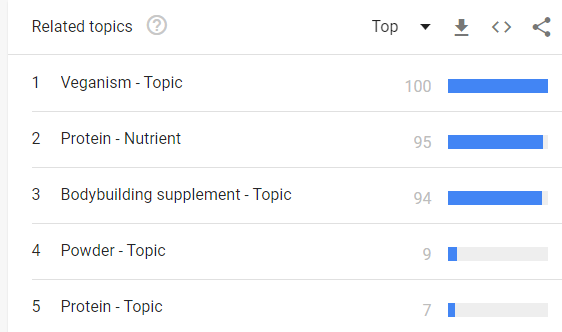 As you can see, these are the Top results (not Rising). Right off the bat, you can see another potential product to sell: bodybuilding supplements.
If you find related products, you can now upsell or cross-sell in your dropshipping store – this is one of the most effective strategies for increasing your Average Order Value (AOV).
In other words, you can potentially make more money dropshipping by offering related options to your customers.
3) Identify relevant keywords
The Related Queries function is a more specific variation of the Related Topics function. It shows specific search terms or phrases – otherwise known as keywords – that people search for that are related to your topic.
Let's take a look at a screenshot for Related Queries for vegan protein powder: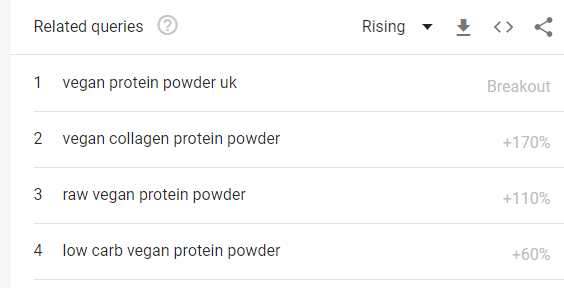 These are the Rising results (not Top), and you can immediately identify some related keywords that you might want to target: collagen, raw vegan, and/or low carb. You can also search for other products in these categories.
Once you have a list of relevant keywords, then you can create a blog that's developed with search engine optimization (SEO).
This is an effective way to educate consumers and drive traffic by boosting your dropshipping store, and the related blog posts, higher in the Google results.
You can also use Google Trends with other research tools, like Google Keyword Planner and SEMRush.
4) Identify seasonal trends
Retail operates in cycles; there are periods of the year when people spend more or less money. There are also certain times of the year when people buy specific products.
Google Trends makes it easy to identify these seasonal trends by giving you a visual representation of search interest over a given period of time.
If you have a product that is seasonal, you should create content that will coincide with its peak popularity. For example, if summer's coming and you're planning on selling barbecue sauce, then you should start marketing to your customers in the spring.
To learn more about seasonal trends and the types of products you can sell, be sure you check out the following blog posts:
5) Update your content regularly
In order for your content to stay fully optimized, you should research which search queries, products, or brands are decreasing or increasing in popularity. This will help you keep everything relevant and fresh for consumers.
That's why a blog that's been developed with SEO is such a great tool: you can add new and updated content regularly to help you keep up with changing retail trends.
In other words, you shouldn't think of product research as a static or stationary activity – it should be dynamic. The market and consumer interests will change, so you need to change with them.
If you become highly skilled at using Google Trends, you might even be able to predict upcoming or emerging trends. This will give you a definite edge over your competitors – you can break into an emerging market before it becomes saturated.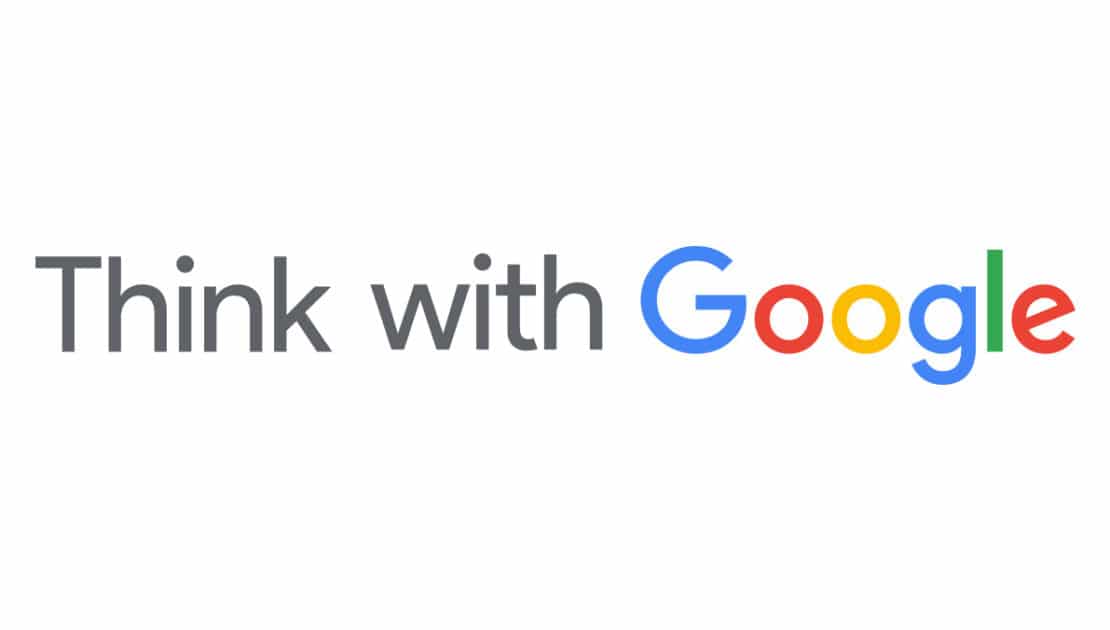 We've established that Google Trends is an incredibly powerful – and totally free – product research tool for dropshipping. But it's not the only Google tool in a dropshipper's arsenal!
In May of 2020, during the height of the COVID-19 lockdowns, Google unveiled a new and free product research tool called Rising Retail Categories under their Think With Google banner.
This tool was specifically designed to give online entrepreneurs a detailed, comprehensive, granular, and timely method to perform product research.
Rising Retail Categories makes it easy to:
Keep up with shifting market trends.
Track changes in consumer behavior
Identify product-related categories on Google that are expanding.
Pinpoint the geographic locations where they're growing.
List the search queries that are associated with them.
You're probably saying to yourself: That sounds a little similar to Google Trends. You're right! You can use this tool as an extension of Google Trends by both expanding and refining the trends that you've identified.
The key difference between the two is that the Rising Retail Categories tool already gives you product categories that are trending, based on Country and Time Period. As of 2021, data is only available for 11 countries, including the US and the UK.
This means that this tool has removed the hassle of having to search various products, brands, or niches on Google Trends to try and find a viable trend.
It's already been provided to you! It's kind of like a newsletter, letting retailers know: Hey! Here are the product categories to look out for.
Just follow these easy steps:
Go to the website.
Select a Country.
Select the Time Period – Yearly, Monthly, or Weekly.
Click the category you're interested in to see related searches.
Let's take a look at a screenshot of Monthly data for the United States: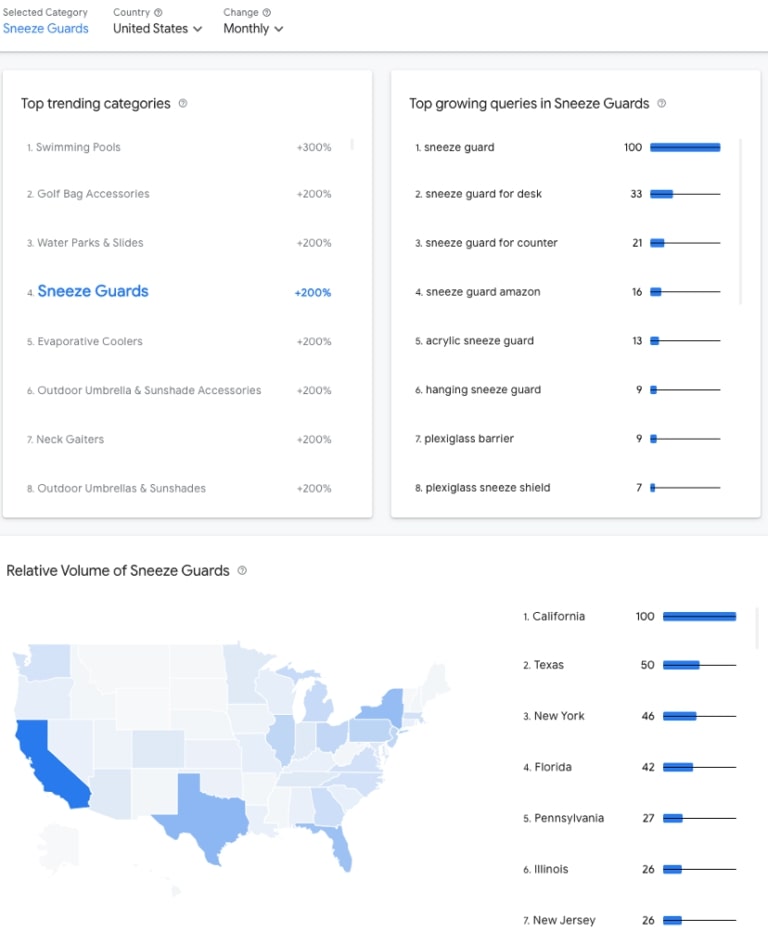 Those are just the top 8 trending product categories. Depending on the state of the retail market and time of the year, there can be tens or even hundreds of product categories that make the list.
If you want to receive regular updates for trending product categories, then be sure to sign up for the Think With Google newsletter – you'll be informed of Breakout categories or exciting new product opportunities.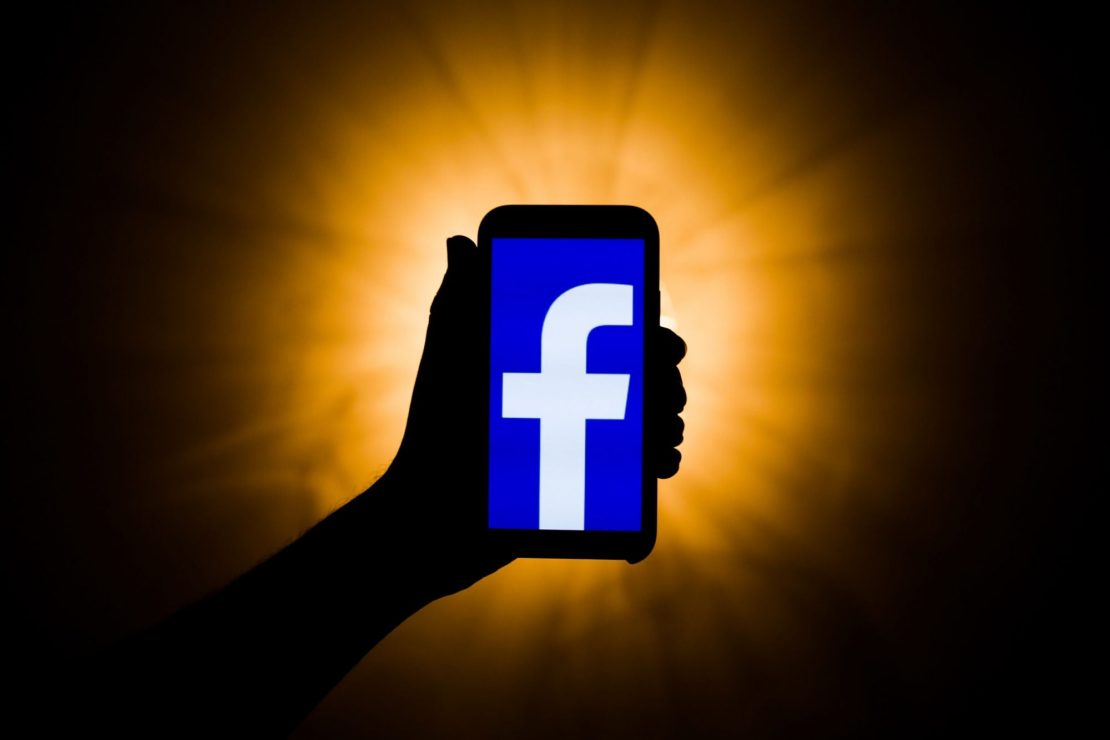 When it comes to finding products to dropship, Facebook is more than just a great way to connect with friends or family: it can also be a powerful research tool!
With it, you can easily harness the awesome power of social media and Facebook Ads. Remember, Facebook has a huge user database with lots of demographic data and Facebook Ads is one of the better methods for dropshippers to connect with customers.
So let's take a look at how to use Facebook and Facebook Ads to do some product research!
1) Search all the ads on Facebook
More and more consumers are being directed to online stores via ads on Facebook. It makes sense since people tend to spend so long on these social networks. If you want to find some potentially profitable products to sell, then you should search Facebook Ads.
It's easy! You can do this by using the Ad Library. This is a searchable function that gives you access to ads across all of Facebook's apps and services, including Instagram. This is potentially very useful since Instagram users usually skew younger than Facebook users.
When you use this function, however, be sure you sort the results based on date – you want to get an accurate picture of what is currently being advertised on Facebook and its affiliates.
Remember, time is of the essence when it comes to online retail – what's hot one month may have already become stale by the next month.
2) Check out relevant Facebook Ads with a new profile
Using the Ad Library gives you information on all the ads being run at the moment, but you don't get all the user information. This is crucial for product research – you need to understand the demographics of the market.
This is where Facebook really shines. Remember, people put a lot of information on their profiles, so you can do some pretty detailed and comprehensive product research by cross-referencing what ads are being displayed to which profiles.
To do this, just create a new Facebook profile with the demographics of your target audience, potentially even listing some related interests that you may have found with Google Trends.
That being said, you're essentially creating a dummy account to see what advertisers are targeting your profile and you can see what ads pop up in the feed!
3) Use CommaFeed
Facebook and Facebook Ads are powerful product research tools, but they become even more useful if you combine them with other tools. Enter CommaFeed, an open-source feed reader that you can use to track products uploaded at other dropshipping stores.
To use this tool, just follow these simple steps:
Go to the CommaFeedwebsite
Create a free account
Click subscribe on the homepage
Get redirected to the subscription homepage
Enter the URLs of successful dropshipping stores in Feed URL
Enter the names of successful dropshipping stores in Feed Name
Now you'll be notified every time one of these stores uploads a new product
You are essentially subscribing to their data feeds and you can enter as many of your competitors as you like! See below for the subscribe homepage.

To learn more about using Facebook and Instagram for dropshipping, be sure to check out the related blog posts: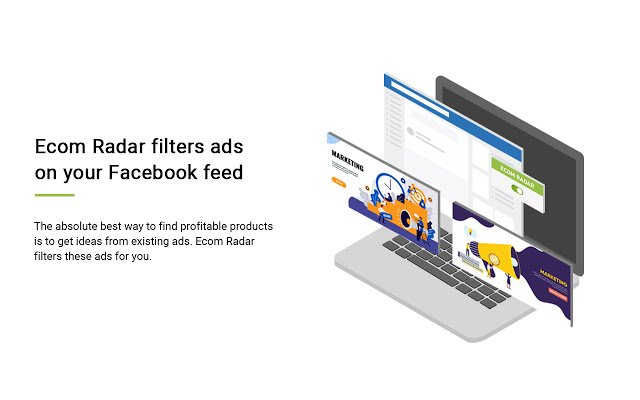 Ecom Radar is another free product research tool that's great for finding products to dropship. It's not a standalone tool – instead, it gives you the ability to only see Facebook Ads in your Facebook Feed.
Essentially, Ecom Radar is the opposite of an ad blocker. Most people don't want to see ads when they're just browsing their social media feed.
However, if you're an online entrepreneur who's looking around for potentially profitable products, having a separate feed that only shows you ads can be a great source of product research.
You can set the parameters to filter out which Facebook Ads you want to pop up on your feed, depending on:
Product type
Niche
Consumer demographics (age, interests, etc)
Geographic area
Time period
It's an extension for your Chrome web browser, so it doesn't require a lot of clunky or resource-intensive software. You simply log in to your Facebook account, activate Ecom Radar, choose your settings, and browse your feed for potential products.
If you see a product that looks promising, then you can click through and do some further research on the dropshipping store that's selling the product.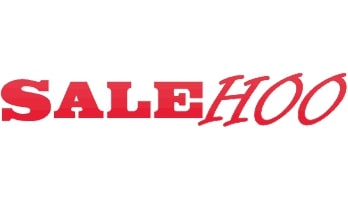 SaleHoo is one of the largest wholesaler and supplier directories in the world of Ecommerce. However, you can also use the SaleHoo Market Research Lab to find the best dropshipping products with high profit margins in low-competition niches.
The Market Research Lab collates all its product data from:
This means that you'll get a wide range of data from multiple marketplaces. Plus, it's updated every 4 to 5 days, so you'll only get the hottest trending products and will avoid any duds that won't have any consumer demand.
It's really simple to use. First of all, you just have to log in to your SaleHoo account and click the Discover Products link under Labs. Let's take a look at a screenshot:

Once you're in the Market Research Lab, you'll see that you have several options in the top Navigation Bar: Product Type, Sell Rate, Average Price, Competition, and Save.
The Product Type filter is the best place to start – it gives you all the product categories/niches that you can browse and research. Let's take a look at another screenshot:

You'll see that there are a ton of Product Types, including:
Appliances
Automotive
Baby
Beauty
Camera & Photo
Clothing
Electronics
Grocery & Gourmet Food
Health & Personal Care
Home & Kitchen
Kitchen & Dining
And more!
The Sell Rate filter lets you choose products with higher sell-through rates. This is a function of how many of the listings sell – so a Sell Rate of 40% for a product means that 4 out of 10 listings on eBay, Amazon, or AliExpress sell.
That being said, products with a Sell Rate of 30% or above are generally the best bet! However, all of these items are trending and selling well compared to other items on the market, so even an item with a Sell Rate of below 30% could be profitable for your store.
You can also set the Average Price if you have a specific price range in mind and you can choose from a Competition rate of either Low, Med, or High.
However, it's important to remember that this is also a relative scale – this denotes how competitive a product category is compared to the other product categories on the market.
Once you have a list of products, you can hit Save (with the heart icon) in the top right corner of a listing. You'll be able to go back and click Saved Product Ideas to browse your list of promising products.
Finally, you can save the filter settings that you like and have SaleHoo send you periodical emails of product ideas that match your search parameters.
This is a great way to do "passive" product research – you've done all the work of setting the search filters and you get a continuous list of fresh product ideas.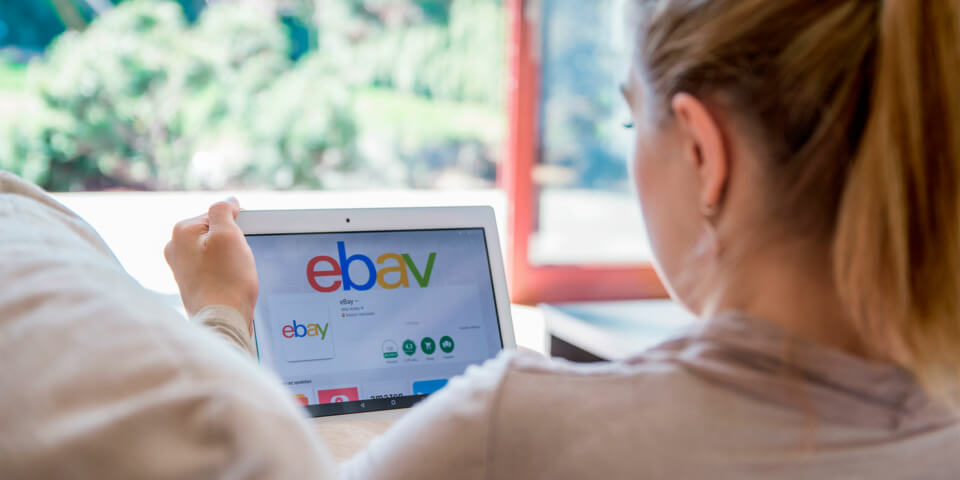 You should use all the product research tools at your disposal, even if they weren't originally created with that use in mind. This may come as a bit of a surprise, but eBay can actually be used to find products to dropship.
We all know that eBay is a massive online marketplace with a huge user base of both customers and merchants, but it's also a great source of market information and trends.
By examining completed transactions, you can get an idea of some potentially profitable dropshipping products or even niches.
It's pretty simple to use eBay for product research. Just follow these steps:
Select the Advanced Search option.
Type in the product that you're researching.
Be sure to sort all the results by Price Highest First.
Select Completed Listings Only.
Press Search.
Now you have a list of the best-selling products! This method has certain advantages because by making sure that you only check completed listings, you are getting an accurate view of what people are actually buying.
This means that you're not just looking at what they're interested in; you can actually see completed transactions and see how much people are willing to pay for certain items.
This could be a game-changer for your online store, helping you not only select the items but also setting your price points.
Let's take a quick look at a screenshot for the Advanced Search interface: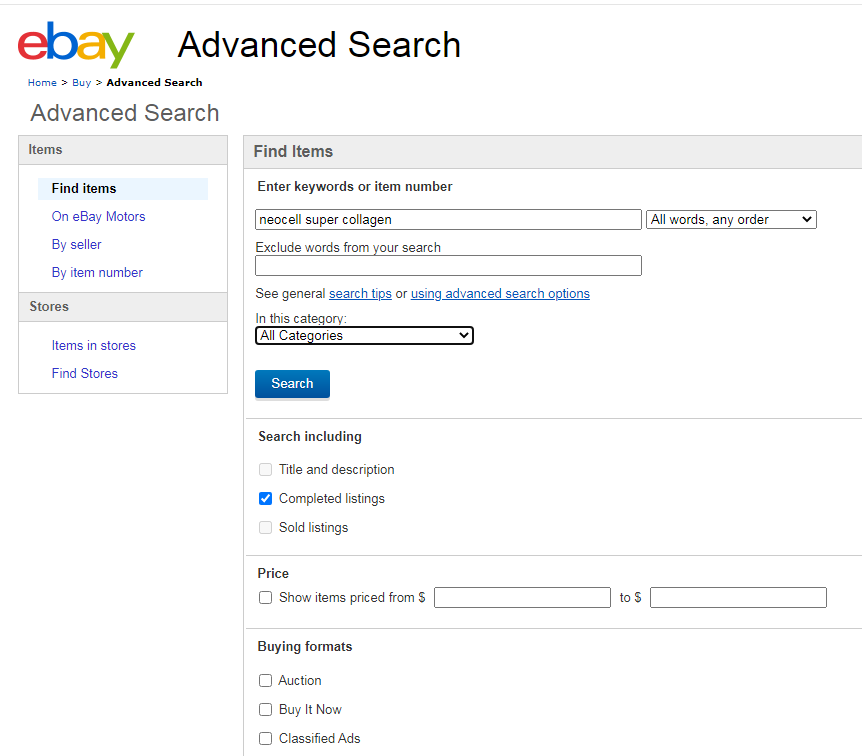 You can also use the WatchCount website to really boost your eBay product research game. Essentially, this website shows you everything that eBay shoppers are "watching", so you get a very accurate idea of what consumers are interested in.
All of this information is provided in real-time. There are even unique search and ranking capabilities that are more sensitive and comprehensive than the standard eBay search function. For instance, you can search eBay for:
Most bids
Sold items
Best-offer pricing
"Hidden" deals
You can search WatchCount via both Keywords and Categories,but most dropshipping experts suggest that you browse WatchCount via the Categories function.
For example, if you select the Health, Beauty category from the dropdown menu, then you'll be shown all the most widely watched (popular) health and beauty products on eBay.
You can also select the [see similar…] option to find more potential products. Let's take a look at a screenshot: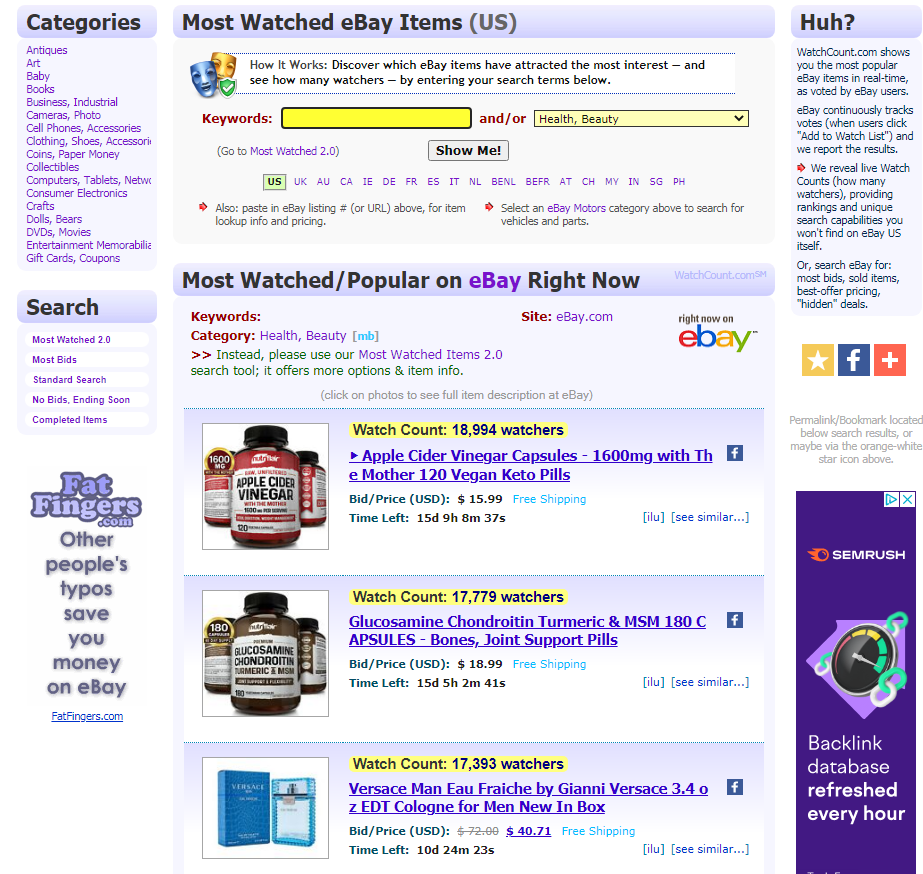 As you can see, eBay and WatchCount are valuable product research tools, especially when used in combination.
To learn more about selling on eBay, be sure to check out our related blog post: How to Start Dropshipping On eBay.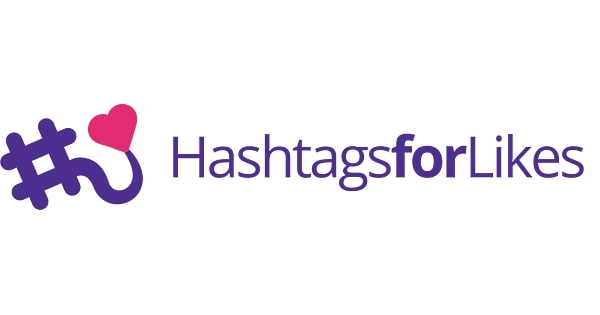 I think we can all agree that social media has changed our lives in just about every way you can think of, including spending and buying habits.
Social media is like a giant hive mind that displays the collective interests of all its users. This is where hashtags come in – people can use hashtags to make their posts trending.
With a tool like Hashtagsforlikes, you can search for social media posts via trending hashtags, including popular products or niches that have exploded in popularity on various networks.
Hashtagsforlikes works best for Instagram, but you can also use it to search for trending hashtags on other networks, including Facebook, Twitter, and even Pinterest.
You can search for hashtags in one of three ways:
Type your hashtag directly into the Search bar.
Choose the Most Popular hashtags from the dropdown menu.
Browse the most popular categories.
For example, let's take a look at the screenshot for Popular Instagram Hashtags: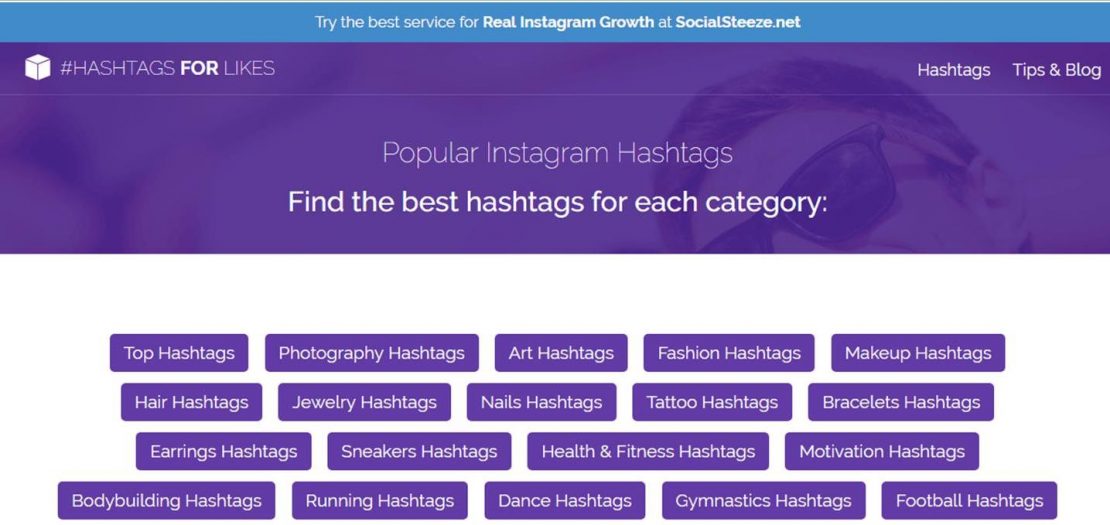 It's important to remember that this is just general information to get you started. For example, if you're interested in selling bodybuilding supplements (like we mentioned above), then you can click on the Bodybuilding Hashtags and see the most popular hashtags on Instagram.
This is especially useful since so many Instagram users choose products to buy off the influencers that they follow.
If you find a product hashtag that's trending, then you can quickly source that product from a dropshipping supplier (by using a directory service like SaleHoo) and get no the trend by offering it in your store.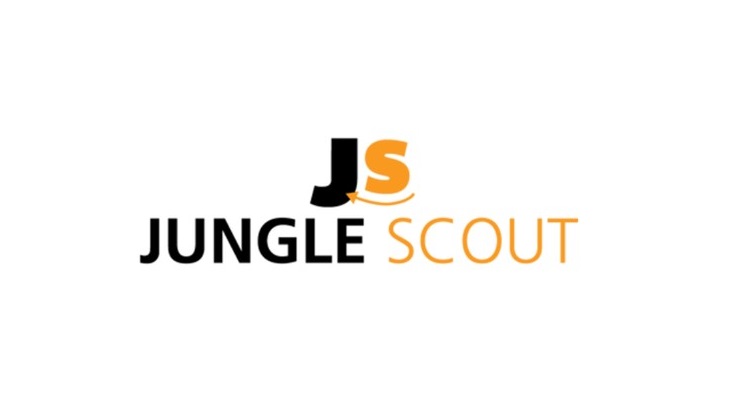 We're now entering the world of paid product research tools. This is where functionality and features really jump through the roof!
Jungle Scout is an extremely popular all-in-one seller's tool that's preferred by sellers who dropship on Amazon. It's a Chrome extension that can do all kinds of nifty stuff, including:
Research products by filtering through niches.
Give you sales ranks for all products listed.
Filter products based on competition levels or Amazon ratings.
Calculate Amazon seller fees with the FBA profit calculator.
Export all your listings to a spreadsheet.
Additionally, you can use Jungle Scout for:
Keyword research
Keyword Scout
Competitor Analysis
Supplier Database
Sales Analytics
Inventory Manager
Tutorials for sellers
The most unique and dynamic feature is the incredible Product Database. There are 70+ million products that you can research by using a set of advanced and finely-tuned filters.
You can also take the most promising products and take a closer look at them with the Opportunity Finder. This will help you find high-profit, high-demand, and low-competition niches via filters that track competition level, niche score, and number of units sold.
Let's take a quick look at the interface for the Opportunity Finder: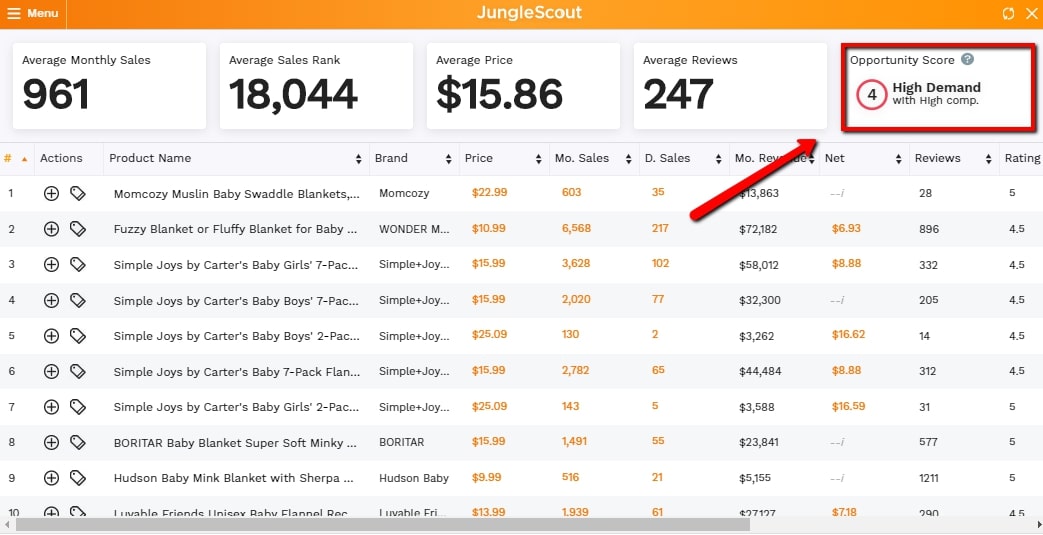 To access all of Jungle Scout's incredible features, you'll have to fork over anywhere from $30 to $70 per month plus a one-time Chrome extension fee between $97 and $197. However, if you're taking your dropshipping product research seriously, then this tool is seriously worth it!

HelloProfit is another paid product research tool for Amazon dropshipping, similar to Jungle Scout.
This is a cloud-based software suite that offers a wide range of useful features, including:
An easy-to-navigate dashboard that centralizes all the information you need.
Detailed sale reports on a huge selection of profits.
Comparative sales figures for similar products or different niches.
Amazon discounts and lowered prices (so you can decide to match prices)
Tools to calculate profit margins, including wholesale prices and Amazon seller fees.
Research, analysis, and demographic information of your target audience(s).
Keyword ranking that's gathered from the Amazon BSR (Best Sellers Rank) feature.
HelloProfit really shines when it comes to comparing and contrasting products on Amazon. You can group them together using their ASINs (Amazon Standard Identification Number) and then graph the data to see comparative profit margins and sellability scores.
You can also easily track just how competitive a given niche or product category is. Finally, you can also track your net profits by providing your revenue and costs and then integrating the software with you Amazon API.
Let's take a quick look at the HelloProfit seller interface: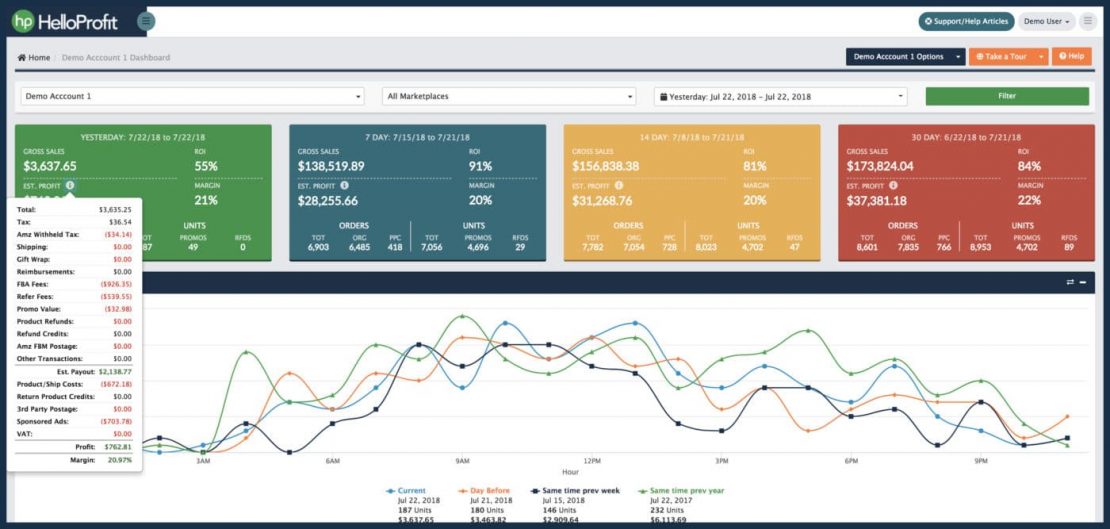 As you can see, HelloProfit is really high-tech. It looks like the kind of software that stockbrokers use to track the stock market! That's because it has literally every piece of valuable information you could ever need for effective product research. However, it may only be useful for more experienced sellers with lots of sales.
Most of the features are paid, but product tracking and keyword grouping are actually free. If you want the works, then it'll run you $97 per month.
11 Questions To Ask Yourself When Screening Your Products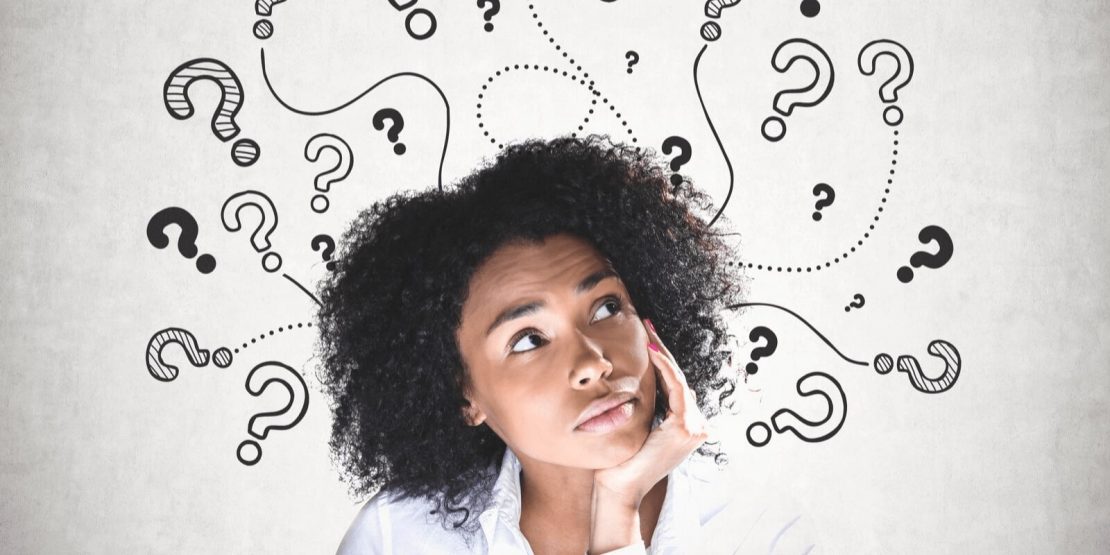 Once you use these product research tools and put together a list of potential items to dropship, make sure you ask yourself the following questions to screen the products and choose the ones that'll be the best for your online store:
Is it a new product or has it been around for a while?
Is the brand well-known or is it new to and emerging?
What niche is the product in?
Are there other products in this niche that I can sell?
What are some similar niches?
Does it solve a problem for the consumer?
Can I find another product that does it better?
Is the trend growing, consistent, falling, or seasonal?
What will the profit margin be?
Can I improve this profit margin?
Can I build a viable, recognizable brand around the product?
It's important to remember these basic rules for profit margins: a 5% profit margin is low, a 10% margin is average, and a 20% margin is high. If possible, try to aim for a profit margin between 10% and 20%.
This means that you'll have to look at the wholesale prices for the dropshipping supplier and compare them with the retail prices of other stores in your niche.
This may seem like a lot of questions to ask yourself, but the product research process should be pretty exhaustive.
That's the secret to a successful dropshipping store: finding products, brands, or niches that will connect with consumers and make your store stand out from the competition.
Remember, you'll never be able to compete with the product selection of retail giants like Amazon or WalMart. This means that you have to curate a product selection that will attract customers and make them view you as an expert in the given niche or product type you're selling.
Find The Right Dropshipping Supplier For Your Products
Now that you've done all the hard work of choosing a niche and picking products, what's next? You'll need to choose the right dropshipping supplier!
Ideally, they'll have the following characteristics:
Knowledgeable sales and support representatives.
High-quality products that meet consumer demand.
Tools to help you track your inventory and sales.
Be reliable, timely, and efficient in their shipping and packaging.
GreenDropShip meets every one of these criteria! We're a US-based wholesaler and dropshipping supplier with thousands of natural and organic products. Most of these items are made in the USA and come from in-demand brands that consumers know and love.
We have a huge selection of specialty and gourmet products in our inventory, including:
Beverages like coffee, tea, kombucha, yerba mate, natural soda, and juices
Organic sugar and natural sweeteners
Dairy and plant-based milk
Baking ingredients, including different types of flour
Sauces, marinades, and dressings
Spices and ingredients
Vegan, vegetarian, and plant-based goods
Vitamins and supplements
Skincare, haircare, and beauty products
Baby products
Home products like detergents, soaps, and cleaning supplies
Pet food, treats, and supplements
Essential oils and aromatherapy
Become a dropshipping member and we'll store, pack, and ship your orders to your customers. We have multiple warehouses throughout the country, so our shipping times are always short and your customers won't wait long.
We also function as a conventional wholesaler, so you can purchase products in bulk from us and we'll ship them to you. This means that you'll handle storing, packing, and shipping them to your customers.
We offer a Shopify dropshipping app that makes it easier than ever to add products to your store. If you'd rather not use the app, we also offer product feeds so you can use our dropshipping platform to sell products on Shopify, WooCommerce, or Amazon/eBay.
We also offer Amazon FBA prep services to our members at no extra charge.