Branding Tips for Businesses Every Startup Should Use
Logo Branding Tips for Businesses
Take a second to think about logos that really catch your eye. What makes them successful? When discussing branding tips for businesses, logos are an essential component for establishing a brand.
Logos help businesses brand themselves, which means that it is difficult to change a logo later on. That is why you should take the time to develop a logo that will represent your brand for generations to come. 
Even if you decide to hire a graphic designer, these branding tips for businesses will help you understand the process of designing effective logos and in turn, create a strong brand for your company.
Target Audience
Design your business logo with your target audience in mind. Consider factors such as age, gender, and interests when designing your business logo. A company marketing to younger men might design a logo with vibrant blue tones whereas a company marketing to women ages 40-50 might design a more elegant logo that uses a softer violet.
Similarly, a bank would design a logo that is different from say a fitness center. Consider who you want to see your logo, what you want them to take away from it, and why they'll remember it.
Be sure to check out the article, How to Choose Website Color Schemes That Actually Work for tips on how to pick colors for your company.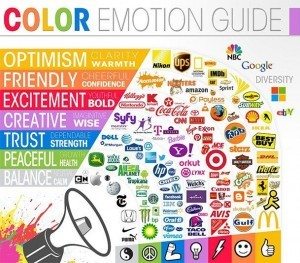 Simplicity
What do Apple, McDonald's, and Nike have in common? Their logos are incredibly simple and yet, they are easily recognizable.
Another interesting similarity is that the logos do not represent what the company actually does. Nowhere in the McDonald's logo is there a hamburger, nor do you see a computer in Apple's logo.
The takeaway is that these logos are still memorable regardless of their relevance to the products provided by the company.
Customers will recognize and remember your logo if it is simple. Having too many elements can make it distracting and forgettable. Put simply, a business logo is meant to be a representation of your business; of its values, products, employees, etc.
To that end, your logo should look good on anything and at any size. If the logo becomes cluttered or lost when it's shrunk down or printed onto a baseball cap, it might be a good idea to rework the design.
Color Selection
The color(s) you choose for your business logo is important as they can make or break the design.  
Color scheme tools such as Adobe Color and Bright Side take the guesswork out of choosing multiple colors for your logo and provide suggestions for complimentary colors based on the primary color you choose.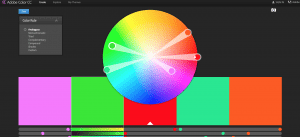 Color gradients are a great way to give your logo a smooth transition between colors. Progressively blending green and blue is an interesting way to combine the colors in your logo.  Take for example the Instagram logo which blends blue, yellow, and red in a seamless flow.
When designing your business logo, think about how it will look without color. The NBC logo doesn't give the same message when it is formatted in black and white.
Negative Space
Clever logos make good use of their negative space. This can be useful in designing thought-provoking logos. Take for example the Martini House logo.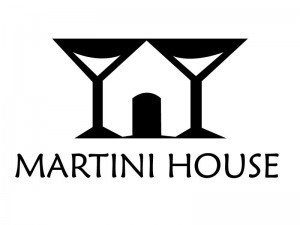 You will notice the martini glasses but also see the house that is formed by the negative space in between the martini glasses. A clever logo is more likely to resonate with customers which will, in turn, strengthen your brand.
You can find an example of a negative space logo can be seen in the NBC Universal logo. When introduced in 1956, the logo informed viewers about the station's color broadcasting while cleverly utilizing negative space to create a peacock silhouette.
Look to the Pros
A good way to start the logo design process is to research existing logos. Save logos you find attractive or memorable to a folder and determine what you like about them. Finding characteristics that you like such as color, shape, & typeface will give you a starting point to begin designing your own logo.
If you don't have the time or desire to create your own business logo, consider using websites such as Fiverr and 99 Design to hire freelance graphic designers who can do the work for you.
Hopefully, these branding tips for businesses will help you jumpstart your own company.
Make sure to download our Popular Logo Designs PDF to jumpstart your own logo design process or sign up to get more marketing tips and our Product Catalog: or sign up to get more marketing tips and our Product Catalog: