Guide To Shopify SEO For Dropshipping: Tips To Rank Higher!
Search engine optimization (SEO) has come a long way! Gone are the days of keyword stuffing and misleading clickbait headlines. Today Shopify SEO is all about useful content that satisfies a user's search intent.
Overall Shopify is a great platform for people looking to build an online dropshipping business. It's intuitive, has tons of built-in features, and a marketplace full of apps to help you run your business.
But even the most brilliantly designed Shopify store won't succeed all on its own. You still have to put in a little work to fully optimize your site and attract a loyal customer base to your brand.
Luckily, Shopify's built-in features combined with the SEO tips in this guide can help you develop a winning Shopify SEO strategy to help your brand stand out from the competition.
Table of Contents:
By implementing these SEO tactics, you'll increase your store's discoverability, organic traffic, and conversions. Ultimately, that's the goal: to make sales.
So let's get started!
What Is Search Engine Optimization (SEO)?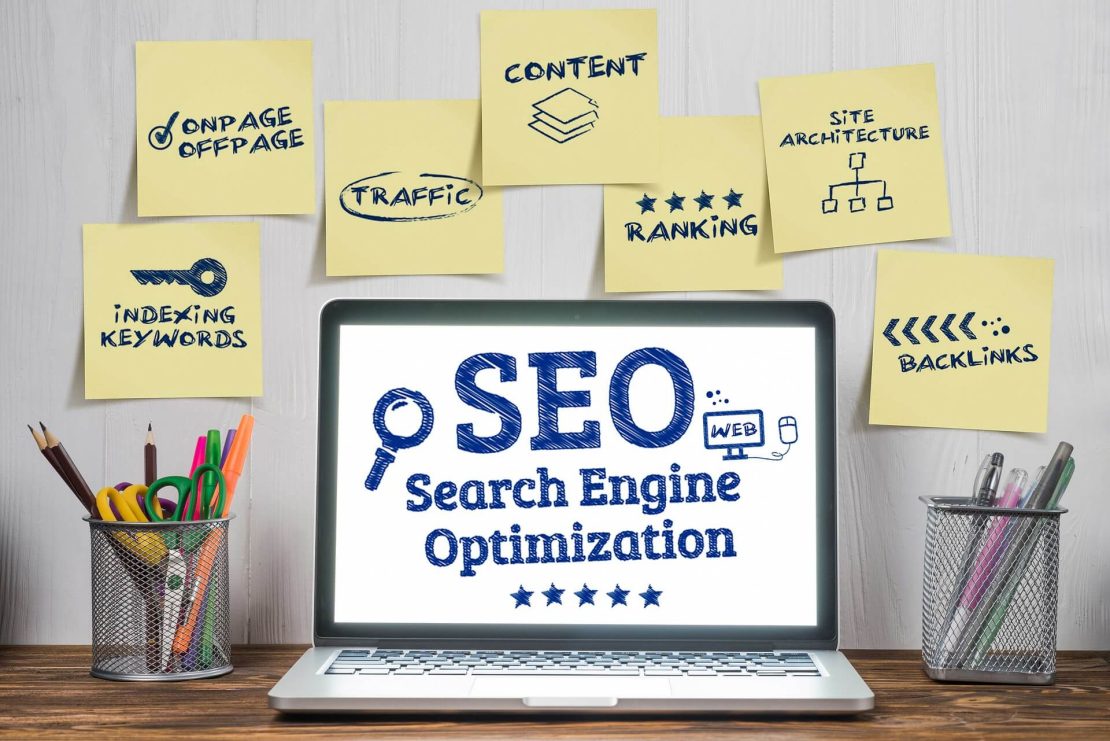 SEO (search engine optimization) is a series of tactics you can use to get search engines, like Google, to identify your website as a helpful solution to a user's inquiry.
SEO is a big universe, and it includes a range of techniques – from creating a positive user experience, to correctly indexing your web pages and developing useful content.
However you go about it, the goal of SEO is for your eCommerce site to be perceived as a relevant and valuable resource for users.
The more relevant your site is, the more likely search engines are to recommend it to others and rank your Shopify store higher in their listings.
The power of coming up on page one of Google cannot be understated. According to the Search Engine Journal, a Shopify dropshipping store that ranks in the first position gets nearly twice as much traffic as one that ranks in the second position.
Results like this are the reason why developing an effective Shopify SEO strategy is critical for your online store's success.
RELATED ARTICLES:
Why Is SEO Important For My Shopify Store?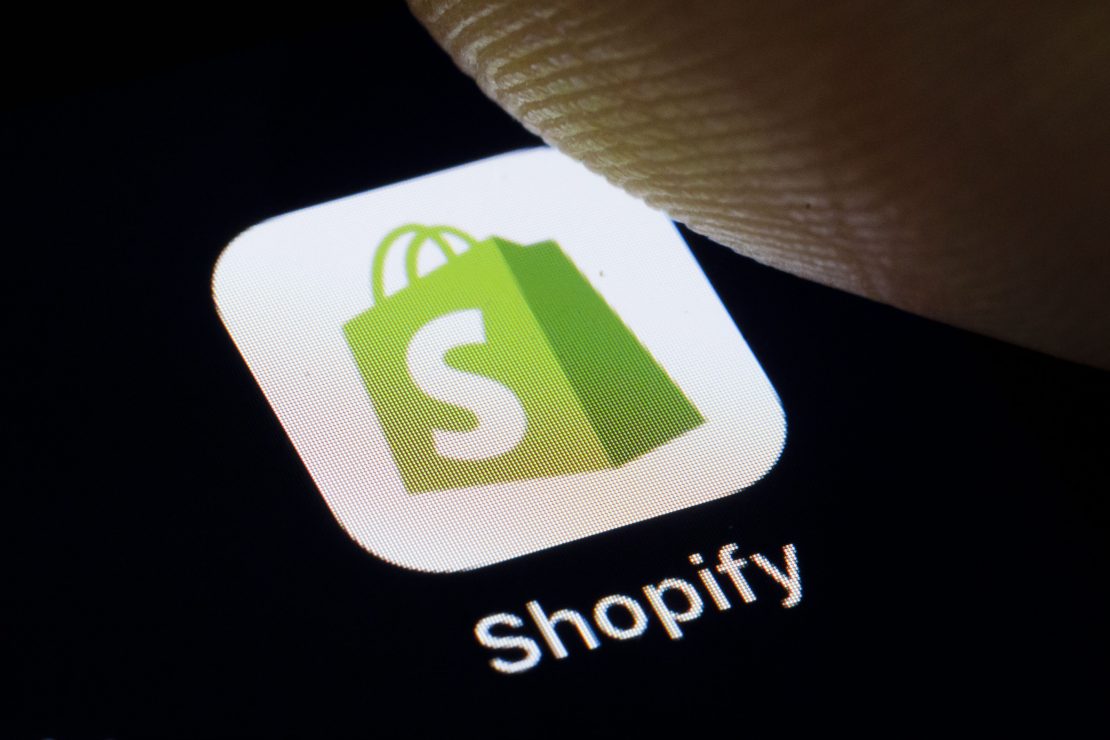 Search engine rankings play a huge part in how easily shoppers are able to find your store. The higher you rank in search engine results, the more traffic your eCommerce store will have. This naturally leads to increased sales opportunities.
To look at it another way, if you don't have an SEO strategy for your Shopify dropshipping store, you're missing out on a solid source of traffic and revenue.
In general, online stores can expect 35% of their total traffic to come from search engine results pages. This translates into 33% of a store's total revenue being driven by organic search, making this channel one of the highest sources of traffic and revenue for eCommerce, according to Wolfgang Digital.
Here's some more food for thought. If the majority of your sales are coming from paid advertising channels like Facebook or Instagram, this can really take a bite out of your profit margins.
And while it's true that generating organic traffic takes time, once you build up momentum and rankings it will become your most affordable acquisition channel. With SEO there is definitely some sweat equity you need to put in upfront, but it is well worth the effort!
RELATED ARTICLES:
What SEO Factors Will Make My Shopify or eCommerce Store Rank Higher?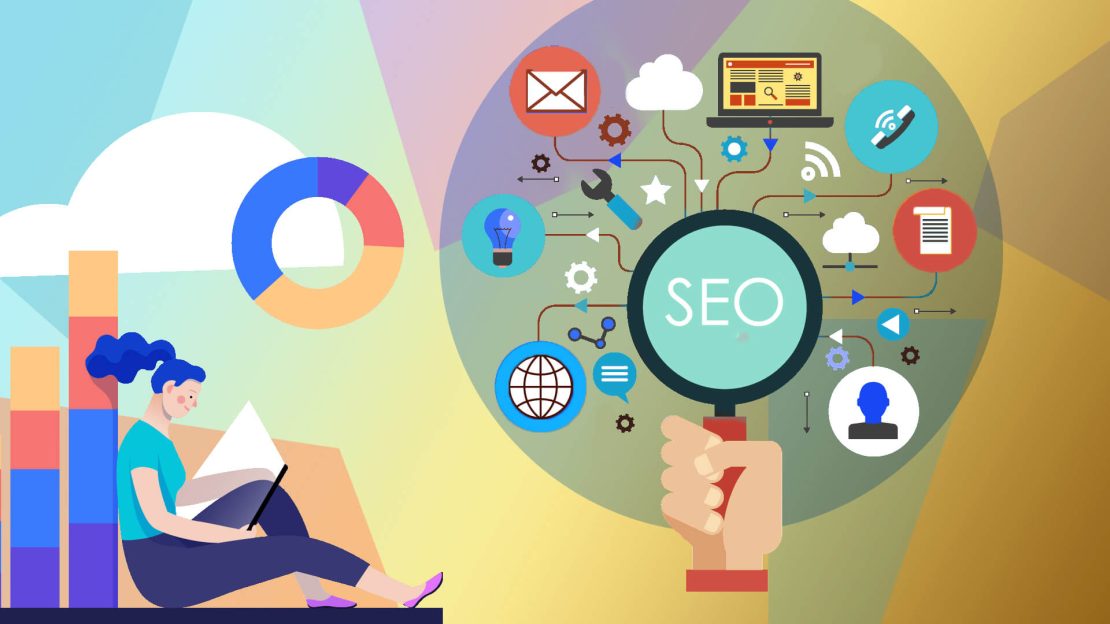 The vast majority of people who look for anything online start with a search engine like Bing or Google. As you probably know, when you type in a search term, a list of search results will be displayed to the user. These search results are ranked in order of their relevance, with the most relevant pages appearing at the top.
That being said, there are a number of SEO factors that can make your Shopify store rank higher in these search results:
Number of natural (not social media or paid) links to your store from other sites.
Improved authority of the site based on user engagement.
The age of the domain name (the longer it has been up, the more authority it has).
Content and site structure that has been optimized for search engines.
This is where search engine optimization (SEO) comes in! It plays a vital role in getting those valuable visitors to actually see your site.
Besides, if no one can find your Shopify store, how in the world are they going to shop there? It may seem like an obvious observation, but you'd be surprised how many online retailers fail to properly implement SEO for Shopify stores.
Generally, the first page of search results gets over 90% of the traffic. Within this first page, the first three results get over 60% of that traffic.
Additionally, the difference between the last result on the first page (10th) and the first result on the second page (11th) is a decrease of nearly 100%!
Remember, SEO is important. You need to rank higher to get more traffic, and more traffic means more potential sales.
What Are The Three (3) Pillars of SEO Content?
When discussing and/or analyzing the use of SEO as an overarching strategy to improve your search engine rankings and boost sales, it's important to note that SEO has three fundamental "pillars":
Authority. Google evaluates the authority of your page to ensure that it's giving users the most authoritative information that they're searching for.
Relevance. The mysterious Google algorithm also emphasizes relevance. In other words, is your page relevant to the users' search queries?
Experience. User experience has become very important in recent years. For instance, a one-second delay in page loading drops page views by 11%.
Any page that implements an SEO strategy that emphasizes all three (3) pillars of great SEO content will have a much higher possibility to rank at the top of the Google search results.
RELATED ARTICLES:
Shopify SEO Dropshipping Store Set-Up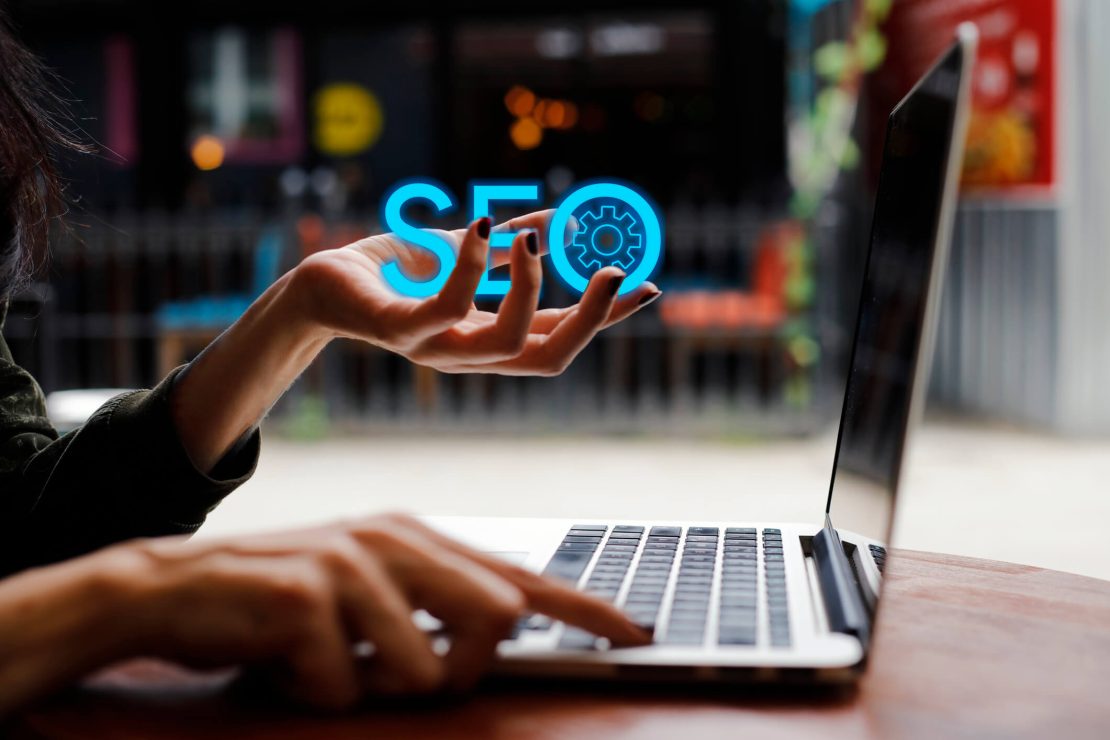 When you set up your Shopify store, you want to be sure you lay the proper foundation for search engine optimization. This will allow you to build a profitable and successful store by tapping into the awesome power of SEO.
Properly implementing a comprehensive SEO strategy will help your store rank higher in search engine results. Ultimately, the higher you rank, the more likely you are to have the user click on your particular link.
This is especially true if you can get your online store on the first page of search engine results. Why is that exactly? Because the vast majority of users will click on the links on the first page of results.
Furthermore, here are a few interesting figures to help you understand just how crucial it is to implement good and effective SEO strategies:
As you can plainly see, these figures are mind-blowing! We really can't overstate just how critical good SEO is for your online store.
That being said, here are four (4) essential steps to get your Shopify SEO strategy off to a solid start.
1. Get A Custom Domain:
If you want to succeed in SEO, you'll need a custom domain name for your Shopify store. Custom domains are more memorable, they help your brand stand out from the competition.
It also builds trust with potential customers when they see a fully branded web address as opposed to the default brandname.myshopify.com. It helps your store appear more professional and gives your brand a little credibility boost.
Registering a custom domain through Shopify is relatively easy and not that expensive. You can pick up a custom domain for anywhere between $10-$20 a year.
You want to choose a domain name that's relevant to your industry to help you rank higher for related keywords.
Are you having trouble coming up with a relevant domain name for your dropshipping store? A good place to start is Shopify's domain name generator. Simply enter your brand or ideal domain name and get ideas of related terms that are available to buy.
2. Set Up Google Search Console: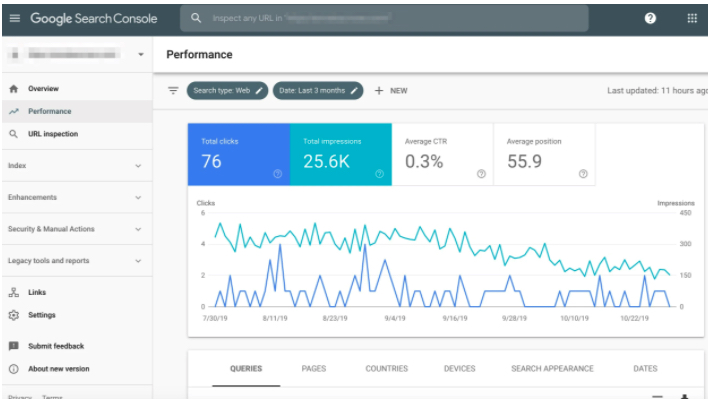 Search Console is a free tool provided by Google to website owners. It provides useful data about your website's performance in Google's search results. For example, Search Console can tell you:
Which keywords are generating the most clicks
What's the click-through rate (CTR) of your page in the search results
How your keyword rankings have changed over time
In addition, Search Console can help you perform technical SEO tasks such as:
Request crawling and indexing of your website's pages
Submit your website's sitemap to Google
Check your robots.txt file for errors
And lastly, Search Console is how you get important messages from Google about issues on your site that might need to be fixed, such as:
Website errors (mobile-friendliness, indexation, etc)
Manual penalties
In short, Google Search Console is a must-have SEO tool for your Shopify store. Click here to learn how to easily set up Google Search Console for your website.
3. Install Google Analytics: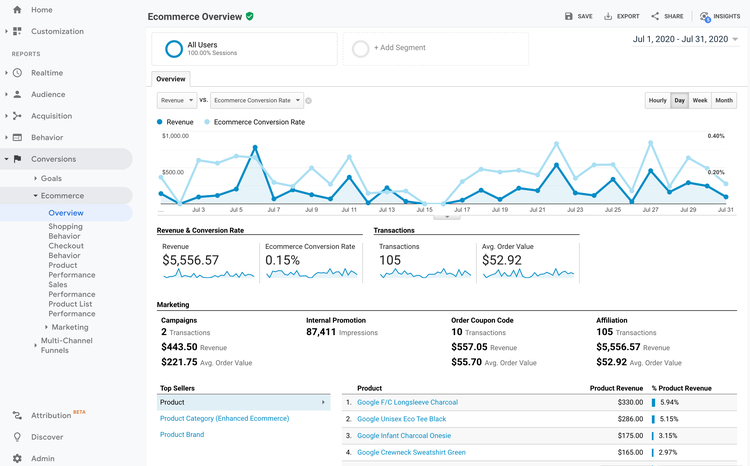 Google Analytics is an SEO game changer for your Shopify store. Whatever you do, do not skip this important step!
With Google Analytics, you'll be able to better understand the connection between your SEO efforts and sales in your online dropshipping store. You can use Google Analytics discover important data such as:
How much revenue you're bringing in from SEO
The conversion rate of your organic traffic
Which pages or products are generating the most revenue through organic search for your brand
Plus, you can connect Google Search Console to Google Analytics and perform analysis that mixes both data sources. To set up Google Analytics, you must create a Universal Analytics property and add it to your Shopify store.
Step 1. Get An Account:
Create your Google Analytics account. Navigate to Google Analytics and click Start for free. Follow the instructions to set up a property and set up a tracking code so Google can collect your website data.
Step 2. Create A Universal Analytics Property:
Once you're signed in to Google Analytics, complete the following steps:
Click Admin.
In the Account column, select the correct account.
In the Property column, click Create Property.
Enter a name for the property.
Select Create a Universal Analytics property only.
Click Next.
Select the appropriate settings.
Click Create.
Next, you'll need to add the Universal Analytics Property to your Shopify store.
Copy the Universal Analytics property code to your clipboard.
In a new browser tab, open your Shopify admin.
Go to Online store > Preferences.
In the Google Analytics section, paste your Universal Analytics property in the Google Analytics account field.
NOTE: Google Analytics cannot start tracking visitors until you remove password protection from your online store. If your store is password protected, search engines won't be able to see beyond your homepage to crawl and rank your pages. So be sure you unlock your store to the public to get the full power of SEO for your Shopify store.
Step 3. Enable eCommerce and Reporting:
Did you know that you can get powerful eCommerce reports directly inside of Google Analytics? You can! But first, you have to enable both eCommerce and Enhanced eCommerce Reporting in your Shopify store.
To enable basic eCommerce tracking:
In your Google Analytics account, click Admin.
In the View column, click eCommerce Settings.
Click the Enable eCommerce toggle to turn it from OFF to ON.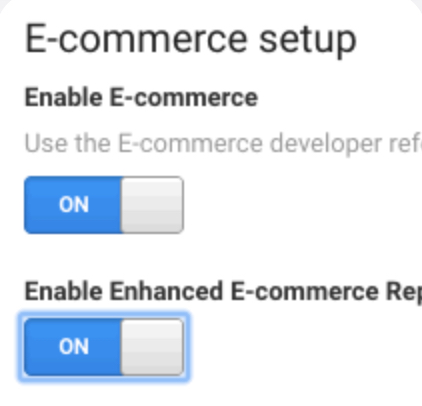 To enable enhanced eCommerce tracking:
From your Shopify admin, go to Online store > Preferences.
In the Google Analytics section, check Use Enhanced eCommerce.
Click Save. This enables Shopify to track and send all of your website data to Google Analytics.
In your Google Analytics account, click Admin.
In the View column, click eCommerce Settings.
Click the Enable Enhanced eCommerce Reporting toggle to turn it from OFF to ON.
Click Save.
4. Submit Your Sitemap:
All Shopify stores automatically generate a sitemap.xml file that contains links to all your products, product images, pages, collections, and blog posts. This file is used by search engines like Google and Bing to index your site so that your store's pages appear in search results.
Submitting your sitemap files to Google Search Console helps Google find and index pages on your site.
Before you submit your sitemap, you need to verify your domain with Google Search Console to confirm that you're the owner of your Shopify store (if you haven't done so already). To do this, select "Add Property" from the Search Console dropdown and enter your domain in the URL Prefix box.
Once that is completed, you can submit your sitemap file to Google by completing the following steps:
Access Google Search Console.
Click Sitemaps.
In the Add a new sitemap section, enter your domain's sitemap file name and then click SUBMIT.
Your domain's sitemap needs to have a format similar to https://www.beverlys-apparel.com/sitemap.xml. If you don't include all of the sitemap URL, you might receive an error message from Google.
If you follow these four (4) steps, you will definitely see a dramatic improvement in your search engine rankings.
This, in turn, will greatly increase traffic to your store and likely improve your sales!
RELATED ARTICLES:
Tips To Improve Shopify On-Page SEO
Shopify SEO is a little different than typical website SEO. Think about it, you're not just optimizing content – you're optimizing product listings. This is why Shopify SEO can be a bit challenging.
It's also why it's so important to carefully consider your overall SEO strategy. If you want to stand out from the crowd and experience continued sales growth, you need to optimize as much as possible!
On-page SEO, also known as on-site SEO, is the practice of optimizing the content on your page (both the written word and the HTML source code) to make it as discoverable as possible.
You want to make it easy for Google, Bing, and other search engines to understand the material on your web pages and to match it with relevant search queries so that interested shoppers find your online store.
An on-page SEO strategy essentially organizes the content on the page so that search engine crawlers going over the material know what they're looking at and can categorize the page appropriately. This is the meat and potatoes of your Shopify SEO strategy, and where you'll spend the majority of your SEO time and effort.
1. Find Your Dropshipping Store's Target Keywords: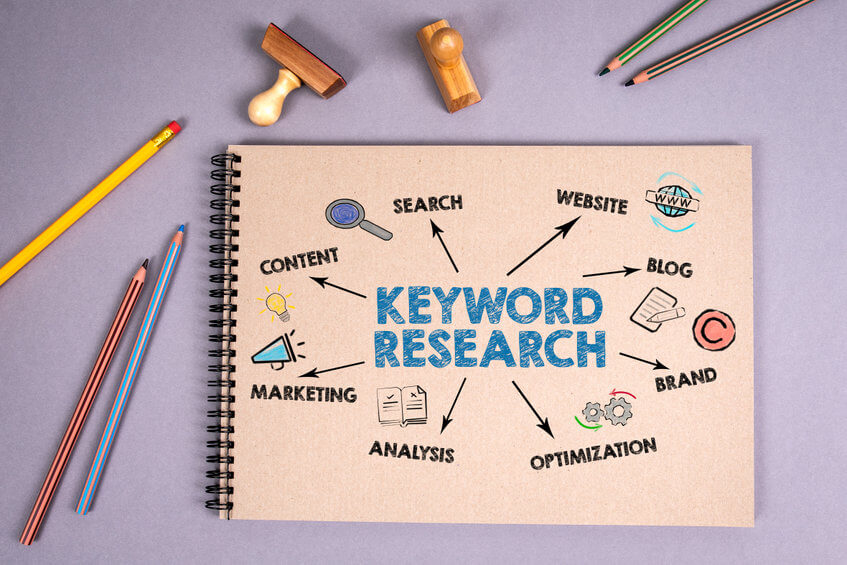 Keyword research is the process of understanding what people are searching for in Google and other search engines.
You can use this information to tailor your on-page content so that it aligns with user search intent. Plus, you can prioritize your content plan and easily choose new dropshipping products to add to your online inventory.
RELATED ARTICLE: Product Research: How To Find Products For Your Store
Also, do not forget about the importance of longer keyword phrases. These are technically known as longtail keywords and are simply key phrases that contain three or more words. These make up over 70% of all online searches and have a higher conversion rate since the potential customer is usually further along in the purchase process.
Here is where you need to add keywords to improve rankings:
Page title
Meta descriptions
Headings (H1, H2 or H3 tags)
The content in the actual body of the page and blog posts
Alt tags for images
Furthermore, once you have logged into your free Shopify account, follow these simple steps:
Open the tool and select Tools from the top menu.
Go to Keyword Planner and press Search for new keyword and ad group ideas.
Make sure that you are searching in the proper geographic area (USA and Canada, for example) by checking the settings under the Targeting tab.
Input keyword ideas.
You will then be presented with a list of potential keywords. If you need more targeted keyword research, then under the tabs for Customize your search and Keyword options, be sure you select Only show ideas closely related to my search terms.
When you perform keyword research, you need to understand three (3) key concepts: search volume, keyword difficulty, and searcher intent.
i) Search Volume:
This is an estimate of how many times a specific term (keyword) is searched for by users each month. Search volumes allow you to compare keyword terms based on their popularity.
In eCommerce, you can use this information to help you decide which keywords to target. For instance, let's take a look at this screenshot from Google Analytics:

For example, if your store sells natural oil shampoo, performing keyword research would tell you that it's more beneficial to optimize your product page for "argan oil shampoo" than just "natural shampoo" as significantly more people search for the first term.
There are a number of tools you can use to track and analyze search volume for given keywords or keyphrases.
However, in some cases, it's more useful to have an overview of general trends in the marketplace or with given keywords. This is where Google Trends comes in!
This is an incredibly powerful, versatile, and informative tool that's not only easy to use, but it's also free! To learn everything you need to know about this nifty tool, check out our blog posts below.
RELATED ARTICLES:
ii) Keyword Difficulty:
This is a calculation offered by some tools about how easy (or difficult) it is to rank for a certain term. You can use keyword difficulty as a second filter for the keywords you select.
For example, let's say you have a Shopify store that sells women's clothing. Specifically budget-friendly women's clothing.
If you relied exclusively on search volume to prioritize your keywords, you would choose to go after "women's jeans" instead of "affordable women's jeans". After all, the search volume for women's jeans is a lot higher.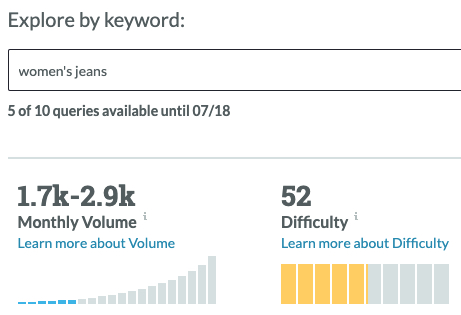 However, It's a lot harder to rank for just "women's jeans" as the difficulty level is higher. If you are running an eCommerce store with an eye toward affordability, it will be easier and faster for you to get SEO traffic for "affordable women's jeans". And that traffic will be a lot more targeted to what you actually sell!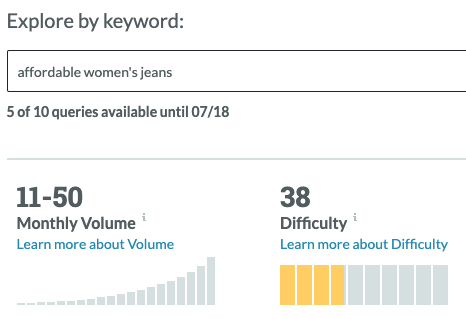 iii) Searcher Intent:
This refers to understanding what a user was looking for when they typed a specific keyword into Google. It might sound obvious, but it can save you from wasting a lot of time and effort going after a misleading keyword.
Here's a tip: after you do keyword research and identify search volumes, type in the search phrase you are considering into Google and see what actually comes up. You might be surprised!
For example, If you own an eCommerce store that sells sports equipment and you looked at the data above, it might seem like selling metal baseball bats could be a good opportunity.
However, when you do an actual search for the term "metal bat", all the search results are about a character from an anime series. It has nothing to do with sports equipment.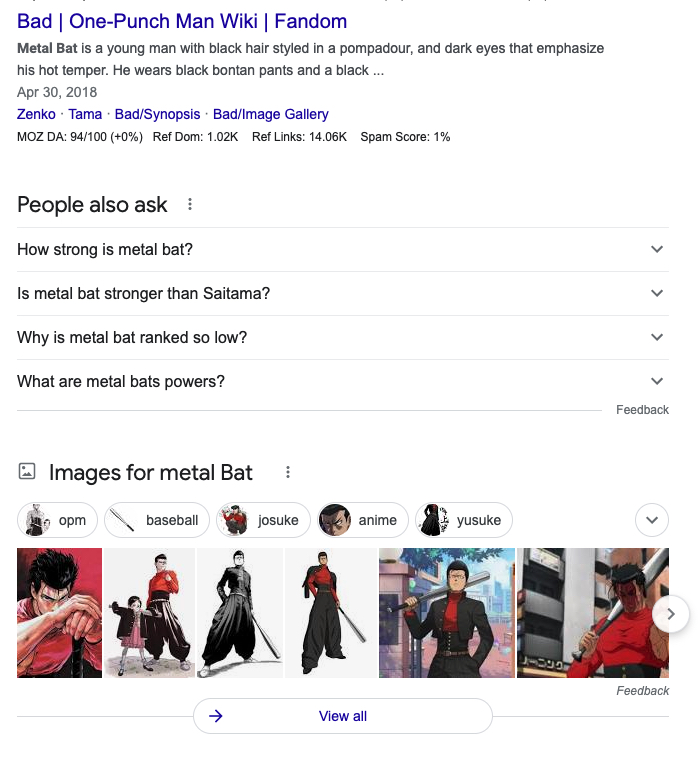 This simple check tells you that you most likely won't be able to rank for that term, and even if you did, people searching for "metal bat" aren't by and large looking to play baseball.
iv) Map Keywords To Content Types:
It's important to remember each page in your Shopify store; product pages, categories, blog posts, homepage, etc. can rank for different keywords. Keyword research can actually inform what pages you should create.
For example, some of your pages can target searches for information such as "what are essential oils", while others target keywords with a lower volume, but that indicate an intent to buy such as "buy essential oils".
No matter what type of search query your page is targeting, know that when it comes to choosing a keyword, Google and other search engines want to rank the pages that have the highest likelihood of satisfying a searcher's inquiry. In the specific case of Google, it wants no additional searches, and it doesn't want the user to hit "Back" and click on another search result.
When you're picking a keyword to target, you can get a good idea of what the search intent is from the top 10 results on Google. Search the term you're considering and make a note of whether the page is an article or a product page.
Only pay attention to organic listings and not the ads. This can give you an idea of what type of page/content would best meet a user's needs searching for your selected keyword. You can match your content accordingly.
v) Keyword Research Tools: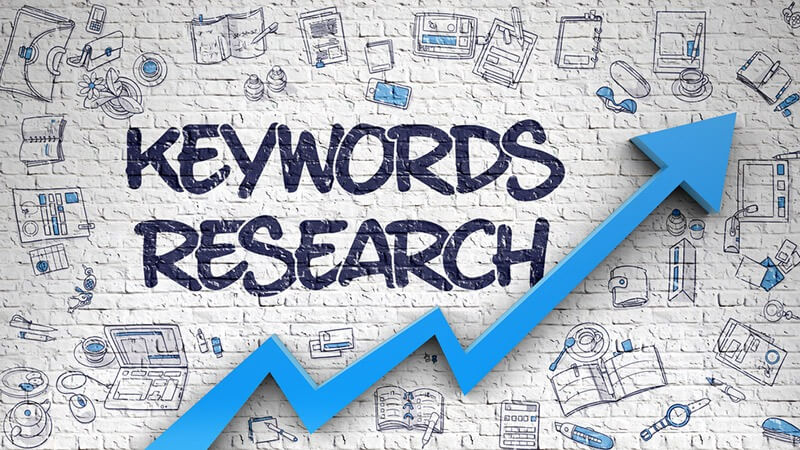 In order to perform the type of keyword research you need for your Shopify store, you'll have to use an SEO tool to help you uncover search data.
There are lots of free and paid SEO tools out there worth checking out. Here are a few of our favorites:
Free SEO Tools
Free or Paid SEO Tools
Keywords Everywhere for simple keyword research has a free browser add-on for Chrome/Firefox as well as a paid version that gives more in-depth analysis.
MOZ allows you to do up to 10 in-depth keyword searches a month for free (including suggesting related keywords) or you can use their paid plan for unlimited searches.
Paid SEO Tools
Ahrefs offers a complete SEO tool suite for audits, research, tracking, and more.
Semrush also offers a complete suite of SEO tools including research, audits, content marketing, and more.
2. Optimize Your Shopify Store Site Structure: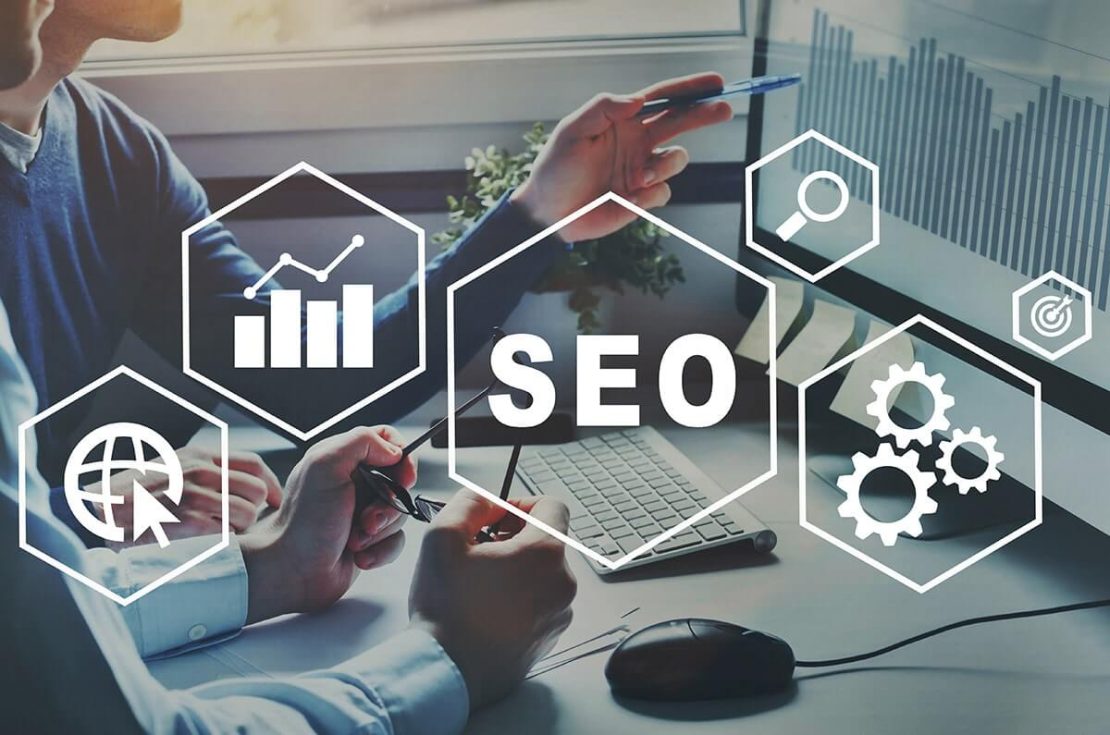 You want to create a user-friendly site structure to make shopping easier for your customers. The added bonus? By doing this, you're also making it easier for search engines to understand how your site is organized.
Plus, when shoppers are able to quickly and easily find the things they're looking for, they tend to spend more time on your site and view more pages, which can help your search engine rankings.
Your home page is typically the center of your website, which makes it the most powerful page of all. This is why you always want to link to your products pages from the home page.
You'll also want to link to your collection pages (often called category pages) from the home page. If you don't, some important pages may be hidden deep within your store, making it difficult for visitors to find them easily.
Of course, if you don't have many products, linking to each one might be more useful than making a user visit a collection page first. But if you have more than a few dozen products, you should definitely consider assigning them to collections to improve navigation and user experience. The Shopify help center has a guide on collections and how to create them.
TIP: Make sure all of your important collection or product pages are discoverable at the top of your homepage. By doing this, you're putting some of your most valuable pages in easy reach of your customers. You should also include a search box.
3. Optimize URLs:
URLs give search engines and users an indication of what a certain page is about. Google has started to give more relevance to URLs by moving them to the top of each search result that is displayed.
What does this mean for your Shopify SEO strategy? It means keywords should be part of your page URLs!
Shopify store owners should note that a page title becomes the default URL. But you can modify this, and we recommend that you do.
To optimize your URLs, do the following:
Ensure the page's target keyword is included in the URL.
Avoid using stop words or filler words such as "the", "for", or "and".
Keep your URLs short, sweet, and to the point.
Don't use uppercase or special characters.
Here's an example of bad, good, and better URLs for a product page optimized for "soccer cleats":
Bad: https://www.soccerworld.com/products/product-109398 – this is hard to remember and not descriptive at all.
Good: https://www.soccerworld.com/products/the-worlds-best-soccer-cleats – this includes the target keyword but it's very long.
Better: https://www.soccerworld.com/products/soccer-cleats – this is short, descriptive, and includes the focus keyword.
You can edit your URLs in the bottom section of the "Edit Website SEO" section in your Shopify store Admin:
Please note that Shopify adds a prefix to your URLs depending on the type of page such as /product, /post, /pages, /collections. But you have to use a clean structure after the prefix. Here are some examples of an optimized URL structure for your Shopify site:
Category (Collection) pages:/collections/collection-name
Product pages: /product/product-name
Post pages: /post/post-name
Pages (any other type of content): /page/page-name
Finally, you generally should not modify the URL of an existing page that's already getting organic SEO traffic or has links pointing to it. This could negatively impact your rankings and traffic for that page. In this case, it's better to leave the URL as is and build new pages using the URL strategy above.
4. Optimize Your Product Pages: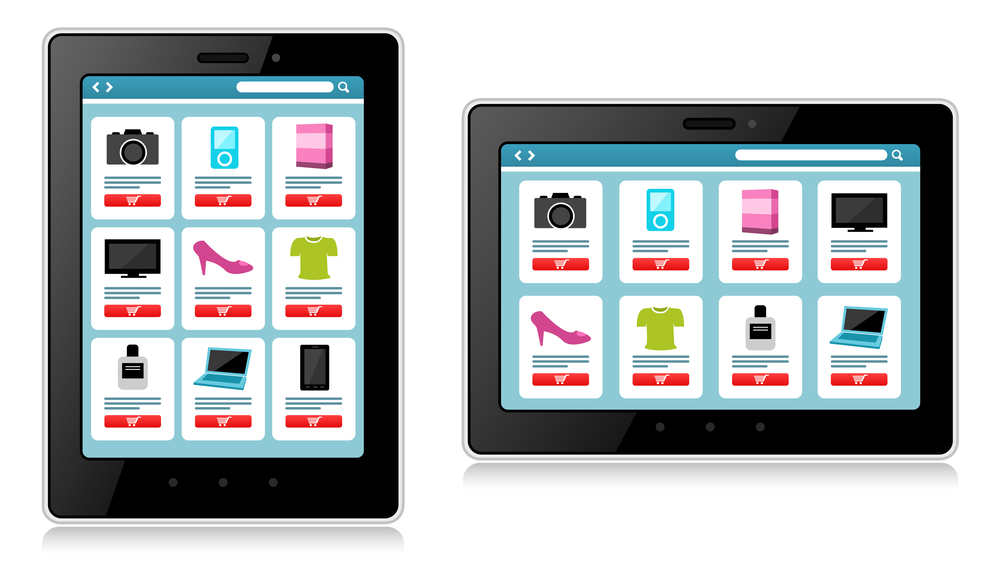 Once you've got a simplified (yet organized) site structure and selected some valuable keywords, it's time to optimize your shop's pages.
Creating an SEO-friendly Shopify product page is about making the information digestible for your customers, not necessarily a search engine. You always want to start with your target audience in mind, and do what would make their on-page experience better.
Formatting should be about getting readers where they need to go, through the use of page titles, headings, bullets, or numbered lists. It's about reducing friction for customers by helping them easily find whatever they're looking for.
RELATED ARTICLE: 5 Killer Product Description Templates That Sell
Here are some useful tips to help make your web pages easy for both a user and a search engine to understand.
Page Titles and Meta Descriptions:
First off when it comes to page titles, you want to keep it under 55 characters so they don't get cut off in search results. Google currently displays the first 50–55 characters of most web pages. Use that as your guide.
To improve Shopify SEO, you also want to include your main keywords near the beginning of your page title. Keep in mind your page title doesn't have to be a perfect sentence. You can structure your title to look more like a listing that highlights key information.

Always think about the user's search internet, let that drive how you craft your page titles.
As far as meta descriptions go, you want to make them engaging and under 155 characters. Google has said there's no exact character count for truncating meta descriptions, but Research from Moz indicates many descriptions get cut off around the 155–160 character mark.
To boost SEO, be sure to include your target keywords and strongest copy at the very beginning of your meta description (and try to keep it under 155 characters). You should also write in an active voice, and use power words or numbers whenever you can, these tend to get more clicks.
If you're unsure of the term, a meta description is a body of text that appears under a page title in a search result. The copy you write should clearly describe the content on the page and also be compelling enough to make a user want to click.

On your Shopify website, you can scroll down to the "Edit Website SEO" to edit your title and meta descriptions.
You should optimize the title and meta description of the following pages of your Shopify site:
Homepage
Pages
Blog posts
Products
Collections
As you can see, well-executed page titles and meta descriptions can drastically improve your Shopify SEO, thereby making your store more visible to users.
Headline Tags:
Ensure you are using one, and ONLY ONE, H1 tag on your pages. H1 (header 1) tags are often used as the main headline for a page and usually contain the page's focus keywords.
Note that Shopify page titles are the default H1 tag for pages created through Shopify. You can update your title copy to make it more optimized, but avoid manually adding any H1 tags anywhere else on the page.
To add or edit the titles or meta description tags in your Shopify store, go to Online Store → Preferences and change your Title and Description. When doing so, make sure that:
The meta title should be less than 60 characters.
The meta description should be less than 160 characters.
To craft the best meta titles, you should use the following format:
Meta Title for Product pages: [Product Name] – [Product Category] | [Brand Name]
Meta Title for Category (Collections) pages: [Product Category] | [Brand Name]
These are nifty templates that can help you streamline the process of composing all this critical content for your Shopify SEO strategy.
RELATED ARTICLE: How To Increase Your eCommerce & Dropshipping Sales: Top Tips!
5. Optimize Product Images:
Search engines not only crawl the text on your webpage, they also crawl your images. Some people worry that optimizing images means their product photos might look less appealing. It won't. In fact, it can help better display your images to shoppers by making them load faster and look good on all devices.
Reducing image size should be a priority for your Shopify SEO plan. Images make up 46% of the average web page's overall size, which means they can definitely impact page load speed if not optimized.
Here are some tips to help you optimize images to improve performance and SEO:
i) Upload Images In JPG or PNG Formats.
Shopify displays images in WebP, a format that automatically compresses images, with an average saving of over 30%. Starting with a smaller JPEG or PNG means your images will get the maximum compression.
There are a few tools you can use to do this, including:
NOTE: A good rule of thumb is to use JPEGs for photography and PNGs for custom graphics or illustrations, etc. Avoid using GIFs if you can!
ii) Reduce The File Size Of Your Images.
Reducing your image dimensions speeds up the loading of your images and the page. You can use Shopify's free image resizer to help get you started.
Plus, there are a few other image compressor tools online, usually free or ad-supported. The best ones include:
These are just a few of the better, more reputable image compressor sites.
Furthermore, many of the tools that convert one image file type to another (say, for instance, from WebP to JPG) will automatically compress the image while they are converting the file type. This is pretty sweet! You're killing two birds with one stone, metaphorically speaking.
iii) Add Images To Your Sitemap.
It's critical to have images displayed in search results. Some shoppers are visual searchers, especially when it comes to products like clothing. Adding images to your sitemap makes it easier for search engines to crawl and index them.
Shopify includes your primary product page image in their sitemap, but if you want to include all images on your product pages, you can use an app like Image Sitemap to make that happen.
iv) Name Your Images In Plain Language.
This is the file name of your image when it's saved to your computer. When you upload it, its web address will be the same. Ideally, it should match the keyword on the page.
For example, if a page is about organic shampoo, you'd want to save the file name as "organic-argan-oil-shampoo.jpg." This means that alongside your product page appearing for queries of "argan oil shampoo," your product image will hopefully also appear in the images tab on search engines.
v) Optimize Your Alt Attributes Carefully.
Alt attributes are the text alternative to images used when a browser can't properly render them. They're also used for accessibility. If a person with impaired vision looks at your blog, they'll read the alt text.
The best way to create an alt tag is to describe in plain language what's displayed in the image. In turn, this can help your images rank. So instead of "natural shampoo" try "image of Beverly's natural organic argan oil shampoo for dry hair."
6. Boost Rankings With Content Marketing: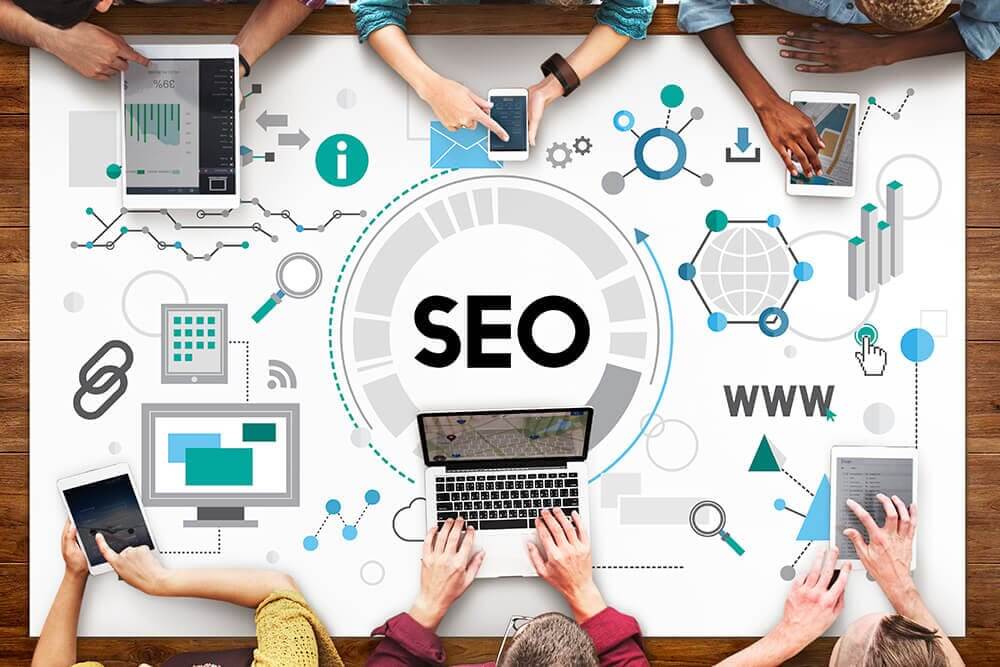 Now that you have everything on your product pages optimized, it's time to talk about content marketing for dropshipping.
Content is one of the main reasons people navigate to a website. As an eCommerce store owner, you may be tempted to skip out on creating content, thinking that product descriptions alone are enough to get the job done. But believe me, you'll have so much more success if you take the time to create original content that adds to your overall user experience.
Adding a blog to your Shopify store is a great way to boost SEO by allowing you to share optimized, relevant content with your readers that can rank on Google. You can find instructions for adding a blog to your online store here.
Coming up with topics to write about might seem daunting at first, but it doesn't have to be. Make a list of all the things customers ask you, or anything you think a customer might need a solution for. Then do some keyword research to determine how users would search for those ideas and let that guide your writing.
Your content is a chance to let potential customers get to know your brand in a way that doesn't involve selling. It's also one of the easiest ways to rank for more keywords and get more backlinks.
You want to be consistent with delivering content and choose the channels most appropriate for the message and your audience (blog, social media, email, etc.). Creating a monthly content calendar can be an effective way to help you plan and keep topics organized.
RELATED ARTICLES:
7. Improve Overall User Experience: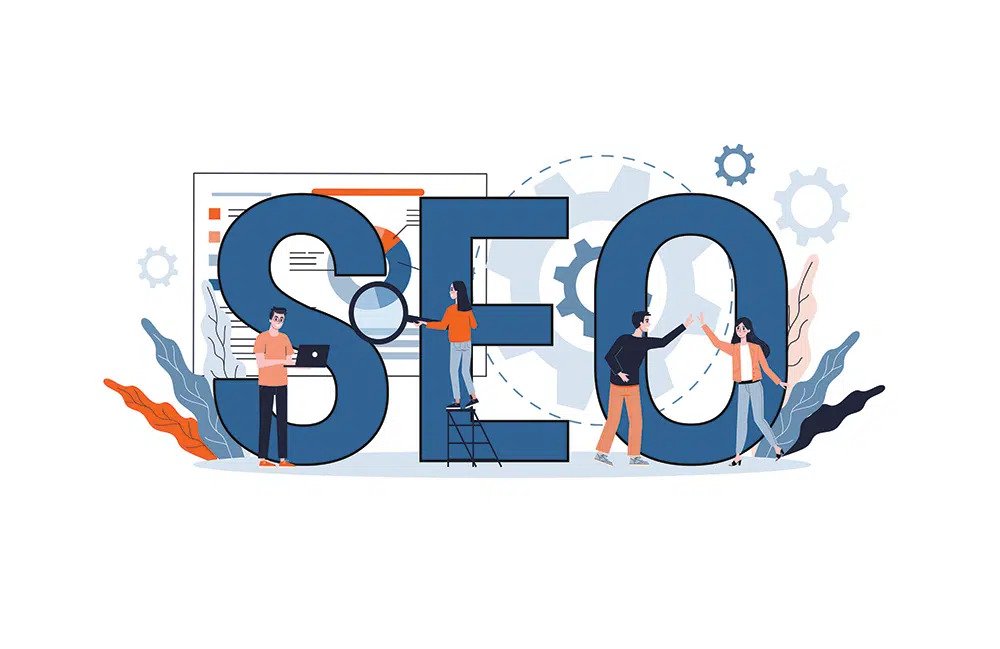 User experience is a key component of any effective Shopify SEO strategy.
If customers are able to easily find what they're looking for, they'll spend more time exploring your site. They'll also be more likely to come back and buy from you again. Both of which can boost your rankings.
RELATED: The Ultimate Guide To Shopify Website Design
Let's take a look at a few ways you can improve the user experience on your site, which will help you to rank higher in search results.
i) Boost Your Shopify Store's Site Speed.
Site speed is all about accessibility. When your site is easy to navigate and everything moves quickly, customers have no cause for frustration. This means that they're likely to spend more time on your site.
Every online business owner needs to be aware of the two-second rule! If your site takes longer than two seconds to load, 53% of your customers will lose interest and leave. Even a delay of a single second can result in a 7% reduction in conversions.
Fast-loading pages satisfy shopper demand for a speedy checkout process. Not only will customers be happier with their user experience, they may also be more inclined to buy additional products.
A good place to start is to test your site's current performance, so you'll know if and what you need to improve. WebpageTest is a smart way to identify any major issues related to site speed.
Simply enter the domain to be tested, and this tool will provide a grade on several important elements that impact your site speed, such as use of image compression and browser caching. This tool can point you in the right direction, so you know where to concentrate your optimization efforts.
Some additional tips to make your Shopify store run faster:
Use a fast, mobile-friendly theme
Insert smaller, optimized images
Remove any apps you're not actively using
Avoid using sliders
ii) Ensure Your Online Store Is Responsive.
Responsive design means your Shopify store will look great on any device, including desktops, tablets, and smartphones.
Responsive themes can greatly improve user experience and keep visitors on your site longer. Since Google looks at time-on-page as a marker of a site's value, having a site that's easy to navigate and read can improve rankings.
In turn, improved rankings and better usability result in repeat customers and higher conversion rates. All the things an eCommerce store owner like yourself is trying to achieve!
Making sure your store works on mobile is important, since shoppers are buying using their smartphones more than ever. So whatever you do to improve your website, be sure you test it on mobile as well!
It's essential that shoppers get the same quality user experience, no matter what device they use to access your store.
iii) Use Redirects When Needed.
In Shopify, if a product goes out of stock and you want to tell the search engines that a page is no longer available and permanently moved to a new page, 301 redirects are a great solution.
What is a 301 redirect? A 301 redirect is a way of sending users and search engines away from one page and onto another automatically. It is a good way to deal with a URL that no longer exists, or that you don't want people to visit anymore.
You want to make sure users or search engines go to a useful page and don't get a '404 Error Not Found' page, which can cause you to lose customers and search rankings. Redirects are an important part of your ongoing SEO strategy.
How To Add 301 Redirects In Shopify:
Navigate to Online Store > Navigation > URL Redirects.
Click Add URL Redirect.
Write the old URL in Redirect from and the new URL in Redirect To.
Click Add.
NOTE: If the URL you are directing from still has a web page, you need to delete the page for the redirect to work.
When To Use 301 Redirects:
When website pages/products are removed/moving to a new location or goes out of stock.
Domains that are permanently moved.
If there are 404 pages and expired content.
8. Remove Duplicate Content On Your Store: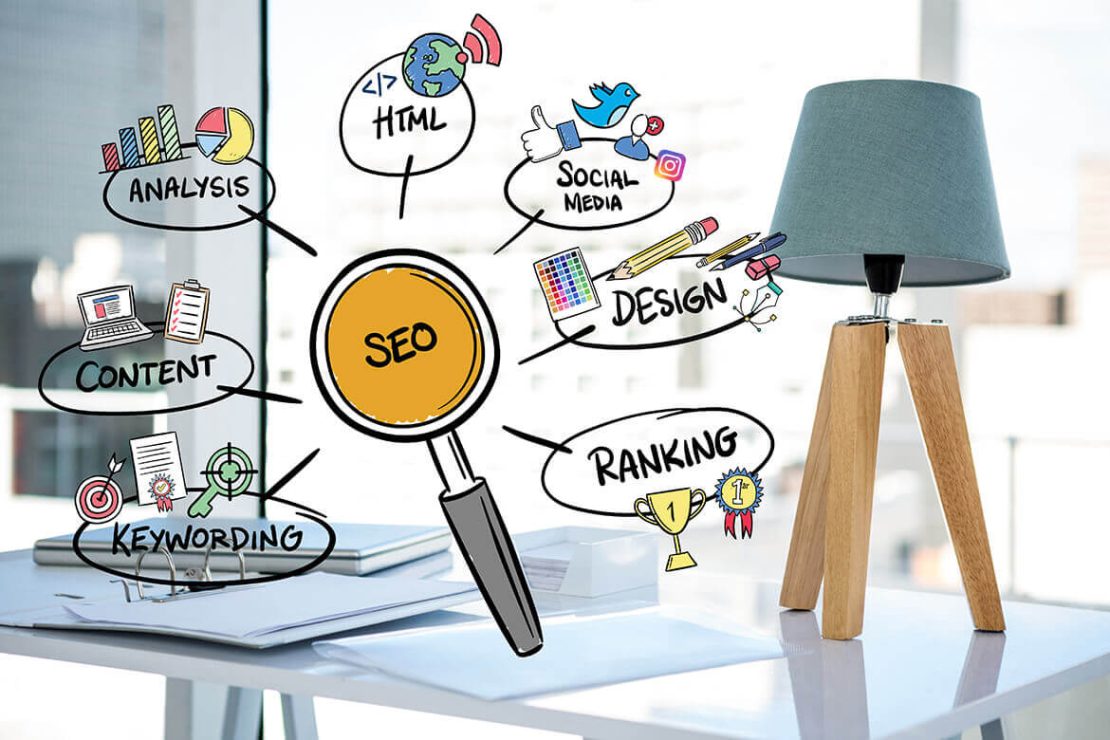 Duplicate content generally refers to text that completely matches copy on another web page. That page could either be on your own site, or on someone else's.
For any Shopify store, duplicate content can be a ranking issue if identified by a search engine, such as Google. Although search engines are quite tolerant of internal duplication, external duplication, where it might appear as though you've copied text from another site, is more likely to have a negative effect on search engine rankings. It can even lead to your store getting penalized by search engines.
You might be thinking, well I don't copy other people's content so I'm safe. Maybe, maybe not.
With dropshipping, it's possible that many resellers offer the same products you do. If you take the product description supplied by the manufacturer and upload it into Shopify, without making it unique to your brand, it's very possible you'll be using the same copy as another reseller who's done the same thing.
The good news is, if you fix the problem, it can actually boost your store's search performance. So how do you go about finding duplicate content?
Perform tests and checks as often as possible in order to make sure all of your copy is 100% unique. Luckily, there are tools like Copyscape plagiarism checker, which can help you detect external duplicate content quickly.
Then once you identify pages in your store that share content with other websites, you can edit your product description, titles, etc. to make sure your copy is different.
Be sure that the content on your own internal pages is also sufficiently unique so that search engines won't see two pages as being the same. Make sure each page has a unique keyword, and build your copy around that.
Off-Page Shopify SEO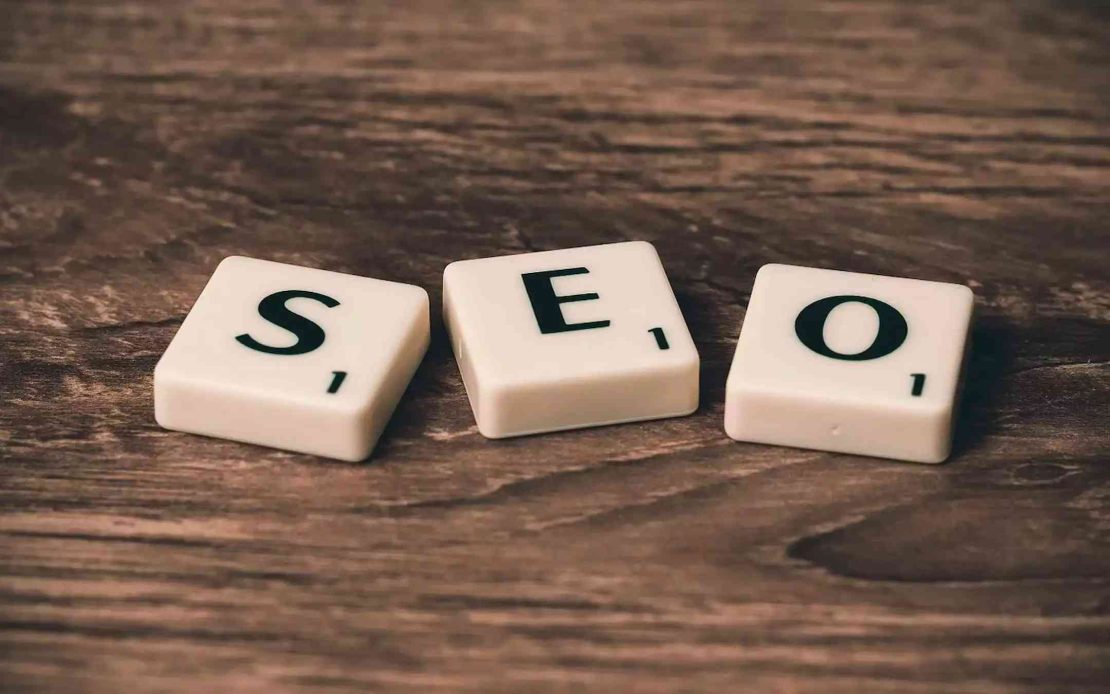 Off-page Shopify SEO describes SEO tactics that are outside your own website, but impact its visibility across the web. Search engines want to know that the pages they return for users are trustworthy.
To better gauge a page's authority, search engine algorithms look at a site's reputation in the rest of the digital universe, including any backlinks that point to the page as a resource.
For example, one of the most common off-page optimization strategies is link building. Having other reputable sites link back to your page helps demonstrate to search engines that this particular page is well-regarded by others.
RELATED ARTICLES:
1. Blogger Outreach & Link Building Tips For Shopify:
Doing blogger outreach is when you approach other writers and influencers and try to get them to link to your site by sharing some content relevant to your brand.
To do link building, you need to put together a plan and strategy for the pages you want to build links from, and then you actively execute the plan. Generally, link building is time intensive and competitive. Journalists, influencers, and bloggers get pitches all the time, so your angle has to be compelling.
Here are a couple of tips to keep in mind when actively requesting links from another site:
Make your pitch about what's in it for them. Is what they're currently linking to out of date or a page that no longer exists? Are they missing something vital in their listing? Give them a reason to seriously consider your request.
Don't request links from direct competitors. This may seem obvious, but you don't want to waste time approaching people who sell similar items to your own. You may end up inadvertently sending them customers that could've shopped from you.
Some ideas for ways to add backlinks to your Shopify store:
Add links to your social media profiles and business directories, such as Google My Business.
Submit a press release to media outlets.
Find links on high-quality websites that are outdated, and approach the site owner about linking to your (newer) related content instead.
Offer to write a guest blog for a website in your niche.
2. Getting Natural Backlinks
According to Google's guidelines, backlinks should be acquired naturally. This can be done by simply creating amazing content that people would want to link to. This tactic involves your ongoing maintenance efforts that can help compound your Shopify SEO efforts over time. Here are a few examples:
Offer amazing products. The easiest way to get people talking about your business online is to have a great product, content, or brand that's worth talking about. This is how you get loyal fans who will share your pages with friends and family.
Create unique content on your website. Provide your own study, educate users through story telling and offer exclusive content that our competitors don't offer.
Turn your customers into brand ambassadors. Go above and beyond for your customers and you may find your brand getting shared or written about on social media. Which can boost your site's reputation and rankings.
Engage on social media. Being responsive on social media isn't about jumping into any and all conversations, it's about getting back to customers when they reach out for help or ask a question. Start there and see if your following doesn't grow.
Build connections with influencers. This is a form of networking, but a better way to think about it is by making friends online with people who share your interests. If you can connect with an influencer in your niche that has a good-sized following, and they post about your brand online, that's a great way to get more organic traffic to your store.
RELATED ARTICLES:
Find Quality Organic Products To Sell In Your Shopify Store!
If your target audience includes eco-conscious or health-conscious consumers, and you're looking for high-quality products to sell, be sure to check out GreenDropShip. We are a reputable 'Made in USA' dropshipping supplier of natural and organic products.
In fact, GreenDropship offers an extensive inventory with thousands of brand-name products, including gourmet and specialty items in a wide range of categories such as:
GreenDropShip also integrates seamlessly with Shopify via our product feeds. We've also released a Shopify dropshipping app that makes it easier than ever to sell our products online.
As of late 2022, our dropshipping app is still the only Shopify app that lets you dropship certain specialty items like groceries.

Join GreenDropShip And Start Selling Today!