Healthiest Drop Ship Products to Sell for 2017 Holiday Season
In this article, we will be featuring 7 healthiest drop ship products to sell for the holiday season. All the products  in our list are natural, organic products, which you can easily sell using the drop ship method. Growing numbers of people are concerned about weight gain and high calorie intake during the holiday season. So, it is important to offer them healthier options, which are in high demand anymore because of increasing media coverage and general awareness of healthy, organic diet in popular culture.
All the products in the list are available through drop shipping, which allows you to sell these products online without having to stock them yourself. This way, you can sell people healthy products without having to take inventory risk. Drop shipping method also saves you from worrying about packaging and shipping.
By selling healthy, green products to your online customers, you can help them stay healthy all year-around while you make money on the side. Let`s take a look at this list of healthy products you can sell to your customers.
7 Healthiest Products to Sell Online during the Holiday Season
1. 
Vermont Village Organic Unsweetened Applesauce
This is one of the best products to sell during the holiday season for two reasons. First, applesauce can be a main ingredient for a lot of delicious holiday desserts. Second, it can be a much healthier alternative to butter. By substituting butter with this apple sauce, customers can have significantly less calories while enjoying their favorite holiday dishes.
Last but not least, Vermont Village applesauce is non-GMO, gluten-fee, kosher certified, and peanut free.
This is what they have to say about their own product:
"We make our applesauce the old fashioned way, cooked in small kettles, using the whole apple including the peel. There is no water or sugar added. The result is a delicious, healthy treat that you and your family can enjoy any time"
Overall, Vermont Village Applesauce is a delicious and healthy treat, which also serves as a substitute for butter. It is perfect for the holiday season.
2. Walden Farms: Cranberry Sauce & Fruit Spread 
Details:
Walden Farms Calorie Free Jellied Cranberry Sauce & Fruit Spread is made from natural cranberry fruit extract for a fresh cranberry taste. Delicious any time of the year with Turkey or Chicken. Great on sandwiches, toast, muffins, bagels, PB&J, in yogurt or oatmeal and more!
Zero Calories.
Sugar Free.
Lactose Free.
Gluten Free.
Parve.
This is as good as it gets. Walden Farms cranberry sauce has zero calories and zero carbs. Additionally, it is even gluten free.
Cranberry cakes are great holiday season desserts but they are high in calorie and carbs. Low calorie and gluten free cakes are not only trendy but healthy. This is a great ingredient to make such cranberry cakes to enjoy with family during those special holidays. Moreover, people use it as a glaze for wide variety of poultry and meats.
3. Organic Valley: Lactose Free Non Fat Skim Milk
Details:
"All of the nutrition, none of the lactose. Like all of our dairy products, this lactose free milk starts as wholesome, organic milk from the pastures of our family farms. Then we simply add a natural enzyme to break down the lactose and do the work some digestive systems can't. So you can enjoy all the delicious nutrition in real milk because it is an excellent source of riboflavin, calcium, vitamin D and protein."
A lot of delicious baking recipes for the holiday season require milk and heavy cream. Regular milk and heavy cream are very high in fat and calories. Using Organic Valley lactose-free  and fat-free milk will make those baked goods a lot healthier. This product certainly does not have antibiotics, synthetic hormones, toxic pesticides. Additionally, it is non-GMO, too.
4. Better Than Gravy Superior Touch Gravy Mix For Turkey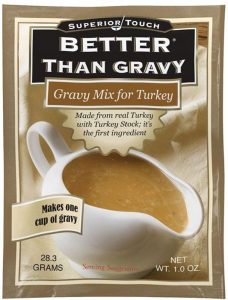 Containts actual pieces of turkey

All natural and organic
In Thanksgiving dinner table, gravy is a must-have for many people. This natural and organic gravy mix contains actual pieces of turkey. It is both delicious and healthy.
Preparing a Thanksgiving dinner is not an easy task. This gravy mix is very easy to make. So, customers prefer this product for three different reasons: health, taste, convenience. In addition, it does not have MSG, which has been related to various health problems such as headaches and allergic reactions.
To sum up, Better Than Gravy Superior Touch Gravy Mix is a great natural product to sell during the holiday season.
5. The Spice Hunter Pumpkin Pie Spice Blend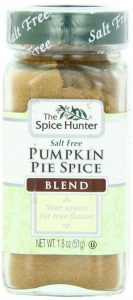 All-natural.

Salt free product.

No added MSG or preservatives.

Product of USA.
The Spice Hunter Pumpkin Pie Spice Blend is a great way to enhance people`s favorite holiday treats. Whether they are making pumpkin pies for Christmas or nice warm Pumpkin Spice Latte, this spice is a must-have.
This blend has cinnamon, ginger, lemon peel, nutmeg, cloves, cardamom, star anise, fennel, black pepper. However, it is absolutely salt-free and all-natural. It does not have preservatives and MSG, which can cause health problems such as headaches and allergic reactions. Surely, this is one of the best drop shipping products for this holiday season.
6. Eden Foods Organic Sauerkraut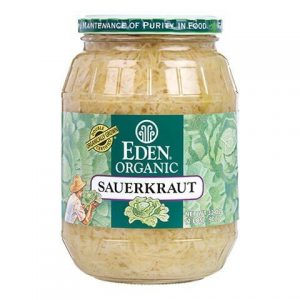 Organic.
Kosher.
Gluten Free.
Fat Free.
Parave.
Non-GMO.
Wheat Free.
Microbiotic.
Good Source of Fiber.
Sauerkraut is a traditional German food that goes back centuries. Eating sauerkraut in New Year`s Eve is a long standing tradition.  It is German for "sour cabbage". The dish is long associated with German communities in the United States. Pennsylvania Dutch is famous for their Sauerkraut, which they brought from the "old world". Take a look at this inspiring story shared by Jim from Pennsylvania:
"I am 100% Pennsylvanian German and come from a family of 8 children and two of the most wonderful parents a guy could ever ask for. We were all born during, or just after The Great Depression, and during WWII. Like so many families of that time, we were very low income and assisted in the task of survival by growing vegetables in a large garden and a 1/2 acre truck patch. Of primary importance in the truck patch was the cabbage crop that eventually became Knauss Sauerkraut.

My father, "Pappy" Sam's sauerkraut was renowned throughout the area as the best there was! We made the kraut every year on a particular day using earthenware crocks and with equipment that was my grandfather's, handed down to my father. The kraut supply allowed us to have our pork, sauerkraut, and mashed potatoes once a week for 9 months. What a glorious dish it made, and believe me there were no leftovers.

I am now 69 years old and have finally found in your EDEN Organic Sauerkraut, a kraut that measures up to my dad's. I wanted you to know, it is the best store-bought kraut that I have ever tasted. And I know Kraut! Thanks for the wonderful kraut and for stirring up those precious memories of more simple and wonderful times."
Fermented Cabbages are Super Healthy
This organic Sauerkraut is made only using old world methods. Cabbages are hand-harvested, washed, sliced, and fermented with sea salt. There are no additives or preservatives.
Eden Foods shows that fermented cabbage has great health benefits backed by scientific studies:
"Researchers in Finland have found that the process of fermenting cabbage produces isothiocyanates, a class of antioxidant-like compounds. "We are finding that fermented cabbage could be healthier than raw or cooked", said Eeva-Liisa Ryhanen, Ph.D., research manager of MTT Agrifood Research Finland.

The fermentation process also produces other healthy compounds and enzymes not found in raw cabbage. Organic acids such as lactic acid that makes cabbage easier to digest, also aid in digestion of food in general. This research adds to the growing number of studies that show cabbage and other cruciferous vegetables such as broccoli, kale, cauliflower, and brussel sprouts are the best source of indoles"
7. Stahlbush Island Farms: Cranberries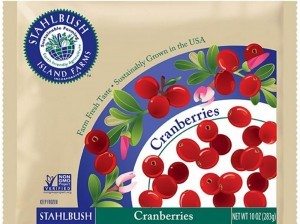 Details:
"Known for their tart after-bite, cranberries are unlike any other berry in the Stahlbush lineup. With cascading scarlet hues, they are one of the most picturesque berries. Although it's a rare individual that can enjoy them right out of the bag, cranberries are more traditionally added to sauces, brines and juices. Incorporate them into apple cakes, Thanksgiving sauces and richly hued beverages for a delightful journey of the versatile cranberry."
No Thanksgiving dinner is complete without a cranberry cake. These delicious natural cranberries are great for making cranberry sauces and cranberry cakes. They are natural with no added sugars. That`s why this is a great addition to our list of healthy holiday season products.
Holiday Season and Weight Gain
It is almost that time of year again. Autumn colors are surrounding the trees in our neck of the woods. Pumpkin spice lattes are all the rage. The fall intensifies and the holiday season approaches.
Most people think about food when it comes to the holiday season. (From Thanksgiving until the New Year.) It does not matter if it is Thanksgiving, Hannukah or Kwanzaa, families and friends gather and enjoy delicious holiday food.
A prospective study of holiday weight gain reveals that average weight gain during the holiday season in the United States is slightly over a pound. Additonally, it shows that average American does not lose the weight they put on during the rest of the year.
However, not everybody is the average American. While some of us might try to finish a whole turkey like Joey from Friends, others strive to eat healthy even during the holiday season. Some might blame them for being boring or not capturing the holiday spirit but you can`t blame them for paying attention to their health.Such people are not a small minority. Emphasis on eating healthy has increased drastically in recent years.
Start Dropshipping Healthy Products This Holiday Season
Grendropship. com offers real wholesale prices, up-to-date inventory data with wide selection of natural, organic, gourmet and specialty products. Our fast shipping times will enable your customers to receive their products when they need it.
Some products we are showing in this blog post might be hard to find in stores. People often turn to online stores to buy their organic food. With our wide selection of natural products, you will be able to provide your customers with their favorite healthy holiday season products.
Learn More about the opportunities that we have to offer.