Dropshipping Business Opportunities: Baby Products (Baby Food)
In this article, we will explore baby food dropshipping category. Upon establishing organic baby food superior to non-organic baby food category, we will discuss if dropshipping is a viable method for selling natural baby food online. Then, we will turn to data to explore statistics and trends in the baby food market. Finally, we will feature a small list of organic baby food products that you should consider adding to your stores.
---
Check out my previous article on where to look for dropshipping business opportunities.
---
Selling baby food online comes with great responsibility. It is a sensitive category because parents are justifiably cautious about their baby`s diet. As a retailer, you should make sure to sell only healthy, trusted brands. If you do so, every single sale you make will turn into a more satisfying experience, knowing that you are providing a little one with healthy food. Natural, organic baby food do not include preservatives, GMO,  and non-organic ingredients. This specific product category can help you develop a repeat client base.
Dropshipping Organic Baby Food
Dropshipping is an ideal order fulfillment method to get started with selling baby food online. Because there is no inventory risk and the startup costs are quite low, you can start your business without risking much. By selling brand-name organic baby food, you can start developing a repeat client base as well as gaining so much valuable experience when it comes to selling products online.
If you are already dropshipping, adding organic baby food to your stores is a smart business. Diving into this niche market is never too late especially when you have so little to lose. One might find it challenging to come across a reliable wholesaler that dropships organic baby products. You have already found it if you are reading this article. GreenDropsShip can dropship baby food for you at true wholesale prices. We offer blind shipment anywhere in the United States within only 3 days. Unlike most other dropshippers, you can choose to buy either eaches or cases with us.
Organic Baby Food Market
According to Nielsen, "More than one-third of global respondents say good nutrition (37%) and safe ingredients/processing (36%) are most important when deciding what baby food product to purchase, the second- and third-most commonly cited attributes, respectively (trusted brand tops the list, cited by 39% of respondents)." Liz Buchanan, the director of Global Professional Services at Nielsen, adds " consumers are increasingly health conscious and looking for natural, minimally-processed foods, and the stakes are even higher when it comes to their babies. More parents are seeking foods that set their children up for a healthy life—even if it comes at a premium."
As the data suggests, the growth in organic baby food market will continue to grow. This is looking even better for online sellers as consumers are increasingly switching to online channels. It is also interesting to know that when it comes to packaging, pouches are gaining considerable popularity among consumers. According to Nielsen, " in the U.S.—the largest pouch market in the study by a wide margin—sales grew 7% over the previous year. Sales for products packaged in tubs or glass, on the other hand, were flat worldwide and declined in the majority of markets analyzed, including the U.S. (-2%).
Happy Tot Organic Stage 4 Super Foods Apples Sweet Potatoes Carrots & Cinnamon

Manufacturer`s notes
Contains organic apples, sweet potatoes, and carrots.

Added Salba chia for nutrients like omega-3s (ALA) and fiber; 

Salba the super chia is an ancient gluten-free seed full of important nutrients like omega-3s (ALA) & fiber.

 Certified USDA Organic.

3 grams of fiber.

Excellent source of vitamins A & C.

Non-GMO project verified.
As the sales rank data below shows, this is a very hot product on Amazon. It has ranked as high as 1 in near future while it is still keeping a healthy rank.
The product consists of entirely organic ingredients that your customer base will love to see.  In accordance with their Clearly Crafted™ strategy, on their website, they share information about their recipes, farms, and ingredients.

Earth`s Best Organic Baby Food
Vegan
Unsweetened and unsalted
No artificial flavors or colors
Certified Organic
Earth`s Best Organic baby food products bring out the best of what mother earth has to offer as their name suggests. This brand goes out of their way to make sure they provide their customers with healthiest infant food in the market.  Additionally, their farming practices help protect the earth through sustainable farming practices. After all, they very much care about the earth that naturally provides the main ingredients of their products.
Earth`s Best also provides their customers with an infant feeding schedule developed by a pediatrician named Dr. Harold Raucher. Their attention to detail and continuing support to their customer base do not go unnoticed. This way, they are able to earn a loyal customer base that continuously buys from them. As a dropshipping business owner, you too can follow similar strategies to attract a loyal customer base by creating content that would engage your customer base.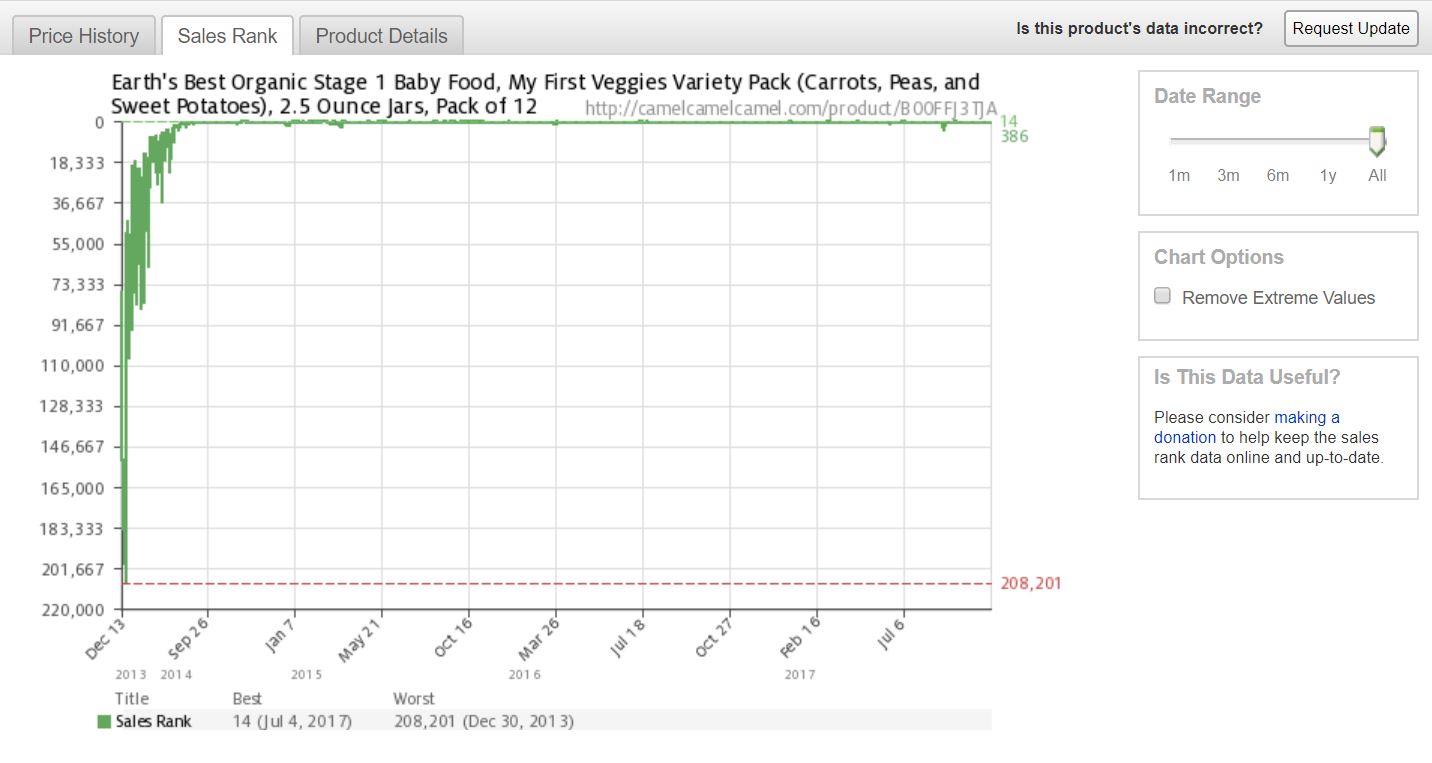 Ella`s Kitchen Organic Baby Food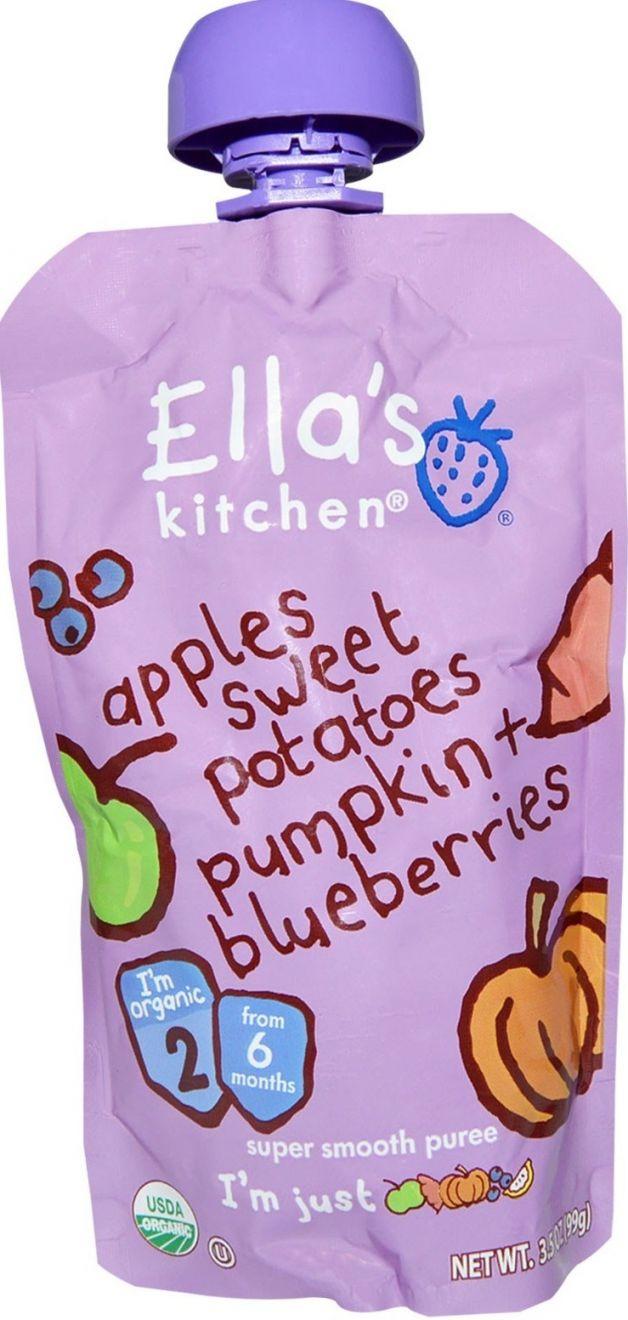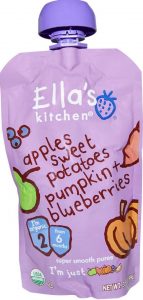 Certified USDA Organic
Gluten Free
Lactose Free
Vegetarian
Ella`s kitchen comes in fashionable pouches, which are highly popular among consumer. Including only organic ingredients, their products offer healthy and nutritious baby food their customers.
Their packages are designed colorfully to appeal to babies and toddlers, which is also apparent in their colorful child-friendly website.
Their packages are recyclable. Moreover, they provide information, on their website, on how to recycle them.
Their research with the University of Reading suggests that if babies and toddlers "experience" food with all their 5 senses, they are more likely to eat them. Accordingly, they highlight the importance of sensory activities in an outside the mealtime, not only to make mealtimes more fun but also to make it more likely for the little ones to eat their healthy food.
With their appealing packages; tasty, organic, natural and nutritional baby food, Ella`s Kitchen Organic Baby Food products are great for your drop shipping business.
Their sales rank data on Amazon has been consistently high since 2015. Hence, it is a great product to list in your stores.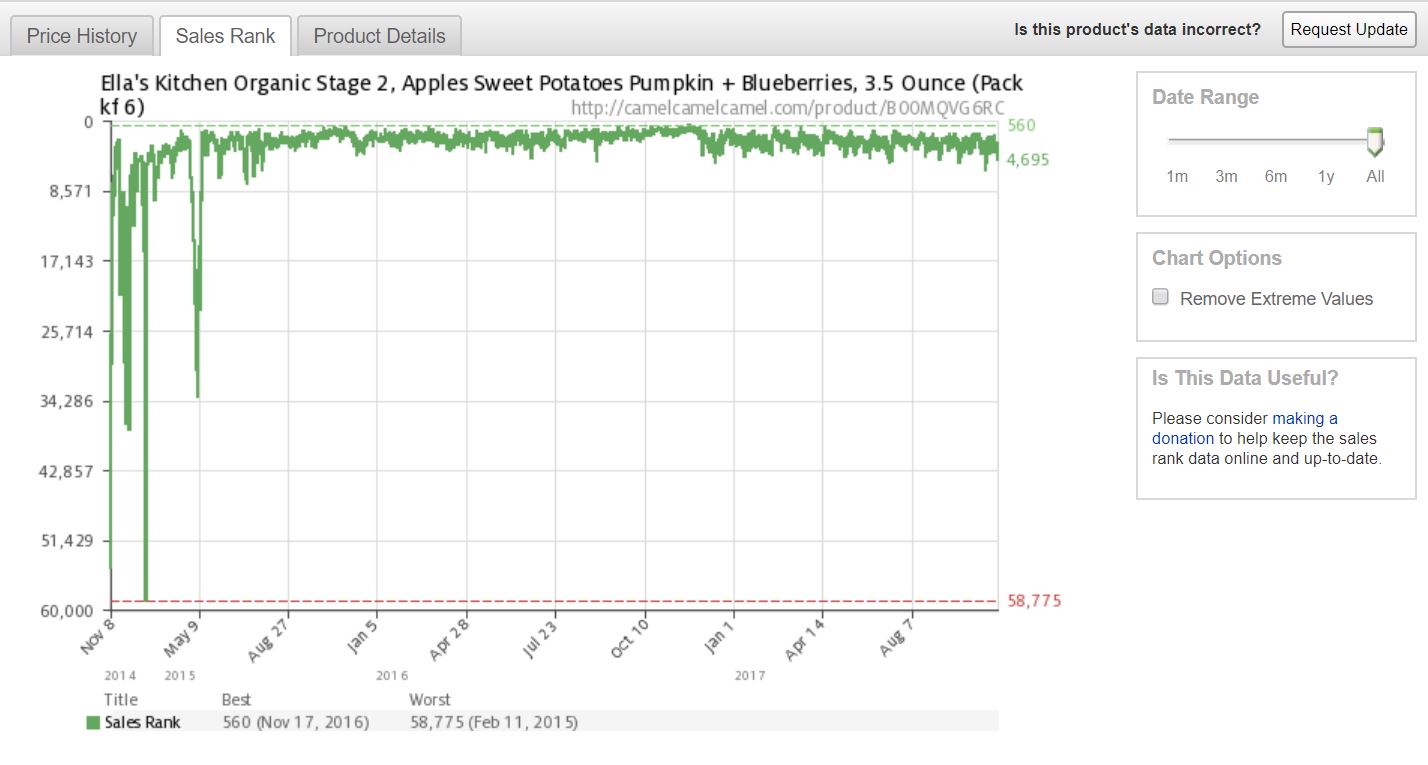 Sign up to receive our online catalog and start dropshipping today!
[contact-form-7 id="5741″ title="Front Page Subscribe"]