Environmentally Friendly Products for Green Cleaning
Environmentally Friendly Products for Green Cleaning
It's a great idea to sell natural and organic items in your online store. Environmentally friendly products have become very popular for all kinds of people. For some, it has become a necessity and could be the deciding factor as to what goods they buy.
People who are health-conscious, eco-conscious, or who are simply trying to lessen their impact for future generations are all interested in buying organic. Choosing to go into this category of items will bring you favor from those who care about business ethics, which will also bring you loyal customers. If consumers recognize your online store as one that only sells green products, they may grow attached to your business model and consistently buy from you.
Increasing Demand for Green Cleaning
There are so many different products to sell these days that are labeled natural or organic. You can sell food, health, beauty, and even cleaning products. You may want to consider adding green cleaning supplies to your inventory.
The demand for them has been increasing as people become aware of the harsh chemicals found in traditional cleaning goods. People are starting to wonder if they have an effect on their children, their pets, and the ecosystem once they are disposed of. Offering them alternatives is a way to ease their minds. Here are some cleaning products to add to your stock that are both natural and profitable.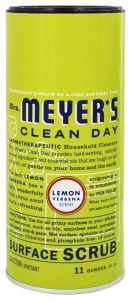 Mrs. Meyer's Clean Day
This brand offers a variety of green cleaning supplies. You can use this particular surface scrub in the kitchen or bathroom for tiles, stainless steel fixtures, and even for pots and pans. It contains no chlorine or phosphates which makes it a gentle cleaner, but it still manages to get rid of stains and odors while emitting a sweet lemon scent.
This product comes in a powder form, which makes it very easy to use and sell. Users can sprinkle it on a wet surface and wipe away the grime. Sellers can rest easy knowing that it is lightweight and easily shipped.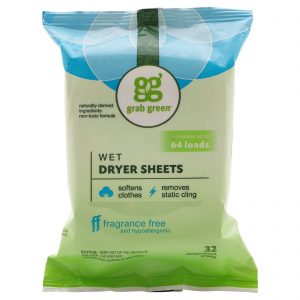 Grab Green
Dryer sheets are essential in the winter time when static takes over your clothes. These sheets by Grab Green seek to fix that problem while softening clothes, as well. They have a gentle formula that is also fragrance-free and hypoallergenic. This makes them perfect for people with sensitive skin or allergies. You can use each sheet twice, and they are compostable which makes them good for everyone and the environment!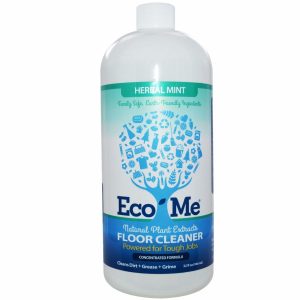 Eco-Me
This is a plant-based floor cleaner without any toxins or harsh chemicals. By using plant extracts and botanicals, it provides a product that is good for many surfaces. Using it will shine and protect floors, and its naturally antibacterial properties are perfect for sanitizing kitchens and bathrooms.
Sellers may want to consider offering this type of product in bulk, though. Because it is liquid-based, it is quite heavy. Shipping costs can become pretty pricey if a package weighs too much. One of these bottles weigh in at 32 oz., so selling one bottle at a time may not be worth it for you or the buyer.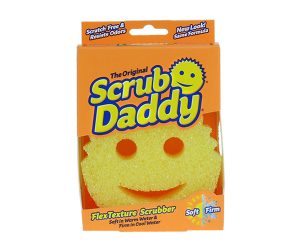 Scrub Daddy
Scrub Daddy has quickly become America's favorite sponge. The design of its smiley face is meant for more than just looking cute. The eyes allow your fingers to get a good grip, while the mouth can clean either side of a piece of silverware in one sweep. Its smart design also includes differing textures depending on water temperature; you can use warm water for soft scrubbing or cold water for a firm texture to get at tough stains.
The company has even expanded its items to include Scrub Mommy and Scrub Daisy, along with a variety of other sponges and erasers. Such a simple yet innovative item is perfect to add to your product list because it is conveniently lightweight, but can be sold for a decent price.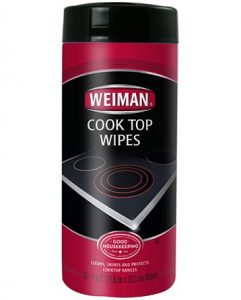 Weiman
Cleaning stove tops can be difficult but Weiman makes it simple with these disposable wipes. They are good for ceramic, electric cook tops to remove grease, stains, and residue without scratching the surface. You can also use it to clean your microwave.
Weiman offers a variety of wipes like these for all different purposes. They have them for stainless steel, electronics, granite, and even leather.

Better Life
Electronics are an easy thing to look over when you're cleaning the house. However, they gather dust and lint very quickly, which is why it can be convenient to have a spray made specifically for them. This spray by Better Life is ammonia-free and does not leave streaks on screens. Using these can protect electronics from fingerprints and debris.

Ecoforce
Including simple products and tools like this in your inventory is a simple way to expand into the category of green cleaning supplies. This brush is especially eye-catching because it is made from recycled materials. Although it is not from 100% recycled materials (about 70% for the bristles and 89% for the handle), it is still a more sustainable alternative to typical plastic brushes. Ecoforce also offers refill brush heads so customers do not have to waste more plastic than necessary.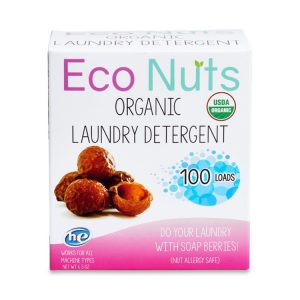 Eco Nuts
This brand has been gaining traction lately for its entirely new way of doing laundry. The product is entirely organic and safe because it is actually dried berries! They look like nuts (although it is safe for anyone with nut allergies), and they create a sort of natural sudsy soap when submerged in water. The berries also have the added benefit of softening clothes, so there is no need for a fabric softener.
You just toss the berries in a provided cloth bag in with your clothes and it works just like any other detergent. Probably the best and most sustainable part about this product is that you can use the berries up to 10 times. The company is also dedicated to using the least amount of plastic possible for a better Earth. There's hardly a reason not to give this a try!
Conclusion
All of these products are viable options to add to your inventory. Should you decide to sell green cleaning supplies, keep in mind the weight of the items and the price you are offering them for. If you do not want to get into liquid-based cleaners, there are so many other types of cleaning goods that will bring in a good profit.
Learn more about selling organic products.