Top 6 Shopify Upsell And Cross-Sell Apps
Conversions are the ultimate goal in your Shopify store. However, getting the customer to actually buy something is usually the toughest part of the entire process. But once they do make that purchase, you can increase the average order value (AOV) by using Shopify upsell and cross-sell apps.
Upselling and cross-selling are two pricing and marketing strategies that can be extremely effective. You're taking the momentum from the original purchase and nudging the consumer a little further. You're just saying: I think you'll like this or What about this product? These should be friendly suggestions that are personalized for the online shopper.
Shopify upsell and cross-sell apps make this easier, faster, and more effective while also generating personalized recommendations that are more accurate. It's all about optimizing the user experience (UX) so that the online shopper spends more time in your store.
We'll also take a moment to discuss the GreenDropShip dropshipping app. It makes running a Shopify dropshipping store that much easier and can easily work with all upsell and cross-sell apps.
What's The Difference Between Upselling and Cross-Selling?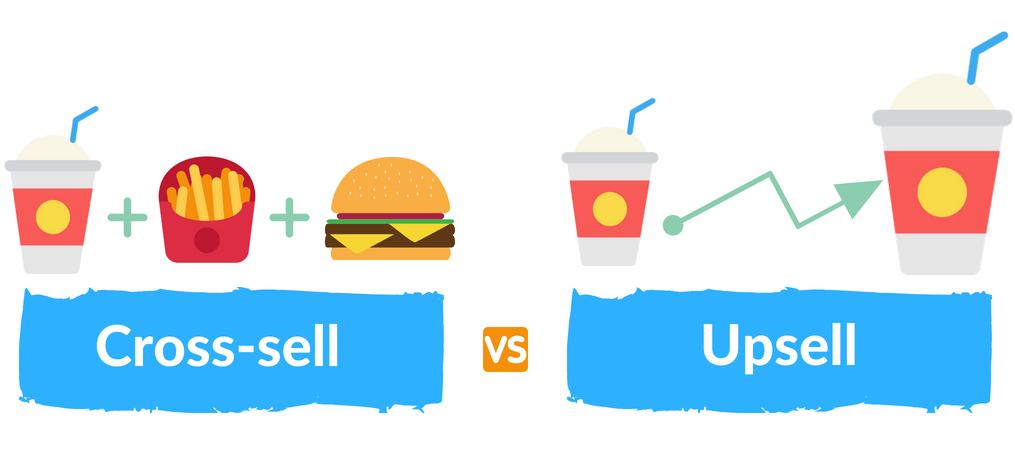 Both upselling and cross-selling allow you to increase conversions by maximizing each sale and getting the AOV as high as possible. It's like that old saying: Make hay while the sun shines. This means that if you have the opportunity to convince the customer to spend more, it's best to take it.
However, they're not the same, so let's break them down as follows:
Upselling – Enticing a customer to buy a comparable but higher-priced item, like an upgrade.
Cross-selling – Offering a customer an additional, related product.
The classic upselling example is one you've probably heard a million times at a fast food joint: Would you like to make that a large?
On the other hand, you've also heard cross-selling a million times, probably in that same fast food joint: Would you like fries with that?
There's also a difference between pre-purchase and post-purchase upselling or cross-selling. Pre-purchase means you try to increase your AOV before the customer completes the transaction. It works particularly well for less expensive products where the risk is lower.
On the other hand, post-purchase means that you contact the online shopper afterwards to upsell or cross-sell. This is usually via email, but you can also use an upsell after the Checkout page.
This may come as a surprise, but post-purchase strategies are incredibly effective. According to research by McKinsey & Company, they can increase revenues by 35%. Additionally, over 50% of consumers say that a positive post-purchase experience is critical to their brand loyalty.
These are both incredibly powerful pricing and marketing strategies that can make or break your Shopify store. If you use the right Shopify upselling app, these can all be 100% customized to fit your store.
Should I Use Upselling Or Cross-Selling For My Shopify Store?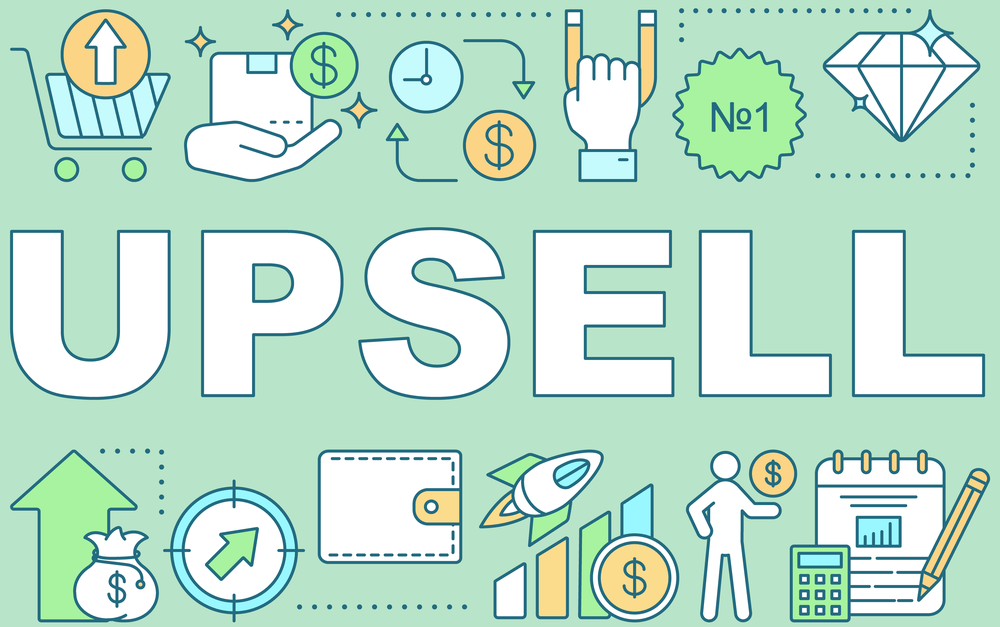 It's important to keep your AOV high because most online shoppers don't buy anything. According to research in 2020, the average Ecommerce conversion rates in the US across all industries were only 2.63% and 1.6% in Shopify stores.
Don't be discouraged by the low rate in Shopify stores – most of these are neglected by merchants and their low figures drag the overall average down. It's totally possible to achieve a much higher average conversion rate, and one of the best ways is with upselling and cross-selling apps.
Getting that conversion is always the toughest part of the process, but if you take the time to properly design your Shopify store and provide a great user experience (UX), then online shoppers will spend longer in your store. And – just like a casino – the longer they spend in your store, the more likely they are to buy something.
Additionally, deciding on whether to use upselling or cross-selling depends on your inventory and customers. If you offer a range of products, from budget to premium versions, upselling can be a great way to boost AOV. Plus, according to research by Econsultancy, upselling is 20 times more effective than cross-selling!
Not all customers respond well to upselling, so cross-selling can also be highly effective. Just use a Shopify upselling and cross-selling app to design widgets that appear as You Might Also Like or People Also Buy sections anywhere from the product page to the checkout page.
Either way, these come down to optimizing UX and getting customers to come back. It's easier to increase both conversions and AOV with a pre-existing customer than to get a whole new customer. In fact, according to Marketing Metrics, the probability of selling to:
A new customer is 5% to 20%.
An existing customer is 60% to 70%.
All these Shopify apps offer both upselling and cross-selling, even if they are widely referred to as "upsell apps". They can also include functionality to implement other strategies, some of which we'll cover below.
How To Upsell And Cross-Sell On Shopify
Once you have the customer make that critical first purchase and they have a positive experience, it becomes extra important that you do everything you can to maximize the conversion. It's kind of like that old saying: Strike while the iron is hot! You have the opportunity to increase the AOV, so make sure you follow these simple tips.
Create product bundles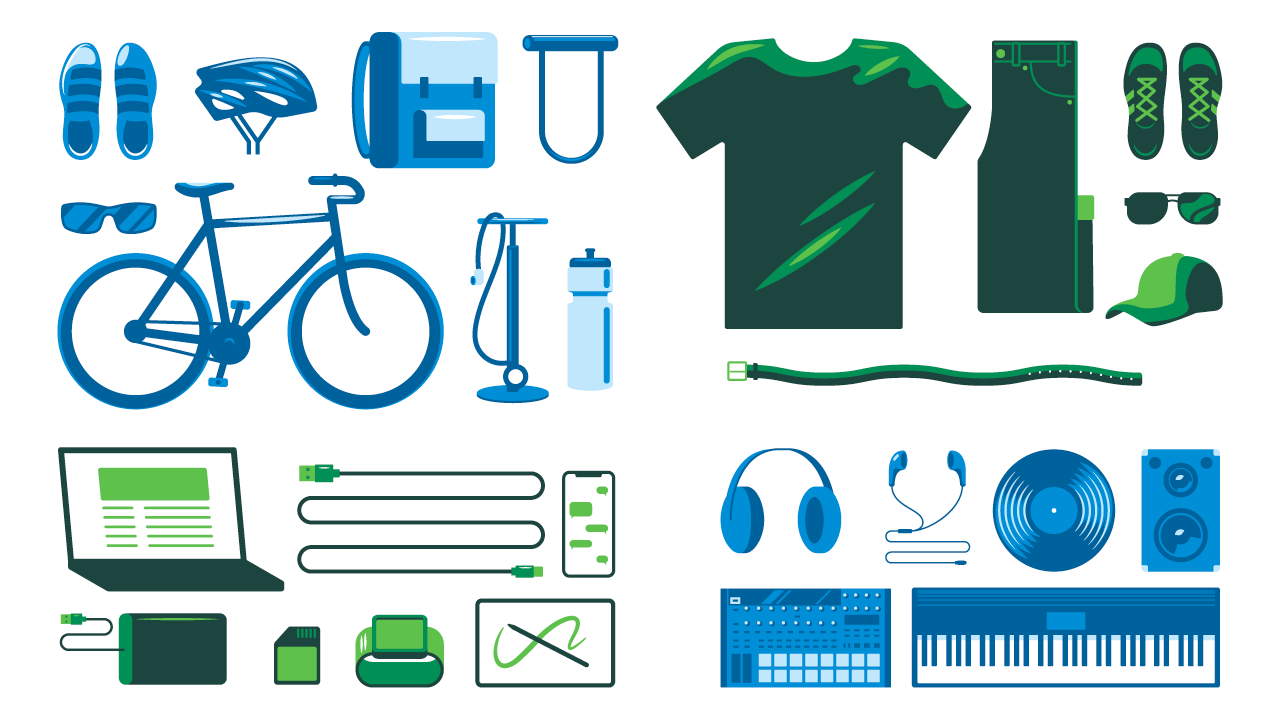 You can always try product bundling. According to the Financial Post, product bundling is both a pricing strategy and a marketing tool, and it can include either upselling or cross-selling. This is basically putting together "bundles" of various items that go well together and make the shopper feel like they're "getting a deal" – consumers love that!
Properly using product bundles has the following benefits:
An increase in both conversions and average order value (AOV).
Less comparison shopping with your competitors because only you offer these bundles.
A boost in sales for lesser-known items by coupling them with popular items.
Most Shopify upsell and cross-sell apps allow you to create bundles to maximize AOV, although there are also Shopify apps that focus on bundling.
Here are four types of product bundling that you can use in your Shopify store:
1. Starter Pack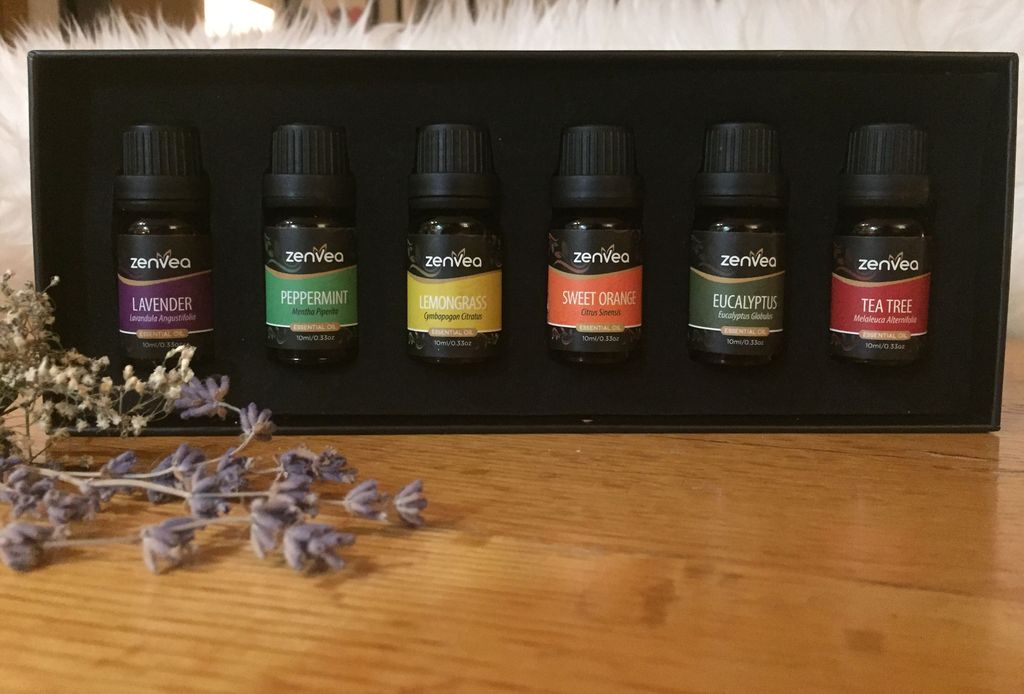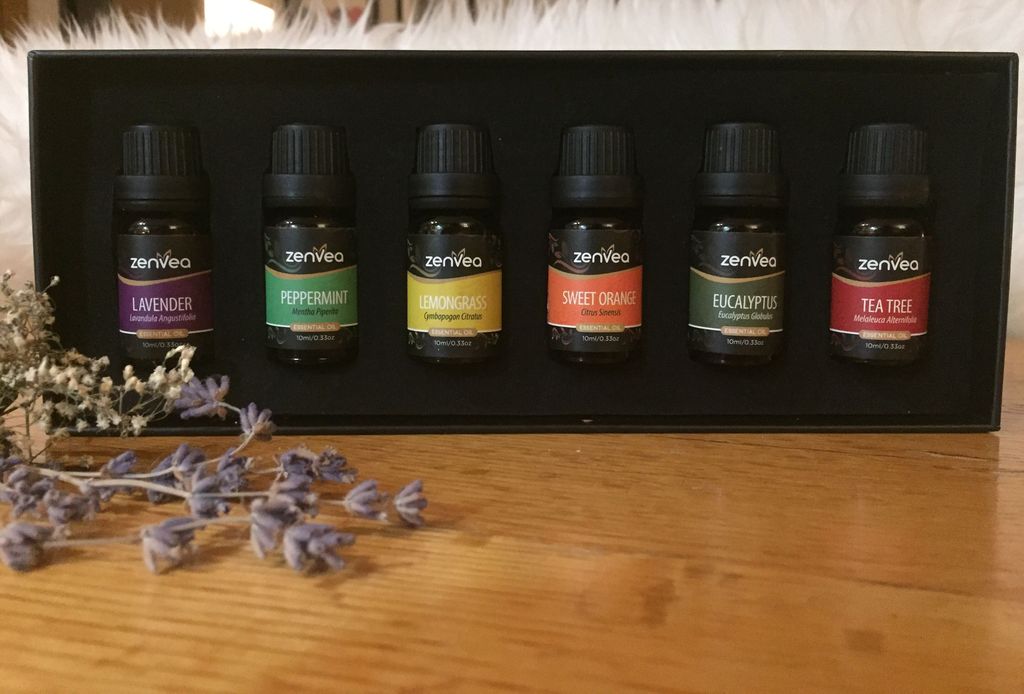 Also known as a sampler, this is meant as introductory product bundle for a newcomer. For example, an Aromatherapy Starter Kit can include several essential oils, a diffuser, essential oil recipes, and a few beauty products. However, since it's a starter pack, it should be less expensive – remember, this is meant as an introduction.
You can also customize the starter pack/sampler even further. For example, you can have the Home Aromatherapy Starter Kit that has a full-size diffuser and larger items. On the other hand, the Car Aromatherapy Starter Kit can have a car diffuser and fewer items, making it great for newcomers.
2. Make Your Own
Also known as a mix-and-match, this is a more "interactive" product bundle since it relies on the customer's input and choices. It's simpler to a starter or sampler, but it's usually for customers who are much more knowledgeable about the products in question.
You can let online shoppers put together a bundle that allows them to try various products at a discounted price, enticing them back for a repeat purchase. For example, the Make Your Own Hair Care Sampler can include a conditioner, shampoo, hair treatment, spray, and gel at a discounted price.
It is a prime opportunity to use cross-selling. If the customer is putting together a pack of products, then there will almost certainly be related items, some of which the customer may even forget even exist. You can also use this cross-selling strategy to steer customers towards some lesser-known items.
3. Group Bundle
This is a type of cross-selling that displays related products, just like the following sections you can find on Amazon:
Frequently Bought Together
Customers Who Bought This Item Also Bought
Products Related to This Item
You can see an example of these in this screenshot from Amazon: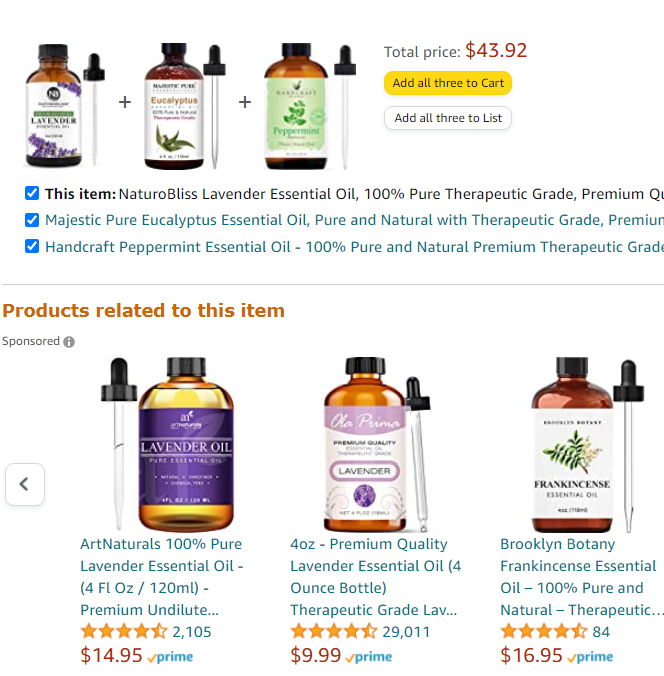 This is really effective, but the trick with this strategy is to make it seem like a friendly suggestion. For instance, if you were in a brick-and-mortar retail store, the clerk might say: If you like that shirt, you're gonna love this tie! They go together perfectly.
A comprehensive Shopify upsell app will include a feature that automatically generates these recommendations, based on the AI analyzing your store's order history. This will save you a ton of time, since manually setting these recommendations would be extremely time-consuming.
The AI in the Shopify upsell app will also keep track of the customer's order history, so the recommendations get more refined and closer to predicting what the customer wants. This is extra important because upselling and cross-selling become more effective over time. Research shows that first-time buyers are nearly 30% likely to return, but after their second or third purchase, this nearly doubles to over 50%.
4. Buy-One-Get-One Free
Buy-one-get-one-free – also known as BOGO – is an incredibly popular and effective bundling strategy. According to recent research, over 65% of consumers say that buy-one-get-one-free is their favorite type of deal. Additionally, over 90% of consumers have taken advantage of a BOGO promotion at least once – consumers feel like these are exceptionally good deals.
A variation on the BOGO strategy is to make one of the items in the bundle a "free gift" – this increases sales and makes customers feel extra valued. This is a savvy pricing and marketing technique that can work wonders for the user experience (UX). Besides, that's ultimately what this is all about: maximizing UX so that customers keep coming back. Remember, the longer they stay, the more they buy.
Make it personal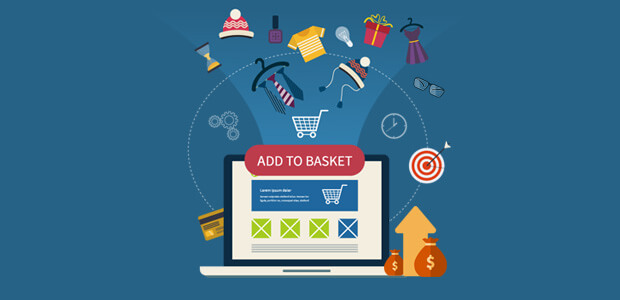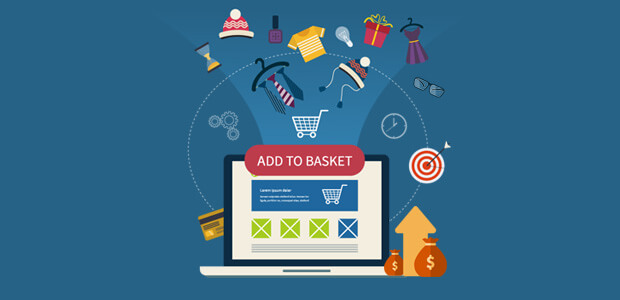 An Infosys survey found that 86% of consumers said the level of personalization influences their decision to buy something. Plus, this can also boost your AOV – about 40% of consumers said they upgraded their purchase because it was personalized. In this context, "personalization" means that the recommendations you give are customized for the consumer in question.
It all comes down to user experience (UX). Let's return for a second to the example of a brick-and-mortar retail store. When you go inside to browse, you want the store clerk to talk to you and try to make some connection, even if it's brief. Lots of consumers like the feeling of personally connecting with the store clerk, while most dislike feeling anonymous and unseen.
If you implement personalized upselling and cross-selling, then you can recreate this feel This means you always make sure that you choose relevant products to upsell or cross-sell, otherwise the consumer probably won't make the upgrade or additional purchase because they'll feel like the transaction is impersonal and robotic.
Thankfully, many Shopify upselling apps (see below) include a feature where an artificial intelligence (AI) algorithm scans your store's order history and finds the most relevant items to suggest. It also scans the customer's previous purchases and can make recommendations based on their buying history.
So, if they bought some vegan protein powder, the app will detect that they're interested in: a) fitness products and b) vegan products. It can then recommend other fitness products that meet one or both of these criteria (depending on how you set it), including wheatgrass shots or vegan protein bars. It will also scan the customer's information and make suggestions based on that. If they're male, then it will make suggestions for products that are marketed towards males.
Don't increase the AOV too much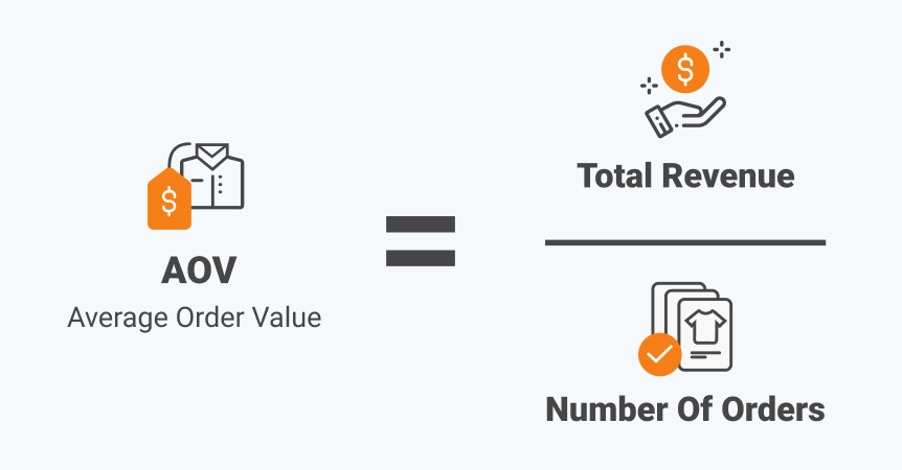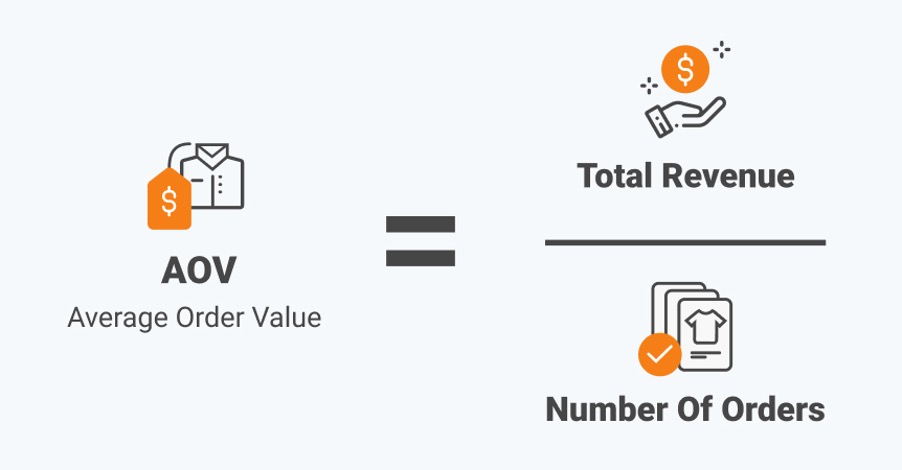 As with any sales tactic, the trick is to always find that "Goldilocks" zone: not too aggressive, not too passive. You want to engage with customers, but you don't want to annoy them or cause friction. Always remember: the user experience (UX) is the most important part! If you wouldn't like some sales tactic as a shopper, chances are your customers won't like it either.
Part of a positive UX is making the customer feel like the recommendations are personalized just for them and that you're not trying to take advantage of them. Imagine the following: you've spent all day choosing a car, and at the last minute the salesperson pitches you hard on an upgrade that nearly doubles the price of the car. You'll probably be pretty annoyed.
If your upsell or cross-sell pitch is too aggressive, it'll turn customers off. As a result, when you use your Shopify upsell app, make sure you set it to avoid suggesting products that increase the overall order value by more than 25%. For example, if the original product the customer is looking at is $100, you want to avoid cross-sells and upsells that cost more than $25. Again, this can all be customized in your Shopify upsell app.
Reach out via email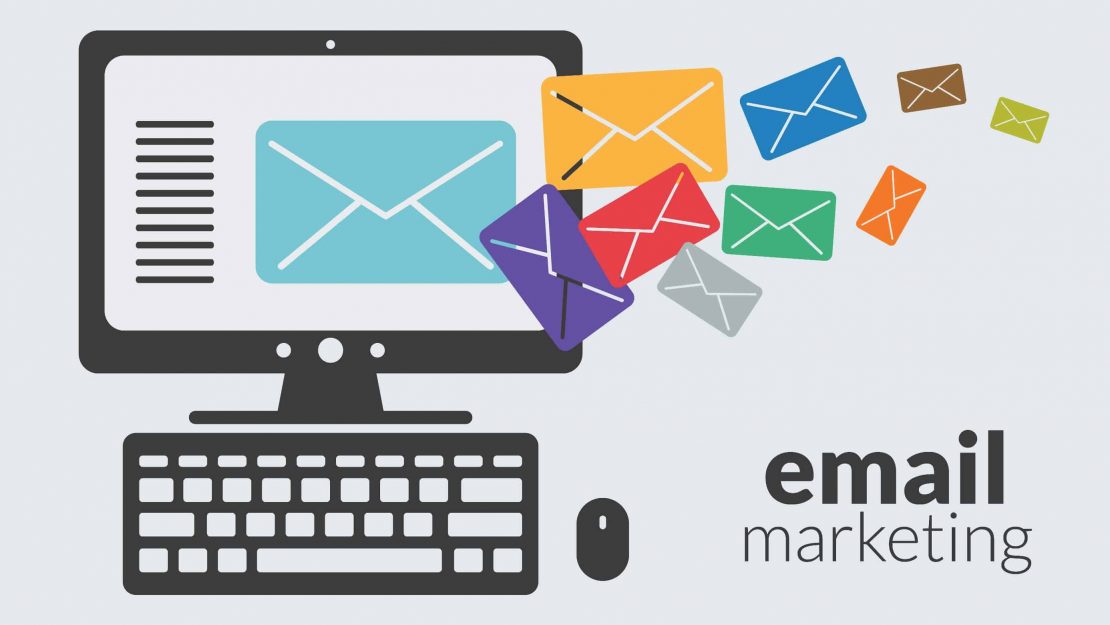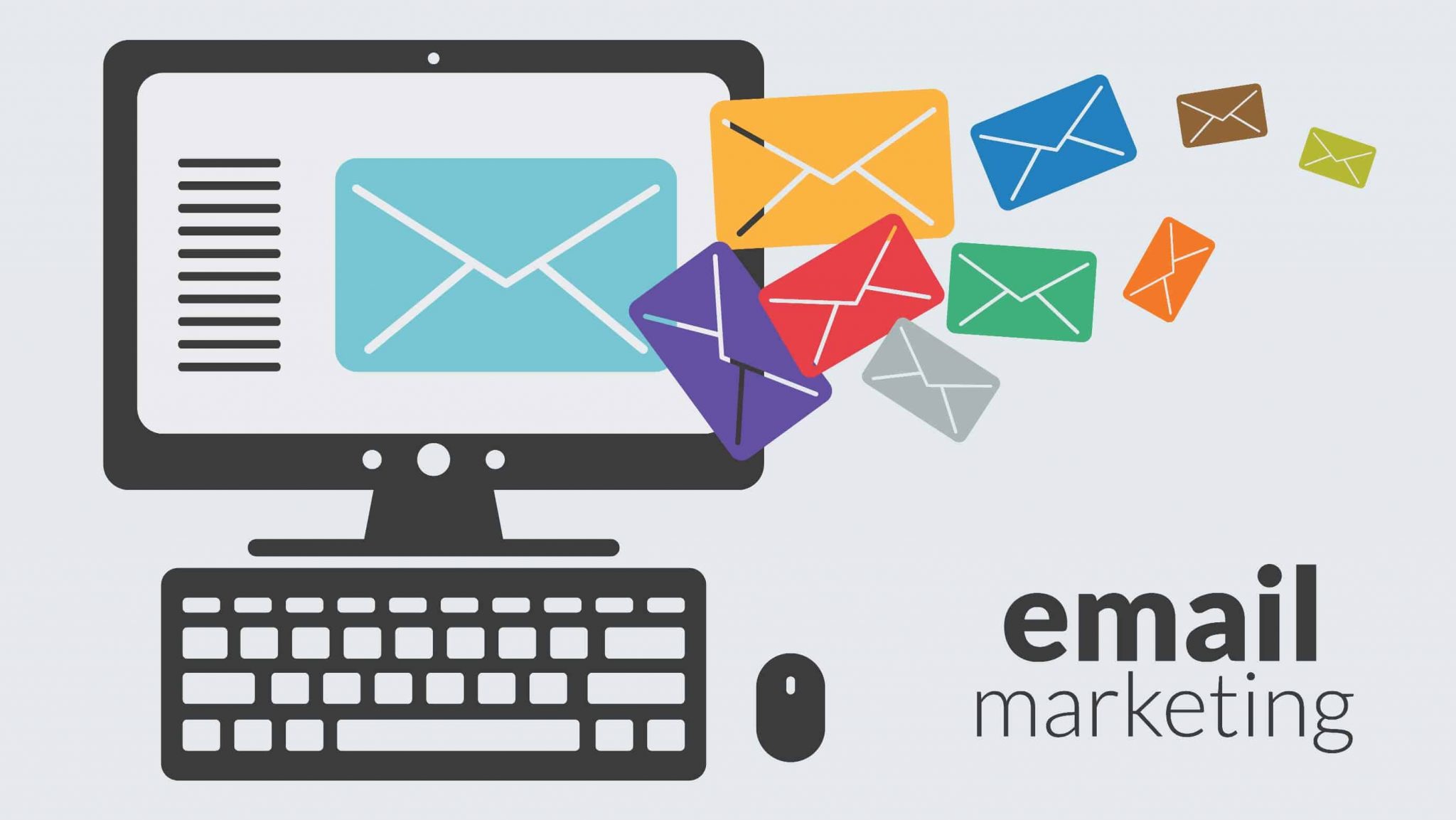 Communicating with customers is key, and reaching out via email is the best way to entice consumers back to your store. Plus, post-purchase upselling and cross-selling are best implemented with follow-up emails that can be sent days or even weeks after the initial purchase.
Remember, post-purchase means that you contact the online shopper afterward the buy to upsell or cross-sell. By all means, send the shopper email, but the trick is to not overdo it and contact them too frequently. They'll find this "spammy" and will dislike this aggressive sales tactic, kind of like a telemarketer or car salesperson who just won't accept "No".
Implementing post-purchase upselling or cross-selling via a follow-up email has some definite benefits, including:
There's no risk that you'll lose the original conversion or purchase.
You can take advantage of impulse buying to increase your AOV.
You'll boost your conversion rates, especially if you use one-click upsell or cross-sell.
Finally, there are few different kinds of emails you can send:
Thank You message – consumers may buy more due to the gratitude effect.
Ask for a store/product review – upsell apps will integrate with Shopify Review Apps.
Replenishment reminder – remind them to stock up on a daily-use product like vitamins.
Seasonal reminders – try cross-selling products that are in season.
Loyalty reward programs – use the AI-powered recommendations to personalize offers.
New product launch – let consumers know about new products.
Shopify upsell apps allow you to customize and set up how you want to implement upselling and/or cross-selling, so be sure you read the final section to see a list of the best Shopify upsell apps.
Top 6 Shopify Upsell And Cross-Sell Apps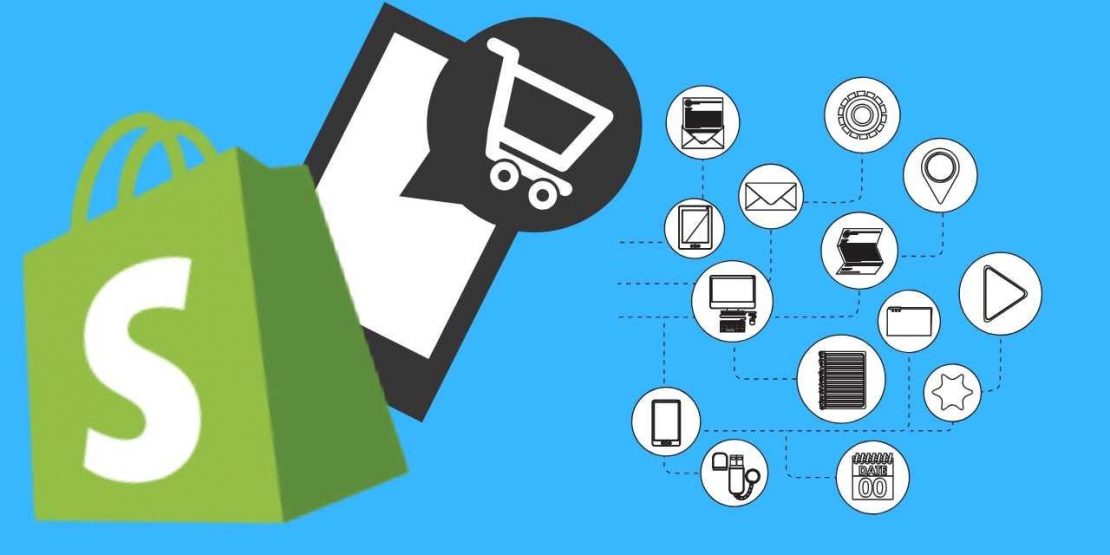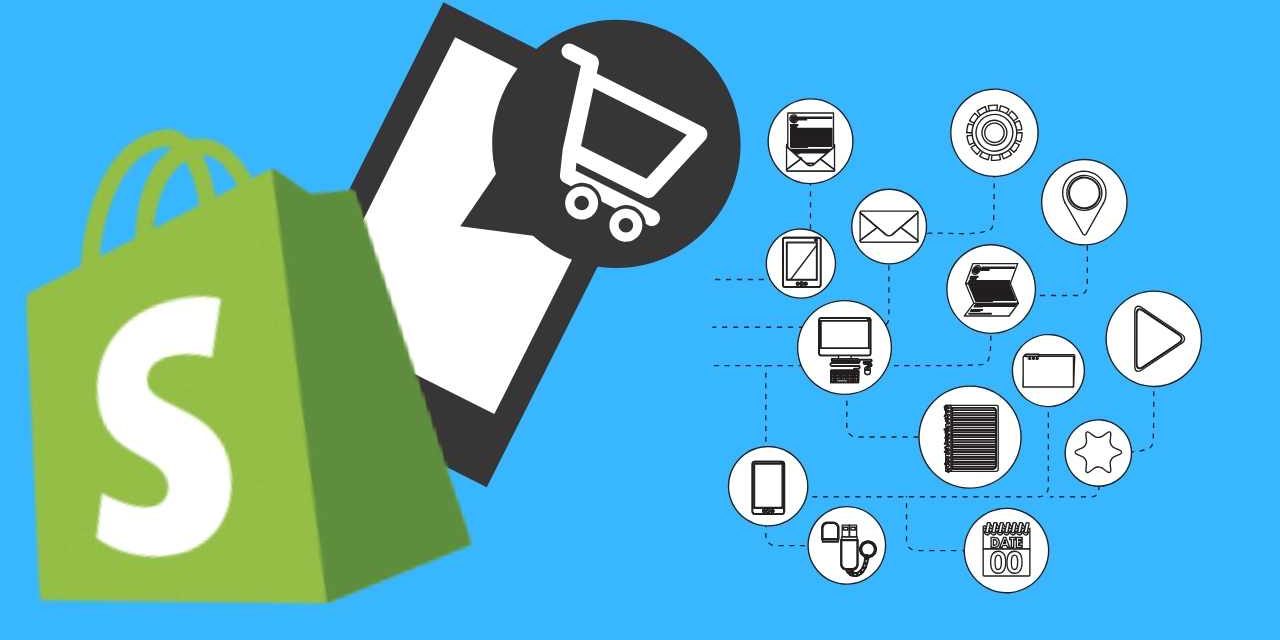 These are the top Shopify upsell and cross-sell apps that you can find in the Shopify App Store. Many of these also include other strategies for increasing AOV, including things like product bundling and AI-powered product recommendations.
Additionally, they are especially effective if they include 1-click upsell functionality. This is all about minimizing the number of steps between the upsell/cross-sell and the online shopper making the purchase. For instance, think about how popular phone payment has become – people don't like digging in their wallets to grab a card or cash. In other words, if you make it easy, then the purchase will happen.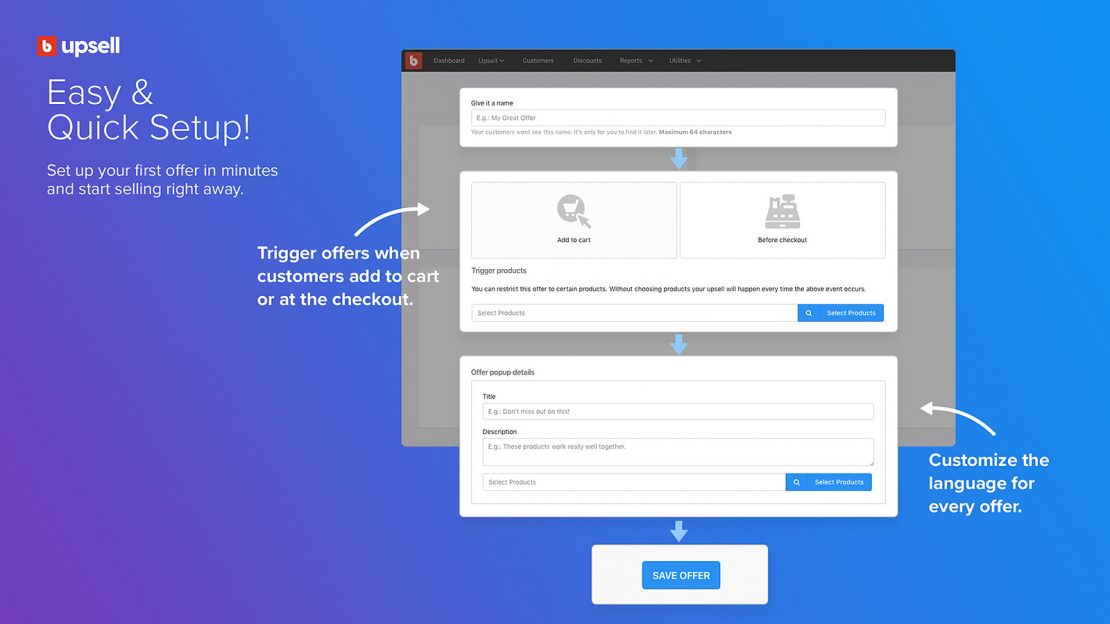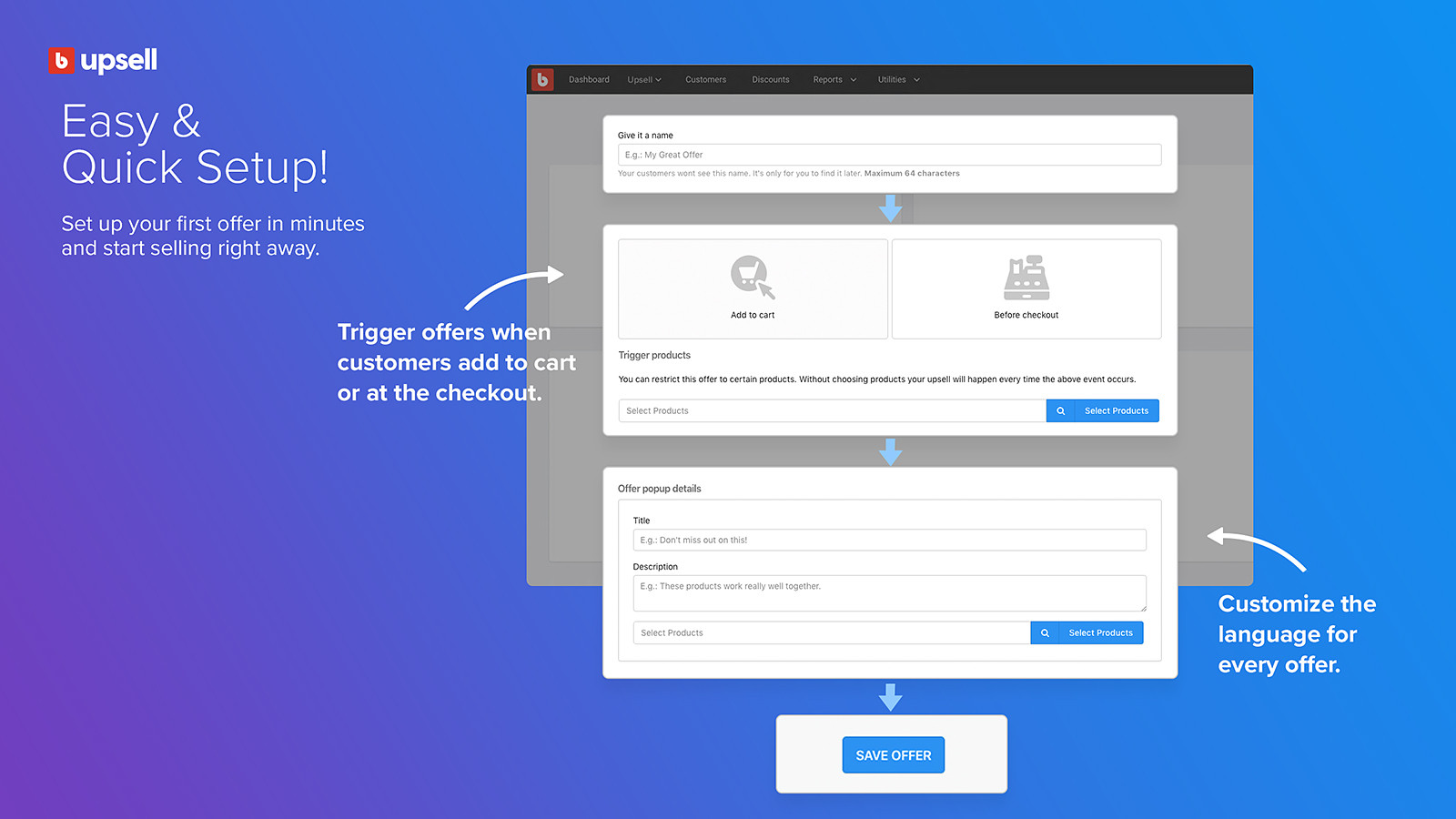 Bold Upsell offers a free 14-day trial. If you decide to continue using the app, you have the following plans to choose from: Starter for $9.99/month, Plus for $19.99/month, Premium for $39.99/month, or Pro for $59.99/month. It may seem expensive, but don't forget: Upsell and Cross-Sell Shopify Apps can increase your revenue, thereby making it worth the monthly price.
Boost conversions and increase your Average Order Value (AOV).
Set up in just a few minutes and start upselling and/or cross-selling right away.
Choose where your offers trigger for online shoppers.
Match your upsells or cross-sells with the design of your Shopify store.
Show customers an upgraded version of their item (upselling).
Offer a product bundle or kit from a single product (upselling).
Show complementary products that the shopper may like (cross-selling).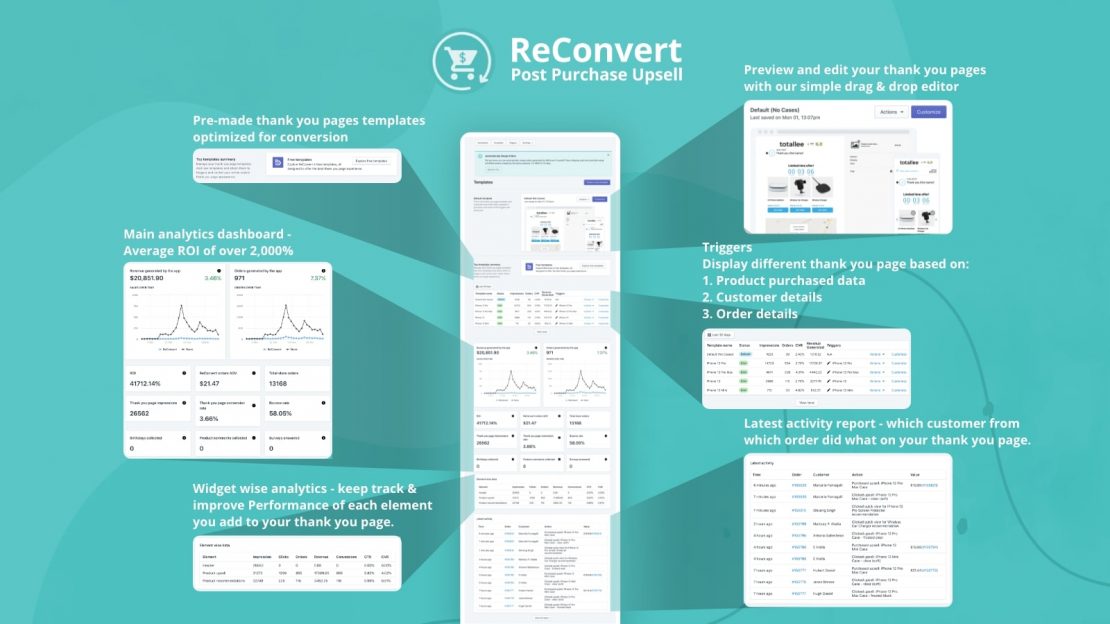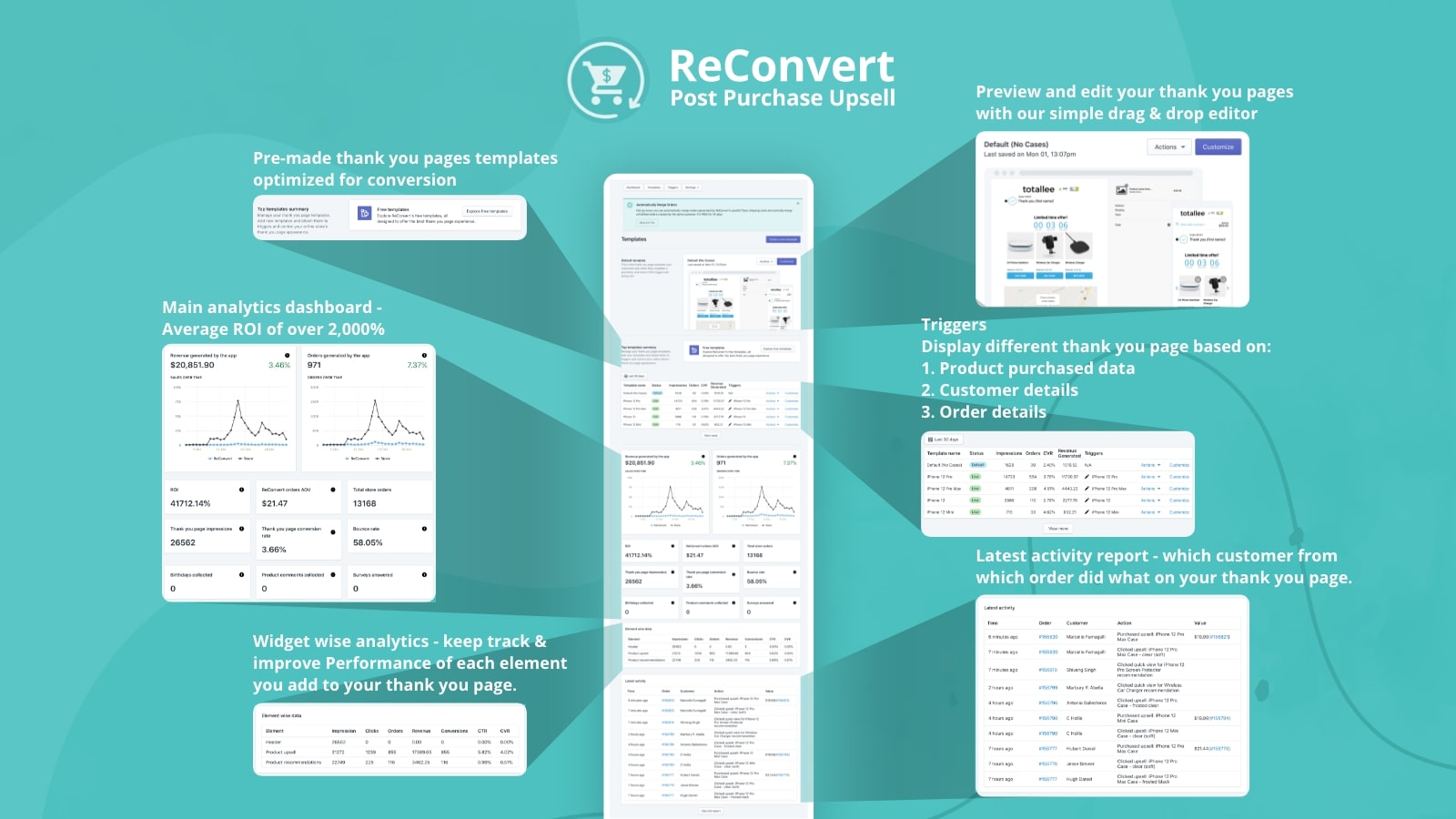 ReConvert Upsell and Cross-sell Shopify app offers a 30-day free trial, so that's plenty of time to sample the app and see if it increases your AOV. If it ends up working well for your Shopify store, there are different pricing plans that you can choose from: Free (only 50 orders per month), $7.99/month, $14.99/month, or $29.99/month.
No need for any web design or coding experience.
Easily and quickly design your order status page.
Includes a convenient landing page builder to boost your conversions.
Boost revenue with smart upsells on your Thank You page.
ReConvert App allows you to checkout upsell, post-purchase upsell, product bundle, and cross-sell.
Easy to give customers personalized recommendations with the app widget.
Choose from a pre-designed template or build your own from scratch.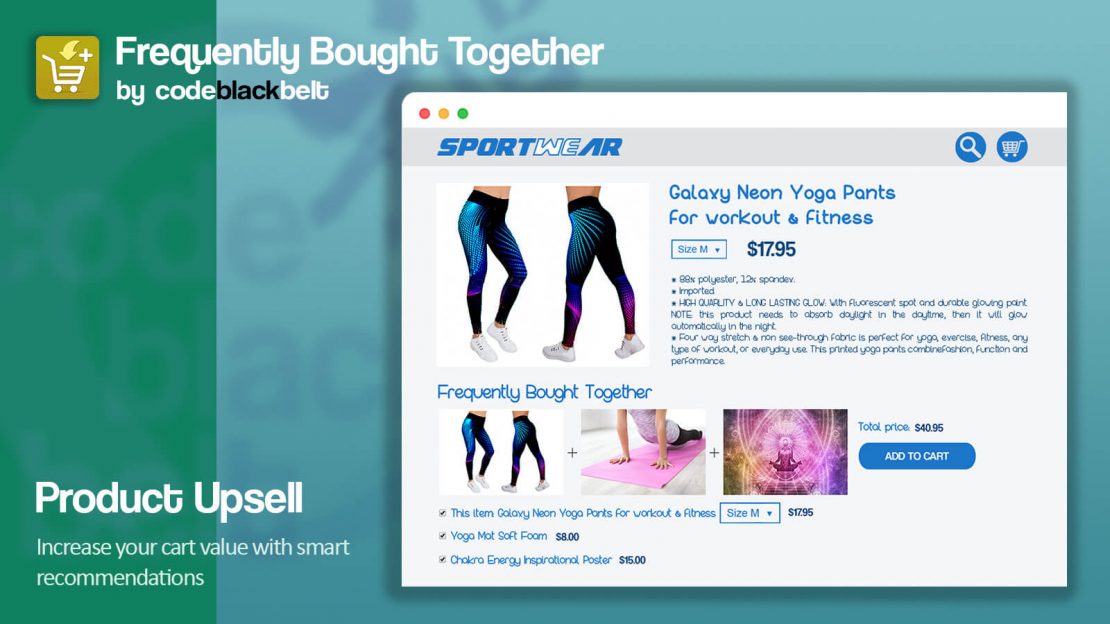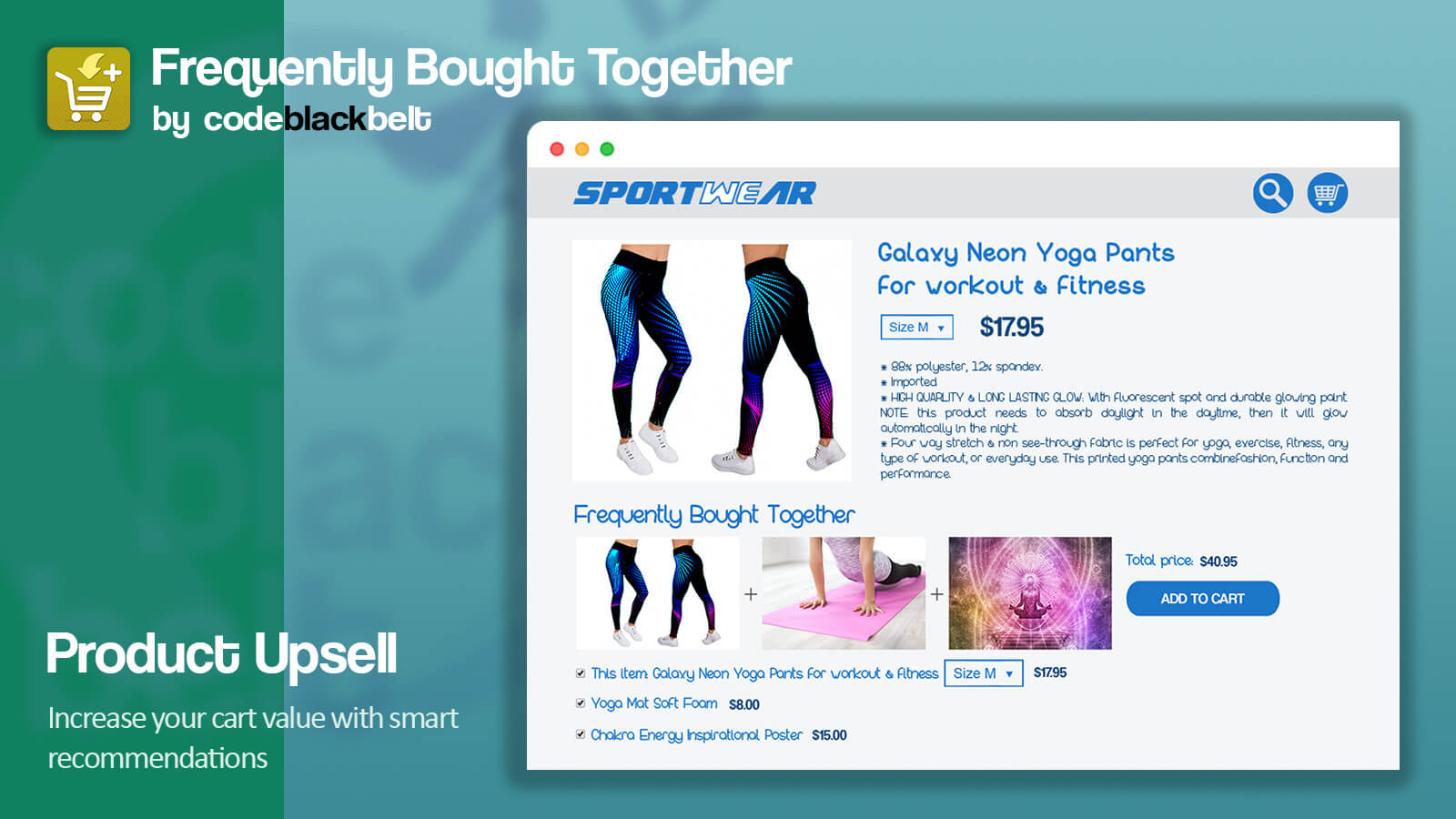 This Shopify upsell app – with recommendations and cross-selling – also has a 30-day free trial, giving you enough time to really try it out and see how it affects your average order value (AOV) and store performance. It's also available in the following plans: Free (up to 1,000 orders), $9.99/month (1,000 to 10,000 orders), or $19.99/month (over 10,000 orders).
Increase your conversion rate with recommendations that are displayed as bundles on product pages.
Recommendations are highly personalized via the app's AI trained with 1+ billion orders/100 million products.
Generated over $1.5 billion for more than 200,000 Shopify merchants.
Based on Amazon's layout – you can add a bunch of related products with just one click.
Show ratings from the most popular review apps to increase consumer trust in your Shopify store.
User interface is fully customizable and designed to match all Shopify themes.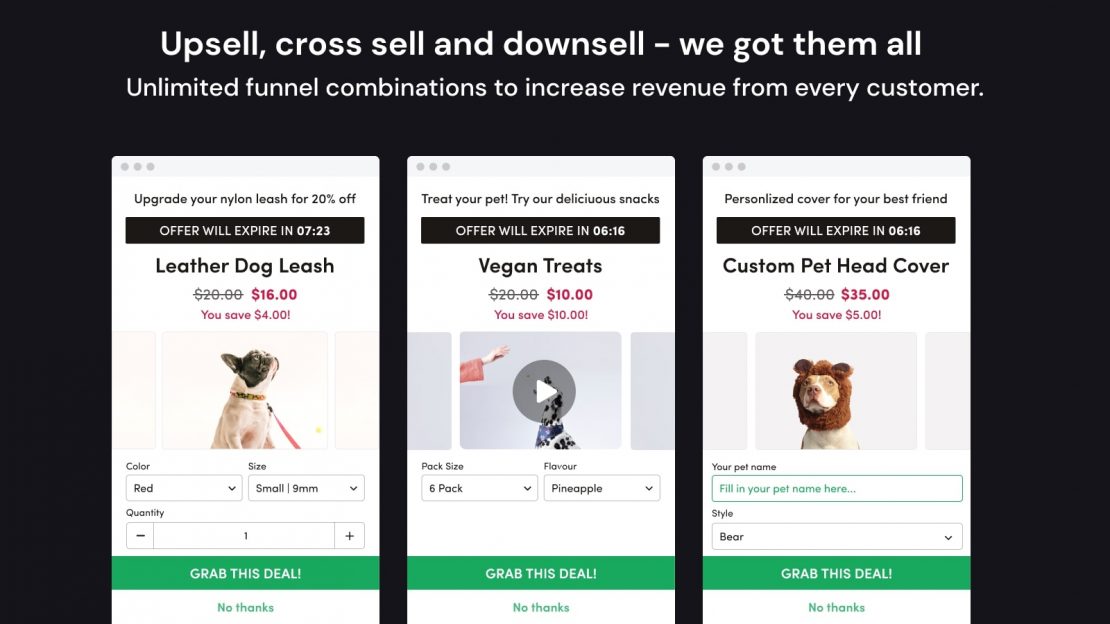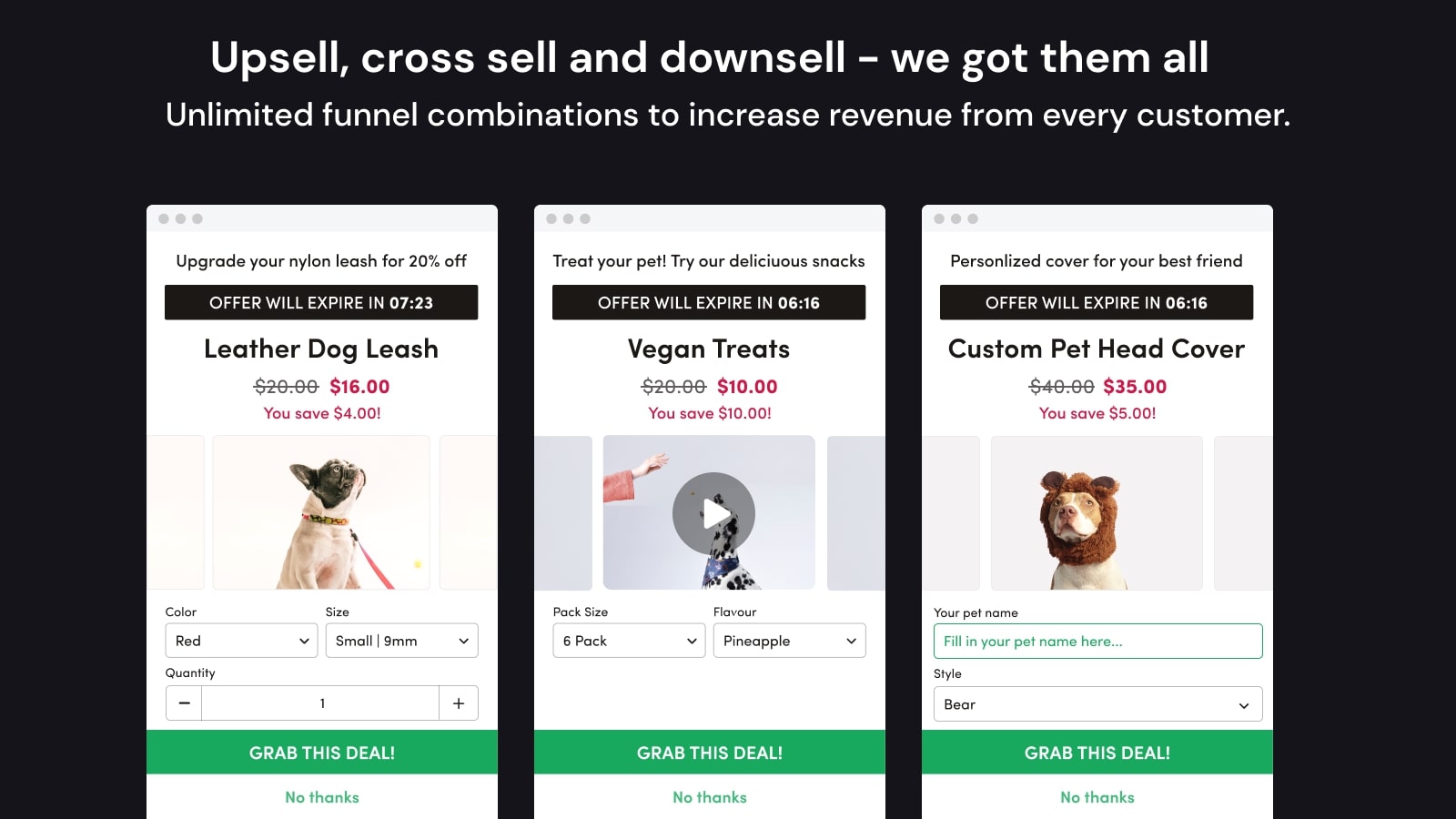 This Shopify upsell and cross-sell app only has a 7-day free trial. This may not be long enough to see it make a difference in your conversions and/or sales, but it's certainly long enough to get a general feel for the app and its functionality. Plus, there are several plans available: Free (up to 100 monthly views), $49.99/month (2,000 views), $99.99/month (5,000 views), or $149.99/month (10,000 views).
While it may seem expensive, many Shopify merchants find it worth their while to invest in a Shopify upsell app. Remember, these can make a huge difference on your AOV and boost conversion rates.
Most effective way to boost sales without having to increase traffic.
Easy to implement upsells or cross-sells anywhere in the sales funnel, from Thank You page to Checkout.
Display up to 3 targeted cross-sell offers by choosing triggers for each funnel – this improves accuracy for recommendations.
AI engine scans the order history for your Shopify store to generate suggested upsell/cross-sell offers.
Stunning and highly responsive layout on any device, including mobile.
Upsell funnels include post-purchase, cart page, product page, checkout page, and blog posts.
Integrates with Shopify themes so you can maintain your brand identity via design.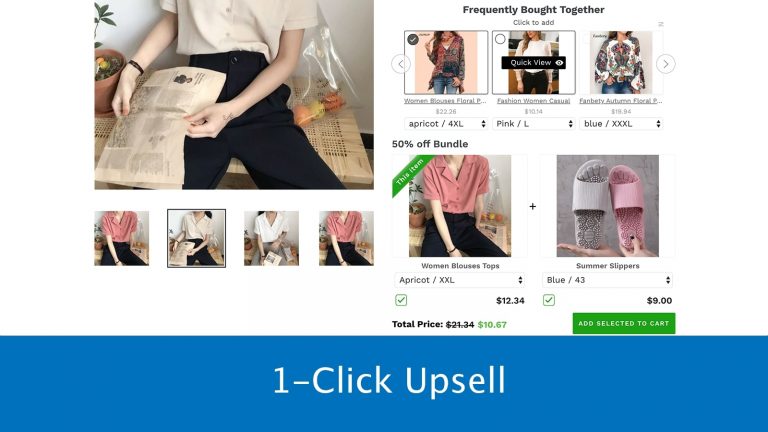 This Shopify upsell app also offers cross-selling via personalized product recommendations. It has a 30-day free trial so you can try it out and see how it works with your Shopify store. If you see an increase in conversions, you can choose one of four plans: Free (up to 50 monthly orders), $7.99/month (up to 100 orders), $14.99/month (up to 200 orders), or $19.99/month (200+ orders).
Use 1-click upsell to give personalized recommendations and to boost sales.
Includes Frequently Bought Together, bundle/warranty upsells, volume discounts, and sticky cart drawer.
Offer cart upsell or cross-sell with product recommendations, discounts, or bundles set manually or via the app's AI.
Increase your AOV and recharge customers with quantity breaks, bundle promotions, and other features.
This simple and easy-to-use Shopify upsell app immediately boosts revenue by 20%.
Wide selection of widgets that are fully customizable to match your Shopify store's brand and design.
Integrates with Shopify themes and looks good on any device – including mobile – and any resolution.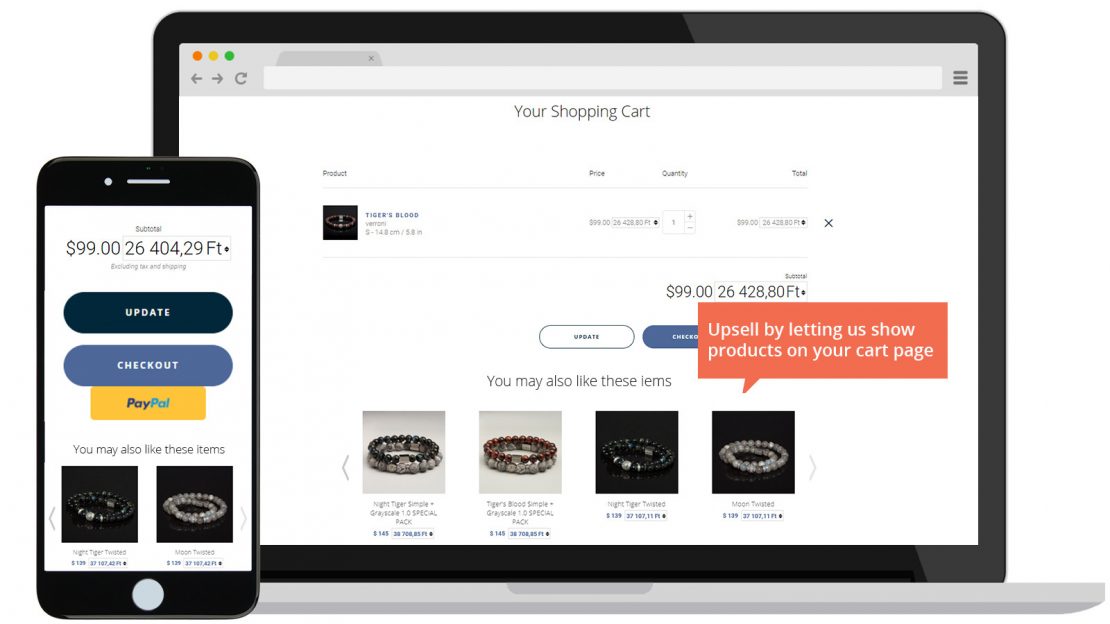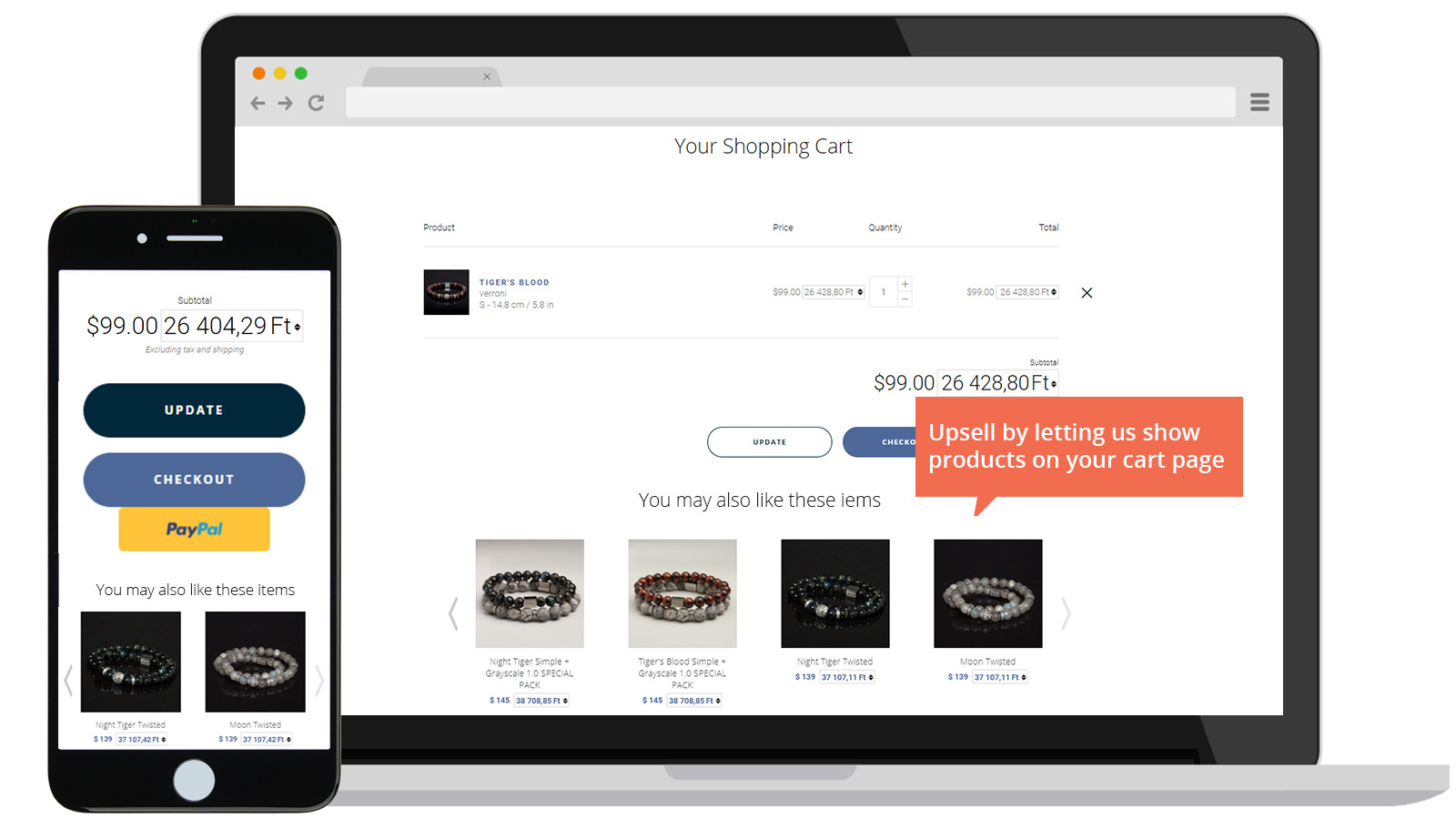 Unlike the other Shopify upsell apps listed, this one is 100% free! That means no free trial, no monthly fee, no setup cost, and no commission. It doesn't have as many features and the comprehensive functionality of the other upsell and cross-sell apps listed, but if you're on the fence about trying a Shopify upsell app, you can use this one to see how it affects your Shopify store conversions.
Personalized upsell and cross-sell recommendations are automatically generated.
Based on the Amazon upsell feature.
Widgets to use on your homepage, product pages, and cart pages for free.
Designed with 3 recommendation algorithms.
Includes popular items, most expensive products, you may also like these items, products recommended for you.
Compatible with any Shopify theme & 100% mobile-friendly.
Choose The GreenDropShip Dropshipping App For Shopify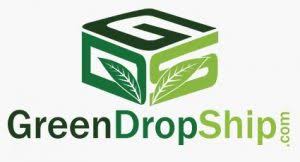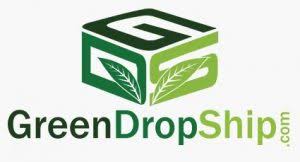 Shopify upsell and cross-sell apps increase your conversions and boost average order value (AOV) by working together to optimize the user experience (UX). And the better the UX, the longer online shoppers stay in your store and potentially buy something. Using these apps lets you take full advantage of customer interaction so your Shopify store can thrive.
Plus, the more personalized the upsell/cross-sell, the better. So be sure to take advantage of the AI-powered recommendations in your Shopify upsell app. It's also especially effective if you choose an app with a 1-click upsell – the fewer steps a customer has to take, the more likely they are to make the purchase.
If you really want to have a dynamite Shopify store, you can also take advantage of the new GreenDropShip dropshipping app. By partially automating your order fulfillment, it makes the entire dropshipping process quicker, easier, and more efficient. The app is also fully compatible with all upsell and cross-sell apps.
You'll need a GreenDropShip membership and a Shopify store. Then, you just have to pay the wholesale price and shipping costs and GreenDropShip will automatically fulfill your orders. Finally, just go to the Shopify App Store and download our dropshipping app.
GreenDropShip is a premium dropshipping supplier that's easy to use with Shopify. If you'd prefer not to use the app, you can still use our basic dropshipping platform with our product feeds.