Expo West 2018 Wicked Crisps Opportunities
Expo West 2018: Wicked Deliciousness from Wicked Crisps
As I walked the crowded North Halls of Natural Products Expo West 2018, representatives from nearly every expo booth attempted to convince me to try their hot products. I tried countless samples, but I knew what I was really after: a better-for-you crispy snack with delicious, complex flavors.   
Soon, I heard Jim Buck from Wicked Crisps calling out as I passed his expo booth.  "Do you want to try some of our Wicked Crisps veggie crisps? I promise—they're nothing like what you would expect from a veggie chip."
When I hear  "veggie chip," I usually think of green and orange chips with a puffed air and one-dimensional vegetable taste.  
Not true with Wicked Crisps.
At Natural Products Expo West 2018, Wicked Crisps blew me away. With their layers and layers of flavor depth, these crisps break out of every veggie chip stereotype I came in with.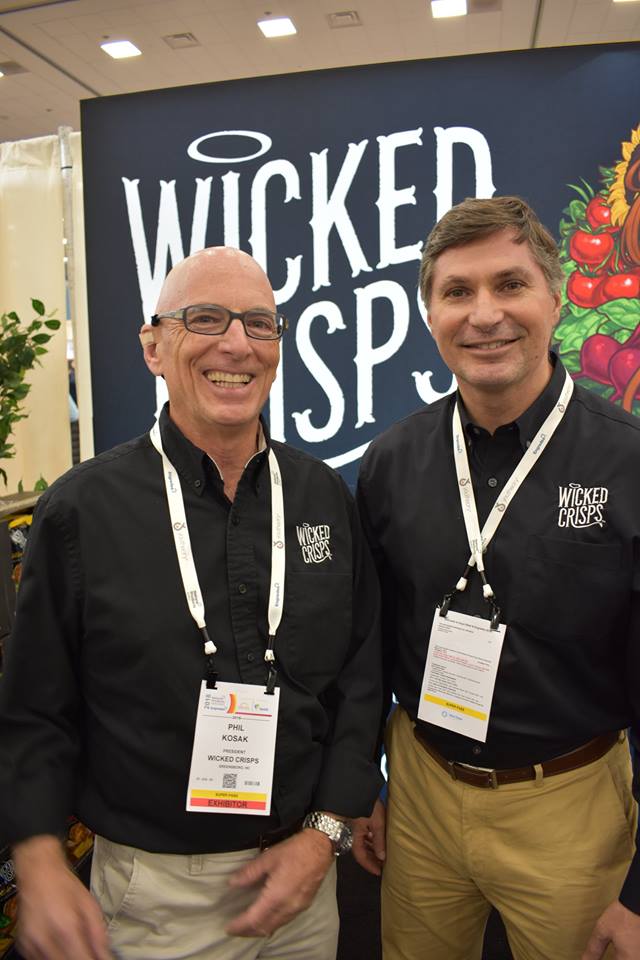 Snack superheroes Phil Kosak and Jim Buck, the brains behind the revolutionary Wicked Crisps, will smash your veggie chip expectations. But you won't feel guilty, either. After all, Wicked Crisps offer halo-worthy nutritional value. Plus, every bag's gluten-free, non-GMO, and Kosher.
Read on to learn more about my Wicked Crisps experience at Natural Products Expo West 2018.
2018 Expo Taste Test — Shattering Expectations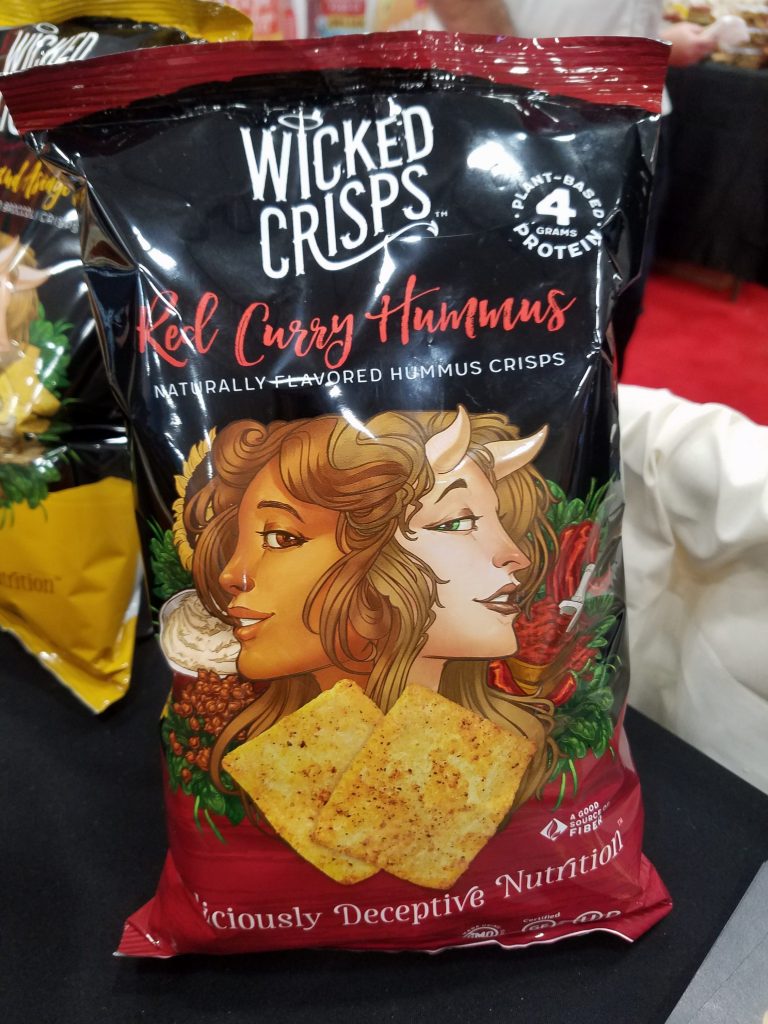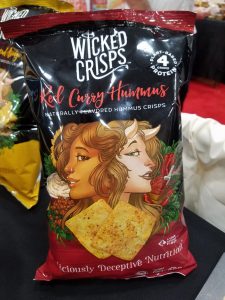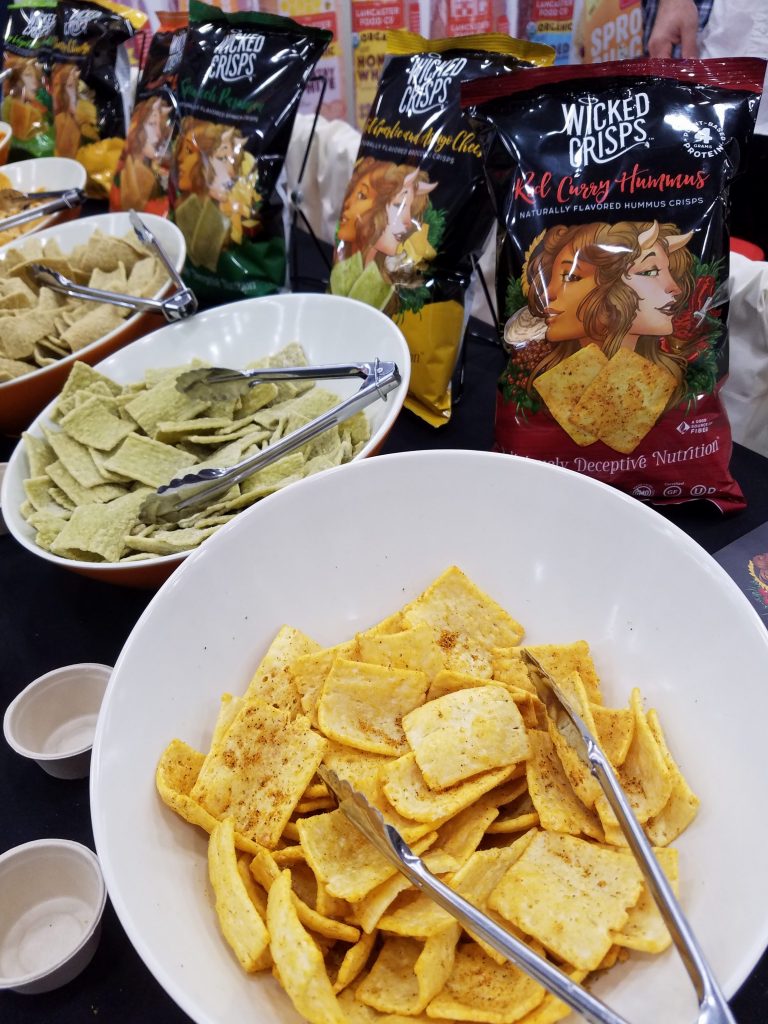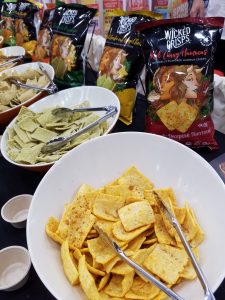 I started my sampling with the Red Curry Hummus chickpea crisps. They were what first shattered my veggie chip expectations. They're much more than hummus packed into a chip!
Rather than red curry hummus itself, these crisps taste like the Indian delicacy of chickpea curry. First, spices, like paprika and garlic,  rain down warmth on the tongue and slowly fade. Then, the paprika lingers as the chickpea comes through. The tingle of paprika continues to dance in the middle and back of your tongue for a while. I also thought I tasted flatbread with tomatoes and rosemary. You might choose to dip these crisps into hummus, but they certainly don't need the dip.
All this, plus 4 grams of protein and a healthy amount of fiber,  for only 110 calories (per 21 crisps)!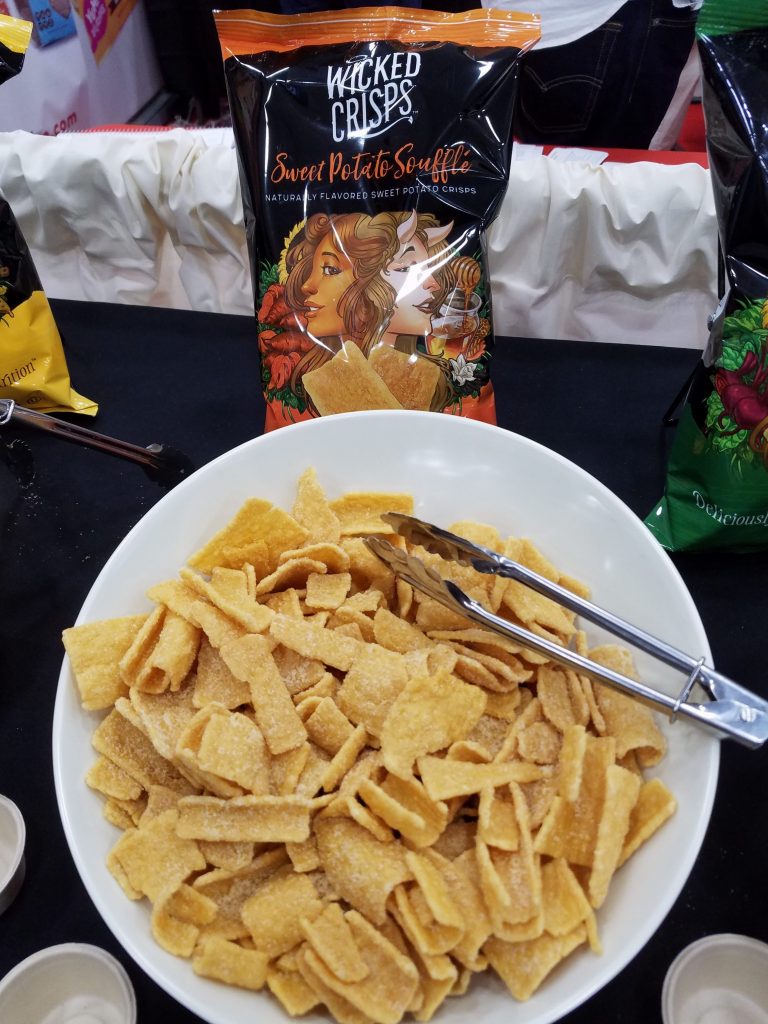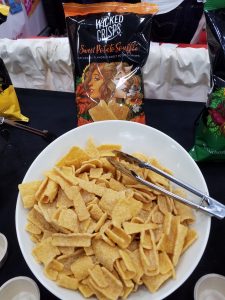 "Try the Sweet Potato Souffle," Jim soon encouraged me. " It's nothing like any sweet potato chip you've tried. Trust me."
 I was expecting a savory, slightly salty taste. I should have known to expect the unexpected—yet again.
First, the aroma. They smelled strongly of vanilla icing or yogurt. And a vanilla taste (with just the right sweetness) filled my mouth first. Then, I tasted a combination of honey-candied sweet potatoes and toasted marshmallows. After that, the sweet potato came through strongly on its own. And finally, I came back to just a little bit of vanilla. There was a tiny bit of cinnamon sprinkled throughout, too. It was a thorough flavor roller coaster.
I did a double take when Jim showed me the back of the bag, with the nutrition facts—only 120 calories and 3 grams of sugar per serving (21 crisps)! Instead, Wicked Crisps emphasizes the natural sweetness of sweet potatoes.
Two Heads Are Better Than One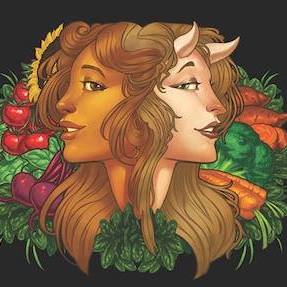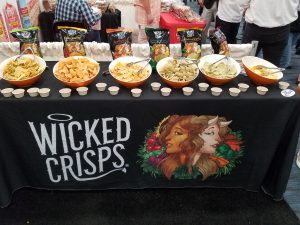 Besides the crisps' own ride for your taste buds, the most striking part of the Wicked Crisps Expo West 2018 booth was the image of a two-headed woman, one with horns.
At first, I thought this was a representation of an angel and devil. After all, Wicked Crisps combine a nutritional halo and "sinfully" amazing taste.
But I should have known that the image had more depth behind it, like the crisps themselves.
It's an interpretation of the Roman god Janus, who was often depicted with two heads. Janus, god of transitions, could see the past and future at the same time. And Wicked Crisps founder Phil Kosak looks back at other snacks' flavor legacies but simultaneously taps into forward thinking and his famous "can-do" attitude. 
He keeps all Wicked Crisps free from artificial additives, GMOs, and synthetic preservatives. Plus, they're baked, never fried. And he fills the crisps with farm-to-table ingredients.
Phil Kosak, Crisp Wizard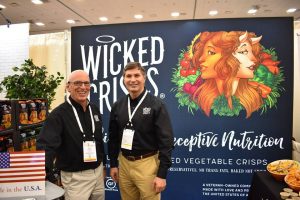 Once you try Wicked Crisps, you'll probably want to know even more about Phil Kosak's background. Well, with a Ph.D. in food science and microbiology, Phil Kosak's uniquely qualified to create flavor ride from the inside out. He used to work for conventional chip companies, but knew he could do far more, and turn the chip into an innovative yet better-for-you gourmet. So, Wicked Crisps was born.
Even better? He's passionate about hiring people with disabilities, and others whom most employers pass by. After all, he says, "people are worth believing in." Phil and Wicked Crisps are truly magical in many ways.