How To Find Popular Food Trends To Dropship
In today's world, food trends spread rapidly due to our ever increasing use of social media. Couple this with the fact that people are more than happy to share their meals, food opinions and recommendations online… (just look at how many food pics pop up in your feed), and it's clear this obsession with new culinary trends isn't going away anytime soon.
For savvy dropshipping entrepreneurs, this can be a huge opportunity. You can capitalize on in-demand items, without having to worry about getting stuck with a bunch of unsold inventory if a trend goes out of style.
This gives you the freedom to find and sell profitable trends early, then move on to new items if and when tastes change. It also allows for seasonality in your online offerings, which is another great way to boost sales.
We'll give you some background into the psychological drivers behind consumer food trends. In addition, we'll show you some ways to identify emerging trends in the industry, and share some of trending food items that are popular for dropshipping. Let's get started!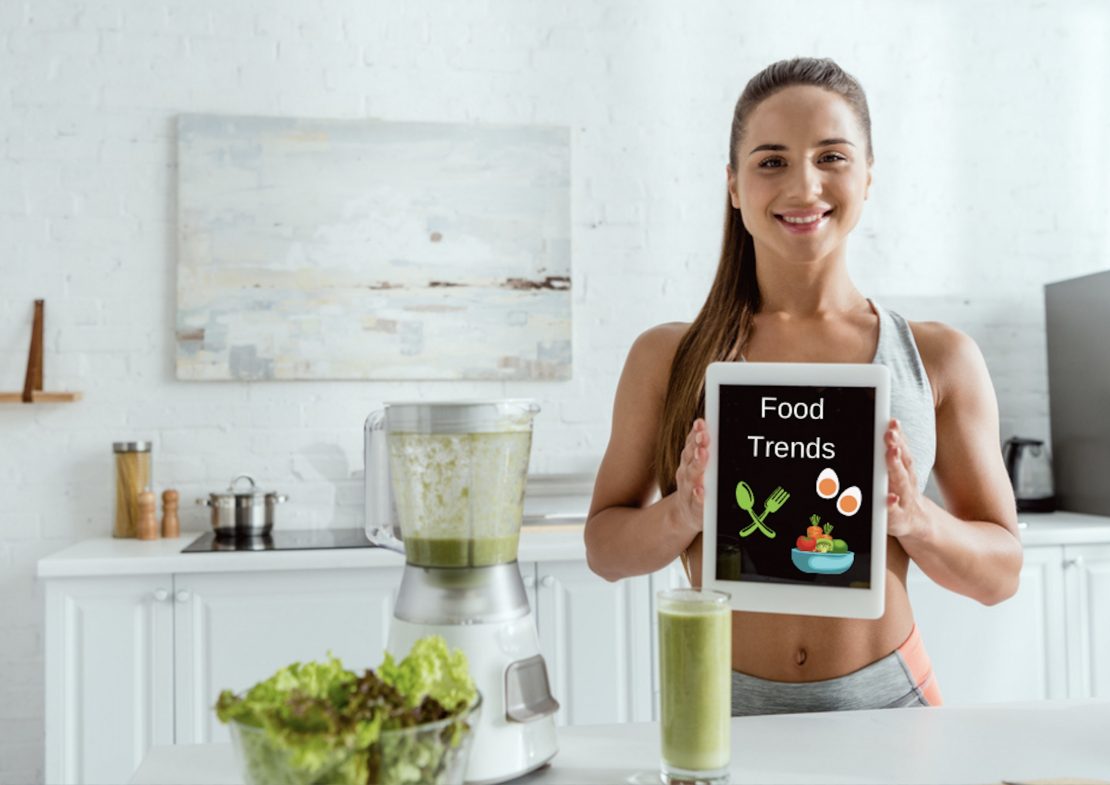 Using Consumer Drivers To Identify Food Trends
When you launch your online store, you should have already identified your niche and target market. And, of course, when considering which of the latest trending food products to carry, you want to be sure those products appeal to your target audience.
But there are other influences that impact customers' purchasing decisions. Things that go beyond the demographics of your target market.
When looking to identify food trends, it's helpful to consider buyer behavior in the context of the 'behind the scenes' factors that influence their purchases. These motivating factors are called consumer drivers, and they play a big role in determining which food trends are successful.
Consumer drivers are validated through surveys. The Culinary Trend Tracking Series from CuTTS identified several key market drivers in the food and beverage industry.
Understanding how these drivers influence customer purchasing behavior can be a big advantage to entrepreneurs. Essentially, you can use consumer drivers to spot new eating habits and food trends, and then create relevant marketing campaigns using in-demand products to grab your customer's attention.
Here are three (3) key food and beverage market drivers and what they mean for online business owners.
1. Health And Wellness
Health and wellness drivers compel consumers to buy trending food products that they believe are "good" for them. These are items buyers perceive as having more nutritional value, less calories, less chemicals, less sugar, disease-fighting attributes, etc.
The number of Americans seeking to achieve a healthier lifestyle continues to increase, year over year. Which means you can expect to see more popular food trends cropping up in the health and wellness space.
Consumers care about health certification labels, such as organic, non-GMO project verified, 100% grass-fed, and certified gluten-free. They also care about foods that are nutrient-dense and contain things like antioxidants, omega-3s, vitamins and minerals.
Searching for wholesome brands that focus on healthy eating and clean ingredients is one way to identify food trends.
2. Purposeful Eating
Another consumer driver in the food industry is purposeful eating. This driver influences people to buy food products that align with their political, religious, or personal beliefs about what should (or should not) be consumed.
Consumers motivated by this driver might look for certified Kosher or Halal foods. Or they may care about eco-friendly growing practices, or look for certified humane animal products.
The fair trade label appeals to both environmentalists and social activists as the designation means farmers growing the crops were paid a fair price. This is not only ethical, it also allows the farmers to practice more sustainable farming practices.
"Made in USA" is another label that buyers with this driver might gravitate towards. The label means jobs are created here in the US, and American-made food products must adhere to the high quality and safety standards.
3. Flavor Tourism and Authenticity
Finally, flavor tourism and authenticity are also big drivers of food trends. Consumers looking to experience far-off cultures and destinations may seek to 'travel' through their taste buds. Flavor tourism has led to culturally significant and globally-sourced foods becoming more and more popular.
Authenticity drives consumers to purchase foods that are genuine to their heritage, and have an easily-communicated tie to a regional food or technique.
If you can tap into where your target customer dreams of traveling, you can find food items that meet that need for adventure.
In fact, all three of these consumer drivers can be used not only to find food trends that appeal to your target market, but also to create marketing content that entices them to buy. You can weave these drivers into your storytelling.
Think about the story behind the food and beverage products you offer. What would make it interesting or special to someone with a particular driver?
Is it the way the animals are raised? Perhaps it's the regional flavor and story of the town the food came from? Or could it be the high level of antioxidants and anti-inflammatory effects of a certain food?
Play up whatever traits influence your customers to buy and watch your sales increase.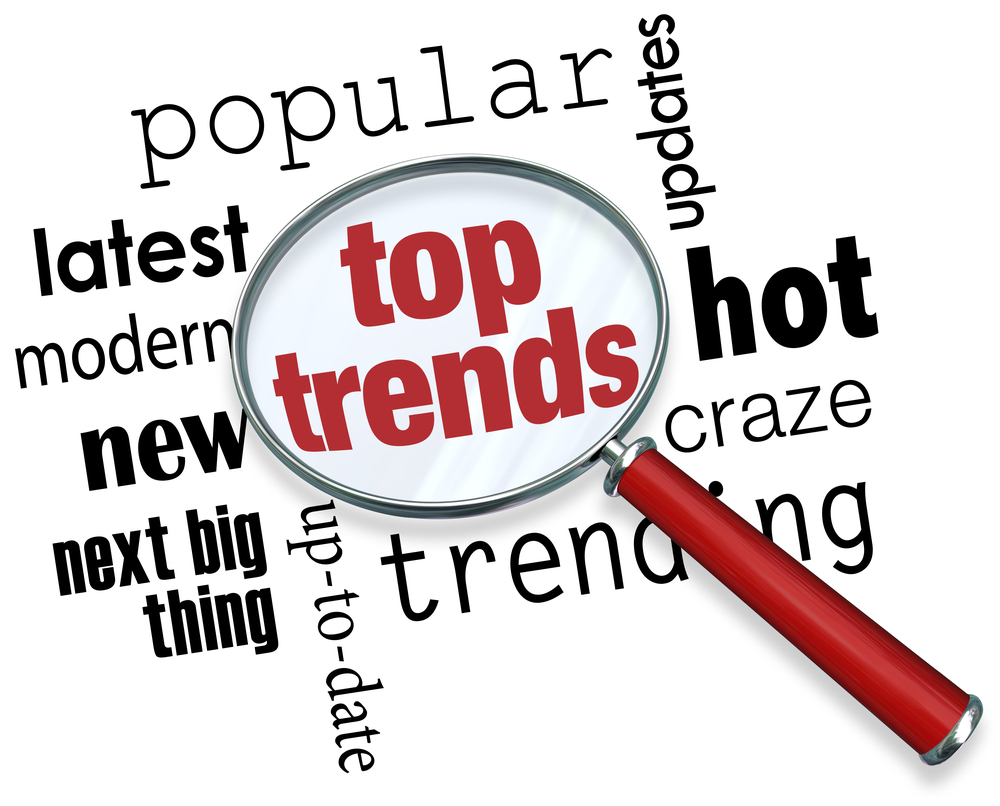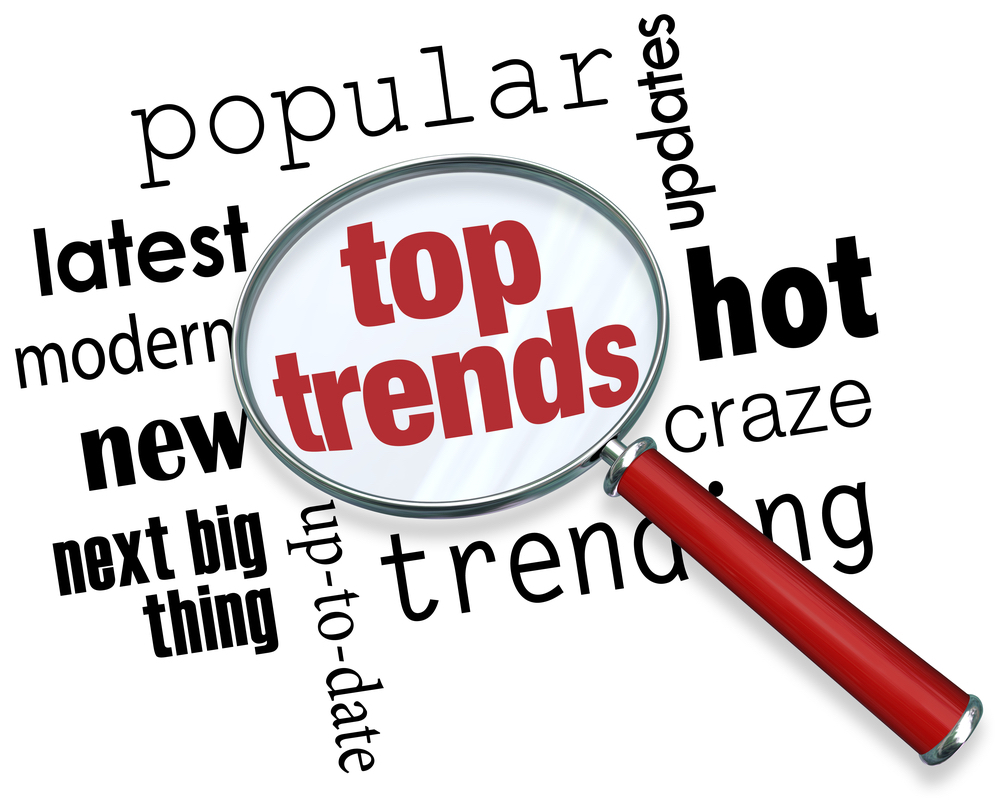 Keeping Up With Trending Food Products
If there's one thing we know about trends, it's that they're always changing. It's no different when it comes to food.
Food trends can change seasonally, just think about all the pumpkin spice madness that happens every fall, or they can change across years or decades. As an entrepreneur, you want your finger on the pulse of what's trending so you know what items to stock in your online store.
Plus, awareness of food trends can help shape an effective marketing strategy for your business. Smart business owners should always have one eye on the future, to quickly spot opportunities and use them to increase sales.
To that end, here are some helpful resources you can use to keep up with the latest food and beverage trends.
Online Food Trend Resources
One of the best places to start your search is on Google Trends. Here you can enter a search term and analyze how users have searched for that topic over time. It's a great way to spot seasonal trends, or a product that is experiencing steady growth over the past few years.
As an example, here you can see that interest in "yerba mate" has been steadily increasing over the past few years. This would is a good beverage trend to get out ahead of and add to your online store.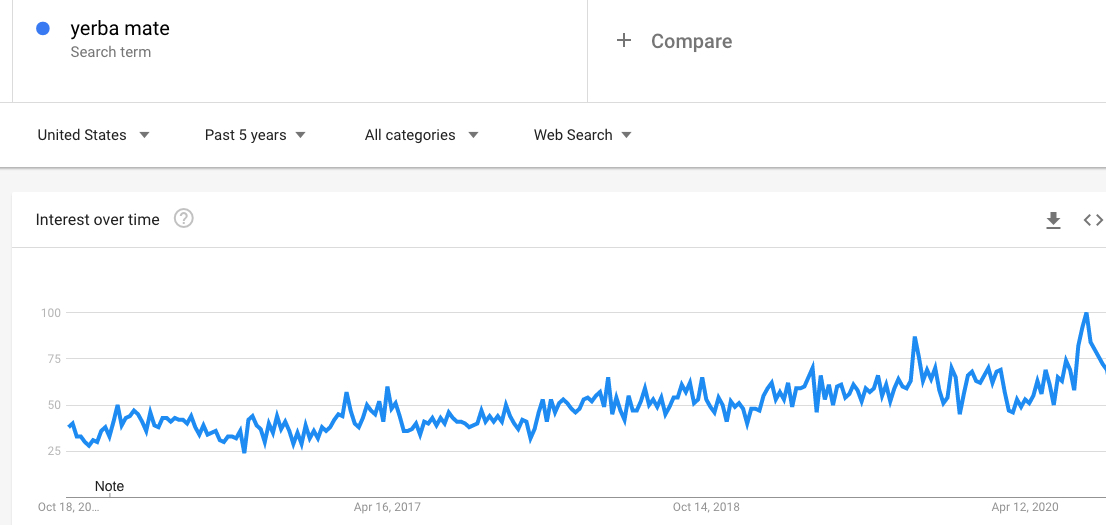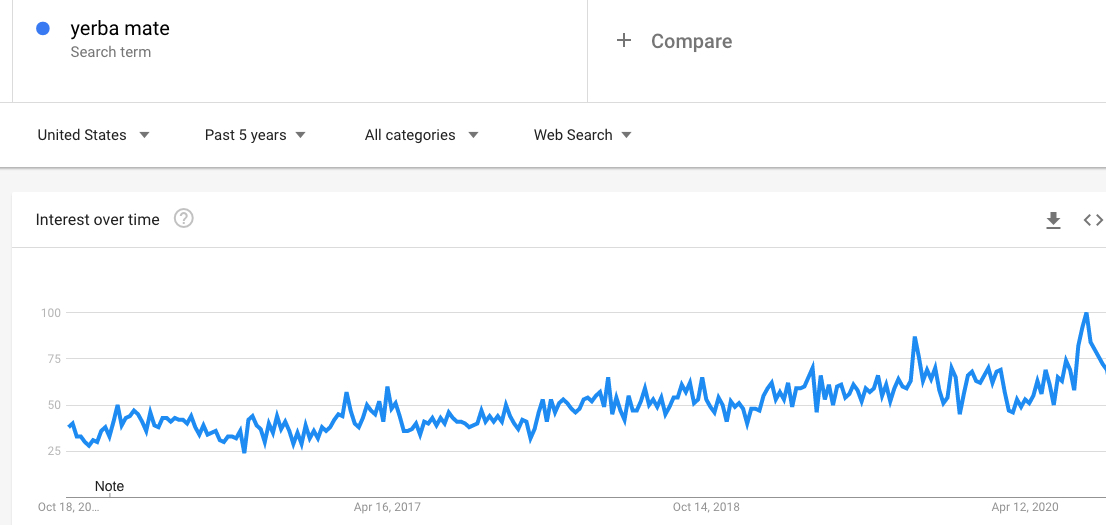 Other resources you can use to spot food trends are annual lists published by reputable players in the food industry. A few to consider:
You can also look to well-known online magazines and blogs that routinely publish articles about emerging food products and changing consumer tastes. A few to consider include:
Food News And Subscriptions
Food newsletters and email subscriptions are another great way to get all the latest and greatest food news sent directly to your inbox. Here are a few you might want to consider signing up for.
FoodDive covers topics like flavor trends, R&D, health and nutrition, scientific discoveries, new ingredients and more. While GroceryDive keeps you up-to-date on shopper behavior, Ecommerce trends, food pricing, etc.
The New Hope Network newsletter focuses on natural products, and healthy food and beverage trends. While the Kalsec Food Trends Email promises to keep subscribers up-to-date on food trends, consumer research, white papers, events, and educational resources.
Food Industry Expos and Events
And finally, there are food industry expos, trade shows, and events. You want to get up close and personal with emerging food brands and trends? This is the place to do it!
At expos you can see new food products before they're widely available to the public. Plus you can meet with leaders and innovators in the food industry and gain valuable insights from their experience.
Here are some of the biggest food and beverage product expos out there. All these events are great places to find new industry opportunities and relationships, and to further expand your online offerings.
Latest Food Industry Trends For Online Retailers
At GreenDropShip, our mission is to build a marketplace that empowers merchants by giving them access to the best natural and organic products. We want to enable you to discover emerging brands, so you can use them to grow your online store.
Since data analysis is at the heart of who we are, we too are on the lookout for trending brands and food products. Our team researches various niches and shares food trends, product ideas, and marketing tips to help entrepreneurs discover new items and increase sales.
Here are three (3) food industry trends we've identified that show no signs of stopping. Each of these trends represents a potential opportunity for your eCommerce business.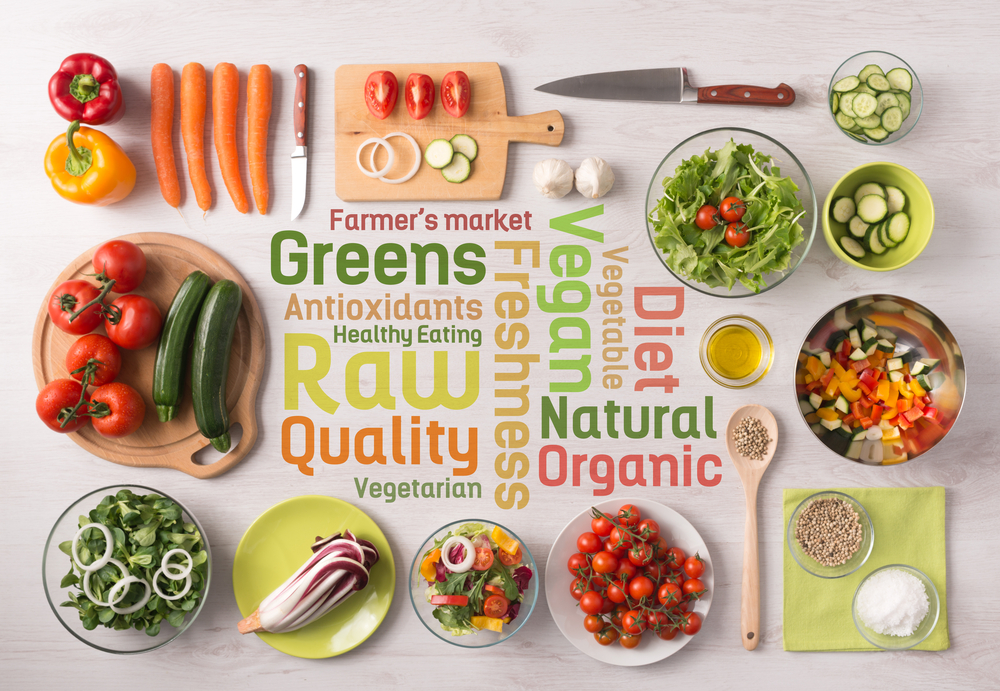 1. Plant-Based Diets
According to Forbes, U.S. plant-based product sales increased by 31.3% between 2017 and 2019. This is one food trend that continues to grow and represents a huge opportunity for online retailers.
The drivers that influence people to choose more plant-based food options vary. Some people do it for health and wellness reasons, while others are driven by animal welfare, global warming, or sustainability concerns.
When marketing these products, it's important to understand what drives your target customer to choose vegan or vegetarian products. What problem are they looking to solve? Then tailor your messaging to address their specific concerns. This is how you build buyer trust, which can lead to repeat business.
If you want to dig deeper into plant-based food trends, here are some additional articles with product recommendations, dropshipping suppliers, and marketing tips including features and benefits.
2. Trending Health Foods
A report from the International Food Information Council (IFIC) Foundation and the American Heart Association found that 95% of shoppers in the United States say they always or sometimes seek healthy food options.
95 percent…that is HUGE! And it represents another big opportunity for your online store. Every few years a new health food or product category makes its way into the national news. Wouldn't it be great if you were one-step ahead of the competition?
In fact, organic food sales continue to rise, year over year, and show no signs of slowing. This is why organic items are one of the food trends we focus on most. Check out this chart from Statista: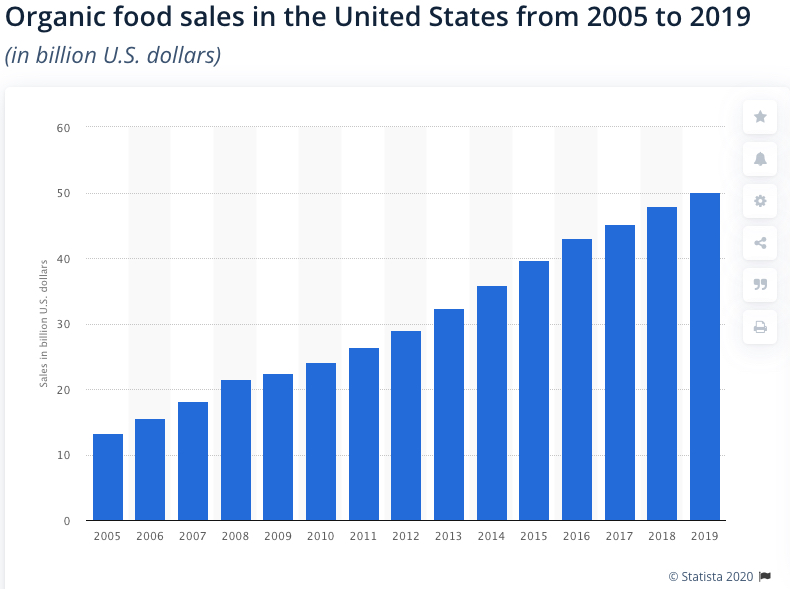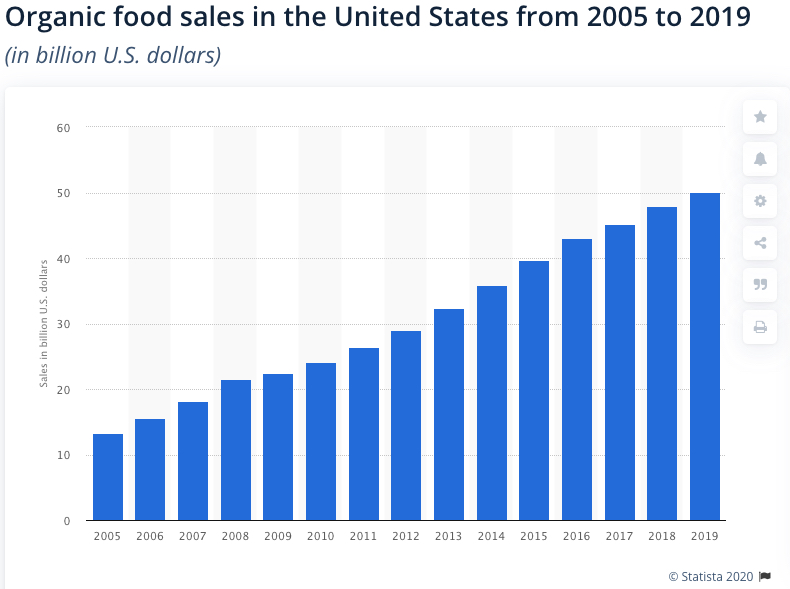 You already know that health and wellness is one of the biggest drivers of consumer food choice. So offering options that support a healthy lifestyle is really a no-brainer.
Here are some additional articles on trending health foods to help get you started.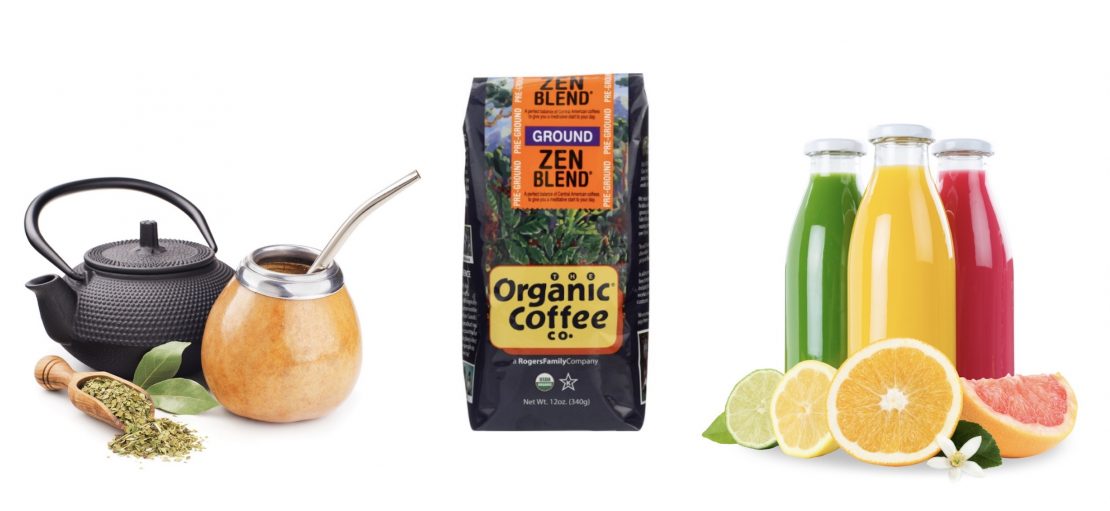 3. Beverage Trends
And finally, no food trend list would be complete without taking a look at beverages. Revenue in the non-alcoholic drinks market is expected to grow annually by a 7.1% compound annual growth rate (CAGR) through 2025.
Any online retailer looking to capitalize on food trends would be remiss if they didn't also look at beverage items. It's another pool of potentially profitable products to add to your dropshipping store.
Here are some articles on trending beverages that are a good place to start.
How To Sell The Latest Food Trends Online
Now that you've decided to stock some popular trending food items in your online store – the real question becomes, "how do I start selling them?"
You could buy wholesale food products in bulk for resale. However, you're then responsible for storing, packing, and shipping the orders to your customers. Which means you'll need to have access to warehouse or storage space, as well as the resources required for shipping and handling.
And many food and beverages products are perishable goods that are temperature sensitive. So in addition to having space to store inventory, you'll also need to deal with the logistics of maintaining a temperature controlled environment.
Plus the thing with trends is this – eventually they go out of style. Consumer tastes will change, and you don't want to get stuck with a bunch of unsold inventory when they do.
These are just a few of the reasons why we think dropshipping is definitely the way to go! Dropshipping is the easiest way to resell the latest food trends from the comfort of your own home.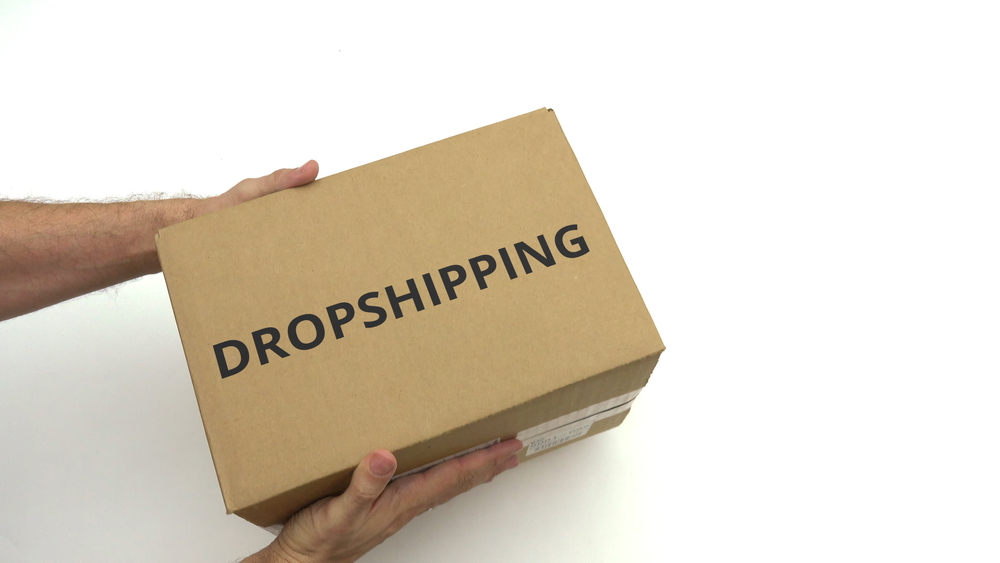 Dropshipping Food Products
With dropshipping you won't have to deal with the hassle of handling any inventory. The supplier maintains the inventory for you, then packs and ships the order to your final customer. How simple is that?
There are minimal startup and overhead costs, which makes dropshipping especially attractive to new entrepreneurs. Plus there's no worrying about maintaining the proper temperature for food or beverage products. All those technical and logistical issues are done for you.
Basically, you spend your time on what you do best, marketing to attract the right niche customers to your website. Your dropshipping supplier handles the rest.
The supplier ships goods directly to your buyers, and you pocket the difference between the wholesale food product price and the amount you sold it for. That's money in the bank with every online sale!
Finding Food And Beverage Dropshipping Suppliers
Before you can start importing food trends into your online store, you need to find the right dropshipping supplier(s) to partner with. There are many methods you can use to find a dropshipping supplier, but these two are the most common and are a good place to start:
Try doing a Google search related to the eCommerce platform you're using. For example, if you've chosen Shopify as your eCommerce platform, try searching "Shopify dropshipping supplier" to find suppliers that will integrate with your Shopify store.
Consult an online supplier directory. These resources provide updated lists of prescreened suppliers and the type of products they offer. Some of the more popular directories include:
Additional items to consider when choosing a dropshipping supplier include:
Select a domestic supplier, one that's based in the USA.
Check to be sure membership prices are competitive.
Verify that the supplier integrates with your eCommerce platform.
Determine if the supplier has any minimum order requirements.
Make sure the supplier offers customer service.
Look over their inventory to be sure it aligns with what food trends you want to sell.
GreenDropShip is a reputable supplier that meets all of these criteria. With over 20,000 natural and organic products – including hemp seeds, yerba mate, fair trade coffee, flour alternatives, and plant-based items, we have an extensive inventory that includes emerging food trends.
GreenDropShip also offers competitive membership pricing, excellent customer service, easy integration with every major eCommerce platform, and quick shipping. Plus we have the tools you need to succeed, including product feeds and detailed product information.
Start Dropshipping Food Trends Today!
For a great selection of food and beverage products for your eCommerce store, be sure to check out our full online catalog. We've got a selection of top quality items, including the latest food trends, that we know your customers will love.
In fact, setting up a food and beverage dropshipping store that carries trending products at GreenDropShip is easy. To learn more, simply contact our support team and they can get you started.
GreenDropShip is the smart choice for natural and organic food, beverage, health, wellness, cleaning, beauty and body care products. We carry over 20,000 "made in USA" items in a variety of niches. Let us take care of the logistics, while you focus on driving more traffic to your online store.
Join GreenDropShip Today and start making sales!