Flour Trends: A Hot Dropshipping Opportunity
When you think "trends" wholesale flour may not be the first thing that jumps to mind, but hear us out. Baking is certainly trending right now, it only takes a few minutes scrolling though food pics on Instagram to see that home bakers are definitely having a moment.
Plus, today's consumers are more health-conscious, eco-friendly, and taste-selective than ever before. And did we mention the number of people at any given time that are on a special diet? Whether it's keto, paleo, low-sugar, gluten-free, Whole30, vegan, or vegetarian; buyers want options that meet their dietary needs and restrictions.
That's why flour trends are a thing! We're not talking about your grandma's basic all-purpose bleached flour, no sir. We're talking about quality stone ground, unbleached organic flours and alternative gluten-free flours made from things like buckwheat, chickpeas, cassava, and coconut.
These are the specialty items your niche customers are looking for. Which means you want to be sure and stock some of these products in your online store.
In this article, we share the two biggest four trends happening right now. Plus we'll tell you how to find the right dropshipping supplier to make it easy to sell wholesale flour online. And finally, we clue you in to which brands and types of wholesale flour products you want to add to your online inventory.
Flour Trends For Your Online Store
Speaking of trends, organic and gluten free flour alternatives should be at the top of your wholesale baking ingredients list. Don't believe us? Check out the online search data!
According to Google Ads Keyword Planner tool, the term "organic flour" is searched upwards of 10K times a month. If that weren't enough, the terms "gluten-free diet" and "gluten-free foods" are searched closer to 100K times.
That means there's a lot of interest in the baking and cooking space for new flour options that can satisfy these healthy living and special dietary needs.
Let's take a closer look at each of these emerging flour trends and see why they're making a splash with today's bakers and cooks.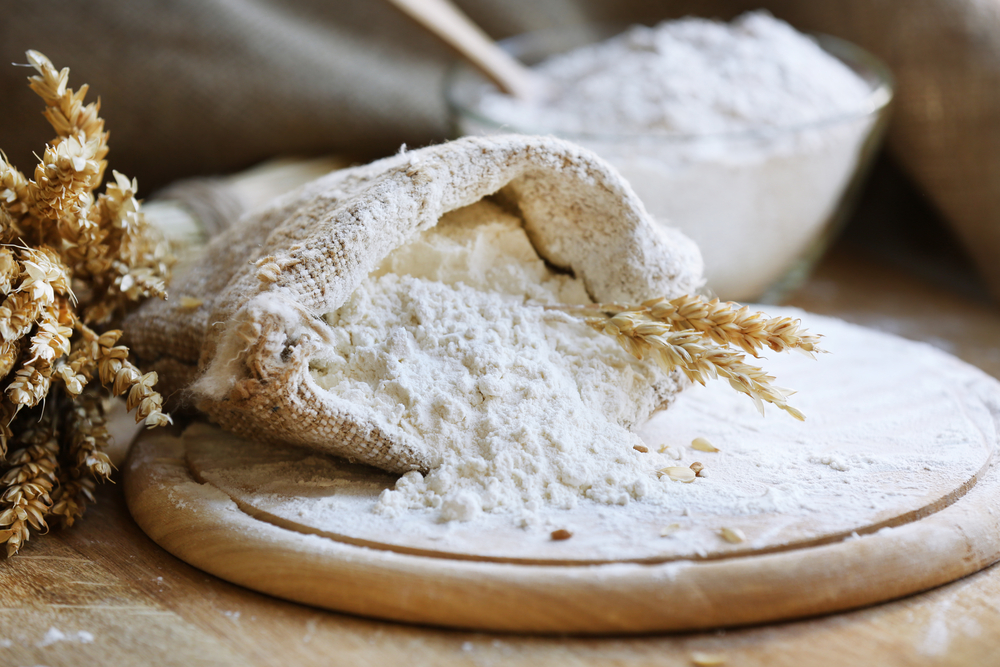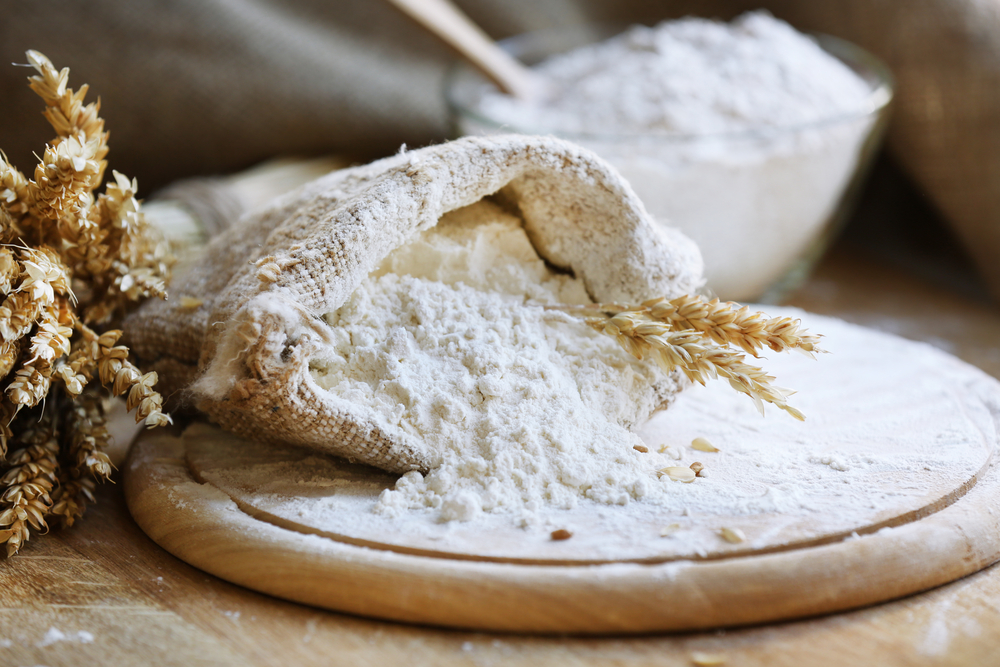 Why Organic Flour
You might be asking yourself, is organic flour really better? The short answer is yes! And here's why.
A lot of all-purpose flours on the market have had all their germ and bran content removed. Then the product is aged through the use of bleach (yuck) and bromate, which can leave flour with a bitter aftertaste.
For this reason alone, many chefs say they prefer organic, unbleached flour. In fact, several bakers we spoke to insisted that "it just tastes better."
Add to this the fact that organic flour is milled from pesticide-free grain that's grown in soil fertilized only by natural substances, and you can see why organic flour is a tastier, healthier, and more nutritious choice for consumers.
Here are the top five (5) benefits of buying organic flour. You can incorporate these benefits into your product descriptions and marketing messages to entice both health-conscious and taste-driven consumers to purchase organic products from your eCommerce store.
Fewer pesticides and artificial fertilizers
No hormones, antibiotics, and GMOs
Organic farming is safer for the environment
Contains more healthy fats and nutrients
Supports local organic farmers
For all these reasons, adding organic wholesale flour products to your online grocery offerings is a smart choice. We'll share some of our favorite organic flour brands below.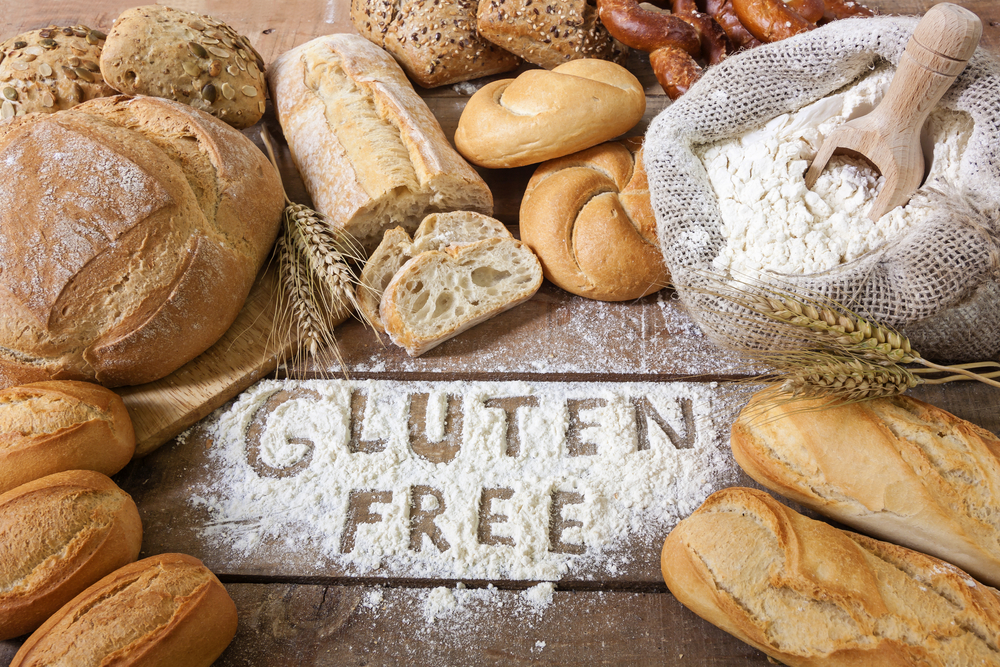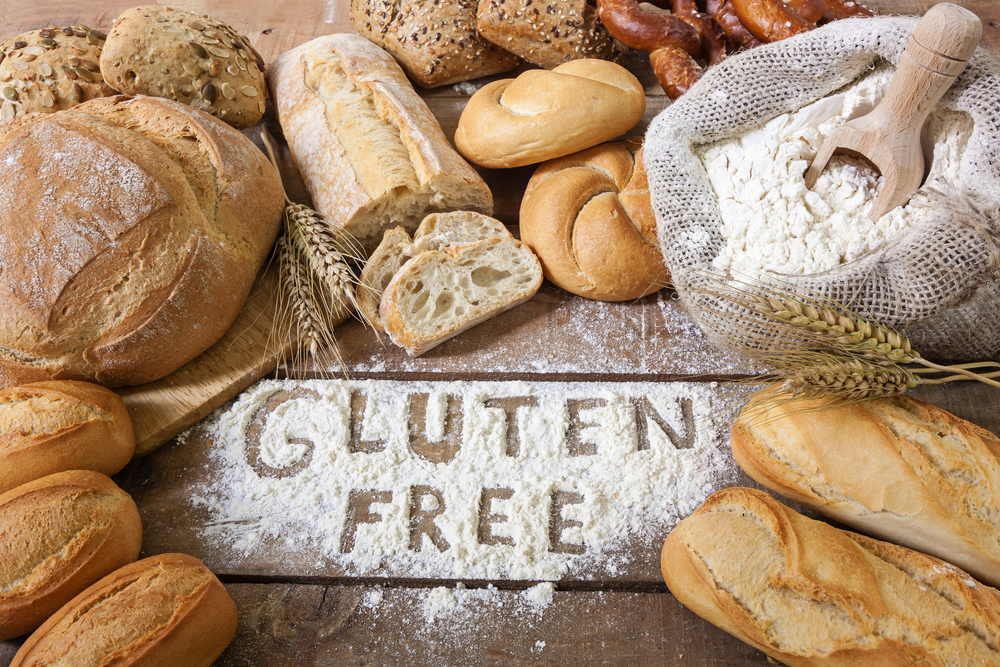 Gluten Free Flour Alternatives
As consumers continue to seek out healthy substitutes for everyday favorites and grapple with dietary needs and desires, the alternative flour market is seeing a big surge. Made from fruits, vegetables, nuts, seeds and even insects, the number of wholesale flour options available to consumers goes far beyond standard gluten-free fare.
In fact, Whole Foods Market counted these new options among its top trends for 2020, with flours made from fruits and vegetables, and other exotic ingredients being specifically mentioned by the retailer.
Add to this the fact that the global gluten-free foods market is expected to reach more than $15 billion in the next six years, according to Global Market Insights, and it's clear the alternative flour movement is more than a passing trend. Plus many popular diets avoid gluten, grains, and highly refined carbohydrates – which will only further amplify to the popularity of alternative flours.
And they aren't just popular for dietary reasons. Alternative flours also have the ability to create unique textures and flavors for today's adventurous eaters.
What does all this mean? It means when deciding what types of flours to carry, you need to think outside the box. Wheat isn't king anymore, and it's important to offer consumers options that cater to their expanding tastes.
Some trending gluten-free flour options to consider:
Rice Flour
Cassava Flour
Tapioca Flour
Almond Flour
Oat Flour
Soy Flour
Buckwheat Flour
Corn Flour
Gluten-free Multi-purpose Flour
Chickpea Flour
Coconut Flour
How To Sell Flour Online
Now that you've decided to stock wholesale four products in your online store – the real question becomes, "how do I start selling them?"
You could buy wholesale flour in bulk for resale. However, you're then responsible for storing, packing, and shipping the orders to your customers. Which means you'll need access to warehouse or storage space, as well as the resources required for shipping and handling.
And some flour products can be temperature sensitive. So in addition to having space to store inventory, you'll also need to deal with the logistics of maintaining a temperature controlled environment.
These are just a few of the reasons why we think dropshipping is definitely the way to go! Dropshipping is the easiest way to resell wholesale flour and other grocery items from the comfort of your own home.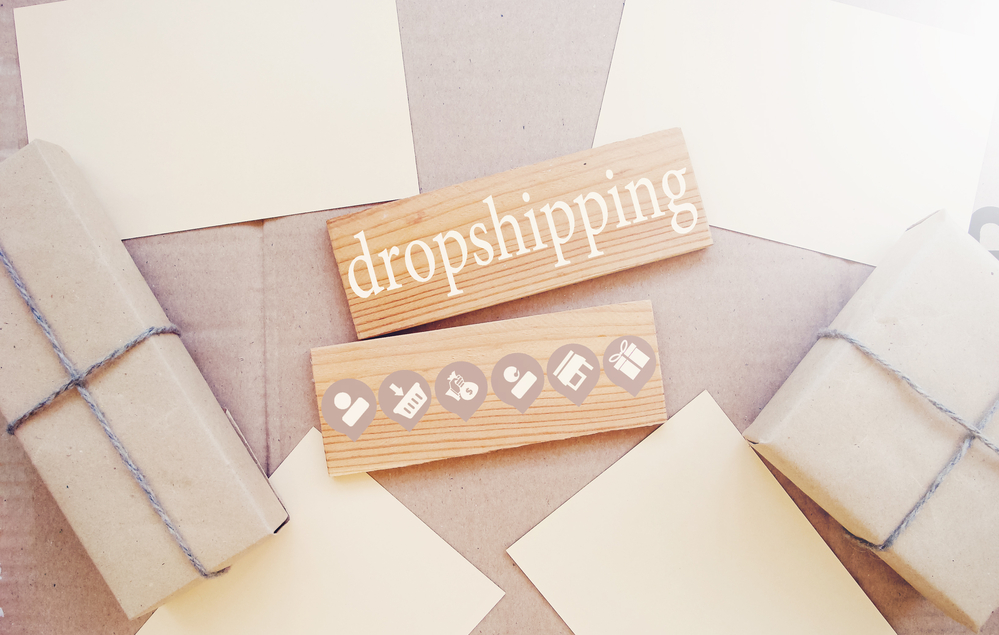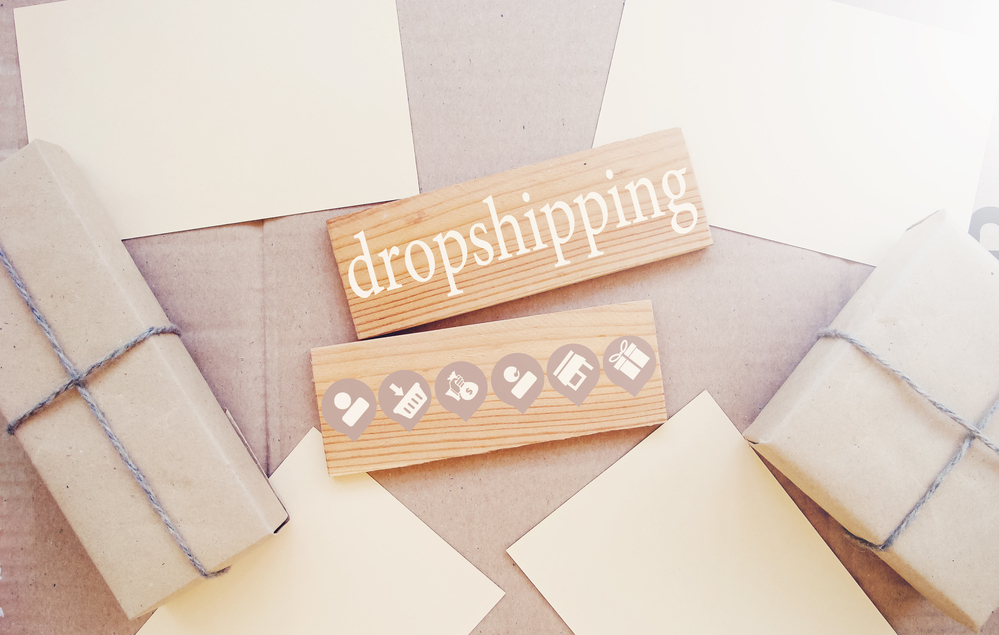 Dropshipping Wholesale Flour
With dropshipping you don't have to deal with the hassle of handling any inventory. The supplier maintains the inventory for you – then pulls, packs, and ships the order to your final customer. How easy is that?
There are minimal startup and overhead costs, which makes dropshipping especially attractive to new entrepreneurs. Plus there's no worrying about maintaining the proper temperature for flours or other food products. All those technical and logistical issues are done for you.
Basically, you spend your time on what you do best, marketing to attract the right niche customers to your website. Then let your dropshipping supplier handle the rest.
The supplier ships goods directly to your buyers, and you pocket the difference between the wholesale flour product price and the amount you sold it for. That's money in the bank with every online flour sale!
Finding Wholesale Flour Distributors
Before you can import flour products into your online store, you need to find the right dropshipping supplier(s) to partner with. There are many methods you can use to find a dropshipping supplier, but these two are the most common and are a good place to start:
#1: Try doing a Google search related to the e-commerce platform you're using. For example, if you've chosen Shopify as your e-commerce platform, try searching "Shopify dropshipping supplier" to find suppliers that will integrate with your Shopify store.
#2: Consult an online supplier directory. These resources provide updated lists of prescreened suppliers and the type of products they offer. Some of the more popular directories include:
Additional items to consider when choosing a dropshipping supplier include:
Select a domestic supplier, one that's based in the USA.
Check to be sure membership prices are competitive.
Verify that the supplier integrates with your eCommerce platform.
Determine if the supplier has any minimum order requirements.
Make sure the supplier offers customer service.
Look over their inventory to be sure it aligns with what you want to sell.
GreenDropShip is a reputable supplier that meets all of these criteria. With over 20,000 natural and organic products – including wholesale flour, and other organic and natural grocery and beverage items, we have an extensive inventory that fits every niche.
GreenDropShip also offers competitive pricing, quality customer service, quick shipping, and easy integration with every major eCommerce platform such as Shopify, WooCommerce, and Amazon/eBay. Plus we have the tools you need to succeed, including product feeds and detailed product information.
Setting up a food and beverage dropshipping store that carries wholesale flour products at GreenDropShip is easy. To learn more, simply contact our support team and they can get you started.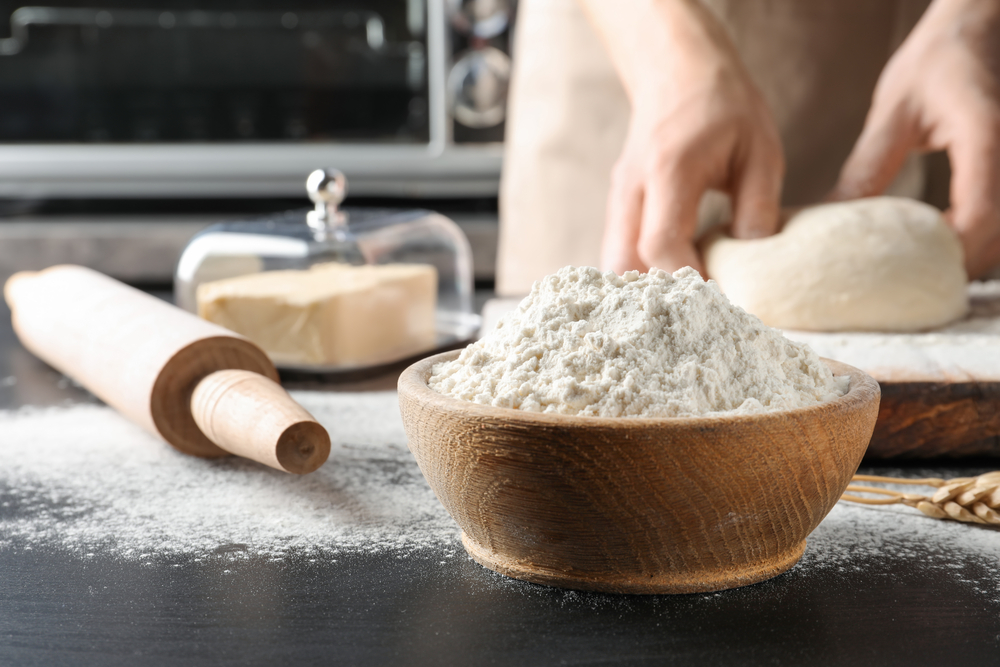 What Wholesale Flour Products Should I Carry?
Wholesale organic and gluten-free flours are big sellers… and the market will only continue to grow!
Flour products are definitely a smart choice for online retailers looking to cash in on the growing trend of new baking flavors and textures, as well as all the low-carb and special diets that are increasing in popularity.
Let's take a look at some of the best wholesale flour products GreenDropShip has to offer. You can find all these top sellers in our online catalog.
1. Wholesale Organic Flour
Look, you know organic flour is popular with consumers. Google's online search data backs this up.
And we've already explained the benefits wholesale organic flour can offer. Hint: be sure to keep those benefits in mind, so you can write engaging product descriptions that entice shoppers to buy.
Here's some of the most popular organic flours to consider adding to your online store.
Bob's Red Mill: 100% Stone Ground Whole Wheat Organic Flour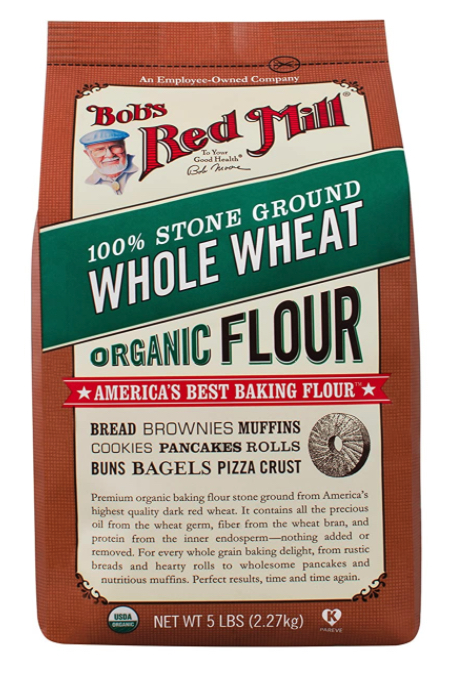 Nothing is lost in the grinding process with this product – the bran, germ, and endosperm of the wheat kernel are all included. This flour is also high in fiber and provides 7 grams of protein per serving.
It's a good choice for all kinds of whole wheat breads including rolls, buns, bagels, and flatbreads. Consumers looking to add more whole grains to their diets will love this flour option.
100% USDA Certified Organic
100% Whole Grain
Certified kosher and Vegan
Average rating of 4.5 Stars on Amazon
Arrowhead Mills Organic Unbleached All Purpose White Flour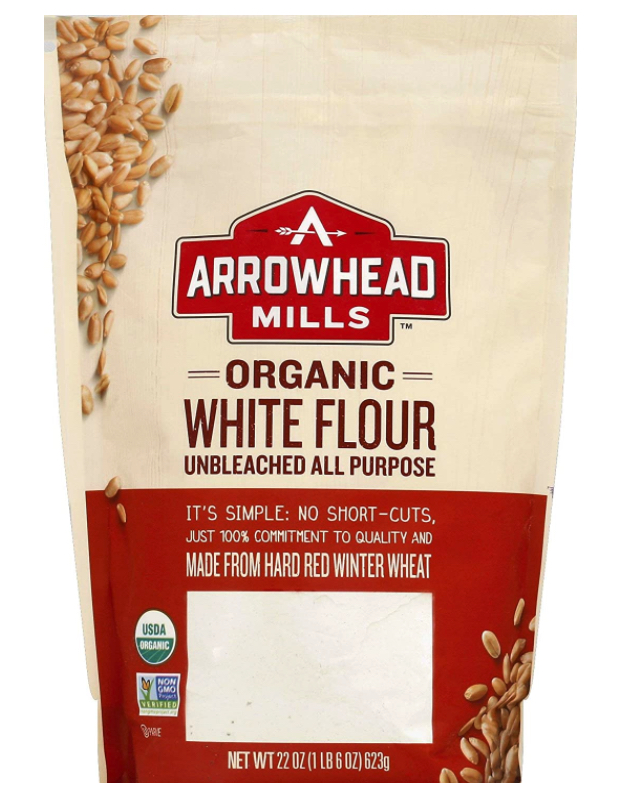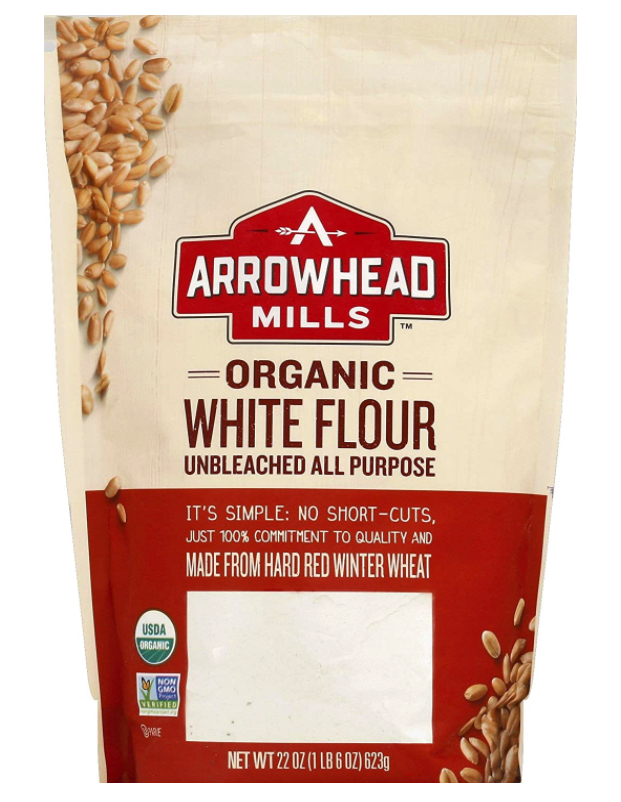 A baking favorite made from hard red winter wheat that's enriched with B vitamins and iron. This flour makes easy to handle dough, which makes it a great organic option for yeast bread, cakes, or pastries.
This is a basic, dependable flour that will work in most any of your customers' favorite recipes. Market this product as a pantry staple for all types of baking.
100% USDA Certified Organic
Non-GMO Project Verified
Over 330 reviews on Amazon with an average rating of 4.7 Stars
Bob's Red Mill: Organic Stone Ground Spelt Flour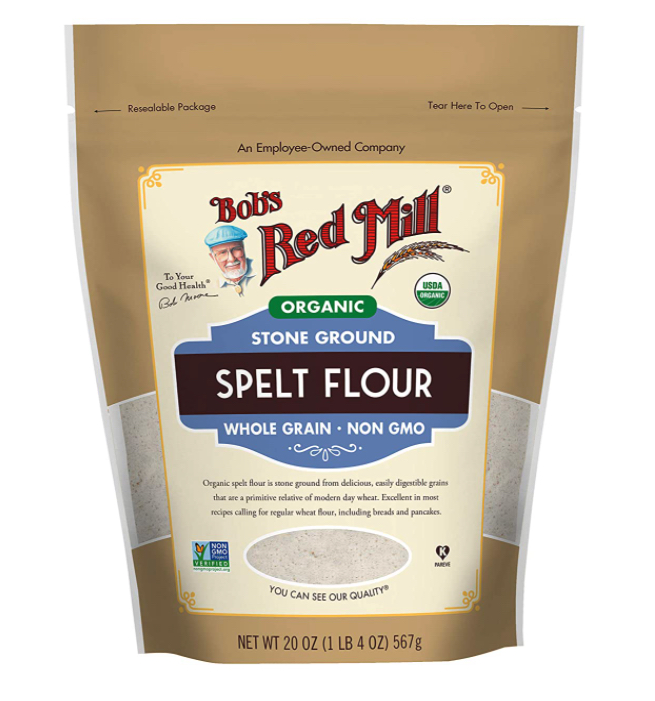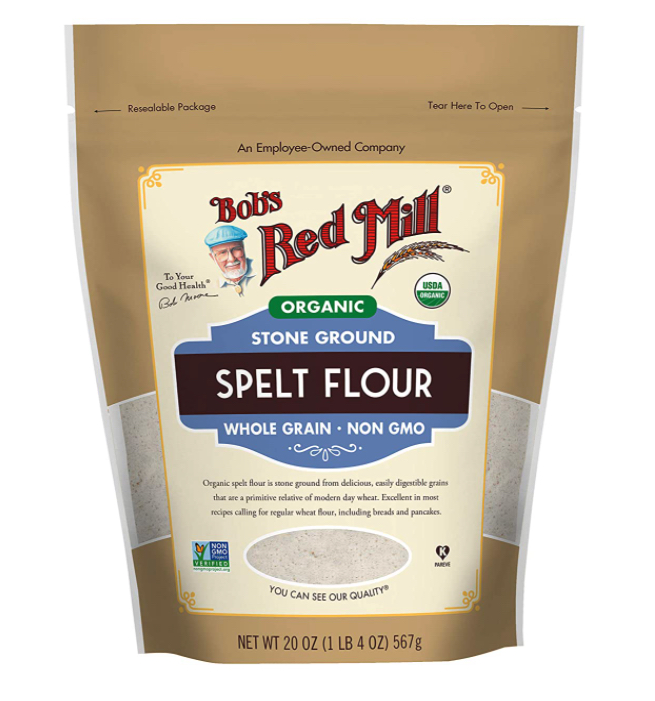 This organic spelt flour is 100% stone ground. Spelt wheat has never been hybridized, so it retains much of its ancestral complex flavor.
Whole grain spelt is also unusual because it's more easily digested than other forms of wheat. It's not gluten-free, but some people with wheat intolerances may be able to tolerate spelt.
100% USDA Certified Organic
100% Whole Grain
Non-GMO Project Verified
Certified kosher and Vegan
Over 390 reviews on Amazon with an average rating of 4.8 Stars
Product often sold-out on Amazon, which means it is in high demand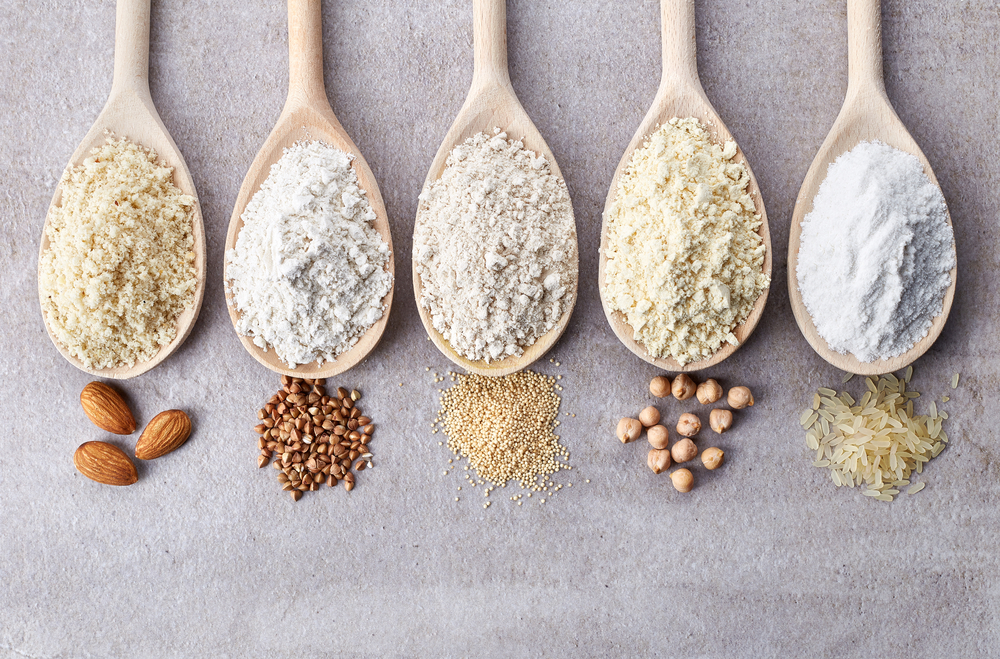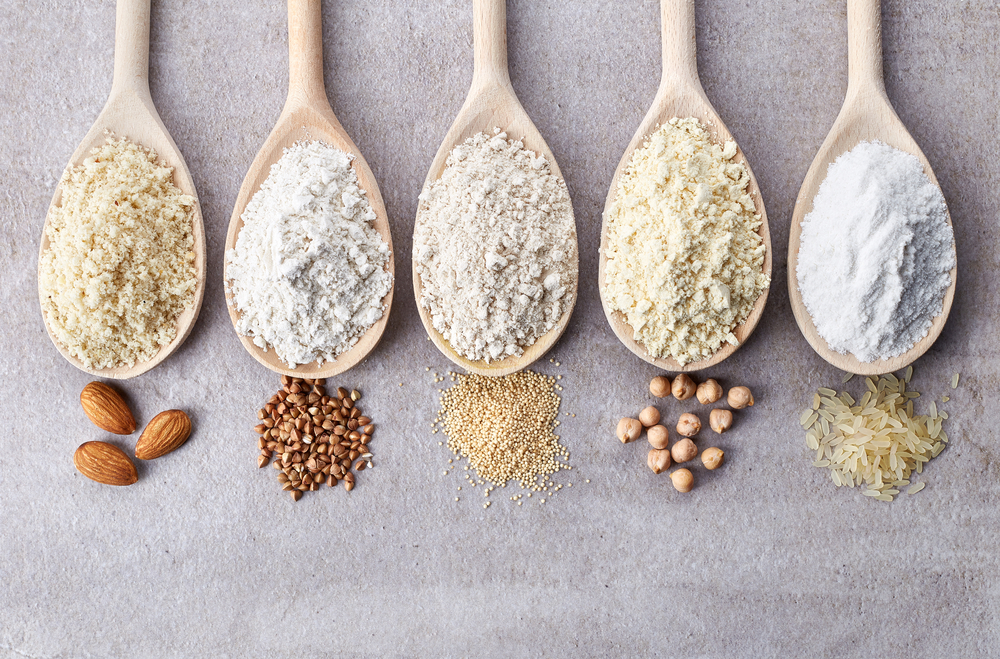 2. Wholesale Gluten Free Flour
Keyword Planner data shows that "gluten-free flour" averages 10K – 100K online searches per month. That's huge!
Don't miss out on the sales these exciting flour alternatives can offer. Here are some of the top brands and types of gluten-free flour options to consider adding to your online store.
King Arthur: Almond Flour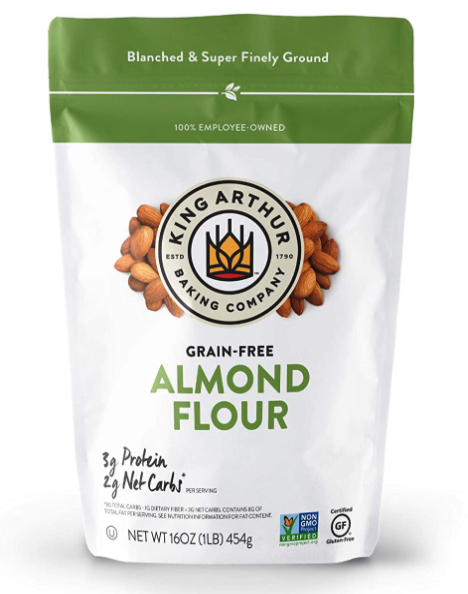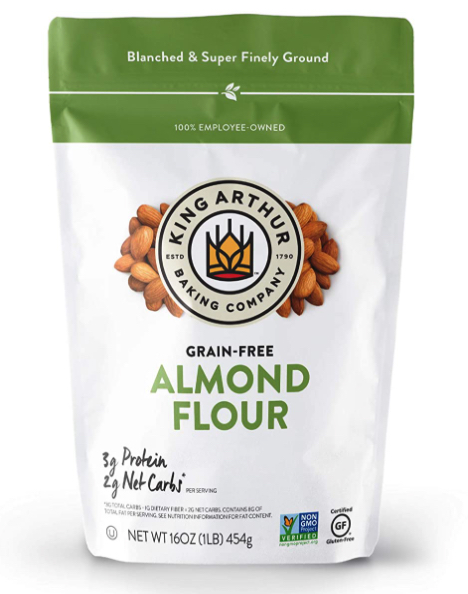 A versatile addition to any pantry for both conventional and gluten-free recipes. Finely ground almond flour adds a delicious nutty flavor and seamlessly blends into sweet and savory baked goods.
Plus King Arthur is a 100% employee-owned certified B Corp, which means their company meets the highest standards of social and environmental performance. That's a great story to share with socially-conscious consumers!
Non-GMO Project Verified
Certified gluten-free by the GFCO
100% Certified Kosher
Certified Amazon's Choice Product
Bob's Red Mill: Organic White Rice Flour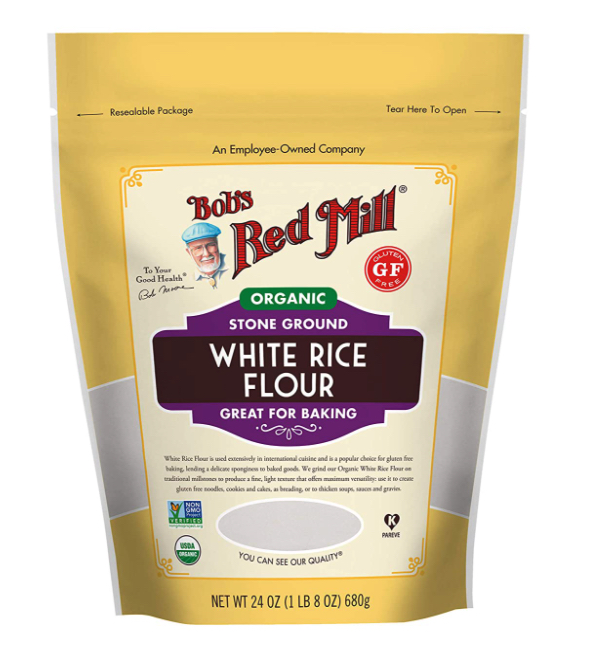 This popular gluten-free flour made from rice is excellent both for baking and as a thickening agent in sauces and gravies.
100% Certified USDA Organic
Gluten-free
Non-GMO Project Verified and vegan
Over 300 reviews on Amazon with an average rating of 4.7 Stars
Pamela's Products: Gluten Free Artisan Flour Blend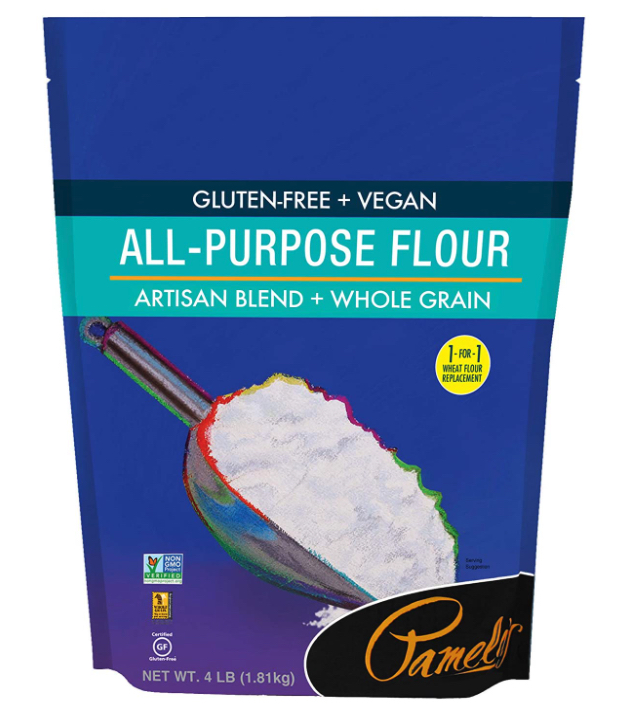 This top-selling gluten-free brand has been around for more than 30 years. That's because their flour performs consistently well in all kinds of baked goods. This is a pantry staple you definitely want to offer in your store.
Gluten-free and vegan
100% free of wheat, dairy, soy and corn
Kosher, low fat and low sodium
Certified #1 Best Seller on Amazon
Bob's Red Mill: Organic Buckwheat Flour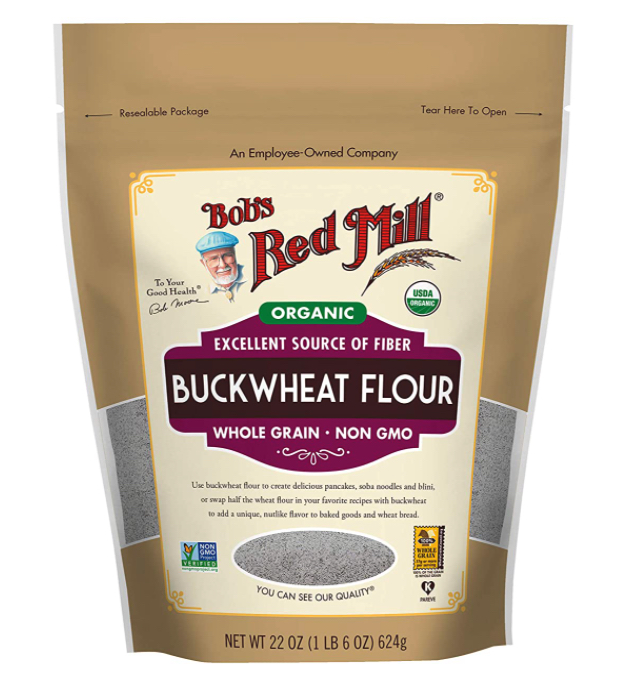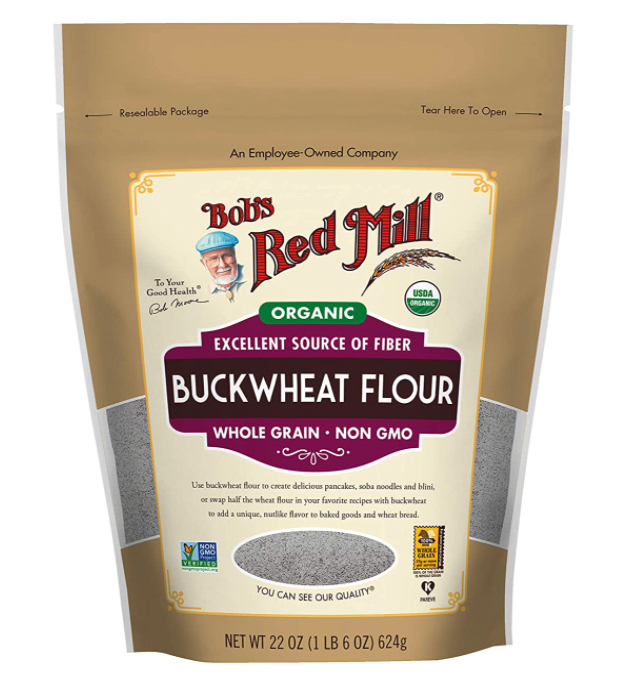 Buckwheat may contain the word "wheat," but don't be fooled – it's not a wheat grain and it's totally gluten-free.
Buckwheat flour provides a rich, earthy flavor and is good for quick and yeast breads, pancakes, soba noodles, blini, and as a replacement for wheat flour in baked goods. It's also an excellent source of fiber and contains essential amino acids.
100% USDA Certified organic
Non-GMO Project Verified
Kosher and Vegan
100% Whole Grain
Average rating of 4.7 Stars on Amazon
Pamela's: Organic Cassava Flour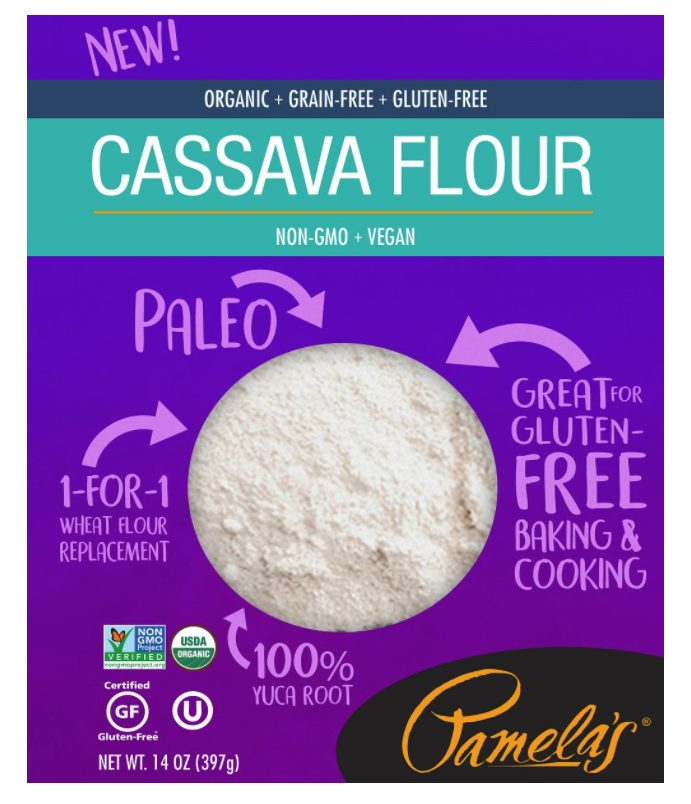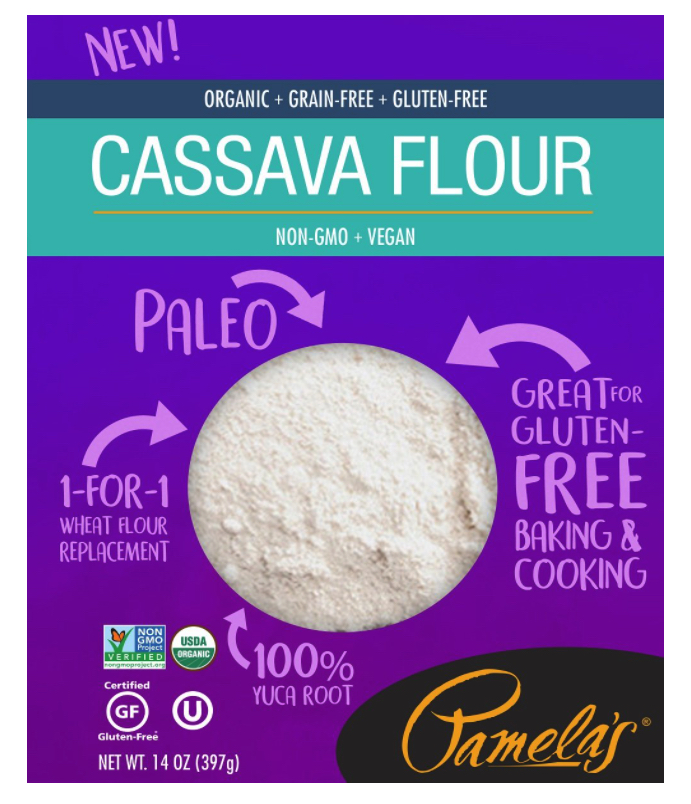 Pamela's 100% cassava flour, ground from the cassava or yucca root, can be used for gluten-free, grain-free, and Paleo recipes. Can be used as a 1-for-1 substitute for wheat flour in muffins, cakes, cookies, and quick breads.
Cassava flour provides resistant starch, which supports insulin levels and digestion.
100% USDA Certified Organic
Non-GMO Project Verified
Certified kosher and gluten-free
Average rating of 4.5 Stars on Amazon
Arrowhead Mills: Organic Oat Flour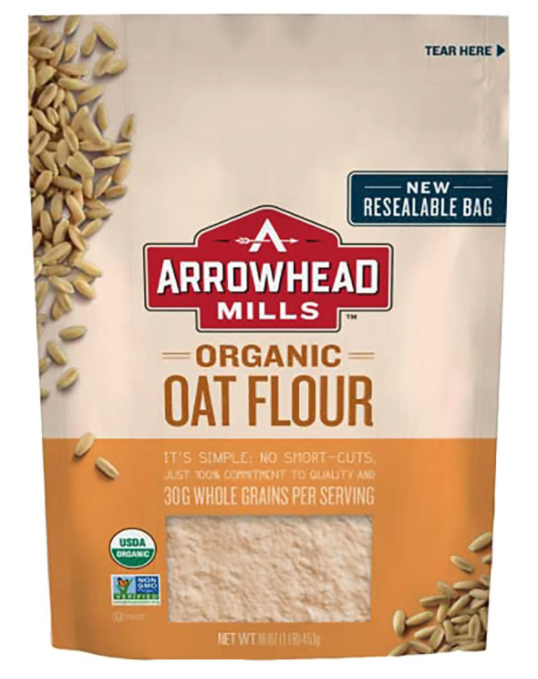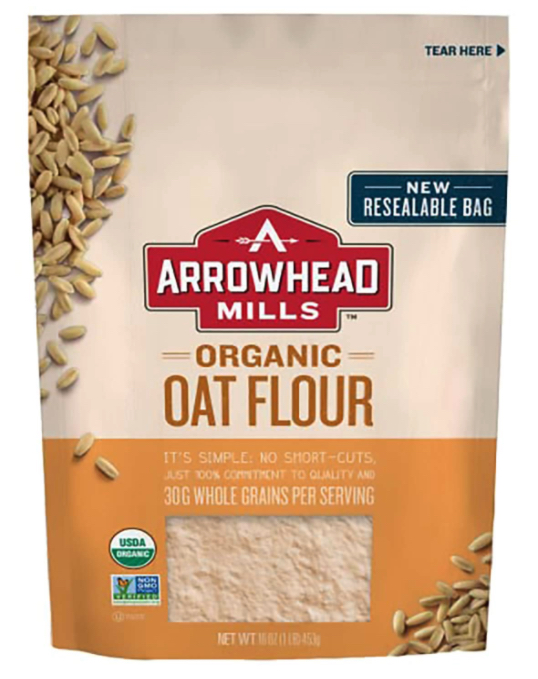 Oat flour is made by grinding whole-grain oats. It gives baked goods more flavor than all-purpose flour and results in a chewier, crumblier texture. Baking with oat flour will likely make your end product more moist. Due to its lack of gluten, some ingredient measurements will need to be adjusted to create light and fluffy baked goods.
Oats contain a type of soluble fiber called beta-glucan, which has numerous health benefits. This fiber can help lower "bad" LDL cholesterol, as well as blood sugar and insulin levels.
100% USDA Certified Organic
Non-GMO Project Verified
30 grams whole grains per serving
Average rating of 4.9 Stars on Amazon
Bob's Red Mill: Gluten Free Garbanzo Fava Flour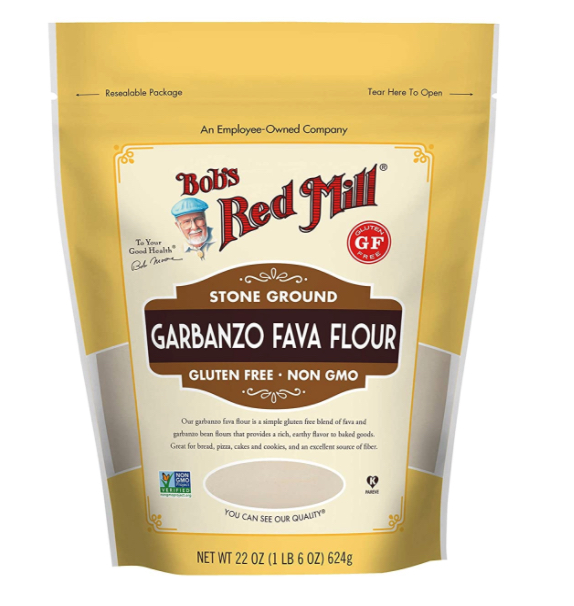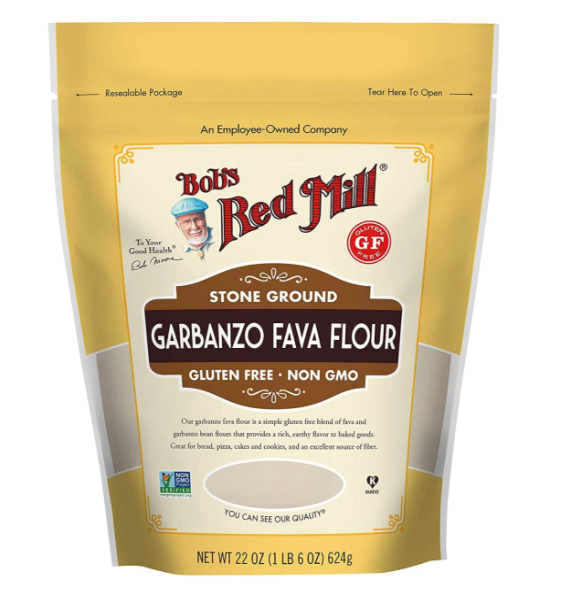 Gluten-free chickpea flour is made from dry chickpeas and is also known as garbanzo flour, gram flour and besan. This garbanzo and fava bean flour blend can be used in gluten free baking to create pizza crust, pancakes, flatbread and more with a distinctive color and nutty flavor.
Garbanzo flour is also a good source of fiber and plant-based protein. These nutrients work together to slow digestion, promote fullness and manage body weight. And get this, Whole Foods recently listed chickpea products as a hot food trend for in 2021. You definitely want to stock this in your online store!
Non-GMO Project Verified
Certified kosher and Vegan
Keto-Friendly
Average rating of 4.5 Stars on Amazon
Nutiva: Organic Gluten-Free Coconut Flour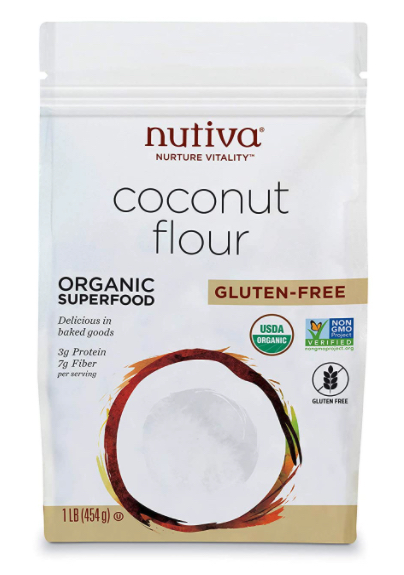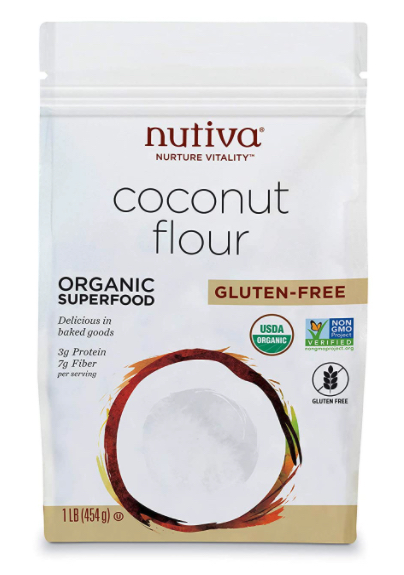 Coconut flour is made from dried coconut meat and offers a mild coconut flavor. It's a good option for consumers with gluten intolerance or nut allergies. Its light texture yields similar results to regular flour and is good for baking breads and desserts.
Note that coconut flour absorbs a lot more water than regular or almond flour, so some adjustments need to be made. Generally, coconut flour can be substituted for up to 1/3rd of wheat flour in standard recipes.
100% USDA Certified Organic
Non-GMO Project Verified
Vegan, keto and paleo-friendly
Over 600 reviews on Amazon with an average rating of 4.5 Stars
Start Selling Flour Online Today!
Now that you know what types of trending flour products to carry, the next step is choosing the right dropshipping supplier. You want to be sure your supplier is reputable, and will deliver exactly what you advertised to your customer.
GreenDropShip is the smart choice if you're looking for a variety of wholesale baking ingredients. We carry over 3,000 baking products – including more than 130 different types of organic flour and gluten-free flour alternatives.
In fact, we carry over 20,000 natural and organic items in a variety of niches, including food and beverage, health, wellness, beauty, cleaning, etc. Let us take care of your shipping and inventory – while you focus on driving traffic to your eCommerce store.

Join GreenDropShip today and start making sales!