How To Sell Items Online Without Inventory
Many people want to start an online business. But they're hesitant because they'll have to buy and store all of their inventory. That thought can be intimidating because inventory is an inherent risk in retail operations. Buying all those products, even at wholesale prices, costs a lot of money. Plus, if they don't end up selling, then the store owner has to take the loss and lose the potential profits.
What if there was a way to sell online without inventory? Luckily for us, there are actually a few different ways to do that. So let's take a look at each and talk about their relative benefits.
Four Ways To Sell Online Without Inventory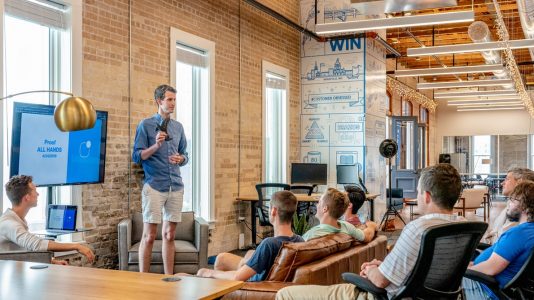 Let's break this down into four ways to sell online without having to store any products:
Dropshipping
Third-Party Fulfillment Centers
Fulfilled by Amazon (FBA)
Affiliate Marketing
Let's look at each a little more closely and you'll be able to determine which method would work best for your e-commerce business.
1) Dropshipping
Probably the simplest and most hassle-free way of selling items online without inventory, dropshipping involves finding a dropshipping supplier that manages all inventory. Using their selection, you find items you'd like to sell online. The great thing is, you never have to see the products or handle them. Instead, the supplier takes care of all shipping to customers.
In fact, let's break the steps down:
You create an online store.
The customer buys a product.
You get paid via a payment gateway.
You order the items from your supplier.
Your dropshipping supplier pulls the product from their storage, packs it, and then ships it to the customer.
Finally, suppliers also provide support services to online retailers. Typically, there is a membership fee associated with joining a dropshipping supplier, but for many store owners, the investment is definitely worthwhile.
2) Third-Party Fulfillment Centers
Third-party fulfillment centers (3PL) are a bit similar to dropshipping. However, the biggest difference is that the seller (you) actually owns the inventory with this method. In other words, you will ousource the order fulfillment to a provider that stores, packs, and ships the inventory. This is a good method if you get products directly from a manufacturer or if you have the inventory but lack a warehouse to store it. You can then send them to a third-party fulfillment center for them to package and ship out to customers.
Let's break down this method of selling without an inventory:
The seller buys products in bulk.
Before you list the products in your online store, they've already been sent to the third-party fulfillment company.
The customer buys a product.
You contact the fulfillment company to process the order and then send it to the end customer.
Third-party fulfillment means that not only does the seller need the capital to buy and maintain the inventory, but they need to be confident that it will sell and they won't have a surplus of unsold goods on their hands. Plus, the profitability of this model depends heavily on the storage expenses of the 3PL provider.
3) Amazon FBA (Fulfillment by Amazon)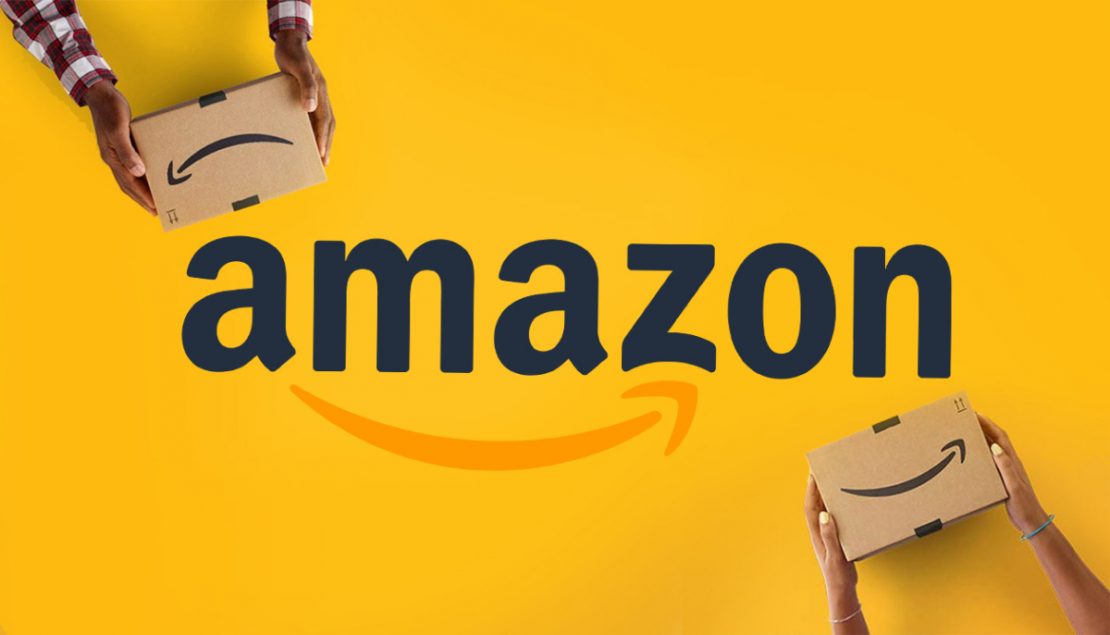 FBA stands for "Fulfillment by Amazon". This is a kind of third-party fulfillment, except that Amazon is the provider. This means Amazon handles the shipping and handling of products from your online store. In fact, Amazon FBA has actually become one of the most popular ways to earn income online with millions of sellers using the program.
Amazon FBA allows you to automate order fulfillment and take advantage of Amazon's advanced shipping services. Plus, you can earn sales from Amazon's valuable Prime customers.
Finally, Amazon FBA has a major benefit in that the packages carry Amazon's branding. This means you can take advantage of the loyalty and consumer trust that the company has.
4) Affiliate Marketing
Affiliate marketing is a form of performance marketing. Essentially, the affiliate gets a commission of a sale for directing a customer to the retail website. This means that you can become an affiliate for any brand that has an affiliate program.
For example, let's say you have a blog where you promote Amazon products or you give product reviews. You can become an Amazon affiliate and get a commission for every sale your blog post generates on Amazon. When you join the affiliate program, Amazon will provide you with an affiliate link (a URL) that the customer clicks and it redirects them to the Amazon product page. You are then paid a commission for each customer that used the affiliate link to purchase a product from your website. This commission is usually very small, only about 10%, so it can be quite hard to make a significant income with this system.
Other common affiliate networks are ShareASale, FlexOffers, or Rakuten Marketing.
Dropshipping Is Becoming The Preferred Choice Among Retailers
Dropshipping has gained immense popularity in the last several years due to the ease and simplicity of the method for online retailers. With dropshipping, it's very easy to start an online business with very little money. It's just a matter of setting up a website and choosing a supplier to work with that offers products within the niche you'd like to focus on. Plus, the overhead stays low, even after the store is up and running.
Also, because the wholesaler maintains all inventory and shipping, this leaves online retailers room to focus on growing their customer base and any marketing efforts to attract traffic to their web site. According to Americommerce, 33% of online retailers have adopted dropshipping as their primary method of order fulfillment. For example, the mega-successful retail company Zappos actually began as a dropshipping company. Wayfair built its entire business using the dropshipping method. With e-commerce growing by about 17% every year, it's projected that the popularity of dropshipping will continue to increase throughout the retail industry.
To get a better picture of dropshipping's growing popularity, let's look at Google Trends data for the past 5 years for "dropshipping":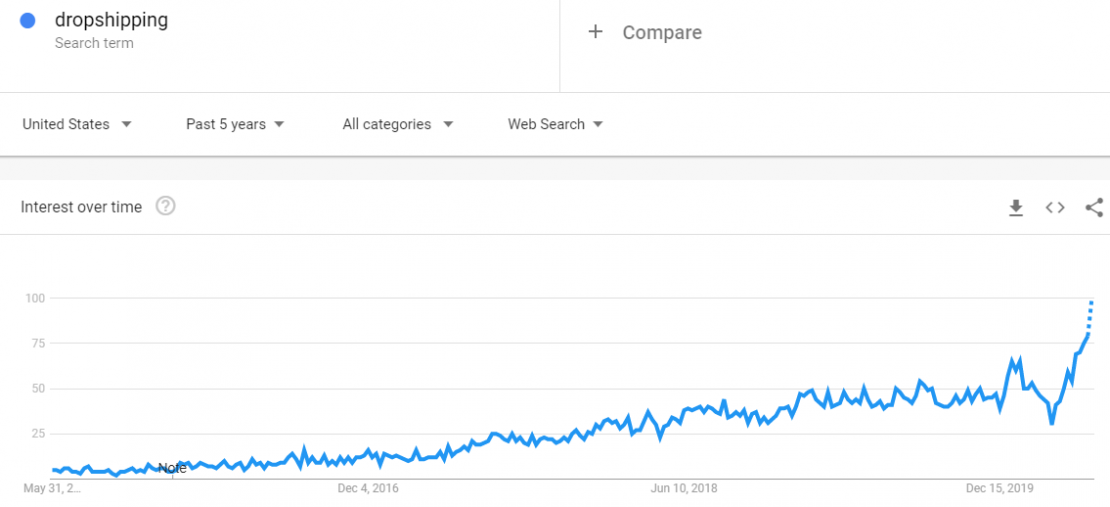 As you can see from the data, search interest has been growing substantially and consistently.
Let's also take a look at the Google search data for "dropshipping":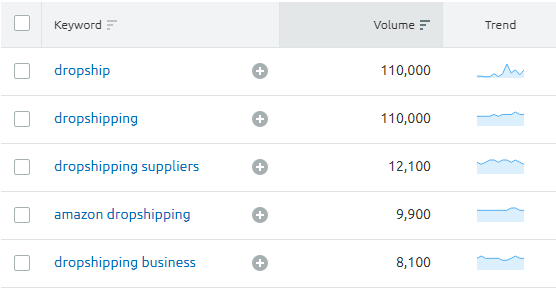 This data shows the monthly Google searches. If you look closely, you can see that the keywords "dropship" and "dropshipping" have well over 200,000 monthly searches.
What Are the Signs of A Great Dropshipping Supplier?
When you work with a dropshipping supplier, you're going into a partnership. Not only that, but the reputation of your online business also depends almost entirely on the services they offer. That's why it's important that you work with a reputable supplier who places a priority on delivering exceptional services to online retailers. They should excel at the following:
1) Dedicated sales and/or service representatives.
The best suppliers will assign you an individual representative to take care of you and any issues that you may have. Running an online store will present various challenges, and you need someone in your corner to help you navigate these challenges. Remember, this is a collaboration. By having a dedicated representative, problems get solved quickly and efficiently.
2) Innovative technology and well-designed tools.
The best suppliers innovate – they react to and predict what their customers will need in order to be successful. If the supplier understands the benefits of well-designed tools, this will make your job that much easier. These may include:
A website with detailed product descriptions.

An inventory data feed and/or real-time inventory tracking.

An online catalog that is comprehensive.

Customizable product feeds.

A searchable order history.
You shouldn't consider these to be luxuries; they will help you succeed. Remember that the fanciest looking websites don't necessarily mean that the supplier offers the most innovative technology.
3) High-quality selection of products
As obvious as this may sound, it's an important point to keep in mind. By offering high-quality products, you will have:
Consistently high customer satisfaction (you can turn them into regular customers).

More referrals due to positive word-of-mouth.

Fewer product returns from unsatisfied customers (you'll always have some, but this decreases it).

Consistently better product reviews.
You'll also need to find a supplier that offers a wide selection of these items. For instance, GreenDropShip has over 20,000 natural and organic products that you can choose from.
At GreenDropShip we excel at all the qualities of a great supplier. Your success is important to us. We feature a vast inventory of excellent natural and organic products for your business. And we make sure your orders are delivered pronto. You can always count on us to provide you with great information about our products and how to increase your revenue as an online retailer. Sign up to view our products today and find out what we have to offer.