Dropshipping Profit Margins: How To Price Your Products
Although dropshipping is one of the easiest online retail models out there, there might still be some challenges you encounter along your way to financial success.
For example, you might be wondering: How do I figure out my profit margins? How do I price my products?
If you're asking yourself these questions, don't worry! We got you covered in this blog post. We go over everything you need to know, including the dropshipping profit formula, costs/expenses that will affect your product prices, retail pricing models, tips, and strategies for increasing profit margins.
We even review other factors besides price that might attract online shoppers to your store!
To help you navigate this post, we've included this table of contents so you can jump around:
What's The Profit Formula For Dropshipping?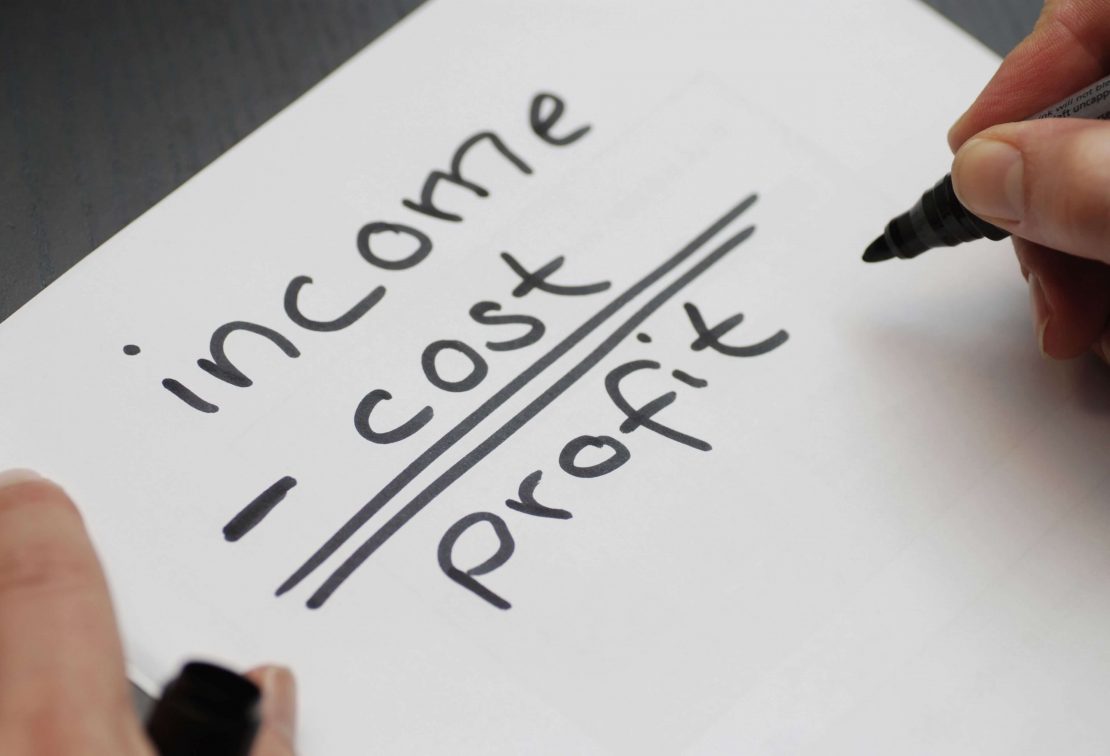 Dropshipping can be highly profitable, but it's important to understand how it's different from other online retail models. Before we dive into profit margins and pricing your products, let's just do a quick refresher on what dropshipping is and how it works.
It's an online retail model in which the seller does not actually handle the inventory. Instead, your dropshipping supplier stores, packs, and ships all products to the end customer on your behalf.
If you're more of a visual learner, here's a handy graphic that breaks dropshipping down to its most basic steps:

This is different from a conventional retail model, also known as an inventory-holding model, in which the retailer orders products in bulk, stores them, and ships them once the consumer makes a purchase.
As you might imagine, dropshipping is both less risky and more affordable than this conventional retail model. First of all, you'll never end up with an unsold surplus of goods because you overestimated demand. Plus, you save a ton of money on storage costs and shipping logistics because your dropshipping supplier deals with these hassles.
However, to make dropshipping profitable, you have to hit that "sweet spot" in your product prices, finding just the right balance of competitive pricing while still covering all your expenses to stay profitable. It can be a tricky balancing act, but thankfully we're here to help you figure it out!
The Dropshipping Profit Formula
In order to properly price your products, you have to understand the standard profit formula for dropshipping. Let's take a look:
PROFIT = RETAIL PRICE – (WHOLESALE PRICE + COSTS + FEES)
Let's break each part down:
Profit. This is pretty self-explanatory: it's the amount of money you pocket once the sale is done and you've paid your expenses.
Retail Price. This is the price you charge customers. In this post, we'll discuss how to find the best retail price to maximize profit margins.
Wholesale Price. This is the price that your supplier charges you. However, it's independent of the fees value that we discuss below.
Costs. Also known as expenses or overhead, these represent how much it costs to operate your dropshipping store.
Fees. Essentially a type of cost or expense, these are what your supplier charges you to access their inventory and use their dropshipping services.
Those are just the basics of dropshipping profit margins. There are more sophisticated formulas out there, but we're just going to stick with the essentials. Otherwise, we could be here all day!
Profit Margin Calculators
If you need some outside help calculating your profit margin or you want to access one of these more detailed formulas, here are a few Gross Profit Margin Calculators that you can use:
In the next sections, we'll dive deeper into these various values and learn how to create a healthy profit margin by properly pricing your products. If you want to be a successful online entrepreneur, it's super important that you get the right retail price!
How Important Are Prices For Consumers?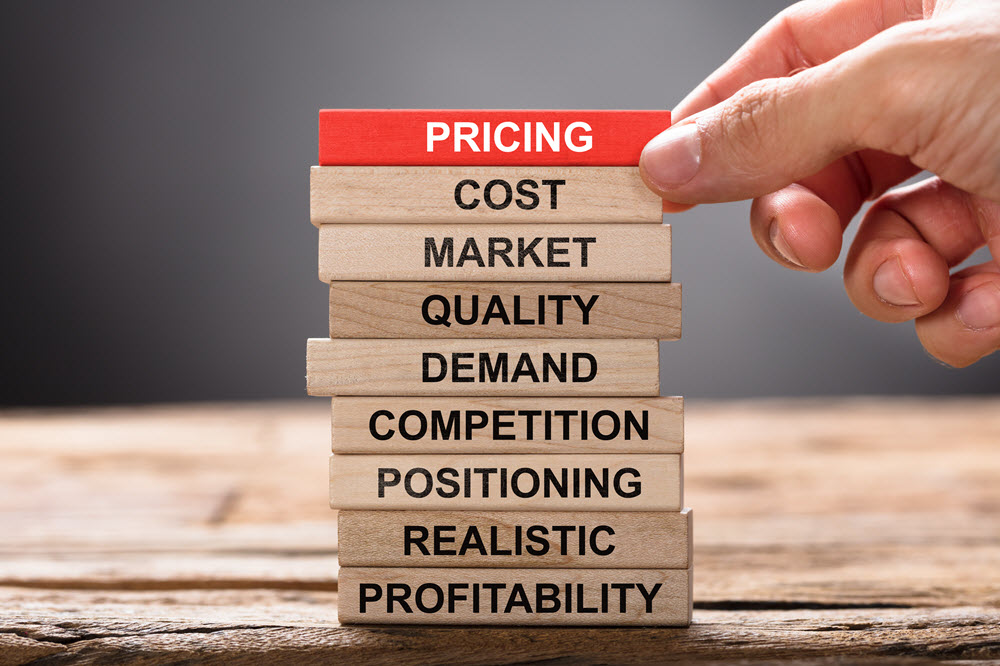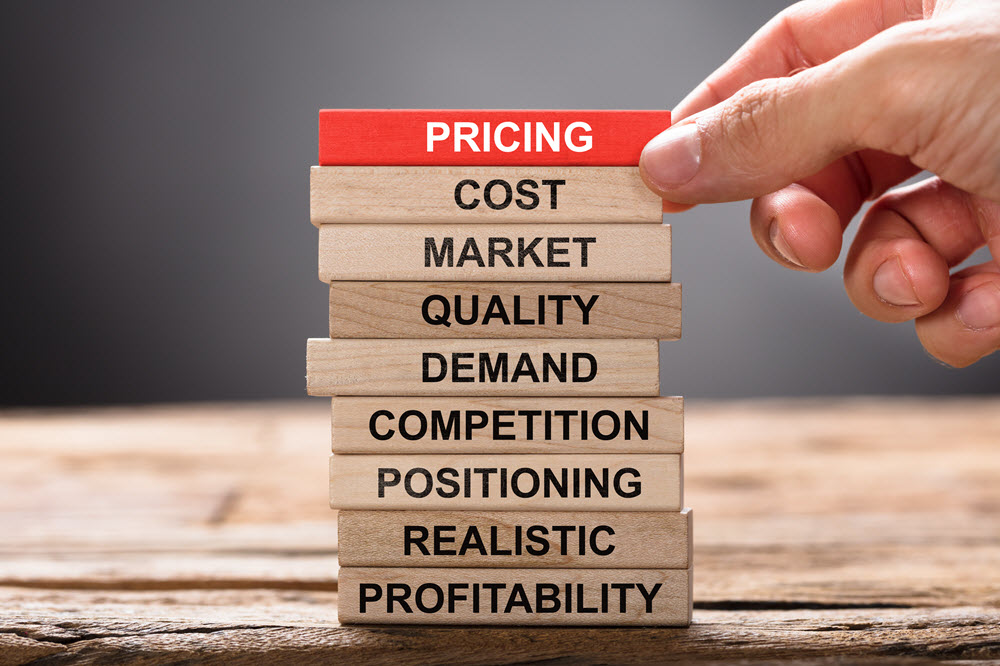 Prices are extremely important for consumers. This is true for both online retail and brick-and-mortar stores – people like to always feel like they're getting a great deal.
That's why choosing the right price for your products is such a crucial part of the whole dropshipping process.
According to a 2020 study by Statista, 70% of respondents stated that competitive pricing was the "most important" factor when choosing where to shop. This shouldn't come as much of a surprise, however the study did find that there were other factors that greatly affected consumer behavior.
Let's take a look at a graph from that study: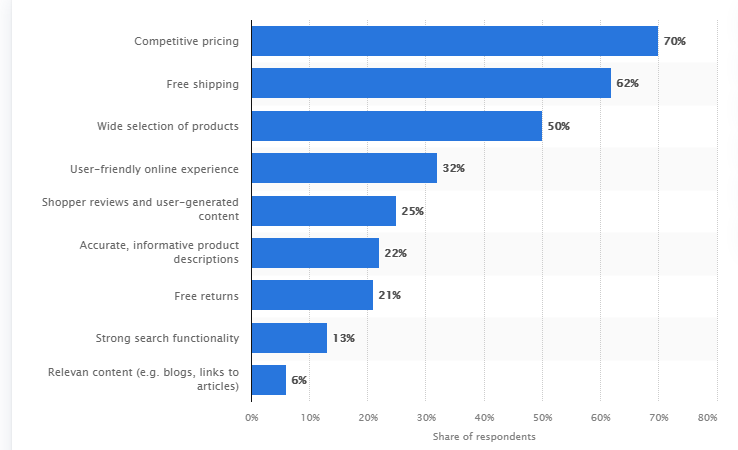 As you can see from the data above, good prices are the most important. But they're not the only important factors. If we go down the list of factors, we can see that the top five are:
Competitive pricing
Free shipping
Product selection
User-friendly online experience (otherwise known as user experience or UX)
Shopper reviews and user-generated content
As a result, there are other ways that you can get online shoppers to buy from you and your entire sales strategy does not have to rely on great prices alone. The overall profitability of your dropshipping store definitely depends on a mix of factors, including shipping options and product selection.
Let's consider this quote from author and entrepreneur Seth Godin: The reason it seems that price is all your customers care about is that you haven't given them anything else to care about.
Of course, consumers care about prices – a lot. But you do have some other cards that you can play to help you build a profitable dropshipping store.
If you focus purely on price, you're not telling the customer why they should be buying this product from you and why you're the one that can solve their problem. If your prices are undercut by another retailer, then your customers will have no incentive to stay with you as you haven't given them one.
This is important to understand since there may be times when you won't be able to match the low prices offered by larger retailers like Amazon or Walmart. If that's the case, don't panic! You can still build a profitable store by offering decent prices plus the other factors we discussed above.
What Are Some Costs To Consider When Pricing Your Products?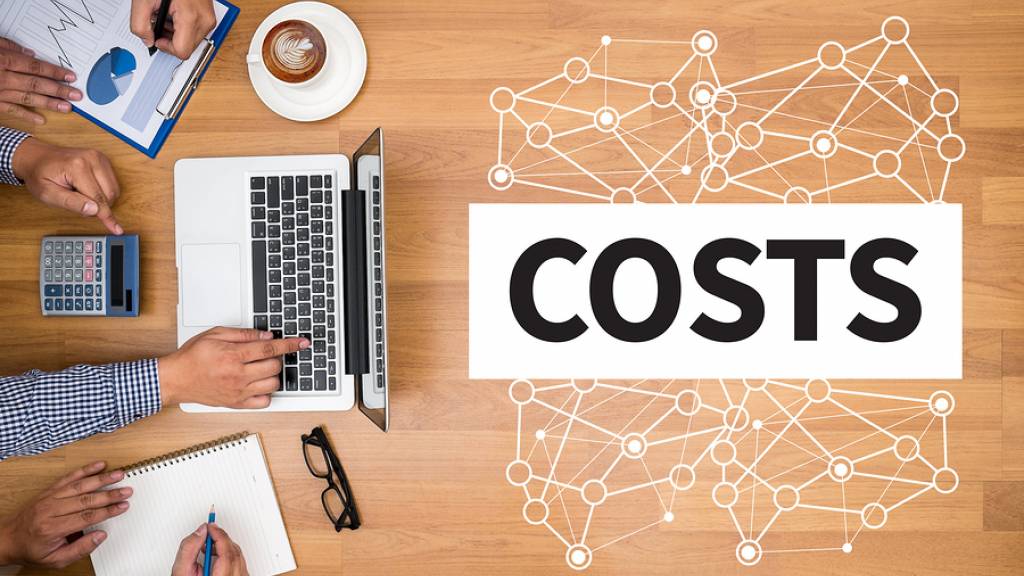 As we established in the dropshipping profit formula above, your costs/expenses will affect your profit margin. To put it simply, the more it costs for you to do business, the narrower your profit margin becomes.
These costs/expenses should factor into how you price your products. Like we discussed above, you need to hit that "sweet spot" between offering consumers great value and covering the costs associated with running a dropshipping store.
That being said, dropshipping is one of the least expensive online retail models. It's significantly less expensive than a conventional inventory-holding model. Why is that the case? Because you outsource the logistics of shipping and inventory management to your dropshipping supplier.
This means that you don't have to pay for storage or warehouse space and you don't have to invest significant capital into ordering bulk goods to build up your inventory.
However, dropshipping still has some costs/expenses that are necessary in order for you to run your store. These can be startup costs that you incur at the beginning or ongoing operational costs that continue throughout the entire time that you run the dropshipping store.
Let's take a look at some of these dropshipping costs/expenses below:
1) Your dropshipping website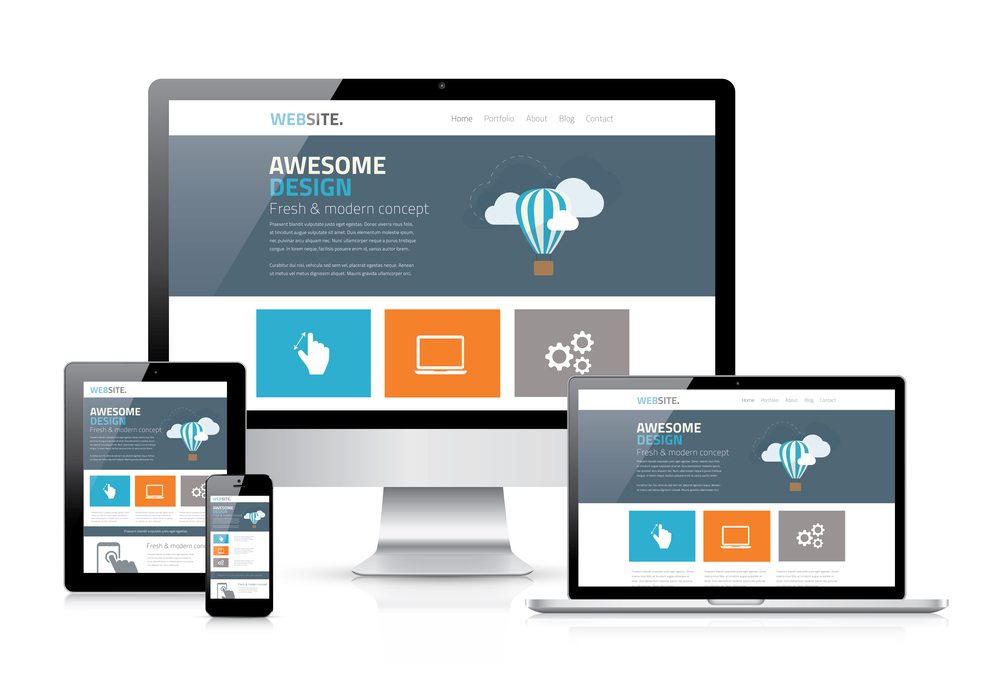 Since you'll be selling goods online, you'll have to create an actual dropshipping website. Otherwise, consumers won't have anywhere to go to buy products from you – you have to build an online store!
If you want a detailed breakdown, make sure you check out our post How To Make A Dropshipping Website To Sell Products. In it, we discuss everything you need to know to get your online store up and running.
Let's just take a look at a summary of dropshipping website startup costs:
Web host. This is the service that "hosts" your website – it's the equivalent of paying rent for a brick-and-mortar store.
Shopping cart. This increases consumer trust by making them feel secure and gives them the opportunity to "browse" for longer, ideally adding more goods to the purchase.
SSL certificate. Consumers need to feel that their payment information and data are secure, so an SSL certificate authenticates your store and enables an encrypted connection.
Credit card processor. Also known as a payment gateway, you should avoid ones that charge monthly fees – instead, plan to pay 2% to 3% per transaction.
Template. Also known as a theme in Shopify, these allow you to quickly and efficiently build sleek-looking stores without any design or coding experience.
If you want to avoid going through the trouble of creating your website, you can always buy a dropshipping store. These pre-made websites range in price from under $50 to thousands of dollars for well-established, fully functional dropshipping stores.
There are four basic types that you can buy:
Basic. These are brand-new stores with everything built and ready, but no pre-existing customer base or brand identity.
Turnkey. These are the next step up from Basic – they're also new but are more established.
Fully established. These dropshipping stores already have a developed brand identity and profits from a regular clientele.
Custom premade. Basically the same thing as the Basic, except that you tell the developer what you want.
Ultimately, if you fork over the cash for a pre-existing dropshipping store, then you'll have to consider those costs when setting your product prices.
RELATED ARTICLES:
2) Supplier fees
A dropshipping supplier (sometimes called a wholesaler or wholesale dropshipper) provides more than just the products for your store. They also store, pack, and ship the items to your customers, saving you from the hassles and headaches of dealing with inventory management.
This is a vital service to the functioning of your store – without it, you won't have a dropshipping store! It costs a lot to keep storage or warehouse space, especially if it's climate-controlled for perishable goods. Plus, the supplier deals with the shipping and handling, which requires a dedicated warehouse staff.
As a result, you should expect to pay the supplier. This is just one of the costs of dropshipping.
That being said, these supplier fees can come in several forms:
Per order fees. Also known as seller fees, this means that you pay a certain amount to the supplier for each sale you make (and each product you order from them). They range widely in price and depend on the type of products you sell, but they average anywhere from $2 to $15 per order. These types of fees can add up fast!
One-time setup fee. This is a fee that the suppliers charge to give you access to their products and dropshipping services. It varies widely from under $50 to hundreds of dollars, but it's not terribly common with the more reputable dropshipping suppliers.
Membership fee. This has become the industry standard with dropshipping suppliers. It can be a monthly, quarterly, or annual fee, usually coming out to anywhere from about $20 per month to over $60 per month.
However, there's one crucial detail to consider when looking at these fees: they don't include the wholesale prices! In other words, these fees only give you access to the supplier's inventory of goods and their dropshipping services – you still have to pay the wholesale price for each item that you order.
RELATED ARTICLES:
3) Wholesale prices for products
As we discussed above in our section about the dropshipping profit formula, the wholesale price is the price that the dropshipping supplier charges. In other words, it's the price that you pay when ordering from the supplier.
This is where understanding profit margins really becomes important – you have to take that wholesale price and determine a retail price that you'll charge in order to make your store profitable.
Additionally, a supplier's wholesale prices should be a major factor when choosing your supplier. If their prices are consistently higher than you're willing to pay, then they're probably not the best fit for you and your dropshipping store.
However, it's important to remember that you should always consider the "big picture" – a supplier is unlikely to have every product at the perfect wholesale price point. The profit margin may fluctuate slightly from product to product, just make sure that overall they have decent wholesale prices.
When finding a dropshipping supplier, ask to see their inventory and/or catalog so that you can take a look at their wholesale prices.
Finally, you may encounter dropshipping suppliers that have lower wholesale prices but are located overseas, usually China. These suppliers are generally less desirable to work with versus a US-based supplier. This is for a variety of reasons, including:
As a result, it's generally better to go with a US-based dropshipping supplier or wholesaler, even if their wholesale prices might be a little higher. You'll get access to better-quality products, customers won't have to wait nearly as long, and you'll have a better support infrastructure to make your store profitable.
RELATED ARTICLES:
4) Shipping & packing costs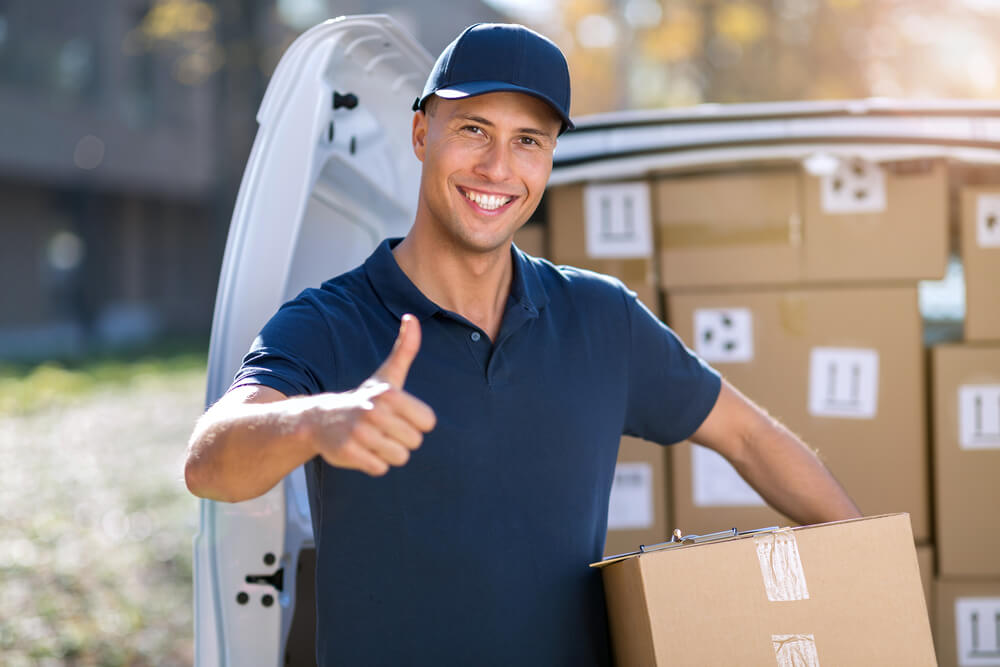 Although your dropshipping supplier/wholesaler deals with the logistics of shipping and handling, you'll still have to pay the shipping rates.
How this is done precisely depends on the arrangement with your supplier/wholesaler. In most cases, you'll get shipping estimates from them, allowing you to come up with a retail price that's still profitable for you.
What determines shipping costs?
It's important to point out that the exact shipping cost of an order depends on the following:
Volume
Weight
Amount and type of packaging
Distance being shipped
The volume and weight are pretty self-explanatory. As far as the packaging, the supplier will need to use more if the product is fragile. Plus, if it's perishable, they might have to use specific types of packaging (like styrofoam plus dry ice) to make sure it stays fresh for your customers.
Finally, the further a package is shipped, the more it costs. Makes sense, right? This is why it's a good idea to choose a supplier/wholesaler that has warehouses and shipping centers located throughout the country. This decreases shipping times and distances, resulting in overall net savings on shipping costs for you.
Additionally, this is another compelling reason to choose a US-based supplier/wholesaler versus one that's based overseas (like China). It not only decreases shipping times but shipping costs as well.
Pricing strategies for shipping costs
There are five basic pricing strategies for dealing with shipping costs from your supplier/wholesaler:
Offer customers FREE SHIPPING and then take the shipping costs out of your profits.
Offer customers FREE SHIPPING and increase the prices of products.
Charge a low flat shipping rate and slightly increase the cost of products.
Charge the customer a flat shipping rate. If the shipping costs more than the rate, take the difference out of your profits.
Have the customer pay the exact cost of shipping as calculated for each order.
There's no single "right" strategy – it depends on your prices, customers, and shipping rates from your supplier. You might have to try multiple strategies to identify the one that works best for you.
However, we discuss in one of the lower sections how much consumers love seeing the word FREE (as in the phrase FREE SHIPPING) anywhere while shopping online, so that's definitely food for thought!
5) Marketing & advertising costs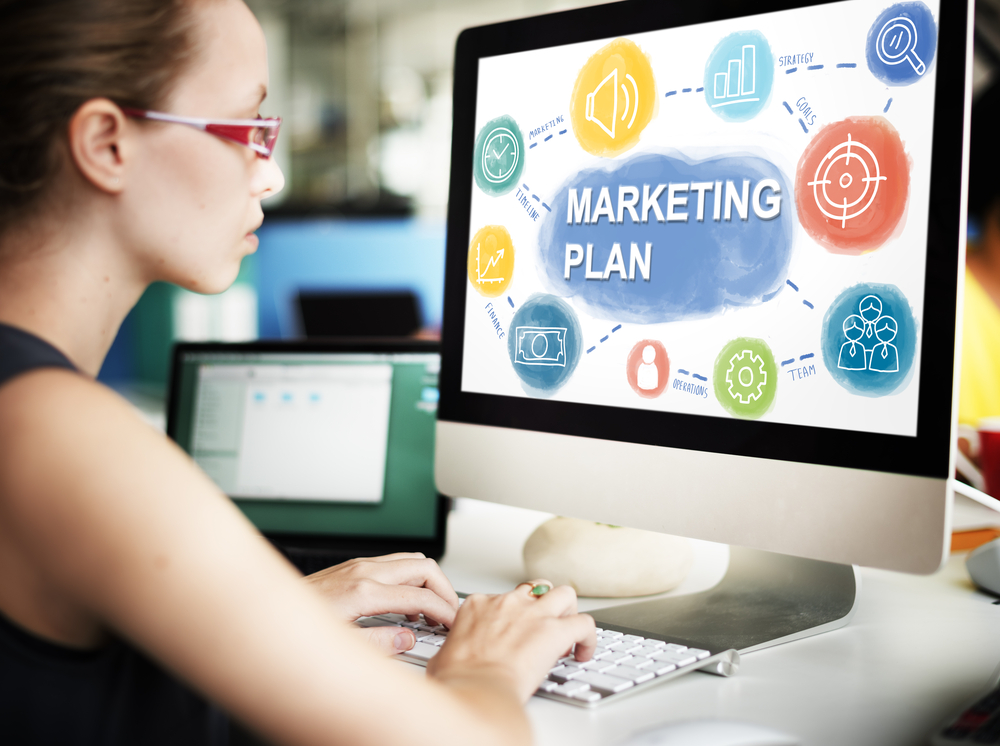 There's an old business saying: You have to spend money to make money. That certainly applies when it comes to marketing and advertising for your dropshipping store.
If you don't market or advertise your store, then consumers probably won't even know that you exist. You have to get the word out there, and if you have great prices, product selection, and customer service, then you'll likely start making sales.
The primary advertising and marketing costs are:
Google Ads and/or Facebook Ads. These are the gold standard and are widely used by dropshipping retailers everywhere.
Videos Ads. Although these can be a little pricier, they've become crucial in the current online retail landscape.
Instagram Ads. Facebook owns Instagram, but the advertising process and costs are quite different, so we've created a separate guide.
Social media influencers. Working with influencers might increase your sales, but you'll have to budget out what you decide to pay them.
Not every advertising or marketing strategy is an expense – there are some things you can do that are free. Search engine optimization (SEO) will help you rank higher in search engine results, and it's possible to implement that strategy without having to pay anything.
Additionally, if you've effectively done your SEO research, then you can create a blog that's optimized and will also help you rank higher. It will also make online shoppers see you as an authority or expert on the products that you're selling.
Finally, you can always start regular profiles on Facebook, Twitter, Instagram, and Pinterest and develop a social media presence.
Advertising can really help you get customers, but if ads don't perform well, then you'll have to add those losses in your final price analysis. At the end of the day, most experts advise that your marketing costs should be about 30% of your total operating costs. For a small dropshipping store, that could be anywhere between $1,000 and $3,000 for the first 2-3 months of operation.
6) Business license & taxes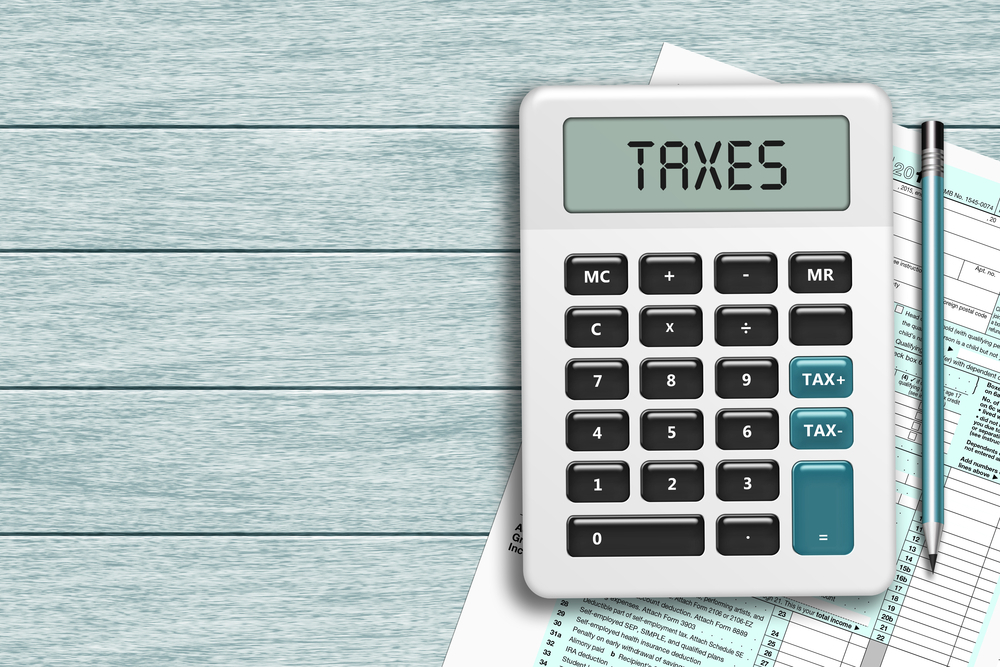 This isn't usually a big expense, but you might need to pay for some licensing paperwork to be filed. However, this varies from state to state (and sometimes from city to city), so it is something that you might have to do a little research on.
Additionally, you'll be responsible for paying your income taxes for whatever you earn in your dropshipping store. This is a huge deal – you can not neglect this otherwise you'll end up in hot water with the IRS!
There are a handful of potential permits/licenses that may or may not apply to your dropshipping store, including:
Seller's permit. Also known as sales tax permit or sales and use tax permit, this is necessary for anyone who has to collect sales tax.
Resale certificate. Also known as a reseller's permit, this is similar to a seller's permit. Some states require two separate pieces of paperwork whereas others roll them into one.
General business license. This depends on the state, county, or city where you do business.
Employer identification number (EIN). In order to pay your taxes, you need to register for an EIN on the IRS website.
To figure out which of these business licenses/permits apply to you, you'll have to determine where you have tax nexus (or economic nexus). This basically means you'll have to determine in which state you are primarily headquartered for your business.
Here are a few tools to help you determine your tax nexus:
These are just the basics – if you want a more comprehensive breakdown, make sure you check out our blog post: Do You Need A Business License to Sell on Shopify?
What Are The Four Pricing Models You Can Use In Dropshipping?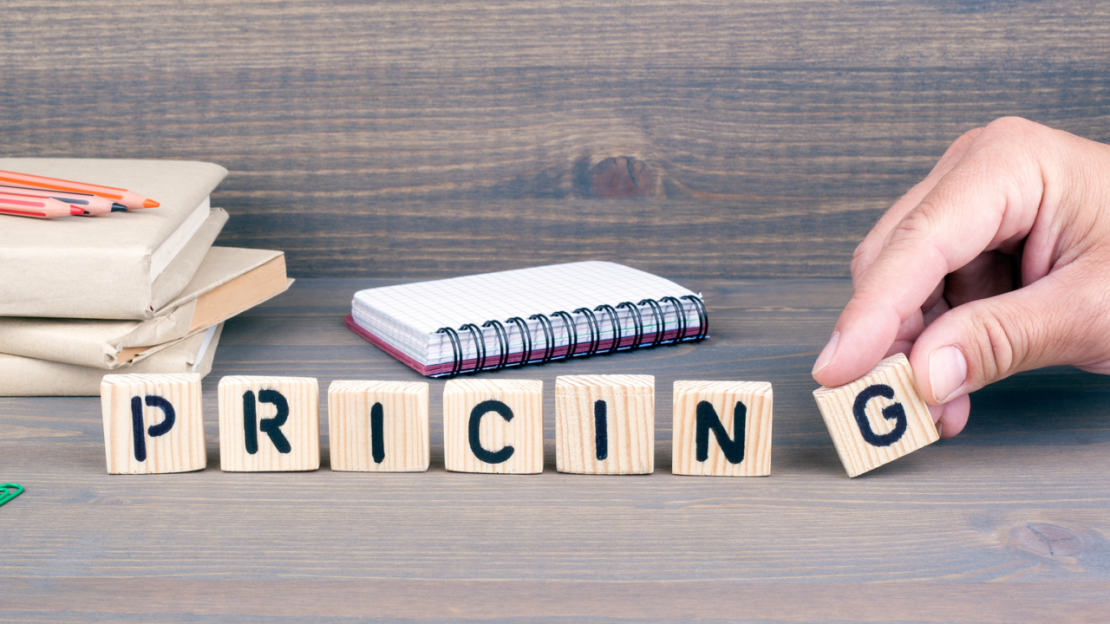 Picking the right retail price is an incredibly important part of running your dropshipping store. You have to hit that "sweet spot" between making the customer happy, covering your costs/expenses, and pocketing a nice profit.
Plus, you can't just recklessly slash your prices left and right – that won't work either! In fact, if you set your prices too low, then:
Your profit margin will be too low and you won't make any money.
Customers may think that your products are of inferior quality and not worth their money.
Another competitor with fewer costs/expenses could undercut you by using cutthroat pricing.
Price erosion – AKA a race to the bottom – may occur and profits will plummet for all retailers.
Additionally, while prices are the most important part of the online retail experience, it's not the only thing customers are looking for. You can also provide them with a great user experience (UX) so that they return to your store and maybe even recommend you to their peers.
This means that when pricing your products, be sure you make your online store appealing in other ways. This can include fast and/or free shipping, a great selection of curated goods, and superior customer service.
1) Traditional cost-based pricing
Also known as fixed markup, many online retailers will use this pricing model since it is one of the easiest and safest methods. It's very intuitive, easy to execute, and allows for you to pre-calculate your profit margin. For all these reasons, this the most common pricing model for dropshipping newcomers.
So how do you price your products using this model? Well, you make a list of your expenses, add them up, and then apply a predetermined markup to come up with your price point. You can also choose a profit margin ahead of time, calculate the corresponding markup, and then apply it across the board to all your products.
That being said, here are two tools that you can use to calculate these amounts:
Markup calculator – You input the cost and choose the markup percentage and the tool will calculate your revenue and profit.
Margin calculator – You input the cost and choose the profit margin and the tool will calculate your revenue and profit.
There is a specific form of this method known as keystone pricing. This is when the retailer applies a 100% markup across the board. In other words, you simply double the cost to come up with the final price. Let's say you have a product that costs you $20. Go to the markup calculator, input the cost and set the markup to 50%. Once the calculation is complete, you'll see that your
However, there are serious limitations to this method: it does not take market conditions or competitors' prices into account. It's also known as a blind method because you just apply the markup rate across the board, without factoring in these additional conditions.
In other words, this method is easy and convenient, but it's not always the most effective, making it a great starting point for many online retailers. Another way of saying this is that cost-based pricing is business-focused and not customer-focused. For some online retailers, this won't be the best method for them to use.
2) MSRP or MAP prices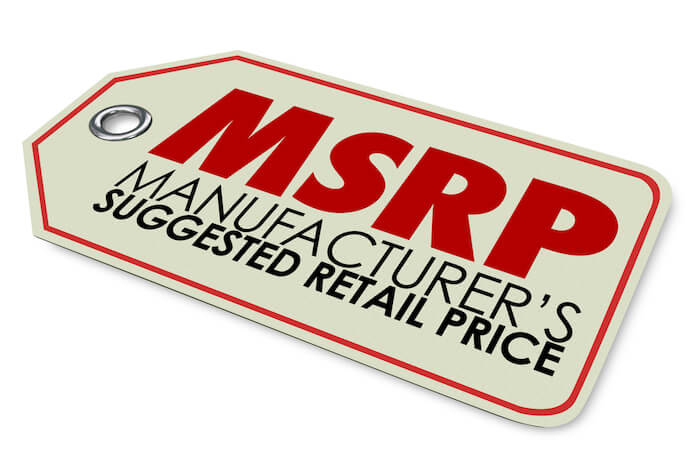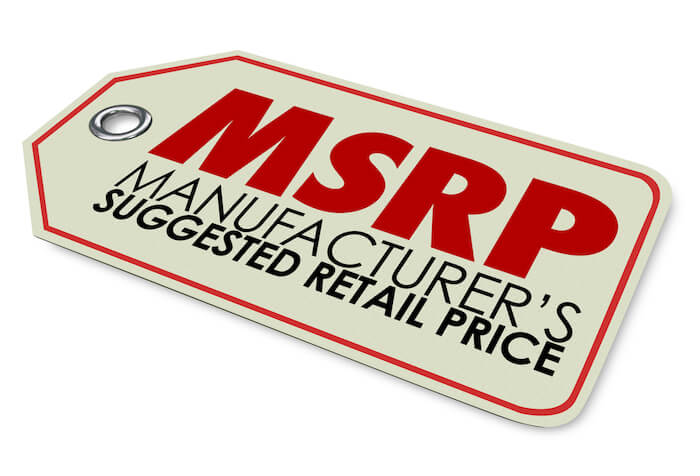 Let's take a quick moment to define each of these:
Manufacturer's suggested retail price (MSRP). Also known as the sticker price or list price, this is the price that's "recommended" by the manufacturer.
Minimum advertised price (MAP). This is the minimum amount that a manufacturer or wholesaler recommends that retailers advertise their products for.
It's helpful to think of them like so: the MSRP is the unofficial upper limit for your price and your MAP is the unofficial lower limit for your price. Of course, neither of these are legally binding, they're just suggestions.
In other words, the MSRP is aimed at the consumer while the MAP is aimed at the retailer. If you decide to go outside the bounds set down by these values, then your sales strategy will most likely fail.
For instance, charging more than the MSRP will make the customer feel like you're trying to rip them off and it's unlikely that they'll actually make the purchase. If you price below the MAP, then it's highly unlikely that you'll be able to make any kind of profit, not to mention that it might make the consumer feel suspicious that you're selling defective or knockoff goods.
If you're trying to determine how to price your products, sometimes you can reach your ideal profit margin if you use the manufacturer suggested retail price (also referred to as the MSRP or sticker price). Essentially, you simply go by what the manufacturer has suggested based on their analyses of the entire market.
This is basically the easiest and fastest way to price your products since you are basing your decision on a predetermined amount. For online retailers looking to get started quickly, this may be the way to go!
However, the MSRP is not a one-size-fits-all solution. Remember, operating costs and expenses will vary from store to store. Additionally, using this pricing model means that you can't adjust to market demands in order to increase your sales or profit margin. Consequently, you may have to use a more detailed pricing model that will allow you to hit that ideal profit margin.
3) Tiered markup
With this method, you apply a different markup depending on the wholesale cost of the product. As you can see, this is a variation of the traditional cost-based method (or fixed markup method). Since the key difference is that you do not apply the same markup across the board, you have much more flexibility in how you set your prices.
The basic formula for this method is:
Price = [(Cost) / (100 – markup)] x 100
In this formula, the markup value can vary depending on the level you want to set it at.
So let's try this formula out! Let's say you have two items. Item A costs you $20 and Item B costs you $50. Usually, it's better to have higher markups for lower-cost items and lower markups for higher-cost items. So let's say you want to apply a 50% markup to Item A and a 20% markup to Item B, you would end up with two equations:
Item A: [(20) / (100 – 50)] X 100 = 40
Item B: [(50) / (100-20)] X 100 = 62.5
That means you should charge $40 for Item A and $62.50 for Item B.
So, with this system, you can customize the markup value depending on the underlying cost of the product. Additionally, markup and profit margin are related values, and you can easily determine how one influences the other by consulting a markup versus margin chart.
4) Competitor-based pricing
So let's say that you applied other pricing models and you are not selling enough products for your dropshipping store to be profitable. This is perfectly possible in certain niches that may require more advanced pricing methods.
A 2019 survey from Episerver concluded that 68% of online shoppers will compare prices from various stores to the prices on Amazon. As a result, sometimes it's best to look at your competitors.
Luckily, there are some price-tracking tools that make this easy:
Prisync. This easy-to-use software will help you track your competitors' prices across all e-commerce platforms. It even comes with a free trial!
Keepa. Similar to Prisync, although this focuses on prices/transactions on Amazon. This is still useful since Amazon is the world's largest third-party logistics provider (3PL) and a great deal of the site's traffic comes from independent retailers.
DSMTool. Using this price-comparison tool will give you pricing information from over 50 different websites, including eBay, Shopify, AliExpress, Amazon, ChinaBrands, Walmart, and Target.
However, this method has serious limitations. Remember, these comparison tools are available to everyone, and other retailers can slash their prices as well. If everyone drastically decreases their retail prices (also known as cutthroat pricing), a phenomenon known as the race to the bottom occurs. Basically, this is when every retailer tries to outdo the rest of the market, resulting in profit margins crashing for everyone.
Additionally, there is a psychological component since consumers will equate low prices to low quality. That doesn't mean you should never use this method, but it should be used sparingly.
Use These Four Tips To Price Your Dropshipping Products
In addition to the four pricing models listed above, you can also use these four tips to fine-tune your prices.
However, it's important to point out that these are just tips for pricing strategies – they are not a one-size-fits-all solution for every dropshipping store and/or product. You may have to adjust your prices up or down to get the right profit margin that you're looking for.
It's all about hitting that "sweet spot" that we mentioned above!
1) Implement charm pricing
Also known as odd-pricing or psychological pricing, this is a pricing strategy that's been around forever. Why is it so popular and widely used? Because it works!
Some prices just look better, even if they are effectively the same. For example, $9.99 will likely be more profitable than $10, even if there's a difference of only one cent. It basically means that you set prices just below (either one cent or five cents) a higher value.
Additionally, overly complex numbers just don't catch the eye: customers won't likely hit that BUY button if the price tag is something like $17.83. Therefore, it's best to round up to the nearest 99 cents. If you feel especially confident, then round it up to the nearest multiple of 10. For example, a $24.82 product becomes $29.99.
However, this only works for products in the low to mid-range of prices (usually under a thousand dollars) and, in many cases, you'll have to round it up to a multiple of 5 ($24.82 becomes $24.99 instead of $29.99). This is an old trick, but it works wonders!
2) Include the word FREE
We mentioned this above, in the section on shipping rates: customers love seeing the word FREE. Any time that word peeks out at them from a bit of sales copy, they're far more likely to hit that BUY button.
How do you make this work in the context of a dropshipping store? You offer FREE SHIPPING for any transactions above a certain amount. Consumers will feel like they're getting a great deal and you can make your store more profitable.
As we saw in the Statista report above, 62% of the study respondents stated that free shipping was the second most important reason for buying a product from a specific store (second only to price).
Additionally, according to this 2019 report from the communications firm Walker Sands, nearly 80% of online shoppers in the US said that free shipping will convince them to buy the product online.
Of course, you'll still have to pay your dropshipping supplier for the shipping fees, but you can add that cost into the final product. This is especially effective if the customer is located near you and the shipping costs will be minimal.
Plus, if you choose a US-based supplier with multiple warehouses or shipping centers located throughout the US, then shipping times and rates will be substantially lower. This will help increase your overall profit margins.
3) Try bundle-pricing, upselling, or cross-selling
These are some more oldies but goodies: try using various sales promotions that boost your sales. These can include:
Bundles. Put together a pack of products that go well together (a skincare kit, for example).
Upselling. This is where you try to increase the sale value. For instance, you can offer deals like buy two, get one free or buy three, get 50% off the third product.
Cross-selling. This is when you offer other products that the customer might also like.
You see this kind of pricing all over grocery stores as well as online stores like Amazon. Again, that's because it works! People always love getting a good deal; it makes them feel like the purchase was a sound financial decision and not a mistake.
These strategies are effective because they increase your average order value (AOV). The idea behind this is that once you get the customer to make a purchase, it becomes easier to add multiple items to that purchase. In other words, getting the initial sale is the hardest part of the entire transaction.
RELATED ARTICLE: Top 6 Shopify Upsell And Cross-Sell Apps
4) Start low with discount pricing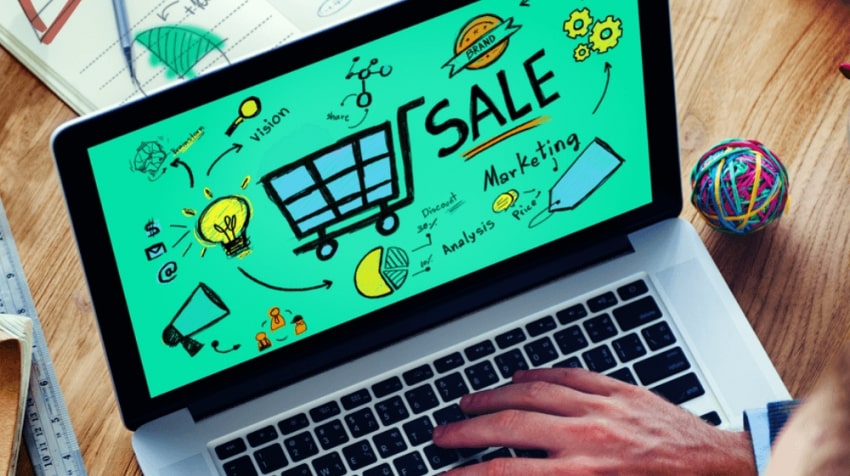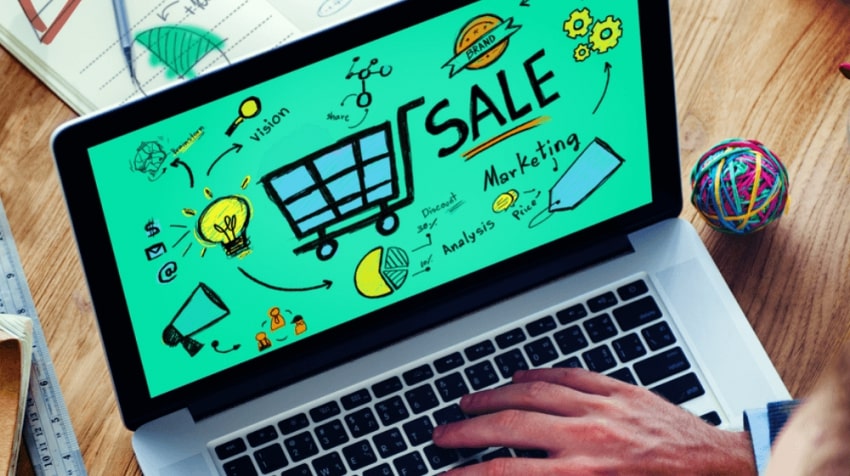 Many retailers use discounts as their defining business factor. They keep all their prices high but make it seem to the customer as though they're getting a good deal because they offer special coupons and discounts.
But in order to successfully offer discounts, you need to know what your customers value. Ask yourself the following questions:
Are they looking for exclusiveness and rarity?
Or are they looking for something that's easily available?
Either way, knowing what appeals to your potential customers will help you decide which offers to make that can drive sales and boost your profit margins.
If you're going to offer discounts, then make sure you start with high prices. You won't have any profit margin if you discount your products when they're already the lowest they can be.
Starting with lower, discounted prices might effectively encourage your customers to leave positive reviews and testimonials. These are vital to developing a successful and profitable dropshipping store. Plus, good word-of-mouth is a kind of advertising that's much less expensive than running Google or Facebook Ads!
The importance of customer feedback and store reviews cannot be overstated in this day and age. It is an extremely important part of online retail and it can frequently be the deciding factor for potential customers.
Consequently, you can start your pricing strategy with lower markups and build up a solid reputation with online shoppers. Over time, they will positively rate your store and leave good reviews, thereby drawing in more future customers and boosting your sales!
Remember, you can use the tiered markup method to set these prices and alter the markup percentage from product to product.
RELATED ARTICLE: Best Shopify Review Apps to Build Your Store
What's A Good Dropshipping Profit Margin?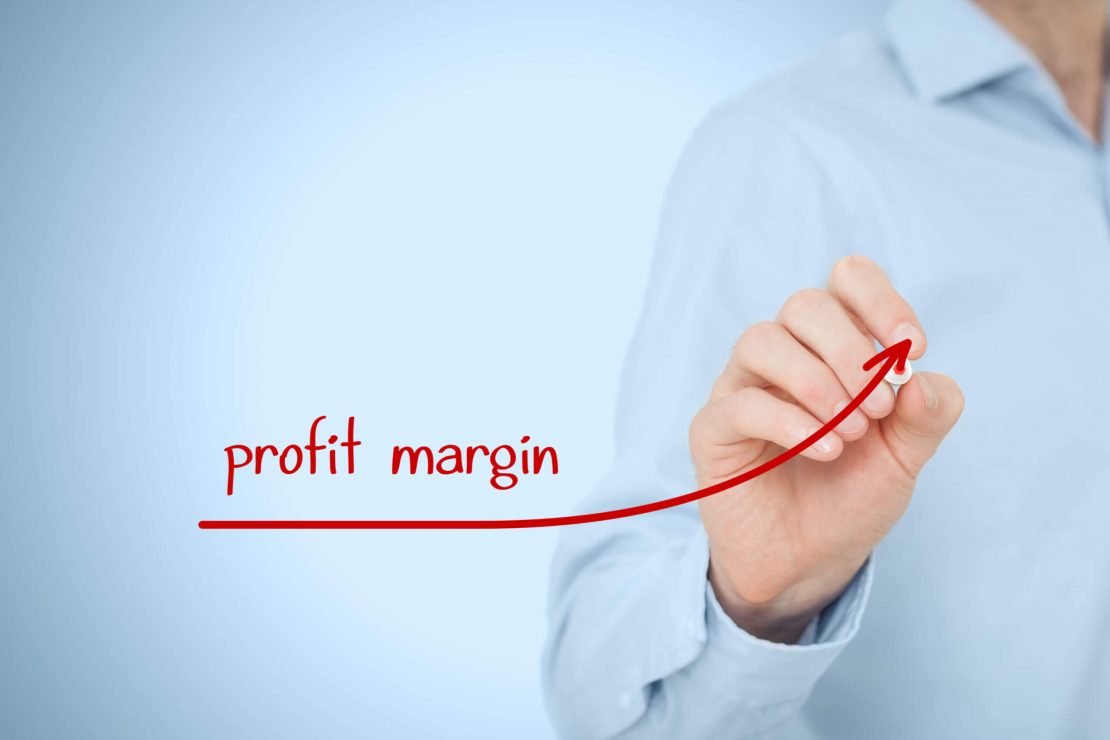 This is the ultimate question when running a store! Of course, there's a certain amount of leeway in terms of what your potential profit margin can be, and you can alter your price point to increase your margins.
If you want to make more per transaction, then you could always try to increase the retail price. However, if the product is too expensive, then customers will simply go to another online store. It's a delicate balancing act: you can charge more to make more money, but if you charge too much you'll lose money.
Obviously, there's also no point in breaking even – a business should be run for profit, otherwise, it's not really a business. This is where you choose your markup, meaning how much you add on top of the product's price, and this markup can be anywhere from 10 to 50%.
This means that your possible profit margins can be anywhere from 10 to 50%. That's a pretty wide spread!
However, your standard dropshipping store will usually be in the 10 to 25% range.
However, with certain types of products, it's basically impossible to develop a really large profit margin. This is usually the case for goods that are a lower price point – right around $25 or less.
If you decide to sell goods in this price range, it's unlikely that you'll get a profit margin that's larger than 10 to 15%. Can you still make money in the grand scheme of things?
Yes, you can! If the margin is pretty narrow between the supplier's wholesale price and your retail price, you can still make a tremendous profit by being a volume-based business. This means that you focus on:
Higher turnout
Repeat business
For instance, some products are much more likely to attract regular customers (aka "repeat business"), including food, beauty products, health products, and supplements or vitamins.
Plus, even if you have narrower profit margins, you can still build a profitable dropshipping store with some basic strategies.
How Can I Increase My Dropshipping Profit Margins?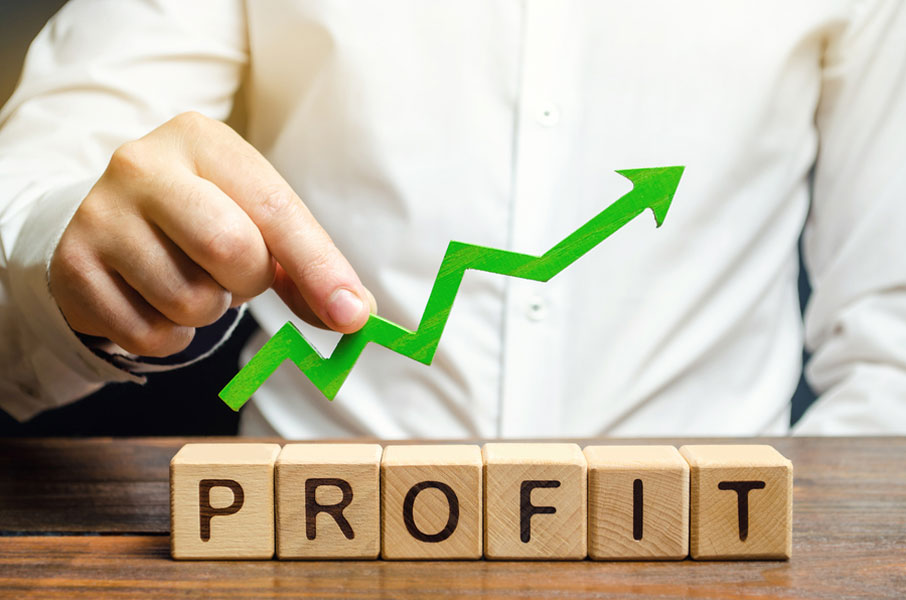 Let's go over some of the basic strategies you have for increasing your profit margins:
Focus on a higher volume of sales. Even if you have a narrower profit margin, you can make up for this with a higher volume of sales. This is especially true with products at lower price points.
Increase customer retention. According to research by Frederick Reichheld of Bain & Company, increasing customer retention rates by just 5% increases profits anywhere from 25% to 95%!
Sell products that customers will buy regularly. It's five times more expensive to attract new customers than to keep old ones, so try and get customers to come back regularly.
Charge higher prices. This is the simplest and quickest fix, but you have to be careful that you don't overcharge and lose customers.
Find a niche with less competition. If you establish yourself in a less crowded niche, you can set the price levels by virtue of the fact that you'll have less competition.
Cut costs to save money. Check out the list of expenses/costs listed above and see if there's anywhere where you can decrease spending to save money.
Order winning products in bulk. Find a supplier/wholesaler that will let you use a hybrid dropshipping/bulk buying model. Test new products via dropshipping and then stock up on the profitable ones.
However, it's important to always remember that optimizing your profit margin is a complex and delicate balance – don't forget that "sweet spot" we talked about above.
This means that it's unlikely that a single strategy will always give you the results you want. Instead, you'll probably have to use a combination of these various strategies to get your dropshipping profit margin just right.
Finally, don't be afraid to experiment with these different strategies – one of the greatest strengths of dropshipping is how low-risk the business model is. You can try different tactics until you find the right one for your store.
GreenDropShip Offers Competitive Wholesale Prices On The Best Products
If you want to succeed in the dropshipping game, then you'll need to choose the right dropshipping supplier!
Just make sure they have the following:
Good wholesale prices and high-quality products that meet consumer demand.
Competitive membership fees that will keep your overall costs down.
Knowledgeable sales and support representatives.
Tools to help you track your inventory and sales.
Be reliable, timely, and efficient in their shipping and packaging.
GreenDropShip meets every one of these criteria! We're a US-based wholesaler and dropshipping supplier with thousands of natural and organic products. Most of these items are made in the USA and come from in-demand brands that consumers know and love.
We also have a huge selection of specialty, premium, and gourmet products in our inventory, including:
Beverages like coffee, tea, kombucha, yerba mate, natural soda, and juices
Organic sugar and natural sweeteners
Dairy and plant-based milk
Baking ingredients, including different types of flour
Sauces, marinades, and dressings
Spices and ingredients
Vegan, vegetarian, and plant-based goods
Vitamins and supplements
Skincare, haircare, and beauty products
Baby products
Home products like detergents, soaps, and cleaning supplies
Pet food, treats, and supplements
Essential oils and aromatherapy
Become a dropshipping member and we'll store, pack, and ship your orders to your customers. We have multiple warehouses throughout the country, so our shipping times are always short and your customers won't wait long.
We also function as a conventional wholesaler, so you can purchase products in bulk from us and we'll ship them to you. This means that you'll handle storing, packing, and shipping them to your customers.
We offer a Shopify dropshipping app that makes it easier than ever to add products to your store. If you'd rather not use the app, you can use our product feeds to easily dropship products on Shopify, WooCommerce, or Amazon/eBay.