How To Set Up A Dropshipping Return Policy
One of the critical things many online retailers tend to overlook when creating a store for dropshipping products is setting up a return policy. Why is a return policy important? For starters, it's probably the most potent tool you can use to retain your customers.
Here's the reality: people don't like to return items. And they hate it, even more, when the process of returning items is complicated or poorly set up. They want easy simple and straight forward instructions on what to do and how to do it in the most pain-free method possible. Setting up a solid return policy not only makes your customers happy, but it also serves as a good reason for them to return to your business. All it takes is one problematic return and chances are you'll never get that customer's business again.
What many novice online retailers fail to do is to anticipate that at some point, they're going to be faced with a return from a customer. Or, like during the holiday season, which could mean returns from multiple customers. In this article, we're going to outline the process of how to create a good return policy for your website. We'll also give some tips to keep customers happy with a successful and smooth return.
How Do Dropshippers Handle Returns
Every single supplier that you'll work with has its own return policy. Some charge for returns and some don't. Some have a very short window of time to return items. Other suppliers have limitations on what kind of products can be returned. But whatever the case, that doesn't mean you shouldn't set up your own. In fact, it's very important that you understand your supplier's return policy. And you'll need to include that information into the return policy content that you create on your website.
That's why when choosing a supplier to work with, be sure to read their return policy carefully before making the commitment. You really want to take the time to study their return and refund policy to make sure it aligns with your services to your customers. By not doing so, you risk having a seriously negative impact on your business in the long run. If you're comfortable with a supplier's dropshipping return policy after reviewing their terms, then the next step is to create one on your own.
How To Create A Good Dropshipping Return Policy
Before we start on how to create a good dropshipping return policy, here are some interesting facts published Invespcro:
92% of customers will buy something again if the return process is easy.
79% of consumers want free return shipping.
67% of shoppers check the return page before making a purchase.
58% of customers want a "hassle-free" no questions asked return policy.
47% of customers want an easy to print return label.
In creating your return policy the above are some things to keep in mind. In terms of the return experience, you want your customers to be happy. You also want them to come back to your business. So the idea is to create a return policy that is customer-centric. In other words, a return policy that appeals to your customer's sense of fairness and convenience. Below are what we consider to be some of the most important features of creating a good return policy that will support customer loyalty to your business.
1. Customers Expect Free Returns
This is can be a tough one because your supplier may not provide free returns or free return shipping. That actually might be something to look for when choosing a supplier and reading their return policy. If you work with a supplier that does charge for returns, it would be probably worth your while to at least explain in your return policy content to consumers, the cost to suppliers of returning goods.
However, if you can provide free returns to customers, this is definitely something you want to highlight in your return policy. It's a unanimously popular return feature and will certainly support customer loyalty.
2. Return Speed Is Important
According to Digital Commerce, over 88% of consumers say they'd be less likely to recommend a retailer if it takes too long to issue a credit. Fact is, your return process can be as smooth as possible. But if it takes a long time to credit your customer, then chances are they won't be coming back. A quick refund of any funds owed to your customers is clearly the way to go. The combination of a fast return and a fast refund process will undoubtedly support strong customer loyalty
3. Create A Process For Returns
Creating a process for returns simplifies it all for you and your customers. It serves as instructions for customers on what to do when deciding to return a product. Creating a process helps you keep all of your ducks in the row as you can refer to it immediately after receiving a return from a customer. The following are steps to take in creating a return process.
Contact the dropshipping supplier to let them know about the return.
Send a shipping label to your customer or request it from your supplier.
Make sure your customers know about the return process. (See below on how to create a return policy page)
When the customer ships the product back to your dropshipping supplier, the supplier should give you the refund.
Once you get the refund from your supplier, you in turn give the refund to your customer.
Creating a process ahead of time makes it much easier for you to handle customer returns. Simple instructions already provided on your website regarding return labels and shipping information takes the hassle out of returning any items.
4. Develop A Return Policy Page and Link to it From Your Product Page
While many online retailers include return information in a FAQ page, it's much better to create a standalone return policy page for your website. Again,67% of shoppers check the return page before making a purchase. You want to make return information as easy as possible to find. Creating a return page puts this information front row and center making the return process easy with readily available instructions.
Make sure you link to your return policy from your Product page. This can also improve your add to cart rate as more customers would like to buy your product knowing they can return it if needed. This is where Amazon adds the link to the Return Policy page in their product page: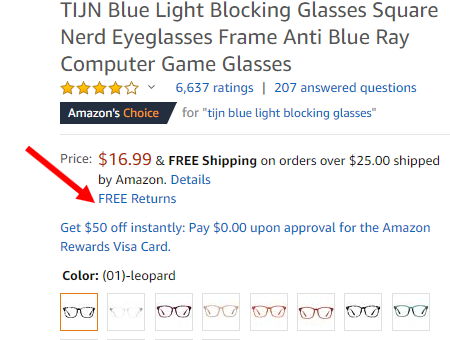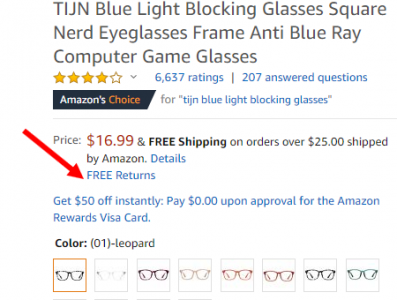 5. Prepare For Holiday/Peak Seasons
Holiday sales typically mean big sales for online retailers. But big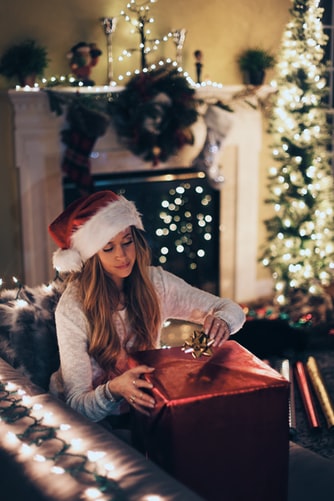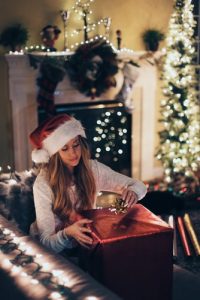 sales mean big returns. Over 1 million packages are returned to retailers via UPS in the first week of January alone, according to Ecommerce Bytes. An estimated 5 million returns go through regular postal service the week after Christmas.
That's why it's a good idea to make sure your dropshipping return policy is up and ready during and after the holidays and peak seasons. These are the times when your return policy will be tested for efficiency and whether or not customers find the return process easy and hassle-free. Any feedback regarding issues with returns can be used to make adjustments to your policy for customer satisfaction. Make sure your return policy is straight forward and clearly communicated for the best results.
6. Extend Return Window
Nothing upsets a customer more than finding out that they've missed the "window" or period of time allotted by a retailer to return an item. Customers should be given some elbow room in terms of how long they get to make a return. Typically 30 days is a good rule of thumb. But no less than 21 days. This gives customers plenty of time to return an item after purchase.
Being lenient with return time limits (e.g., a 60-day vs. 30-day policy) can actually decrease returns by creating less urgency around returns for the customer.
7. Automate Return Process
While it's not absolutely necessary, automating the return process can help tremendously especially during the holidays. An app like Returnly allows online retailers to create a fully hosted self-service return portal for customers.
Returnly also integrates easily with Shopify for merchants with stores on that platform.
How To Reduce Returns
The good news is, there's a lot you can do proactively to keep returns down. Besides all of the suggestions above, you can drastically reduce potential returns by doing the following:
Write Clear Product Descriptions
Make sure your product descriptions are clear, easy to read, and accurate. Believe it or not, a product description that is unclear can wreak havoc in terms of customers sending back what they "thought" they ordered.
A clear concise product description can help avoid unnecessary returns by making sure that exactly what is written is what is being offered.
Take Note Of Trends In Commonly Returned Products
If you notice that a specific product suffers from an unusually high amount of returns or there's a common issue being pointed out by customers for reasons for returns, then pinpointing the problem can also reduce returns.
For example, a product keeps getting returned because the packaging keeps falling apart. You can address this problem with the supplier and remedy the packaging issue quickly. Or, you may choose to stop selling the product at all. Either way, you have resolved an issue that could impact repeat business.
Another example might be that several products seem to fall apart after being delivered to the customer. Once again, it could be a supplier issue, but a major problem for you if your customers feel like you're selling them inferior items. Nipping such issues in the bud once you notice a particular trend in returns can save you loss of revenue and the ability to maintain customer loyalty.
As you can see, a good dropshipping return policy supports customer loyalty and your profits. Don't ever leave customers in the dark about how to return an item. Be expedient about refunds or exchanges. And give them a good window of time to make their return. A smooth, hassle-free return transaction will leave them satisfied and keep them coming back for more.