Natural Products Expo West 2018: BOS Spotlight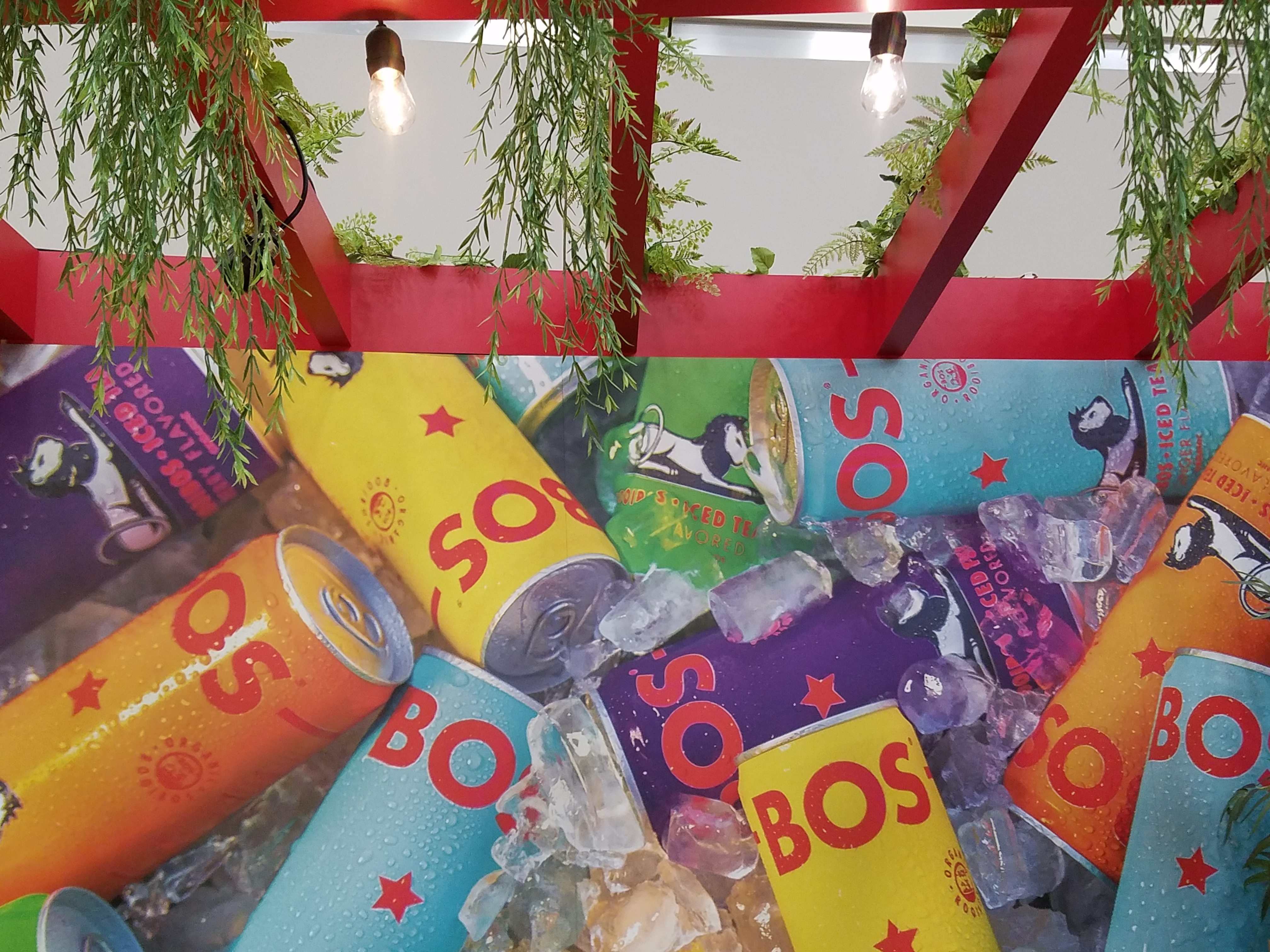 Natural Products Expo West 2018: Going BOS For BOS's Organic Drinks
4 days. Over 85,000 attendees. Thousands of natural and organic products packed the floors of Natural Products Expo West 2018.
With that size, I came in with a plan.
But soon, I saw the fun, colorful, and eye-catching BOS booth, and put my original plan on hold for a moment.
Energy drink-like cans filled this booth. Each can bore a single vibrant color and a reclining lion.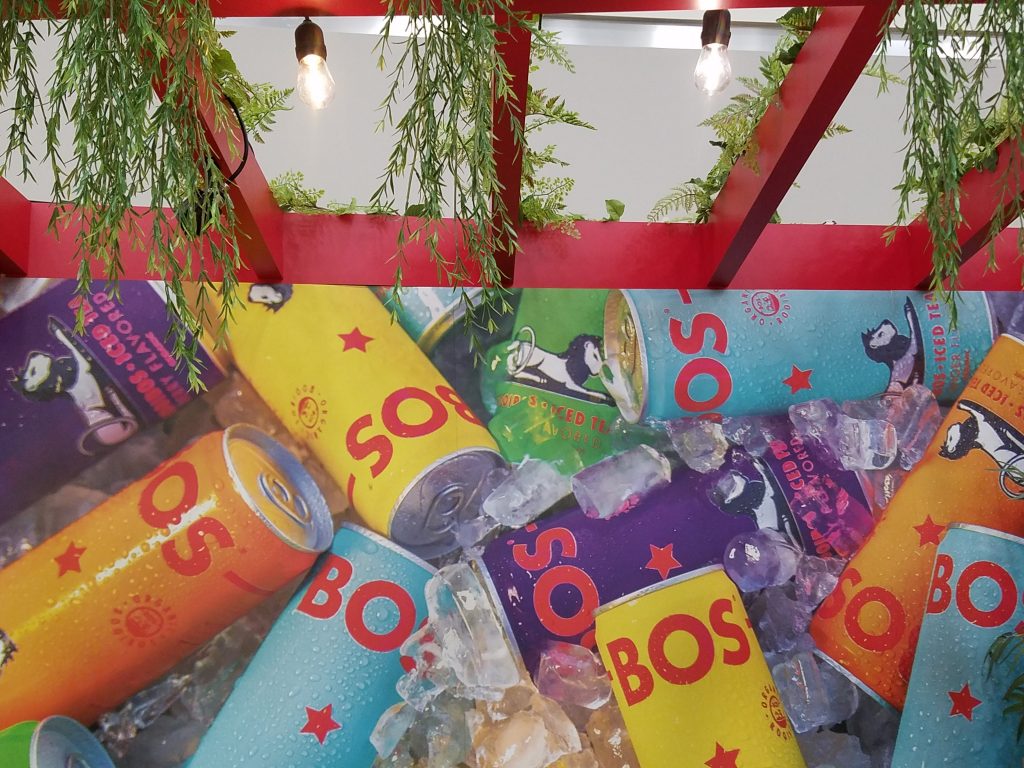 Some BOS cans chilled in clear refrigerators, some lined up behind a glass wall, and some even adorned a large mural. Also, baskets of lemons, limes, pineapples, and other fruits added even more vibrancy. Yellow (including yellow ice buckets and a yellow bike) dominated, with splashes of red from the logo. A red trellis hung over the right side of the booth, with wispy greens on top and large white lights strung across it. 
But what is BOS?
Going BOS—What's In A Name?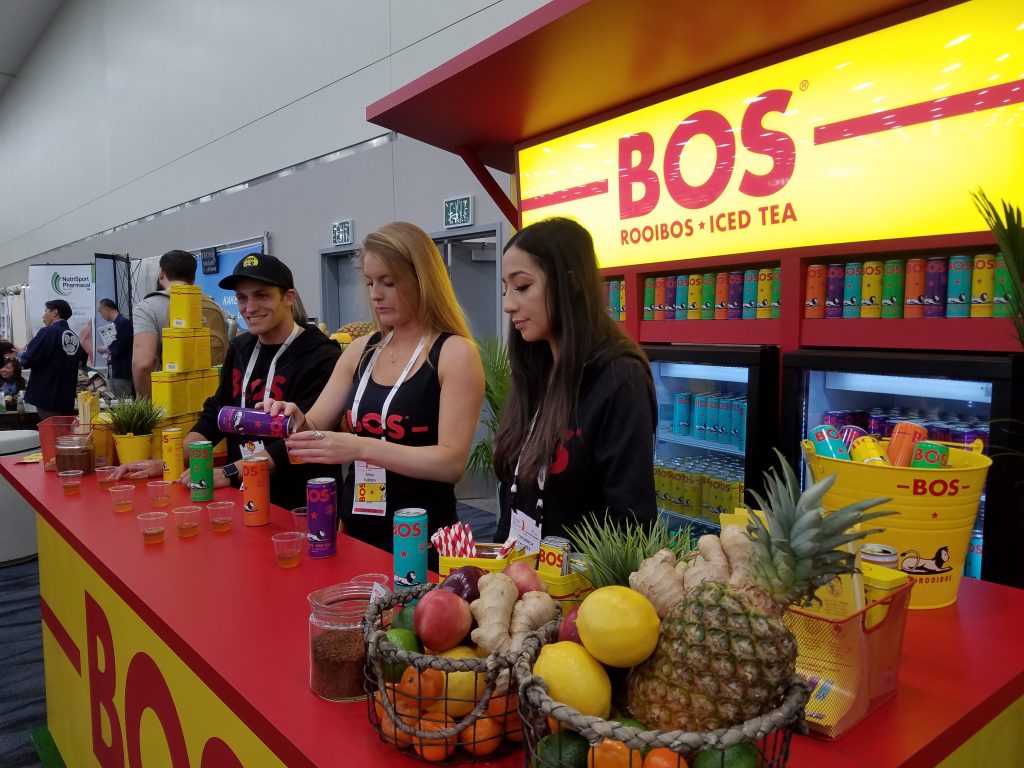 According to BOS Expo West 2018 reps Veronnica Chaidez and Erika Kubisch, BOS, a refreshing herbal iced tea, gets its name from the rooibos plant. All BOS tea products center on rooibos, which only grows in the Cederberg mountain range of South Africa (home country of BOS founder Grant Rushmere).
But BOS means more than rooibos. In South Africa, to "go BOS" means "to go crazy, in a fun way."  And BOS is all about having vibrant fun, while still being healthy. 
Fun Comes Naturally with BOS 
At Natural Products Expo West 2018, I sampled the Peach BOS first.
Juicy, fresh-picked peach flavor filled my taste buds and my nose. I also tasted just the right amount of rooibos (it tastes a bit like hibiscus tea, but a little earthier.) The peach and rooibos balance each other extremely well.
The BOS reps told me that yuzu, a Japanese citrus fruit, looks like a cross between a lemon and a grapefruit. My curiosity was piqued, so I sampled the Yuzu BOS next. Soon, I tasted a bright, balanced lemon-lime flavor.
To add to the uniqueness, the yuzu flavor contains rarer green rooibos (unoxidized rooibos leaves). I could still taste the rooibos, but not as much as in the Peach tea—this flavor lets the citrus shine.
One can of BOS has only 70 calories—way less than most conventional soft drinks. But with this taste, it can totally compete with the big players. Its vibe makes it the perfect soft drink for parties or beach days.
Fun Ingredients, But Serious Commitments
All BOS products are USDA Organic and Non-GMO Project Verified, with organic rooibos. Only natural ingredients here—nothing artificial.

The rooibos in BOS brings natural energy, thanks to essential minerals. But this can's caffeine-free. 

Plus, every can's packed with antioxidants that help maintain skin and heart health, and electrolytes for hydration.
As an added bonus? For every 2,000 products sold, BOS plants and cares for a tree in needy South African areas.
Once you get your hands on BOS, you're sure to go BOS for it too, just like I did!