Selling Frozen Food Online: Gluten-Free Pasta Entrees
Selling Frozen Food Online: Gluten-Free Shoppers On the Rise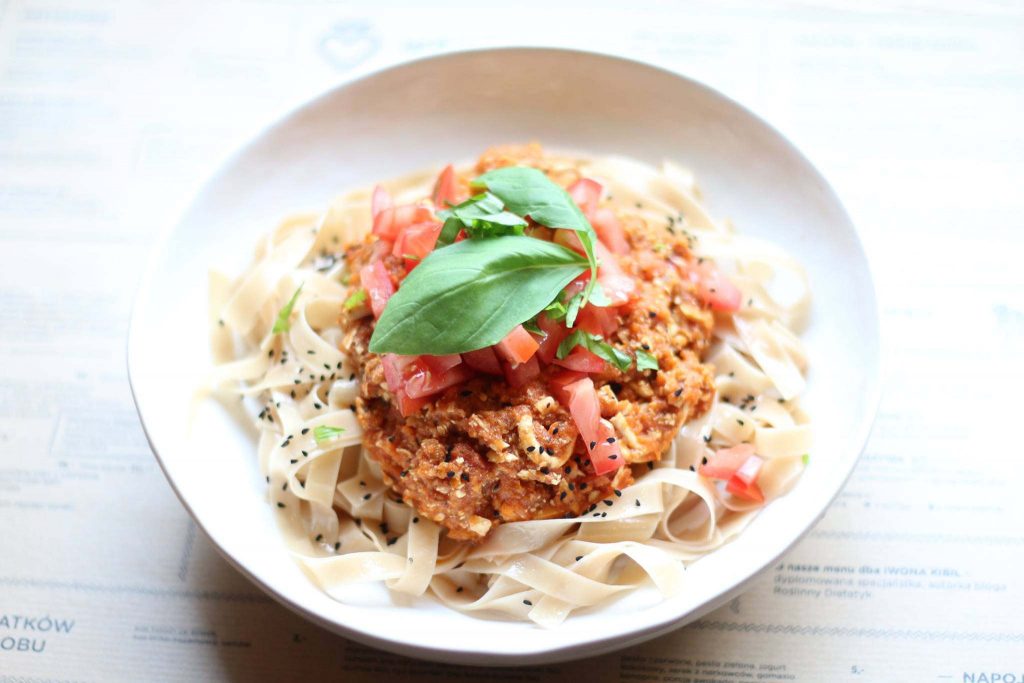 If you're planning on selling frozen food online, don't forget about selling gluten-free pasta. After all, more and more people are choosing to go gluten-free.
Some people must avoid gluten due to celiac disease, allergies, intolerances, or other health needs.
Others choose to avoid gluten because they're health-conscious.

Many believe that cutting out gluten will help them lose weight.
Gluten's a protein found in wheat and other grains. So, those who avoid gluten usually must avoid most foods traditionally made with wheat, like pasta.
But, with the gluten-free trends of today, frozen food manufacturers have come out with more and more pasta entrees that don't contain gluten.
---
Check out my previous article on why frozen food's a hot-selling category for your online store.
---
Advantages of Frozen Gluten-Free Pasta Entrees
Consumers appreciate the longer shelf life and short prep time of frozen gluten-free pasta.
Plus, since they see gluten-free food as healthy, they're more inclined to purchase it than conventional pasta.
And the gluten-free trend has amazing market potential.
Globally, the gluten-free food market size is worth almost $15 billion (USD).
Grand View Research projects that the market will grow at a 9.3% growth rate through 2025.
Read on for 6 frozen gluten-free pasta entrees to sell online, from natural and organic brands consumers trust. Tap into the gluten-free frozen market today!
Udi's Gluten-Free Lasagna (Broccoli/Kale)

A three-cheese blend of ricotta, mozzarella, and parmesan layered between gluten-free lasagna noodles.
Loaded with broccoli, kale, carrots, and cauliflower.
A Certified Gluten-Free frozen food.
Also, made with Non-GMO grains.
In addition, there's 15g protein per serving.
An excellent source of Vitamin A and Calcium, and a good source of Vitamin C as well.
Udi's is a reliable gluten-free brand—all the food the company produces is gluten-free!
Udi's Gluten-Free Ziti/Meatballs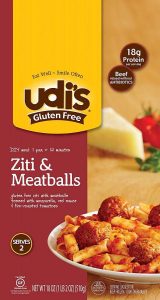 Gluten-free ziti, meatballs, marinara-style sauce, roasted tomatoes, and mozzarella. A hearty Italian classic, without the gluten!
A stellar source of protein—18g per serving.
Also, it's a Certified Gluten-Free frozen food!
In addition, it's an excellent source of Vitamin A and a good source of vitamin C and calcium.
Serves 2 people for a quick and easy gluten-free meal.
Ready after only 12 minutes of heating in a skillet.
Made with beef raised without antibiotics.
Amy's Rice Mac and Cheese

Organic rice noodles with the creamy cheese sauce customers love. Tastes just like the traditional favorite. Customers won't miss the gluten!
Gluten-free, with no GMOs.
Also, a soy-free, tree nut-free, and Kosher (dairy) food.
In addition, it's an excellent source of calcium.
Packed with 16g protein per serving.
Amy's Baked Ziti Bowl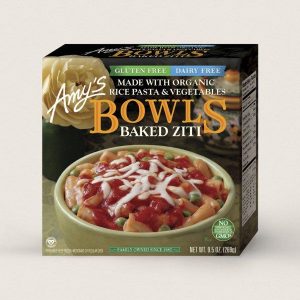 Rice ziti pasta with peas and house-made vine-ripened tomato sauce. Yum! And now, gluten-free, dairy-free and vegan consumers can enjoy this Italian favorite without worry.
Thanks to the rice pasta, this ziti bowl's completely gluten-free.
A dairy-free and Certified Vegan food, made with vegan mozzarella and ricotta soy cheese.
Also, it's tree nut-free and Kosher (DE).
A reliable source of Vitamin C.
Caesar's Manicotti (Wheat-Free/Gluten-Free)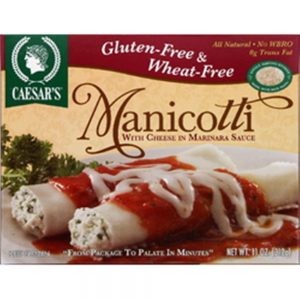 Inspired by the producers' personal experience with food allergies and intolerances, and crafted with care.
But, customers comment that it "tastes exactly as traditional Italian food should taste!"
Rice flour noodles (no wheat!) filled with smooth, creamy, old-fashioned ricotta cheese.
Tied together with classic Italian herbs and spices, plus Caesar's proprietary homemade marinara sauce.
Ready to serve in only 7 minutes after baking or microwaving.
No trans fats, artificial colors, flavors or preservatives.
Also, completely WBRO free (free from wheat, barley, rye, and oats).
Caesar's Stuffed Shells (Wheat-Free/Gluten-Free)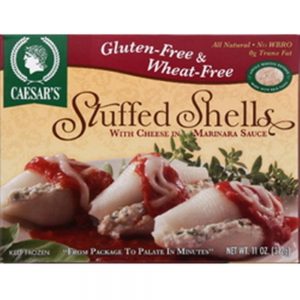 Carefully crafted to remove all traces of gluten, so all consumers can safely enjoy these shells.
But consumers love that the flavor of these shells is exactly like the originals'!
Made with wheat-free rice noodles and stuffed with ricotta cheese, herbs and spices. Topped with Caesar's homemade secret marinara sauce.
All-natural, with no trans fats. Made with only high-quality ingredients!
Free from artificial colors, flavors, and preservatives.
Also, completely WBRO free (contains no wheat, barley, rye, or oats).
Ready to sell frozen food online? Want to drop ship gluten-free frozen pasta? GreenDropShip.com's innovative frozen food shipping method will meet your needs, with fast transit times. Request a catalog today.
[contact-form-7 id="5741″ title="Front Page Subscribe"]