Selling Frozen Food Online: Reliable Cheese Snacks
Selling Frozen Food Online: Tap into Millennial Consumers' Snack Cravings
Selling frozen food? Looking for products to enliven your online store?
Consumers love to snack and desire healthy options. And millennials take these trends to the extremes.
With natural and organic frozen food, health and snacking delight come in the same convenient package. So, give your millennial consumers both!
---
Check out my previous article on why it's a smart decision to sell frozen food online.
---
Why Natural and Organic Frozen Snacks for Millennials?
Millennials (people aged about 20-35)  are entering their prime stage of earning.
Many are starting families, and most are on the go constantly.
And most crucially, millennials are the most prolific snackers when compared to other generations.
In fact, millennials feel a need to snack. The "dominant meal occasion of the day" for millennials is a snack, not a meal.
And millennials turn to frozen food more frequently than other generations. In fact, almost a third have bought frozen food online, showing their openness to online shopping.
They're also craving a snacking adventure, with fresher, bolder flavors. Snacks for millennials cannot be boring!
Crucially, millennials want ethical snack foods for themselves and their families.

In other words, they crave healthy snacks with clean ingredients.
Also, they want snacks that are better for the planet. Sustainable manufacturing practices are key.
Often, they'll sacrifice monetary savings for a more ethical, high-quality product. So, morals reign over money!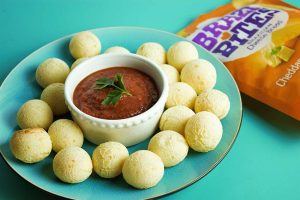 Natural and organic frozen snack foods satisfy millennials' desire!
These snacks have fewer ingredients.
They focus on pure, natural ingredients.
Also, they steer clear of artificial colors, artificial flavors, preservatives, and GMO ingredients.
Often, they cater to special diet needs (gluten-free, nut-free, soy-free, vegetarian, etc.).
In addition, they promote sustainable environmental choices.
And with their spending preferences, millennials turn to natural and organic snacks more often than other generations do.
In this article, I'll explore the cheese category of natural and organic frozen snack foods. These snacks let dairy be the star (no meat here, so they're all vegetarian). Here are reliable choices from Brazi Bites, Amy's, and Russo's.
Brazi Bites
These yummy, cheesy balls of bread take their inspiration from Brazilian "Pao de Queijo" (crispy cheese bread with a  fluffy inside). Brazilians have enjoyed them for generations. Now, thanks to Brazi Bites, they're taking the U.S. by storm!
Brazi Bites, a 2015 Shark Tank overnight success,  is now the fastest-growing woman-owned food company in America!
Zesty Pepper Jack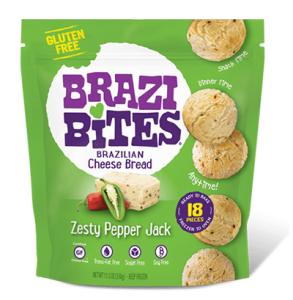 Add a bold kick to snacking with these naturally gluten-free bites (made with tapioca flour).
The blend of pepper Jack and cheddar cheese, plus jalapeño and piquillo peppers, brings the balanced heat.
Also, a trans fat-free, sugar-free, and soy-free food.
Made with only simple, wholesome ingredients.
A convenient big-game, party, or anytime snack.
Selling them online is a wise choice. You'll have the strength of a Shark Tank backing on your side!
Amy's
Committed to vegetarian recipes, Amy's was organic before organic standards even existed. Amy's even assisted the USDA in developing USDA Organic food standards!
Non-GMO and sustainable, Amy's puts ethics over profit. The company always chooses what's best for consumers, farmers, employees and the world.
Nacho Cheese and Bean Snacks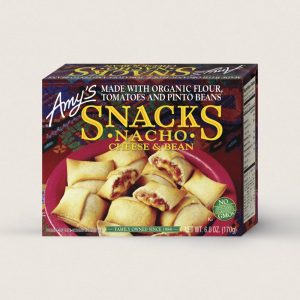 Crispy pockets filled with cheddar cheese, Monterey jack cheese, tomatoes, pinto beans, jalapeño peppers, and olives.
Made with organic flour, tomatoes and pinto beans. Also, these pockets are free of GMOs.
Also, they're a soy free, tree nut free, and Kosher food.
A bite-sized snack with huge flavor. Pair them with your favorite salsa.
Your customers can serve them during a game on TV or a party instead of conventional nachos.
Cheddar Jalapeño Swirls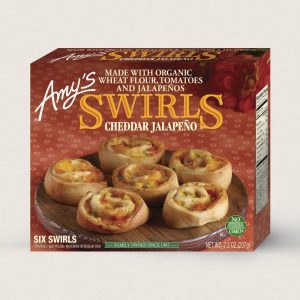 These artisan cheddar cheese swirls pack a punch with the perfect amount of jalapeño.
Made with organic wheat flour, tomatoes, and jalapeños.
In addition, they're a soy-free, tree nut free, and Kosher (dairy) food.
A quick-prep snack that's sure to enliven any party—or any hungry moment at home.
Russo's Gluten-Free Gourmet
With an empathy fueled by close friends' experiences with celiac disease and a love for gourmet Italian food, chef Neil Russo founded Russo's Gluten-Free Gourmet.
So often, those with a gluten-free lifestyle must avoid wheat-based foods, like breading and pizza dough.
This keeps them away from popular Italian fare.
But Russo's snacks taste just like the classics. Snackers can't believe these frozen foods are gluten-free!
Pizza Bites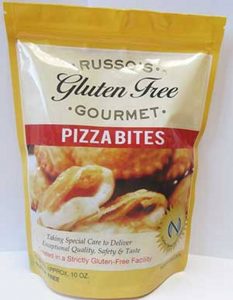 Filled with mozzarella, ricotta, and tomatoes.
Rice flour keeps these bites completely gluten-free!
Also, made in a gluten-free facility, for no risk of contamination.
Eat these quick, easy bites on their own, or pair them with pizza sauce for dipping.
Mozzarella Sticks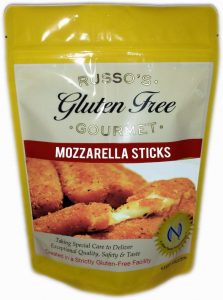 Stuffed with plenty of mozzarella and seasoned with rice flour breadcrumbs.
Fully gluten-free. Also, made in a gluten-free facility, for no risk of contamination.
Perfect to pair with marinara sauce.
Gluten-free and gluten-eating consumers alike rave about the taste.
Interested in selling these and other frozen snack foods online, using blind drop shipping? GreenDropShip.com will satisfy your needs with fast transit times. Request a catalog.
[contact-form-7 id="5741″ title="Front Page Subscribe"]