Selling Frozen Food Online: Snacks (Healthier Fries)
Selling Frozen Food Online: Pick Natural and Organic Fries
Frozen french fries tend to have a bad reputation.
Most people think that fries are greasy.
They might also think of frozen food as unhealthy.
But that's not true of natural and organic frozen fries.
So, if you're selling frozen food online, make sure you include natural and organic fries—healthier options.
After all, even though people are health-conscious, their cravings for snacks are stronger than ever.
In fact, craving and nutrition are top motivators when people grab a specific snack.
---
Check out my previous article on why selling natural and organic frozen food online is a smart choice.
---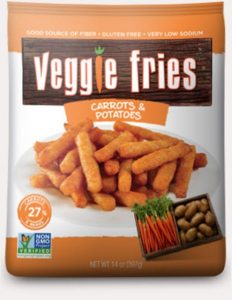 Natural and Organic Fries: The Smart Choice
Natural and organic food drives the frozen food market, as people want quick food with nutritious ingredients they can understand.
Meanwhile, the snack market also keeps growing. More and more people prefer to "graze." They replace their large, full meals with more frequent, smaller snacks.
In fact, at least 94% of Americans snack at least once per day.
Also, over 50% of the times Americans eat throughout the day count as "snacking" or "mini-meals," rather than full meals.
And half of the American population snacks two to three times a day.
Although millennials are the most prolific snacking and frozen food-buying generation, the trend applies to Americans of all ages.
In fact, all generations spent more on frozen food in the past year than the year before.
After all, lifestyles are getting busier and busier as adults are constantly on the go. Quick prep time's key!
People associate natural and organic with freshness.
After all, these designations focus on simple, pure components.
Natural frozen fry recipes steer clear of artificial colors, flavors, and preservatives.
Some have even earned the USDA Certified Organic seal or the Non-GMO Project verification.
Fries, like all frozen snacks, aren't just a side or party appetizer anymore. They often stand alone as a mini-meal. Consumers can trust that the natural, healthy fries listed below will fill their rumbling stomachs. Best of all, these fries won't fill their minds with guilt.
Read on to learn more about 4 nutritious, popular offerings from Alexia, Veggie Fries, and Ian's. They're all trusted natural and organic brands!
Alexia All Natural Sweet Potato Fries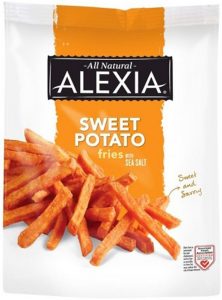 Sweet and savory blend together thanks to premium sweet potatoes. A hint of sea salt rounds out the flavor.
The fry masters at Alexia have nailed these healthy fries. The super-popular fries will become your customers' instant favorite!
A Non-GMO Project Verified food—no troubling genetically modified ingredients allowed!
Also, these heart-healthy fries have earned an endorsement from the American Heart Association.
In addition, there's 60% of the daily value of Vitamin A per serving.
Alexia Organic Yukon Select Fries

These fries blow their conventional counterparts out of the water. They make "your everyday French fry where it went wrong!"
The classic, lightly salted French fry taste, but far healthier. Consumers will skip the fast food and make these better-for-you fries instead.
A USDA Organic (over 95% organic ingredients) and Non-GMO Project Verified food.
Also, there are zero trans fats per serving.
Veggie Fries Chickpea, Red Pepper, and Potato Fries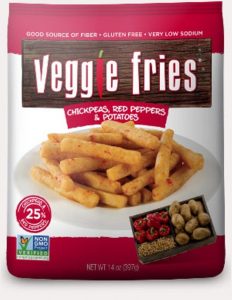 There are 2 servings of vegetables in every serving of Veggie Fries.
But, kids devour these fries and rave that they taste like conventional fries.
Many kids have no idea that these fries are healthier!
So, parents can serve kids this nutritious snack with confidence in taste and nutrition.
These crispy, healthy fries will satisfy all ages with a blend of chickpeas and red peppers. Hummus and fries collide!
3 grams of protein per serving.
Also, they're a good source of fiber and an excellent source of Vitamin C.
A fully vegan food, with no wheat/gluten ingredients.
In addition, they're Non-GMO Project Verified.
There's very little sodium in Veggie Fries.
Ian's Tempura Sweet Potato Sticks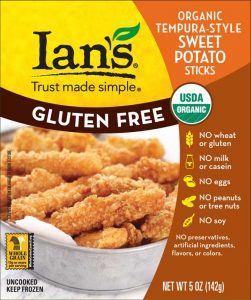 A tempura-style take on sweet potato fries, but far healthier than fast food fare.
Wheat-free and gluten-free, but still an excellent source of whole grain.
90% of the daily value of Vitamin A per serving!
Made with care to prevent allergy cross-contamination. Customers with food allergies can pick up these snacks with confidence.
Also, free of milk, casein, peanuts, tree nuts, eggs, and soy.
USDA Organic, with no artificial ingredients, flavors, colors, or preservatives.
Planning on selling frozen snack foods online? Want to drop ship these and other natural and organic fries?
GreenDropShip's innovative frozen shipping method and fast transit times will meet your needs—and customers' cravings for healthy fries. Request a catalog today.
[contact-form-7 id="5741″ title="Front Page Subscribe"]