Selling Frozen Food Online: Snacks (Hot Vegan Options)
Selling Frozen Food Online: Plant-Based Snacks Are The New Mainstream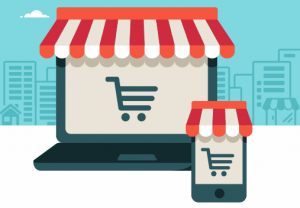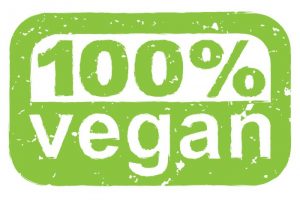 Selling frozen food online? Don't forget plant-based food options for the most connected generations.
Millennials (approximately ages 21-35) and Generation Z (approximately age 20 and under) are moving the vegan lifestyle to the mainstream.
15 million Americans—6%  of the U.S. population— call themselves vegans.
They avoid both meat and any other animal-derived food.

For example, cow's milk, eggs, fish, and honey are all out for vegans.

Most vegans are either millennial or Generation Z.
They turn to plant-based milk and meat alternatives.

Generation Z consumes more plant-based milk than any other generation. They've even consumed 550% more plant-based milk than millennials!
Thanks to demand, the world's plant-based meat sales should well exceed $5 billion (USD) by 2020.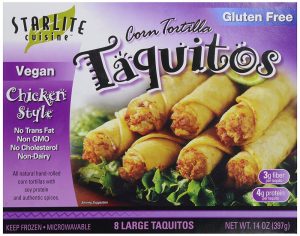 And these young generations put increased importance on the snack.
In fact, they eat more "snacks" (or smaller meals) throughout the day than larger meals.
And the snack, not the large meal, is the most important meal occasion of the day.
In addition, veganism goes hand in hand with other eating trends that younger generations have adopted.
They want adventurous tastes and textures of food.
But, they also want ethical food—sustainable food with a clearly identifiable source.
And they're most open to buying food on the internet. This makes sense—most are connected 24/7.
Thus, if you're selling frozen food online, you'll need to include frozen vegan snack foods! They satisfy all the cravings of millennials and members of Generation Z, with added convenience.
Read on to find out more about frozen snacks containing vegan-approved meat and cheese alternatives.
---
Check out my previous article on why frozen food's a smart choice to sell online.
---
Snacks With Meat Alternatives
In these vegan snack foods, soy, wheat, and other plant proteins imitate meat.
Starlite Cuisine  Chorizo-Style Vegan Taquitos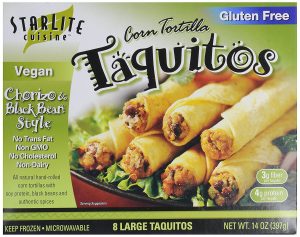 Fully vegan, with no dairy. Spicy chorizo-style soy protein and black beans substitute for meat.
All packed into hand-rolled, crispy corn tortillas. Yum!
No trans fats or cholesterol.
In addition, they're a gluten-free and Non-GMO Project Verified food.
Quickly heat them in the oven or the microwave.
Even though they're made for vegans, meat-eaters will love them too!
Gardein Beefless Sliders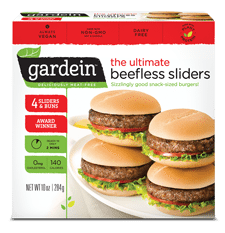 Truly "the ultimate beefless slider," these snack-size mini plant burgers are ultra-versatile.
Pop them onto the included mini burger buns.
So many options—add any vegan toppings and condiments, and enjoy.
They're meat-free, dairy-free and Certified Vegan sliders, made from Gardein soy protein.
Heat and eat them in only 2 minutes, for an easy, ethical snack.
No saturated fats, trans fats or cholesterol.
9 grams protein and 4 grams fiber per serving.
Gardein Mini Crabless Cakes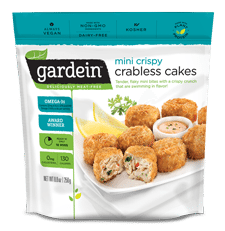 These bite-sized vegan crabless cakes are an awesome catch!
Made from wheat protein and soy protein.
Their mini size makes them ideal for solo snacking, sharing or serving at parties.
Of course, they're also great as part of a vegan main course.
A Certified Vegan, dairy-free, and Kosher food.
No trans fats, saturated fats, or cholesterol.
The same texture and flavor as traditional crab cakes, without the crab. Ready in minutes!
Pair them with vegan tartar sauce and dip away, or add them to vegan taco snackers.
Nate's Meatless Meatballs (Savory Mushroom)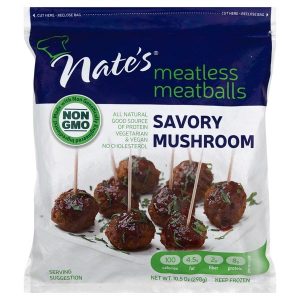 Hearty Italian flavors your customers want. But, in a plant-based version.
Customers rave that these snacks taste the same as conventional meatballs. So, they won't miss the meat!
A vegan and non-GMO snack food.
Also, a low-calorie, cholesterol-free, nutritious snack.
In addition, they're a good source of protein.
Great as a snack for parties, the big game, or anytime your customers entertain guests.
Heat them up and go, because they're a quick, convenient option.
Snacks With Dairy Alternatives
Vegan snack producers get creative, using fruit and vegetable ingredients to imitate cheese. No dairy here!
Amy's Vegan Margherita Swirls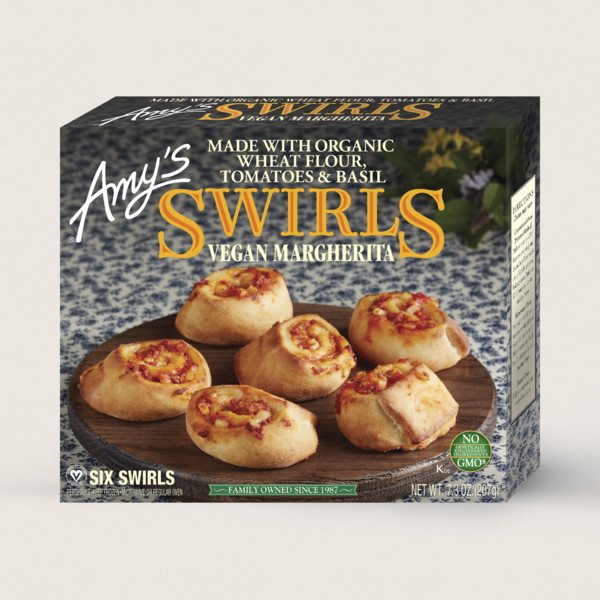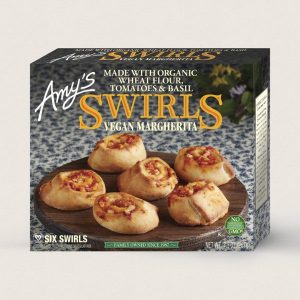 Crafted with the philosophy that vegan snacking "should be just as fun as other options."
 These swirls bring vegan mozzarella and homemade Margherita sauce twirled within wheat flour dough.
So, think savory cinnamon rolls.
Made with organic wheat flour, tomatoes, and basil.
Great for a fast, satisfying snack or a savory mini-meal.
These Certified Vegan swirls are also dairy-free, lactose-free, soy-free, and Kosher (DE).
No trans fats or cholesterol.
Amy's Vegan Cheeze Pizza Snacks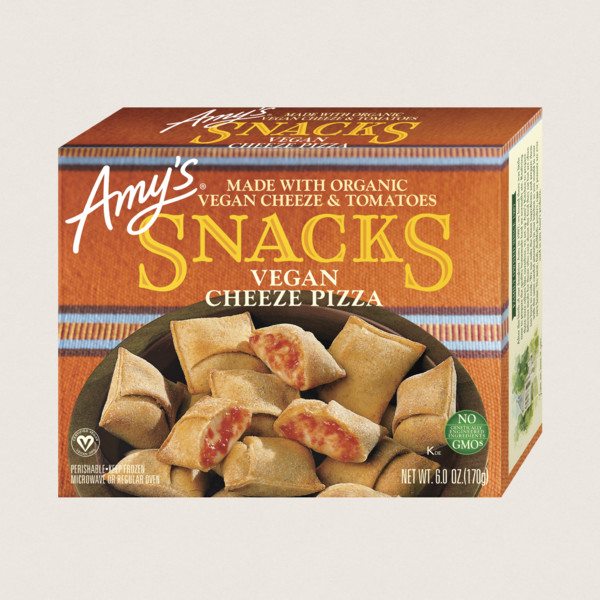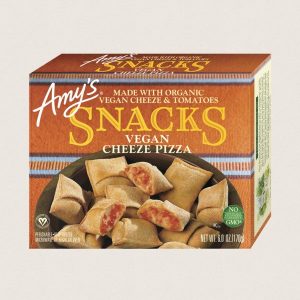 Vegans won't have to give up pizza bites anymore, thanks to these bite-sized vegan "cheeze" pizza snacks.
Homemade organic tomato sauce and vegan mozzarella, stuffed into soft wheat pockets.
Warm, satisfying, and easy to snack on. Yum!
In addition, they're a non-GMO food, handmade with love.
These Certified Vegan snacks are always dairy-free, soy-free, lactose-free, and Kosher (DE).
If you're ready to sell these and other vegan snack foods online, GreenDropShip.com has you covered. GreenDropShip.com offers unmatched frozen food shipping, with fast transit times. Request a catalog today.
[contact-form-7 id="5741″ title="Front Page Subscribe"]