How to Dropship in the Baby Products Niche
If you want to start an online shop selling baby products, picking a niche can help you stand out from the competition. This will allow you to target a segment of the baby market and better attract moms to your store. That being said, let's examine the ins and outs of dropshipping in the baby products niche.
Why You Should Dropship Baby Products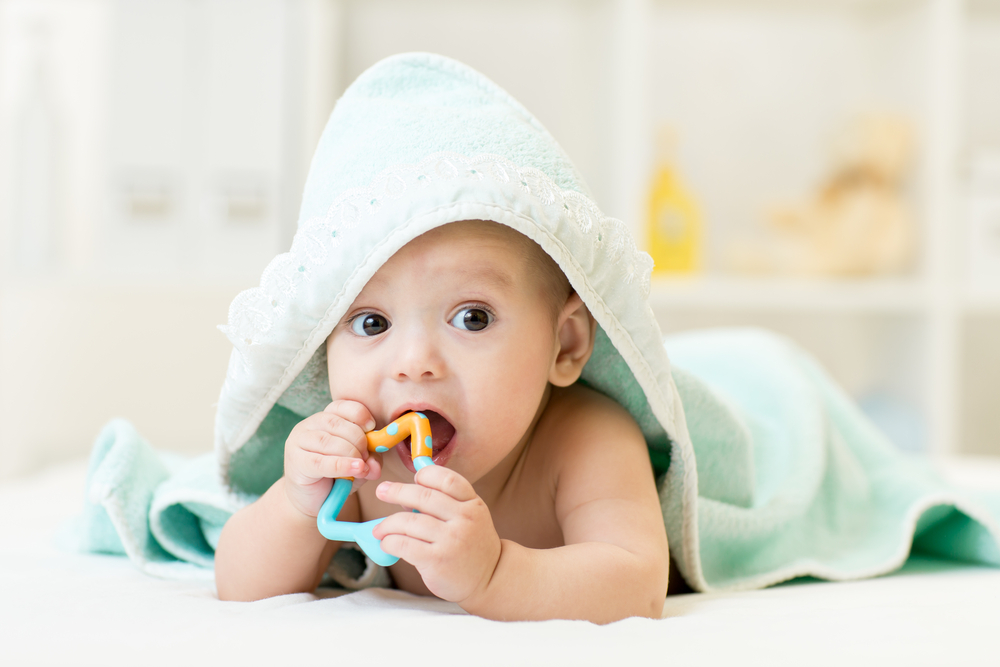 A huge chunk of consumers buys baby care goods off the internet. In fact, according to TABS Analytics, 20% of all baby products are sold online. So, if you're looking to sell baby products online, then dropshipping is the ideal way to do it. Let's quickly break down the concept of dropshipping to its simplest parts:
It's an e-commerce retail business model.
The logistics of controlling or handling the inventory are not controlled by you (the seller). 
The dropshipping supplier stores, packs, and ships the items to the online shopper.
It's a low-risk business model that doesn't require a lot of startup funds. Plus, if your store is doing well and you're selling a lot of products, then you can easily scale your operation up to meet the growing demand. This makes a dropshipping store the ideal way to sell in the baby products niche. That means that you just need to find a dropshipping supplier that has the right selection of products for you to offer in your online store.
Top Dropshipping Niches To Sell Baby Products
It's important to understand that a dropshipping niche is a smaller subsection of a larger market. Choosing a niche allows you to operate with less competition. Of course, it's possible to choose multiple niches, depending on how extensive you want your product selection to be in your online store.
So let's look at the best baby product niches:
1) Baby Bath, Hair & Skin Care
Why is it so important to choose the right products in this particular niche? Remember, babies have sensitive skin and really fine hair. Anything that's too harsh or full of chemicals may damage these fragile parts of the baby's body.
Let's also take a moment what to look for in the best baby care products:
Hypoallergenic
Dye-free
Made without harsh ingredients
Plant-based (not 100% necessary, but it is strongly recommended since plant-based detergents are almost always less irritating than conventional ones)
Everyone Chamomile Lavender Baby Wash
This 3 in 1 wash is for hair, body, and bubbles. It's also:
Specially formulated to clean babies of all ages
Designed to keep the most sensitive skin happy and healthy
Infused with calming chamomile and lavender essential oils to soothe the senses
Light and hypoallergenic
Cruelty-free
Gluten-free
Paraben and sulfate-free
It has an average rating of 4.3 stars on Amazon and was designated an Amazon's Choice product:

This means that the product has been chosen by Amazon due to its premium quality, great price, and high level of customer satisfaction.
Everyone Baby Wipes
Gentle wipes that will refresh skin without irritation.
Designed to clean every mess from cheek to cheek.
Filled with mild plant extracts like Cucumber and Chamomile plus Vitamin E on a natural fiber cloth.
Hypoallergenic, soothing, and refreshing.
Perfect for right at home and the changing table or on-the-go in the diaper bag.
Not just for babies, these wipes are great for grownups too!
Come in a re-sealable pack of 30 wipes.
These are also an Amazon's Choice product, making them a great addition to any online store in the baby products niche.
Let's also take a look at Google search data for baby wipes: 

There are over 33,000 monthly searches on Google for the keyphrase "Baby Wipes". This makes the baby wipes from Everyone a solid addition to any online store that operates in the baby products niche. 
2) Diaper Care
This niche includes both diapers and diaper rash products. It's important to note that diapers are not traditionally very green or eco-friendly products. However, consumers who are looking for a more nature-friendly alternative can turn to your online store.
Honest Company Diaper Rash Cream
This amazing product is gentle and effective. Honest Diaper Rash Cream forms a protective barrier on babies' skin to provide relief and soothe irritation. It also reduces the duration and severity of diaper rash when applied at the first sign of redness.
This plant-based product is also perfect for kids. Our wipes' medical-grade cloth is made from sustainably harvested plant-based material and is ultra-thick and durable.
Paraben-free
Petroleum-free
Made without synthetic dyes or fragrances
Made without mineral oil or silicone
This product also has over 800 reviews on Amazon and an average rating of 4.7 stars.
Plus, it's also been given the coveted Amazon's Choice award.
Seventh Generation Baby Free & Clear Diapers
When a baby is this comfortable, you know you've made the right choice. We combined premium absorbency with a snug, comfy fit around the legs and adjustable, re-sealable tabs for a flexible and secure diaper. The ultra-absorbent core is free from chlorine bleaching, keeping your baby's skin protected and dry. Seventh Generation baby diapers are hypoallergenic and free of dyes and fragrances. Safe for baby's sensitive skin.
Premium leak protection
No chlorine bleach used in the absorbent core
Snug, flexible fit
It also has nearly 2,000 reviews and an average rating of 4.2 stars. It's also an Amazon's Choice product.
3) Baby Detergents
Choosing the right detergent is important for a baby's sensitive skin. This makes it an excellent niche to combine with Baby Bath, Hair & Skin Care. In many ways, they complement each other very well.
GreenDropShip offers quite a few detergents that are hypoallergenic, free of harsh additives, and plant-based.
Seventh Generation Laundry Detergent
Our Laundry Detergent is tough on stains but gentle to your world. With no dyes, optical brighteners, or synthetic fragrances, Seventh Generation Laundry Detergent gives you great results in HE and standard machines, and works in all water temperatures. This Laundry Detergent, made with plant-based ingredients, is a USDA Certified Biobased Product 97%.
Let's take a look at the Google Search data for seventh generation laundry detergent: 

As you can see, there are about 9,000 monthly Google searches for Seventh Generation Detergent.
Mrs. Meyer's Laundry Detergent
Mrs. Meyer's Clean Day Geranium Scented Laundry Detergent liquid is one of our hardest working cleaners. Concentrated, safe, and gentle on clothes – yet it really packs a punch when it comes to removing dirt and grime. It contains Anionic Surfactants from plant-derived sources, dirt and stain-fighting enzymes, and, of course, those important natural essential oils for a garden-fresh fragrance. Environmentally-friendly laundry detergent, HE compatible, & concentrated for 64 loads. Made in the USA.
It also has an average rating of 4.6 stars and has nearly 1,000 reviews. It's also an Amazon's Choice product.
Finally, let's quickly look at the SEMrush data:

The monthly Google searches for "Mrs. Meyer's Laundry Detergent" is 1,600. This is a considerable amount of search interest for this product.
4) Baby Food
There are a few things that consumers will look for in baby food:
Healthy ingredients. The parents are likely to look carefully over the labels.
Non-toxic packaging. This means that the packaging should be BPA-free.
Baby's Only Organic Toddler Formula
Because so many parents are concerned about the ingredients that are in their baby's food, they shop online to find alternatives to conventional products.
Baby's Only Organic Toddler Formula is a great product to stock in your online organic baby product store. There are both Soy and Dairy varieties. However, each is made with non-GMO ingredients.
This product also doesn't contain:
Any sweeteners like corn syrup
Palm oil
DHA
After the first year of breastfeeding, this is a great formula for any parent to buy for their babies.
It also has an average rating of 4.4 stars on Amazon and over 2,000 reviews.
Let's also look at the Google Search data:

The combined number of monthly Google searches for the keyphrases "Baby's Only Formula" and "Baby's Only Organic Formula" comes out to 6,300. That shows that there is a strong online interest in this particular product.
Happy Baby Organic Oat Puffs
As a mom-founded and parent-operated company, there's nothing more important to us than what we feed our children. That's why our food has none of the artificial hormones, toxic persistent pesticides, or GMOs allowed in conventional farming—just healthy ingredients from earth-friendly organic farms. It also comes in a BPA-free container
Plus, it's a top-rated and bestselling product on Amazon. With over 1,600 reviews, it has an average of 4.6 stars and has been given the Amazon's Choice award:

Let's also take a look at the SEMRush data:

This shows that the keyphrases "Happy Baby Puffs" and "Happy Baby Organic Puffs" have over 1,500 monthly Google searches. This is a considerable amount of search interest, making these great additions to your dropshipping store if you're operating in the baby food niche.
5) Baby Medicine
Let's take a quick look at the Google Trends data for the keyphrase baby medicine: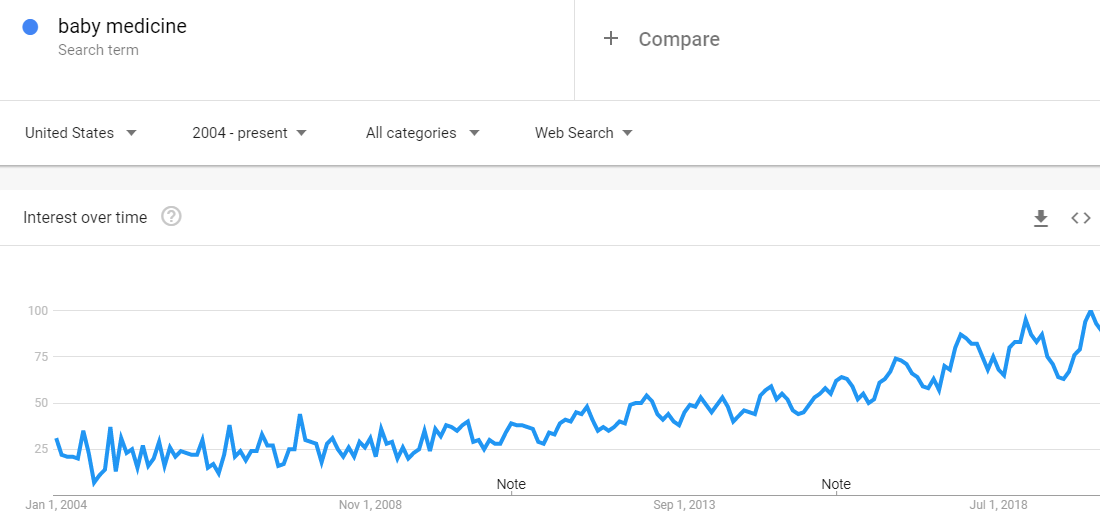 This is a long-term visualization of the search interest for that keyphrase – it actually goes all the way back to 2004. As you can see, online interest has grown steadily in that time. This is because parents increasingly trust online retail, including buying baby medicine from online stores.
Zarbee's Baby Chest Rub
Soothe your little one with our non-irritating, petroleum-free chest rub.
Made with Eucalyptus, Lavender & Beeswax.
Full of naturally soothing ingredients straight from nature.
Pediatrician recommended.
Made without all the unwanted additives.
It's an incredibly popular product on Amazon, with over 1,000 reviews and an average rating of 4.7 stars:

It's also an Amazon's Choice product.
Naturade Children's Expectorant Cough Syrup
This product:
Helps clear bronchial passages
Enhances cough productivity
May reduce cough intensity
Is made with naturally soothing herbs
This product also has an average rating of 4.6 stars on Amazon and is another Amazon's Choice product.
The demand for baby products is there in every one of these niches. That means that you just need to choose a dropshipping supplier that carries these products and then add them to your dropshipping store. Plus, with the dropshipping method, you don't need to handle the inventory or shipping.
By becoming a GreenDropShip member today, you can access our amazing baby product selection in the various niches. We will store, pack, and ship these items directly to your customers. So be sure to contact a rep today and start selling online in the baby products niches.