How To Get Ungated On Amazon – Strategies for Sellers
Are you an Amazon seller? Are you looking to expand your online business? If so, then you should seriously consider getting ungated. You'll have more possibilities to sell in-demand products from categories or brands that consumers want.
If you take advantage of these expanded possibilities, then you can boost your profits and grow your store. The only question is: How do you get ungated on Amazon? What's the process?
Although there's a fair amount that needs to be done, don't let the approval process intimidate you. If you know what to do, it's not that hard!
In this post, we'll help you by breaking down everything you need to know, including which categories and brands are gated in 2021, how to apply, and tips to increase your chances of approval.
Here's a table of contents you can use to jump around in the post:
What Does It Mean To Be "Ungated On Amazon"?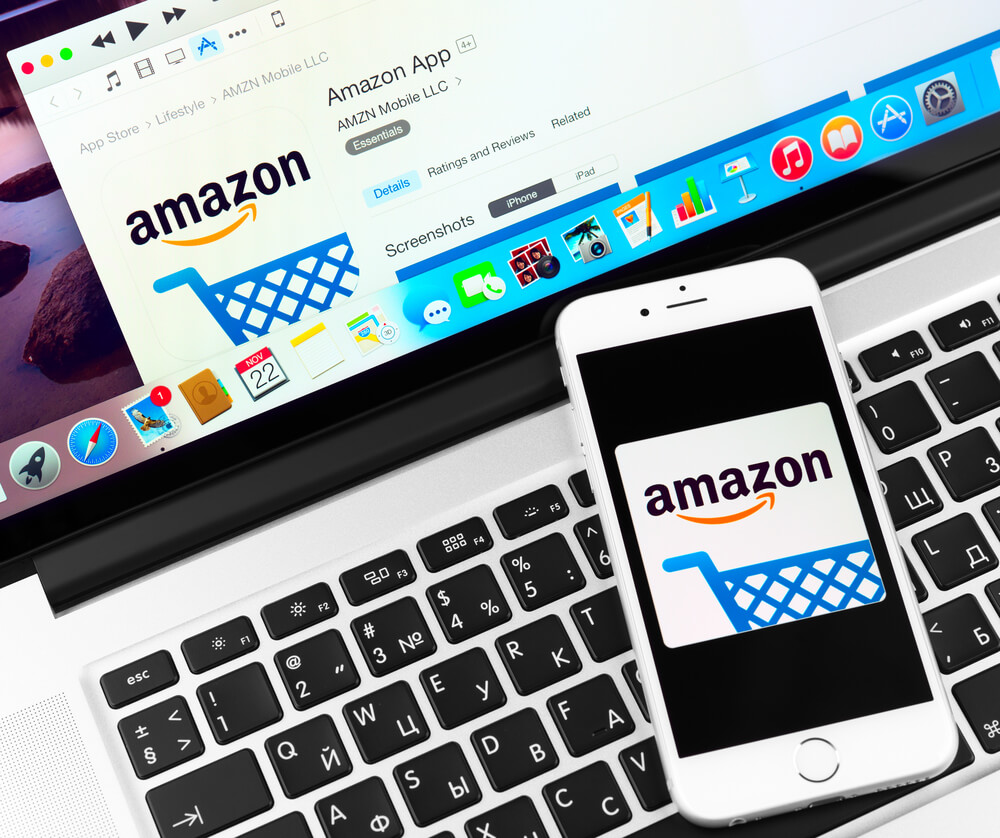 You've probably seen this phrase everywhere: ungated on Amazon. What does it mean? Is this something that will trip you up if you're a seller?
It simply means that Amazon puts selling restrictions on certain categories, subcategories, or brands. This prevents new sellers from jumping in and selling these products before they get approved.
So, when we say "ungated on Amazon", we simply mean that you have approval to sell those goods.
Just imagine a gate: if the gate's down (gated), then you can't sell. If the gate's up (ungated), then you can go ahead and sell all you want.
Gating and ungating apply to all Amazon sellers, whether you decide to dropship on Amazon or use Amazon FBA. Plus, getting ungated is also important because it expands your selling opportunities, especially in categories with less competition.
Remember, not everyone gets ungated, so some categories will have fewer sellers competing for the same sales. With less competition, you have a better chance at snagging those online shoppers!
Why Does Amazon Have Gated And Ungated Categories?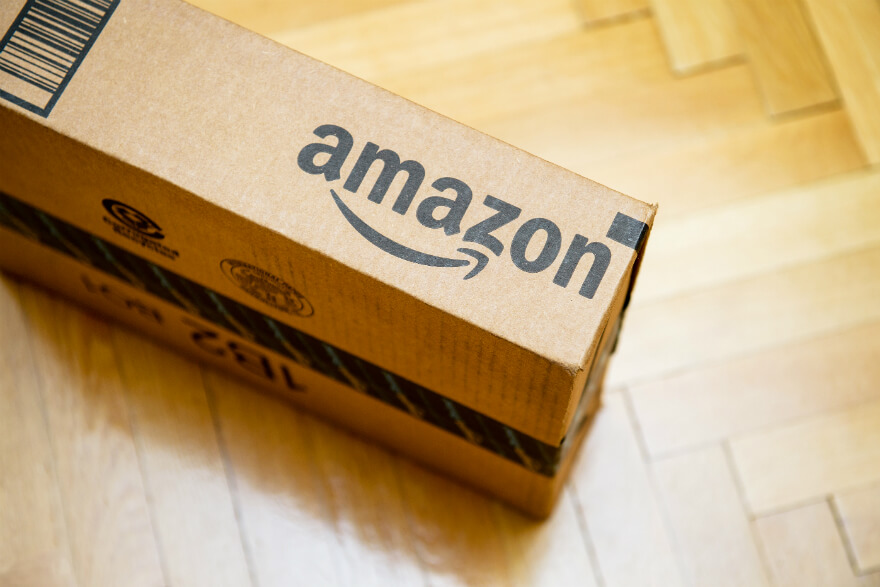 You might be asking yourself why Amazon has this gated versus ungated policy in place. It all seems awfully confusing and it certainly complicates the Amazon seller process!
Generally, there are a few reasons why Amazon imposes these restrictions, including:
Safety – to ensure that all products are safe for consumption.
Liability – to protect the consumer, seller, and even Amazon from any legal or health issues.
Brand Integrity – to protect the integrity of a brand and maintain supply chain control.
Consumer Confidence – to optimize user experience (UX) and to keep quality control standards consistently high.
Fair Pricing – to avoid price gouging by unscrupulous sellers in times of product shortages or extraordinary circumstances.
Restrictions that come from the first two reasons – Safety and Liability – tend to be the strictest. This is because certain products can be dangerous for consumers if they're misused or improperly labeled. This includes the Health & Personal Care subcategories we discussed in the last section.
Additionally, Brand Integrity or Consumer Confidence restrictions are usually applied to brands that are frequently counterfeited. Unfortunately, it's not uncommon that dishonest sellers will buy cheap knockoff products and then sell them as the real thing. This is especially common with electronics, clothes, and perfume.
As a result, Amazon makes these categories, subcategories, or brands restricted. To gain the privilege of selling these items, you have to "prove" that you're a legitimate, responsible, and trustworthy seller. This is why Amazon has gated versus ungated categories.
Restricted Categories On Amazon In 2022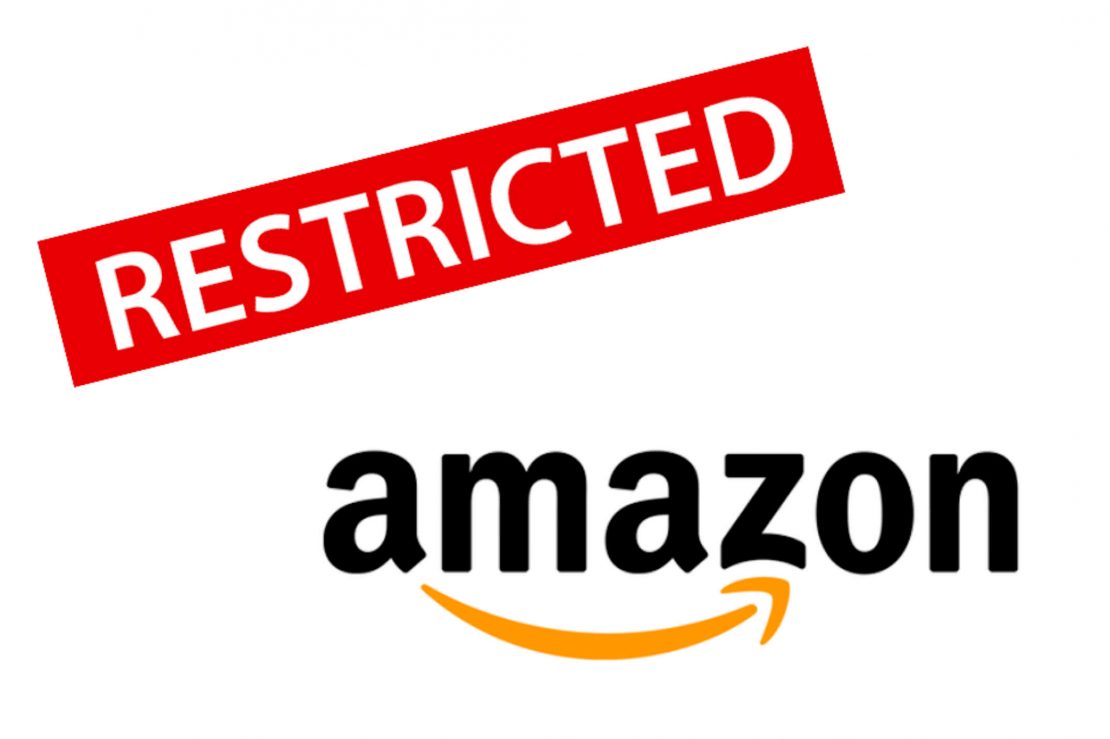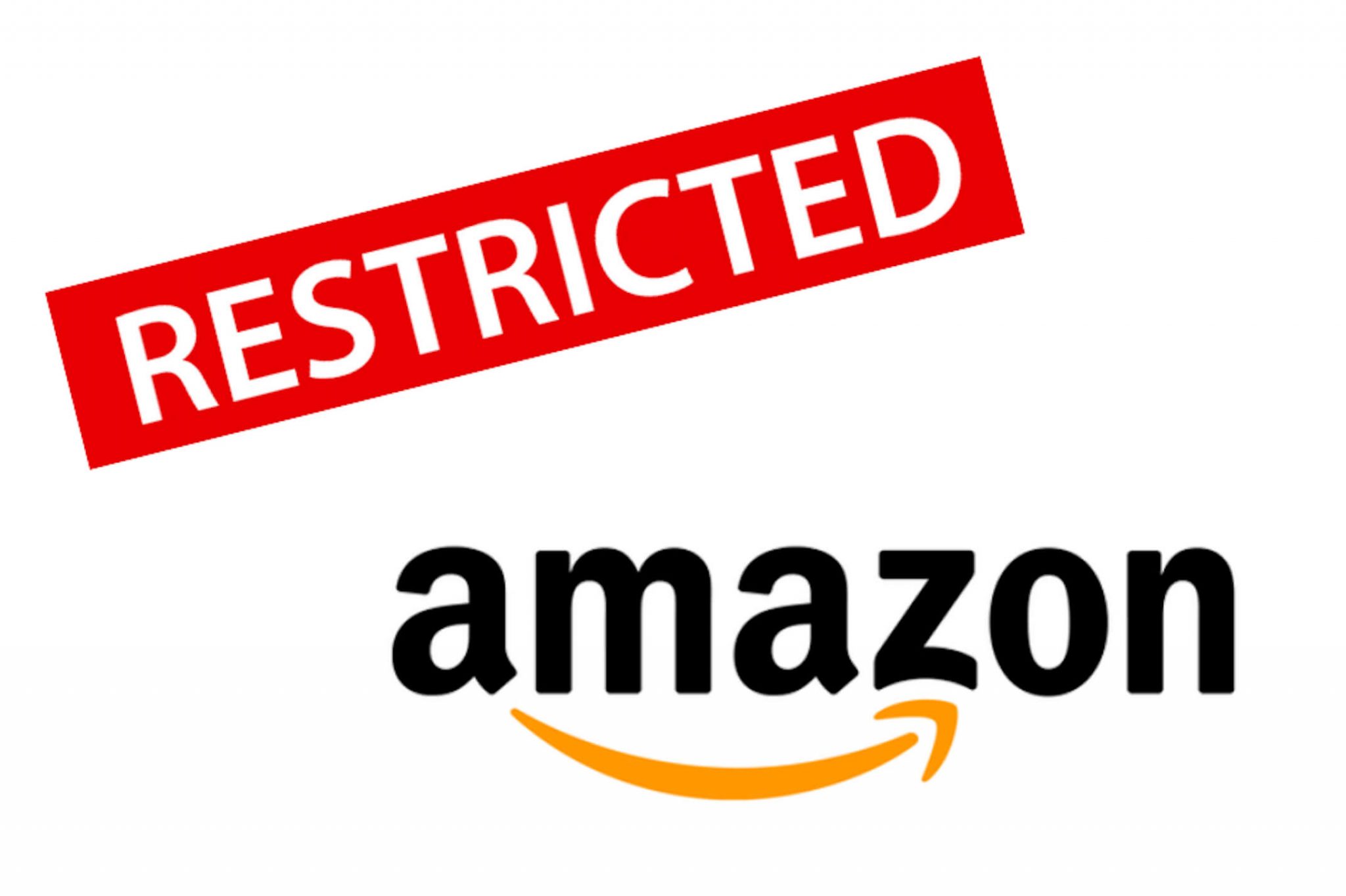 A restricted category on Amazon requires approval for you to sell it – in other words, it's another way of saying gated category. It's important to point out both of these terms as they may be used interchangeably.
As of 2021, these are the restricted/gated categories on Amazon:
Additionally, certain subcategories are restricted or gated. This is true even if the general category above that subcategory is ungated.
For example, Health & Personal Care products are ungated, but the following subcategories are gated:
Contraceptives
Dietary Supplements
Feminine Hygiene
Hair Care & Beauty Appliances
Medical Devices
OTC Medication
Sports Nutrition
Topical Treatments
Finally, Amazon can also restrict specific brands, even if that brand carries products in an unrestricted category. Some of these brands are widely known and extremely popular, so you'll have to check to see if the brand you want to sell requires approval.
As of 2022, a few of the gated/restricted brands on Amazon include:
Adidas
Apple
Aquafina
Beats By Dre
Dolce & Gabbana
Lancome
New Balance
Ralph Lauren Perfume
These gated categories, subcategories, and brands can change from year to year, depending on Amazon's policies. So an ungated category might become gated the next year (and vice-versa). As a result, being an Amazon seller means you have to keep an eye out and always do your due diligence.
How Do I Apply To Get Ungated On Amazon?
Fortunately, the Amazon ungating application process is fairly simple. Let's take a look at the basic steps below.
1. Sign up for an Amazon Professional Seller account – this is the one that costs $39.99 per month.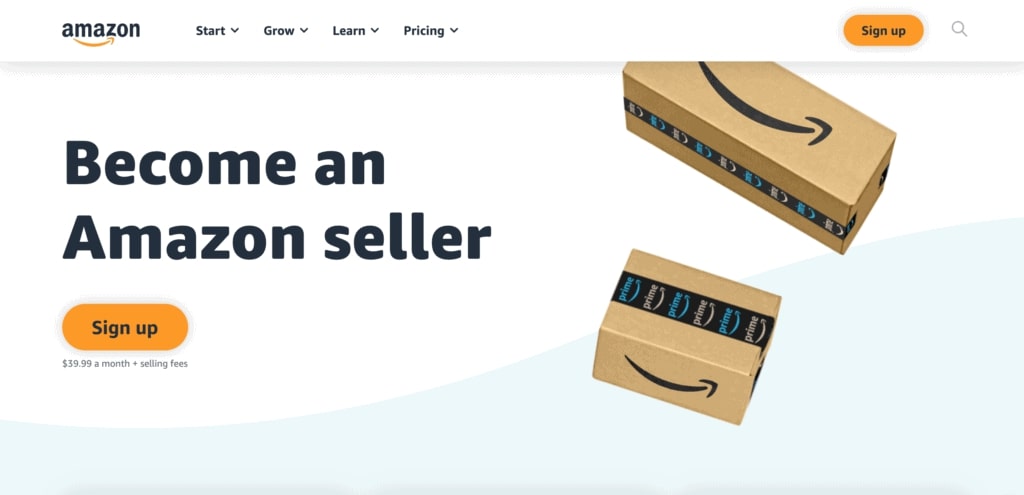 2. Go to Seller Central, click Inventory, and select Add A Product.


3. Find a product that's in the category, subcategory, or brand that you want to sell (even if you decide not to sell that specific product after the ungating). You can do this by searching the product name, brand, or the ASIN (Amazon Standard Identification Number).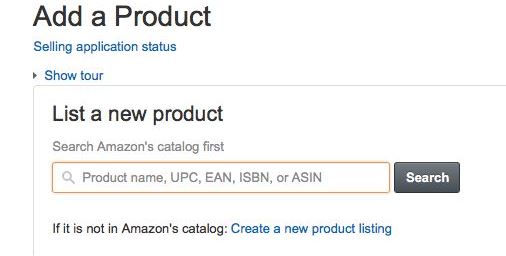 4. Click Listing Limitations Apply across from the product in the search results.

5. Click Request Approval. Notice that Amazon states that they're not accepting ungating applications for certain subcategories.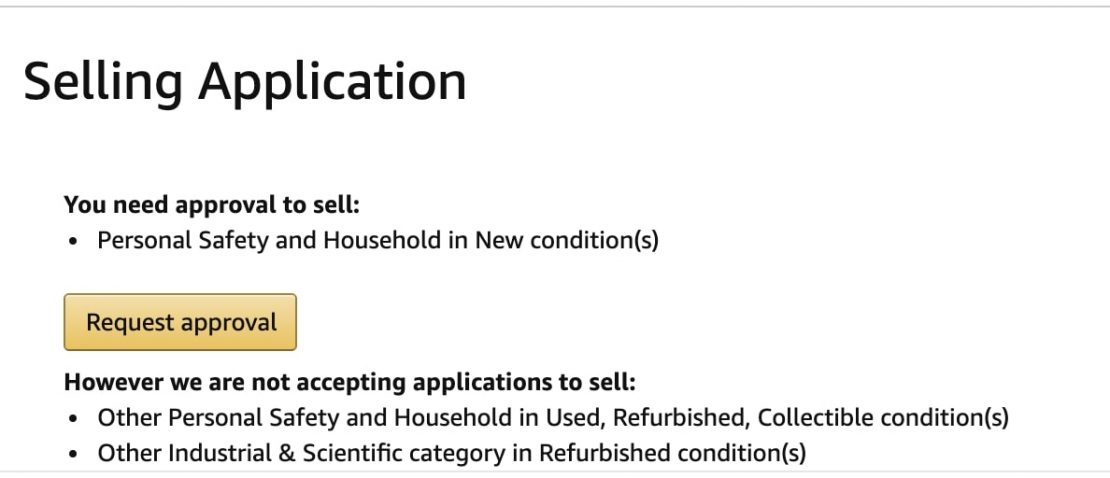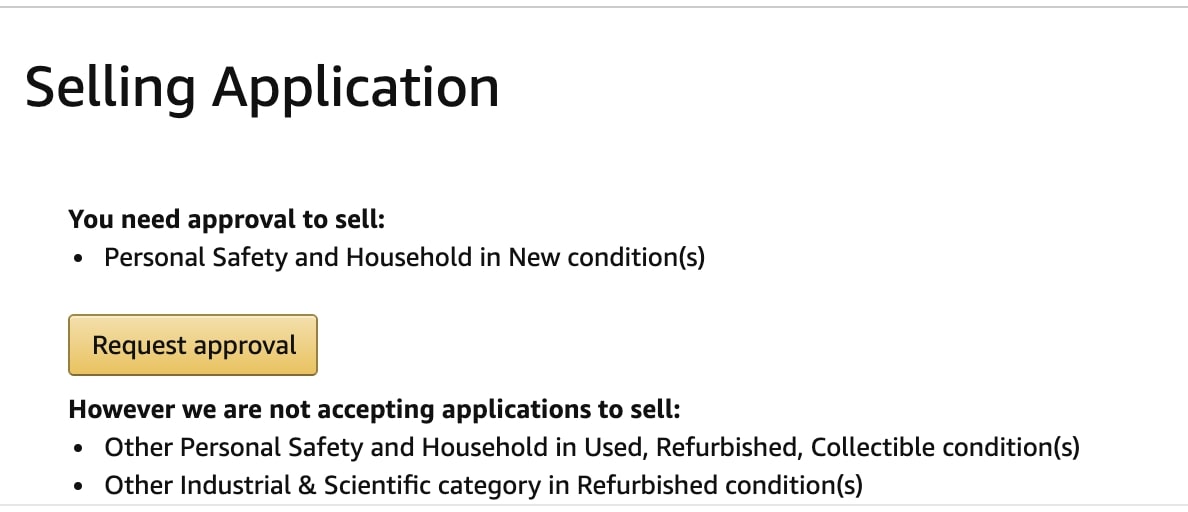 What happens next depends on the category or subcategory you're trying to get ungated for. Some will be more difficult and involved than others, although most of them will require further documentation.
This can include:
Itemized invoice (with contact information for your supplier)
Letter from the manufacturer/brand owner (if you're buying wholesale)
Monetary fee
Other documentation or extra information
Additionally, you may need to meet specific requirements. For example, you need three years of experience to be ungated in the Fine Arts category. If you want to sell Medical Products, then you'll need FDA approval and you'll have to follow ultra strict seller guidelines.
It's important to note that Amazon isn't always accepting applications for ungating in certain categories. For example, let's take a look at this screenshot for Sports Collectibles in the Amazon Seller Central:

Amazon does not explicitly state why it isn't accepting applications at any given time. Maybe they have a backup of applications or maybe they're revamping their requirements – remember, aspects of the Amazon ungating process can be slightly secretive at times.
10 Tips To Help You Get Ungated On Amazon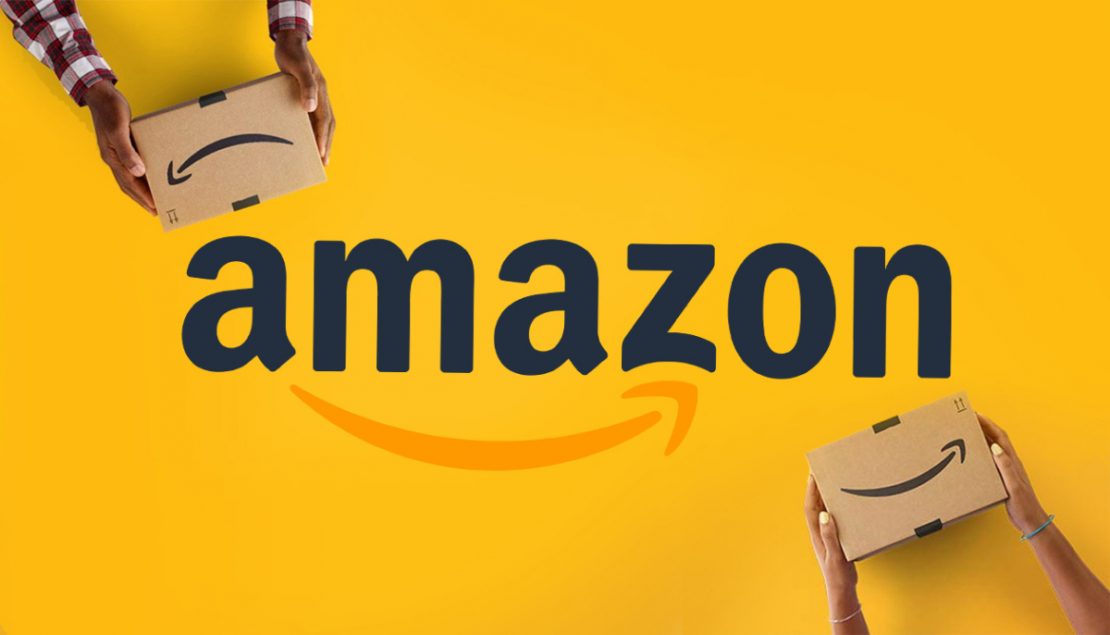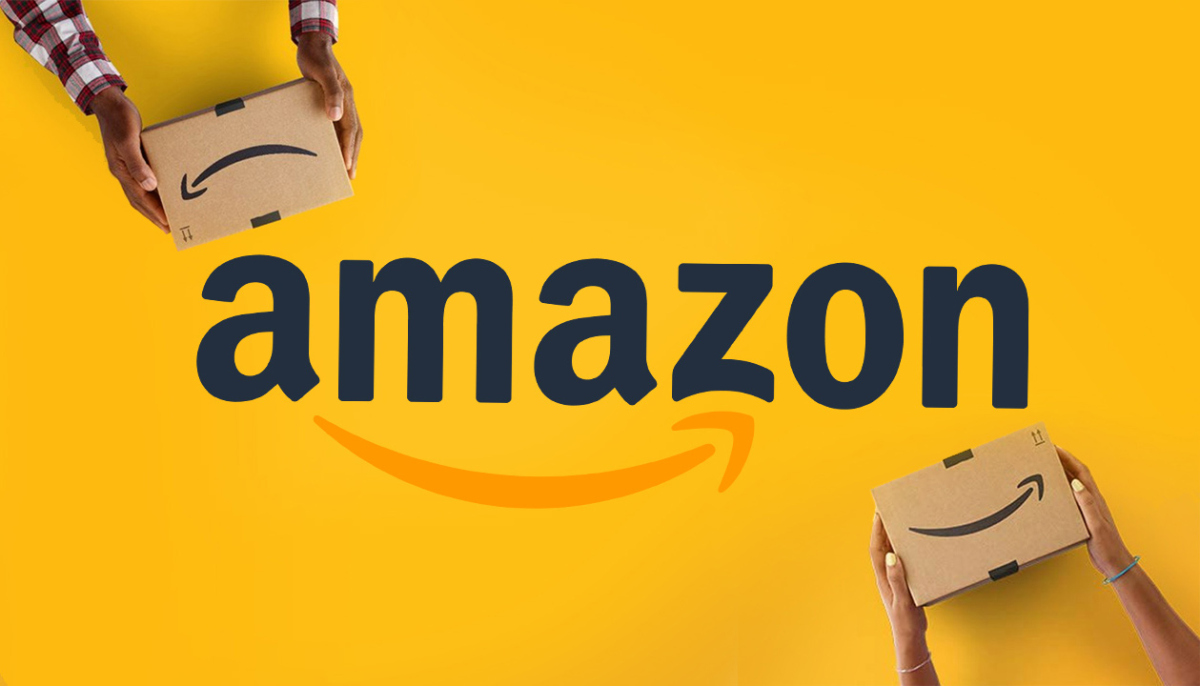 Ultimately, the ungating process for sellers is a little bit mysterious – the Amazon service agents that handle your applications don't give a detailed breakdown of what they're looking for. You'll be given general instructions, but they won't give you any pointers or tips on how to increase your chances.
In some cases, they may not even give you a reason at all! They'll just say that it's "proprietary information" and you'll be instructed to apply again.
With that in mind, we've put together a list of some useful tips to help you get ungated on Amazon.
1. Include the contact information for your supplier or sales rep
If you have a dropshipping store or sell via Amazon FBA, you should always include the contact information for your supplier. If you deal with one person exclusively, that's even better, since you'll have a personal relationship with them.
This is because Amazon has been calling suppliers more frequently, essentially treating them as if they were sellers' references. This helps Amazon establish your credibility, reliability, and trustworthiness as a seller, so make sure you pay your supplier on time!
In the Optional Comments section of the application, make sure you include the following contact information for your supplier or sales rep:
Name (if applicable)
Email
Business phone
2. Send a finalized invoice

Invoices are generally the crucial piece of documentation that you need to get ungated on Amazon. Some categories or brands with stricter requirements may ask for more in the application, but pretty much every single ungating application will require an invoice.
Make sure you send a finalized invoice. In other words, the invoice must show proof of payment since it's a document that establishes when an order has been fulfilled. This means that it shouldn't be the order confirmation that the supplier sends you when you first put in your order.
Usually, the official, finalized invoice comes inside the final package and has an itemized list of what you've purchased from the supplier instead of what you've ordered. Additionally, the finalized invoice is distinct from the packing slip that will be included in the package when it's shipped out.
With so much paperwork, it's easy to lose track! Generally, an invoice will include the following:
Invoice number
Date of order
Shipping and billing address
All contact information for the supplier/manufacturer
Packing slip number (if cross-referenced)
Itemized list of goods purchased with quantity, size, and weight for each
Stock Keeping Unit (SKU) numbers or Universal Product Codes (UPC) for each product
Payment terms and information
If you'd like to speed up the application process before you've received the final goods, you can ask your supplier or sales rep for a mock invoice. Just make sure that it has all the necessary information, including an itemized list of products purchased and supplier details.
3. Do not use an editable format for the invoice
Remember that Amazon uses gated versus ungated categories to avoid unscrupulous sellers who are trying to game the system. As a result, every part of the application process should be kept as legit as possible.
When submitting your invoice to the Amazon service agents, make sure it's not in a format that's editable or easily doctored. This means that PDF files are preferable to Word (PC), Note (Apple), or Open Office (Linux) files.
If you get a hard copy of the invoice, then you should scan it and send it with your application. Ideally, this should be in PDF format or some kind of picture format like JPEG or PNG. Some sellers have reported that sending a photograph of the invoice has also worked.
4. Pay attention to the address
This is another technicality that can trip up an application. If you want to give yourself a better chance at being ungated on Amazon, then you should make sure that the Ship To and Bill To addresses match each other.
Additionally, both of those addresses must match the info that you have on your Amazon Seller Account.
This means that even before you start the ungating application, look through your account and make sure that all contact information is accurate and up-to-date. Little details like these could trip up the process, and the service agents may not even point out what's missing or mismatched.
5. Try a different Amazon service agent
Like we discussed above, the entire ungating process is kind of mysterious. If you frequent any social media groups or forums for Amazon sellers, you'll see that there's plenty of discussion regarding ungating and hot to best navigate this process.
In many of these posts, applicants try to predict what the service agents may be looking for in your application. Remember, rejected applicants don't always receive a reason for the rejection – in some cases, the service agent doesn't mention at all why the seller wasn't ungated.
However, with all these experienced sellers working together to try and decode the ungating process, they seem to have arrived at a general consensus: some Amazon service agents are tougher than others.
If a service agent rejects your application, you can always withdraw your application, wait a few days, and then re-apply in the hopes that you'll get a different agent. Unfortunately, you can't request service agents by name, but sellers have reported that this strategy sometimes works!
6. Have good performance metrics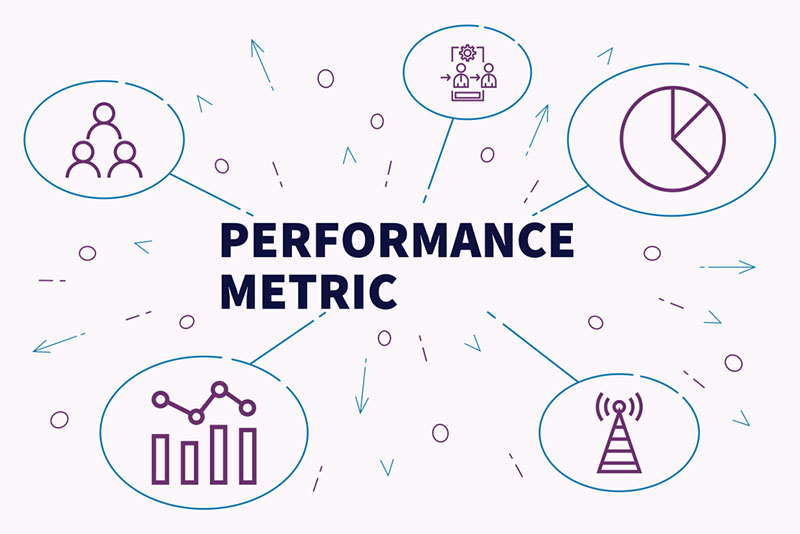 Before Amazon ungates you, they want to make sure that you're capable of selling in these restricted categories. That means having strong performance metrics and a positive reputation with buyers.
In general, you should aim for the following:
Order Defect Rate (ODR) under 1%. This is the percentage of orders that get negative feedback.
Pre-Fulfillment Cancel Rate under 2.5%. This is the number of orders that are canceled before shipment confirmation.
Late Shipment Rate (LSR) under 4%. Also known as Late Dispatch Rate, this is the number of orders shipped after the expected ship date.
Ultimately, keeping these metrics high will both help you in the ungating process and keep your store healthier and more profitable.
Some gated categories have required metrics that are specific to them. For instance, if you want to sell Sports Collectibles, then you must maintain an Order Defect Rate lower than 0.75%.
7. Choose recognizable brands
You have to choose a specific ASIN to submit for the ungating application. This applies even if you want authorization for a category, subcategory, or brand. In other words, to get approval in the category you need to get approval for the product.
That being said, it's best to choose well-known companies. For example, let's say you want to get ungated in the Topical Treatments subcategory. You should apply with a product from a brand like Lancome rather than, say, private label goods.
When it comes to ungating, the name recognition of the brand will go a long way, even if you decide not to sell that particular brand in the future.
8. Convert product ID numbers to ASIN
If you really want to make it easy on the Amazon service agent and get on their good side, then take the time to convert all the EAN, ISBN, and/or UPC numbers of the products on your invoice to ASIN. This will make it ten times easier for them to cross-reference all the gated products, brands, and categories.
You can use this handy EAN to ASIN conversion tool as well as this UPC to ASIN conversion tool, both of which can be used for lists to do the conversions in bulk. If you have a bookstore on Amazon, then you can use this bulk conversion tool for ISBN to ASIN.
However, do not doctor, edit, or alter the official, final invoice in any way! If you do, the application will be automatically rejected. Instead, keep the regular EAN or UPC numbers on the invoice and attach a separate document with the ASIN numbers.
Some products don't have a product ID, otherwise known as a Global Trade Item Number (GTIN). In other words, they don't have a UPC or an EAN for you to even convert into the ASIN format. These are usually handmade goods, private-label products, automotive parts, or product bundles.
In this case, you can apply for a GTIN Exemption. However, Amazon has a list of brands that absolutely require a GTIN – if you have a product without a GTIN from one of these brands, then it will automatically disqualified from the ungating application.
9. Try submitting the application during regular US business hours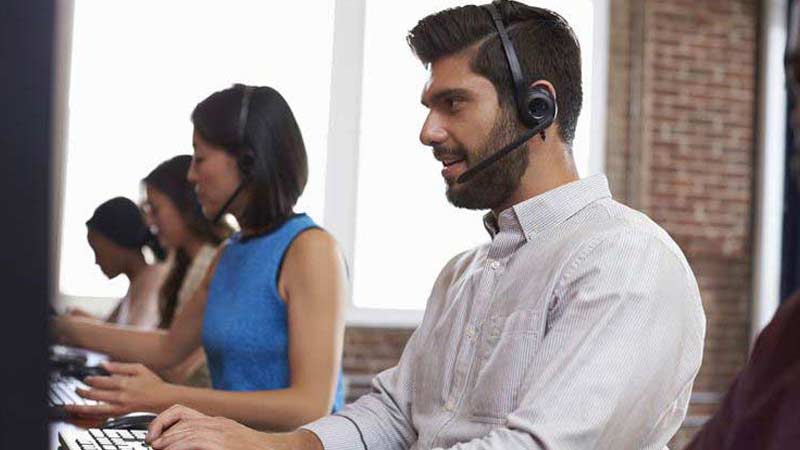 You can submit your application during regular business hours if you're hoping to speed up the process. If you're lucky, then a service agent will look at it on that business day and give you an answer or request more documentation right away.
When the agent asks for more documentation, don't procrastinate! If you do, the service agent might inadvertently push your application back as they deal with more applications that come flooding in.
Obviously, this only works for applications that are fairly quick.
10. Use an Amazon ungating service
If you don't want to deal with the hassle of ungating yourself, you can always go with an ungating service. These companies will handle all the logistics for you and – in some cases – can even advise you on how to develop a superior "ungating strategy" if you'd like to expand into other categories or subcategories.
Of course, you'll have to pay for these services. According to most sellers who use them, they can get pretty pricey. However, if you end up ungated in a lucrative category and do well for yourself, you can certainly justify such an expense for your long term success.
The best Amazon ungating services include:
How Long Does It Take To Get Ungated On Amazon?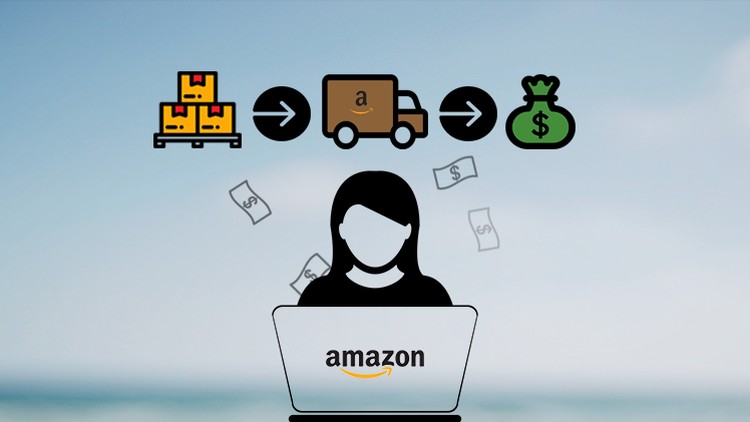 This is a really simple question with a really vague answer: It depends.
Under most circumstances, ungating on Amazon can take anywhere from a few hours to a few days. First of all, some categories are easier to get approval for than others. Plus, if you're an experienced seller with a long and positive sales history, it will speed up the approval process.
Sometimes you even get near-instant approval in categories with Automatic Approvals. This means that your seller record and performance metrics were sufficient to get you ungated right away.
When this happens, you usually receive an email that says something like: Congratulations! Your selling application for [brand/category name] has been approved based on your performance history.
On the other hand, some sellers report that it can take two to four weeks to get approved, depending on the category and the amount of necessary documentation required. If there's a huge influx of new applications and not enough Amazon service agents to process all of them, you can expect to wait much longer.
If your ungating application is rejected, then you'll receive an email. Usually – but not always – the service agent gives a reason. However, this is not a given, and sometimes the application just gets rejected with no explanation. Instead, the agent will just tell you that it's "proprietary information" and to apply again.
If you do get a reason, it's usually pretty general and not very detailed. For instance, the service agent might not have been able to verify the supplier information on the invoice you provided.
In the event of a rejection, you'll have 14 days to either appeal or send in whatever documentation they request.
Sell On Amazon With GreenDropShip
GreenDropShip is a US-based wholesaler and dropshipping supplier with over 20,000 natural and organic products. Most of these items are made in the USA and come from in-demand brands that consumers know and love.
We have a huge selection of specialty and gourmet products in our inventory, including:
Beverages like coffee, tea, kombucha, yerba mate, natural soda, and juices
Organic sugar and natural sweeteners
Dairy and plant-based milk
Baking ingredients, including different types of flour
Sauces, marinades, and dressings
Spices and ingredients
Vegan, vegetarian, and plant-based goods
Vitamins and supplements
Skincare, haircare, and beauty products
Baby products
Home products like detergents, soaps, and cleaning supplies
Pet food, treats, and supplements
Essential oils and aromatherapy
If you have a dropshipping store, you can become a member and we store, pack, and ship the orders to your customers. With multiple warehouses throughout the country, our shipping times are always short and your customers get their products faster.
We also offer Amazon FBA prep services to our members at no extra charge. With our product feeds, it's also super easy to add and sell our products on Amazon.