Guide to Amazon Dropshipping
If you're an independent entrepreneur looking for a way to make money online, then Amazon dropshipping should be at the top of your list. It can be highly profitable because it's so convenient and low-cost. But before we get into the specifics of having your own Amazon store, let's define dropshipping first.
Dropshipping is an online retail model in which the seller does not handle any of the inventory. Instead, this becomes the responsibility of the dropshipping supplier – they store, pack, and ship all orders to the end consumer. This way of doing business has plenty of benefits, including the fact that the startup costs and overhead are very low. In fact, you can start dropshipping with very little money. Plus, there's less risk compared to more conventional retail models since your supplier handles the inventory and you order only as much as you sell, so you won't get stuck with unsold goods because you ordered too much inventory. This frees up a lot of time and resources so you can focus on marketing to customers.
Now that we've established the basics, let's take a look at how you dropship on Amazon.
What Is Amazon Dropshipping?

It's pretty simple: this is the process of using Amazon as the e-commerce platform for your dropshipping store. Just about everyone is familiar with Amazon – it's an absolute giant in the world of online retail. This makes it the ideal platform for independent entrepreneurs like you to sell goods to online shoppers.
The basic steps to Amazon dropshipping are:
Sign up as a seller on Amazon.
Import your products to list them on Amazon.
The customer buys an item.
You submit the order to your dropshipping supplier like GreenDropShip.
Your dropshipping supplier packs and ships the product to the end customer.
Let's also take a look at the profit formula for dropshipping on Amazon:
Profit = Retail Price – (Wholesale Price + Costs/Fees)
The retail price is the amount your customers pay for a product while the wholesale price is the amount you pay for a product from your supplier. Plus, costs and fees are additional expenses you'll have for your online store. These include your membership to a dropshipping supplier, Amazon Seller Plan, and shipping fees. Since you don't have to pay for inventory storage with the dropshipping model, this is not included in the formula.
Because there are so many benefits to using this model, Amazon dropshipping is very popular with online retailers. For instance, let's take a look at some Google Trends data: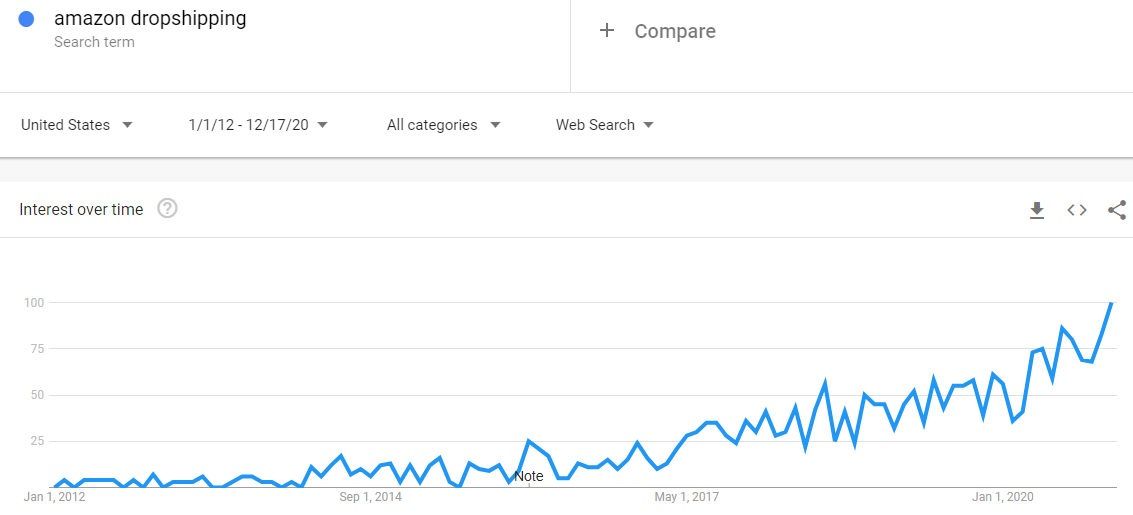 As you can see, the search interest for Amazon dropshipping has steadily increased since January of 2012.
It's important to note that dropshipping is not the only retail method you can use to sell on Amazon. You can also use Fulfillment by Amazon (FBA) in which your inventory is stored at Amazon fulfillment centers and Amazon staff handles packing and shipping.
Finally, if you're using Shopify as your e-commerce platform for your dropshipping store, you can still easily sell on Amazon. That's because Shopify allows users to add Amazon as a Sales Channel on the platform. This makes managing orders easy and convenient on both platforms by allowing you to push your Shopify product listings to your Amazon store. You'll have to have an Amazon seller account and pay the seller fees, but it's a great way to maximize the reach of your dropshipping store.
What Are The Benefits of Amazon Dropshipping?
Dropshipping on Amazon offers plenty of benefits, including:
1) Low startup and operational costs
Amazon dropshipping is not expensive for the online resellers. All you have to do is invest in an Amazon Professional Seller Account for $39.99/month and choose a dropshipping supplier. Remember, the usual expenses of running a retail operation do not apply to a dropshipping store. For example, you do not have to worry about storing, packing, or shipping inventory – your dropshipping supplier takes on those costs. Additionally, Amazon dropshipping is a low-risk business model. Because you don't have to stock items, you'll never end up with a surplus of unsold inventory.
2) An extensive customer base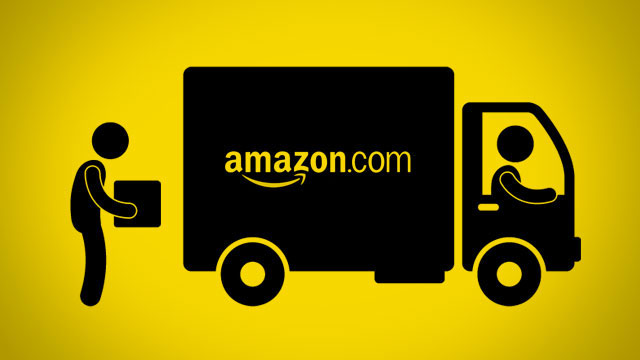 Your store needs customers – it may seem obvious to say, but it's important to stress that fact. The more customers, the greater potential for profits. One of the biggest benefits of Amazon dropshipping is the massive customer base. It's a retail giant online, and it has over 300 million active users and counting. This can mean incredible profits for a dropshipping store. In fact, Amazon offers the chance to connect with customers that would not be possible if you opened your store on another platform.
3) Consumers trust Amazon

Name recognition and consumer trust are hugely important in e-commerce. Due to its enormous success, Amazon has become a retail giant in the world of online shopping. According to a 2019 study from Feedvisor, 89% of online shoppers state that they are more likely to buy products from Amazon than other e-commerce stores. This tremendous consumer trust also extends to third-party sellers and dropshippers on the platform. In other words, just having your products listed on the Amazon website gives you credibility with consumers.
4) Access to various niches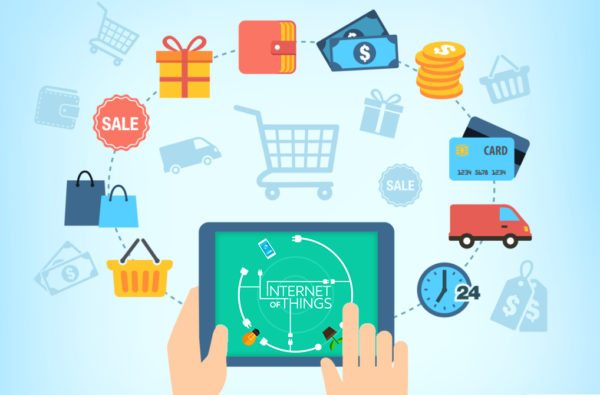 Amazon has a huge inventory of products, so it'll be easy for you to target a niche or even multiple niches. Choosing the right niche is crucial to your success. This allows you to hone in on a target audience and focus on specific consumers. Plus, you can find a niche that has less competition from other retailers. Amazon has over 30 broad categories to choose from, with multiple niches in each. With the right supplier and a good selection of products, you can target multiple niches and enter numerous new markets.
Because Amazon is the type of retail store where online shoppers go to find just about anything, they won't bat an eye at an online store that carries various types of items. Just be sure you use these tools to find the right niche for your dropshipping business.
How To Dropship On Amazon
Amazon dropshipping is a great way to make money online – either as a side gig or a full-time job. It all depends on how you set up your store, the types of products you sell, and how much time you put into it. Luckily for you, getting started is simple! Not only that, but you can also learn how to sell on Amazon for free. It's easy, so let's start here with a step-by-step guide on what you need to do to start making money online.
1) Create an account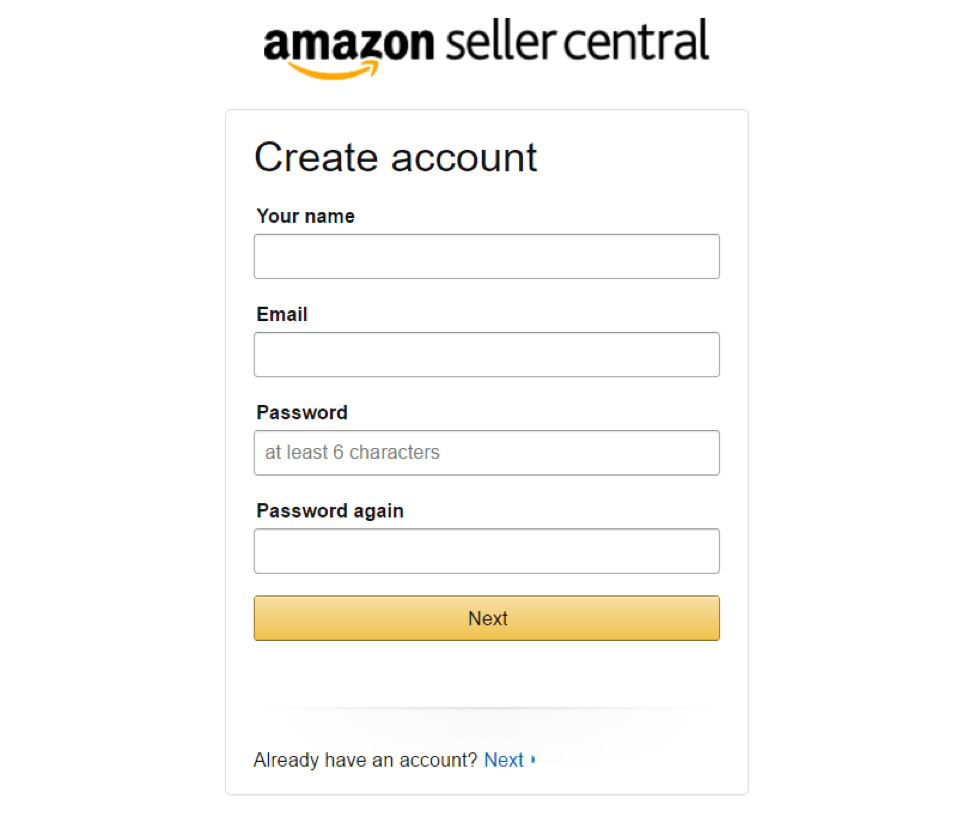 The first thing you'll want to do is create a seller's account on Amazon. You can open an individual seller's account or a professional account. However, with the individual account, you're going to be charged $0.99 per item sold. But with the professional account, you pay a subscription fee of $39.99 each month and are exempt from the $0.99 per item sold.
For a dropshipping store, the professional account is definitely the way to go. The $0.99 per item fees can eat away at your profit margins. Plus, most dropshippers have the goal to sell in high volume anyway. So it's just a better investment to sign up with a professional account.
Registering an account with Amazon is easy. Just go to Amazon Seller's Central and follow the prompts that will tell you what information to input.
2) Find an Amazon dropshipping supplier
The next thing to do is find an Amazon dropshipping supplier that can store and ship the products to your customers.
You'll want to choose one that has the right inventory as well as a competitive membership price. Remember that your profit formula includes whatever fees you have to pay to the e-commerce platform (Amazon, in this case) and your dropshipping supplier. Additionally, you have to make sure your dropshipping supplier integrates fully with Amazon, thereby making the process easier and more convenient so you can focus on marketing to consumers. Don't forget that Amazon dropshipping is different than Amazon FBA, so be sure you don't confuse the two e-commerce models.
You can also use an online directory to find a dropshipping supplier. These provide lists of screened and vetted dropshipping suppliers. The most popular directories include:
It's important to note that, with the exception of Wholesale Central, all of these require a membership cost to access the directory. If you're trying to save every penny while launching your Amazon dropshipping store, you may not want to fork over the cash to look at these directories. In that case, it may be better to identify the type of product you want to sell first, and then just do a simple Google search to identify dropshipping suppliers.
For example, GreenDropShip is a premium dropshipping supplier that integrates easily with Amazon. Plus, we have over 20,000 natural and organic products to choose from, most of which are made in the USA. Natural and organic products have become extremely profitable, so a supplier like GreenDropShip can offer a huge inventory of goods that all fall under that broad category.
3) Pick the right products
In order to be successful as an Amazon seller, you'll need to find the right products. Remember that Amazon has over 30 broad categories of products, with multiple niches in each one. You can explore these categories by using the general search function on the Amazon home page. This is a great starting point, and it doesn't even require you to start a seller's account just yet.
Additionally, there are other tools that you can use to find the right products. For instance, Jungle Scout's Opportunity Finder can be used to find both the right niche and profitable products for Amazon dropshipping. Of course, you'll have to make sure that the products you find overlap with the inventory that your supplier has available. The products will be easier to sell if they match these general criteria:
The competition level is low or very low.
Has a niche score of at least 7.
At least 100 unit sales per month.
As we mentioned above, you can also use the free Google Trends tool. It's helpful in identifying any potential trends on the Google search engine, including products or niches that could be profitable in your dropshipping store. For example, let's look at search interest for essential oils over the past 8 years on Google: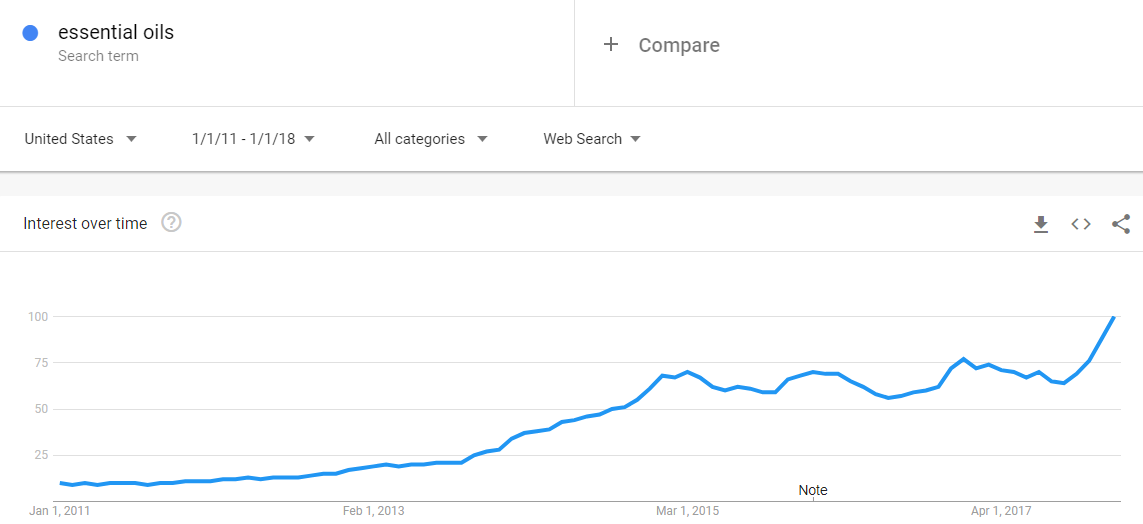 As you can see, there's been a steady increase in search interest for essential oils. That means that there's a very good chance that this niche will have lots of profitable products for your Amazon dropshipping store.
4) Import Products into Amazon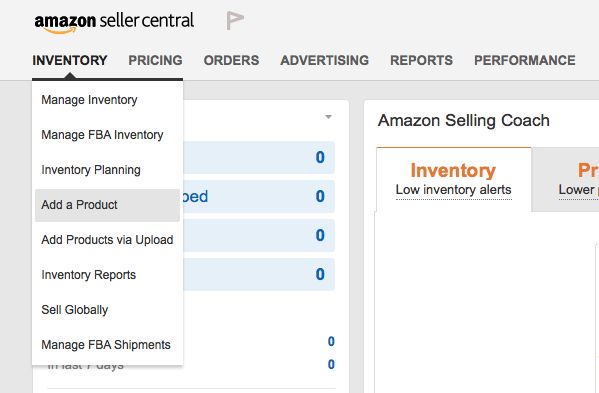 Once you've used your tools to identify potential products and niches, then you'll have to choose a supplier that carries these products. However, certain product categories require approval from Amazon. Fashion, beauty, and jewelry are some of the popular niches that require approval before you can start selling them. You can view the specific Amazon approval requirements for each category.
To add your supplier's products to the Amazon catalog, you need to import them first. If you're using an external supplier such as GreenDropShip, you just need to:
Sign up for a dropship membership on GreenDropShip.com
Download the product feeds and select the items you want to sell
Upload the product feeds into your Amazon store
As you can see, GreenDropShip makes the process very convenient and easy. That's why it's important to choose a dropshipping supplier that fully integrates with your Amazon dropshipping store.
5) List your inventory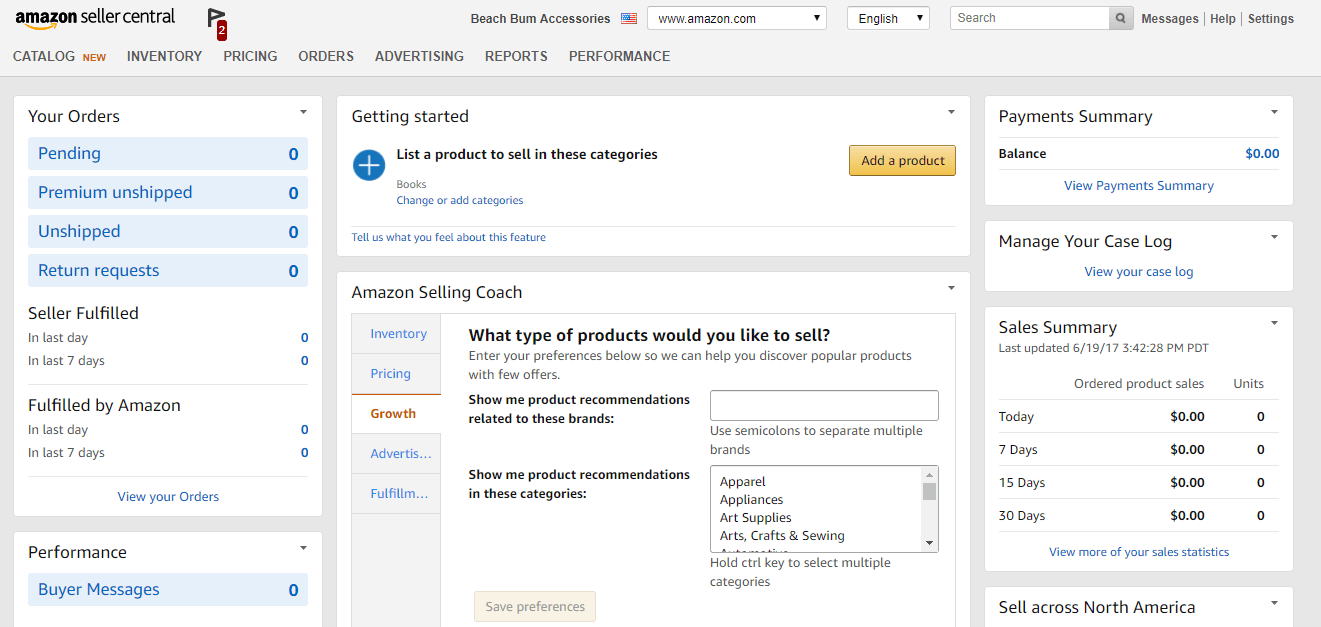 The next step is to create Amazon listing by adding the information specific to the products in your inventory. If you use a dropshipping supplier like GreenDropShip, then make sure you use the high-resolution images and accurate product descriptions that we include for every listing in our inventory. We created these especially to help our retailers craft informative and catchy listings that will get the attention of online shoppers. Keep in mind that Amazon has strict guidelines on product images. More information can be found on the Amazon Seller Central page.
You also need to make sure that you optimize product titles. For example, use the brand name as the first word in the title. Plus, consumers are most interested in size, color, model, and quantity, so make sure that this information can be quickly scanned by the potential customer. You can also do keyword research to find the best way to optimize product pages for search engines by using tools like Merchant Words or Google Keyword Planner.
Additionally, you need to make sure you select the shipping method. Don't forget that you must be the seller on record, so your customers won't know that your dropshipping supplier is the one shipping the products. As far as they're concerned, you'll be the one packing and shipping the items. Ultimately, that's the benefit of using dropshipping for your Amazon store – you get to divide up the labor with your supplier while acting as the public face and identity of your e-commerce store.
6) Start Selling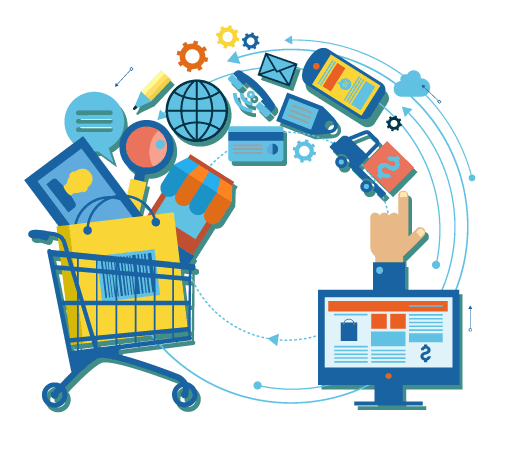 After entering the product details, click "Save and Finish" and you are ready to sell your products!
Once you get sales, you'll want to make sure Amazon is charging you correctly for shipping fees. Sometimes item descriptions like the color on an identical product can cause Amazon to charge inaccurately for shipping the item. Weight information could also be incorrect. So it's important after selling a product to make sure shipping charges are correct.
Tips For Successful Amazon Dropshipping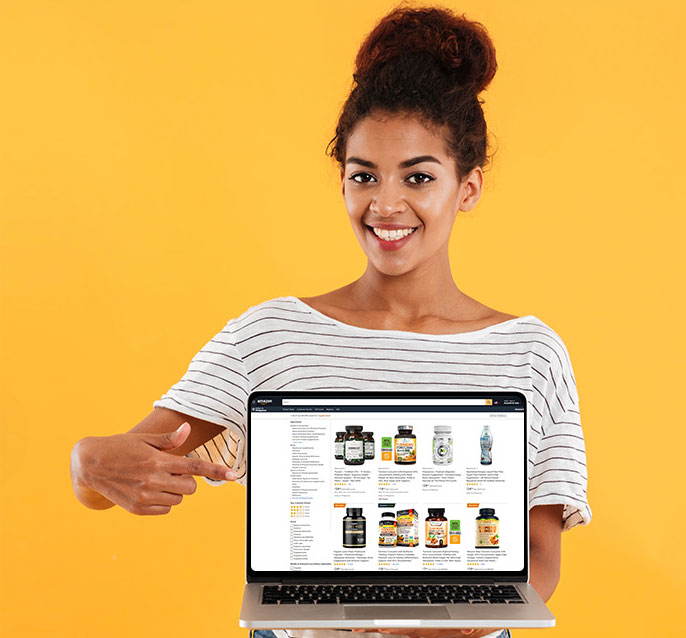 Once you set up your Amazon dropshipping store, make sure you follow these simple tips to drive sales and profits:
Make sure your prices are competitive
You can follow these simple guidelines for pricing your items in your dropshipping store. Essentially, you have to make sure that they're higher than the wholesale price plus fees, but not so high that online shoppers go elsewhere (or to another third-party seller on Amazon). It's a delicate balance and it might take some practice.
Get the Buy Box
These are the sellers who are displayed on a listing with the ADD TO CART next to their name. This is valuable real estate on the Amazon product page since most sales come from the Buy Box. To be approved, you'll need a high seller rating of at least 95%.
Keep your Seller Rating high
This is important, as it indicates to online shoppers that your store has high customer satisfaction. It also results in fewer refunds or returns. Make sure you choose a dropshipping supplier that ships quickly and effectively.
Create an Amazon Coupon
Log in to your Seller Central account and select Coupons from the Advertising menu. Then you can create a new coupon and determine how much discount you'd like to give. Everyone loves a good deal, so this can be a great way to build up a customer base.
Use an Amazon Advertising campaign
Amazon Advertising can help you reach customers at any stage of the online shopping process. It offers services like audio and video ads as well as sponsored products, brands, or displays. Additionally, they have a competitive cost per click (CPC) and your products will show up at the top of an Amazon search.
The Best Tools for Dropshipping on Amazon
Remember that by choosing to have a dropshipping store on Amazon, you won't have to deal with inventory or stock management. Let's take a look at a list of tools and apps that are useful for online sellers. They can be used for any kind of selling on Amazon, but they're especially valuable if you're launching your dropshipping store
1) Price Trackers
Let's start off with a list of tools that allow you to compare and contrast the prices of various products. These are crucial for online retailers as it allows them to figure out how much other merchants are charging for a specific good. Dropshipping is a crowded marketplace. This means that if you want to have customers, you'll have to set competitive prices. A price tracker tool allows you to determine the best possible price in order to keep your profit margin healthy while keeping customers happy.
Camelcamelcamel is a free price tracker that is absolutely vital for any Amazon dropshipping store. It has a highly customizable price history graph with settings that can be configured to show a given product's price history for the previous 1 through 12 months. You can also use the slider bar to display price histories from other third-party sellers as well as Amazon itself. This also allows sellers to see the top price drops for a given product. You can even sign up for alerts so that the tool will notify you as soon as the price drop happens.
This tool is available as a browser extension for Chrome, Firefox, and Safari. However, for maximum efficiency and convenience, you should use the Chrome extension called Camelizer as it provides all of this information in real-time.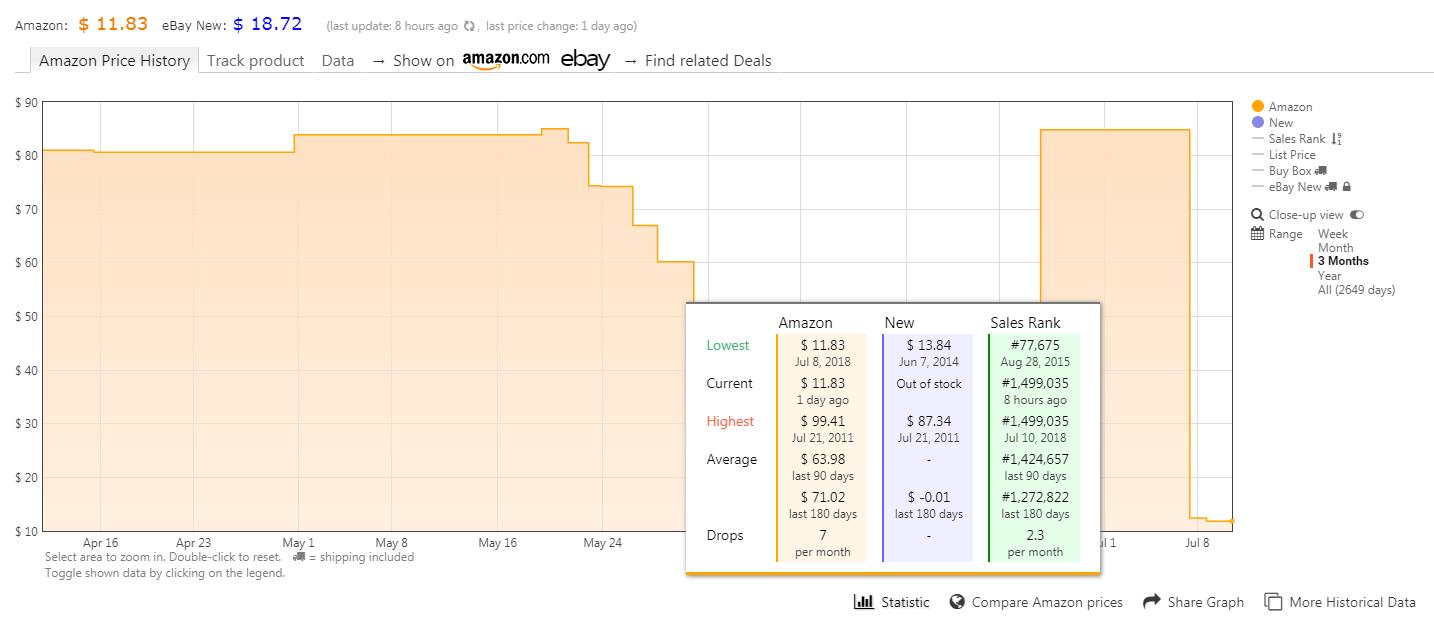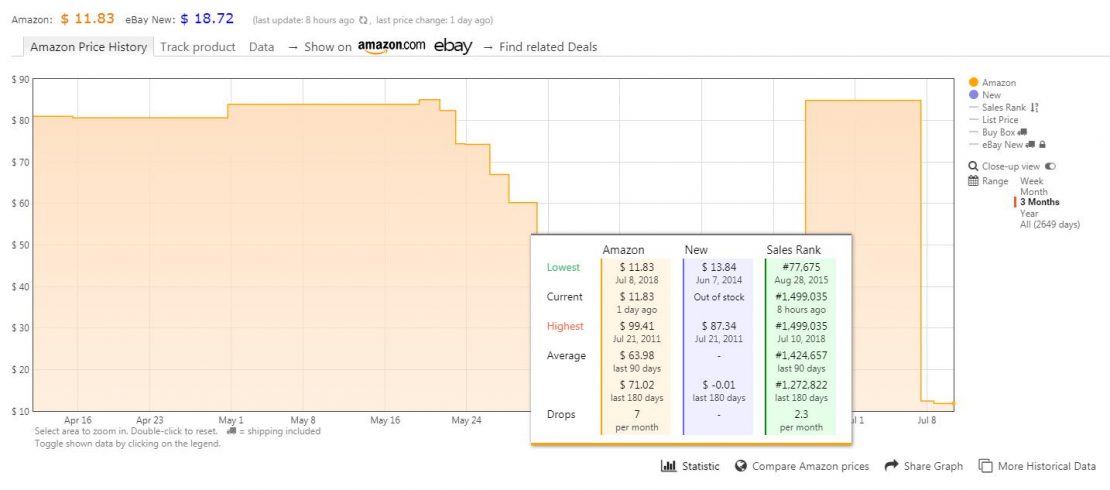 Keepa is another free price tracker tool. Its price analysis is more granular than Camelcamelcamel. In other words, the data it tracks is much more detailed but it does not go back as far in time.
This tool also has a highly intuitive user interface (UI) with four primary colors to keep track of. They break down as follows:
Orange – Amazon marketplace
Blue – New items
Black – Used items
Green – Sales rank of a given item
Additionally, Keepa offers comprehensive price history, visual graphs, availability alerts, current deals or promotions, and a constantly updated product database. Much like Camelcamelcamel, it's available as a browser extension for Firefox, Chrome, and Safari. However, its functionality is the same on all three browsers.
While both of these price trackers are mostly free, they also come in a "freemium" package ($20 per month for each) where certain advanced functions require payment. These include "sales rank number" and "sales rank history".
One of the most important pieces of information for an Amazon seller is the sales rank number. It refers to how slow or how fast a given item will sell on Amazon, giving sellers more confidence to choose the items they want to include in their dropshipping store. An item with a lower sales rank number will sell faster than one with a high rank number. Sales rank history provides this valuable information over an extended period of time, allowing sellers to predict sales trends. Ultimately, the more information you have, the better decisions you can make.
2) Product Research
Research is a crucial part of having a successful Amazon dropshipping store. This includes both product and market research. In other words, you'll need to understand your target audience of potential customers in order to effectively choose what products to sell and how to market them to the consumers.
Plus, doing research for Amazon is necessary in order to analyze current trends in the marketplace and choose "winning" items. This means having an inventory filled with products that can generate excellent solid sales. Essentially, you want to find products that are inexpensive at wholesale and which can be sold at competitive prices with enough of a markup to give you healthy profit margins. These tools will help you identify trends in the marketplace as well as product details so you can formulate an effective selling strategy.

Google Trends is another essential tool for online sellers. Using this particular tool will give users an effective view of what searches are trending, including historical data that can be adjusted to various timeframes, in order to keep track of what's hot and what's not. Remember, the internet shifts quickly and shoppers are fickle – what's trendy one day can be obsolete the next week. Tracking these various trends can give you a richer understanding of the marketplace's contours and consumer behavior.
Plus, you can also use the "Related Topics" function in Google Trends to find other potential niches that you may not have initially thought of. This allows you to do a thorough analysis before you start your store. Best of all, Google Trends is totally free and doesn't require installing any software or plug-ins (just visit the website).
Octoparse is a free "web crawler" tool that you can use to scrape data from Amazon listings. In other words, Octoparse can extract valuable information via the UPC/ASIN numbers on products, including:
Product details
Customer reviews
Profiles
Additionally, Octoparse provides a built-in Amazon task template with pre-set extraction data fields. This means that sellers can conveniently extract this data without having to resort to coding or setting rules. Plus, the tool easily exports the information in a number of formats, including Excel, HTML, or CSV. This makes it easy for you to analyze and look over in detail so you can choose the right marketing strategy for your dropshipping store.
Unicorn Smasher is a free Amazon product research tool developed by AMZ Tracker. It allows sellers to speed up and maximize their Amazon product research. Its analysis includes:
Product prices
Rankings
Customer reviews
Fulfillment details
Monthly sales estimates
Revenue estimates
Product metrics
Data analysis
Export tools
Unicorn Smasher ultimately takes all this information and calculates an "opportunity score" for a given product.
Having this useful information can help a seller predict the profitability of a given product and properly choose the best sales strategy for their dropshipping store. This tool is available as a browser extension for Chrome, Firefox, and Safari.
3) Paid All-In-One Tools
As an online seller, you also have the option of choosing a paid all-in-one tool for your dropshipping store on Amazon. These are designed to do multiple tasks and can be quite complex. They are a paid service, usually via a monthly membership fee that can sometimes be a little pricey. However, they can be extremely valuable as they allow sellers to track all kinds of valuable information to help their Amazon stores be as successful and profitable as possible.
This is a premium all-in-one tool that does a number of crucial tasks for your Amazon dropshipping store. AMZScout covers several key areas, including:
Product Searches
Sales Estimator
Amazon Fee Calculator
Product Tracker
Keyword Research
Data Analytics
AMZScout is especially useful for product searches and tracking to identify products that are hot on Amazon. You can break this information down on several levels, including by the day, week, month, or year. You can also target a specific holiday or season if your dropshipping store has products that are especially popular at a given time of the year.
There are two basic forms of the tool: AMZScout PRO Extension (a Chrome plug-in) and AMZScout Web App (a program that runs off the AMZScout website). The Web App is the more stripped down and basic form of the tool while the PRO Extension offers sellers the ability to track all the info in real-time while they are on the Amazon website. The Web App costs between $30 and 60 per month while the PRO Extension is available for a one-time fee of $199. They work best in combination with each other.

Jungle Scout is an extremely popular all-in-one seller's tool that comes only as a browser extension for Chrome. However, this powerful web-based software covers multiple areas that are critical for a successful Amazon dropshipping store, including:
Keyword research
Keyword Scout
Competitor Analysis
Supplier Database
Sales Analytics
Inventory Manager
Academy (with tutorials for sellers that range from introductory to advanced)
A unique feature of Jungle Scout is its extensive Product Database. There are over 70 million products that you can sort through by using a set of advanced and finely-tuned filters. Plus, you can then take the products from this database and further analyze them with the Opportunity Finder. This is a powerful feature that helps sellers find high-profit, high-demand, and low-competition niches in the general marketplace. When using the Opportunity Finder, you can sort through the data using filters like competition level, niche score, and the number of units sold per month.
In order to make the most of Jungle Scout's incredible features, it will cost anywhere between $30 to 70 per month as well as a one-time Chrome extension fee between $97 and 197.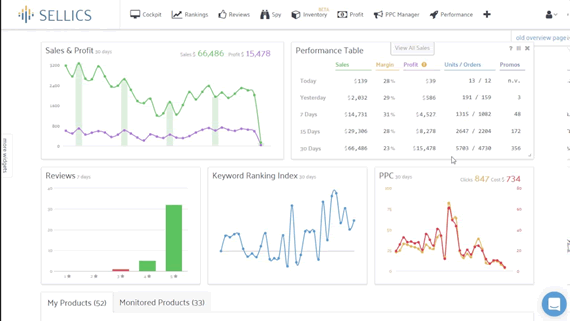 Sellics is a cloud-based program that is another popular all-in-one tool. It covers seven key areas:
Pay-per-click (PPC)
Search engine optimization (SEO)
User reviews
Market and product research
Monitoring your competition
Inventory management (not necessary if you're running a dropshipping store)
You can use these to track sales data, keywords, analytics, and even do A/B split testing on any of these tasks. Sellics is especially praised for its easy, intuitive, and convenient interface. This is a major benefit since there is so much data and information to keep track of. It's also more affordable than some of the other dropshipping tools: the price starts at $47 per month (if the store's turnover is between $1 and 60,000). You can also try the app for free for 14 days.
HelloProfit is a cloud-based software suite that includes:
An intuitive and easy-to-use dashboard.
Detailed and comprehensive reports on sales, discounts, profits, return on investment (ROI), and payouts.
Target audience research and analysis.
Tracking and analysis of your store's progress.
Keyword ranking that's created by using data from the Amazon BSR (Best Sellers Rank) tool.
Additionally, HelloProfit is unique in that you can use various settings to group ASINs (Amazon Standard Identification Number) in order to compare and contrast products. This allows you to boost sales by carefully selecting products based on their potential profitability.
It also helps calculate your net profit by integrating the information you provide (revenue and costs) with information that it automatically gathers from your account via Amazon's secure API (application programming interface).
The vast majority of HelloProfit's features are paid, but you can benefit from a handful of free options like product tracking and keyword grouping. If you want access to the full functionality suite, then it will cost $97 per month. Additionally, you can add multiple seller's accounts for an extra $29 per month.
4) Customer Reviews
Customer reviews are another crucial aspect of your Amazon dropshipping store. These reviews are important for both ranking your listings in Amazon searches and conversion rate optimization (CRO). In other words, CRO is the process of getting potential customers to purchase products from your store.
Getting customers to review your store is usually done most effectively with automated emailing campaigns. This allows you to establish contact with online shoppers and offer incentives to leave a review.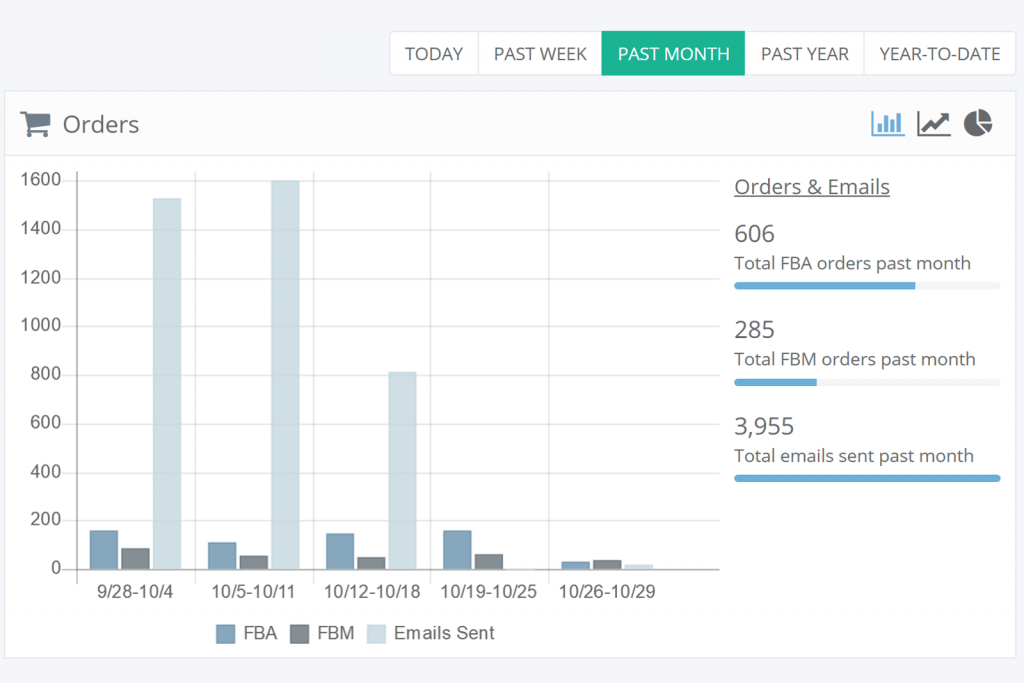 Feedbackwhiz was developed especially to track, analyze, and manage user feedback and customer reviews. It does so by allowing you to configure personalized emailing lists that you can customize to match the tone and branding of your online store.
This tool is ideal for:
Setting up automated emailing
Instantly processing negative reviews or feedback
Optimizing product reviews
You do have the option of using Feedbackwhiz for free, but this will limit you to just one emailing campaign per month. Generally, this is not enough to mount an effective strategy to get the number of customer reviews you'll need to have a successful dropshipping store. If you're looking for more possibilities, then the tool has plans that start from $19 per month.
This Chrome browser extension has two major features:
Feedback Request System – This allows you to set up emailing campaigns to contact customers and incentivize them to leave reviews.
Review Management – This allows you to instantly monitor reviews and orders so that you can make sure that your store's reputation stays high.
AMZFinder is unique in that the Feedback Request System asks customers to leave reviews as part of the follow-up invoice that they receive after placing their order. This helps your emails seem less "spammy" and makes most customers more willing to leave reviews.
The tool starts at $39 per month. This basic plan gives you 5,000 monthly emails, which is more than enough for any dropshipping store that's getting started.
5) Accounting
Keeping track of the various expenses can help an Amazon seller make their dropshipping store more successful. Plus, with the right tools, you can effectively track just how profitable your store is at any given moment.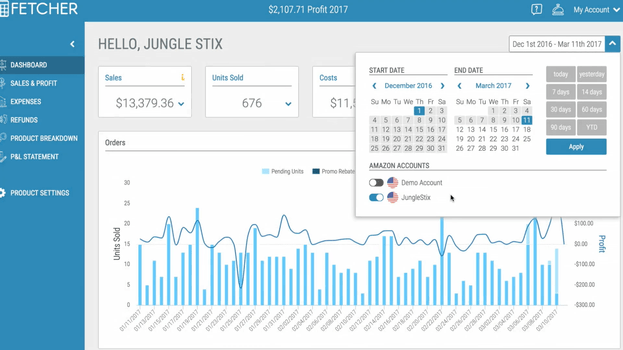 Fetcher is designed to provide sellers with:
Product breakdowns that are sorted by ASINs
Pay-per-click (PPC) costs and sales analysis
Real costs and product promotion tracking
Recurring Amazon fees (for both dropshipping and FBA sellers)
Refund tracking with costs and comparison
Wholesale costs of goods
A comprehensive dashboard of the store's inventory
A daily email with sales and profits
One of the strongest qualities of this tool is the ability to customize the daily profit and loss breakdown (referred to as a P&L Statement). By tracking this information daily, you can make adjustments to your store and strategy in order to maximize your profits.
The pricing ranges from $19 per month (2,500 orders per month) to $99 per month (unlimited orders). For most new Amazon dropshipping stores, the basic plan will be more than enough.
If your Amazon dropshipping store starts being really profitable, don't forget that you'll have to track lots of information for when you file your taxes. This where the Taxomate tool comes in handy.
By automatically finding Amazon sellers' Marketplace Settlements, this cloud-based tool allows sellers to:
Import their Amazon sales and fee transactions to QuickBooks Online.
Quickly and easily summarize these transactions in QuickBooks Online.
Track the cost of goods sold.
Reverse charge any VAT fees or expenses.
It's available from a 9$ per month Starter Plan (up to 200 orders per month) to a $49 per month 5K Plan (up to 5,000 orders per month).
Having the right tools is just one part of growing a successful dropshipping store on Amazon. You'll also need to choose the right dropshipping supplier that provides product feeds for Amazon such as GreenDropShip. Once you pick the products you want to sell and import our data feeds, then you can list your inventory and create your Amazon store. All of this can be done in combination with the tools listed above.
GreenDropShip is the perfect dropshipping supplier for your Amazon store. With over 20,000 natural and organic products to choose from, you can stock your store with exactly the types of items that customers are looking for.
Join GreenDropShip today!