Amazon Dropshipping: The Complete Guide & Killer Tools
Amazon strives to be the eCommerce destination where consumers
can find & discover anything they want to buy online. – Jeff Bezos
If you're an independent entrepreneur looking for a way to make money online, then dropshipping on Amazon should be at the top of your list.
This retail model can be highly profitable while still being convenient and low-cost, making it very appealing to online retailers looking for a great way to earn some cash.
Essentially, it allows you to take advantage of Amazon's massive brand appeal and power while still enjoying the flexibility of a dropshipping store. This model also frees up a lot of time and resources so you can focus on marketing to customers.
Now that we've established the basics, let's take a look at how you dropship on Amazon!
Here's a table of contents you can use to navigate this page:
What's The Deal With Amazon Dropshipping?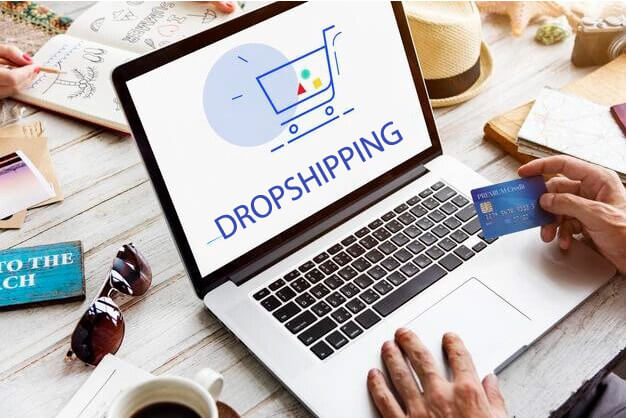 First and foremost, let's just define dropshipping. This is an online retail model in which the retailer does not handle the inventory. Instead, the dropshipping supplier stores, packs, and ships all orders to the final customer.
To make it easier to understand, we can take a look at this handy graphic that breaks everything down in an easy-to-understand way:

Amazon dropshipping is simply the process of using Amazon as the eCommerce platform for your online store.
Just about everyone is familiar with Amazon – it's an absolute giant in the world of online retail. This makes it the ideal platform for independent entrepreneurs like you to sell goods to online shoppers.
That being said, the basic steps to Amazon dropshipping are:
Sign up as a seller on Amazon.
Choose a niche of products to dropship in your Amazon store.
Get a membership with a dropshipping supplier like GreenDropShip.
Import your products via a product feed and list them on Amazon.
The online shopper buys an item.
Submit the order to your dropshipping supplier (like GreenDropShip).
The dropshipping supplier packs and ships the product to the end customer.
As you can see, it's pretty simple! That's what makes Amazon dropshipping so attractive and appealing to independent online entrepreneurs. If you set it up right, it can be a reliable source of semi-passive income.
RELATED ARTICLES:
Amazon Dropshipping Is Popular With Entrepreneurs
Amazon dropshipping is incredibly popular. First of all, third-party (3P) sellers do exceptionally well and regularly get over half of the total sales. In fact, 3P sellers made 56% of total sales in Q3 of 2021.
Plus, there are about half a million 3P sellers based in the United States alone, with more than 200,000 joining the platform in the year 2020!
Additionally, Amazon generated over $80 billion in 3P seller services in 2020. This figure is especially impressive since it's an almost 50% increase from the previous year.
Let's also take a moment to look at some data from Google Trends. This will give us a pretty good idea of what keywords or keyphrases about Amazon dropshipping people are searching online.
First of all, let's just look at the search interest for keyphrase Amazon dropshipping for the past 10 years: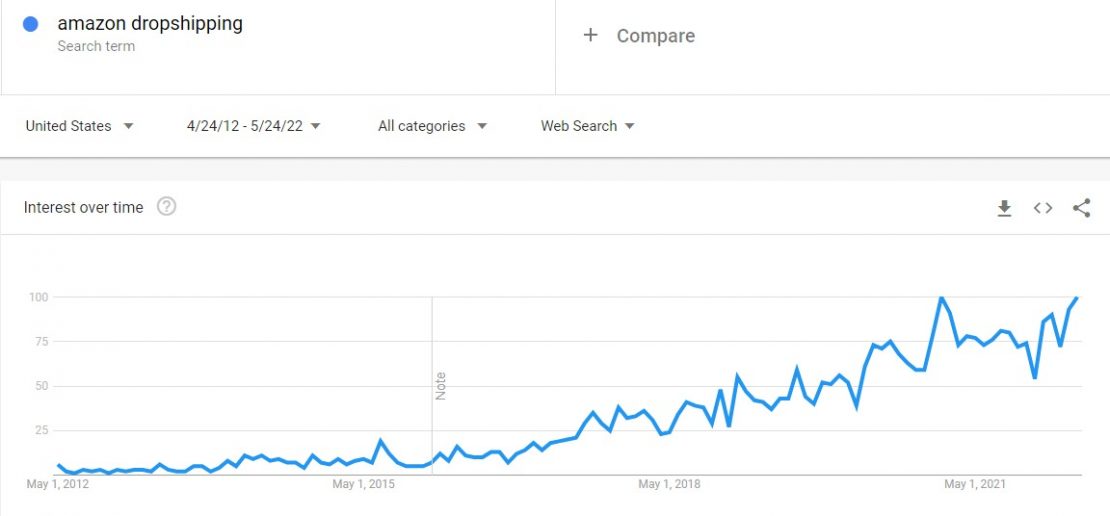 As you can see, starting sometime in 2016, search interest in Amazon dropshipping began to increase dramatically. Since then, it's stayed consistently high.
Let's also take a look at the related keyphrases dropshipping on Amazon and dropship on Amazon. Remember, Google Trends will only work with exact phrases – that's just one of its quirks!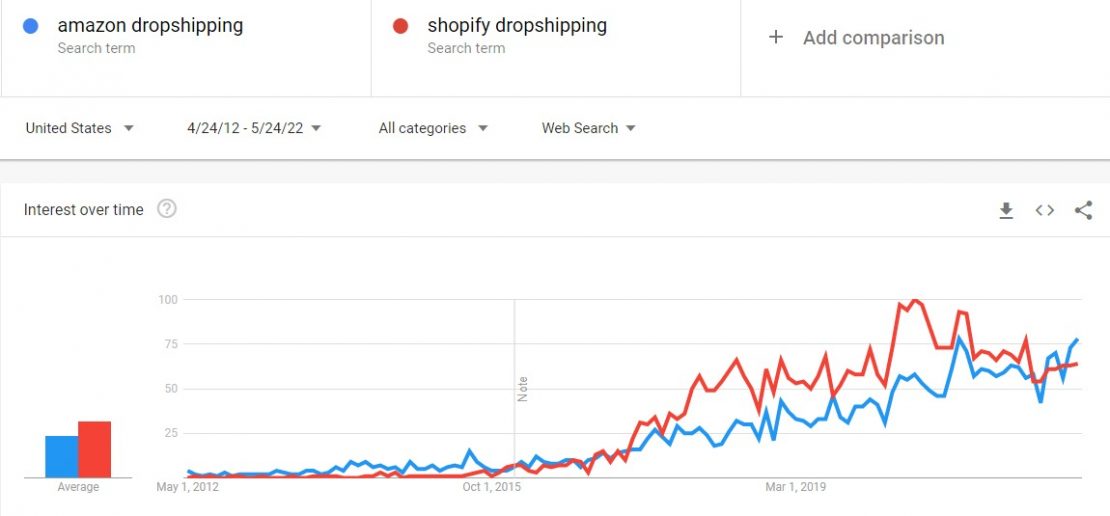 As you can see, this is virtually the same trend as the previous keyphrase. Sometime in 2016, search interest for dropshipping on Amazon and dropship on Amazon spiked upwards and stayed consistently high since then.
Is Amazon Dropshipping Right For You?
So we've gone over the basics of Amazon dropshipping, but the question remains: is this the right model for you?
If you're having trouble answering that question, just ask yourself the following questions:
Do I have a lot of startup capital?
How much control do I want over brand identity?
How much control do I want over product quality?
Can I deal with inventory management?
Can I store, pack, and ship products myself?
If so, how quickly could I pack and ship products?
What kind of profit margin do I want?
What's my pricing model going to look like?
Dropshipping on Amazon is a great choice if you don't have a lot of startup capital. However, you're effectively surrendering much of the control over your brand identity.
That's the deal: you get to capitalize on Amazon's awesome brand power, but it overpowers any nascent brand identity you may have.
RELATED ARTICLE: Dropshipping Branded Products: Guide for Online Retailers
Is Amazon Dropshipping Worth It?
Running an Amazon dropshipping store can be very profitable, but you'll need to pick the right products and effectively market your store.
Additionally, although there are plenty of benefits to dropshipping on Amazon, there are also some cons. These include:
More competition. Amazon dropshipping is inexpensive, giving it a low barrier to entry and therefore more sellers.
Narrower profit margins. You need to pay Amazon fees, but always beware of a "race to the bottom" for pricing.
Long shipping times. Many 3P sellers rely on overseas suppliers unless they choose a US supplier like GreenDropShip.
Customers expect more. Amazon is an extremely powerful brand, so people will expect a higher quality of service.
No control over quality. The goods go straight from the supplier to the shopper, so you have no say in quality control.
These potential setbacks notwithstanding, Amazon dropshipping can be profitable.
First of all, the average dropshipping profit margin is between 10% to 30%. Amazon then takes approximately 15% off your top-line revenue for dropshipping on their platform.
That means if your profit margin was about 30%, then your net profit margin will be about 15% after Amazon takes its dropshipping fees.
You can improve these margins by following the tips we discuss below, especially if you get the Amazon Buy Box. But this is tough and is not always possible in the long run.
Every Amazon dropshipper's income varies, but if you're really committed, put in the work, and follow the tips below, then you can make between $1,000 and $50,000 per month! It's totally possible to be killing it at that level.
But you'll need great products, low competition, superior customer service, and competitive retail prices. Thankfully, in this post, we give you plenty of tips to become profitable at Amazon dropshipping!
RELATED ARTICLE: Is Dropshipping Still Worth It And Profitable In 2022?
Are There Fees For Dropshipping On Amazon?
Yes, there are. However, these Amazon dropshipping fees depend heavily on the type of product sold.
In most cases, it's somewhere in the range between 10% and 15%. That means you'll have to work that into any profit margin projections you may be working on, so don't forget to input the right value into the profit formula we discuss below.
If you're working with relatively narrow profit margins, then these Amazon dropshipping fees can take a big bite out of your profits and really affect your bottom line.
However, for many sellers, this is clearly the best option since it's so easy to make a passive income. In these cases, even though the fees affect the bottom line, the overall model is still profitable.
You'll also have to choose a selling plan:
Individual Plan. Costs $.99 per item sold – better for low-volume dropshipping stores.
Professional Plan. Costs a flat rate of $39.99 per month, no matter how many items you sell.
Obviously, if you're planning on making a high volume of sales, then the Professional Plan is clearly the better option. In the long run, it will pay off versus the Individual Plan.
To make it easier, you can also use Amazon's Pricing Calculator to give you a better idea of how much it would cost to dropship a certain type of item on Amazon.
What Are The Benefits Of Amazon Dropshipping?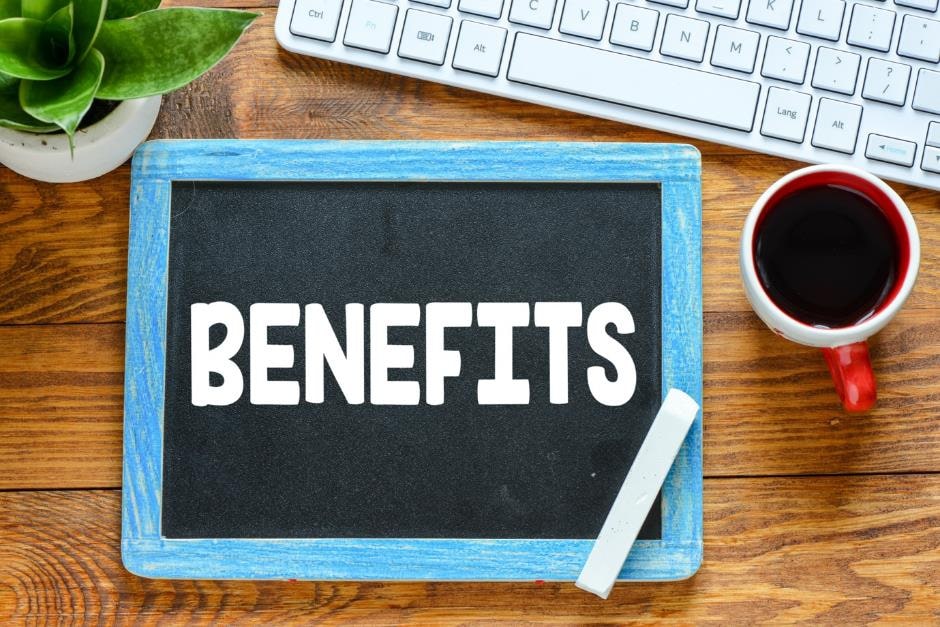 Ultimately, search interest in Amazon dropshipping has increased so significantly because it's a retail model that has a ton of benefits. Retailers want to use it, so they're signing up in droves.
That being said, let's take a look at some of the benefits:
1) Low startup & operational costs
Amazon dropshipping is not expensive for online resellers. In fact, you can start dropshipping with very little money, making it a really appealing option for independent online entrepreneurs.
Remember, the usual expenses of running a retail operation do not apply to a dropshipping store. For example, you don't have to worry about storing, packing, or shipping inventory – your dropshipping supplier takes on those costs.
Plus, there's less risk compared to conventional, inventory-holding retail models since you order only as much as you sell. Consequently, you'll never get stuck with unsold goods because you ordered too much inventory.
That being said, the necessary costs include:
Amazon Professional Seller Account for $39.99/month
Membership to a dropshipping supplier
When it comes to optional expenses, you can pay for certain tools that will make your dropshipping store more efficient and easier to run (see the section below for some examples).
2) An extensive customer base
Your store needs customers – it may seem obvious to say, but it's important to stress that fact. The more customers, the greater potential for profits.
One of the biggest benefits of Amazon dropshipping is the massive customer base. With over 50% of the market share for all eCommerce, it's an absolute giant in online retail.
In fact, Amazon has over 300 million active users and counting! That's a lot of traffic that you can convert into sales, as long as you follow some best practices for making your store successful (see the section below for tips).
This can mean incredible profits for a dropshipping store. In fact, Amazon offers a chance to connect with customers that would not be possible if you opened your store on another platform.
3) Consumers know & trust the Amazon brand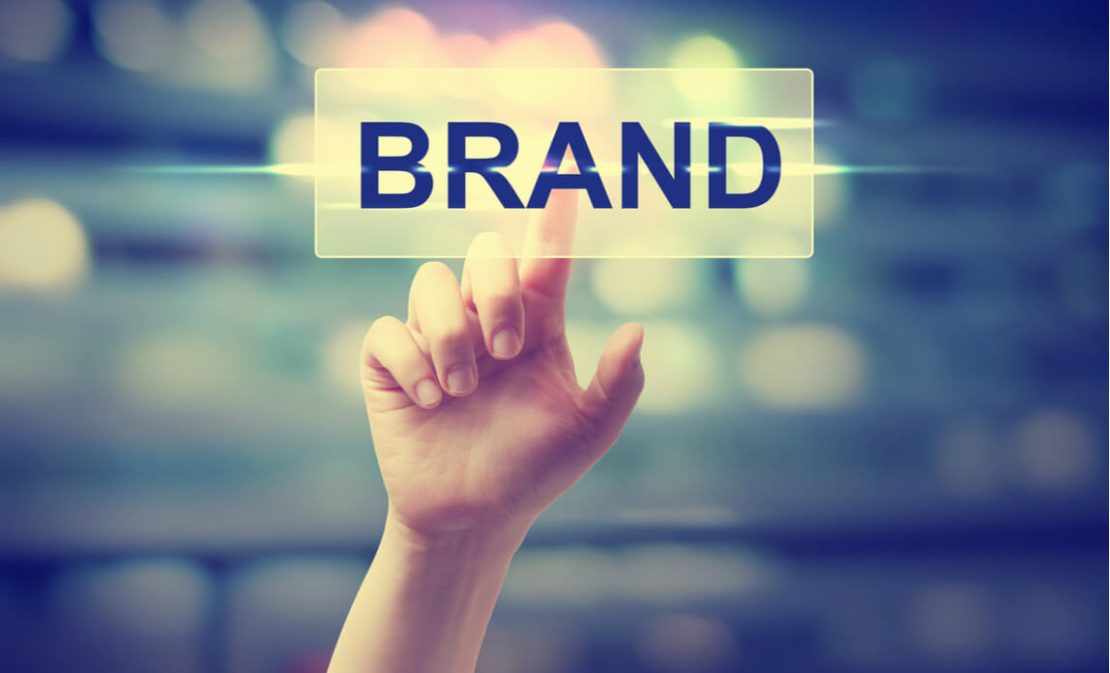 Name recognition and consumer trust are hugely important in eCommerce. Due to its enormous success, Amazon has become the single most recognizable and trusted retail platform online.
For instance, according to a 2019 study from Feedvisor, 89% of online shoppers state that they are more likely to buy products from Amazon than other eCommerce stores.
This tremendous consumer trust also extends to third-party (3P) sellers and dropshipping retailers on the platform. In other words, just having your products listed on Amazon gives you credibility with consumers.
That's the power of the Amazon brand! As long as you're on the actual website, online shoppers really don't care if you're a 3P seller or if they're buying directly from Amazon. They just care about price, quality, and shipping time.
4) Access to a wide variety of niches
Amazon has a huge inventory of products, so it'll be easy for you to target a niche or even multiple niches.
In fact, because Amazon is the type of retail store where online shoppers go to find just about anything, they won't bat an eye at an online store that carries a dizzying array of goods in multiple categories.
Just remember that choosing the right niche is crucial to your success. This allows you to hone in on a target audience, focus on specific consumers, and avoid market segments that are saturated.
Plus, you can find a niche with less competition from other retailers. Amazon has over 30 broad categories to choose from, with multiple smaller niches in each: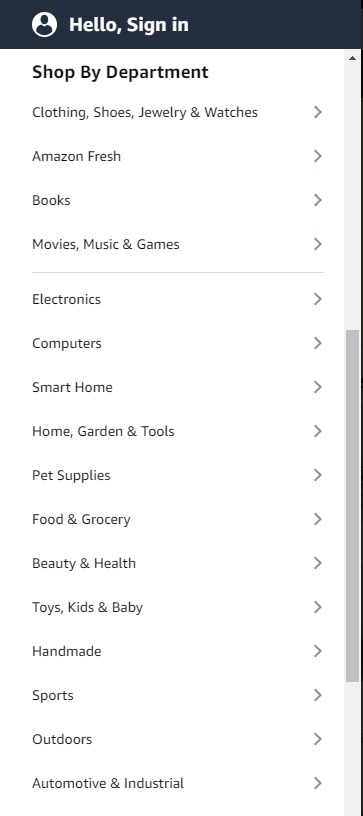 With the right supplier and a good selection of products, you can target multiple niches and enter numerous new markets. Just be sure you use the right tools to find the best niche for your dropshipping business.
RELATED ARTICLE: How To Find the Best Dropshipping Niches
5) No need to build a whole store from scratch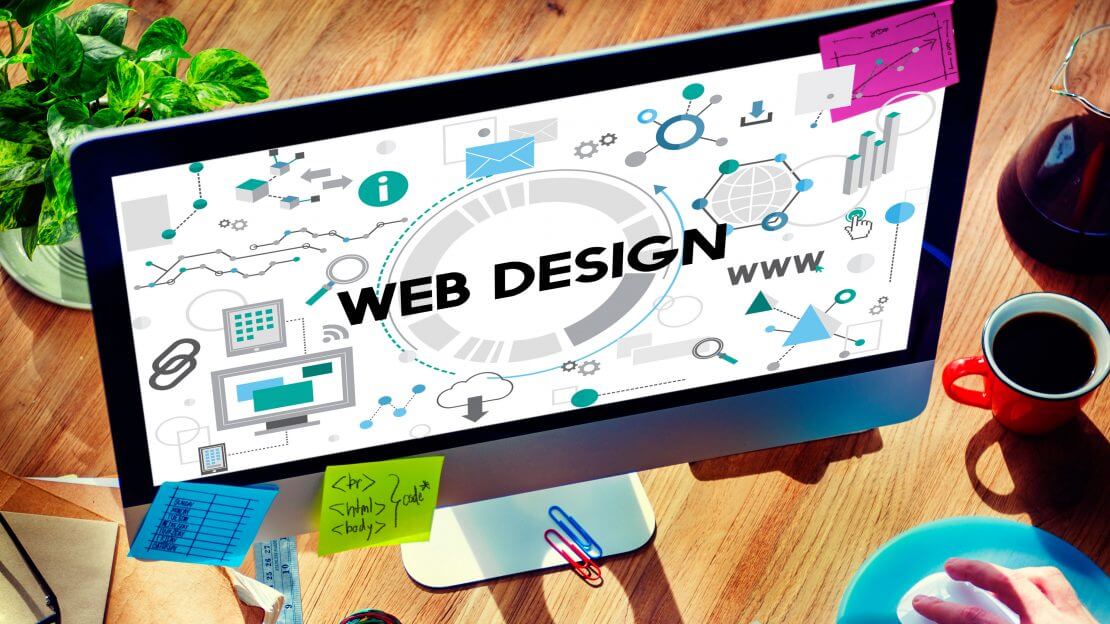 One of the biggest and most resource-intensive steps in starting your own dropshipping store is actually building the store itself.
This takes a lot of time, patience, knowledge, and experience. In some cases, it can also take a lot of funds to do properly, especially if you're trying to create a recognizable store brand.
Of course, you could always buy a premade dropshipping store, but that's not always the best choice for many entrepreneurs, especially if they're looking to save money.
If you choose to dropship on Amazon, you avoid this challenge entirely. Working off of a pre-existing eCommerce platform makes it much easier to start a store and quickly make it functional and/or profitable.
RELATED ARTICLE: How to Make a Dropshipping Website To Sell Products
6) You can work from anywhere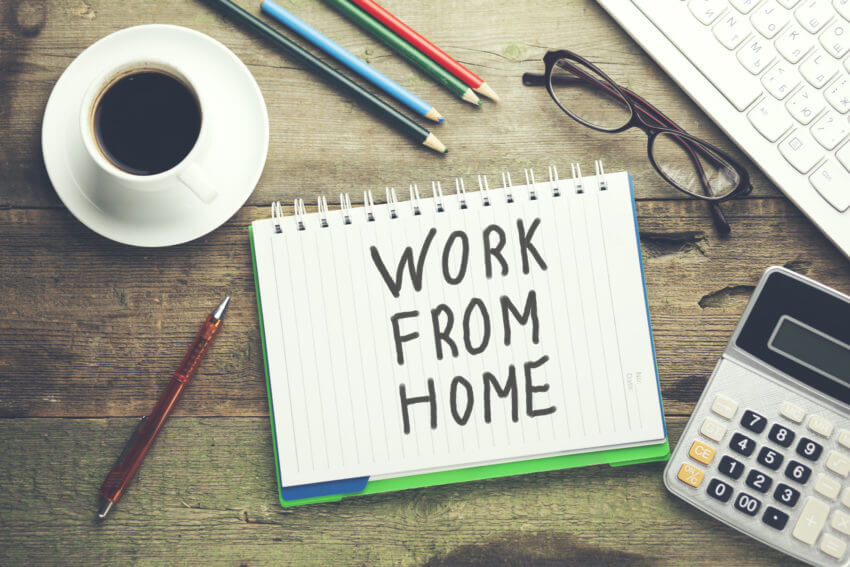 This is one of the major pros of dropshipping in general: it gives you the chance to work remotely from anywhere! It's a game-changer for folks who hate coming to an office.
If you start dropshipping products from your Amazon store, you can stay at home in your pajamas all day while making money hand over fist. It's a pretty sweet deal!
Choosing the Amazon platform just makes it easier to execute the dropshipping model, but it doesn't substantially change how it operates.
You can still work from anywhere, giving retailers a degree of freedom that's absent from other jobs.
RELATED ARTICLE: Home Business Ideas: How to Start an Online Business
What Is Amazon's Dropshipping Policy?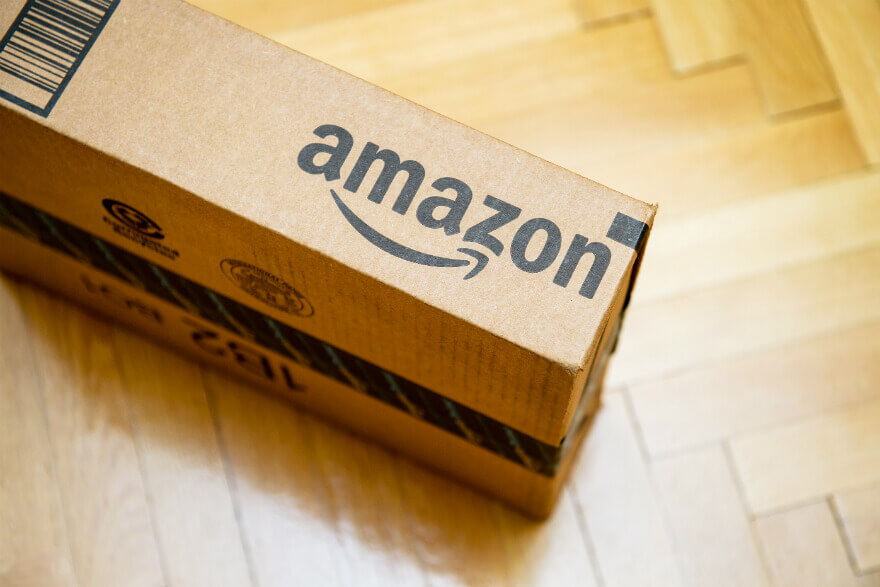 Amazon absolutely allows dropshipping – or "drop shipping", as they call it – but they have a pretty clear dropshipping policy with some important criteria that you'll need to follow.
Essentially, Amazon requires that the retailer – you – is always clearly identified as the seller of record (SoR). That way, customers know who to contact if there are any issues with their order.
If you decide to dropship on Amazon, then you'll need to follow these basic requirements:
Your dropshipping supplier identifies you as the seller on all packing slips, invoices, and packaging.
Remove any packing slips, invoices, or packaging that identity a third-party supplier before shipping the order.
Handle all the returns and refunds for any orders.
As you can see, Amazon clearly expects the retailer – or seller of record – to act as the primary point of contact with the customer.
Furthermore, as a seller, you are NOT allowed to:
Purchase products from another retailer and have that retailer ship to your customers
Ship orders with packing slips, invoices, or other information with a name other than your own (as the seller of record).
RELATED ARTICLE: How To Set Up A Dropshipping Return & Refund Policy
If you decide to dropship on Amazon, then you'll be part of their Merchant Fulfilled Network (MFN). However, if you violate these dropshipping policy terms, then your ability to be part of the MFN could be suspended or even terminated.
Finally, as long as you follow Amazon's policy and adhere to the seller agreement, then they will NOT lock your account for dropshipping.
However, Amazon can lock your account for inaccurate personal information, poor performance, using multiple IP/MAC addresses, suspicious activity, fake items, and poor customer experience.
How To Find An Amazon Dropshipping Supplier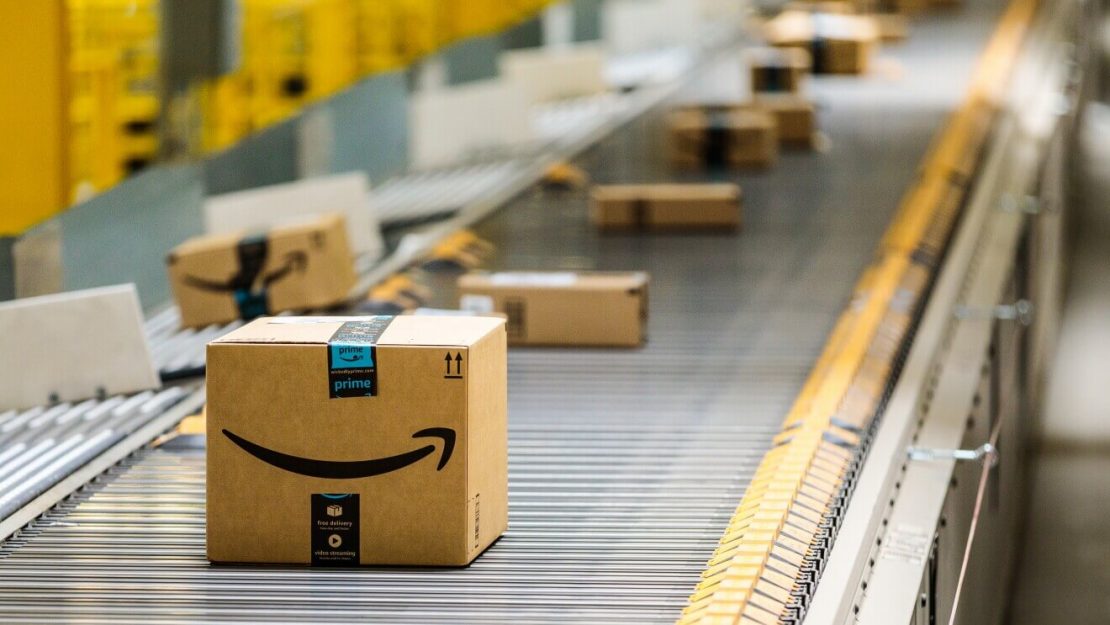 Now you need to find an Amazon dropshipping supplier that can store and ship the products to your customers. This is crucial, so don't take this decision lightly!
However, it can get pretty confusing since there are several terms that all refer more or less to the same thing: "dropshipping suppliers".
Let's take a moment to list these additional terms:
Supplier
Dropshipping supplier
Distributor
Wholesale distributor
Wholesaler
Dropshipping wholesaler
Wholesale supplier
Wholesale dropshipper
Dropshipper
Now, the tricky part is that not every wholesaler, supplier, or distributor will also be a dropshipping provider, so that's something that you'll have to confirm with each option.
So where do you start? A simple Google search is the easiest way – just make sure you include the keyword "Amazon" somewhere in the search phrase.
For instance, you can search for Amazon dropshipping supplier, Amazon dropshipper, or Amazon dropshipping wholesaler.
Additionally, you can use an online directory. These give you lists of pre-screened and already vetted dropshipping suppliers and wholesalers, making it easier for you to get started.
The most popular supplier directories include:
However, aside from Wholesale Central, you need to pay for a membership to access all of these directories. If you're trying to save cash, then you may not want to fork over the dough to access a directory.
If that's the case, you may want to identify your niche, find your products, and then just do a simple Google search to find a potential Amazon dropshipping supplier.
Finally, you could also attend trade shows or contact the manufacturers of brands you want to sell, but these are both highly time-consuming and labor-intensive strategies.
That being said, GreenDropShip is a specialty, premium, and gourmet dropshipping supplier that integrates easily with Amazon. Plus, we have thousands of natural and organic products, most of which are made in the USA.
What Do I Look For In An Amazon Dropshipping Supplier?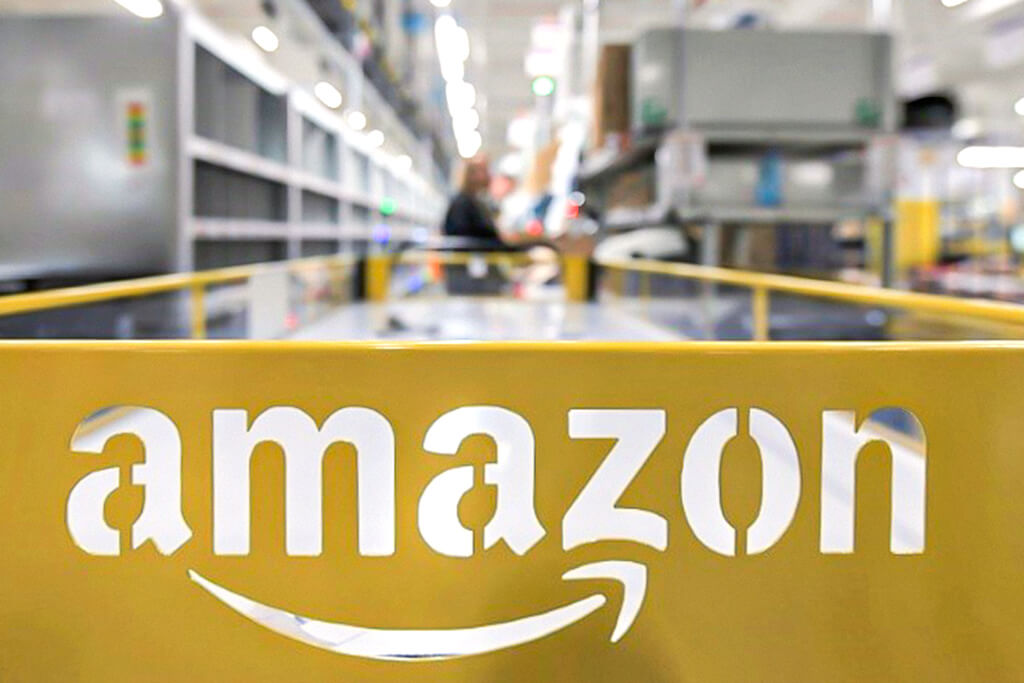 You'll want to choose an Amazon dropshipping supplier that has the right inventory as well as a competitive membership price.
Additionally, you have to make sure your supplier integrates fully with Amazon, thereby making the whole process quicker, easier, and more convenient so you can focus on marketing to consumers.
The ideal Amazon supplier should always have:
Brands and goods that consumers want
Emerging brands without market saturation yet
Reasonable fees for membership
Competitive wholesale prices for the products
Short times for packing and shipping
Useful tools, including apps or product feeds
Plus, it's best to choose a dropshipping supplier in the USA instead of one that's international, especially suppliers based overseas in China.
China-based suppliers are popular because they frequently offer lower prices, but shipping is longer, the goods are low-quality, there's a significant language barrier, and customer service is generally lacking.
RELATED ARTICLES:
Dropshipping vs. Amazon FBA – Which Is Better?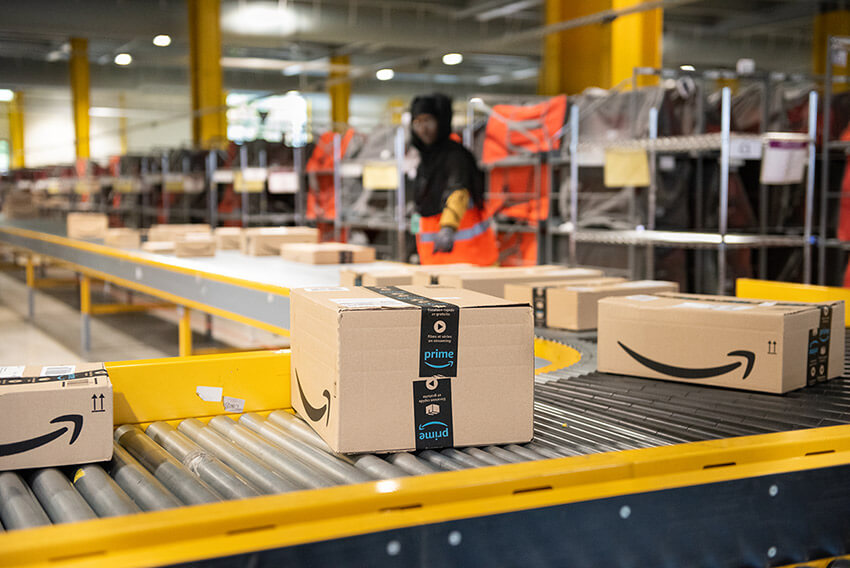 Maybe you've heard of this term: Amazon FBA. What's it mean? How's it different from regular Amazon dropshipping?
Well, Amazon FBA stands for fulfillment by Amazon. It simply means that Amazon handles the storing, packing, and shipping of all your orders to the final customer. In other words, they store your inventory until you sell it.
They do this via their vast network of fulfillment centers, allowing you to capitalize on Amazon's advanced infrastructure and services. As Amazon says on their website: You sell it, we ship it.
However, there are some serious drawbacks to using the Amazon FBA model. First and foremost, you have to pay lots of fees, including:
Standard Seller Fees. Amazon takes about 15% to 18% plus the regular dropshipping fees.
Fulfillment Fees. These vary and depend heavily on the size and weight of the package.
Inventory Storage Fees. Sellers are charged a monthly fee per cubic foot of inventory.
International Shipping. Via Amazon's Global Export, sellers can ship worldwide.
As you might imagine, these can really eat into your profit margin. If you want to calculate the fees for a specific order, try this Amazon FBA calculator.
You also have less control over the entire sales and shipping process. If you're trying to build your own brand, then FBA might not be the right model for you, especially since Amazon brands all the packages it sends via FBA.
RELATED ARTICLE: Amazon FBA vs Dropshipping: Which Is Better?
Shopify vs. Amazon Dropshipping – Which Is Better?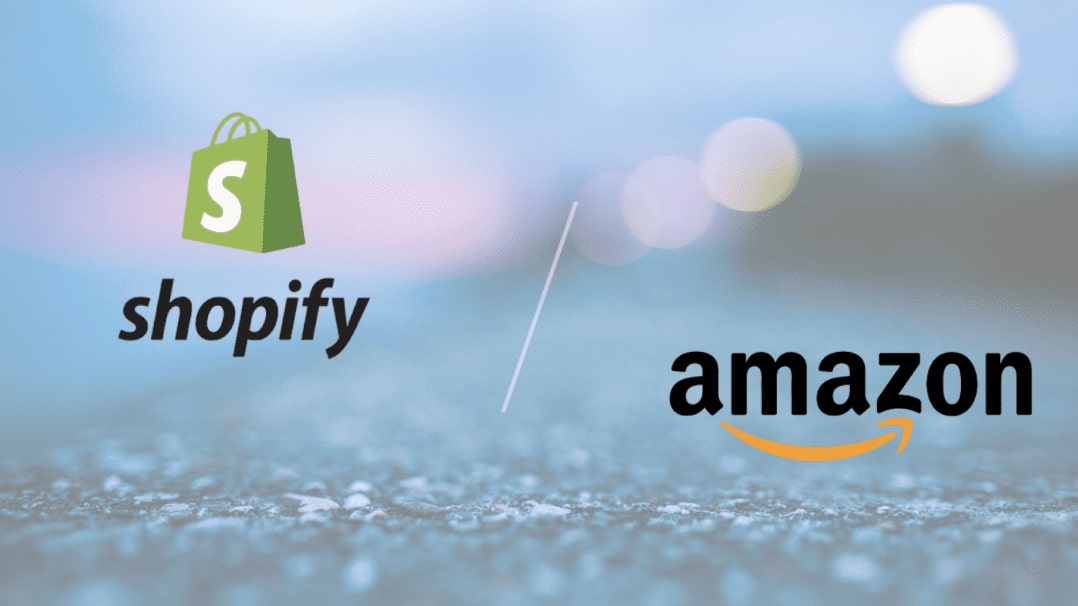 When it comes to dropshipping and online retail, Shopify is a fantastic choice for selling just about anything (within reason) on the internet.
It's got everything you need: high levels of encryption and security, an easy-to-use and intuitive interface, and plenty of features so you can get a dropshipping store up and running quickly and with no fuss.
Shopify also has a ton of other benefits like:
As long as you follow the best practices of good store design and – if necessary – even use design apps, then you can build a pretty sweet-looking store fairly quickly.
Plus, Shopify offers a 2-week free trial with limited functionality. However, if you ask for an extension and give them a reason to believe that you're staying, you can get a 90-day free trial with full functionality.
But the question remains: Is Shopify or Amazon better for dropshipping? First and foremost, this obviously depends on your needs and goals as an online reseller.
Amazon dropshipping also has the following perks over Shopify:
Easier to get an Amazon store up and running.
Use the awesome power of the Amazon brand name.
Overall operational costs will likely still be lower.
That being said, GreenDropShip integrates fully with Shopify. We also offer a Shopify dropshipping app that lets you add products with just a few clicks and no spreadsheets.
RELATED ARTICLES:
Can I Dropship On Amazon From My Shopify Store?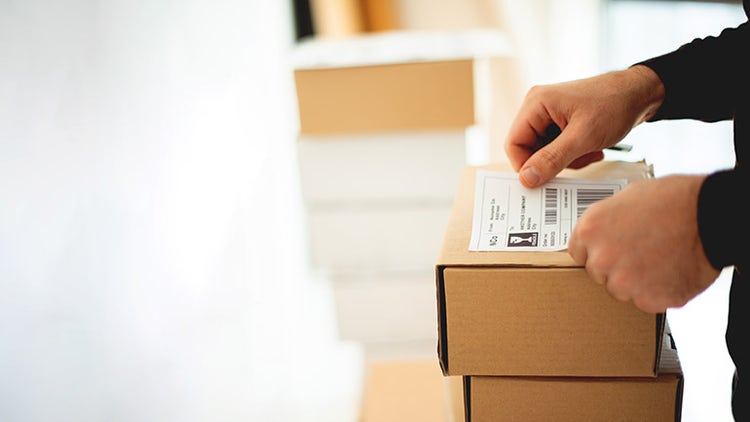 If you're torn between Shopify and Amazon dropshipping, don't worry, you can use both! Yes, you can totally dropship on Amazon from your Shopify store! Just follow these simple steps in the Shopify admin:
Log in to your Shopify account.
Go to your Admin panel.
Click on the plus sign (+) next to Sales channels.
Click on the green plus sign (+) next to Amazon.
Select Update Sales Channel at the bottom of the screen.
Click Connect to Amazon and follow the directions.
Log in to Amazon Seller Central.
Go to User Permissions.
Confirm access for Shopify.
Once you create an Amazon account and get approved, connect the inventory of your Amazon store to Shopify using an Amazon fulfillment app from the Shopify app store:
Please note that the FBA Shipping app connects your Amazon FBA store to Shopify.
These apps essentially act as a middleman between Amazon and Shopify, letting you automate order fulfillment, get current tracking information, and sync your products.
Once you've installed the app, you can create product listings. You can also list items in your Amazon dropshipping store directly from your Shopify admin panel: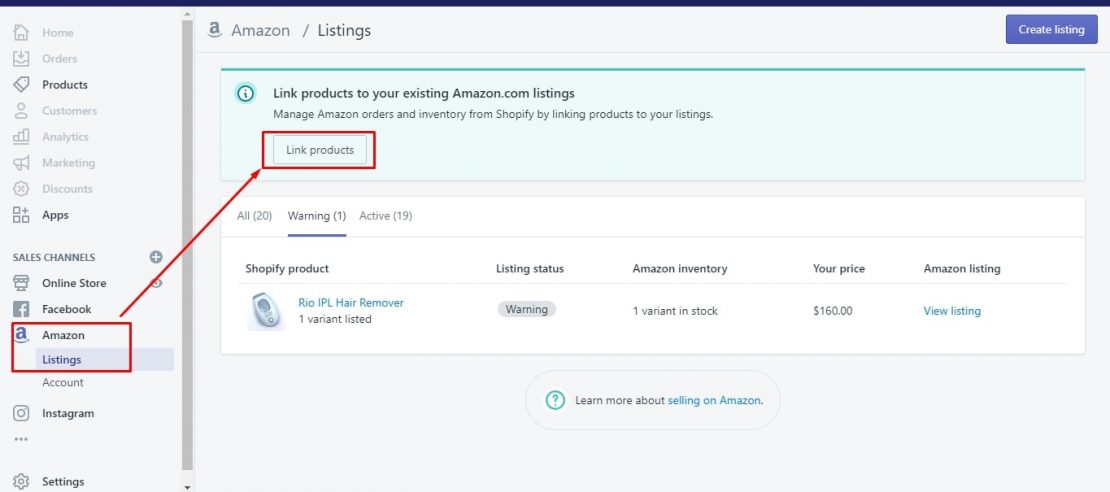 Finally, there are apps that let you work in the other direction: dropshipping products from your Amazon store to Shopify! Let's take a look at the two most common options:
Please note that the Amazon Dropshipper app lets you add both Amazon and Walmart products to your Shopify store.
As you can see, there are multiple ways you can link your Shopify and Amazon dropshipping stores, giving you more options as a retailer.
Can I Dropship On Amazon From AliExpress?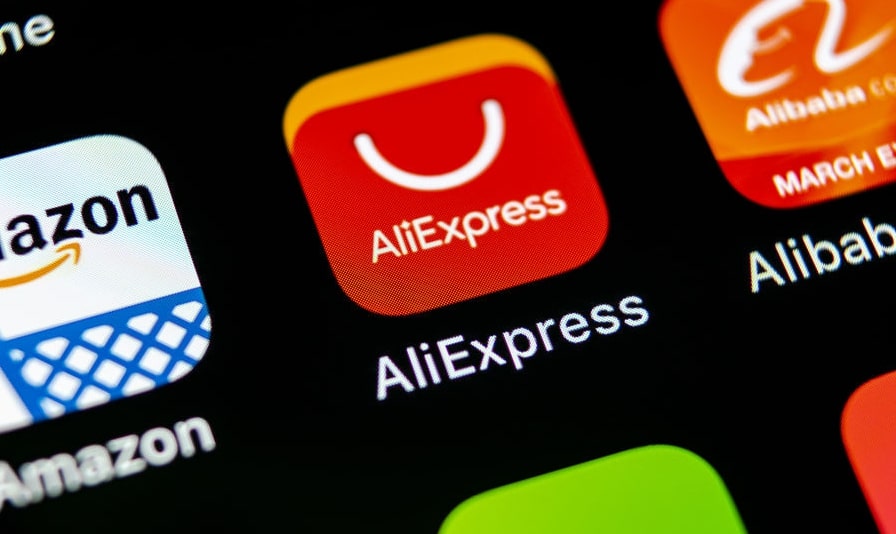 Yes, you can. The usual process here is that you order wholesale products in bulk from AliExpress, store them in your warehouse, list them on Amazon, sell them, and then ship them out.
RELATED ARTICLE: How To Find Cheap Wholesale Products For Resale
But if you look carefully at that sequence of steps, that is most definitely not dropshipping!
Don't forget that AliExpress is a business-to-business (B2B) marketplace that puts online entrepreneurs in direct contact with suppliers to dropship their items.
So, in order to dropship on Amazon from AliExpress, the retailer (you) will go to AliExpress, find a supplier, pick their products, and then list the products on Amazon.
Once the online shopper makes the purchase, then the retailer orders the product from AliExpress and has it shipped directly to the final customer.
There are several ways to do this, but by far the most effective and simple is to build a store on Shopify and then source inventory from AliExpress via an app like DSers.
You also need to add the Amazon Sales Channel in the Shopify admin. Plus, you can use that very same Shopify admin to create, manage, and edit all your Amazon product listings.
But this is extremely important: if you're going to dropship on Amazon via AliExpress, you must contact the supplier ahead of time to make sure they don't include their name or company info on the packaging.
As we discussed in the above section about Amazon dropshipping policy, that's a big no-no!
How To Dropship On Amazon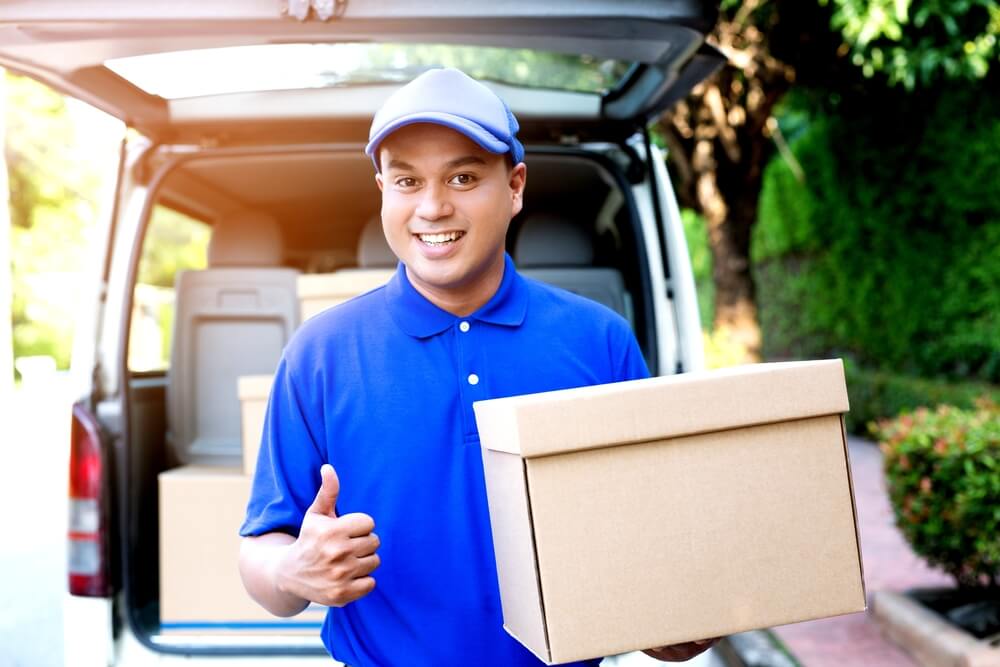 If you do build a great experience, customers tell each other about that. Word of mouth is very powerful. – Jeff Bezos
Amazon dropshipping is a great way to make money online – either as a side gig or a full-time job. It all depends on how you set up your store, the types of products you sell, and how much time you put into it.
Luckily for you, getting started is simple! Not only that, but you can also learn how to dropship on Amazon for free.
Let's start here with a step-by-step guide on what you need to do to start making money with your Amazon dropshipping store.
1) Create An Account
This probably seems obvious, but the first thing you'll want to do is create a Seller Account on Amazon. You can choose between an Individual Selling Plan or a Professional Selling Plan.
The Individual plan is pay-as-you-go, so you'll pay $0.99 per item sold. With the Professional plan, you pay a subscription fee of $39.99 each month and are exempt from the $0.99 per item.
For a dropshipping store with higher sales volumes, the professional account is definitely the way to go. That's because the $0.99 per item will eventually eat away at your profit margins.
Plus, most dropshippers want to sell high volumes anyway, so it's just a better investment to sign up with a Professional plan. You spend more money now to save money later!
Registering an account with Amazon is easy. Just go to Amazon Seller's Central and follow the prompts that will tell you what information to input.
2) Research The Market & Trends
Identifying retail trends is a critical part of building a successful Amazon dropshipping store. If you're skillful and diligent enough, then you can be early and sell products before market saturation hits.
The gold standard for researching trends is the free Google Trends tool. It tracks the relative volume of Google searches, making it valuable in finding profitable products or niches for your dropshipping store.
RELATED ARTICLE: How To Use Google Trends For Dropshipping
For example, let's look at search interest for oat milk over the past 10 years: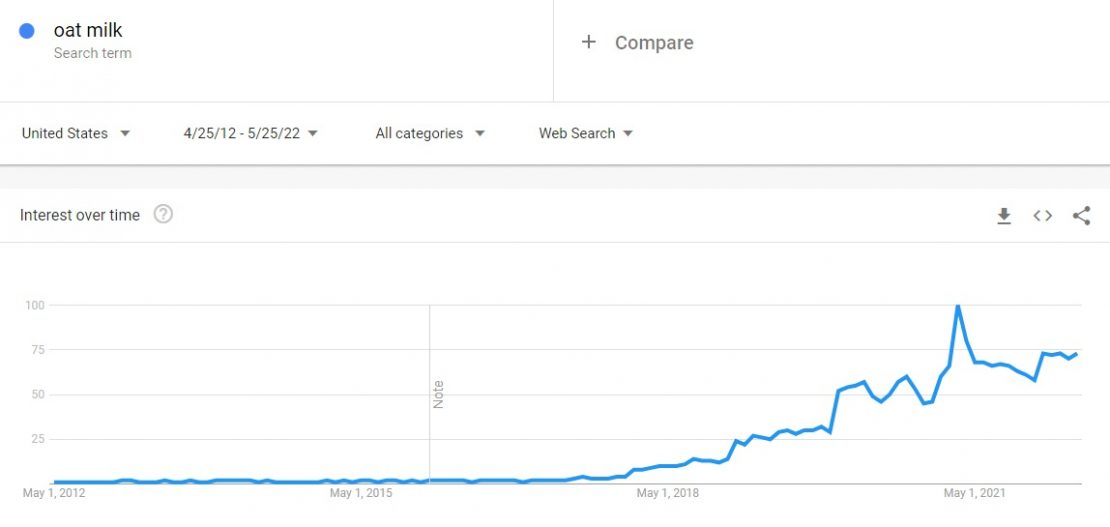 As you can see, there's been a steady increase. That means that this trend likely has some promising niches with some great products to dropship on Amazon.
You can also use Google Trends to compare and contrast multiple potential trends: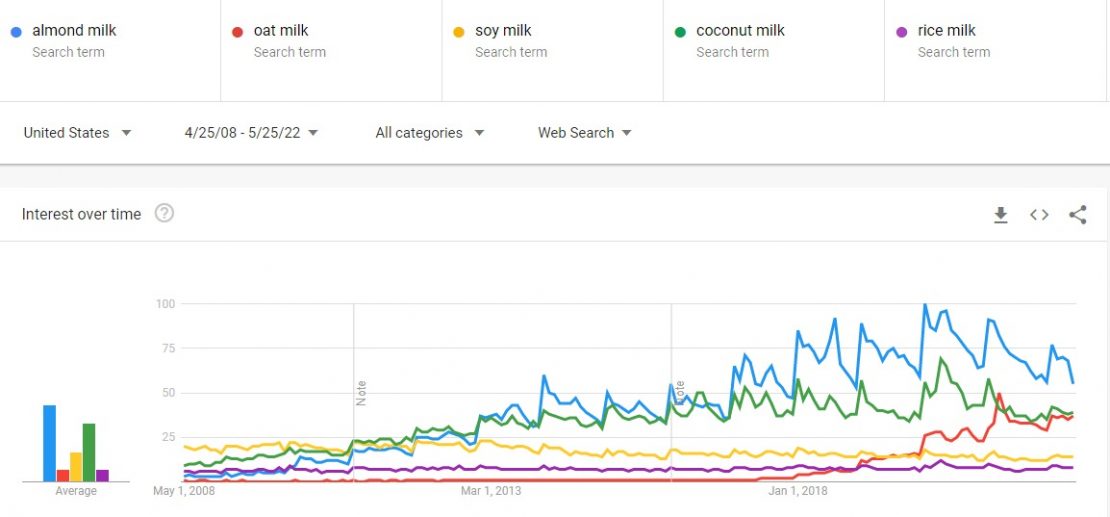 Almond milk, oat milk, and coconut milk have all trended upwards since 2008 while soy milk and rice milk have stayed relatively consistent (compared to the other search terms).
However, a Google Trend with no curve upward is not necessarily a bad thing. If the search interest remains exceptionally stable over many years, then it might still be a good niche to explore with plenty of profitable products: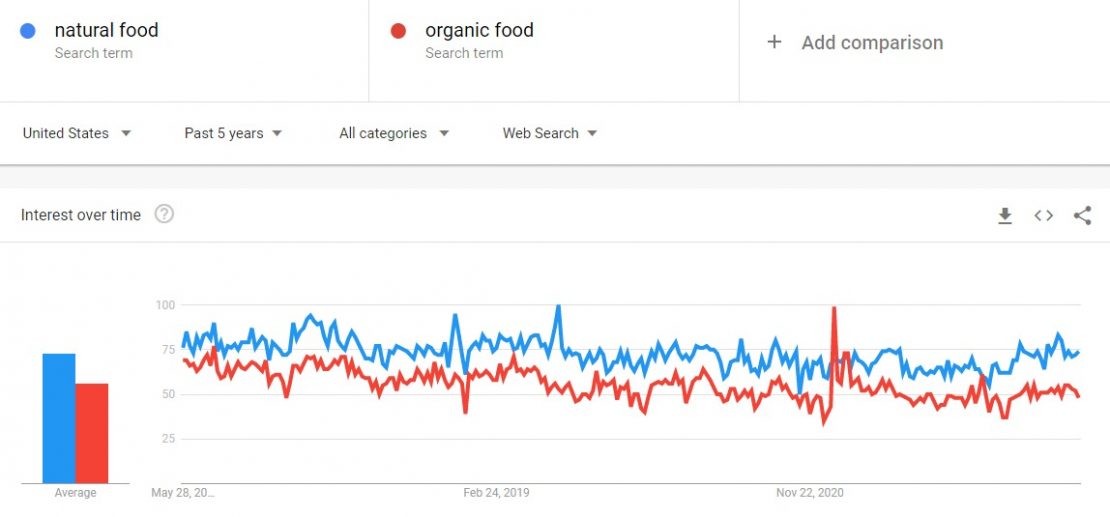 It's important to remember that these graphs do not represent total search volume – it's a comparison of search volume to indicate if it's grown or shrunk.
Finally, you can also check out some other tools for researching markets and trends:
PSFK. They publish regular market research reports and analyze growing trends in online retail.
Trend Watching. Over 100,000 retail professionals in more than 180 countries use this periodical.
Trend Hunter. This is the world's largest trend platform, using over 260,000 "trend hunters".
Finding trends is crucial! It also plays a major role in the next step that we discuss.
RELATED ARTICLES:
3) Pick A Niche & Products
In order to be successful as an Amazon dropshipper, you'll need to find the right products. Remember that Amazon has over 30 broad categories of products, with multiple niches in each one.
You can explore these categories by using the general search function on the Amazon home page. This is a great starting point, and it doesn't even require you to start a seller's account just yet.
Identifying a strong niche for your Amazon dropshipping store effectively lets you:
Target a market with less competition.
Become an expert in a given category
Build trust with potential customers.
Sell products that you're passionate about.
Create loyal customers who'll come back.
This is a really crucial part of the Amazon dropshipping process, so don't rush through it!
RELATED ARTICLE: How To Find the Best Dropshipping Niches
Additionally, there are other tools that you can use to find the right products. For instance, Jungle Scout's Opportunity Finder can be used to find both the right niche and any profitable products to dropship on Amazon.
That being said, the products will be easier to dropship if they match these general criteria in the Opportunity Finder tool:
Competition level is low or very low.
Has a niche score of over 7.
Over 100 unit sales per month.
Of course, you'll have to make sure that the dropshipping supplier you choose has the products that you find during this research process.
4) Pick An Amazon Dropshipping Supplier
Once you've used your tools to identify potential products and niches, then you'll have to choose a supplier that carries these products.
This is an incredibly important step, so we actually cover it in great detail in the section above.
But, just to break it down quickly, you need to find an Amazon dropshipping supplier that has:
Brands/products you want to sell
Reasonable membership costs
Good wholesale prices
Short shipping times
Handy tools to make you profitable
Furthermore, always pick a dropshipping supplier that integrates fully with Amazon, whether it's via a specific app, inventory files, or product feeds.
For instance, GreenDropShip is a natural and organic supplier with full Amazon integration and an amazing selection of premium, specialty, and gourmet goods.
5) Get Ungated (If Necessary)
What do we mean when we say: Get ungated on Amazon? Simply put, Amazon restricts the selling and dropshipping of brands or products in certain categories.
There are a few reasons why Amazon has gated categories, including safety, liability, brand integrity, consumer confidence, and avoidance of price gouging.
To get "ungated" simply means that you've received permission from Amazon to sell those restricted items or brands.
RELATED ARTICLE: How To Get Ungated On Amazon – Strategies for Sellers
As of 2022, the gated categories on Amazon include:
That being said, there are a few ways to get ungated on Amazon. First and foremost, always have good to great performance metrics – this can make a huge difference!
You can also choose to sell recognizable brands, but this might not work for every retailer. Some merchants prefer new and emerging brands in order to break into a market that's not fully saturated or has low competition.
Additionally, you can convert all product EAN, ISBN, and/or UPC numbers to ASIN. There are a few tools you can use, including EAN to ASIN, UPC to ASIN, and/or ISBN to ASIN. Finally, you can use an Amazon ungating service, but this will cost you money!
For a comprehensive guide on how to get ungated on Amazon, check out the blog post that we link to above.
6) Import Products Into Your Store
To add your supplier's products to the Amazon catalog, you need to import them first.
There are a couple of ways to do this. Probably the most common – and the easiest – is to use inventory files.
Using inventory files and inventory file templates allows you to add multiple product listings at once. These inventory files are tab-delimited text files in the .txt format and they contain all the information you need for the listing.
However, you may need at least a basic understanding of data files before you try to use these inventory file templates.
For many external dropshipping suppliers, you can import your products via product feeds. For instance, if you're using GreenDropShip, you just need to:
Sign up for a dropship membership with GreenDropShip
Download the product feeds and pick the items to sell
Upload the product feeds into your Amazon store
As you can see, GreenDropShip makes the process really easy. That's why it's important to choose a dropshipping supplier that fully integrates with your Amazon dropshipping store!
7) List Your Inventory
The next step is to create an Amazon listing by adding the information specific to the products in your inventory.
If you use a dropshipping supplier like GreenDropShip, then make sure you use the high-resolution images and accurate product descriptions that we include for every listing in our inventory.
That's because we created these specifically to help our retailers compose informative and catchy listings with product descriptions that will get the attention of online shoppers.
But you shouldn't copy the product descriptions word for word – they're meant to be a starting point. For the purposes of search engine optimization (SEO), you should always write original content.
RELATED ARTICLE: 5 Killer Product Description Templates That Sell
8) Start Selling!
After entering the product details, click Save and Finish and you are ready to sell your products!
Once you get sales, you'll want to make sure Amazon is charging you correctly for shipping fees. Sometimes item descriptions like the color on an identical product can cause Amazon to charge inaccurately for shipping the item.
Additionally, you need to make sure you select the shipping method. Weight information could also be wrong, so it's important after selling a product to make sure shipping charges are correct.
RELATED ARTICLE: How To Handle Shipping Times When Dropshipping
9) Order Items From Your Dropshipping Supplier
This is the final step for dropshipping on Amazon. Now you just need to actually order the items from your dropshipping supplier and they'll send it to the online shopper on your behalf.
Don't forget that you must be the seller on record (SoR), so your customers won't know that the dropshipping supplier ships the orders – they think you're the one packing and shipping the items.
Ultimately, that's the benefit of using dropshipping for your Amazon store – you divide up the labor with your supplier while acting as the public face and identity of your eCommerce store.
In some cases, the dropshipping supplier will provide you with tools and apps that make it easier to automate your dropshipping store.
8 Tips For A Successful Amazon Dropshipping Store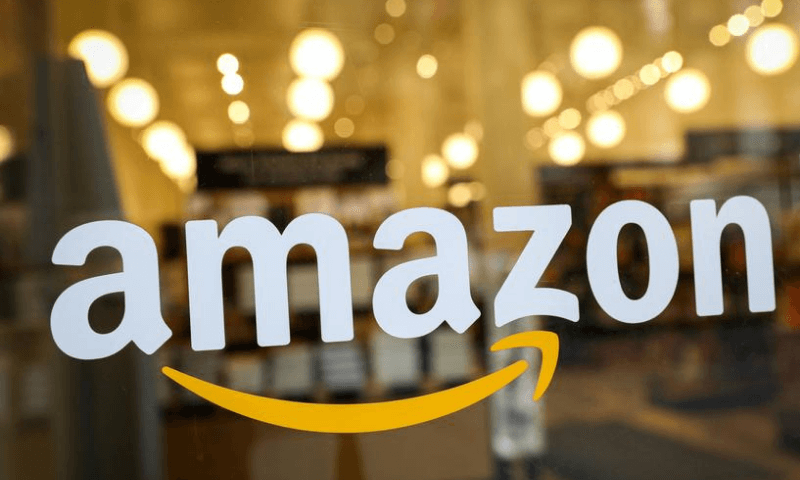 Now that you see just how great Amazon dropshipping is, we need to discuss how you can excel as a seller. Besides, this is a business, and a business is meant to be profitable.
So you'll need to follow some fundamental principles and strategies to make your eCommerce store as successful as possible.
Once you set up your Amazon dropshipping store, make sure you follow these simple tips to drive sales.
RELATED ARTICLE: How To Increase Dropshipping Sales: Top Tips
1) Choose The Right Dropshipping Supplier
Remember how we said that choosing the right dropshipping supplier is absolutely critical? We weren't lying – this is an important step.
To help you make the best choice, you should always ask the following questions once you've assembled a list of potential suppliers:
How much does it cost?
Is it membership or a per-transaction fee?
Are there any extra fees?
Does the supplier provide dropshipping?
Can they also sell in bulk as a wholesaler?
What's the return and refund policy?
How's their customer service?
Are they available 24/7/365?
What's their inventory like?
Do they serve a specific niche?
If the potential supplier answers all of these questions, then you'll have a pretty great idea of what they're all about. That'll help you make the best possible decision for your store.
RELATED ARTICLE: How To Effectively Contact Dropshipping Suppliers
2) Pick The Right Brands & Products
Product research is another critical part of building a successful Amazon dropshipping store. It helps you find brands and products that consumers want, thereby making your store profitable.
When looking for products to dropship on Amazon, there are a few criteria to consider:
Price. Check your supplier's wholesale prices and aim for a 10%-20% profit margin.
Product Size. This will affect the shipping costs – bigger objects are more expensive.
Shipping Methods. The best suppliers can pack and ship fragile or perishable goods.
Demand. Pick in-demand products using both trend research and product research.
Seasonal Trends. Sell products with consistent demand or a regular buying season.
Thankfully, there are plenty of product research tools for your Amazon dropshipping store. These include Google Trends, Rising Retail Categories, Facebook Ads, Ecom Radar, SaleHoo Market Research Lab, eBay's Advanced Search, Hashtagsforlikes, and others that we discuss in the section below.
RELATED ARTICLE: Product Research: How To Find Products For Your Store
Finally, you have two choices when it comes to choosing brands to dropship: recognizable and well-known versus new and emerging.
Each has its pros and cons, of course. But if you choose recognizable brands, then you'll have to compete with well-established retail stores and offer lower prices and shorter shipping times.
On the other hand, choosing emerging brands means that you'll:
Avoid saturated markets
Engage curious customers
Get ahead of emerging trends
Limit direct competition with other retailers
Help develop the brand's identity
Dropshipping new and emerging brands appeals more to innovators and achievers. Of course, going with recognizable brands is the "safe" option, but not every retailer wants that!
3) Keep Prices Competitive
You want to shoot for a profit margin of 10% to 20%, depending on the type and volume of products. Setting the right retail price will keep you competitive and help you be successful.
RELATED ARTICLE: Dropshipping Profit Margins: How To Price Your Products
That being said, let's take a look at the profit formula for dropshipping on Amazon:
PROFIT = RETAIL PRICE – (WHOLESALE PRICE + COSTS + FEES)
The retail price is the price online shoppers will pay for an item while the wholesale price is the price that you – the retailer – will pay from a wholesaler or dropshipping supplier.
Plus, costs and fees are additional expenses you'll have for your Amazon dropshipping store, including membership to a dropshipping supplier, the Amazon Seller Plan, and shipping fees.
However, the dropshipping model means you don't have to pay for warehouse space to store and ship your inventory. As a result, this is not included in the final formula.
Essentially, you have to make sure that the retail price is higher than the wholesale price plus costs and fees, but not so high that online shoppers go elsewhere (or to another third-party seller on Amazon). It's a delicate balance and it might take some trial and error.
Luckily, dropshipping has virtually no risk since you don't have to order inventory in bulk and get stuck with an unsold surplus. You can easily try new items and experiment with different price points, all without incurring any risk.
Additionally, if you choose a supplier that provides both dropshipping services and the ability to buy in bulk, then you're really in business! That way you can combine the best of both retail models.
4) Advertise Your Amazon Dropshipping Store
So you've created this amazing Amazon dropshipping store with all the best products from all the best brands at all the best prices. Now what?
You've got to get the word out there! People need to know that you exist and you have to direct some traffic to your Amazon listings.
Amazon Advertising can help you reach customers at any stage of the online shopping process. It offers services like audio and video ads as well as sponsored products, brands, or displays.
Additionally, they have a competitive cost per click (CPC) and your products will show up at the top of an Amazon search.
Plus, you can spend some cash on advertising, especially on social media. This includes running Google ads and/or Facebook ads as well as Instagram ads, depending on your particular needs.
Facebook advertising can also work really well if it's implemented effectively. Using social media advertising is all about creating a network of interested users that feel personally connected, thereby allowing you to funnel them to your Amazon product listings.
Finally, email marketing is an especially effective strategy. You "capture" the email addresses of potential customers, regular shoppers, or visitors and then craft email "campaigns" to direct them to your Amazon listings.
RELATED ARTICLES:
5) Get The "Buy Box"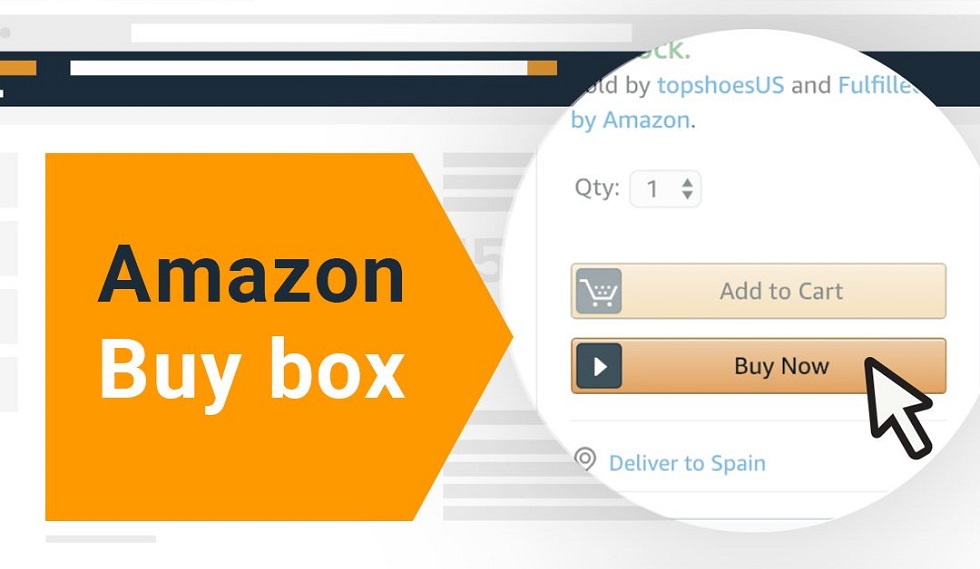 Over 83% of sales made on Amazon come through the Buy Box! These are the sellers who are displayed on a listing with the ADD TO CART next to their name.
This website real estate is incredibly valuable since only the name of the Buy Box winner is displayed, directly influencing profitability (especially on mobile).
Some retailers will be Buy Box-eligible (formerly known as the Featured Merchant status), meaning that they can try to get that treasured spot.
That being said, there are a few criteria to determine if you're even eligible to get that coveted Buy Box:
An Amazon Professional Seller account.
Only new items for sale (no used items).
A certain amount of experience as a seller.
Good overall performance metrics.
A high seller rating of at least 95%.
Only available stock – no backordered items.
If you want to check your Buy Box eligibility in your Amazon dropshipping store, just follow these basic steps:
Go to Amazon Seller Central.
Click on the Inventory tab.
Select Manage Inventory.
Click on the Preferences tab.
Go to Column Display and find Buy Box Eligible.
Select Show When Available from drop-down menu.
Look at the Buy Box Eligible column for a particular SKU.
Ultimately, that Buy Box stamp will make a huge difference in sales for your Amazon dropshipping store, so it's always worth trying to get!
Finally, if you get the Buy Box, then you can create sponsored listings for the product through Amazon PPC, thereby strengthening your marketing and advertising campaign.
6) Maintain A High Seller Rating
This is important, as it indicates to online shoppers that your Amazon dropshipping store has high customer satisfaction. This will make it more likely that an online shopper will take a chance on your store and make an actual purchase.
Additionally, it also results in fewer refunds or returns, thereby making your dropshipping store more profitable.
There are multiple things you can do to maintain a high seller rating, depending on the issues at play. But, in the end, it's pretty self-explanatory: take good care of your customers and listen to their concerns.
If they feel heard, valued, and appreciated, then they'll likely come back. Plus, you should steer clear of cheap and low-quality products that buyers won't be satisfied with – that's a quick recipe for a poor seller rating.
Finally, you should also choose a dropshipping supplier that ships quickly and effectively – online shoppers hate waiting too long for their orders to arrive.
7) Optimize Your Amazon Listings
Make sure to include keywords throughout your listing to ensure it shows up in Amazon searches. You can use tools like Merchant Words and/or Google Keyword Planner to find the best terms for your product.
You also need to optimize product titles. For example, use the brand name as the first word and then accurately describe the product with the rest of the title.
Plus, online shoppers are most interested in size, color, model, and quantity, so make sure that this information can be quickly scanned by the potential customer.
To make it easier for you, Amazon suggests the following structure for optimized titles: [Brand] + [Sub-Brand] + [Model Number] + [Size] + [Product Description] + [Defining Features].
Additionally, you can follow these basic guidelines for optimizing listings:
Choose relevant keywords and keyphrases.
Select accurate product categories.
Never duplicate any content or listings.
Optimize the product titles (see above).
Make it easy to scan, especially on mobile.
Highlight key features with bullet points.
Write engaging product descriptions.
Encourage customers to leave a review.
Finally, make sure that you only use high-resolution, professional-quality product images. For most listings, five (5) to six (6) is considered the optimal number.
However, keep in mind that Amazon has strict guidelines on product images:

The dimensions of these product images should be 1,000 by 1,000 pixels and the product image should take up 85% of the frame. Most suppliers – including GreenDropShip – will provide high-res product images that you can use for your listings.
8) Create An Amazon Coupon
This is a pretty simple way to drive sales by incentivizing online shoppers. Everyone loves a good deal, so this can be a great way to build up a customer base!
Coupons are a great way to engage customers, especially if there's a special date coming up. For instance, you can offer a 10% discount on chocolates for the two weeks before Valentine's Day.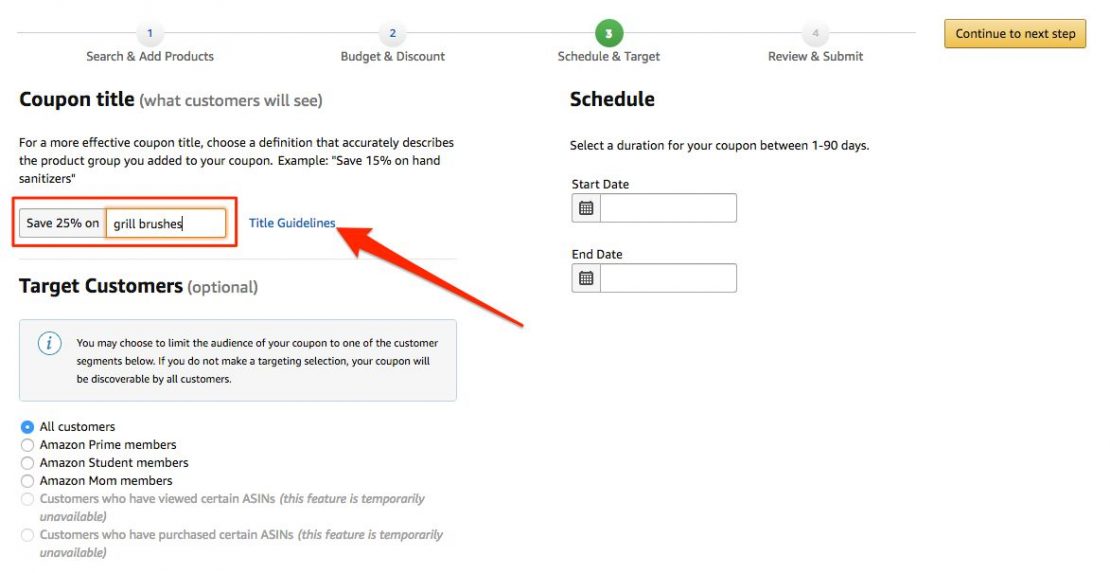 Additionally, creating these Amazon Coupons helps you craft email marketing campaigns that will have high click-through rates (CTRs) to engage potential customers.
Just log in to your Seller Central account and select Coupons from the Advertising menu. Then you can create a new coupon and determine how much discount you'd like to give.
The Best Tools For Dropshipping On Amazon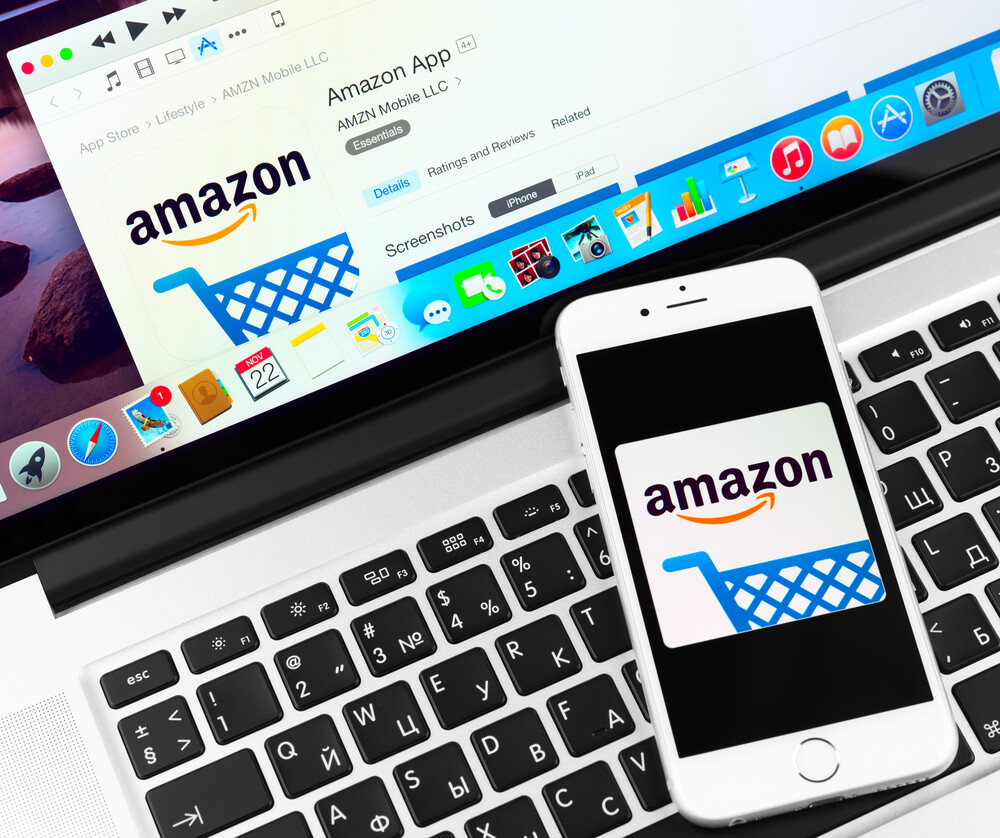 Remember that by choosing to have a dropshipping store on Amazon, you won't have to deal with inventory or stock management.
Let's take a look at a list of tools and apps that are useful for online sellers. Although they can be used for any kind of selling on Amazon (including bulk buying or Amazon FBA), they're especially valuable for dropshipping.
1) Price Trackers
Let's start off with a list of tools that allow you to compare and contrast the prices of various products. These are crucial for online retailers as it allows them to figure out how much other merchants are charging for a specific good.
Remember that dropshipping is a crowded marketplace, especially on Amazon. This means that if you want to have customers, you'll have to set competitive prices.
That being said, a price tracker tool allows you to determine the best possible price in order to keep your profit margin healthy while keeping customers happy.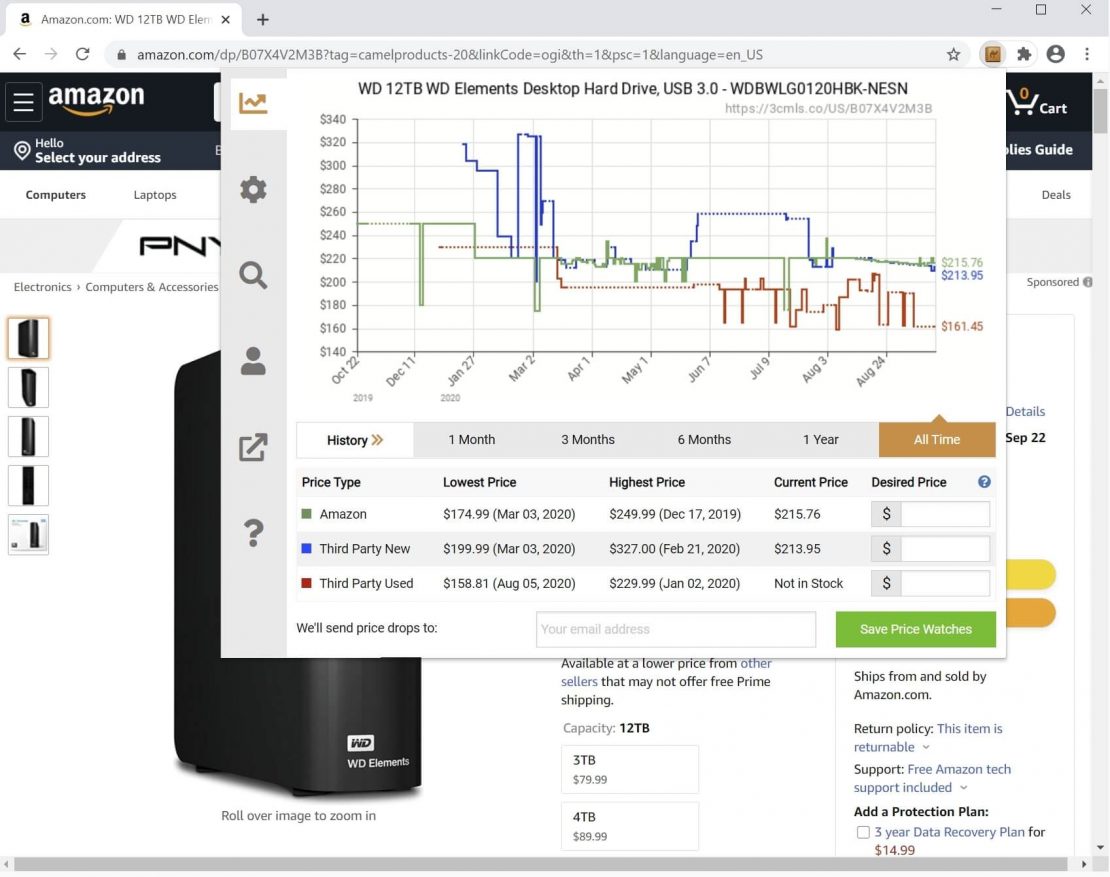 Camelcamelcamel is a free price tracker that is absolutely vital for any Amazon dropshipping store.
It has a highly customizable price history graph with settings that can be configured to show a given product's price history for the previous 1 through 12 months.
You can also use the slider bar to display price histories from other third-party sellers as well as Amazon itself. This also allows sellers to see the top price drops for a given product.
Finally, you can even sign up for alerts so that the tool will notify you as soon as the price drop happens.
This tool is available as a browser extension for Chrome, Firefox, and Safari. However, for maximum efficiency and convenience, you should use the Chrome extension called Camelizer as it provides all of this information in real-time.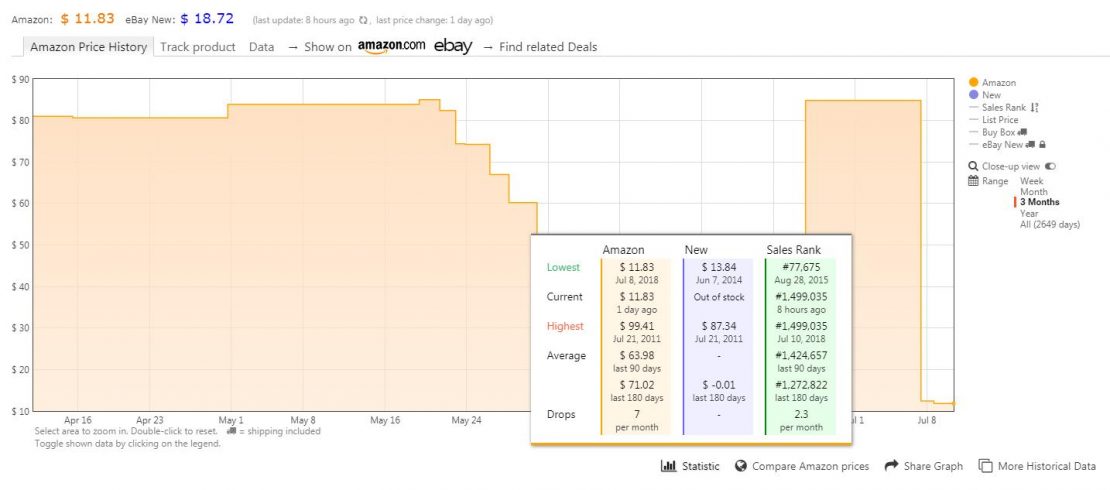 Keepa is another free price tracker tool. Its price analysis is more granular than Camelcamelcamel. In other words, the data it tracks is much more detailed but it does not go back as far in time.
This tool also has a highly intuitive user interface (UI) with four primary colors to denote important information:
Orange – Amazon marketplace
Blue – New items
Black – Used items
Green – Sales rank of a given item
Additionally, Keepa offers comprehensive price history, visual graphs, availability alerts, current deals or promotions, and a constantly updated product database.
Much like Camelcamelcamel, it's available as a browser extension for Firefox, Chrome, and Safari. However, its functionality is the same on all three browsers.
While both of these price trackers are mostly free, they also come in a "freemium" package ($20 per month for each) where certain advanced functions require payment. These include "sales rank number" and "sales rank history".
One of the most important pieces of information for an Amazon seller is the sales rank number. It refers to how slow or how fast a given item will sell on Amazon, giving sellers more confidence to choose the items they want to include in their dropshipping store.
For example, an item with a lower sales rank number will sell faster than one with a high rank number. Plus, sales rank history provides this valuable information over an extended period of time, allowing sellers to predict sales trends.
Ultimately, the more information you have, the better decisions you can make!
2) Product Research
Research is a crucial part of having a successful Amazon dropshipping store. This includes market, product, and trend research.
In other words, you'll need to understand your target audience of potential customers in order to effectively choose what products to sell and how to market them to the consumers.
Plus, doing research for Amazon is necessary in order to analyze current trends in the marketplace and choose "winning" items. This means having an inventory filled with products that can generate excellent solid sales.
Essentially, you want to find products that are inexpensive at wholesale and which can be sold at competitive prices with enough of a markup to give you healthy profit margins.
These tools will also help you identify trends in the marketplace as well as product details so you can formulate an effective selling strategy.
Since we already covered Google Trends in a section above, let's talk about two other tools you can use.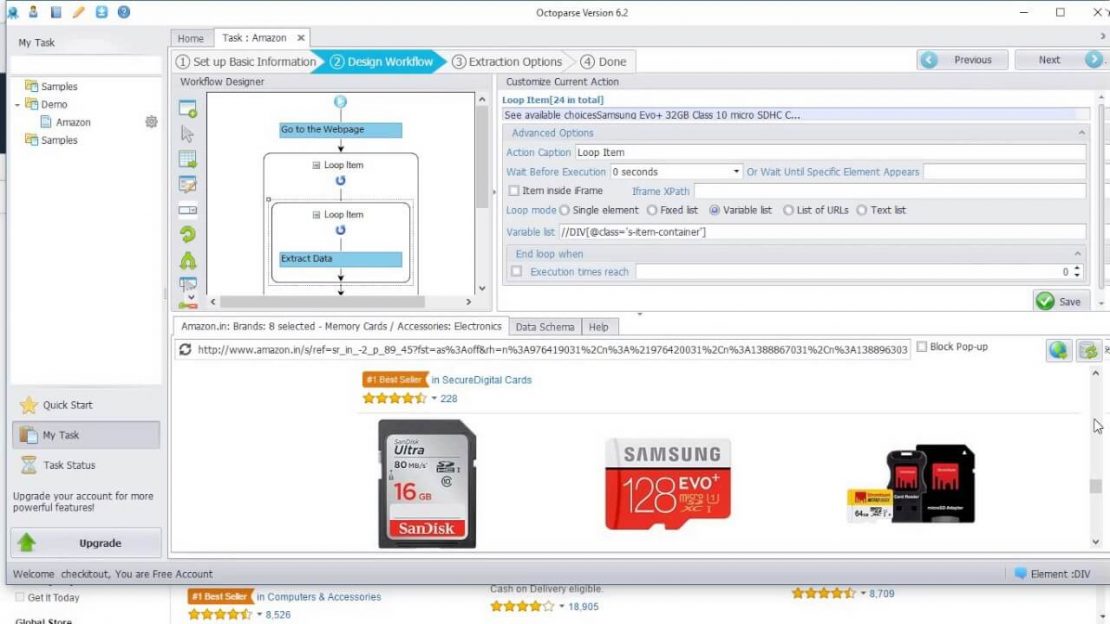 Octoparse is a free "web crawler" tool that you can use to scrape data from Amazon listings. In other words, Octoparse can extract valuable information via the UPC/ASIN numbers on products, including:
Product details
Customer reviews
Profiles
Additionally, Octoparse provides a built-in Amazon task template with pre-set extraction data fields. This means that sellers can conveniently extract this data without having to resort to coding or setting rules.
Plus, the tool easily exports the information in a number of formats, including Excel, HTML, or CSV. This makes it easy for you to analyze and look over in detail so you can choose the right marketing strategy for your dropshipping store.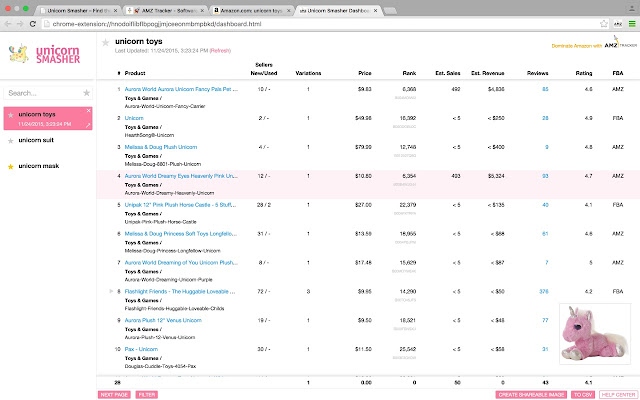 Unicorn Smasher is a free Amazon product research tool developed by AMZ Tracker. It allows sellers to speed up and maximize their Amazon product research.
Its comprehensive analysis includes:
Product prices
Rankings
Customer reviews
Fulfillment details
Monthly sales estimates
Revenue estimates
Product metrics
Data analysis
Export tools
Unicorn Smasher ultimately takes all this information and calculates an opportunity score for a product.
Having this useful information can help a seller predict the profitability of a given product and properly choose the best sales strategy for their Amazon dropshipping store.
This tool is available as a browser extension for Chrome, Firefox, and Safari.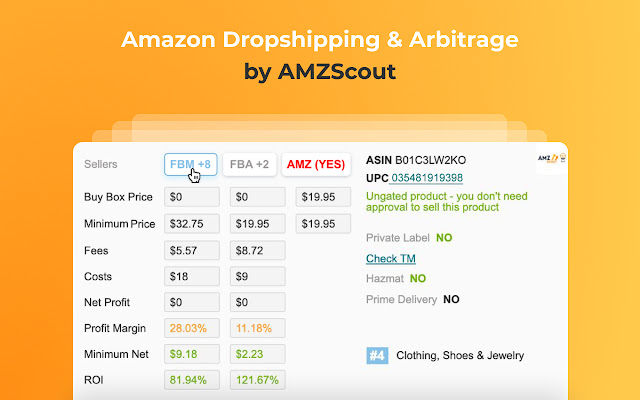 Find out instantly if a product will be profitable in your Amazon dropshipping store with this handy Google Chrome extension.
Once installed, this extension will reveal all sorts of useful information right on a product's Amazon listing, including:
Buy Box price
Amazon fees
Profit margin
Price history
Best keywords
ASIN and UPC
Number of sellers
Ungated or Gated
Size and weight
This is a streamlined, sleek, and no-nonsense product research tool that's indispensable for any Amazon dropshipping store.
You can reduce the amount of time it takes on choosing products to dropship and instead focus on advertising or marketing!
3) Paid All-In-One Tools
As an online seller, you also have the option of choosing a paid all-in-one tool for your dropshipping store on Amazon.
These are designed to do multiple tasks and can be quite complex. They are a paid service, usually via a monthly membership fee that can sometimes be a little pricey.
However, they can be extremely valuable as they allow sellers to track all kinds of valuable information to help their Amazon stores be as successful and profitable as possible.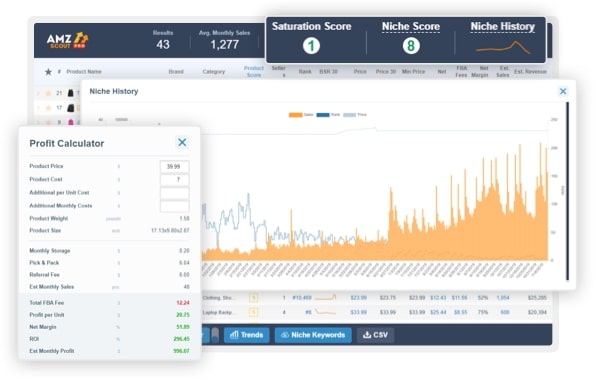 AMZScout is a premium all-in-one tool that does a number of crucial tasks for your Amazon dropshipping store.
This tool covers several key areas, including:
Product Searches
Sales Estimator
Amazon Fee Calculator
Product Tracker
Keyword Research
Data Analytics
AMZScout is especially useful for product searches and tracking to identify products that are hot on Amazon. You can break this information down on several levels, including by the day, week, month, or year.
You can also target a specific holiday or season if your dropshipping store has products that are especially popular at a given time of the year.
There are two basic forms of the tool: AMZScout PRO Extension (a Chrome plug-in) and AMZScout Web App (a program that runs off the AMZScout website).
The Web App is the more stripped down and basic form of the tool while the PRO Extension offers sellers the ability to track all the info in real-time while they are on the Amazon website.
PRO extension also features average monthly sales, reviews, competition levels, sales trends, product scores, and niche scores, which allow you to quickly see the pros and cons of selling an item and whether it will be profitable to sell.
The Web App costs between $30 and $60 per month while the PRO Extension is available for a one-time fee of $199. That being said, they work best in combination with each other.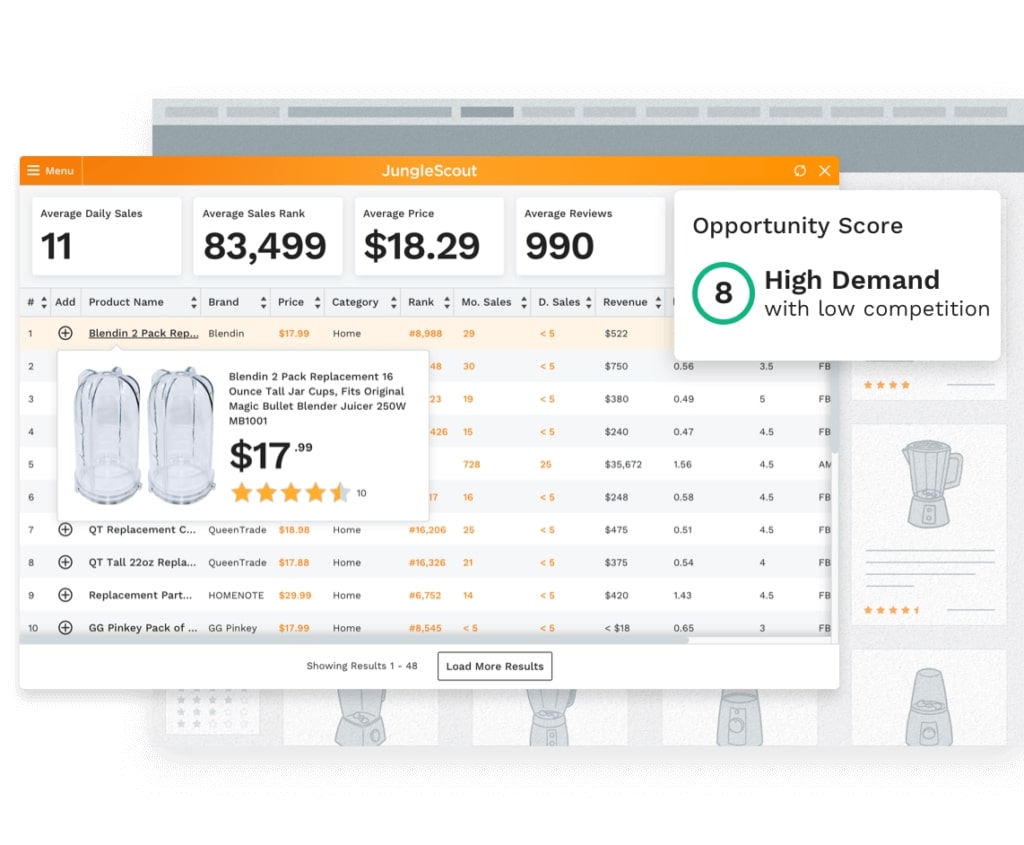 Jungle Scout is an extremely popular all-in-one seller's tool that comes only as a browser extension for Chrome.
However, this powerful web-based software covers multiple areas that are critical for a successful Amazon dropshipping store, including:
Keyword Research
Keyword Scout
Competitor Analysis
Supplier Database
Sales Analytics
Inventory Manager
Academy (tutorials for sellers)
A unique feature of Jungle Scout is its extensive Product Database. There are over 70 million products that you can sort through by using a set of advanced and finely-tuned filters.
Plus, you can then take the products from this database and further analyze them with the Opportunity Finder. This is a powerful feature that helps sellers find high-profit, high-demand, and low-competition niches in the general marketplace.
When using the Opportunity Finder, you can sort through the data using filters like competition level, niche score, and the number of units sold per month.
In order to make the most of Jungle Scout's incredible features, it will cost anywhere between $30 to $70 per month as well as a one-time Chrome extension fee between $97 and $197.
4) Customer Reviews
Customer reviews are another crucial aspect of your Amazon dropshipping store. These reviews are important for both ranking your listings in Amazon searches and conversion rate optimization (CRO).
In other words, CRO is the process of getting potential customers to purchase products from your store.
Getting customers to review your store is usually done most effectively with automated emailing campaigns. This allows you to establish contact with online shoppers and offer incentives to leave a review.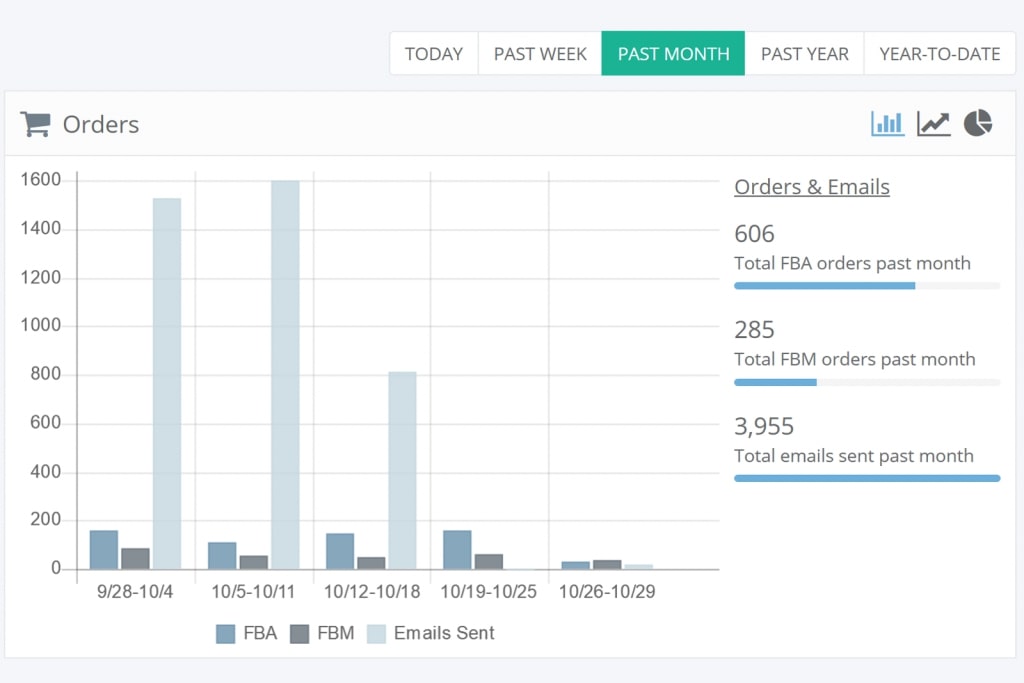 Feedbackwhiz was developed especially to track, analyze, and manage user feedback and customer reviews.
It does so by allowing you to configure personalized emailing lists that you can customize to match the tone and branding of your Amazon dropshipping store.
This tool is ideal for:
Setting up automated emailing
Instantly processing negative reviews or feedback
Optimizing product reviews
You do have the option of using Feedbackwhiz for free, but this will limit you to just one emailing campaign per month.
In most cases, this is not enough to mount an effective strategy to get the number of customer reviews you'll need to have a successful dropshipping store.
If you're looking for more possibilities, then the tool has plans that start from $19 per month.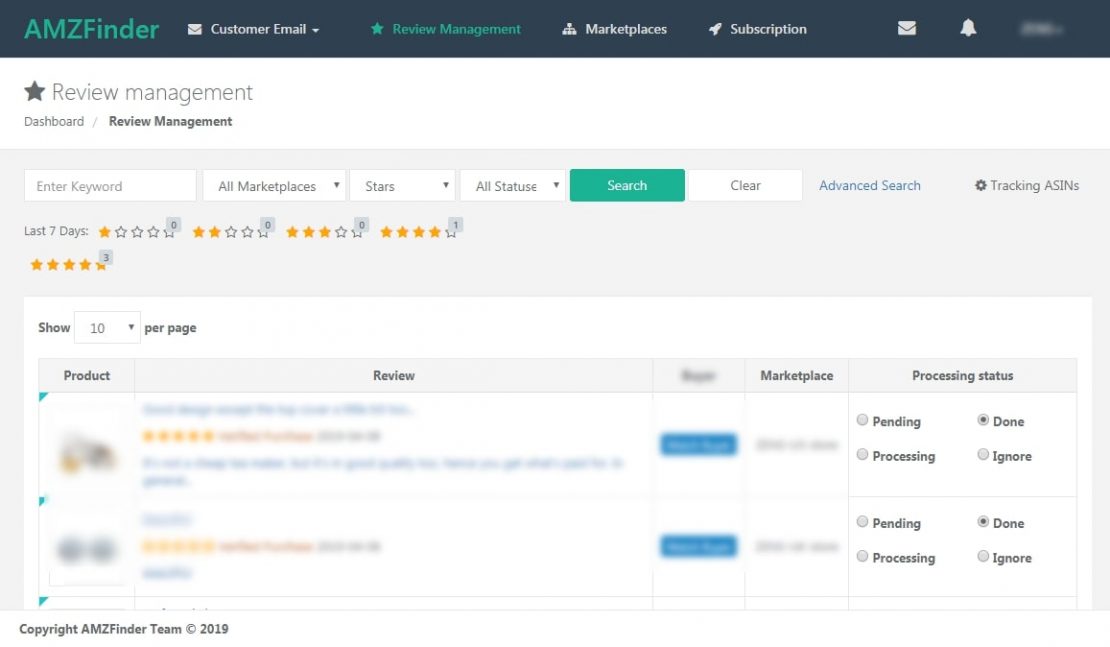 AMZFinder is a Chrome browser extension with two major features for your Amazon dropshipping store:
Feedback Request System – This allows you to set up emailing campaigns to contact customers and incentivize them to leave reviews.
Review Management – This allows you to instantly monitor reviews and orders so that you can make sure that your store's reputation stays high.
AMZFinder is unique in that the Feedback Request System asks customers to leave reviews as part of the follow-up invoice that they receive after placing their order.
This helps your emails seem less "spammy" and makes most customers more willing to leave reviews.
The tool starts at $39 per month. This basic plan gives you 5,000 monthly emails, which is more than enough for any dropshipping store that's getting started.
5) Accounting
Keeping track of the various expenses can help an Amazon seller make their dropshipping store more successful.
Plus, with the right tools, you can effectively track just how profitable your store is at any given moment.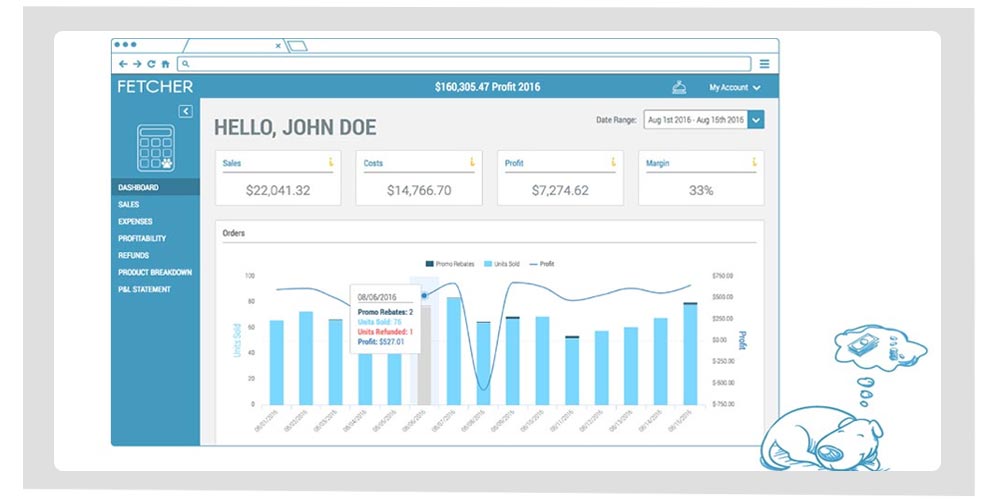 Fetcher is designed to provide Amazon sellers with:
Product breakdowns that are sorted by ASINs
Pay-per-click (PPC) costs and sales analysis
Real costs and product promotion tracking
Recurring Amazon fees (for both dropshipping and FBA sellers)
Refund tracking with costs and comparison
Wholesale costs of goods
A comprehensive dashboard of the store's inventory
A daily email with sales and profits
One of the strongest qualities of this tool is the ability to customize the daily profit and loss breakdown (P&L statement). By tracking this information daily, you can make adjustments to your store and strategy in order to maximize your profits.
The pricing ranges from $19 per month (2,500 orders per month) to $99 per month (unlimited orders). For most new Amazon dropshipping stores, the basic plan will be more than enough.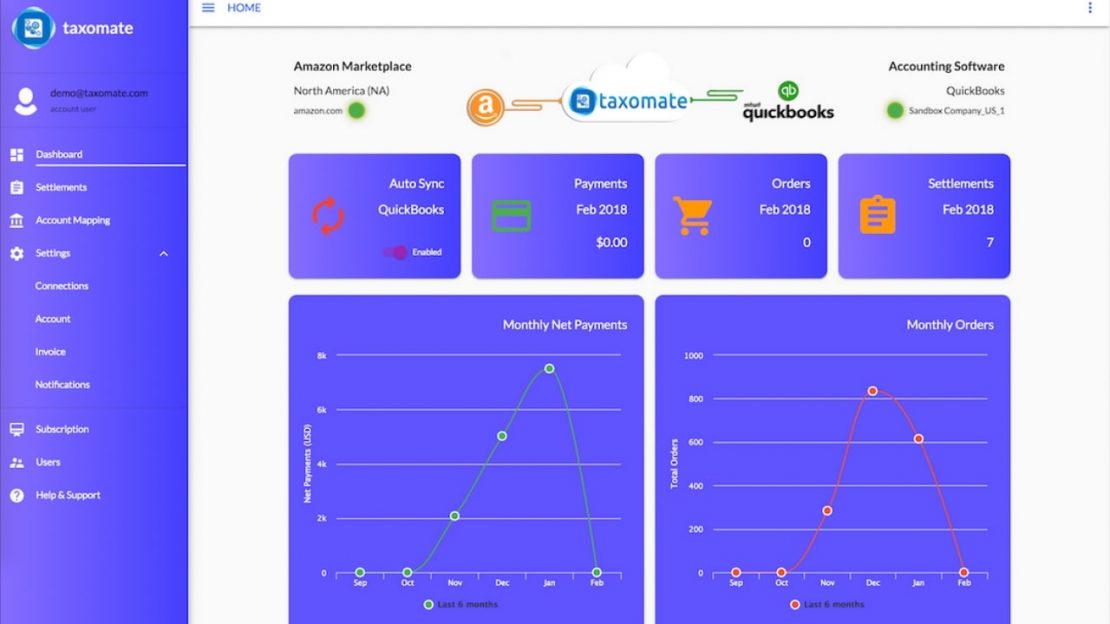 If your Amazon dropshipping store starts being really profitable, don't forget that you'll have to track lots of information for when you file your taxes. This where the Taxomate tool comes in handy.
By automatically finding Amazon sellers' Marketplace Settlements, this cloud-based tool allows sellers to:
Import their Amazon sales and fee transactions to QuickBooks Online.
Quickly and easily summarize these transactions in QuickBooks Online.
Track the cost of goods sold.
Reverse charge any VAT fees or expenses.
It's available from a $9 per month Starter Plan (up to 200 orders per month) to a $49 per month 5K Plan (up to 5,000 orders per month).
Having the right tools is just one part of growing a successful dropshipping store on Amazon. You'll also need to choose the right dropshipping supplier that provides product feeds for Amazon such as GreenDropShip.
Once you pick the products you want to sell and import our data feeds, then you can list your inventory and create your Amazon dropshipping store. All of this can be done in combination with the tools listed above.
Choose GreenDropShip As Your Dropshipping Supplier For Amazon
The choice is clear: join GreenDropShip and have us be the dropshipping supplier for your Amazon store!
We're an innovative, easy-to-use, and reputable wholesaler and dropshipping supplier that integrates seamlessly with your Amazon store via our product feeds.
Additionally, we offer a hybrid model of both dropshipping services and bulk buying. This means that you can try out new products via dropshipping and – if they sell well – you can then order in bulk from us.
Our valued members also get access to a wide variety of product categories, including:
These gourmet, specialty, and premium products come from both well-known and emerging brands, so you've got some options in what you can dropship on Amazon.
Become a dropshipping member and we'll store, pack, and ship your orders to your customers!
Join GreenDropShip today and start selling!