Non GMO Candy: Wholesale Premium Chocolate
Non-GMO Candy: Wholesale Premium Chocolate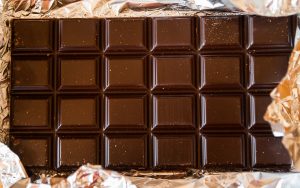 As consumers are making healthier choices, many candy categories struggle when it comes to sales. However, one particular segment's popularity keeps growing dramatically—premium chocolate.
Clearly, consumers want higher-quality candy for those moments of indulgence.
Meanwhile, consumers are also looking for  non-GMO candy — made without genetically modified ingredients.
They're aware of the dangers genetically modified food poses to their health and the environment.
In particular, the overuse of harmful pesticides on modified crops disturbs them.
But, producers don't have to label modified foods.
So, shoppers protest genetic modification with their buying power. They pick up candy labeled as non-GMO instead.
---
Check out my previous article for more on why consumers choose non-GMO chocolate.
---
Many premium chocolates do not contain genetically modified ingredients. So, the non-GMO and premium chocolate buying trends go hand in hand!
But what makes a chocolate premium?
How much is sales growth rising for the premium chocolate segment?
Is all premium chocolate non-GMO, and is all unmodified chocolate premium?
Why should you choose wholesale/drop shipping to sell unmodified premium candy?
And most importantly, what non-GMO premium chocolate offerings are reliable sellers for your business? Read on to find out.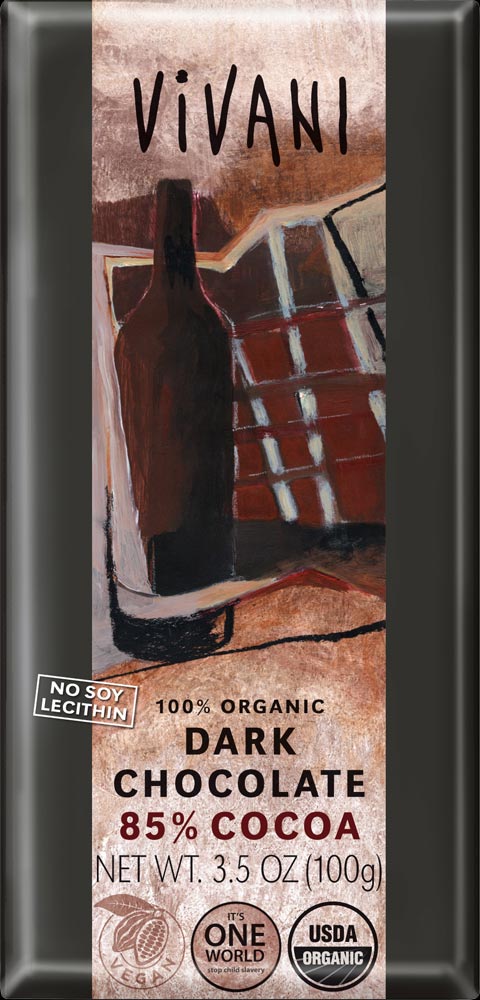 What Makes A Chocolate Premium?
According to the National Confectioners Association (NCA), premium chocolate is chocolate that sells for $11 or more (USD) per pound.
Some chocolate just below the $11 mark still counts as premium due to "market positioning" (for example, if it's part of a premium brand and/or product line).
Remarkable Sales Growth of Premium Chocolate
According to IRI, premium chocolate sales grew 10% over the past year.
So, this is the fourth year in a row that premium chocolate saw double-digit sales growth.
Meanwhile, total chocolate sales growth came in at just 2.4%. Thus, premium chocolate is driving total chocolate sales!
Does Premium Always Mean Non-GMO?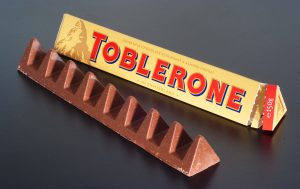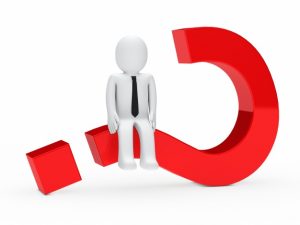 Although many premium chocolates are non-GMO, a premium label doesn't guarantee that a candy's free from modified ingredients.
After all, the price is the only premium chocolate standard.
For example, Toblerone's a premium chocolate because it sells for over $11 per pound.
However, no one knows for sure if Toblerone's non-GMO.
This is because the makers of Toblerone don't have to disclose whether they use modified ingredients.
Toblerone doesn't state that they avoid modified ingredients anywhere on their website. Plus, they have no third-party non-GMO verification.
Does Non-GMO Always Mean Premium?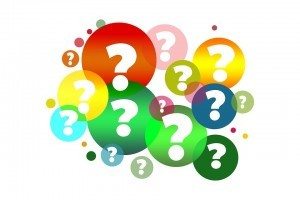 And not all unmodified chocolates are premium, either.
For instance, some varieties of Hershey's chocolate are now free from genetically modified ingredients.
But, Hershey's chocolate isn't premium. It sells for less than $11 per pound.
So, to appeal to the most consumers and have the highest sales, make sure the chocolate candy you sell is both premium and non-GMO!
Premium Chocolate Deserves Premium Ingredients
Part of what makes premium chocolate so attractive is the unique, high-quality flavor profiles it offers.
Interestingly, Millennials (ages approximately 20-35) love to explore bold adventurous flavors. And Millennials are also the largest generation. This may be one of the reasons why premium chocolates are so popular!
Here are some samples of distinct flavor profiles, to appeal to customers who want to transport their taste buds: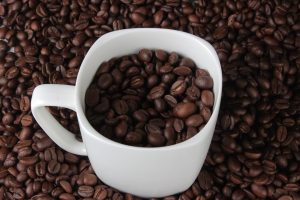 Coffee: There's a reason why this classic combo causes a buzz. Rich, roasted dark coffee beans, and cocoa beans complement each others' flavors perfectly.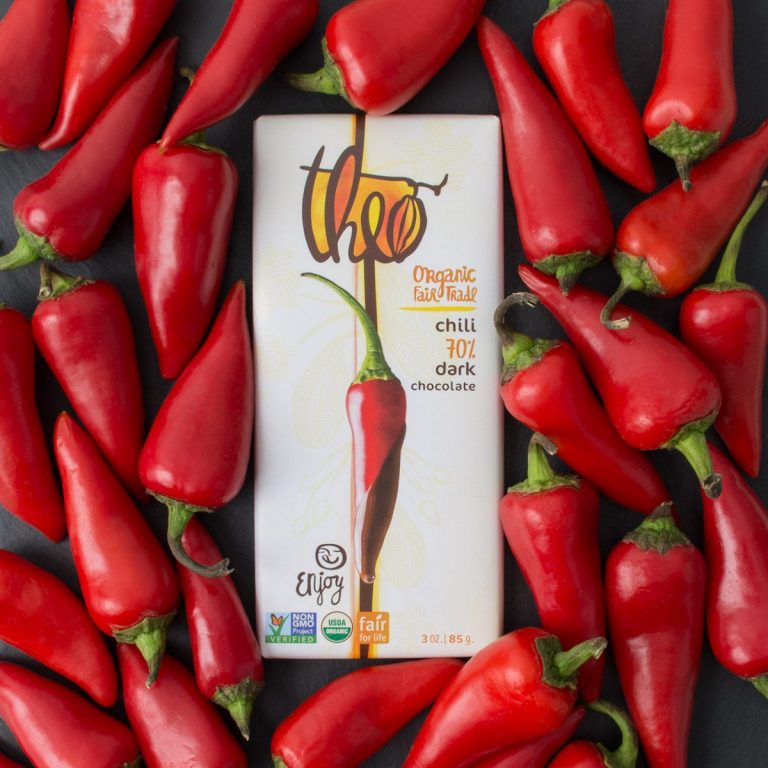 Chiles: Cayenne, guajillo and other spicy peppers bring the heat and balance with the sweet. Kick your chocolate selection up a notch!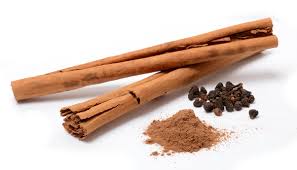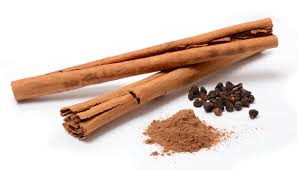 Spices: Cinnamon and other spices add warmth to chocolate. Great for those who want some spice but aren't adventurous enough to grab peppered chocolate. But, sometimes these spices appear with peppers to ramp up a premium chocolate's heat even further.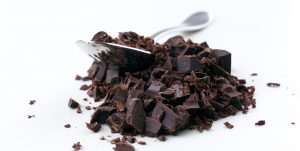 Extra Dark Chocolate: For those who aren't afraid of the dark, but embrace its rich, deep and bitter flavor. Premium chocolate takes dark to new depths (with cacao percentages in the 70s, 80s, and 90s!)
Sea Salt: Bittersweet cocoa and sea salt, the opposites, sure attract discerning chocolate lovers. Sometimes, you'll find almonds or caramel added to the salted chocolate mix for a more complex profile.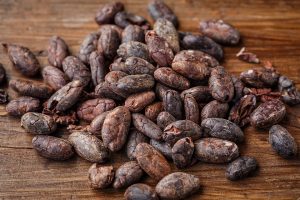 Cacao Nibs: Cacao nibs are simply crunchier bits of cacao beans. They add texture to premium bars and increase the rich depths of cocoa flavor. They're less refined than cocoa powder, so they're  also healthier.
…And Truly Premium Ingredients Are Non-GMO
But what's not inside the chocolate is just as important. The highest-quality premium chocolate contains no genetically modified ingredients.
Producers of non-GMO chocolate make sure that they don't use modified ingredients, not even by accident. They're especially careful about where these high-risk (commonly modified) ingredients come from. Sometimes, they'll omit these ingredients from their candy outright, to avoid the risk.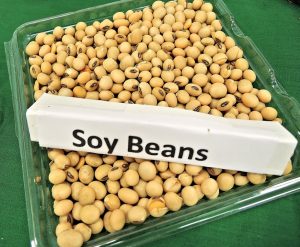 Soy Lecithin: From soybeans, the most heavily modified ingredient.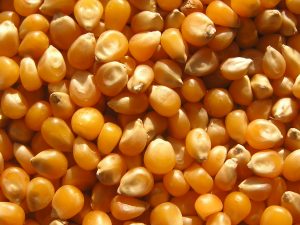 Corn Syrup/Other Corn Derivatives: Corn's the most commonly modified ingredient. Most premium candy leaves out corn ingredients altogether.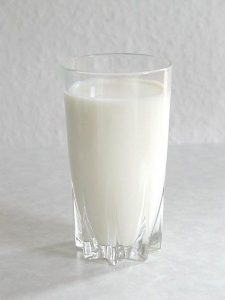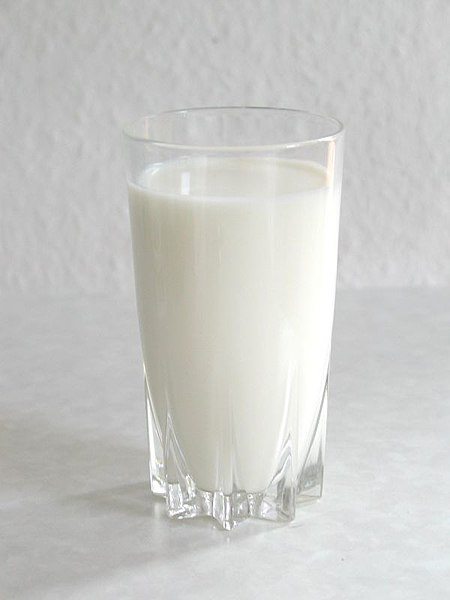 Milk: If cows eat GMO feed, their milk becomes a genetically modified food. And unfortunately, the modified animal feed is increasingly common—especially feed with corn and soy.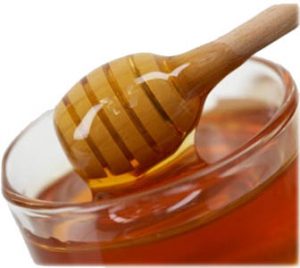 Honey: Bees don't know if they're gathering nectar and pollen from modified plants. Only some beekeepers keep their bees from reaching modified plants. They do this by setting up natural barriers at the borders of their farms.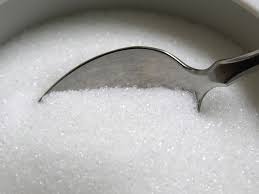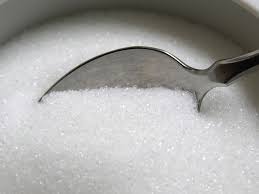 Sugar: Sugar beets are one of the most commonly modified foods. Discerning premium candy makers pick unmodified cane sugar (or another unmodified sweetener) instead.
Why Wholesale/Drop Shipping?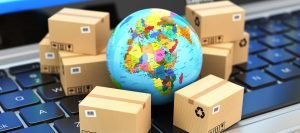 It's smartest to buy premium chocolate wholesale, and even smarter to blind dropship.
Wholesale drop shipping suppliers, like GreenDropShip.com, offer lower prices. (All varieties of chocolate that GreenDropShip.com sells are premium). You'll enjoy significant savings over the manufacturer direct price.
And with drop shipping, you won't have to worry about inventory. You only pay for products you sell. Once you sell a product, the supplier ships it to you—or directly to the customer.
If the supplier ships directly to the customer, the customer doesn't see who shipped the product (hence the name "blind drop shipping").
Reliable Chocolate Choices: Premium and Non-GMO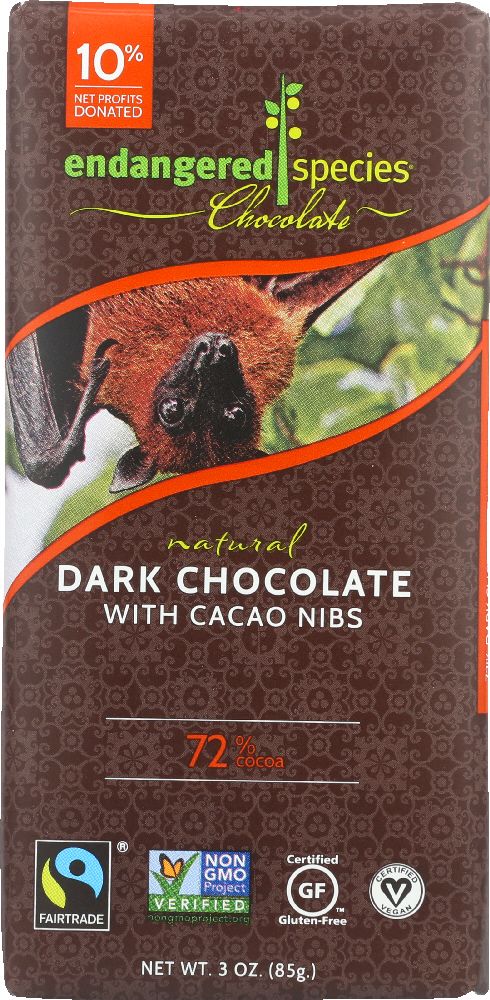 Endangered Species Dark Chocolate with Cacao Nibs
A bittersweet 72% cocoa bar with added decadent richness and subtle crunch, thanks to cacao nibs.
Non-GMO Project Verified and Fair Trade.
Also, it's a Kosher (D), Certified Gluten-Free and Certified Vegan candy.
10% of proceeds benefit programs that assist at-risk wildlife.
Features information about at-risk bats on the inside of the wrapper.
Contains cane sugar and unmodified soy lecithin.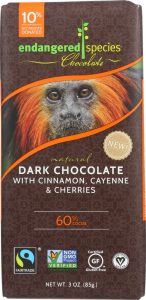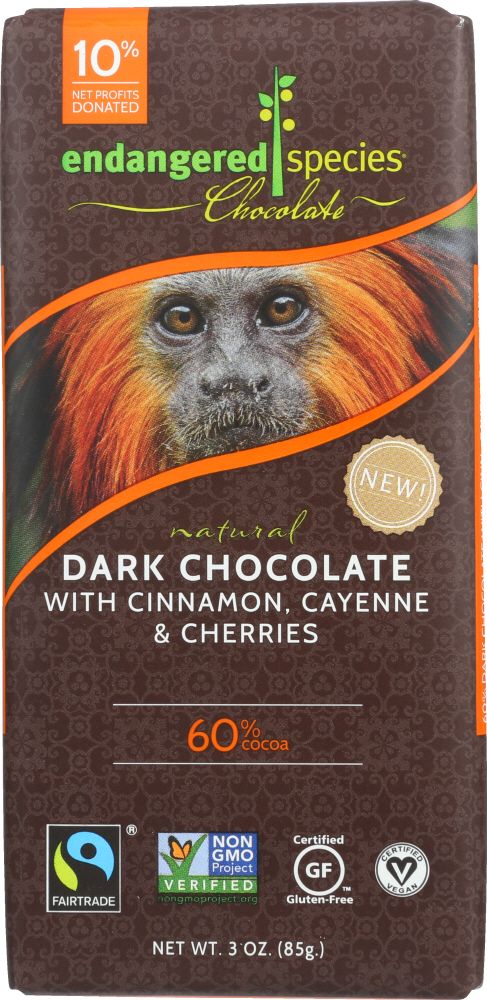 Endangered Species Dark Chocolate with Cinnamon, Cayenne, and Cherries
This 60% cocoa bar with complex flavor notes will take customers' senses on a roller coaster ride.
Warm cinnamon gives way to cayenne's kick. But soon, the tart sweetness of cherries soothes the palate and balances the cayenne.
A Fair Trade, Non-GMO Project Verified, and Kosher (D) candy.
Also, it's Certified Vegan and Certified Gluten-Free.
10% of Endangered Species proceeds benefit conservation programs.
Endangered Species recommends pairing this sophisticated blend with red wines or Merlots, almonds, and sharp, white cheese.
Contains unmodified soy lecithin and cane sugar.
Learn about the beautiful golden lion tamarin on the inside of the wrapper.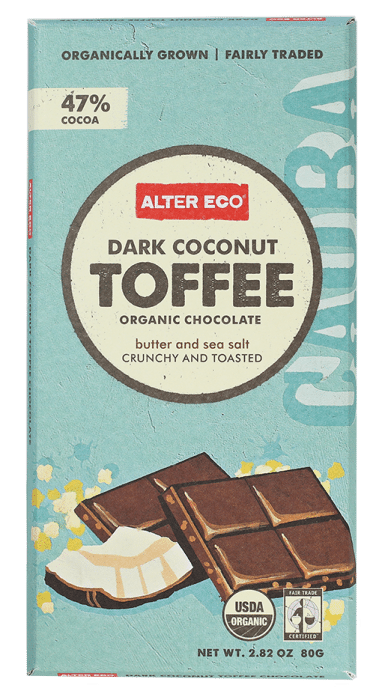 Alter Eco Dark Coconut Toffee
Sri Lankan coconut, Paraguayan cane sugar, French sea salt and single-origin Peruvian cacao blend together with butter.
This 47% cacao dark milk delicacy brings a "uniquely nourishing, supremely satisfying crunch."
It's salty, sweet, chewy, then buttery, for multi-dimensional flavor. Let this toffee transport your customers to the tropics!
USDA Organic, with 100% organic ingredients.
Also, it's Fair Trade Certified (90% Fair Trade ingredients).
Only 8 simple, premium ingredients!
Alter Eco chocolate never contains genetically modified ingredients, artificial flavors, emulsifiers, or soy.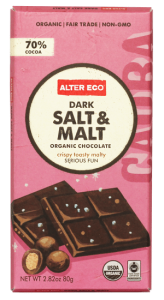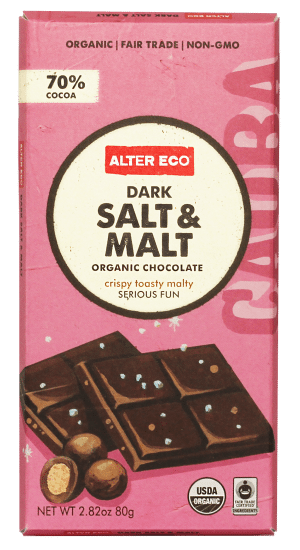 Alter Eco Dark Salt & Malt
Brings in the nostalgia with the taste of your favorite childhood malted milk balls. But Alter Eco brings pure adult flavor sophistication with this premium Dark Salt and Malt bar. This malt has definitely matured.
Malt meets the sought-after Fleur de Sel de Guerande salt and 70% dark chocolate—Ecuadorian-harvested and Swiss-produced.
It's "sweet yet salty, smooth yet crispy, nostalgic yet entirely new." Your consumers will devour this premium palate paradox!
Also, made with only 10 high-quality ingredients—99% organic and more than worthy of a USDA Organic certification.
In addition, it's Fair Trade (95% Fair Trade Certified ingredients).
Alter Eco chocolate contains no artificial flavors, emulsifiers, soy, or genetically modified ingredients.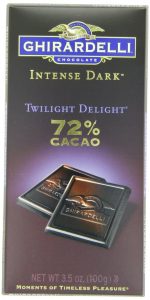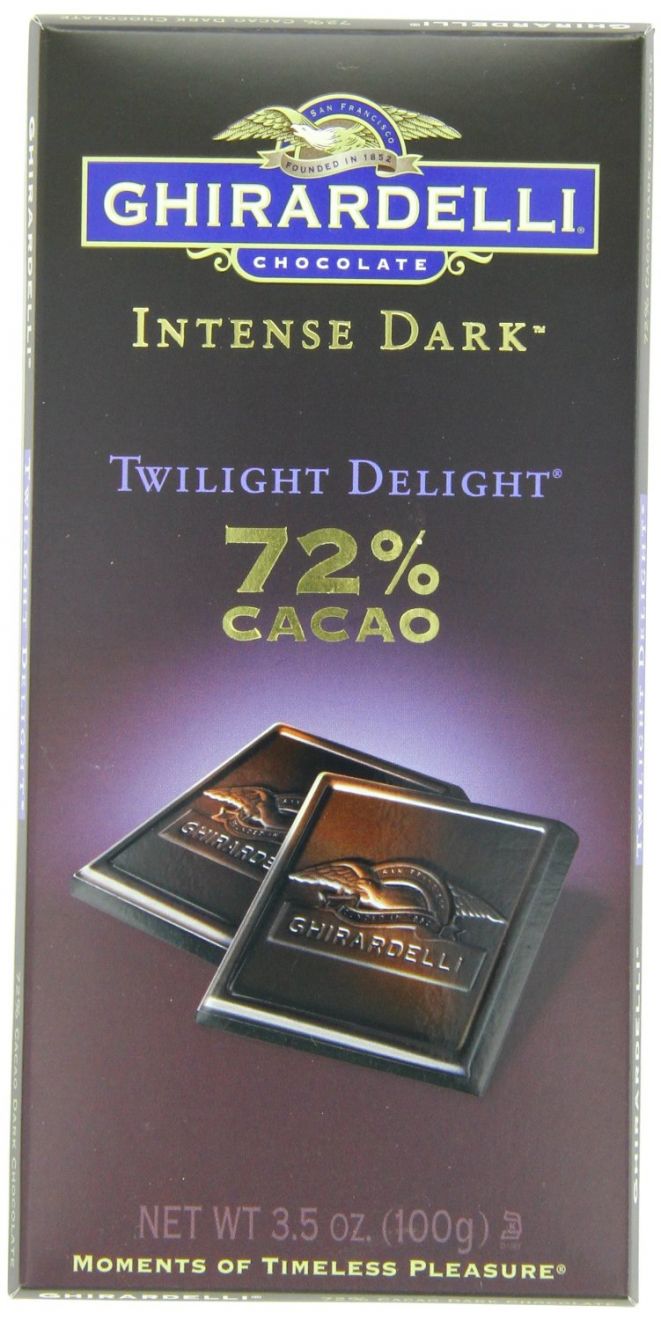 Ghirardelli Intense Dark 72% Cacao Twilight Delight
Ghirardelli's non-GMO goals are twofold. First, the company aims to make all of its chocolate recipes free of modified ingredients by this year. Then, it wants these recipes available on the market by 2019.
For now, this Twilight Delight and other Ghirardelli chocolate varieties are already unmodified.
Enter the mysterious twilight with smooth, deep 72% cacao.
Flavor hints of mocha, blackberry, and dark cherry enrich the bar. So, it reads like a full-bodied, fruity coffee.
Ghirardelli recommends serving it after dinner or at your next gathering.
Made with only 5 ingredients.
Ghirardelli selects only the highest-quality beans, and roasts them in a unique process,
Then, Ghirardelli refines the chocolate for velvety texture and conchs it for perfect flavor sophistication.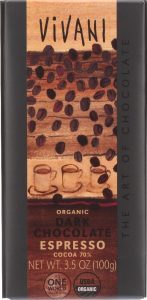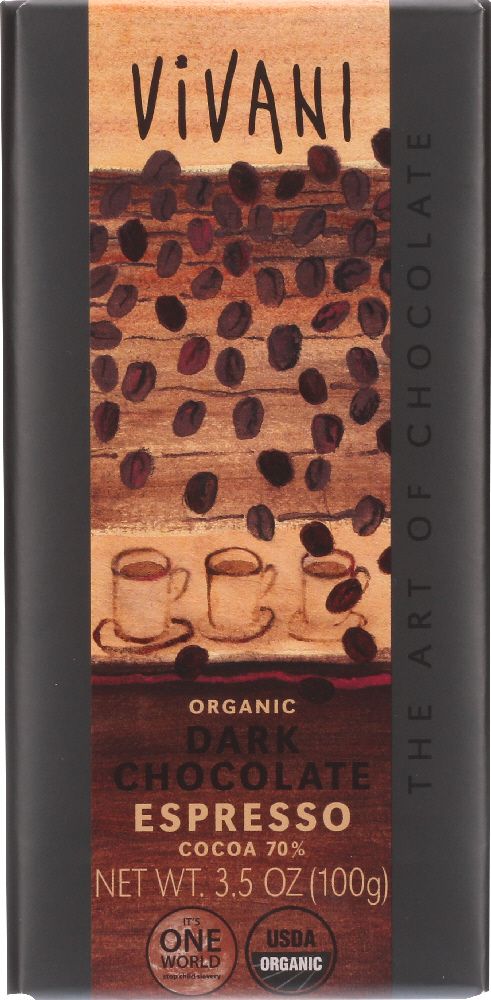 Vivani Dark Chocolate with Espresso
The German premium chocolate company Vivani commits itself to the art of chocolate-making.
In this bar, 68% cacao dark chocolate combines with rich espresso-cafe for deep, bitter flavor.
The bar uses the same premium chocolate as the Vivani Fine Dark Chocolate bar.
Contains only 4 ingredients: cocoa liquor, raw cane sugar, cocoa butter, and espresso.
Also, made with 100% organic ingredients.
In addition, it's a fully vegan bar.
Vivani premium chocolate uses no soy lecithin or modified components.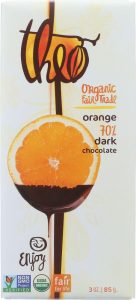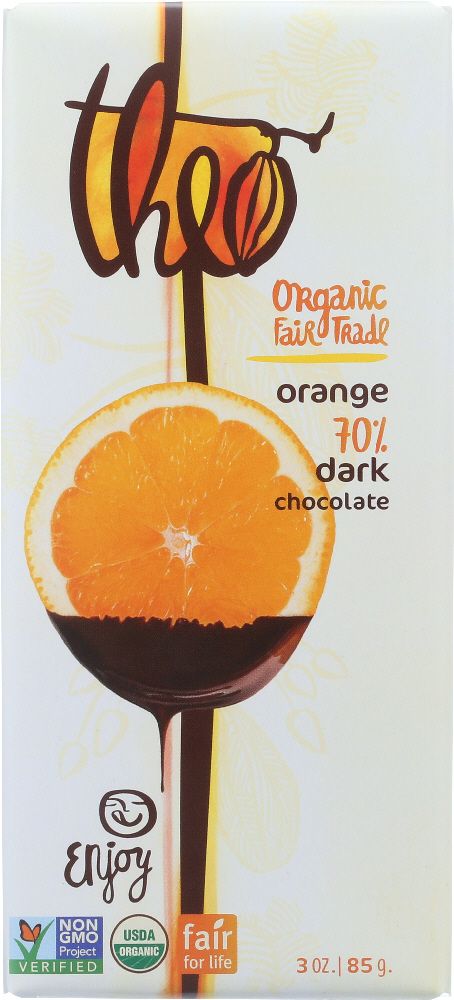 Theo Dark Chocolate with Orange 
70% dark chocolate infused with sunny, juicy orange essence for a match made in heaven. A fresh, sensational citrus delight!
Like all Theo chocolate,this premium bar's USDA Organic, Fair for Life Fair Trade, and Non-GMO Project Verified. Theo sources only the finest ingredients for its bars!
In addition, it's a vegan, gluten-free, and Kosher (D) candy.
This bar contains only 5 natural ingredients, including Congolese cocoa, Indonesian vanilla, and orange essential oil from Oregon.
Many brides and grooms have used Theo premium bars as wedding favors.
Chocolove Cherries and Almonds in Dark Chocolate 
Customers will enjoy this 55% Belgian premium dark chocolate (made from African beans) with a Non-GMO Project Verification.
Michigan cherries and dry roasted almonds combine with the chocolate for a sweet, crunchy and chewy contrast.
The flavors and textures gradually blend together for a complex sensation on the palate.
Also, it's a Kosher (dairy) candy.
In addition, the love poems on this Chocolove bar make it perfect for sweetheart gifting any time of year. Customers can pair the bar with flowers, fine wines, and other gifts.
Chocolove Raspberries in Dark Chocolate 
Fall for this seductive, smooth 55% semi-sweet Belgian premium dark chocolate made from African cocoa beans.
Crisp, freeze-dried tart raspberry pieces add bursting fruit flavor.
The contrast of flavors soon harmonizes beautifully, with a light raspberry finish.
Also, it's a Kosher (dairy) and Non-GMO Project verified candy.
Chocolove always makes its bars in small batches, using "all-natural ingredients and the classic techniques of Europe's finest chocolatiers."
The love-letter packaging and included romantic poems make this bar an ideal gift for sweethearts. Romantic at any time of year!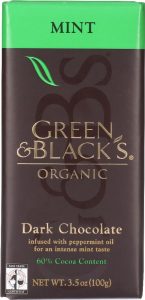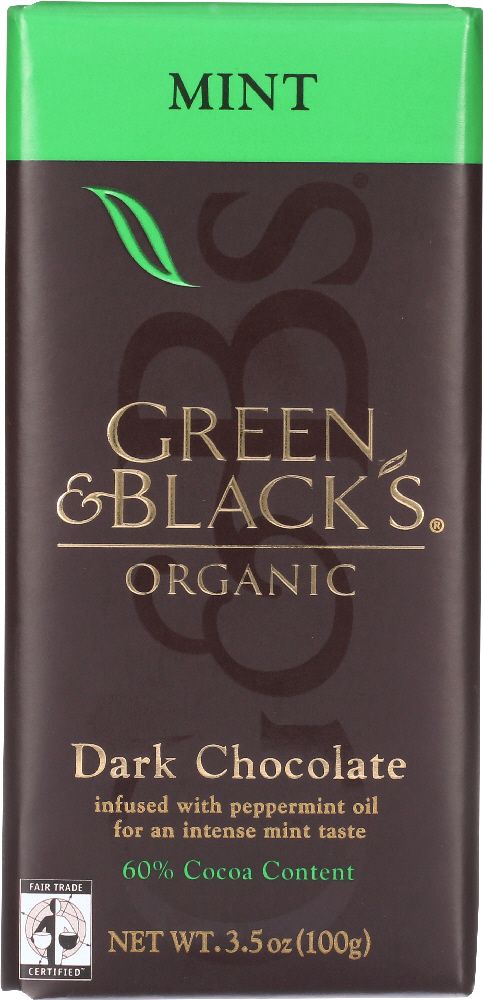 Green & Black's Dark Chocolate Mint
Refreshing, invigorating mint balances perfectly with this dark chocolate, without overwhelming the cocoa. This bar will wow your senses!
60% rich dark chocolate from dynamic Trinitarian cocoa beans,  infused with oil of peppermint.
Also, it's a USDA Organic, Fair Trade, and UN Certified Ethically Sourced chocolate.
Green & Black's uses only the highest quality organic ingredients to craft its premium chocolate and create a feast for the senses.
In addition, it contains no artificial colors, flavors, or preservatives.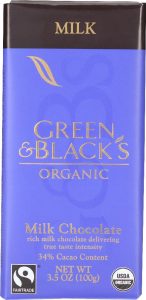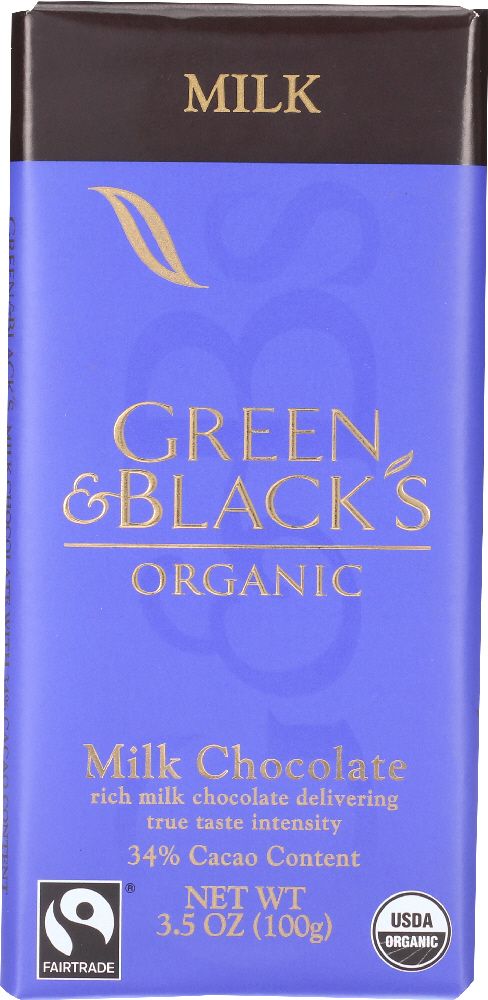 Green & Black's Premium Organic Milk Chocolate
This USDA Organic bar with 34% cacao delivers true taste intensity.
The rich taste of full, dynamic Trinitario cacao blends with pure organic milk powder. No modified ingredients!
Also, it's a Fair Trade, and UN Certified Ethically Sourced chocolate.
Contains organic raw cane sugar and unmodified soy lecithin.
Premium, lusciously smooth, and perfect for satisfying any craving!
In addition, it contains no artificial colors, flavors, or preservatives.
 
Salazon Organic Dark Chocolate with Sea Salt and Organic Turbinado Cane Sugar 
Salazon hand-sprinkles large-grain, organic Turbinado cane sugar from Paraguay on the back of this bar for texture and extra sweetness.
The sea salt's also hand-sprinkled, to "naturally enhance the chocolate's flavor without overpowering it."
Also, it's a USDA Organic, Non-GMO, and Rainforest Alliance Certified candy.
Made with 100% organic, shade-grown Hispaniola cacao beans, all sourced from a small-scale cocoa producers' co-op in the Dominican Republic.
In addition, Salazon uses only organic soy lecithin.
The company's recipe for salted dark chocolate was inspired by a backpacking trip. On the trip, Salazon's founders realized that salted dark chocolate bars would make "the perfect energy food" for outdoor adventures.
As a member of "1% For the Planet," Salazon donates 1% of its profits to environmental nonprofit organizations.
Ready to sell premium, non-GMO candy wholesale? Want to drop ship? GreenDropShip.com offers these and many other premium chocolates, with wholesale pricing and fast transit times. Learn more.