How to Sell Cleaning Supplies From Home
Many consumers are moving away from using conventional cleaning supplies because they have harmful chemicals and are not very eco-friendly. Instead, natural cleaning supplies are becoming increasingly popular. If you want to start selling cleaning supplies online, be sure to choose eco-friendly and natural brands.
Dropshipping is also the easiest method to sell products from home. Dropshipping is a retail business model in which the retailer never handles the products. Instead, once an order is made by a customer, the retailer seller sends that order to the dropshipping supplier. The supplier maintains all inventory and then ships the order to the final customer.
Let's go over the benefits of selling natural household products and how to set up your online store. We also selected some of the best cleaning products brands that could be a profitable addition to your online store.
Why Sell Natural Cleaning Supplies?
From soap to petrochemical surfactants and solvents, lots of manmade chemicals can be found in household products that require everyday use. This is where natural or green cleaning supplies can be a welcome alternative to chemical-laden cleaning products. As a result, there's never been a better time to sell natural cleaning supplies online.
Currently, eco-friendly cleaning supplies are in high demand worldwide and especially in the U.S. According to a study conducted by Crimson Hexagon, the demand for green cleaning products propelled the household cleaning industry's growth from $5 billion in 2011 to $8 billion by 2018. Projections are $15 billion by 2023. Major brands are being gradually replaced by consumers with greener more environmentally friendly products. This trend shows no sign of letting up.
Key products such as natural or plant-derived specialty cleaners, surface cleaners, and bleaches have experienced tremendous growth in sales over the last two decades. Environmental issues have become a huge game-changer in regards to how consumers are choosing their cleaning supplies for home use.
When it comes right down to it, cleaning products are a necessary product for customers. Which means the market consistently grows year after year. Consumers searching for the best organic cleaning supplies are willing to pay a higher price for an environmentally-friendly product.
That being said, the days of consumers buying cleaners with harsh chemicals are over. Not only do they spend hours upon hours cleaning their homes, but they're also willing to spend big bucks for the right products. Knowing that household cleaners are a necessary part of life, consumers now have higher expectations of their cleaning products.
How To Set Up a Cleaning Supplies Store 
If you want to start selling cleaning supplies from home with the dropshipping business model, then be sure you follow these steps:
1) Pick A Niche 
Picking a niche can make you stand out from other online stores. Think about what types of cleaning products you'd like to sell online. You can look at your target audience and decide what consumers you want to attract to your website. For example, if you're focusing on health-conscious consumers who are looking for products that don't contain harsh chemicals, be sure to carry natural and eco-friendly cleaning products. Whether you're selling kitchen cleaning items, bathroom cleaning items or laundry soap, selecting a niche will show your expertise and make your store the go-to place for shoppers looking for household products.
2) Choose A Dropshipping Supplier 
Once you've decided on your niche, it's time to find the right dropshipping supplier for your business. Don't forget that the dropshipping business model means that the supplier handles the logistics of storing, packing, and shipping the goods that your customers purchase.
There are lots of dropshipping suppliers out there. Here are a few ways to find a supplier:
Use GreenDropShip as your dropshipping supplier. You can view all the cleaning products available to dropship by signing up here.
Do a Google search. Make sure you use specific terms like "cleaning products dropshipping supplier", "cleaning supplies dropshipper", "household items dropshipping supplier".
Use a directory. These include multiple options like WorldWide Brands, Wholesale Central, Alibaba/Aliexpress, Salehoo, or Megagoods.
Contact the manufacturer. You can also contact the manufacturer directly. They'll likely be able to refer you to authorized dropshipping suppliers.
3) Promote Your Online Store
To drive traffic to your online store, you'll have to promote the natural cleaning supplies specifically. You can do this a few ways, including:
Writing accurate and informative product descriptions. A reliable dropshipping supplier like GreenDropShip will provide you with accurate data feeds to create these descriptions. Be sure you explain the benefits of using natural cleaning products and list the ingredients. This is the kind of information that consumers really want to know.
Use search engine optimization (SEO) to create content on your website using targeted keywords to improve your rankings. For example, you could include a guide on "The Ultimate Checklist for House Cleaning Supplies" or a "Guide to Natural and Healthy Cleaning".
Create engaging content such as How-To videos like "Tips for Wiping Down Appliances with Natural Cleaning Supplies" or "How To Use Natural Cleaning Supplies to Combat Grease in the Kitchen".
Top Natural Wholesale Cleaning Supplies To Sell Online
GreenDropShip carries natural wholesale cleaning supplies that you can sell in your dropshipping store. Let's take a look at the most highly rated and bestselling products we offer:
1) Citra Solv: Multi-Purpose Spray Cleaner
This is a natural multi-purpose cleaner for any household task. This includes cleaning:
Stainless steel
Wood
Porcelain
Aluminum
Household surfaces
Grease
All Citra Solv products are manufactured in the USA entirely from natural, biodegradable, and renewable resources.
This product has nearly 500 reviews on Amazon with an average rating of 4.7. It's also a designated Amazon's Choice product: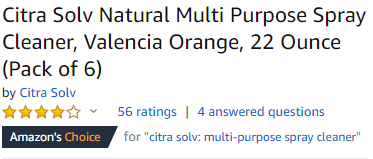 Plus, let's take a look at the monthly search engine results via the SEMrush tool for the keyword Citra Solv:

According to SEMrush, Citra Solv has nearly 500 searches per month.
2) Bio Kleen: Concentrated All-Purpose Cleaner
This cleaning concentrate uses citrus and grapefruit seed extracts to clean and degrease in and around your home. It's harnessing the power of nature to help you keep a healthy and clean household.
Plus, it's:
Super concentrated, just one ounce per gallon of water.
Great for any cleaning and degreasing job in and around the house.
Made without toxic ingredients or artificial fragrance and colors.
Made in the USA.
With an average rating of nearly 4.8 stars, it's a highly-rated bestseller on Amazon. However, it's out of stock on most other online stores, so it'd be great to jump at the chance to sell it!
3) Better Life: Natural All-Purpose Cleaner
This natural all-purpose cleaner is effective and works great on toilets, countertops, appliances, floors, walls, baseboards, showers, car interiors, and even toys.
Plus, it's soothing because it's naturally scented using essential oils of Clary Sage and lemons.
This popular product is also:
Free of skin or lung irritants.
High above US and European biodegradability standards.
Gluten-free and hypoallergenic.
Cruelty-free (not tested on animals).
Safe for river and marine life.
Made in the USA.
With an average rating of 4.9, it's a highly-rated bestseller on Amazon. It also has the highly coveted Amazon's Choice designation: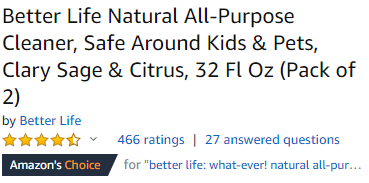 Finally, let's also look at the SEMrush results for the keyword Better Life Cleaning: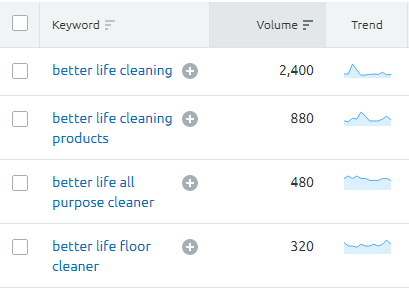 As you can see, Better Life Cleaning has about 2,400 monthly searches online.
4) Mrs. Meyer's: Clean Day Glass Cleaner Spray
Mrs. Meyer's Clean Day natural household products help make cleaning your home easy, fragrant, and fun. All of Mrs. Meyer's products are:
Made with natural essential oils
Free of artificial fragrances
Free of artificial ingredients
Phosphate-free
Cruelty-free
100% natural
Plus, this product is a highly-rated bestseller on Amazon with an average rating of 4.5.
Finally, the SEMrush data for the keywords Mrs. Meyer's Cleaning and Mrs. Meyer's Cleaning Products is: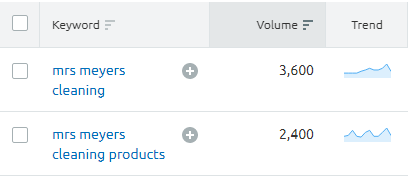 The monthly searches for Mrs. Meyer's Cleaning are 3,600 and for Mrs. Meyer's Cleaning Products are 2,400.
What Shoppers Look For in Cleaning Suppliers
1) Performance
Today a household cleaning product should live up to any promises made on packaging. While cleaning can be time-consuming, it doesn't have to be difficult if the right products are used.
Products that combine their efficiency with innovative features typically sell more. As the marketplace grows, the need to offer easier and more innovative options for cleaning products also grows. This is important for natural cleaning product manufacturers. While it is important for a product to stand out on the shelf, the product should actually have the innovative attributes that are claimed on the packaging. 
2) Ease of Use
In the US, consumers have very busy lifestyles. This means they want products that make their lives easier so they can clean their homes faster. Looking for options to make products more intuitive and most easy to use is a major key to succeeding in the natural cleaning products marketplace.
One such example is cleaning wipes. This product has grown substantially in popularity. Easy to use and quickly disposable, the packing for most cleaning wipes also features dispensers and measured amount of wipes. This makes it easy to use and highly efficient for cleaning up almost any small mess.
Household cleaning products that serve more than one function are typically highly sought after due to their convenience. It has been found that customers who are both conscious about their spending but are also challenged by small storage issues are usually highly attracted to the notion that one product can serve two or more cleaning options for their needs. Other product examples of this include laundry tablets and laundry detergents that also contain fabric softeners.
3) Environmental Awareness
Consumers in the US have become highly conscientious of how their daily activities impact the world. They have become more and more aware of how the manufacturing and disposal of products – including cleaning products – have had a role in damaging the world around them. They are looking for methods and incorporating daily habits into their lives to minimize their own impact. The perfect example is the massive growth of the green cleaning household product market.
While most legislation in the US requires all household cleaning products to meet basic environmental laws and standards, this does not include sustainability. Manufacturers are now trying to create sustainable household cleaning products that contain organic and renewable ingredients that can perform just as well as conventional cleaning products.  Acceptable renewable ingredients are palm, coconut, and other plant oils that perform as well as chemical-derived cleaning agents.
However, it should be noted that while sustainability is important, it is not the main factor driving the household cleaning products market. Even so, many manufacturers are making sustainability a priority as new products land in the marketplace.
4) Fragrance, Aesthetics, and Packaging
With the market growing and growing with new products making their debut at a lightning pace, things such as attractive packaging and pleasing scents can actually have a strong effect on a consumer's buying decision.
Efficiency is usually the most significant attribute for a cleaning product. Likewise, the packaging must be easy to understand and clearly list the benefits and natural ingredients. Plus, a pleasing scent coupled with clean and easy to read packaging can help a great deal in terms of consumer selection. Alternatively, products that are fragrance-free should have this fact highlighted in their packaging for consumers who prefer products without scent.
Sell Natural Cleaning Products with GreenDropShip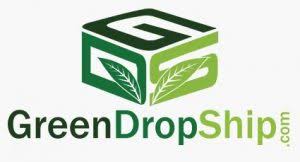 Whether your customers are small businesses interested in bulk cleaning supplies or consumers looking for quality products, dropshipping is the fastest and most profitable way to start an online business from home. Remember, dropshipping means you never have to purchase inventory upfront.
GreenDropShip has a huge inventory of natural wholesale cleaning supplies. Plus, delivery to your customers is quick and always on time. Additionally, dropshipping through GreenDropShip allows you to keep your overhead and startup costs very low. These natural wholesale cleaning supplies online can create a solid revenue source as a side business, especially if you're working full-time. Get ahead of the pack as the demand for quality and affordable natural cleaning supplies grows. Become a member of GreenDropShip and make money today.