Top Shopify Design Apps To Build Your Store
User experience is an essential part of any online store. If it's good, then it'll boost conversions, but it's something that has to be felt and experienced. Many people can't even tell you why they like something, they just feel it. They may even have a hard time putting it into words, but that doesn't make it any less important or real.
On the other hand, poor design can sink your store before you're able to connect with your customer – you'll never even get off the ground! You need to pay close attention to design, so we've put together The Ultimate Guide To Shopify Website Design to help you create a banging online store.
Luckily, there are also a ton of Shopify design apps available that you can use in combination with our guide. You can customize and tweak every part of your store, from the page layout to the color scheme to various widgets. So let's go over the top Shopify design apps to build your store.
To help you navigate, you can jump forward to any of these sections:
Top Must-Haves For A Shopify Design App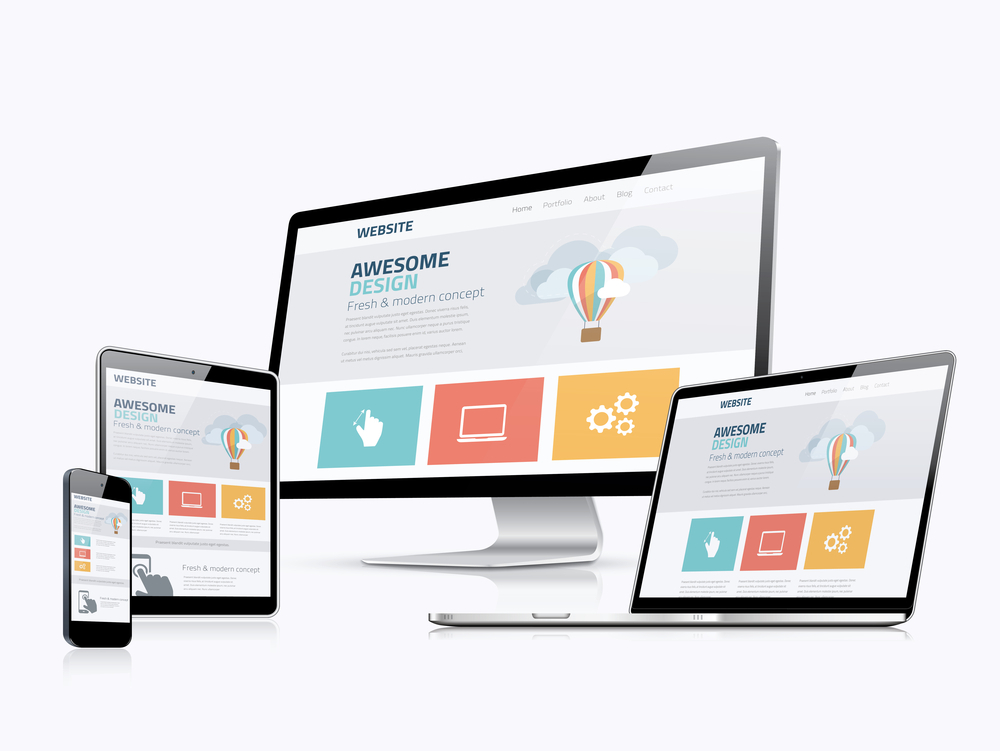 Shopify design apps can be incredibly comprehensive in their functionality, but there are certain features you should look for. Whether it's a page builder or a color swatch or a progressive web application (PWA), you want your app to:
Work with all Shopify themes and have full integration with the platform.
Have responsive design across all devices, including mobile.
Include A/B testing (split-testing) so you can choose pages with higher conversion rates.
Offer a large library of design elements, including page structure, media, and conversions.
Operate with a drag-and-drop interface, usually via blocks that include design elements.
Give you access to the source code if you do have coding or web design experience.
Always be compatible with your other apps, especially if they're Shopify apps.
Increase loading speed via design techniques like lazy loading or image compression.
Update regularly with new colors, blocks, or templates that have higher conversion rates.
Be priced accordingly – some have free trials you can use to design and even save pages.
Best Shopify Design Apps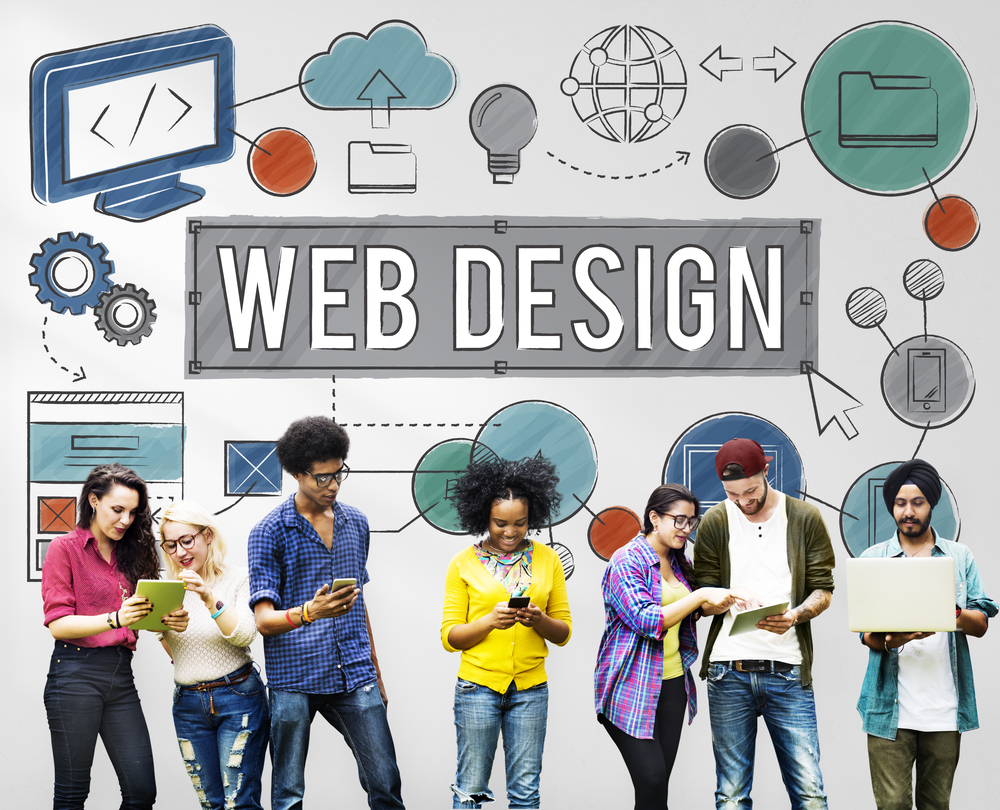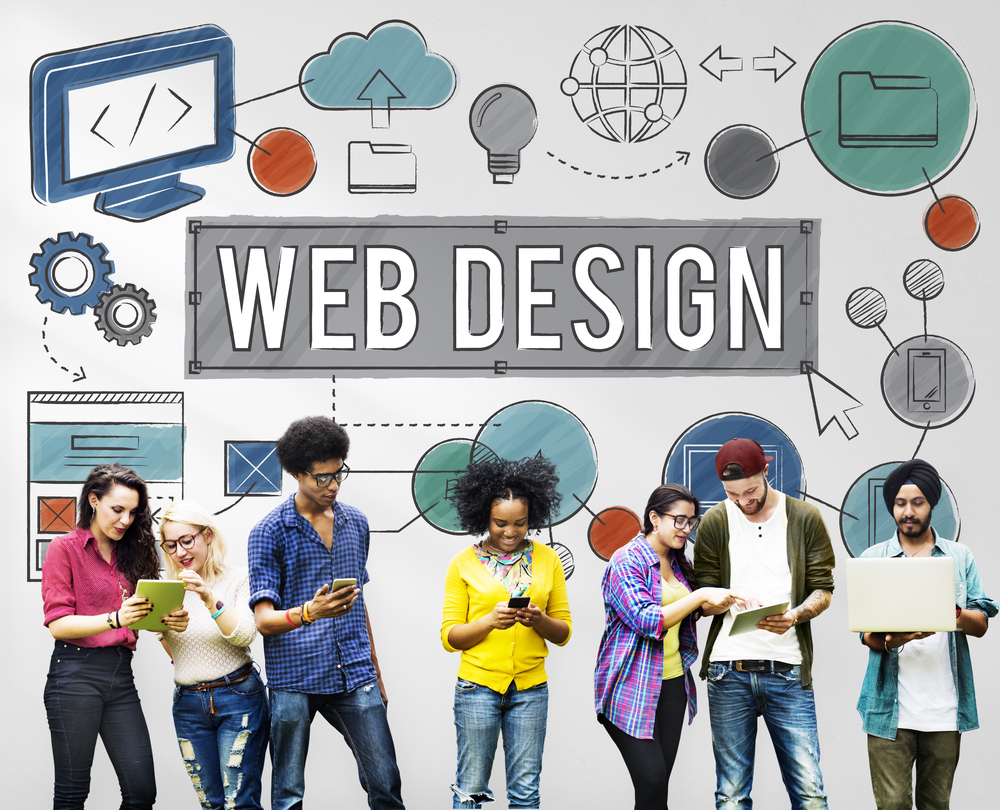 So what exactly is a Shopify design app? It's a broad category of apps in the Shopify store that allow you to customize, modify, and transform the look and feel of any Shopify theme. Many of these apps also add all kinds of functionality, depending on what you're looking for.
Above all, Shopify design apps give you complete control over the design and UX so that you can maintain a specific brand identity while maximizing conversions and click-through rates (CTRs). Remember, good design and user experience (UX) are crucial for your Ecommerce store.
That being said, there are all kinds of Shopify design apps that you can use to achieve optimal design and UX. Let's break them down by type and give a few examples of each of these types of apps.
1. Page Builder Apps
Shopfiy page builder apps do exactly what they say – they help you build pages. For most online resellers, especially if you're fairly new to the business, the idea of building your own website might seem overwhelming and too challenging. These page builder apps give you a simple interface to build sleek, professional-looking, and high-performing pages.
As far as Shopify design apps go, these really are game-changers. You start with a drag-and-drop interface and control the design elements of your pages via blocks. You customize these blocks and then drag and drop them into the page builder app interface. Plus, these apps all integrate with Shopify themes and give you an astonishing range of control and customization factors.
Remember, these Shopify design apps can be used to build all kinds of pages, including email marketing templates. Just like your landing page and overall store, your emails must also be designed well. Great landing pages will boost conversion rates and well-designed email campaigns will boost click-through rates (CTRs). These are both important for a successful Shopify store.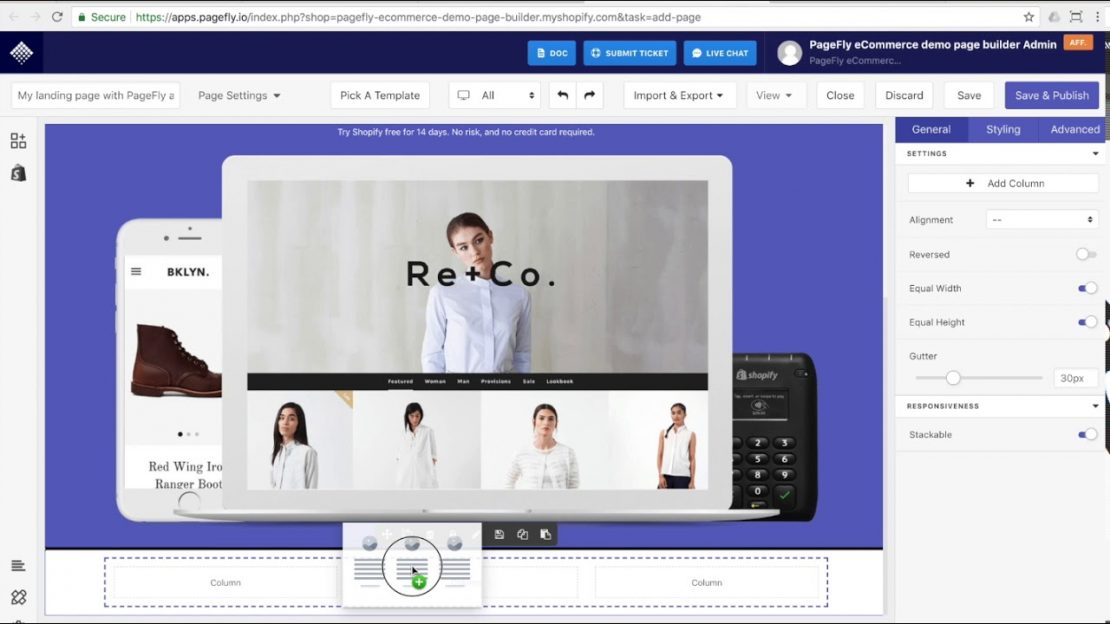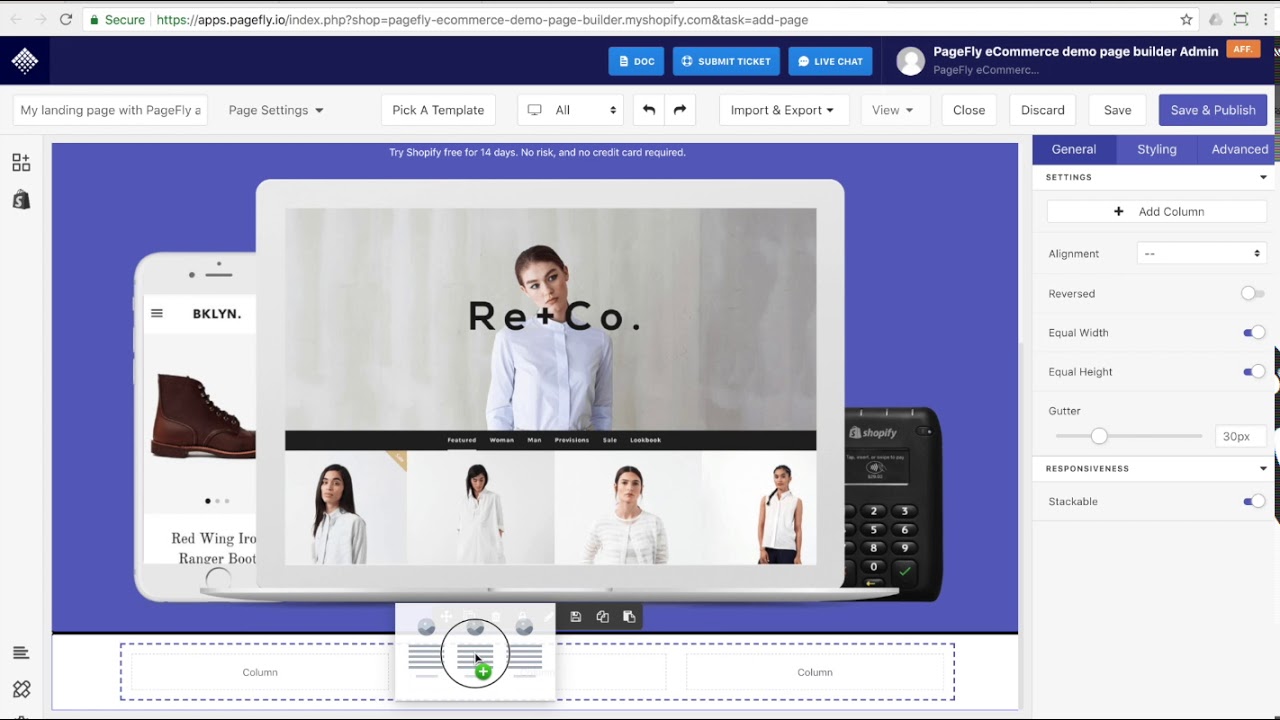 PageFly is one of the best Shopify landing page builder apps because it provides an amazing user experience. It can help you build higher converting landing pages without having to know a single line of code. You can also build sleek and professional sites that are quick and look incredible on both desktop and mobile devices.
With total control over the design and level of customization, you can create any of the following pages to make them fit your brand perfectly: sales landing pages, coming soon pages, product/pricing/collection pages, delivery/returns policy pages, and about us/contact us/blog/FAQ pages.
This design app also provides A/B testing options, so you can build pages and then test which ones are the most successful.
Free plan or $19 per month, $39 per month, or $99 per month
Absolute control of your sales conversion funnel
More than 20 integrations with other popular Shopify apps
Over 100 templates with pre-made sections and over 50 sales-boosting elements
Includes built-in analytics to track crucial metrics
Integrates with Google Analytics, Facebook Pixel, PayWhirl, Klaviyo, Upsell, and Cross-Sell
Live chat support 24/7 for all plans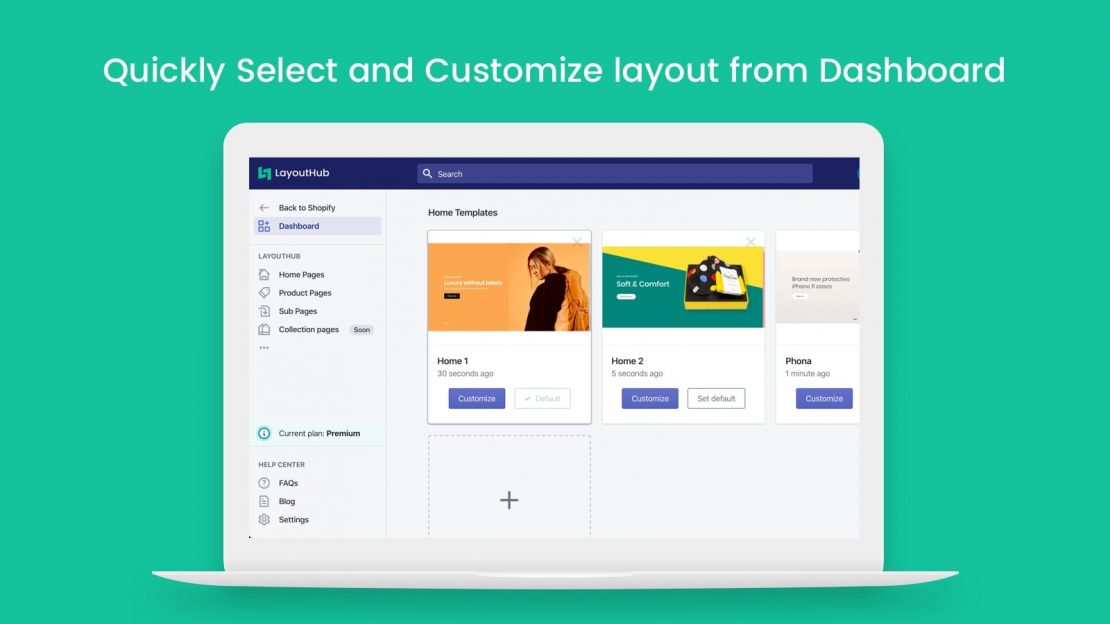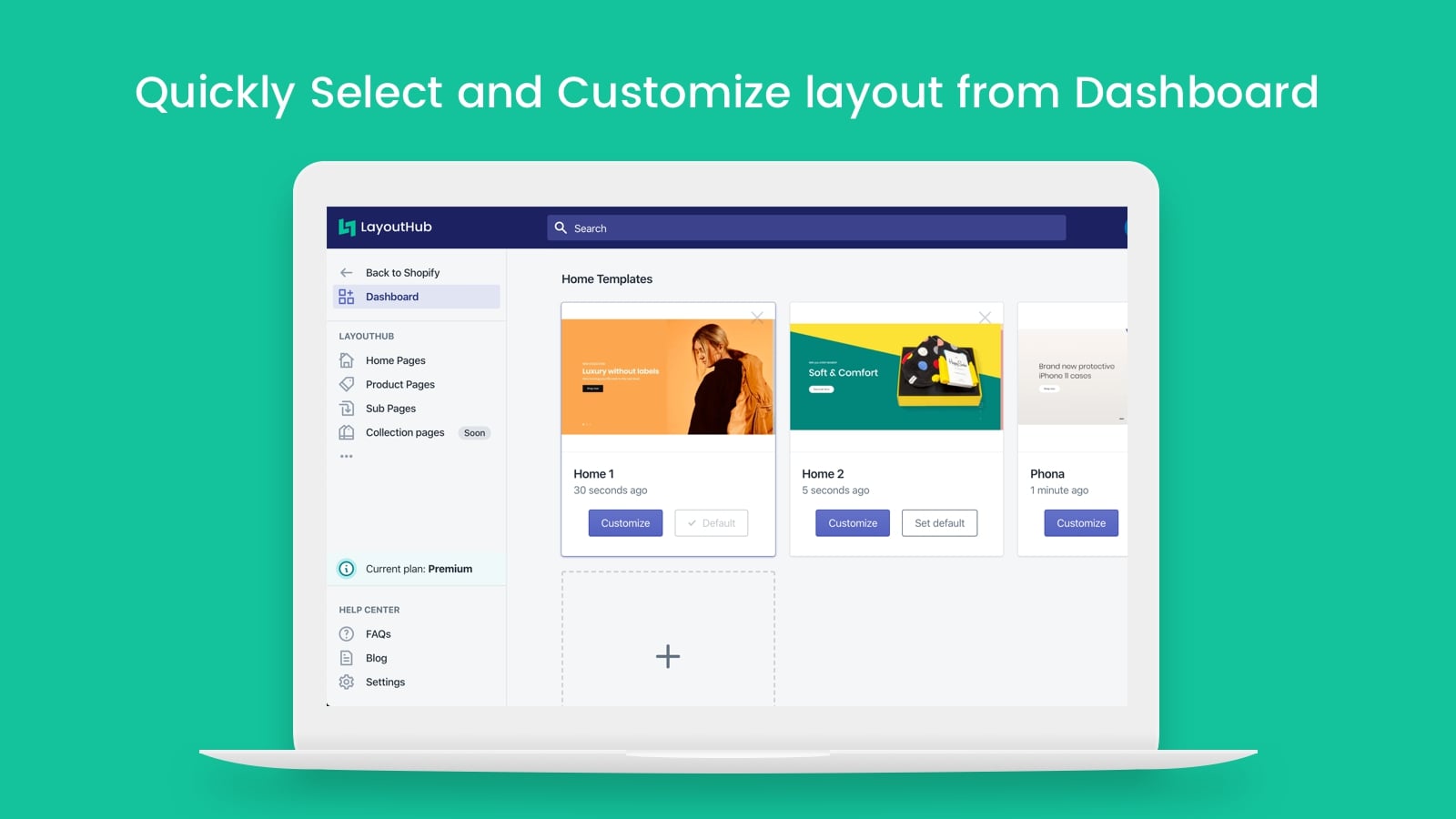 LayoutHub is a Shopify page builder tool that's easy to use and very convenient. It was specifically designed to help storeowners build professional-looking stores with high conversion rates, all without having to know web design or coding. That way, you can focus on marketing to consumers, not spending hours designing the website.
Although it's best known for building landing pages, you can use the library of pre-designed layouts and blocks to build all sorts of pages, including product/collection pages, sales pages, home pages, about us/contact us pages, FAQ/blog pages, coming soon pages, and even 404 pages.
This page builder app also includes A/B testing, so you can try different designs and choose the best.
Free plan or $14.99/month, $29.99/month, or $59.99/month
Made specifically for anyone with no coding or web design experience
Between 30 to 50 layouts are released per month
All layouts have been optimized to high conversion rates
Drag-and-drop interface that makes it easy to build pages
Compatible with all Shopify themes
With this Shopify design app, building a store has never been easier. It has a simple, intuitive drag-and-drop interface that allows you to build complex and optimized sites with no coding or design experience. You can use it design just about any kind of page, including: landing & product pages, pricing pages, blog posts, homepages, and contact us/about us pages.
GemPages also includes over 50 pre-made templates for just about any purpose, including lead generation/capture, waiting list, coming soon, click through rates, discounts, coupons, giveaways, contests, confirmations, and brand storytelling.
This page builder app also includes pre-designed elements that boost sales and conversions, including Add to Cart, Product Reviews, Pop-Ups, Countdown Timer, Bundles, Related Products, and Social Sharing. It also includes A/B testing (split-testing) to find out which design performs best.
Free trial or $15/month, $29/month, or $59/month
All published pages are kept after your free 10-day trial is over
Full integration with over 30 apps, including third-party developers
Responsive design across all devices, including mobile
SEO tools to improve and optimize your SEO as you build new pages
Over 65 elements or custom HTML/liquid codes are available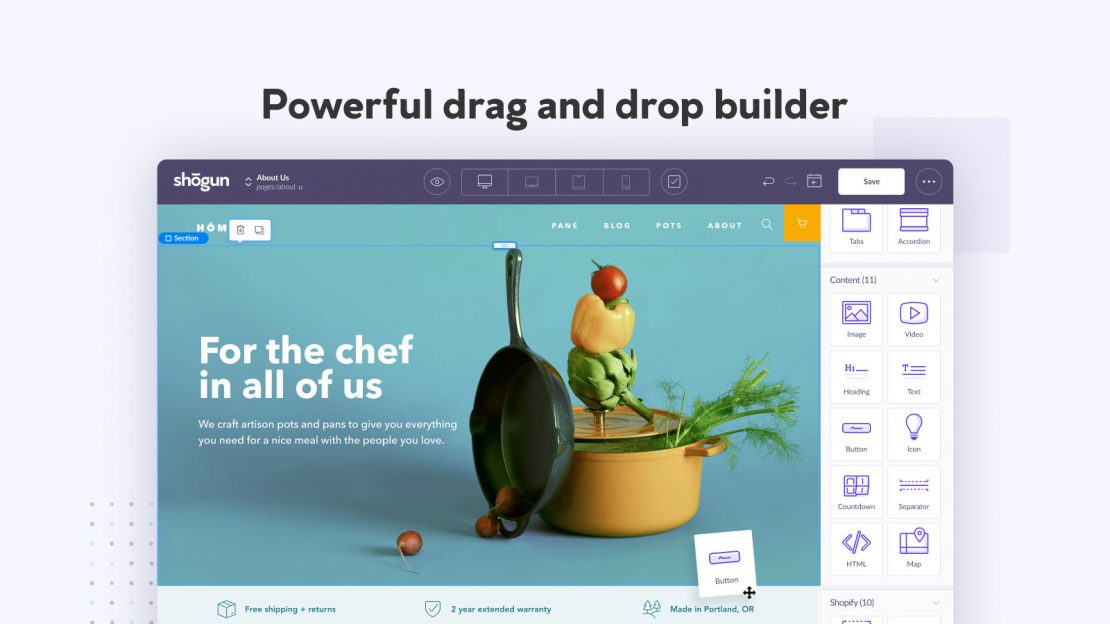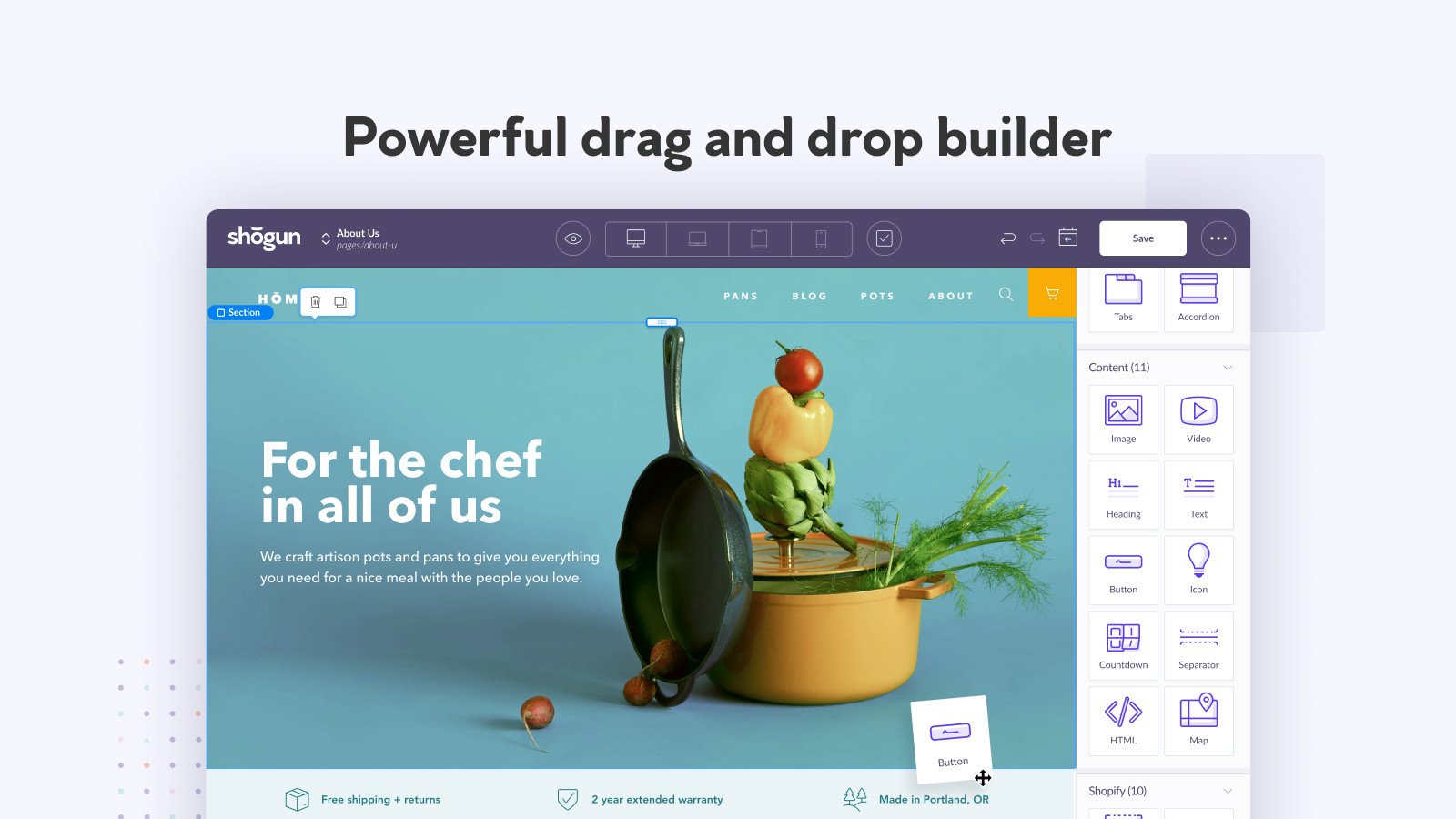 It may say "landing page builder" in the title, but this Shopify design app really does it all. It started as a landing page designer, but it has since expanded to allow easy design of homepages, product pages, contact/about us pages, sales funnels, promotion pages, contact pages, and blog posts.
Shogun Landing Page Builder also features a complex, robust, and intuitive drag-and-drop interface where you can add/subtract elements and move them to where you need them to be. It allows to build a great-looking, quick-performing Shopify store without having to code anything.
This is one of the more "loaded" design apps for Shopify, with a ton of features and templates. Plus, it has a comprehensive Analytics Suite to closely track page performance. It includes A/B testing and tools for measuring performance, empowering you to optimize your store design.
Use Shogun Landing Page Builder to design custom product pages, blog posts, and sales funnels. It's a drag-and-drop page builder with 24+ design elements, and comes with tools for A/B testing and measuring performance.
10-day free trial or $39/month, $99/month, or $149/month
Templates are exceptionally attractive and perform very fast
Launch quickly with 30+ page templates that are fully optimized for mobile
Robust elements library with 24+ design elements, including media and sales boosters
Easily develop customized elements using CSS, HTML/Liquid, or JavaScript
Full integration with Google Analytics, Adobe Typekit, Instagram, Facebook, YouTube, and Pinterest
2. Accelerated Mobile Pages (AMP) Apps
Loading speed is crucial to good UX. If it takes too long for your store to load, then online shoppers will become bored, frustrated, or distracted and abandon their carts when they leave your store.
This is where Accelerated Mobile Pages (AMP) apps come in – they've been specifically designed to optimize your store's speed and decrease loading times on mobile devices. AMP enables your pages to load quickly, keeping your customers engaged as they browse the store.
Whether they start their journey on your site or on platforms that link to AMP pages, your users will find a consistently fast experience.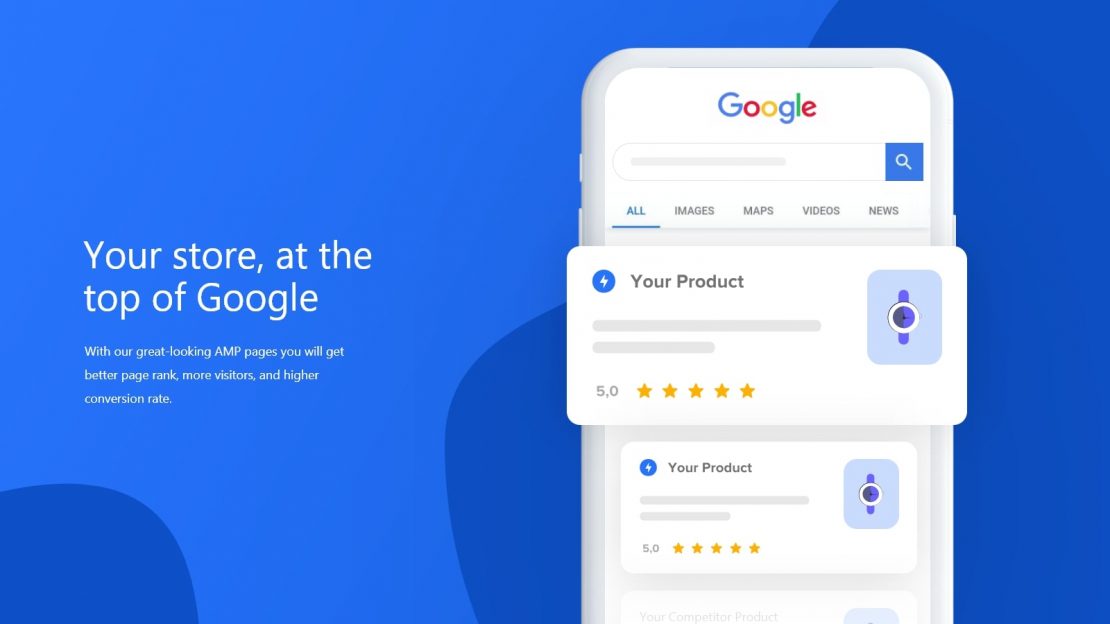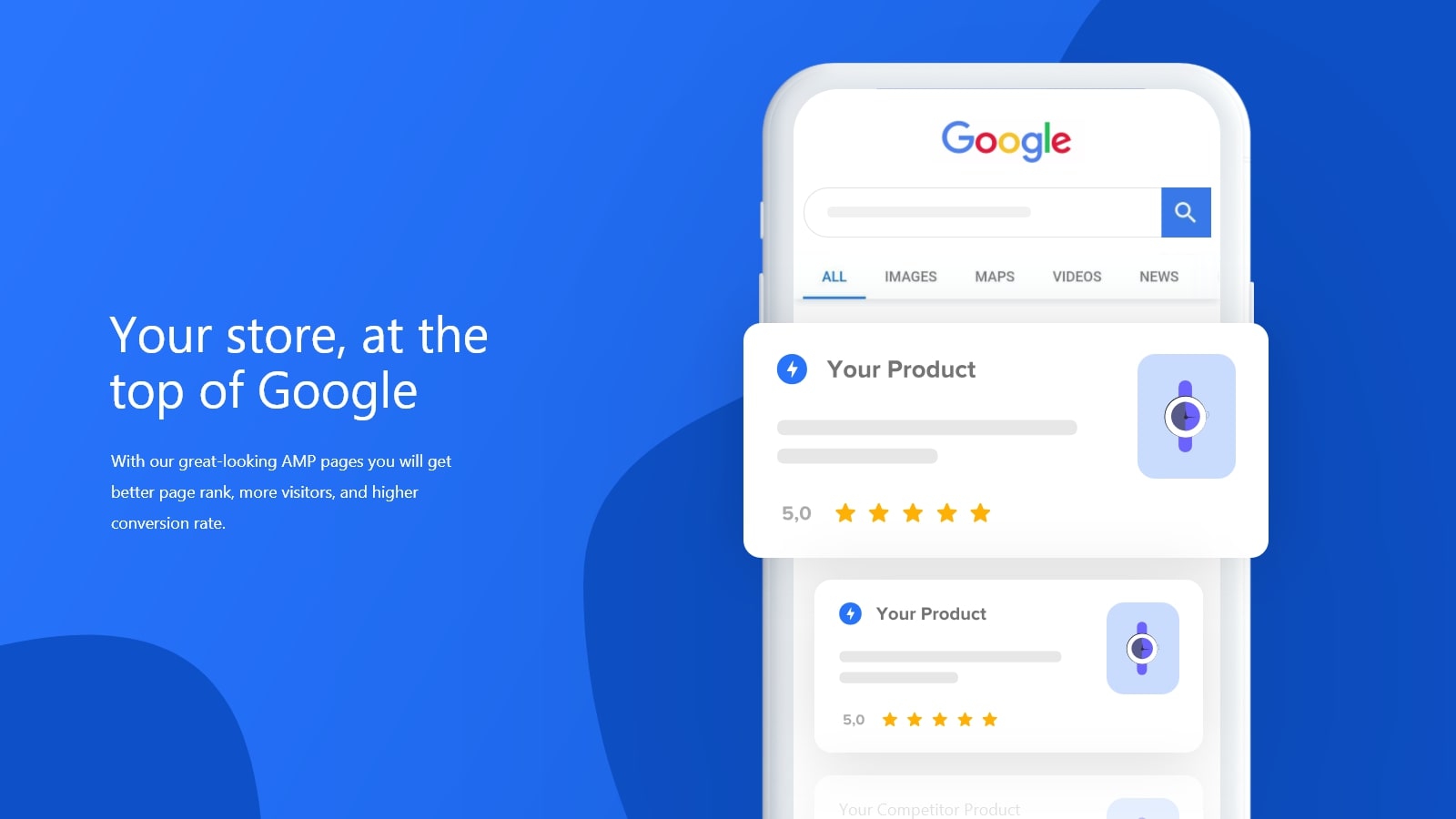 AMP was developed by is Google to boost performance, improve SEO, and make your store rank higher in search engines. This means that using AMP as part of your marketing strategy increases traffic and brings more mobile sales.
Plus, Accelerated Mobile Pages (AMP) + Progressive Web Apps (PWA) is the ultimate mobile setup – it gives you instant loading with AMP and advanced features like caching and push notifications with PWA (see below for available PWAs).
Installing AMP by Ampify Me and PWA apps allows you to quickly turn your store into a high performing site. This is a perfect example of where good design improves UX, thereby keeping online shoppers in your store for longer. The longer they spend in the store, the more likely they are to spend money.
Available with a free plan or $9.99/month or $29.99/month
Rich AMP editor that's integrated with Shopify themes
Home page support and AMP validations
7+ AMP themes in the free tier, 100+ in total
Integrations with most popular apps
Platforms such as Google, Pinterest, Bing, and Twitter all link to AMP pages
Officially recommended by Google, AMP by Shop Sheriff allows you to create Accelerated Mobile Pages (AMP) which receive the coveted lightning bolt beside their mobile search result. This means better organic SEO, nearly instant page-loads, and more revenue for your business.
You can AMP optimize your Home page, Blogs, Collections, and Products using a powerful page-builder, custom CSS, and integrations with dozens of Shopify apps. Plus, the AMP lightning bolt boosts your rankings and shoots you to the top of search results.
Available free or $9/month, $29/month, or $99/month
Optimized URLs for SEO to ensure your AMP pages rank highest
Use the intuitive page-builder to create and edit your AMP templates
The most installed, trusted, and customizable AMP solution for Shopify
Officially recommended by Google and backed by a team of AMP experts
AMP pages load lightning-fast and are automatically cached by Google for instant loads
3. Progressive Web Apps (PWA)
Progressive Web Apps (PWAs) are a newer development, so there are only a few apps available.
However, they've already made quite the splash in the Shopify merchant community for one simple reason: they allow you to turn your store into a mobile app. This maximizes UX and boosts conversions while making your store look extra legit.
The PWA is a trending mobile browsing method that makes browsing faster and easier by allowing the installation of a web app onto mobile devices. Mobile-first index updates by Google plus faster mobile sites are vital factors for search engine ranking.
Plus, PWAs can also work when there is a poor internet connection or even no connection.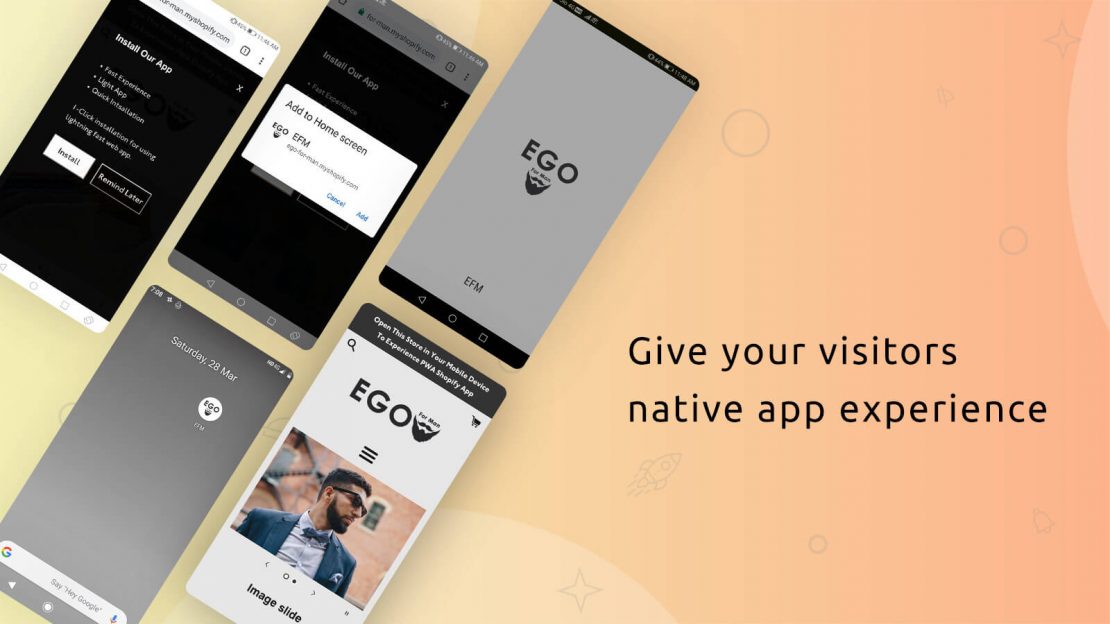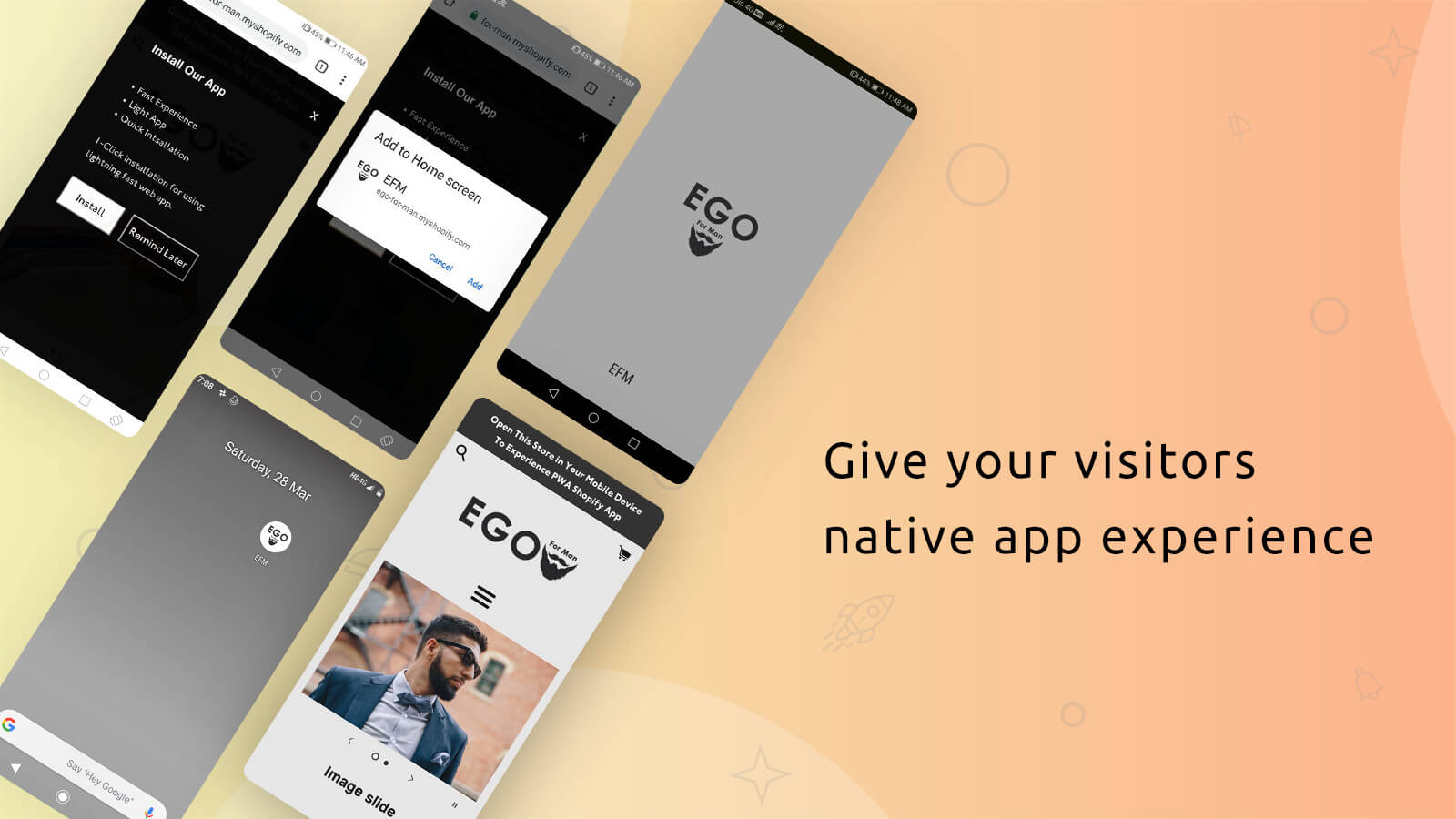 Remember, the longer a consumer spends in your store, the more likely they are to buy something. By offering them an interactive app experience, you'll see that they consistently spend more time browsing your products. These Shopify design apps turn your store into its own app, complete with interactive elements and professional-looking design and animations.
This PWA can alos be installed with one click across all mobile devices, including Android and iOS phones. It lightning-fast speed and requires less memory of its respective devices while not affecting the performance of other applications on the device.
Price is free
App-Manifest configuration can be fulfilled as PWA
Set your web app as full screen or standalone mode
Enable "Google Analytic Tracking" to track your install events
User can operate in offline mode or with poor internet connection
A mobile app-like experience for users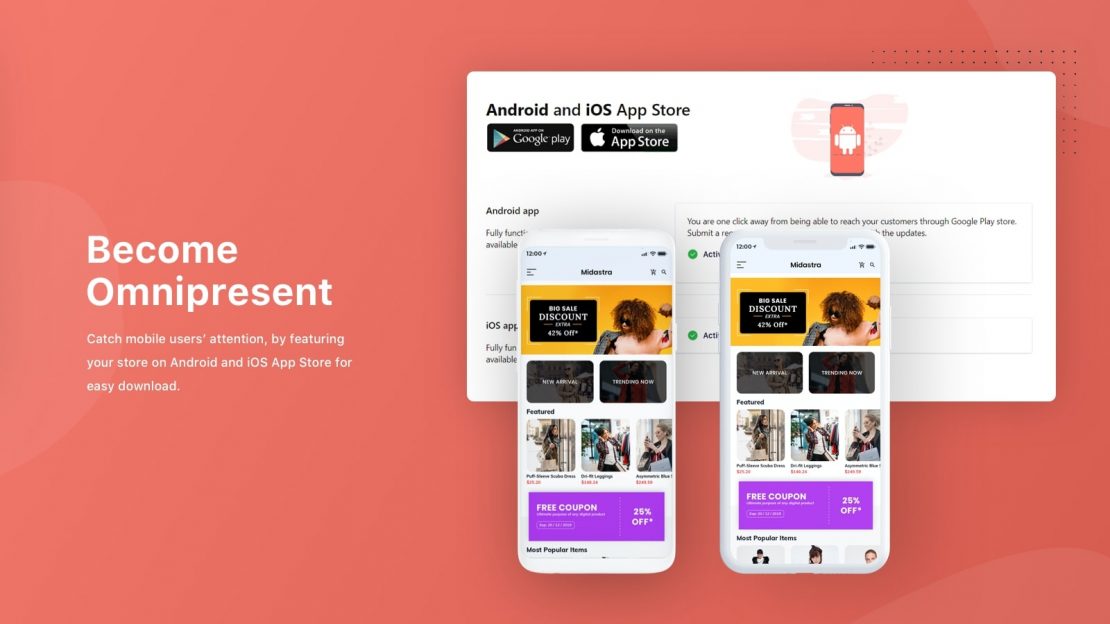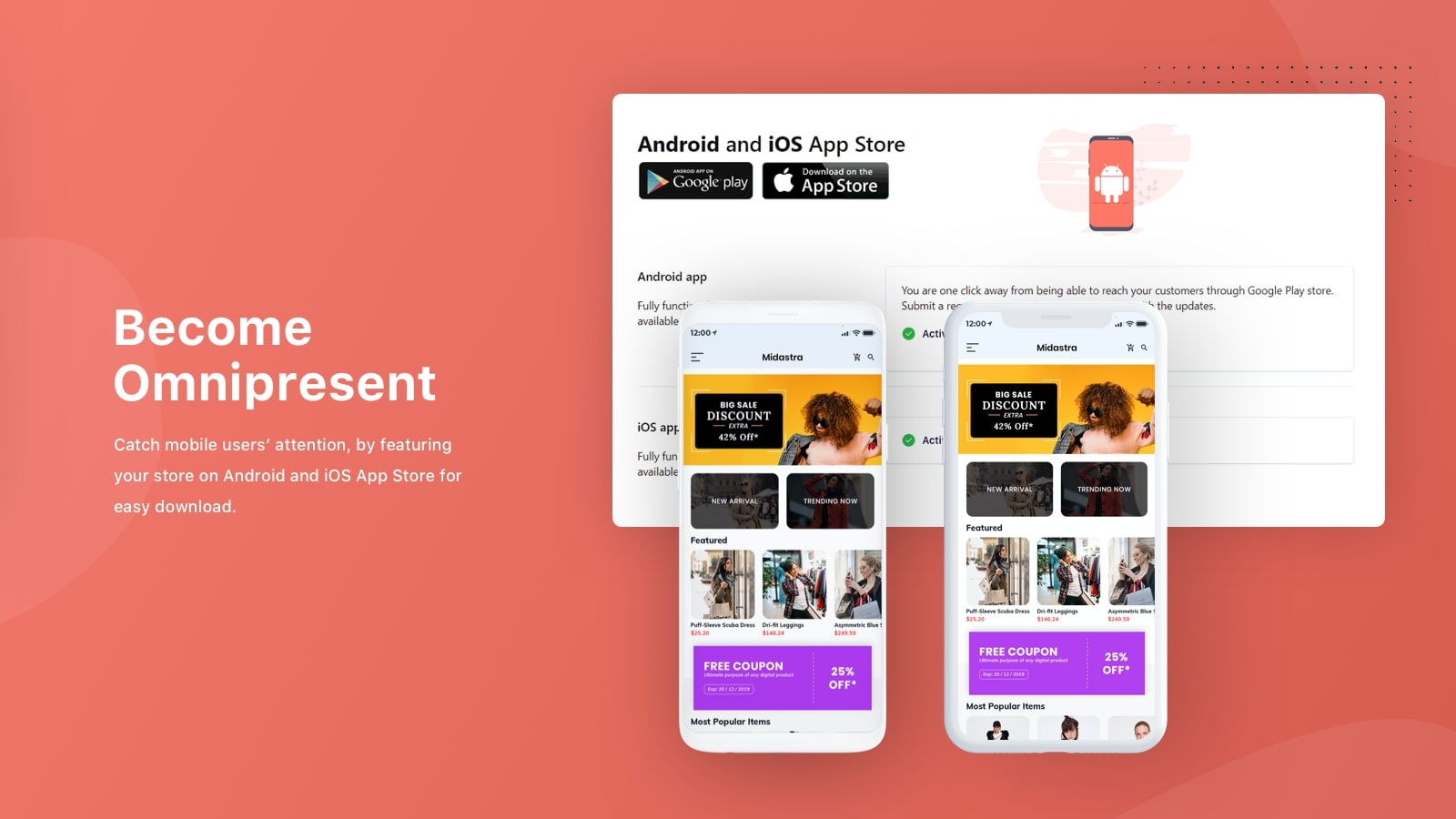 Much like the other PWA, you can use this to turn your Shopify store into a professional-looking and high-performing native shopping app. It'll keep online shoppers engaged, even when they have poor or no internet connection.
You can build better trust with your customers while providing them with a premium shopping experience due to the incredibly fast loading speeds and total stability. You can also customize just about every design element, thereby keeping your brand identity consistent.
Available at $4.99/month
Download website store as an app to mobile phone for direct access
Customize the name, icon, and startup page for consistent branding
Realize the same push function as an app
Increase exposure of stores and increase the frequency of user access
Support offline access mode, no network can also access the store
4. Cart & Wishlist Apps
With these apps, you can customize pretty much everything about your cart and CTAs, including choosing color, placement, and how "sticky" it is.
It's important to point out that the color of your call to action (CTA) buttons is crucial. That's why these design apps are useful, since they allow you to fully customize your Buy Now or Add to Cart buttons in various ways
According to the data, the best colors for CTA buttons that require a sense of urgency (Buy Now, Add to Cart, etc.) are bright and vibrant like yellow, red, orange, or royal blue (remember the Apple design). There are many different shades of these colors, so the following apps will help you fine-tune them and make them work with the rest of your design.
Never underestimate the importance of button color. For instance, Kissmetrics compiled some data and found that the company Performable changed the color of just one CTA button from green to red and saw a 21% increase in conversions. Additionally, Ript Apparel tweaked some copy and changed the CTA button from green to yellow and saw a sales increase of 6.3%. It's important!
It's worth noting that Amazon, the undisputed king of online retail, has used the same colors for their CTAs for years now: yellow/gold for the Add to Cart CTA and orange for the Buy Now CTA. These are so famous, that retail consultants and researchers refer to the big orange button when describing best design practices for CTAs.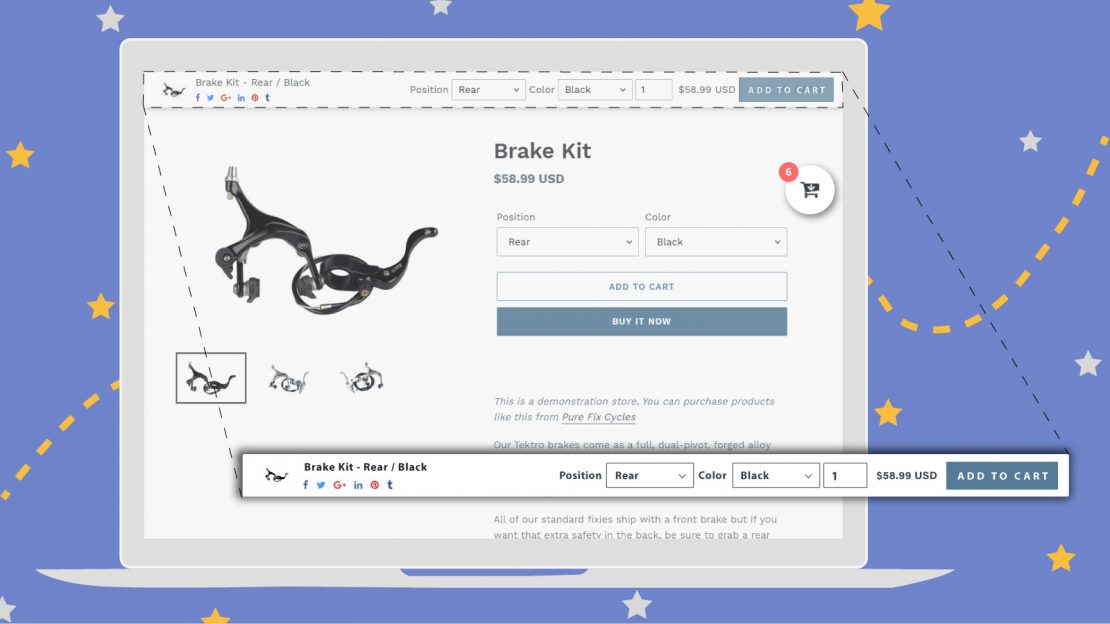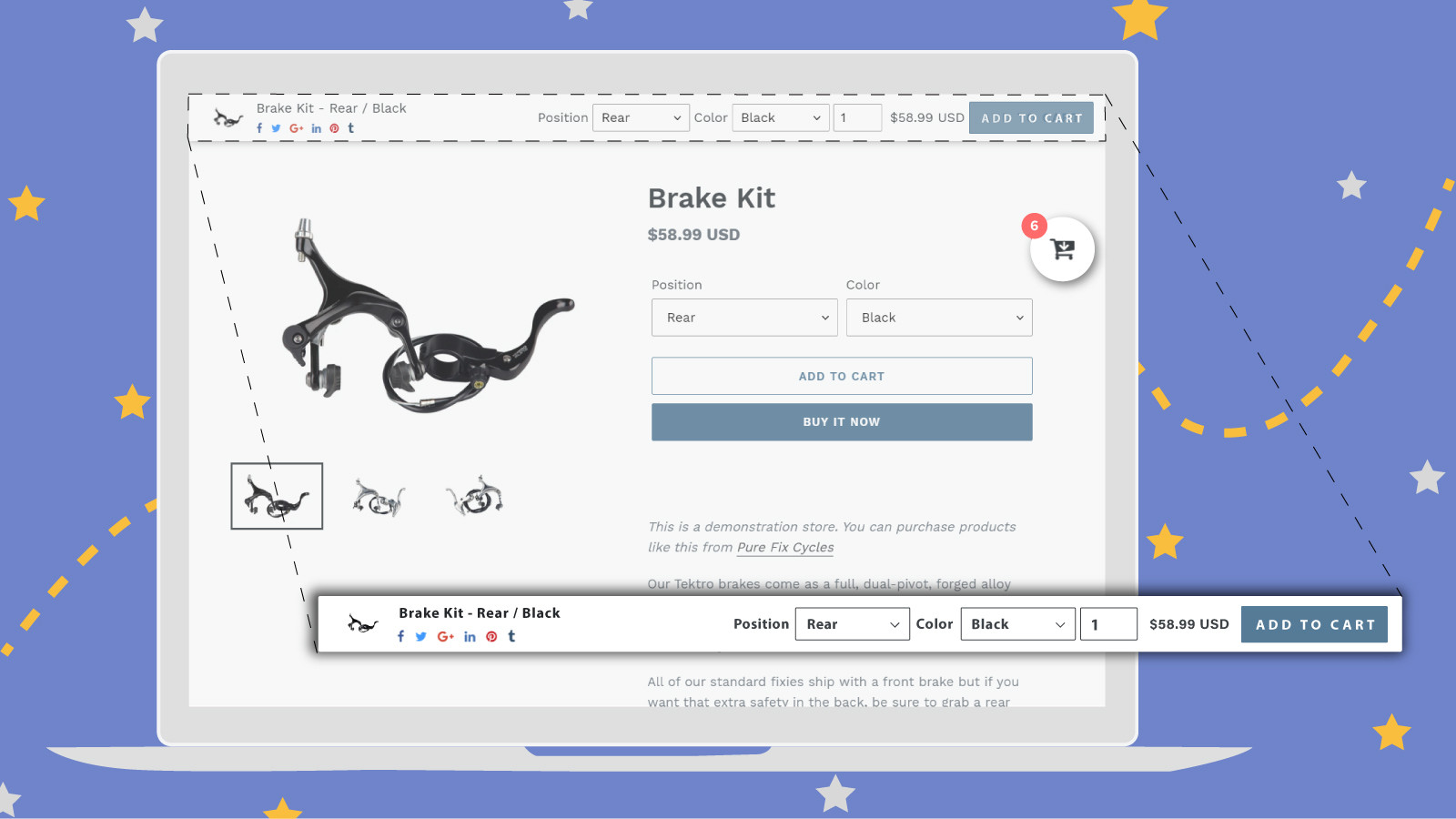 This Shopify design app allows you to boost revenue, conversions, and sales by setting a "sticky" Buy Me button at the top of every product page. You can set the "stickiness" level and make it appear at the top of other pages as well. Remember, CTAs should clear and persistent – this design app helps you achieve this strategy.
Available for free or $2.95/month, $4.95/month, or $6.95/month
Includes a Buy Me widget for faster and simpler checkouts
Integrates with all Shopify themes
Compatible with other Shopify design apps
Items In Cart preview for a better, more transparent checkout process
Customer can get free promotions via social media sharing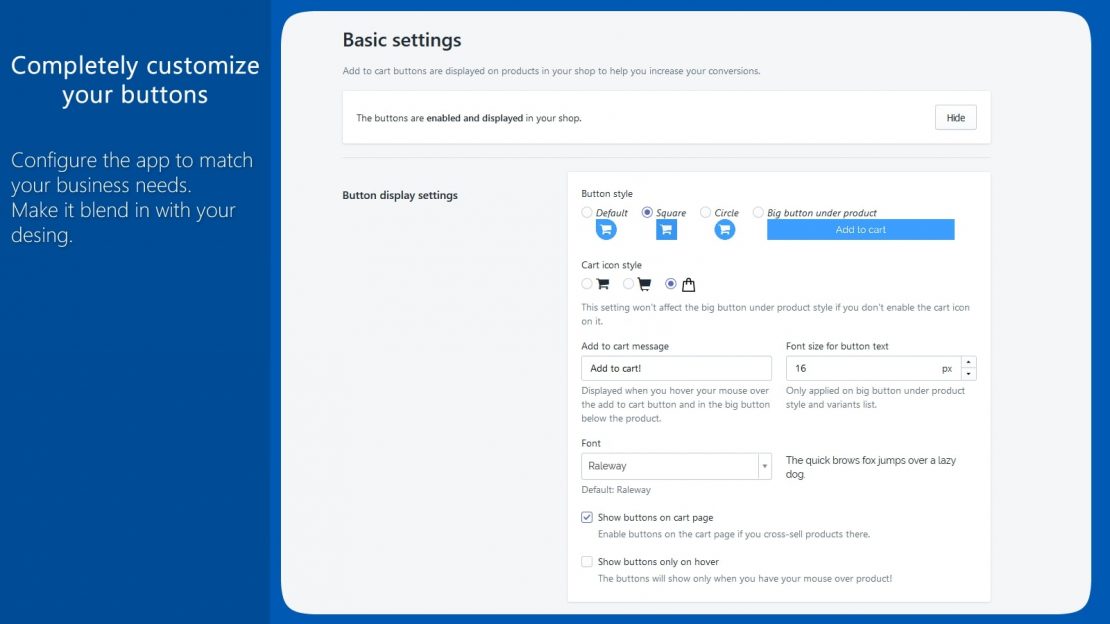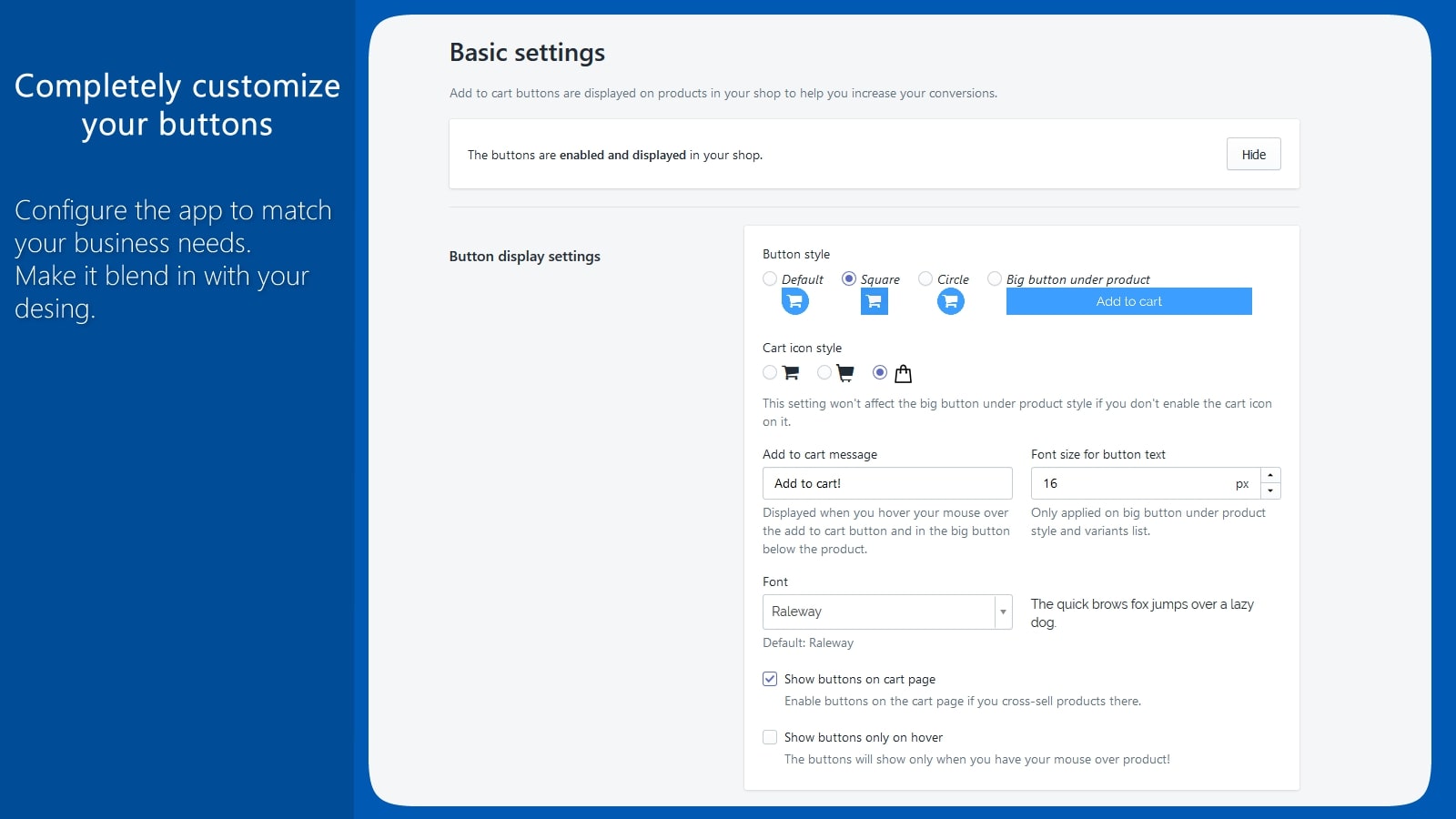 This Shopify design app is a sticky cart that makes the checkout process easier, faster, and more engaging. Remember, optimizing your checkout was one of the best design practices we discussed above, so this app will help you increase conversions.
Available for $9.99/month
There is no coding required
It can be up and running within 30 seconds
Customize "stickiness" for the cart and make it appear above all pages
Designed to improve customer UX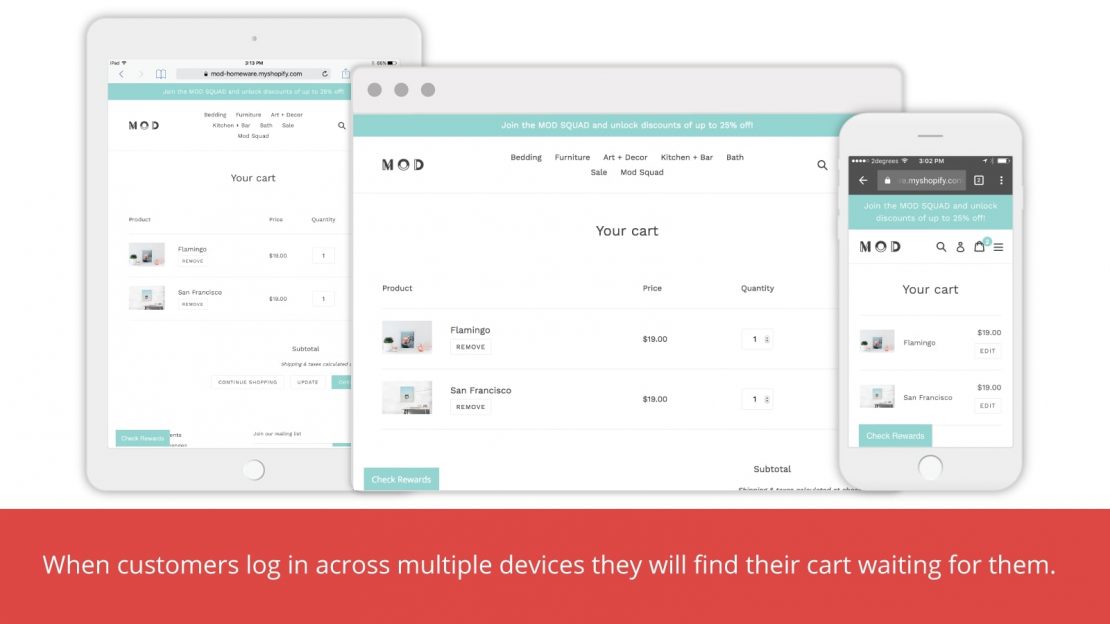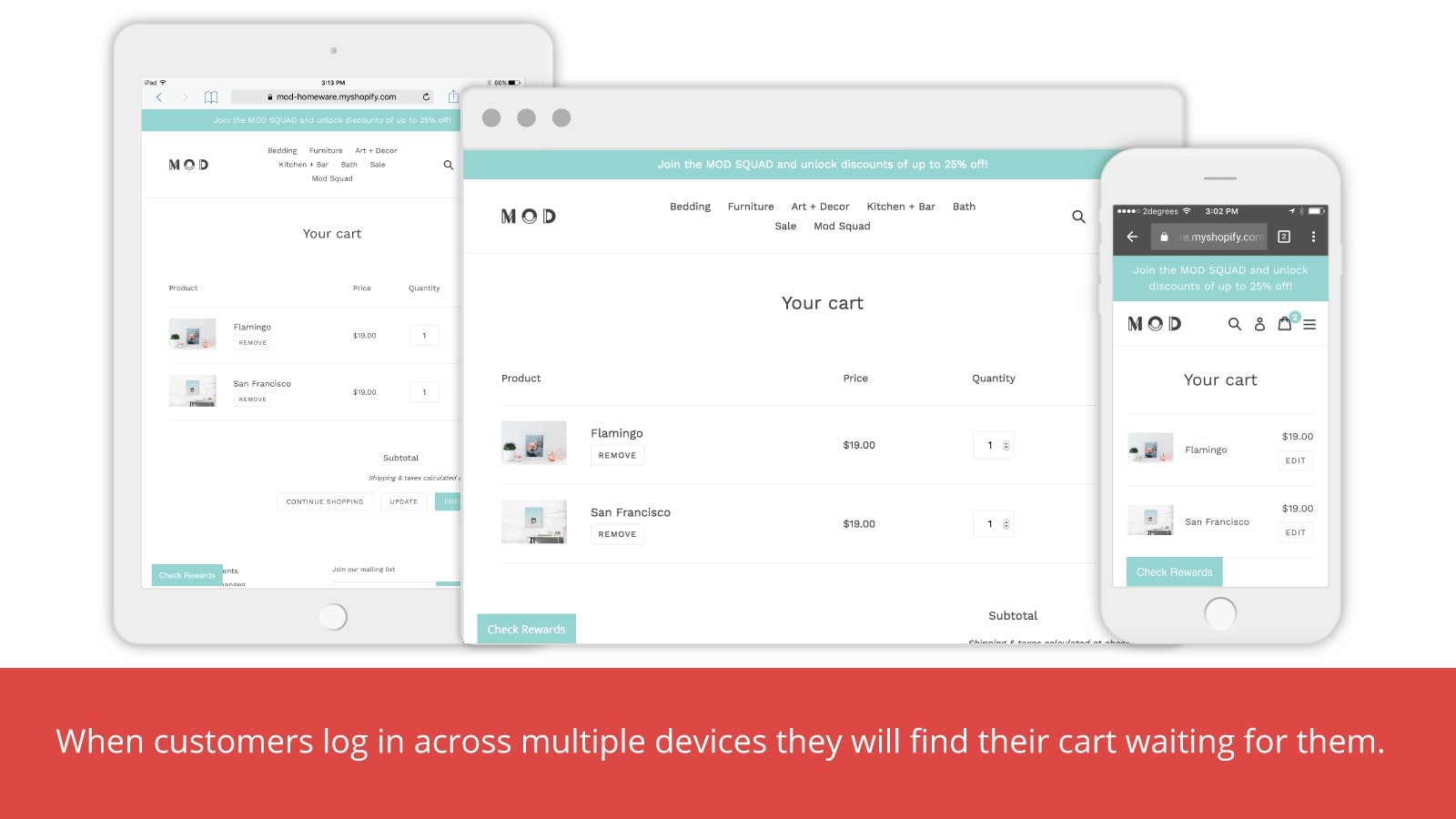 Nearly half of customers start shopping on one device and then switch to another. With the Keep Cart app, when customers log in across multiple devices, they'll always find their cart waiting for them. This optimizes UX across all devices, including mobile.
Available for free
Simple to install and it simply works in the background
To test, log in as a customer, add items to your cart, then log in on another device
Boosts conversions and sales
Reduces cart abandonment
Makes shopping across multiple devices simple and easy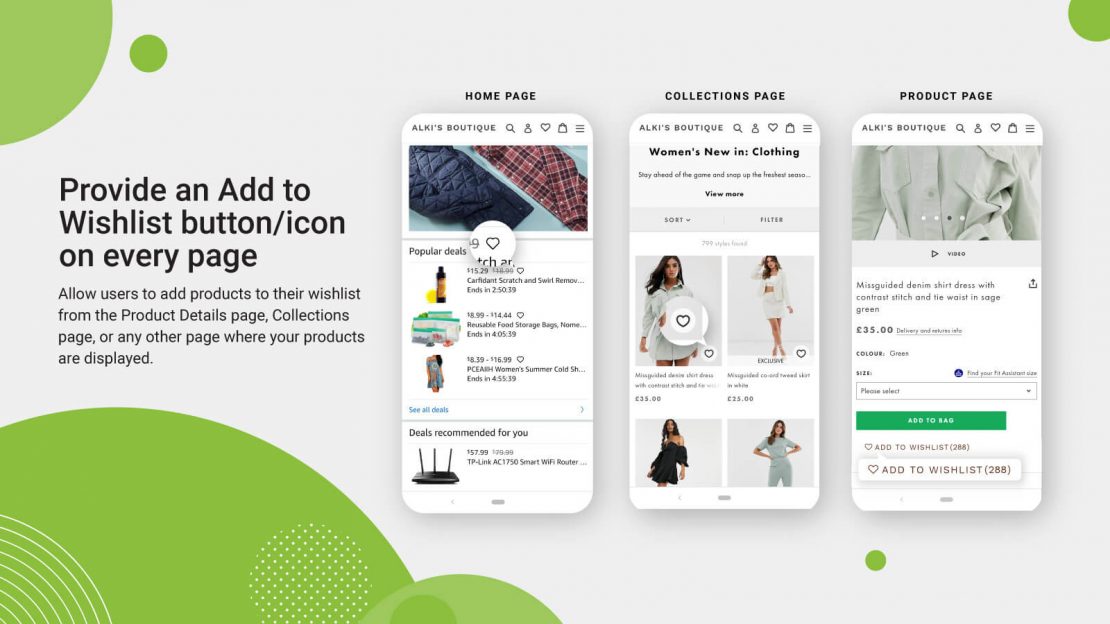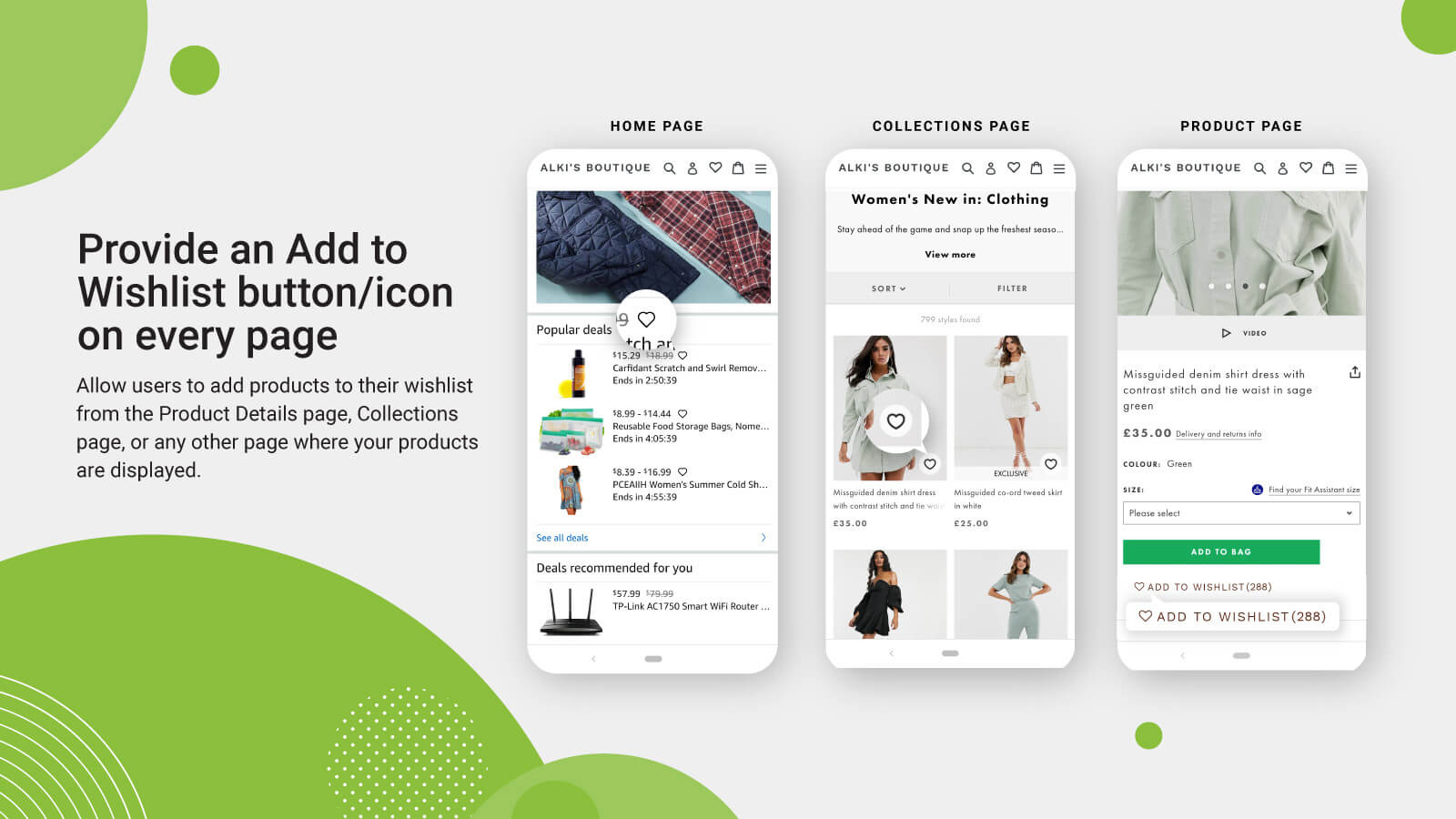 Wishlist Plus was developed on one universal principle of eCommerce: customers who favorite items spend more. Now you can let them build wishlists so they can return after initial browsing and complete the conversion.
Includes an intuitive and feature-rich wishlist module that doesn't require customers to log in – they can still save favorites. Plus, you can bring shoppers back by driving traffic and sales with personalized email/social media campaigns based on wishlist activity.
Free plan or $14.99/month, $49.99/month, or $99.99/month
Optimized for mobile users
Easy to customize to maintain your brand
Sync user/wishlist activity across all devices
No login needed for your shoppers to add to wishlist
Shows the number of times a product is favorited
Intelligent opt-in pop-up nudges shoppers to save their email address
5. Help Center & FAQ Design Apps
Your customers will always have questions, some of which will be recurring. To save yourself precious time and resources, you can address the deepest customer concerns in an FAQ page on your website.
These Shopify design apps allow you to create FAQs and Help Centers that fit the overall design and UX of your Shopify store. You can integrate them with the other design apps so that your aesthetics stay consistent and your brand identity is easily recognizable.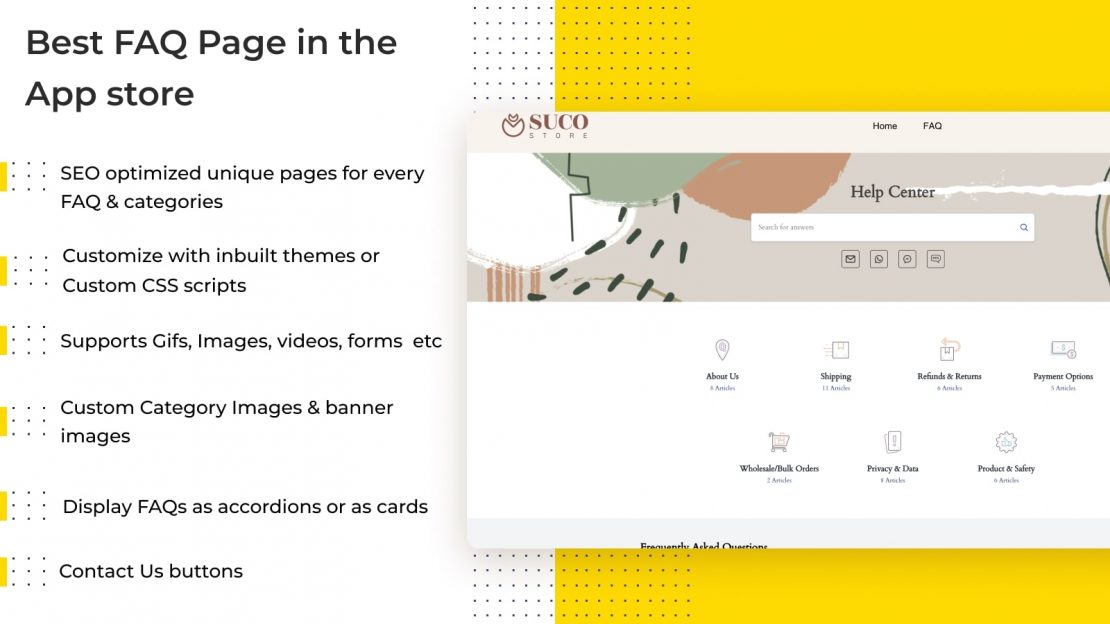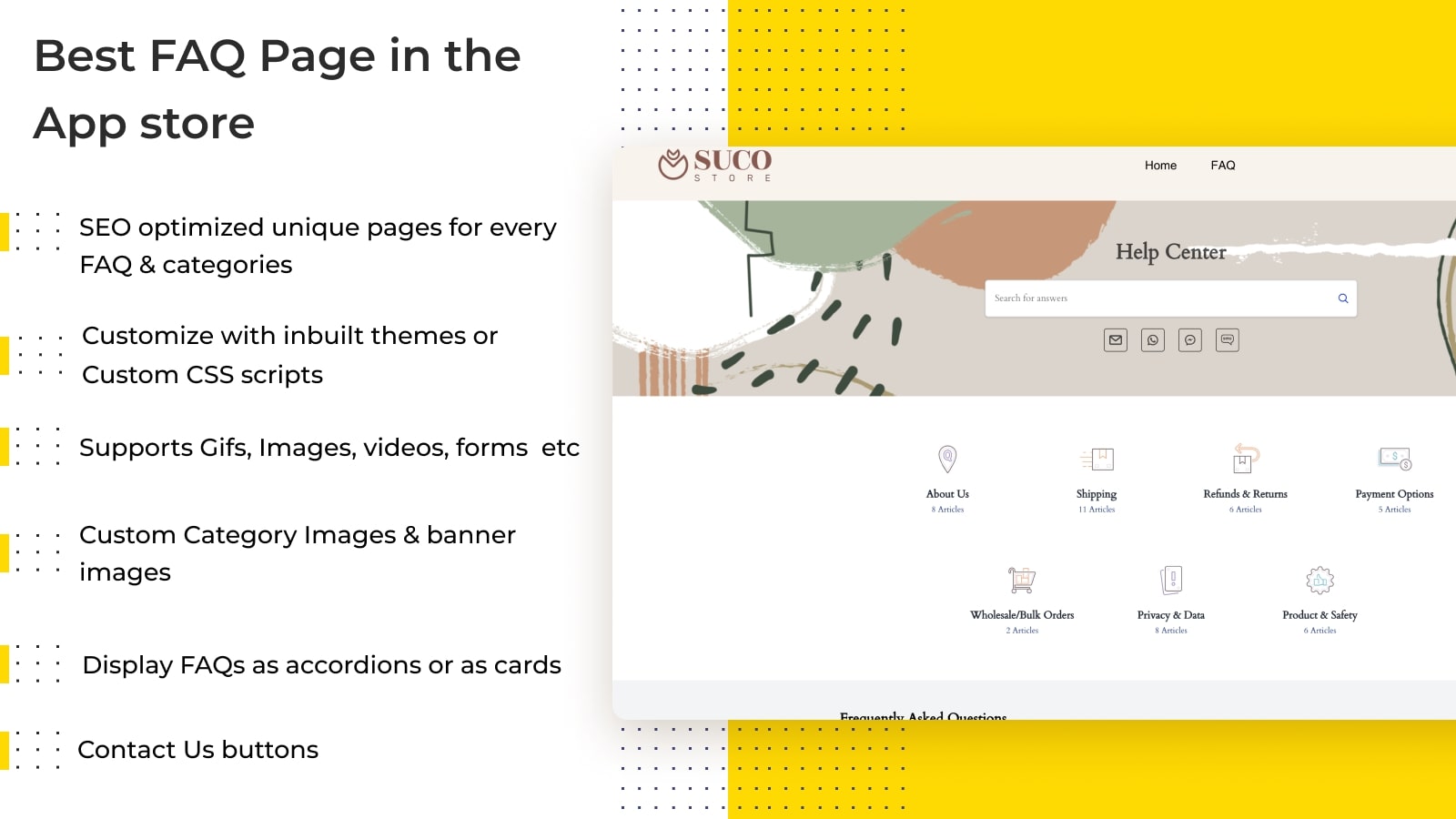 FAQs increase trust and help customers complete checkout by addressing their concerns. This is a modern FAQ design app and Help Center that will help you improve your conversions, earn your customer's trust, prevent negative reviews, and reduce cart abandonment.
This app also comes with a beautiful HelpCenter widget that you can install on all your store pages. This has two benefits: mobile users have an easily accessible place to read your FAQs and it improves SEO since the FAQ content is available on all store pages.
Available for free or $12/month
Rich text editor for creating FAQs and articles
Unlimited FAQs, unlimited categories, unlimited page views
Easy to install on your store: no liquid code editing needed
Fully customize the look & feel to match your branding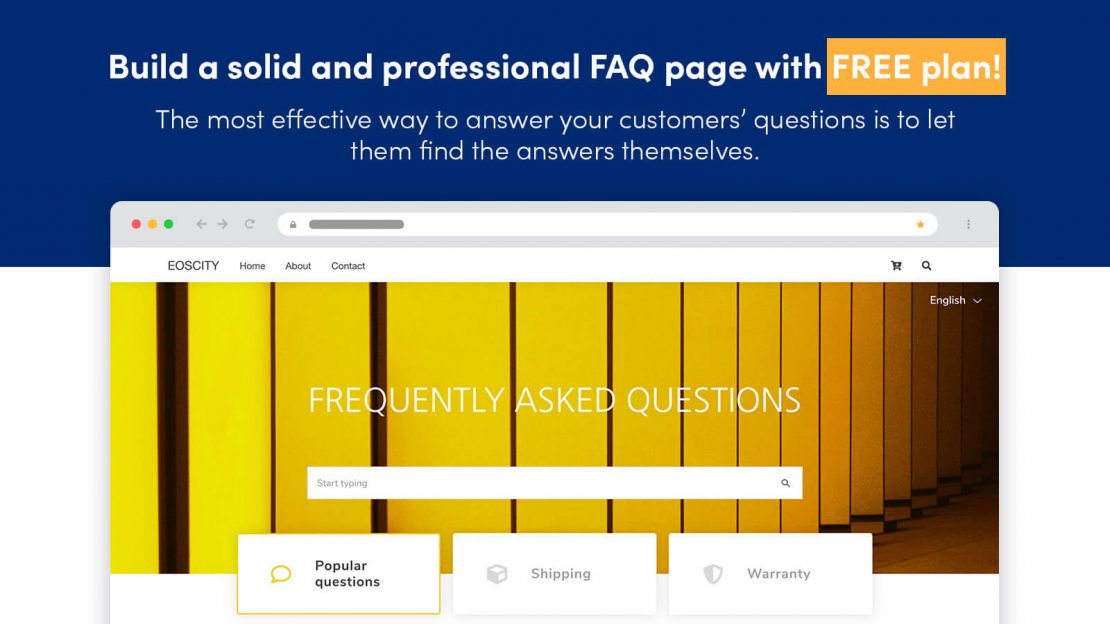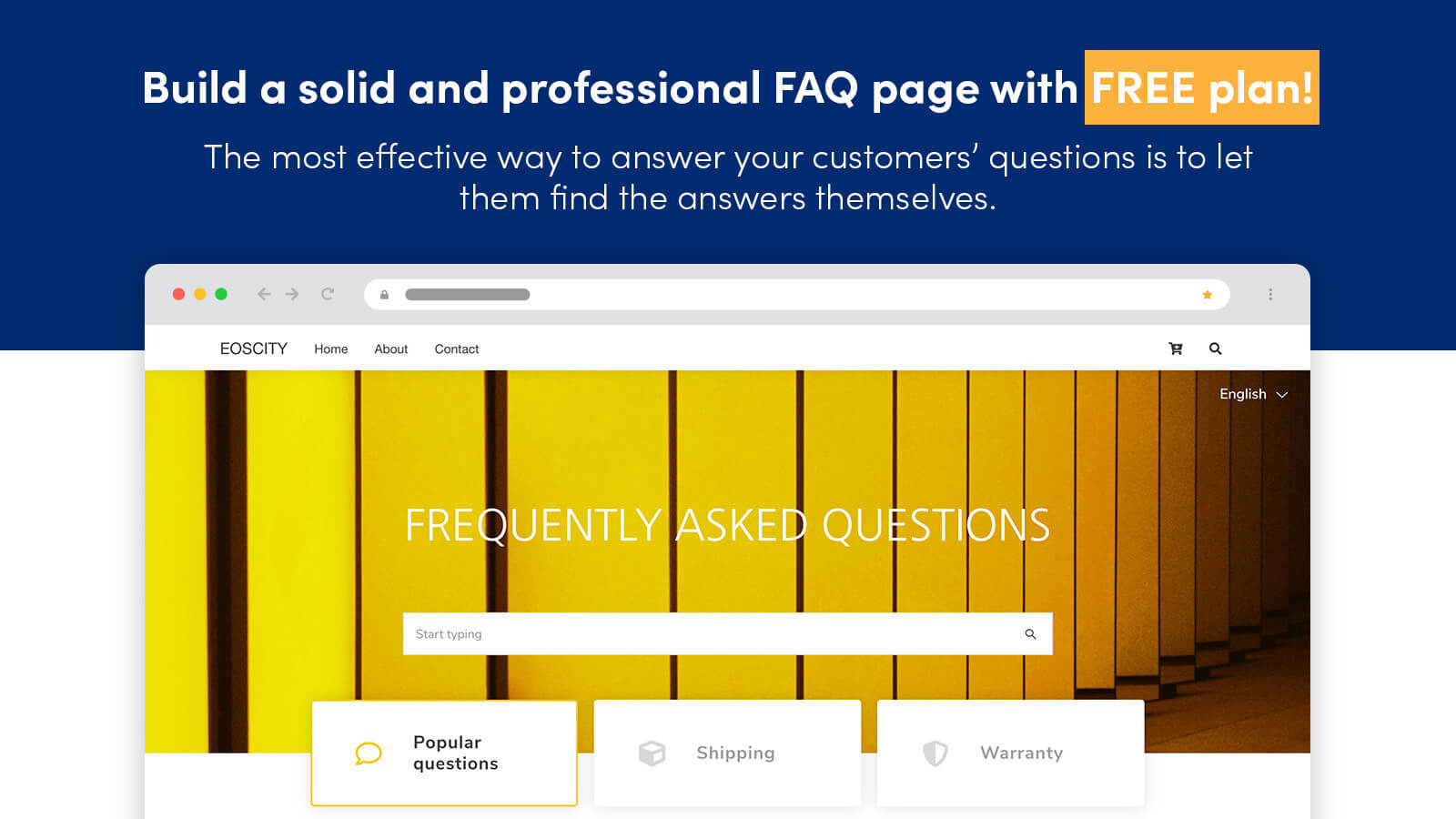 With this HelpCenter and FAQ design app, you can create an attractive FAQ page from scratch. Give your customers a simple, easy to navigate tool to find their answers immediately.
You can also access all customer inquiries from email, Live Chat, and Facebook Messenger under one platform to save you valuable time and resources.
Available for free or $4.95/month or $29.95/month
Create a multilingual, SEO-friendly FAQ that fully integrates with the site
Keep a consistent look across all your pages
Use one account for several stores
Improve your design and UX
Live Chat will keep your business accessible in real-time
Include images in FAQs for cross-selling or up-selling
6. Color Swatch Apps
With these color swatch apps, you can add color swatches to your Shopify product options. The Swatches App is a very simple yet crucial app for any store that offers products available in different variant colors. It basically replaces the regular drop-down menu of your color variants with elegant swatches.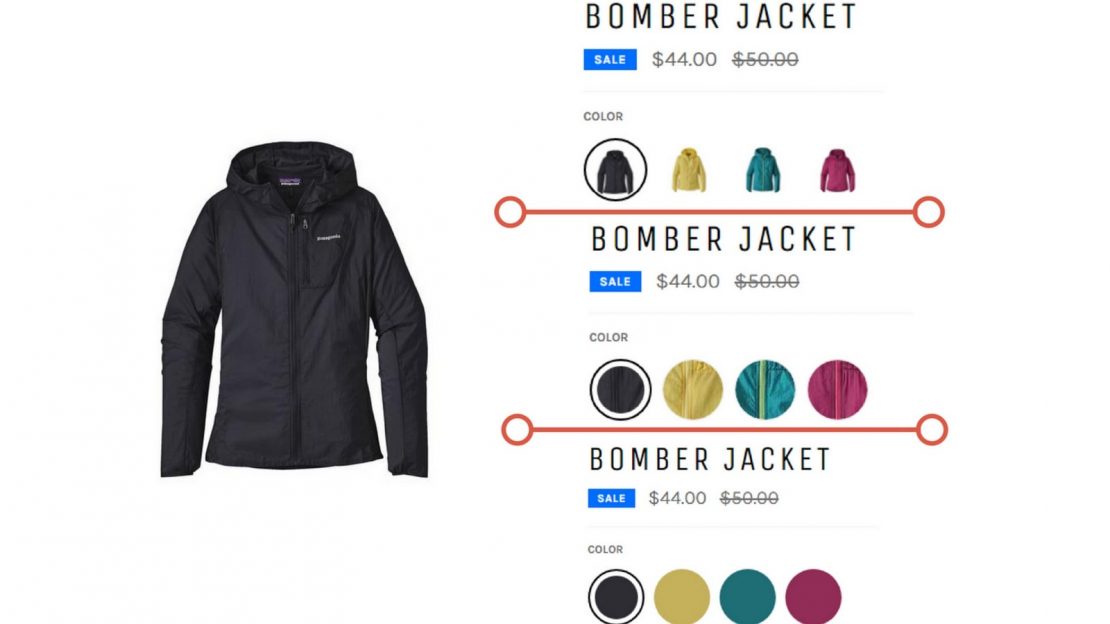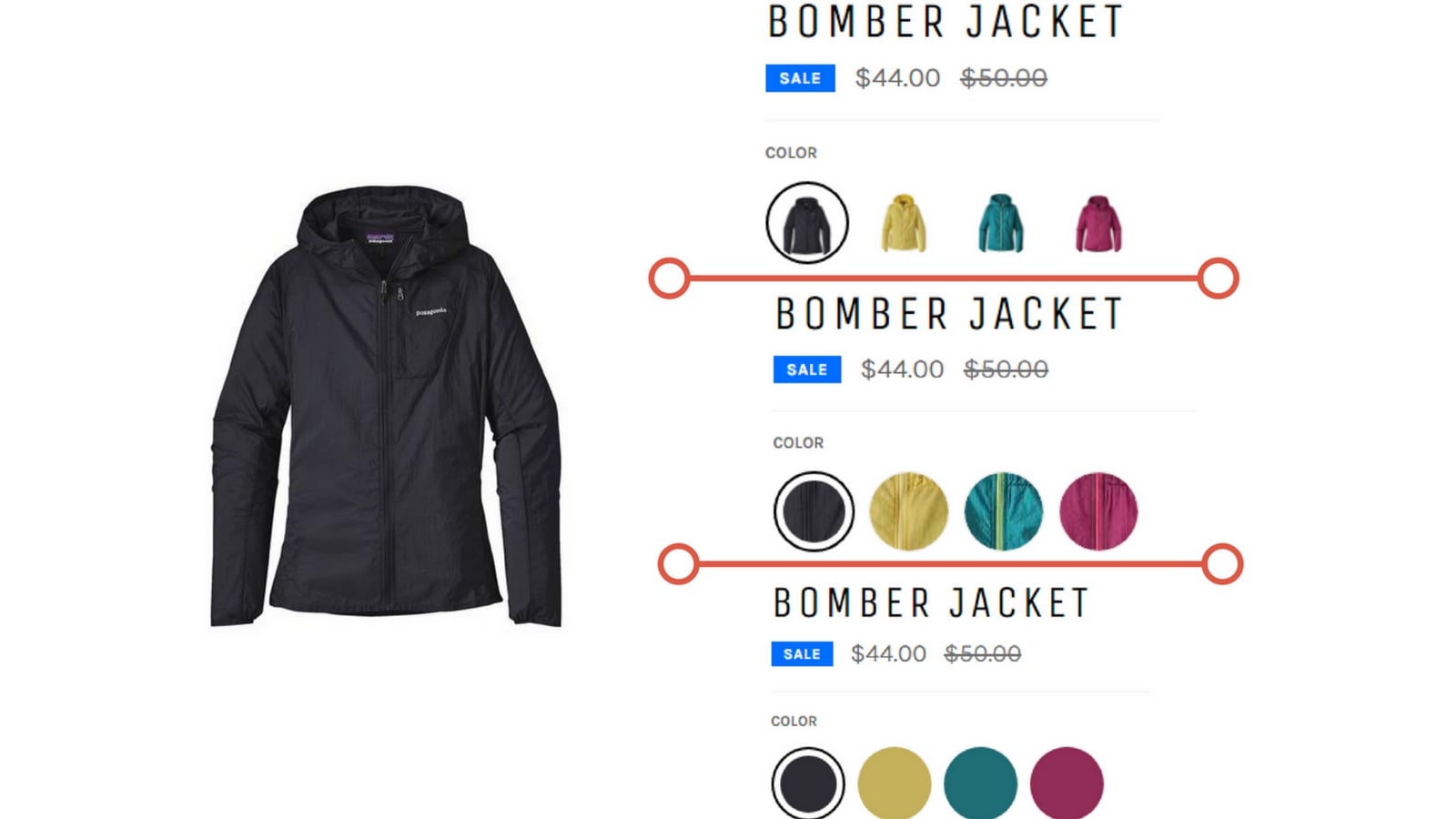 You can use this design app to generate color and variant image swatches on both collection pages and product pages. In other words, you can show online shoppers color variants to give them more choices.
The app automatically creates drop-down menus into sleek and elegant image swatches with different color options. When your customer clicks on a product, they'll see variant image swatches that are aesthetically pleasing. You can convert shoppers to buyers by offering this type of page design in your Shopify store.
One-time fee of $25 (no monthly fee)
Supports 3 patterns/swatch types
Easy to install and full integration with any Shopify-approved theme
No need to edit theme liquid files
Finding color variants is easy with the search tool
Especially useful for fashion and apparel stores
If you use a third-party theme or have extensively customized your Shopify-approved theme, then you can contact their customer service and they'll walk you through free installation.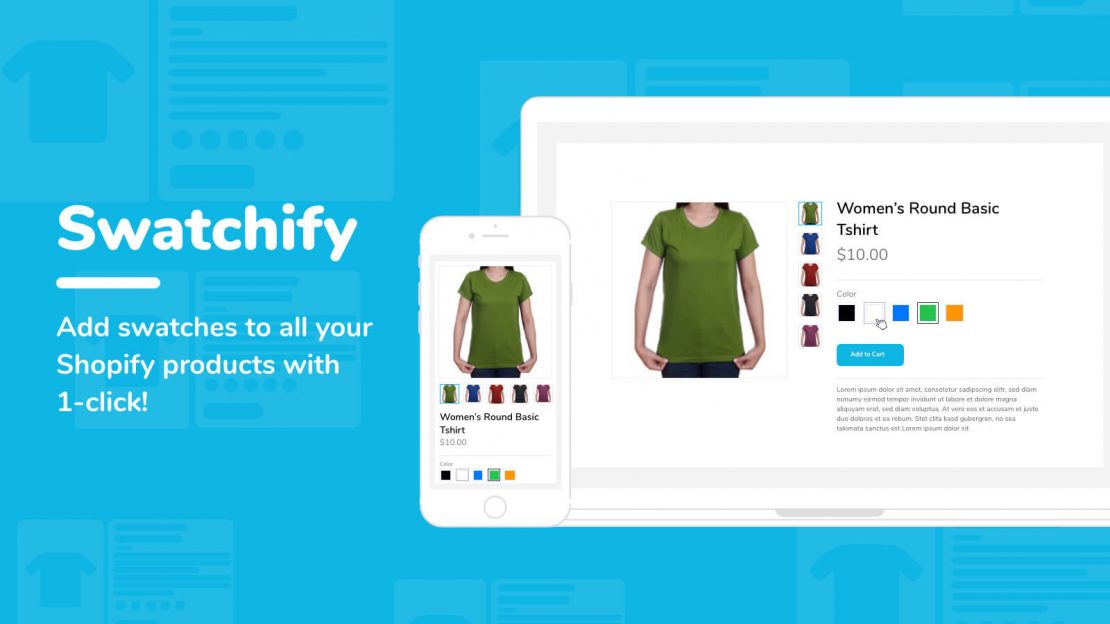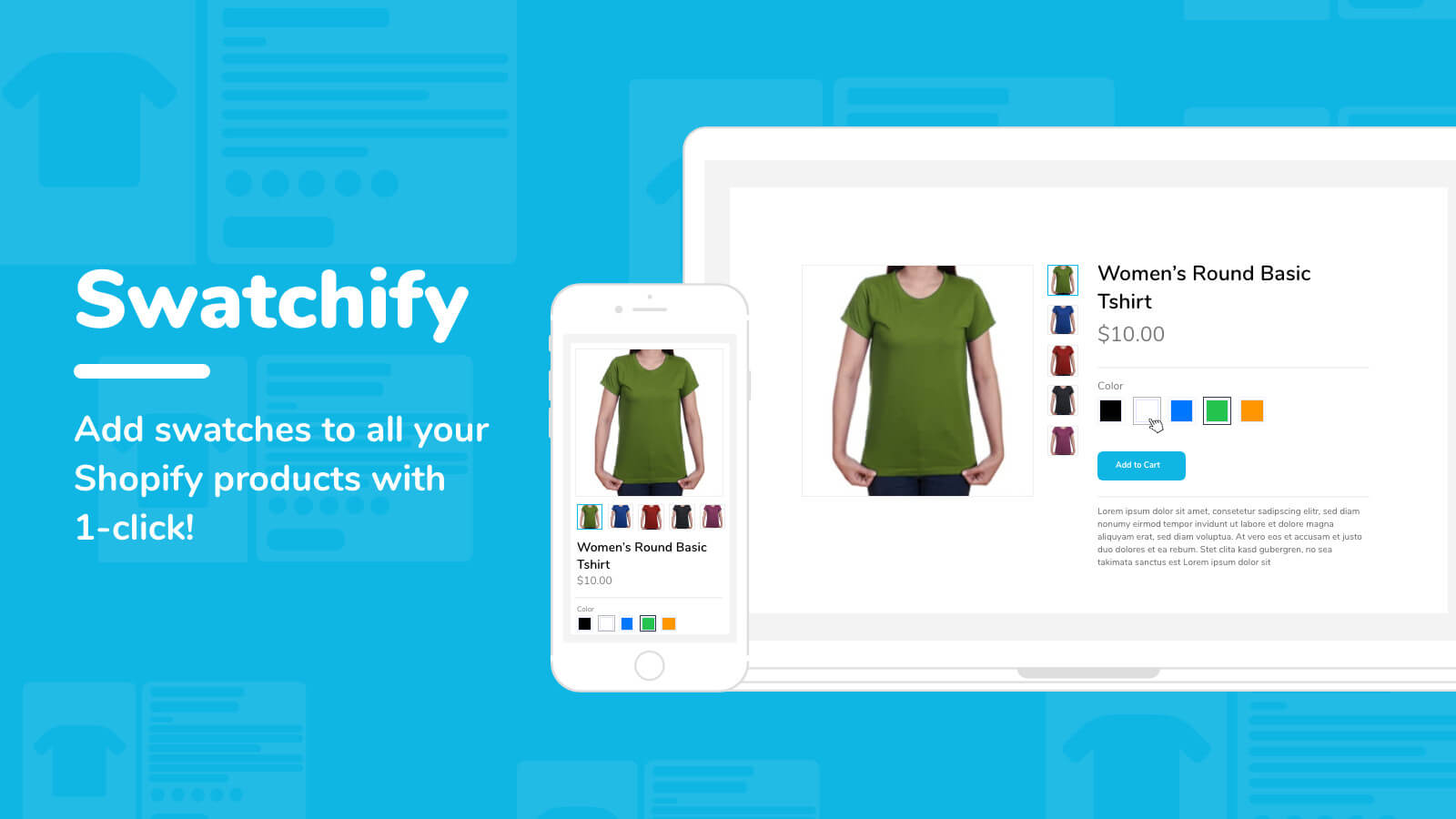 Using swatches for product variants is a really useful way to boost consumers' user experience while they're on your site. Since they can't browse through your inventory in person, image swatches try to recreate the feel of looking at various types of the same product.
Plus, letting online shoppers view product variants is a great way to boost conversions, sales, and customer retention for your Shopify store. Swatchify is a fully customizable and scalable page design app that lets you show product variants in an easy, convenient way.
Available for $4.99 per month, $7.99 per month, or $9.99 per month
Also available for a free 14-day trial
Swatches are seamlessly integrated with Shopify themes
Swiftest loading speed among customizable color swatch apps
Lets you display swatches for specific products with unique variants
Easy to change the size, layout, and design of swatches on desktop and mobile
Especially useful for fashion and apparel stores
Use The GreenDropShip Dropshipping App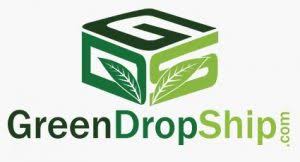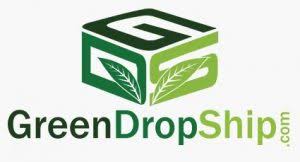 These Shopify design apps are all available from the app store. They're compatible with all official Shopify themes and make design ten times easier.
You can also use them with the new GreenDropShip dropshipping app for Shopify. This will make dropshipping more efficient and partially automate your order fulfillment – all you have to do is pay the wholesale price and shipping costs and GreenDropShip will fulfill your orders automatically.
It's important to remember that if you want to use our automated dropshipping app, you'll need a GreenDropShip membership and a Shopify store. Once you have those, simply visit the Shopify App Store and download our dropshipping app.
We're a premium dropshipping supplier that's easy to use with Shopify. If you'd prefer not to use our app, our basic dropshipping platform uses product feeds and integrates fully with Shopify. However, our app will make your dropshipping store more automated, convenient, and efficient so you can focus even more on marketing to consumers.
You can also check out our related blog posts to learn more about Shopify: