Shopify Dropshipping Apps: Guide for Savvy Resellers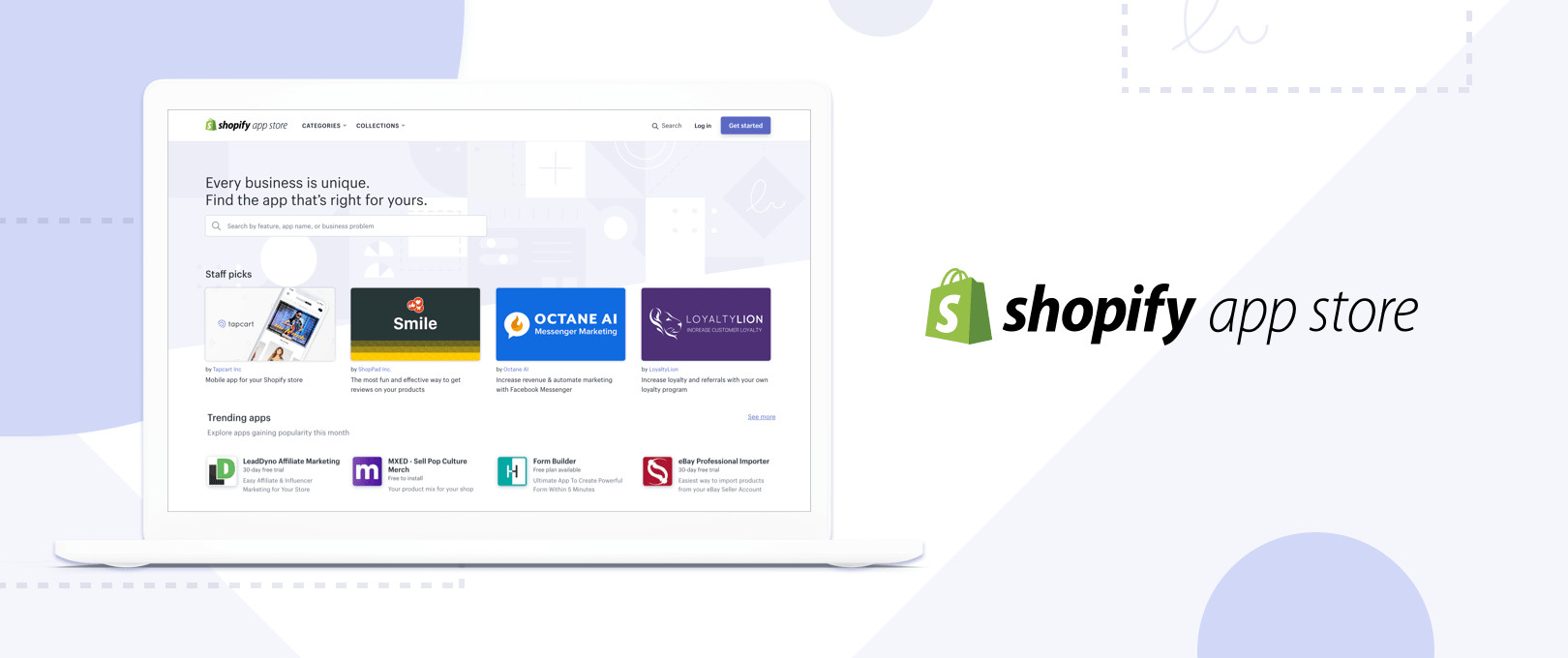 Running a Shopify dropshipping store has the potential to be lucrative, but you need the right tools in order to get the job done and to do it right. The online retail marketplace is highly competitive, so any edge you can gain over the competition will bring you one step closer to success. This is where Shopify dropshipping apps come in – by choosing the best ones, you can help your e-commerce store not only survive, but thrive.
Why Should I Use Shopify for its Dropshipping Apps?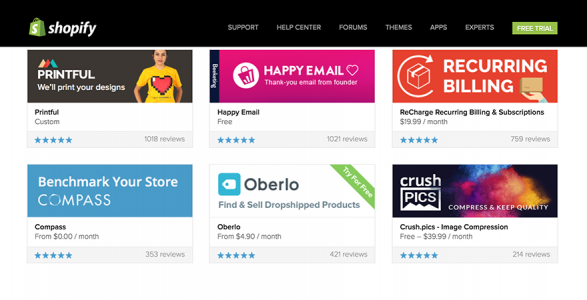 It's user-friendly – Shopify is really easy to set up and use. Everything about it is designed to get online retailers signed up for the platform and selling in no time. As a result, the platform provides important pages like About Us, Shipping Information, Shipping Calculator, Privacy Policy, and Return Policy already pre-filled and ready to go. This will inspire confidence and trust in your potential customers.
You have access to around-the-clock support – You've probably heard of Murphy's Law: "Anything that can go wrong will go wrong." This is certainly true for online retailers, so you'll need an e-commerce platform that offers 24/7/365 customer support. Shopify does just that via phone, email, or chat service. There is also an official forum where users can share information and solutions.
It is reasonably priced – Some platforms have exorbitant costs just to get started. Shopify, on the other hand, has a free trial and three primary plans that are between $29 and $299 as well as a premium services package known as Advanced Shopify. There are also over 100 website templates (known as themes) that are available, 10 of which are free to use.
It hosts a wide range of e-commerce sites – Shopify is like a gigantic engine of online retail. In fact, it hosts over 500,000 e-commerce stores and dropshipping websites! This translates to an overall market share of nearly 11% and more than $40 billion in sales.
You can access a huge app store – This is where Shopify really shines. Using this platform gives you access to an extensive library of dropshipping apps that have all kinds of applications. You can easily customize and optimize your store to meet your particular needs as an online retailer.
What Do I Look For in the Best Dropshipping Apps?
To help your online store succeed, you will need to take advantage of Shopify's high level of customization and flexibility by choosing the right apps. Always consider these criteria when browsing the Shopify dropshipping apps store:
Have a high-quality inventory that is linked to your online store. The best dropshipping apps will let you choose products straight from Shopify or instantaneously sync these products with your online store.
Keep an eye out for apps that work with the best quality suppliers. This usually takes some research in the form of finding reviews and ratings on the various suppliers.
Avoid longer shipping times in your dropshipping store. This means finding dropshipping apps that have suppliers located all over the world or are located near to where your customers are. No one wants to wait forever for their products to arrive!
Choose the right dropshipping suppliers so you still have healthy profit margins. Remember, your supplier handles the storing, packing, and shipping of the goods, so they will charge you a fee on top of what you pay the wholesaler. This means you will have to do some more research and find suppliers who are reasonably priced.
Always have great customer support. Never forget that Murphy's Law can strike anywhere and anytime, so choose dropshipping apps that have great customer support so that you can always troubleshoot any difficulties you may encounter.
Ask for product samples. This isn't always possible, but it is an excellent way to learn about the products you are selling and keeping a close watch over quality control.
Have your branding on the packages. Remember that you are building a personal brand with your e-commerce store, so you'll want to choose dropshipping apps that will include your branding in the packing and shipping process.
The Best Shopify Dropshipping Apps
Now that you have some general guidelines to follow when browsing the Shopify app store, let's go over some figures so you have a bird's-eye view of what's happening. Based on analysis by ASoft, there are currently 2525 Shopify apps that have been created by 1413 Shopify app developers. They break down as follows:
34% (864) are free
66% (1661) are paid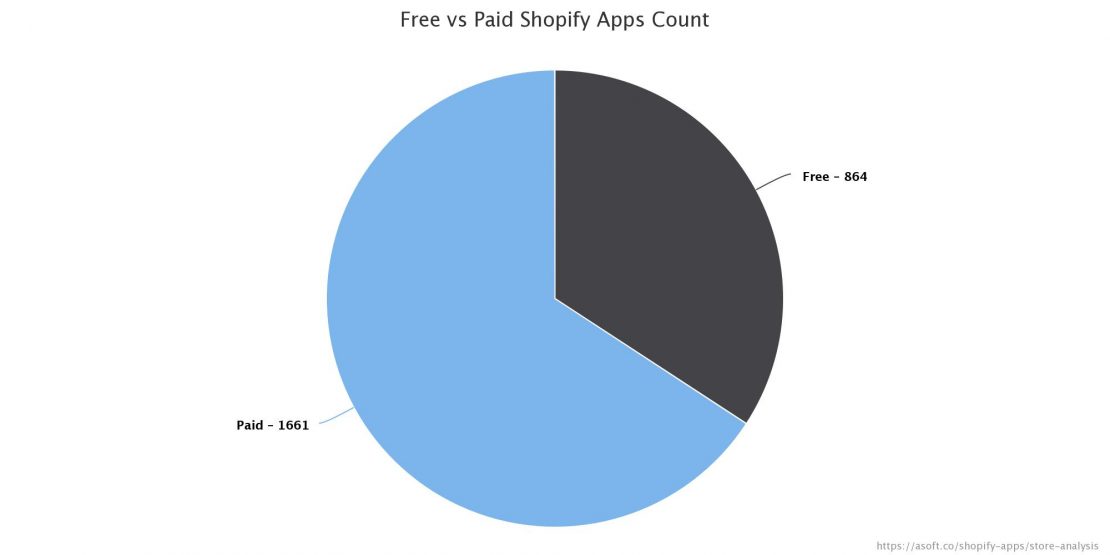 When combining all the apps, both free and paid, then the average price comes out to $15.99. Although this may seem like a lot, let's consider that the total monthly revenue for all Shopify apps currently stands at $5.05 million! As you can see, these apps may cost a little, but they sure generate a lot of money.
So, without further delay, let's take a look at some of the best Shopify dropshipping apps that are available to online retailers.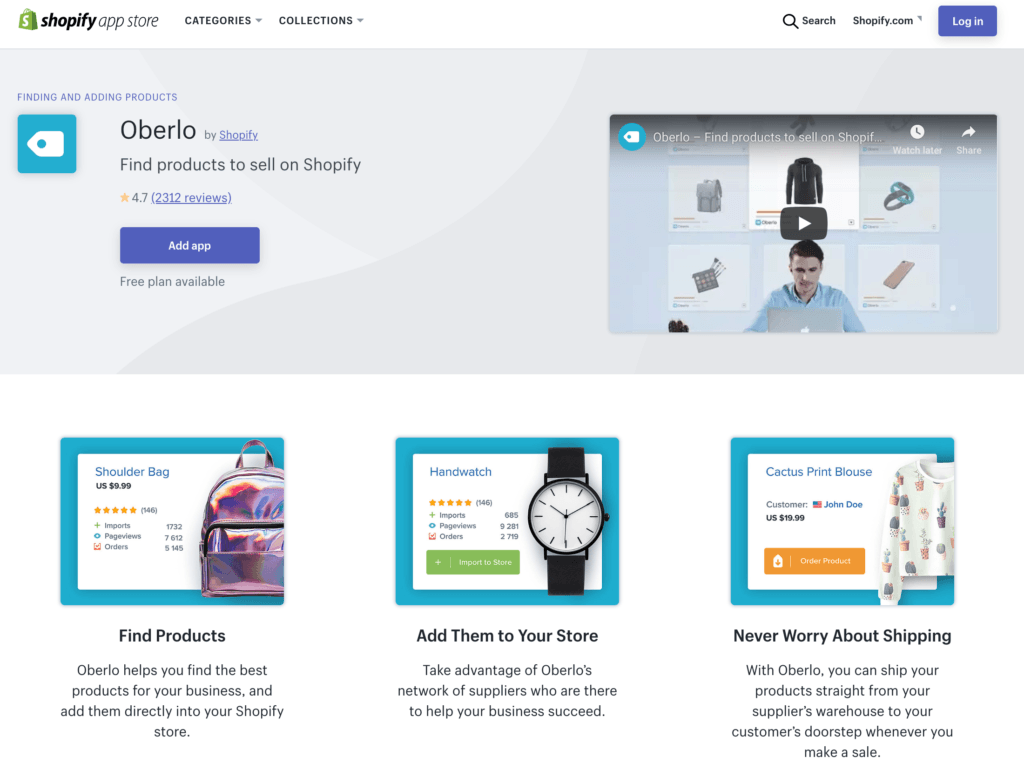 This is the single most popular Shopify dropshipping app. This makes total sense considering that Shopify officially acquired Oberlo in May of 2017. Additionally, Oberlo has a sterling reputation for being convenient, easy-to-use, and profitable. It also:
Allows you to search for products from a wide range of suppliers. Oberlo has one of the largest inventories of products on the entire web.
Instantly syncs any products or information to your e-commerce store. Remember, you want seamless integration and excellent functionality to make your life easier.
Automatically updates the availability of any items in your store. In other words, if you're out of stock then a customer won't be able to place that order. This cuts down on returns and complaints.
Offers a free Starter Plan for online retailers who are starting with little to no cash. Coupled with the low cost-of-entry for Shopify, using the Oberlo app means you can be up and running immediately, even if you lack the startup capital.
Provides you with information on the popularity and overall sales of any products you add. By giving you this information, you are able to accurately track the marketplace and adjust your strategies.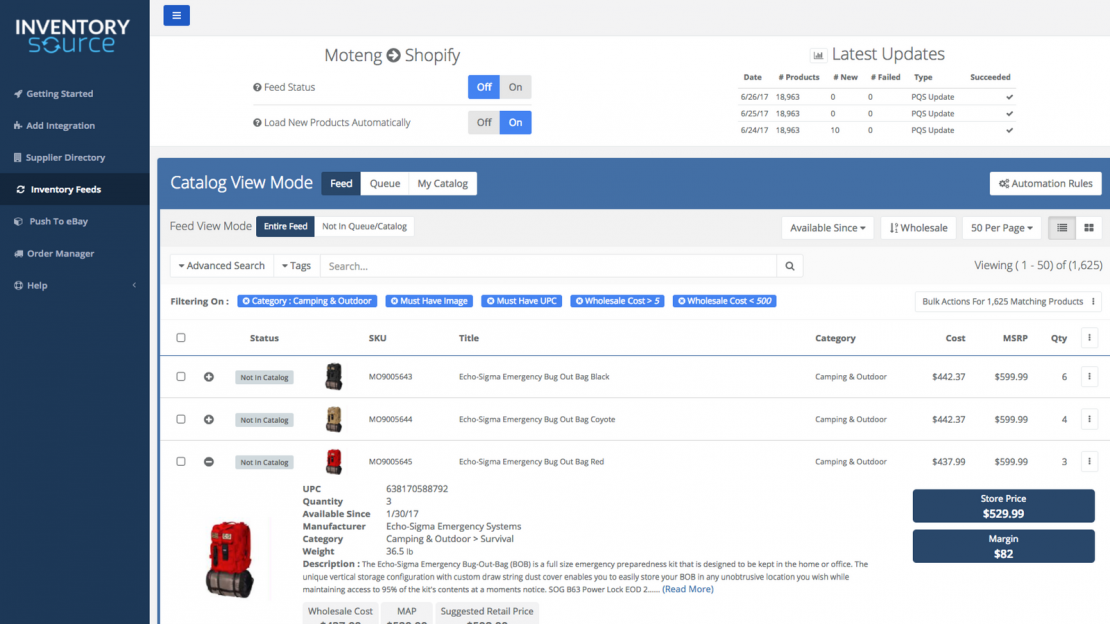 This unique app allows online retailers to list their products not only Shopify, but eBay and Amazon as well. As a matter of fact, over 20 e-commerce platforms are all supported via this dropshipping app. If you're looking for a way to streamline the process of listing on multiple retail sites, then Inventory Source is the app for you!
It also grants you access to over 180 pre-integrated and fully vetted US suppliers as well as the option to add your own suppliers. For example, if you decide to expand this option, you can choose Greendropship and access over 20,000 natural and organic products that are made in the USA. Other benefits of this app include:
No middleman fees so you can boost your profit margins! You only have to pay your monthly subscription.
There is also an option for a free account. This can grant you access to various niches and suppliers.
You can fully customize or integrate other suppliers if you upgrade to a paid plan.
Inventory syncing and product data upload are fully automated. This will allow you to focus on managing your catalog with all the customization tools at your disposal.
Automation and management tools are easy to use! Inventory Source prides itself on providing an intuitive and convenient user interface.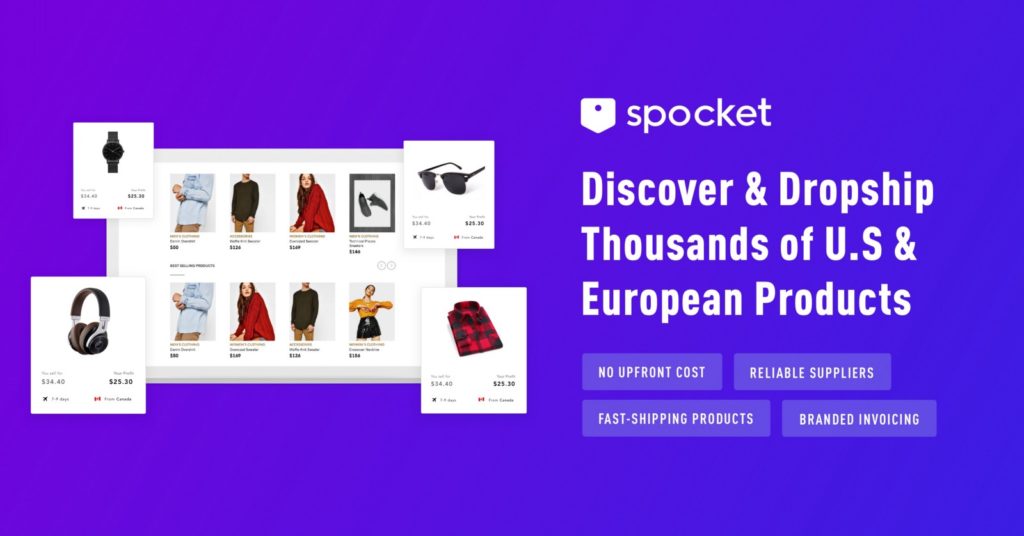 This alternative to Oberlo is highly rated and well-respected. In fact, it may even be superior when it comes to the quality of the suppliers, most of whom come from North America and Europe. If you are operating in those parts of the world and shipping to lots of customers there, then this may be the dropshipping app for you. Remember, customers don't want to wait too long for their orders, so be aware of the geography of your operation. In addition, this app:
Has highly competitive pricing, with the average discount for merchants being 45%.
Offers real-time tracking of shipments if your customers are impatient for their packages to arrive.
Puts your online store branding on all receipts and invoices that go to customers. This will help you maintain your store brand and foster customer loyalty.
Generally has higher quality goods since most suppliers come from North America and Europe.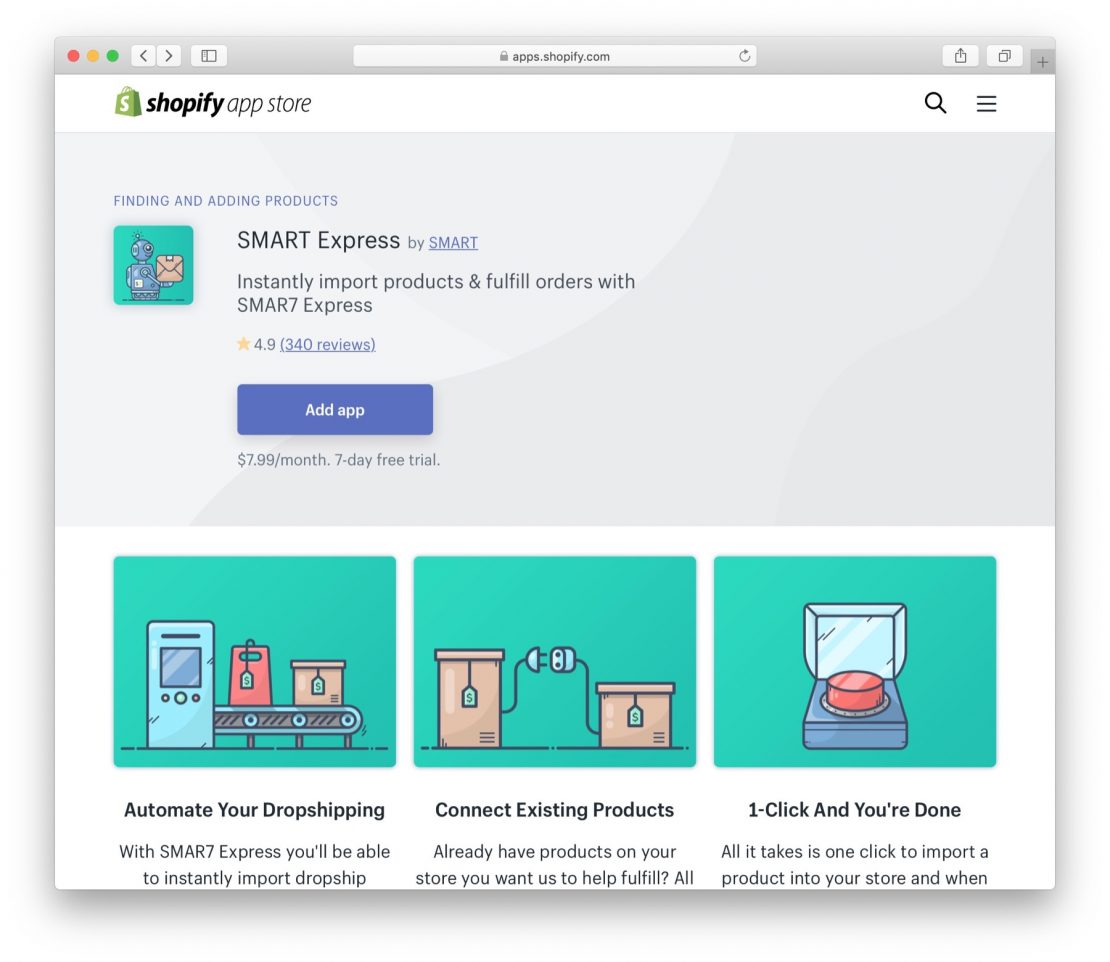 Also referred to as Smart Express, this app is similar to Oberlo and Spocket, although it has some unique characteristics worth discussing. First and foremost, this app is built for integration with AliExpress and Shopify. Furthermore, this sleek dropshipping solution has an extensive inventory of items. With this app, you can:
Import products from AliExpress with just one click! This process includes product descriptions, images, and any variants, thereby making your job easier and less tedious.
Fulfill orders just as easily. With just one click, your order will be well on its way to your customer.
Take your previously listed products and have them fulfilled by your supplier. This is totally unique to this app only.
Most AliExpress suppliers are in Southeast Asia, but SMAR7 Express cuts down on shipment times by using what's known as the E-Packet shipping option.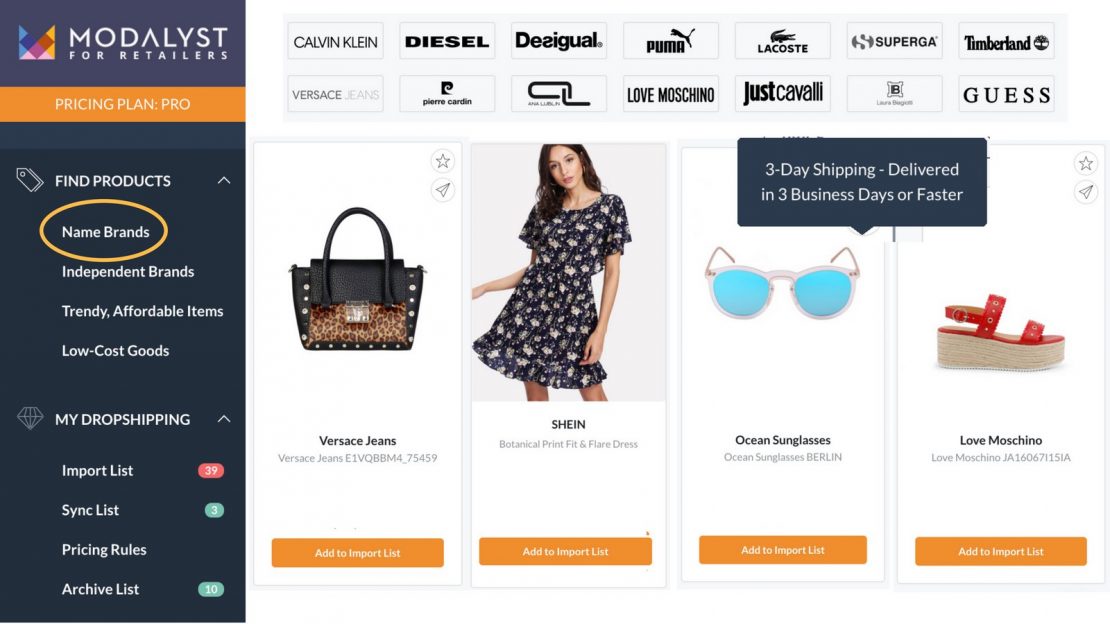 Some online retailers court customers with very discerning taste. If that sounds like you, then Modalyst is likely right up your alley! This dropshipping app focuses on giving access to name-brand suppliers like Puma, Calvin Klein, and Timberland to consumers looking for only the finest products.
Of course, this means that it will be a little more expensive than your average supplier from China, but it results in the ability to offer the best brands to customers who like that sort of thing. Additionally, Modalyst has:
Faster shipping times than most dropshipping apps. It also provides free shipping to the US since most of the dropshippers are located there.
An excellent pricing tool to help you track or boost your profit margins. When dealing with name-brand suppliers, you may find that some customers are willing to pay that extra for certain products. Consequently, you'll want to have access to a tool that allows you to adjust your prices and increase your profits.
The ability to partner with independent brands. Sometimes being ahead of the curve or before a fad can be a boon to your retail operation, so Modalyst is a great app for online retailers looking to find new and emerging companies.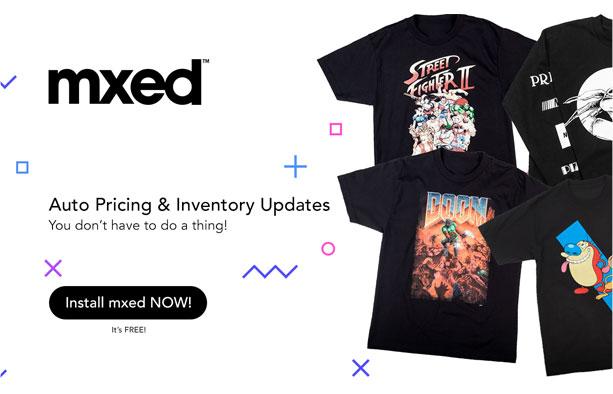 This is an exceptionally exciting new app. Many retailers want to tap into the huge market for licensed merchandise from pop-culture like Harry Potter, Star Wars, Pokemon, or Marvel. However, sourcing and selling intellectual property (IP) franchises can be legally difficult. Thankfully, MXED has connected a major worldwide supplier of licensed merchandise with a fulfillment company based in the USA. That means online retailers can easily dropship these products without running afoul of copyright laws.
Other benefits of MXED include:
An extensive selection of pop-culture merchandise from popular franchises in television, film, and video games.
App integrates directly with the Shopify platform. Convenience and ease-of-use are crucial!
Retailers can focus on connecting with customers. As a dropshipping app, all the logistics like inventory management, shipping, handling, and fulfilling orders are handled by the fulfillment company.
There is a free plan with a maximum of 20 orders or 10 products per month.
Grow Your Shopify Store with Greendropship
Trying to find the right supplier can be challenging for your dropshipping store. Luckily for you, Greendropship is an innovative, easy to use, and competitively-priced supplier that can be used with the Shopify platform. They also offer more than 20,000 natural and organic products that are made in the USA that meet demand in the marketplace for premium, gourmet, and healthy products. Download our product catalog or contact our customer service team to learn more about collaborating with Greendropship to grow your online store!