Best Shopify Dropshipping Apps: Guide for Resellers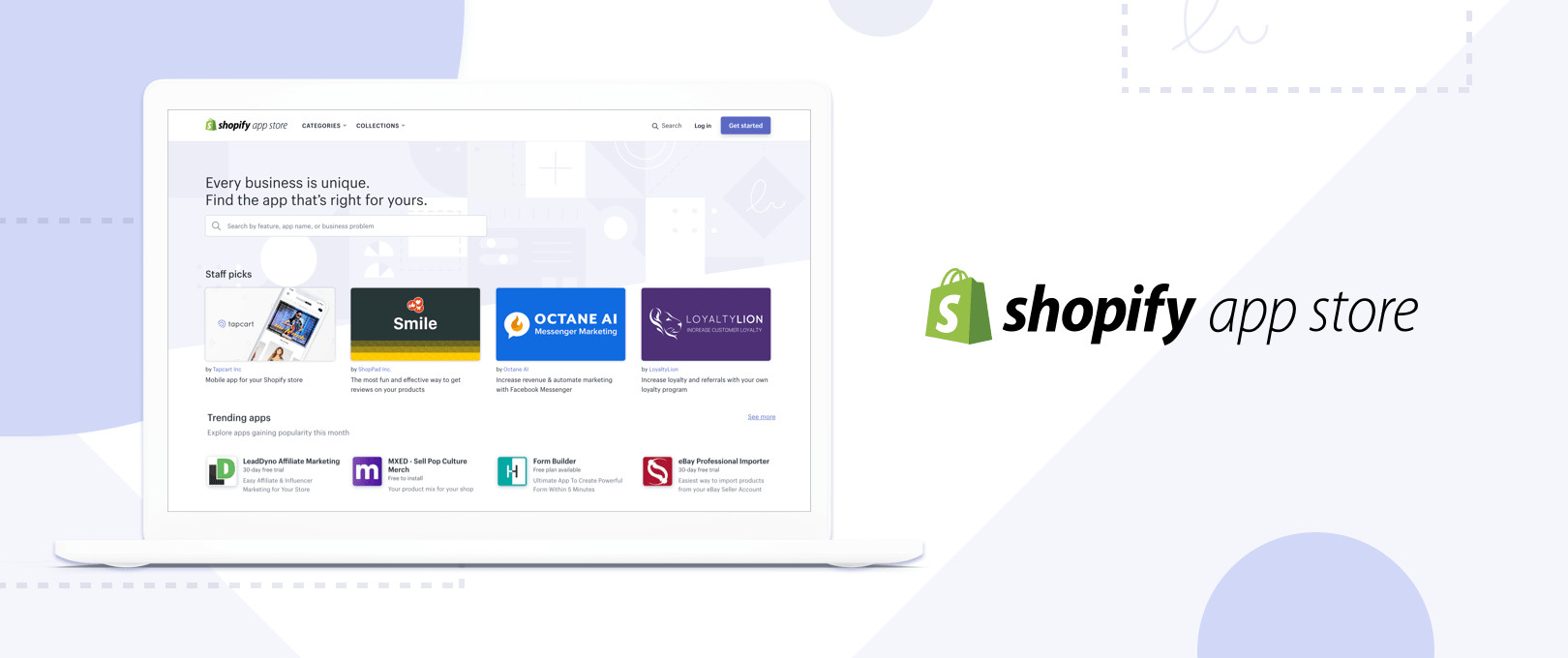 Running a dropshipping store can be profitable, but you need the right tools in order to get the job done and to do it right. The online retail marketplace is highly competitive, so any edge you can gain over the competition will bring you one step closer to success. This is where Shopify dropshipping apps come in – by choosing the best ones, you can help your e-commerce store not only survive, but thrive. These apps can help you accomplish a number of different things, including finding the best dropshipping supplier for your industry or niche.
It's important to note that dropshipping is an e-commerce model where the online reseller does not handle any inventory. Instead, your dropshipping supplier is responsible for storing, packing, and shipping the products to the end consumer.
Where Do I Find the Shopify App Store?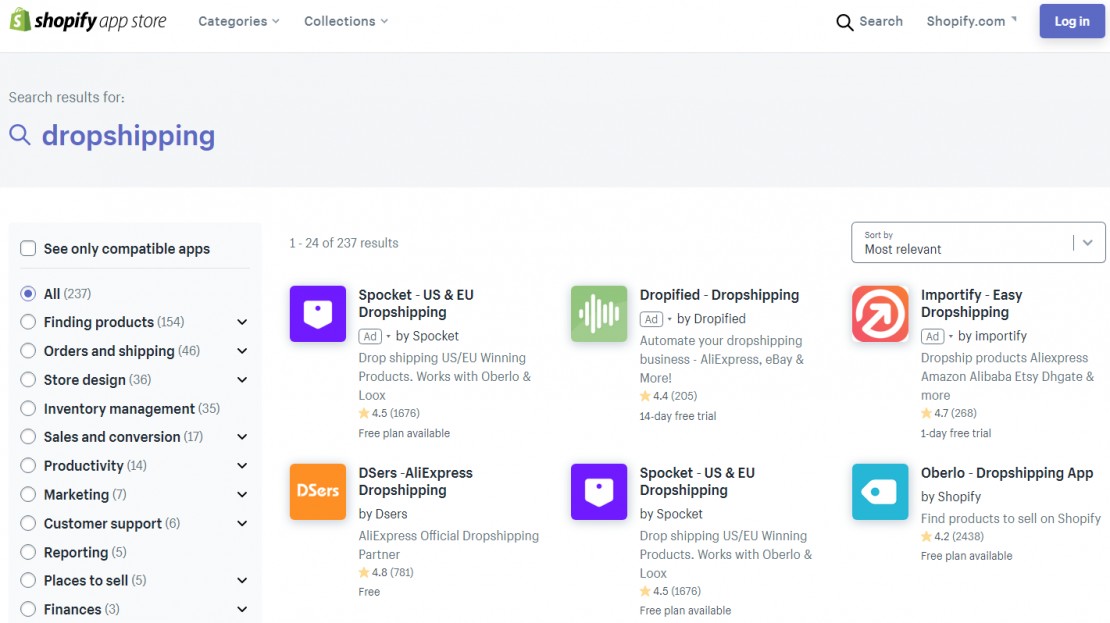 There are two primary ways to find dropshipping apps for your online store: the Shopify App Store or through the Shopify marketplace. Let's take a moment to break down each of these methods.
The first step is to set up your Shopify store. Once you do that, you'll have access to the basic user interface known as the Dashboard. This is like the command center for your entire Shopify store, so be sure you take the time to learn how to properly navigate it.
On the left-hand side of the Dashboard, under the small Shopify logo, you'll see a number of tabs running down vertically. Towards the bottom, you can find the Apps tab. Click on this and then press: Visit Shopify App Store. Then you'll have access to the App Store with a Category button on the top left.
It breaks down like this:
Apps –> Visit Shopify App Store –> Category –> choose category
As you can see, there are a number of different categories you can choose. If you're trying to find suppliers for your store, then go to Finding products and choose one of four options:
Dropshipping
Finding suppliers
Print on demand
Product importers
Finally, one of the best things about the app store is that each app has a rating (out of 5 stars) and User Reviews. This means you can do your research and get an idea of how good or effective a given app is.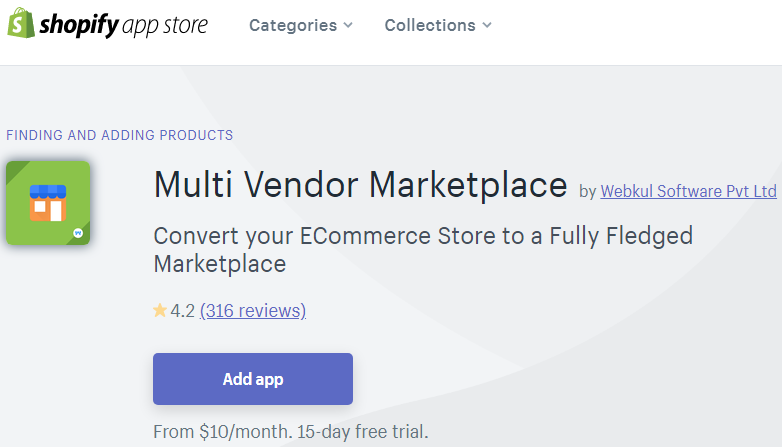 Your second option is to find apps on the Shopify Marketplace. Follow the link above to install an app called Multivendor Marketplace so that you can:
Add as many sellers as you want
Add an unlimited number of products
Sync all products from other stores
This means that you can easily convert your online store into a multivendor marketplace, similar to Amazon or eBay. Plus, by being able to add an unlimited number of products, you're effectively giving online shoppers a greater number of choices to make your online store more competitive.
Finally, you can sync products from sellers with a Shopify, WordPress, Prestashop, or Magento store.
How to Choose the Best Dropshipping App for your Shopify store?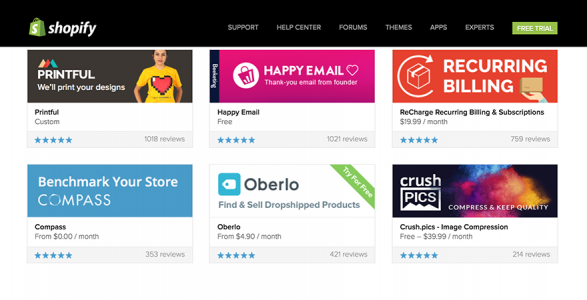 Be sure you take advantage of Shopify's high level of customization and flexibility in its apps. To do that most effectively, consider these criteria when browsing the Shopify dropshipping apps:
Choose a supplier with a high-quality inventory. Any supplier you find in the App Store (under Finding products) will be fully integrated with Shopify, meaning that you can easily add products to your store. You may be able to work with suppliers or wholesalers you find online, via Google or YouTube, but you'll have to add products manually with these. Most suppliers will give you a chance to view their inventory for free, usually via a free version of the app that you download from the App Store.
Read the reviews and check the ratings. This may seem obvious, but you really can't overstate the importance of research.
Pay attention to where the supplier is located. Consumers expect their orders to reach them quickly, so if you're looking for shorter shipping times, then try to pick a domestic supplier. There are other benefits to choosing a US-based dropshipping supplier as well.
Make sure the app has customer support. Never forget that Murphy's Law can strike anywhere and anytime, so choose dropshipping apps that have accessible customer support so that you can always troubleshoot any difficulties you may encounter.
Should I Pay For Shopify Apps?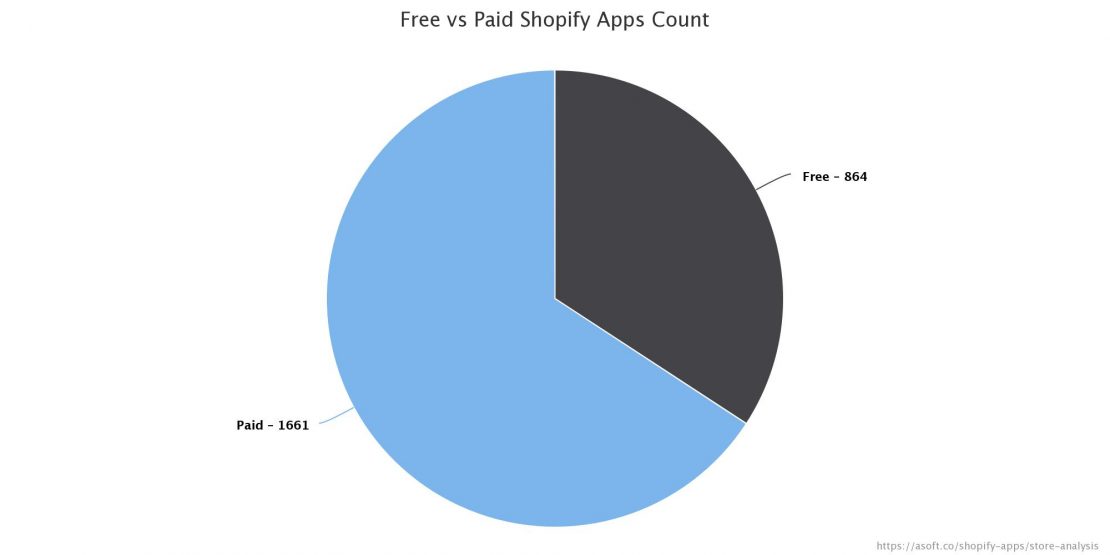 One of the main benefits of dropshipping is that it has low startup and operational costs. However, you will have to spend some money to make money, so it's important to consider what your expenses will have to be. That being said, some Shopify Apps are free while others are paid. They break down as follows:
About 35% are free.
About 65% are paid.
Plus, combining all the apps results in an average price of approximately $16. Although this may seem like a lot, let's consider that the total monthly revenue for all Shopify apps currently stands at $5.05 million! As you can see, these apps may cost a little, but they sure generate a lot of money.
Depending on what you're getting in the app (how much functionality, how much it boosts productivity, etc.), that may be a small price to pay for the extra profits. Ultimately, you'll have to decide how much you're willing to pay for these apps to make your store more profitable.
It's important to note that premium suppliers don't offer free apps with full functionality. Some of them will offer a free trial version for a limited time (usually 14 days) while others will offer a free app that's very stripped down and bare-bones. In other words, if you want access to the best products and apps, then you'll have to invest a little bit of money.
Top Dropshipping Apps for Shopify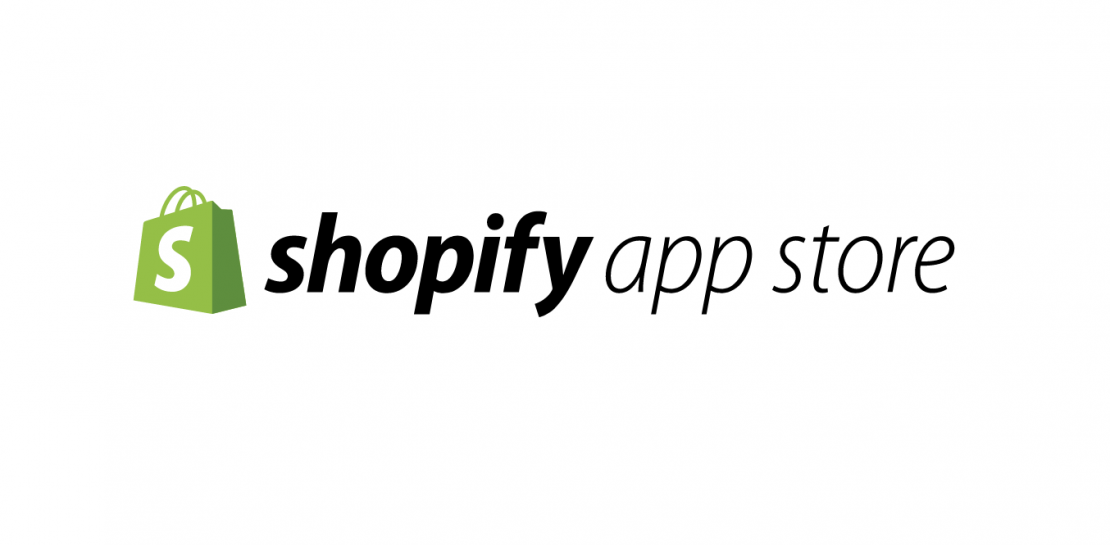 Let's take a moment to check out the best Shopify Apps for dropshipping, divided by industry.
1) Food & Beverage Dropshipping Apps
Here are some dropshipping apps for your Shopify store that specialize in food and beverage.
This US-based supplier allows you to dropship premium quality coffee with your store logo on the products. In other words, it's a domestic private-label supplier for coffee beverages. You can customize your products, logo, and pricing, ensuring that you build your brand to be recognizable and trustworthy. As far as the end customer is concerned, they'll associate your store and brand identity with the final product they consume. This is a great way to build consumer loyalty and develop regular customers for your Shopify store. All Dripshipper orders ship from the USA in 3 to 5 days.
Price: There's a 14-day free trial, after which the membership plan is $25 a month.
Organic & Natural Groceries – GreenDropShip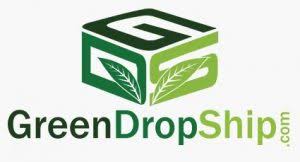 GreenDropShip is a US-based supplier with over 20,000 natural and organic products, most of which are made in the USA. We specialize in gourmet and premium food and beverages, including a wide selection of vegan and vegetarian goods, but we also carry beauty, body care, vitamins, supplements, health and wellness, and essential oils. We're currently developing a dropshipping app for Shopify that we're planning to launch shortly. This will allow our members to easily sync their inventory with their Shopify store. However, our members can still import our products into Shopify by using the product feed on our website, so if you want to carry any of our high-quality items then you don't have to wait for the app.
Price: Our membership is very competitively priced. It's $12.42 a month (charged as $149.00 once per year).
2) Fashion & Apparel Dropshipping Apps
Let's start with the popular category of Fashion & Apparel, including both men's and women's suppliers:
If you're trying to court customers with very discerning taste, then Modalyst is likely right up your alley! This dropshipping app gives you access to name-brand suppliers like Puma, Calvin Klein, and Timberland, all of which are highly desirable with fashionable and chic consumers who like to dress well and look good. Of course, this means that it will be a little more expensive than your average China-based supplier. Plus, this dropshipping app also connects you with up-and-coming independent brands. In fashion, being ahead of the curve can be a real boon to your sales, so Modalyst is a great app for resellers looking to connect with new and emerging companies.
Price: This app is free to install, but Modalyst charges a 5% transaction fee on sales.
This is a US-based clothing dropshipping supplier for Shopify. They offer over 5,000 premium items, shipped from their warehouse in Los Angeles. True to the fact that they're located in one of the world's fashion capitals, My Online Fashion Store keeps up with the trends and the latest developments in the world of women's apparel. In fact, they add 100 to 200 new styles every week. With over 140 reviews, they have an average rating of 4.5 stars in the Shopify App Store.
Price: For a one-time fee of $99, their developers can build a fully-functional Shopify store for online resellers. Their monthly pricing plan is $29.
This is another US-Based fashion dropshipping supplier. They also offer over 5,000 high-quality, fashionable products and can guarantee delivery anywhere in the USA within 5 to 7 business days as well as fast, reliable shipping to over 170 different countries. They're also well known for their responsive customer support and will reply to all inquiries within 12 to 24 hours, including phone, email, or live chat.
Price: It costs $99 per month (or $79.90 per month if paid once annually).
3) Print On Demand (POD) Clothing Apps
These Shopify apps are a clothing dropshipping supplier, except that the clothes are made on demand for the customer's specific wishes. This is known as Print on Demand (POD). Basically, POD is the process by which you can customize products or apparel with a customized design or logo. These items are made on a per-order basis, so you don't have to stock up a huge inventory that may turn into a surplus if it doesn't sell.
Use the CustomCat Shopify App to create custom products to sell on your Shopify store. When a CustomCat product is ordered, it is auto-processed, printed, and shipped directly to your customer in a white-labeled package! Once the order has shipped, an automated tracking email is also sent to your customer. This app has an average rating of 4.4 stars and over 400 reviews.
Cost: There are two basic plans: CustomCat Lite for Free and CustomCat Regular for $30 a month. The paid plan has higher profit margins as you pay lower wholesale prices, usually about 20% less than the CustomCat Lite plan.
This is another Print On Demand (POD) Shopify App. However, the name is misleading – you can print custom orders on a huge variety of products. This includes T-shirts, phone cases, tote bags, swimsuits, running shoes, socks, hoodies, baby clothes, bowls, plates, mugs, beach towels, doormats, blankets, sheets, jewelry, flags, posters, and even mousepads. Basically anything you can think of! It's also very popular and highly-rated: with nearly 600 reviews, it has an average rating of 4.6 stars.
Price: You can go with a more basic plan for $9 a month or the more comprehensive $29 a month plan.
4) Beauty & Haircare Dropshipping Apps
Let's take a look at some top dropshipping apps for beauty and haircare:
This is a US-based beauty and hair care supplier. They specialize in hair extensions, 3D lashes, wigs, and edge control. Get instant access to over a million dollars in inventory with the Dropship Beauty Shopify App. All orders are processed from their Atlanta, Georgia location for accurate and lightning-fast shipping. They generally ship 99% of all orders placed before 2 pm ET the same day with packages arriving in just 1 to 3 business days with standard shipping. Customers can also choose to step it up with Express Shipping and receive in 1 to 2 days. Dropship Beauty has over 100 reviews and an average rating of 4.1 stars in the Shopify App Store.
Price: They have three plans: Basic for free, Advanced for $9.99 a month, or Pro for $19.99 a month.
This vegan cosmetics supplier is based in Canada. All products are produced in Canada with the highest-quality formulas and packaging that will impress customers. Everything is cruelty-free, paraben-free, and gluten-free. You can also add unlimited artwork to products for no extra cost and design unique full-color packaging for each product. This is a more recent addition to the Shopify App Store, but they've already developed a stellar reputation with an average rating of 4.1 stars.
Price: They offer three plans: Free, Essentials for $30 a month, and Professional for $100 a month.
5) General Merchandise Dropshipping Apps
These are the top Shopify Apps for dropshipping if you're looking for access to multiple product categories in a single app. By broadening your search, you can also tap into multiple niches for a wide variety of products to sell in your store.
With nearly 2,500 reviews and an average rating of 4.2 stars, this is the single most popular Shopify dropshipping app. This makes total sense considering that Shopify officially acquired Oberlo in May of 2017. Additionally, Oberlo has a sterling reputation for being convenient, easy-to-use, and profitable. It also allows you to search for products from a wide range of suppliers. Oberlo has one of the largest inventories of products on the entire web. It also instantly syncs any products or information to your e-commerce store. Remember, you want seamless integration and excellent functionality to make your life easier.
Oberlo offers all kinds of products, including antiques, baby clothes, apparel, books, jewelry, car parts, cell phones, electronics, furniture, hair care, handbags, fragrances, toys, watches, cosmetics, and wedding supplies.
Price: It has three plans: Free Starter Plan, Basic Plan for $29.90 a month, and the Pro Plan for $79.90 a month.
This alternative to Oberlo is highly rated and well-respected – Spocket has nearly 1,700 reviews and an average rating of 4.5 stars in the Shopify App Store. In fact, it may even be superior to Oberlo when it comes to the quality of the suppliers, most of whom come from North America and Europe. If you are operating in those parts of the world and shipping to lots of customers there, then this may be the dropshipping app for you. In addition, Spocket has highly competitive pricing, with the average discount for merchants being 45%. They also put your online store branding on all receipts and invoices that go to customers. This will help you maintain your store brand and foster customer loyalty.
Spocket carries a wide variety of products, including Men's clothing, Women's clothing, baby products, beauty, body care, makeup, haircare, gadgets, electronics, automotive parts, games, home decor, gardening supplies, and computers.
Price: They have four plans available: Free, Starter for $19 a month, Pro for $49 a month, and Empire for $99 a month.
Grow Your Shopify Store with Greendropship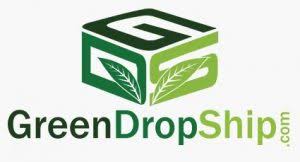 As you can see, there are plenty of useful dropshipping apps for your Shopify store. However, if you're looking to start selling in the highly profitable niche of natural and organic products, then choose GreenDropShip. We're an innovative, easy to use, and competitively-priced supplier that can be used with the Shopify platform. Plus, we're excited to share an important tidbit of information: we're developing a dropshipping app for Shopify! This will give you the ability to sync inventory effortlessly with your Shopify store.
We offer over 20,000 natural and organic products that are made in the USA. These include health and wellness, food, beverages, beauty, hair care, vitamins, supplements, essential oils, and aromatherapy products. These are all premium, gourmet, and healthy products. But you don't have to wait until the Shopify app is ready – you can start selling our products even before it's released. Just be sure to contact our customer service team and start selling today!