How To Find A Shopify Dropshipping Supplier
Shopify is one of the easiest and most convenient e-commerce platforms. In fact, you can set up a professional-looking store that's sleek and efficient within a day or two. But that's the easy part – there are challenges behind the scenes that you'll need to solve if you want that Shopify store to thrive. Case in point: finding the right Shopify dropshipping supplier is absolutely critical. So let's take a moment to discuss why they're so important, how you go about finding them, and a few examples of great suppliers that you can work with.
Why Is It Important to Find the Right Dropshipping Supplier?
Dropshipping is an e-commerce business model in which the seller does not hold any inventory. Instead, the supplier stores, packs, and ships products to the final customer.
This means that the reseller does not have to:
Store inventory in a warehouse.
Deal with shipping and handling the products.
Oversee inventory management, including re-ordering items.
Deal with logistics like incoming shipments or product returns.
Instead, your supplier handles all this. That means it's absolutely vital that you find the right dropshipping supplier. Not only do you stock your Shopify store with their products, but they handle the logistics so that your e-commerce business functions smoothly. This means that you can focus on marketing the products to your potential customers.
How Do I Find A Dropshipping Supplier for Shopify?
This is an important step, so make sure you take the time to do your research to find the best Shopify dropshipping supplier for your store.
First, let's take a moment to examine the concept of "Shopify integration" for your dropshipping supplier. This means that the supplier's product selection can be automatically added to your Shopify store, without the hassle of having to upload each product description and product photo separately. In other words, the supplier has a Shopify App that streamlines the whole process. The dropshipping supplier is integrated with your Shopify store.
That being said, there are three basic options you have: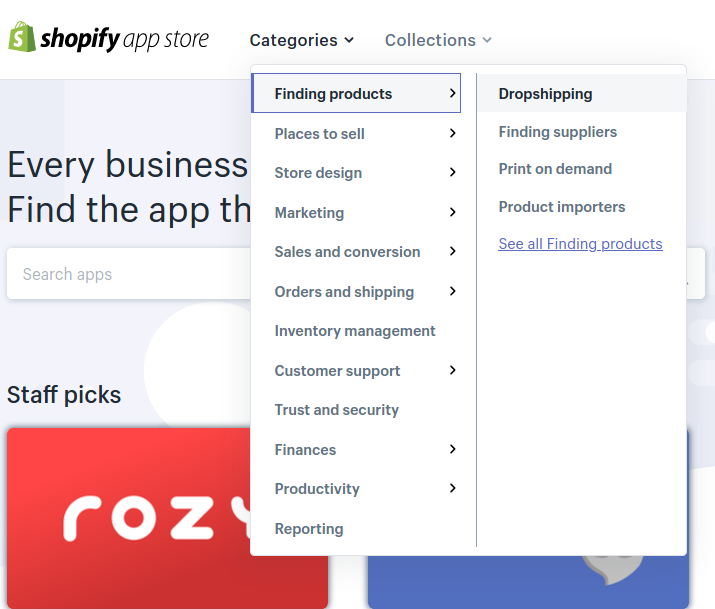 To find a list of Shopify dropshipping suppliers, you simply have to visit the App Store and click on Categories directly to the left of the app store logo. You'll see a dropdown menu with a wide variety of categories. Click on Finding products and you'll see another dropdown menu. From these options you can choose either Dropshipping or Finding suppliers – these categories have a lot of overlap and you can find dropshipping suppliers in each. Let's break down the process:
Shopify App Store –> Categories –> Dropshipping / Finding suppliers
You could also go to the search apps function and type in dropshipping suppliers. It's important to note that there are suppliers for a whole range of products and industry niches. One of the best parts of using the Shopify App Store is that when you choose a dropshipping supplier, you can check out their rating (out of 5 stars) and read other users' reviews.
Don't forget there are all kinds of apps that you can use for dropshipping on Shopify, not all of which deal with suppliers or finding products. In fact, be sure to check out our post Guide to Shopify Dropshipping Apps to see some other examples.
It's important to note that some dropshipping suppliers don't have an app. That doesn't mean you can't sell their products. Many suppliers will allow you to still integrate with your Shopify store via a product feed (sometimes called an inventory feed). When deciding to get a membership with the supplier, just be sure to find out if they can still work with your Shopify store.
2) Research online directories
There are a lot of dropshipping suppliers listed in online directories. Thankfully, there are directories that list vetted and pre-screened dropshipping suppliers. When you find a list of suppliers, just be sure you find out if they work with a Shopify store. Remember, they don't necessarily need to have a Shopify app, so just confirm that you can still use a product feed to upload their goods to your Shopify store.
Some of the most popular supplier directories are:
This directory includes different types of suppliers, including dropshipping, light bulk wholesale, high volume wholesale, liquidators, and importers. These suppliers offer nearly 2 million products, including Apparel, Electronics, Home Goods, Baby Care, Beauty, and Jewelry. WorldWide Brands finds, verifies, and certifies every supplier that they list, giving them the official seal of approval known as WBI Certified. Currently, they have over 8,000 certified suppliers and an A+ from the Better Business Bureau (BBB). It's important to note that WorldWide Brands sometimes describes dropshipping suppliers with the term Light Bulk Friendly.
Price: A lifetime membership is available for a one-time cost of $299. From time to time, a discounted deal is available, so just keep your eyes open for the opportunity. However, this may end up being less expensive than directories with monthly fees even if the upfront cost is much greater.
This is one of the oldest wholesale directories online. As a result, they have a fantastic reputation and are an excellent business-to-business (B2B) resource. They list all kinds of suppliers, including dropshippers, distributors, closeout/liquidators, wholesalers, and bulk suppliers. Additionally, they also list manufacturers; this can be helpful if you already know what brand of product you want to sell. On their website, they divide wholesale suppliers by category, including Apparel/Clothing, DVDs & Videos, Electronics, Fashion Accessories, Holiday & Seasonal, Jewelry, Lawn & Garden, Made in USA, Computer Products, Baby Items, Automotive, Shoes & Footwear, Tools & Hardware, and many other categories.
Price: Amazingly enough, this directory is free. That means you can search and contact suppliers at no charge, making this an excellent starting point. You don't even have to register to access the database. However, if you do create an account, you get access to the Product Locator Service, various trade publications, and a list of trusted suppliers that have been thoroughly vetted (similar to WBI-certification from WorldWide Brands).
This is actually a dropshipping service software. Luckily for you, it's fully integrated with all the major e-commerce platforms, including Shopify. This means you won't have to contact each supplier, one by one, to make sure that you can list their products in your store. Although we mention it above, it's important to reiterate: your dropshipping supplier does not necessarily need to have a Shopify app to work with your Shopify store. You just have to confirm with your supplier.
That being said, Inventory Source has over 1 million products and a list of over 100 trusted suppliers, all of whom can work with Shopify. These suppliers are in a wide variety of niches, including Apparel, Electronics, Home Goods, Automotive, Jewelry, Shoes, Beauty, and Health.
Price: Their fees are based on the number of suppliers you choose, not a flat fee or a percentage of sales. That means it can be anywhere from $0 to $150 per month, depending on how many suppliers you choose.

Founded in 2005 and based in New Zealand, this directory lists various kinds of suppliers. Plus, it's similar to Wholesale Central in that it also lists manufacturers. SaleHoo is known for thoroughly certifying every supplier that they list and having excellent customer service. They also have an extensive community of users that can answer questions in categories like Dropshipping, Selling Tips, Product Marketing, Importing & Customs, Supplier Reviews, and Products for Sale.
Their supplier niches include Antiques & Collectables, Baby Gear, Car & Auto Parts, Jewelry & Watches, Shoes & Fashion, Health & Beauty, Home & Garden, Cameras & Photo, Cell Phones, Books & Magazines, Clothing & Fashion, and others.
Price: This directory has a pretty competitive price: $67 a year. That comes out to about $5.50 per month. You also have the choice of paying a one-time fee of $127 for lifetime access. Considering all the perks and suppliers available, it's not a bad deal.
3) Contact the manufacturer
It's important to note that a manufacturer is distinct from a supplier (or wholesaler). Let's take a moment to break something down:
Manufacturer – The company that created, built or produced the product that you're trying to sell.
Supplier (wholesaler) – The organization that buys from manufacturers and then distributes/sells to retailers at wholesale prices.
You can also find dropshipping suppliers for your Shopify store by figuring out what products you want to sell and then contacting the manufacturer. They can then give you a list of authorized and certified dropshipping or wholesale suppliers. Although it's a little more labor-intensive and time-consuming, this method can be especially effective if you've selected a well-defined niche for your Shopify store.
Let's take a look at this a little more closely. For instance, let's say that you're building a Shopify store and you want to sell vitamins and supplements. You do some market research and identify a company whose products you want to sell. For the sake of this example, let's say it's the popular company NeoCell, which produces collagen supplements. You can contact them and then ask for a list of their suppliers and wholesalers. Don't forget that some supplier inventories, like Wholesale Central and SaleHoo, also list the info for manufacturers.
Best Dropshipping Suppliers for Your Shopify Store
Let's take a moment to look at some of the best Shopify dropshipping suppliers for your Shopify store, organized according to Product Category:
1) Apparel & Clothing Dropshipping Suppliers
While there are many dropshipping suppliers that selling clothing and apparel, here are two that focus exclusively on this segment of the market.
Collective Fab is one of the largest women's apparel dropshipping suppliers in Southern California with over 600 retailers. This supplier specializes in keeping up with the constantly changing clothing trends in the fashion market. Collective Fab offers over 6,000 clothing products, including shoes, blouses, pants, jeans, formal wear, accessories, and high-end designer products. It is a wholesale dropshipper that can offer around 40% to 60% discounts. To sell your products on Collective Fab, you must have a store on Shopify that you can integrate with their platform.
Price: Dropshipping services from Collective Fab cost $29 per month.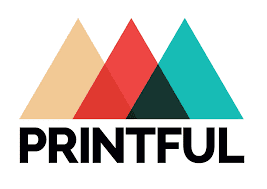 This supplier/wholesaler offers print on demand (POD) services for clothing and apparel. POD is an order fulfillment method in which items are printed when they're ordered. These POD products include hoodies, T-shirts, tank tops, jackets, and sweatpants. Printful can also warehouse products for online retailers if that service should be needed. The supplier integrates with Shopify, as well as over 20 other platforms like WooCommerce, Amazon, and Etsy. While the company has locations worldwide, its main fulfillment centers are in Los Angeles, California and Charlotte, North Carolina.
Price: Printful costs $39.99 per month.
MonoDrop is a premium Men's Apparel supplier. They cater especially to young and fashionable men, especially those with an urban or alternative sense of style. The price point is a little higher than other men's suppliers, but the products are very trendy and will likely sell well if you can market them to fit your brand. Finally, MonoDrop also offers custom packaging, meaning that you can add your logo and store name to each package that gets shipped out.
Price: MonoDrop has three pricing options: the Silver Plan for $27.99 per month, the Gold Plan for $47.99 per month, and the Business Plan for $87.99 per month. All three plans include access to all products, unlimited orders, express shipping, and free returns. However, the Gold and Business Plans have extra amenities, including light bulk order amounts, custom packaging, production requests, and digital marketing assistance.
2) Health & Wellness Dropshipping Suppliers
The health and wellness category is quite broad and is made up of various niches. These include anything from beauty, body care, vitamins, supplements, and even organic groceries. That being said, let's look at some of the best dropshipping suppliers for your Shopify store:

A leading natural and organic foods supplier, GreenDropShip features over 20,000 products at wholesale prices to online retailers. Here at GreenDropShip, we offer natural and organic products made in the USA. Although the headquarters are in Texas, we have distribution centers on both the West and East Coasts. Furthermore, our products include food items, health, beauty, self-care, aromatherapy, vitamins, dietary/workout supplements, and more.
GreenDropShip is currently working on a Shopify App that should be available shortly. Until then, you can still sync your inventory and sell our products in your Shopify store by using our product feed. So if you want to offer online shoppers our premium natural and organic products, you don't have to wait until that app comes out – you can start selling today.
Price: Our membership is very competitively priced. It's $12.42 a month (charged as $149.00 once per year).
Based in Colorado, this dropshipping supplier offers a wide range of hemp and CBD products. This includes CBD-infused oil, gummies, edibles, isolate, topical ointments, and even products for dogs. You can even buy in bulk or bundle and save on various products. CBD has become an immensely popular supplement that is used for a wide variety of health-related reasons. Plus, Shopify permits US merchants to sell consumable and topical hemp and/or CBD products, as long as they comply with all applicable regulations, including those in the customers' jurisdictions.
Price: For information on their dropshipping program, be sure to contact Charlotte's Web directly since they offer a variety of plans.
Based in New York state, Fragrance X is a premier dropshipping supplier of high-quality fragrances, perfumes, body sprays, colognes, deodorants, and various health and beauty products. They carry over 8,500 products from top brands like Dolce & Gabbana, Calvin Klein, Bvlgari, Yves Saint Laurent, Burberry, Christian Dior, Clinique, Estee Lauder, Hugo Boss, Prada, Ralph Lauren, and Lancome. As part of their dropshipping program, the company name does not appear anywhere on the packaging or paperwork. Plus, you can partner with Fragrance X in your Shopify store by using their product feed tool.
Price: You pay wholesale prices for products (sometimes up to 80% off the sticker retail price). There are no dropshipping fees and you simply have to cover the shipping that starts at $5.95.
2) Jewelry Dropshipping Suppliers
If you're looking to sell jewelry in your Shopify store, let's take a look at some dropshipping suppliers that you can use:
Based in Garden Grove, California, this is a supplier and manufacturer of fashionable jewelry. They feature over 9,000 products, including rings, earrings, money clips, cuff links, bracelets, pendants, brooches, charms, and necklaces made out of sterling silver, brass, or stainless steel. You can easily browse this selection by downloading their inventory list in Excel format. Plus, much like other suppliers that don't have a dedicated Shopify App, it's still pretty easy to sync the inventory with your Shopify store: you just have to use the inventory feed that's also available in Excel format.
Price: In addition to the price you pay for the product, the dropshipping fee is $7 for the first item and then $6 for each additional item after that.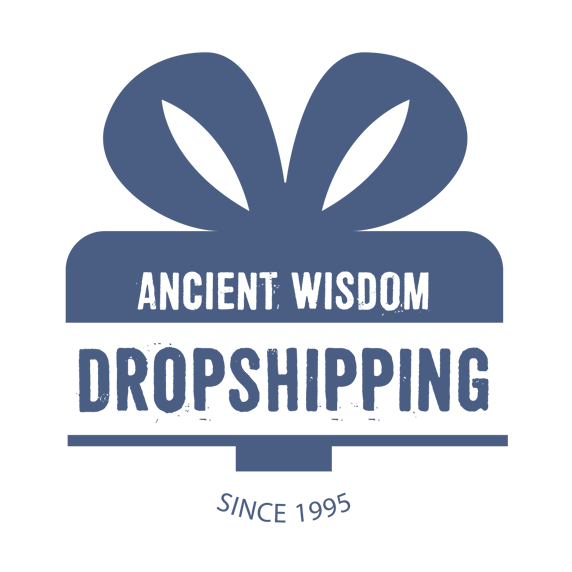 This supplier has a large selection of jewelry as well as other "New Age" products, including candles, crystals, gemstones, incense, fragrances, wooden gifts, and home & garden supplies. They're based in the UK, so they're an excellent choice if you plan on selling to customers who live in the European Union (EU).
Price: There are no subscription fees. Instead, Ancient Wisdom charges a low minimum order and delivery charge, usually between $2 and $5, depending on the order.
Available on the Shopify App Store, this jewelry dropshipping supplier will integrate easily and instantly to your Shopify store. With a 4.5-star rating on the App Store, Jewelry Solution also has detailed catalog pages for their products, including jewelry, diamonds, gemstones, and watches. They also have a custom jewelry builder if your customers are looking for a special item for that special someone.
Price: They offer both a free and premium plan at $10 a month.
4) General Merchandise Dropshipping Suppliers
If you're a Shopify vendor and you're looking for the right products to sell, you could also turn to a dropshipping supplier that carries all kinds of goods. These are also referred to as "general merchandise suppliers" and they don't focus on one or two categories or niches. Instead, they offer just about anything you can think of. Let's take a look at a few:
Doba is headquartered in the United States. This is preferable for some resellers, especially if they're looking for high-quality products and shorter shipping times. Technically, Doba is a dropshipping service that connects the retailer and dropshipping/wholesale suppliers. Their selection of goods includes Women's Apparel, Kid's Apparel, Men's Apparel, Electronics, Toys, Home Appliances, Sports Products, Pet Care, Health & Medical, Jewelry, Beauty, Body Care, Home Decor, and Kitchen Supplies.
Price: After the 30-day free trial, you can choose one of three plans: Basic for $29 per month, Advanced for $69 per month, or Pro for $249 per month. They also have an Enterprise plan, but you have to contact them directly for pricing. The Basic plan includes access to various suppliers, over 1.4 million products available, community Q&A, Doba Deals weekly email, and Email support.
Oberlo is headquartered in Lithuania. Other than that, it's similar to Doba in that it's a dropshipping service the connects Shopify vendors with dropshipping/wholesale suppliers. It has a huge selection of products, including Apparel, Books, Automotive Products, Electronics, Health & Wellness, Home Decor, Appliances, Toys, Sports Products, Furniture, Footwear, Jewelry, Beauty Products, and Body Care.
Price: You can choose one of three plans: Starter for free, Basic for $29.90 per month, or Pro for $79.90 per month.
Private Label Dropshipping Suppliers for Shopify
Finally, let's take a look dropshipping suppliers that offer private label services. Private labeling is when a manufacturer creates a product exclusively for a retailer who will sell it with their own branding. For example, Costco uses products from other manufacturers and then sells them under their own brand name "Kirkland". As a result, private label products are usually less expensive than national brands. Plus, if they're marketed well, they can be quite profitable.
That being said, let's take a look at two suppliers that you can use to sell private label products in your Shopify store: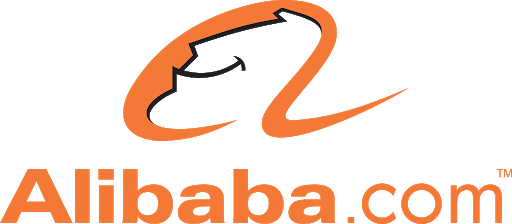 Alibaba is a China-based international business-to-business platform. This means that it connects businesses to global manufacturers. Using Alibaba, a business can find a manufacturer to create bulk products and have them imported into their country. In many ways, Alibaba acts as the sister site to Amazon, as many of Amazon's merchants purchase goods from Alibaba. They offer a wide selection of goods, including Toys, Women's Apparel, Men's Apparel, Kid's Apparel, Electronics, and Jewelry. This platform integrates with Shopify, so if you want to sell private-label goods, it's an excellent choice for your online store.

AliExpress allows international merchants to order individual items and dropship them to end consumers. This supplier also helps Shopify vendors find wholesale products — such as cell phone cases, electronics, and other products — sold at high-volume discounted prices. Since it is part of the same organization as AliBaba (the AliBaba Group), it offers many of the same products. Their selection also includes Beauty Products, Home Decor, Home Appliances, Furniture, Bags, Footwear, Pet Products, and even Health & Medical Products.
As you can see, there are lots of options when choosing a dropshipping supplier for your Shopify store. It's an important decision, so it shouldn't be taken lightly. Once you actually identify potential suppliers, either by finding an app, using a directory, or contacting the manufacturer, you'll then have to choose the right one for your e-commerce store. That means you'll have to consider their membership price and product selection. Remember, your supplier doesn't necessarily need to have an app in order to integrate with your Shopify store.
For example, you can offer any of GreenDropShip's 20,000 natural and organic products in your store. Just become a member, download our product feed, and start selling today! Contact GreenDropShip to begin making those sales!