Guide to Finding Wholesale Bulk Essential Oils
Everybody wants less stress in their lives. It's not always easy to achieve, but luckily there are products out there that make it possible. Essential oils and aromatherapy are exceptionally popular for this very reason: they help people relax and stay calm.
If you're a retailer looking for the best aromatherapy products to offer in your online store, then be sure to read this guide for finding bulk essential oils. We'll also be discussing the different ways you can sell essential oils online as well as some of the best products you can stock in your e-commerce store.
How Can I Sell Essential Oils Online?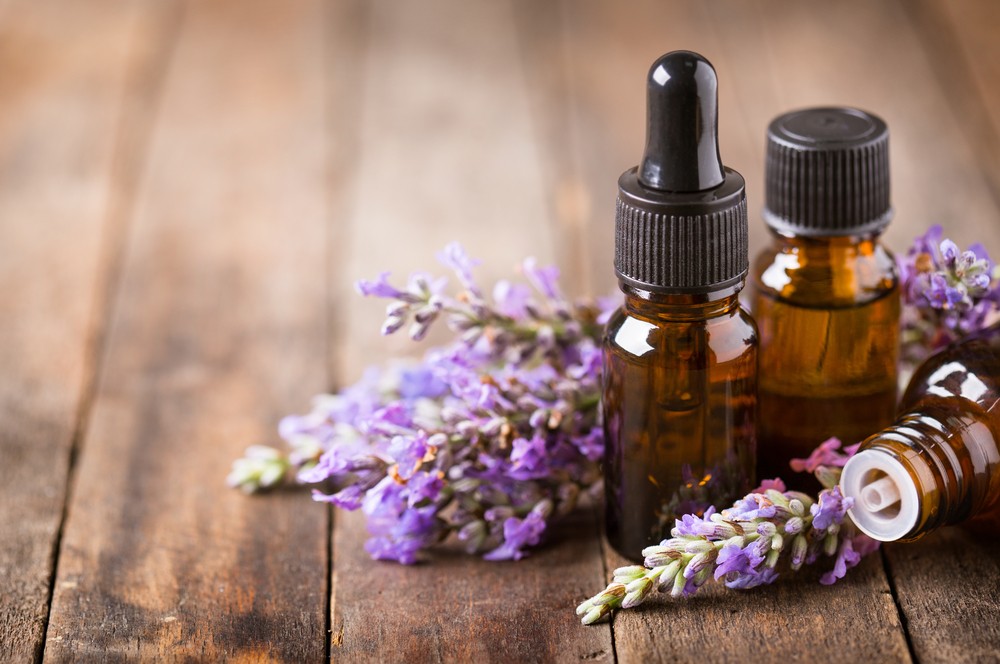 Essential oils are a popular product with online shoppers. If you choose the right ones and stock your online store with in-demand inventory, then you'll have an excellent chance of turning a good profit. That being said, there's more than one way to get wholesale essentials oils to sell online:
Dropshipping – This e-commerce business model means that the retailer does not handle the storing, packing, or shipping of the inventory. Instead, the dropshipping supplier handles these logistics and ships the item to the end consumer. As a result, dropshipping has some strong advantages, including the fact that you save money on not having to store inventory and your risks are lower.
Buying bulk essential oils from a wholesaler – You can go to a supplier or wholesaler and buy essential oils in bulk; you just have to store them in a warehouse or storage space. In some ways, essential oils are easier to store than other products because they're small and it's possible to store them without having to get a full-size warehouse. However, essential oils are oil-based and the fragrances are delicate and easily spoiled, so you'll need to get a storage space that's climate-controlled.
Amazon FBA – This stands for Fulfillment by Amazon. Basically, Amazon stores and ships your inventory from its fulfillment centers. This means that you can benefit from Amazon's strong brand recognition and consumer loyalty. Plus, some suppliers/wholesalers also offer FBA prep services.
As you can see, you have a few different options. However, you could also choose a supplier that allows you to do all three. For instance, GreenDropShip has an inventory of over 20,000 natural and organic products while operating as a dropshipping supplier and allowing you to buy bulk essential oils. Finally, we also offer Amazon FBA prep services at no extra cost to our members.
How To Buy Essential Oils in Bulk
Now that we've discussed the different ways you can sell essential oils, and the relative benefits of each, let's discuss how to buy the best wholesale essential oils.
Do your research on the bestselling essential oils – Remember, as an online retailer, you want to always choose popular products that have high demand. Check out the different types of essential oils from the Essential Oils Directory. Plus, you can use free tools like Google Trends, Trend Hunter, or Jungle Scout to do market research on a given product.
Choose a supplier with the best wholesale prices – This may seem obvious, but it's important that you get the best price for your bulk essential oils. However, you can also choose to use the dropshipping model, in which case you'll want to use a dropshipping supplier that has no minimum order quantity (like GreenDropShip). This means that you only have to buy for each product that you sell and you'll never have a surplus of unsold merchandise.
Purchase bulk essential oils as bundles – This is another nifty trick for your dropshipping store! Essential oils frequently work well when combined together, and there are countless recipes online to create blends. In other words, you can market various blends to consumers that are created for specific purposes, such as relaxation, sleep, or achy muscles. Additionally, you can offer these blends with related products such as aroma diffusers or oil burners. This is an excellent way to turn a one-time visitor into a regular customer.
How to Find a Wholesale Essential Oils Supplier
Remember, you need to find the right essential oil supplier. It's best if you choose one that offers multiple ways to sell the products online, including acting as your dropshipping supplier, allowing you to buy essential oils in bulk, or even Amazon FBA prep services.
That being said, let's take a look at the best ways to purchase bulk essential oils:
Contact the manufacturer directly – This could be your first step, especially if you already know what brands you'd like to sell. These brands will likely be able to point you in the direction of certified wholesale suppliers. Popular essential oil brands include Aura Cacia, Everyone, or Desert Essence.
Use an online directory – These are a great resource as they provide a pre-screened list of dropshipping suppliers and wholesalers. The most popular ones include:
Use GreenDropShip – We're a supplier that offers both wholesale essential oils for purchase and dropshipping services. We also offer Amazon FBA prep services to our members.
Top Essential Oils to Buy in Bulk
GreenDropShip has an extensive selection of bulk essential oils and aromatherapy products that our members can add to their online stores. Plus, remember that GreenDropShip offers dropshipping services as well as the ability to order bulk essential oils at wholesale prices.
That being said, let's take a quick look at how many searches there are online for "Essential Oils": 

By using the tool SEMRush, we can see how many monthly Google searches a given keyword or keyphrase has. According to this data, Essential Oils has nearly 250,000 monthly Google searches – that's a lot of consumer interest in these products! As we list the top essential oils available at GreenDropShip, we'll be including screenshots to give you an idea of how much search volume there is for a given product or brand.
Finally, we'll also be listing lots of Amazon's Choice products. This just means that Amazon has awarded a product this special certification for being exceptional in popularity and price.
1) Everyone: Lavender Aromatherapy Singles
Everyone is an especially popular aromatherapy brand that GreenDropShip carries. Plus, lavender is one of the most versatile and widely used essential oils. It's used as a fragrance and to promote relaxation and healthy sleep. These Aromatherapy Singles from Everyone are the perfect, portable means for consumers to get the soothing effects of lavender.
Let's take a closer look at this product:
Everyone's Aromatherapy Singles are ready to be used right out of the box
Comes with a dropper and suggestion for how to use them
Delivers good vibes and positive feelings in every concentrated drop
GreenDropShip also offers Everyone Eucalyptus Aromatherapy Singles
Average rating of 4.4 stars on Amazon
GreenDropShip wholesale price: $5.40
Average price on Amazon: $15.64
Let's also take a look at the SEMRush data for Lavender Essential Oil: 

Since lavender is one of the most popular essential oils on the market, it only makes sense that there are a lot of monthly searches on Google. As you can see from the data, there are over 22,000. That's a lot of interest, and Everyone's Aromatherapy Singles is the perfect lavender essential oil product.
2) Everyone: Aromatherapy Blends
In addition to their regular Aromatherapy Singles, Everyone also offers their proprietary blends. These have been specially designed to meet the specific needs of the customer, whether they're looking for something to calm their nerves or pick them up when they're feeling worn out. Essential oils can lift spirits, inspire creative thoughts, make you feel more productive, and just generally improve the vibe of any space. That's why Everyone has designed these Aromatherapy Blends to deliver their rejuvenating effects for any situation and any place.
GreenDropShip offers three Everyone Aromatherapy Blends: Balance (pictured), Uplift, and Sleep.
Let's take a closer look at these products:
Balance is a blend of Geranium, Orange, Peppermint, and Lavender essential oils to restore tranquility and relax the body and mind.
Uplift is a blend of Grapefruit, Orange, Cedarwood, Ylang Ylang, Frankincense, and Lavender essential oils to elevate and brighten your senses and mood.
Sleep is a blend of Orange, Lavender, Frankincense, Holy Basil, Cedarwood, and Hinoki essential oils to help you achieve healthy, restful sleep.
These products all have high ratings on Amazon: an average of 4.5 stars.
They're certified Amazon's Choice products.
GreenDropShip wholesale price: $6.48 for each blend.
Average retail price on Amazon: $14.99
3) Aura Cacia: Lemon Eucalyptus 100% Pure Essential Oil
Aura Cacia is one of the most popular and widely known essential oil brands. They specialize in natural and pure essential oils, straight from the source and without any artificial additives. They're supercharged for consumers to make the most of aromatherapy's natural health benefits. Aura Cacia always partners with premium suppliers and they take great care to only source the best plant ingredients. Plus, they test each and every batch to ensure that they're always 100% pure and safe. Their Lemon Eucalyptus Awakening blend is a popular essential oil product that's been designed to invigorate and energize you.
Let's take a closer look at the product:
It has fresh, diffusive, sweet, and floral fragrance notes.
Used in aromatherapy to refresh, invigorate, and cool down.
Sourced from Brazil
Part of the Positive Change Project
Average rating of 4.5 stars on Amazon
GreenDropShip wholesale price: $3.05
Average price on Amazon: $6.18
Let's also take a look at the search volume for Aura Cacia: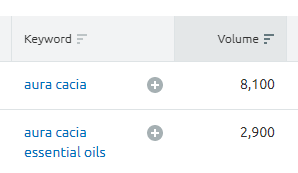 As you can see from the SEMRush data, there are 8,100 searches for the keyphrase Aura Cacia and 2,900 for the keyphrase Aura Cacia Essential Oils. That's a total of 11,000 monthly Google searches, meaning there's a tremendous amount of consumer interest in this brand.
4) Aura Cacia: Spearmint 100% Pure Essential Oil
As we mentioned above, Aura Cacia is one of the most popular essential oil brands that GreenDropShip carries. They're best-sellers and there's a lot of consumer interest, so if you're looking for bulk essential oils, then this brand is an excellent choice. Plus, Aura Cacia is part of a company co-op that's owned by its members, meaning that the company philosophy is to always emphasize eco-friendly practices over profits.
Let's take a closer look at the Spearmint 100% Pure Essential Oil:
Made from Spearmint that's native to and grown in the USA
Spearmint has strong cooling properties that can invigorate and energize
Since spearmint is less harsh than peppermint, it's a better choice for elderly users and children
Totally natural
Has an average rating of 4.6 stars on Amazon
Certified Amazon's Choice
This is one of the top-selling products for GreenDropShip members
GreenDropShip wholesale price: $3.32
Average retail price on Amazon: $6.89
All of these products are available to GreenDropShip members. It's important to remember that we're both a dropshipping supplier and wholesaler. That means our members can order bulk essential oils at wholesale prices, but they have to arrange and pay for their own storage space. We also offer Amazon FBA prep services to our members.
Contact us and start selling these essential oils today!