Everyone Soap Non-toxic Body Soap for Resellers
Selling Everyone Non-Toxic Body Soap Is Good Business
Selling Everyone soap for resellers, is an online retailers dream come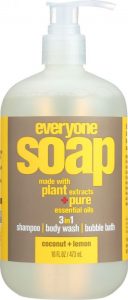 true. That's because a lot of quality, nurturing and research goes into every single one of the Everyone soap products. From pure essential oils and fruity aromatherapy scents, to gentle hand soaps and botanical extracts, Everyone soap products are a foundation in natural beauty and goodness.
Started in 1995, Everyone Soap is the brainchild of Susan and Brad Black, out of their garage. Blending essential oils for friends, they were eventually asked to create aromatherapy blends for a major retailer. Within a short time after that, they landed an account for their products with Whole Foods.
Based in San Rafael, California, the company that's now housed in the former Star Wars studio of George Lucas, bases its success on six cornerstones beliefs – Transparency, Originality, Poise, Relatedness, Imagination and Journey.
Everyone Soaps: Quality Rules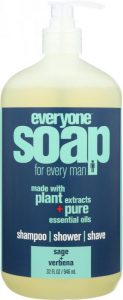 The products contain no parabens, no sodium laurel, no synthetic fragrances, no aluminum, no propylene glycol and no artificial colors. Everyone Soap is committed to creating products that are safe and effective for consumers. And also safe for the environment. The organic soap maker only uses pure essential oils and botanical extracts in their products.
What makes Everyone Soap so special is that they have long-standing relationship with farmers in France, Australia, Morocco, and several other countries. These old essential oil distilleries are highly valued for their potent essential oil properties.
Selling Everyone Soaps Can Improve Your Profit Margin
Fact is, the profit potential for online resellers of organic soap looks promising. That's because according to revenue forecast, global organic market sales is projected to surpass $206 million by 2022. This comes from market research firm Techsci Research.
The growth in popularity among consumers stems from concerns about harmful chemical found in soap products has spurred deep interest, especially among Americans, in using soap products that aren't harmful to their bodies or the environment.
Bar soap sales declines by 5% every year and shows no signs of stopping. Part of the rise in organic body soap wash products has to do with negative perception about bar soap. The biggest complaint among consumers in include retention of germs and inconvenience. All this has created an exceptional revenue drive for independent organic soap makers like Everyone Soap in the U.S.
Another factor for the fast growth of organic soap products sales, is that while the traditional bar soap market is considered mature, the market for natural organic soaps is much newer. Smaller independent soap manufacturers are currently driving the sales of organic soaps simply because they specialize in the product. Not so, with most major soap producers.
Therefore, there's lots to be gained in terms of product development and revenue possibilities. Impressive sales of organic bath wash and soaps are also in some ways the result of consumers having more expendable income. This creates a great window of opportunity for the enterprising reseller to get onboard as the organic soap market expands.
Why Everyone Soaps Can Beat The Competition
Selling Everyone soaps easily set you apart from the online competition. That's because you're selling higher quality soaps than many online vendors. Just as important as quality, people want to buy from someone they can trust. While your customers may not get to know you personally, they know the quality of a respected brand like Everyone Soaps.
Best of all, Everyone non-toxic soaps are unique in terms of the organic ingredients found in the product. Consumers love unique. They can get cheap and affordable soap anywhere. In shopping for a great quality soap brand, they're looking for something that makes them feel good all the way around. In other words, people want to buy a brand like Everyone soaps because they company has created products that have a lot of value.
Everyone soaps are pretty much as natural as you can get. At the same time, the products are safe and highly effective for use. The soap ingredients are minimally processed and as close to fresh plant matter as possible to make these products.
Selling Everyone Soap And Aromatherapy
Besides offering an array of organic cleansing products, Everyone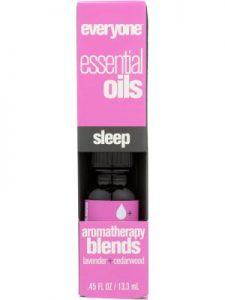 Soap offers a sumptuous line of aromatherapy products to delight the senses and soothe the soul. And the market for aromatherapy products couldn't be better. According to Grand View Research, the global market size for quality aromatherapy products was valued at $1.07 billion dollars in 2016. The market share for these products is expected to surpass $2.35 billion by 2025.
Rising awareness has contributed heavily to the growth of aromatherapy and essential oils market. Aromatherapy is used to treat a host of ailments from acne to anxiety and wound healing. Even burns can be treated with aromatherapy oils. So the expectation for the market growth are tremendous.
This also means high quality aromatherapy products offered by Everyone Soaps can become a significant player in your revenue stream as a reseller of those products.
Dropshipping Everyone Soaps Now
Selling Everyone Soaps online is an excellent way to start your online business. GreenDropShip offers streamline dropshipping services for all of your reseller needs. You'll never have to stock inventory upfront. We've got that all handled. Find out why natural and organic resellers love what we have to offer. Check out our membership details today!