Gettin' Buff! Top Wholesale Bodybuilding Supplements To Dropship
Consumers are becoming more and more conscientious about health and fitness. This means that there is considerable demand for supplement products that you can easily tap into by using the right strategy and offering the right selection of products. In this article, we'll discuss how to dropship bodybuilding supplements. We'll also go over some of the best bodybuilding supplements you can carry in your online store.
The Benefits of Dropshipping Bodybuilding Supplements
Let's just go over dropshipping quickly. This is an e-commerce business model in which the online seller (you) does not actually keep any of the inventory. Instead, this responsibility falls to the dropshipping supplier. They oversee the storing, packing, and shipping of all products to the end consumer.
Dropshipping is the ideal method for selling bodybuilding supplements online. These types of products are especially popular with online shoppers and it's easy to offer a wide range of items in your online store.
It's important to remember that bodybuilding supplements are a type of dietary supplement. This means that there is a wide range of products that falls under this general category. Additionally, there are a number of benefits to selling bodybuilding supplements online, including:
They have high re-order rates because it's a daily-use product
Healthy profit margins because consumers are willing to pay premium prices
The shipping weights are low
Return rates for these types of products are low
There is significant market demand for bodybuilding supplements
How To Dropship Bodybuilding Supplements
If you're wondering how to dropship bodybuilding supplements, be sure you follow these steps.
1) Do market research and find your target audience
In order to have a successful online store, you have to identify your target audience and understand the market for bodybuilding supplements. If you're trying to identify overall trends in the market, you should start with Google Trends. This free tool allows you to search and analyze the popularity of various search terms over a given amount of time.
It's important to note that bodybuilding has an extensive online community. There is an active community of bodybuilding enthusiasts at the Bodybuilding Forums. You can become a member for free and ask users about popular products, what they're looking for, or items they'd like to see in an online store. Remember that people looking to buy bodybuilding supplements will probably be:
Athletic
Health-conscientious
Highly knowledgeable about the product
Finally, bodybuilding supplements are a product that is used daily. This means that you'll have a good chance of developing regular customers if you choose the right products.
2) Choose the right dropshipping niche
After you do some preliminary research with Google Trends, you can further refine your research and find niches within the overall category of bodybuilding supplements by checking out e-commerce trend publications like:
There is also a paid Chrome extension called Jungle Scout that helps online sellers identify and research profitable products. It has a specific tool called Opportunity Finder that can help identify niches.
There are plenty of potential niches within the wider category of bodybuilding supplements. For instance, let's use a tool called SEMRush to take a look at the monthly Google searches for the keyword vegan supplements: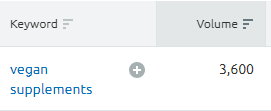 As you can see, there are 3,600 monthly searches on Google for "vegan supplements". This is a substantial amount, so it may be a good idea to check out a niche like plant-based or vegan bodybuilding supplements. A supplier like GreenDropShip has an excellent selection of these types of products.
3) Set up your store
If you're looking to quickly and efficiently set up your online store, you can choose an e-commerce platform:
These e-commerce platforms all require memberships or will charge you additional fees for transactions. If you're selling on Amazon, make sure to check their specific policies when dropshipping bodybuilding or dietary supplements.
4) Choose a dropshipping supplier
If you're looking to dropship bodybuilding supplements, then you'll need to pick the right dropshipping supplier. This is an important step and you'll need to find one with the following characteristics:
Sales and support representatives who are knowledgeable about the market.
The supplier has an extensive inventory of in-demand and high-quality products.
Innovative tools to help you track your sales.
Packing and shipping products quickly, reliably, and efficiently.
Competitive and affordable membership fees or pricing system.
The right supplier will have an excellent selection of bodybuilding supplements as well as related dietary supplements, vitamins, or minerals. There is considerable overlap between these various sub-niches and they could all be placed under a wider category of "Health & Wellness". GreenDropShip is a supplier that has an extensive inventory of Health & Wellness goods, including over 20,000 natural and organic products that are made in the USA.
5) Import supplements into your store
You need to pick a dropshipping supplier that provides product feeds for the various e-commerce platforms, including Amazon, Shopify, or WooCommerce. If you use GreenDropShip as your supplier, you have to follow these basic steps:
Download the product feed.
Choose the products you want to sell and import your supplier's data feeds into Amazon, Shopify, or WooCommerce.
List your inventory of bodybuilding supplements (or related products) and create your online store.
As you can see, choosing a supplier like GreenDropShip makes this process easy, quick, and incredibly convenient.
6) Increase your sales by promoting your store
Promoting your online store is a crucial step. There are several ways you can do this, including:
1) Use Facebook or Google Ads
Both of these require an initial investment and can get expensive very quickly. However, it may prove useful in the long run as it can help build a customer base.
Google Ads allows you to target certain keywords for pay-per-click (PPC) advertising. You can generate a list of related keywords by using research tools like Google Trends or Jungle Scout's Keyword Scout application.
Facebook Ads allow you to target key demographics based on their interests. For example, you can set up your Facebook Ads to target users who "liked" the profile or feed of a fitness influencer. This is incredibly useful for marketing since fitness and bodybuilding are extremely popular on social media.
However, Google and Facebook both have policies about how you can advertise dietary and bodybuilding supplements. For instance, the Google Ads policy does not allow sellers to advertise "unapproved pharmaceuticals or supplements", a list of which you can find on the policy page. Additionally, the Facebook policy states "Ads must not promote the sale or use of unsafe supplements, as determined by Facebook in its sole discretion".
2) Start a blog
A blog can be a powerful tool for engaging and educating consumers. It is also a great way to do Search Engine Optimization (SEO) for your website. By adding new content in a blog, you can use keywords that you want to bring traffic to your website for. For instance, writing a blog post on "Top Vegan Boydbuilding Supplements" can improve your site's visibility in search engines for that search phrase.
Before writing a post, you should do keyword research to find out what search terms have high search volume and are relevant for your website. Here are some tools you can use:
Keyword Scout (from Jungle Scout)
You have to make sure that your blog covers bodybuilding-specific topics and that the posts try to convert readers. You should also try to make each post highly "shareable". Remember that social media plays a huge role when dropship bodybuilding supplements and there is a huge online community for fitness. Examples of posts could be "Top Supplements to Build Muscle Mass" or "Best Supplements for Workout Recovery".
3) Have detailed and user-focused product descriptions
During the course of your research into your target market, you'll probably find that online shoppers for bodybuilding supplements will be very knowledgable about the products. This means that your product descriptions have to be especially strong and well put together. They should include:
Active ingredients
What the supplement does
How to use the product
Additional features (vegan, organic, etc)
Be sure you use plenty of emotional words that excite the online shopper. Think of specific terms that can be associated with bodybuilding like "unleash your inner beast", "get bigger and better", "realize your full potential", or "recover faster and feel better".
In other words, don't use the same kind of language you would use on a product that's meant to relax the online shopper. You have to adapt your tone to your target audience. That means that your product descriptions should excite them and amp them up.
Also, you'll need to optimize the descriptions for SEO. That means that you should incorporate related keywords and keyphrases that you found in the course of your preliminary research.
Finally, be sure that you mention that the products are "steroid-free" because this is a huge issue in the bodybuilding community. Also, some ingredients that are legal in Europe or Asia are illegal in the US. If you choose GreenDropShip as your bodybuilding supplements supplier, you can mention that our products are in line with US laws and that most of our products are made in the USA.
8 Best Bodybuilding Supplements to Dropship
Let's take a look at some of the best bodybuilding supplements to dropship that we carry at GreenDropShip.
1) Natrol: L-Arginine 3000 Mg Tablets
L-arginine is a vital amino acid that helps build muscle tissue. This means that it's a widely used bodybuilding supplement. This product also:
Supports muscle protein synthesis
Boosts immune function
Enhances overall responsiveness
Helps to release growth hormone and insulin
Supports the health of your blood vessels and circulation
Enhances blood flow
Maintains heart health
Each serving also contains 10 mg of Vitamin B6 and 50 mcg of Vitamin B12.
Let's also take a moment to look at some data from SEMRush. This is a breakdown of the monthly Google searches for the keyword natrol l-arginine:

As you can see from the data, the combined number of monthly Google searches is 270. This means that online shoppers are interested in this product and are searching for it.
2) Nutrex: BioAstin Hawaiian Astaxanthin Supplement
Astaxanthin is an antioxidant that helps boost exercise metabolism and performance. The super strength of this 12mg BioAstin Astaxanthin is the best way to get your daily intake of astaxanthin in one simple dose.
This product is also:
Gluten-free
Made without pesticides or herbicides
Made without artificial ingredients
Derived from natural sources from Hawaii
GMO-free
It's also an incredibly popular product on Amazon. With over 4,000 reviews and an average rating of 4.5, it is the #1 bestselling astaxanthin supplement available on Amazon:
Products that are designated as Amazon's Choice are usually very popular and have a greater potential to be profitable.
Let's also take a look at some SEMRush data for the keyword bioastin hawaiian astaxanthin:
There are nearly 2,000 monthly searches on Google, meaning that there is considerable interest from online shoppers.
3) NeoCell: Super Collagen + C
This item is part of NeoCell's flagship line of Super Collagen products. This means that in addition to the proprietary super collagen, NeoCell has also added a healthy dose of Vitamin C. Not only does this bodybuilding supplement help with flexibility, joint health, and muscle recovery, but it also has a huge boost of antioxidants.
GreenDropShip is proud to announce that we carry a wide selection of NeoCell products. They're so popular, that we've even done a Seller Spotlight: NeoCell blog post.
Super Collagen + C is also:
Non-GMO

Gluten-free

GMP certified

100% natural

Made without artificial flavors

Made without artificial colors
This product has nearly 5,000 reviews on Amazon, with an average rating of 4.5 stars. It's also a designated Amazon's Choice item: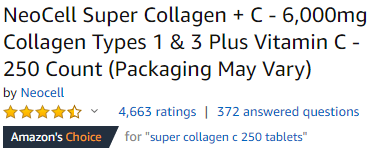 Finally, let's look over the search volume figures the keyword neocell collagen c: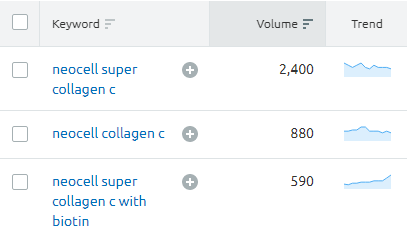 People are definitely searching for the NeoCell Super Collagen line of products. According to the SEMRush data above, the primary keyword "NeoCell Super Collagen C" has nearly 2,500 monthly Google searches. Additionally, the related keywords have almost 900 and 600 monthly Google searches, respectively.
4) Orgain: Organic Protein Powder
Protein is one of the basic building blocks in any bodybuilding supplement regimen and is necessary for the body to build new muscles. Plus, consumers are increasingly looking for plant-based supplements.
This organic, plant-based protein powder from Orgain is:
Made from organic brown rice, hemp, chia, and pea proteins
Free of any added sugar
Developed by doctors and health professionals
Full of 5g of organic fiber per serving
Dairy, gluten, soy, and lactose-free
Orgain's Organic Protein Powder is incredibly popular on Amazon. With nearly 11,000 reviews, it has an average rating of 4.4 stars. It's also been given the official Amazon's Choice designation, making it an exceptionally strong product for any online store selling bodybuilding supplements.
Let's also take a look at the monthly Google searches for the keywords orgain protein powder and orgain organic protein powder: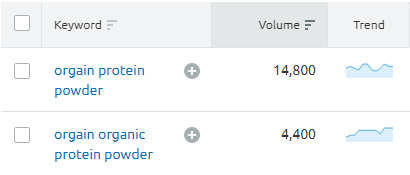 The number of monthly Google searches for these two keywords combined is 19,200. That means that there is considerable interest in this product.
5) YOUTHEORY: Advanced Collagen
In terms of popular bodybuilding supplements, collagen is in high demand. This protein is crucial for optimum performance, energy, and workout recovery.
This product also:
Boosts protein intake
Replenishes collagen
Supports tendons & ligaments
Revitalizes skin & hair
Helps combat age-related collagen loss
It has an average rating of 4.4 stars on Amazon and is also an Amazon's Choice product:
It also has a very high monthly search volume. For instance, let's examine the SEMRush data for the keyword youtheory collagen:
According to the data, there are nearly 10,000 monthly Google searches for this collagen product from YOUTHEORY.
6) Paleo Protein Powder
GreenDropShip is proud to offer this paleo-friendly protein powder. Some consumers prefer bodybuilding supplements that adhere to the paleo diet, so this would be an excellent choice for them. With 26 grams of egg and grass-fed beef protein per serving, it will help build muscle and increase body mass while keeping the carbs low.
This product is:
Hormone and antibiotic-free
Minimally processed
Gluten-free
Dairy-free
Whey-free
Soy-free
Made without added sugar
This product is also really popular on Amazon, with nearly 1,000 reviews and an average rating of 4.5 stars. Plus, it's been given the Amazon's Choice award:
Let's also take a quick look at the monthly search volume for the keyword paleo protein powder:

The SEMRush data shows that there are 3,6000 monthly Google searches for that term, meaning that there is plenty of interest online about this product.
7) Nature's Answer: Marine-Based Calcium Magnesium
Calcium Magnesium supplements are extremely useful for bodybuilding. This plant-derived product has 500 mg of calcium and 250 mg of magnesium per serving.
It's also:
Excellent for bone health
Derived from red algae and seawater
Fortified with 72 trace minerals
Sustainably harvested
Gluten-free
100% Vegan
Nature's Answer Marine-Based Calcium Magnesium is also a highly rated item on Amazon with an average rating of 4.6 stars. It's also an Amazon's Choice product.
8) Natrol Melatonin
Melatonin is a commonly used dietary supplement to help promote healthy sleep. Its role as a potent antioxidant and sleep aid also speeds up workout recovery and helps bodybuilders get better muscle gains over the long run. Natrol's Melatonin supplement helps you fall asleep faster, stay asleep longer, and wake up feeling refreshed.
This product is:
100% drug-free
Non-habit forming
Made with natural strawberry flavoring
Full of Vitamin B6 and Calcium
100% Vegetarian
This is also an incredibly popular product on Amazon. It has over 6,000 reviews and an average rating of 4.4 stars. Plus, it's an Amazon's Choice product!
Let's also take a look at the monthly Google searches for the keyword natrol melatonin:
As you can see from the SEMRush data, this supplement has over 12,000 monthly Google searches. This means that there is considerable interest in this product from online shoppers.
You can find all of these amazing supplements by becoming a GreenDropShip member today. With our extensive inventory of over 20,000 natural and organic products, you'll find plenty of bodybuilding supplements to dropship in your online store. Be sure to contact a sales rep and get started today.