Guide To Selling Health Products Online
As an entrepreneur, starting your own e-commerce store selling health products online will help you meet the growing demand from health conscious consumers. Not only can you achieve independence by being your own boss, but you'll be selling goods that help people achieve optimal health and wellness.
Dropshipping is the easiest way to start an online store since you don't have to risk taking on inventory. So let's examine the dropshipping business model and talk about how to sell health products online.
Why Dropship Health Products
Dropshipping is a business model in which the seller does not keep an inventory. Instead, this responsibility falls to your dropshipping supplier. This supplier handles the logistics of storing, packing, and shipping all goods to the end consumer. The profit you make is the difference between the supplier's wholesale price and the price you decide to sell you products for.
"Health Products" can refer to a variety of items, including dietary supplements, herbal remedies, minerals, vitamins, proteins, amino acids, soluble fiber, or omega fatty acids. The benefits of these health products include:
Increasing energy
Weight management
Helping digestion
Mood and memory enhancement
Physical fitness and workout recovery
Immune support
Nutrition and overall health
These supplements are perfect for a dropshipping store. This is due to a variety of reasons, including:
They're easy to store, pack, and ship since they're compact, lightweight, and not perishable. The heavier, bulkier, and more perishable a product, the harder it is to dropship profitably.
You can charge more for these products. Since you have the advantage of being able to buy vitamins and supplements at wholesale prices, you can sell these products for a slightly higher price. Doing so will allow you to generate a profit as you transition into becoming your own full-time boss.
Online shoppers will likely become repeat customers. Many of these products need to be taken on a regular basis (sometimes even daily), so make sure you provide an excellent experience and offer competitive prices.
Since many Americans are lacking key nutrients, selling health products online is a great way to make some money. Regardless of age, most people need to take some kind of dietary supplement or vitamin since they do not get everything from food alone. Plus, many people will need to take a herbal remedy when they need to fight off being sick.
This means that online retailers can expect to see more and more revenue from their e-commerce sales.
How To Sell and Market Health Products
If you're wondering how to sell health products and build a successful online store, be sure you follow these simple steps.
1) Research the market to identify trends and choose a niche
If you want to have a profitable e-commerce store, then you'll have to research the online market for health products. For example, an article from Rakuten Intelligence published in 2019 concludes that online vitamin and supplement sales are growing 12% faster than the rest of e-commerce. In fact, they showed a growth of 40% from the year prior.
That means that there is plenty of opportunity in selling health products online. But you'll want to identify some overall trends first. In order to do this, you should start with Google Trends. This is a free tool that shows the frequency of a given search term over a period of time, ranging from 1 day to the past 15 years. You can also use the "Related Topics" function to find ideas that relate to your original search term.
After using Google Trends, you should further refine your research and identify niches within the overall category of health products. You can do so in several ways. First of all, you should check out trend publications like:
You can also use a paid tool like Jungle Scout. This is a Chrome extension that fulfills a variety of important roles for a dropshipping store, including identifying and researching potential products. It has a specific tool called Opportunity Finder that can really help you find the right niche.
The most common niches in the health market include:
Digestive health
Weight management
Anti-aging
Exercise supplements
Skincare
Fatigue
Energy supplements
You can choose to specialize in any of these areas while also operating under the niches of "organic", "vegan", or "plant-based" products. Because they're more eco-friendly and healthier, these have become especially popular in recent years.
2) Set up your store
This is a fairly easy step as you have several e-commerce platforms to choose from:
Shopify – This e-commerce platform has tons of features. It's very comprehensive, making it an excellent choice for sellers looking to quickly start selling health products. It also has a lot of really useful apps.
Amazon – This is the most widely known e-commerce platform. The two most popular choices are: Fulfilled by Merchant (FBM) or Fulfilled by Amazon (Amazon FBA). If you choose Amazon to sell health products, then you'll have access to their huge base of customers and their excellent reputation.
BigCommerce – This is known as software as a service (SaaS). It's very popular with sellers because it's so convenient and easy-to-use with a highly intuitive interface. It also offers web hosting and search engine optimization (SEO) services.
All of these e-commerce platforms require paying memberships or transactional fees. Additionally, you can't make claims that health products cure certain diseases. For example, Amazon has a list of prohibited product claims.
3) Choose a dropshipping supplier
If you want to sell health products, then you need to choose the right dropshipping supplier. The best place to start is with a:
Google search – You'll just have to input the right search terms, like "health products dropshipping supplier", "health products wholesale supplier", or "health and wellness wholesaler".
Supplier directory – There are directories that have lists of pre-screened suppliers. Some of them are paid and some are free. These include WorldWide Brands, Wholesale Central, Doba, Megagoods, Alibaba/Aliexpress, Dropship Direct, or Salehoo.
The right supplier will have an excellent selection of health products, including dietary supplements, herbal remedies, minerals, vitamins, proteins, amino acids, soluble fiber, or omega fatty acids. As we mentioned before, these various niches can all fall under the wider category of "Health Products". GreenDropShip is a supplier with an incredible selection of health products, including over 20,000 natural and organic goods that are made in the USA.
4) Import health products into your online store 
Choose a supplier that can provide product feeds for whatever e-commerce platform you choose, including Amazon, Shopify, or BigCommerce. To import quickly your products into your store using GreenDropship as your supplier, follow these steps:
Choose the items you want to sell and download the product feed.
Import the product feed into Amazon, Shopify, or BigCommerce.
List your inventory of health products and create your online store.
As you can see, choosing a supplier like GreenDropShip makes this process easy, quick, and incredibly convenient.
5) Follow the FDA rules for selling health products online
Under the United States Food & Drug Administration (FDA) and the Supplement Health and Education Act of 1994, there are guidelines for selling health products online. These include:
You can't market or sell misbranded or adulterated supplements.
The companies that manufactured the products are responsible for the correct labeling and safety evaluation of all products.
All supplements must be accurately labeled.
If you're marketing the health products in your store, you can't make any health claims that the manufacturer hasn't established.
Ultimately, in the US, you'll have to abide by the regulations and guidelines for selling any health products. If you choose GreenDropShip as your health products supplier, be sure you mention that all our products are in line with US laws.
6) Promote your store to increase your sales
You need to promote your store if you want it to drive traffic and make sales. There are several ways you can do this, including:
1) Create Facebook Ads or Google Ads
Both of these require some startup capital. This means that they can get quite expensive over time. However, this may end up being the right move as a good Facebook or Google Ads campaign can build a strong customer base.
Google Ads is useful because it allows you to target keywords for the purposes of pay-per-click (PPC) advertising. You can create a list of relevant keywords by using keyword research tools such as Google Trends or Jungle Scout's Keyword Scout tool.
On the other hand, Facebook Ads is useful because it allows you to target social media users based on demographics, what they like, and their interests as well as their behaviors (like what they've "shared"). For example, you can create a campaign that targets social media users who "liked" the feed or photo of a health-related profile.
You should also try to market to people who do not routinely meet their nutritional needs. According to the American Dietic Association, this includes:
Pregnant or nursing mothers
Strict vegetarians or vegans
People with food allergies
Elderly people
People suffering from stomach issues
Additionally, you can try to market to people who have higher nutritional needs, like athletes or people with an especially active lifestyle.
However, there are still restrictions on what you can say or how you can market health products:
According to the Google Ads policy, you can't advertise "unapproved pharmaceuticals or supplements".
According to the Facebook policy, any marketing can't promote the sale or use of unsafe supplements.
Each of these policy pages will have a list of the supplements or products that aren't allowed.
2) Write a health and wellness blog
A blog can be really useful. It's perfect for engaging and educating consumers while developing your brand. You just have to make sure that you use search engine optimization (SEO). By effectively implementing SEO, you'll drive organic traffic to your e-commerce store by achieving higher rankings in the search results. Plus, good SEO practices improve the user experience and usability of your online store.
You'll need to create keyword-rich content if you want to implement this SEO effectively. In this context, "keywords" are terms or phrases that are relevant to the topic and will help you rank higher. In order to identify these relevant keywords, be sure you use keyword research tools like:
Just make sure that the blog posts cover health-related topics and that they provide the reader with valuable and relevant information. "To convert" a reader means that you turn a visitor into a customer.
It's also important to make each post highly "shareable" on social media to reach as many readers as possible. Social media allows you to tap into its community of users to drive traffic to your website, especially if these users have shared interests (like health and wellness, for instance). Use these shareable blog posts to "tell the story" of your brand to try and make a personal connection with potential customers.
3) Create engaging product descriptions
Product descriptions serve more than one function. First and foremost, they tell the potential customer about the product. Additionally, they can be useful for implementing SEO, so be sure you make them "keyword-rich". Just don't forget the list of relevant keywords you generated during your research.
Additionally, if you're selling health products, then you have to make sure that the shopper trusts your store. Make sure your product descriptions are accurate and contain the following crucial information:
A list of ingredients
What the health product does
How to use the health product
Additional information, like if it's plant-based or organic
Finally, you have to use emotional and sensory words to get the online shopper's attention. When it comes to health products, then they should:
Create a sense of urgency – the shopper needs to have this product for this or that purpose.
Reassure the shopper – this will help their health and sense of wellbeing.
Help the shopper reach self-actualization – everyone wants to improve themselves, so be sure to tell the consumer how a particular health product will help them do that.
Just remember not to make any false or outrageous health claims. Just use what the manufacturer has stated and you'll be following the rules for selling health products online.
Best Health Products To Sell Online
If you're looking to start dropshipping health products, then be sure to check out this list of ideas. All of these are available from GreenDropShip's extensive selection.
1. Vitamins
EZC Pak: 5-Day Tapered Immune Support Pack
This is an award-winning plant-based and natural immunity booster. It was developed by Sarath Malepati, MD, a physician and general surgeon based in California.
It's a herbal supplement that comes in a 5-day pack that's made with all the vitamins and minerals you need to keep your immune system functioning. It's been sourced from the highest quality ingredients and is 100% safe.
This product is also:
Vegetarian
Gluten-free
Sugar-free
100% natural
Certified organic
It has an average rating of 4.4 stars on Amazon. Plus, it's been awarded the valuable Amazon's Choice award, meaning that it's a bestselling and top-rated product.
Let's also take a look at the monthly Google searches from the SEMRush tool. This is the for the keyword ezc pak: 

As you can see from the figure, it has 4,400 monthly searches on Google. This is a large volume, meaning that there is substantial interest in this product among online shoppers.
EMERGEN-C: Vitamin C Fizzy Drink Mix
This is a really popular product; everyone's heard of EMERGEN-C. This vitamin supplement fizzy drink mix is loaded with essential nutrients that boost the immune system, enhance energy, and hydrate the body after a workout. GreenDropShip is especially proud to offer the Pink Lemonade flavor since the power of Pink supports healthy choices for today and hope for tomorrow. For every box sold, 25¢ is donated to fund breast cancer awareness, research, and prevention efforts. This means every time you drink Pink, you just don't feel the good, you share the good.
This product is loaded with:
1,000 mg of vitamin C
Essential nutrients
Antioxidants like Manganese and Zinc
7 B Vitamins
Electrolytes
It's also caffeine-free, gluten-free, vegetarian, and made with natural sweeteners.
Not only does this product have an average rating of 4.7 stars on Amazon, but it has a huge monthly search volume. Let's take a look at some data for keyword emergen c: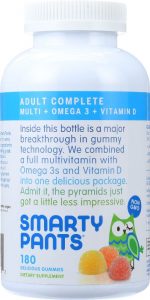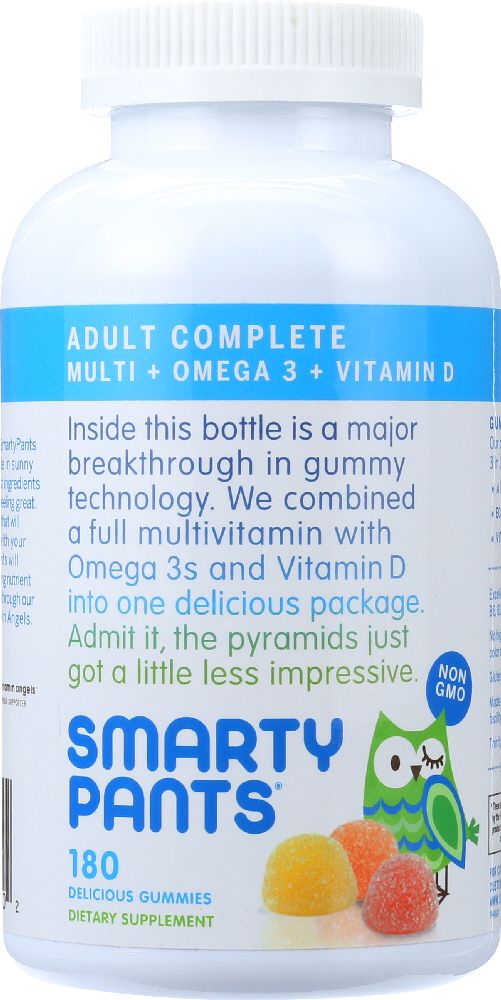 The keyword "EMERGEN-C" has 135,000 monthly Google searches. That's a huge volume of traffic, so make sure you include this health product in your online store.
SmartyPants Multivitamin Gummies
SmartyPants ultivitamin Gummies are perfect for customers who do not like having to swallow pills.
These great tasting gummies deliver essential vitamins and minerals so your customers will feel great and love the ways these taste. SmartyPants full multivitamins also have Omega 3s and Vitamin D. This is a unique advantage that this brand of multivitamin has over its rivals.
2) Healthy Drinks and Superfoods
LIFEAID Daily Blend Beverage
The LIFEAID Daily Blend Beverage provides key natural ingredients essential for optimum health and vitality. These include Turmeric, Rosemary, Ginger, Oregano, Vitamin C, Magnesium, and Cayenne.
This product is also:
Kosher
Vegan
Paleo Friendly
Non-GMO
Gluten-Free
Halal
No Sodium
It has an average rating on Amazon of 4.5 stars. Additionally, it's also been given the Amazon's Choice designation.
Finally, let's take a quick look at the SEMRush data for the keyword lifeaid beverage: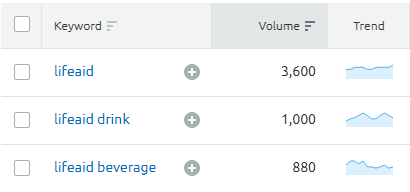 The total monthly Google searches for all the variations of the basic keyword come out to 5,480. That's a lot of online interest in the LIFEAID Beverage product, so it's probably a solid addition to your health products store.
Honey Gardens: Elderberry Honey Syrup
This amazing product is specially designed to boost the immune system. Plus, it combines three powerful and 100% natural remedies: honey, black elderberries, and propolis tincture. The mixture also includes organic apple cider vinegar and echinacea purpura tincture.
This product is also:
100% organic
Totally natural
Free of preservatives
Free of added sugars
Made without artificial colors or flavors
Made in the USA
It has an average rating of 4.7 stars on Amazon. It's also been given the valuable Amazon's Choice designation.
Finally, let's look over the SEMRush data for the keyword honey gardens elderberry syrup: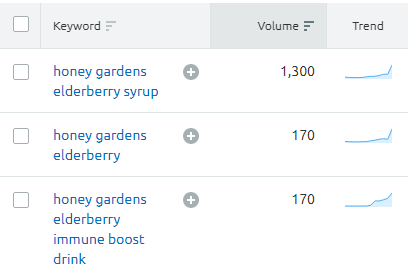 All the variations of the keyword have well over 1,500 monthly Google searches, making this is an especially popular and in-demand product.
Macrolife Naturals: Macro Greens Nutrient-Rich Superfoods
In health and fitness circles, you'll see that consumers are always on the lookout for the next superfood trend. Macro Greens is a totally green and organic superfood that is full of 38 vital and nourishing macronutrients.
That means it will give the active user all the antioxidants, enzymes, vitamins, co-nutrients, amino acids, and minerals that consumers will ever need. That's why it's so popular in exercise and fitness circles: it's incredibly dense with nutrients.
This product is also:
Filled with prebiotics
Made with over five fruit and vegetable servings
Designed to boost energy and help with weight loss
Designed to gently detoxify and cleanse on a daily basis
Non-GMO, gluten and dairy-free, 100% vegan
This product also has an average rating of 4.3 stars on Amazon. It's also been awarded the valuable Amazon's Choice designation.
3) Supplements
Natrol: 5-HTP Capsules
Sometimes people forget the importance of mental health. But make no mistake, there is considerable demand for natural products that can help boost mood and enhance cognitive function.
5-HTP is a naturally occurring plant-derived amino acid that helps the body make serotonin. This is the chemical messenger that plays a key role in controlling appetite and boosting mood. The end result is a positive attitude to help your customers maintain a healthy outlook on life while meeting their diet goals.
This product is:
100% drug-free
Non-habit forming
Free of artificial colors or flavors
Made without milk, eggs, peanuts, wheat, soy, or yeast
A great way to promote a calm and relaxed mood
Effective at reducing occasional anxiety
It also has a 4.4 rating on Amazon and has been awarded the coveted Amazon's Choice.
Finally, let's look at the monthly Google searches for the keyword natrol 5-htp:

As you can see from the SEMRush data, Natrol 5-HTP has 1,600 monthly Google searches. This means that there are plenty of potential customers who are searching for this product.
Kyolic: Aged Garlic Extract
Garlic is a potent ingredient as well as a health supplement. It can be used to:
Promote overall heart health
Immune system support
Digestion support
Reducing inflammation
Detoxification of the body
Promote overall health and wellness
This is an exceptionally popular and highly-rated product on Amazon: it has nearly 1,500 reviews and an average rating of 4.7 stars. Plus, it's been given the valuable Amazon's Choice award.
Let's examine the monthly Google searches for the keyword kyolic garlic: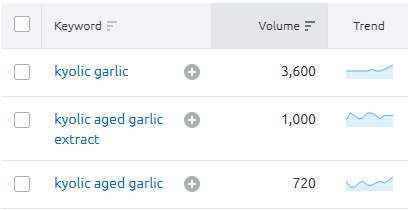 The SEMRush data shows us that there are 3,600 monthly Google searches for the primary keyword "Kyolic Garlic". However, the related keywords "Kyolic Aged Garlic Extract" and "Kyolic Aged Garlic" have 1,000 and over 700, respectively. That comes out to over 5,000 total searches – that's a lot of interest for this particular product.
Only Natural: Brown Seaweed Plus
This natural supplement is a blend of brown seaweed and organic green tea extract and it contains only natural ingredients. It has natural fat-burning qualities so your shoppers can look their best. Plus, it helps to regulate blood sugar. Considering that obesity has become a serious problem in the U.S in recent years, these capsules could be a crucial dietary supplement in many American households.
This is product is also:
Vegan
Non-GMO
Fat-free
Nut-free
Sugar-free
Organic
Free of artificial sweeteners and preservatives
It has an average rating of 4.6 stars on Amazon. Plus, it's been given the valuable Amazon's Choice award.
If you want to start selling health products, then you can find all of these incredible items by becoming a GreenDropShip member today. With our extensive inventory of over 20,000 natural and organic goods, you'll find plenty of options to dropship in your e-commerce store. So be sure to contact a sales rep and get started today.
Selling Health Products with GreenDropShip
Starting your first business can be a great way to save for early retirement. While you can expect to run into some unforeseen issues along the way, creating an online dropshipping company isn't overly difficult.
By finding the right products to sell online, you can sell health products that actually help people feel good. Since you aren't keeping any hard inventory, you can sell as many products as you want without having to worry about increasing your overhead cost.
You can find all these premium products by becoming a GreenDropShip member. We have over 20,000 natural and organic products that are made in the USA that you can choose from. Be sure to contact a rep today and start selling health products online.