Dropshipping Halloween Ideas: Hot Products To Sell
We know that online retailers like you are always looking to get a big bang for the buck, and Halloween definitely delivers. Which is why dropshipping Halloween products is an opportunity you'll want to take advantage of.
As an ecommerce entrepreneur, it's crucial to have an effective marketing strategy in place to make the most of every holiday season. Retail sales soar during the holiday period from October through New Year's.
To give you some perspective, 2018 holiday season retail ecommerce revenues totaled upwards of 119.54 billion U.S. dollars. And ecommerce holiday sales have grown steadily year-over-year, with continued growth projected into the foreseeable future.
Don't miss out on the additional sales you can achieve by adding Halloween items to your online store! We'll tell you which type of products are most popular with consumers, and explain why dropshipping Halloween merchandise is the easiest way to take advantage of these hot seasonal trends.
Consumer Halloween Spending
Halloween retail spending was estimated at $8.8 billion in 2019 by the National Retail Federation. Shoppers planned Halloween purchases break down as follows; 1) candy, 2) decorations, 3) costumes. These are the product categories you want to consider adding to your online store!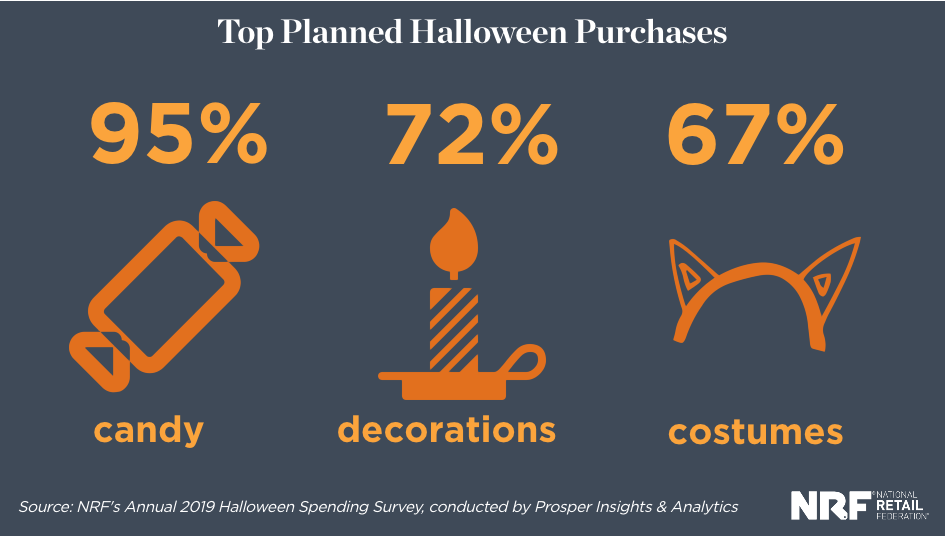 According to this same survey, consumers plan to spend $2.6 billion on candy (purchased by a whopping 95% of shoppers), $3.2 billion on costumes, and $2.7 billion on decorations.
And get this, online search remains the top source of Halloween inspiration, cited by 35 percent of consumers surveyed. This means people are turning to the internet to find Halloween ideas, and you can position your brand to be there when they do.
A few things to consider when thinking about Halloween costumes. Offering adult and child costume options is pretty standard, but don't forget about Fido! Pet costumes continue to gain popularity, with nearly 20 percent of participants planning to dress their pets in costumes (up from 16 percent last year).
Plus Halloween costumes, although a seasonal trend, are becoming lucrative business all year round due to the increasing popularity of themed birthday and costume parties for kids. The top selling children's Halloween costume choices are princesses and superheroes, both of which are also popular themes for kids' parties.
Then there's wholesale Halloween candy, which is a no-brainer. Sure candy sales soar during the month of October, but both kids and adults eat candy all year round. It's a winning item to include in your online store, and we share some of our favorite organic candy brands below.
Dropshipping Halloween Products
Why dropshipping? Because Dropshipping is one of the easiest ways to resell products from home. With dropshipping you won't have to deal with the hassle of managing inventory. The supplier maintains all the inventory for you, then packages and ships orders directly to your customers. You can't get much easier than that!
And when it comes to seasonal products; like Halloween candy, costumes, or decorations, you don't want to end up with a warehouse full of unsold inventory come November. With dropshipping, that won't happen.
It's simple, every time a buyer makes a purchase on your website, you place an order with your dropshipping supplier and pay the wholesale price. Then basically you pocket the difference between that wholesale price and whatever price you sold it for online. You earn a little cash with every sale!
This means you get to focus your time and energy on doing what you do best, attracting the right niche customers to your website. Let your dropshipping supplier worry about the rest.
Plus, you can use an e-commerce platform like Shopify, WooCommerce, or Amazon/eBay to quickly and easily create an online store. And by partnering with a supplier like GreenDropShip, you can easily integrate product feeds into whichever platform you choose.
Finding Halloween Wholesale Suppliers
So you're ready to add some spooky seasonal offerings to your online store, how do you go about finding the right supplier to meet your Halloween dropshipping needs?
Online directories and marketplaces are an excellent place to start.
These resources can help you find reputable, U.S. based dropshipping suppliers that carry the seasonal items you're looking for. Typically domestic suppliers are listed by location and the types of products they offer, along with their web address so you can reach out for more information.
Many directories require you to become a member before you can use their services. Therefore it's important to compare pricing as part of your decision making process.
It's also important when selecting a wholesaler that you check to confirm they do indeed provide dropshipping services. Some suppliers listed in the directory may not actually be dropshippers, even though they're listed under 'dropshipping wholesalers'.
Here's a list of popular directories you can use to start your search: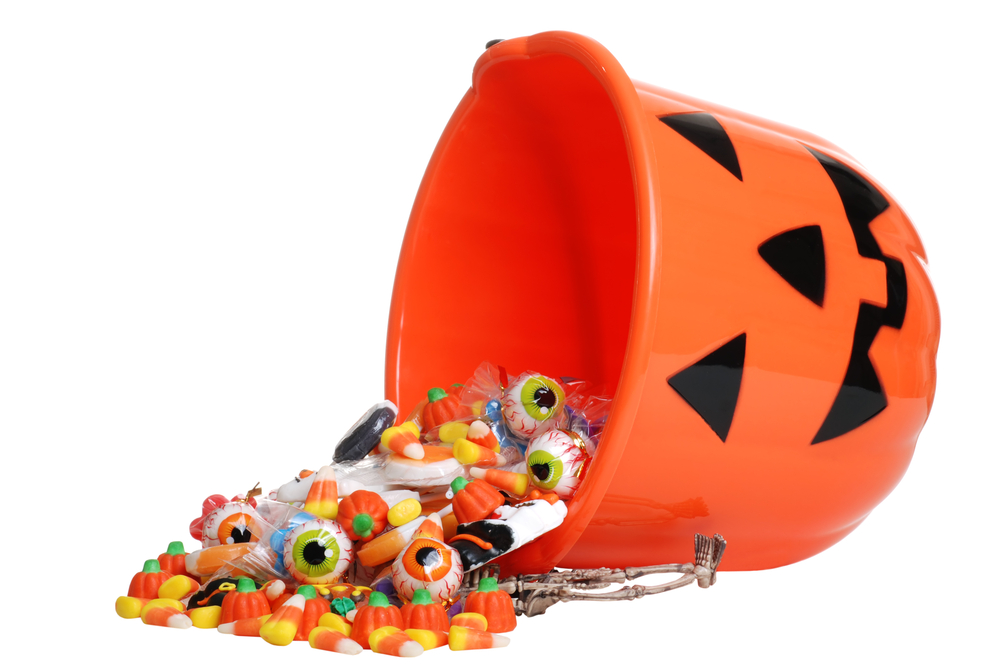 Organic Wholesale Halloween Candy
As we mentioned above, candy is the number one planned purchase for Halloween shoppers. Did you know that Americans will spend around $2.6 billion on Halloween candy this year? That's a whole lot of trick or treating!
Offering organic candy gives parent shoppers peace of mind, knowing the treats they buy don't contain high fructose corn syrup, pesticides, or chemicals. According to the "Organic and Beyond 2020" report, nearly 40 percent of consumers consider buying organic to be safer for them and their families.
Let's take a look at some of the best dropshipping Halloween candy products GreenDropShip has to offer. We're confident you'll want to include some of these organic wholesale candy options in your online store all year long.
Organic OCHO Candy
OCHO Candy began when its founder asked the question, "Why can't anybody make great tasting organic candy bars?" And the rest, as they say, is history.
OCHO has been making great-tasting 100% organic chocolates and candies since 2011. Their individually wrapped "minis" make especially good Halloween treats for little witches and ghouls.
Ocho Candy: Organic Peanut Butter Candy
A yummy peanut butter center covered in creamy organic milk chocolate. OCHO makes small-batch peanut butter fillings from fresh organic peanuts, cane sugar and sea salt. It's a Halloween delight kids love, and moms can feel good about.
USDA Certified Organic
Fair trade, gluten free and non-GMO
Average rating of 4.4 Stars on Amazon
The terms "organic candy" and "Ocho candy" both have up to 10K monthly searches on Google.* This shows there's high search demand for these items, making it a good product to sell online.
*Data source: Google Ads Keyword Planner
Ocho Candy: Organic Caramel Candy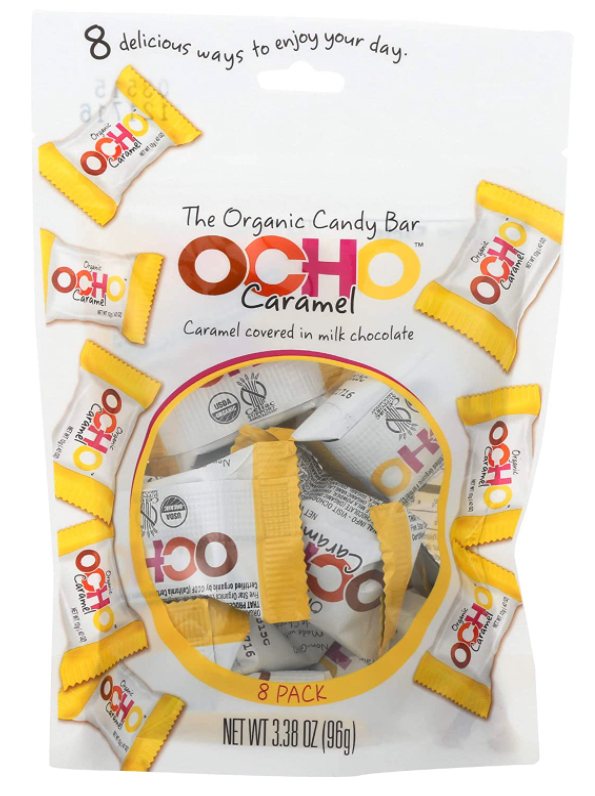 Individually wrapped organic caramel candy covered in milk chocolate. What's not to love? This is another great dropshipping Halloween treat to add to your online store.
USDA Certified Organic
Fair trade, gluten free and non-GMO
Average rating of 4.5 Stars on Amazon
"Ocho candy" has up to 10K monthly searches on Google.*
*Data source: Google Ads Keyword Planner
Ocho Candy: Dark Chocolate Caramel Minis
Ocho's dark chocolate caramel minis combine classic dark chocolate with creamy caramel for a rich and subtly salted finish. These aren't even available on Amazon, so you can offer consumers a unique, delicious treat they may not find anywhere else!
USDA Certified Organic
Fair trade, gluten free and non-GMO
Average rating of 4.5 Stars on Ocho Candy's website
"Ocho candy" has up to 10K monthly searches on Google.*
*Data source: Google Ads Keyword Planner
Organic Jellies and Gummies
Hard candy and chocolates aren't the only candy game in town, jellies and gummies are also super popular items you want to add to your online store. The term "jelly beans" has a monthly search volume of up to 100K, while "gummy bears" has upwards of one million. These chewy treats are obviously favorites with consumers!
Wholesome: Assorted Mini DelishFish
Organic DelishFish has a fun fish-shape and deliciously sweet flavor that makes it a tasty snack for trick or treat, movie night, or even as a lunchbox surprise. What's really great is that this candy is made with only recognizable ingredients, none of that chemical stuff parents want kids to avoid.
USDA Organic
Fair Trade, gluten free and non-GMO
Kosher and Vegan
Over 1,240 Amazon Reviews with an average rating of 4.6 Stars
YumEarth Organics: Gummy Bears Snack Packs
YumEarth, the #1 organic candy brand in the US, was founded by two dads committed to feeding their families delicious honest foods. Kids LOVE gummy bears, and moms love the fact that these gummies are all-natural and organic.
Certified Organic
No artificial dyes and 100% natural flavors
Gluten Free, soy free, dairy free, tree nut and peanut free
Over 300 Amazon Reviews with an average rating of 4.5 Stars
"YumEarth" and related search terms have up to 10K monthly searches on Google*
*Data source: Google Ads Keyword Planner
YumEarth Organics: Sour Beans Snack Packs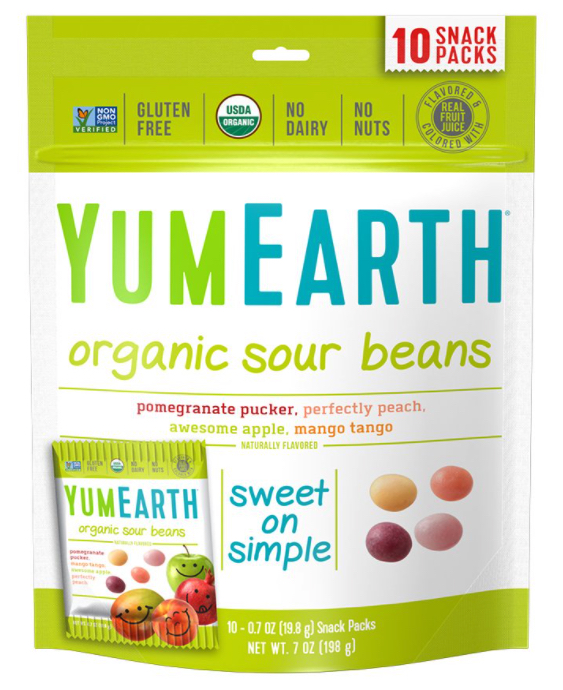 Not everyone is into sweet candy, YumEarth's Sour Beans are packed with pucker producing flavor for the sour set. These cool organic beans are available in smart, portion controlled snack packs – perfect for handing out to costumed ghoulies or as a midday pick me up.
Certified Organic
No artificial dyes and 100% natural flavors
Gluten Free, soy free, dairy free, tree nut and peanut free
Over 260 Amazon Reviews with an average rating of 4.4 Stars
"YumEarth" and related search terms have up to 10K monthly searches on Google*
*Data source: Google Ads Keyword Planner
Sunridge Farms: Organic Jolly Beans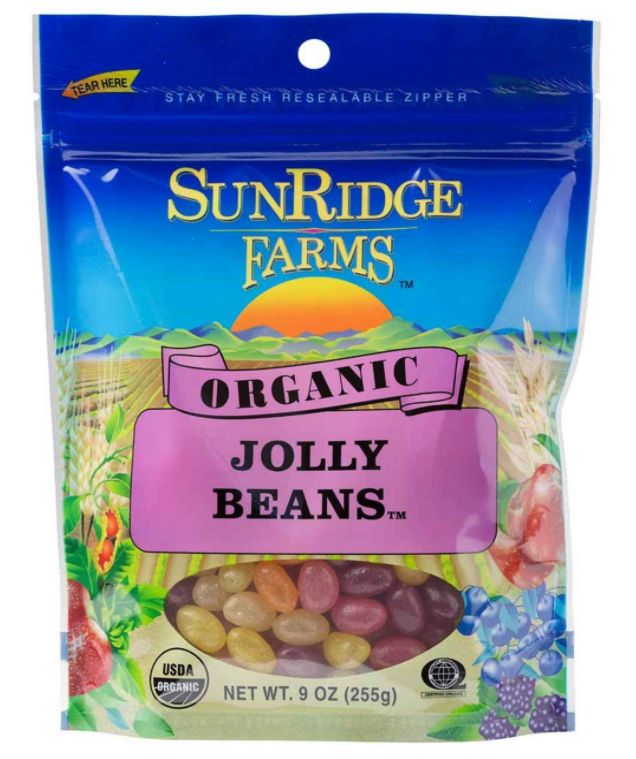 SunRidge Farms has been a family–owned and operated manufacturer and distributor of fine organic and natural foods since 1982. Jelly beans are a perennial candy favorite, in fact the term "jelly beans" has up to 100K monthly searches on Google*, showing just how popular they are. These "jolly" beans take it to the next level by being both vegetarian and certified organic.
USDA Certified Organic
Vegetarian
Non-GMO Project Verified
*Data source: Google Ads Keyword Planner
Start Dropshipping Halloween Products Today!
Now that you've decided to take advantage of this seasonal trend and offer Halloween products, the next step is choosing the right dropshipping supplier. You want to be sure your supplier is reputable, and will deliver exactly what you advertised to your customer.
GreenDropShip is the smart choice if you're looking for natural and organic products including Halloween candy. With over 20,000 products, most of which are made in the USA, we offer an extensive inventory of gourmet and premium goods to meet your shoppers' needs. Check out our catalog to see our full selection of wholesale candy and other treats.
Join GreenDropShip today and start making sales!