Wholesale Essential Oils For Soap Making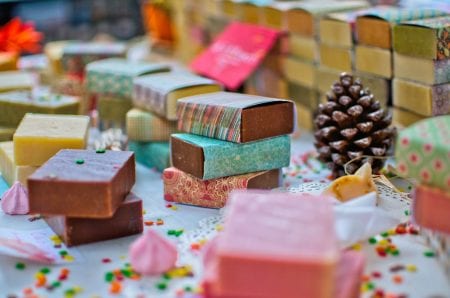 Why Soap Makers Need Essential Oils
Did you know that essential oils play a huge role in the handmade soap making business? That's right. Among artisan soap makers, quality essentials oils are in high demand. This is good news for an enterprising reseller who wants to increase revenue with wholesale essential oils.
But before crafting a marketing campaign aimed soap making entrepreneurs and small businesses, it's good to understand why they do what they do. First of all, handmade soap making is hugely popular in the U.S. There are over 300,000 soap making businesses in the country, says the Handcrafted Soap And Cosmetics Guild. That number is growing every day.
Many people started making soap because of the creative satisfaction the process brings. Also because of the desire to eliminate chemicals and toxins from body products like soap. Couple this with a huge demand for organic personal care products in recent years and you've got a booming cottage industry.
Knowing The Right Essentials Oils For Soap Making
Considering wholesale essential oils for your reseller business is quite timely. Soap makers are always on the hunt for affordable yet high quality fragrance oils. Another reality for soap makers is finding the right quality essential oils isn't that easy. This has to do with the fact that different soap making techniques require different kinds of essential oils to do the job.
For instance, while citrus and coconut based oils are great for the melt and pour soap process, they don't work so well with the cold press technique. This is due to the fact that their scent tends to fade quickly. It's knowing little facts like these that will help you in selecting the right essential oils products to sell on your website.
What Are The Most Popular Essential Oils For Soap Making?
There's dozen of fragrance scents out there. But keep in mind that most soap makers blend their scents to create unique bouquets for their individual brands. That said, let's look at a list of some of the most popular essential oil fragrances out there used by soap makers.
Most popular essential oils for soap makers:
Lavender Essential Oil
Rosemary Essential Oil
Lemon Essential Oil
Cedarwood Essential Oil
Dark Patchouli Essential Oil
Clary Sage Essential Oil
Sweet Orange Essential Oil
Peppermint Essential Oil
The Market Looks Good
These are the oils you want to promote on your website. Essential oils sales is expected to reach $11.19 billion by 2022. That's according to Allied Market Research. As the artisan soap making industry continues to expand, you're going to want to take advantage of the profits to be found by targeting soap makers.

Featuring respected brands like Aura Cacia and Everyone essential oils on your website will help attract soap makers. When it comes to gaining customers, word of mouth is a wonderful thing. Artisans like soap makers love to share their great finds via online forums, social media and blogs. Again, good quality essential oils for soap making aren't easy to find. Showcase these products and see how your orders will increase over a short time.

Check out these great scents for soap making you can sell on your website:




For an excellent variety of high quality essential oils, check out our catalog. There you'll find great selection for your soap making customers to keep them coming back.