Top Wholesale Stevia Products to Sell Online
A wise man once said: "Life is uncertain. Eat dessert first." We all need a little sweetness in our lives – it just makes everything better. But wouldn't it be nice if we could enjoy sweet food or drinks without the calories or guilt? This is where zero-calorie sweeteners come in, with the most popular being a plant-derived sweetener called "stevia". It allows your customers to sweeten up their food and drinks without sacrificing healthy eating – in fact, stevia is approved for two of the most popular diets right now: The Atkins Diet and Keto. That being said, let's take a look at the most popular wholesale stevia products you can sell online.
Consumer Interest in Stevia Is Growing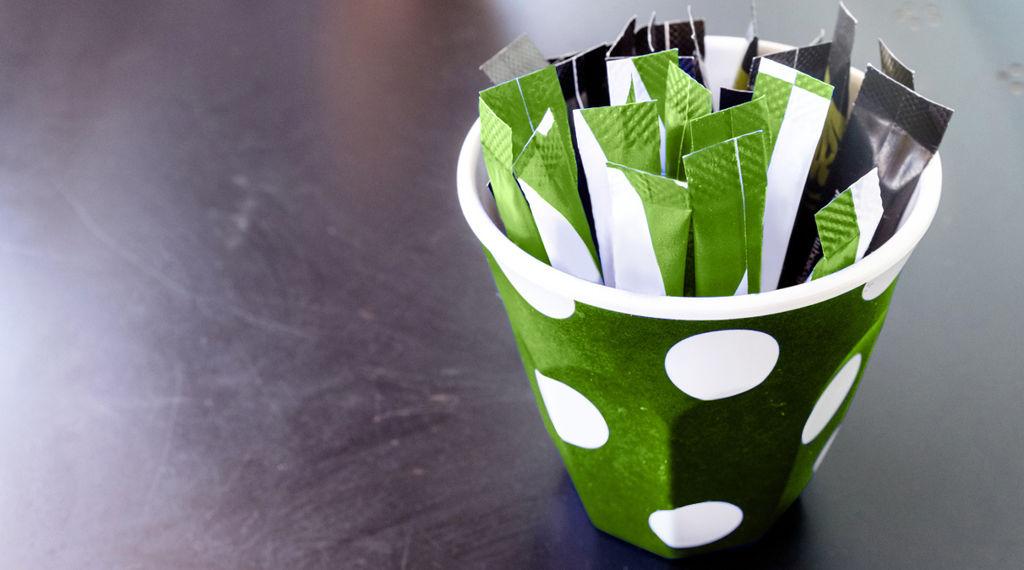 When it comes to wholesale stevia, the keyword here is "plant-derived". Currently, this is all the rage in the food and beverage industry. More and more people are turning to plant sources to get their nutrition supercharged, and this includes plant-derived sweeteners.
Demand for stevia also remains strong due to increased interest in plant-based products as well as greater numbers of health- and fitness-conscious consumers. That's why the overall trend is going upwards even if there are smaller dips in interest. We can also use a tool called SEMRush that tracks the number of monthly Google searches for given search words or phrases. According to current SEMRush data, the total volume of monthly searches for Stevia is over 700,000.
Finally, there's also plenty of data indicating that this market will continue to grow well into the future. In fact, according to a 2019 report from Mordor Intelligence, the global stevia market is projected to grow 8.43% during the forecast period of 2020 to 2025. Consumers want stevia, so it just makes sense to meet that demand in your online store.
Stevia Has More Search Interest Than Other Sweeteners
Also known as sugar substitutes, there are multiple zero-calorie sweeteners on the market. Stevia is now the most popular, but that wasn't always the case. Just a few years ago, conventional zero-calorie sweeteners had a greater market share, but stevia has passed them up. In fact, let's take a look at some data from Google Trends, a tool that allows you to track search interest over a given period of time: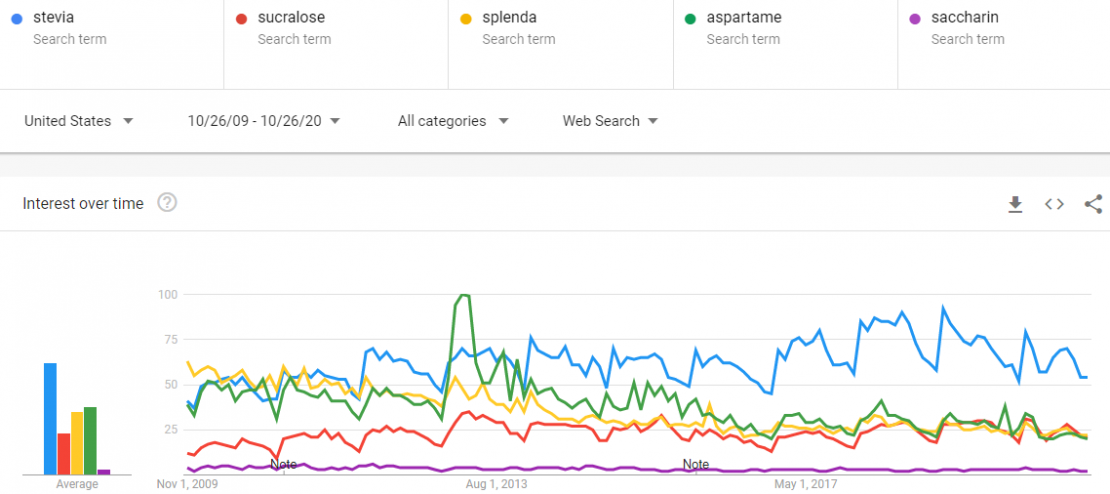 As you can see, this data tracks Google search interest for Stevia (blue) versus other zero-calorie sweeteners or sugar substitutes for the past decade. Originally, Splenda had the most search interest, but sometime in 2012 Stevia surpassed it. Since late 2013, Stevia has definitively had the most search interest.
Search Interest for Stevia Increases Every New Year
If we focus on the Google Trends data for stevia for the past 5 years, we see a repeating pattern: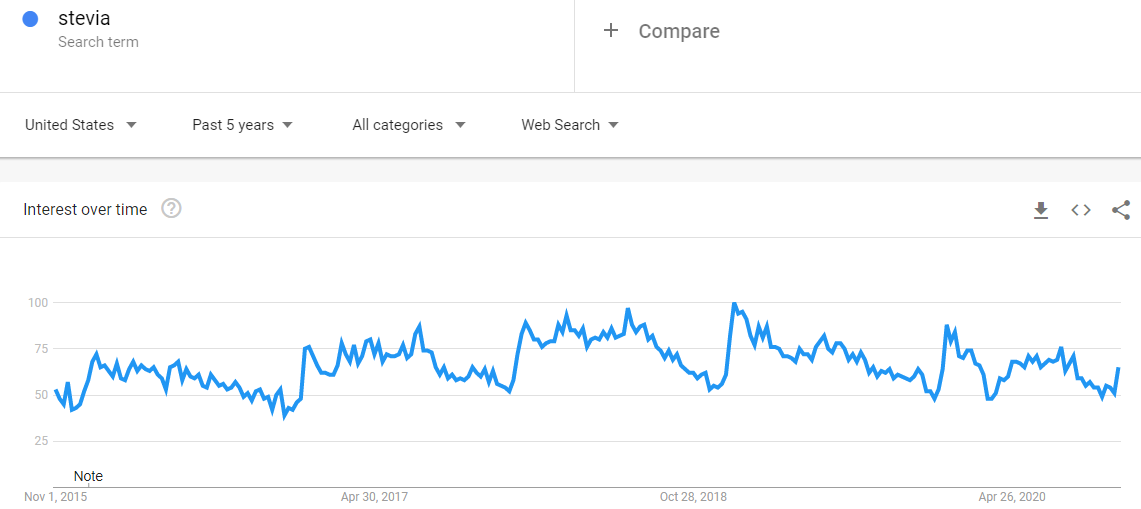 Interestingly, a trend emerges if we look at the dates carefully. Every year, search interest in Stevia rises sharply in January, stays fairly consistent through the summer, and then begins to trend downward until December. This happens year after year.
So what's happening exactly? Most likely, consumers make New Year's resolutions to lose weight and switch to a zero-calorie sweetener after the holidays. Most of those people then maintain their dieting or fitness regimen through the summer so they can have nice beach bods for their Instagram or Facebook profiles. Once summer ends, then most everyone indulges in sugary and calorie-rich foods for Halloween, Thanksgiving, and Christmas.
That means that the prime time to stock Stevia in your online store is coming up this New Year's. We can trace this trend back over 10 years, so it's a near certainty that it will happen again in 2021.
How to Sell Wholesale Stevia Online
If you're looking for an opportunity to work from home, then starting your own store is an excellent option. We live in the golden age of remote work, and it can be highly profitable. Depending on how you set up your online store, it can be your primary income or it can be just a side gig for a few extra dollars every month. Most importantly, if you choose the right products, then you can meet consumer demand and drive sales up.
As we discussed above, the demand for stevia follows a strict pattern year after year. It's a pretty safe bet that you can make some sales, so you should buy some wholesale stevia from a wholesaler or dropshipping supplier and sell these products online. There are a few different business models you can follow, each with their own pros and cons, so let's go over your options.
Buy Wholesale Stevia In Bulk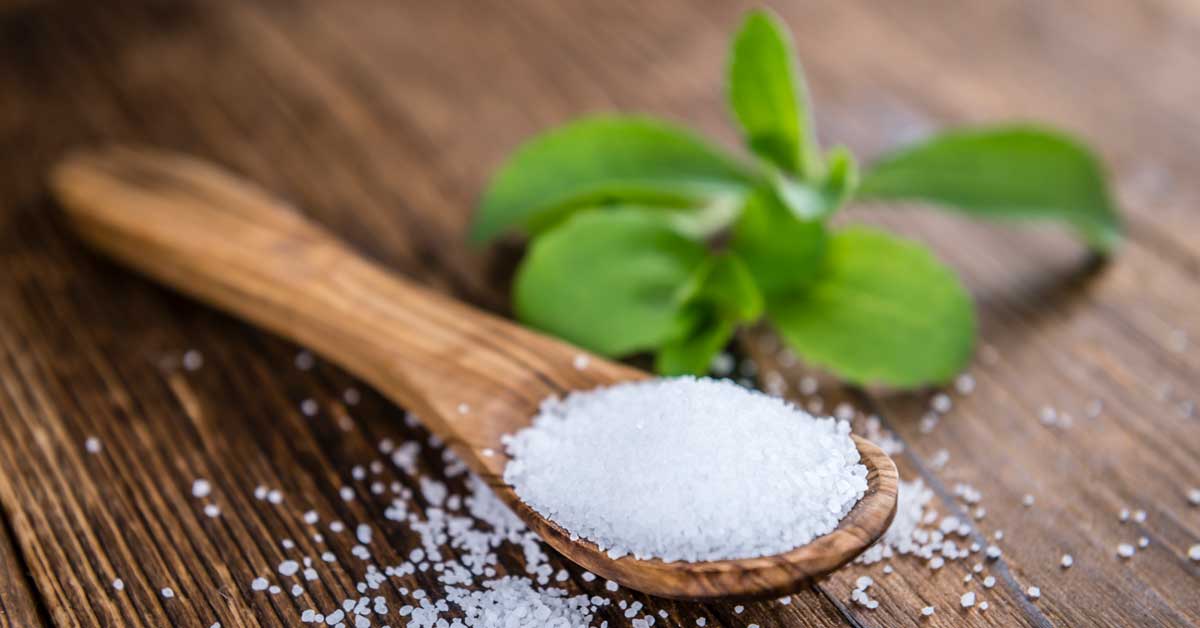 You could buy wholesale stevia in bulk from a wholesaler. This means you'll be responsible for storing, packing, and shipping your orders, so you'll need storage space and the capability to quickly pack and ship packages. You might need to lease warehouse space to oversee these logistics.
Additionally, food and beverage storage present some challenging logistics. Wholesale stevia will not require refrigeration, but you still need to keep the temperature stable. Plus, you need to always keep the inventory as dry as possible – any moisture can cause it to clump up and be unusable for your customers.
You may also need to follow local regulations for food and beverage storage since these goods will have an expiration or best by date. This means you need to keep track of when items were added to your total inventory. You need to rotate the products so that those in the back have an expiration date that's further away – a process known as first in first out (FIFO). In other words, the first products you stored must be the first products you sell.
Finally, shipping and handling require you to have the necessary resources and staff to do this correctly, efficiently, and quickly. Online shoppers hate late shipments! As a result, this model only works if you can store, pack, and ship orders, all of which increases your startup and operational costs.
Dropshipping Wholesale Stevia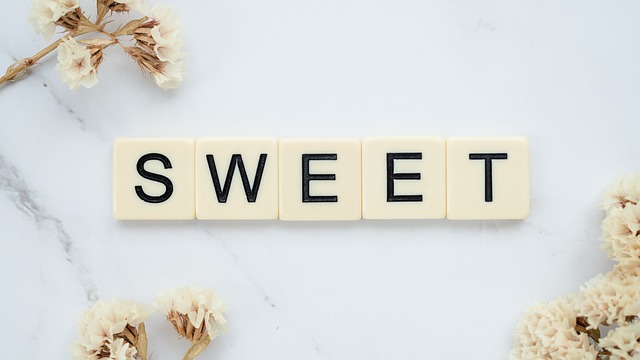 The e-commerce method known as dropshipping is another excellent option. This retail model is cheaper and easier than buying in bulk and handling the inventory yourself. In fact, with dropshipping, you don't even handle the inventory at all. Your dropshipping supplier oversees these logistics, including the storage, packing, and shipping, all of which are done on your behalf. This means you can focus on marketing to and connecting with your customers.
We can break the process down like to:
Become a member with a dropshipping supplier like GreenDropShip.
You import products into your online store via your dropshipping portal.
An online shopper buys something from you.
You order the items from your supplier.
The supplier pulls, packs, and ships the order to the customer.
The startup costs and overhead are low, especially when compared to other retail models. In fact, you could start dropshipping with little money. It's also less risky because you can't bulk order too much inventory and then get stuck with an unsold surplus if online shoppers are uninterested.
The profit formula is pretty simple:
[Profit = (Wholesale Price + Fees) – Retail Price]
The wholesale price is what you pay to the supplier and the retail price is how much the online shopper pays. The fees are your costs, including membership to the supplier, shipping, and seller fees if you use an e-commerce platform like Shopify, WooCommerce, or Amazon/eBay.
Sell Stevia With GreenDropShip

Are you hoping to start an online store? Do you want to hit the ground running and start selling right away? Choose GreenDropShip as your premium wholesaler and dropshipping supplier since we specialize in natural and organic products, including wholesale stevia. In fact, we have over 20,000 premium and gourmet goods, most of which are made in the USA.
We also offer a wide selection of wholesale stevia from notable brands like Stevia In The Raw, Truvia, Sweetleaf, Wholesome Sweeteners, and Nunaturals Inc. We carry the most recognized and respected plant-based sweetener brands as well as a huge selection of natural and organic food and beverages.
Our members can use us as a wholesaler or a dropshipping supplier. That means you can test a new product out using dropshipping and, if it sells well, you can then contact us to buy in bulk. GreenDropShip gives you the option to use the business model that works best for you. Our product feed also makes it super easy to dropship on Amazon or to dropship on Shopify. Essentially, you have plenty of options while still keeping the process convenient, easy, and profitable.
Top Wholesale Stevia Products to Sell Online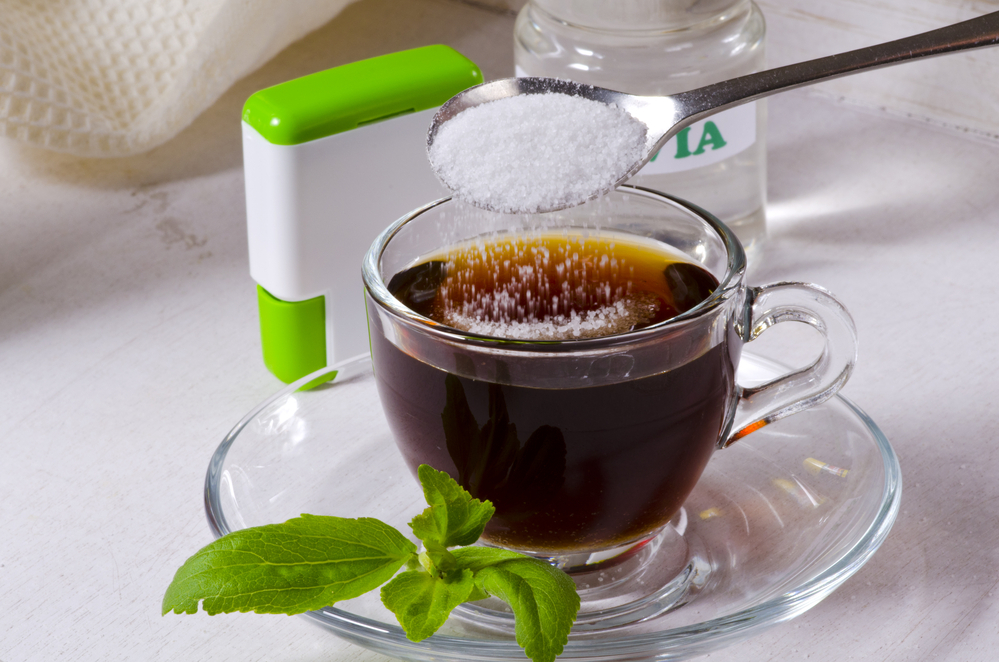 Let's take a look at the top wholesale stevia products available from GreenDropShip. Before we get into that, though, it's important to point out that many of these products are Amazon's Choice. This means that it's an item that many online shoppers purchased and it has high customer satisfaction based on its rating and reviews. Plus, Amazon's Choice products are also selected for their great value – they're well-priced and highly rated products, meaning that they'll likely be enjoyed by your customers as well.
1) Truvia Stevia Natural Sweetener Packets
When it comes to premium wholesale stevia products, Truvia is the gold standard. It's one of the most popular and widely recognized brands. Everything's just sweeter with these Truvía Natural Sweetener packets. They're made from the sweetest part of the stevia leaf but still deliver zero-calories – you can sweeten your food or drinks and not worry about racking up the calories! In fact, Truvía Natural Sweetener can be part of a reduced-calorie diet, meaning you can indulge your sweet tooth and stay healthy. This is the ultimate sugar substitute that'll supercharge your morning cup of joe, an afternoon cup of tea, or post-dinner cocktail with a delicious taste just like real sugar.
According to SEMRush data, there are over 108,000 monthly Google searches for Truvia, so let's take a closer look at the product:
1 packet of Truvia Natural Sweetener equals 2 teaspoons of regular sugar – and saves you 32 calories!
Gluten-free and Vegan
Paleo- and Keto-friendly
Nothing artificial – all plant-based
Certified Amazon's Choice
Over 3,300 reviews and an average rating of 4.7 stars on Amazon
GreenDropShip Wholesale Price: $5.97 for box of 80 packets or $5.80 for 9.8 oz container
Average Retail Price: $8.99 per 80 packets or $6.99 for 9.8 oz container
2) SweetLeaf Stevia Water Drops
When it comes to food and drink, sweetness just makes the world go round – especially if it's flavored! These portable bottles of flavored stevia sweetener give you great taste on-the-go without any pesky calories. They're made by SweetLeaf, an award-winning stevia brand that's based in the USA. The Stevia Water Drops provide consumers with a delicious hydration solution in a travel-friendly and BPA-free squeeze bottle. Great for adding to bubbling water to make your own zero-calorie Italian Soda!
GreenDropShip offers the following vibrant flavors: Vanilla (pictured), Lemon Lime, Peach Mango, Mixed Berry, Raspberry Lemon, Strawberry Kiwi, Tropical Punch, Chocolate, Coconut, and Caramel.
According to data from SEMRush, there are nearly 2,000 monthly Google searches for SweetLeaf Water Drops, so let's take a closer look at this product:
All-natural with no fillers or artificial additives
Gluten-free, kosher, and non-GMO certified
Made in the USA
Certified Amazon's Choice
Nearly 2,300 reviews and an average rating of 4.3 stars on Amazon
GreenDropShip Wholesale Price: $2.79 per 1.62 fl oz bottle
Average Retail Price: $5.99 per 1.62 fl oz bottle
3) SweetLeaf Stevia Sweet Drops
This is another amazing product from SweetLeaf, the award-winning company that offers a variety of delicious stevia products. With just a few drops from this portable bottle, any boring bottle of water or bland meal can come to life with vibrant, refreshing, and zesty flavor. Of course, this is all achieved without overloading the beverage or meal with sugary calories. It's also great for baking and making sweets – there are plenty of recipes on the SweetLeaf website. Available in 2 oz or 4 oz bottles with 288 and 576 servings, respectively.
GreenDropShip offers the following delicious flavors: Stevia Clear (pictured), Berry, Hazelnut, Cola, Pumpkin Spice, Chocolate, Cinnamon, Grape, Vanilla Creme, Chocolate Raspberry, Valencia Orange, English Toffee, Lemon Drop, Root Beer, and Coconut.
Let's look at the product details:
All-natural with no artificial flavors or additives
Made in the USA
Paleo- and Keto-friendly
Gluten-free and Soy-free
Certified Amazon's Choice
Over 5,300 reviews on Amazon, with an average rating of 4.5 stars
GreenDropShip Wholesale Price: $5.90 per 2 oz bottle and $9.66 per 4 oz bottle
Average Retail Price: $9.86 per 2 oz bottle and $14.83 per 4 oz bottle
4) Nunaturals Inc. White Stevia Powder
NuNaturals White Stevia Powder is the perfect sweetener for a deliciously healthy life. Satisfied customers say this White Stevia Powder is more than twice as sweet than other products on the market, many of which can be more than twice as expensive. NuNaturals also uses all-natural flavors from the plant extracts to boost the sweetness and give a richer body and flavor to the stevia. Great for baked goods, coffee, tea, bubbly water, cereal, or yogurt – you can find plenty of great recipes on the NuNaturals website. Available as a powder in a 12 oz jar (pictured) or as a liquid in a 2 oz squeeze bottle.
According to SEMRush, there are over 2,600 monthly Google searches for NuNaturals Stevia, so let's take a look at some product details:
Non-GMO Project Verified
Natural flavors do not contain MSG or allergens
1/4 teaspoon equals 1 teaspoon of regular sugar
All-natural and plant-based
Made in the USA
Certified Amazon's Choice
Over 800 reviews and an average rating of 4.7 stars on Amazon
GreenDropShip Wholesale Price: $13.27 per 12 oz jar or $6.71 per 2 oz squeeze bottle
Average Retail Price: $17.99 per 12 oz jar or $10.99 per 2 oz squeeze bottle
5) In The Raw Stevia
With deep roots in Brooklyn, In The Raw has been in the sweetener business for decades now. You probably recognize their brown sugar product in the small brown packets – this is that same brand! As a successful family business, In The Raw started before "natural food" was even a buzzword. Now they're proud to bring Stevia In The Raw in small green packets you might have seen in your coffee shop or the local diner. These zero-calorie sweetener packets are ultra-popular, so they'll make a great addition to your wholesale stevia store.
The SEMRush data shows a huge amount of search interest: nearly 19,000 monthly Google searches! That being said, let's take a closer look at this product:
Vegan and Gluten-free
Proudly made in the USA
Packaging meets the Sustainable Forestry Initiative
1 packet equals 2 teaspoons of regular sugar
Certified Amazon's Choice
Over 4,200 reviews and an average rating of 4.7 stars on Amazon
GreenDropShip Wholesale Price: $2.93 for 50 packets or $5.30 for 100 packets
Average Retail Price: $3.99 for 50 packets or $6.99 for 100 packets
6) Wholesome! Sweeteners Organic Stevia
Your customers can say goodbye to the white, brown, pink, blue, and yellow packets! Instead, have them reach for Wholesome Sweeteners Organic Stevia as the perfect plant-derived and natural replacement for both regular sugar and artificial sweeteners. Even though it's sweeter than sugar, it has no calories and no impact on blood sugar levels – it's the perfect way to sweeten up your life without sacrificing health. It's certified organic, so the stevia plants have been grown and harvested responsibly and sustainably. Finally, it's a unique blend of Organic Stevia and Organic Blue Agave Inulin, resulting in a smooth and mellow taste.
GreenDropShip offers a box of 35 packets, a box of 75 packets (pictured), and a 6 oz jar. Let's also take a closer look at this product:
USDA-Certified Organic, Non-GMO Project Certified, and Kosher
Plant-based and perfect for vegetarians and vegans
It's prebiotic, so it promotes a healthy tummy
No bitter aftertaste
1 packet equals 2 teaspoons of regular sugar
Over 900 reviews and an average rating of 4.6 stars on Amazon
GreenDropShip Wholesale Price: $2.97 for 35 packets, $4.01 for 75 packets, and $6.49 for 6 oz jar
Average Retail Price: $4.99 for 35 packets, $7.73 for 75 packets, and $8.16 for 6 oz jar
All of these amazing wholesale stevia products and more are available to GreenDropShip members. In fact, we offer more than 50 wholesale stevia products, available as powders, packets, liquid extracts, or even dissolvable tabs. Plus, we carry over 20,000 other natural and organic products, including other types of natural and zero-calorie sweeteners. Most of our products are proudly made in the USA. If you'd like to offer these premium brands, you can easily download our product feed and add these goods to your e-commerce store. Don't forget that we're both a dropshipping supplier and a bulk wholesaler and our members can get free Amazon FBA prep services.
Join GreenDropShip today and start selling!