Dropshipping Supplements: Guide for Retailers
More and more consumers are turning to supplements to help them achieve their health goals. That's why selling supplements online will help you meet this demand. In this article, you can find out how to dropship dietary supplements if you're an online reseller or want to start your e-commerce business.
Latest trends and data show that the sales in the supplement industry will continue to grow. This is especially true for organic dietary supplements, which do not cause health concerns, unlike synthetic dietary supplements and vitamins. Along with an overall look at this dropshipping category, we have included a list of recommended products to sell online.
The market for supplements is huge. You have dietary, nutritional, and fitness supplements, each of which can appeal to a narrow or wide demographic. These are incredibly popular products with plenty of devoted and satisfied customers. Plus, supplements can have exceptionally high profit margins, so it just makes good business sense to offer them in your dropshipping store. That being said, let's take a look at everything you need to know about dropshipping supplements.
Why Dropship Supplements?
There's more than one way to sell supplements online, but we'll be focusing on dropshipping supplements. That being said, let's take a quick moment to define dropshipping.
With the dropshipping e-commerce retail model, the online retailer does not handle inventory. Instead, a dropshipping supplier is responsible for storing, packing, and shipping all orders to the end consumer. Because the supplier handles these logistics on your behalf, you won't be burdened with the headaches or hassles of inventory and you can focus on marketing.
The dropshipping process breaks down like this:
Choose a supplier like GreenDropShip and become a member
Import the supplements you want to dropship into your online store.
The consumer buys a product.
You order the supplements from your dropshipping supplier.
The dropshipping supplier pulls, packs, and ships the supplements.
There are some strong benefits to this model. For instance, it's relatively inexpensive compared to other business models, especially a brick-and-mortar retail store. This includes startup costs, and you could even start dropshipping with little money. The risk is also lower – you'll never have an unsold surplus as you only have to order inventory once the online shopper makes a purchase.
Finally, let's take a look at the profit formula for dropshipping supplements:
[(Wholesale Price of Supplements + Fees) – Retail Price of Supplements] = Profit
You pay the wholesale price to the dropshipping supplier while the consumer pays the retail price. Additionally, the fees are your various costs, including supplier membership, shipping fees, and any seller fees.
The Benefits of Selling Supplements Online
Consumers regularly take supplements. If the customer is satisfied, they'll reorder the supplements from you, making them a form of recurring revenue.
They're extremely popular. According to the CRN Consumer Survey, 77% of American adults take dietary supplements!
The profit margins are high. If you find a dropshipping supplier with true wholesale prices, your margins can be as high as 60 to 70%.
Shipping weights are low. Supplements are small and lightweight, so the shipping and handling rates are quite low.
Return rates are low. Unless they're expired or damaged, online shoppers rarely return supplements.
The demand for supplements is growing. According to a 2020 report, the global supplements market will grow 8.2% to reach $231 billion by the year 2027.
How to Dropship Supplements
Make sure you follow these simple tips for dropshipping supplements.
Choose your e-commerce platform
You can set up an online store using Shopify, WooCommerce, or Amazon/eBay. If you're selling on Amazon, make sure to follow their specific policies for dropshipping supplements.
Find the right dropshipping supplier
Make sure you choose a supplier with competitive wholesale prices, an extensive inventory of supplements to sell online, top-notch shipping and handling, and excellent customer service that's available 24/7/365.
Do market research
Use tools like Think With Google or Statista to identify any target markets. For example, younger shoppers will more likely purchase fitness supplements while older consumers will probably be more interested in nutritional supplements.
Identify market trends
Supplements go through various phases of popularity, so you should keep track of how the market is trending. You can use Google Trends or check out e-commerce trend publications like PSFK, Trend Hunter, or Trend Watching.
Choose your niche
Supplements are a large market, so there will be plenty of niches. Dropshipping can be very competitive, so it might be best to have an ultra-focused online store that appeals to a very specific shopper. There are a number of tools you can use to find a dropshipping niche.
Drive traffic to your store
You can use Google Ads or Facebook Ads – each of which has their respective pros and cons – to advertise your store. Additionally, make sure you start a blog and use Search Engine Optimization (SEO) for your targeted keywords.
Follow the FDA Guidelines
The Food and Drug Administration (FDA) has rules for selling supplements online. Essentially, don't claim that the supplement will treat any medical conditions – if you stick to what the supplement manufacturer says, then you'll be following the FDA guidelines.
Consumer Interest In Supplements Is Growing
The demand for supplements keeps growing. This is a healthy market with plenty of potential, so dropshipping supplements can be quite profitable. For example, let's take a look at the Google Trends data for buy supplements:
Google Trends shows search interest for a term or phrase over a given period of time. As you can see from the data above, the search interest for buy supplements has steadily increased over time.
Additionally, you can use the Interest by Subregiondata from Google Trends to show that the search interest in buy supplements is spread out evenly through the entire country:
We can also look at data from the SEMRush tool. This measures the number of monthly Google searches for a given keyword or key phrase. For instance, let's take a look at the following search terms:
Supplements – 110,000
Fiber supplements – 40,500
Collagen supplements – 33,100
Vitamins and supplements – 27,100
Dietary supplements – 18,100
Nutritional supplements – 4,400
Buy supplements – 4,300
As you can see, there are hundreds of thousands of monthly Google searches for supplements and related search terms. This indicates that there is a high amount of search interest for these types of products online.
Finally, according to a GrandView Research 2020 report, the global supplements market is expanding due to the following factors:
More health-conscious consumers.
Increased emphasis on physical fitness.
A greater understanding of healthy food and sports nutrition.
Rise in the number of workout centers and gyms, particularly specialty gyms like yoga studios and indoor rock climbing.
Rapid and widespread urbanization.
Greater disposable income, especially among Millennials.
The increased population of senior citizens.
The demand for supplements is strong, so you just need to find the right supplier with a selection of supplements that you want to dropship.
The Difference Between Synthetic, Organic and Natural Supplements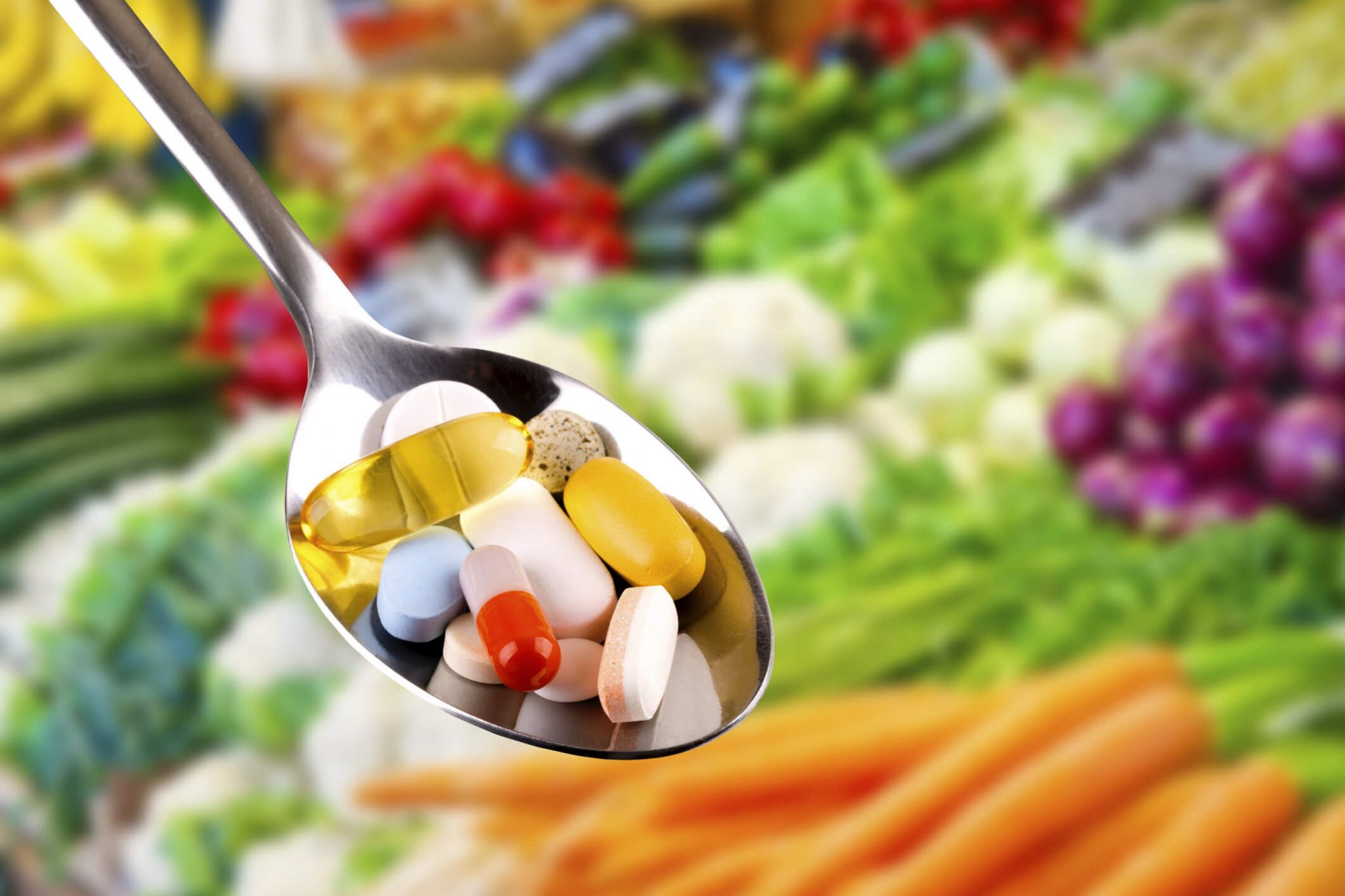 There are lots of products that are labeled as natural or organic– these buzzwords have become quite popular. In fact, this plays a major role in how these supplements are marketed to consumers. Additionally, it's important to remember that these are distinct from synthetic supplements.
So what's the difference between these various types? Synthetic supplements are usually created in labs with various chemicals. On the other hand, natural supplements come from natural sources like food or plants and organic supplements are a type of natural supplement that was grown and harvested using organic farming practices. In many cases, natural and organic are used somewhat interchangeably, although organic should only be used if a product is USDA-Certified as "Organic". That being said, not all supplements are natural or organic.
These differences are important to online shoppers. For instance, synthetic supplements are generally less desirable for consumers. This is partially due to an increased demand for natural and organic products as part of the wider healthy-eating revolution. Simply put, people trust synthetic supplements less and want natural or organic supplements. In fact, they're even willing to pay a premium for these types of products.
This demand for natural and organic supplements is part of the reason why the retail markup on these products is so high. As an online retailer, if you stock natural and organic supplements, you should expect higher profit margins than with synthetic supplements. Online shoppers view these supplements as healthier, more eco-friendly, and more effective. As a result, they're willing to pay more!
Best Supplements to Dropship
When trying to find the right supplements to dropship, you should focus on brands with high customer satisfaction and consumer loyalty. It's always a pretty safe bet to offer Amazon's Choice products since these items have already been chosen by Amazon for being highly-rated and well-priced.
You can also check customer ratings and reviews on other supplement websites like:
That being said, let's take a look at the best supplements for dropshipping that are available to GreenDropShip members.
Nutritional Supplements
Let's take a look at the best nutritional supplements to sell online.
Kyolic Kyo-Green Energy Tablets
Do you and your family need to get your daily greens? Go for the green and take Kyo-Green tablets today! These tasty and chewable tablets are formulated from a potent and unique combination of ingredients gathered from the earth and the sea. This gives them that 100% natural magic that will supercharge your body and metabolism. Kyo-Green tablets give you a gentle and sustained boost of plant-based energy.
Let's take a closer look at the product:
The barley and wheat grass are harvested from the fertile highlands of Japan
The chlorella is grown in natural mineral springs and the kelp is gathered from the great Pacific Ocean
Taken daily, it promotes healthy digestion by supporting beneficial bacteria
Average rating of 4.6 stars on Amazon
Certified Amazon's Choice
GreenDropShip Wholesale Price: $10.25 per 180 tablets
Average Retail Price: $14.24 per 180 tablets
Navitas Organic Maca Powder
If you're looking for the best nutritional supplements to sell online, then Navitas is the brand for you! Their Organic Raw Maca Powder supports natural energy and vitality by balancing the body's hormone levels. It'll give you a boost of clean, natural, plant-powered energy without the jittery effects of caffeine. With a nutty and sweet taste that has a hint of caramel butterscotch, this supplement is perfect for smoothies, juices, and baked goods.
Let's take a closer look at this product:
This plant superfood promotes balance in the body
USDA-Certified Organic and non-GMO Project Verified
Vegan, Kosher, Gluten-free
Over 1,500 reviews on Amazon and an average rating of 4.6 stars
Certified Amazon's Choice
GreenDropShip Wholesale Price: $14.13 per 16 oz
Average Retail Price: $18.99 per 16 oz
Dietary Supplements
Let's take a look at the best dietary supplements you can dropship with a GreenDropShip membership.
Macrolife Naturals Macro Greens Superfood
Health and fitness enthusiasts are always on the lookout for the next superfood. This dietary supplement from Macrolife Naturals uses macronutrients – this is the practice of combining individual superfoods to make a nutritional profile that can supercharge anyone's life and health. This supplement nourishes the body with nutrients, antioxidants, vitamins, minerals, and probiotics.
Let's take a closer look at the product:
Made from 38 superfoods combined together
Extra-rich probiotic supplement with 18 billion active cultures
Contains over 5 servings of fruits and veggies
Boosts energy and supports natural weight loss
Over 1,100 reviews on Amazon with average rating of 4.6 stars
Certified Amazon's Choice
GreenDropShip Wholesale Price: $28.74 per 10 oz
Average Retail Price: $39.99 per 10 oz
Olly Goodbye Stress
It seems like we're always fighting back against stress. It pops up everywhere, from work to family, from the holidays to the weekends. Thankfully, there are dietary supplements you can dropship that will help your customers say "Goodbye stress!" Peace out with these supplement gummies that work fast to counter bad vibes, made with a boost of just what your body needs to help you stay calm, cool and collected.
Let's take a closer look:
GABA – works within 30 to 60 minutes to promote relaxation
L-Theanine – GABA's partner to combat the acute effects of stress
Lemon Balm – a soothing botanical that quiets the body and mind
Berry Verbena Flavor
Nearly 2,000 reviews on Amazon, with an average rating of 4.7 stars
Certified Amazon's Choice
GreenDropShip Wholesale Price: $10.40 per 42 gummies
Average Retail Price: $15.99 per 42 gummies
Herbal Supplements
GreenDropShip also has an extensive selection of herbal supplements that you can sell online.
Bio Nutrition Moringa Superfood Capsules
A popular herbal supplement comes from Moringa, otherwise known as the miracle plant. This superfood is rich in Vitamins A, B, and C as well as minerals like iron and potassium. Each capsule is also full of beneficial amino acids, antioxidants, and enzymes – it's plant-based nutrition at its finest and most natural! Bio Nutrition uses only the finest African Moringa extract derived from wild-grown leaves.
Let's take a closer look at the product:
100% natural
Each vegetarian capsule has 5,000 mg
Helps with energy, alertness, digestion, weight loss, and healthy skin
Made in the USA
Average rating of 4.5 stars on Amazon
GreenDropShip Wholesale Price: $14.75 per 90 capsules
Average Retail Price: $18.99 per 90 capsules
Organic India Joy!
Organic India is an organic brand that specializes in herbal supplements to enhance health and wellness. Based on Indian remedies and traditions that are hundreds or thousands of years old, these products are powered by the natural magic of plants and herbs. Organic India also works with small family farmers to cultivate a sustainable agricultural and business model. The Joy! formula uplifts mood, boosts energy, increases vitality, and reduces stress so you can experience your true natural state of peace and happiness.
Let's take a closer look:
100% natural and gluten-free
Vegan and vegetarian
Made with USDA-certified organic herbs
Average rating of 4.3 stars on Amazon
Certified Amazon's Choice
GreenDropShip Wholesale Price: $13.76 per 90 caps
Average Retail Price: $23.99 per 90 caps
Sell Supplements With GreenDropShip
GreenDropShip is a premium dropshipping supplier, although we also offer our members the ability to buy products in bulk at wholesale prices. We have over 20,000 natural and organic products, including thousands of supplements from brands like Neocell, Manitoba Harvest, Natrol, SmartyPants, American Health, Rainbow Light, Nature's Answer, Dynamic Health, Eidon, Navitas, Nutiva, Yerba Prima, Bio K, and Kyolic.
Our selection is broken down into the following categories:
Protein Supplements & Meal Replacements
Vitamins & Minerals
Miscellaneous Supplements
Food Supplements
Weight Loss Products & Supplements
Digestive Supplements
Sports Nutrition
Having a selection like this available means you can easily adjust your product offerings to meet the changing demands of your niche customers. For instance, you can GreenDropShip's selection to target various niche markets, including vegan protein powder, bodybuilding supplements, fitness supplements, and/or collagen supplements. Become a member and start selling supplements today.