Best Made In USA Wholesale Dropshippers & Wholesalers
Many eCommerce entrepreneurs are either using or thinking about using, made in USA wholesale dropshippers… and for good reason. Are you one of them? You could be!
Case in point, while you're busy reading this article, some very profitable online stores are being built using top-notch US dropshipping suppliers. These are businesses where the owner will never have to worry about handling inventory or dealing with shipping. Businesses where happy customers get high-quality, well-known brand products delivered right to their door.
If you thought dropshipping meant you had to deal with unreliable overseas suppliers, think again. Today there are TONS of reputable domestic dropshippers to choose from, in almost every industry imaginable. And US-based dropshippers offer some keen advantages over their Chinese dropshipping competitors, advantages we'll go over in more detail later in this article. 
We'll also tell you what criteria to look for when selecting a dropshipper. Plus, we shine a light on the most popular and profitable dropshipping niches, and share the top wholesale US dropshipping suppliers for each one.
So stick with us, and we'll clue you in to everything you need to know to select the perfect 'made In USA' wholesale dropshippers for your eCommerce store!
To make it easier to navigate, we're including the following links so you can jump around in the post:
Why Use Dropshipping Suppliers In The USA?
The popularity of dropshipping has grown immensely over the last few years. According to 3dcart, about 23% of online sales in 2017 were fulfilled using dropshipping, which amounts to a whopping $85.1 billion. What's more, nearly 33% of online stores use dropshipping as their fulfillment model.
Think about it, inventory management is probably the biggest challenge any online retailer will have to face. Figuring out how to have just the right amount of the right product, at the exact right time requires stellar forecasting and buying skills.
Plus there are variables you can't always account for – like seasonal trends, natural disasters, pandemics, etc. that make inventory management even tougher. Dropshipping solves for this!
Instead of manufacturing, storing, shipping and processing your own products, your wholesale dropshipping supplier handles it all. All you need to do is choose the products you want to sell, list them in your eCommerce store, and focus your efforts on SEO and marketing.
When considering which dropshipper(s) to partner with, foreign companies may be tempting at first. This is mostly due to pricing, as the cost of labor can be significantly lower. But once you add in other factors; like product quality, service, and user experience – we think you'll see why USA wholesale dropshippers are the smart choice, and will more than pay for themselves over time.
Made in USA Wholesale Products
Product quality is one of the main reasons to choose a US dropshipper. Overseas products may be cheap, but customers won't be happy if the product they receive doesn't meet their expectations. And unhappy customers don't become repeat buyers.
'Made in USA' wholesale products help sellers quickly gain their buyer's trust. In fact, a 2017 survey by Reuters and Ipsos found that fully 70% of Americans polled thought that it was "very important" or "somewhat important" to buy U.S.-made products.
In addition, 63% of respondents said that they would be willing to pay more for U.S. goods. Which means you can still markup the wholesale product price enough to make a profit.
Plus with American-made products, you get peace of mind knowing you're carrying brands that adhere to the highest quality and safety standards.
Partnering with a US dropshipping supplier also means there's a shorter supply chain. Products have less miles to travel to meet their final destination. This makes a huge difference when dealing with complex packaged goods, such as temperature sensitive food items or fragile glass products. A US dropshipper can ensure these products arrive safely and in one piece.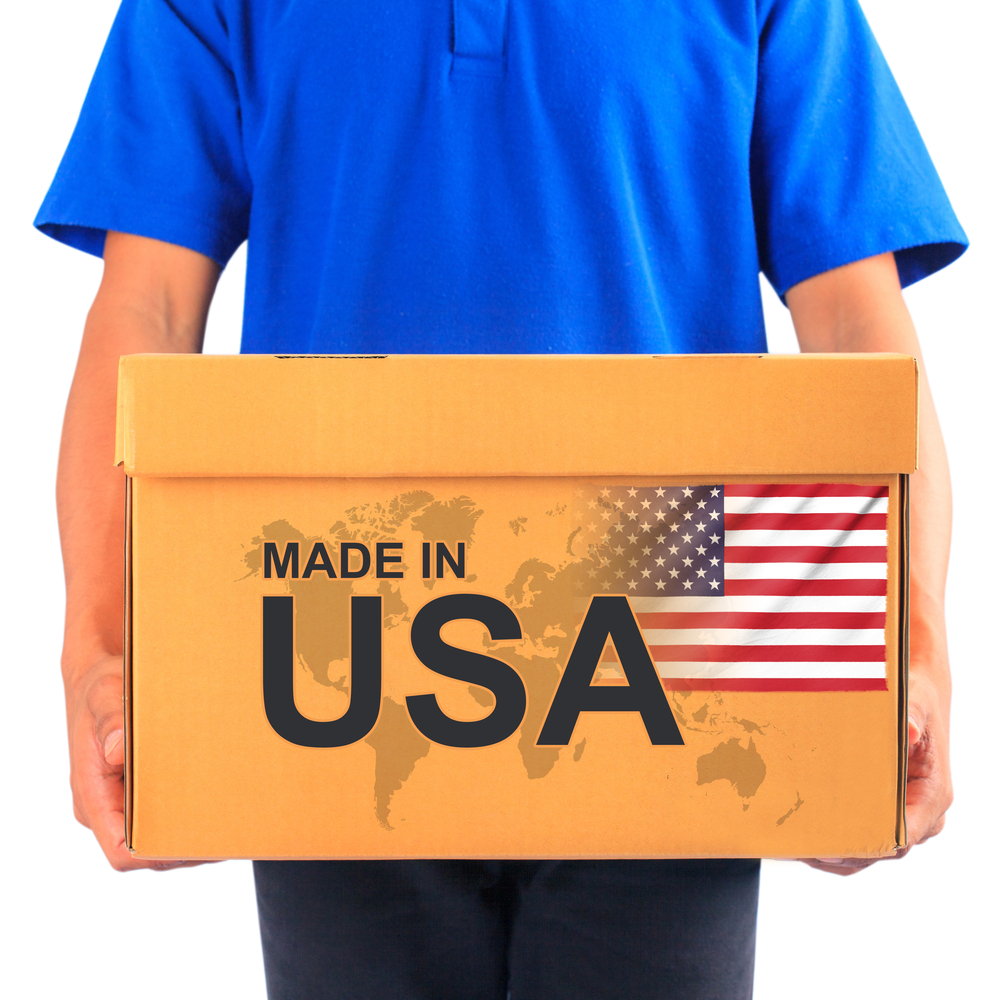 Faster Shipping And Returns
That shorter supply chain we mentioned has other benefits as well. It can take 2-4 weeks for overseas dropshipping products to reach your customers. But with made in USA wholesale dropshippers, that window can be reduced to 1-5 days.
Imagine how much happier your customers will be getting their items within a week of ordering them!
Slow product fulfillment leads to unhappy customers, which leads to poor customer retention and negative customer reviews. It's a downward spiral you don't want for your business.
And then there's the unexpected, like the strict lockdowns that happened in China during the initial Coronavirus outbreak. The US is well-connected logistically, and most dropshippers have multiple warehouses in different locations, so running out of stock is not as likely.
Then finally there's the return process. Overseas dropshippers rarely accept returns, and if they do the process is often cumbersome. Both of which makes for a poor customer experience.
Most dropshipping suppliers in the US have clearly stated return policies and processes in place to make returns easier for customers.
Better Customer Service
Finally, you want to know that your dropshipper will be there to support you if you have questions or need help. US dropshippers are in the same time zones as you are, and most have dedicated customer service centers you can reach out to for guidance.
Turn around response times tend to be longer when dealing with overseas dropshippers. And that lag time can result in lost sales for you.
Plus over the normal course of business, challenges or issues will arise. What if an existing customer makes a large order? Can you call your wholesaler to make sure the order will be handled expediently and without delay?
More than likely the answer is yes when working with a US-based dropshipper. These wholesalers are for the most part able to react quickly to immediate challenges and coordinate with you product delivery and shipment.
This is yet another advantage of working with made in the USA wholesale dropshippers like GreenDropShip. We carry only the finest American-made natural and organic grocery and specialty products. GreenDropShip also offers fast, reliable shipping and excellent customer service to support you every step of the way.
To learn more, simply contact our support team and they can get you started.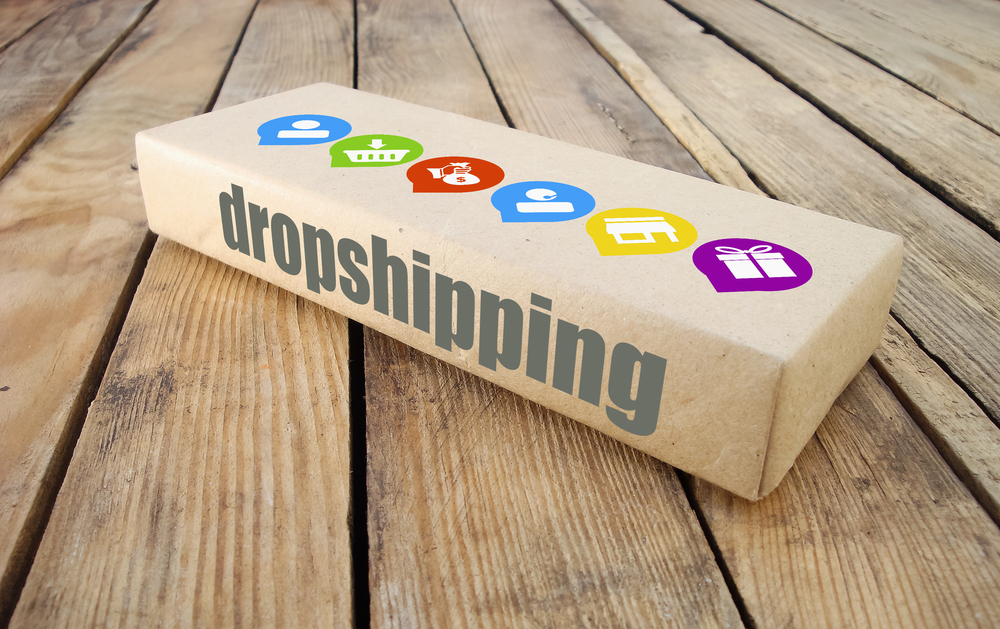 Tips For Choosing The Best US Based Dropshippers
Now that you know you want to go with a domestic dropshipping supplier, it's time to get down to the nitty gritty of deciding which US dropshipper(s) to choose.
How do you compare one US based dropshipper to another? What are the criteria you should pay special attention to?
Here are six (6) key factors to consider when choosing your made in USA dropshipping supplier:
1. Strong Industry Knowledge And Reputation
You need to work with a supplier who understands your business and its demands. Therefore it's important to partner with a team who is knowledgeable of your industry and niche.
You also want to find a US wholesale dropshipper that is reliable and delivers as advertised. Because if something goes wrong, your customers will blame you.
Do a little research, what are other eCommerce entrepreneurs saying about the company? What kind of feedback have they gotten online? Are they listed with the Better Business Bureau?
Spend some time scrolling through their web content to see if they really understand the products they offer. Do they have a blog? Do they share tips to help online resellers better market and sell their products?
2. High Quality Products
Your online store is only as good as the quality of products you carry. Verify you're dealing with 'made in USA' wholesale dropshippers that carry real brands. You don't want any fakes or knock-offs!
Good quality products can help you build brand trust and customer satisfaction. Which, in turn, leads to repeat sales.
3. Low Minimum Order Requirements
The whole point of dropshipping is to avoid having to pay for inventory upfront or deal with storage and warehousing.
Plus you want the flexibility to run your online store however you want. Which means changing or adding products to keep up with customer demand, preferences, and seasonal trends.
To do that, make sure your dropshipper doesn't have any kind minimum order requirements. Ideally you want to be able to import products individually or in bulk, depending on your unique business needs.
4. Excellent Customer Service
Make sure any dropshipping supplier you choose is responsive. They should answer all emails and keep you informed of product status.
And when questions or issues arise you want to be sure they have a sales and service team available to help, 7 days a week. Online stores never sleep, you need a support team that can help when needed.
5. Fast And Reliable Shipping
Customers don't want to wait too long for their orders to arrive. Therefore to maintain customer satisfaction, fast shipping is a must!
This is one of the key advantages US dropshippers have when compared to overseas suppliers. You want to be sure that any dropshipper you work with is going to deliver on time.
The golden rule when it comes to dropshipping is that it shouldn't take your supplier more than 24 to 48 hours to pack and ship items. Furthermore, it shouldn't take longer than 5 business days to reach the final customer.
6. Helpful Tools And Automation
Lastly, check to be sure that your US dropshipping supplier offers innovative tools to help your online store succeed. These include things like comprehensive data feeds with detailed product descriptions, real-time inventory tracking, a robust product catalog, and a searchable order history.
You also want to be sure your dropshipper integrates easily with whatever eCommerce platform you're using, such as Shopify, WooCommerce, Amazon or eBaby.
GreenDropShip meets all of the above criteria. We carry over 20,000 American-made natural and organic products, making us a true 'made in the USA' wholesale dropshipper.
We also offer exceptional customer service, easy integration with every major eCommerce platform, no minimum order requirements, and quick shipping. Plus at GreenDropShip we're always developing and improving our platform, as well as our product data feeds, to provide our members the best dropshipping experience.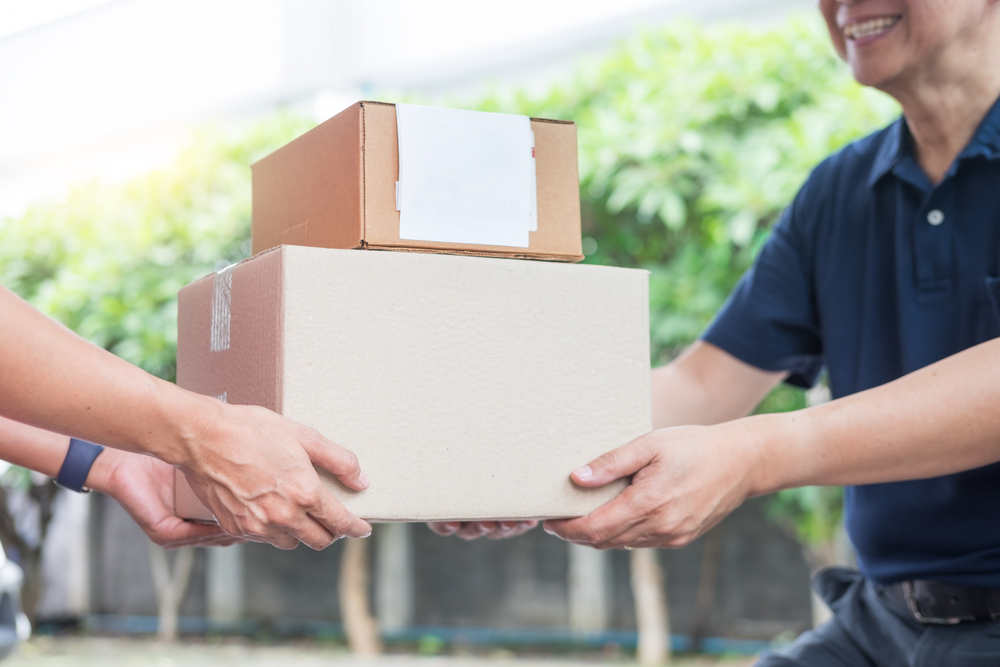 Finding Made In USA Wholesale Dropshippers
Now that you know what criteria to look for, it's time to start searching for the right USA wholesale dropshippers for your unique business.
There's a couple of ways you can go about finding US dropshippers, we share four (4) common strategies below.
1. Google Search
You use Google to find pretty much everything else, why not made in USA wholesale dropshippers?
It can definitely be a good place to start. But when starting your research, there's a few things to keep in mind.
Search Deep
Wholesalers are not always the best marketers. Which means they might not come up on page one Google results, even if you type in "wholesale suppliers for Product X".
You might need to dig through several pages of search results to find the wholesale supplier that matches your needs. Don't give up, keep looking.
Use Related Keywords
Wholesalers are not always the best at search engine optimization (SEO). This means you might need to try a couple of different related keywords to find dropshippers in the industry you're looking for.
Don't stop after entering "Product X wholesaler". Try other terms such as "bulk buying", "distributor", "reseller", "dropshipper", "warehouse", and "supplier" until you find a list of possible candidates.
Don't Judge A Book By Its Cover
Wholesalers are also not known for cutting edge web design. Don't immediately discount a supplier if you pull up their site and it looks dated.
Always check out the products they offer, along with their automation tools, service, and pricing. Many wholesale dropshippers with ho-hum websites still offer great products and services.
Check Your eCommerce Platform
Try doing a Google search related to the eCommerce platform you're using. For example, if you've chosen Shopify as your eCommerce platform, try searching "Shopify US dropshipping suppliers" to find domestic suppliers that will easily integrate with your Shopify store.
2. Contact The Manufacturer
This is another way you can find legitimate wholesale suppliers. If you know the product(s) you want to dropship, call the manufacturer directly and ask for a list of its wholesale distributors.
You can then reach out to the wholesalers to see if they dropship and inquire about setting up an account.
This strategy can help you quickly build a list of contacts within your niche. Plus the manufacturers may give you some valuable insights into which dropshipping wholesalers are the best to work with.
3. Check Blogs and Other Online Resources
At GreenDropShip, we frequently write and share blog posts to help dropshippers find suppliers and products for their ecommerce stores. Many other ecommerce sites do the same, most notably Shopify.
These articles can be great resources for finding wholesale US dropshippers in your industry. Browse through a site's content archives and see if they've posted any content about suppliers in your niche.
Here's a few resources you can refer to:
4. Wholesale Directories
Finally, if traditional search methods don't get the job done, you can always turn to wholesale directories to locate made in USA dropshippers.
A wholesale directory is a database of prescreened suppliers listed by market, niche, or product. If you are not entirely sure what product(s) you want to carry yet, directories are especially helpful for brainstorming ideas.
Keep in mind that many directories require you to become a member before you can use their services. Therefore it's important to compare pricing as part of your decision making process.
It's also important when selecting a wholesaler, you check to confirm that they do indeed provide dropshipping services. Some suppliers listed in a directory may not be dropshippers, even though they're listed under 'dropshipping wholesalers'.
Here's a list of popular USA wholesale directories you can use to start your search: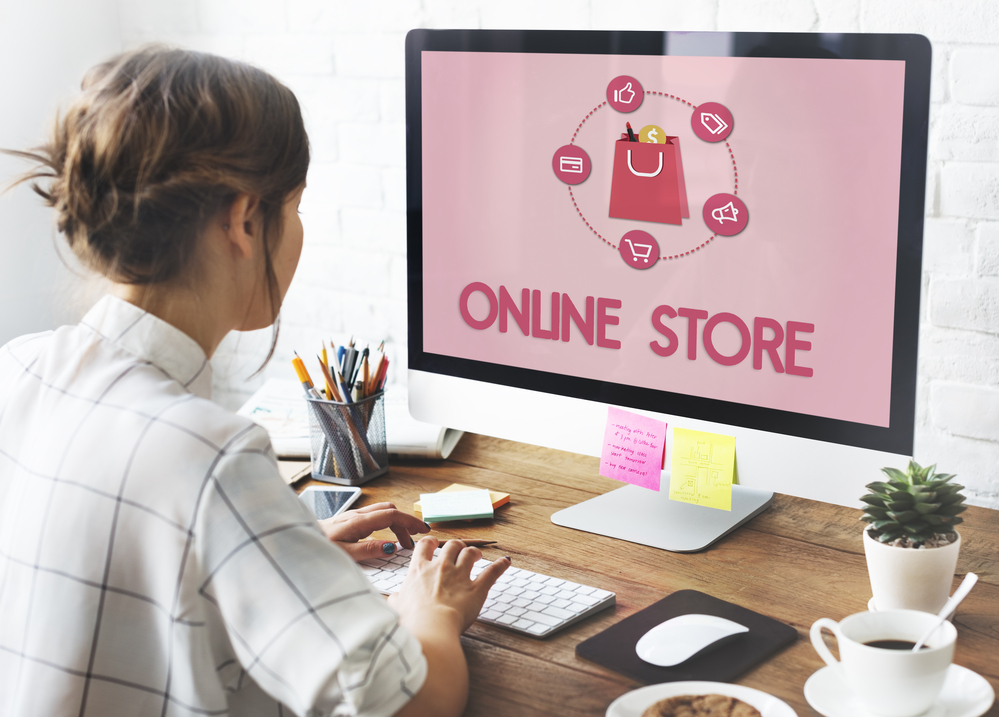 Best USA Wholesale Dropshippers By Industry
To make your online store a success, you want to identify your dropshipping niche and focus your sales and marketing efforts on attracting those customers to your site.
We did a little research to identify some dropshipping categories that have demonstrated sustained success over the past few years. We were looking for industries that have held up over time, meaning they aren't trends that could disappear overnight
Here are five (5) dropshipping niches that are not only popular, but they've also been consistently profitable. For each category, we also share some of the top dropshipping suppliers in the US today to help you find the right fit for your eCommerce store.
1. Women's Clothing US Dropshippers
When you look at the data, women's clothing is consistently ranked among the top three highest performing dropshipping categories. In fact, it was #1 in both 2017 and 2018.
Popular women's clothing wholesale dropshippers include:
The largest B2B online marketplace for branded clothes. This US clothing dropshipping supplier has thousands of products available for sale, from many famous brands such as Dolce & Gabbana, Galliano, Versace, Cavalli, Armani, Michael Kors, and many others.
Focused on sportswear and outerwear for women (and men), this US wholesale supplier provides dropshippers with customized clothing including hoodies, t-shirts, workwear, promo, and corporate clothing.
2. Jewelry US Dropshippers
Another consistently popular dropshipping category is Jewelry. Like women's clothing, it appears as a top seller, year after year.
This dropshipping supplier, headquartered in the US, is known for working metal by hand. It supplies earrings, necklaces, bracelets, rings, cufflinks, keyrings, and more.
3. Home and Garden US Dropshippers
Home and garden is a category that will never go out of style. The popularity of HGtv and home remodeling shows will only further increase sales in this hot niche market.
Based out of California, this company dropships wholesale furniture – beds, sofas, office furniture, rugs, lighting, towels, bedding, patio furniture, gardening products, bookcases, and more. Furniture delivered direct to your customer's door, with no minimum order requirements.
4. Sports And Fitness Equipment US Dropshippers
Sports and fitness is another industry that shows steady dropshipping sales over time. Think about it, sports, losing weight and staying in shape are all big-time priorities in America. Which means there will always be an audience for these types of products.
This US based dropshipper offers 45 different fitness brands to choose from. You can select from an assortment of cardio equipment, benches, weights, fitness accessories, and more.
5. Organic And Natural Products US Dropshippers
Finally, there's natural and organic products, which appeal to both health-conscious and eco-conscious consumers. This is a niche that has been growing steadily and will continue to rise. Particularly as more and more Americans look for products that won't harm their body or the planet.
We carry over 20,000 brand name products made in the USA in a variety of niches – including organic grocery items, vitamins, supplements, natural health, beauty, baby, pet, and cleaning products.
American Made Wholesale Organic Products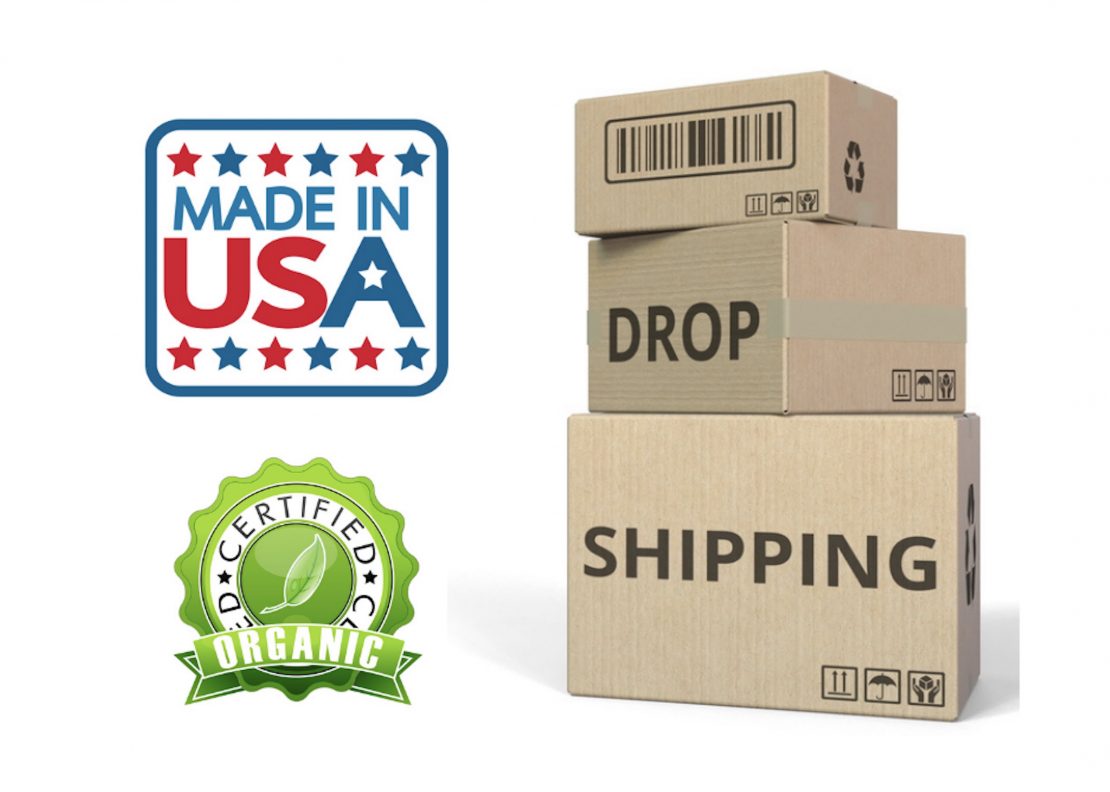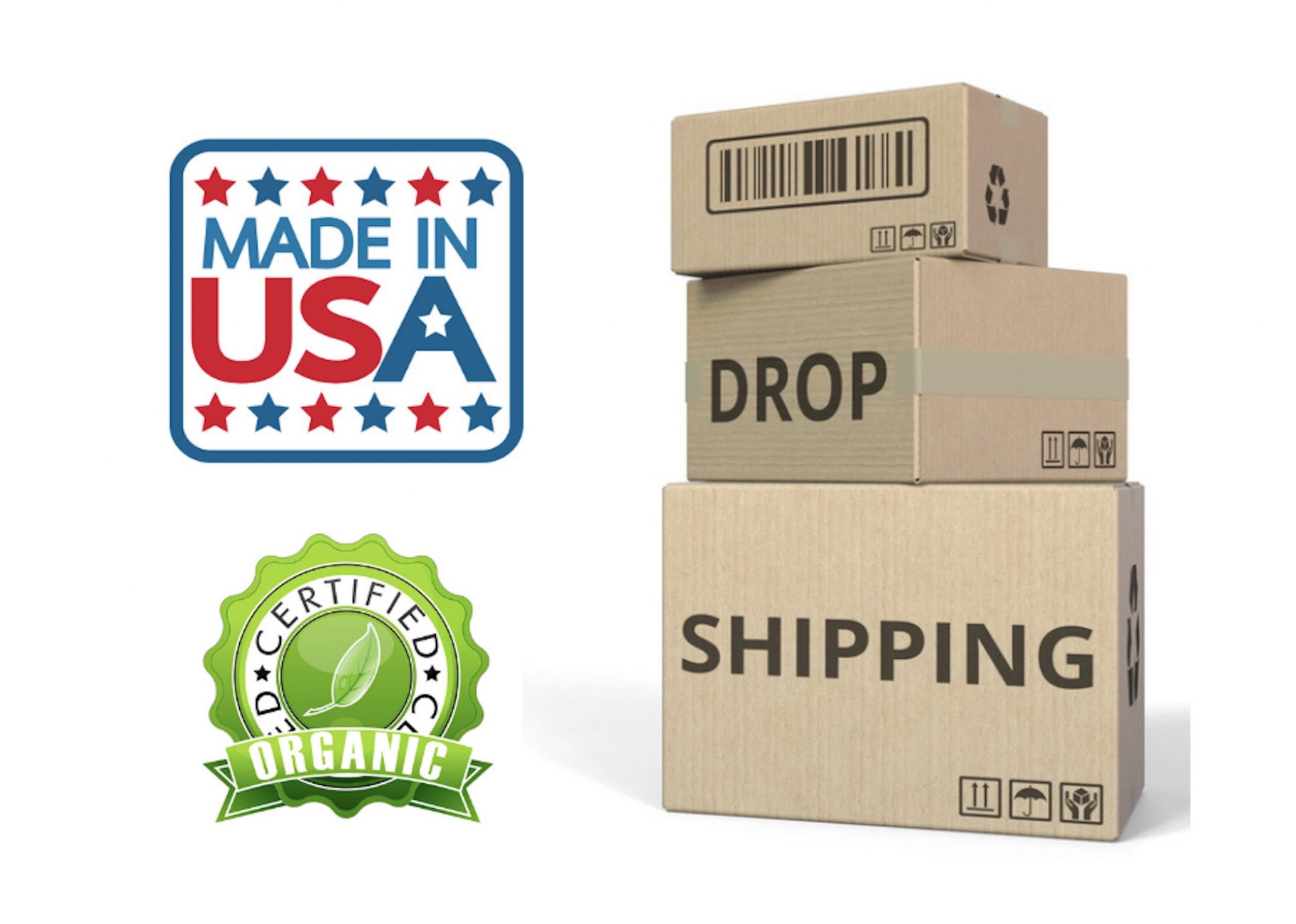 By this point, we hope we've sold you on the benefits of partnering with Made in USA wholesale dropshippers. It's clear there's a growing number of consumers who either search for domestic products, or will choose locally-made when given the option.
The reasons for this vary. Some consumers want to support their local economy, while others want brands with ingredients they can trust. American made products are often viewed as being held to a higher standard and are therefore a better quality choice.
At the end of the day, what matters most is offering your customers brands they feel good about buying.
For a lot of customers, going the extra mile to offer both Certified Organic and Made in USA products checks all the boxes. Selling organic American made products is a great way to connect with today's socially conscious consumer and entice them to buy.
Shoppers have access to more product choices than ever. Brands can no longer compete solely on price. Which is why brands that address societal issues, like fair wages and sustainable farming, stand out from the crowd.
That's why we think organic Made in USA products are a smart choice for your eCommerce store. In the next section, we'll clue you in to five socially conscious brands worth adding to your dropshipping inventory.
RELATED: Top Wholesale Vegan Food And Distributors
What Organic American Made Products Should I Carry?
When choosing products you want to look for brands that will resonate with shop-local, eco-friendly, health-conscious consumers. Brands that are popular, trusted, and deliver a high quality product.
To that end, we want to shine a spotlight on five (5) top-selling made in USA organic brands you definitely want to know more about! Each one of these brands has a great story behind them, and all are available at GreenDropShip.
1. Organic Valley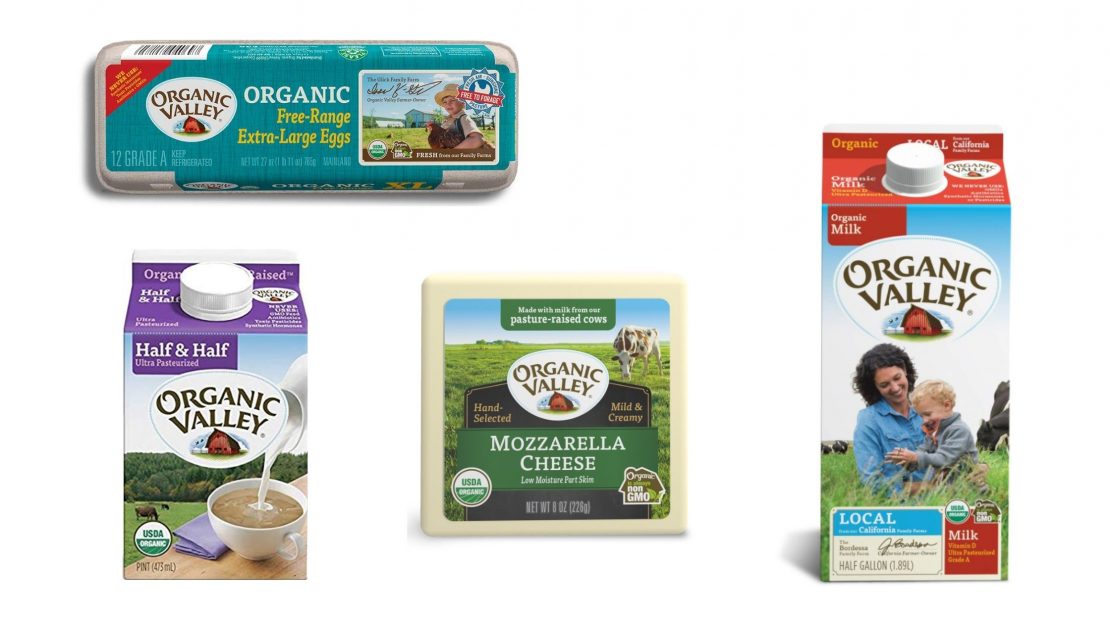 A recent consumer survey ranked Organic Valley as the #1 most trusted organic brand. And for good reason! This is definitely a brand with an inspiring story that your customers will feel good about buying.
The company was founded in 1988 by local Midwest family farmers fed up with the chemical agriculture practices taking over the industry. Organic Valley pledged to support local communities and commit to sustainable farming practices that prioritize the environment and the health of its consumers. That's how their farmer-owned organic cooperative was born.
All of their products are 100% grass-fed dairy, organic and non-GMO. In fact, Organic Valley was one of the original pioneers of the organic movement and helped set the USDA's strict organic standards. It's one reason it's a favorite among Made In USA wholesale dropshippers.
When importing items into your online store, be sure to check out Organic Valley's full lineup of Made in USA organic products; Eggs, protein powder, meats, and especially their dairy items (milk, cheese, butter, yogurt, etc.).
This is a brand that will appeal to many different buyer personas. Their commitment to locally sourced ingredients is attractive to folks that want to stimulate the economy. While their organic farming practices appeal to both health-conscious and eco-conscious consumers alike.
2. Bob's Red Mill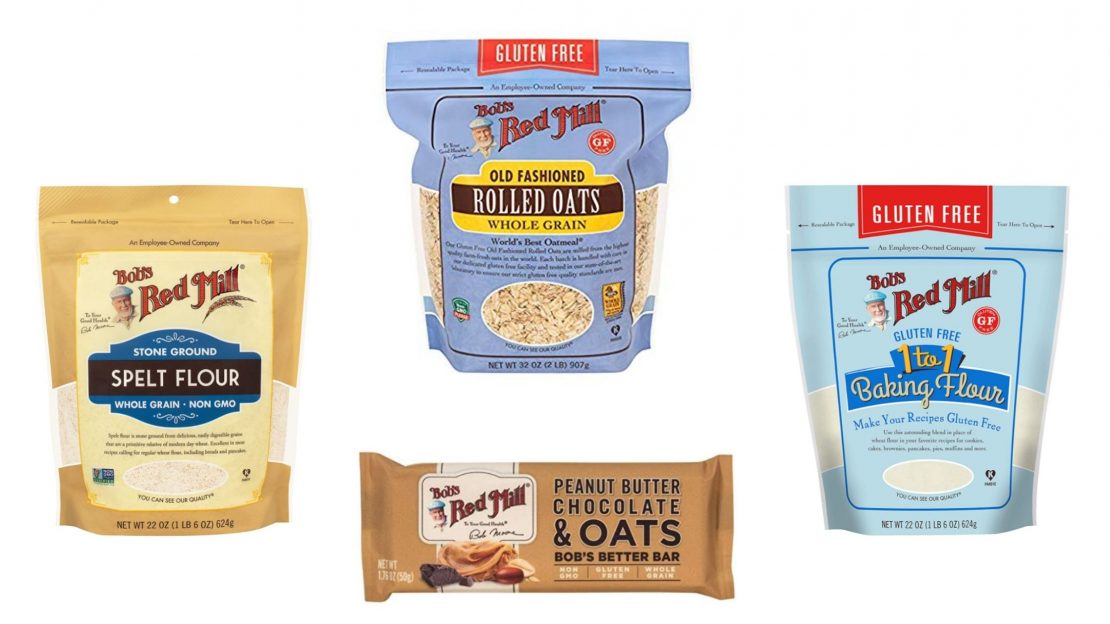 You want a brand with a great story? How about one that starts out with love.
Bob and his wife Charlee began this business over three decades ago when Charlee wanted a healthier lifestyle for their family based on wholesome, whole grains. It spread from there to their local Oregon community, where the couple opened the original Bob's Red Mill store that is still in operation today.
All of Bob's Red Mill products are made in Oregon. In addition, the company is committed to buying ingredients as close to home as possible, and only purchases grains outside the US when they are items that aren't grown here in sufficient quantities.
Bob's is also committed to sourcing raw materials that are both organic and not genetically modified. A point of pride for the company is that over 240 of their products are Non-GMO Project Verified.
What really sets Bob's Red Mill apart as a brand are two things; its employee-focus and it's extensive line of flours, meals, grains, seed, and baking ingredients. Bob's Red Mill is now 100% employee owned, one of only about 8,000 businesses in the US to achieve this incredible feat.
Their product line includes literally hundreds of items; from gluten-free flour alternatives, to oatmeal, bars, dried beans, grains of all kinds, every baking ingredient imaginable, and more.
These are quality pantry staples consumers will buy, again and again. Just the kind of products you want to add to your online store to encourage repeat business.
3. Amy's Kitchen Organic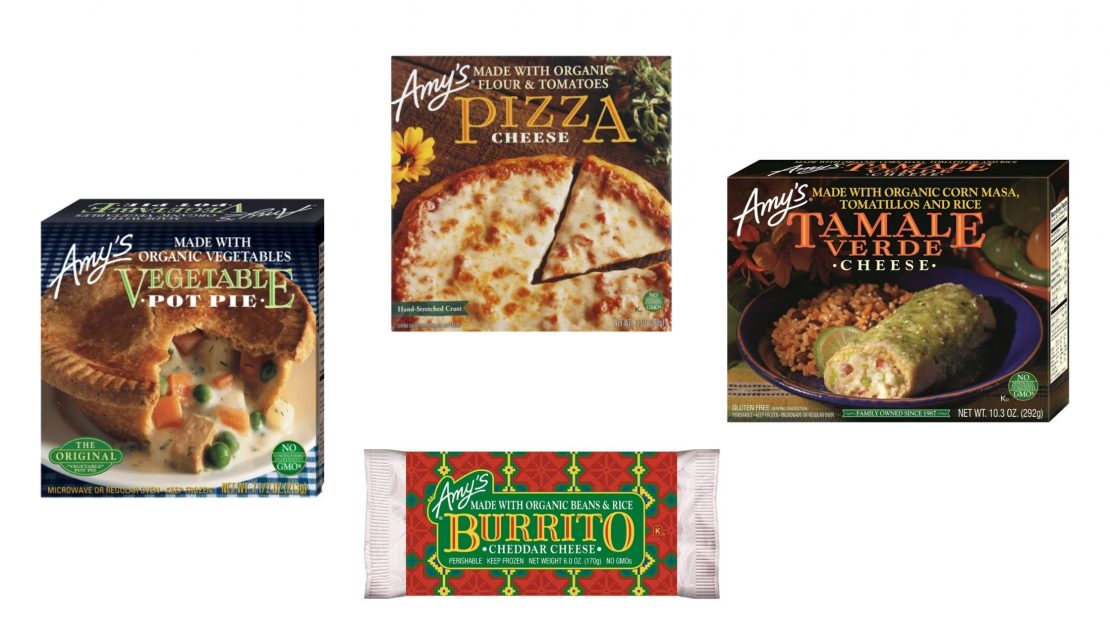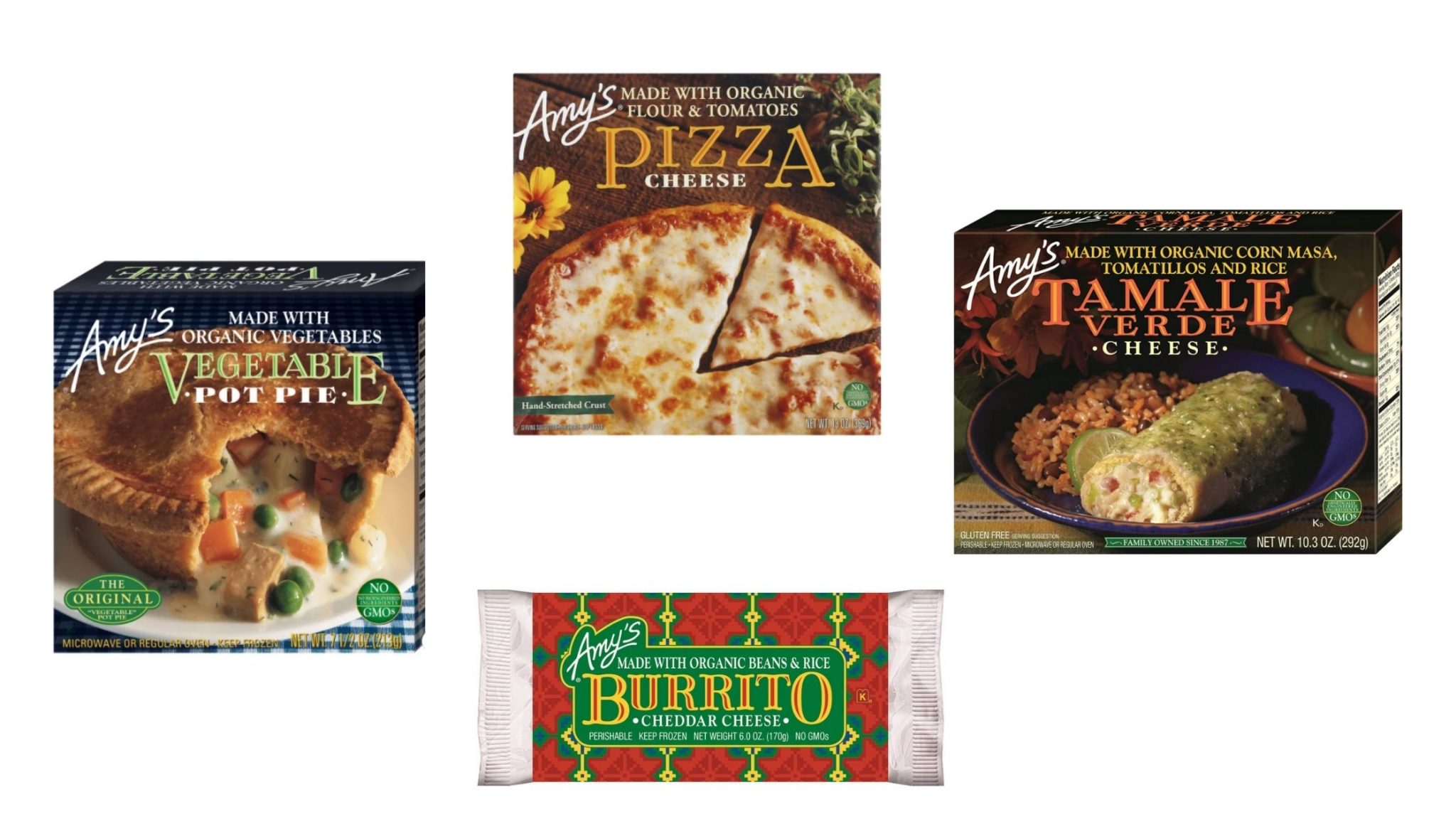 Health-conscious consumers on-the-go look to Amy's Kitchen for vegetarian natural and organic frozen foods (like super tasty pizzas, pot pies, burritos and more). The brand also offers a great lineup of soups, chili, sauces and salsas.
Amy's is truly a family business. When the company's founders were expecting their first child (a daughter named, you guessed it, Amy) they looked for ready-made meals at their local natural grocery store. When they couldn't find anything organic and vegetarian that suited their tastes, they decided to make their own.
Amy's Kitchen is vegetarian, organic, non-GMO, and zero trans fats. The company is committed to sourcing locally whenever they can, and their food is prepared ' from scratch' at locations in California, Oregon, and Idaho.
This is a popular brand that appeals to a number of niche markets; from supporters of domestic products, to health and eco-conscious consumers – including vegans, vegetarians and plant-based eaters. For all these reasons and more, this is another great organic brand recommended by Made in USA wholesale dropshippers for your eCommerce store.
4. Annie's Homegrown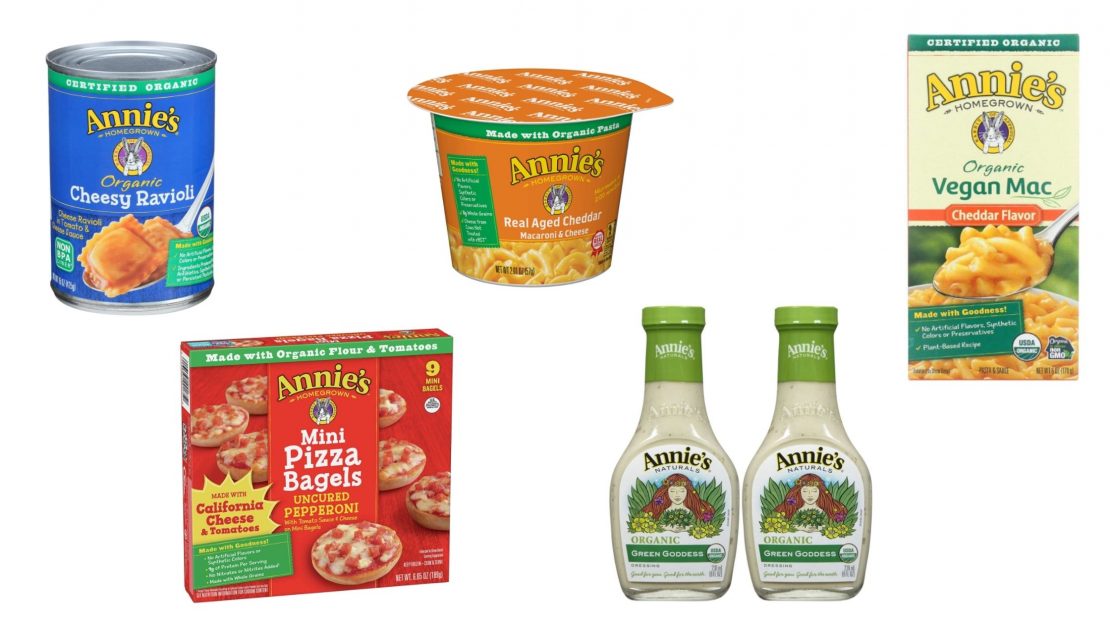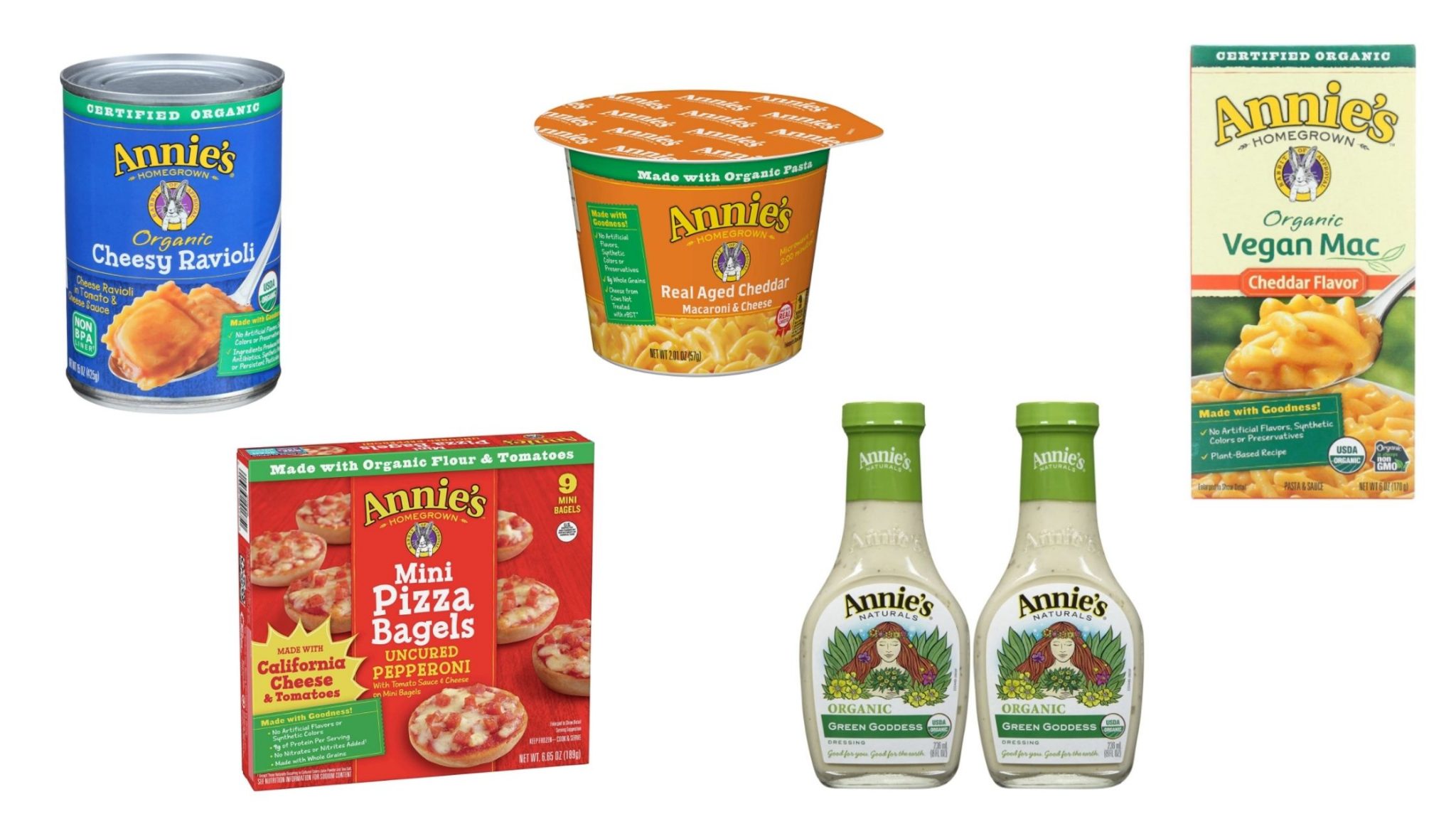 As one of America's most renowned brands, Annie's Homegrown is committed to using all natural organic ingredients and supporting sustainable farming. Even their packaging is made of sustainable materials and can be recycled or composted.
Annie (a real person) believed it was possible to build a business that was both socially conscious and successful. Her brand's mission is "to cultivate a healthier, happier world by spreading goodness through nourishing foods, honest words and conduct that is considerate and forever kind to the planet."
This message resonates with modern shoppers looking for organic made in USA food products that support a healthy and green lifestyle.
Annie's Homegrown is especially known for their mac and cheese products (kids love them!). But the brand has a full lineup of quality organic grocery staples worth adding to your online inventory; including cereals, crackers, snacks, salad dressings, sauces, and more.
5. Garden Of Eatin'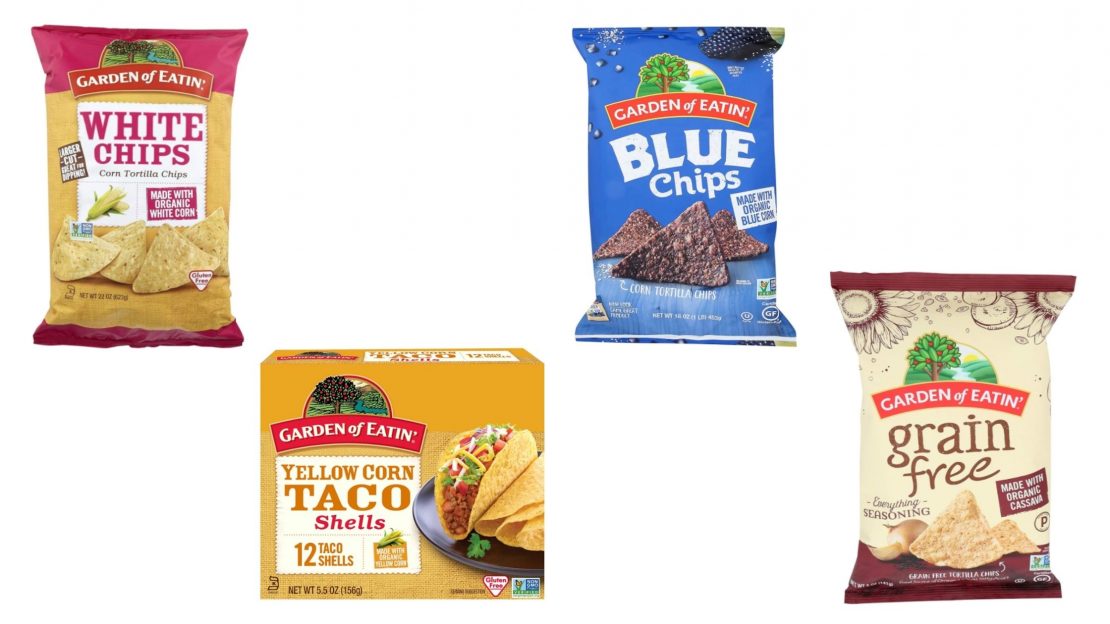 Take your customers's snack game to the next level with Garden of Eatin' natural and organic tortilla chips. They've got you covered when it comes to anything you could possibly want to dip in salsa or guacamole – white corn, blue corn, even grain-free chips and taco shells.
Even better, Garden of Eatin' employs sustainable ingredient sourcing and uses only organic corn. They're all natural and have no preservatives, synthetic fertilizers, harmful pesticides, hydrogenated oils or trans-fat!
With over 20 different varieties of chips, your customers will be sure to find the perfect flavor for any craving. Another winner to add to your online inventory.
Start Selling Made in USA Products Today With GreenDropShip!
Now that you know you want to work with Made in USA wholesale dropshippers, the next step is to partner with the right supplier for your business. You want to be sure your dropshipper is reputable, and will deliver exactly what you advertised to your customer.
Do your research, and use the key factors we identified as a guide when comparing the pros and cons of potential wholesale suppliers. This is a critical decision for your online store, and not one you want to make lightly.
GreenDropShip is the smart choice if you're looking for wholesale organic made in USA products. We carry all five of the brands highlighted above, along with a host of other domestic grocery and body care items. Check out our online catalog to see a complete listing of all the great products we offer.
We carry over 20,000 natural and organic items in a variety of niches, including food and beverage, health, baby, wellness, beauty, cleaning, and more. Let us take care of the logistics, while you focus on driving traffic to your eCommerce store.

Join GreenDropShip Today and start making sales!