How To Find The Hottest Trending Products For Shopify
One of the biggest obstacles dropshippers face is finding trending products to sell in their Shopify store. Where do you even begin your search? How do you find those up- and-coming gems that will grab a customer's attention and boost your online sales?
Finding the right products to build a profitable dropshipping store is part art and part science. You want to cultivate the right mix of trending items that get customers excited and engaged with your brand, along with quality 'staple' products in your niche that encourage repeat purchases.
Finding those unicorn trends that will appeal to your target audience and be great material for marketing campaigns takes a little effort. But the results are worth it, and we've got some great ideas to get you started.
So without further ado, here are ten (10) tips for finding the best trending products to sell on Shopify.
1. Find A Problem To Solve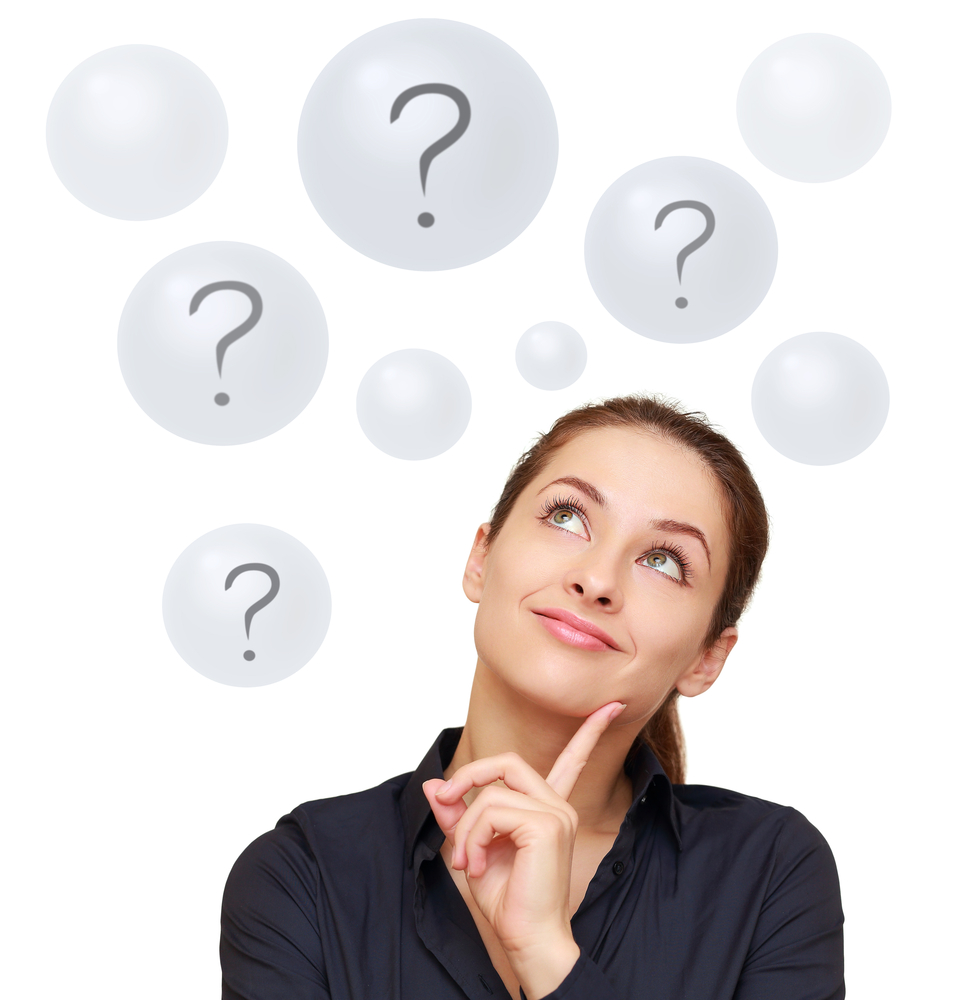 Solving a customer pain point is always an effective way to find products people actually want. Start paying attention anytime you find yourself frustrated and thinking "If only I had a way to do X". Then search for products that could help solve that problem.
When looking for trending products for your Shopify store it's also a great idea to practice social listening in spaces where your target audience hangs out. What social media platforms, Facebook groups, Twitter threads, hashtags, etc. do your target customers regularly engage with?
Start monitoring those channels and look for common complaints. What do people wish they could find? What annoys or frustrates them? How can you be the hero, and offer a product that will make their lives better?
You'll also get some awesome marketing ideas from this exercise. Think about it, when you know what issue needs to be solved, you can carefully craft your salescopy to position your brand as the answer customers have been looking for. That's how you convince someone to buy!
Becoming acutely aware of the pain points and small annoyances your target customer comes across in everyday life could be just what you need to come up with your next profitable product idea.
2. Analyze Keyword Trends
Another way to measure demand for an item online is to see how many people are looking for it using a search engine like Google. Lucky for you, Google makes this search volume available via its Keyword Planner tool.
As an example, if we enter "organic coffee" into Google's Keyword Planner tool it tells us users search that term between 1K and 10K times per month. But beneath that, Google also shows a list related keyword ideas and their search volumes, which can give you an even broader picture.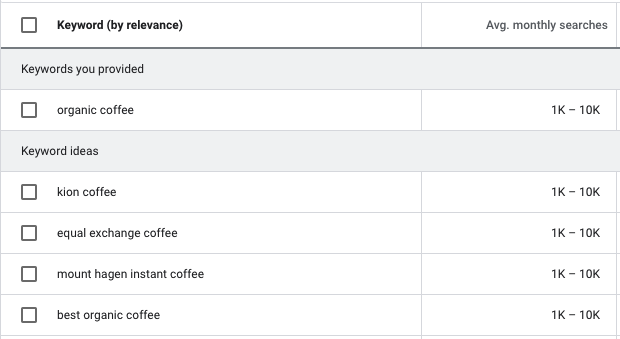 If a search term has many additional variations that are actively searched, it's a good sign that the market is pretty deep with lots of variety and interest. Our example, "organic coffee" does have an extensive list of related terms.
On the flip side, if search queries and related search volume drop off sharply after a few words, there's probably less related long-tail SEO traffic. Meaning there isn't' as much broad interest in the topic, or as many angles you can potentially use for marketing.
Once you've narrowed in on a few potential product keywords, start typing them into Google and checking out the competition. How many other sites are ranking for that same keyword? Is there a long-tail keyword variation without much optimized content related to that product category you might be able to rank for? You might've just found your niche and marketing angle!
And remember, Google isn't the only keyword player in town. There are lots of other, even more robust, tools you can also use to uncover popular search terms to help you find the next product to sell. Some worth checking out:
3. Look To Hobbies and Passions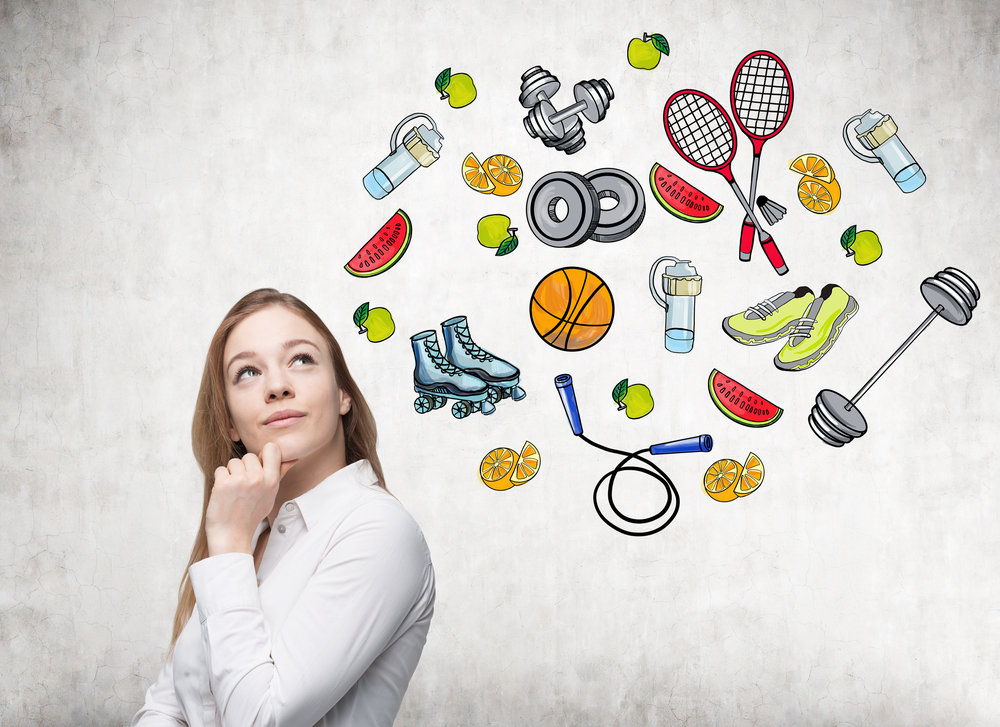 When consumers are super passionate about a topic or hobby, they are willing to spend big money on products to support those pursuits. Fitness enthusiasts will spend a ton on workout clothes, gear, and nutrition products. At-home chefs will buy all kinds of cookware, kitchen gadgets, and gourmet ingredients. See where we're going with this?
If you can target the right niche and successfully connect with enthusiasts in that space, you can build a successful Shopify store by offering trending products that cater to their hobbies.
As an added bonus, targeting a passionate audience can result in higher levels of engagement with your brand. Enthusiasts love to talk about their hobby obsessions online!
This can help you build a loyal following of 'fans' who become repeat customers. Fans who are also more likely to share and post about your product and brand in social media. Which is like getting a free marketing boost for your Shopify store.
4. Read Customer Reviews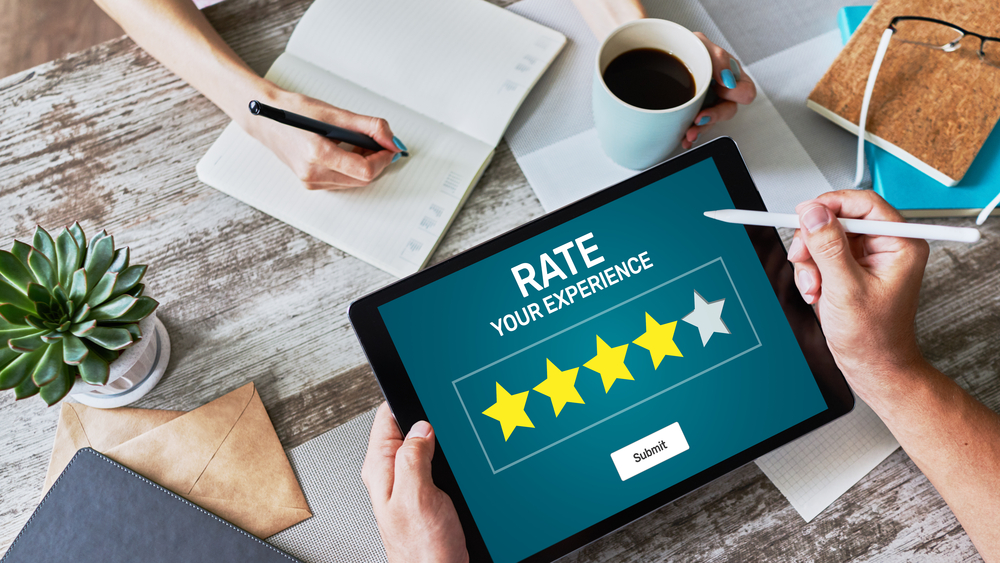 Whether you already sell products online or not, there's a wealth of information you can discover by reading customer reviews. If you already have an established Shopify store, pay attention to what customers are saying about your existing products.
Are there any trends or interesting bits of feedback you can use to steer you towards some new products? Like we mentioned above, pay special attention to frustrations and complaints, which can help you identify a pain point worth targeting.
If you don't currently have a Shopify store, Check out customer reviews on competing sites in the industry you want to explore. What "wishlist" feedback is being shared about potential improvements to already successful products? What add-ons or additional products do customers consistently bring up?
If you're not sure of the industry or product category to explore, consider a specific demographic you want to target (like moms, golfers, yoga enthusiasts, etc.). Then focus your product review sleuthing on brands and websites that cater to these interests.
5. View Related Product Suggestions
Another potential goldmine for discovering trending products for your Shopify store are related product suggestions.
If you already have an established dropshipping niche or product category, check out what related items customers frequently buy together in that category. Amazon is a useful resource for this kind of research. The site frequently displays products that go together as you shop.
For example, if you're looking at tents, Amazon also shows you some top-selling sleeping bags in the "frequently bought together" section. And if tents are something you already carry, this could indicate that sleeping bags are a trending product you might also want to consider.


6. Follow Influencers
When it comes to finding trending products for Shopify, why should you do all the heavy lifting? That's what influencers are for!
If you're targeting a specific topic or niche, find some popular influencers in that space and start following them. You can get key insights into what products are popular or trending based on the items these influencers feature in their social media posts. Also be sure to note what items get the most engagement from an influencer's own followers, because that indicates consumer demand.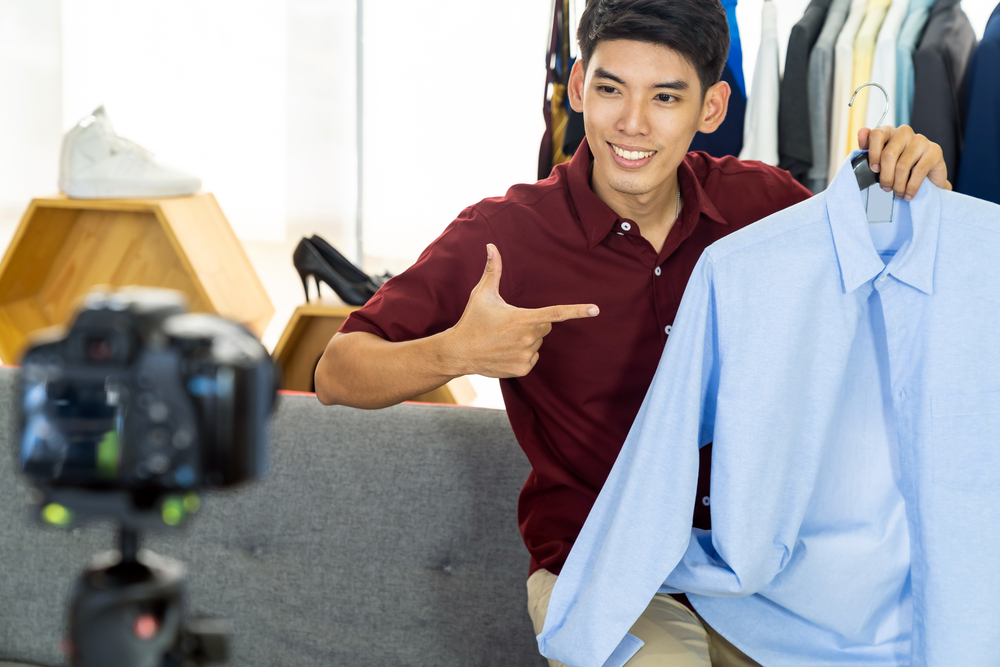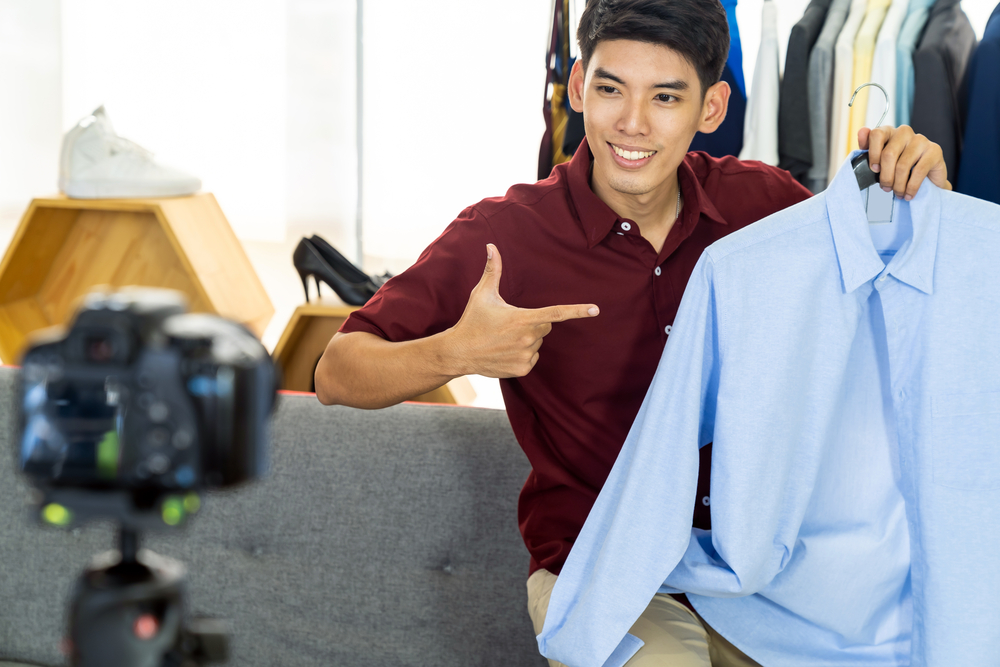 There are lots of ways to find influencers. You can start with an old-fashioned Google search. Want to find influencers in the bodybuilding space? Type in "top bodybuilders on Instagram" or "top bodybuilding accounts to follow."
You can also search popular hashtags related to your niche and see who posts a lot on those topics. Then look for individuals with a good number of engaged followers and start following them back.
There are also several online tools available where you can identify and follow influencers in a particular industry. These include tools such as FollowerWonk for Twitter and Upfluence for Instagram which offers a free Chrome extension that allows you to analyze an influencer's profile performance with the click of a button.
7. Discover Trending Product Websites
Another great resource in terms of finding good trending products to sell on Shopify are product discovery websites. These online sources curate new product trends daily, which translates into great selling inspiration for a wide range of categories.
A few examples include Firebox, HiConsumption, AHAlife, Cool Material, and Uncrate. Check in with sites like these regularly, and see what new items catch your eye. You might just find that unicorn product you've been searching for.
8. Check Out The Shopify Blog and Webinar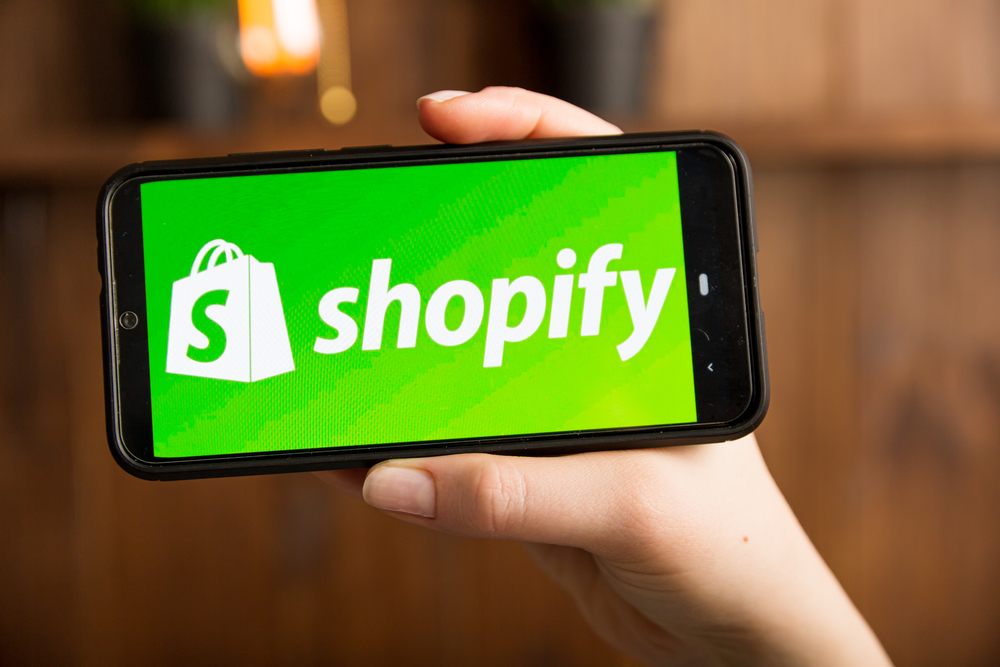 One great thing about Shopify is they want you to have the tools you need for your ecommerce business to succeed. To that end, Shopify consistently shares trending products information in their blog's 'source products' section.
Check this valuable resource weekly, as Shopify regularly posts articles sharing data about new business opportunities and hot products that are trending in different industries.
Shopify also offers a free 40-minute webinar titled 'how to find and source winning products to sell'. The webinar shares helpful tips for how to research, source, and validate product ideas until you find a winner for your niche.
9. Browse Trends In Online Marketplaces
Another treasure trove of ideas for trending products to sell on Shopify are online marketplaces. Browse sites like Etsy, Amazon, and eBay searching for what's hot or most popular. Use search terms like "best sellers", "most wished for", "trending", and "most popular".
Another way to go is to look at what projects are currently popular on Kickstarter in your chosen niche. You can get some great ideas by seeing what products are generating the most crowd-funding buzz.
Or you can use a tool like Helium 10 Trendster that analyzes Amazon product trend data over time. This tool is especially helpful if you're looking for seasonal buying trends that might influence your product offerings.
10. Use Trending Product Tools
Finally, you can always use a dropshipping research or trends tool to uncover valuable data that can help identify a winning product idea for your Shopify store. Here are a few popular tools worth considering, along with tips for using each one to discover trending Shopify products.
Facebook Audience Insights:
Facebook Audience Insights is a free tool that helps you learn more about a particular audience by aggregating information about Facebook users. For example, if you want to explore a dropshipping niche like food and beverages (specifically coffee). You would type in those keywords and Facebook will show you how many monthly active people are interested in this niche.
For the coffee example, between 70M-80M people in the United States have shown interest in this topic. This is a good indicator that coffee might potentially be a profitable dropshipping niche.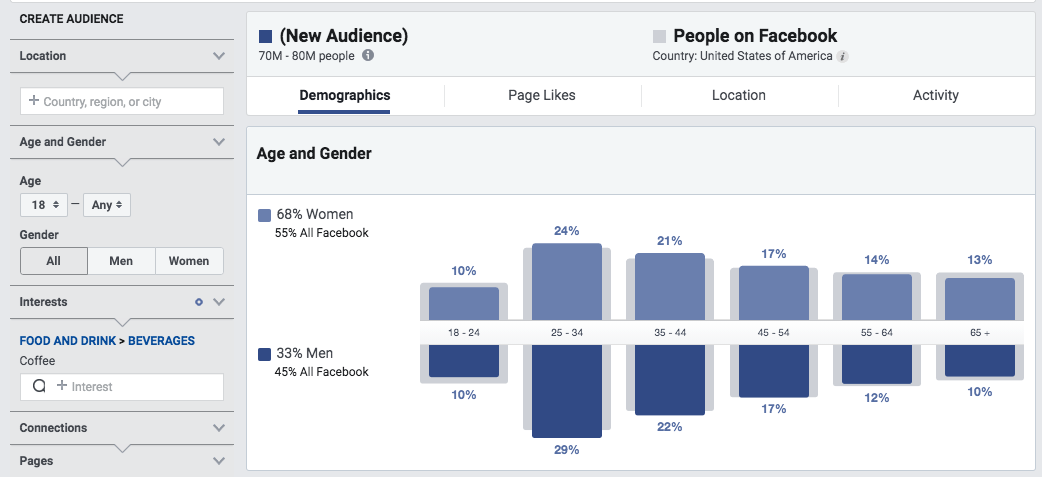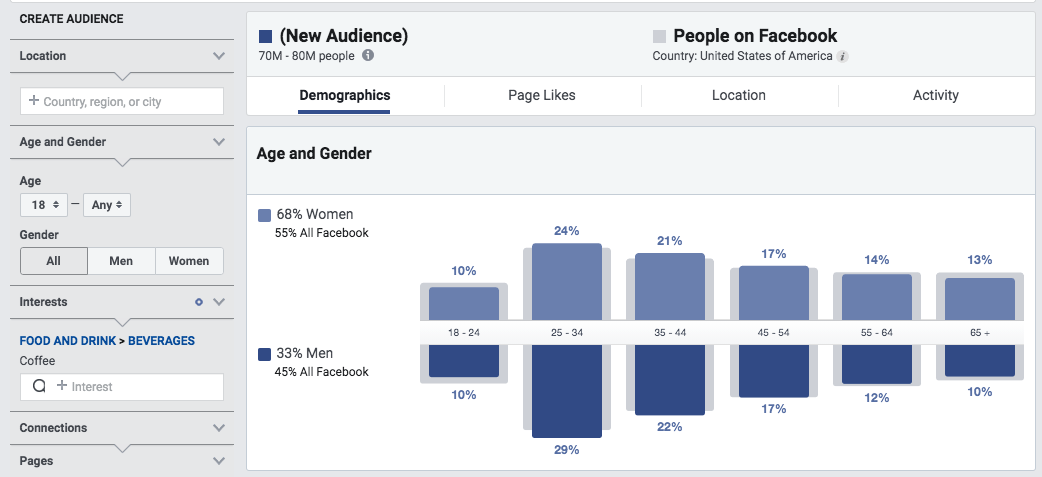 You can also look at sub-niches within a given market, like coffee roasting, to explore different dropshipping products and branding ideas. The estimated size of your audience will change depending on the additional interests you add.
Here you can see 1.5M-2M people have shown interest in coffee roasting. It's a smaller group, but it could also indicate a very engaged coffee audience you'd want to target.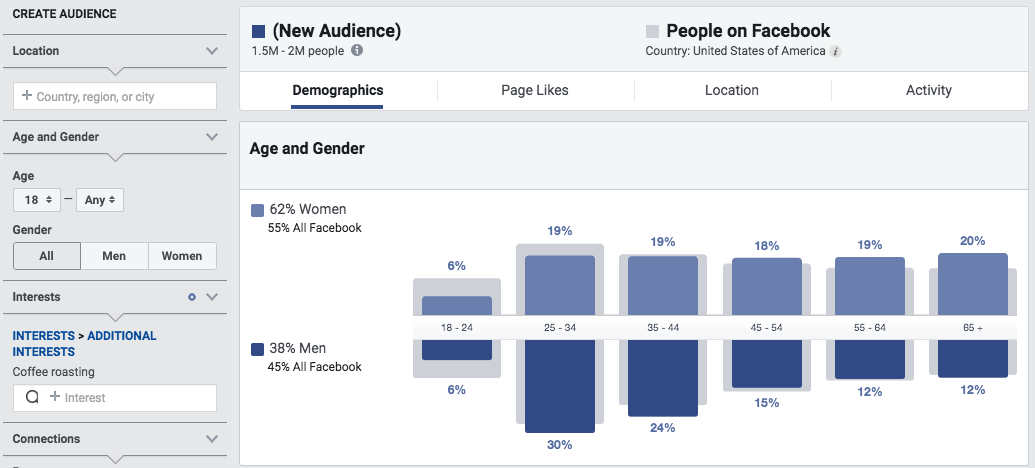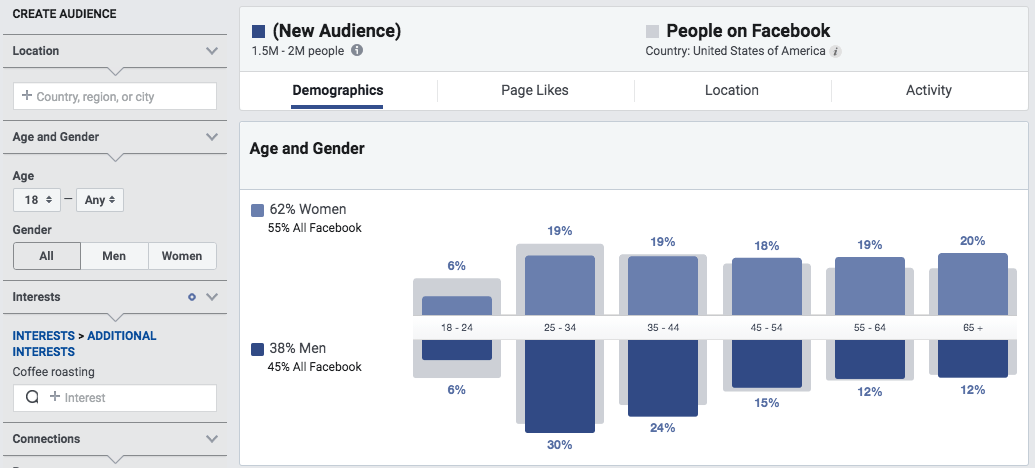 Google Trends:
The keyword planner tool in #2 above is great for raw search numbers. However, if you're looking for more detailed insights, one of our dropshipping Shopify tips is to check out Google Trends. This helpful tool offers information like search interest over time and search terms that are rising in popularity.
You can browse Featured Insights to quickly see what's trending in the world right now. Or if you're trying to figure out if a product or a niche is worth tapping into, you can search exact keywords to see how that particular niche is trending.
Ideally, you want to choose a dropshipping niche for Shopify that's growing or at least remaining at a stable level. Trends can let you know if this is the case.
Here we can see that the term 'organic coffee' has remained relatively stable over the past five years.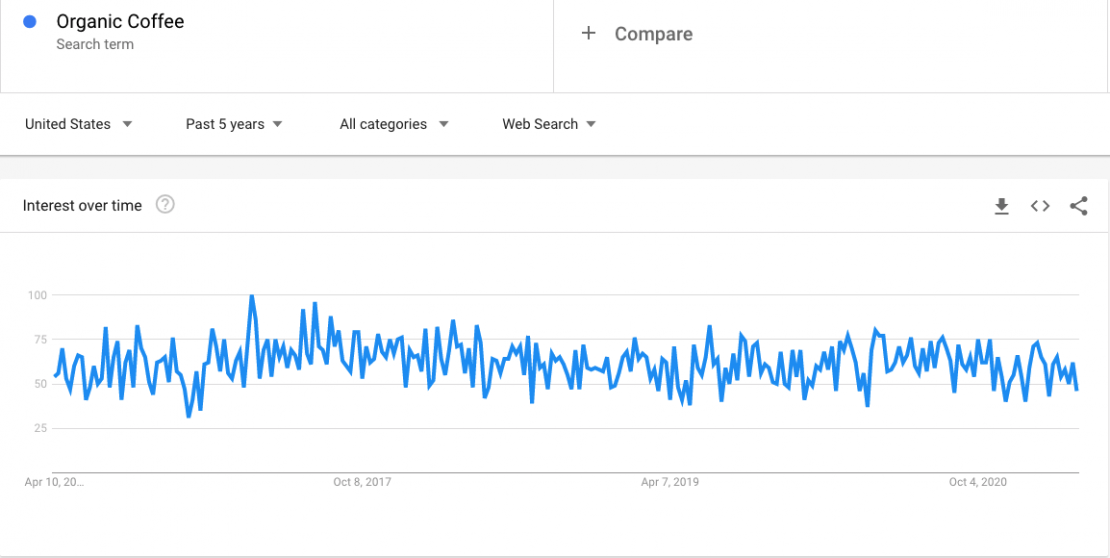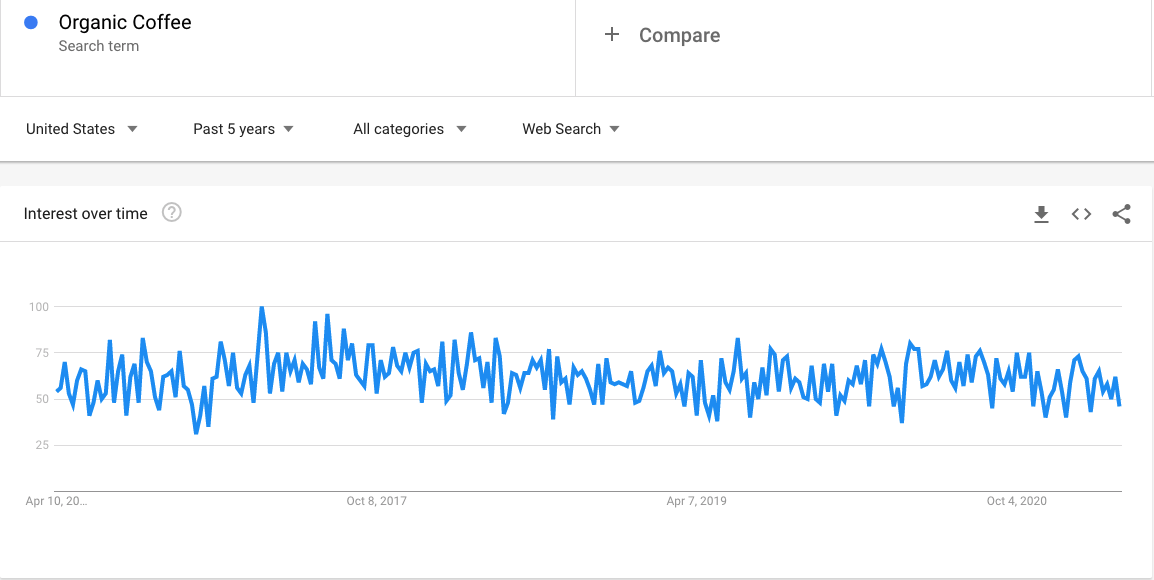 However if you look closer at the related rising keywords associated with organic coffee, several organic brands are on the upswing. Plus organic cold brew coffee is showing a search increase of 850%. This could signal a great niche trend to get out ahead of!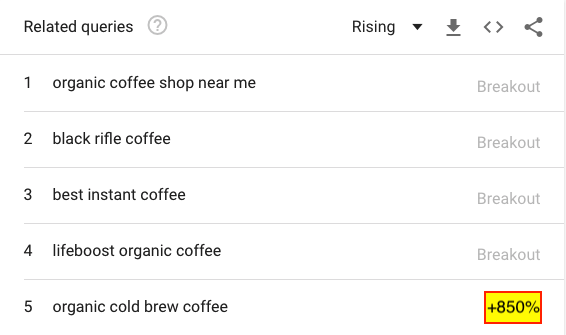 Trend Hunter:
Trend Hunter is a popular website that lists trends within various niches. Once you know what you're interested in, you can drill down even further to find trends for sub niches within fashion, jewelry, gadgets, home and more.
Some of the trends are general category ideas to get you thinking, while others are more product focused. The great thing is Trend Hunter assigns each item an overall score, based on popularity, activity, and freshness.
They also share supporting statistics, such as what audience segment the trend appeals to, comparison sets, and more. These additional details can spark ideas for new trending products or niches you might also want to explore.
Reddit Popular:
Reddit, also known as "The front page of the internet" showcases forums about pretty much every topic under the sun.
Be sure to periodically visit the Popular Page to see what people are buzzing about. You never know, the inspiration for your next great Shopify trending product idea might be lurking in one of the threads.
EcomHunt:
EcomHunt is a popular product curation website. They're in the know about the latest trending products. And because they specifically cater to the ecommerce community, they know which products will sell online.
The best part? You can join for free! They also offer an EcomHunt Extension that allows you to find and track competing Shopify stores and Facebook ads. Making it a little bit easier to stay one step ahead of the competition.
Sell The Trend: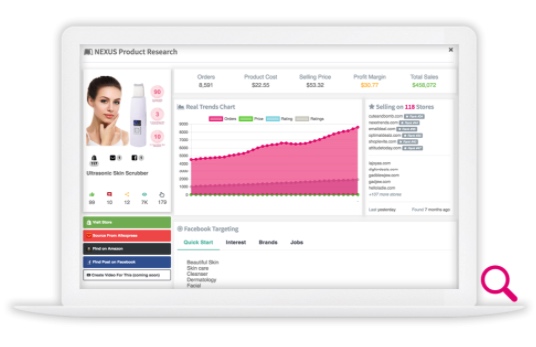 This product research tool is a favorite amongst dropshippers, and for good reason. Sell The Trend isn't a single tool, it's more like a research buffet. There are 9 different tools within the platform that offer all kinds of data and inspiration.
The Nexus uses a proprietary dropshipping A.I. algorithm that allows you to see what's currently trending across popular ecommerce stores. You can use the Store Intelligence tool to track and compare your Shopify store to that of competitors in the same space.
There's even an Instagram and Twitter engagement calculator that lets you see which influencers are worth spending money on. Yes, you have to pay a monthly fee to use the service, but if you want a suite of seriously robust product and trend research tools at your fingertips, this one is worth it.
Find Niche:
Find Niche is another research tool that compares data from AliExpress and the Shopify database to help you discover a profitable dropshipping niche and products.
We like that you have the option to open a free account, which will give you five daily search queries. This way you can try out the product to see if it provides the kind of value you're looking for, before spending any money.
Top Trending Products To Sell On Shopify
Ready to start looking for profitable trending products to sell in your Shopify store? The research tips above can definitely point you in the right direction!
To take it even a step further, we've gone ahead and rounded up some current trending Shopify products to inspire you.
Trending Food Products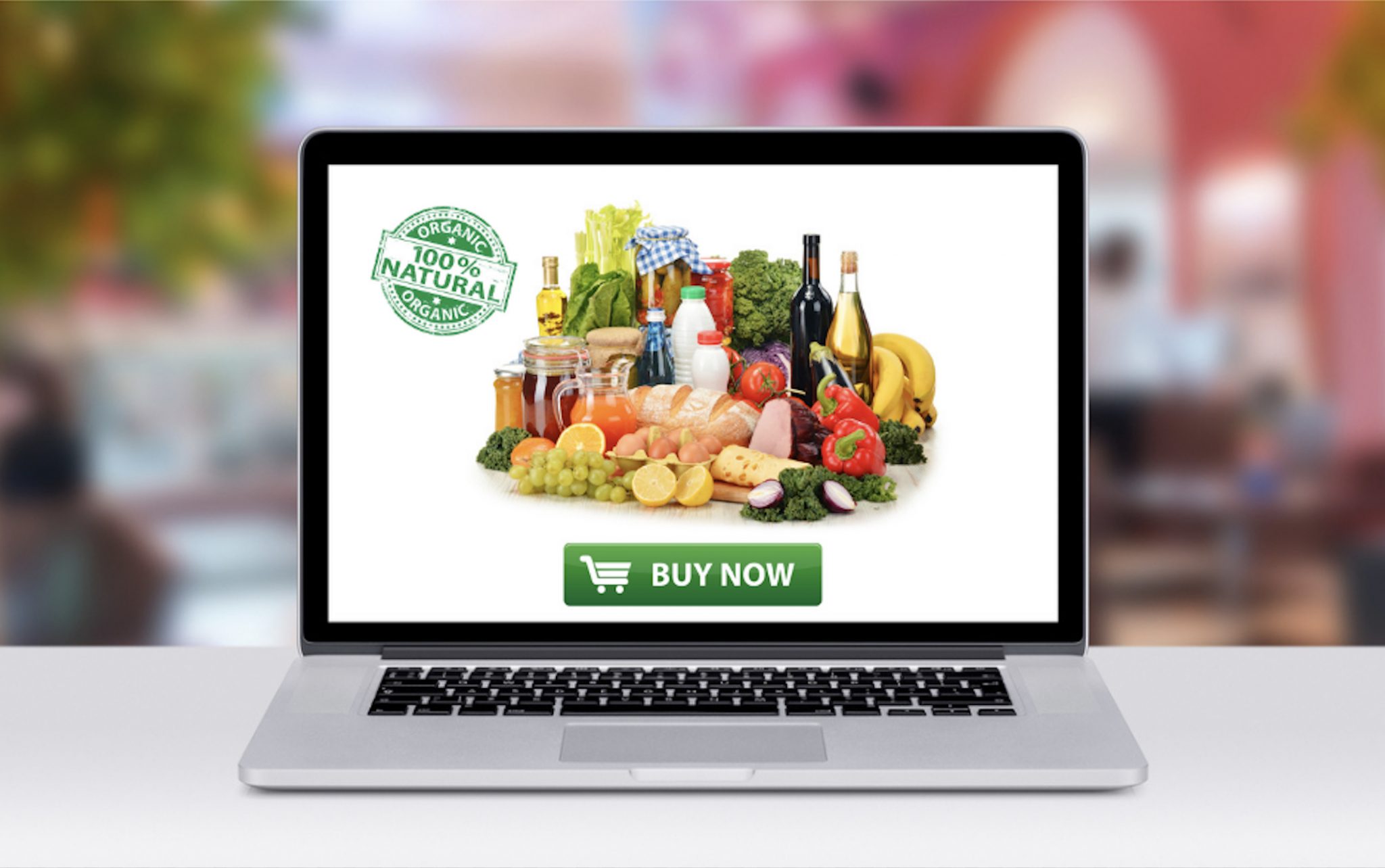 Food products are an interesting dropshipping choice with some benefits you may not have considered. For one thing, food items can run the gamut from buzzy new trends (think kombucha or keto tortillas) to household staples (like dairy, flour, or spices).
This allows you to offer consumers a unique mix of both trending and regular restock items that encourage repeat business. Plus food has a very low return rate, which is another reason it's attractive to dropshippers. Because who wants the hassle of handling a bunch of refunds?
The key to dropshipping food in your Shopify Store is to build your brand around a particular niche, then laser-focus your marketing strategy to attract those buyers. Here's some food trend inspiration to help get you started:
And if you're looking for a dropshipping app to help you sell groceries online that will integrate seamlessly with your Shopify store, be sure to check out the GreenDropShip app for Shopify. This easy-to-use app offers over 20,000 natural and organic brand name products at real wholesale prices. It's currently the only Shopify app for dropshipping groceries.
Trending Non-Consumable Goods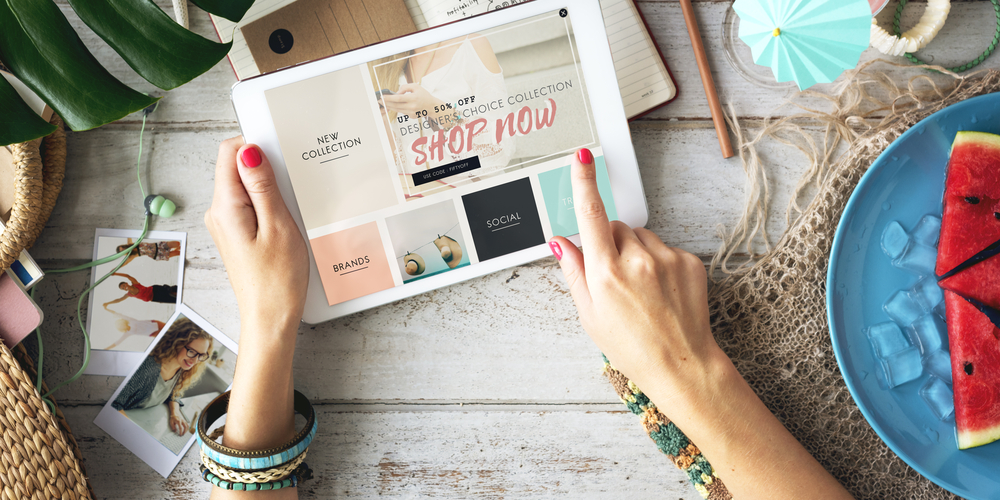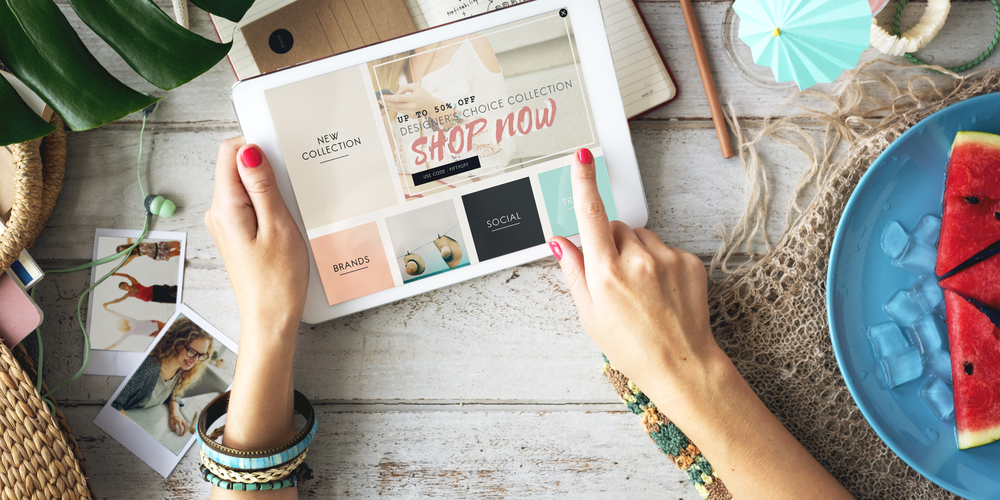 If you're looking for more durable-type goods, this past pandemic year has certainly been an interesting one for trends. With more people staying at home shopping online, current trending products data from Shopify reveals some provocative dropshipping ideas.
See if any of these recent best-selling items will inspire your next winning product choice.
Face Masks – Particularly for kids who are picky about style and tend to lose them all over town.
Household Storage Containers – Blame all the stress cleaning and Netflix bingeing of The Home Edit show.
Kitchen Towels – More time at home equals more time cooking (and more kitchen messes).
Bike Saddles – No gym? No problem. People are riding bikes more than ever, which means bike accessories are hot sellers.
Toothbrushes – Particularly electric and interdental options (which clean better) and bamboo brushes, which are viewed as being more eco-friendly than their plastic counterparts.
Sleep Aides – It's been a stressful year which takes a toll on a person's sleep. As a result, sleep masks and sleep gummies continue to show sales growth.
Tracksuits – Working from home and weekend Netflix binges mean folks are looking for loose-fitting casual and stylish clothes they feel comfortable in.
Join GreenDropShip Today and start making sales!