Popular Wholesale Skin Care Products To Sell Online
Thinking about selling wholesale skin care products online? Smart move! No matter a customer's gender, age, or ethnic background, pretty much anyone can benefit from investing in a skin care routine. Which means demand for skin care products will continue to grow.
As the importance of maintaining a regular skin care regimen becomes more well known, the global skin care market is projected to increase from 134.5 billion dollars in 2018 to over 180 billion by 2024. That's huge.
And guess which country is the largest source of revenue in the global skin care market? Yup, it's the United States. Americans are serious about their skin care!
The other awesome thing about wholesale skin care products is that they're small and relatively lightweight, making them easy to store, pack, and ship. Plus most people use their skin care products daily. So if you deliver a good user experience, customers will come back to buy more.
Let's dive in and see what it takes to start selling skin care products online. We'll also share some popular wholesale skin care products you may want to consider adding to your ecommerce store.
How To Sell Wholesale Skin Care Products Online
Once you've decided that you want to offer wholesale skin care products in your online store – your next question will likely be, "What do I need to do to start selling them?"
RELATED: How To Start An Online Store: 8 Easy Steps
There's more than one way to sell wholesale skin care products online. As an entrepreneur, you need to determine which method will work best for your unique business needs.
Let's go over the two most common retail models for skin care product resellers; bulk buying and dropshipping. Once you understand how these methods work, and the pros and cons of each, you can decide which one is right for you.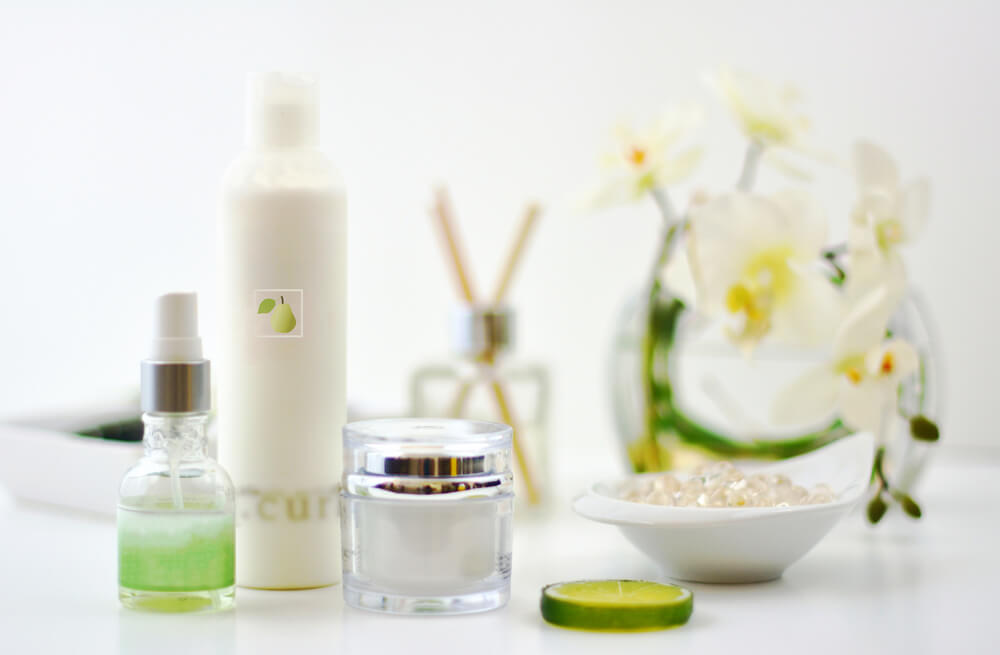 Buying Wholesale Skin Care Products In Bulk For Resale
With this model, you pay wholesale prices for a large volume of skin care products. And since you're buying in larger quantities, you might be able to negotiate a lower wholesale price from your skin care supplier.
However, you're then responsible for storing, packing, and shipping the orders out to your final customers. Which means you'll need to have access to warehouse or storage space, as well as the resources required for shipping and handling.
Keep in mind that some skin care products are heat sensitive. So when you think about where and how to store product inventory, you'll need to factor temperature considerations into your decision.
Another thing to be aware of when buying wholesale skin care products in bulk are "sell by" dates. You want to be sure that you manage your inventory, so that products don't sit around on the shelf for so long that the ingredients become inactive.
Plus many skin care brands refine and update their formulas regularly. And you know your customers will definitely want the latest, most advanced version for their skin. Therefore its important to take measures to ensure that you only stock and send in-date products with the latest formulation to keep customers happy.
Dropshipping Wholesale Skin Care
The other retail method we wanted to tell you about is dropshipping. And to be honest, we think there's no easier way for new entrepreneurs to get up and running quickly and start selling wholesale skin care products, right from the comfort of their own home.
Think about it, where else are you going to find a online business model that enables you to start selling with:
Low startup costs
No inventory or warehousing
Not having to deal with shipping and handling
With dropshipping, online sellers like yourself won't have the hassle of handling any inventory. Your supplier maintains the inventory for you, then pulls, packs, and ships orders out to your final customers. How easy is that?
An added bonus is that you'll now have more time to spend promoting and marketing your online store. Which is how you can build brand awareness and increase sales.
But whether you choose to buy wholesale skin care products in bulk, or go with the dropshipping method, you'll still need to partner with a reputable skin care supplier. GreenDropShip offers hundreds of quality name brand beauty and body care products, at real wholesale prices. Both in bulk and for dropshipping.
Plus with GreenDropShip, you can easily integrate with popular ecommerce platforms such as Shopify and WooCommerce to quickly and easily create an online store. We even offer our own dropshipping app for Shopify to make finding and importing products into your Shopify store a breeze!
Marketing Tips To Increase Skin Care Product Sales
Now that you've decided to offer wholesale skin care products in your online store and you've chosen the retail fulfillment model that works best for you. What's left? Designing a marketing strategy and choosing the skin care brands you want to carry!
Start by putting yourself in the mind of your customer – how would they search for skin care products online? What would they want to know? What search terms would they enter in Google? Then tailor your copy to match their search intent and the keywords associated with it.
You also want to clue your customers in to the benefits of the skin care products you offer. Sure you can tell them a product's ingredients (a feature) but it's more impactful to explain how those ingredients will actually affect your customer's skin (the benefit).
Customers care about results. What they really want to know is whether a particular product can soothe skin irritation and redness, soften skin, reduce the appearance of fine lines, or perhaps restore a youthful glow. Those are the kind of details you'll want to add to your product page salescopy.
You also want to put together a solid marketing plan that includes optimizing your product descriptions, brand storytelling, and developing both a social media and email marketing strategy.
RELATED: Your Complete Marketing Guide For Dropshipping
Optimize Skincare Product Descriptions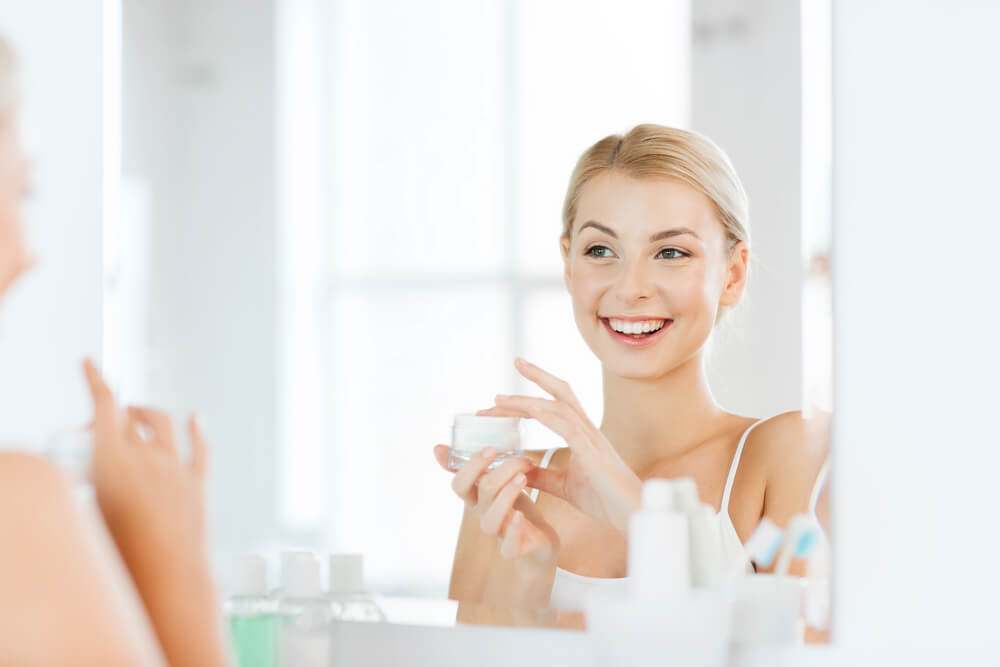 Here's a marketing tip you don't want to ignore. High-quality optimized product descriptions are crucial for your ecommerce store!
A common mistake rookie entrepreneurs make is sticking with whatever product description is included in the data feed from your wholesale skin care supplier. While this information is an excellent starting point, you want your store and brand to stand out from the competition.
Everyone has access to the same descriptions from the manufacturer. Which is why you want to update your product copy to add some flare and make it more appealing to your target customer.
A solid description will be detailed and educate consumers on both the features and the benefits of your products. You also want your messaging to directly address the wants and needs of your specific target market. What kind of skin care results are they looking for? What would make their life easier/better?
High converting product descriptions should also include a clear call-to-action (CTA). You want customers to buy skin care products from you today, right? Then tell them that!
"Buy Now", "Join Now", "Get It Today" this kind of immediate CTA is a critical component of an effective product description and can increase conversions and sales. Bring a sense of urgency to your product copy so customers don't leave your website without making a purchase.
It's also important to do some keyword research and include popular search terms in your product descriptions to improve your organic search rankings. Search engine optimization (SEO) tools like Keyword Planner, MOZ, Ahrefs, or SemRush can help you find the best keywords for your business.
Tell A Green Story With Certified Labeling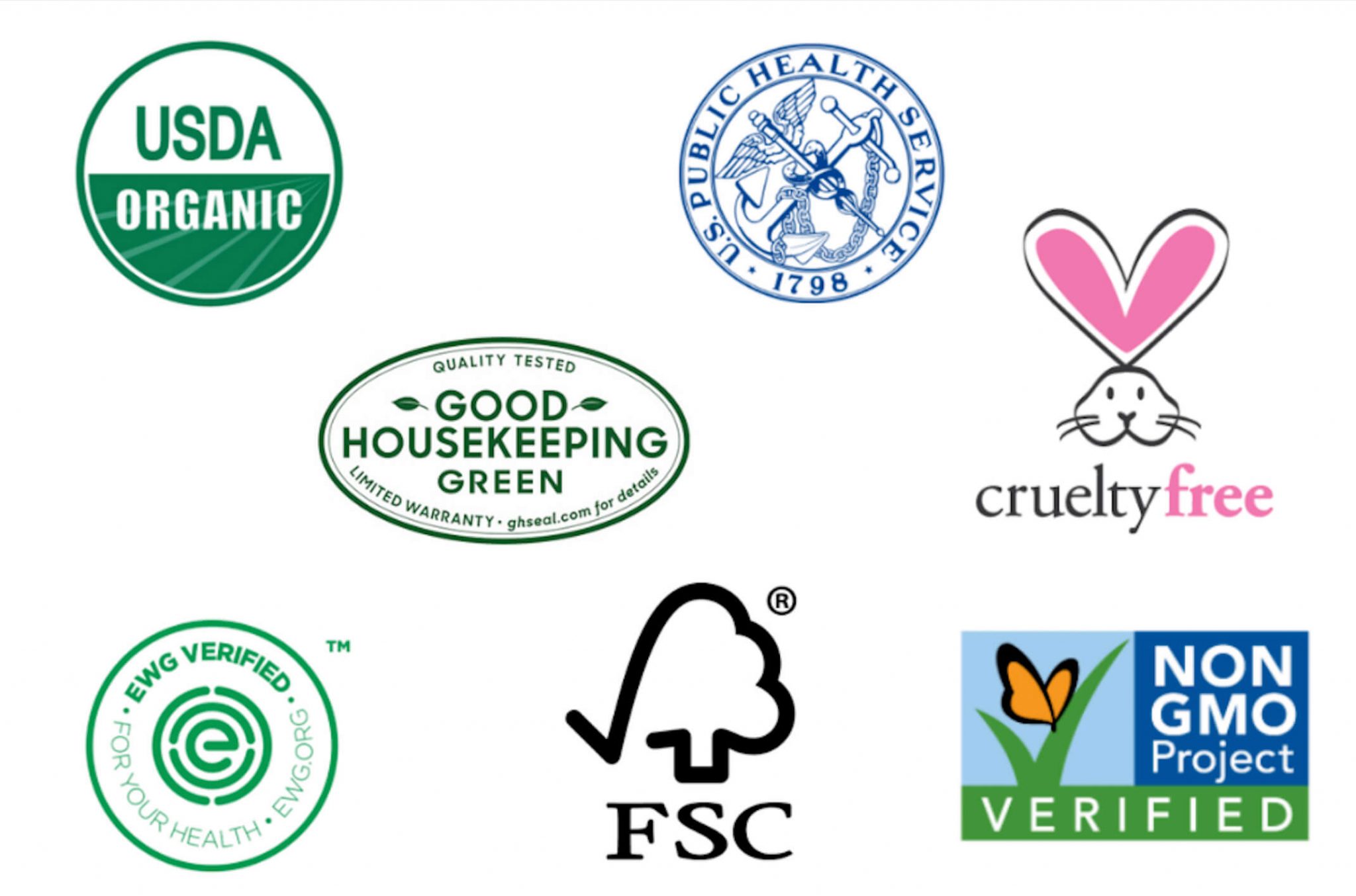 Surveys indicate skin care brands that value ingredient list transparency are growing in popularity. Customers care about what chemicals might be lurking in the beauty products they use, and rightly so.
The complicated formulations of yesteryear with mile-long ingredient lists meant more opportunities for skin irritation, allergic reactions, and exposure to potentially harmful chemicals. Reassure customers by offering natural and organic wholesale skin care products they can feel good about using.
Consumer demand for ingredient transparency is at an all-time high. Be sure to capitalize on the desire for 'clean and simple' skin care in your brand storytelling!
Shoppers look to certified labels and third-party seals for assurance that the products they're buying adhere to a certain set of standards. Make sure these labels and other 'green' brand details are part of your marketing messaging.
Look for wholesale skin care products with the following well-known and reputable third-party certifications, and share this information with your customers:
USDA Organic
Cruelty-Free
EWG VERIFIED
Good Housekeeping Green Seal
Responsible Forest Management (RFM)
Non-GMO Project Verified
U.S. Public Health Service Seal
Social Media and Email Marketing Tips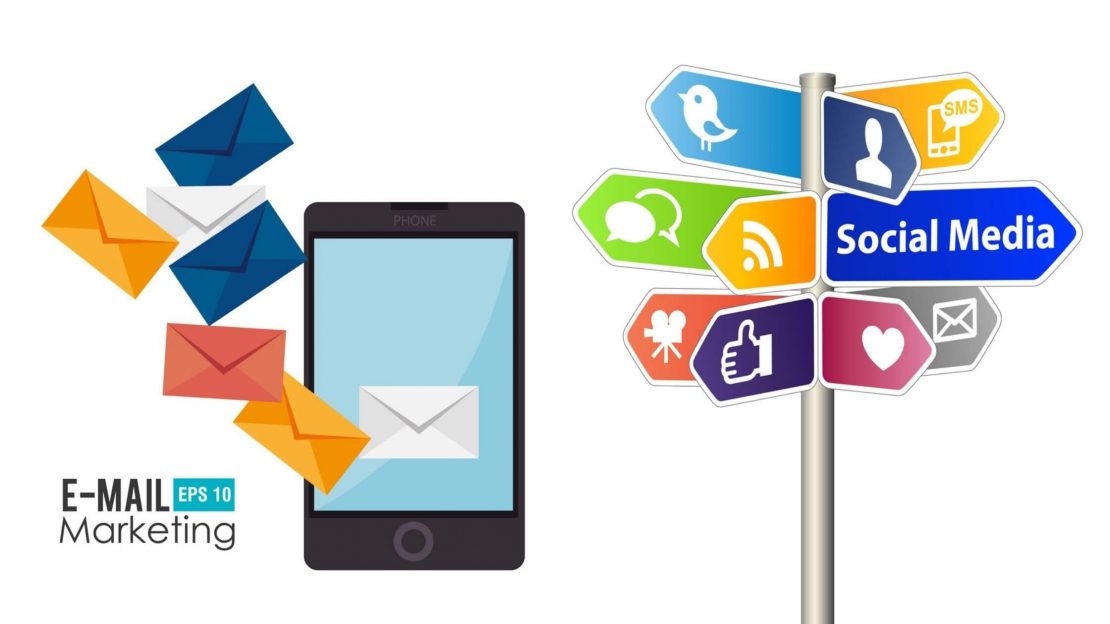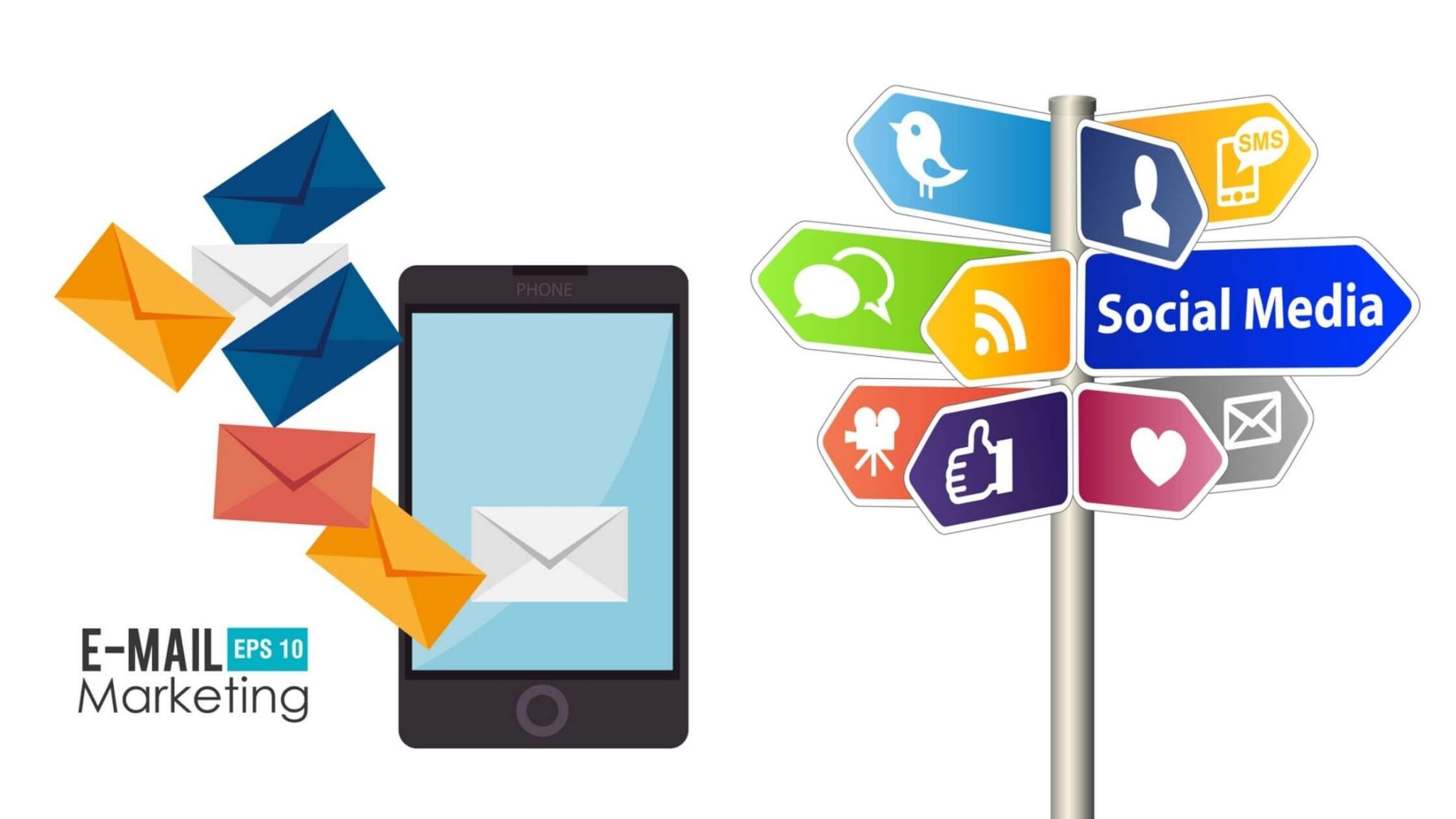 To get traffic to your online store, you need to build brand awareness and excitement for your products. In today's world, the fastest way to do this is through social media. This is where you will connect with your target market and find new customers.
When you're just starting out, you may not have the time and resources to build campaigns on every social platform. And that's ok. Focus your marketing efforts on the platform where YOUR specific target audience is the most active.
If you need inspiration, look to competing brands, or bloggers/influencers posting about products in the skin care or beauty niche. Researching other high performing content can give you some ideas about how to position your brand in the social space.
In addition, you might want to consider running Facebook or Instagram ads to extend your reach to even more potential customers. The Ads Manager tool for these platforms is very sophisticated, and will give you total control over your ads including how they appear, who sees them, and your budget spend.
Then once you get a customer's attention, it is essential you do something special to keep them engaged. Building an email subscriber list and sending compelling content gives you a way to retain the traffic you worked so hard to get in the first place.
Did you know that acquiring a new customer can cost five times more than retaining an existing customer? That's why developing a solid email marketing strategy for your online store is so important!
Providing subscribers ongoing value gives them a reason to stay connected to your brand. Plus, you now have an engaged audience who is definitely interested in skin care. Who better to share the news of new skin care brands and products with?
Additional Resources: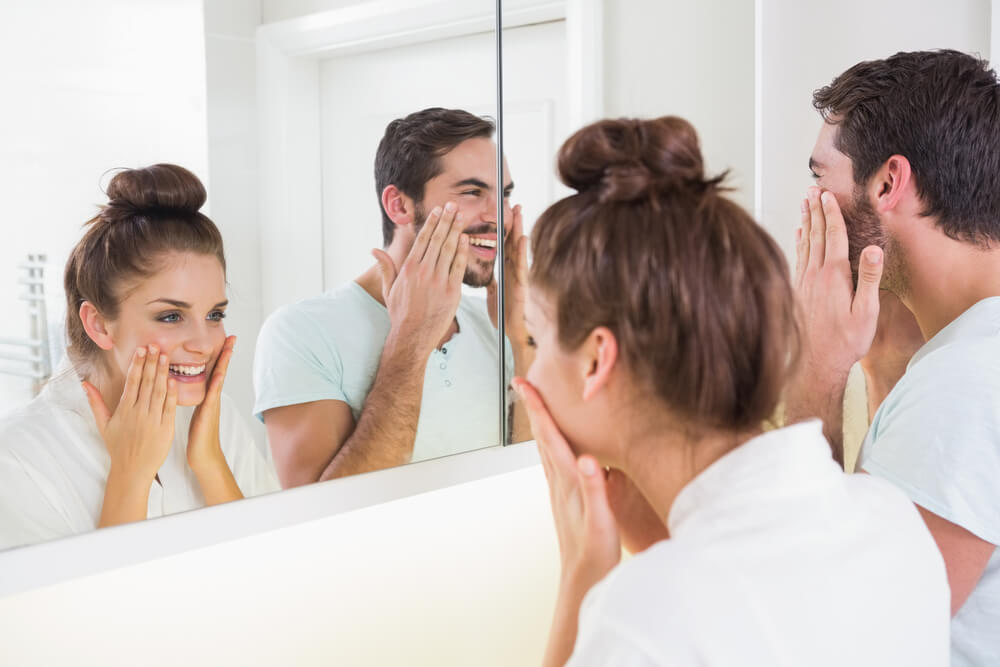 What Wholesale Skin Care Products Should I Sell?
Once you've chosen your retail model and wholesale skin care products supplier, it's time for the fun part. Choosing the skin care brands and products you want to sell in your online store!
Be sure to select products that tie into your ecommerce niche and brand, and will also appeal to your target customers. You might want to check out Google and do some research to see what's currently trending in skin care.
Which wholesale skin care products are popular? What items are selling out on competitor websites? Are there any organic and natural skin care brands with great "green" stories your customers would respond to? These are additional clues that can guide you in making inventory selections.
And finally, you want to find wholesale skin care products that will be profitable. Check out the wholesale list price from your supplier. Then compare that to the going retail price on Amazon or competitor sites.
Be on the lookout for items that have a nice margin between the two, that's more cash in your pocket! And as part of your sales strategy, you might want to mix it up. Offer some skin care products that allow for a good markup, and some popular items that maybe don't have the biggest margins, but make up for it in volume and repeat sales.
Here are five (5) top wholesale skin care products you might want to consider adding to your online store. All of these popular and profitable products are available from GreenDropShip.
1. Andalou Naturals: Clear Skin Get Started Kit, 5 pc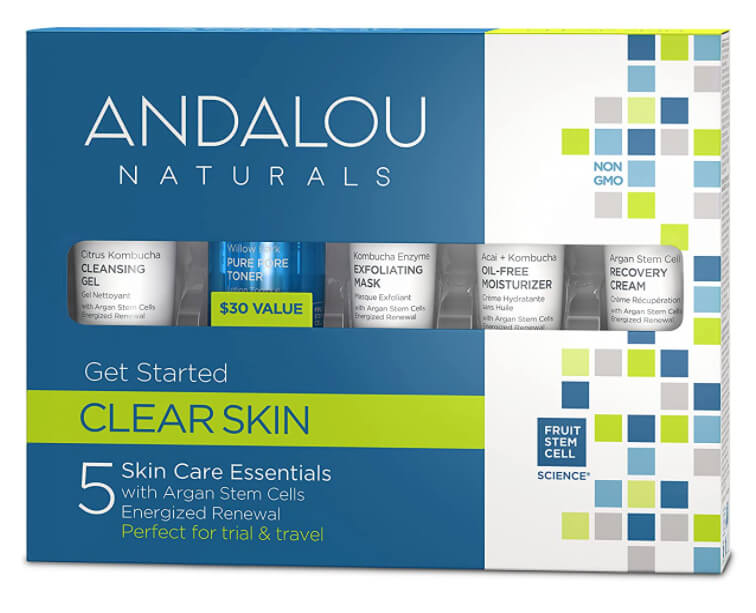 This is an amazing product for a whole lot of reasons. First off, Andalou Naturals is a popular and trusted skin care brand. They are known for high quality ingredients that don't irritate sensitive skin.
Second, we love this super cool 5-pack of their clear skin care essentials. This is great for people who want to "get to know" the brand and see which products work for them. The small sized products are also great for travel or your gym bag. This set also makes a really nice gift. There are so many ways you could market this product!
Each set contains the following 5 trial-sized essentials for active and oily skin:
Cleansing gel
Pure pore toner
Exfoliating mask
Recovery cream
Oil-free moisturizer
In addition, this Andalou Naturals kit is:
A Certified Amazon's Choice product
Has over 250 Amazon ratings with an average 4.4 Stars
Vegan, Cruelty-Free, Certified Gluten-Free
Wholesale price $10.79, but retails for $18.60 on Amazon
2. Andalou Naturals: Get Started Brightening Kit, 5 pc.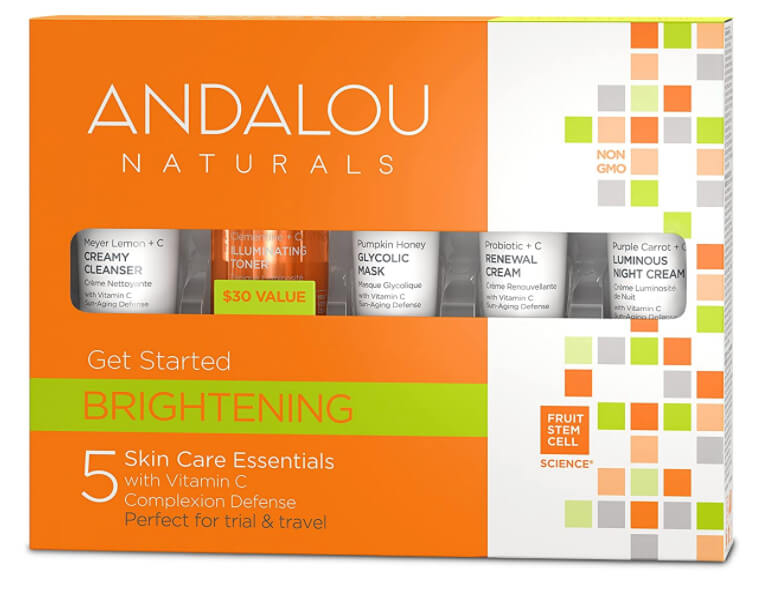 Another great kit from Andalou Naturals. This set uses fruit stem cell science to renew skin at the cellular level, blending nature and knowledge for visible brightening results.
Refreshing Meyer lemon and vitamin C stimulate circulation for improved clarity, tone, and texture. These products are designed to support skin's vitality by targeting sun damaged, dull, dry, and over-exposed surface cells for a lighter, tighter, brighter appearance.
Again the small sized 5-piece kit is perfect for trial and travel, as well as making an excellent gift.
Each set contains the following 5 products:
Creamy cleanser
Illuminating toner
Glycolic mask
Probiotic + C renewal cream
Luminous night cream
In addition this Andalou Naturals kit has:
Over 1,050 Amazon ratings with an average rating of 4.3 Stars
Vegan, Cruelty-Free, Certified Gluten-Free
Wholesale price $10.79, but sells for $19.00 on Amazon
3. DERMA-E Anti-Wrinkle Night Serum with Vitamin A and Vitamin E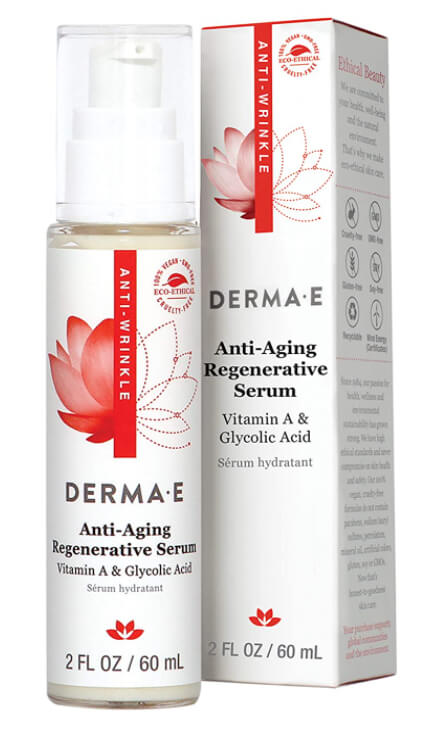 Derma E's Anti-Aging Regenerative Serum is fortified with glycolic acids to gently exfoliate the skin to help diminish the appearance of fine lines, wrinkles and dull skin. This skin-renewing serum helps keep skin soft and smooth for a younger, radiant and healthier-looking complexion.
Anti-aging serums are big sellers. That makes this a great wholesale skin care product to add to your online store.
Key ingredients:
Vitamin A – helps to reduce the look of fine lines and wrinkles
Vitamin E – an antioxidant that helps to nourish and improve skin's texture
Glycolic Acid – helps exfoliate to safely remove dead surface skin cells
In addition this DERMA-E product is:
100% Vegan
Cruelty-free
Recyclable & wind energy certified
Formulated without GMOs, gluten, or soy
A Certified Amazon's Choice product
Over 580 Amazon ratings with an average of 4.6 Stars
Wholesale price $12.02, but sells online at Ulta Beauty for $21.95
4. Seaweed Bath Co: Body Cream Lavender, 6 oz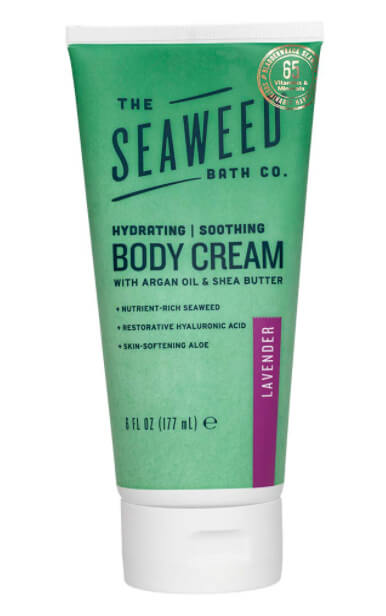 Help your customers moisturize and soothe with a non-greasy, fast-absorbing body cream that helps replenish skin all day long. The Seaweed Bath Company's Body Cream gently moisturizes and soothes all types of skin with a unique formula of organic, sustainably-harvested bladderwrack seaweed extract that contains ultra-moisturizing hyaluronic acid, shea butter, aloe and argan oil.
This product is perfect for people who want a moisturizing and instantly absorbing body cream (no greasy residue). Nutrient-rich bladderwrack seaweed detoxifies, hydrates and replenishes skin, while hyaluronic acid locks in moisture and strengthens the skin's natural barrier.
The Seaweed Bath Co. Body Cream is:
Paraben Free and Sulfate Free
Dye Free, Gluten Free, and Hypoallergenic
Vegan, cruelty free (no animal testing) and Leaping Bunny certified
Over 1,600 Amazon ratings with an average of 4.5 Stars
Wholesale price $3.49, but sells online at Rite Aid for $12.99
5. CocoKind: Organic Chlorophyll Mask, 2 oz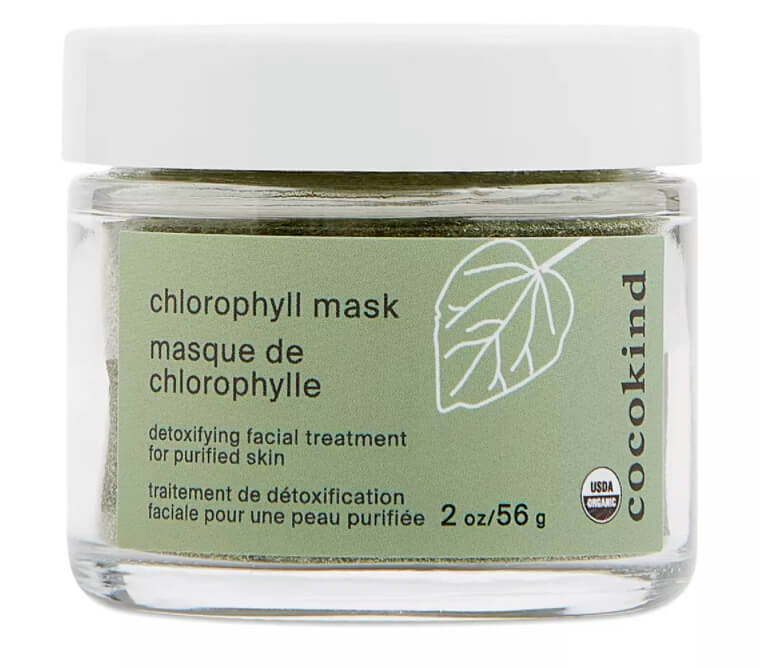 Create a spa experience at home with this Organic Chlorophyll Mask designed to give your customers healthy-looking and supple skin. Chlorella, spirulina, and wheatgrass deliver chlorophyll, antioxidants, and detoxifying properties that have even more benefits when applied topically.
This mask helps purify skin, relieve breakouts, and bring out a person's natural glow. This is another one of our favorite wholesale skin care products you should consider adding to your online store.
The CocoKind Chlorophyll Mask is:
Organic and Non-GMO
Certified Vegan and gluten-free
Paraben-free, fragrance-free, dye-free, and alcohol-free
Ethically sourced
Over 225 Amazon rating with an average of 4.5 Stars
Wholesale price $10.25, but retails for $18.99 at Thrive Market
Start Selling Wholesale Skin Care Products Today!
All of these high-quality skin care brands and more are available to GreenDropShip members. In fact, we offer literally hundreds of wholesale skin care and beauty products. That's alongside our full inventory of over 20,000 natural and organic products, including grocery, cleaners, household products, baby items and more.
Even better, most of our products are proudly made in the USA, which reduces shipping times and means they are held to the highest quality standards. And don't forget, we're both a dropshipping supplier and a bulk wholesaler. So whichever retail business model you choose, we can help.
And if you're a Shopify store owner, we've got you covered. GreenDropShip launched its own dropshipping app for Shopify. Making it even easier to add products to your online Shopify store… with just 1-Click.
As an online business owner, you want to work with a supplier that is reputable, and will deliver exactly what you advertised to your customer. That's why GreenDropShip is the smart choice for wholesale skin care products.
Join GreenDropShip today and start selling!