How To Market An eCommerce Store On A Tight Budget
Marketing is the secret sauce behind the most successful eCommerce stores. Offering quality products that meet the needs of your target customer is definitely important, but promotion is what brings in sales.
Sadly, many eCommerce entrepreneurs (particularly if they're new to the game) don't take the time to plan out a detailed marketing plan. They assume it's too expensive or time-consuming, so why bother?
Here's the thing… paid ads are great, but they aren't the only game in town.
If you don't have the funds to run paid promotional campaigns, there are other proven methods you can use to market your eCommerce store. Stick with us and we'll show you how!
7 Low-Cost Ways To Promote Your Online Store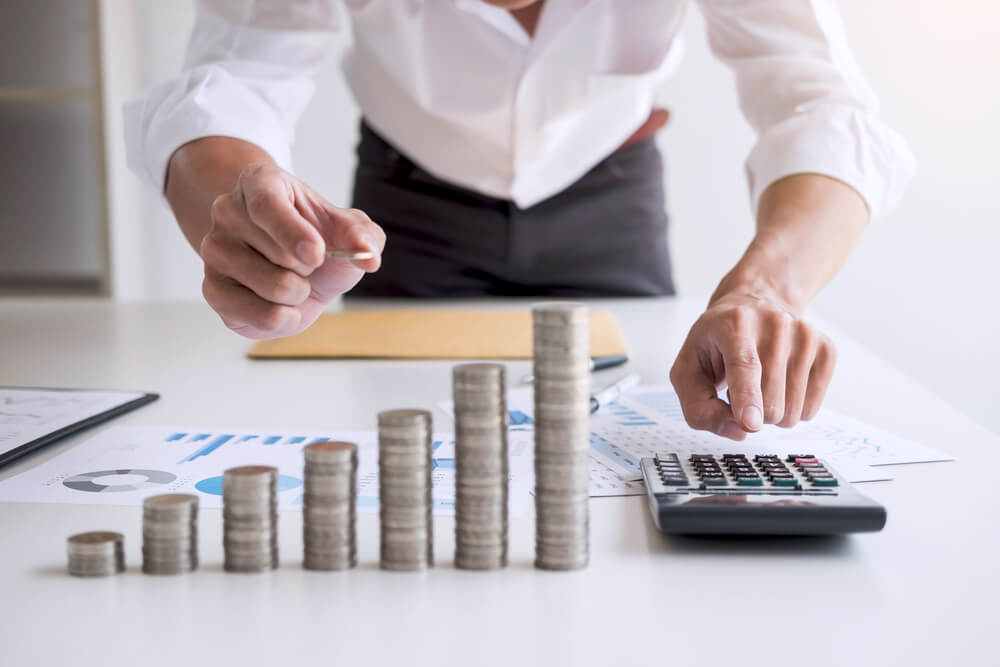 Business promotion is more than just running paid social media ads or Google PPC campaigns. It's a process by which you engage with your target audience to build brand awareness and boost sales.
The good news is there are a number of free and low-cost ways to market your eCommerce store available to you. These tactics can help you achieve measurable success, without breaking the bank.
Here are seven (7) strategies for marketing your online store on a tight budget:
1. Build An SEO Strategy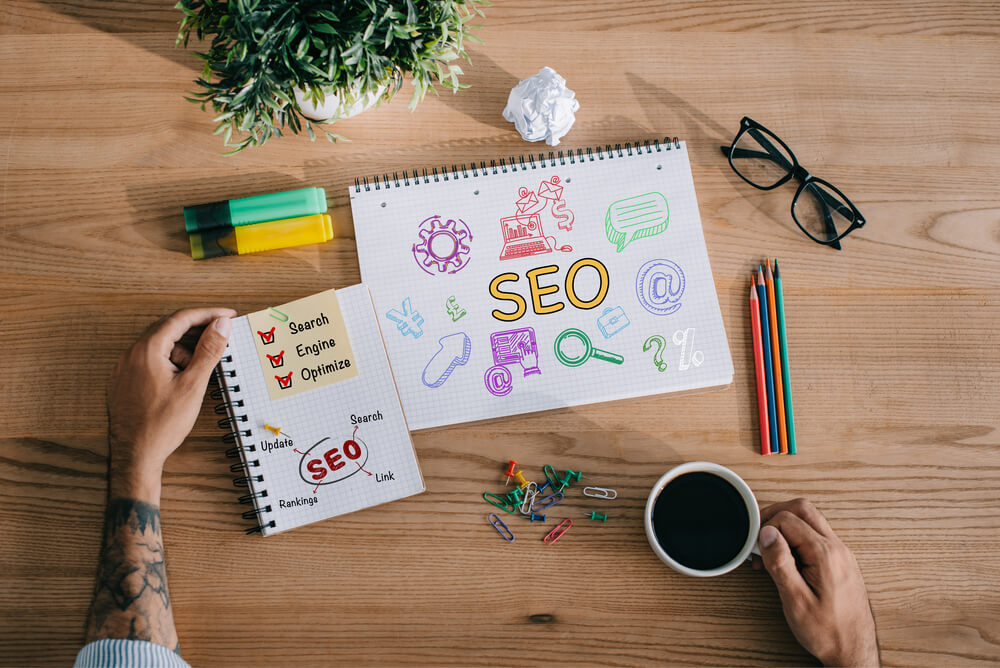 When it comes to marketing your eCommerce store, search engine optimization (SEO) is one of the best ways to get traffic and sales over time. Done right, SEO can significantly increase your store's discoverability.
Did you know that some 70% to 80% of users focus exclusively on organic results and ignore paid listings? What's more, 28% of these searches convert, resulting in a sale.
Getting to page one of the organic search for your store's top keywords is worth the effort. Customers actively searching these terms are "high intent", meaning they are more likely to buy your products than someone casually seeing a social media ad.
Wondering how to begin? Start by identifying the best SEO keywords for your eCommerce store. Tools like Google Keyword Planner, MOZ, Clearscope, or Ahrefs can help.
Then it's important to take the time to learn and understand SEO basics. Get online and do your homework!
There are lots of available resources, just be sure what you're looking at was published recently and by a reputable source. In SEO the rules of the game change, because search engines like Google are always updating their algorithms. You need to keep current.
Here are a few key SEO tactics to keep in mind as you're building your website.
SEO Basics:
Include appropriate keywords in your product descriptions, page URLs, meta-descriptions, image alt tags, and web copy.
Write titles and headlines that match your user's search intent.
Be sure your site is mobile-friendly.
Adding copy – especially long-form copy (over 800 words on a page) – helps improve search rankings.
Add internal links between important pages on your site.
Check your site speed, if pages take too long to load it can negatively impact your search rankings.
Monitor your SEO success using Google analytics.
RELATED: Guide To Shopify SEO For Dropshipping: Tips To Rank Higher!
2. Create A Blog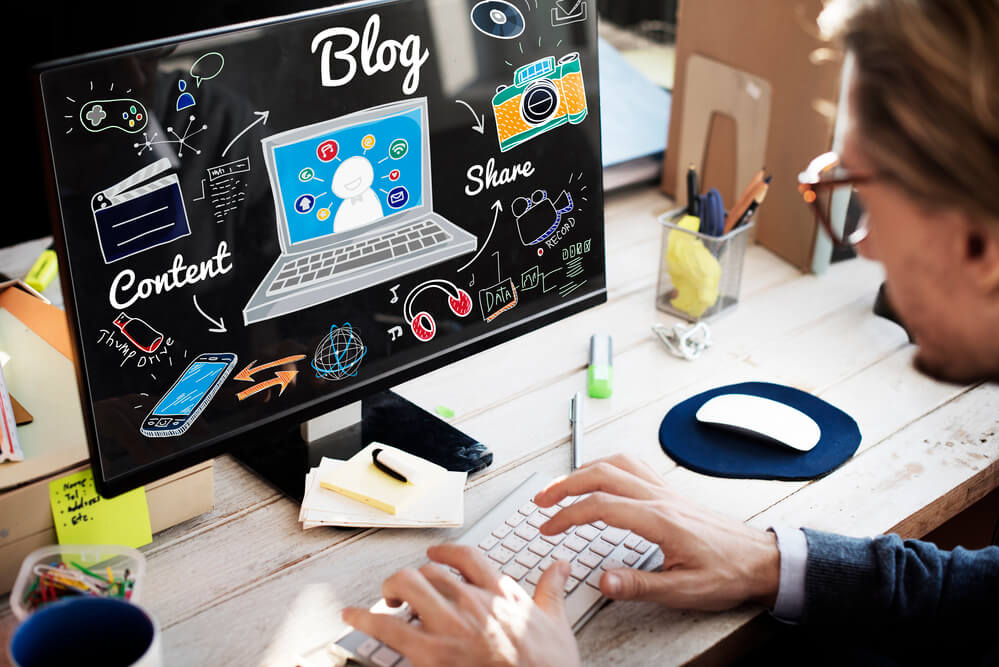 You don't need to be a professional novelist to engage in content marketing. Many brands launch blogs to build trust and share valuable information with their customers.
Blogging allows you to create long-form content, which as we mentioned above can boost your search engine rankings. Plus, you can post and share blogs on social media to drive even more traffic to your eCommerce store.
Not sure what to write about? Start keeping track of the questions your customers frequently ask. You can use them as idea starters to generate content that proactively answers common inquiries.
When brainstorming blog post ideas, think about your niche customer and what they care about. How can your products help them achieve their ideal lifestyle? What problem can you solve for them? How can you make their lives easier? The answers to these questions can be turned into great post topics!
For example, let's say you offer vegan food options in your online store. If your customers are concerned with healthy eating, you can blog about ways to incorporate more plant-based ingredients into their favorite recipes.
Anytime you can offer consumers tips to use your products in new and unique ways, you've got a potentially good blog topic on your hands. Along with a great opportunity to show readers how to incorporate the products you sell into their everyday lives.
Plus your blog can help build stronger relationships with your customer base by allowing readers to get to know your personality. They'll start to see you as an authority in your niche, which creates trust and encourages repeat business.
RELATED: Your Complete Marketing Guide For Dropshipping
3. Guest Post On Other Sites
Free traffic is hard to come by for new websites. And while we encourage SEO and blogging to drive organic traffic, it does take time to see results. This is why guest posting is another option you might want to consider to market your eCommerce store.
Since you're still in the process of growing your own audience, why not get your content in front of an already-established one? That's what guest posting allows you to do.
Not only can guest posting drive traffic, but the links to your site will help with search engine rankings. The important thing is to do the research and find bloggers with an audience you want to reach. Look to target people that will also connect with your products and brand.
Then reach out to those bloggers and offer to write a post their readers will love. Be sure the post you write provides real value and isn't too 'salesy'. Then include a few backlinks to your site that flow seamlessly within the content.
The best way to get your guest post published and promoted is to ensure it feels organic and is targeted to the interests of the site's existing audience.
4. Solicit Product Reviews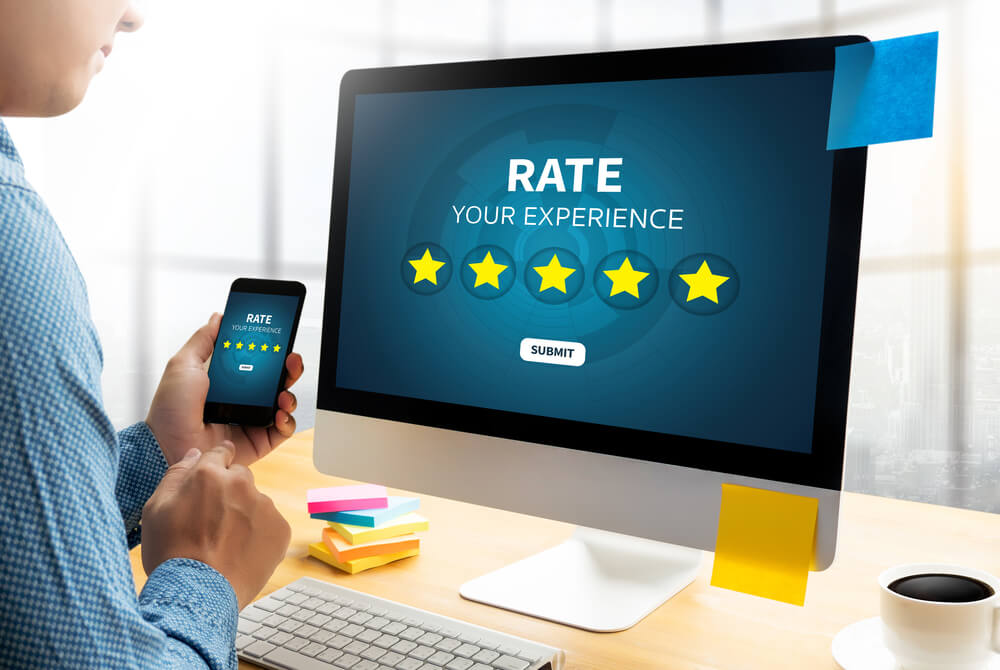 Getting your products reviewed can be a great way to spread awareness and drive sales. Plus you can use testimonials on your website and social media feeds to market your eCommerce store.
Product reviews are a critical way of building trust around your online store and products. Online buyers can't actually see or touch the items you sell, so they make buying decisions through the phenomenon of social proof.
Online shoppers determine "correct behavior" based on seeing what others have done. In other words, new customers read past customer reviews and use that feedback to make their own buying decisions.
According to research by MarketingProfs, over 60% of consumers are more likely to make an online purchase if it has any product reviews, and 70% of online shoppers consult reviews before making a final purchase.
Reviews boost conversion rates, which is why they're so important to add to your eCommerce store. You can also improve user experience (UX) by reading your buyers' reviews and resolving any issues that customers mention in their feedback.
If you have a Shopify store, there are some really cool apps that can help you easily add product review functionality to your website. Check out the following post to learn more: Best Shopify Review Apps To Build Your Online Store
5. Form Strategic Partnerships
Generate buzz around your store by networking with popular content creators in your industry or niche. Perhaps you can get a well-known blogger to backlink to your online store, or maybe even write a review of one of your products.
You can also research and connect with social media influencers who cater to audiences similar to your own. Identify social accounts with active followers that are affiliated with your niche and start engaging with them (as your brand) on a regular basis:
Like and follow their Facebook profiles and comment on their posts.
Retweet or reply to influencers' tweets, especially if they are about your eCommerce store. Comment and thank any influencers who retweet your posts.
Search people who use the same hashtags as you on Instagram to see if any are major influencers. Follow any you find and engage with their content.
Share content from influencers on your own socials and then message those influencers to see if they'd do the same for you.
Interacting and connecting with major players in your niche helps build awareness around your brand and products. The goal being to get some of these influencers to then spread the word about you to their own followers. Which can be a great way to help market your eCommerce store.
6. Start Email Marketing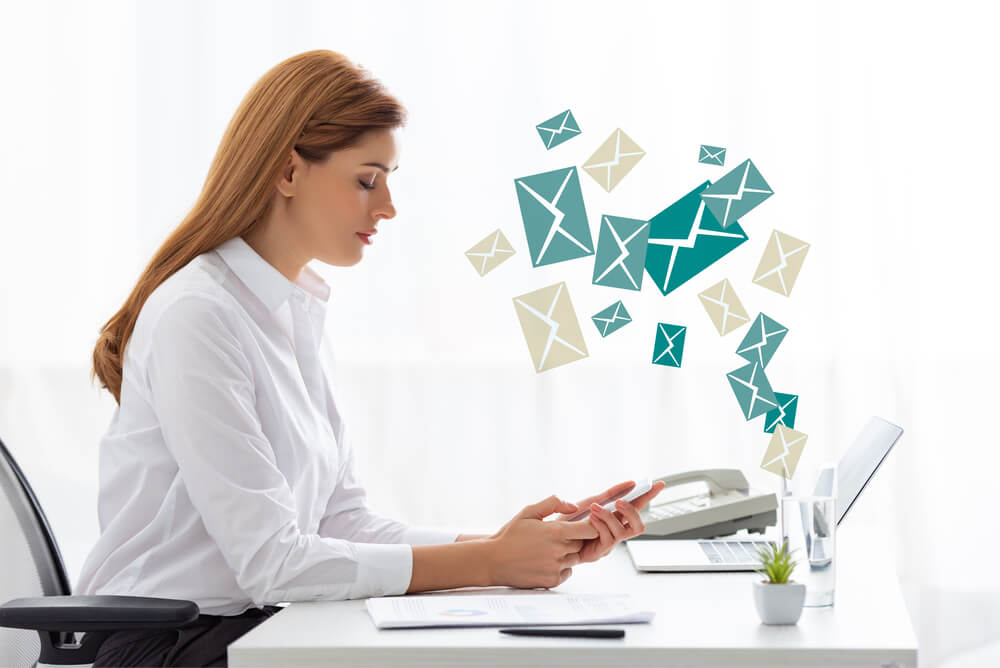 Email is another cost-effective way to engage with customers and drive traffic to your online store. Despite the influx of new social media marketing channels, email continues to be the main driver of customer retention and acquisition for small and midsize businesses.
According to data from Emarsys, 81% of small business owners rely on email as their primary customer acquisition channel, and 80% for retention. Get this, research from the Direct Marketing Association shows that entrepreneurs on average make $42 for every $1 spent on email marketing. That's pretty impressive.
Still not convinced? Here are some additional benefits of developing an effective email marketing strategy for your eCommerce store:
Cost – When compared to other marketing channels like paid social or Google PPC ads, running an email marketing campaign is one of the cheapest options.
Reach – with email marketing you can reach hundreds, even thousands of people just by clicking "Send". You're only limited by the size of your email list.
Sales – Since you know your subscribers are already interested in your brand, they're more likely to buy if you send the right message.
Ease of Launch – There are lots of user-friendly tools to help you design an email marketing campaign without any coding experience.
Measurable – Data tracking and analytics will let you know exactly how each email campaign is performing.
For more information on how to develop a truly effective email strategy to market your eCommerce store, check out our complete email marketing guide.
7. Use Social Media To Market Your eCommerce Store
It's no secret that social media is a smart way to market your eCommerce business. What you may not know is that there are many promotional tactics you can use without spending money on paid ads.
Let's start with the basics. First off, social media marketing is all about consistency. Post regularly at times that align with your customer's schedule, so you can reach and engage potential buyers.
And don't think you have to use every social media platform out there! You'll just end up spreading yourself too thin. Instead, focus on the channels where your target demographic regularly hangs out.
If you're not sure which social platforms are right for your business – do some industry research, or spy on the competition to see where they get the best results.
While you'll definitely want to share links to your website and products, don't scare off potential customers with too much salesy content. People come to social media to be entertained and discover information they perceive as valuable. Heavy self-promotion can be a turn-off.
Try to stick to the 80/20 rule. 80% industry news, helpful blog posts, and fun engaging videos – 20% direct marketing of your own online store and products.
Now that we covered the general rules of engagement for social media, let's take a look at some specific things you can do to market your eCommerce store.
Add Social Sharing Buttons To Your Site:
Social share buttons are a key element to increase the virality of your site which, in turn, can drive traffic and boost online sales. Make sure the buttons are easy for users to find, and will share the best product image you have.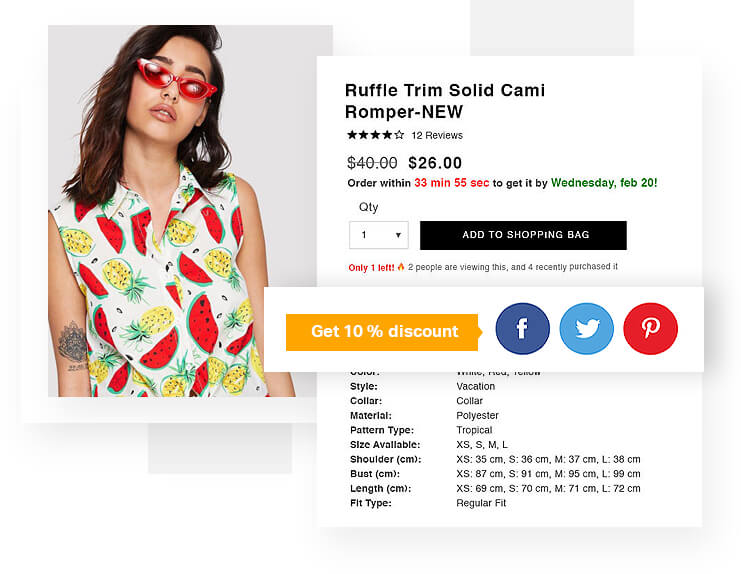 If you have a Shopify store there are several low-cost social share button apps available that are simple plug-and-play solutions. Making it easy for customers to share your products on all their social networks is one effective way to market your eCommerce store.
Create Micro Content For Social Posts:
Think about when and how most people scroll through their social media feeds. Maybe they're distracting themselves while in line at the grocery store, or using it to checkout and take a break from a busy day at work.
Whatever the trigger, people often turn to social scrolling as a quick escape between other tasks. This means if you want to grab their limited attention, you need to format your content into bite-sized chunks. This works especially well on platforms designed for quick engagement, such as Snapchat, Twitter, or TikTok.
A great way to do this is to look at your existing web and blog content, and use it to create micro-content just for social media.
As an example, say you sold coffee online and had written a post titled 5 Tips for Brewing a Better Cup of Joe. Rather than trying to share all 5 tips at once on social media, repurpose that content into 5 separate micro-posts (one for each tip). Then share the mini-post across five days.
This way you can grab a distracted reader's attention (without being overwhelming) AND get customers to come back the following day to see the next tip. Plus you don't need to come up with all new post ideas for social, you're simply reformatting content you already have.
Optimize Pinterest For Business:
Pinterest isn't like other social media channels. In fact, we'd go so far as to say it isn't truly "social media" at all.
Pinterest actually functions more like a search engine. This means all the keyword research and SEO tactics you learned for your website, can also be used to your advantage on Pinterest.
Organic content posted on Pinterest won't disappear down your feed like it would on Facebook or Twitter. Because Pinterest is focused on search, an older post can resurface as a popular Pin and bring traffic to your website… long after you first pinned it. We've seen Pins go viral months or even years after their original creation!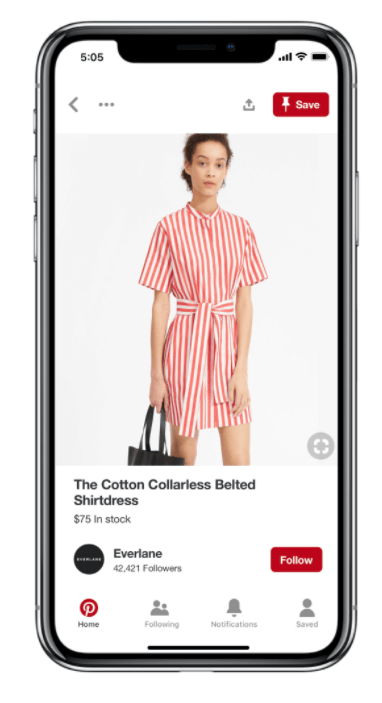 In addition, you can open a Pinterest business account, and create boards and Pins – all without spending a dime. And with the right SEO strategy in place, you can get your Pins seen by thousands of potential customers without ever having to pay for ads.
In fact, some of the most popular viral Pins on the platform that have been viewed and shared literally millions of times are totally organic. The trick is to make sure everything you publish is completely optimized for search so that your Pins are discoverable.
In Pinterest, be sure to optimize all of the following with relevant keywords:
Your business account username and profile description.
Board topic names and descriptions.
Pin titles, image tags, and descriptions.
Get Your Brand on TikTok:
TikTok is blowing up. The social media platform has over 689 million active monthly users worldwide and has been downloaded over two billion times from the App Store and Google Play.
Global Web Index showed that 41% of all TikTok users are between the age range of 16-24, making it a must-have tool in your marketing arsenal if that's the age range you're trying to target. This is where Zennials and GenZ users spend most of their online time.
A cool thing to know is that TikTok uses a proprietary discovery algorithm that helps videos go viral, whether you have 10 followers or 10,000. This means it can help your online store scale your social media presence and drive fast growth.
Plus you don't have to be a cinematographer or anything to do well on TikTok. Creativity and personality get a lot of visibility. Get comfortable making videos, then think of fun ways to share your products with the world.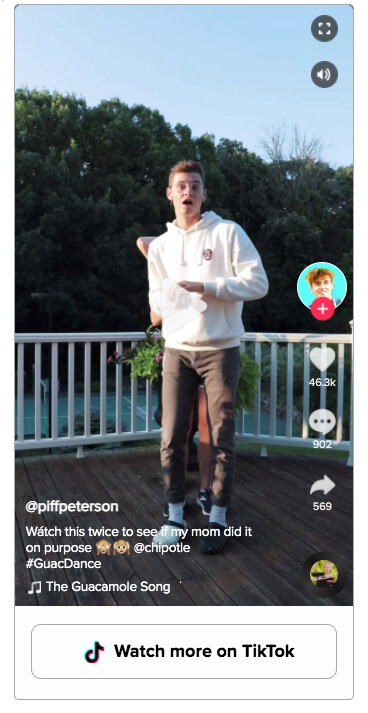 TikTok is great for building brand awareness. You can also drive sales with a link-in-bio feature that directs viewers to a landing page. TikTok also offers free advertising features (like AR filters and lenses) to promote your store online in an interactive and fun way.
If you don't know much about TikTok, now might be a good time to dive in and learn. It can be a great low-cost way to market your eCommerce store, especially to younger buyers.
Make Your Instagram Shoppable:
One of the biggest challenges for brands on Instagram is driving traffic back to their website. And when your main objective is to increase sales, that can be a problem.
One way to work around this issue is to make your Instagram posts and stories shoppable. Once your account is set up with Instagram Shopping, you can tag up to 5 products in a photo and link them to your store catalog. This creates a true shopping experience for your followers!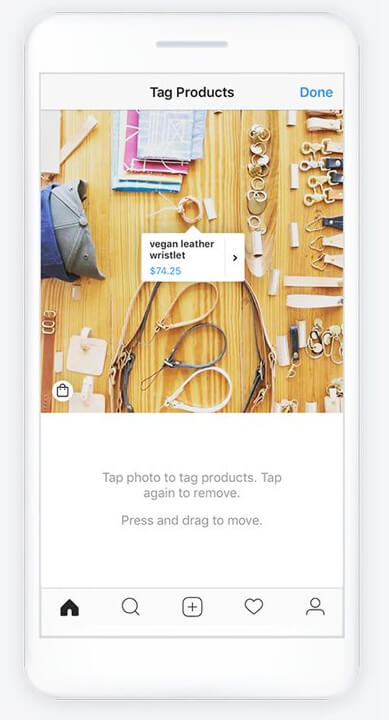 It takes a little effort upfront to get the catalog set up on your account, but it's time well spent. Use the following tips when creating shoppable posts:
Be sure the product images fit seamlessly with your Instagram feed and your brand's overall look and feel.
Make sure you have a natural balance of shoppable posts among your feed interspersed with regular on-brand lifestyle posts.
Consider taking pictures of your most popular products in action, and turning those 'lifestyle' images into a shoppable post.
RELATED: How To Create Instagram Ads For Dropshipping That Convert
Start A YouTube Channel:
YouTube users watch over one billion hours of video on the website every day! But surprisingly, only 9% of businesses use YouTube to promote themselves.
Take advantage of this opportunity and start making videos to promote your eCommerce store and brand.
As YouTube continues to grow in size, so does its marketing capabilities. A YouTube channel can help:
Build trust and credibility with your audience
Turn that audience into buyers and repeat customers
Encourage engagement
Increase your social media presence
Drive traffic to your eCommerce store
Think about how to show people new and unique ways to use your products. Then take those ideas and make them into fun, engaging videos.
You'll grow your brand following. But more importantly, you'll boost sales by showcasing clever ways to use your products in real-life situations. If a person can truly visualize how your products fit into their lifestyle, they'll be more likely to buy.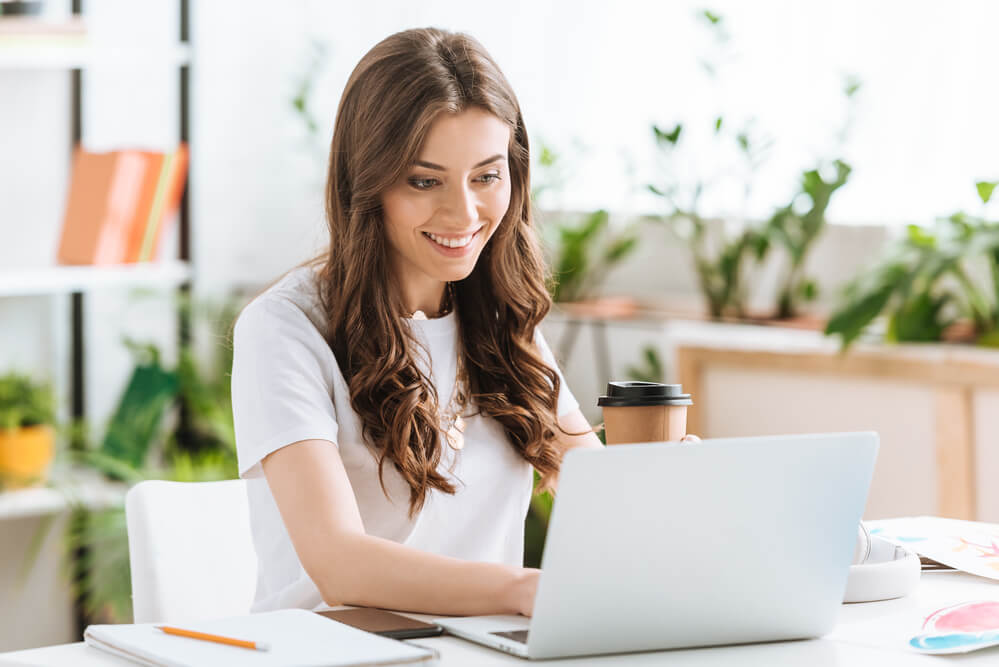 Marketing Your eCommerce Store: Key Takeaways
You've learned several ways to market your eCommerce store that don't require a big budget, just some time and effort on your part. Here are some important points to remember as you get ready to build your marketing plan.
Marketing your eCommerce store isn't just a WANT, it's a NEED. Don't let the fact that you don't have a big budget for paid advertising stop you!
There are plenty of free and low-cost marketing tactics that can help you raise brand awareness, drive traffic, or make sales.
You don't need to launch all these tactics immediately. Start with one or two, then add more as you have more bandwidth.
Diversification improves your chances of marketing success. Including different channels in your marketing plan enables you to reach more potential customers. Plus, you won't lose all your reach if a search engine or social platform suddenly changes its algorithm.
Track and measure all of your results! Learn which strategies get you the most sales, so you can focus more time and energy there.
Remember, slow and steady wins the race. It takes time to build domain rankings and social media engagement. Keep going!
How To Maximize Your eCommerce Marketing Efforts On A Budget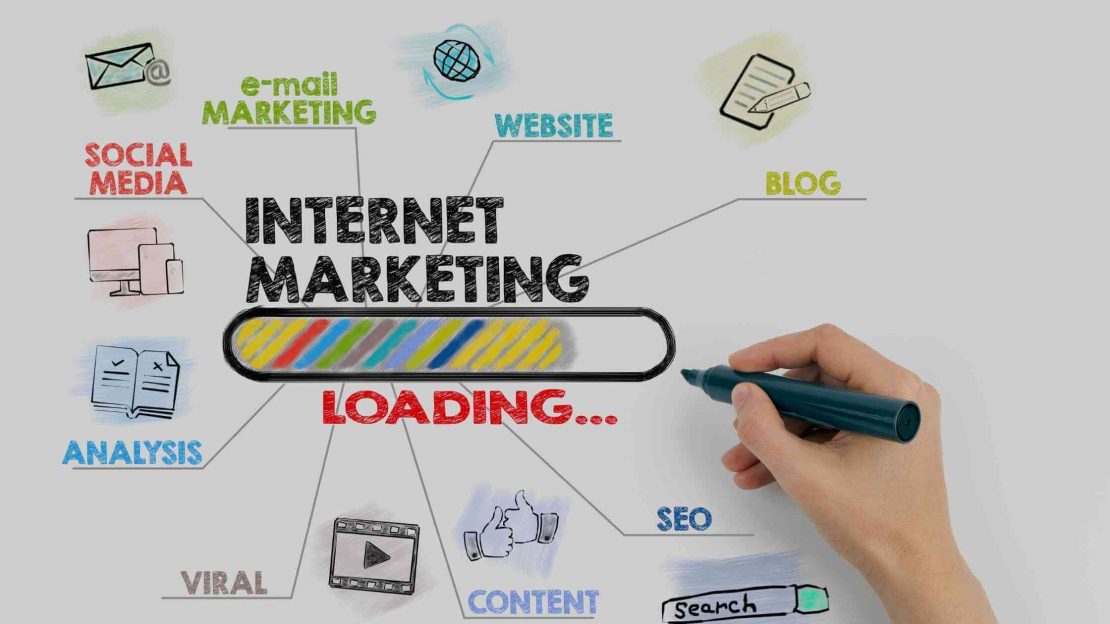 If you want to maximize your eCommerce marketing efforts, you need to set a budget that allows you to do so effectively. It's important to keep in mind that 85% of eCommerce marketing budgets should be spent on digital strategies. You should also make sure that you are choosing the right channels to use.
Choose The Right Avenues
When it comes to choosing the right avenues for an eCommerce marketing budget, the key is to know your audience and to play to their strengths. For example, social media can be a powerful tool for generating high-quality leads. Similarly, Google Analytics can reveal the habits of your visitors. A combination of the two can produce a synergistic effect.
It's a good idea to take a step back and consider your target audience as a whole, including demographics and buying habits. One way to accomplish this is to create a buyer persona. This can be used to predict future buying behaviors.
It's also a good idea to identify the pain points of your customers to keep them coming back. Ultimately, it's your company that will benefit from a well-rounded approach to eCommerce marketing.
RELATED: Facebook Marketing For eCommerce & Dropshipping: Tips To Succeed
It's important to take a holistic approach to your marketing efforts to avoid overdoing it and overspending on your ad campaigns. In the ad-heavy age of social media, content creation has a role to play as well. Creating quality content reassures your customers at every stage of the customer journey. Getting this right is essential to ensuring a healthy relationship with your customers.
The most successful eCommerce businesses are those that play to their strengths. This may include offering a variety of payment options for online shoppers. Some retailers are even able to offer a refund on purchases via PayPal (or other payment gateway).
Taking the time to think through the right strategies for your business will help ensure your online success for years to come.
RELATED: How to Choose a Payment Gateway for Dropshipping
Set Realistic Goals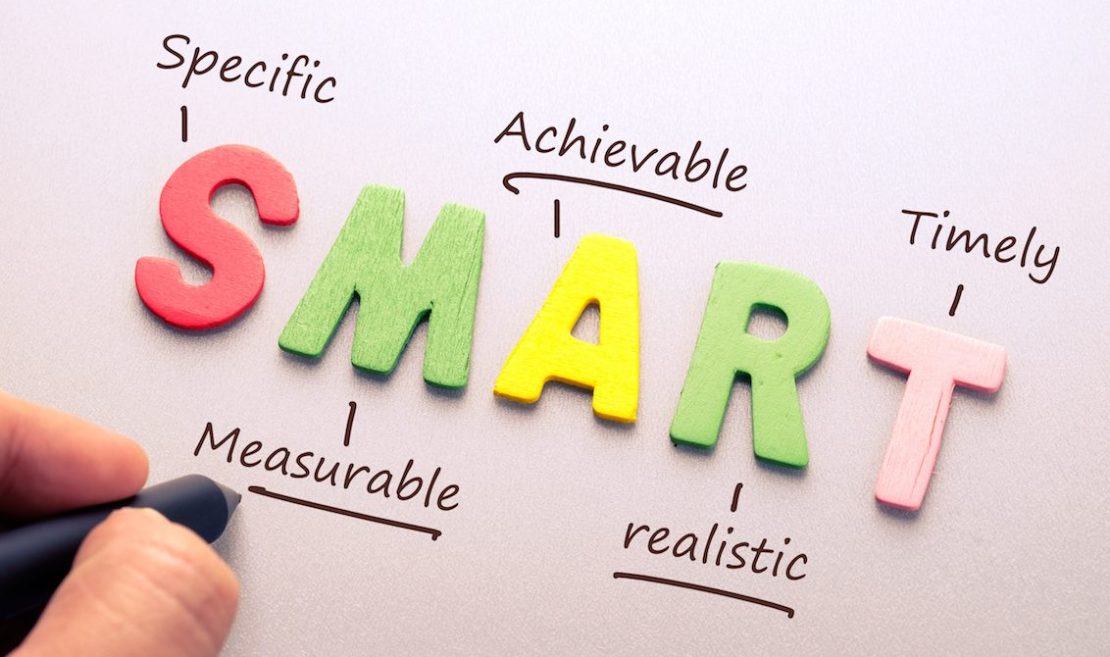 Setting realistic goals for your eCommerce marketing budget is an important step in your journey. When you set your goals, you are able to measure them and evaluate the results. This can help you make more informed decisions about your future business.
There are a few different ways to set realistic goals for your eCommerce marketing budget. Creating a vision board is one way to do this. You can pool together your goals for a certain number of years and track your progress toward each goal.
A SMART framework is another method for setting realistic goals. Using the SMART framework, you should set a goal that is specific, measurable, achievable, realistic, and time-bound. So what does the SMART framework mean?
S – Specific
M – Measurable
A – Achievable
R – Realistic
T – Timely
Setting goals is a vital part of any business. But the problem is that many businesses do not set them. They either have vague goals or goals that do not focus on their business' success.
Having a clear plan helps you allocate your resources efficiently. By setting a specific date, you are able to monitor the results of your marketing campaigns.
As you make adjustments, you can see what's working and what's not. Whether you need to increase traffic, improve conversions, or boost sales, your goals can give you direction.
One of the best ways to keep track of your goals is to use eCommerce shopping analytics. These tools are easy to use and can give you a clear view of what's happening. With a few clicks, you can quickly generate a dashboard of your performance to instantly gain insights from your traffic and sales data.
When setting your goals, go easy on yourself. Start small and don't expect to get 10,000 sales right away. Often, the first few months of an online business can be frustrating.
Define KPIs to Measure eCommerce Marketing ROI
If you have an online store, it's important to know how to define key performance indicators (KPIs) that measure eCommerce marketing ROI. These metrics can help you track your progress and ensure your business is on the right path.
One of the most important eCommerce KPIs is return on investment (ROI). This metric measures your profit. It is the culmination of your advertising expenditures against your revenue.
Another key eCommerce KPI is customer acquisition cost (CAC). CAC is the amount of money it costs to acquire each customer. The higher the number of repeat customers, the lower the cost of acquiring new ones.
Customer retention rates are an essential indicator of how successful your business is. If you have a high customer retention rate, you will see higher customer satisfaction and order values. Retaining customers can also drive word-of-mouth marketing.
Several important eCommerce KPIs include:
To make it easier for you to manage and optimize the efficacy and efficiency of your eCommerce store, thankfully each of these metrics can be tracked separately or in combination.
RELATED: Abandoned Cart Recovery: Strategies For Dropshipping
When it comes to measuring eCommerce marketing ROI, you need to keep in mind that you should not rely on your intuition. Instead, you should base your decisions on accurate data and a solid understanding of how your processes work together. You may also want to use tools such as digital payment processors to provide critical information.
In addition to customer acquisition and retention, you should also keep track of your average order size and the number of orders. These metrics give you a clear picture of how much you are spending on customer purchases. Knowing how much each individual customer spends on an average order can tell you whether or not your investments are paying off.
Consider PPC Advertising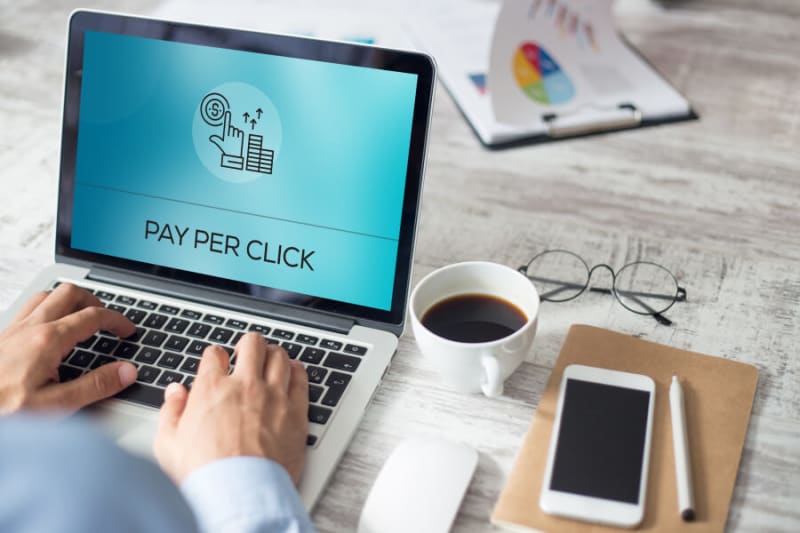 Pay-per-click (PPC) advertising is a powerful way to drive website traffic and convert prospects into customers. It also can provide instant feedback about how your campaign is performing. In order to get the most out of your PPC ads, it is important to optimize them.
PPC advertising works by targeting specific keywords. The keyword you choose must be relevant and have a high enough search volume. Your ad will show up on websites, social media platforms, and even mobile applications.
You can target people who have already visited your site in the past or those who are actively searching for your product. For example, you might want to target a certain geographic area or someone who is searching for the organic products that you sell.
When you are creating an eCommerce PPC campaign, the most important step is researching keywords. This will help you identify the best potential keywords. However, you should be cautious about using too many keywords that are too expensive.
To ensure the success of your eCommerce PPC ads, you should test them for a period of time. This is called A/B testing.
A/B testing allows you to see how different variables affect the performance of your ad. You may find that one ad performs better than another. Depending on your industry, you might need to run your test longer.
If your ad doesn't perform well, you can close it or change it to a more effective one. Another option is to remarket it to users who left your website without completing a purchase. Remarketing is proven to increase conversion rates by up to 70%.
Creating a successful eCommerce PPC campaign isn't impossible. By following a few simple steps, you can maximize the impact of your ad campaigns.
Use Local Marketing
Local eCommerce marketing is about more than just driving sales to your bricks and mortar storefront. It's about engaging customers and offering them a variety of options to satisfy their buying needs.
Plus, local eCommerce marketing is a great way to expand your reach to customers near and far. In fact, the best marketers don't just target their local community; they go beyond that and make their presence known in other countries and cities. They also keep a close eye on their customer data and make sure their product inventory is up to snuff.
There are many different tools available to make this possible. For example, there are several analytics platforms out there that can help your team refine their campaigns and increase traffic. However, it's best to select a solution that makes sense for your business. If you're not sure which is right for you, consider asking a local marketing agency for guidance.
The most successful local eCommerce companies have an online presence that is dialed into the target demographic they're trying to sell to. For instance, you should always consider where your potential customers – or your ideal customers – are located and what kind of products they want.
This will allow you to make a more personal connection with online shoppers, thereby turning them from one-time visitors into regular customers. Let's say that you decide to sell organic groceries, this is a crucial component of your success since these types of goods are purchased regularly. This creates a long-running relationship between your eCommerce store and the shopper.
Ultimately, you can get better returns on your investments and create a more stable revenue stream that will stay strong and consistent over time.
Other local eCommerce marketing tactics include social media marketing. In addition to Facebook and Twitter, you can promote your products through Pinterest and Google+. Social media is a powerful marketing tool that can help you build genuine connections with your customers, which is invaluable.
Implement Guerilla Marketing
If you're a business owner looking for an alternative to traditional advertising, you may want to consider guerilla marketing. This type of marketing is a fun and inexpensive way to promote your company.
Guerilla marketing can take the form of a variety of tactics. One of the most common is word of mouth. However, other strategies include gamification and offline marketing.
When executed properly, guerilla marketing for eCommerce can be effective. Many companies have utilized this tactic to gain the attention of the general public and boost street cred.
To successfully run a guerrilla marketing campaign, you need to find a way to engage the public in a meaningful way. You can do this by creating content that sparks conversation.
A popular example is the Ice Bucket Challenge. People all over the world took part in the challenge and the idea of getting a bucket full of water to be emptied on your head was very popular and went viral.
Another popular guerilla marketing campaign is the candle workshop. These events provide an interactive educational experience and the customers learn how to make and use the products they purchase.
There are a variety of guerrilla marketing ideas you can try at conferences, trade shows, and meetups. They are an excellent way to test the viability of your product or service.
For a small business, finding creative ways to get the public's attention is essential. In fact, a change in lighting, colorful artwork, or a quirky banner can draw the crowds.
Guerilla marketing for eCommerce is an easy way to expand your brand's reach. It can attract attention, boost sales, and help you build relationships with customers. Just remember to keep your guerrilla marketing efforts legal!
Create & Execute Action Items
The right tools and techniques are the secret sauce to a successful eCommerce business. For starters, the best place to start is with a robust project management software suite that will help you plan, budget, and execute.
From there, it's just a matter of making the most of your team members' skill sets. To keep things in check, it pays to make sure your team knows what's what and when. A nifty little tool like a project task checklist is sure to help your team and always save your back.
This is especially true if your project consists of multiple sub-teams with varied schedules and priorities. In short, having a well-defined workflow streamlined and coordinated across the enterprise is a good way to achieve maximum impact.
It also makes for an excellent team-building exercise. On top of that, it provides the foundation for a more efficient business model. By keeping everyone on the same page, you're rewarded with a more unified organizational structure that is much more productive and kinder to your wallet. And – as a bonus – you're also more likely to make the best possible decisions.
85% Of eCommerce Marketing Budgets Should Be Digital!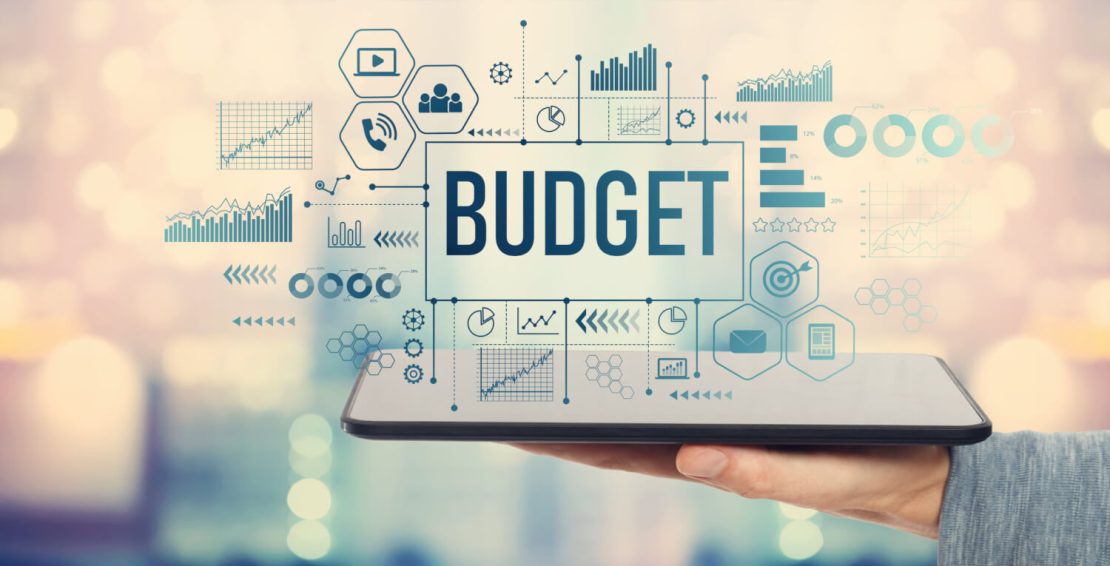 If you are in the eCommerce space then it is not surprising that your marketing budget is dwindling. However, there are ways to save money and still increase your bottom line.
For example, you can invest in a search engine optimization (SEO) campaign that will help you get your name in front of the right people.
Likewise, you can use an analytics tool like SEMrush to identify which pages on your site generate the most traffic and where your traffic is coming from. With these tools in place, you can focus your marketing resources on what matters most to your business.
One of the biggest problems facing any business is finding the time to put your money where your mouth is. The best way to do this is to implement a marketing budget plan that is based on baseline revenue growth.
Knowing how much your company is growing in the coming months will allow you to make educated choices about where and how you spend your money.
How Can Design & Omnichannel Retailing Improve Your eCommerce Store?
In the current market, retailers are looking for ways to improve their store's appearance and functionality. To do so, they're turning to design and omnichannel retailing, a combination that offers a number of advantages. But it also means taking on new challenges.
Personalization
eCommerce personalization is a way to provide customers with a personalized experience. This helps to increase revenue and customer satisfaction. The process involves collecting data and delivering content that is relevant to customers' needs. Personalization can be targeted at specific customer segments, based on their purchase history, preferences, and life-cycle stage.
Creating a personalized eCommerce store experience is a task that requires the right tools. However, the task is not as difficult as it sounds. When you take the time to learn about the market, you can develop an effective personalization strategy.
RELATED: How to Make a Dropshipping Website To Sell Products
Using eCommerce personalization, retailers can create a user-specific shopping experience that improves sales and boosts marketing goals. Personalization is a great way to engage with customers, increase revenue, and foster long-term relationships. It can even help to build your email list.
Customers expect brands to be aware of their needs and preferences. Personalized recommendations make them feel that your business is listening to them. Similarly, if your store has a large catalog, delivering the right content to each customer is essential.
eCommerce personalization can target product categories, including cross-sells and downsells. Adding the right offers to the right place can encourage your customers to make a purchase. And if you have a brick-and-mortar shop, geolocation targeting is important. You can also include local events in your marketing.
As an added advantage, you can use a variety of tools to improve the user experience (UX). For example, you can use popup campaigns that can be customized for different traffic sources.
Ultimately, your goal should be to deliver a personalized experience that will delight your customers. Start with small, quick wins, and then work to enhance your campaign over time.
RELATED: The Ultimate Guide to Shopify Website Design
Segmentation
Market segmentation is a great way to understand your market. It helps you to know the products your customers are looking for and helps you develop a better strategy for attracting those customers.
The most obvious benefit of customer segmentation is that it allows you to tailor your communications to specific groups of customers. This can save you time and money while allowing you to focus on other aspects of your business.
In the context of eCommerce, segmentation can be used to better target your products to the appropriate audience. You can do this through a variety of strategies. Some of these include sending out emails or promoting your brand through social media platforms.
Another option is to create multiple product pages that cater to different audience segments. For example, you may have a separate page for caramel-flavored items and a separate page for cookies. Both are great examples of how you can personalize your eCommerce store to your target audience.
RELATED: 5 Killer Product Description Templates That Sell
Segmenting your market can be as simple or as complex as you wish. Your goal should be to determine what works best for your company.
One of the most effective ways to do this is to use an eCommerce product-segmentation tool like eDesk Customer View. This tool is free for two weeks and can help you get started with segmentation.
Aside from identifying the right products to sell, segmentation can also help you figure out where you are lacking. For instance, a store might discover a large population of retired middle-income males. These people are likely to need more products than other customers. If the store specializes in baby toys, it might be a good idea to start focusing its advertising efforts on those demographics.
RELATED: How To Find the Best Dropshipping Niches
Omnichannel Retailing
Omnichannel retailing combines online and offline channels to provide a hyper-convenient shopping experience. The goal is to provide a seamless customer experience across all channels. This includes creating a single data stream to unify sales and inventory data, reducing the need for multiple systems, and offering a consistent brand experience.
Omnichannel retailers offer consumers convenience features such as the click-and-collect model, which allows shoppers to buy items in stores, then pick them up at a later time. This is a more affordable alternative to standard product delivery.
Another way to boost the effectiveness of omnichannel retailing is to make returns easier. Returns are a key part of the overall customer experience. However, companies must develop new technologies and processes to implement a successful omnichannel strategy.
Creating an omnichannel retailing strategy requires a 360-degree understanding of your customer's needs and expectations. To achieve this, you'll need to monitor your customers' interactions with your brand, platforms, and devices. You'll also need to be able to observe their buying behavior and the challenges they face while shopping.
In addition to allowing consumers to interact with your brand and shop in multiple locations, an omnichannel retailing strategy can also improve foot traffic. By getting your products in front of more people, you'll increase your average order value. Plus, it can boost brand loyalty.
As with any retail strategy, a successful omnichannel approach can take time to implement. But by making an effort to understand your customer and their preferences, you can create a better, more personalized shopping experience for them.
For an omnichannel retailer, it's important to consider back-of-house operations. This will include inventory control, fulfillment procedures, and product delivery options.
Source High-Quality Products From GreenDropShip For Your eCommerce Store
If your target audience includes eco-conscious or health-conscious consumers, and you're looking for high-quality products to sell, be sure to check out GreenDropShip. We are a reputable 'Made in USA' dropshipping supplier of natural and organic products.
In fact, GreenDropship offers an extensive inventory of over 20,000 brand-name products including gourmet and specialty items in a wide range of categories such as food & beverage, bath & body care, vitamins & supplements, household goods, baby items, and more.
GreenDropShip also integrates seamlessly with Shopify and WooCommerce via our product feeds. We've also released a Shopify dropshipping app that makes it easier than ever to sell our products online. At the time of writing, ours is the only Shopify app that lets you dropship certain specialty items like groceries.
Join GreenDropShip And Start Selling Today!