Guide To Dropshipping Eco-Friendly Products
Thinking about adding green products to your online store? You're in luck! Dropshipping eco-friendly products is a lot easier today than it would have been just ten short years ago.
A lot of this had to do with limited product availability. Let's face it, in the past there just wasn't much in the way of selection when it came to eco-friendly items for consumers. These types of products were considered niche, which made them difficult to find and sometimes price prohibitive.
Fast forward to now. With issues like global warming and pollution making front-page news, consumer awareness about how products impact the environment is at an all-time high. Which means eco-friendly products and brands have gone mainstream and are more readily available. This presents a great business opportunity for eCommerce entrepreneurs!
In this article, we'll guide you through the basic steps for building your eco-friendly eCommerce business – including choosing the right dropshipping supplier, marketing to eco-conscious consumers, and selecting green products to add to your online store. Keep reading to learn more.
Why Offer Eco-Friendly Products
A good product isn't always enough to win over a consumer. Shoppers today want more than just quality. They also want brands and products that align with their personal values. And they're willing to put their money where their mouth is.
In the face of climate change, many consumers are considering the consequences of their shopping habits. A 2019 survey led by Hotwire found that 47% of internet users worldwide had stopped using products and services from a brand that violated their personal values. Protecting the environment topped that list.
And even if sustainability isn't stated as someone's top priority, the idea of using a purchase to do good is still attractive to many shoppers. Meaning by highlighting a product or brand's environmental contributions, you can get more sales across the board. Not just from consumers who identify as eco-conscious.
Futerra's survey of consumers in the US and UK discovered that 96% of people feel their own actions, such as donating, recycling or buying ethically, make a difference to the environment. And over half believe that they personally can make a big difference. That's huge!
It also confirms that marketing eco-friendly products is a great way to engage with consumers on an emotional level about something they care about. This connection entices shoppers to buy from sellers they see as being aligned with their values. Position yourself to be one of those brands!
How To Sell Green Products Online
Once you've made the decision to carry green products in your online store – the real question becomes, "how do I start selling them?"
You could buy wholesale eco-friendly products in bulk for resale. However, you're then responsible for storing, packing, and shipping the orders to your customers. Which means you'll need to have access to warehouse or storage space, as well as the resources required for shipping and handling.
And some eco-friendly food products are heat sensitive. So in addition to having space to store your inventory, you'll also need to deal with the logistics of maintaining a temperature controlled environment.
These are just a few of the reasons why we think dropshipping is the way to go! Dropshipping is, hands down, the easiest way to resell environmentally friendly products from the comfort of your own home.
RELATED: How To Start Dropshipping Vegan Products
Dropshipping Eco-Friendly Products
Why choose dropshipping? Think about it, where else are you going to find a online business model that enables you to start selling with:
Little to no startup costs
Never having to stock inventory
No packaging or shipping out orders
With dropshipping, you won't ever have to hassle with storing or handling any inventory. Your supplier maintains all the products for you, then pulls, packs and ships the orders out to your final customers. How easy is that?
Yup, you read that right. With dropshipping you don't have to worry about buying or renting space to store products or risk your capital to front-load inventory. You can start this business with almost no cash upfront.
Basically, you get to focus your time and energy on what you do best as an entrepreneur, marketing to attract the right niche customers to your online store. Your dropshipping supplier will handle the rest.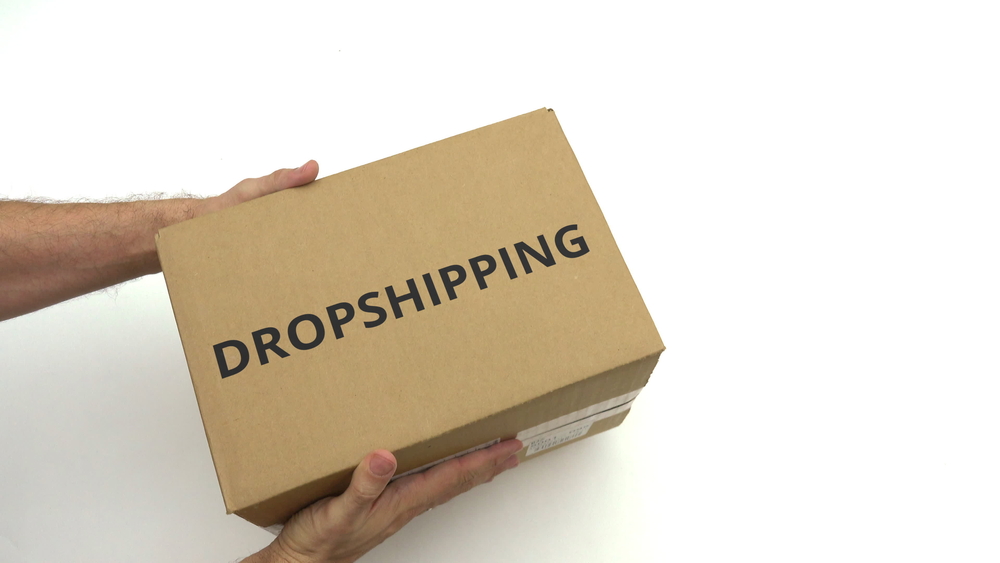 How to Find an Eco-Friendly Supplier
Before you can import eco-friendly products into your online store, you need to find the right dropshipping supplier(s) to partner with. There are many methods you can use to find a dropshipping supplier, but these two are the most common and may be a good place to start:
Method 1: Try doing a Google search related to the eCommerce platform you're using. If you haven't chosen a platform yet, no worries. We go into that more in detail below.
Bus as an example, say you've chosen Shopify as your eCommerce platform, try searching "Shopify dropshipping supplier" to find suppliers that will integrate with your Shopify store.
Method 2: Consult an online supplier directory. These resources provide updated lists of prescreened suppliers and the type of products they offer. We share some of the more popular directories below.
Eco-Friendly Dropshippers: The Leaders
Working with environmentally friendly suppliers is best since you'll always be up-to-date on the latest items and product trends for your business. Here's a short guide to the top eco-friendly product wholesalers that offer great dropshipping programs for online retailers:
Bangalla is one of the oldest organic and natural products wholesalers around. They also carry an extensive inventory of eco-friendly products that range from bath and beauty items to cleaning products, energy-saving items. They also carry sustainable items like coffee and tea.
AliExpress is a wholesale and dropshipping platform that connects dropshippers to suppliers. Also, the company offers millions of products including eco-friendly items of several categories.
Wholesale2B to be is actually a supplier integration system that allows you to choose from over one million products hundreds of suppliers that you can sell on your website. Because of this, you can find many eco-friendly suppliers within their system
Worldwide Brands is a directory of dropshippers and bulk distributors. Furthermore, they always update their list of new suppliers which include eco-friendly wholesalers.
GreenDropShip offers over 20,000 natural and organic products. We also have an extensive inventory of eco-friendly products from household cleaning supplies and beauty items to sustainable food items like coffee, bulk grains, and nuts.
These environmentally-friendly suppliers are excellent resources for eco-friendly products for your business. Now that eco-friendly is part of the mainstream it's a smart move to take advantage of the surge in these products sales. You can include them among the products you feature on your website.
Additional Dropshipping Considerations
Before making your final selection of a dropshipping supplier(s), some additional items to consider include:
For faster shipping, choose a domestic supplier based in the USA.
Check to be sure their membership prices are competitive.
Verify the supplier will integrate with your eCommerce platform.
Determine if the supplier has any minimum order requirements.
Make sure they offer customer service.
Look over the supplier's inventory to be sure it aligns with what you want to sell.
GreenDropShip is a reputable supplier that meets all of these criteria. With over 20,000 natural and organic products – including thousands of eco-friendly products that run the gambit from household cleaning supplies and beauty items to sustainable food items like coffee, chocolate, bulk grains, and nuts.
To learn more, simply contact our support team and they can get you started.
Build Your Eco-Friendly Dropshipping Business
If you're new to dropshipping you may want to check out this article for a complete list of tips on How To Dropship.
For now, let's start with the basics – choosing your eCommerce platform, building an online store, and marketing your products.
Choose An Ecommerce Platform
When it comes to choosing an eCommerce platform, there are lots of options to choose from. But for new entrepreneurs, it often makes sense to go with a well-established platform that offers a user-friendly interface along with the tools and support you need to easily launch an online store.
Four options that are both trusted and popular include:
Shopify – This large eCommerce platform has a ton of built-in features, which make it super easy for newbies to quickly get up to speed and start selling products. Shopify is pretty much a plug-and-play platform. It also has a lot of useful apps to help you further optimize your online store and business operations.
WooCommerce – If you have or plan to build a WordPress site, this is the plugin that will make your website shoppable. You can then take advantage of all the design and content features WordPress has to offer, while enjoying the convenient, intuitive shopping functionality of WooCommerce. Plus it offers web hosting and search engine optimization (SEO) as well.
Amazon – The behemoth of online shopping, and the most widely known eCommerce platform. If you choose Amazon to sell products, you gain access to their huge customer base and excellent service.
eBay – Another well known and popular platform. Choosing eBay allows you to carry your own handmade products, alongside dropshipping items. Plus their bidding system might result in you earning a higher price for some items.
Keep in mind that all the eCommerce platforms above require paying membership or transactional fees. So you'll also want to compare pricing structures and think about the volume of products you plan to carry and sell.
To make things even easier, GreenDropShip can be used as your dropshipping supplier with any of these eCommerce platforms. We even launched a GreenDropShip app for Shopify to make managing products and orders in your Shopify store a breeze!
Set Up Your Online Dropshipping Store
Once you've chosen your eCommerce platform, it's time to do some research and set-up your actual online store. Some tasks to complete before you start dropshipping eco-friendly products include:
Understand your target market and buyer personas
Research your green product online retail competition
Identify eco-conscious product trends
Know the legal requirements to start an online business
Sign up for a web hosting service and payment gateway
Market and promote your online store
Track data to measure performance
Sounds like a lot, we know. Which is why when launching a green products dropshipping business, it's essential to have a checklist to point you in the right direction and ensure you've got all your bases covered.
That's why we put together this step-by-step guide on How To Start An Online Store.
In it we break down all the steps listed above into manageable chunks, to help you put together a solid plan for building your eCommerce business. If you feel like you need a little more guidance, this is another great resource you can use.
Marketing Eco-Friendly Products
One extremely effective marketing strategy for eco-friendly products is storytelling. Need proof? Studies have shown that humans are 22 times more likely to remember a fact when it has been wrapped in a story.
So how can you tap into the awesome power of storytelling marketing? Storytelling means using a narrative to communicate a message. The goal is to make your reader FEEL something, to inspire them emotionally to buy your product.
Storytelling can help your customers understand why they should care about the eco-friendly products you're selling. It works to build trust, and to humanize your brand.
Think about the story behind any green product you sell. What makes it interesting or special?
Is it that the brand promotes sustainable farming practices? Do they use biodegradable packaging? Is the product chemical-free? If it's a food item, is it plant-based or certified organic?
Remember, people relate emotionally to stories. And feelings are what drive shoppers to buy.
It's also important to familiarize yourself with eco-terminology. You want to use the right words to accurately describe the items you're selling.
Key selling points for green marketing may include phrases like:
Sustainable
Non-toxic ingredients
Chemical free
Recycled materials
Biodegradable
Locally grown/raised
All natural
Organically produced
Certified humane
Top Environmentally Safe Products For Dropshipping
The most effective green marketing strategy is to curate a list of quality eco-friendly products for your online store. Green brands often have great stories behind them, stories you can use to connect with your customers and help you stand out from the crowd.
Do some research to find brands that are committed to offering consumers healthy and environmentally safe options. Then look for dropshipping suppliers, like GreenDropShip, that carry the natural/organic products you want to sell.
The Environmental Working Group is anon-profit, non-partisan organization dedicated to protecting human health and the environment. They review thousands of consumer products each year to find items that are safe for both people and the planet. Their 'best of' product lists are a great place to start your search!
Five (5) of the top categories consumers look for in the ethical-product space include: cleaning supplies, coffee and chocolate, plant-based foods, baby and beauty products.
1. Natural Cleaning Products
Promoting healthier living with fewer chemicals is a great selling point for consumers, particularly those that have pets or children. This is especially true when it comes to cleaning products, which can have some of the highest toxic load of any products on the market.
Green cleaning products are healthier, safer, less likely to trigger allergies, and gentler on fabric and furniture. So in addition to making your customer's home less toxic, they also help their belongings last longer.
If you're looking for all natural cleaning supplies to add to your online store as part of your dropshipping eco-friendly products strategy, be sure to check out these helpful resources:
2. Fair Trade Coffee And Chocolate
Coffee and chocolate are always popular items with consumers. But these products have historically been problematic, due to questionable farming and labor practices used in many countries growing these crops. That's where "Fair Trade" comes into play.
The fair trade label means an organization such as Fair Trade USA has certified that farmers and other producers adhere to fair trade standards.
Purchasing products that are fair trade certified can reduce poverty, encourage environmentally friendly production methods and safeguard humane working conditions. Fair trade products are also free of genetically engineered ingredients, and must be produced with limited amounts of pesticides and fertilizers and proper management of waste, water and energy.
In other words, these are products eco-conscious consumers can feel good about. To learn more about adding fair trade coffee or chocolate to your online store, check out the following:
3. Plant-Based Foods
One of the easiest ways consumers can help the environment is to adopt a more plant-based diet.
In fact, one study published in the journal Nature found that the production of animal products generates the majority of food-related greenhouse-gas emissions — specifically, up to 78% of total agricultural emissions.
Make it easy for eco-conscious consumers to eat less meat by offering vegan and vegetarian products in your online store! The following resources can help:
4. Eco-Friendly Beauty Products
Another area that shows increased consumer demand for green products is the beauty and body care industry.
By using natural, non-chemical ingredients, sustainable cosmetics avoid many of the toxic elements found in other 'non-green' brands. These chemicals can cause damage both to the environment and human health.
Luckily there has been a big push in recent years for beauty manufacturer's to move away from chemical ingredients and offer more eco-friendly product options. Brands are now turning to organic, natural, and homeopathic ingredients, such as essential oil and plant-based formulations, which appeal more to modern eco-conscious shoppers.
5. Organic Baby Products
And finally, when it comes to dropshipping eco-friendly products, you don't want to forget about baby. Parents are big on safety, especially when it comes to their little one. They will not buy a brand or product they don't trust.
Babies are also very sensitive. So anything they ingest or that comes into contact with their skin has the potential for causing irritation. As a result, natural and organic baby products sales have increased steadily over the past decade.
Moms look for organic skincare products, all natural health items, organic baby food, diapers and wipes that they feel good about buying. Bonus points if they are reusable or biodegradable.
Start Dropshipping Eco-Friendly Products Today!
For a great selection of natural, organic and green products for your eCommerce business, be sure to check out our full online catalog. We've got a selection of top quality items that we know your customers will love.
GreenDropShip is the smart choice for dropshipping eco-friendly products. We carry over 20,000 items in a variety of niches, including grocery and household items, baby, health, wellness, beauty and body care. Let us take care of the logistics, while you focus on driving more traffic to your online store.
Join GreenDropShip Today and start making sales!