How To Dropship Popcorn In Your Online Store
When thinking about what products you want to dropship, popcorn might not be the first thing that "pops" to mind (pun intended) but hear us out. This snack food has been gaining popularity in recent years, particularly with online shoppers.
Popcorn is big business in the U.S. The average American eats 42 quarts of popcorn every year, and overall Americans consume 13 billion quarts of popcorn annually.
That's a lot of potential customers who'll need to regularly restock their pantry with popcorn! Which means if you provide a good user experience, it can lead to repeat business for your eCommerce brand.
As an online retailer and entrepreneur, you can easily capitalize on this growing trend by choosing the right wholesale popcorn products to meet your customers' needs and by effectively promoting your online store to reach potential buyers. Stick with us and we'll show you how.
At Home Popcorn Consumption Is Increasing
When it comes to snacks, the popcorn category has grown steadily over the past few years, with a big jump last year after the COVID-19 pandemic hit the U.S.
With more families staying home and binge-watching Netflix or Disney+ (rather than going out to the movies) at-home popcorn sales exploded. The overall popcorn/popcorn oil category saw a 13.4 percent increase to $992.4 million in sales, according to IRI, which is a significant leap.
Now that folks are used to streaming first-run movies and new series from the comfort of their own homes, we don't see the at-home popcorn trend slowing down anytime soon. Nothing says movie night like a big bowl of delicious fluffy white kernels!
Popcorn is also gaining in popularity because it can be a low-calorie, healthy snack for people watching their weight or following specific diet protocols.
Popcorn is one of those snacks that comes in many different flavors and formulations. Which means no matter who your target audience is, there's probably a category of popcorn they'd love that fits their lifestyle.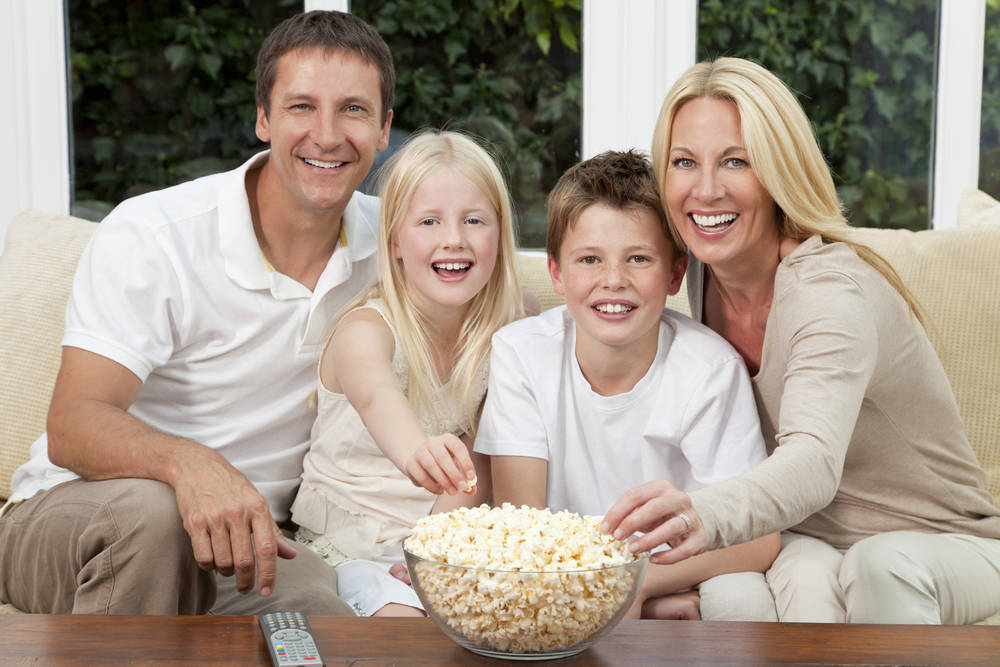 Dropshipping Popcorn – How Does It Work?
Once you've made the decision to dropship popcorn in your online store your next question will likely be, "okay, so how do I get started?"
The answer to this question can be broken down into three (3) main parts. To start, you'll need to choose an eCommerce platform and build your actual website.
Then you have to choose the popcorn dropshipping supplier you want to work with. And finally, you'll need to create a marketing plan to promote your online store.
Stick with us and we'll show you how to do all three!
But first, let's start with a quick overview of how dropshipping works and how using this retail model can benefit your eCommerce business.
The Dropshipping Process:
Dropshipping is an order fulfillment method that allows retailers to sell products without purchasing a bunch of inventory upfront. Maintaining inventory comes with all sorts of risks such as value loss, spoilage, excess inventory, or supply shortfall.
These risks can make the barrier of entry into the popcorn and snack space too high for people who want to sell these products online as a side job. It would require cash upfront (which many new entrepreneurs don't have) plus it's extremely time-consuming. Dropshipping solves for this.


With dropshipping, you won't ever have to store or manage any inventory. Your supplier maintains all the products for you, then pulls, packs and ships out orders directly to your final customers. It doesn't get much simpler than that!
The difference between the supplier's wholesale popcorn price and your retail price will be your profit. That's money in your pocket with every online popcorn sale!
You're then free to focus your time and energy on what's most important, marketing to attract the right niche customers to your online store. Let your dropshipping supplier handle the rest.
Benefits Of Dropshipping Popcorn
Here are a few great reasons why choosing to dropship popcorn online makes for an ideal side business:
You minimize your risk because starting a dropshipping business requires low upfront capital.
You won't need to worry about maintaining inventory, things like proper storage temperatures, sell-by-dates, etc. will all be managed by your dropshipping supplier.
Light shipping weights for popcorn bring down shipping costs.
People eat and order snacks on a regular basis. You can potentially enjoy low returns and high reorder rates.
Build Your Online Popcorn Store: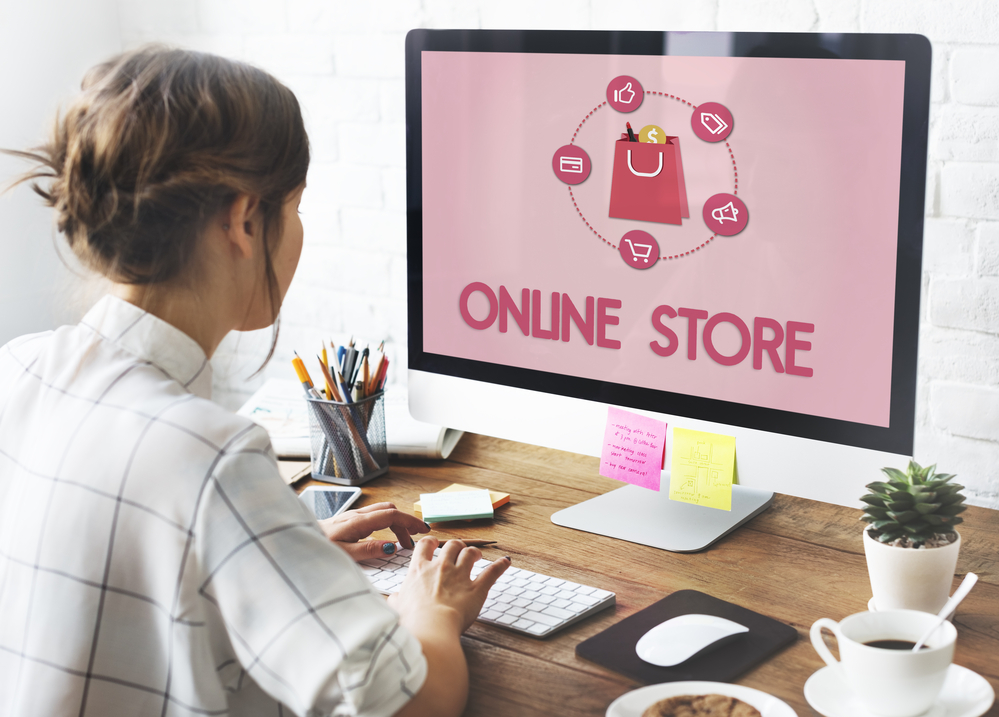 Setting up an online store to dropship popcorn is a relatively straightforward process. First, you'll need to choose a web hosting service and a payment gateway, which is the service that will allow you to accept payments from customers.
Second, you'll need to design and build your actual website. There's a couple different ways you can do this, but two of the most popular options are to build a WordPress site with the WooCommerce plugin or to launch an online store on Shopify.
Both platforms are optimized for eCommerce, which makes setting up your store pretty simple.
One thing to keep in mind when choosing an ecommerce platform is to be sure it will integrate with your chosen dropshipping popcorn supplier. GreenDropShip's product feeds integrate with both WooCommerce and Shopify, and we even offer our own dropshipping app for Shopify. Our app makes it easier to add and manage products in your online Shopify store.
For additional information on building your online store, including a step-by-step setup guide, check out the following resources:
Find A Popcorn Dropshipping Supplier: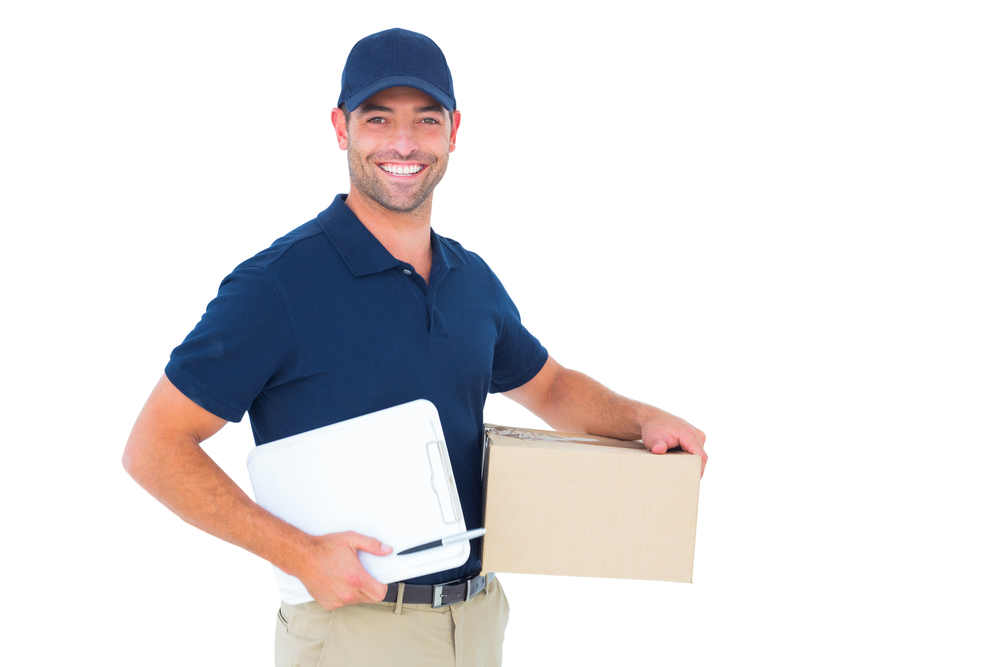 This is a very important step in the process, and one you don't want to rush. You should treat your dropship popcorn supplier as a partner in your business. In other words, you'll be working together to retain customers and boost your profit margins.
Be sure you choose a reputable supplier with a good inventory of popcorn and other snacks; as well as the ability to quickly, efficiently, and safely ship those items.
Remember, your customers will think the popcorn you dropship comes directly from you. Therefore, they'll associate the service they receive from your dropshipping supplier with your brand.
In their minds, it's all the same. Which is why it's essential to choose a quality supplier that does the job right, so you'll get repeat business.
A logical first place to look would be Google search. Just make sure that you use the right search terms, like "popcorn supplier", "popcorn dropshipping supplier", "popcorn wholesaler", or "popcorn wholesale supplier".
You can also try using a wholesale directory. Directories provide a vetted list of wholesalers and dropshipping suppliers. In some cases, they'll even choose the best ones for their price, product selection, and shipping times. These directories do not focus on any one product category, so you'll have to search within to find wholesale popcorn suppliers.
Here are some of the most well-known wholesale supplier directories:
Dropshipping Popcorn Online With GreenDropShip
Or you can just make it easy for yourself and go with GreenDropShip as your wholesale popcorn dropshipping supplier. We dropship hundreds of quality name brand snacks including many popular popcorn brands at wholesale prices.
GreenDropship specializes in natural and organic products, and has the logistical know-how to manage inventory to ensure grocery items arrive on-time, at the proper temperature and within their sell-by date.
Market Your Popcorn Brand:
Dropshipping is an attractive business model because it allows entrepreneurs to focus on building customer relationships, while your supplier handles the rest.
However, in order for your online store to be profitable, you need to grab the attention of shoppers and convert them into buyers. That's why having a solid marketing plan in place is critical.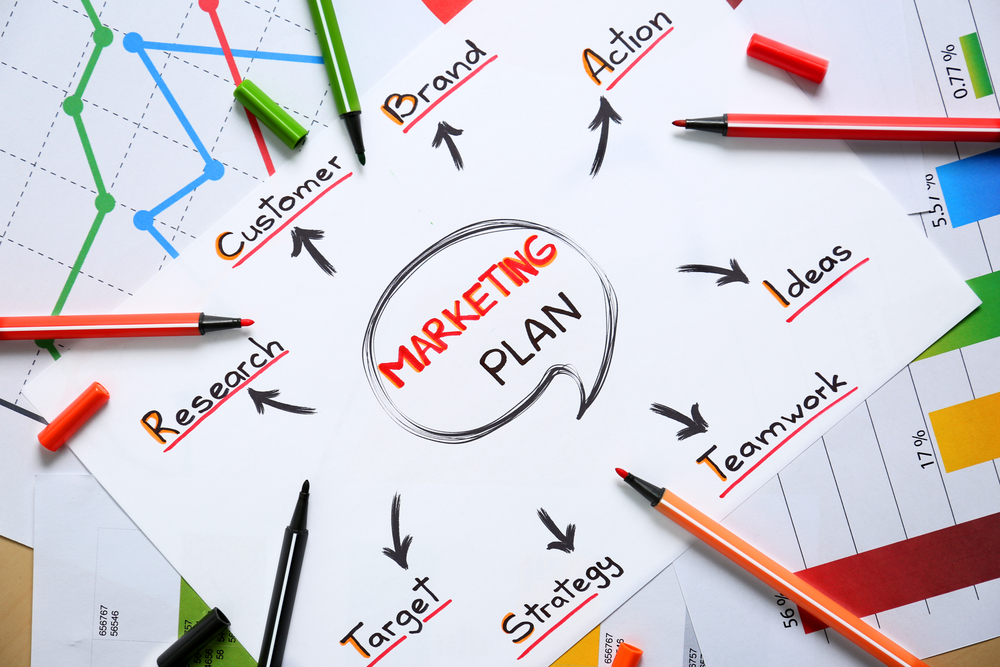 7 Tips To Promote Your Online Popcorn Store
Tip 1: Build trust by adding customer reviews and testimonials to your website. Potential customers will want to hear about other peoples' experiences with your brand, it often nudges them to buy.
Tip 2: Run Facebook Ads and/or Instagram Ads to reach potential customers. Each of these platforms have pros and cons, depending on your needs and budget. Learn which works best for your business.
Tip 3: Develop a content marketing strategy, engage on social media and create shareable posts. Consumers will likely buy popcorn from your dropship store because they feel a personal connection to your brand, so be sure you have an approachable persona on social media.
Tip 4: Use retargeting techniques to increase conversion rates. About 92% of visitors have no intention of buying anything during their first visit, so be sure you launch an abandoned cart campaign or use Facebook or Google Ads to reconnect with customers and get them to come back.
Tip 5: Write a blog on your niche topic. This is one of the best ways to implement search engine optimization (SEO) for dropshipping and drive organic traffic to your website. Be sure you consistently post new, quality content that is keyword-rich and matches user search intent.
Tip 6: Build a subscriber list and develop an email marketing strategy to build a stronger relationship with existing customers.
Tip 7: Offer promotions and deals. Once you have your mailing list, send out targeted promotional emails that incentivize visits to your online store. Additionally, make sure you are cross-selling and up-selling by offering bundled or related items.
RELATED: Your Complete Marketing Guide For Dropshipping
Top Wholesale Popcorn Brands To Dropship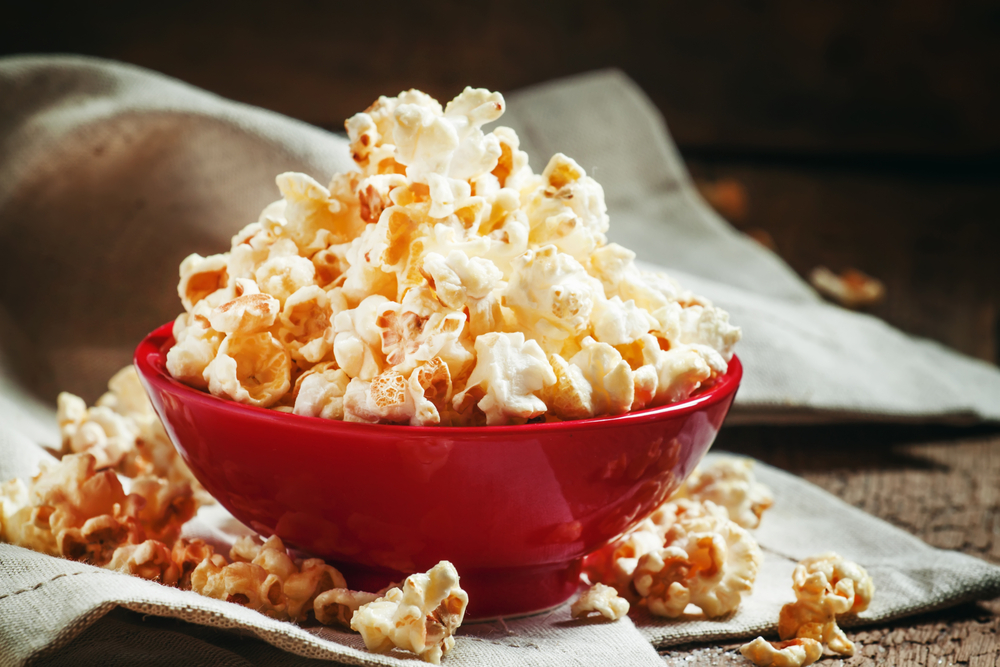 As we mentioned, at home popcorn sales have been increasing over the last few years. And because of that, brands are branching out and expanding their product lines.
Gone are the days where plain old buttered popcorn is your only choice. Now there are lots of innovative varieties and flavors of wholesale popcorn to satisfy the unique tastes of almost any consumer.
A good place to start is by thinking about what type of popcorn would appeal to your target audience? Do they want something healthy? Something sweet? Or maybe something more gourmet and exotic? We guarantee you there's products out there that line up with what they're looking for in a snack.
To start, here are some popular categories of wholesale popcorn to dropship that you'll want to consider adding to your online store. All of these products and more are available now from GreenDropShip.
Wholesale Healthy Popcorn:
Popcorn is an interesting snack because it can go a lot of different ways. It's kind of like a blank snack canvas you can build on.
In its simplest form, popcorn can be a satisfying low-calorie healthy snack. And that's exactly what many health-conscious or fitness-oriented consumers are looking for.
In fact, according to Google's Keyword Planner tool, the term "healthy popcorn" gets up to 100K monthly online searches! In addition, the terms "low calorie popcorn" and "healthy microwave popcorn" are also popular. Both are searched up to 10K times per month, which means healthy popcorn products could be a great addition to your online dropshipping store.
Skinny Pop: Original Popcorn (Sharing Size)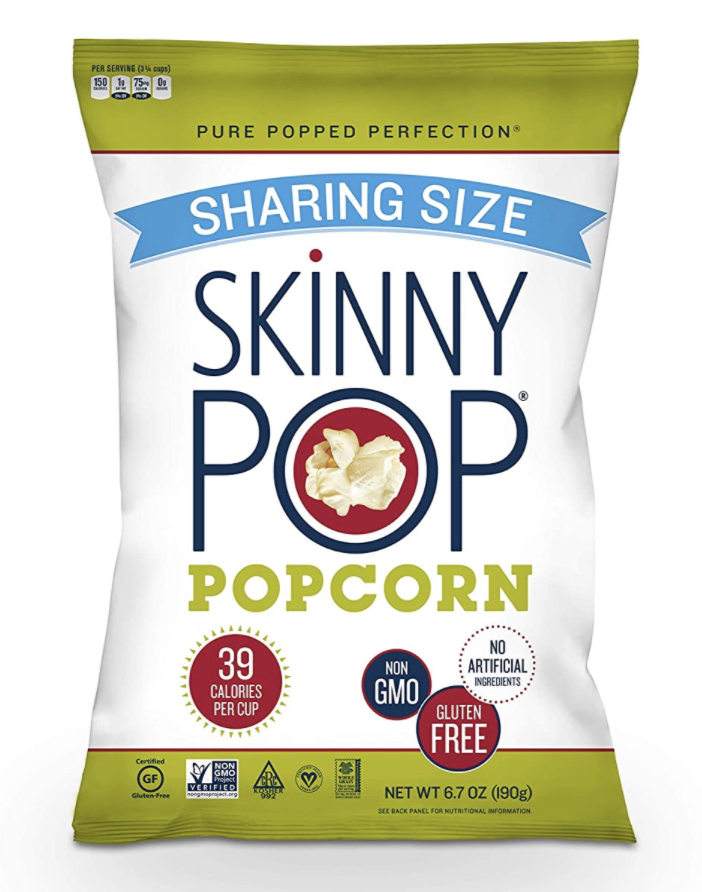 Skinny Pop is a delicious, healthy snack perfect for kids lunches, a break between conference calls, or something to eat guilt-free when watching your favorite show. At only 39 calories per cup with lots of fiber, this is healthy snacking done right.
Non-GMO and gluten-free
No artificial ingredients or preservatives
Zero trans fats
Over 7,000 Amazon Reviews with an average rating of 4.7 Stars!
Certified Amazon's Choice product
Pop Zero: Chili Lime Popcorn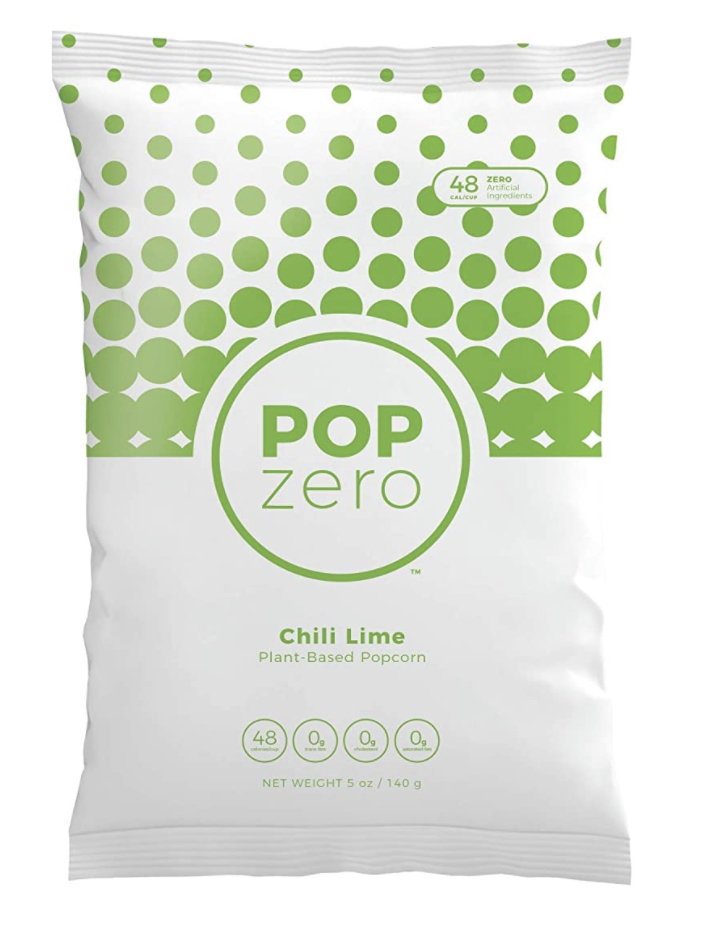 Pop Zero is another healthy popcorn brand available to dropship. Paprika and lime combine to create a unique zing of flavor. It's zesty and light, giving customers the powerful flavor kick they crave, with just enough spice to keep things interesting.
And at only 42 calories per cup, you can nosh guilt-free without breaking your healthy eating goals.
Non-GMO and gluten-free
No artificial ingredients or preservatives
Zero trans fats
Certified Amazon's Choice product
Gourmet Popcorn:
Does your online store cater to foodies who are always on the lookout for new and exotic tastes? There are popcorn brands to meet that need as well.
The term "gourmet popcorn" has up to 100K monthly searches according to Google Keyword Planner. And while this is a great snack staple to dropship year-round, demand for gourmet popcorn really spikes around the holidays.


As you can see from the Google Trends data above, December is when gourmet popcorn hits it's peak search volume because in addition to being delicious, it's also a popular gift. This is good information to know, as you can develop special holiday marketing campaigns to capitalize on this seasonal trend and boost sales during this busy time of year.
Live Love Pop Truffle Salt Popcorn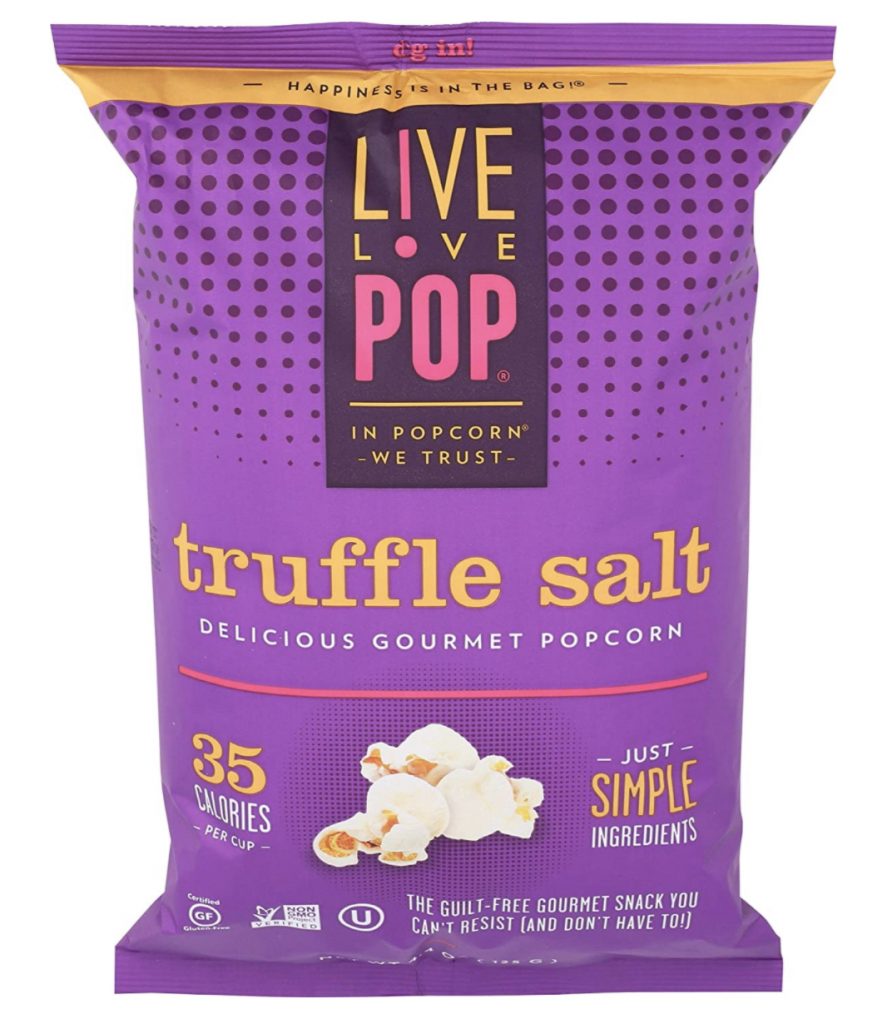 Live Love Pop has elevated popcorn to the next level with this version that uses gourmet truffle salt to pack a flavor punch. In addition, Live Love Pop is not just a tasty, healthy snack. It's a snack that gives back.
Each of their eight flavors is linked to a charity that means something to their team, from breast cancer research to hunger relief efforts, to veteran's health programs – this is a popcorn brand that's doing good.
Non-GMO, gluten-free and vegan
Over 300 Amazon Reviews with an average rating of 4.4 Stars
Certified Amazon's Choice product
Living Intentions: Popcorn Tandoori Turmeric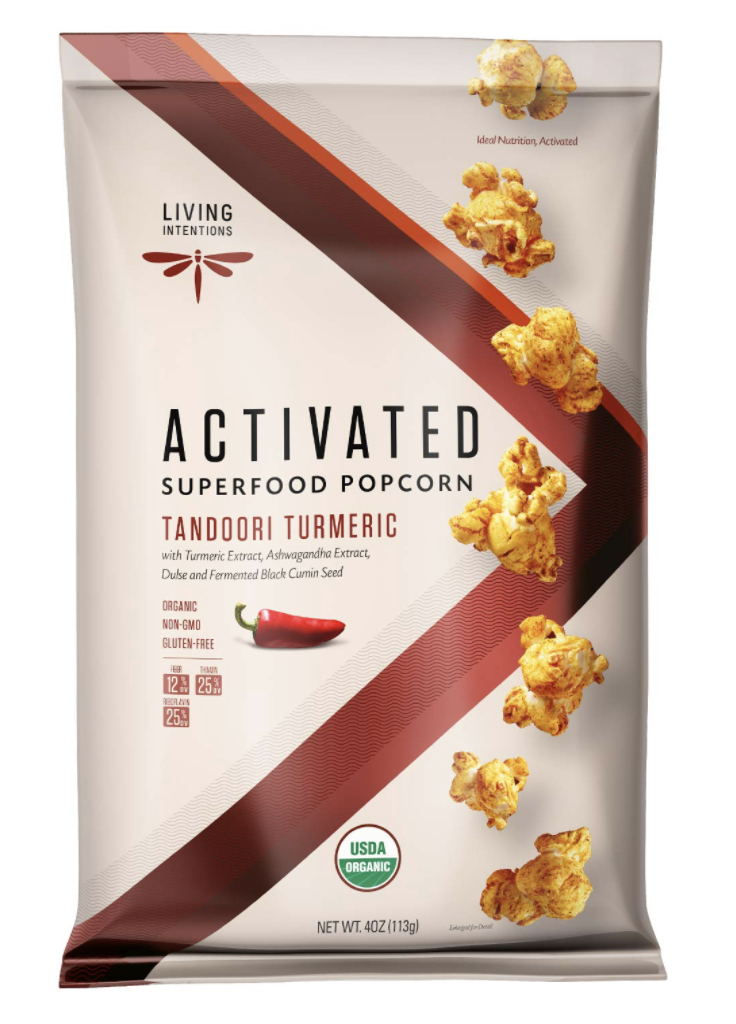 Looking for something really exotic? Here's a popcorn to dropship that's made with the popcorn adventurist in mind.
The Tandoori Turmeric Superfood Popcorn from Living Intentions tastes like your favorite dish out of New Delhi because every bite is bursting with fresh spices like coriander, cumin and chilies. It also contains the superfood goodness of turmeric and ashwagandha extract, so you get both a flavor kick AND a health kick.
Certified USDA Organic
Non-GMO and gluten-free
Bioavailable superfood
Microwave Popcorn:
When it comes to popcorn, some folks just want convenience. Something they can quickly prepare and start snacking on… which is exactly what microwave popcorn is designed for!
The term "microwave popcorn" gets up to 100K monthly searches on Google, so you know it's popular. Plus ask any mom and they'll tell you, there's nothing better than quickly popping a bag and turning on a family-friendly movie to keep the kids happily entertained for hours.
Black Jewell: Premium Microwave Popcorn Butter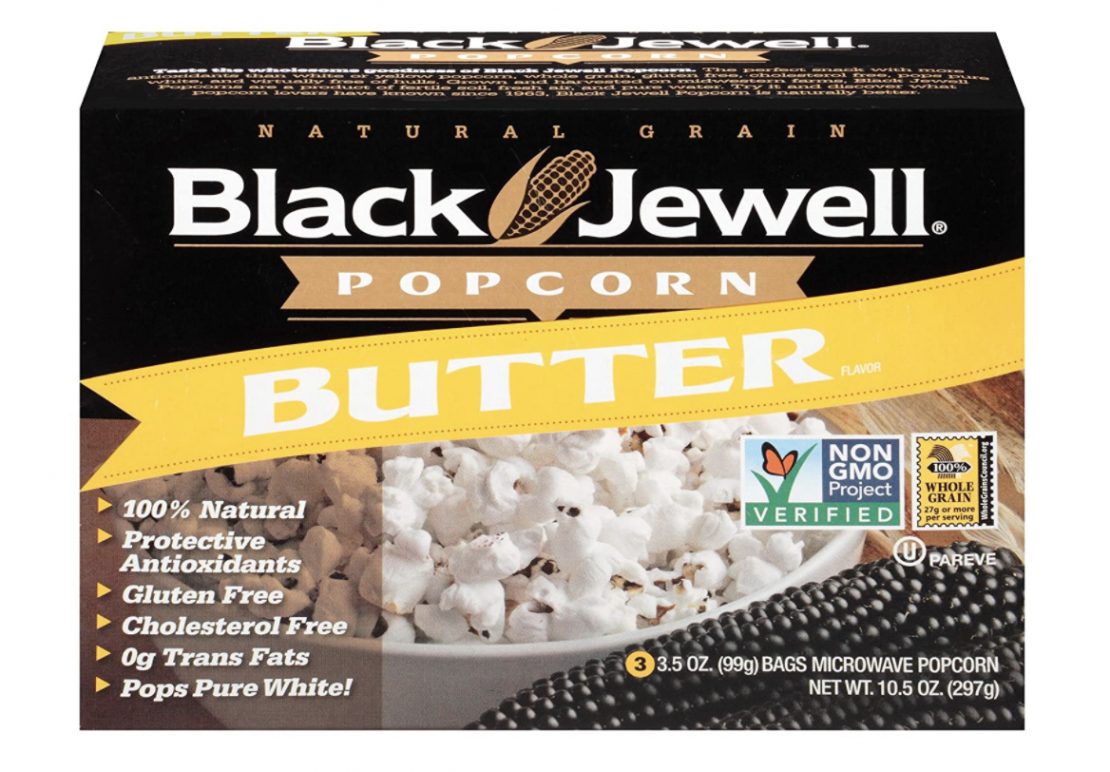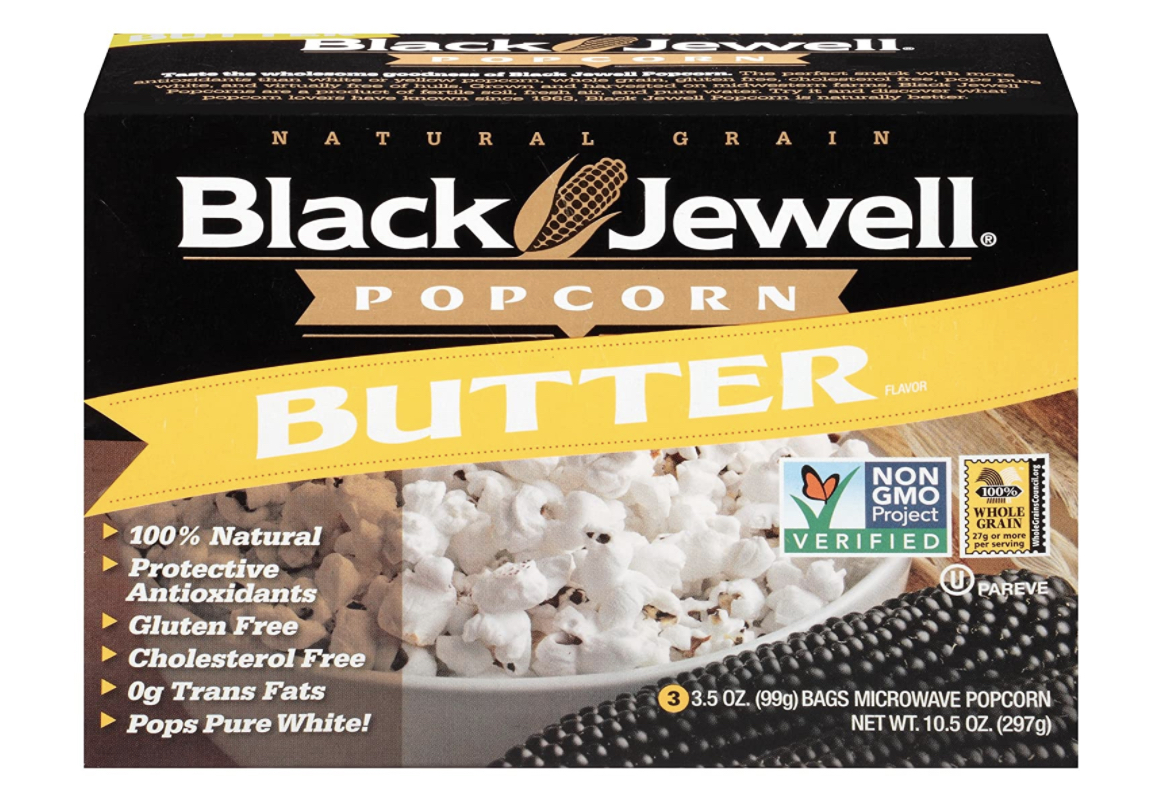 This unique product is made from black kernels that pop white. Black Jewell microwave kernels pop into bright white, crispy popcorn that has a richer taste than regular popcorn. This is a unique heritage popcorn that pops smaller and tastier than typical kernels. This flavor variety offers a great taste with a touch of butter.
Non-GMO, gluten-free and vegan
Unbleached, chemical free microwave bags that are PFOA and PFAS free
Over 370 Amazon Reviews with an average rating of 4.4 Stars
Quinn Popcorn: Parmesan & Rosemary Microwave Popcorn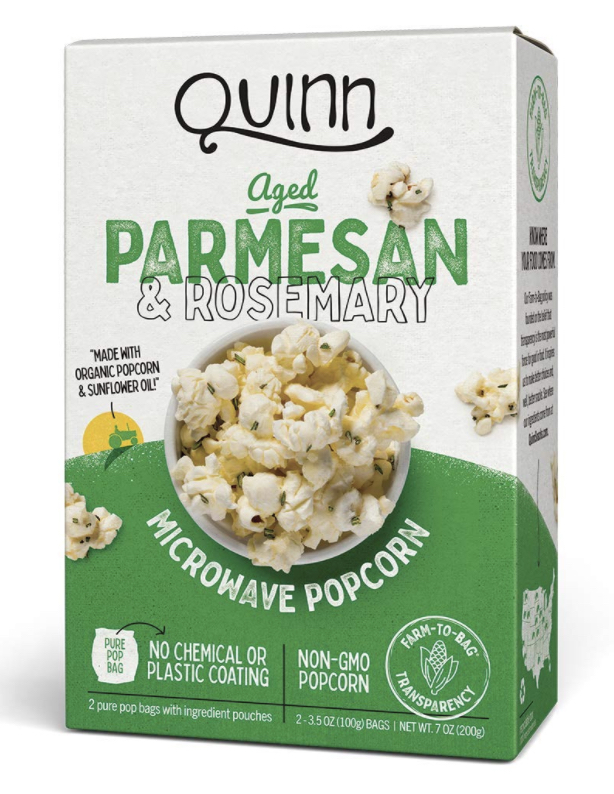 Quinn cleaned up everyone's favorite snack microwave popcorn, by using real ingredients and putting them in a chemical free, plastic free PURE POP compostable bag.
What's even cooler is that you can mix in the seasoning to suit your own individual taste. It comes with a separate seasoning and oil packet so you can do it mild or wild, depending on how you feel.
Organic Non-GMO popcorn kernels
Gluten-free and grown in the USA
No artificial ingredients or preservatives
Patented biodegradable popcorn bag has no chemical coatings, PFOAs, plastics, or heat-concentrating susceptor
Kettle Corn:
Sometimes when you're reaching for a snack, you just want something a little sweet. Kettle corn to the rescue!
The term "kettle corn" also gets up to 100K monthly searches on Google, while "kettle popcorn" and "microwave kettle corn" get up to 10K searches each. We end our list of wholesale popcorn to dropship with this yummy, sweet and salty favorite.
Popcorn Indiana: Original Kettlecorn Sweet & Salty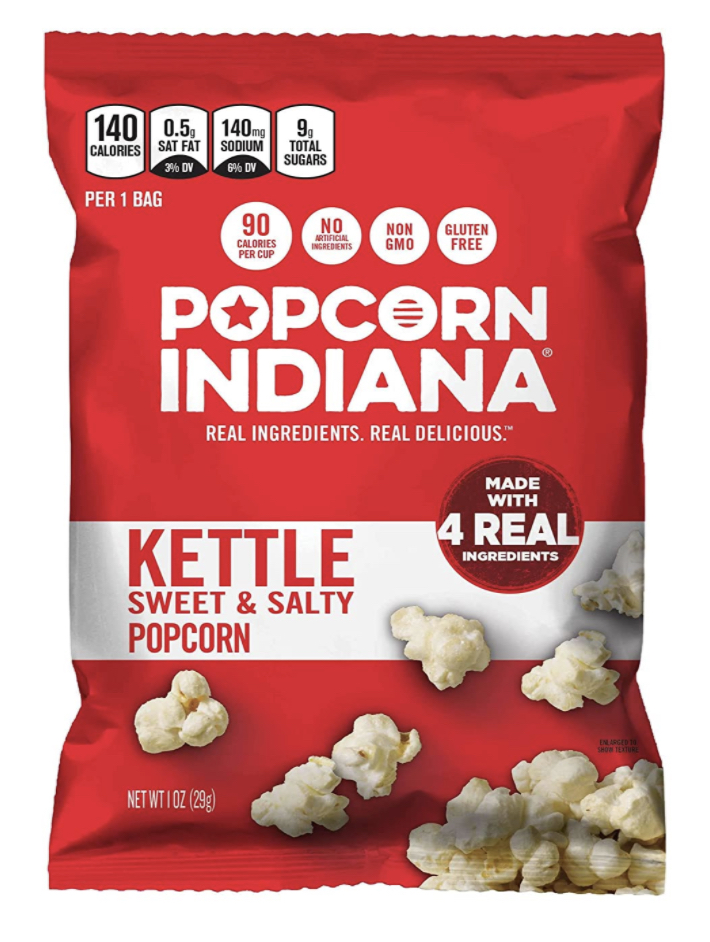 This is the original old-school kettle corn purists will love. Popcorn Indiana combines the finest popping corn, the right amount of salt and pure sugar cane, then they heat it so that the sugar melts just as the corn starts to pop – leaving every piece with a thin shell of salty sweetness. Delicious!
Non-GMO and gluten-free
No artificial ingredients or preservatives
No trans fats
Average rating of 4.4 Stars on Amazon
Angie's Boomchickapop: Dark Chocolate Drizzled Sea Salt Kettle Corn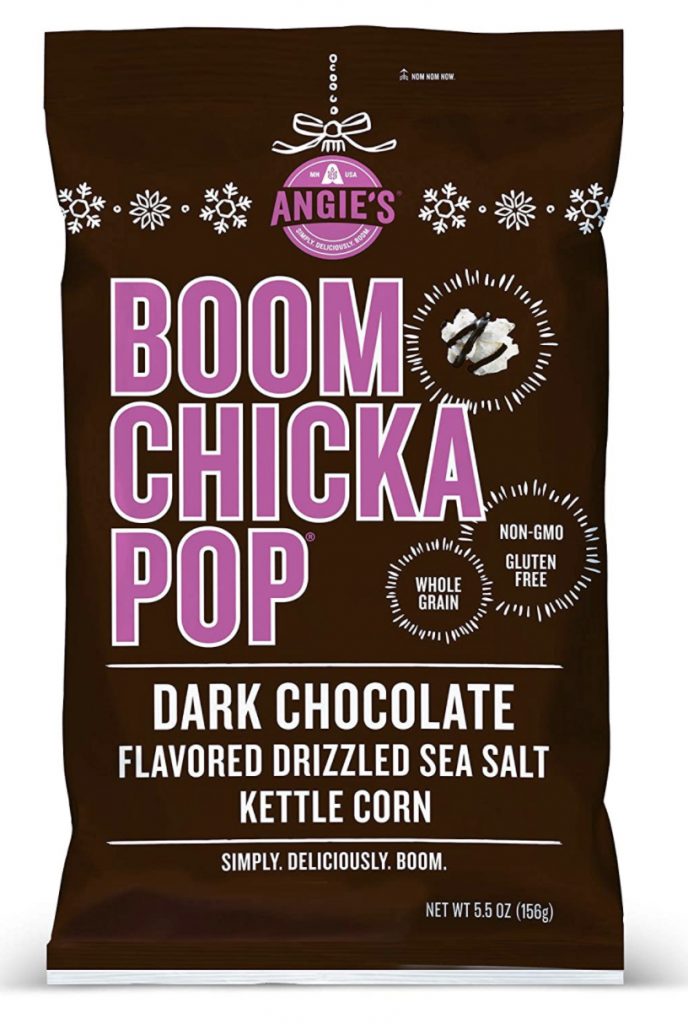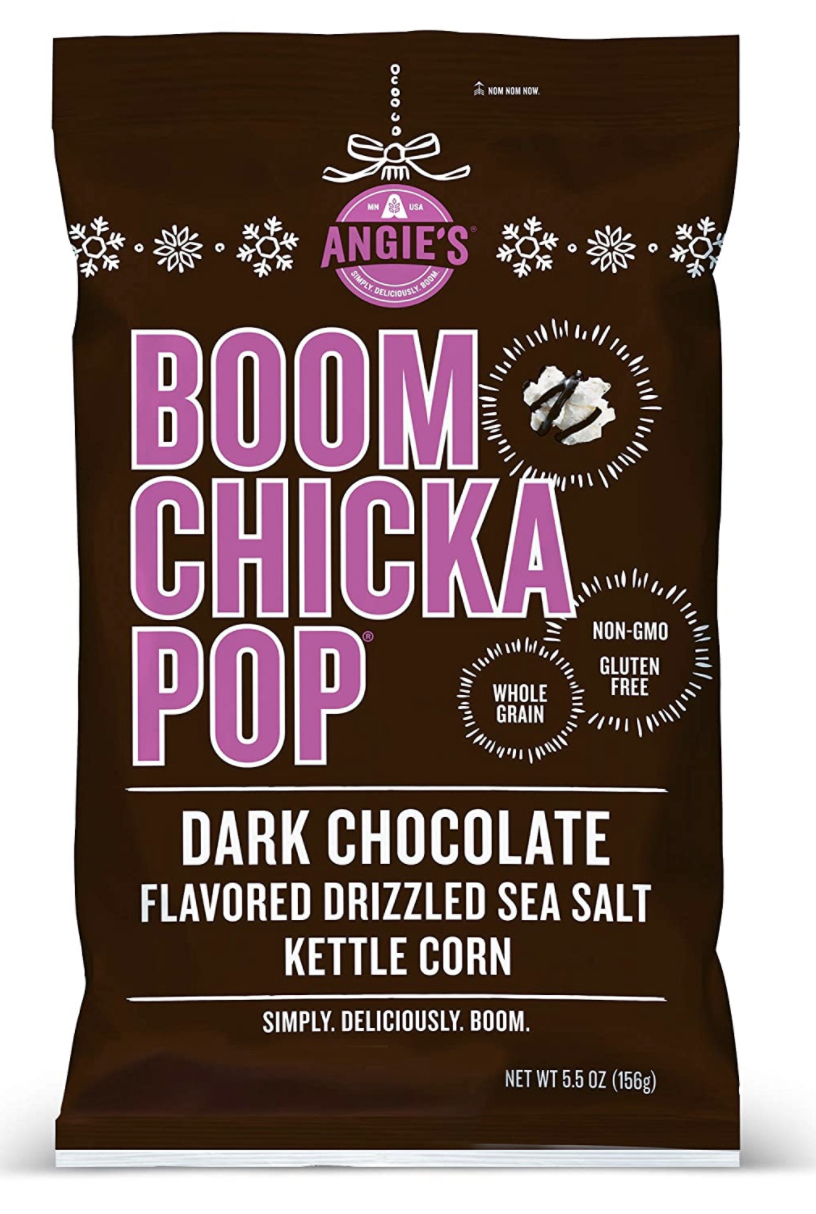 When you really want to satisfy your sweet tooth, reach for a bag of Angie's dark chocolate Boomchickapop kettle corn. Both salty and sweet, this whole-grain kettle corn is drizzled with rich, dark chocolaty flavor and sprinkled with sea salt. Is it a snack? Is it desert? Yes to both!
Non-GMO and gluten-free
Over 1,500 Amazon Reviews with an average rating of 4.6 Stars
Certified Amazon's Choice product
"Boomchickapop kettle corn" has up to 10K monthly searches on Google, according to Keyword Planner.
Start Dropshipping Popcorn Today!
All of these wholesale popcorn products and more are available to dropship for GreenDropShip members. In fact, we offer literally hundreds of delicious and healthy snacks. That's alongside our full inventory of thousands of natural and organic products, including groceries, cleaners, household products, baby items and more.
Even better, most of our products are proudly made in the USA, which reduces shipping times and means they are held to the highest quality standards. And don't forget, as a full service dropshipping supplier we will pull, pack, and ship popcorn orders to your final customers. You worry about sales and marketing, let us handle the logistics.
And if you're a Shopify store owner, we've got you covered. GreenDropShip launched its own dropshipping app for Shopify. Making it even easier to add products to your online Shopify store… with just 1-Click.
You want to work with a dropshipping supplier that is reputable, and will deliver exactly what you advertised to your customer. That's why GreenDropShip is the smart choice for selling popcorn and other snack foods online.
Join GreenDropShip today and start selling!