Top Wholesale Snacks For Resale Online
Thinking about offering wholesale snacks for resale in your online store? That could be a very smart move.
When it comes to the food industry, snacking has become a huge trend. According to IBISWorld, the market size of the Snack Food Production industry will be $45.8 BILLION in 2021. You heard that right, billion with a "B" – which is a whole lot of chips, popcorn, candy, and other bite-sized treats.
A survey conducted by the IFIC Foundation found that almost everyone in the U.S. (97% of respondents) snacks at some point during the week.
That's a lot of potential customers who'll need to regularly restock their pantry with snack supplies! Which means if you provide them a good shopping experience, it can lead to repeat business for your brand.
As an online retailer and entrepreneur, you can easily capitalize on this growing trend by choosing the right wholesale snacks to meet your customers' needs and by effectively marketing your brand to reach potential buyers. Stick with us and we'll show you how.
How To Sell Wholesale Snacks Online
According to the "State of Snacking" Global Consumer Trends Study the pandemic has changed how Americans shop for snacks. About half of online shoppers say they've started to buy snacks online more often than they do in-person (47%), including a majority of millennials (64%) and centennials (55%).
So if you're wondering how to start offering wholesale snacks for resale online, you're asking the right question! First, you'll need to choose your eCommerce platform and set up your online store. You can learn more about that here: How To Start An Online Store In 8 Easy Steps.
Next, you need to choose your business model. When it comes to selling snacks online the two most popular methods are bulk buying or dropshipping.
Once you understand how both these methods work, along with the pros and cons of each, you can decide which one is right for your unique business.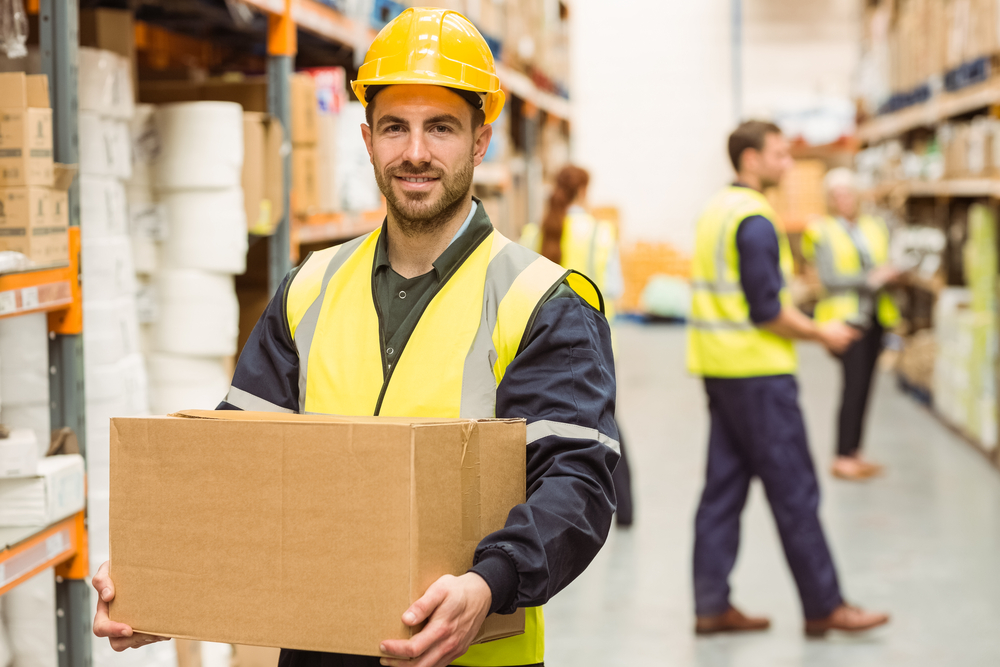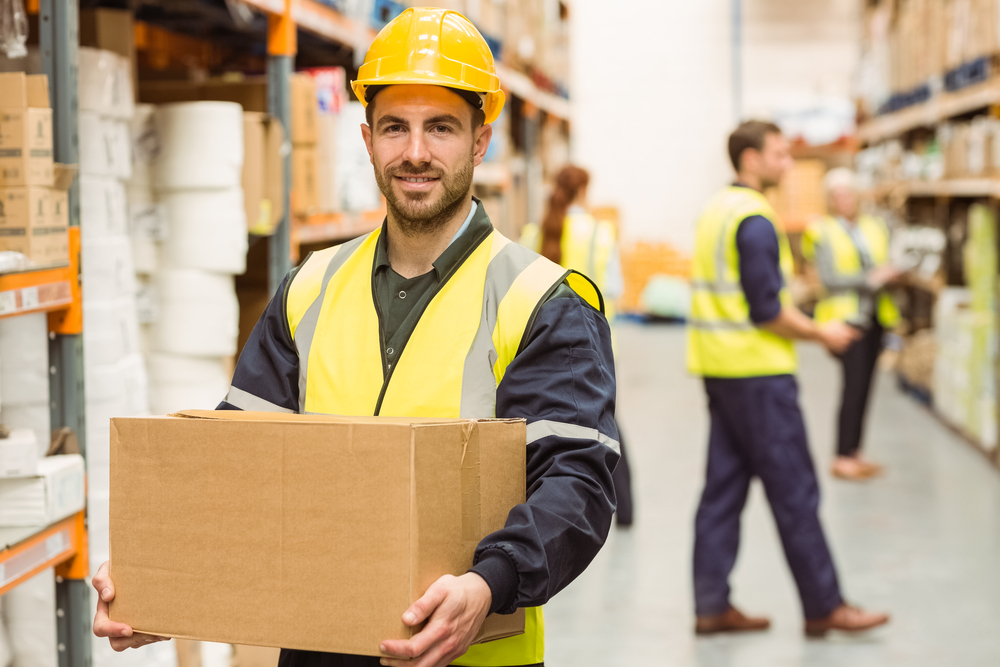 Buying Wholesale Snacks In Bulk For Resale
If you use the bulk buying model, you'd pay wholesale prices for a large volume of snack products. And since you're buying in large quantities, you might be able to negotiate a better price from your wholesale snacks supplier.
However, you're then responsible for storing, packing, and shipping those snacks out to your final customers. Which means you'll need to have access to warehouse or storage space, as well as the resources required for shipping and handling.
Keep in mind that some snacks (particularly chocolate) are heat sensitive. So when you think about where and how to store product inventory, you'll need to factor temperature considerations into your decision.
Plus snack foods have expiration or sell-by dates. So if you plan to use the bulk buying method and store your own products, you'll need a system to track and manage your inventory. You have to ensure all products are shipped during their optimal freshness window.
Dropshipping Wholesale Snacks
The other retail method you'll want to consider is dropshipping. And to be honest, we think there's no easier way for new entrepreneurs to get up and running quickly and start selling wholesale snacks, right from their own living room.


Think about it, what other online business model allows you to start selling with:
Low startup costs
No inventory or warehousing
Not having to deal with shipping and handling
With dropshipping, online sellers don't have the frustration or hassle of handling any inventory. Your supplier maintains the inventory for you, then pulls, packs, and ships orders directly to your customers. You can't get much simpler than that!
Plus when dropshipping food items like snacks, you have to factor in refrigeration needs. Many items have to be stored in a temperature controlled environment. And some products come in glass jars or bottles, which require special handling. An experienced dropshipper will manage all of these logistical issues for you.
As an added bonus, you'll now have more time to spend promoting and marketing your online store. Which is how you can build brand awareness and increase sales.
But whether you choose to buy wholesale snacks in bulk, or go with the dropshipping method, you'll still need to partner with a reputable wholesale snacks supplier.
Finding Wholesale Snacks Distributors
If you're looking for wholesale snacks for resale online, you'll need to find a dropshipping supplier or wholesale distributor. A logical first place to look would be Google search.
Just make sure that you use the right search terms, like "snack supplier", "snacks dropshipping supplier", "snack wholesaler", or "snack wholesale supplier".
You can also try using a wholesale directory. Directories provide a vetted list of wholesalers and dropshipping suppliers. In some cases, they'll even choose the best ones for their price, product selection, and shipping times. These directories do not focus on any one product category, so you'll have to search within to find wholesale snacks suppliers.
Here are some of the most well-known wholesale supplier directories:
Reselling Wholesale Snacks Online With GreenDropShip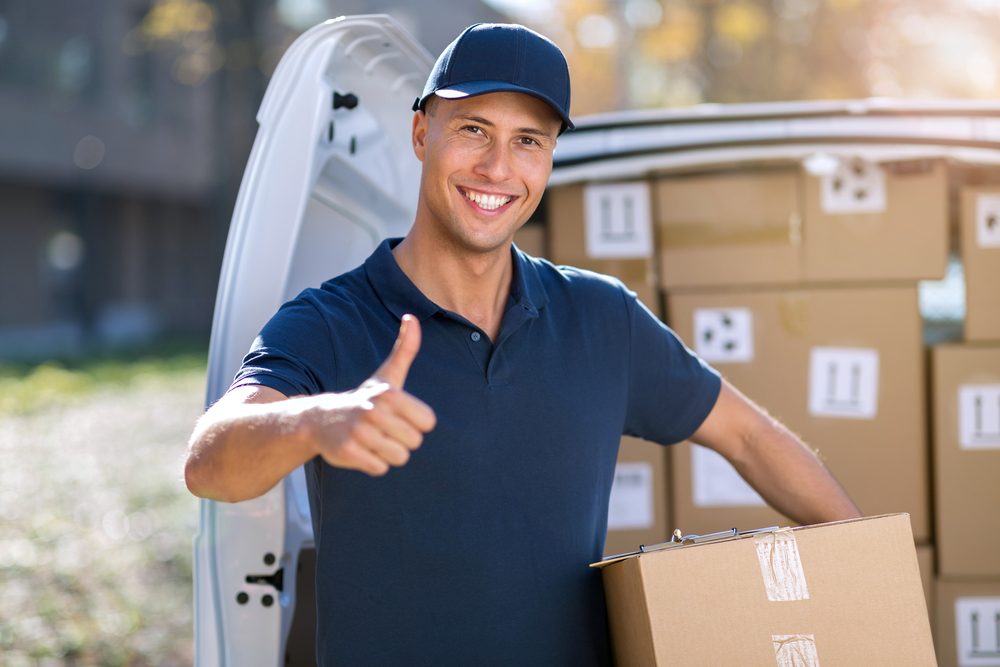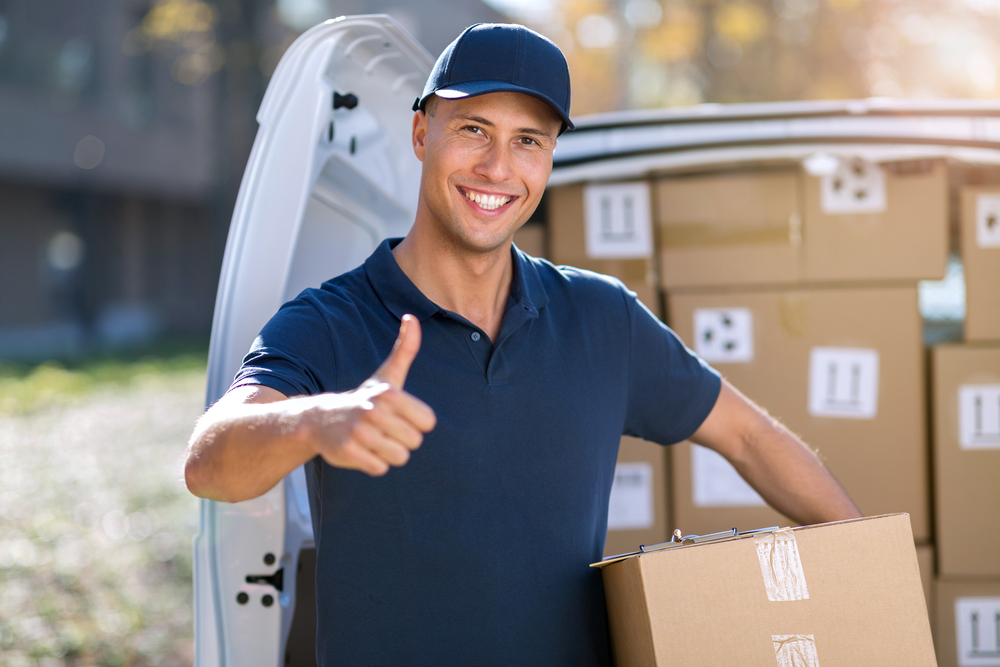 Or you can just make it easy for yourself and go with GreenDropShip as your wholesale snacks dropshipping supplier. We offer hundreds of quality name brand snacks and other food items at wholesale prices. Both in bulk and for dropshipping.
With GreenDropShip, you can easily integrate with popular eCommerce platforms such as Shopify and WooCommerce to quickly create an online store. We even offer our own dropshipping app for Shopify to make finding and importing products into your Shopify store a breeze!
GreenDropship specializes in natural and organic products, and has the logistical know-how to manage inventory to ensure grocery items arrive on-time, at the proper temperature and within their sell-by date.
8 Marketing Tips To Boost Snack Sales
Choosing the right wholesale snack supplier and products for your online store is only the first step. You also need a solid marketing plan to reach potential customers, drive traffic to your website, increase conversions, and encourage repeat sales!
RELATED: Your Complete Marketing Guide For Dropshipping
Here's 8 proven marketing tips to help get the attention of potential customers and increase online snack sales.
Determine your brand's unique selling proposition (USP) and incorporate it into all your marketing messages.
Identify your eCommerce store's target keywords and optimize your website using SEO tactics to rank higher in search results.
Optimize your product descriptions, make them unique to your brand and target audience and include keywords.
Develop a content marketing strategy to attract new customers, build brand awareness, and ensure you consistently publish relevant content.
Build an email marketing strategy to keep existing customers engaged with your brand so they will continue to buy more from your online store.
Develop an abandoned cart recovery strategy to remind users that place snacks in their shopping cart to complete their purchase. Turn more shoppers into buyers.
Create targeted Facebook ads and Instagram ads designed to increase conversions.
Incorporate certified labels and third-party seals (i.e. USDA Certified Organic, Non-GMO Project Verified, etc.) into your marketing messages when appropriate to give customers added assurance that the snacks they buy adhere to a certain set of standards.
What Snacks Should I Carry In My Online Store?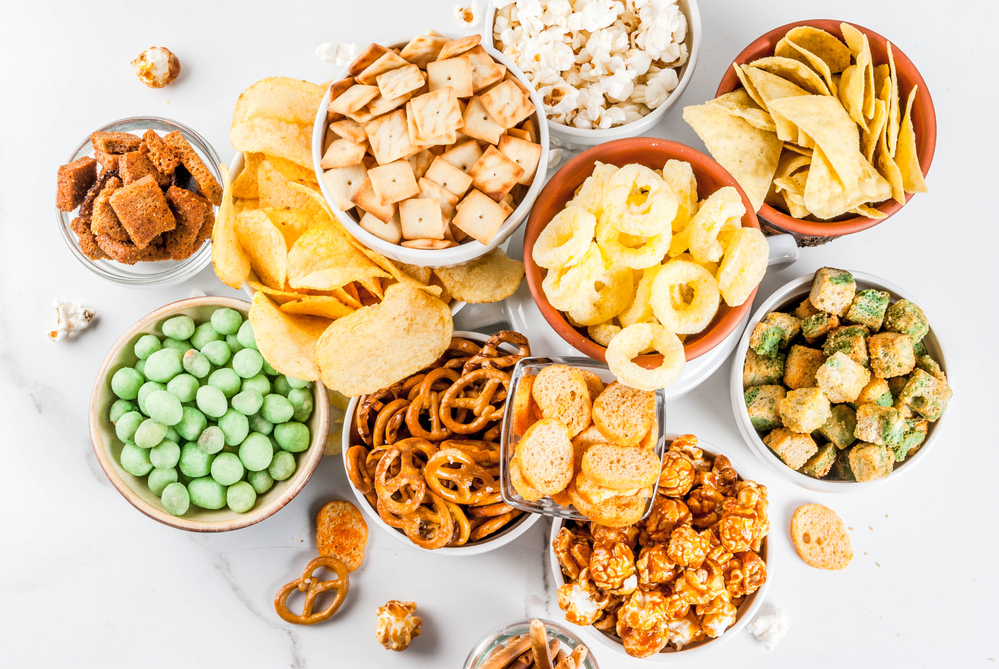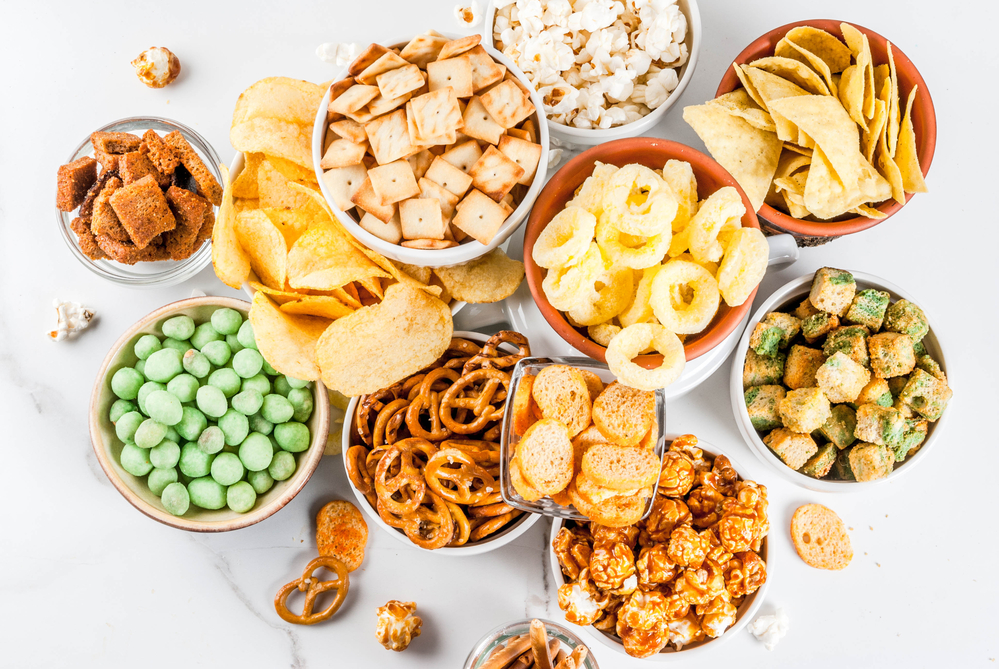 Americans have increasingly adopted a snacking lifestyle habit and, at the same time, have become more health conscious. Which means they prefer nutritious alternatives to traditional snacks.
As a result, established snack brands have released various organic, low-carb, vegan, reduced-fat and low-calorie snack options, to capitalize on shifting tastes. This means there are a LOT of new and innovative snack products for you to choose from!
And with so many great choices that cater to specific diets and lifestyles, you can find snacks to meet the needs of almost any niche audience. Whatever type of customer your brand is targeting; be it moms, fitness enthusiasts, eco-friendly consumers, keto followers, vegans or vegetarians – there are wholesale snacks available to suit their unique tastes.
So start thinking, what type of snacks would appeal to your target audience? What snack brands have great stories you can incorporate into your marketing campaigns?
To start, here are some popular categories of wholesale snacks for resale you might want to consider adding to your online store. All of these products and more are available from GreenDropShip.
Wholesale Chips and Popcorn:
When you think about snack foods your mind probably goes straight to chips and popcorn, and for good reason. These are snacking classics!
They come in both big bags for sharing, and small bags that are perfect for individual snacking on-the-go. Plus today chips and popcorn come in so many different gourmet flavors and formulations – there is literally something for everyone.
When asked what type of snack they eat regularly, a full 60% of Americans say crispy-salty type snacks (chips, pretzels, popcorn, crackers, etc.). That's more than any other category, and another reason why these are great products to add to your online inventory.
Terra Chips: Crinkled Sweet Potato Chips with Sea Salt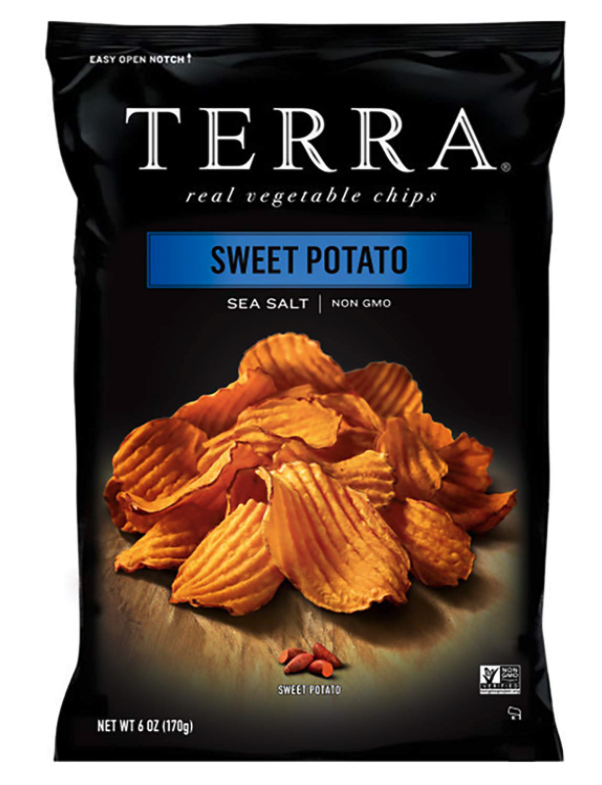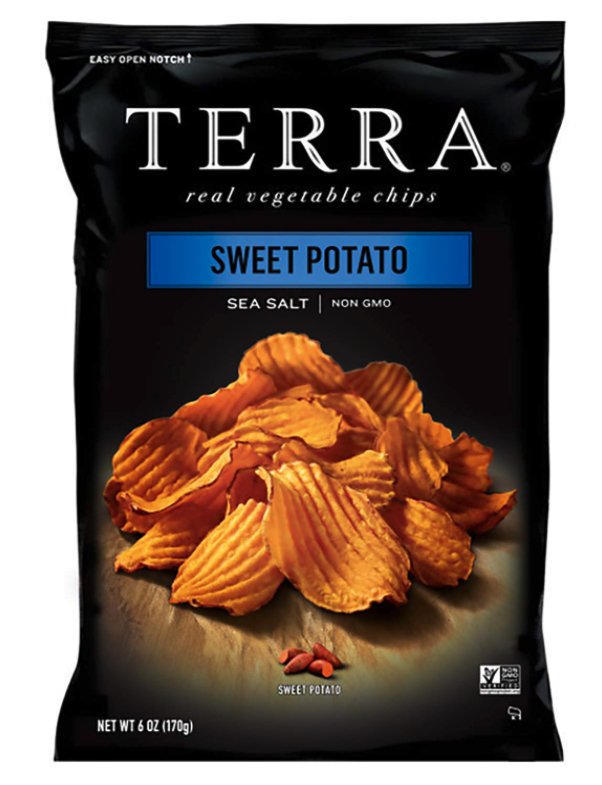 Plain potatoes aren't the only chip game in town anymore. Consumers want more choices and these sweet potato chips with a hint of sea salt from Terra do not disappoint.
Terra Chips are a popular brand online, they have up to 100K monthly searches according to Google's Keyword Planner Tool. In addition, Terra partners with Seed Savers Exchange to help save heirloom seeds and promote greater vegetable diversity, which is a great brand story to share with customers.
Non-GMO Project Verified
No trans fats, artificial flavors or preservatives
Cholesterol free
Gluten Free
Vegan and Kosher certified
Over 350 Amazon reviews with an average rating of 4.3 Stars
Boulder Canyon: Sea Salt Kettle Cooked Potato Chips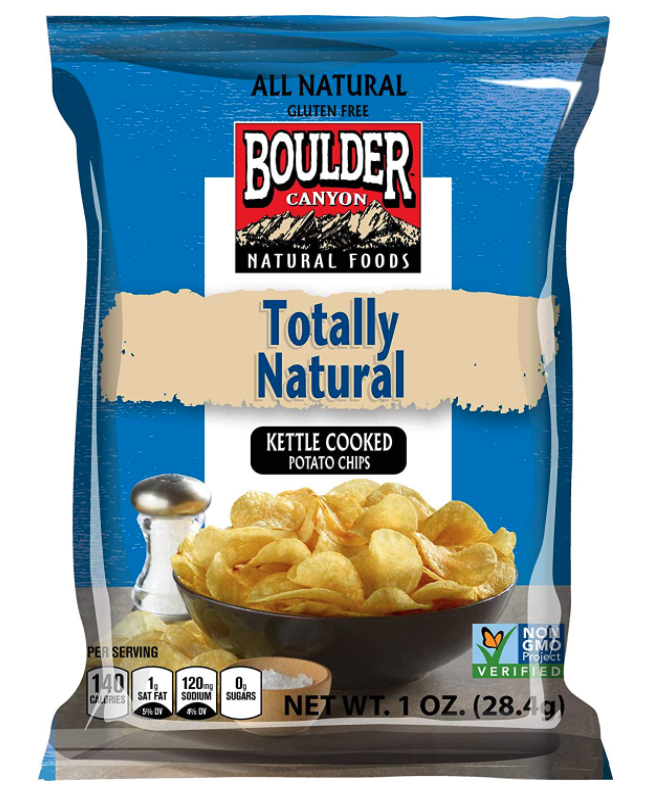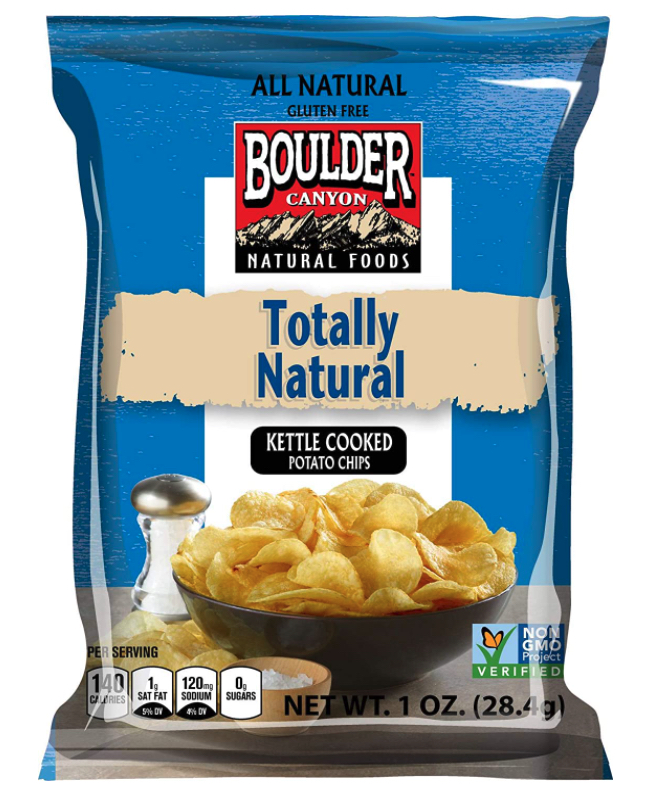 Boulder Canyon Potato Chips are thickly-sliced, American-grown potatoes that are kettle cooked in small batches. This is their classic sea salt version, but they also make other varieties to cater to different tastes.
Cholesterol, trans fat, and gluten-free
Non GMO Project verified
No added MSG
Vegan and Kosher Certified
Garden of Eatin': White Corn Tortilla Chips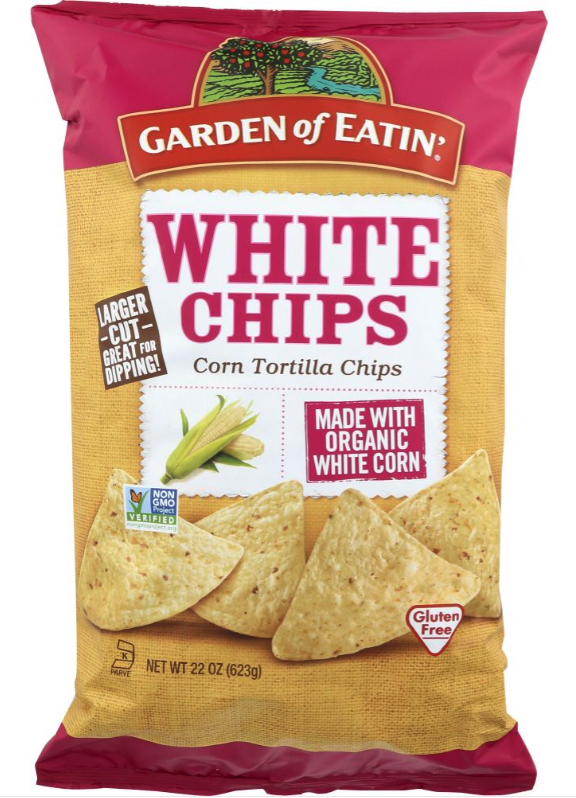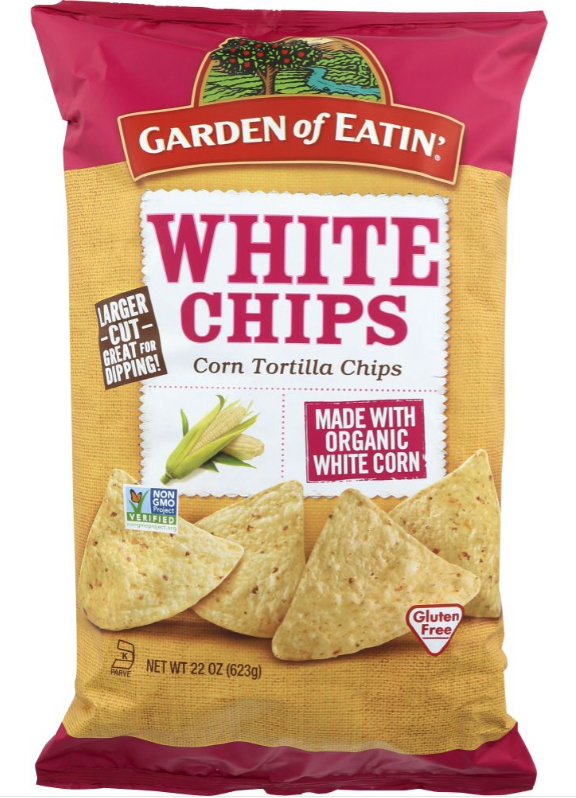 Take your customers' snack game to the next level with Garden of Eatin' natural and organic tortilla chips. They've got you covered when it comes to anything you could possibly want to dip in salsa or guacamole – white corn, blue corn, even grain-free chips and taco shells.
Even better, Garden of Eatin' employs sustainable ingredient sourcing and uses only organic corn. They're all natural and have no preservatives, synthetic fertilizers, harmful pesticides, hydrogenated oils or trans-fat!
Certified Organic corn
Non-GMO Project Verified
Gluten-free and Kosher Certified
Does not contain hydrogenated oils, artificial flavors, colors or artificial preservatives
Average rating of 4.5 Stars on Amazon
Newman's Own: Organic Microwave Butter Popcorn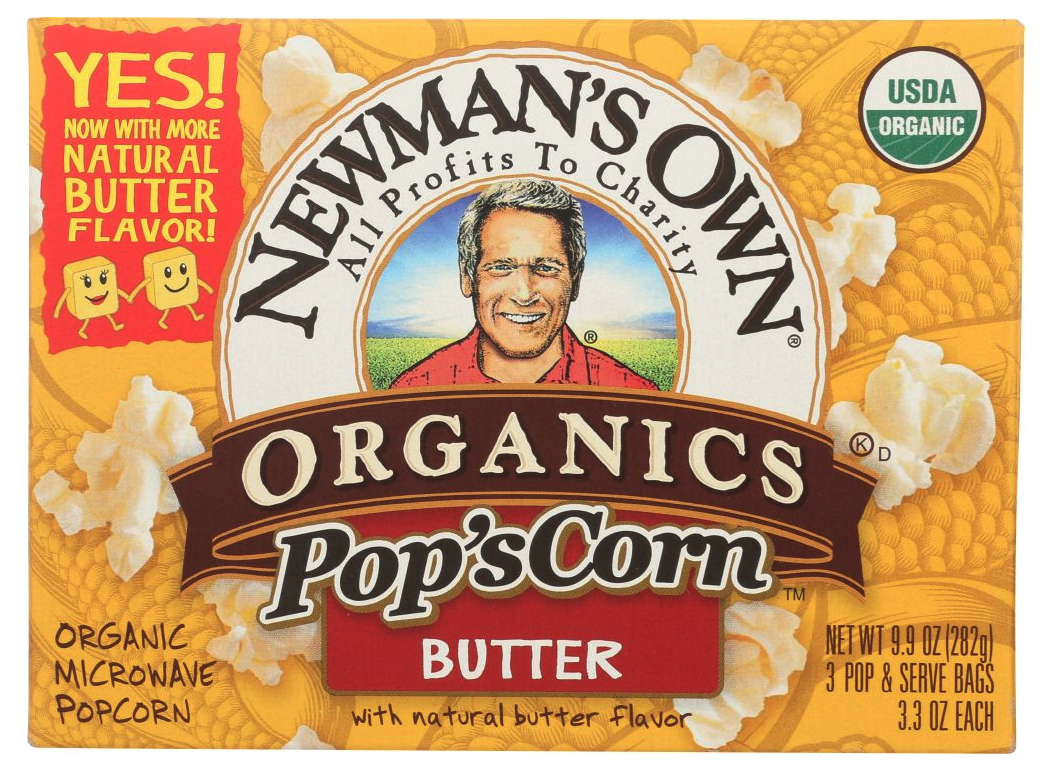 When it comes to snacking, health conscious consumers want both quality ingredients and convenience. This popcorn from Newman's Own delivers on both, it's organic and microwavable! This is a fast, healthy, and delicious snack that's perfect for movie night at home.
USDA Certified Organic
No trans fats, artificial colors or preservatives
100% of profits from the Newman's Own brand are donated to charity
 Average rating of 4.5 Stars on Amazon
If you want to see more great popcorn varieties and brands for your online store, be sure sure to check out our complete post on How To Dropship Popcorn.
Wholesale Candy and Chocolate:
Candy and Chocolate are also popular snack choices for American consumers. They come in right behind crispy, salty snacks as the number 2 most popular choices.
Wholesale candy and chocolates are especially popular during holidays (think Christmas, Valentine's, Mother's Day, etc.) as they make great gifts and this could be a good marketing angle to boost online sales.
Ocho Candy: Organic Peanut Butter Candy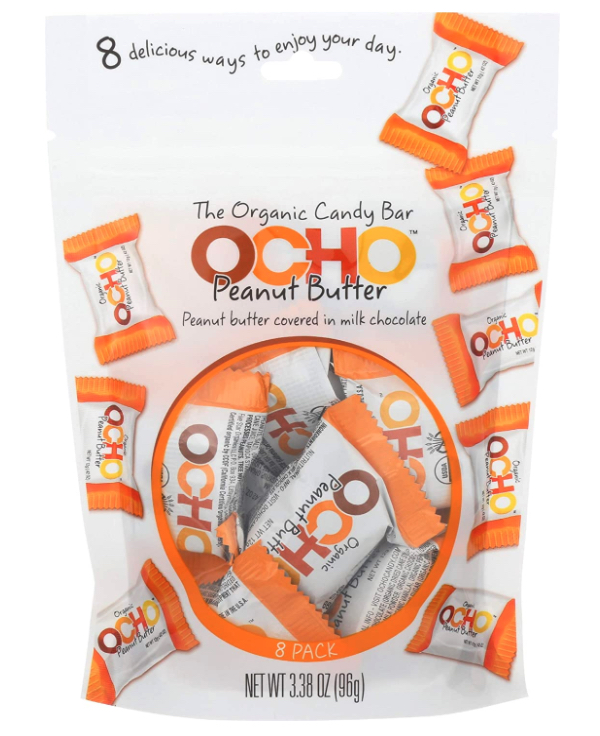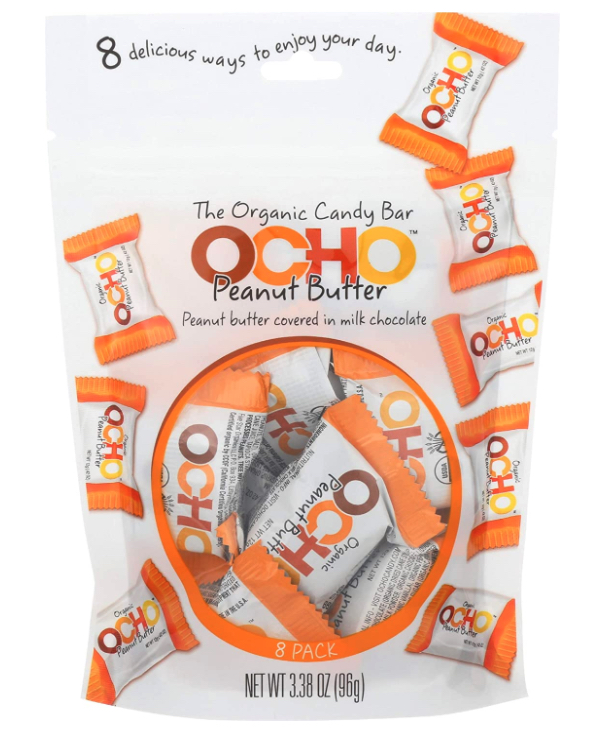 A yummy peanut butter center covered in creamy organic milk chocolate. OCHO makes small-batch peanut butter fillings from fresh organic peanuts, cane sugar and sea salt.
All natural ingredients, no junk. It's a yummy snack kids love that moms can feel good about too.
USDA Certified Organic
Fair trade, gluten free and non-GMO
Average rating of 4.4 Stars on Amazon
The terms "organic candy" and "Ocho candy" both have up to 10K monthly searches on Google. This shows there's high search demand for these items, making it a good product to sell online.
Cavendish & Harvey Orange Hard Candy Tin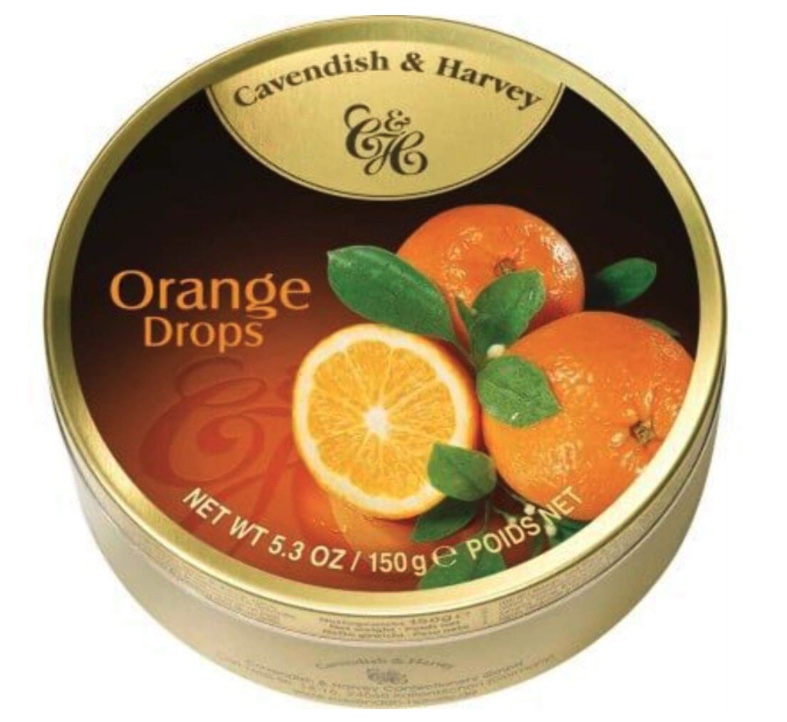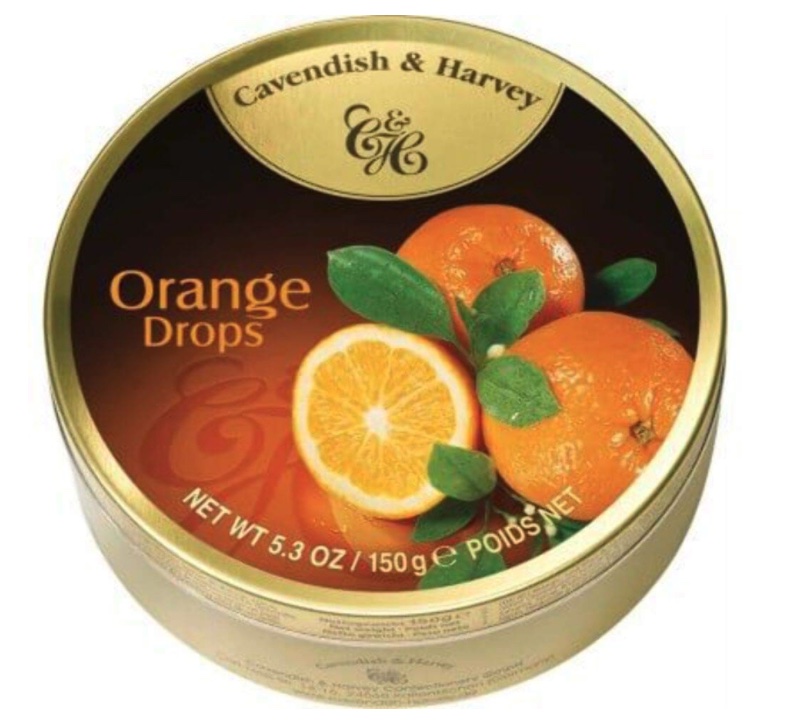 Cavendish & Harvey hard candies are a classic. These natural gourmet treats are made with real fruit juice, dusted with icing sugar, and sealed in a gold tin for the highest quality freshness. When it comes to fruit candy drops, Cavendish & Harvey is a premium brand hard-candy lovers
Imported from Germany
No artificial ingredients or additives
GreenDropShip offers four flavors: Orange (pictured) Lemon, Cherry, Pear & Blackberry
Over 600 reviews on Amazon and an average rating of 4.6 stars
Certified Amazon's Choice product
For more candy inspiration, be sure to check out the following article: Best Wholesale Candy To Sell Online.
Lindt Chocolate: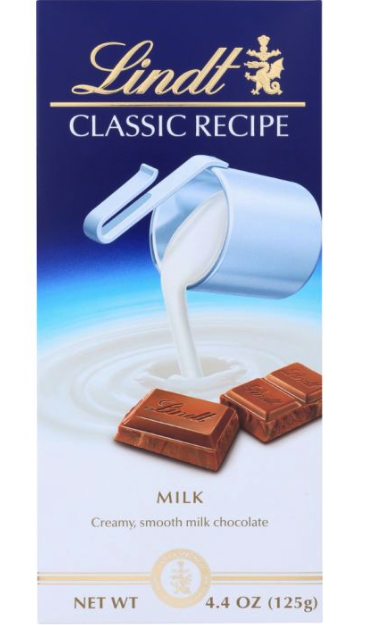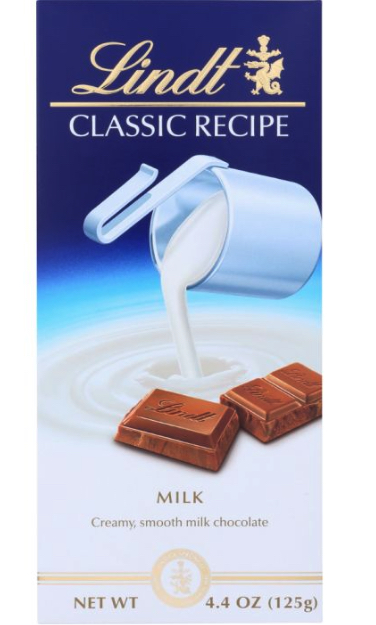 Lindt is one of the best known and popular brands of gourmet chocolate. They've been in the chocolate business for over 165 years, which is a sign of their enduring quality.
We featured their classic milk chocolate bar (above) but GreenDropShip also offers the following flavors from Lindt: 85% Excellence extra dark cocoa bar, Excellence dark chocolate intense orange bar, and the caramel and touch of sea salt bar.
Manufactured in the USA
Produced responsibly according to the Lindt Sustainability program
Nearly 13,000 reviews on Amazon with an average rating of 4.7 stars
Certified Amazon Bestseller
Certified Amazon's Choice Product
For even more chocolate inspiration, check out this post: Popular Wholesale Chocolate Products To Sell.
Wholesale Keto Snacks:
Keto product sales are soaring, and brands are taking notice. In fact, the number of global product launches featuring a keto claim have increased 239% year-over-year. What was once seen as a very specialized niche diet, has become a leading healthy lifestyle trend!
According to Google Keyword Planner, "keto snacks" has upwards of a million monthly searches! "Low-carb snacks", "keto chips, and "keto friendly snacks" are also possible search terms, with up to 10K searches a month each.
These super convenient grab-and-go items make it easy for people to satisfy their cravings, without going off their low-carb plan. It's what makes Keto snacks excellent products for your online store.
Lenny & Larry's: Chocolate Chip Keto Cookie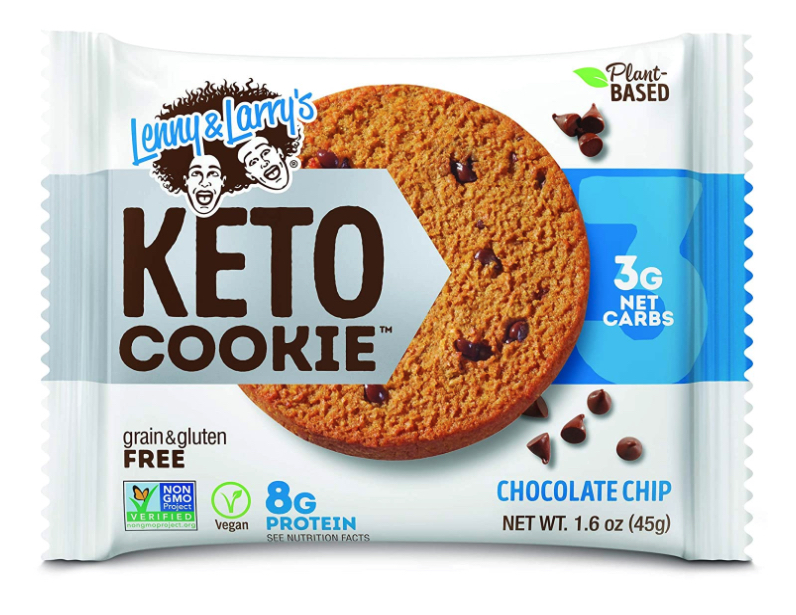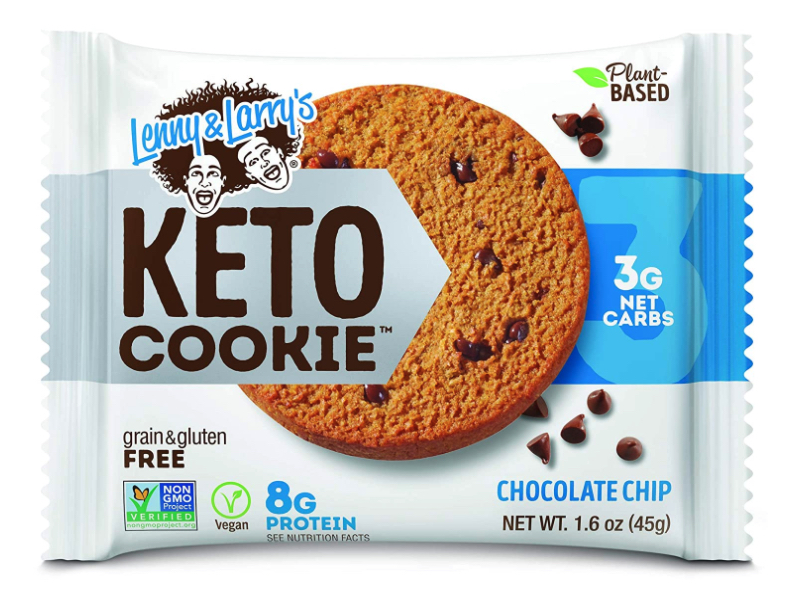 Cookie lovers on keto can finally indulge without guilt. Lenny & Larry's is a tasty cookie with low net carbs (only 3g) that's packed with plant based protein to keep macros on track.
GreenDropShip offers these keto cookies in several flavors, chocolate chip (pictured), peanut butter, double chocolate, and coconut!
Non-GMO Project Verified
Vegan and Kosher Certified
Gluten-free and grain free
No dairy, soy, eggs, high fructose corn syrup or artificial sweeteners
Munk Pack: Coconut Cocoa Chip Keto Granola Bars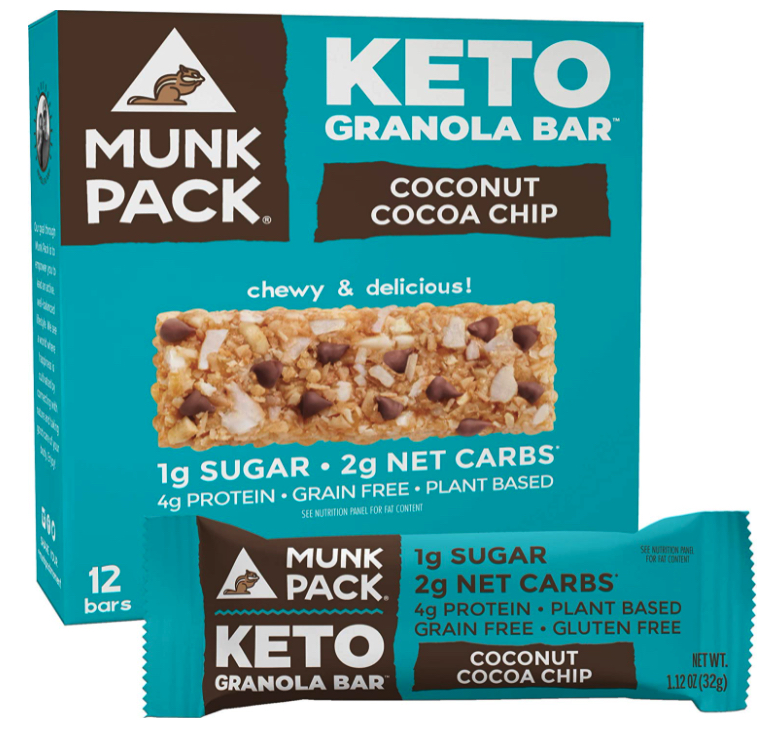 These keto bars from Munk Pack combine a wholesome mix of nuts and seeds so your customers can enjoy the goodness of granola, without the grains! At only 140 calories and 2g net carbs, this is the perfect low calorie low carb snack to fuel a healthy keto lifestyle.
Low sugar and low carb
Gluten-free
No soy or grains
GreenDropShip offers four flavors: coconut cocoa chip (pictured), almond butter cocoa chip, maple pecan, and peanut butter.
Over 8,800 Amazon reviews with an average rating of 4.4 Stars
Certified Amazon's Choice product
Want to learn more about selling wholesale keto products online? Check out the following : Dropshipping Keto Products.
Wholesale Organic Snacks:
Worldwide sales for organic snacks are expected to increase 13.3%, compounded annually, by 2027, according to Grand View Research, Inc. The market is projected to be valued at $19.9 billion, meaning there's a lot of consumer demand out here for healthier snack foods!
Gimme: Organic Roasted Seaweed Snacks Sesame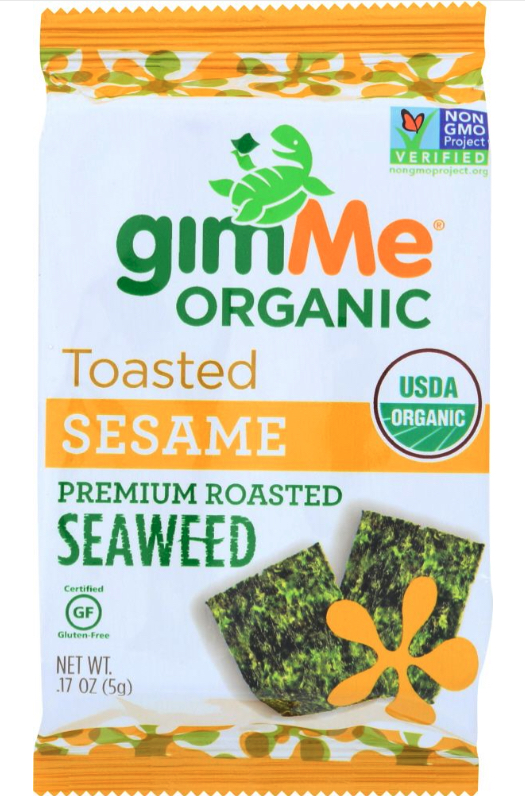 Gimme seaweed is the #1 best selling organic seaweed brand. It's compatible with Keto, Vegan, Vegetarian, Gluten Free and Low Carb diets, making it an excellent choice to satisfy a wide-range of health conscious consumers.
Sustainably cultivated and harvested from South Korea, seaweed is one of the most nutrient dense foods in the world and is naturally loaded with protein, fiber, vitamins and minerals.
Certified USDA Organic
Vegan, Keto and Kosher
Gluten-free
Over 2,200 ratings on Amazon with an average rating of 4.5 Stars
"Gimme seaweed" has up to 10K monthly searches on Google, according to keyword planner.
YumEarth Organic Gummy Bears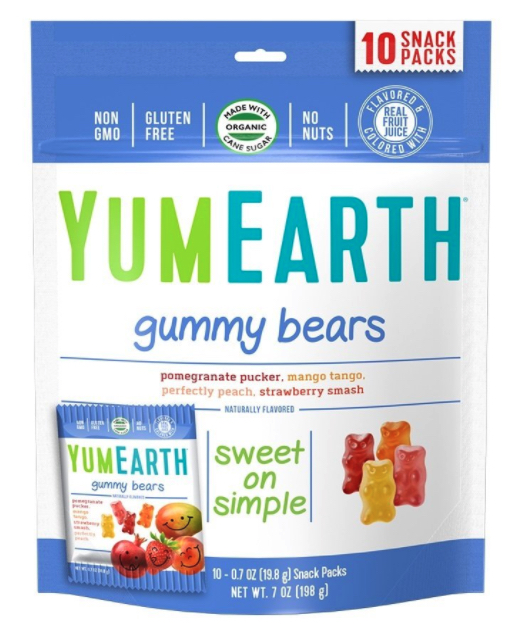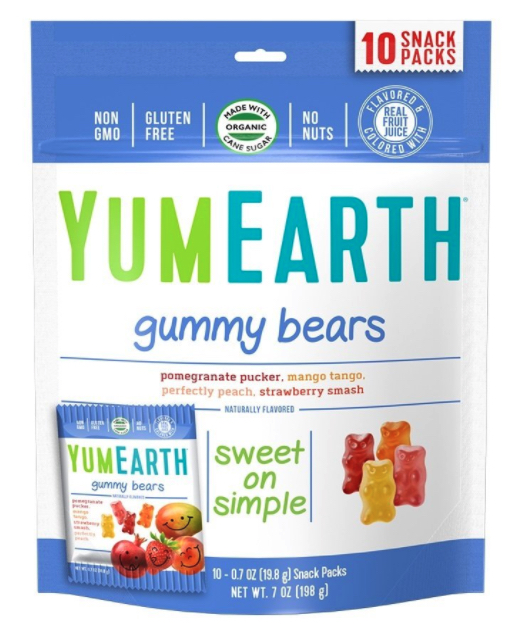 Who doesn't love a gummy treat once in a while? And what if you could make your favorite snack even healthier?
YumEarth, the #1 organic candy brand in the US, was founded by two dads committed to feeding their families delicious honest foods. Their products are gluten-free, dairy-free and peanut-free and contain no synthetic dyes, no artificial flavors, and no high-fructose corn syrup. It's snacking made healthy.
Organic ingredients
Non-GMO and gluten-free
Made in the USA
Over 850 ratings on Amazon with an average rating of 4.6 Stars
For a complete guide to reselling organic snacks and other foods online, check out the following resource: Dropshipping Organic Food.
Wholesale Vegan Snacks:
Over the last 3-4 years, veganism has increased by 600% in just the U.S. alone. The shift to eating a more plant-based diet is more than just a trend, it's a lifestyle change that continues to gain momentum.
In fact, the term "vegan snacks" has as many as 100K monthly Google searches, which illustrates how fast this niche market is growing. Give customers what they want by including wholesale vegan snacks in your online inventory.
Plant Snacks Brand: Root Lime Cassava Chips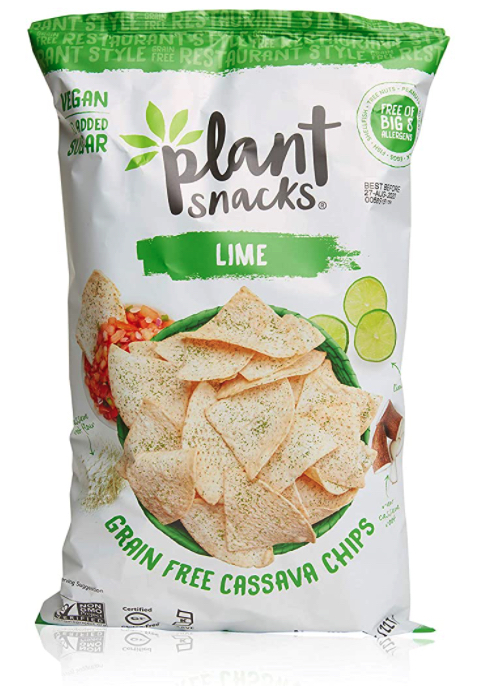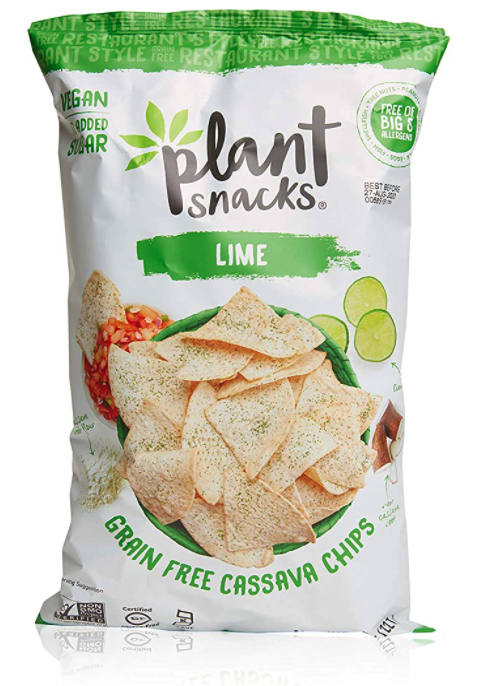 These grain free cassava chips with just a hint of lime are great for dipping and sharing.
Cassava is a root vegetable that is naturally gluten free, delivers energy from carbohydrates, is high in vitamin c, folate, and magnesium and is a good source of fiber. These chips are the ultimate in healthy vegan snacking!
Gluten-free and grain free
Vegan and Kosher
No Added Sugar
Non-GMO Project Verified
Big-8 allergen free
Average rating of 4.5 Stars on Amazon
Noble Jerky: Vegan Teriyaki Jerky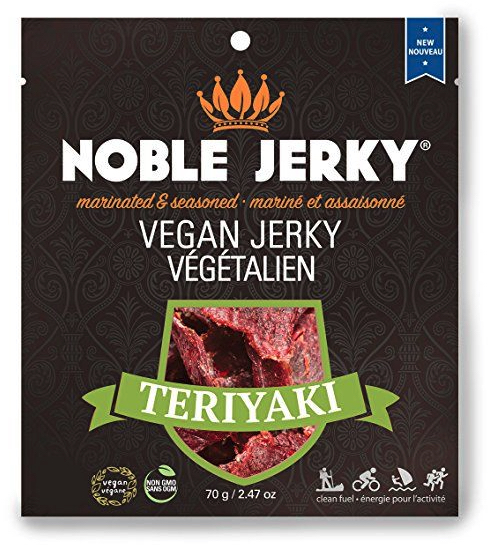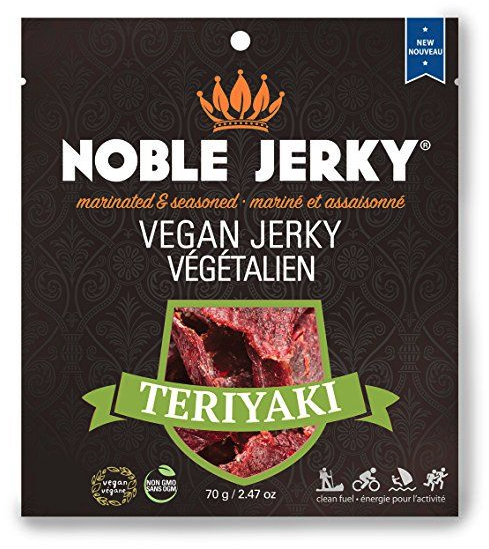 Who says vegans can't enjoy jerky? This tasty teriyaki version uses only the highest quality all-natural, vegan-based ingredients.
With 14 grams of healthy vegan protein in every bag, Noble Jerky is the perfect anytime snack to give you a boost of energy and satisfy hunger cravings throughout the day.
Non-GMO Project Verified
Vegan
No preservatives, nitrates, or trans fats
Average rating of 4.4 Stars on Amazon
Certified Amazon's Choice Product
To learn more about vegan snacks and other plant-based food options, check out the following resources:
Wholesale Exotic Snacks:
When choosing snacks, consumers don't only consider health, they also want taste. Unique tastes from around the globe are what's currently gaining traction in the snack food market.


As you can see from the graph above, interest in exotic snacks has exploded over the past year. According to Google's keyword planner, there are upwards of 100K monthly searches for the term "exotic snacks". This is definitely a growing trend online store owners should take advantage of.
HIPPEAS: Himalayan Happiness Organic Chickpea Puffs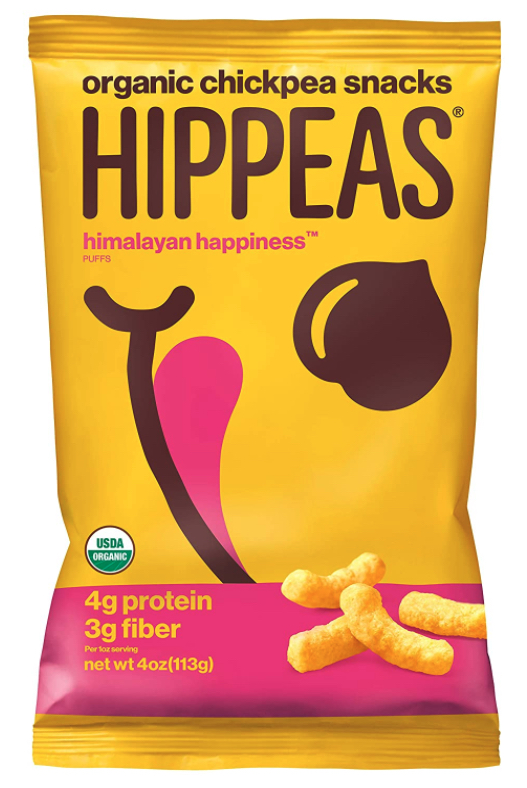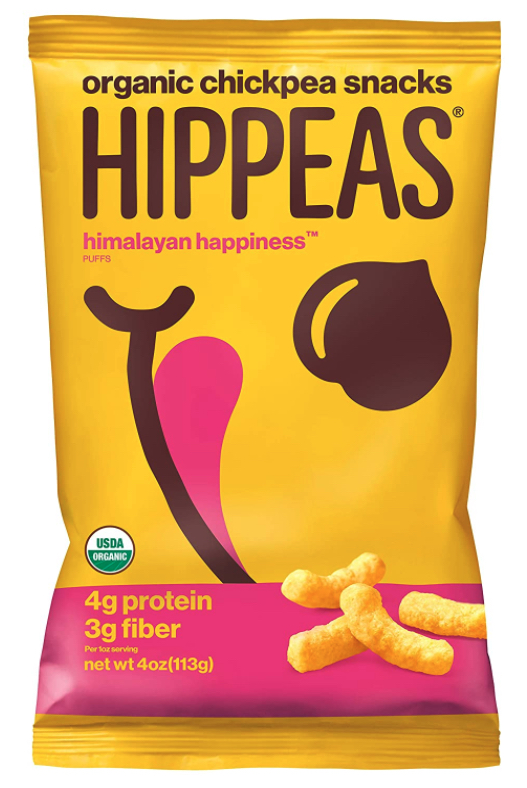 These sea salt sprinkled chickpea puffs deliver a dose of happiness, Himalayan style. With only 130 calories and 4g of Protein per 1 ounce serving, HIPPEAS are the new go-to snack for healthy people on the go that want something a little different.
Certified USDA Organic
Gluten-free and Non-GMO
Vegan and Kosher
Average Amazon rating of 4.7 Stars
Bhuja Snacks: Crunchy Seasoned Peas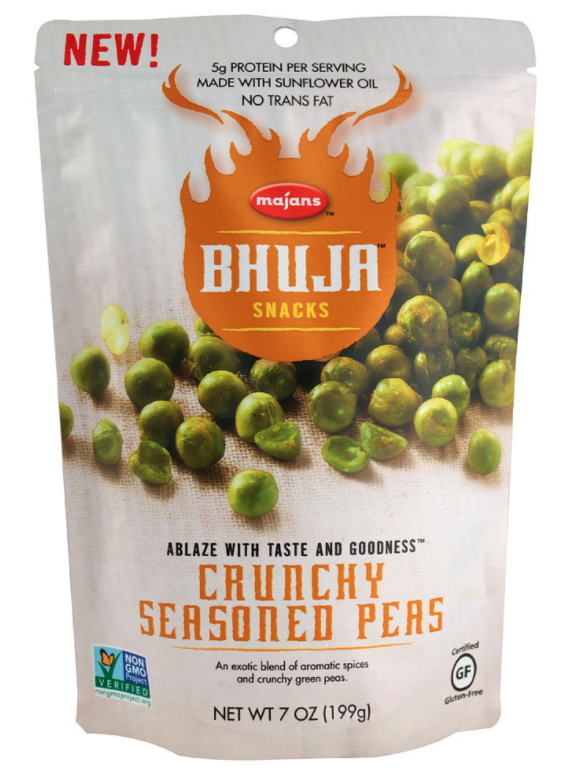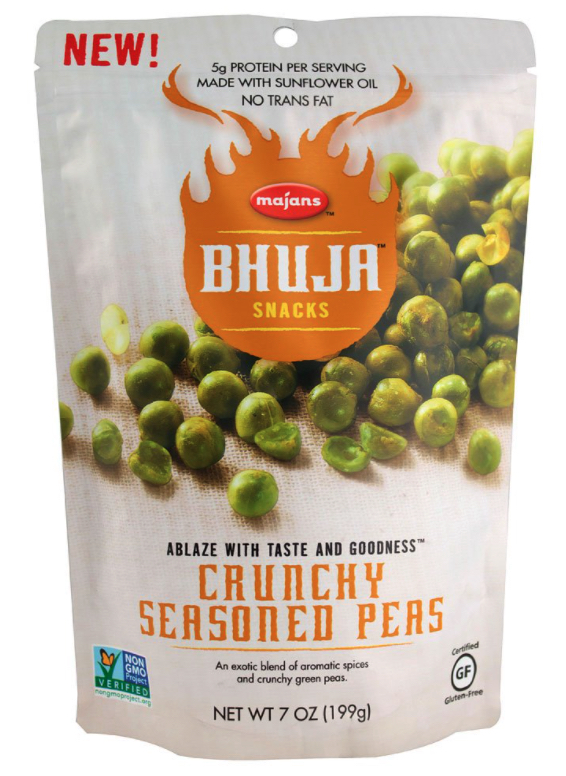 An exotic blend of aromatic spices and crunchy green peas. This tasty all-natural snack is great for on-the-go nibbles when you want something with a spicy kick.
Gluten free
Certified Non-GMO
No added MSG
Low glycemic index
Average Amazon rating of 4.7 Stars
Mamma Chia Squeeze Organic Vitality Snack: Mango Coconut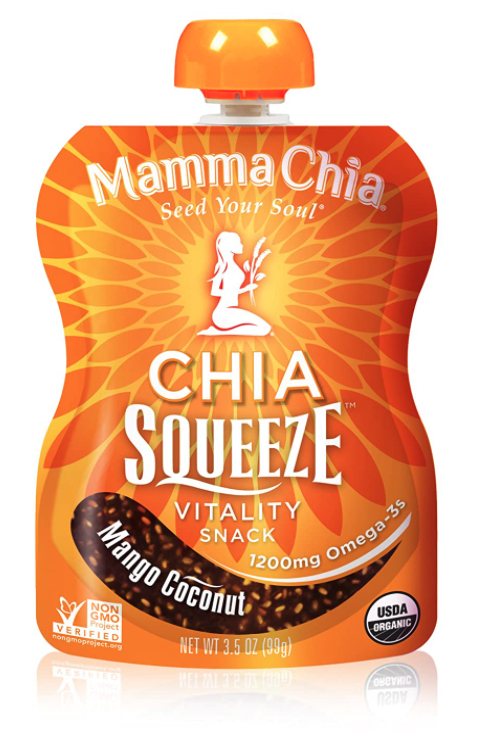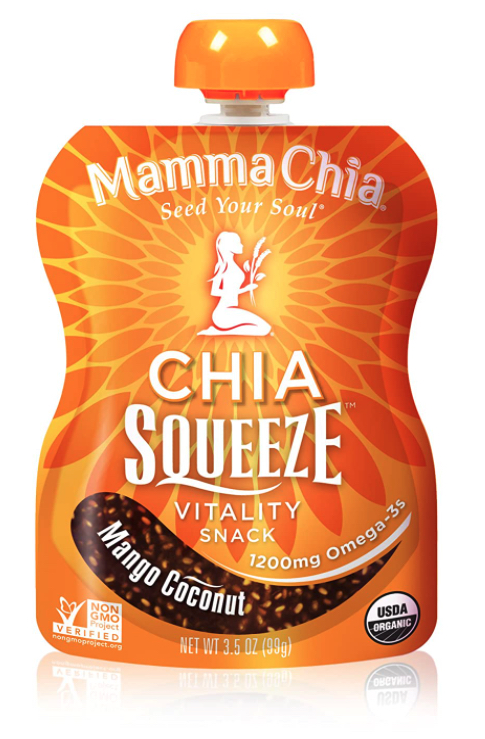 The Mamma Chia Organic Chia Squeeze Vitality Snack blends fruits, vegetables and Chia, the world's most nutrient dense food, to create a delicious anytime snack. The mango and coconut flavor has an exotic island twist, perfect for snackers on the go who want a vitality pick-me-up during their day.
GreenDropShip also offers Mamma Chia Squeeze packs in cherry beet, blackberry bliss, green magic, strawberry banana, and wild raspberry.
Certified USDA Organic
Non-GMO Project Verified
Gluten-free and vegan
No added sugar
Average Amazon rating of 4.6 Stars
Certified Amazon's Choice Product
Snacks For Kids:
Ask any mom and she'll tell you, snacks for kids are a must! There's nothing worse than getting caught out with hungry kids and no snacks in your bag.
You can tell how popular this snack category is by looking at some search volumes. Both "snacks for kids" and "healthy snacks for kids" get as many aso 100K monthly searches on Google. Moms are always on the lookout for portable, healthy treats that make kids happy and don't cause too much of a mess. These are great additions to your online snack inventory.
Happy Baby: Organic Sweet Potato & Carrot Puffs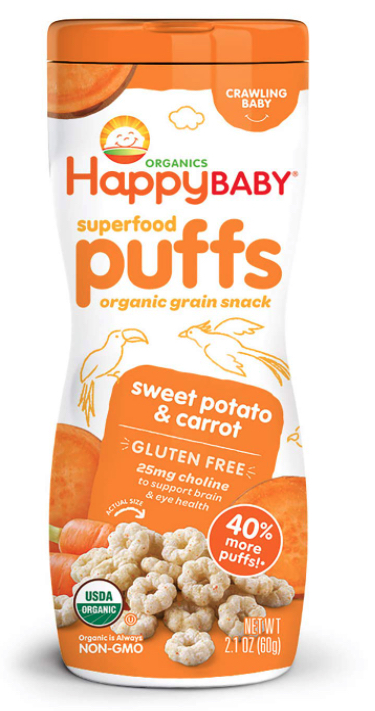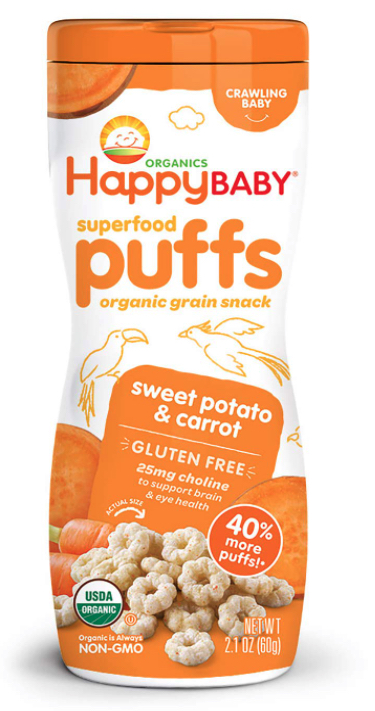 Ask any mom and they'll tell you, Happy Baby puffs are the go-to snack for crawlers and toddlers! These yummy organic puffs are fortified with Choline for eye and brain health. Plus it's right-sized for little fingers, perfect for teaching babies tactility and self-feeding.
GreenDropShip offers Happy Baby puffs in Organic sweet potato & carrot (above), strawberry, apple & broccoli, banana & pumpkin, kale & spinach, and blueberry purple carrot.
Certified USDA Organic
Non-GMO and gluten-free
Developed specifically for crawlers
Over 4,800 Amazon reviews with an average rating of 4.7 Stars
Certified Amazon's Choice product
"Happy Baby puffs" has up to 10K monthly searches on Google
Annie's Homegrown: White Cheddar Bunnies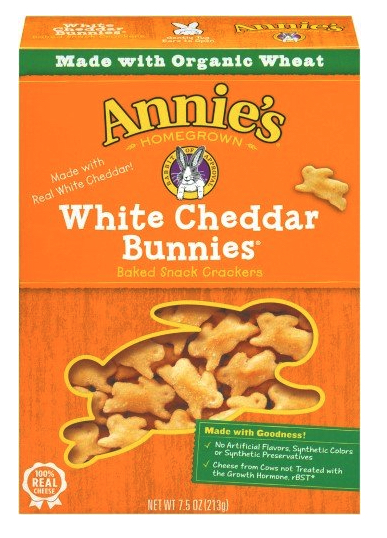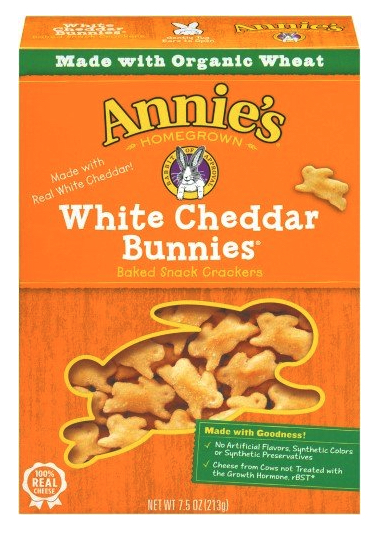 From lunch packing to after school snacking, Organic White Cheddar Bunnies are a kid favorite. They're also organic and made without any artificial ingredients, which makes them a hit with moms as well.
USDA Certified Organic
Non-GMO Project Verified
No artificial flavors, colors, or preservatives
Made with 100% real organic cheese
"Annie's cheddar bunnies" has up to 10K monthly searches on Google
Start Reselling Wholesale Snacks Today!
All of these wholesale snacks and more are available for resale to GreenDropShip members. In fact, we offer literally hundreds of delicious and healthy snack food products. That's alongside our full inventory of thousands of natural and organic products, including groceries, cleaners, household products, baby items and more.
Even better, most of our products are proudly made in the USA, which reduces shipping times and means they are held to the highest quality standards. And don't forget, we're both a dropshipping supplier and a bulk wholesale supplier. So whichever retail business model you choose, we can help.
And if you're a Shopify store owner, we've got you covered. GreenDropShip launched its own dropshipping app for Shopify. Making it even easier to add products to your online Shopify store… with just 1-Click.
As an online business owner, you want to work with a supplier that is reputable, and will deliver exactly what you advertised to your customer. That's why GreenDropShip is the smart choice for wholesale snacks for resale.
Join GreenDropShip today and start selling!