How To Make Video Ads For Dropshipping
Dropshipping is a competitive business. Getting your brand seen by the right audience and convincing them to make a purchase can be a challenge. You need to meet potential buyers where they hangout, and deliver content in the format they want to consume it. This is why in today's world, learning how to make video ads for dropshipping is a smart business move.
People LOVE watching videos online, particularly on social media. In fact, video can be a powerful marketing advantage that gives you an edge over your online competition.
In this post, we explain why video should be an integral part of your marketing plan. We'll also show you that you don't need to be an expert videographer to create professional, high-converting video ads for dropshipping. It's easier than you think!
So let's dig in and get started. Here's everything you need to know to start making effective video ads that sell.
Why Use Video Ads To Promote Your Dropshipping Store?
If you've spent any time at all studying marketing trends, you know there's a lot of buzz right now about the effectiveness of video ads. And for good reason!
One of the biggest advantages of video over traditional advertising is the strong impact visuals have on consumers. Some people need to "see it to believe it", and video allows shoppers to get up close and personal with products and brands.
Plus, in a world full of online distractions fighting for a user's limited time, videos can grab the attention of someone scrolling through social media and quickly get a point across. Because many times, folks just won't slow down long enough to read the fine print.
81% of businesses now include video as part of their overall marketing plan. To stay competitive, you'll want to be on the same playing field. And that means learning how to make video ads for your dropshipping business.
Still not convinced? Here are five (5) solid reasons, backed by statistics, why you should consider using video ads to promote your online store.
1. Video Ads Boost Traffic, Conversions, and Sales
According to a study conducted by Wyzowl, 87% of video marketers say video has increased traffic to their websites. The same study also found that 80% of video marketers say video directly increased their online sales.
Need more proof? Check out the following video ad stats:
Research shows that online businesses can increase conversions by as much as 80% when they add a product video to their landing page.
In general, consumers are between 64%-85% more likely to purchase something after watching a product video.
2. The Popularity Of Video Keeps Growing
According to research from LimeLight; online video continues to grow in popularity at the expense of traditional broadcast viewing.
In fact, viewers spend, on average, six hours and 48 minutes per week watching various types of online video, a 59% increase since 2016! At the same time, television viewing fell 10% and is down to seven hours, 12 minutes.
More and more people are turning to online video for entertainment, particularly on their smartphones. This means the demand for this form of content will continue to grow into the foreseeable future!
Check out this infographic from the Omnicore Group if you want a clearer picture of how video ads are disrupting the dropshipping world, and pretty much any type of B2C business.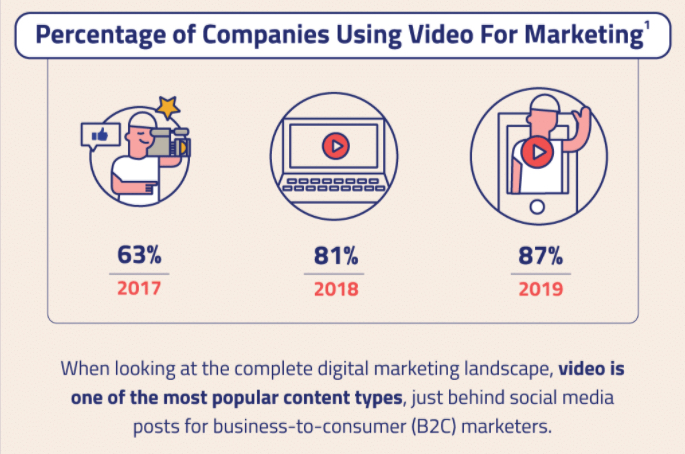 And finally, just to drive the point home, we'll end this section with the following stat. by the end of 2022, about 80% of the global internet traffic came from video streaming and downloads!
You can see which way the wind is blowing here. Video ads are one marketing tactic you do not want to ignore.
3. Videos Help Shoppers Trust Your Products
One big issue with dropshipping is that many shoppers are concerned the products they order won't look the same as what they saw advertised online.
This is the main advantage brick-and-mortar stores have over eCommerce. The ability for consumers to see and touch an item before actually making a purchase.
A lot of the time when you're shopping online, all you have to help you decide what to buy is a product description and/or an image. And with close to 50% of buyers stating "my products won't look the same when they arrive" as their biggest online shopping fear, creating product videos can go a long way towards boosting sales.
Videos allow potential buyers to see a product from all angles. They also get a good idea of size, scale, and potentially fit (if it's clothing or accessories) by seeing the product with an actual person. This helps build trust that what you see is actually what you get.
In addition, your customers might get to see how a product actually works when put to use. This is especially helpful if the product requires some explanation. All of these additional cues can further persuade them to make a purchase.
90% of users say that seeing a video about a product is helpful in the decision process.
An added bonus of video ads for dropshipping you might not have considered… 47% of businesses say video marketing helped them reduce support queries.
When people watch a product video, they better understand what your product is all about. This means fewer questions and less customer service work for you in the long run. Talk about a win-win!
In fact, four times as many consumers would rather watch videos about products than read about them. Many people are visual learners, so help them better understand your brand by presenting information in a format that's more meaningful to them.
4. Consumers Love Watching Videos On Social Media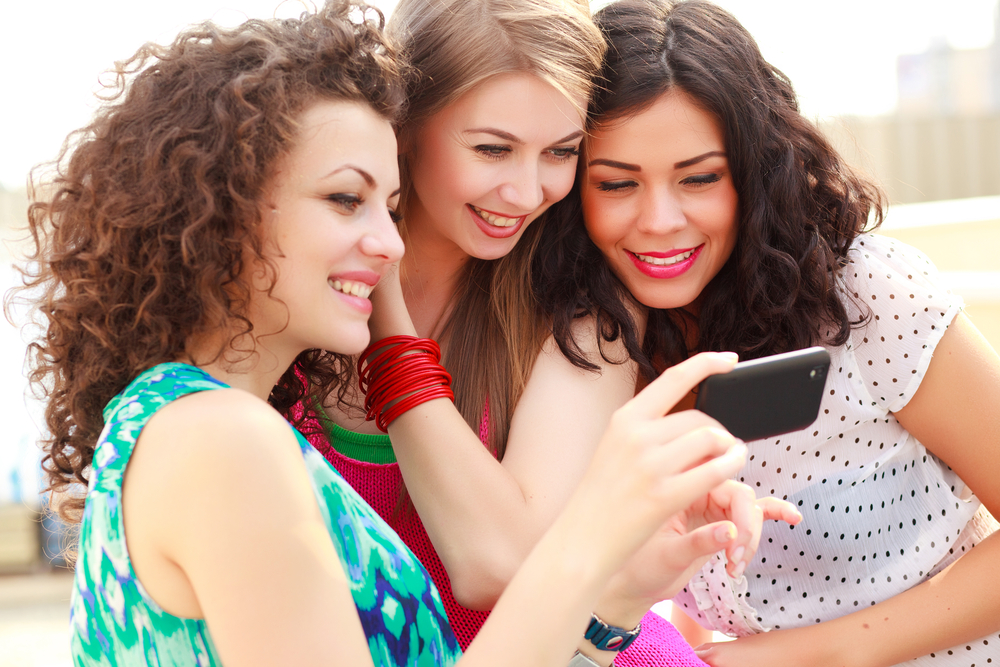 On Social Media, video ads are currently the NUMBER ONE way consumers discover a new brand or product before purchasing. Video is also the NUMBER ONE type of content consumers say they want to see from brands on social media.
In other words, the people have spoken! And they're clearly telling you that video is what they want to see more of on social media.
Plus, 73% of consumers say they were influenced by a brand's social media presence when making a purchasing decision. And 83% of users say they would share a branded video with their friends if it was entertaining.
Do you want your dropshipping brand to go viral? It's clear that posting engaging video ads on the social platforms where your target audience hangs out is one way to make that happen.
5. Google Loves Videos and They Can Boost Your Rankings
81% of video marketers say that videos have increased the average time visitors spend on their websites. What does that mean for your dropshipping store? It could mean a boost in SEO results from Google.
According to Search Engine Watch, posting an engaging video on your site can entice people to spend more time on that webpage. The longer customers linger in your online store, the more likely it is to impact your SEO for higher rankings.
This also applies to video ads posted on other platforms, such as Facebook or Instagram. Whenever a consumer clicks on your website, the likelihood of them spending more time on your website increases significantly.
Google notices this and rewards sites with more time spent per page by giving them a higher ranking. Google thinks people are staying longer, so this site must contain some really great content!
In fact, you're 53 times more likely to show up first on Google if you have a video embedded on your website.
You get bonus points if you add a video transcription or related blog content on the same page as your video. Google uses HTML content to further understand what your page is all about, which can boost rankings even more.
So not only are paid video ads a good way to drive traffic to your dropshipping store, but video can also boost your organic traffic by getting you ranked higher in search engines. That's one more reason why you should include video ads as part of your overall marketing strategy.
Ready to get started? Let's dive in and see what it takes to create successful video ads for dropshipping.
Should I Make My Own Dropshipping Videos Or Hire A Pro?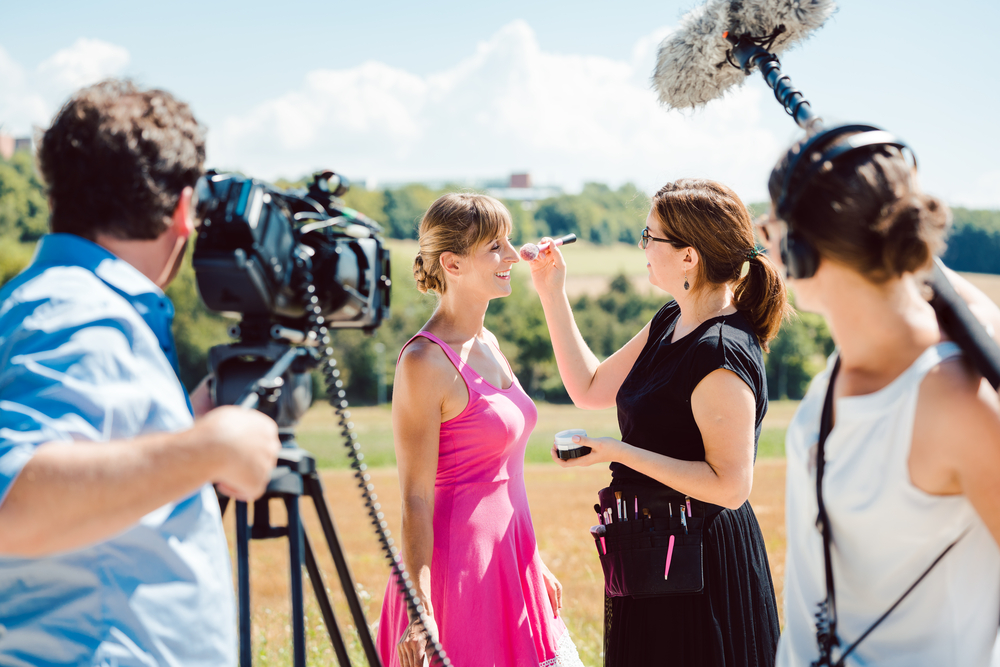 Many dropshippers feel a little intimidated by the idea of making video ads. But in reality, there are a couple of ways you can go about creating video content to promote your online store. It all depends on your marketing budget, technical know-how, and time.
Successful viral video ads don't need to be complicated, sometimes a clear simple message is what actually sells. Here are a few options to consider:
Hire a videographer and designer to shoot your video(s) based on a script and storyboard you create. You can assemble a small team that will produce the video, then it's up to you to determine where and how to distribute it. This will result in slick high-quality video content, but it also comes with the highest price tag.
Partner with a company that specializes in creating video ads for dropshipping, such as DropShipMedia or BandsOffAds. These companies offer different price levels depending on the number and type of videos you want to produce.
Hire a freelancer to create a couple of video ads to get you started. You can use a service like Upwork or Fiverr. This is a good way to test different creatives, ad placements, etc.  Then once you learn what works for your brand, you can start making your own videos going forward.
Shoot the video ads yourself. You can easily shoot a great video on your smartphone, and there are lots of cool apps and tools that can help. Many dropshippers go the DIY route with successful results.
Ultimately, choosing whether to create your own video ads or go with a pro will depend on your budget, available time, and comfort level with the necessary shooting and editing tools.
How To Make Video Ads That Sell: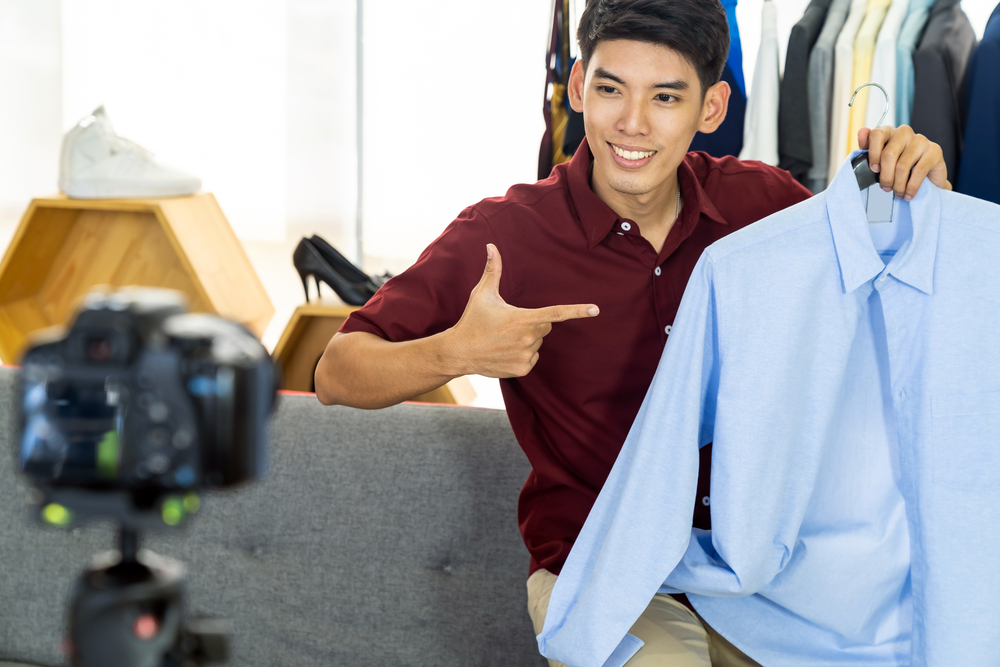 The most obvious advantage of shooting your own video ads is that you can do it on a shoestring budget. And if you're just starting out in the dropshipping business, you want to save money wherever you can.
Plus elaborate and expensive don't always equal good results. You can shoot a highly viral video ad on your own. Lots of everyday people have done it. All you need is a solid understanding of who your audience is, the purpose of your video, a compelling script, and an idea of how it should look. 
Here are a dozen actionable tips from successful video marketers to help you create dropshipping video ads that will grab attention and sell.
1. Define Your Target Audience
One of the first things you'll need to do, before ever even creating a video ad, is define your target audience. This is a very important step because your goal is to make your ads visible to the people most likely to buy your product.
For example, if you've decided to create a video ad to sell an organic face cream that reduces wrinkles, more than likely your target audience will be women over age 35. That's because youthful-looking skin is especially important to that demographic. These women are already actively searching for products to solve that problem online.
Since the face cream is organic, you might want to further narrow your focus to women over 35 who show an interest in organic or eco-friendly products. If you plan to play up the organic angle in your advertising, then this audience would be even more engaged.
It's essential you know who you are marketing to and where they spend their time. This will drive every other decision you make about your video, from the script to the platform(s) you post it on.
Facebook Insights can give you all kinds of key demographic information about your audience such as; age, gender, location, hobbies, and interests (to name a few). It's a great place to start identifying your target audience.
You can also check out your competitors across social media platforms. See who their top followers are and what type of video content gets the most engagement for them. Plus, if you see a competitor focused on a particular social platform, it's a good indication they found success there and you should consider posting to the same place.
A word of caution, don't go out and simply COPY what your competitors are doing. What would be the point of that?
Seeing what type of video works well for others in your niche is helpful intel to start with. But you want to come up with your own unique and engaging video concept that will set you apart from the competition.
2. Identify Your Campaign Goals
Once you know your audience, you need to determine your goal. Start by asking yourself these key questions.
What exactly are you trying to achieve with this video campaign? More sales? Brand awareness? Traffic? Engagement? Increased followers?
These key details tell advertising platforms how to run your ad, and to who. They analyze users who frequently click on ads versus those who actually buy something. If you're looking for sales, the platform will run your dropshipping ads to people more likely to buy.
Plus knowing the goal for the dropshipping video ad you want to create will inform your script, video length, tone, etc. You can't decide on the appropriate ad content, until you know what you are trying to achieve.
3. Decide On Your Ad Content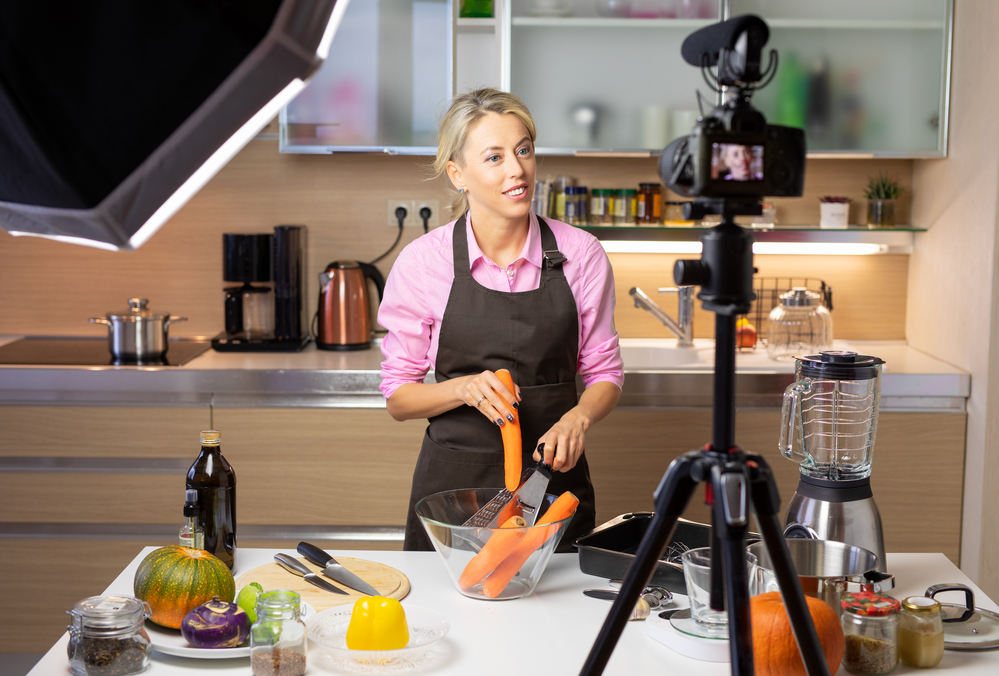 After defining your target audience and campaign goal, your next step will be to determine what type of content you'll be creating.
Every dropshipping video ad has a purpose. It's essential you know your purpose going in, so that you can choose the right format to get your message across.
Here are the four (4) most common types of video dropshipping ads:
Promo Videos:
Got a hot new product you want to share with customers? Then this is the video ad type for you.
Create a buzz around your latest product with colorful images, catchy text, and upbeat music. Product promo videos are usually 15-30 seconds long, and they offer a stylish look at your newest offerings. It's just enough time to pique your audience's interest and get them excited about the product's release.
To build a promo video, check out this video template for a bite-sized product introduction.
Explainer Videos:
An explainer video ad describes the features of your product. These videos usually focus on helping a potential customer solve a problem. Your product is showcased as an answer or a solution to a pain point.
Most dropshipping explainer video ads follow a very similar structure:
What: What's my audience's problem?
How: How will my product or service solve it?
Why: Why should my audience buy from me?
If you're introducing a brand-new product or want to highlight the benefits of an existing item, an explainer video could be a great choice. 
Explainer videos are another opportunity for your brand to go viral. Anytime you explain a recent trend, present interesting data, solve a common issue, or show people how to do something new – viewers might share the video with friends.
Doesn't matter that it's an ad, the most important thing is if they learned something valuable by watching it.
These types of videos can make you and your brand look informative and smart. They can help position you as an expert in your niche, which is the perfect recipe for gaining likes and follows.
Once customers begin to see you as an authority in your field, they'll be more likely to buy products from you in the future. Check out this template to help you start making professional-looking explainer videos.
How-To Videos:
Without a doubt, "how-to" videos are the best format you can use to create a video ad if you're selling a product that requires a demonstration.
How-to videos show how to actually use a product in real life, or put it together. From beauty tips using products on your site to recipes that use ingredients in your online store – the possibilities are endless. 
The great thing about how-to videos is that they instantly provide a solution to a problem. Your job is to come up with a product that solves a problem a significant number of people struggle with.
Inventory all the products you carry in your online store and decide which ones would be good candidates for a how-to video ad. Chances are, the product you pick will increase in sales once viewers are shown how to properly use it.
You can take a look at this helpful template for some ideas on making how-to video ads.
Educational Videos:
Educational videos serve to teach and inform. They're typically produced for the beginning of a buyer's journey.
In other words, these videos are designed to provide information to someone who may never have considered purchasing a particular product. It also could also be about demystifying a product or clearing up any confusion surrounding a product. 
For example, many people have no idea what Gochujang is (it's a spicy Korean hot sauce if you're wondering). If you carry this product, you might want to explain its history, what makes up this fiery condiment, how it tastes, or even how to use it when cooking.
Once your customers can wrap their heads around what a product is, then you can hit them up with an offer to buy. But they may need to be educated first before making that leap.
Successful educational video ads tend to be a combination of entertainment and information. So if you've got a great sense of humor, use it! This will go a long way towards keeping customers engaged long enough to learn what you're trying to teach them.
4. Choose Your Social Media Platform(s)
One of the reasons you need to determine who your target audience is so you can also determine the best place to reach them. Different types of people hang out on different social platforms.
Don't waste your time producing dropshipping video ads for TikTok (as an example) if your customer demographic is older and doesn't use that platform. You always want to meet your buyers where they are!
5. Determine Video Length
Each social media platform (Facebook, Instagram, YouTube, and TikTok) has its own ideal video length. But before we dive into the individual platforms, here's an excellent general rule of thumb for video length you can go by.
Your dropshipping video ad should be just as long as it needs to be to get your information across, and not a second longer.
In a world of distraction, attention spans have gotten ridiculously short. So it follows that videos should be designed to be engaging all the way to the end. Your video should provide valuable information or tell a compelling story, without any extra fluff.
For an ad, just a few seconds can be plenty of time to reveal a special promo. For a how-to video, it could take longer to get all the important points across.
But don't simply take our word for it. In a recent consumer survey, 60% of respondents indicated that a video being too long would prevent them from watching it. Short and sweet should always be your goal.
Facebook: for organic videos, 3 minutes or less is optimal. It's even shorter for video ads, try to keep them in the 15-30 second range.
Instagram: IG Stories video needs to be less than 15 seconds. In-feed videos can be as long as one minute, but the optimal time (based on viewer data) is about 30 seconds.
YouTube: People come to YouTube expecting to see longer videos, and the platform rewards longer content with better rankings. 6-8 minutes is the ideal length for this platform.
TikTok: For this fast-paced social media upstart, the optimal viewing time for in-feed video ads is 15 seconds. Make it quick or you'll lose their attention.
6. Use The Correct Aspect Ratio
"Aspect ratio" might sound scary if you're not super tech-savvy, but it simply refers to the size of your video. Depending on the platform where you post your dropshipping video ad, the dimensions will need to be horizontal, square, or vertical.
For example, Facebook and Instagram support vertical and square videos while YouTube supports horizontal videos. You don't need to stress over this, we mention it mostly for awareness.
Each platform provides detailed guidelines for what aspect ratios they accept. And there are lots of tools, some free, that allow you to easily change your video aspect ratios while editing. So the reality is you can adjust the same video to make it viewable on multiple platforms.
7. Use The Right Equipment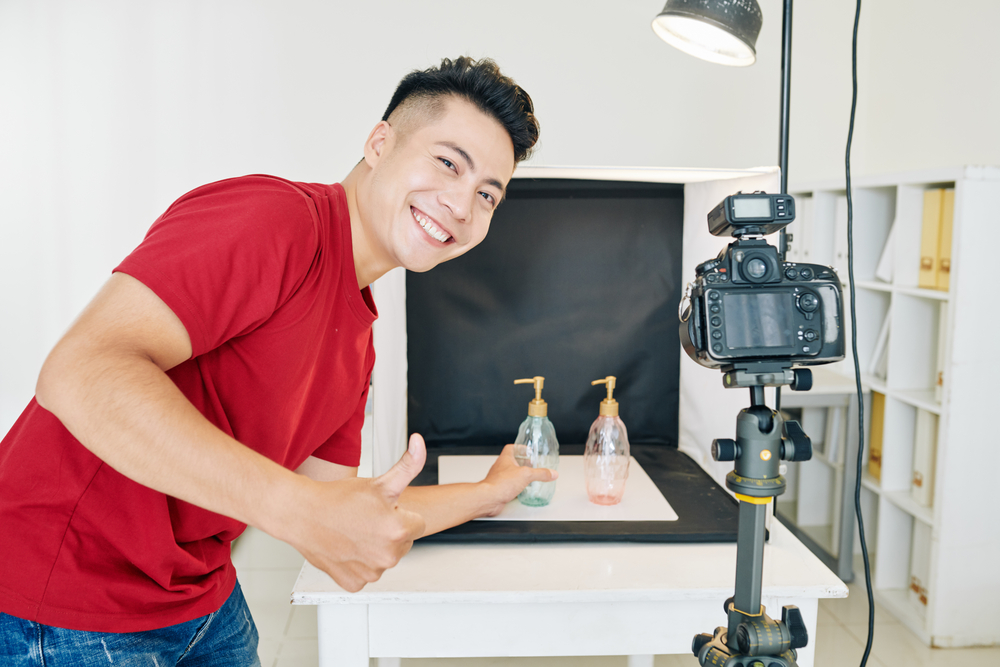 Most newer-model smartphones have a good enough camera to make a decent dropshipping video ad. But this isn't all you'll need. You also need good lighting to create a professional-looking video, and that means purchasing a background or some kind of additional lighting or reflecting equipment.
Don't know the first thing about lighting a video shoot? No problem, just Google it. There are plenty of educational articles like Lighting For Video that will show you how to light your video perfectly for production. 
Keep in mind that if you're using a smartphone, be sure to also use a tripod or selfie stick. Either will avoid shaky shots as you shoot. And trust us, nobody's hands are that stable. You need something to keep your phone steady.
8. Write A Script
You might be tempted to get on camera and "wing it" but we're here to tell you, don't. Write out a script before you start filming.
It's not that hard, especially considering video scripts are usually pretty short. You want to be sure you open with something attention-grabbing, and that you cover all the main points you need to achieve the campaign goal. Throwing in a little humor or personality never hurts either.
If you're new to the process, there are tools and templates online you can use to help you create a dropshipping video ad script. Just spend a few minutes googling the topic and you'll be shocked by how many results you get.
9. Create A Storyboard
A storyboard is a graphic representation of how your video will unfold, shot by shot. It's made up of a number of squares with illustrations or pictures representing each shot, with notes about what's going on in the scene and what's being said in the script during that shot.
If you plan to use text overlays to convey some information (which can be very effective), this is where you would map that out also.
If you've never seen or created a storyboard before, Creately offers some great tips to help you build a simple storyboard for the video.
10. Add Branding Elements
Don't forget to add key branding elements to your video ads. You want people to know this content came from you and your online store!
For example, think about adding your company logo in the corner of your video as a watermark. This will ensure that your brand is seen throughout the entire video and not just at the beginning or end.
You might also want to put your web URL at the bottom of the video to help boost brand awareness and drive more traffic. Or maybe wear a t-shirt or hat displaying your brand logo while you're showcasing products. This helps build the connection between you, your brand, and your products in the minds of potential customers. 
11. Include A Clear Call To Action
Your video ads should always include text with instructions telling viewers exactly what you want them to do. Now is not the time to be shy!
It can be something as simple as "get yours today!", "swipe up to see more", or "view products in our profile". A strong call-to-action (CTA) is what will ultimately drive a user to perform a desired action.
12. Set Your Budget
Know exactly how much you have to spend and make your ad dollars count!
Learn More | How To Market An Ecommerce Store On A Tight Budget
The first thing that you need to figure out, before ever running a dropshipping video ad, is the profit margin of your product. Calculate the difference between the wholesale price of the product you want to sell (including shipping) and the retail price in your online store.
This is important because you can only afford to really spend money on ads if your product price is high enough so that you have the profit margin to do so. 
The second thing that you need to decide is the maximum amount of money you are willing to spend before you start making adjustments (if the ad doesn't perform as well as you'd hoped). Most marketers suggest aiming for double your profit margin amount. For example, if your profit margin is $20 you can spend $40 before making any ad adjustments.
Don't confuse this with your daily ad budget. Depending upon the price of your product, your daily ad spend should last a few days or even a week. Set your budget low,  $5 to $10 when first testing an ad. Then you can crank up your daily spending if, and when, the ad starts getting you results.
Tips For Making Engaging Videos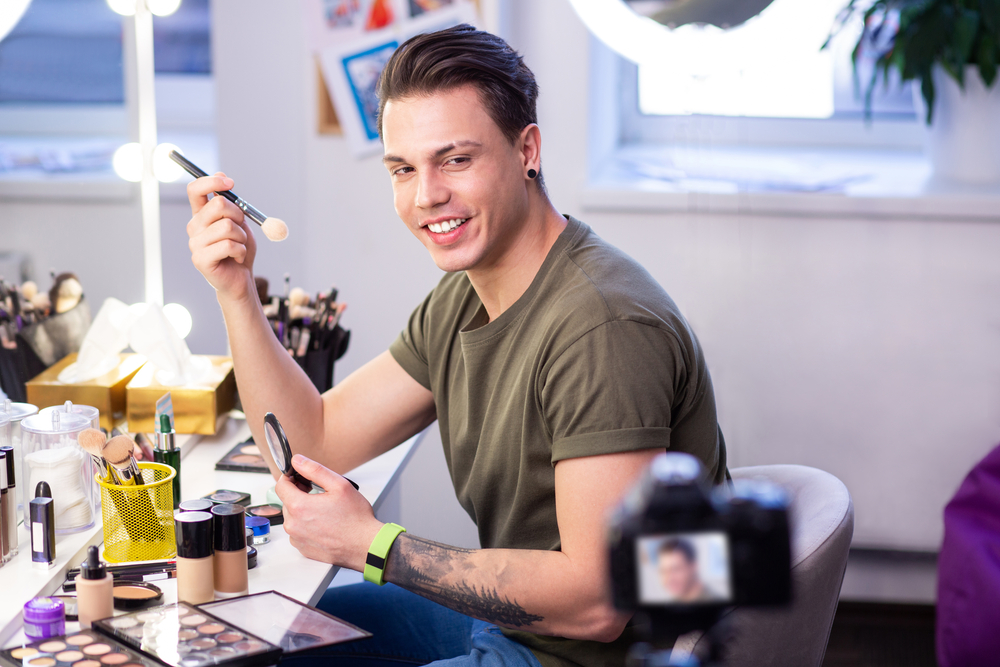 The steps above are a basic guide for how to create dropshipping video ads, but there's a little more to it than that. The real trick is to create a video that is compelling. You want to design something that will grab a user's attention, and make them want to learn more.
Here are some additional tips to get even more engagement for your videos.
Start With A Hook:
With video ads, you have about five seconds to stop the scroll and get your viewers' attention. That means there is no time to waste! 
Start your video with a bold graphic or motion effect to catch their eyes. Use bright, bold text to present a problem your product solves, or ask a question that entices them to keep watching.
If you have an offer or promotion, lead with it upfront. You don't want to bury your discount at the end of the video since many viewers will only watch a portion of it.
Be sure that when your video starts playing, there's some kind of hook happening immediately… or a user won't bother to stop and watch.
Use Thumbnails:
Thumbnails matter a lot. They are essentially the "headline" of your video that will entice people to watch.
Use a design program like Canva to create eye-catching thumbnails, particularly if you're going to post your video to YouTube or another platform that pits your brand against a lot of other videos.
Appeal To A Viewer's Emotions:
Videos that provoke an emotional reaction tend to perform better and have more viral potential on social media. This is not the time to be shy… show some personality!
According to the Harvard School of Business, 95% of purchase decisions take place subconsciously and are based on emotional factors.
"People do not buy goods & services. They buy relations, stories, and magic." -Seth Godin-
Are you selling a product that solves a frustrating problem for your customers? Show that frustration in your video ads! Are you super excited about a brand new tech gadget you added to your online store? Show your excitement!
Emotions are contagious, and feelings are what prompt people to buy. Appeal to a viewer's emotions, not just their logic, and you have a much better chance of making a sale.
Add Captions:
Think about it, where are you usually when you're scrolling through social media? In line at the bank? Sitting on a train on the way to work? Hanging out in a theater waiting for a movie to start?
Plenty of times you're in a space where you can't exactly crank up the volume on your smartphone. In fact, social videos are often watched with the sound off, which is why captions also go a long way toward increasing viewership.
Tools To Help Create Professional-Looking Videos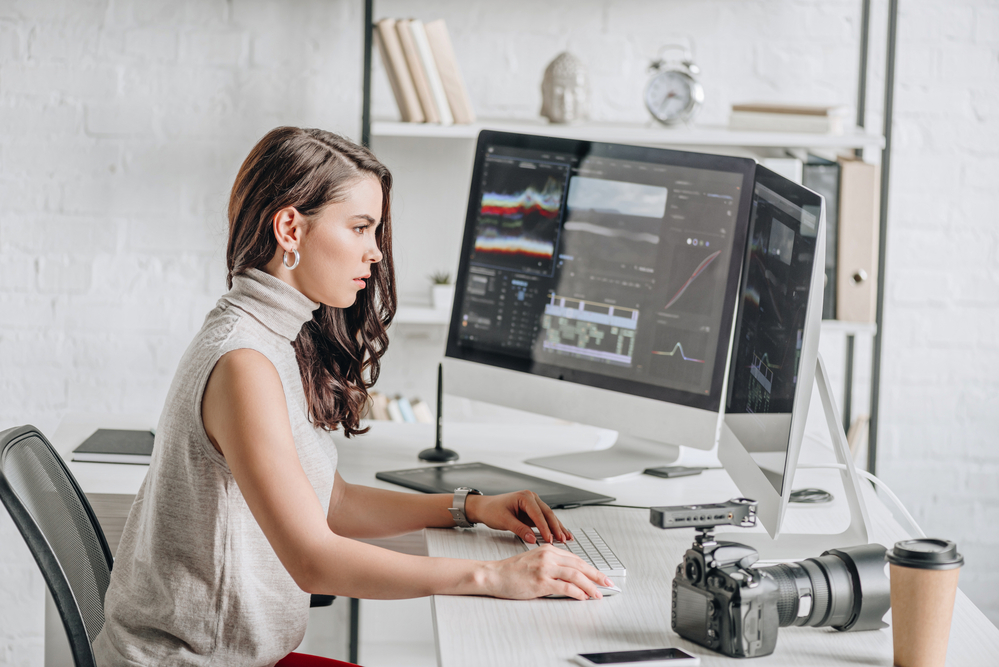 The good news about making video ads for your dropshipping store is that you don't need to be some kind of technical wizard to pull this off. There are all kinds of online tools and apps that can help anyone create high-quality professional videos.
The better news? Many of these tools are inexpensive or even free, so you won't break your budget.
Plus you don't have to start completely from scratch (if you don't want to). There are a lot of online resources you can use to find great free stock footage, fitting music, and cool sound effects.
Depending on how the content is licensed, however, you may have to credit the creator of the footage or pay to use it for commercial purposes. For details on how and when to do this, check out the Creative Commons best practices for attribution and be sure to take a closer look at the conditions for use on any site you find that offers stock images, videos, or music.
Free Stock Footage and Music Resources
Here are some cool (and free) tools you can check out to help you create buzz-worthy video ads for dropshipping. It's a great place to start!
Free Stock Video Resources:
Videos in the Public domain (not subject to copyright):
Free Music and Audio Files:
Free Video Creation Tools
While you can record video natively on most video hosting platforms like Facebook, Instagram, YouTube, and Tik Tok – there are also lots of easy-to-use video editing apps that can help you produce high-quality more professional-looking video ads quickly. 
These tools can give you the competitive edge you need to make videos that stand out and get your brand noticed. Here are some that are worth considering:
Vimeo Create: This free editing tool allows you to turn product shots into beautiful video ads in just minutes. You can even connect directly with your Shopify dropshipping store!
Vimeo Create uses AI to automatically convert existing product images and text into video ads for your online store. It'll even suggest colors, themes, music, and fonts to punch up your videos and make them more engaging.
Resolve: You can also try this free desktop video editing software that comes with professional features that let you do things like color correction, remove objects, stitch together footage, and more.
Resolve does take a minute to learn how to use if you're new to editing, but it's one of the most robust free solutions for creating professional-looking videos.
Power Director: A powerful video editor for your Android phone that allows you to do everything you need (right on your mobile device) and directly import it to any social channels.
Splice by GoPro: This is another powerful free video editor for iPhone users. You can create high-quality dropshipping video ads in minutes using this smartphone app.
Video Editing Apps
WeVideo: Use this program to edit videos on any device; including Chromebook, Windows, Mac, and mobile. Cloud-based flexibility means you get unlimited storage for your media and there's no download or software to install. Features include a green screen for a big-budget look without the cost or difficulty.
With WeVideo users can edit videos with zero upload wait time.  You can also choose from multiple formats to stand out on social media, web, and mobile displays. Offers tiered pricing plans.
Movavi: This tool is available in both a Mac and Windows version. Multi features include stock media files to enhance your videos.
You are also able to convert any media file to any format with Movavi. Other features include a 360 video editor, stock footage, and a full-video editing suite. Offers a free trial, and pricing plans after that.
Blender: Blender is a free and open-source 3D computer graphics software tool set used for creating animated films, visual effects, art, 3D printed models, motion graphics, interactive 3D applications, and computer games. If you're looking to do something super creative and more customized, this might be a good tool for you.
Top Four (4) Social Media Channels For Video Ads
Having trouble deciding where to post your video ads? Here are the four most popular social media channels you'll want to consider, and some of the different dropshipping video ad options available on each.
As always, the most important consideration in determining WHERE to post your video ad is doing research to determine where your target audience spends the most time. You want to place yourself on the platform(s) where your ideal customer has the greatest chance of discovering your content!
After that, you'll need to determine WHAT type of ad format will work best for the video ad you're creating. The most important thing to consider here will be the goal of your campaign.
Let's look at each of the four (4) most popular social channels for video to see what they offer.
1. YouTube Videos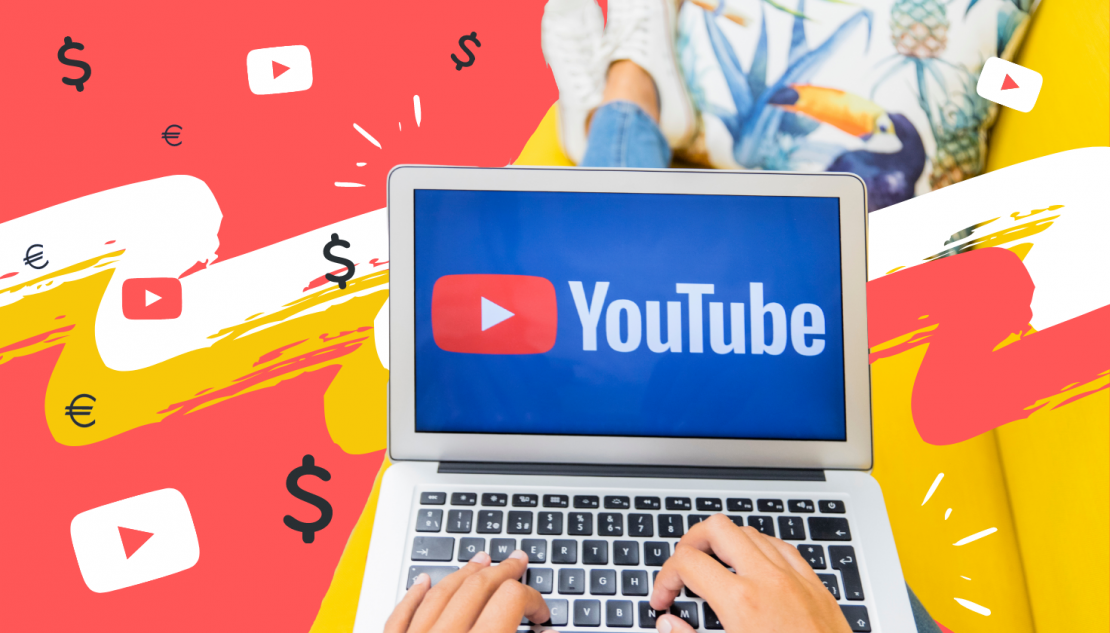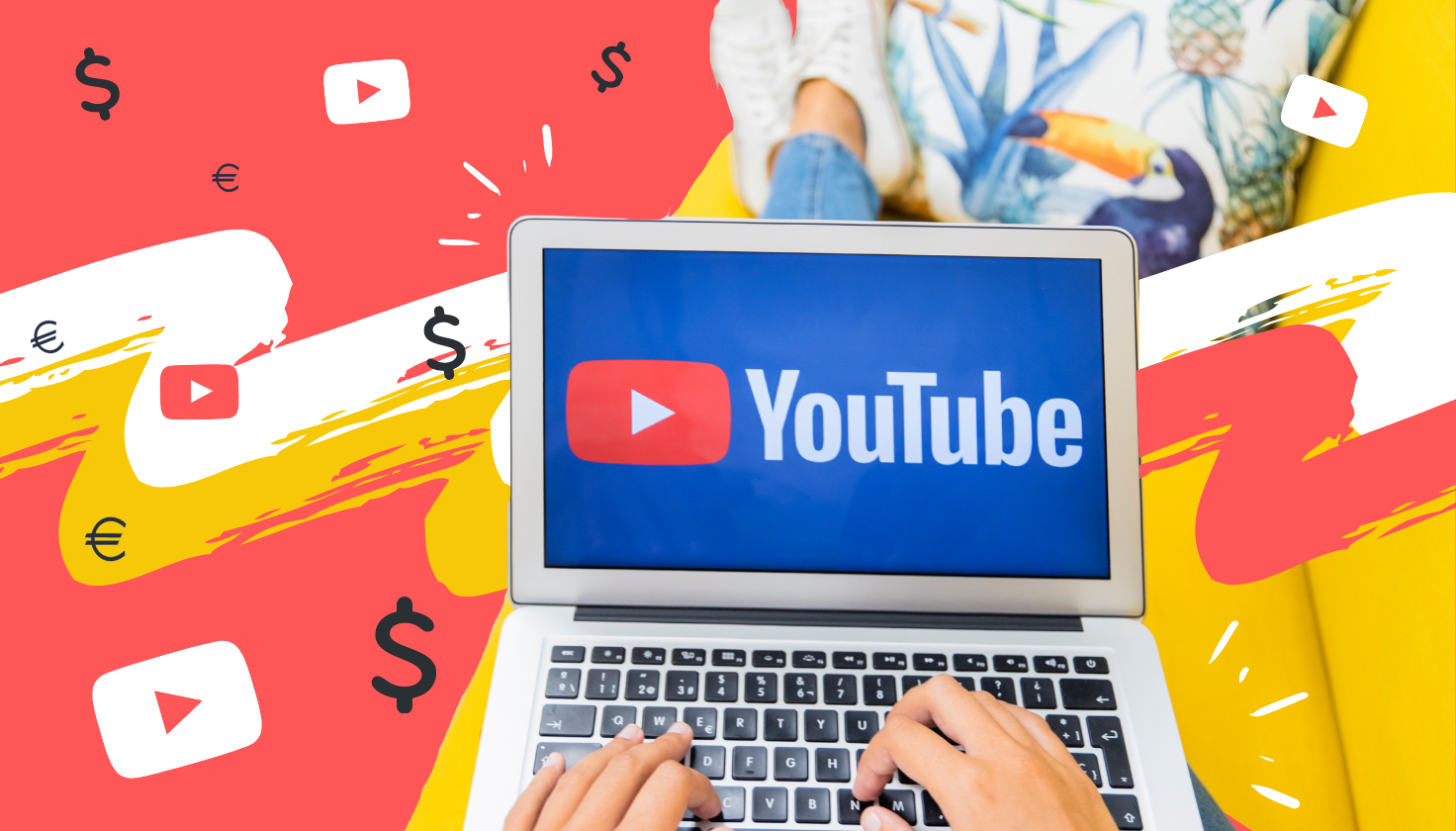 YouTube ads use a bidding system like other advertising platforms, but it's completely based on your campaign's objective. You can either pay the cost-per-view (CPV) or cost-per-acquisition (CPA). The acquisition takes into consideration the traffic generated and revenue produced by the ad. 
There are 4 types of video ad campaign objectives on YouTube:
Lead Campaigns (to generate sign-ups and leads. Great for subscription services or if you're trying to build your email subscriber list). This is CPA based.
Brand Awareness and Reach (to generate awareness of your store's brand or a brand new product launch). This is CPV based.
Product and Brand Consideration (to generate awareness of your products and niche). This is CPV based.
Web Traffic (to generate more visits to your website/online store). This is CPA based.
Once you know your campaign's objective, there are 5 different types of dropshipping video ads you can run:
Bumper
Pre-roll
TrueView
Overlay, and
Sponsored cards.
The first three are all ads that play before, during, or after a YouTube video. Short, unskippable ads are either bumper or pre-roll, whereas longer, skippable videos are normally TrueView.
Then you have overlay ads and sponsored cards. Overlay ads are those little banners that display at the bottom of YouTube videos. Sponsored cards exist in the little 'i' icon on the top right-hand side of a YouTube video. If a product of yours is mentioned in a YouTube video, the viewer can click the 'i' icon and immediately start browsing that product and similar ones, too.
YouTube video ads, when done correctly, can deliver amazing results. If you've got the advertising budget, YouTube ads can take your dropshipping business to the next level.
2. Facebook Videos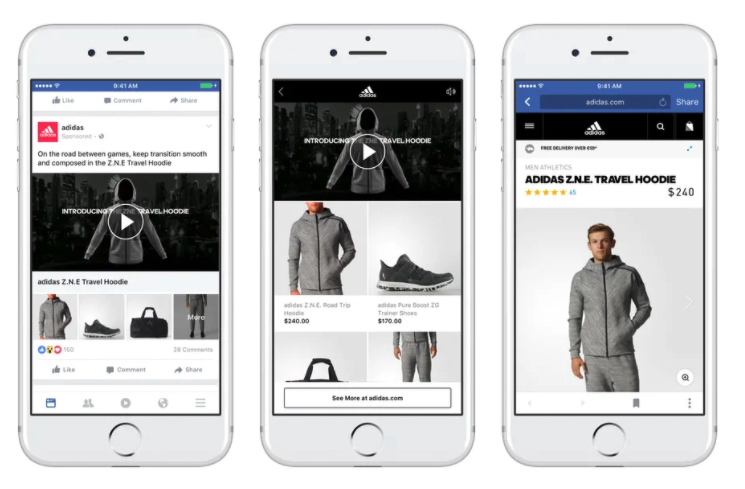 Dropshippers love advertising on Facebook, and for good reason. Facebook and its ads account for 80% of all social referrals to e-commerce websites. Facebook has multiple ad types, but video ads in particular perform well on the platform.
Here are the different ad types for FB that allow you to incorporate video:
In-Stream Video Ads: these ads run in the middle of another video. On mobile devices, they are shown after 60 seconds of the main video content being played. They are most effective when relevant to the topic of the main video.
FB Marketplace Video Ads: one of the most popular ad types, Marketplace ads appear when a user is scrolling through the Facebook Marketplace to shop. This ad type is a convenient way to advertise specials, relevant product offerings, and more.
Facebook Stories Ads: These video ads appear between organic Facebook Stories. It's a seamless transition that usually feels quite natural for the viewer. This is a benefit for you as it means people tend not to scroll away from story ads.
Facebook Feed Video Ads: These display between organic videos on the Facebook Video Feed. This scrollable Video Feed appears whenever someone clicks to watch a video from their News Feed.
Learn More | Facebook Marketing For Dropshipping
As we mentioned previously, it's important to keep your Facebook video ads short. Aim for a video length of 15 seconds or less so that people are more likely to watch to the end. 
As an added bonus, video ads that are 15 seconds or less are also eligible for Instagram Stories and Facebook in-stream placements.
3. Instagram Videos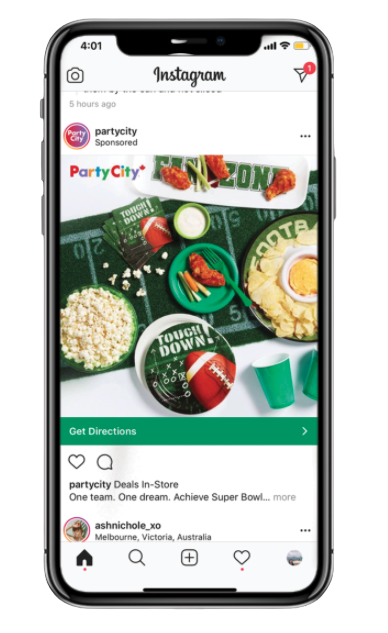 Dropshippers know that Instagram is a powerful visual channel for showcasing products. Plus if you're developing a video ad for Facebook, you can use it for Instagram too!
Instagram is included in Facebook's Ad Manager, so you can easily run ads on both platforms with one tool. This two-for-one dropshipping video ads management feature is one reason IG ads are so popular.
Here are the different ad types for IG that allow you to incorporate video:
Stories Ads: Instagram Stories are a 24-hour encapsulation of peoples' lives. You can have your ad seamlessly placed within them, allowing viewers to stumble upon your content organically.
At the bottom of each video is an option to "swipe up," which gives you the ability to incorporate a link to your product or website. It's a valuable feature on Instagram since the only other place you can post a link is within your profile.
In-Feed Ads: These are probably the least invasive advertising option on the platform. Users see these video ads simply by scrolling through their feeds.
Learn More | How To Create Instagram Ads For Dropshipping That Convert
IGTV Ads: Instagram TV is becoming increasingly popular as a way for brands to post long-form content. This is the perfect social media placement for longer video ads like how-tos and explainers.
Canvas Ads: These show up in your Instagram Stories, like Story ads. The only difference is canvas ads are a little more mobile-friendly and they essentially allow you to provide a user experience that feels like visiting a website.
Explore Ads: You can introduce new concepts to users through the Explore section. This feature uses AI to show people products that align with their interests.
4. TikTok Videos
With more than 800 million active users worldwide, TikTok is emerging as the next hot place for dropshipping business owners to focus their marketing efforts. Particularly if your target audience is a younger demographic.
To market your products on TikTok, you have 5 different ad options to choose from:
In-Feed Video:  This is TikTok's standard ad format. These ads will display and auto-play within the native fees feed of TikTok users on the "For You" page.
Brand Take​​over: As the name implies, these video ads literally "takeover" a user's entire TikTok screen for a few seconds, then turn into an in-feed video ad for the duration of the ad's run. It's hard to miss the message when it's your entire screen!
TopView: You can also put your brand front and center by occupying TikTok's prime ad real estate. TopView ads grab attention by appearing at the top of the "For You" feed when a user first opens TikTok. In this format, dropshipping video ads can be up to 60 seconds long, offering an immersive viewing experience with no other competing content. 
Hashtag Challenge: These video ads display in the Discovery section of the app, their goal being to entice users to accept a challenge. There's really no value for you in creating a hashtag challenge that goes viral if no one associates it with your brand. So be sure to add your brand name in the hashtag itself. A common hashtag challenge is to encourage TikTok users to create unique content using your products as a prop.
Branded Effects: This feature enables brands to show their playful side by creating shareable branded stickers, filters, and effects that TikTokers can use in their own video content. It's a great way to boost engagement and get lots of free user-generated content (UGC) for your brand.
Dropshipping Video Ads: Key Takeaways
Learning how to make video ads for dropshipping can help set your business up for success. Many shoppers need to be able to "see it to believe it". And there is no tool more powerful than video for showing potential customers how your products can make their lives better.
Plus video is the way most users prefer to consume content on social media. This is why over 80% of businesses large and small, reach their target audiences with the help of video ads. 
Video marketing is smart business. It can help you reach new customers and increase traffic, conversions, and sales.
The best part is you don't need to be a video guru or super tech-savvy to make successful video ads. There are a lot of tools and apps (many free) that can help you produce polished and professional videos quickly and easily.
Follow the tips above as a guide, and you'll be well on your way to creating effective video ads to promote your dropshipping store!
Choose GreenDropShip As Your Dropshipping Supplier
If you decide to create video ads for your dropshipping or e-commerce store, then GreenDropShip is the perfect supplier for you! We offer a hybrid model of both dropshipping services and bulk buying.
We also offer a Shopify dropshipping app for seamless integration to your online store, allowing you to add products with just a few clicks and no spreadsheets.
If you'd rather not use the dropshipping app, then you can still use our product feeds to easily add items to your Shopify, WooCommerce, or Amazon/eBay stores.
We have a huge selection of premium, specialty, and gourmet products for our members, including:
General health and wellness products
Vegetarian, vegan, and plant-based groceries
Various groceries, including bottled water, beans, and rice products
Energy drinks, juice, yerba mate, natural soda, coffee, and wholesale tea
Organic sugar, honey, and natural sweeteners like Stevia or monkfruit
Dairy and plant-based milk, including soy, oat, almond, and rice milk
All kinds of snacks, including gourmet chocolate, candy, and exotic snacks
Baking ingredients, including flavor extracts and different types of flour
Cooking ingredients, including seasoning, herbs, and spices
Sauces, marinades, and dressings
Vitamins, supplements, minerals, and digestive aids
Meal replacements, protein powders, and weight loss products
Skincare, haircare, and beauty products
Baby products, including food and diapers
Home goods like detergents, soaps, and cleaning supplies
Pet food, treats, and supplements
Essential oils and aromatherapy diffusers
Most of these natural and organic products are made in the USA and come from well-known brands. We also offer exciting new and emerging brands that consumers are dying to try.
Become a dropshipping member and we'll store, pack, and ship your orders to your customers!
Join GreenDropShip today and start making sales!