How To Choose a Wholesale Grocery Distributor
Do you want to start selling groceries online? This is a great business idea and a viable way to make some money, but there are a few important steps that you'll need to learn.
First of all, you'll have to decide how you want to sell food in your online store. You have some choices, but dropshipping is the easiest, most inexpensive, and most convenient to do it. We'll go over the basics of dropshipping to give you a better idea of just how useful this retail model can be.
Plus, a crucial part of this process is finding the right wholesale grocery distributor or wholesaler. There are a lot of options to choose from, but you'll have to pick the one that best suits your needs. They'll also need to have a selection of products that you want to sell so that your Ecommerce store is successful and profitable.
How Can You Sell Groceries Online?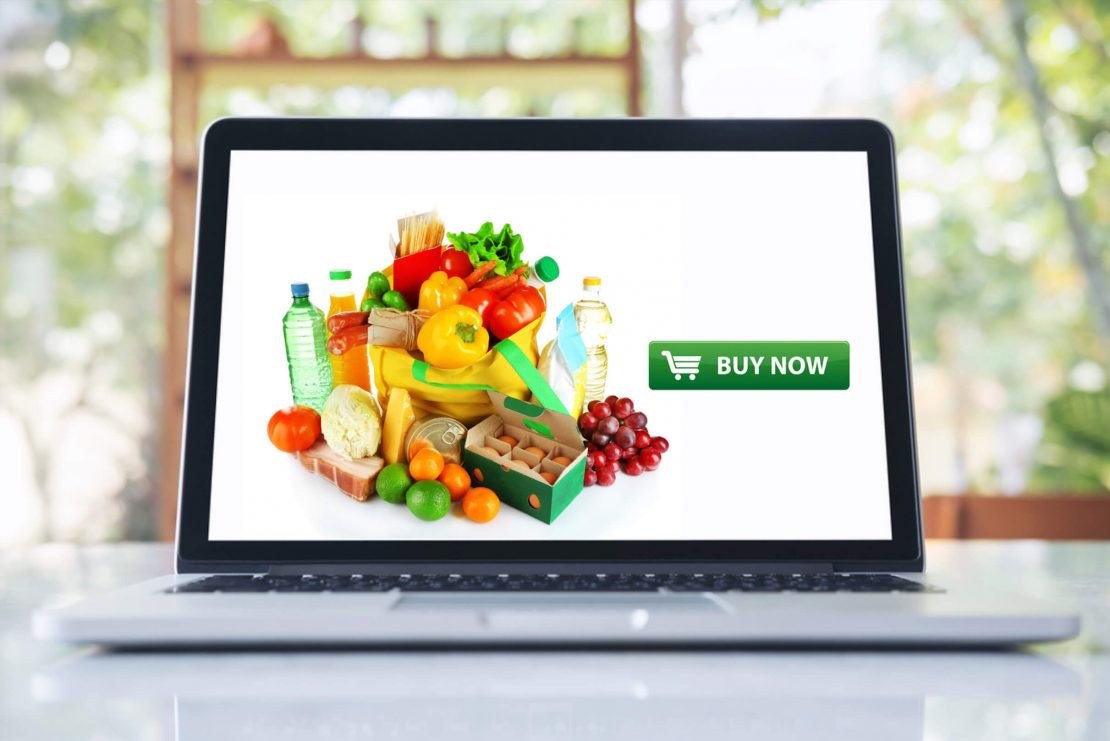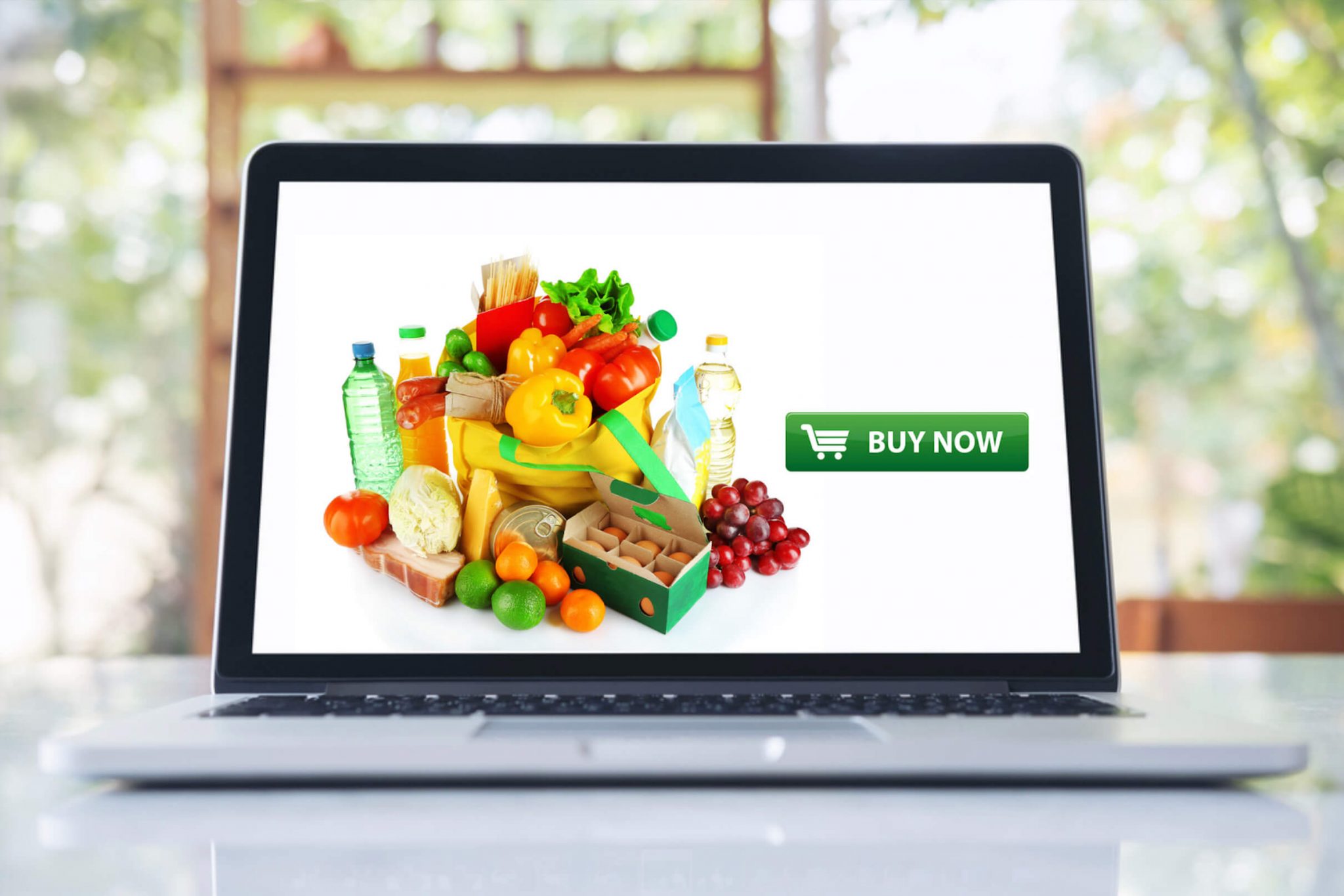 So you've decided to start groceries online – that's a great idea! You'll obviously have to find the right wholesale grocery distributor or wholesaler to get your products from.
It's important to remember that you also have the option of choosing an Ecommerce platform to build your store. This includes Shopify, WooCommerce, or Amazon/eBay – if you choose to build your online grocery store using one of these platforms, then it's much easier to get a professional-looking store up and running right away.
Additionally, you'll have to decide how you want to sell these groceries. In other words, what Ecommerce retail model do you want to use? There are a few different ones you can choose from, so let's take a quick look at them.
Buying In Bulk From A Wholesaler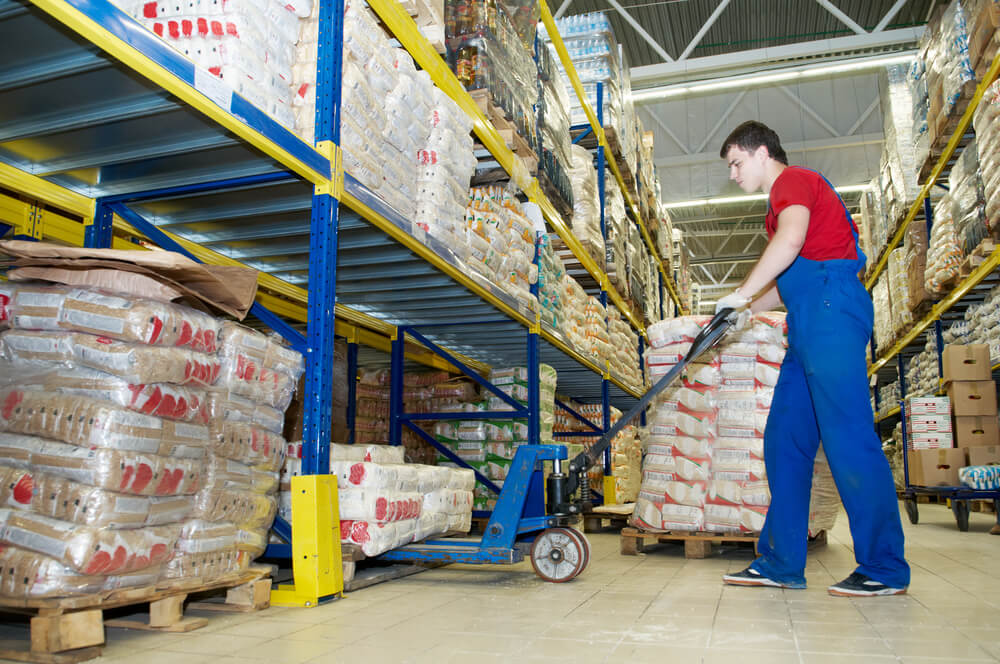 First of all, you could decide to buy grocery products in bulk and resell them. This means that you order inventory from a grocery distributor or wholesaler at wholesale prices that are lower than the retail price you'll charge in your online store. It's similar to a conventional brick-and-mortal retail operation except that you'll actually be making the sales online.
However, with this retail model, you'll be responsible for keeping this inventory until you sell it. Since you'll be storing groceries, you'll need a warehouse or storage space that's climate-controlled, even if you're storing dry goods. For items that are especially perishable – like dairy or meat – you'll need to invest in refrigerated storage.
Additionally, you'll be responsible for the shipment of the items to the end consumer. This also means that you'll need to packing and shipping best practices to make sure that the orders reach your customers fresh and undamaged. Plus, you'll also need to keep track of expiration dates, so you'll have to keep track of inventory management.
All of this will increase your startup and operational costs, so this might not be the best model if you're looking for something that doesn't take a lot of money to get started. Plus, you're incurring a certain amount of risk – if you order bulk groceries and then they don't sell, you're stuck with the surplus that has a limited shelf life.
Finally, you could also try Fulfillment by Amazon (FBA). In this model, you buy inventory from a wholesale distributor and Amazon then stores it at a fulfillment center. Once the sale is made, Amazon picks, packs, and ships the product. They also oversee customer service on your behalf. However, with this model, you have to pay Amazon for their services and this can significantly cut into your profit margins.
Dropshipping
If you're looking for an efficient and convenient way to sell groceries online, you could also try dropshipping. This is an online retail model in which the seller doesn't handle the inventory. Instead, the dropshipping supplier handles the storage, packing, and shipping of products to the end customer.
Let's take a look at this graphic to see what the dropshipping process is and what its basic steps are:


Dropshipping is especially easy, inexpensive, and low-risk for the seller – this is what sets it apart from other retail models!
When it comes to selling groceries online, dropshipping has several advantages over buying in bulk from a distributor or wholesaler. These include:
You don't need to pay for a climate-controlled warehouse or storage facility.
Your supplier handles all inventory management, including keeping track of expiration dates.
You don't have to worry about packing and shipping the groceries.
It's a low-risk retail model – you can't buy too much inventory and then get stuck with an unsold surplus.
The startup and operational costs are much lower than a traditional Ecommerce model or a brick-and-mortar retail store.
If you'd like to learn more about dropshipping, be sure to check out these blog posts:
Ultimately, it's up to you to choose the best retail model for you. Some grocery distributors offer both bulk buying and dropshipping services – for instance, GreenDropShip is a US-based wholesaler and dropshipping supplier with an extensive selection of natural and organic groceries to choose from. We also offer our members FBA prep handling if they decide to use the Amazon FBA model.
If you decide to sell groceries on Shopify, GreenDropShip has a dropshipping app that makes the process that much easier and more efficient. It automates the dropshipping process so that you can add products to your inventory with the single click of a button!
How Does The Grocery Supply Chain Work?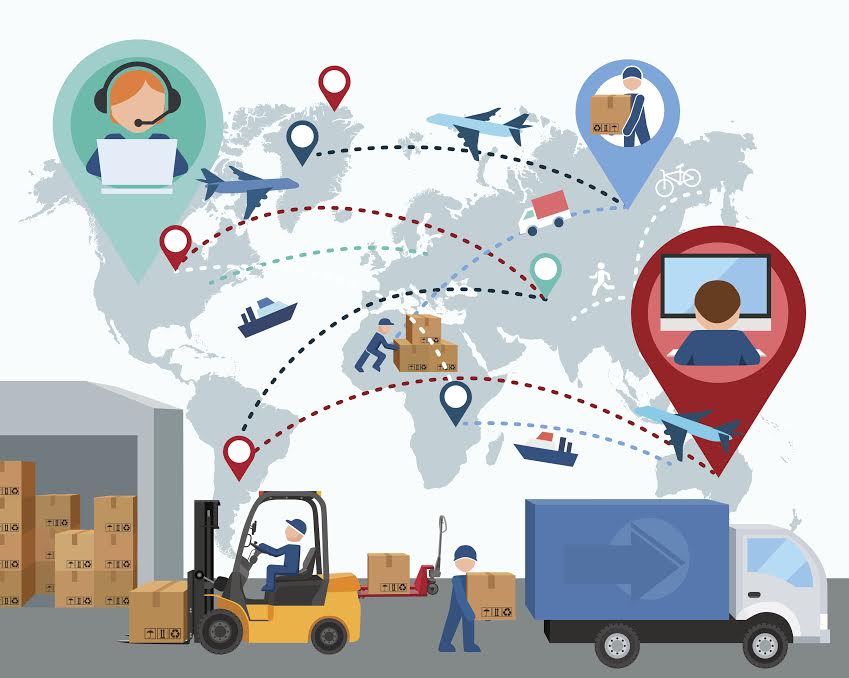 Before choosing a food distributor or wholesaler, let's make sure you understand the grocery distribution process and supply chain. This will make it easier for you to understand precisely what a distributor or wholesaler does and why they're so important to your online grocery store.
Manufacturers
Everything starts with the manufacturer – this is the first step in the grocery supply chain. Because they actually produce the product, they're sometimes called a producer. They take the raw materials that are farmed or harvested and then they actually make a food or beverage product from them.
The end consumer almost never has any contact with the manufacturer. In some cases, they could buy directly from them, especially if they're a specialty or boutique company, but this is relatively rare. Most of the time the grocery product has to go through several steps on the grocery supply chain before it's actually consumed.
Distributors/Wholesalers/Suppliers
Usually, distributors will distribute the product to wholesalers who then sell it wholesale to retailers. However, it doesn't always follow these steps directly.
As a result, for the purposes of this article, we're going to combine them. Basically, a grocery product can take different paths from the manufacturer to consumer, usually passing through various distributors or wholesalers that act as middle-men or intermediary steps.
In other words, distributors, wholesalers, or suppliers take the manufactured product and get it in the hands of the retailer so that they can then sell it to the consumer.
We can further differentiate the different middle-men into specific types:
Broadline distributor – Also known as a regional distributor, these wholesalers sell larger lots to small-scale wholesalers or retailers.
Importer – Also known as exclusive distributors, they develop exclusive contracts to import and/or distribute certain products.
Local wholesalers – Also known as jobbers, these are smaller companies that deliver to retailers.
Finally, if you have a specialty distributor/wholesaler/supplier, this means that they distribute or sell a specific type of product. If you're referring to groceries, this usually means gourmet or premium goods as well as certain niches like ethnic, natural, organic, or plant-based.
Retailers
This is the final step – the retailer actually sells the grocery product to the consumer.
Once the product is manufactured and then passes through the distributor/wholesaler/supplier network, the retailer buys them at wholesale prices. The product is then sold, either in a brick-and-mortar grocery store or an online store.
In some cases, the manufacturer may sell directly to the retailer, but this is relatively rare. This is because the manufacturer isn't properly set up to handle the logistics of shipping and distribution.
Consumers
That's it! We've made it to the end of the grocery supply chain! Consumers go to the retailer and purchase the food product to consume.
It's important to note that the more steps a grocery product takes between the manufacturer and the retailer, the more expensive it'll be. This is because each intermediary has to take their cut. If you want a profitable online store selling groceries, it'd be in your best interest to get as close to the source as possible. Plus, if you're selling perishables, then you want to have the freshest products possible.
If you've decided to dropship groceries in your online store, then you're a retailer who will be going through a dropshipping supplier. You don't place the actual order until your customer makes a purchase and your dropshipping supplier will buy the grocery products in bulk from a distributor. As a result, they deal with the hassle and headache of storing, packing, and shipping the grocery orders.
This means that you're several steps removed from the manufacturer so you'll have to mark up the retail price to ensure that you make a profit. Let's take a quick look at the dropshipping profit formula:
Profit = Retail Price – (Wholesale Price + Costs + Fees)
Remember that the retail price is what you charge in your store, the wholesale price is the price your supplier charges you, costs are your overhead, and fees are the membership fees you pay to your supplier. If you'd like to learn more, make sure you check out our blog post How To Price Products To Dropship.
GreenDropShip is a natural and organic grocery distributor, wholesaler, and dropshipping supplier. We have an extensive selection of gourmet and premium groceries that we offer to our members at wholesale prices. Plus, our members can choose either our dropshipping services or to buy grocery products in bulk. This is especially useful since you can avoid any risk and try out a new product with dropshipping. If it sells exceptionally well, then you can buy it from us in bulk and sell it in your online store.
Tips for Finding A Wholesale Grocery Distributor
So you've decided to sell groceries online and you've also chosen the retail model you'd like to use. You're well on your way to making some money and having a great new hustle! Now you just need to find the right grocery distributor and wholesaler. This is a critical part of the process, so be sure you follow these helpful tips.
1) Do some market research and identify trends
If you want to succeed in the online grocery retail space, then you'll have to understand the overall market. This will also help you identify the right grocery distributor since you can choose the one that has the types of products that you're looking for.
Plus, you'll want to understand overall pricing trends so that you can make sure that you'll be paying wholesale prices that won't eat into your profit margins.
There are various tools you can use, including:
Google Trends – This is a free tool from Google that allows you to visualize the search interest for a keyword or keyphrase over a given period of time (from 24 hours to 15 years).
SEMRush – This tool indicates search volume by showing the number of monthly Google searches for a keyword or keyphrase. If you sign up with an email address then you can do 10 free searches every 24 hours.
Trend Watching – By using the power of crowdsourcing, Trend Watching is a valuable resource for determining new and upcoming trends in global commerce. It's made up of a team of over 3,000 ultra-savvy "spotters" who discover upcoming and exciting products that have lots of sales potential.
PSFK – This is the most popular and widely used trending online publication. It offers ideas, research, and even strategies for an online business. They regularly publish trend reports, some of which are free and others that require a membership. These trend reports are excellent repositories of newly trending products.
To help you with your market research, we've put together a comprehensive guide on finding popular food trends to dropship. You'll be able to tap into emerging or overlooked trends and take advantage of them before your competitors figure them out as well.
2) Choose a grocery niche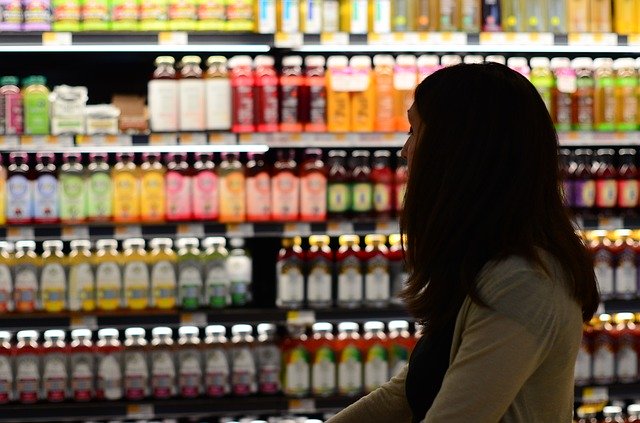 If you're looking to build a successful online grocery store, then finding the right dropshipping niche is absolutely critical to your success. Thankfully, the food space has a ton of niches!
Plus, choosing a niche gives you all these additional benefits. First of all, it means that you're honing in on a narrower segment of the overall online retail market. In other words, you're trying to find the right products for a target audience so you'll have less competition than in the wider market.
Additionally, consumers will see you as an expert in that particular niche, especially if you curate a great selection of products. This means that you'll be offering a different – and in some ways superior – user experience (UX) than retail giants like Amazon, Walmart, or Target.
It's really helpful to break down the entire online grocery industry into these smaller niches. Here are some good examples for you to consider:
Beverages – Coffee, tea, kombucha, yerba mate, or boutique sodas.
Dairy – Butter, eggs, or cheese.
Vegan or vegetarian – Non-dairy milk (almond, oat, or soy), vegan foods and trends, or meat and cheese substitutes.
Sweets – Dark chocolate, organic candy, or ice cream (both milk-based and vegan).
Fitness foods – Nutritional bars, keto products, Stevia products, and hemp products.
Finally, you could use the Jungle Scout Niche Hunter to identify viable niches in the online grocery market. Jungle Scout is a large and comprehensive Ecommerce tool that offers a variety of functions. This includes their Niche Hunter, which lists a database of over 1 million niche opportunities that are updated in real-time. There are a number of categories, including Groceries & Gourmet Food. You can also organize the results by category, price, level of competition, or monthly demand.
3) Use a directory
One of the best ways to find a grocery distributor is by using a directory. These useful tools list grocery distributors/wholesalers/suppliers that have already been screened. Some of the best directories include:
Wholesale Central lists every kind of supplier you could imagine, including distributors, dropshipping suppliers, wholesalers, and closeout suppliers. They also offer a list of manufacturers. That means you can try contacting the manufacturers of your preferred brands to sell and ask them for a list of suppliers.
Price: Free.
This is the largest directory of wholesale grocers in the USA with over 2,000 wholesale grocers, 2,500 foodservice distributors, and 18,000 buyers. Their contact information is updated twice a year and delivered right to your email in the form of a spreadsheet. This allows you to sort the information based on the company name, sales volume, areas of operation, price, type of products, and other information.
Price: Lifetime membership is available for a one-time payment of $599.00. Although this is pretty steep, it's the definitive directory of wholesale grocery distributors. You can also buy a print version for $595.00.
4) Contact the grocery supplier & ask the right questions
Now that you've chosen a niche and put together a list of potential distributors/suppliers, you'll have to choose the right one. It's important that you get all the relevant information that you need, so make sure you contact them (usually via a sales representative) and ask questions like:
Do they have a catalog of products that they offer?
Do they have minimum order requirements (MORs)? Or do they only sell in bulk?
Are they a regular wholesaler or do they also offer dropshipping services?
Do they offer Amazon FBA prep services?
What are the wholesale prices? Is there a membership fee or a percentage of sales fee?
Do they distribute only to a particular region or area?
How do they store and ship the food to keep it fresh?
These are the basic pieces of information that you need to have before you can make the best decision for your e-commerce store. If you need more comprehensive guidance, then be sure to read about how to effectively contact dropshipping suppliers. This information will be relevant when contacting wholesale grocery distributors as well.
5) Go with a domestic grocery distributor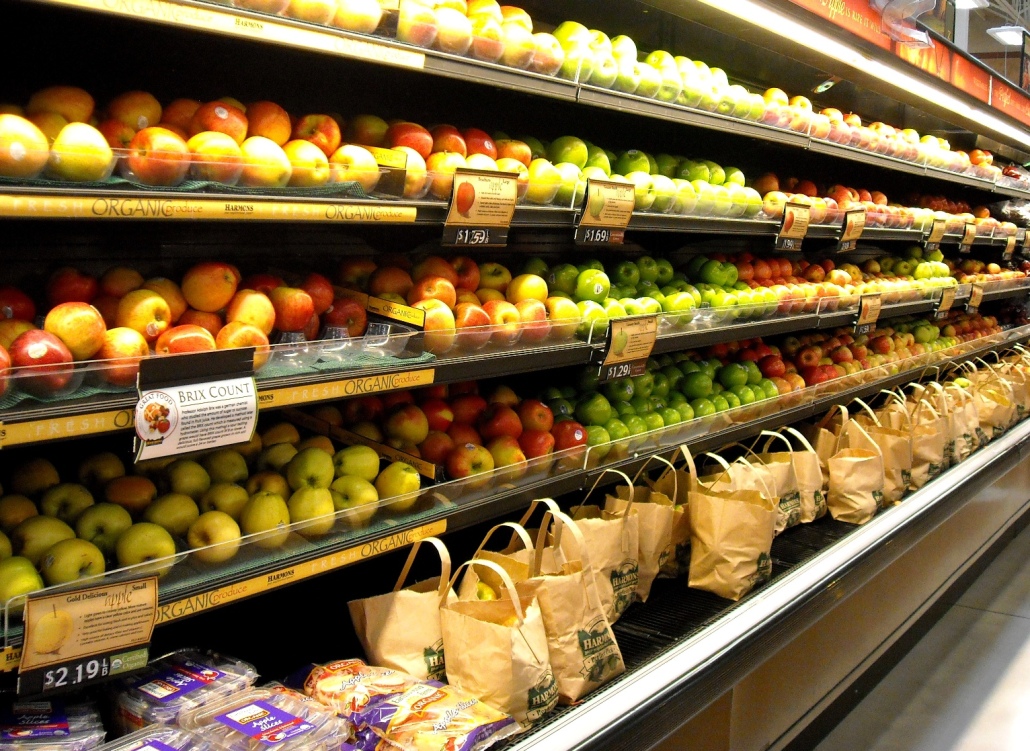 The supply chain for groceries is unique when compared to other products. These are items that need specific conditions in order to be distributed and sold properly and safely. Although there are plenty of distributors, wholesalers, and suppliers that are based overseas, especially in China, it's generally best to go with a domestic distributor that's based in the USA. There are a few reasons for this:
The food safety standards for production, storage, and shipping are much higher in the United States.
Shipping times are reduced. Because US-based distributors will have their storage and shipping facilities within the country, nothing will have to be shipped from overseas. This is especially important for perishables or fragile food items.
Consumers have higher trust and brand loyalty. When it comes to food, most consumers go with products that they're familiar with. They generally won't stray from things that they know they like and trust. This is especially true if they're doing their grocery shopping online.
A domestic supplier usually also specializes in products that are made in the USA. This means that it's much easier to source all the ingredients so you'll always know that the products are of the highest quality. Plus, foods that are manufactured domestically go through a much more rigorous examination to get certified "organic" by the USDA.
Find Wholesale Groceries With GreenDropShip
GreenDropShip is a US-based grocery distributor, wholesaler, and dropshipping supplier with over 20,000 natural and organic products, most of which are made in the USA. This includes a huge selection of brand-name specialty and gourmet groceries, including:
Coffee & tea
Kombucha & yerba mate
Specialty soda
Bottled water
Sugars and sweeteners
Sauces
Bread
Spices
Baking ingredients
Vegan & vegetarian foods
Pasta
Dairy
Meat
If you run a grocery dropshipping store, then you pay a competitive membership fee and we store, pack, and ship the food to your customers. We store everything in a climate-controlled environment and have developed an innovative packaging method to always keep products super fresh until they arrive at the end customer. Finally, we also have multiple warehouses throughout the country so that our shipping times are kept low and your customers get their products faster.
GreenDropShip also functions as a conventional wholesaler, meaning you can purchase these products in bulk from us and we'll ship them to you. Of course, you'll be responsible for storing, packing, and shipping them to your customers.
We also offer a dropshipping app for Shopify that makes it easier than ever to add all these products to your store. We're currently the only app for selling groceries on Shopify – not even major suppliers like Oberlo or AliExpress offer food and beverage products for dropshipping.
If you'd prefer not to use our app to automate your dropshipping store, we offer product feeds so you can still use our basic dropshipping platform to sell groceries on Shopify. You won't have the single-click product upload that comes with our app, but you can always add it later! Our app makes your dropshipping store more automated, convenient, and efficient so you can focus even more on marketing to consumers.