Dropshipping Business Opportunities: Your Complete Guide
If you're an independent entrepreneur, starting a dropshipping store opens you up to a world of business opportunities. Let's not forget that dropshipping has so many benefits for sellers – it's easy, low-risk, and inexpensive.
Unlike other retail models, where you take on a lot of risks right from the very start, with dropshipping you can kind of "shop around" for the right niche, product to sell, or even supplier. You have lots of options and it's harder to paint yourself into a corner.
As you can imagine, this is a blessing for store owners. You consistently have plenty of business opportunities and the ability to try them out while you find your place in the wider retail space.
In this post, we'll go over dropshipping, including its benefits, how to get started, why it's the best home business opportunity, and beginner's mistakes to avoid. We'll also discuss how to make your store more profitable by promoting it and how to choose the right Ecommerce platform. Finally, we'll also go over some types of products or niches that have plenty of potential right now.
You can use these links to jump to various sections:
What Is Dropshipping?
Dropshipping is a unique Ecommerce retail model that makes the entire selling process easy and convenient for the seller. This is what defines it and sets it apart from more conventional models, making it an exceptionally attractive business opportunity for online entrepreneurs.
With a regular retail model, the seller has to deal with all the hassles of ordering, storing, and pulling inventory. This means that you have to keep a close eye on inventory management and you always run the risk of ordering too much product and then having an unsold surplus. If this happens, then of course you're stuck with the bill.
Dropshipping gets rid of all that! The seller does not handle the inventory – instead, your dropshipping supplier is responsible for storing, packing, and shipping all products to the end consumer on your behalf.
Let's take a look at this graphic to see how it breaks down:


Now that we see the basic steps, it's also important to understand the profit formula:
Profit = Retail Price – (Wholesale Price + Costs + Fees)
Remember that the retail price is what you charge in your store, the wholesale price is the price your supplier charges you, costs are your overhead, and fees are the membership fees you pay to your supplier.
As we take a look at the steps and the profit formula, it's clear that dropshipping is a potentially profitable business opportunity. It's also perfect for anyone wanting to work from home, either as a full-time job or as a side hustle to make some extra coin.
How Do I Start Dropshipping?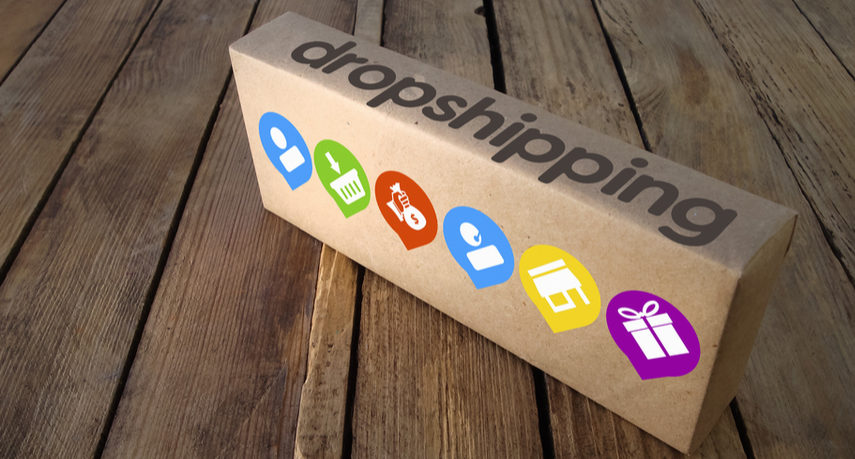 Luckily, dropshipping is a business opportunity that's exceptionally easy to start. There's not much you have to do and the startup costs are really low. If you'd like to learn all the details on how to go about dropshipping, we have an entire guide called How To Dropship – 7 Steps To Build An Online Store.
If you're looking for the shortened version, let's take a quick look at those 7 steps:
This may seem like a lot of work, but when compared to a more conventional retail model, dropshipping just can't be beaten in terms of convenience and ease. It also has very low startup costs, so you can start dropshipping with very little money.
If you're looking to start dropshipping ASAP, choosing a supplier like GreenDropShip lets you hit the ground running with over 20,000 natural and organic products to choose from. We specialize in groceries, beauty products, health & wellness, home goods, baby products, and vitamins & supplements.
Why Is Dropshipping The Best Home Business Opportunity?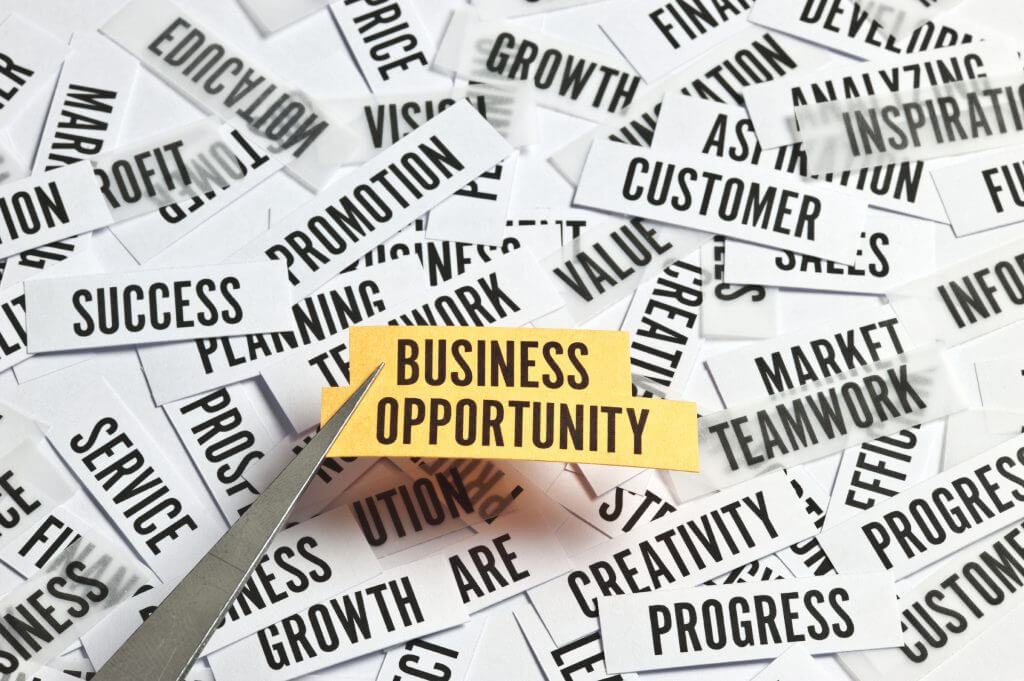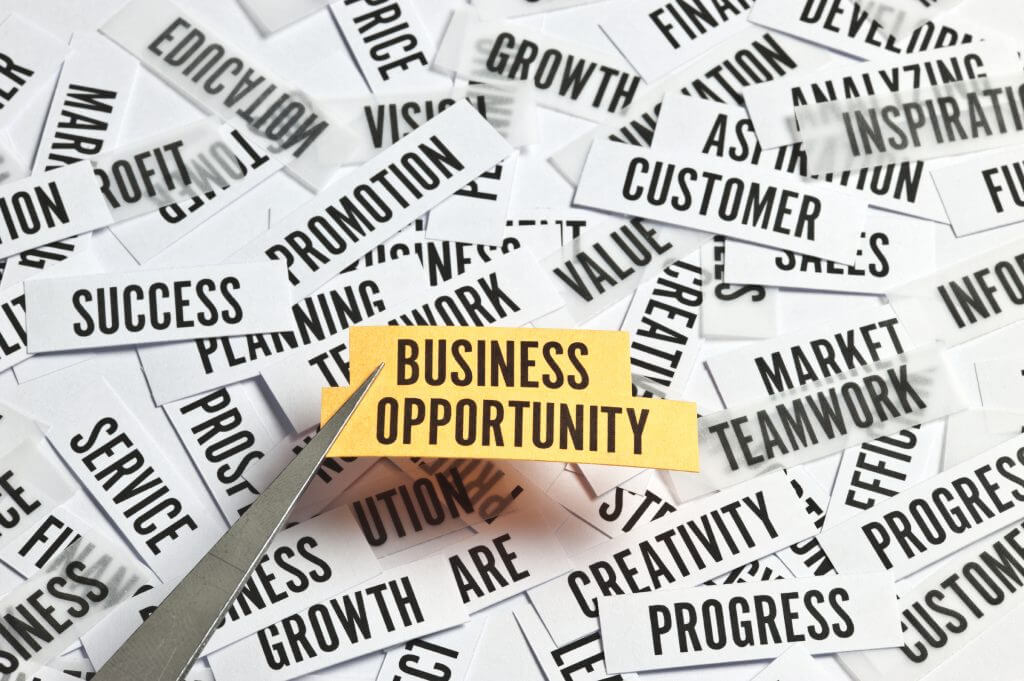 In this day and age, people have realized that there are plenty of ways to make money working from home. If you're an independent entrepreneur, the internet has been an absolute blessing. You can earn a living without ever even having to leave your house!
There are a few different business models you can choose from:
Buy wholesale items and resell them. This is a conventional retail model: you buy products in bulk and sell them, but you have to pay for storing, packing, and shipping them.
Fulfillment By Amazon (FBA). With Amazon FBA, you sell items while Amazon stores, packs, and ships them from one of their fulfillment centers.
Make your own products. If you have the skills to make your own products – usually baked goods, clothes, or arts & crafts – you can then sell them online.
Affiliate marketing. This isn't strictly a retail model – instead, you promote another brand's products and get a commission for every sale made.
Dropshipping. This is what it's all about! The seller just sets up their store and chooses a supplier while the supplier handles all the headaches and hassles of inventory.
If you'd like to learn more about each of these Ecommerce business opportunities, then you can check out our blog post on How To Start An Online Business. We break each one down in detail and discuss the pros and cons of each.
But if we look at the big picture, dropshipping is definitely the way to go if you want to make money from home. As a business opportunity that's easy, low-risk, and inexpensive, it just can't be beat.
For example, in a conventional retail model where you buy in bulk from a wholesaler, you have to handle all the inventory. This means that you need the resources to store and ship the items, including any warehouse space. If you're storing perishable goods, those operational costs skyrocket since you have to pay for a climate-controlled space and invest in inventory management.
If you choose Amazon FBA, then you have to pay fees to Amazon, which can eat into your profits. Remember, online retail can have some narrow profit margins.
Finally, it's extremely difficult to generate serious income with affiliate marketing – it's definitely the most passive of all these models, but it doesn't make you a lot of money.
Let's ask ourselves again: Why is dropshipping the best home business opportunity? It's simple: the amazing benefits! Dropshipping is easy, low-risk, and inexpensive.
Can I Make Dropshipping A Full-Time Job?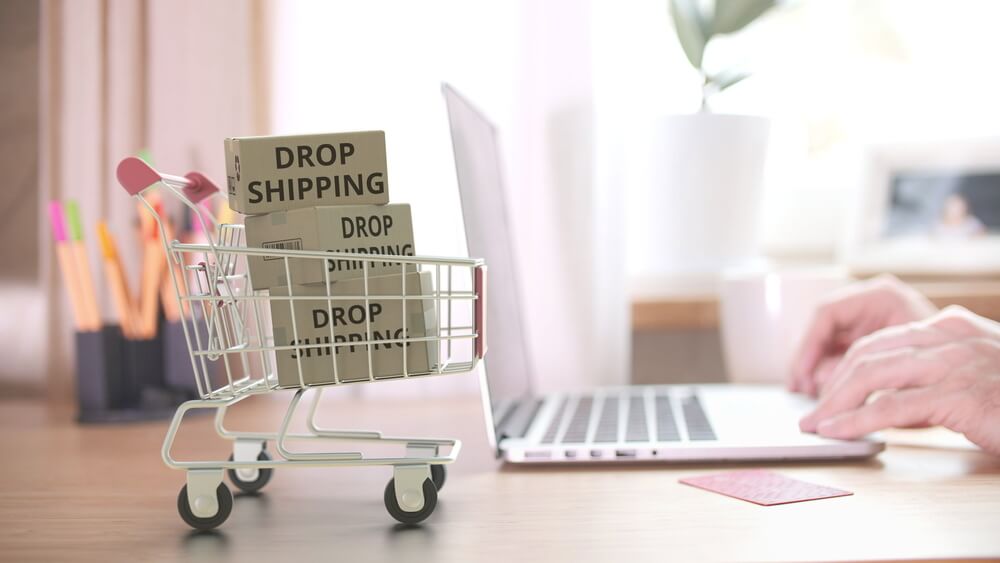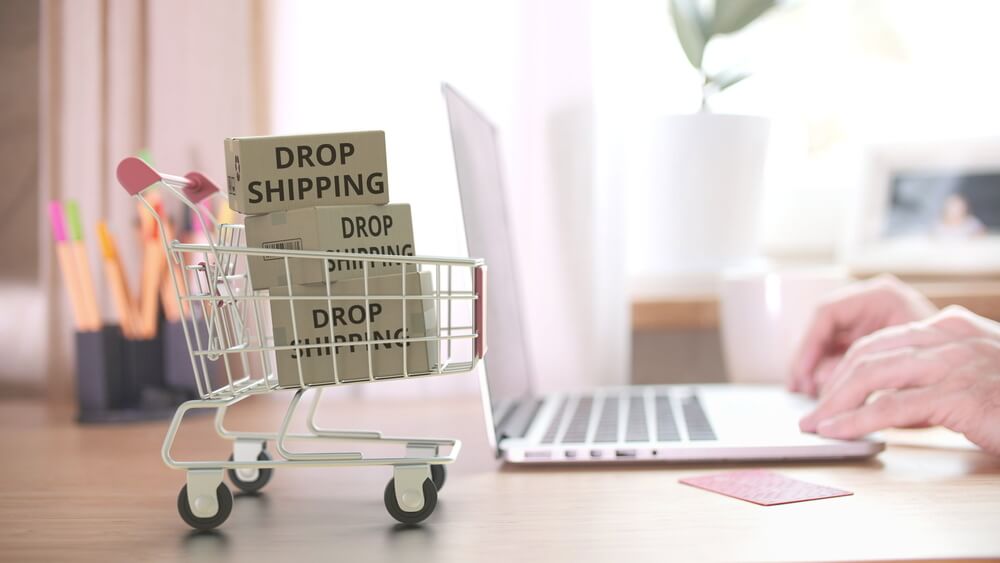 Dropshipping is a very versatile business opportunity. Just like anything else, it depends on how much time and energy you put into it. It can be more of a passive income – kind of like affiliate marketing. You can also start multiple stores operating in different niches.
But if you want to generate some serious cash and make it a successful business, then you have to promote your store. There are plenty of ways to do that, including:
Investing in video content for ad campaigns. Check out our post on How To Make Video Ads For Dropshipping.
Using Facebook Custom Audiences. You can send targeted Facebook Ads to your email list.
Installing Facebook Pixel. Improve your targeting by looking at performance data.
Retargeting visitors on Facebook Ads. Most shoppers don't buy anything their first visit, but you can always get them on the next one!
Investing in Instagram Ads. We've put together a whole guide on How To Create Instagram Ads That Convert.
Sharing on social media. This has become the most powerful tool on the internet, so don't neglect it.
Starting a blog. This one's free! It's the easiest way to implement search engine optimization (SEO).
We also go over strategies for promoting your store in the following posts: How To Make Money Dropshipping and Can Dropshipping Be A Full-Time Job?
Of course, those are just a few of the ways you can pump up business. As you can tell, most of them cost something, but you're probably familiar with the saying: You gotta spend money to make money! If you want to transform your dropshipping store into a viable business opportunity, then you'll have to do the work of promoting your store.
In summary, it's totally possible to make dropshipping a full-time job. But if you want, you can also keep it as a nice little side gig. At the end of the day, it's up to you and it depends on what fits your life!
What Ecommerce Platform Should I Use?
One of the major benefits of dropshipping is that you can use an Ecommerce platform to get your store up and running as quickly as possible. The two most popular are Shopify and Amazon, so let's take a closer look at each.
Shopify Dropshipping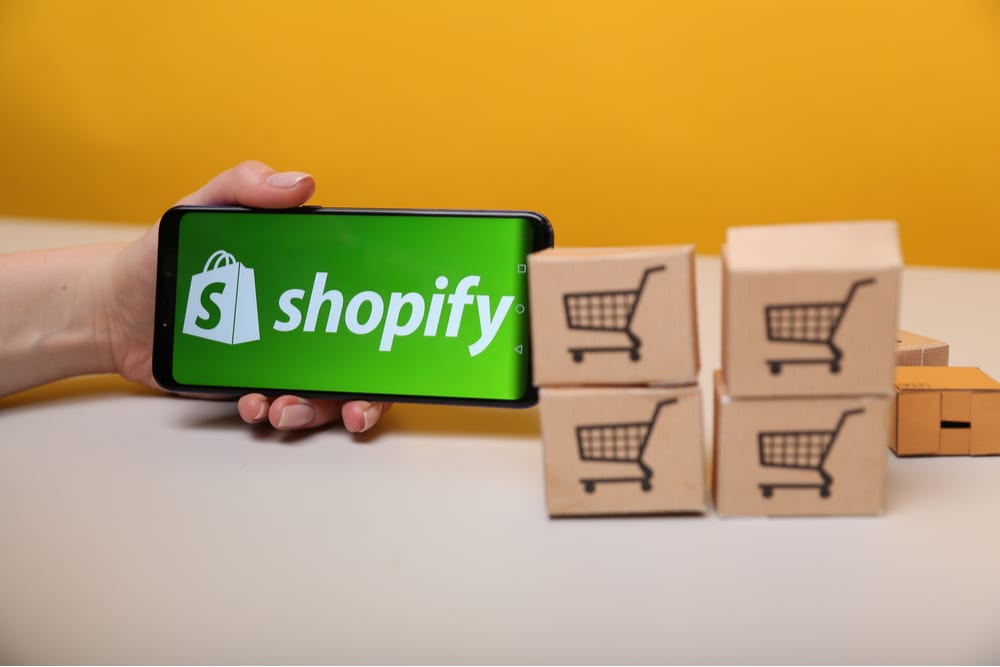 Shopify is an incredible platform that lets you build an amazing-looking dropshipping store pretty much right away. The beauty is that you can do this with no web design or coding experience. Shopify dropshipping is an incredible business opportunity – it takes an already easy business model and it makes it even easier.
GreenDropShip fully integrates with Shopify via our product feeds. This means that inventory management is streamlined and accurate (don't forget the beginner's mistake we talked about above). Additionally, GreenDropShip has developed a dropshipping app for Shopify, so now you can partially automate your dropshipping store.
To help you build a successful store, we've put together some guides that go over the fundamentals:
These are all valuable resources, especially if they're coupled with our dropshipping app. For example, as of April 2021, the GreenDropShip app is the only supplier offering an app that lets you sell groceries on Shopify. It's a wide open market, making it the perfect business opportunity!
Finally, the real secret weapon to Shopify is the app store:
All of the apps listed in these posts will integrate fully with the GreenDropShip dropshipping app, so don't worry about compatibility issues. Apps are meant to make your life easier, not harder!
Amazon Dropshipping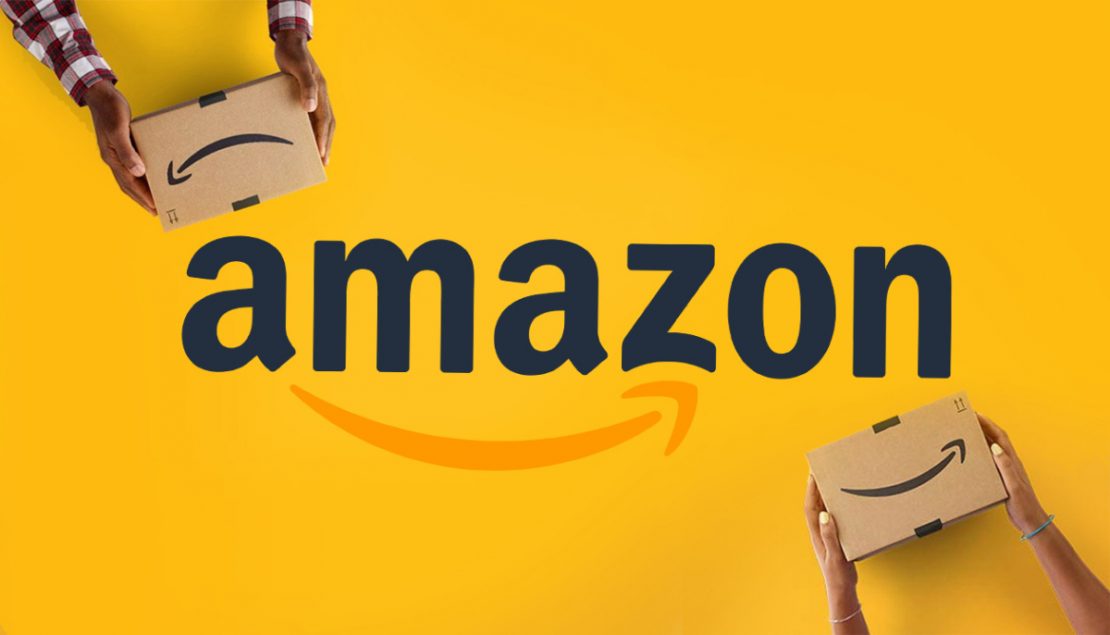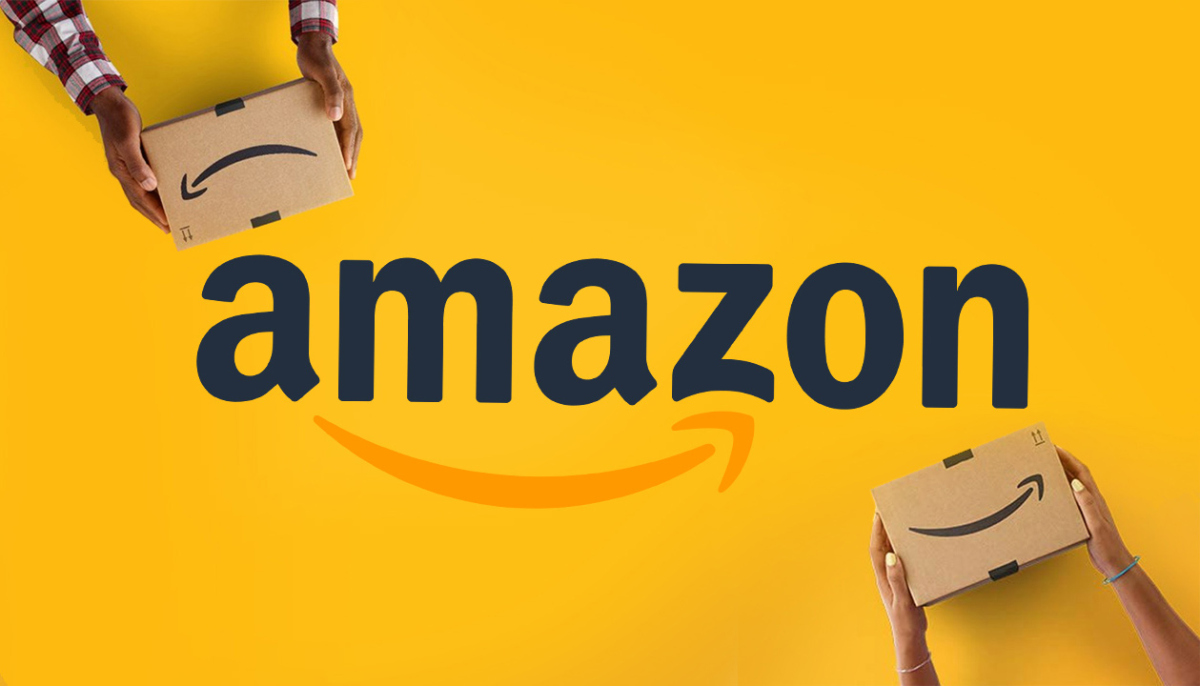 You can also choose to dropship on Amazon. However, it's important to understand that this is not the same thing as Amazon FBA. With Amazon dropshipping, you're just using the Amazon marketplace to list your products. In essence, you're a third-party seller.
You're still going through a dropshipping supplier and they'll be in charge of your inventory. It breaks down like this:
You set up an Amazon store.
Choose a dropshipping supplier.
List your products on Amazon.
An online shopper buys something from you.
You place an order with your dropshipping supplier.
The supplier pulls, packs, and ships the product on your behalf.
The critical difference is that the Amazon logo will not be on the packages if you're dropshipping. This is because the order will not be coming from the Amazon fulfillment center.
This means you don't have to pay for the Amazon FBA fees, so your margins will be a little heftier, but you're not benefiting from Amazon's awesome customer service. You'll still be listed on the Amazon marketplace, so the vast majority of buyers will likely thing that they're buying from Amazon until they get the actual package.
If you'd like to learn more about the details and how everything works, make sure you check out our Guide To Amazon Dropshipping.
What Are Some Dropshipping Business Opportunities?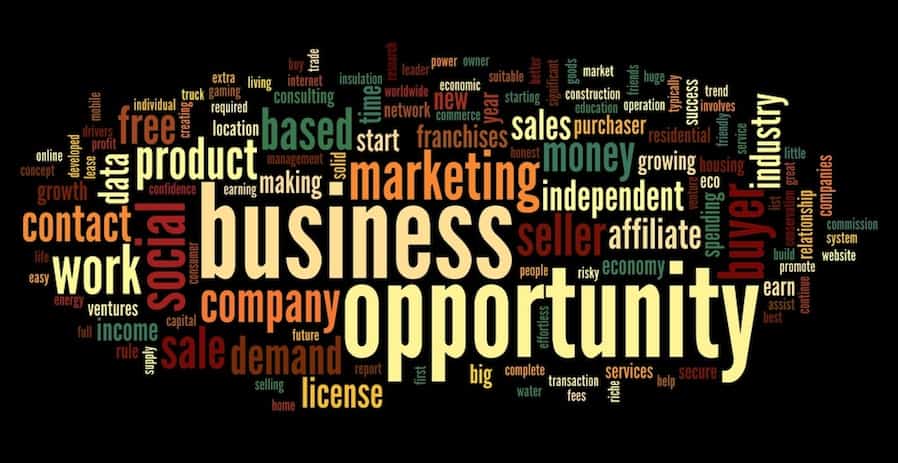 Now comes the moment of truth: we take a look at some dropshipping business opportunities. In other words, we point out some types of products or niches that are trending and that could be great additions to your dropshipping store.
Before we jump into that, there's a few things we should go over first. Do you remember how we discussed Google Trends? We said that it's a powerful tool and that Google Trends is your friend! Don't forget that – it may sound silly to make it rhyme, but it makes it easier to remember when you're trying to find trending products or niches.
We'll be using data from Google Trends and some from SEMRush in the sections below. There are other tools you can use, most notably Jungle Scout's Opportunity Finder, but Google Trends is the only one that's 100% free. This makes it a great starting point in identifying dropshipping business opportunities.
Let's have a quick word on the right and the wrong way to use the Google Trends tool. Take a look at the graph below for fidget spinners: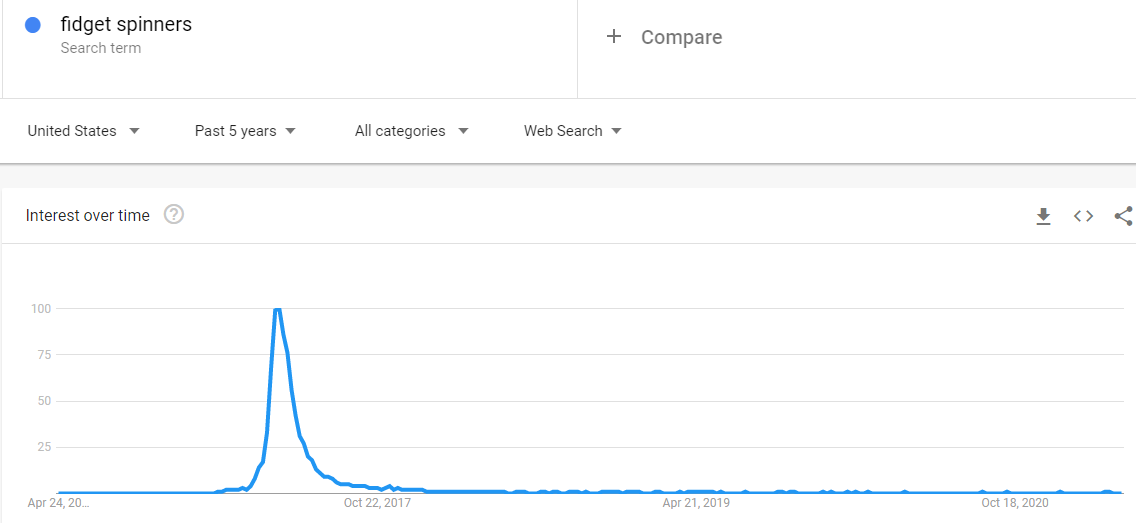 This is exactly what you don't want. Do you remember the fidget spinner crazy from a few years back? If you have kids under the age of 10, there's an excellent chance that you do. In fact, if we look at the graph above, you can see that search interest in fidget spinners peaked around summer of 2017 and then quickly vanished.
What does this mean? It means that this product was a flash in the pan – it was just a trend that exploded and then quickly died off. While you can certainly make some serious coin by getting in on a fad at the ground level, it's not a sustainable strategy. In other words, it's not a long-term business opportunity.
Fidget spinners came, they went, and chances are they're not coming back!
You need to find products that trend well over the long run. Of course, many products or niches experience peaks and valleys, including sudden rises in popularity that dip back down. However, if you zoom out far enough and you see that overall the product or niche is trending upward, then it's probably a solid business opportunity.
The great thing about dropshipping is you can test these products or niches out without having to commit totally to buying them in bulk. This is what makes dropshipping such a low-risk business model: find a supplier, add those products, and see if they sell.
All of these business opportunities we're listing are available from GreenDropShip and anyone with a membership can start selling these products online.
General Trends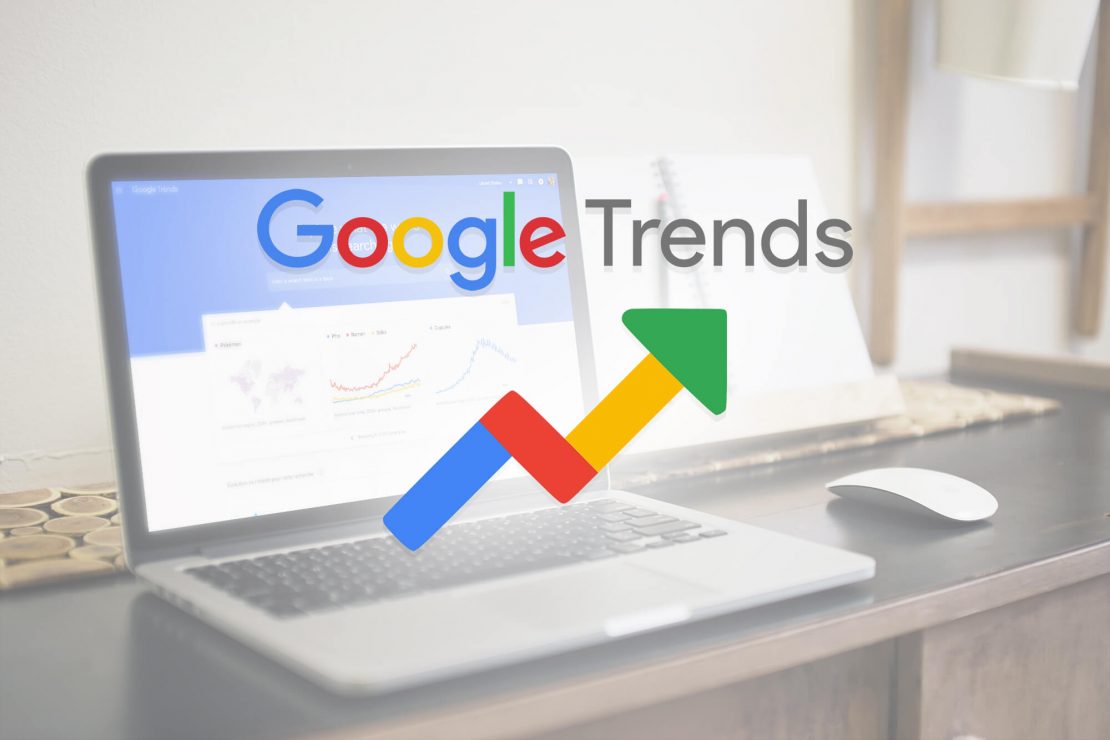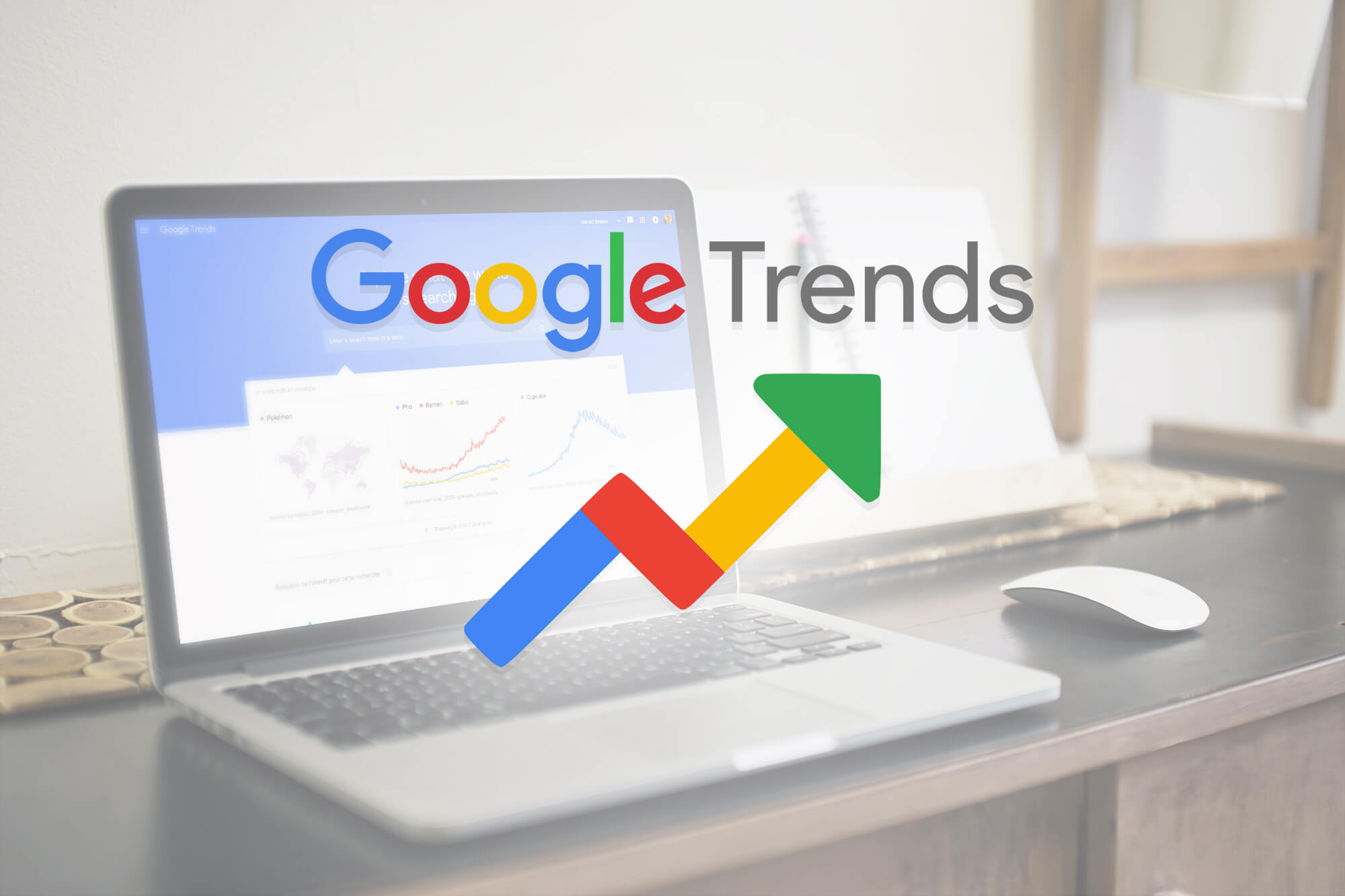 Every year, new trends appear in the online retail space. That's half the fun (and challenge) of having a dropshipping store: identifying them and getting in on them. That's how you turn a trend into a viable business opportunity.
On the GreenDropShip blog, we regularly research and write about emerging trends to help dropshippers develop successful stores. We usually focus on the types of products we sell, like groceries, beauty products, health & wellness, home goods, baby products, and vitamins & supplements.
We also write about tools and strategies you can use to identify the trends yourself. For instance, be sure you check out our post about How To Find Popular Food Trends To Dropship.
We've also put together the following guides for current trends as well as niches and types of products that are great dropshipping business opportunities:
Gluten-Free Foods
A few years back, gluten-free came on the food scene and changed it dramatically. While some food fads come and go, it looks like gluten-free is here to stay.
Let's take a look at the Google Trends data: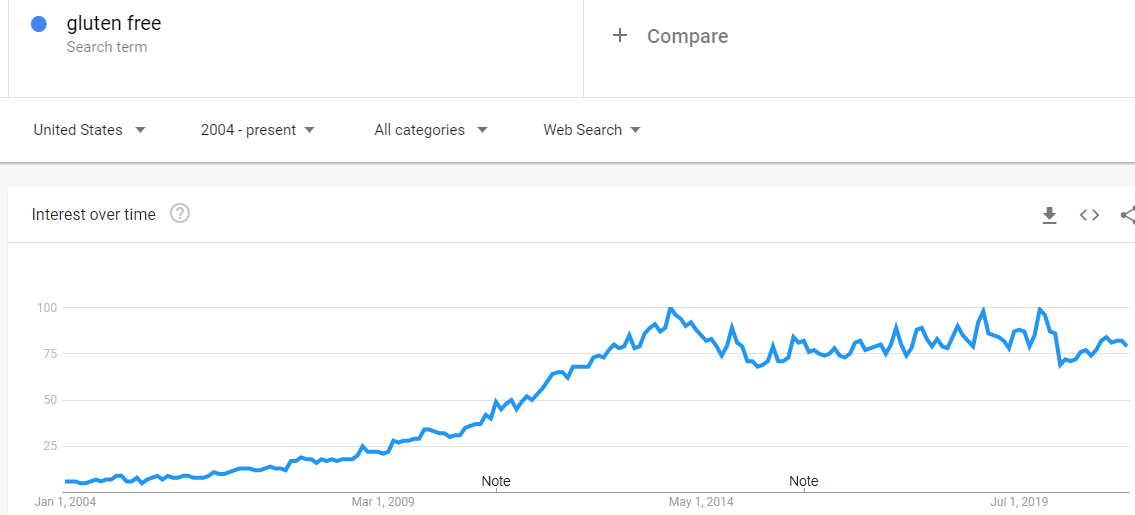 About 10 years ago, in early 2009, consumer interest in gluten-free started trending upwards. Sometime around 2014 it's reached its peak and has never substantially gone down since then. As we mentioned above, it's had some small peaks and valleys, but all in all the interest has remained solid.
Google Trends also breaks down search interest by geographic region in the US: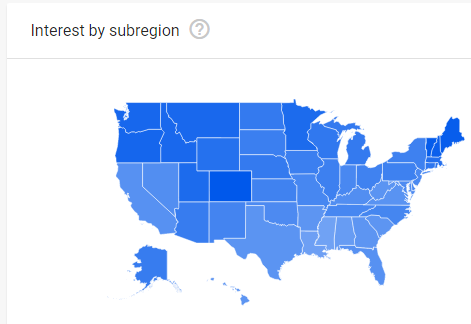 As you can see, interest in gluten-free isn't just confined to the coasts like a lot of health food. There's interest all over the country, making this a really solid dropshipping business opportunity.
Gluten-free products are available in various forms, including everything from bread to snacks to candies and supplements. However, gluten-free flours have become exceptionally popular recently. While baking did experience an explosion in popularity during the COVID-19 epidemic in 2020, it still appears that baking with gluten-free flour alternatives will continue to be popular.
To learn more about the wholesale flour trend and products you can get from GreenDropShip, be sure to check out our blog post Flour Trends: A Hot Dropshipping Opportunity.
Vegan & Plant-Based
Unless you've been living under a rock – or you're an unapologetic carnivore – you've noticed that more and more people are taking about vegan or plant-based. You can even see it on fast food menus and cheeseburgers that are now available as Beyond Burgers.
If a fast food restaurant has decided to capitalize on a food trend, then you know it's got to be something substantial. Consumers are showing more interest in plant-based products, especially food and beverages.
Let's take a look at the Google Trends data: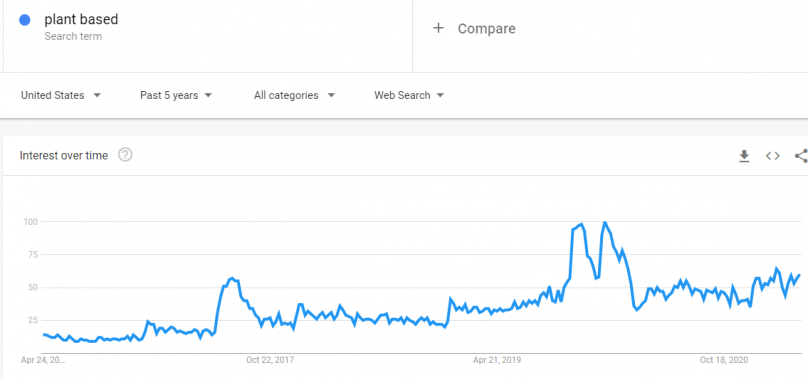 Although there was a sharp increase in late 2019, early 2020, the interest has stabilized for the past 2 years. If you take a look at the whole graph, you'll see that current interest is still nearly 3 times greater than 5 years ago.
According to a study by Ipsos Retail Performance, there are nearly 10 million vegans in the US – that's a 300% increase over the past 15 years! Plus, that number doesn't include people who still eat meat but like to incorporate more plant-based food in their diet.
If you want to know more and see some of the plant-based or vegan products that GreenDropShip offers, be sure to check out the Guide to Plant-Based Food Trends for Resellers in 2021.
Oat Milk
Oat milk is a type of plant-based milk, meaning that it falls under the general category of vegan. However, it's enjoying such a surge in popularity, that we're giving it its own little section.
First of all, let's take a look at some data: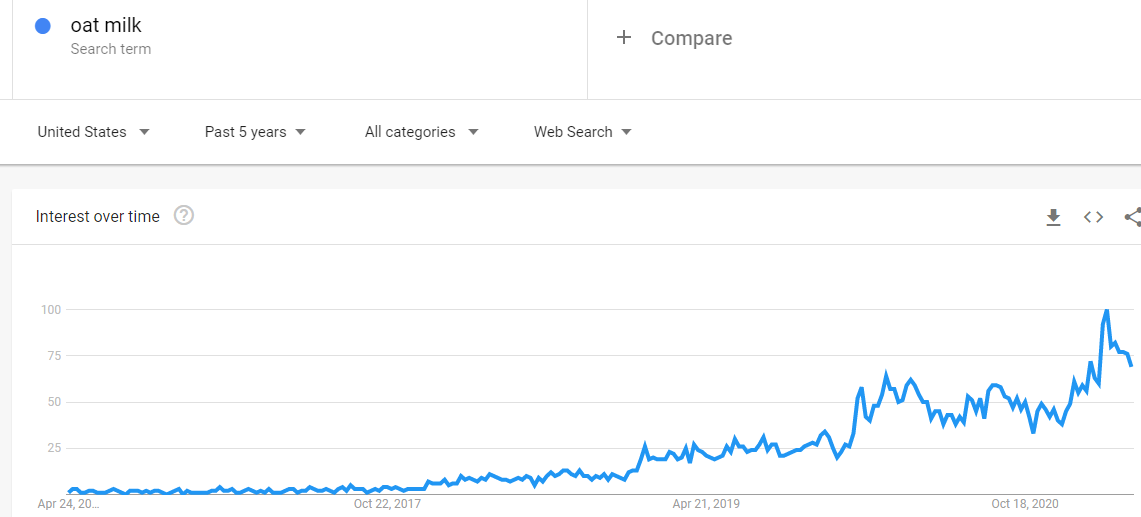 Now that's the kind of Google Trends graph you want! It's perfect!
This is a relatively new phenomenon, meaning that it's still a fresh business opportunity that you can swoop in on. There's probably not a whole lot of competition from other dropshipping stores at the moment.
Luckily, GreenDropShip offers a wide selection of oat milks. You can also learn more in our blog post Food Trends To Follow: Plant-Based Milk. We also cover other vegan milks that we carry that are also experiencing a surge in consumer interest.
Vegan Protein Powder
Similar to Oat Milk, vegan or plant-based protein powders are also trending upwards. They target a very specific type of consumer: a health enthusiast. This is a clearly defined identity and personality, making it easier to promote your store and target them with your ads.
When it comes to dropshipping, sometimes having a narrower niche allows you to focus on a certain kind of customer. They'll see you as an expert in that product and – if it's a specialty or premium product – then they'll be willing to pay a little more for it.
This is what gives you the edge over retail giants like Amazon, WalMart, or Target – it's that personal touch.
Let's look at some Google Trends data: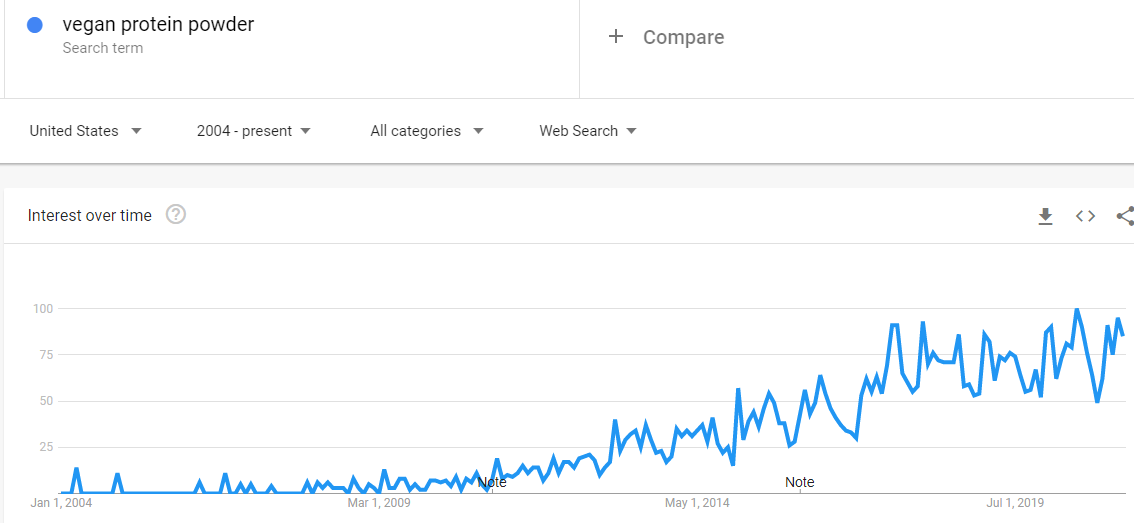 It's almost as beautiful as the oat milk graph! You can see it clearly: it starts low and then trends upward, especially in the long run.
GreenDropShip carries a variety of these products. You can learn more from the following blog posts like Wholesale Hemp Protein Powder: Business Opportunities and Top Wholesale Protein Powders To Sell Online.
Essential Oils
If you're interested in connecting with consumers who are into health and wellness, then essential oils are also very popular. They're used in aromatherapy, which is the practice of using plant-derived fragrances to stimulate mood, mind, and positivity.
Let's take a look at some data: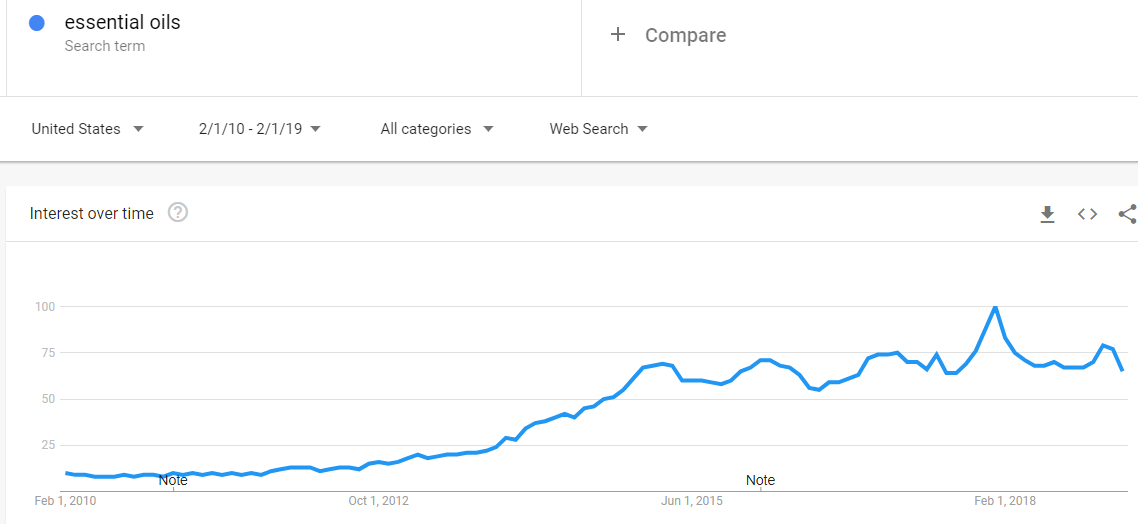 As you can see, another fine-looking graph that clearly demonstrates an upward trend.
GreenDropShip sells a huge variety of essential oils and related products – aromatherapy is one of the niches we actually specialize in. To help our members make the most of our selection, we've put together a few blog posts about dropshipping essential oils:
Low-Sugar Groceries
As you might have noticed from all the data we've already gone over, health foods are really having a moment right now. This trend appears to be remarkably stable and is actually growing over the long run (with little peaks and valleys here and there).
Let's take a look at the Google Trends data: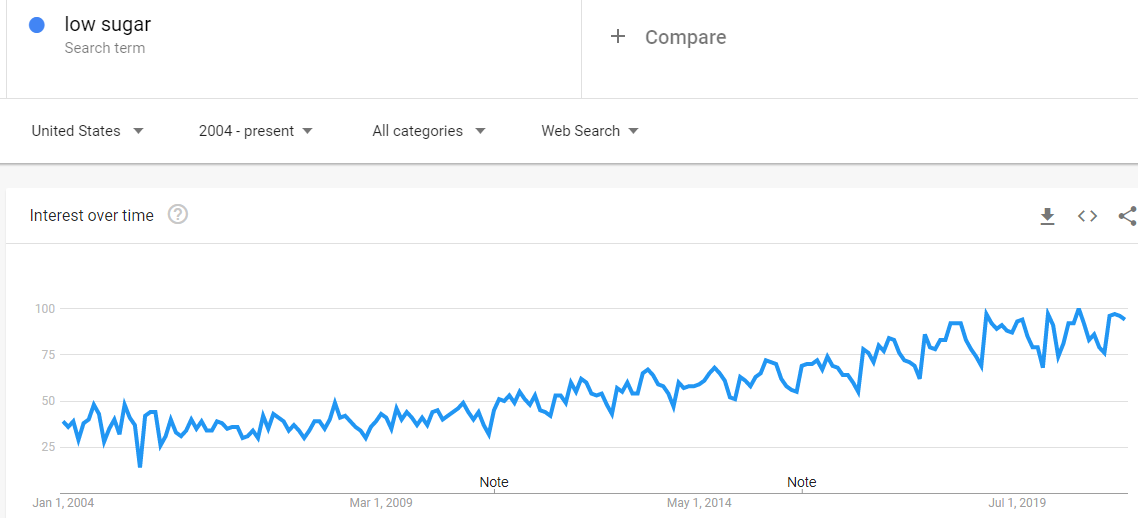 Again, the trend is upward in the long term.
When it comes to food products, there are different terms that can mean "low sugar". The two most common right now are paleo and keto – both of which are diets that have low carbs and sugars.
GreenDropShip has a ton of low-sugar and healthy foods, including paleo and keto varieties. You can check out our blog post: Dropshipping Keto Products: How To Get Started.
Stevia
Speaking of low-sugar (or even zero-sugar) options, dropshipping Stevia is also a solid business opportunity. This is a plant-derived, natural sweetener that has zero calories.
Because it's made from plants and not cooked up in a lab, it appeals to the same consumer demographic that likes plant-based, natural, and healthy foods. It makes food and drinks sweet without adding any calories!
This is probably why it's enjoyed a huge increase in consumer interest, even outpacing a lot of other zero-calorie sweeteners.
Let's take a look at the data: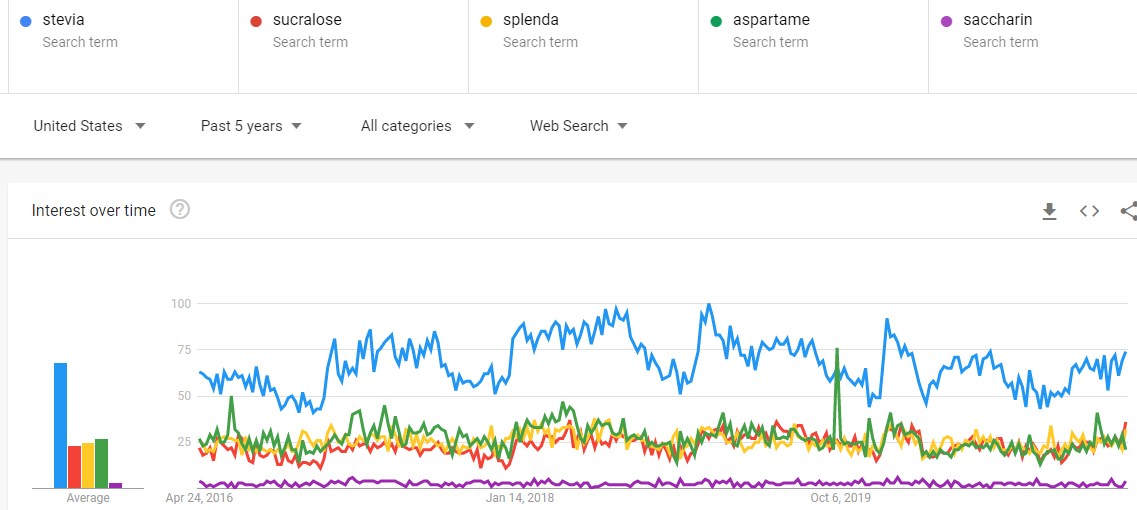 You can clearly see that Stevia (in blue) outperforms all other zero-calorie sweeteners several times over. It's far above the pack – it's anywhere from 3 to 4 times more popular than sucralose, Splenda, and aspartame. Unfortunately, saccharin doesn't even stand a chance in this race.
GreenDropShip offers a wide range of Stevia products, including wholesale powder (for baking or sweetening drinks) or Stevia-based groceries and beverages. Make sure you check out our blog post: Top Wholesale Stevia Products to Sell Online.
Yerba Maté
Yerba Maté is a caffeinated beverage that comes from the central and southern regions of the South American continent. It's become extremely popular in recent years, especially with consumers who want alternative caffeine sources besides coffee, tea, or sugary soda.
For this product category, we have better data when we look at SEMRush – this tracks the number of Google searches per month: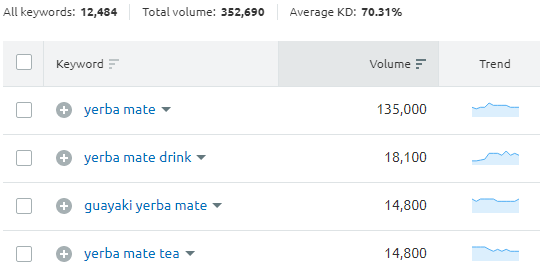 As you can see, there are nearly 200,000 monthly Google searches for "yerba mate" and related keyphrases. That's huge!
GreenDropShip offers a wide variety of yerba mate products. To learn more, be sure to check out Top Wholesale Yerba Maté Products to Sell Online.
Organic Groceries
Organic groceries are also becoming increasingly popular. According to the 2020 Organic Industry Survey, organic food sales in the US hit a record-breaking $50.1 billion. This was an increase of 4.6% from 2019 and this trend is predicted to keep growing. The growth of organic food sales was more than twice the general food market growth rate.
This makes dropshipping organic food a great business opportunity. You can focus on specific niches within the wider organic sector or you can become ultra-targeted – for instance, you could dropship only organic snacks or organic kombucha.
Let's look at some SEMRush data:

There are over 18,000 monthly searches for "organic food".
GreenDropShip is a natural and organic dropshipping supplier, so we have thousands of organic products available.
If you want to learn more, make sure you check out our blog posts:
Vitamins & Supplements
The online market for vitamins and supplements is huge. These can be used for overall health, fitness, bodybuilding, sleep, and dietary needs.
Let's take a quick look at some Google Trends data for "vitamins":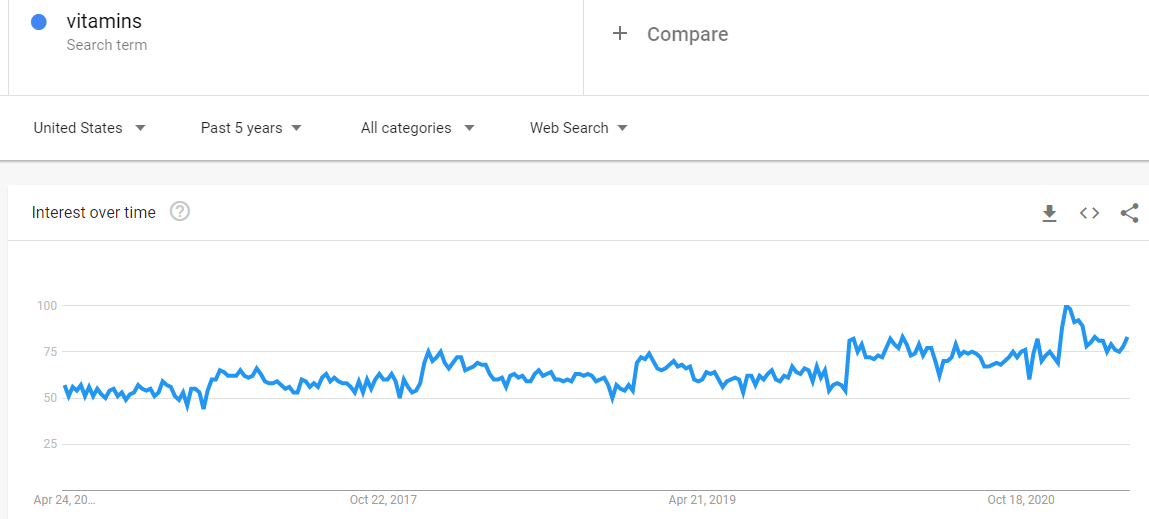 The growth is a little less dramatic than some other products or categories that we've discussed, but it's still a strong upward trend. The search interest is 2 to 3 times greater than it was five years ago.
Let's also look at the SEMRush data for "supplements":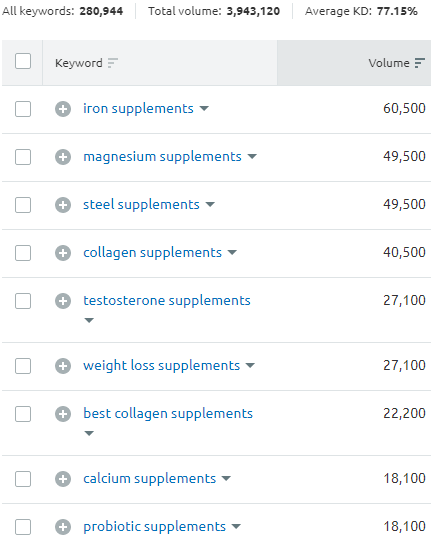 You can see that each category has tens of thousands of monthly Google searches. Plus, if you look at the top, under Total volume, you'll see that the total is nearly 4 million!
GreenDropShip has a huge selection of vitamins and supplements. To help our members be successful, we've put together several blog posts:
Use The GreenDropShip App To Make The Most Of Every Business Opportunity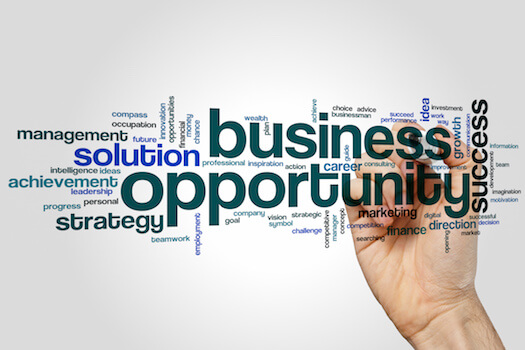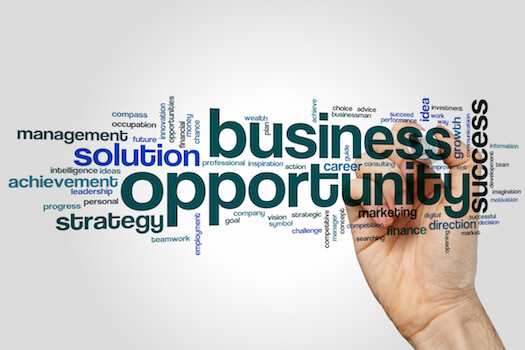 GreenDropShip offers products in every one of these categories. If you want to learn more about each, make sure you check out each blog post we've linked to. We offer all the information, strategies, and products you need to make the most of each dropshipping business opportunity.
Our dropshipping app for Shopify takes it easier than ever to add all these products to your store. It partially automates your dropshipping, so it makes an already easy business model even easier. If you'd prefer not to use our app to automate your dropshipping store, we offer product feeds so you can still use our basic dropshipping platform to sell on Shopify.
It can also give you an edge over the competition – as of April 2021, we're the only app for selling groceries on Shopify. Not even major suppliers like Oberlo or AliExpress offer food and beverage products for dropshipping on Shopify, so now would be the perfect time to jump on this business opportunity.
In the post above we discussed how dropshipping is the ideal setup for working from home, but you can also ask us about buying in bulk – we're both a dropshipping supplier and a bulk wholesaler.
GreenDropShip offers over 20,000 natural and organic products, most of which are made in the USA. We specialize in premium, gourmet, and specialty goods that are in high demand with consumers.