The Guide To Buying & Selling Premade Dropshipping Stores
Are you good at building dropshipping stores? If you're a seasoned veteran and expert in the dropshipping game, then you can potentially "flip" premade stores for a tidy profit.
On the other hand, maybe you're new to the dropshipping game. If so, are you overwhelmed at building your own store from scratch? If that's your situation, then you can buy a premade dropshipping store and start selling right away.
In either case, this post is for you! We'll tell you everything you need to know about selling or buying dropshipping stores.
We'll also go over the pros and cons of buying dropshipping stores, how sellers should build a store for potential buyers, finding the right supplier, evaluating the price/value of a store, and marketplaces you can use.
To make it easier to navigate this post, you can use these links to jump forward to whatever section you need:
What Is A "Premade Dropshipping Store"?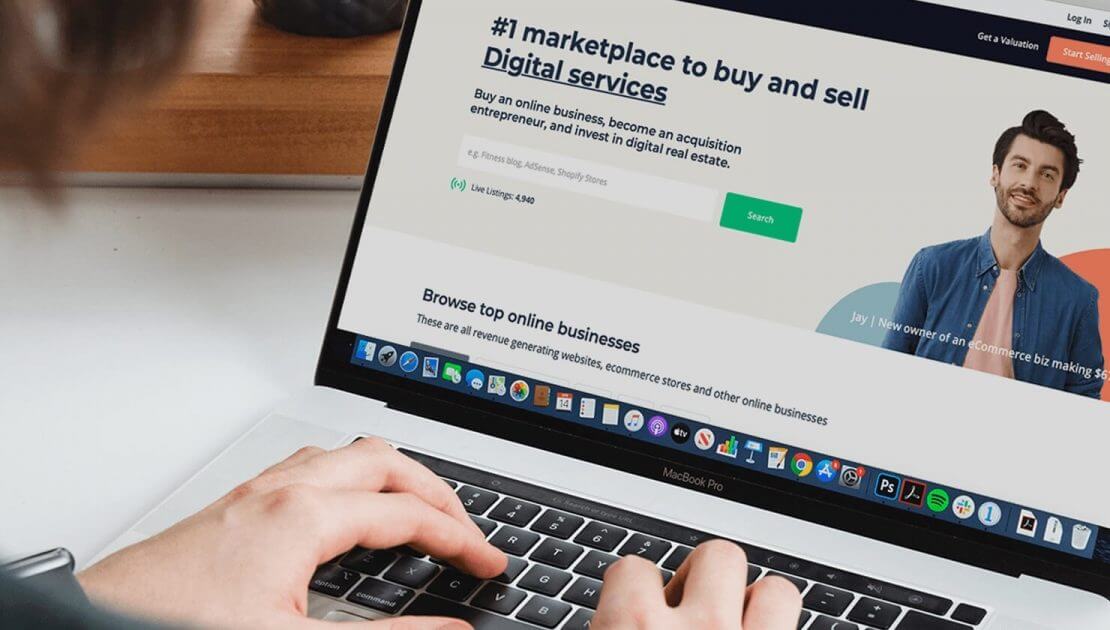 Before we begin, let's just take a quick moment to define some important terms used in this post.
If you want to sell a premade dropshipping store for a profit, then you're referred to as a store builder or seller. On the other hand, if you want to buy a premade dropshipping store, then you're a store buyer or retailer.
That being said, a dropshipping store is a great way to earn money online. There are plenty of business opportunities in dropshipping and – if you've got the right setup and mindset – you can make a tidy profit.
If you want complete control over every step of the process, then you can build a dropshipping website from scratch. But this takes time and it's not everyone's cup of tea – some people would prefer to hit the ground running.
This means that there is a market for store builders who create a dropshipping store, set everything up (including finding a supplier), and then list the store on a marketplace to sell to either investors or retailers.
Thankfully, there are multiple marketplaces where you can buy or sell a dropshipping store right off the bat. On these marketplaces, there are a few types available:
Basic Premade Dropshipping Store. Costing as little as $50, these have everything set up, but without a customer base, name recognition, or brand identity.
Turnkey Dropshipping Store. These are the next step up – just "turn the key" and start selling! They're also new, but are more established.
Fully Established Dropshipping Store. These have been around for a while and have a developed brand, sales volume, and regular clientele.
Custom Premade Dropshipping Store. Similar to the Basic Premade store, but the buyer can tell the store builder what they're looking for.
As a store buyer, you'll have to decide which one best meets your needs. As a store builder, you'll have to decide which type you want to work on.
If you're a buyer looking for the surest bet to make money, you'll probably have to go with a Fully Established Dropshipping Store. These have regular revenue that you can use to determine potential profit. However, they can be pricey and require a large sum of money upfront.
The Pros & Cons Of Buying Premade Dropshipping Stores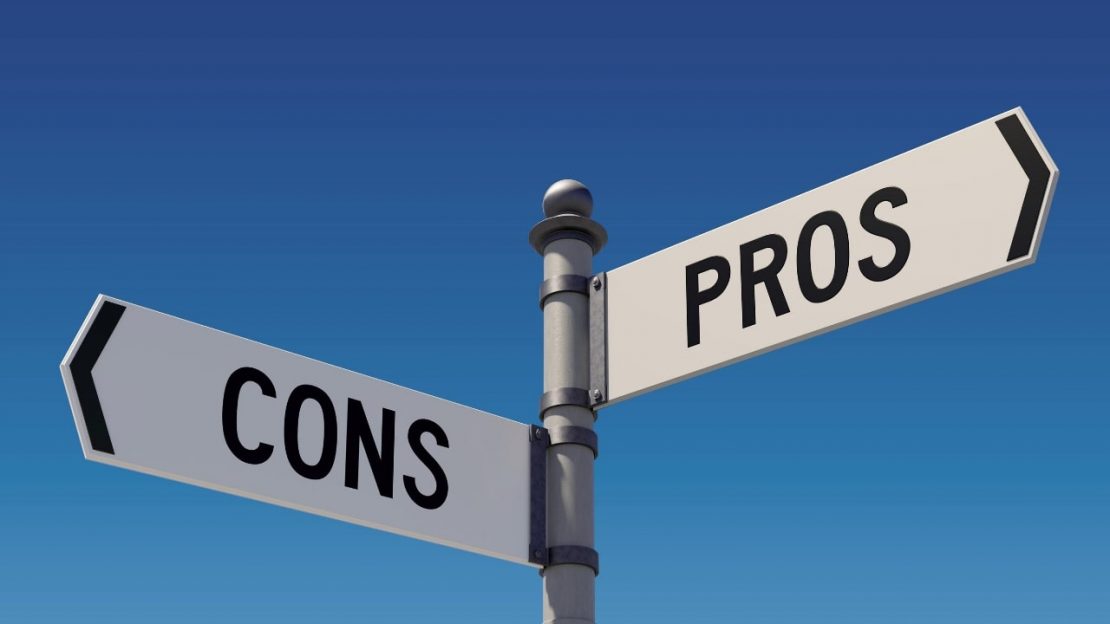 If you're a retailer looking to buy a premade dropshipping store, it's important to look at the pros and cons. This will help you decide if it's right for you.
Plus, if you're a store builder looking to sell, then it's important to understand why potential store buyers might choose to go with a premade store versus building their own.
Pros of Buying A Dropshipping Store
First off, let's take a look at the advantages:
Less work. Retailers don't have to go through the whole hassle of starting from scratch.
Saves the retailer time. If they find the right listing, the retailer can buy a dropshipping store within a few days.
Start selling right away. This is especially true if the store already has an established customer base and name recognition.
Avoid common mistakes. Buying a well-established dropshipping store can save the retailer from making some common beginner's mistakes.
Learn from the best. If the retailer buys a successful dropshipping store, they can learn how to create profitable stores in the future.
Cons of Buying A Dropshipping Store
On the other hand, there are some disadvantages, including:
Less control. Since the retailer is already buying a fully functioning store, they'll have less control over its development.
Niche is already chosen. The store builder has already chosen the dropshipping niche, again giving less control to the store buyer.
Dropshipping supplier has been picked. The builder has already found and chosen a dropshipping supplier to work with the store.
Product research has been done. The store is already functional, so retailers don't have the chance to do their own product research.
Brand identity has been developed. The store builder will have already developed the store's brand identity.
More startup money. It's usually inexpensive to start dropshipping, but buying a store requires greater funds at first.
As you can see, there are some definite pros and cons. It all depends on what the store buyer is looking for.
So, if you're a store builder, you should always keep these in mind to provide the best options for anyone who wants to buy a dropshipping store. A huge part of this is choosing the right supplier, so we'll cover that in a section below!
How To Build A Dropshipping Store Retailers Will Want To Buy
If you want to build a great dropshipping store that retailers will want to buy, then you'll have to go through all the regular steps of setting up and starting a dropshipping store.
That means you'll have to:
So now the store is ready to go! As the store builder, you can list it on one of the marketplaces we discuss at the bottom of the post.
Remember, the seller/builder will want the store to have the highest possible value so that they can have the highest possible asking price.
On the other hand, the buyer/retailer will want the highest possible earning potential versus how much they're willing to pay for the store.
Either way, the premade dropshipping store should be as valuable as possible. If you're a seller/builder with an ultra-valuable store at a high asking price, there will be a demand even if it's out of the price range of many buyers.
Find The Right Supplier For A Premade Dropshipping Store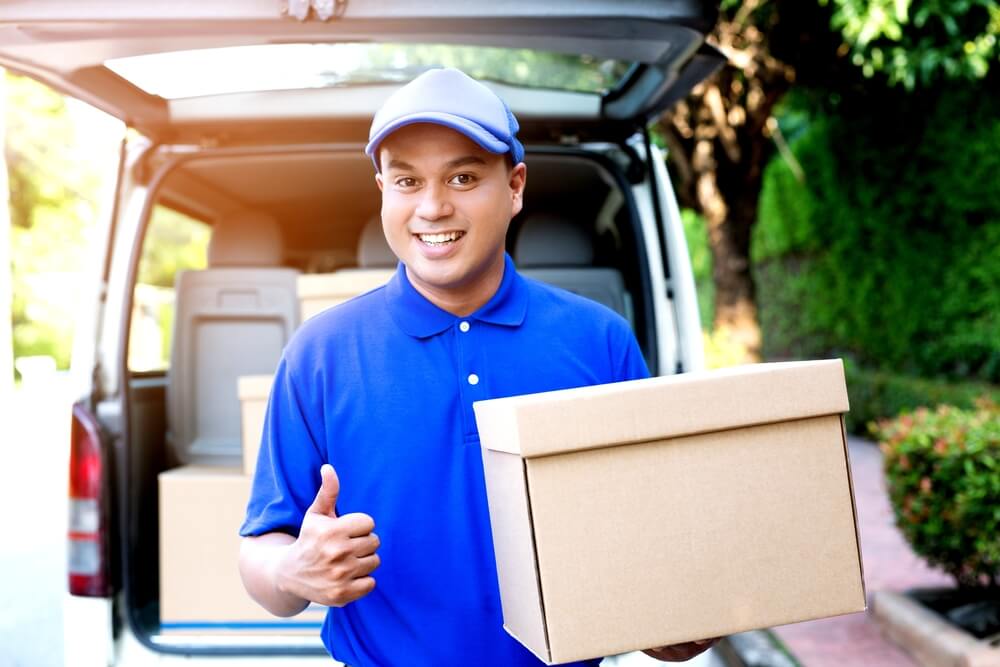 As we mentioned above, store builders need to find a dropshipping supplier that'll best work with the store they're planning on selling. A great supplier will give the premade dropshipping store a higher value.
In other words, if you're a store builder who wants to sell a premade dropshipping store at a premium price, then you'll need to find the right supplier for the job.
The same is true if you're looking to buy a premade dropshipping store and want to: a) expand your selection, b) change your niche, or c) get rid of the supplier that came with the store when you originally bought it.
You can start identifying potential suppliers with directories like:
That being said, the natural and organic market is hot right now and will be growing tremendously for the foreseeable future. This is a great niche to use for any premade dropshipping store, and GreenDropShip is the perfect supplier.
We're a US-based supplier and wholesaler with a huge selection of natural and organic products, including groceries, home goods, baby products, vitamins, supplements, and beauty items.
We also offer:
Plus, since our fulfillment centers are based in the US, our shipping times are considerably shorter than a Chinese supplier or wholesaler.
Finally, we've found that retailers make their best profits through us via a greater volume of sales with higher turnover and more repeat business.
What Makes Dropshipping Stores So Easy To Buy & Sell?
Buying a premade dropshipping store is a common method to get a jump start on an Ecommerce business. It's basically a "hack" that lets retailers start making money right away.
When retailers are browsing for stores to buy in one of the marketplaces, they'll see that there are different types to choose from. However, dropshipping stores are by far the easiest to buy and run. Why is that?
Let's take a quick moment to look at the dropshipping model a little more closely:

As you can see, there's one crucial reason: retailers don't have to worry about the inventory! This is a serious hassle and it makes both running and buying an online store much more complicated.
Let's think about this for a second: the retailer has found an online shoe store that they're interested in buying and it uses a conventional, inventory-holding model.
In addition to the actual store, there's $20,000 worth of inventory in a storage space somewhere. The asking price from the seller has to include all the inventory and the storage space.
Additionally, if they employ anyone to store, pack, and ship the orders, their salary and benefits also get included in the final asking price.
This complicates the process of determining the value of the store. It also makes it more complicated for the retailer to do their due diligence when taking a closer look at how much the store is worth.
With dropshipping, none of these factors come into play because there are fewer logistical issues. The retailer is basically just buying the website, social media following, email list, customer base, dropshipping supplier relationships, and – most importantly – the brand.
What Gives A Dropshipping Store Value For Buyers Or Sellers?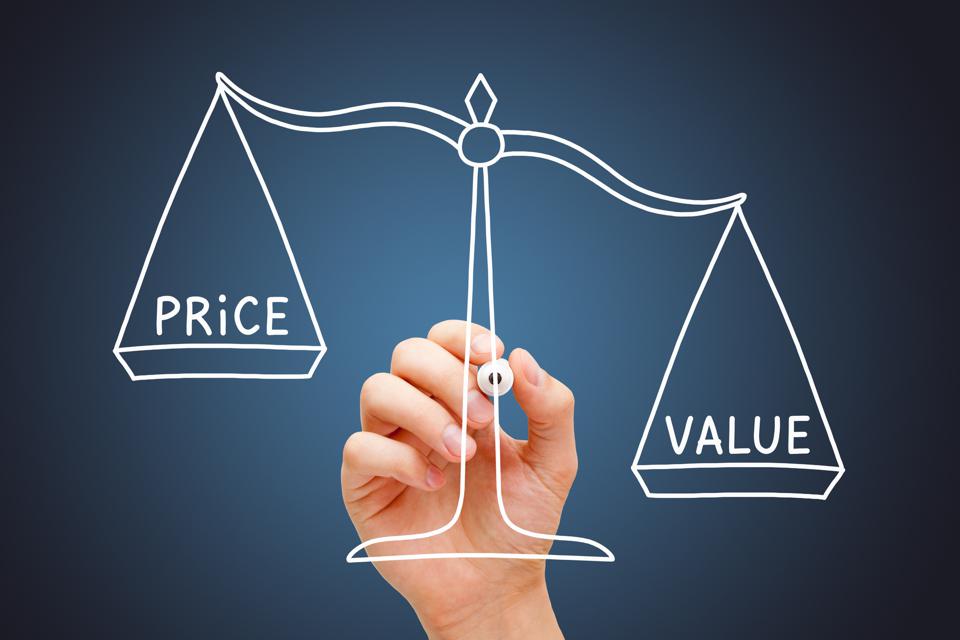 Before we dive in, let's first differentiate between what buyers and sellers want for the value of the premade dropshipping store:
Store seller/builder wants a higher asking price so they can make more of a profit. The higher the value of the store, the higher the asking price.
Store buyer/retailer wants a higher earning potential so they can make more sales, but this has to be balanced with the asking price they're willing to pay.
When the retailer buys a dropshipping store, they'll want to get a return on investment (ROI). In other words, they'll spend a certain amount of money to hopefully make that money back and plus more over time.
Furthermore, if you are the store builder and are looking to "flip" the store for profit, you'll have to understand what gives a dropshipping store value so you can set the best asking price.
That being said, there are five key areas to consider:
Age of the store. Older stores have a more established customer base and brand identity.
Financial information. This includes revenue, profit, and projected growth rate.
Customer base & traffic. This includes user engagement, sources of traffic, and returning customers.
Operations & logistics. This usually consists of just the dropshipping supplier (or suppliers).
Conversion rate. This includes overall sales, performance versus competitors, and the general Ecommerce market.
Within each of these five areas, you should always consider the opportunity for growth. In other words, does the store have potential? Can you improve any of these areas? If so, then you can fetch a higher price for the store when you sell it.
There are tips you can use to increase dropshipping sales and various ways that you can use marketing to improve user engagement and boost conversion rates.
Additionally, if you build the store for dropshipping on Shopify, you can improve most of these areas via good design and apps from the Shopify App Store.
Finally, certain dropshipping suppliers – like GreenDropShip – will offer apps to automate the dropshipping process and make it even easier to run the store.
Ultimately, all of this increases the value of the premade dropshipping store, boosting the asking price for the store builder and the earning potential for the store buyer.
How To Determine The Value Of A Premade Dropshipping Store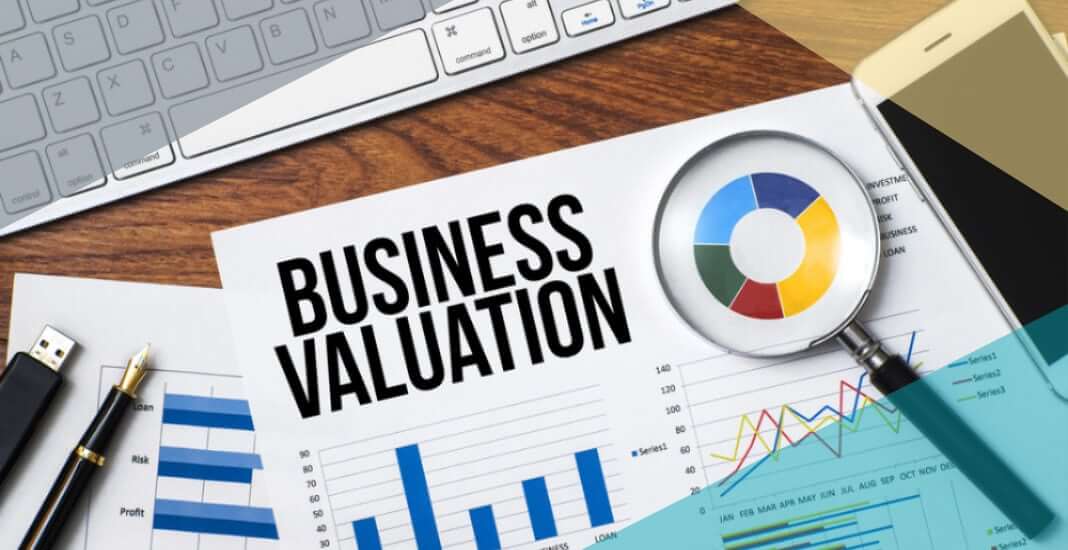 We've talked a little about what gives a dropshipping store value in a general sense, so let's take a look at what that means specifically.
If a retailer decides to buy a dropshipping store, they'll have to browse listings on various marketplaces for stores on sale (we discuss this in greater detail further below). The listing will have an asking price that usually includes:
The actual store
Supplier lists
Web address and domain
Logo and branding assets
List of email subscribers
Social media accounts
Product photos
Please note that this does not include the physical inventory. With dropshipping, the supplier has the inventory so it's never transferred to the store buyer from the store builder.
If a store builder wants to sell a dropshipping store, they'll have to consider the following criteria to determine their asking price.
On the other hand, when a retailer is looking to buy a dropshipping store, they should do their due diligence. They'll have to determine if they want to pay the asking price based on the earning potential of the store – remember, they're looking for a good ROI.
In order to do this, let's take a look at how to determine the value of a premade dropshipping store.
Look at the store's profit & loss statement

This is an absolutely crucial bit of information. Most sellers will set the asking price for the dropshipping store based on their monthly net profit. The asking price will vary, but it can be anywhere from 10X to 30X monthly net profit.
It's a bit of a Wild West-type situation – there's no standardized pricing model and it's a seller's market. In other words, the store builder sets the price.
For example, if the seller is asking for 20X the monthly profit for a store that makes $5,000 per month, then: 5,000 X 20 = $100,000. If you buy a dropshipping store at that price and the profits continue at the same rate, then you'll reach your ROI in just under two years.
Before we go on, let's take a moment to understand a key difference in financial terminology:
Revenue. This is the total income from sales, usually tracked either monthly or annually.
Profit. This is how much money is left over after all operational costs and overhead are deducted.
In other words, profit is how much money the store actually makes.
If a retailer wants to check the store's monthly revenues and profits, they'll have to ask the seller/store builder for the documentation.
If the store is more than a year old, the buyer should ask for a Trailing Twelve Months (TTM) profit and loss statement. This will give the revenue, operating expenses, and profit (net income) for the past 12 months.
The retailer should also look at not only the revenue and profit, but cost of goods sold and operating expenses. If cost of goods sold is too high, then the store buyer can decide to go with a different dropshipping supplier with better wholesale prices, a more reasonable membership fee, and lower shipping rates.
Additionally, if the rate of refunds and returns is high, this is most frequently related to poor quality items and long shipping times, both of which can be fixed by choosing a better dropshipping supplier.
Evaluate the user traffic & number of unique visitors
When determining the dropshipping store's value, use Google Analytics to evaluate the traffic and number of unique visitors. If you're the interested buyer, then ask the seller for access to these figures.
Any store buyer should keep in mind that some unscrupulous sellers can inflate the user traffic by using bots or just buying it from a third-party. Temporarily inflating the numbers will make the dropshipping store appear to be worth more than it actually is.
Luckily, Google Analytics makes it easy to identify this kind of shady behavior with their Audience Overview function. Let's take a look at a screenshot:

This dashboard gives you a bird's-eye view of all the key metrics. In order to spot fake traffic, the buyser should keep an eye on the following:
Very high or very low Bounce Rate. Usually bounce rates that are above 90% or below 10% are suspicious.
Very short Average Session Duration. If it's below 30-50 seconds, you should be skeptical. Remember that online stores should have longer Avg. Session Duration since online shoppers frequently browse.
Low Pages/Session. If it's below 2 pages/session, it could very well be fake traffic.
To accurately determine how many unique visitors came to the site, then go to the top left under Overview and change the setting from Sessions (the default) to Users.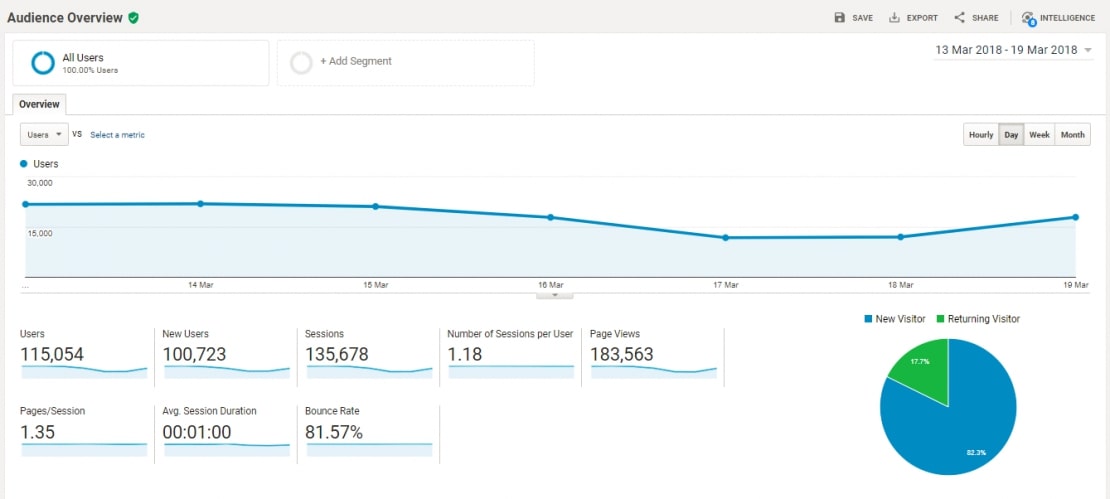 Anyone can then track the users over a given period of time by changing the date range to the past 3 months, 6 months, 1 year, or since the beginning of the traffic history.
Finally, you should also examine the pie graph on the lower right for New Visitors versus Returning Visitors. If the figure for New Visitors is lower, then the dropshipping store may still have plenty of room for growth (depending on its overall potential).
Ideally, the Returning Visitor figure should be fairly high (40 to 60%) since this means that the store has regular customers. This will increase the value of the store, allowing sellers to set a higher asking price and buyers will get more earning potential.
Find out where the traffic is coming from
We're not quite done with Google Analytics – this tool can give you a wealth of useful information! Go to Acquisition –> Overview to see where the traffic is actually coming from.
In the dashboard, you'll be directed to Acquisition Overview and see a breakdown of traffic sources, including:
Organic search
Referral
Direct
Social
(Other)
Affiliates
Paid Search
Display
Let's take a look at a screenshot to get a better idea: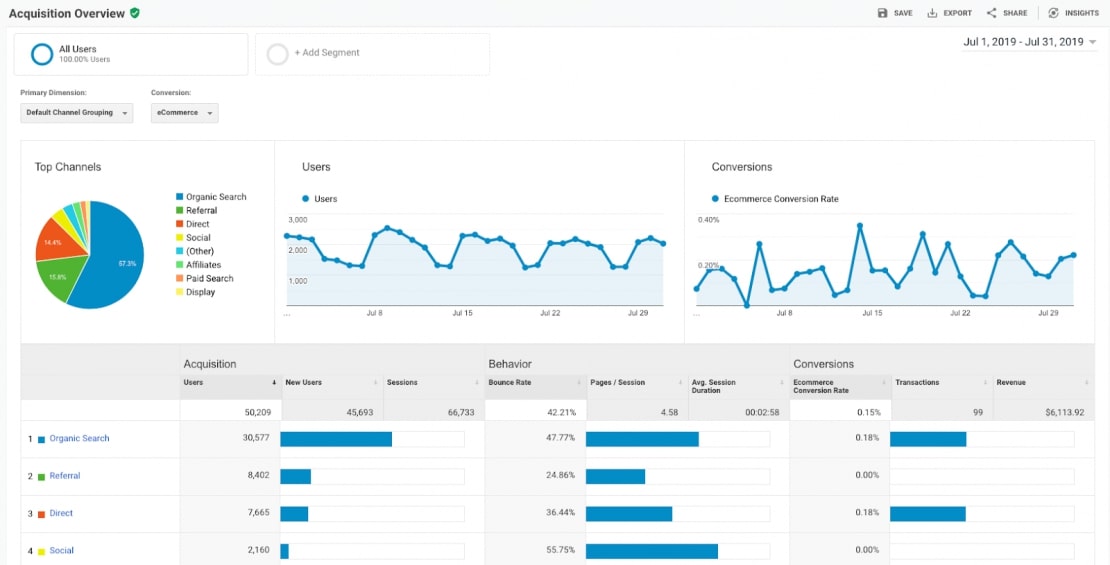 When it comes to the various sources of traffic, Organic Search is the absolute gold standard and is the most desirable. There's one major reason for this: It's free!
A high proportion of traffic from organic search means that the store is ranking high in Google search engine results. The higher the store ranks, the more likely online shoppers will come to the store.
The Organic Search will be higehr if the seller/builder really took the time to improve search engine optimization (SEO) for the dropshipping store. Good SEO can be done in a number of ways, including having a blog with optimized content and unique product descriptions that are rich in keywords.
There are multiple tools to evaluate the SEO health of the website:
SEMRush. Evaluate the quality of the store's organic search traffic. It also gives an overview of what keywords are ranking and the volume of organic traffic due to these keywords.
SEO Checker. A free tool that gives you a quick evaluation of a website's overall SEO health, including meta information, page quality, and link structure.
Ahrefs. Gives you an idea of the backlinks and keywords in the domain name.
Seoptimer. Get an accurate assessment of page speed and structure.
Finally, take a close look at the Paid Search results. These come from Pay-Per-Click (PPC) campaigns like Google Ads or Facebook Ads that the seller/builder has set up.
If there's any Paid Search traffic, even if it's a small amount, the buyer must make sure that the seller transfers all the information, details, and logins for the ad campaigns so that they can continue them and boost traffic even more.
RELATED POSTS:
Take a look at the social media accounts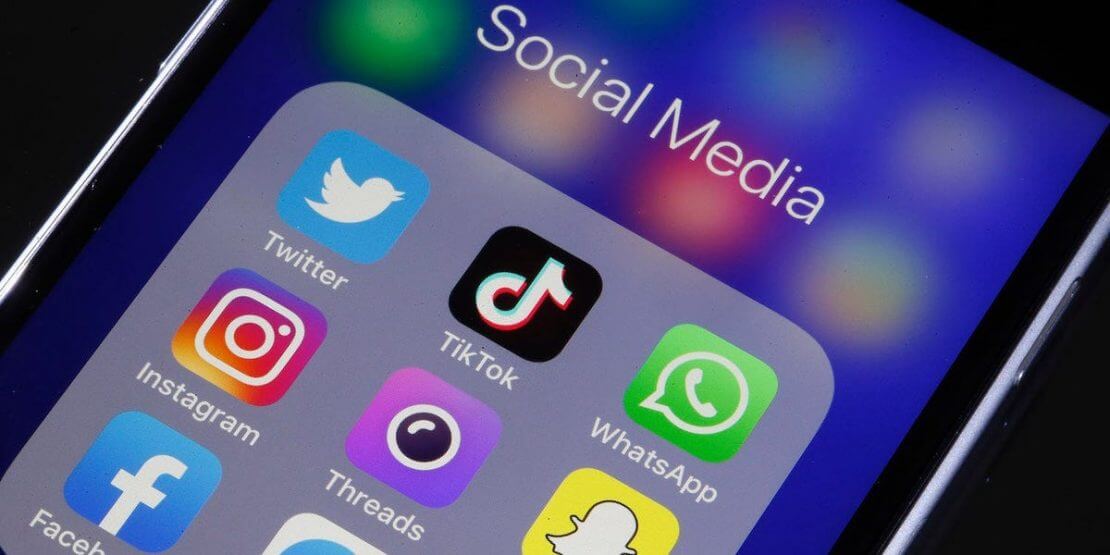 Nowadays, the world revolves around social media. It's come to dominate our daily lives, making it an incredibly powerful tool for connecting with consumers and potential online shoppers.
Anyone operating a dropshipping store should never neglect it, especially since it's possible to use them for free (if you're not paying for ad campaigns).
If you're the store builder, taking some time to develop the social media will increase the value of the dropshipping store.
That being said, the store buyer must ask the seller for any login information – when applicable – for the store's social media accounts. These can include:
Facebook
Instagram
Twitter
Pinterest
TikTok
Youtube
These accounts will allow the store buyer to continue connecting with customers.
Plus, the store buyer should assess the accounts and take note of the number of followers and evaluate how engaged they are – the higher the user engagement, the better.
In this context, user engagement means likes, comments, pins (for Pinterest), shares, retweets (for Twitter), and so on. Think of it like an ongoing dialogue.
It's possible to buy fake social media followers and likes from third-party providers. If you're selling the store, avoid these kinds of shortcuts to artificially and temporarily inflate the value of the store!
Additionally, look at the Acquisition Overview. Is there any traffic that's coming from Social? If so, that means the buyer will need to determine which accounts are directing the most traffic and to assess the seller's current social media strategy.
Finally, the buyer should also double-check if the seller has any relationships with influencers on some of these platforms, especially Instagram.
RELATED ARTICLE: How To Market An Ecommerce Store On A Tight Budget
Check the email subscriber list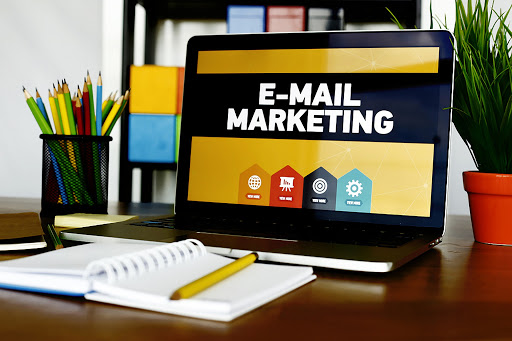 A great email list of subscribers will go long way towards making any dropshipping store profitable. If you're the seller, it can boost your asking price and if you're the buyer it can increase the store's earning potential.
An email subscriber list allows the store's owner to build an ongoing relationship with online shoppers. For that reason alone, it's a powerful marketing tool.
Consider the following: according to a study, 92% of online shoppers don't buy anything during their first visit to an online store. Additionally, 30% of consumers would rather buy from a website they've bought from previously.
As a result, using email marketing can boost sales by increasing conversion rates. If the online shopper doesn't buy on the first visit, they'll likely buy something on the second, third, or fourth visit, especially if the store made a good impression.
Plus, if the shopper already bought something during one of those visits, it's easier to get them to come back and buy something else. This is how you turn one-time shoppers into regular customers.
This means that a bigger email subscriber list means more leads – it's more opportunities to make that conversion.
If there are two stores that are alike in every way but one has 20k email subscribers and the other only has 5k, the 20k will be worth more. So, when valuating a dropshipping store, consider the size and health of the email list.
Additionally, the buyer should ask the seller if they use any email marketing tool like MailChimp for email campaigns. If they're successful, the buyer can ask the seller to share an email template to effectively pick up where they left off.
RELATED POST: Top Email Marketing Strategies For Dropshipping
Marketplaces To Buy & Sell Premade Dropshipping Stores
If you're looking to buy or sell a dropshipping website, there are a few options that you can choose from.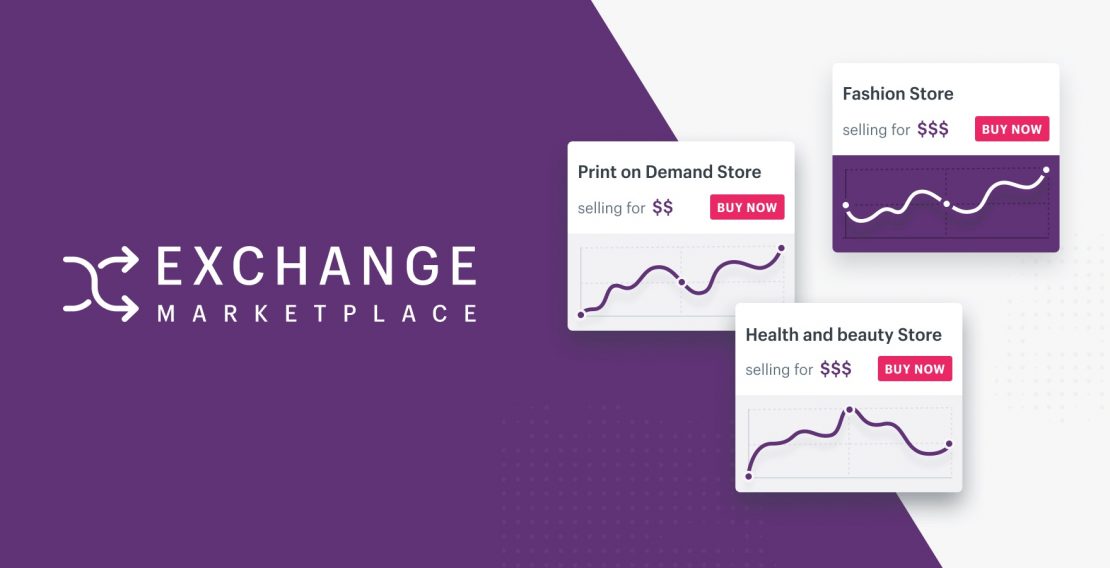 This is the premier marketplace for buying and selling dropshipping stores. Since it's powered by Shopify, it's especially easy to use if you want to buy or sell a Shopify store. This includes dropshipping stores, inventory-holding, and Amazon FBA.
You can choose from various niches, including:
General
Food & Drink
Fashion & Apparel
Health & Beauty
Electronics & Gadgets
Toys & Games
Home & Furniture
Books & Magazines
You can browse the listings and sort them by Price, Revenue, Age, or Industry.
Let's take a look at a screenshot: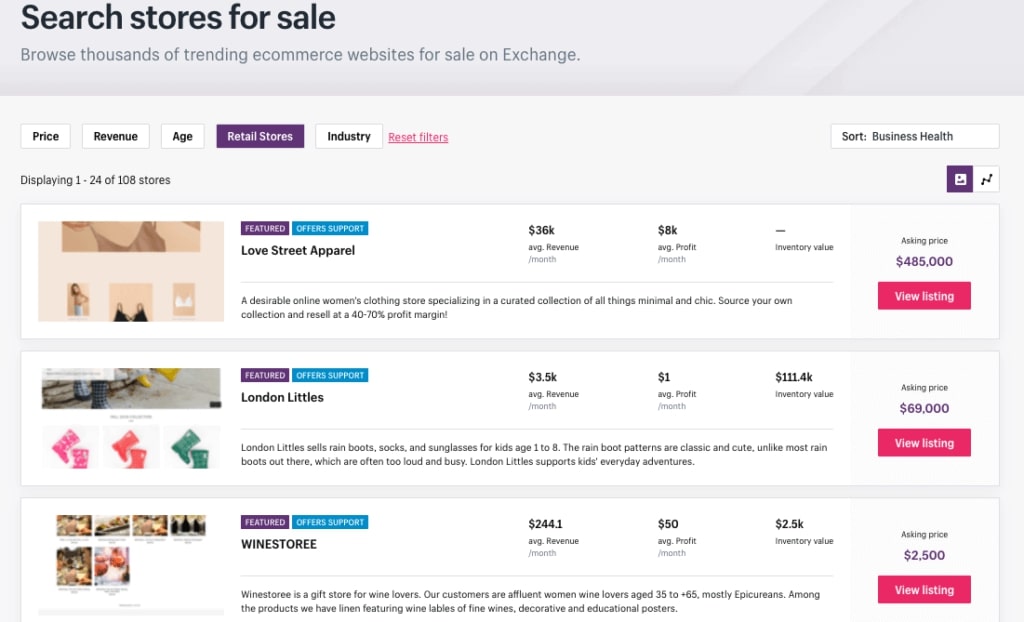 Payment is handled by Escrow.com to keep the entire process legitimate and running smoothly. The basic steps are:
Buyer and seller agree to a price on the Exchange Marketplace.
Seller initiates the escrow.
Buyer makes the payment to Escrow.com.
Seller gives all necessary information – including assets, documentation, and account information – to the buyer.
Buyer does their due diligence and inspects all the information..
Once the seller is done with their inspection, they accept the sale and Escrow.com releases the payment to the seller.
Exchange Marketplace is the most widely-used and trusted marketplace for buying and selling dropshipping stores.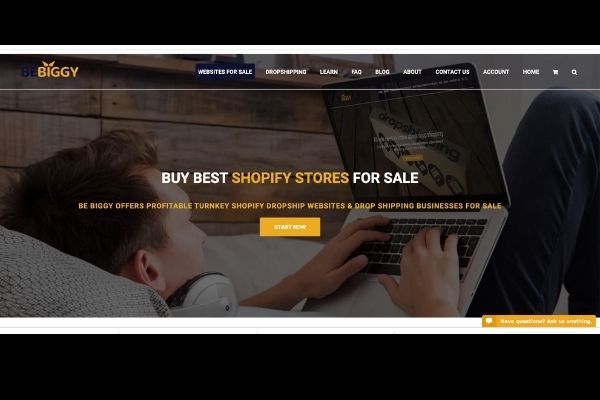 Be Biggy is a leading provider of high-quality, profitable turnkey dropshipping websites. If you're a buyer just starting out in the dropship game, then this is a great place to go. This is especially true if you're looking to buy a Shopify dropshipping website.
Not only does Be Biggy offer dropshipping websites for sale, but they guide clients through the entire process. This includes selecting a profitable niche, finding suppliers, and establishing their website to help them reach customers right away. This means you can hit the ground running!
There are three basic kinds of websites for sale:
Regular Shopify Dropshipping Websites
Premium Shopify Dropshipping Websites
Exclusive Shopify Dropshipping Websites
The regular listings include premade, brand-new dropshipping stores for Shopify. As a result, these are the most affordable.
However, if you're a store seller who has put more time into building the store and want to set a higher asking price, then the second two types are the best choices.
The premium listings are for turnkey dropshipping websites that are a little more advanced than the standard listings – they're still new, but they have a more fully-developed brand identity and more features.
Finally, the exclusive listings are for established Shopify dropshipping websites that can have large customer bases and a regular revenue stream. These are the most expensive since they're already profitable.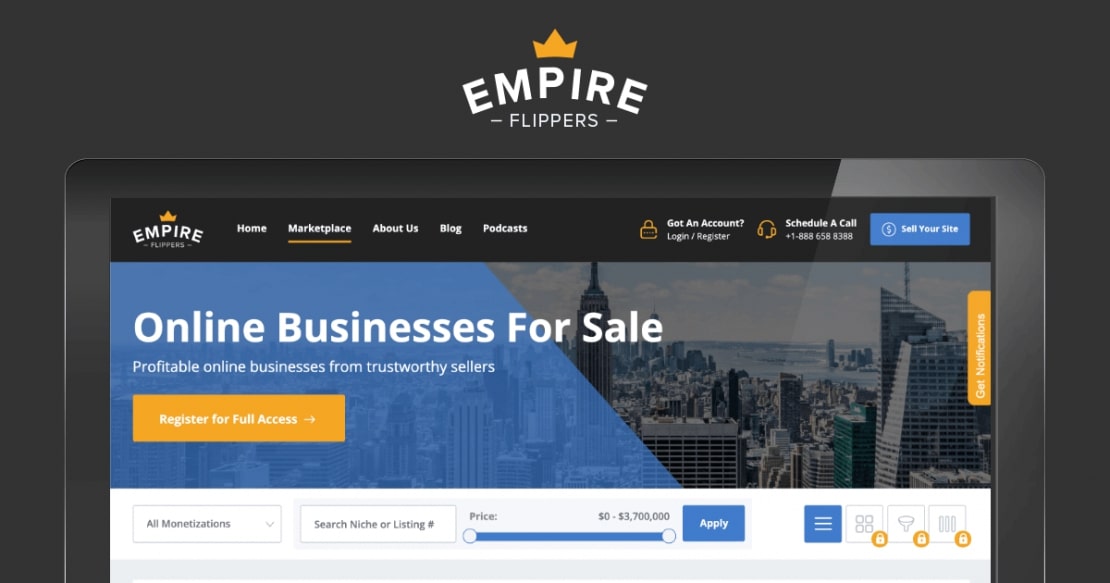 This is another well-established marketplace for buying and selling dropshipping stores – to date, they've facilitated over $200 million in sales of online stores.
Much like Exchange Marketplace, you can browse stores based on niche, including:
Pet Care
Home Goods
Sports
Art
Culinary
Outdoors
Music
Personal Care
Books
Food & Beverages
Hobbies
Apparel & Accessories
Beauty
Let's take a look at a screenshot: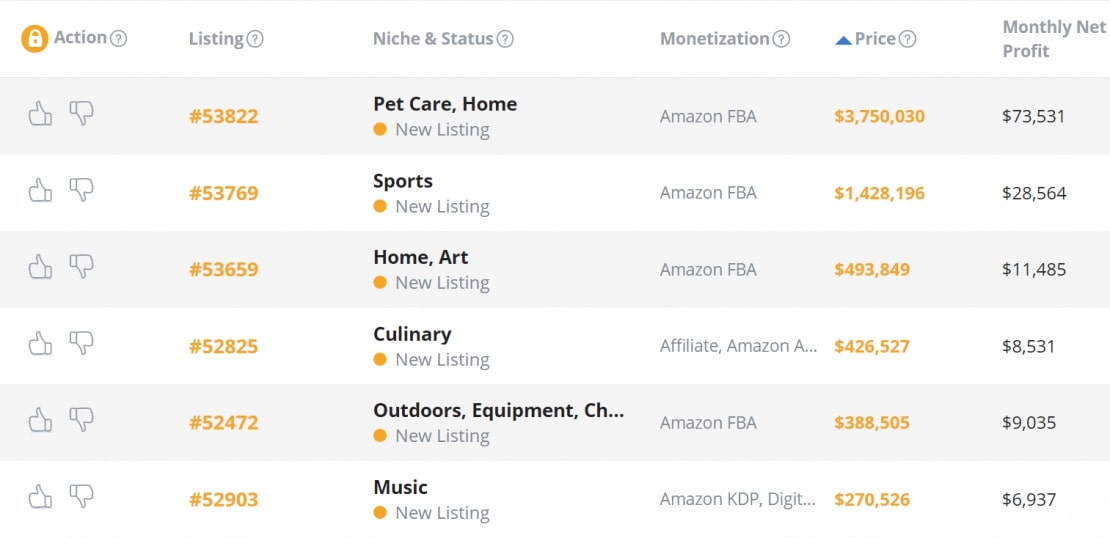 You can see that each listing has a Monthly Net Profit listed on the far right, making it easy for buyers to select profitable stores. They can also see a list of previously sold listings that give them the Sale Price and dropshipping niche for each store.
Empire Flippers also carries all major types of retail stores, including dropshipping, inventory-holding, and Amazon FBA. The buyer can find the type under Monetization in the listing.
Finally, there's also the Empire Flippers Free Evaluation Tool. The seller or buyer can use this when valuating the dropshipping store for sale. This will help the seller determine the best asking price and the buyer the most accurate earning potential.
To use the tool, you need to answer the following:
Number of hours worked per week.
What's the age of the dropshipping store?
How many products are there?
Is there a private blog network?
What is the average monthly gross revenue? (average sales over prior 12 months)
What is the average monthly net profit? (average income after costs are deducted)
On average, how many unique website visitors does the site have each month?
How many email subscribers are there?
How many social media followers in each account?
If you're the buyer, then you'll have to ask the seller for these figures.
Once you input the information, they'll give you a range between Absolute Low and Absolute High. This can help you determine the value of a store you might be interested in buying or selling.

This is another widely-used and highly-respected marketplace for buying and selling all kinds of Ecommerce stores, including dropshipping, Amazon FBA, inventory-holding, and Shopify stores.
First of all, you can browse by industry, including:
Automotive
Fashion
Art
Jewelry
Electronics
Books
Food & Drink
Body Building
Beauty
Fitness
Diet & Nutrition
Weight Loss
Hobbies & Games
DIY
Furniture
Baby Products
Sports & Outdoor
Additionally, Flippa has a Browse Assets function, allowing the buyer to take a close look at all the important information when buying a dropshipping store: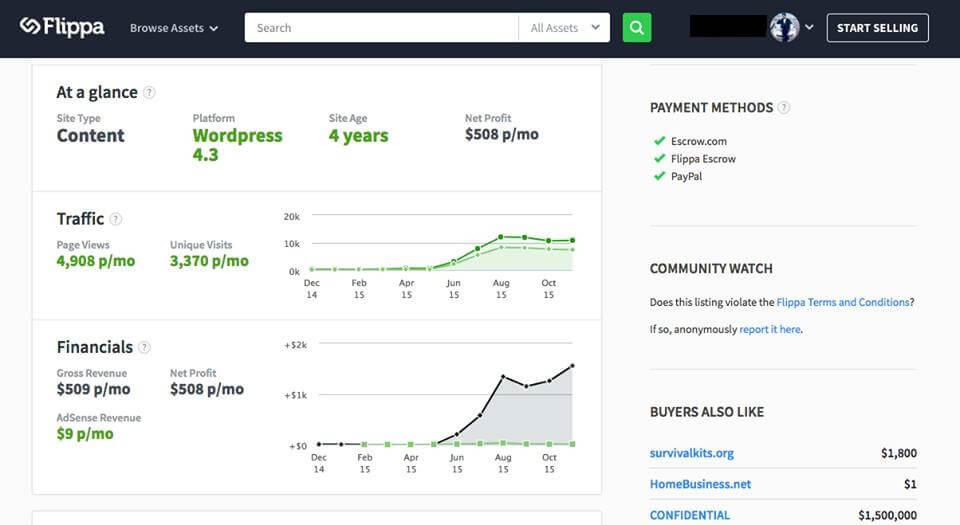 It also has the best system for browsing: the buyer can filter the results based on Monthly Users, Monthly Pageviews, Monthly Profit, Price Range, Age, and Authority Score.
Additionally, the buyer can look at Recently Sold listings (like on eBay) to get an idea of what other stores are selling for.
Much like Empire Flippers, they offer a free Online Business Valuation to give an ultra-accurate valuation of a given dropshipping store.
Finally, they also offer a verification and assessment service called Flippa Due Dilligence:
Red Flag Report $1,000. This is a deep dive into a store's information going back 1 year.
Standard Report $1,500. The analysis goes back 2 years – recommended for stores between $30k and $200k.
Enhanced Report $2,000. The analysis period goes back 3 years – recommended for stores above $200k.
Choose GreenDropShip For Your Premade Dropshipping Store
If you're a store builder looking to sell your premade dropshipping store for the highest asking price possible, then GreenDropShip is a fantastic choice as your supplier/wholesaler.
On the other hand, if you're a store buyer looking for a premade dropshipping store with the highest possible earning potential, then GreenDropShip is also the right supplier/wholesaler for the job!
We're based in the US with multiple fulfillment centers throughout the country. This means that customers get their products quickly and in the freshest condition possible, unlike Chinese suppliers that can take weeks to ship products.
We also offer thousands of natural and organic products from both established and emerging brands, most of which are made in the USA. This includes categories like:
General health and wellness products
Vegetarian, vegan, and plant-based groceries
Various groceries, including beans and rice products
Energy drinks, juice, bottled water, yerba mate, natural soda, coffee, and tea
Organic sugar, honey, and natural sweeteners like Stevia or monkfruit
Dairy and plant-based milk, including soy, oat, almond, and rice milk
All kinds of snacks, including gourmet chocolate, candy, and exotic snacks
Baking ingredients, including flavor extracts and different types of flour
Cooking ingredients, including seasoning, herbs, and spices
Sauces, marinades, and dressings
Vitamins, supplements, minerals, and digestive aids
Meal replacements, protein powders, and weight loss products
Skincare, haircare, and beauty products
Baby products, including food and diapers
Home goods like detergents, soaps, and cleaning supplies
Pet food, treats, and supplements
Essential oils and aromatherapy diffusers
GreenDropShip also integrates seamlessly with Shopify, WooCommerce, and Amazon/eBay via our product feeds. We've also released a Shopify dropshipping app that makes it easier than ever to sell our products online.
Join GreenDropShip And Start Selling Today!