How To Use Google Trends For Dropshipping & eCommerce
Do you have a dropshipping store? Are you trying to find the right niche or products to sell? It may seem overwhelming – there are literally thousands of options. You may not even know where to start!
Luckily, Google Trends can help you get started on your dropshipping journey. It's versatile, powerful, and 100% free! This makes it a must-have for any online reseller looking to find a niche, understand the market, and do product research.
Learning how to use Google Trends with your dropshipping store will give you a competitive edge in a crowded marketplace. You'll be able to understand your target audience and take advantage of emerging market trends. This means you could even be one of the first to offer an upcoming product to eager consumers.
If you really master this tool, then you might even be able to predict what consumers will want in the future. This can be based on cycles of search interest and consumer behavior or it could be an entirely new trend that no one else has identified.
It's kind of like being a retail detective – you can see the big picture and fully understand the retail market. By understanding the market, you can more easily turn a profit in your dropshipping store.
In this post, we'll go over the basics of Google Trends, why it's so important, how to properly use it, and what kinds of trends you'll see.
To make it easier for you to navigate, you can jump forward to any of these sections:
What Is Google Trends?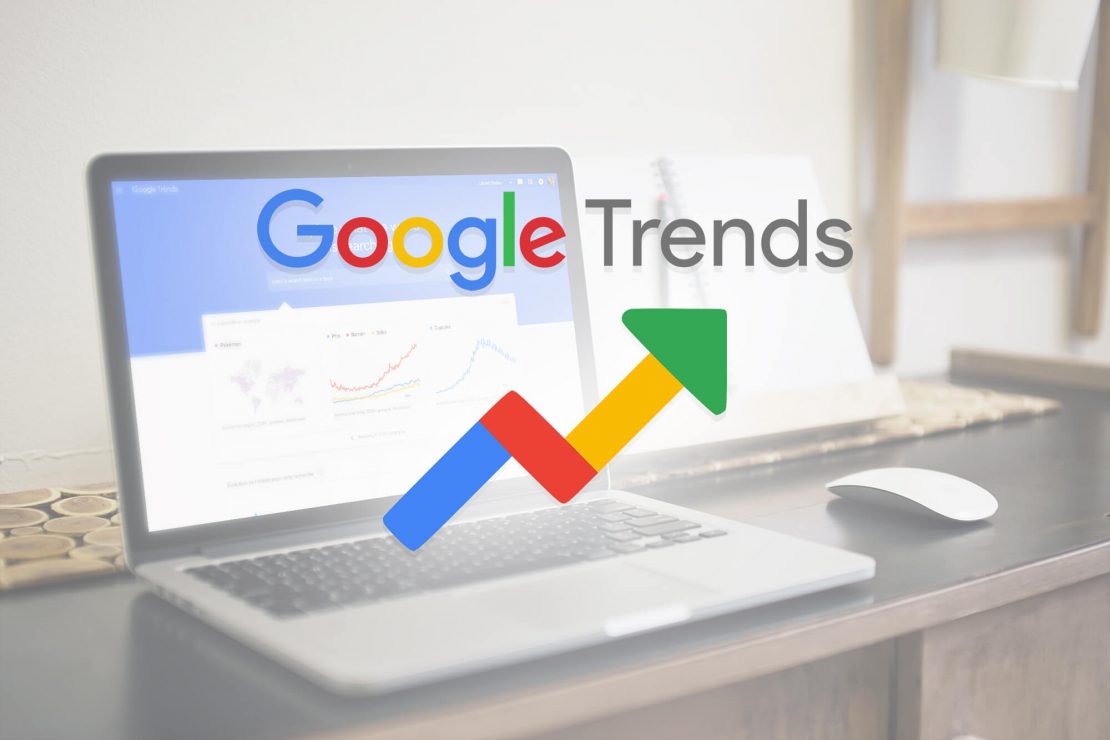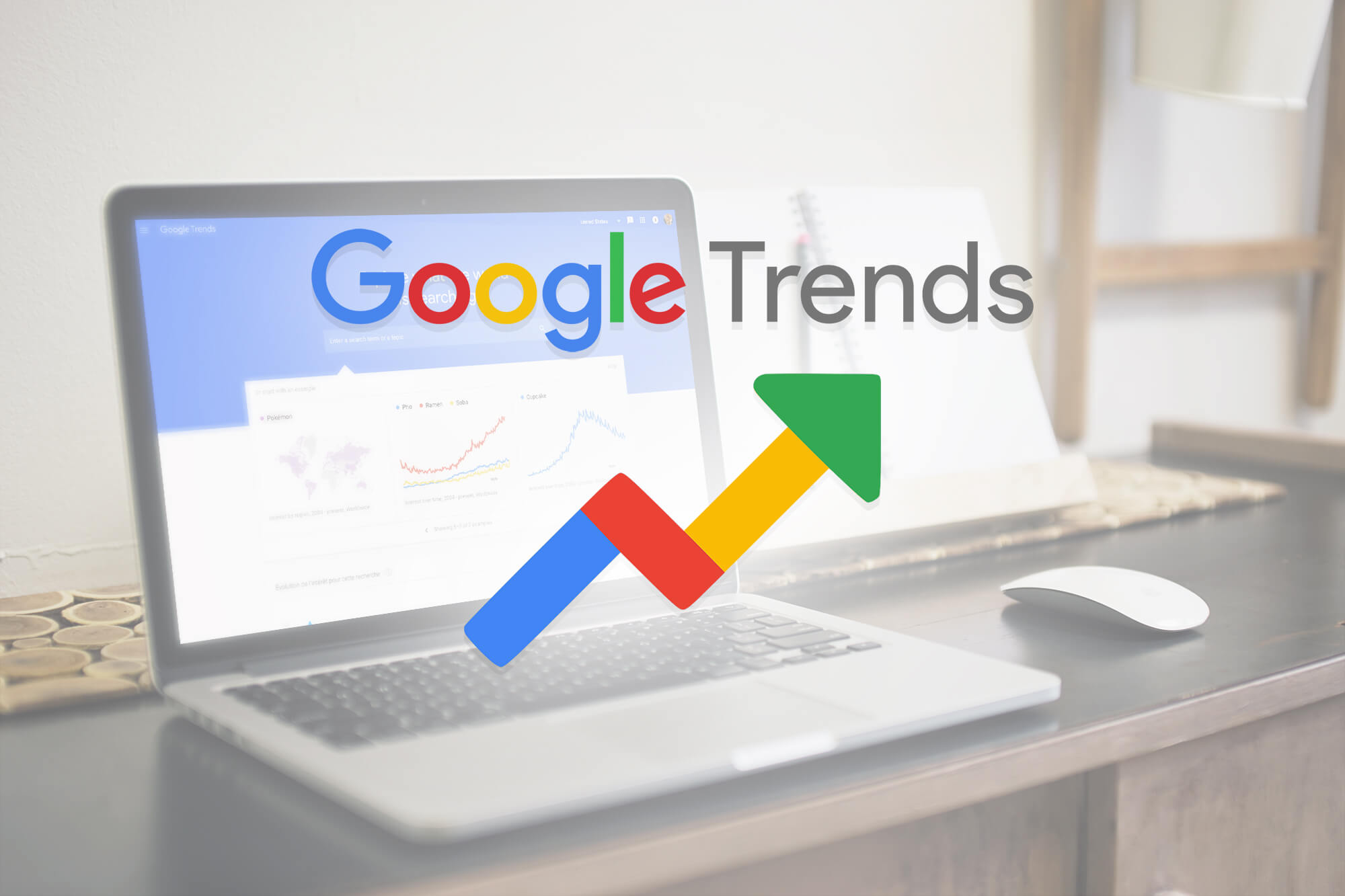 If you want to have a successful dropshipping store, Google Trends is one of the best tools to start with. But you may be asking yourself: What does it do exactly?
It's pretty simple: it tracks Google search interest over a period of time. In other words, it's a public and free-to-use analytics database of all Google searches from 2004 until now. Plus, it can suggest related keywords and show their performance based on geographic location.
All of this information is absolutely vital for a successful dropshipping store. Remember, if you want to have a profitable store, then you have to do your research ahead of time. Plus, Google Trends works especially well with dropshipping.
RELATED ARTICLE: How To Increase Your eCommerce & Dropshipping Sales: Top Tips!
This is because dropshipping doesn't cost much for retailers, so a free research tool will keep your costs low. Dropshipping and Google Trends go together perfectly!
Before we continue, we need to quickly discuss the concept of search intent. This basically means:
What are the consumers searching for?
What do the consumers want?
Are the consumers actually looking for anything specific?
These are critical questions you'll need to answer if you want to build a successful dropshipping or eCommerce store. Remember, if you know what people want, then you can frequently predict their behavior.
In many cases, you might have to do some creative detective work to truly grasp what users want. As a result, it's important to always consider if there are multiple ways to say the same thing. You may also have to put yourself in the consumer's mindset.
RELATED ARTICLES:
Top Health and Wellness Product Trends For Dropshipping
Hottest Dropshipping Beauty Trends For 2022
Top 17 Current Dropshipping & eCommerce Trends For 2022
Flour Trends: A Hot Dropshipping Opportunity
How Does Google Trends Work?
Now that we've covered the basics, let's quickly break down Google Trends into its various parts:
1. Interest Over Time
This is the fundamental function of Google Trends: tracking search interest over a given period of time. This is the key point you should take away from this blog post: Google Trends tracks search interest.
This means that there's a basic assumption at the heart of Google Trends: search interest may equal more sales. Of course, it's not a direct correlation, but it's a pretty solid assumption. People use Google for everything nowadays, including shopping. If they're searching for products or brands, then it's a pretty safe bet that a good chunk of them will actually buy some of the items.
Plus, dropshipping is an amazing retail model because it's so low-risk. You can check out all kinds of potential niches, products, or brands on Google Trends and then offer them in your dropshipping store. If they sell, that's great! But if they don't, then you can just move on. You don't worry about inventory, so you won't get stuck with an unsold surplus.
That being said, the Interest Over Time data is on an x-y axis. The x-axis represents time and includes the past:
1 hour
4 hours
1 day
7 days
30 days
90 days
12 months
5 years
2004 – present
Custom time range
The y-axis is the actual search interest with lines 0, 25, 50, 75, and 100. These are not the raw number of searches. Instead, the numbers represent search interest relative to the highest point on the chart. So 100 is the peak popularity for that keyword or keyphrase. On the other hand, a value of 50 means it's half as popular. Basically, these are search interest scores.
Here's an example: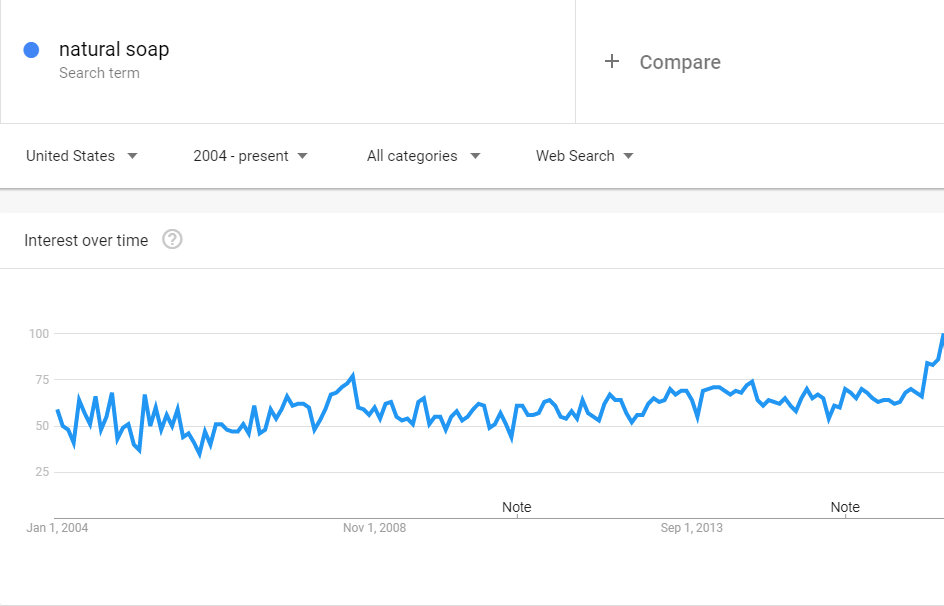 Looking at this graph, you can see that "natural soap" had a search score of about 55 on January 1, 2004. As we move along the graph, you'll see that it goes through some peaks and valleys until the present (May 2021) where it has a search score of about 100. That means there are almost twice as many searches in 2021 versus 2004.
You can also search multiple keywords or phrases to compare search interests: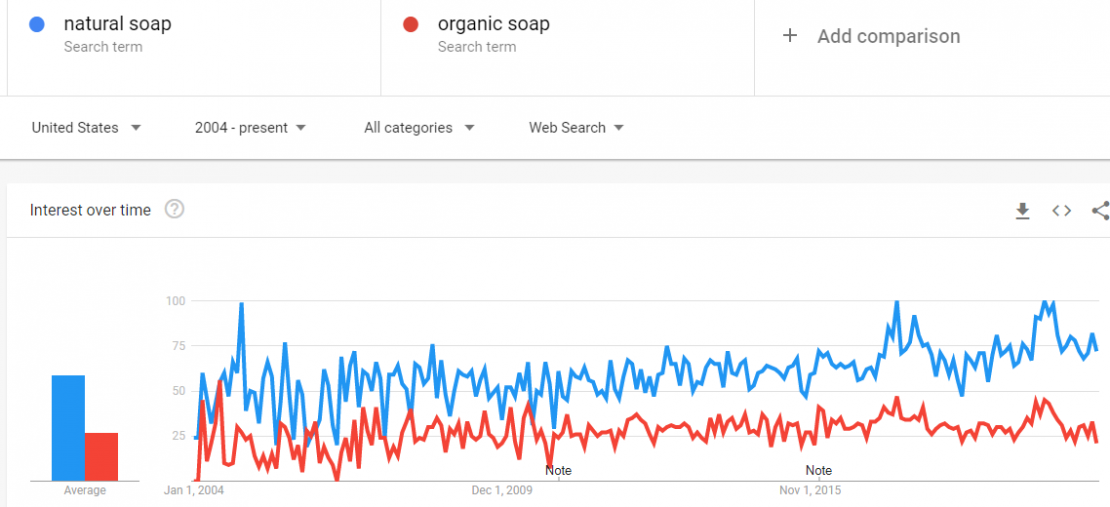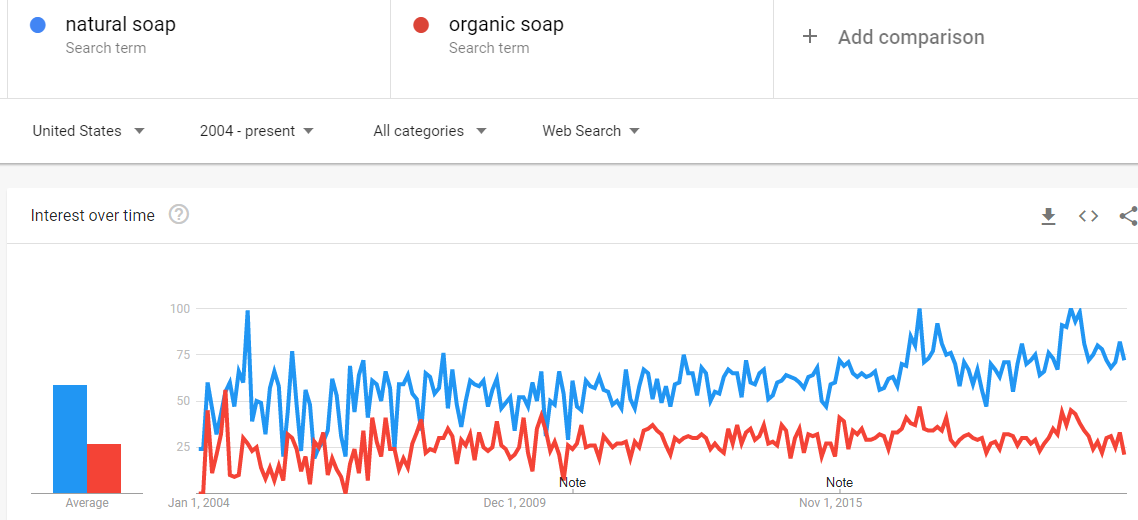 It's clear that both "natural soap" (in blue) and "organic soap" (in red) show consistent interest with some slight growth. But if you look closely, you'll see that "natural soap" has roughly twice the search volume as "organic soap".
However, this doesn't necessarily mean that "organic soap" has a low search volume – it just has a lower search volume relative to "natural soap".
2. Interest By Subregion
This shows search interest by area. You can see search data for certain countries (like the US) as well as states and even certain larger cities. While this is certainly a useful feature, it doesn't necessarily affect most dropshippers.
It's important to understand that a dropshipping store is – by definition – online. This means you could theoretically have a customer from anywhere in the US or even abroad if your supplier is willing to ship there. It's more important for brick-and-mortar retail, but it could still have some functionality for dropshipping.
This function mostly affects your marketing. It's extra useful if you want to market a product to a certain area via Facebook Ads or Instagram Ads. You could also use this geographic data if you want to offer specific promotions.
For instance, let's say you dropship surf apparel. It's more cost-effective to target your marketing and/or promotions to consumers in coastal areas rather than, say, Missouri or Kansas.
Let's take a closer look at the Interest By Subregion for "almond milk" since 2004: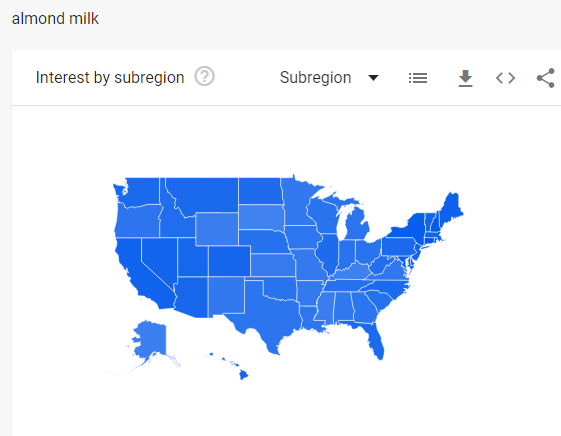 This is broken down by state. The darker the blue, the higher the search interest. Interestingly, you can see that overall search interest in "almond milk" is pretty consistent across the entire country.
Let's examine the same data by city:

In this US map, the darker blue circles mean higher search interest. Additionally, the tool gives you a search interest score from 0 to 100 on each of the major cities.
For some dropshippers, using this function helps them save a ton of money on marketing costs. This is because you can really target your research and focus all your marketing outreach to consumers in specific areas.
3. Related Topics & Related Queries
We can combine these two into one since they're basically variations on the same function. If you're using Google Trends for dropshipping research, this is incredibly valuable. It can give you related ideas for niches, products, or even brands. You may not remember every single related search term, so this will help you cast a wider net and get more accurate data.
Related Topics basically means: People who searched for your search term also searched for these topics. In other words, it shows what else people are interested in, broken down by topic.
On the other hand, Related Queries is a more specific variation of Related Topics. It means that people also used these specific search terms or phrases that are related to your topic. Simply put, these two are general topic searches versus specific keyword searches.
For each of these, you can select:
Top. Most popular topics or queries on a relative scale of 0 to 100.
Rising. Biggest increase in search frequency – Breakout means it's surged tremendously.
Let's take a look at some data:


This gives you a wealth of useful information and a fuller, more detailed picture of users' search intent. You can see how many of these are labeled as Breakout – this means there's been a huge surge in search interest.
For instance, "ghost vegan protein" isn't labeled as Breakout, but it's shown an 800% increase in searches, so that means that every one of those other terms or phrases is above 800%. That's huge!
You can also get lots of great ideas from this data. First of all, you see that "Ketogenic diet" is a Breakout topic that's ranked #1. This means that dropshipping keto products can be a really profitable niche. You can also see that "Pre-workout" is #3, meaning that consumers are also interested in pre-workout products.
There are also multiple brands listed, including Bob's Red Mill, Amazing Grass, and Ghost Vegan Protein. You could see if your supplier carries these brands and then add the products to your dropshipping store.
Finally, you get a glimpse of what's important for consumers. "What is the best tasting vegan protein powder" is #4 under queries, which means that online shoppers care about taste. You can focus on this in your dropshipping product descriptions.
You can also see that "baking with vegan protein powder" is #3. This means you should look into dropshipping baking ingredients to take advantage of the growing baking trend.
Why Is It Important To Identify Trends For My Dropshipping or eCommerce Store?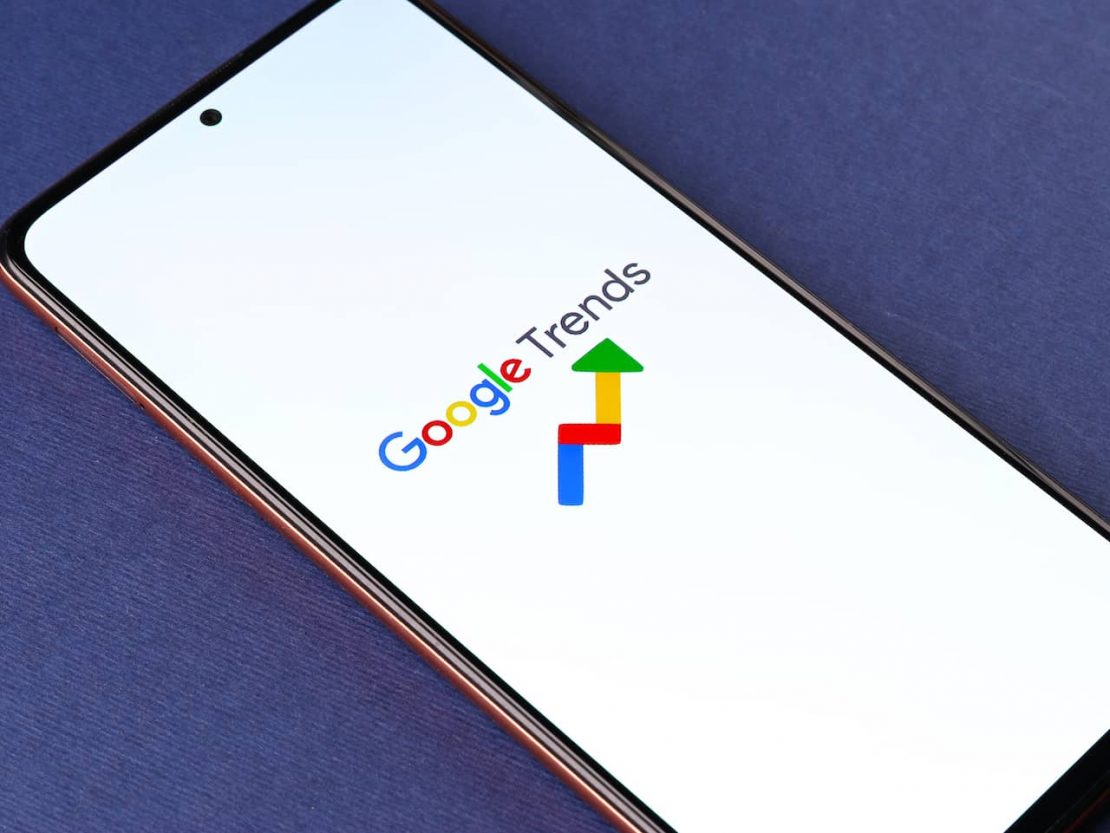 You'll be able to sell products or brands that consumers actually want.
You can choose a niche with the potential for strong growth or steady interest.
Good and accurate product research is critical for a profitable online store.
By identifying trends, you can "catch the wave" of interest in a niche, product, or brand.
If you "catch the wave" early enough, the market won't be saturated yet.
You can identify the exact "shape" of the trend: rising, falling, consistent, or seasonal.
You can try new products or brands in your dropshipping store without any risk.
If you master Google Trends, you might even be able to predict profitable trends.
You can create content marketing and ad campaigns that are 100% relevant.
You can better understand your target audience and give them what they want.
How Do I Use Google Trends To Help My Store?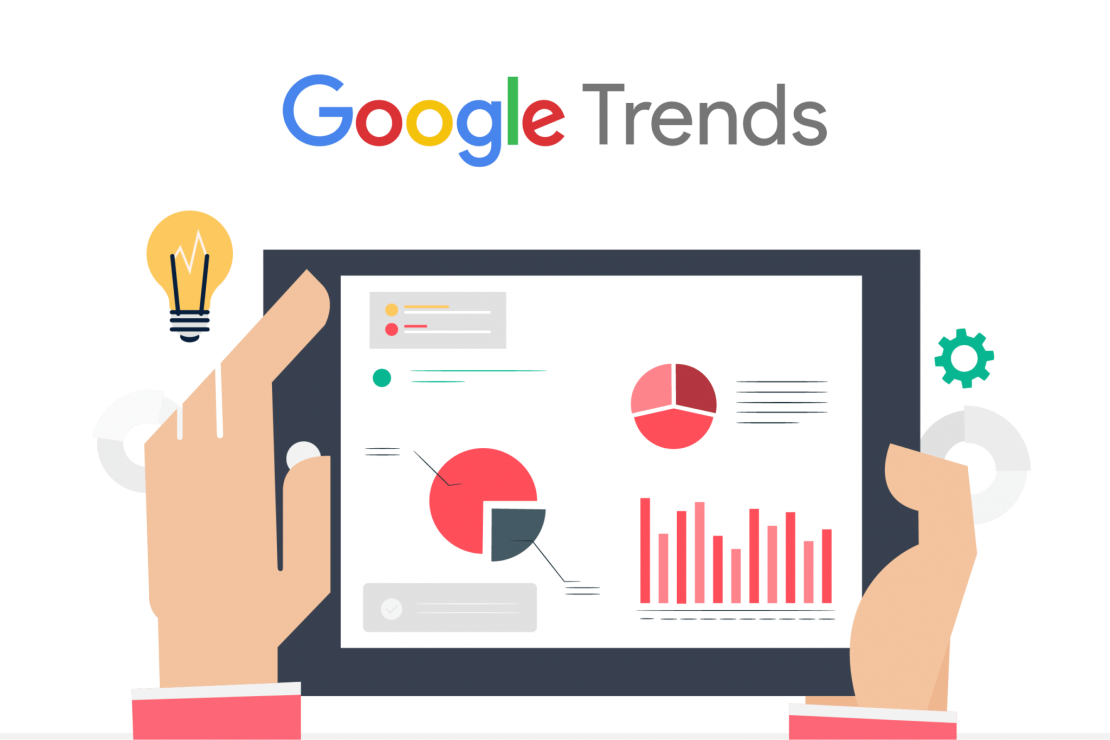 Google Trends gives you a big-picture understanding of your target audience. It effectively allows you to identify what consumers want so you can better understand who they are. We can paraphrase an old saying:
Question #1. How do you understand someone?
Answer #1. You figure out what they want!
There's another related saying that we can also paraphrase here:
Question #2. How do you predict someone's behavior?
Answer #2. You figure out what they want!
In the best-case scenario, you'll be able to use Google Trends to predict what consumers may want. This will allow you to choose niches, products, or brands in your dropshipping store that will sell well.
If you take advantage of the trend early enough, then you can beat out your competition before the trend levels off or decreases.
You can also make your analysis really detailed, allowing you to really understand your audience and the market.
Plus, Google Trends is a visual tool, so it's easy to recognize trends and cycles. You don't have to sift through lines of numbers or figures – just pay attention to the shape of the curve.
Google Trends makes it possible for you to identify all kinds of potentially profitable products or niches.
This is why dropshipping is so easy: you take on virtually no risk. Unlike wholesale buying in bulk, dropshipping means you don't handle the inventory, so you won't get stuck with an unsold surplus.
But how do you actually use Google Trends for your dropshipping store? What are the steps? Let's get down to the nitty-gritty and take a closer look:
1. Identify A Niche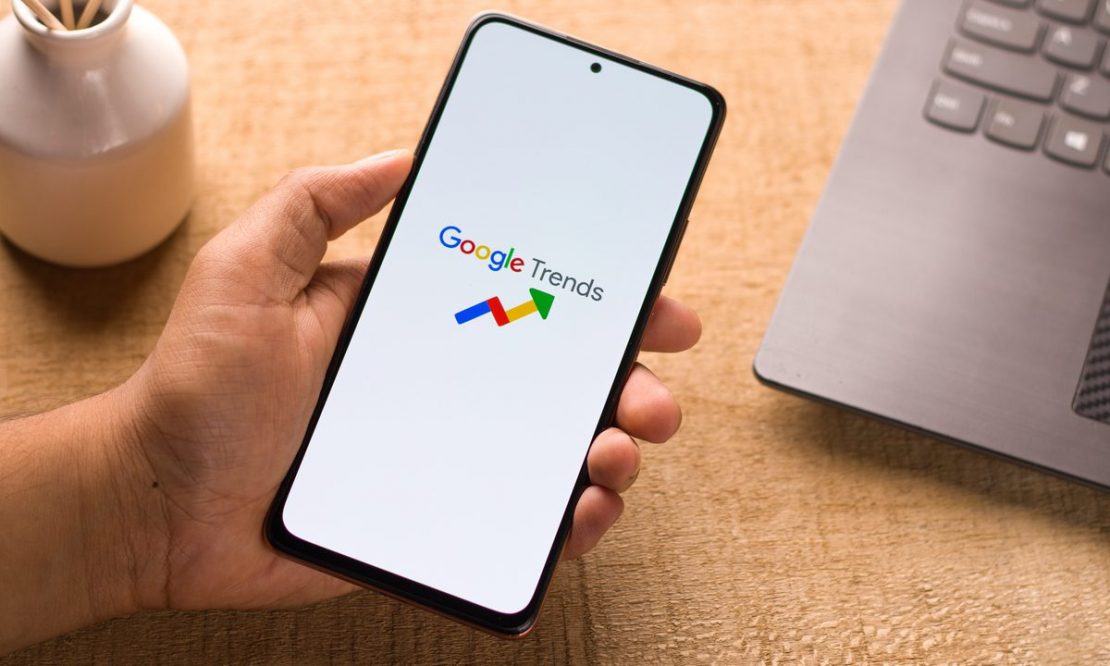 Finding a niche is crucial in building a successful and profitable dropshipping store. It's the first step to identifying the products you want to sell.
Once you've identified a potentially profitable niche, you can find a dropshipping supplier that has the right selection of products for you to sell in that niche.
A great dropshipping niche will:
Let you focus on a segment of the market with less competition.
Make consumers see you as an expert in that given niche.
Allow you to curate a product selection that commands a premium price.
Help you compete with retail giants like Amazon without having their huge inventory.
To learn more, check out our comprehensive blog post How To Find the Best Dropshipping Niches.
Searching for niches in Google Trends is different than doing product or brand research. The search terms you use have to be broader – you're casting a wider net. They have to cover a wider variety of potential products, product categories, or brands.
Let's take a look at an example: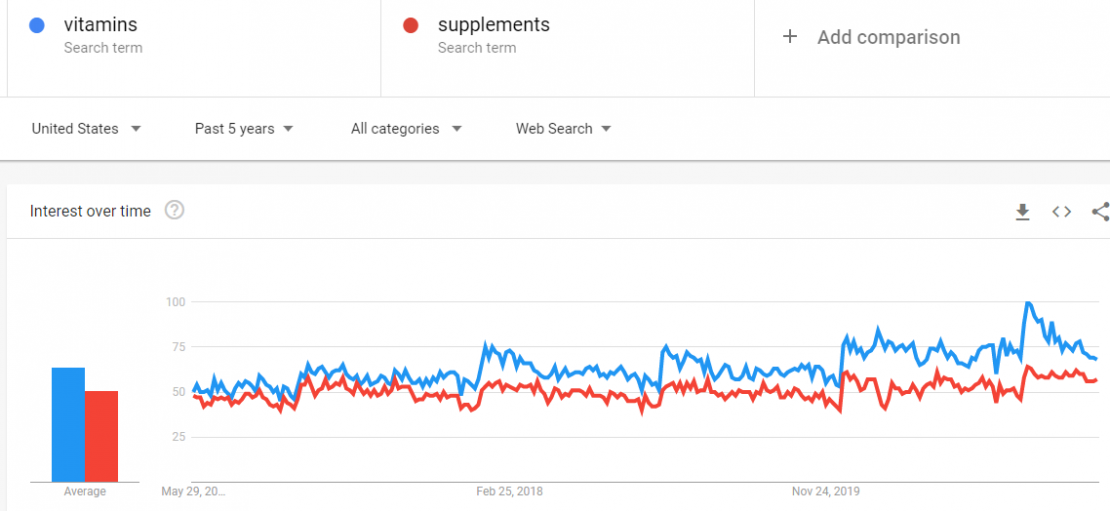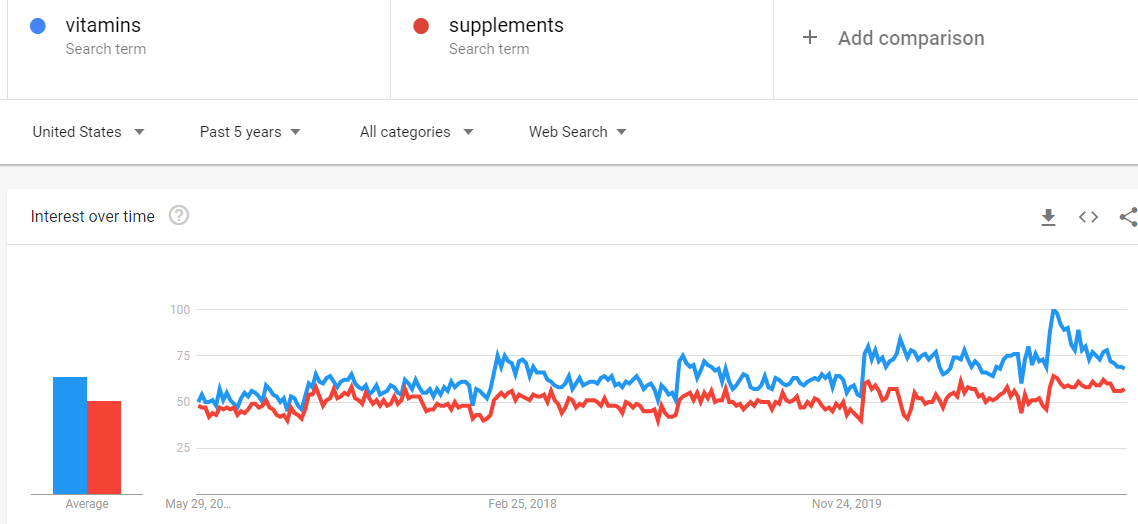 The data shows that there's a healthy amount of search interest for both "vitamins" and "supplements". Plus, the data goes back 5 years, so you can deduce that this search interest is sustainable.
Since they both show consistent search interest and are related product categories, we can group them together into a "vitamins and supplements" niche. Based on the data, it certainly looks promising and dropshipping supplements could make your store highly profitable.
Now that we have a general "vitamins and supplements" niche, let's get more specific. You can dig a little deeper and identify more niches that fall under the wider "vitamins and supplements" niche: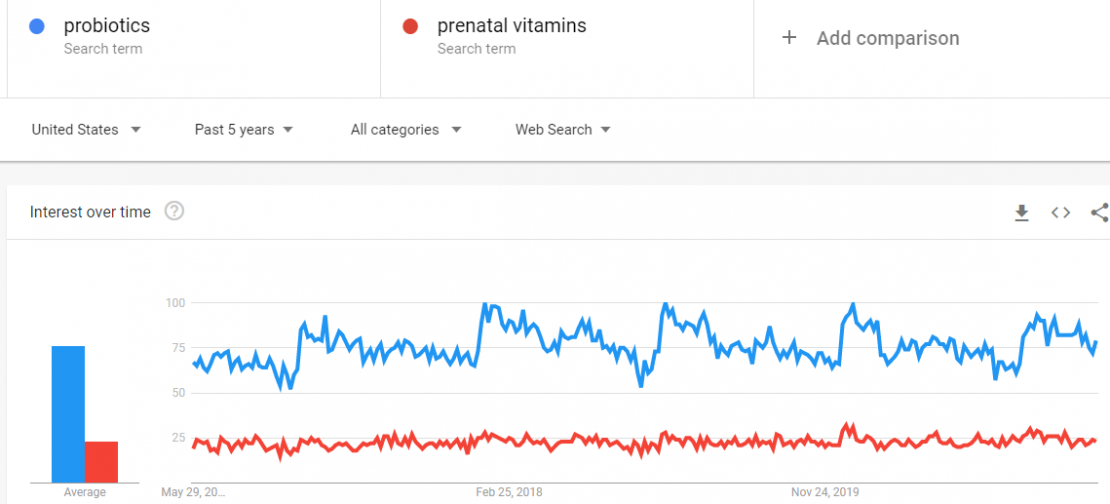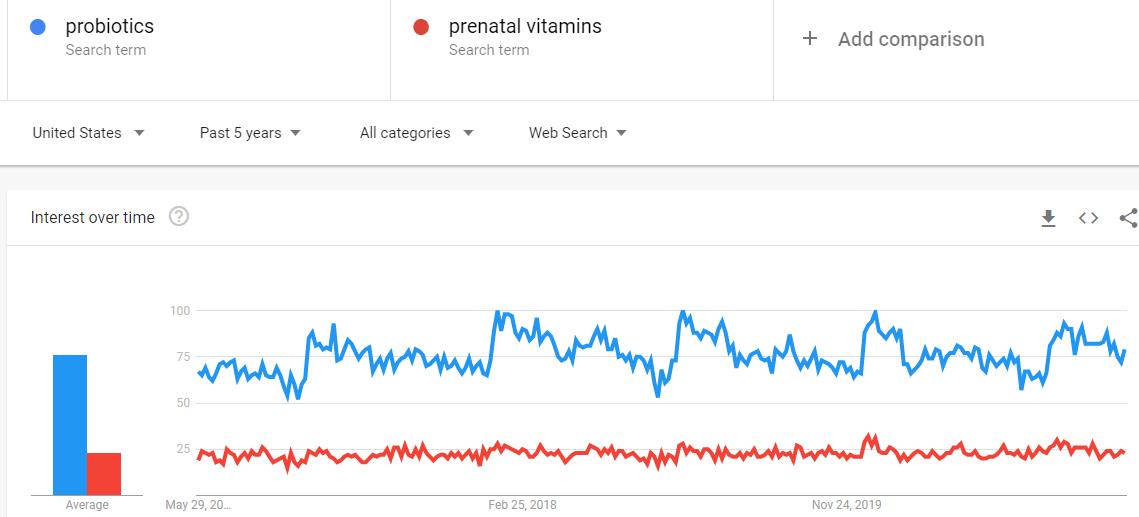 We've narrowed our search a little bit. Both "probiotics" and "prenatal vitamins" fall under the "vitamins and supplements" niche, but they're a little more targeted.
While "probiotics" does have a higher relative search volume, "prenatal vitamins" is incredibly consistent. This means that there is a near-constant demand for these products, making both of these niches pretty strong candidates for your dropshipping store.
You could also combine multiple product categories into another niche. For example, if you decide to dropship prenatal vitamins, you could hypothetically offer them in a baby products store.
You could also choose related niches like fitness products, bodybuilding supplements, sleep aids, or immune-boosting supplements.
Finally, make sure you check the Related topics and Related queries sections to find great ideas for more potential niches. This is exactly why Google Trends is such a powerful tool for dropshipping!
2. Find Products Or Brands To Sell
So you've used Google Trends to identify a dropshipping niche. That's great! You're well on your way to building a profitable online store. Now it's time to move on to the next step.
As we discussed above, finding a dropshipping niche with Google Trends is all about casting a wider net. But if you want to find specific products to dropship, you'll have to make your search narrower.
Remember this basic Google Trends strategy: start big and then go small. In other words, you should cast a wider "net" and then slowly make it narrower. Over time, you can make your searches more and more targeted.
If you find lots of great products, you could even build a few smaller stores that cater to very specific target audiences. This is generally the best approach for a profitable dropshipping store: offer a curated selection to consumers.
Let's practice this strategy! We'll continue with the "vitamins and supplements" niche and look at some related data, only this time we'll be researching product types: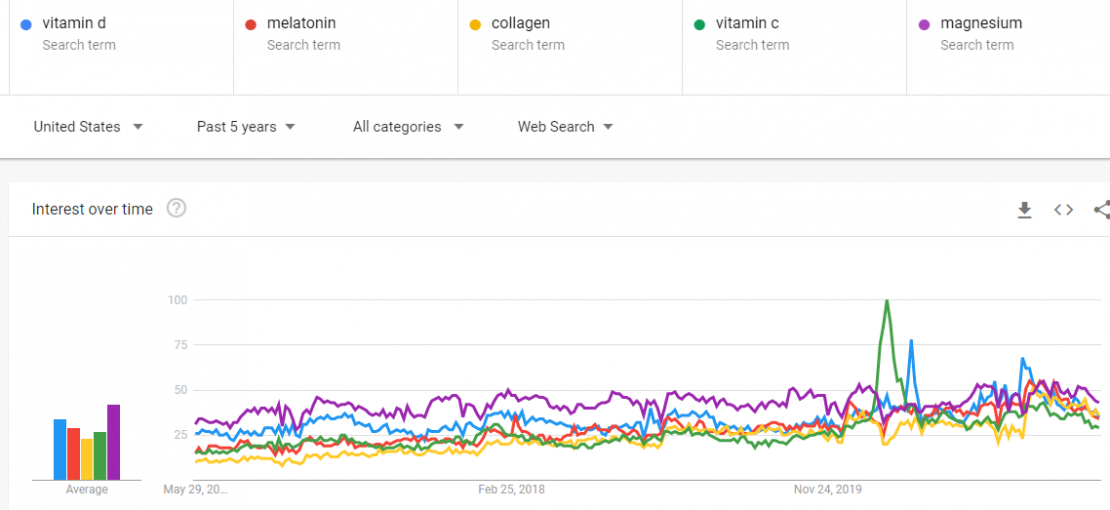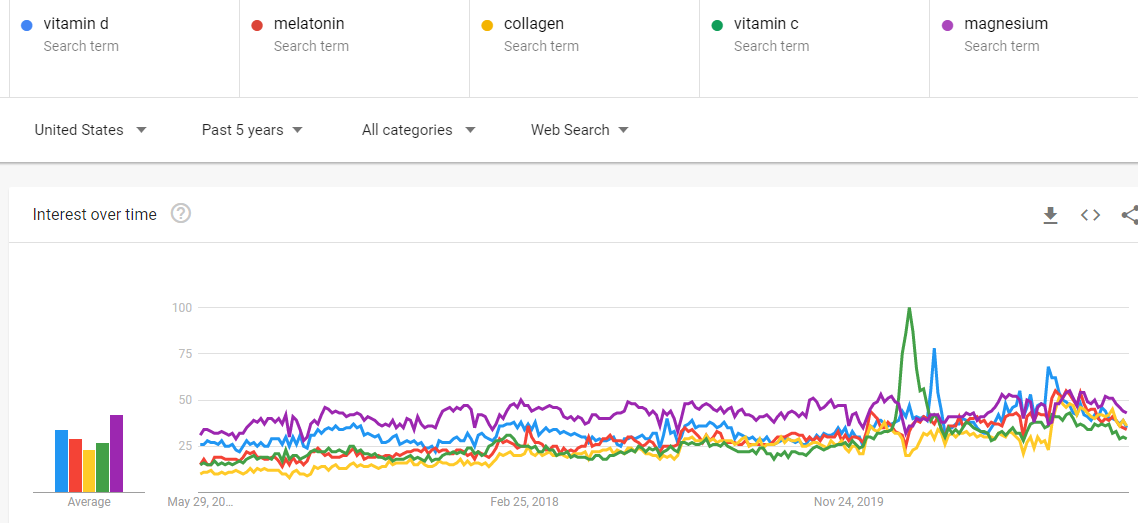 Each of the search terms – vitamin D, melatonin, collagen, vitamin C, or magnesium – all show either healthy growth or consistent interest. This means they all have the potential to turn a profit in your dropshipping store.
If you decide to sell any or all of them, you'll still be operating in the same niche: "vitamins and supplements". But these are product types, so it's a more targeted set of data.
Now you can go even narrower and start looking for specific brands or products to sell in the "vitamins and supplements" niche: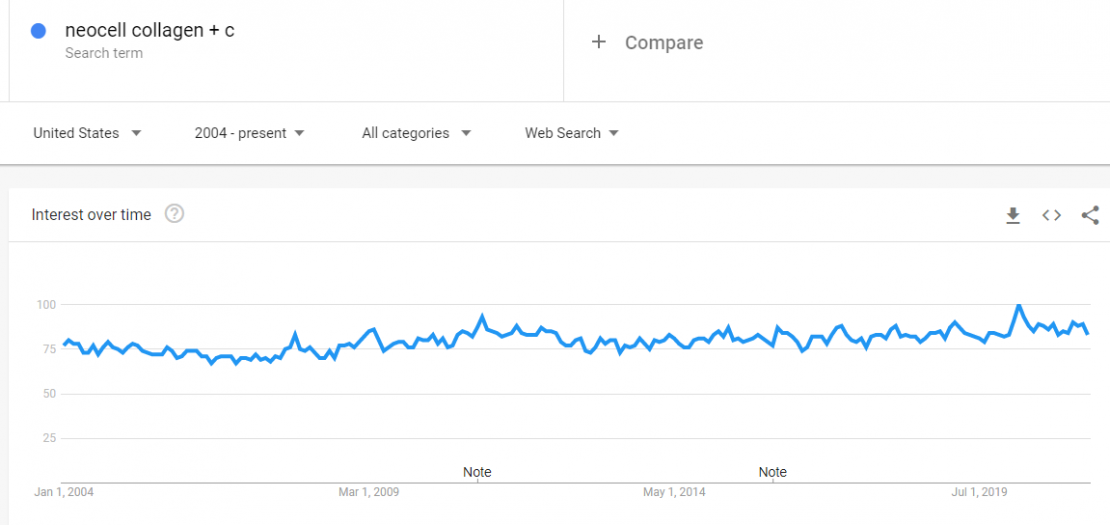 "NeoCell Collagen + C" is a popular collagen supplement from NeoCell. We can see that the search interest has remained remarkably consistent since 2004. That means that this product has enjoyed strong and steady search interest for over 15 years now!
Using this basic Google Trends strategy – start big and go small – we've identified some promising candidates for your vitamins and supplements dropshipping store, including multiple product types and one specific product.
3. Research Keyword Search Volume With SEMRush
Google Trends is incredibly good at showing you trends and relative data. By definition, this means that it's best at giving you the big picture or identifying general consumer behavior. If you really want to get specific and see raw search data, you'll have to combine it with other tools. This is when it's most effective.
Let's start with SEMRush. This tool gives you the number of monthly Google searches for a specific keyword or keyphrase.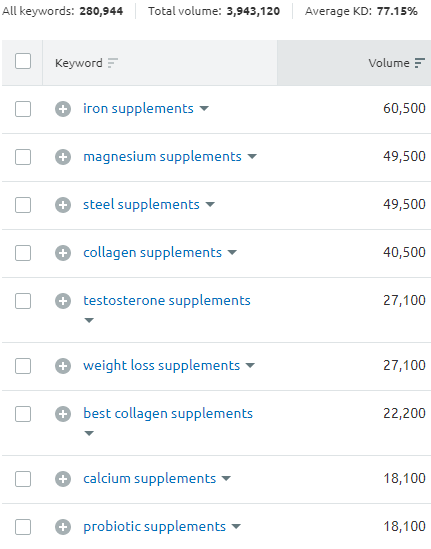 This is the search data for the term "supplements".
Google Trends gives you relative data (from 0 to 100) while SEMRush gives you the raw number of searches. That means there were nearly 60.5k searches for "iron supplements" in the past month, 49.5k for "magnesium supplements", and so on.
Plus, you can see that the total search volume for all related keywords and phrases is nearly 4 million!
When used in combination with Google Trends, it can give you a really detailed picture of consumer interest. You can also make the search even narrower: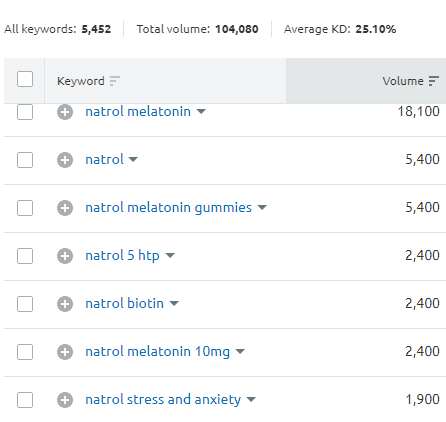 This is the SEMRush data for "Natrol", a specific brand of supplements. You can see which of its products has the most monthly searches. If you decide to start a dropshipping store in the "vitamins and supplements" niche, then you can choose a dropshipping supplier that carries Natrol products.
SEMRush is not free, but you do get 10 free searches every 24 hours. A nifty hack for getting the most out of this free version is to use different email addresses. This is because each email login gives you 10 free searches. Let's say you use 3 email addresses, then you get 30 free searches a day.
4. Cross-Reference The Data With Other Tools
If you use the Chrome browser, you can download the Trends: Dropship Assistant Tool. This extension allows you to access Google Trends data with just a click of a button.
From there, you can use it in one of two ways:
Browse products on AliExpress and click on Trends to see all the Google Trends data.
Go to any website, select the text you're interested in, and choose Search Trends.
You don't have to use AliExpress as a dropshipping supplier to take advantage of their website. In fact, most online resellers prefer a US-based, domestic supplier.
However, you can still browse their selection to do your product and market research, especially with this handy Chrome extension.
Finally, you can use these additional tools to further refine your trends research:
Jungle Scout's Opportunity Finder. A paid tool that's optimized for Amazon dropshipping. You can still use it to find niches or products for a non-Amazon dropshipping store.
Moz. This search engine optimization (SEO) research tool has similar functionality to SEMRush. It primarily allows you to do keyword research.
Trend Watching. This periodical has a team of 3,000+ savvy "spotters" who look for trends and exciting products with lots of sales potential.
Trend Hunter. This online publication focuses on identifying emerging trends via regularly published Trend Reports and Consumer Insights, some of which are free.
If you use the above tools with Google Trends, then you'll get the most accurate, up-to-date, and useful picture of how the eCommerce market really looks and what consumers actually want. That's a recipe for retail success!
5. Research Your Competition
This is another neat trick with Google Trends: it's a great (and free) way to do some good, old-fashioned competitor research.
So how does one do that, exactly? It's simple!
Let's say that you're an online coffee seller looking to get a leg up on your competition. In terms of brick-and-mortar stores, there's no doubt that your single greatest competitor will be the almighty Starbucks company, the ultimate giant in the coffee space.
In this case, go to Google Trends, type in Starbucks, and then check out the Related topics and Related queries sections:

Looking at the data, you can clearly see that consumers are very interested in seasonal coffee variants, most notably the ultra-popular "Pumpkin Spice".
This is definitely a strong trend for coffee buyers and drinkers, so now that you're aware of it, you can take advantage of it in your own dropshipping or eCommerce store.
Just make sure that you stock some fall and holiday flavors, especially some kind of pumpkin spice, and you'll potentially tap into this huge coffee-buying trend. You can also create all your marketing content around these concepts!
6. Use This Information To Choose A Dropshipping Supplier
Once you've done all this research and gathered all this information, you can get a better idea of the kind of dropshipping supplier you should choose.
If they fall under your chosen niche or offer the kinds of products you want to sell, then you can become a member and start dropshipping right away.
RELATED ARTICLE: Best Made In USA Wholesale Dropshippers & Wholesalers
GreenDropShip is a supplier that carries a wide selection of trending products that fall under many of these popular niches and product types.
We offer over 20,000 natural and organic products in niches like:
Groceries
Health & Wellness Products
Vitamins & Supplements
Fitness Supplements
Haircare
Skincare
Beauty Products
Essential Oils & Aromatherapy
Home Goods
Baby Products
Pet Supplies
We also offer a Shopify dropshipping app that makes it more convenient and easier than ever to dropship on Shopify!
Pay Attention To How You Type Your Search Terms!
Make sure you pay attention to how you type your search terms. Google Trends is very sensitive to grammar and punctuation – it's all in the details.
**Google Trends Expert Tip #1**
Let's look at an example: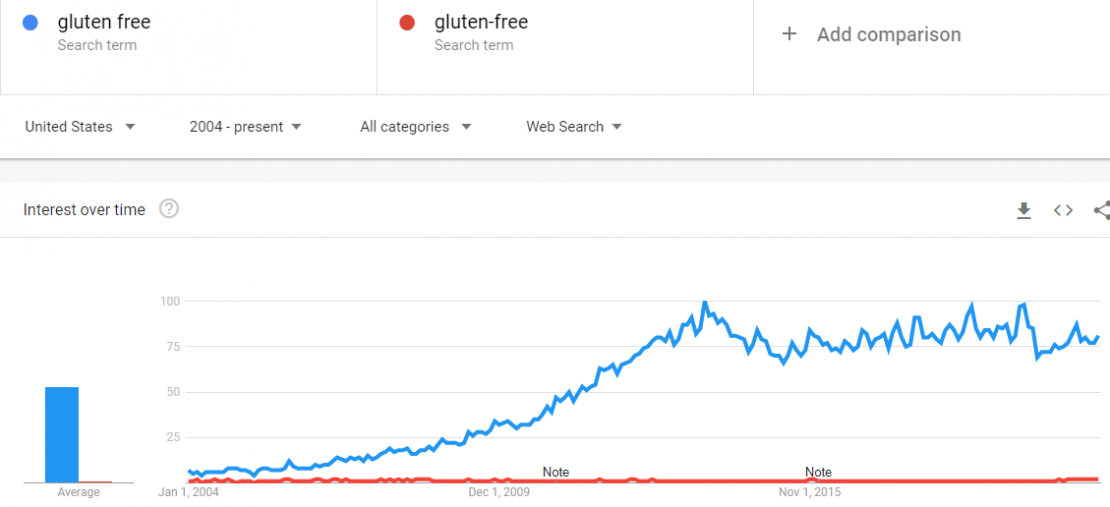 As you can see, hyphenating the search term gives you radically different results. It's obvious that most consumers type "gluten free" (with no hyphen) when they're searching online, so be extra aware of these kinds of details.
Funnily enough, "gluten-free" (with a hyphen) is technically the correct term! But it appears that most consumers don't know that and are actually using the "incorrect" version.
For another example of this, you'll see the same pattern if you search "plant based" versus "plant-based":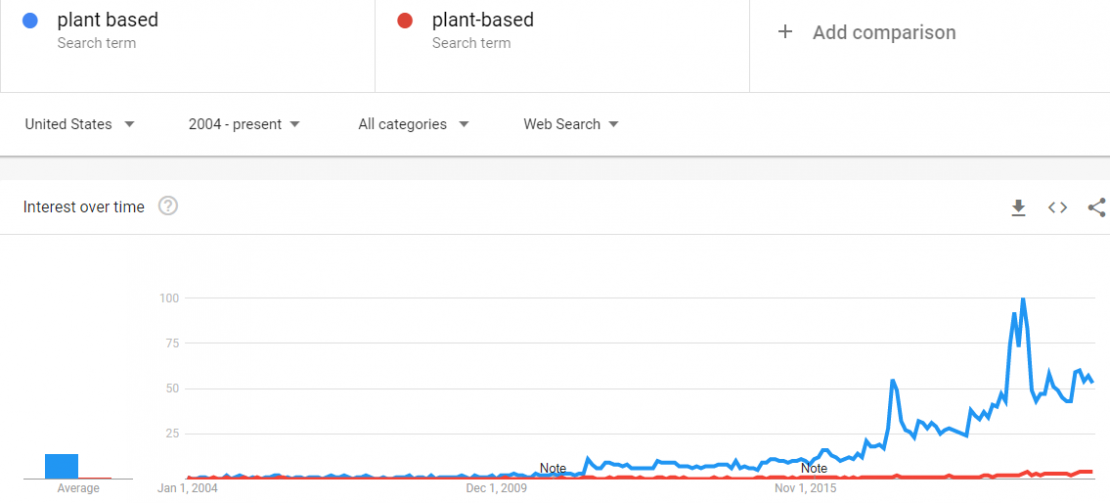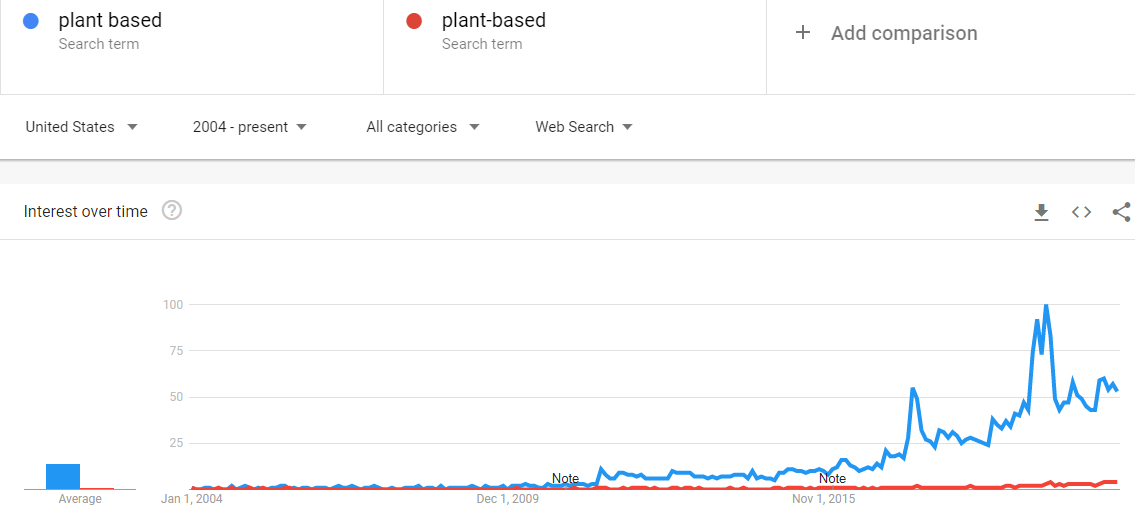 The version without the hyphen has much higher search interest, even if it's not grammatically correct.
If you do a search and you're getting results that seem unusual or unlikely, pay extra attention to how the keyword or keyphrase is spelled.
However, capitalizing the search terms won't make any difference. In other words, you'll get the exact same results if you type "gluten free" versus "Gluten Free".
**Google Trends Expert Tip #2**
If you want to effectively use Google Trends for your dropshipping store, make sure you consider search intent. This means that you might have to try different variations on the same search terms. This is closely related to the Related Topics & Related Queries section above.
Let's take a look at an example: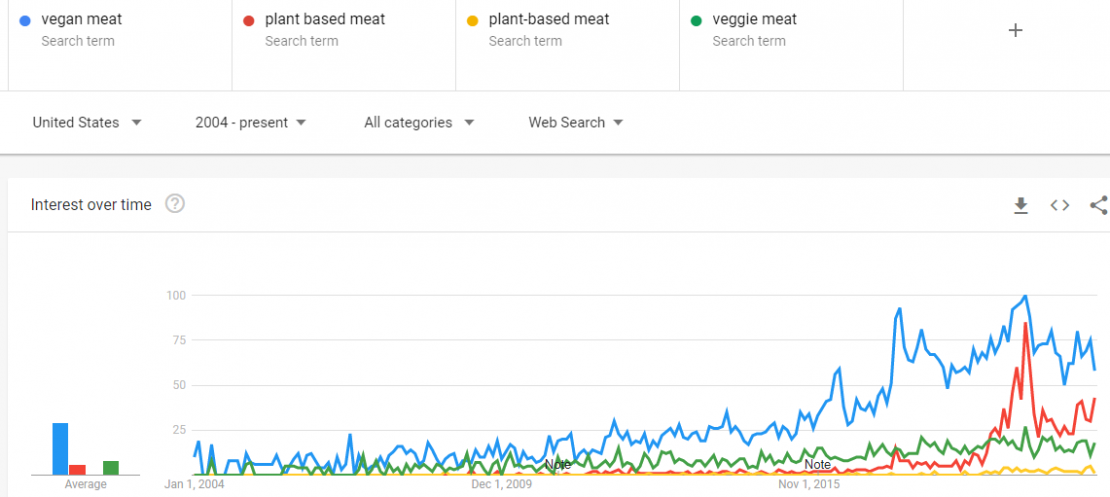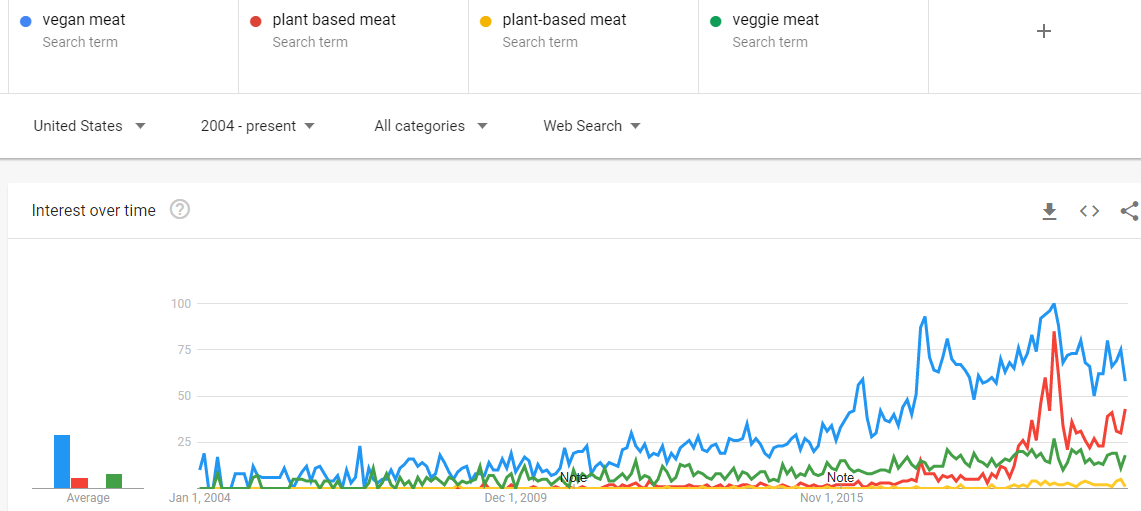 These search terms all mean the same thing: meat substitutes that aren't made from animals. However, there are different ways to say this, so people use different search terms that all have the same search intent.
Other possible terms include "vegetarian meat", "meat substitute", or "meat alternative". If you want to get really specific, you could even research vegan meat brands like "Beyond Meat" or "Impossible Foods".
Remember, it's all about search intent. This means you may have to do some creative thinking about what consumers actually mean to search.
To get the most accurate data, try different keywords or key phrases that are all related. This will give you a fuller, more useful picture of what the search interest actually is.
Google Trends is a powerful tool for dropshipping, so make sure you take full advantage of its capabilities!
What Are The Different Types Of Trends I'll See?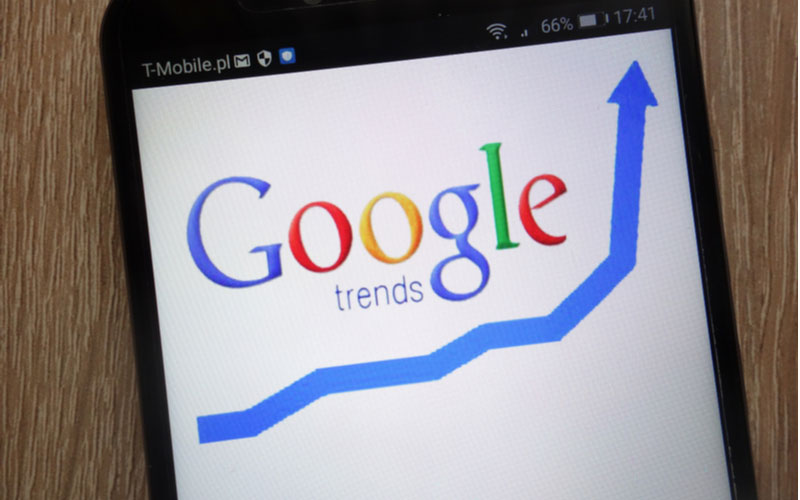 Remember, you can use Google Trends to track search interest for product types, niches, specific products, and – in some cases – even brands. It's extremely versatile and you can get a lot of useful information if you know what to look for.
First of all, you need to keep an eye on the actual steepness of the growth curve. Remember: The steeper the curve, the faster the growth. It's best to find a product that's balanced somewhere between healthy, sustainable growth and high popularity.
Nice and smooth growth is usually – but not always – more sustainable than a drastic curve upwards. However, it's natural for trends to have peaks and valleys as long as you still have strong growth or interest.
It's all about the big picture. Don't forget that it's actually normal for the popularity of niches, products, or brands to go through cycles.
That being said, you'll see different kinds of trends during the course of your research. The shapes of these graphs will tell you a lot about what you need to know to choose the right niche or products for your dropshipping store.
So let's break down the types of trends that you'll see!
1. Consistently High Over Time
These are niches or products that have consistently high search interest over a given period of time. This means that consumer interest is already well established and they're probably a pretty sure bet.
Let's look at our first example: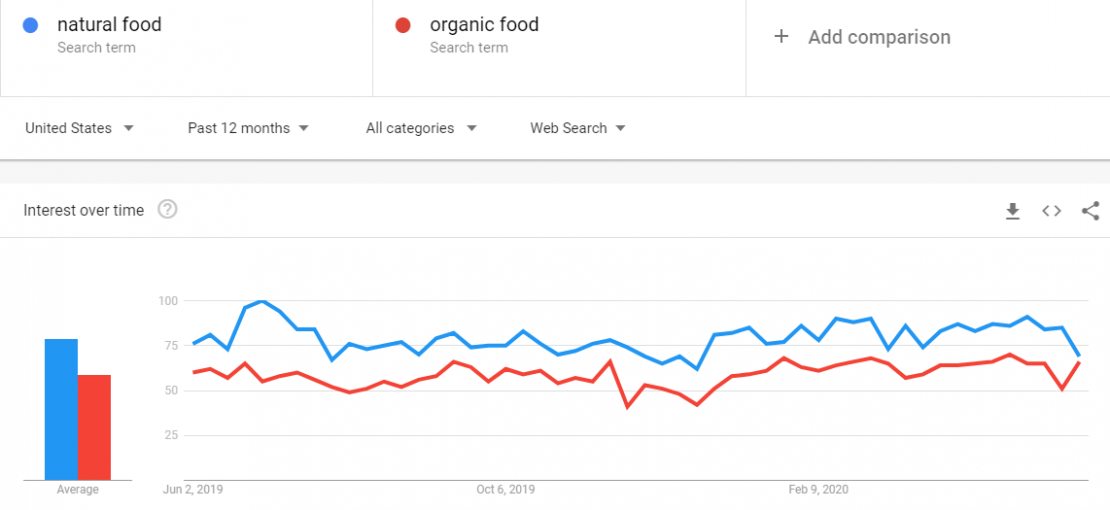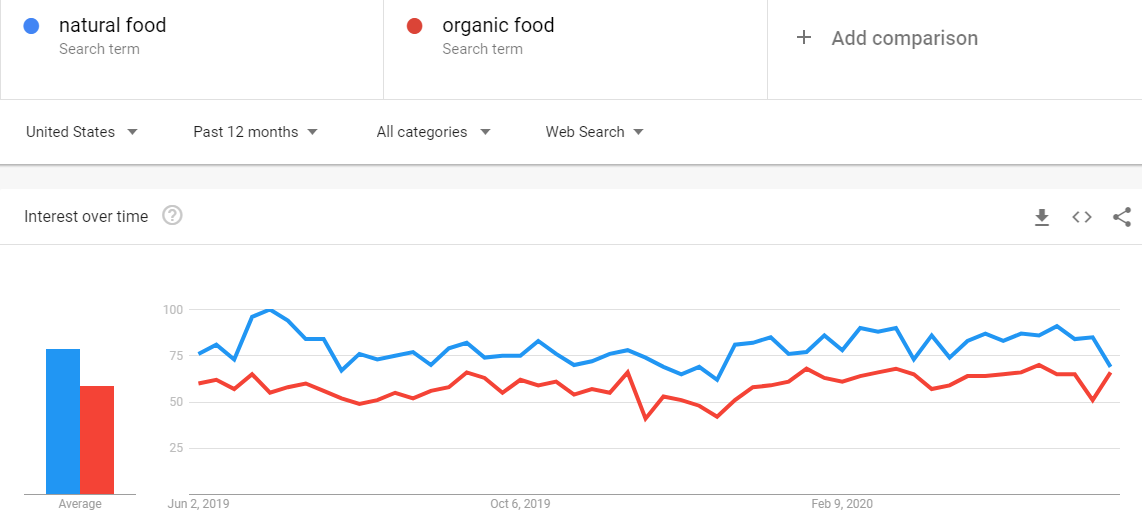 As you can see, both search terms have stayed consistently high over time. The data shows that the natural or organic food niches could be solid additions to any dropshipping store.
Let's take a look at a more complex set of data – search interest between five different zero-calorie sweeteners: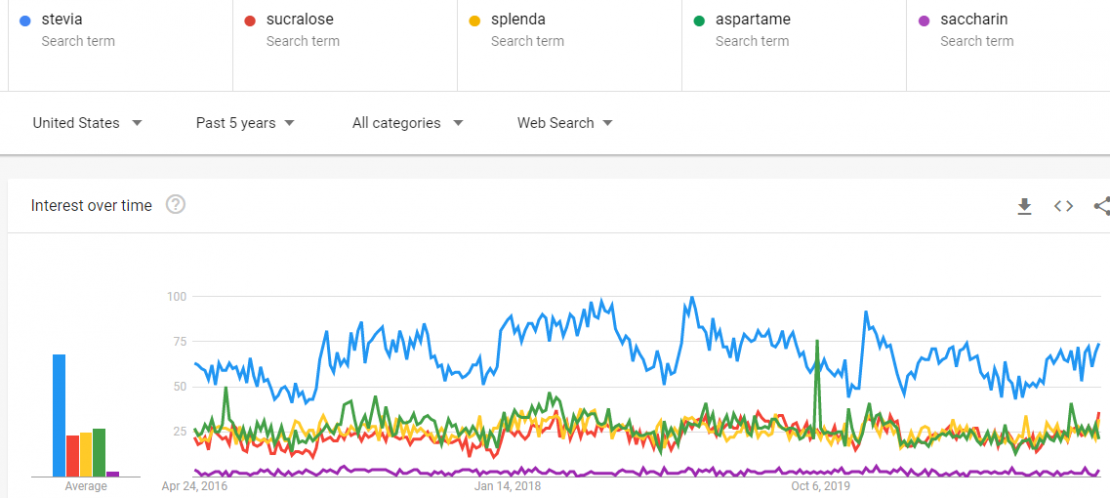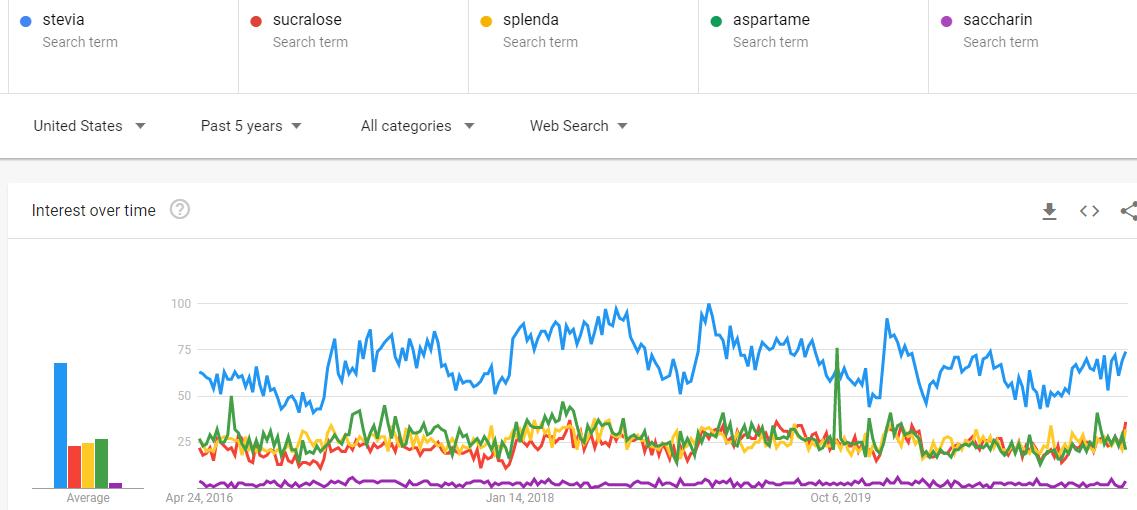 Stevia has been consistently popular over the past 5 years (although it's had some ups and downs). It's had more search interest than the other sweeteners, except for one brief moment in late 2019 when aspartame surpassed its search volume.
If you'd like to learn more about these topics, be sure to check out our following blog posts:
2. Increasing Steadily Over Time
You probably remember the fable about the tortoise and the hare. In it, the tortoise ends up beating the hare because it goes "slow and steady" while the hare surges forward and then slows down. This is where the saying Slow and steady wins the race comes from.
The same applies to Google trends data. In many cases, a niche or product that grows steadily over time is a better bet than one that surges up in popularity, only to come crashing back down at a later point in time.
Let's take a look at niches, brands, or products that have shown steady growth over time. They should be solid additions to your dropshipping store because they'll probably be profitable while being less likely to crash in popularity or turn into a passing fad.
Let's take a look at our first example: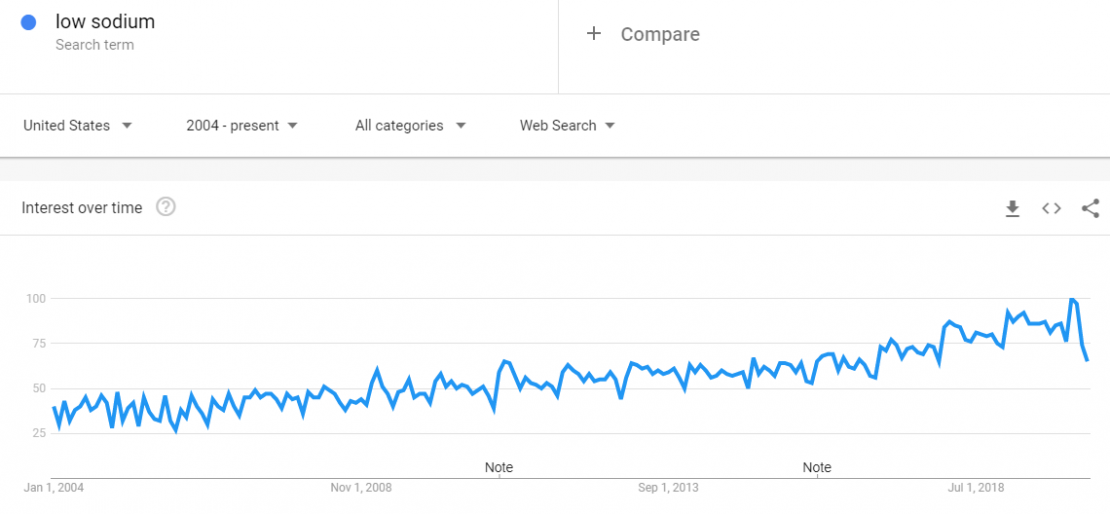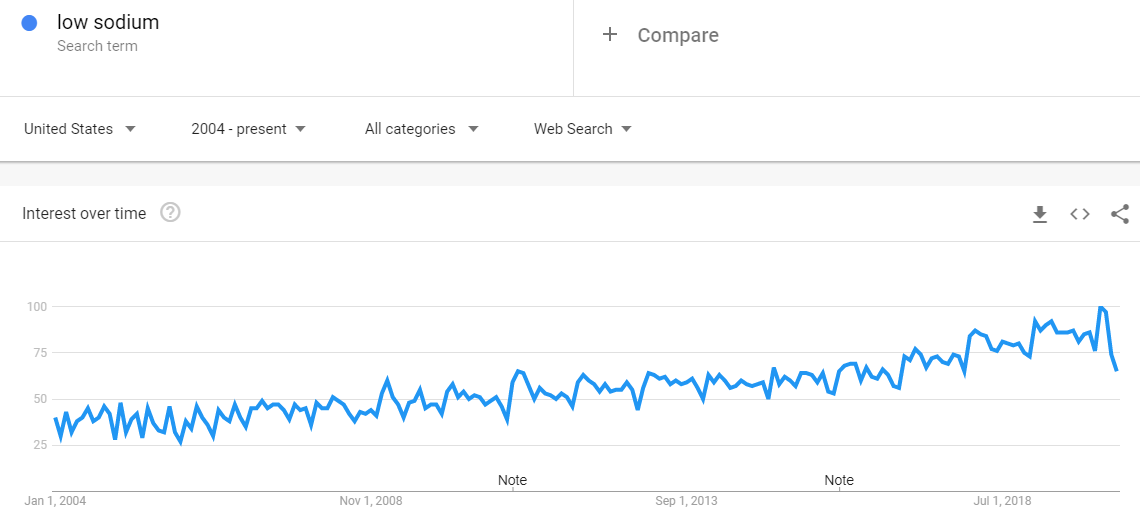 There are little peaks and valleys in the search volume for "low sodium", but over time the trend has definitely increased. Remember, some trends go through smaller cycles of interest and popularity. This is perfectly natural, so make sure you always pay attention to the big picture.
You can also interpret "low sodium" to mean multiple niches or product types. For example, it could hypothetically be a grocery niche that you specialize in. It could also fall under the wider categories of "health food" or even "natural food" since processed foods have lots of sodium.
This means that how you phrase your search terms will influence the data. Plus, how you interpret the data will influence your choices in niches and products.
Both of these are crucial parts of setting up your dropshipping store. For example, if you decide to sell low-sodium groceries, you'll have to choose a grocery distributor that offers these products.
Let's take a look at another example: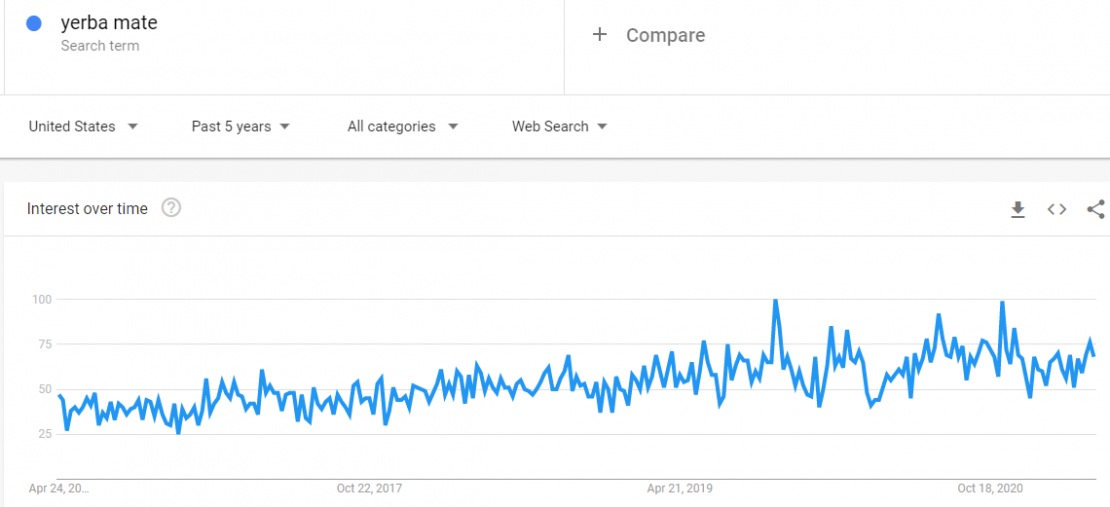 Yerba mate is a caffeinated drink from the Amazon that's similar to tea. It's extremely popular with health and natural food enthusiasts as a healthier alternative to coffee.
This graph's a little trickier since it's not totally smooth. Seeing how jagged it is, and how flat the curve is, might make it seem like it's a risky bet. However, "yerba mate" has definitely been increasing in search interest. It's strong, steady growth that's been consistent for the past 5 years.
Ultimately, this beverage is very popular with a certain type of consumer, but it's possible that it hasn't had its moment in the spotlight yet. However, we may not be getting the full picture with just this data.
Do you remember the Google Trends strategy described earlier in this article? Start with a wider net and then narrow your search.
So let's narrow our search with SEMRush and take a look at the search volume for Guayaki, the most popular brand of yerba mate: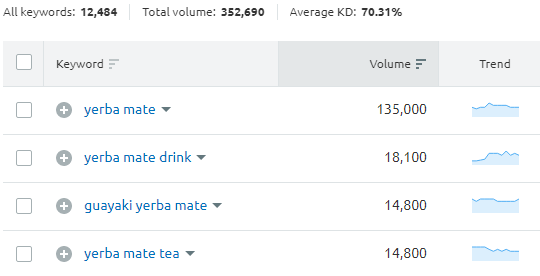 The total volume of monthly Google searches for "yerba mate" and all related phrases is an astonishing 353k! Plus, you can see that "guayaki yerba mate" has nearly 33k, an impressive number by any scale.
Always remember that Google Trends tracks search data that's relative, not absolute. This is why it's so useful in identifying trends.
If you'd like to learn more about yerba mate products, be sure to check out Top Wholesale Yerba Maté Products to Sell Online.
3. Increasing Quickly Over A Short Period Of Time
These are niches, brands, or products that have shown quick growth over a relatively short period of time. These can be highly profitable, but you do have to remember that any quick period of growth may be a passing fad.
You want to keep an eye out for a growth curve that's more steady and consistent than steep and drastic.
For instance, let's start with vegan protein powder: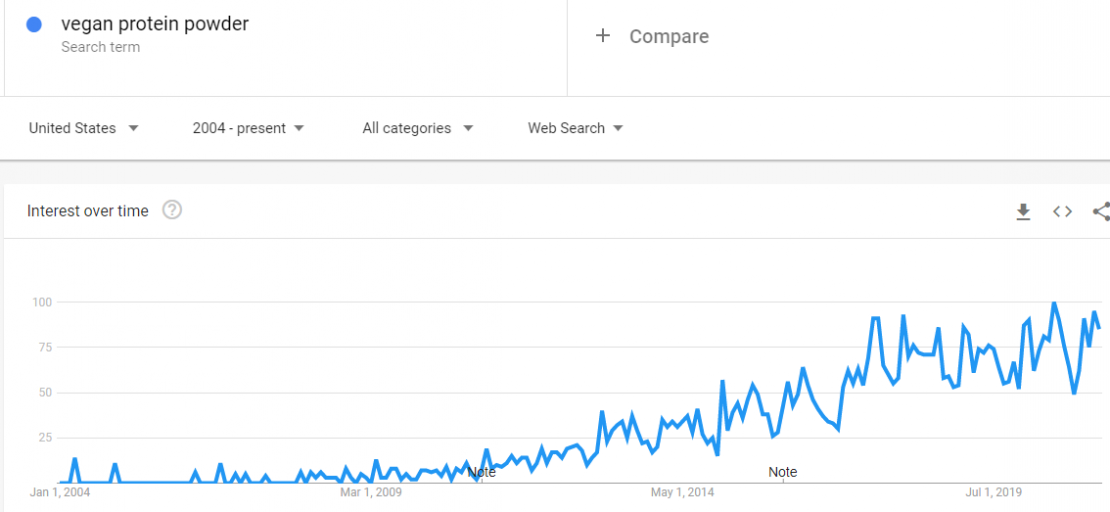 Sometime around 2010, the search interest for "vegan protein powder" started growing rapidly. There are peaks and valleys afterward, but overall growth is consistent and strong.
You always have to keep in mind that health and fitness products go through cycles of popularity. This is because consumers want to get in shape but then they frequently lag behind until they dedicate themselves again.
Either way, there will always be a core group of fitness enthusiasts who will stick to their guns and work out consistently.
Within this wider group, you'll also have vegans and vegetarians who prefer plant-based protein. Veganism is a lifestyle and a moral choice for many consumers, so they'll stick with those products no matter what.
Let's also take a look at another plant-based food product: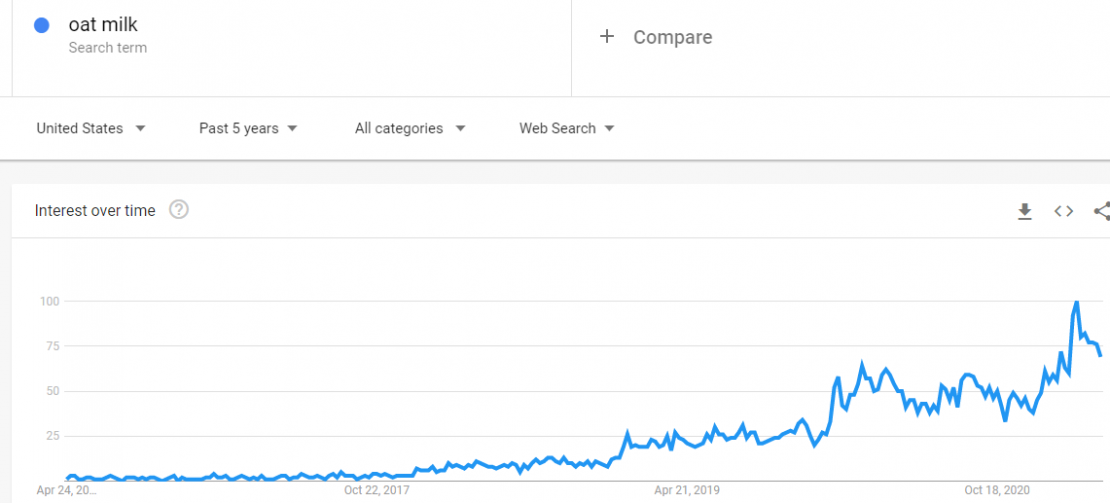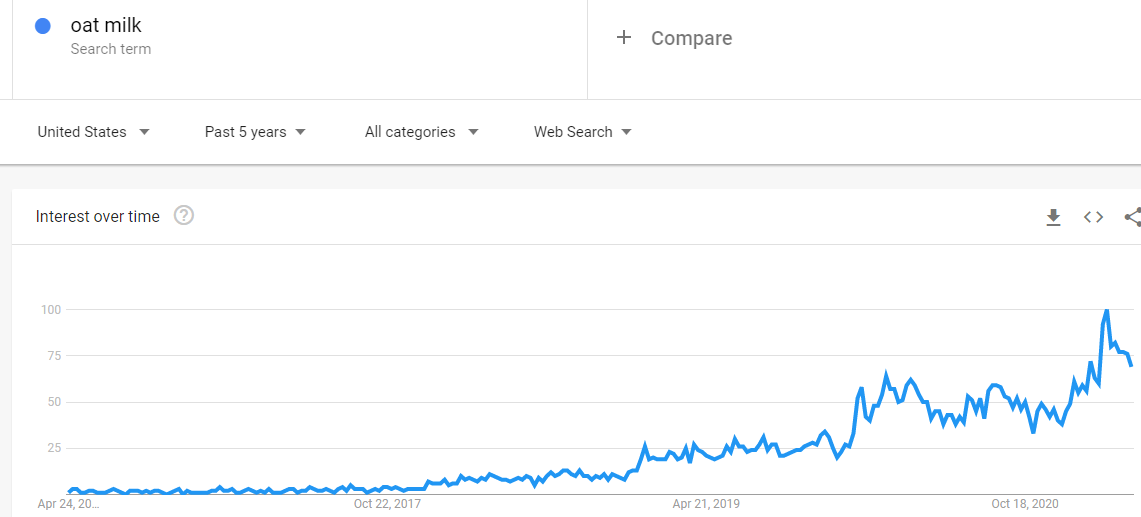 Search interest just recently increased because oat milk is a newer product. It wasn't really around a decade ago when almond or soy milk was the preferred form of plant-based milk.
Still, you see a similar curve to the data as with "vegan protein powder". It has just the right amount of strong growth and it doesn't appear to be a passing fad.
Let's take a look at some data comparing multiple kinds of plant-based milk: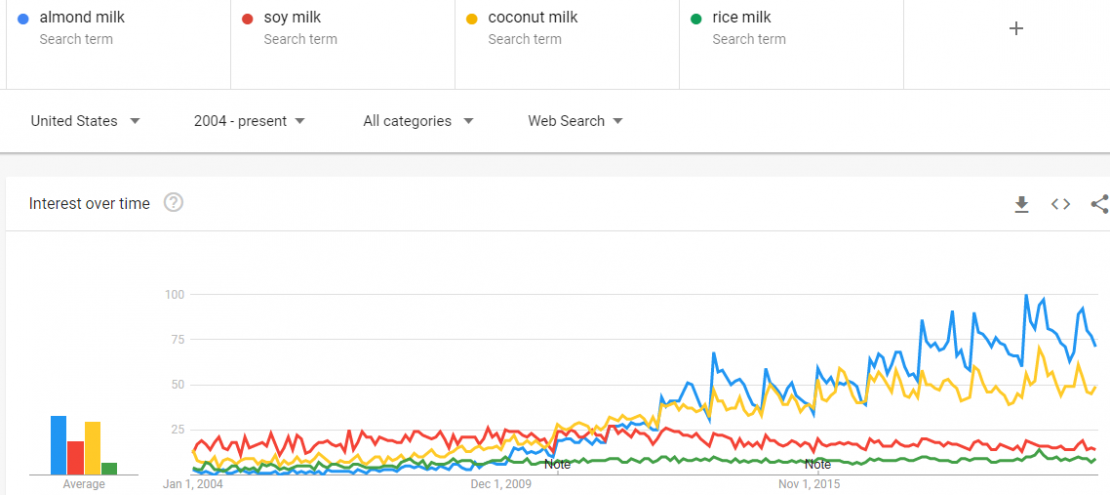 This actually shows a lot of useful information. "Almond milk" and "coconut milk" both exploded in popularity around 2010 and have grown steadily since then. This matches what we learned from "vegan protein powder": plant-based foods started getting trendy about a decade ago.
However, "soy milk" and "rice milk" have lower search volumes and didn't explode in popularity like "almond milk" and "coconut milk". This doesn't mean that they can't be profitable though!
Remember, their search volumes are low relative to "almond milk" and "coconut milk". If you use SEMRush to investigate their monthly searches, you'll see that the raw numbers are pretty high. "Soy milk" has nearly 377k monthly searches and "rice milk" has nearly 116k!
Plus, they may not be as trendy, but they've actually had very consistent search interest since 2004. That means that they're product types in the larger plant-based milk niche with consistent and steady consumer interest.
To learn more about these trends, make sure you check out some of our blog posts:
4. Seasonal Trends
In some ways, these are the most interesting types of trends since they require the most deduction on your part. Essentially, seasonal trends go through patterns or cycles that coincide with a specific time of year. In most cases, this is some sort of important holiday or season.
Let's start with a pretty general search term: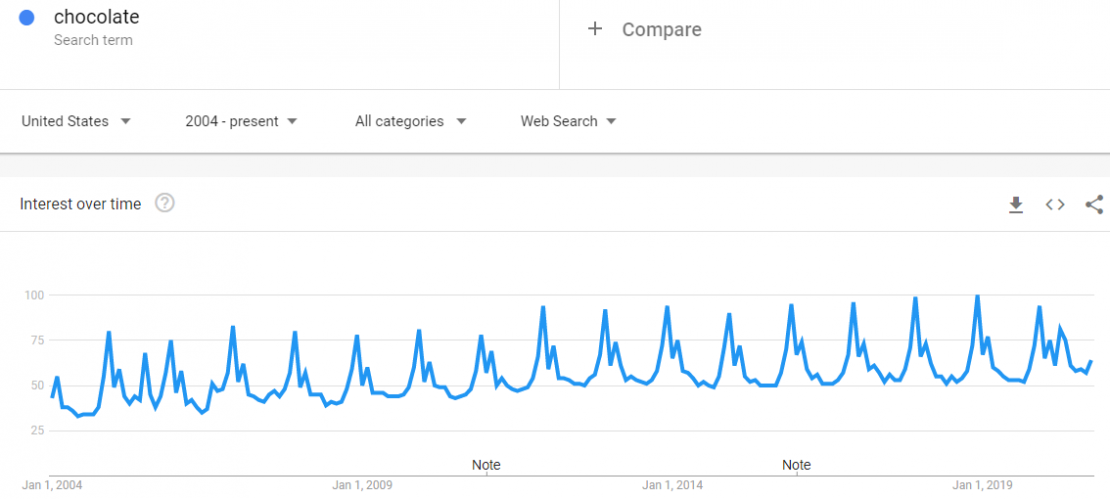 "Chocolate" is a perfect example of a seasonal trend. First of all, it goes all the way back to 2004, meaning that the trend is incredibly consistent. Everyone loves chocolate, so it's remained virtually unchanged for over 15 years.
Plus, you see that the peaks in search interest for chocolate actually coincide with two different periods of time.
The first, larger peak comes right around Christmastime. This makes sense, considering that chocolates and sweets become extremely popular during the holidays.
Then there's a second, smaller peak that coincides with February and Valentine's Day, which is a time when chocolates and sweets also sell well.
This is a really steady, consistent seasonal trend – you could set your calendar to it! But let's also take at some data that's a combination of two trends – a sharp increase plus cyclical seasons: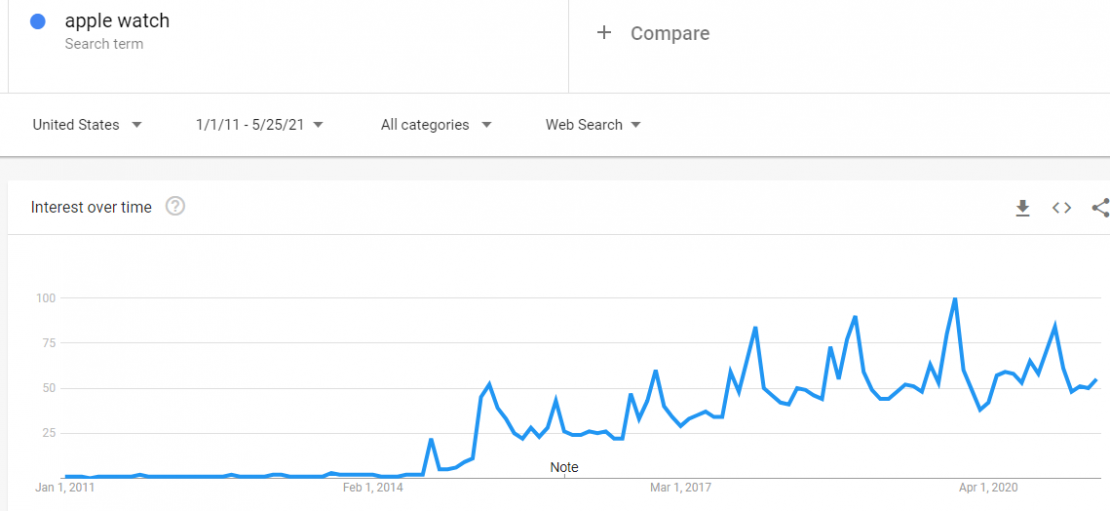 The Apple Watch is a newer product that's become extremely trendy, especially among tech enthusiasts or Apple fans. Remember, this is a company that inspires a devoted and loyal fan base.
We can see that search interest for "apple watch" pretty quickly exploded as soon as they hit the market. What's fascinating, however, is that there are two peaks that are right next to each other. It appears as if the first peak is in December, coinciding with Christmastime.
Interestingly, the second peak follows shortly after, sometime in early to mid-January. This is when people make New Year's resolutions to get in shape and Apple Watches can help you track your fitness progress.
Most likely, people get Apple gift cards, wait until the holiday indulgences are over, and then commit to exercise in the New Year.
In fact, this trend can be observed across all kinds of niches, products, and brands. Search interest in fitness- or health-related search terms plummets during the holidays. Then, once the New Year hits, they skyrocket back up.
Let's take a look at one more example: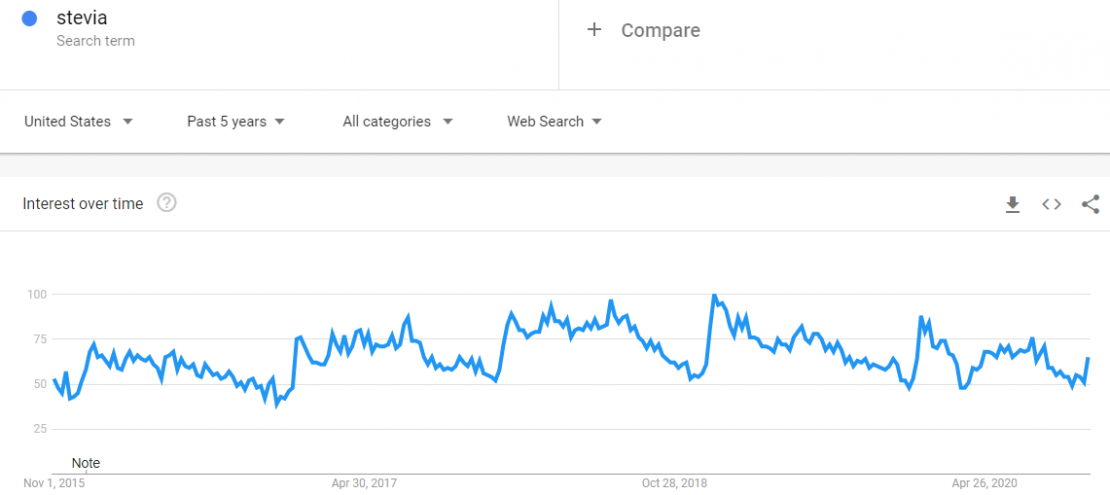 We've already looked at "stevia" compared to other sweeteners, but here we see it on its own. Going back 5 years, you can see that it follows a seasonal pattern:
Search interest decreases in December (during the holidays).
It increases sharply in January (everyone wants to get in shape).
It stays fairly consistent through summer when people want to work on their beach bods.
If you're looking at seasonal data for Google Trends, you'll have to be a little creative in your analysis. You might even need to think outside the box a little.
However, if you identify these cycles, then you can hop on product trends before the market hits saturation. As a matter of fact, you could even be ahead of the curve and predict what consumers will want.
RELATED ARTICLES:
5. A Fad That's Already Come And Gone
These are niches, brands, or products that you want to avoid at all costs! Luckily, these are the easiest to identify, so let's take a look at some examples: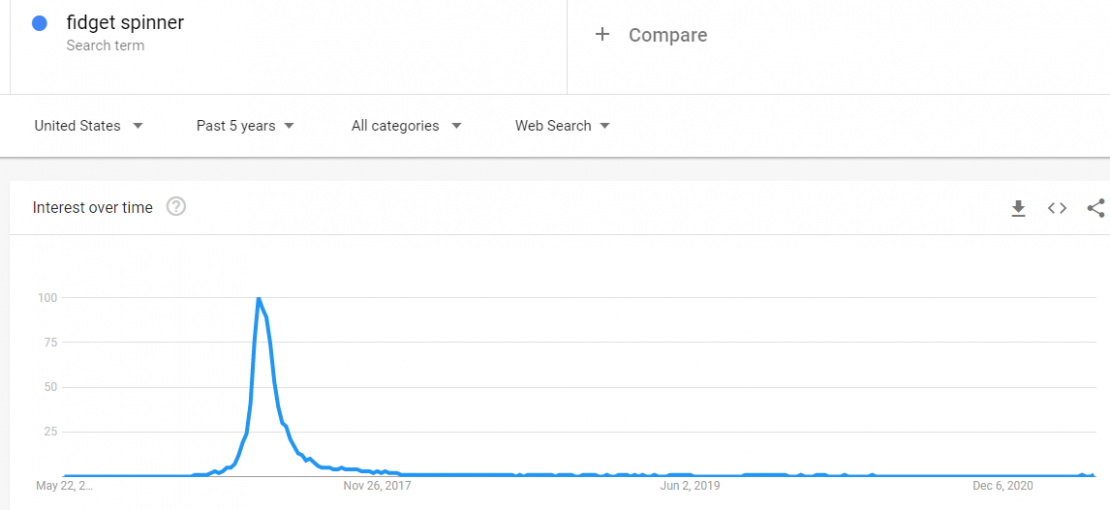 Fidget spinners seemed to be everywhere just a few years ago. If you have kids under the age of 10 or you're a school teacher, you've almost certainly heard of them. You might even hate those little toys!
This wasn't really a trend – it was more like a flash in the pan. The time of the fidget spinner has already come and gone.
They quickly gained traction in late 2017 (around the start of the school year), peaked in the fall, and fell off before Christmas. For some parents and teachers, this was probably welcome news.
Look at how steep the growth curve is – they essentially exploded in popularity overnight. If a growth curve is that steep, it probably isn't sustainable or lasting growth. It's probably just a fad.
Let's also take a look at another, more recent example: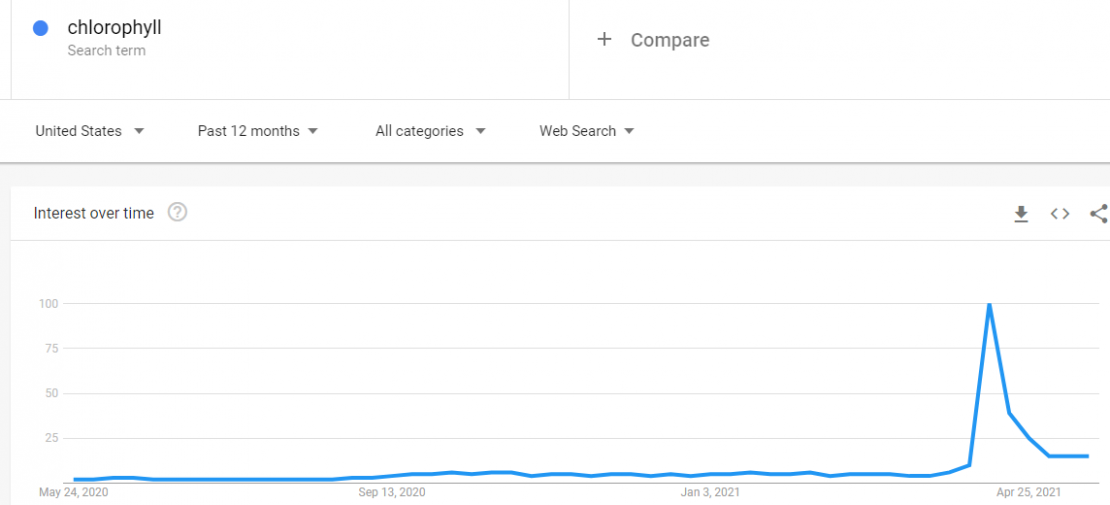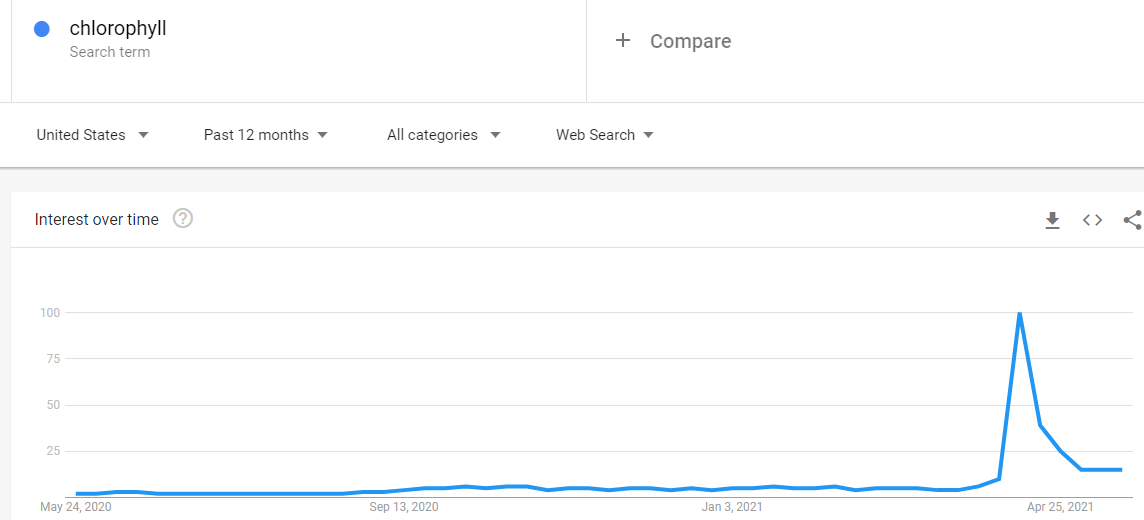 In this context, we're not referring to chlorophyll in a botanical sense. Instead, this refers to "chlorophyll" that's used as a health supplement.
However, unlike other supplements that we've looked at, "chlorophyll" seems to have no real lasting power – the search interest has already burned out in the past month or so.
These are niches, brands, or products that you should avoid. Of course, having a dropshipping store means that you'll never get stuck with an unsold surplus – it's your dropshipping supplier that has to deal with inventory, not you.
But if you still go through all the trouble of starting a store and the items don't sell, then you might get frustrated and think that dropshipping simply isn't profitable. This isn't true! You just have to choose the right niche and the right products.
Finally, let's take a look at a graph that combines two different types of trends – seasonal and a fad that's already passed: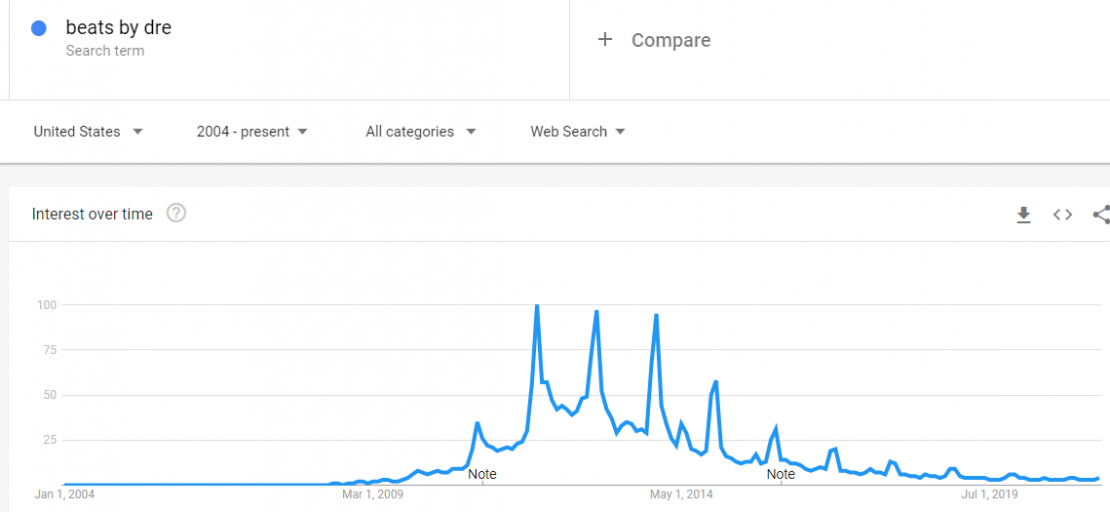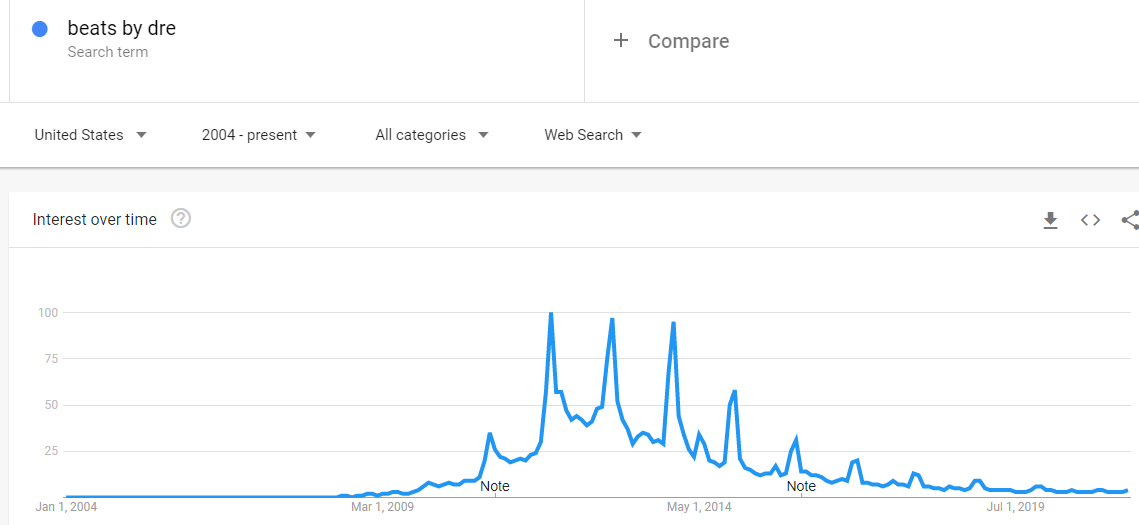 As you can see, when "Beats By Dre" came out about 2010, they quickly became extremely popular. This popularity came in cycles, with each peak coinciding with the holiday shopping season in December.
There were three holiday seasons in a row where they were extremely popular as gifts (2011, 2012, 2013). However, by 2014 the peaks kept getting lower and lower. Now they've virtually disappeared, a surefire sign that the fad has already come and gone.
Find Trending Products With GreenDropShip
GreenDropShip is a US-based wholesaler and dropshipping supplier with over 20,000 natural and organic products.
Most of these are made in the USA and we have a wide variety of trending products in our inventory. We pay close attention to what consumers are interested in and then offer these products to our members at wholesale prices.
This includes a huge selection of brand-name specialty and gourmet goods, including:
Beverages like coffee, tea, kombucha, yerba mate, natural soda, and juices
Organic sugar and natural sweeteners
Dairy and plant-based milk
Baking ingredients, including different types of flour
Sauces, marinades, and dressings
Spices and ingredients
Vegan, vegetarian, and plant-based goods
Vitamins and supplements
Skincare, haircare, and beauty products
Baby products
Home products like detergents, soaps, and cleaning supplies
Pet food, treats, and supplements
Essential oils and aromatherapy
If you have a dropshipping store, you can become a member and we store, pack, and ship the food to your customers. We store everything in a climate-controlled warehouse and use innovative packaging to always keep products super fresh.
We also have multiple warehouses throughout the country so that our shipping times are always short and your customers get their products faster.
GreenDropShip also functions as a conventional wholesaler, meaning you can purchase these products in bulk from us and we'll ship them to you. Of course, you'll be responsible for storing, packing, and shipping them to your customers.
We also offer a dropshipping app for Shopify that makes it easier than ever to add all these products to your store.
If you'd rather not use the app, we offer product feeds so you can still use our basic dropshipping platform to sell products on Ecommerce platforms like Shopify, Amazon, and WooCommerce.