Is Dropshipping Still Worth It & Profitable In 2023?
The year 2023 is almost here and plenty of online resellers are asking themselves: Is dropshipping still worth it? This question pops up all the time, but fortunately, there's a short and sweet answer: Yes, definitely!
It seems like every year there's a wave of articles and blog posts claiming that dropshipping is dead. However, the underlying strengths and incredible benefits of the dropshipping model make it unlikely that it will ever truly fail.
If you make sure that your store is profitable and you give consumers what they want, then you can keep going strong in 2023 and beyond – there's plenty of money to be made!
To make it easier for you to navigate, you can skip around to the following sections:
Dropshipping: A Quick Refresher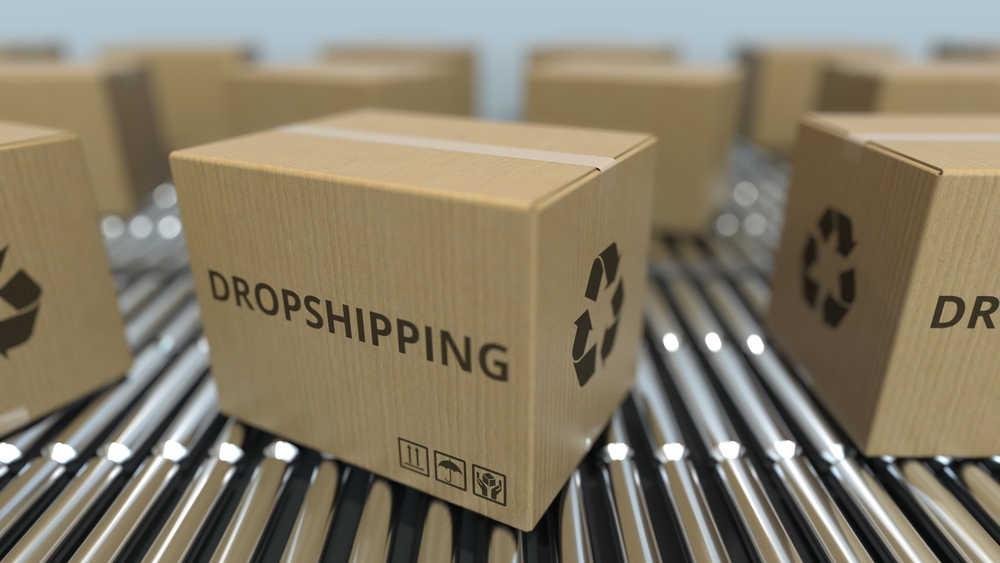 In the world of online retail, dropshipping is unique. Compared to other retail models, it's exceptionally easy, convenient, inexpensive, and low-risk. Why is that? What makes dropshipping special?
It all comes down to the inventory – who manages it, who doesn't. With a conventional retail store, either online or as a brick-and-mortar establishment, the retailer orders products in bulk and then stores them until they've sold. If it's an Ecommerce store, they also have to pull, pack, and ship the product.
This can get real expensive real fast. You have to pay close attention to inventory management and you do run the risk of overestimating a product's potential demand and ordering too much of it. If this happens, then you've got an unsold surplus on your hands and you're stuck with the bill.
Dropshipping is different. The seller does not handle the inventory – instead, your dropshipping supplier is responsible for storing, packing, and shipping all products to the end consumer on your behalf. This makes the whole enterprise less risky: you only have to order products from your supplier when customers order products from you.
This is where dropshipping gains the upper hand over other retail models. This is also what makes it so attractive for independent entrepreneurs, either as their full-time gig or if they're just looking for a side hustle.
For those of you who are visual learners, let's also take a look at a handy graphic to see the dropshipping process in action:

It's pretty simple! The trick is just finding the right dropshipping supplier and then choosing the types of products that consumers are looking to buy.
GreenDropShip is a US-based dropshipping supplier with over 20,000 natural and organic products. We carry groceries, home goods, baby products, hair care, skincare, essential oils, and vitamins and supplements.
With such a wide selection of items, you can take advantage of all the growing dropshipping trends in 2023!
Plus, we offer a Shopify dropshipping app that makes it easier than ever to run your store. You can automate your operations and add any of our premium, specialty, or gourmet products with just a single click.
Why Is Dropshipping Such A Popular Retail Model?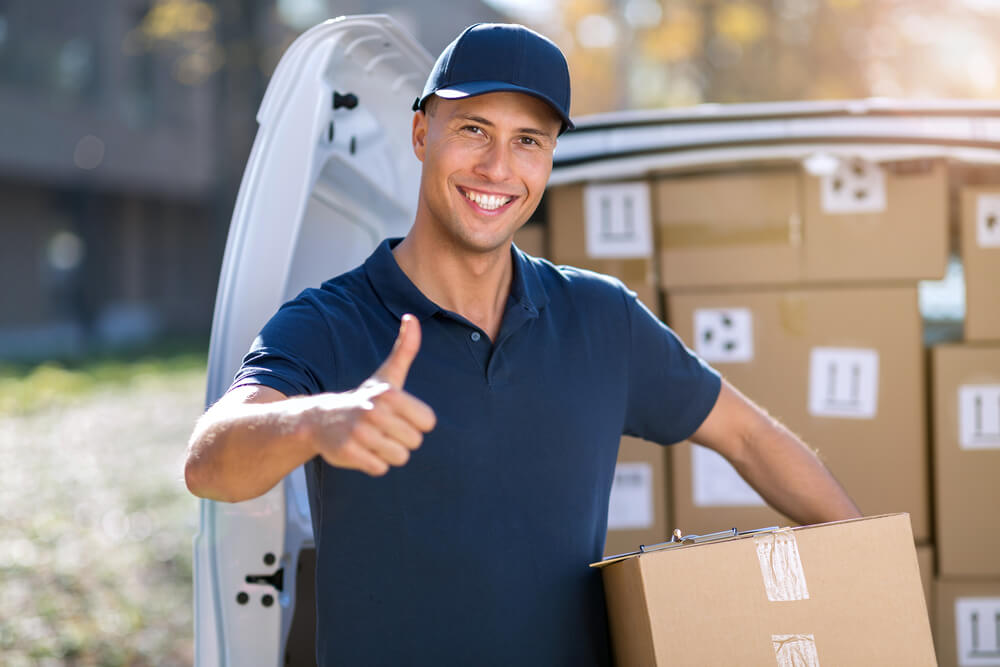 When it comes to Ecommerce, the dropshipping business model has a ton of benefits, including:
It Can Be Super Profitable!
Dropshipping is a profitable business model that can be started on a small budget. This type of business model can be effective for businesses without the necessary capital to purchase warehouse space and inventory.
It is also ideal for businesses that are trying to gauge the demand for a product before investing in it. Additionally, dropshipping has the benefit of avoiding issues such as overstocking, warehouse damage, and natural disasters.
RELATED ARTICLE: What Is Dropshipping? A Complete Guide
The key to success is to find a winning product. Remember that the profitability of a dropshipping product depends on its sales margin. Generally, you should aim to get at least 50% profit per product. That means that a product with $5 in production and marketing costs should have a retail price of $15 or more to earn a profit.
RELATED ARTICLE: Dropshipping Profit Margins: How To Price Your Products
It is also important to keep your eye on your competition. Knowing what your competitors are doing will help you identify new trends and meet demand at the right time.
With the growth of mobile technology, many companies are leveraging analytics tools to monitor customer behavior and determine what products are selling the most. They use these insights to target their advertising and optimize the dropshipping process.
These innovations are making it easier for dropshipping businesses to make profits. Once this is achieved, they can focus on increasing their customer experience and marketing efforts.
Dropshipping has become an increasingly popular and efficient way to enter the Ecommerce business. By letting a third-party supplier or wholesaler fulfill orders, a retailer does not have to store the products themselves.
Instead, the retailer works as an intermediary between the customer and the third-party supplier. They pay the supplier for the product and the logistics, and they make a profit on the difference.
Dropshipping Costs Are Low
When you decide to sell on the dropshipping marketplace, you must consider the costs involved. One of the most important costs is the markup, which is simply the amount of money that you mark up your products.
Generally, the recommended markup is 4X, which means you should price your products at four times what you can source them for. This way, you will be able to recover a quarter of the cost of your product and use the other half to cover your marketing and reinvest in your business.
RELATED ARTICLE: How To Dropship: Build A Profitable Ecommerce Store
In addition to the product cost, you will also have to invest in advertising and customer acquisition. Depending on what you want to sell, you may need to have your own online shop, and you'll have to pay monthly subscription fees or sales commissions. Also, you'll need to set a price for each product listed in your store.
The costs of dropshipping are relatively minimal, compared to the high costs of running a brick-and-mortar retail business. The traditional retail model requires a substantial investment in labor, space, and product inventory.
The costs of dropshipping are much lower, as you don't have to buy products upfront or handle customer returns. However, you may also be faced with high competition. Your product may not be different from that of other sellers, which can make it hard to differentiate yourself from the competition.
Dropshipping is not a new model, but it's becoming more popular. In the last few years, almost every other startup business has chosen to use it. This trend is partly due to its low start-up costs, with little risk and no need to maintain physical inventory.
Pay Attention To Laws & Regulations!
When you dropship products, you need to know what your rights are. You must ensure that you are not violating any intellectual property rights, including copyright and trademarks.
Copyright protects creative works and trademarks protect distinctive designs. For example, sports teams have trademarks, as do celebrities and cartoon characters.
You may need to acquire a business license to operate legally, depending on your needs. Even if you don't need one right away, getting one will help reduce your liability if anything goes wrong. It will also help you avoid certain liabilities, such as taxes.
RELATED ARTICLE: Do You Need A Business License to Sell on Shopify?
There are many benefits to getting licensed as a legitimate business. In addition to giving you credibility, it can also open up more business opportunities and government support. Some countries even have programs designed to help small businesses succeed.
For example, Amazon dropshipping is legal in many jurisdictions, and a large percentage of the company's sales are made through this method.
When using a dropshipping business, you should read the fine print carefully. Some programs are exclusive to the seller's website. It's always best to contact the merchant first to learn about their dropshipping policies. You should also review their Terms and Conditions page to ensure that they are in compliance with all applicable laws.
RELATED ARTICLE: Is Dropshipping Legal in 2023? What To Avoid
Dropshipping is a legal practice in many countries, including France. Unlike traditional retail, there are no inventory costs. As such, dropshipping is a lucrative business that can help you avoid inventory management and increase your revenues.
Is Dropshipping Worth It In 2023? The Facts & Figures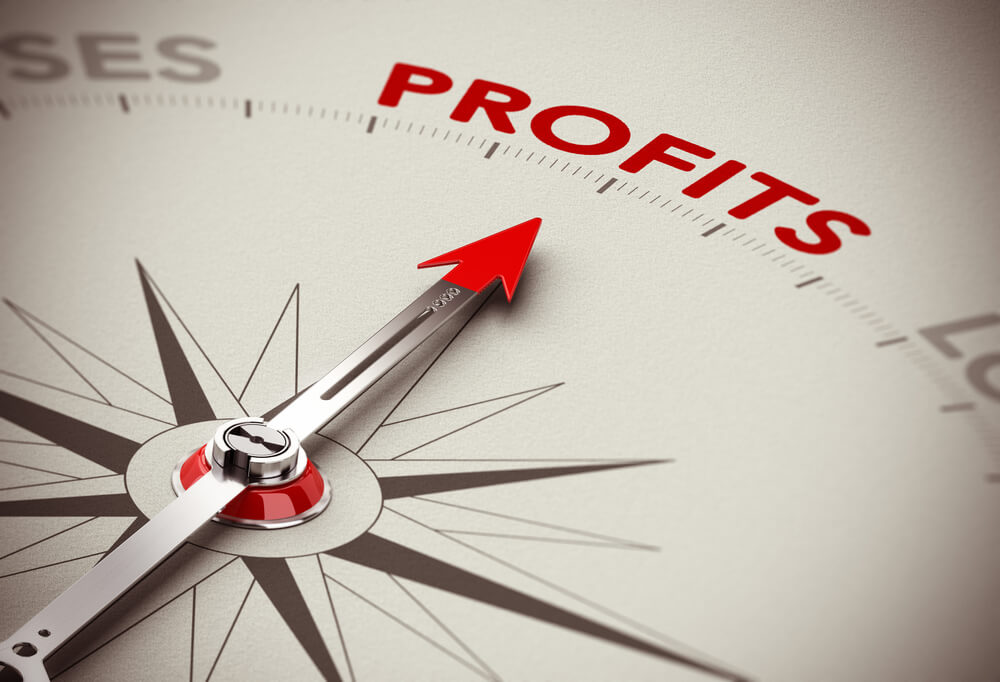 We've established that dropshipping is easy, low-risk, and inexpensive. Now you may be asking yourself the million-dollar question: Is dropshipping worth it? Especially in 2023?
The short answer is, "Yes, definitely!" But let's take a look at the cold, hard figures:
It's important to consider Shopify's overall revenue since it's the most popular dropshipping platform used by online resellers (followed by Oberlo and then Spocket). According to a Statista report, in 2021 Shopify dropshipped 1.9 million products while Oberlo dropshipped only about 33,000.
That being said, Shopify's performance in 2021 was very impressive: the Q1 revenue was $989 million, a 110.35% increase year-over-year. Plus, the Q3 revenue was $1.13 billion, up 46% year over year.
In 2022, it was equally impressive. The Q3 Shopify revenue for 2022 was $1.4 billion, an increase of 22% compared to the previous year. Plus, the total revenue CAGR for Shopify on a three-year basis (ending in 2022) was an impressive 52%.
Let's look at a graph from this 2019 study that shows this overall trend of strong and sustained growth in the dropshipping market: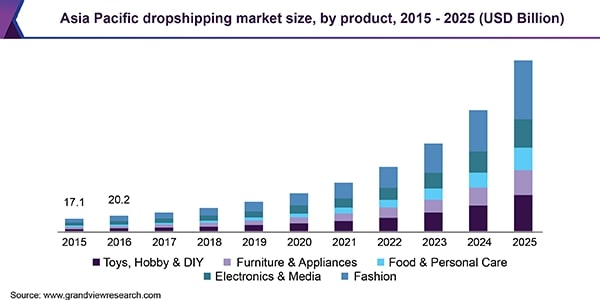 As you can see, these are some impressive statistics. The explosive growth and robust sales are largely fueled by consumers increasingly preferring to buy their products online – it's a worldwide trend and it shows no signs of slowing down any time soon.
In other words, the growing demand for dropshipping services is driven by the overall growth of global Ecommerce. For example, there were 2.05 billion online buyers in 2020 and 2.14 billion online buyers in 2021. Part of this incredible growth is probably driven by the continuing COVID-19 pandemic as well.
Search Interest In Dropshipping Is Also Increasing
There's more than one way to gauge the health of the dropshipping market. Google Trends is an ultra-valuable tool that's usually used to identify profitable niches, products, or brands. Today, however, we're going to use it to examine dropshipping itself.
Google Trends plots search interest on a relative scale between 0 and 100. The numbers you see on the right are not raw searches – instead, it's the relative number of searches for a given term. So, if the score is 50 in 2010 and 100 in 2023, then it's been searched twice as many times in 2023.
RELATED ARTICLE: How To Use Google Trends For Dropshipping
Let's start with a simple graph: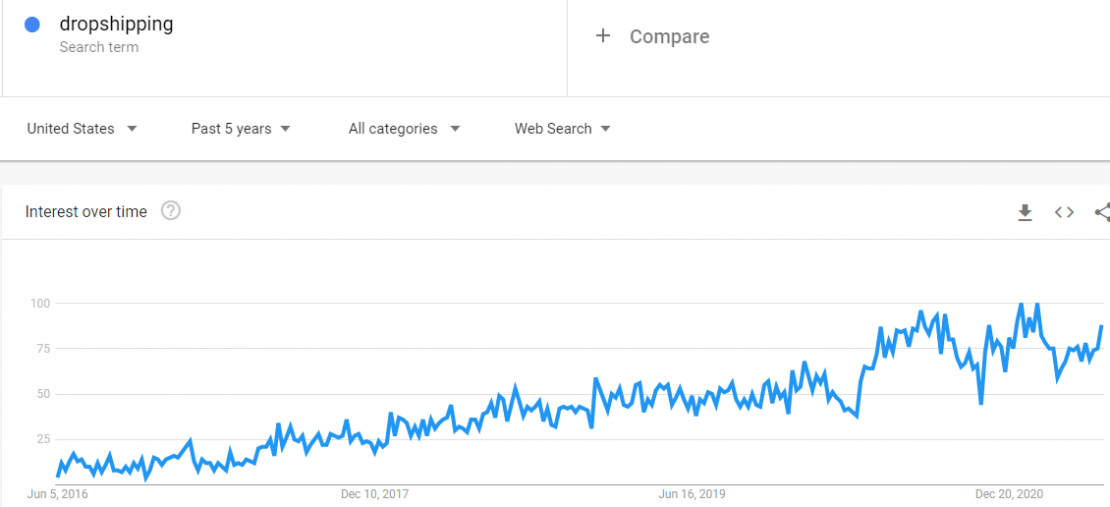 You can see it plain as day: the search interest for "dropshipping" has shown steady and strong growth since 2016. Of course, there are some peaks and valleys, the overall trend is undoubtedly upward – as we enter 2023, it's roughly 4 times greater than in 2016.
Let's take a look at some more data: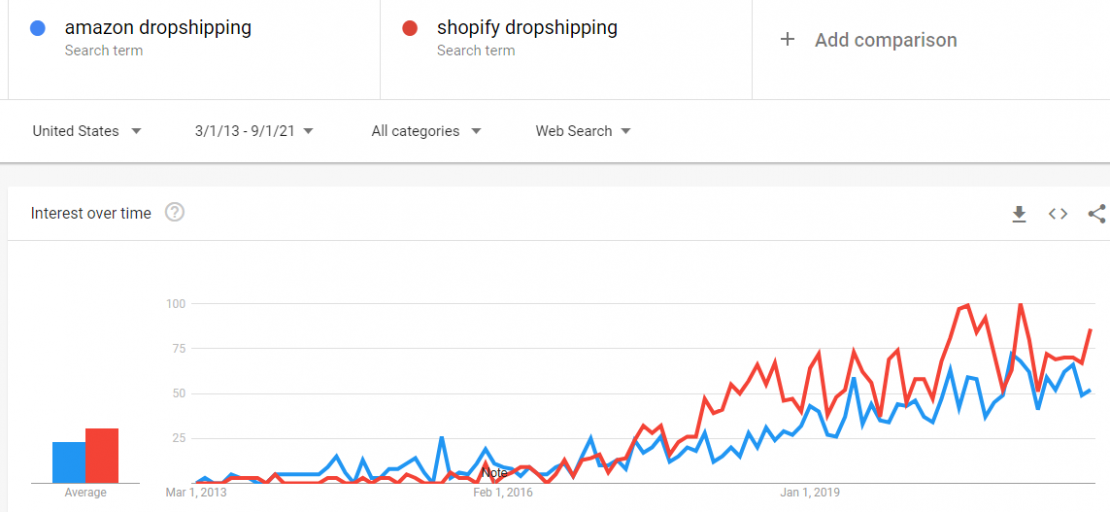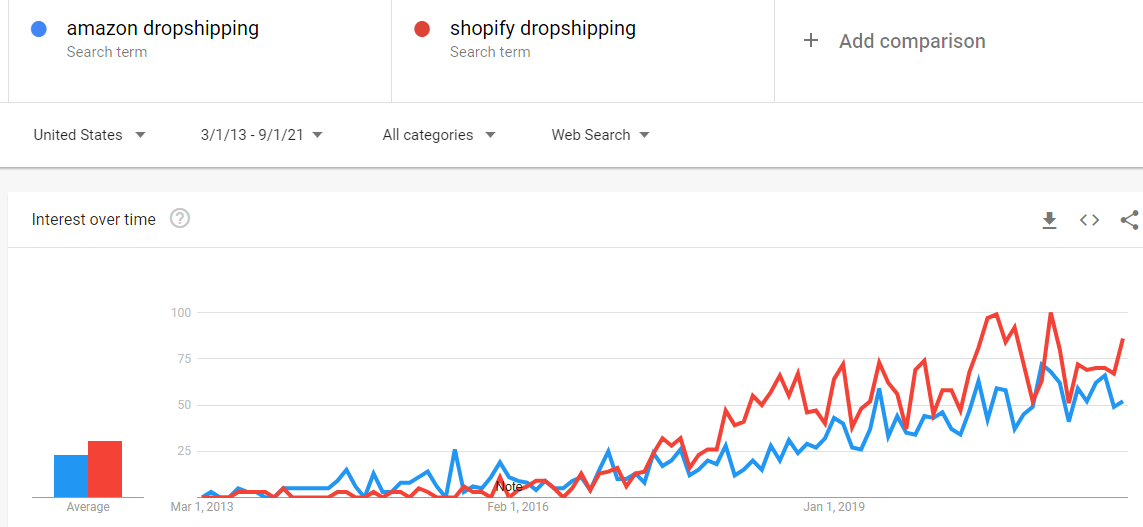 If you're interested in Amazon dropshipping or Shopify dropshipping, then you can see that both have shown steady and strong growth since 2013. There was a peak in mid-2020 due to the COVID-19 lockdowns, but the search interest remains strong.
You might even be surprised to see that "Shopify dropshipping" has consistently stronger search interest than "Amazon dropshipping" – this makes sense, given how popular the platform has become for online resellers using the dropshipping model.
Finally, let's take a look at one more graph: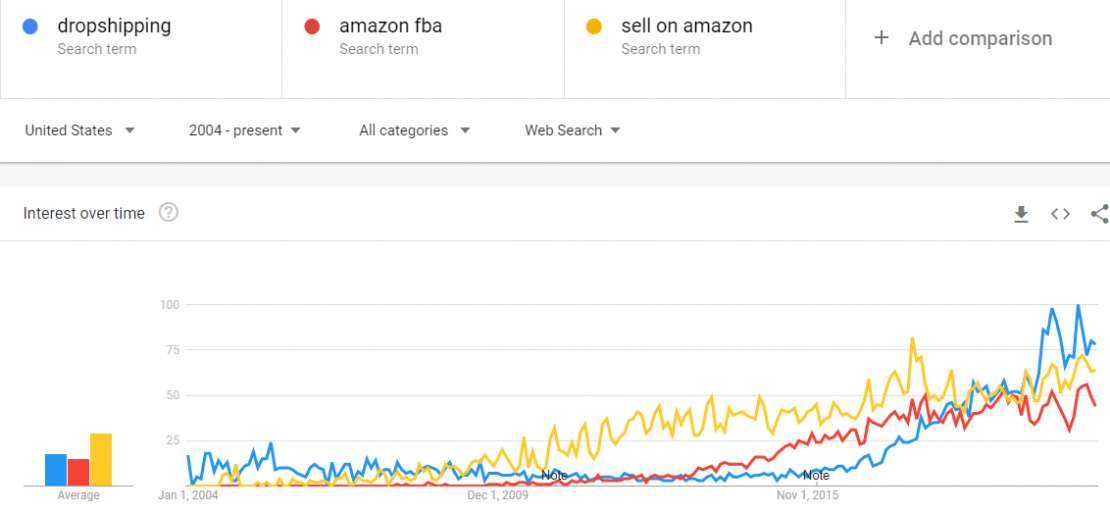 In this graph, we're looking at the search interest for "dropshipping" versus two related but distinct retail models.
The search term "amazon fba" relates to Fulfillment By Amazon, which is similar to dropshipping except that Amazon deals with storing, packing, and shipping your products.
"Sell on amazon" likely refers to third-party sellers using the platform as a conventional Ecommerce marketplace.
You can see that dropshipping lagged behind both for many years, but has shown explosive growth since early 2016. It now easily surpasses each of them, at times even having double the search interest.
What Are Some Challenges That Online Resellers May Face In 2023?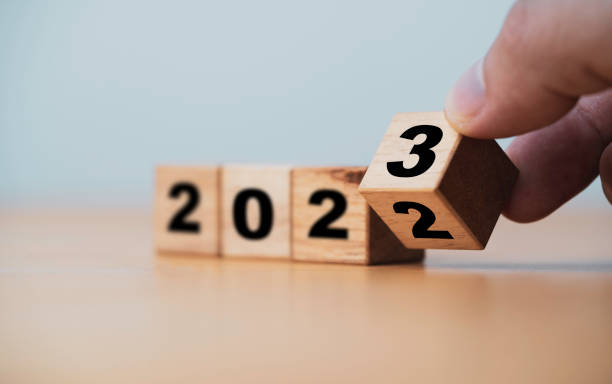 Although there are a variety of challenges that online resellers may face in 2023, dropshipping is still worth it! You can still turn a profit and run a viable business, all from the comfort of your own home.
Let's take a moment to look over some of these challenges:
I) Is there too much competition?
If you're wondering about the ongoing profitability of dropshipping, then you're probably asking yourself: Is there too much competition? The short answer is: No, definitely not. Remember, the Ecommerce market continues to grow so more online resellers will have to meet that growing demand.
However, there is another relevant question you may be asking yourself: How do I get a leg up in a crowded marketplace?
We all know that the low operation and startup costs for dropshipping – as well as the low overall risk – attract a lot of online resellers to this particular business model. As a result, you have to find ways to gain an advantage over your competitors.
There are two basic ways you can do this:
1) Choose the right dropshipping niche
2) Do some good old-fashioned competition research
First and foremost, there's no way any dropshipping store will be able to compete with retail giants like Amazon, Target, or Walmart when it comes to product selection. Rather than trying to do that, it's best to specialize and find a dropshipping niche! But let's pause our discussion about niches for now – we'll cover them in more detail in the next section.
If you want to keep an eye on your competition, you won't know their revenue or sales numbers – unless the other stores knowingly gave them up, which is unlikely to say the least. The next best thing you have is to analyze their keyword rankings and search engine results.
The lo-fi way is to just search various products or niches on Google and see where they rank for various keywords, but this will take a ton of time. Besides, the whole point of dropshipping is that it's easy!
If you want to outmatch your extensive competition by examining their search engine performance, you can use the following tools: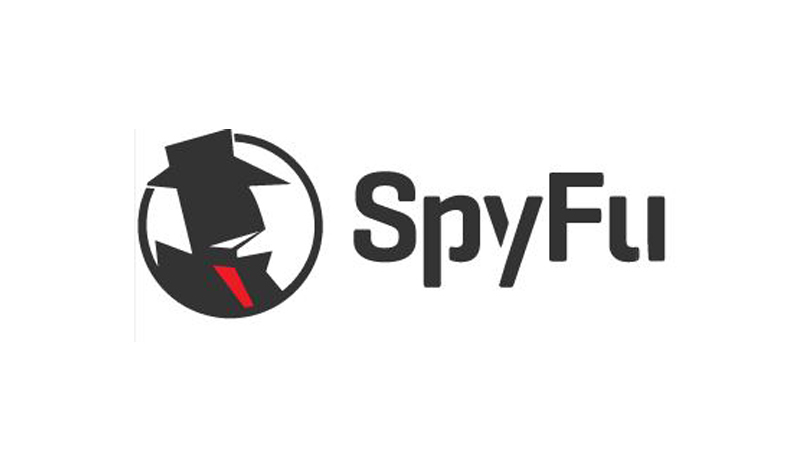 This is a competitor analysis tool that will show other online stores' most profitable keywords by showing who's ranking for which keywords. As a result, you can find out what search terms have less competition and offer them on your site.

This is another tool you can use to analyze your competition by checking a website's global rank. Obviously, the closer an online store is to number 1, the better! The tool determines this ranking using a variety of factors, including bounce rate, top keywords, backlinks, and time on site.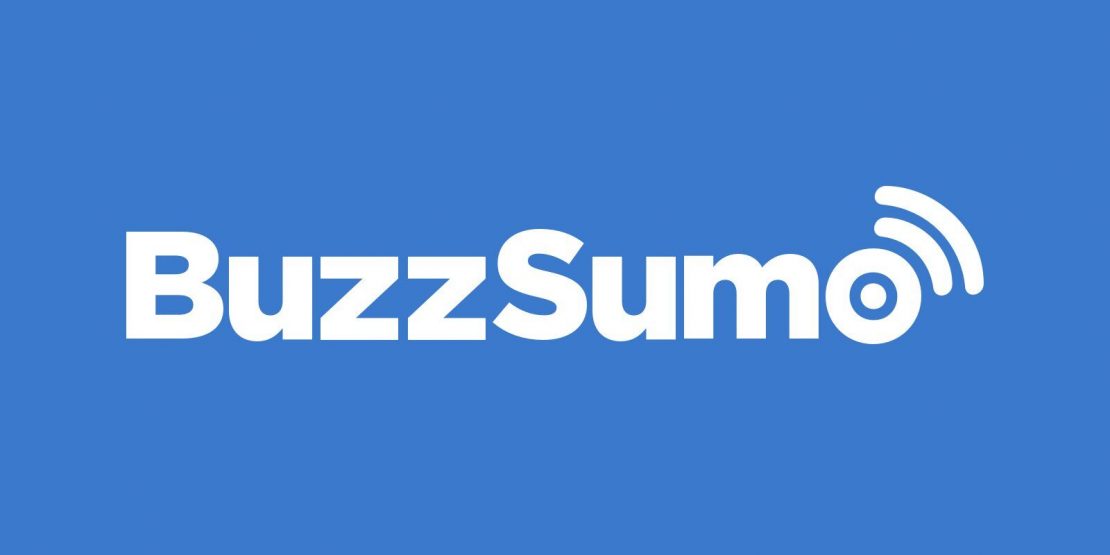 Social media is a big part of optimizing an Ecommerce store, and the more shares you get, the better. This is where this tool comes in: it allows you to track the best-performing content in terms of the number of shares.
It's important to remember that optimized content creation is critical for store success, so you can use this tool to track how well your competitors' content is doing as well as generate new ideas for your own blog and site.
II) Are all the good niches already taken?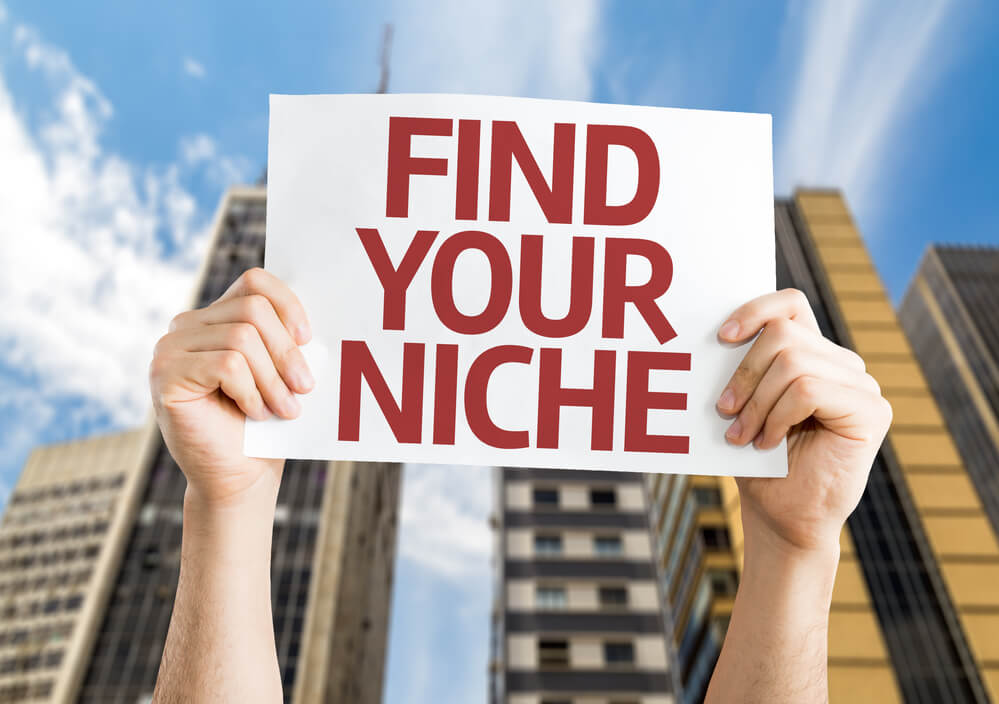 If you're wondering whether dropshipping is still worth it in the year 2023, you may have thought to yourself: All the good niches have already been taken! This is kind of like the argument that there is too much competition. But don't believe it, there are still good niches out there!
There's literally a whole world of goods and items that you can choose to sell, the trick is just to find a dropshipping niche. Because Ecommerce continues to grow and expand, there are new niches that are constantly opening up and developing if you know where to look!
Remember, finding a niche means you'll be focusing on certain products or product types. That way, you can choose a part of the wider retail market with less competition. If you become really skilled at using Google Trends, you might even be able to predict upcoming trends before your competitors.
This is crucial to understand: niches generally form around new trends. In other words, if you can identify an emerging trend, then you can tap into an emerging niche.
In addition to Google Trends, there are various publications and blogs that can help, including Trend Watching, The Cool Hunter, PSFK, Shopping Signals, Trend Hunter, and Cool Material. Finally, you can also use Google Alerts on certain words – like brand or product names – to stay informed.
For example, take a look at this Google Trends graph: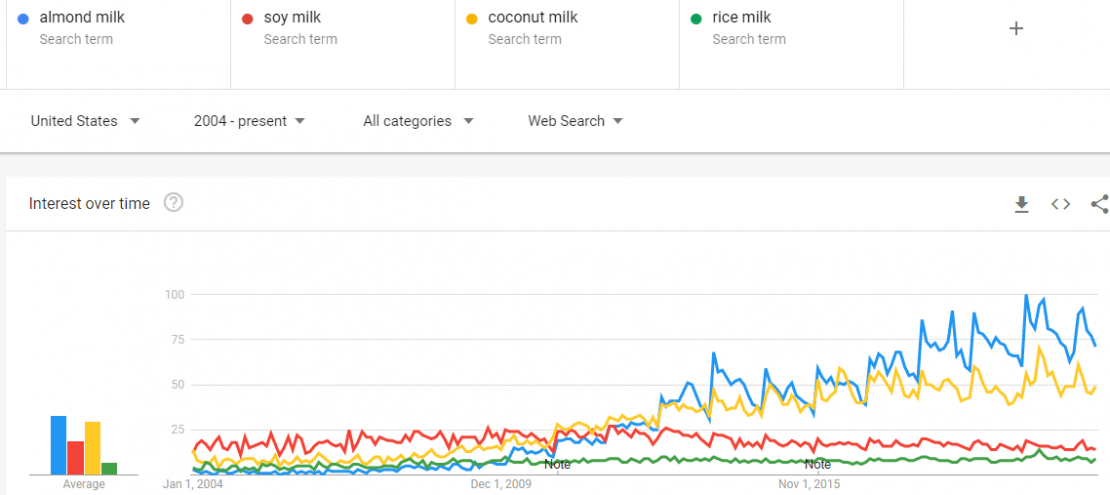 As you can see, "almond milk" and "coconut milk" have enjoyed explosive growth in the past decade. This is part of a larger trend of plant-based and/or healthy foods becoming much higher in demand.
Plus, just because "soy milk" and "rice milk" are lower than "almond milk" and "coconut milk", this doesn't mean that they have low overall demand. Google Trends is a relative graph – they're just lower relative to "almond milk" and "coconut milk". In fact, if you look at the graph carefully, you'll see that their demand has been consistent since 2004, which is itself remarkable.
This can all fall under a "plant-based" niche, which itself could be under a "health food" niche. Let's take a look at one more example: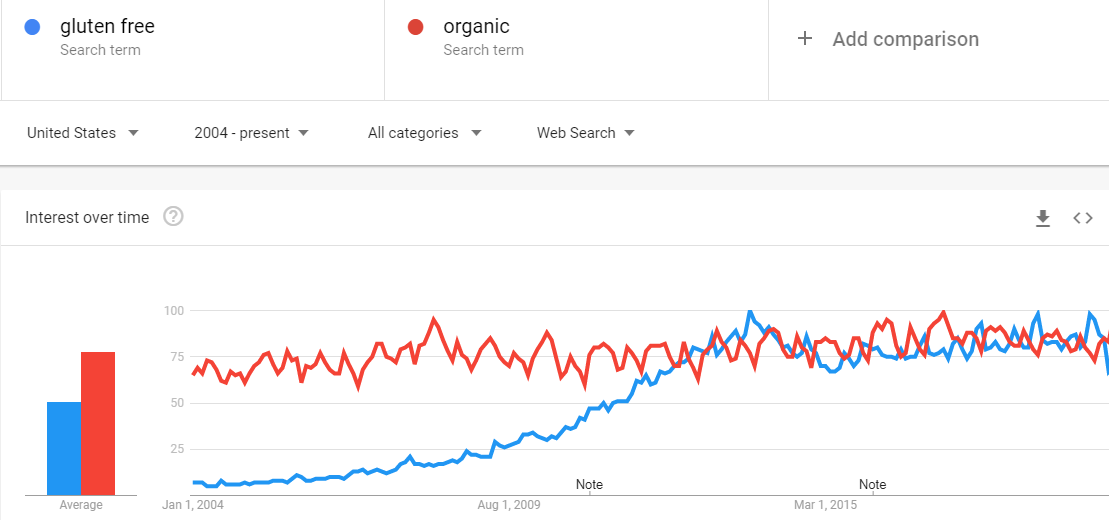 Although these search terms are not explicitly part of the "plant-based" niche, they are related since they would be considered part of the "health food" niche.
As you can see, "organic" has been remarkably consistent while "gluten free" blew through the roof about 7 years ago.
RELATED ARTICLES:
III) Are there any good suppliers willing to work with new dropshipping stores?
Absolutely! Dropshipping is not dead, and neither are good suppliers! You just have to go through the process of finding the right supplier. It may seem tedious, but this step is super important.
Once you have a list of potential suppliers, you can then use this handy list of simple questions to identify the best one for you:
Can they work with a dropshipping store (if they're a wholesale supplier)?
What are their order or membership fees?
Are the service representatives always ready to help?
Do they carry products in a specific niche or market sector?
What is the return/refund policy? What about the warranty policy?
Use this list of questions to quickly and effectively find out all the information you need to make the best choice for your online store. Remember, there are plenty of suppliers out there, some of whom will undoubtedly cater to your specific needs and/or niche.
You should also ask if they integrate with Ecommerce platforms like Shopify, Amazon, or WooCommerce. In some cases, certain suppliers may even offer a Shopify dropshipping app to make it even easier to automate your dropshipping store.
IV) Will the ongoing trade dispute with China affect dropshipping in 2023?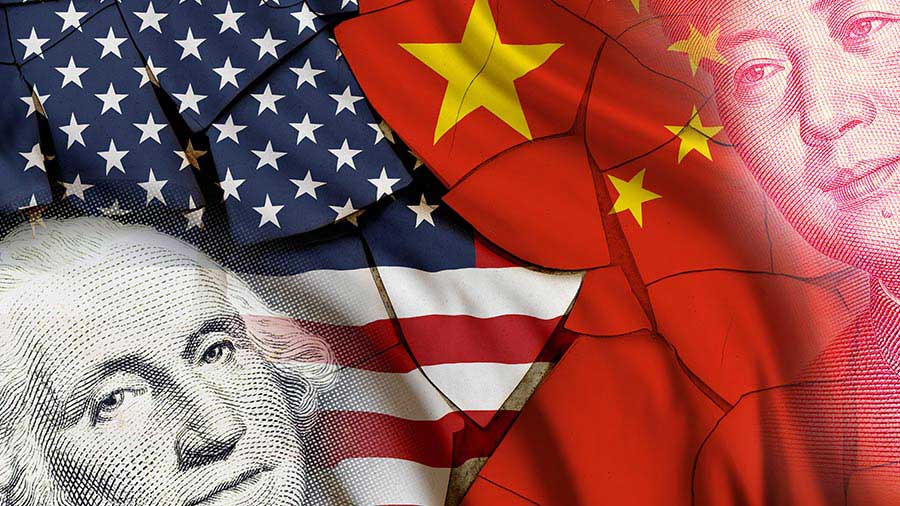 Many people may not even know this, but the "trade dispute" with China is still going on in 2022. It's not referred to as a "trade war" anymore since some of the conditions have softened a little, but it's still an issue for international trade.
However, when it comes to dropshipping in 2023, the short and sweet answer is: No, not generally. It may affect dropshipping stores that deal with highly expensive goods, like electronics, jewelry, or exercise equipment, but stores that specialize in smaller items should not be affected.
Why is that? Currently, the trade dispute conditions usually only affect importers or exporters who deal in large volumes of goods or stores with huge sales. Simply put, the threshold is much too high for any regular dropshipping store. Again, this threshold may be reached for big-ticket items where it's easy to rack up a big online order.
Additionally, don't forget that there are suppliers in both China and the USA. While there are pros and cons for each, going with a North American supplier is generally better because:
There is no language barrier, making it easier to communicate.
Customer service is usually better and more responsive.
The shipping times are considerably shorter.
Product quality is higher and more consistent.
Warranties and return/refund policies in China are usually lacking or nonexistent.
You don't have to worry about the threshold for import.
That's not to say that going with a Chinese supplier is always the inferior option. For example, they can frequently be highly competitive in prices. However, in most cases, it's the US supplier that will provide the best services.
As a result, you should try and find a US-based dropshipping supplier for your store – you'll bypass any issues with the trade dispute (just in case) as well as the regular pitfalls of working with Chinese wholesalers.
V) Are there increased advertising costs on Google & Facebook?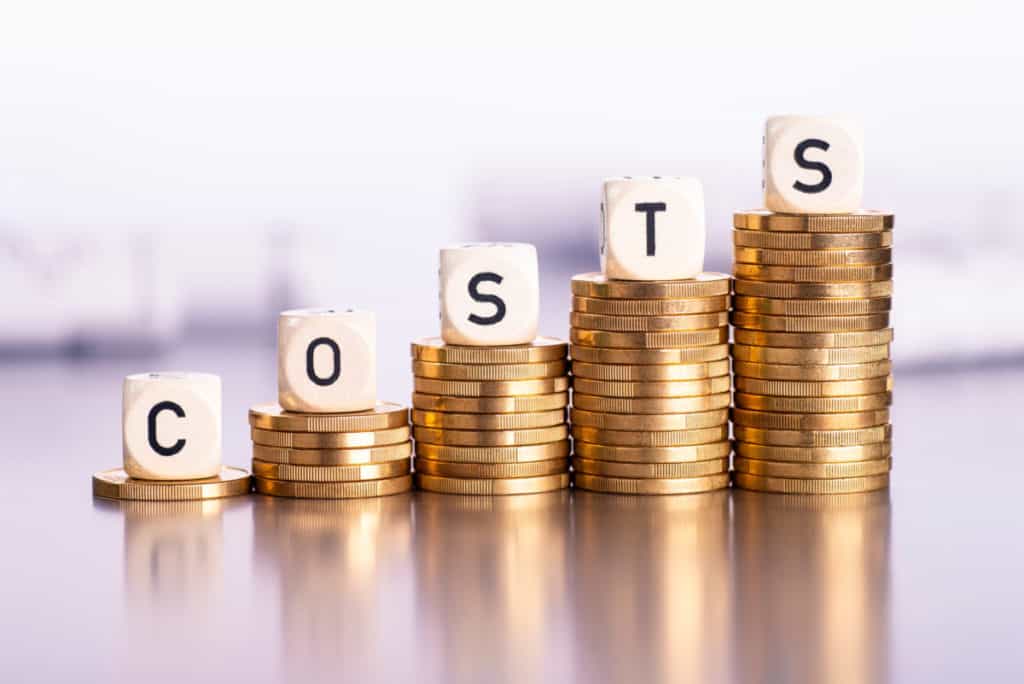 Using Google Ads or Facebook Ads can be critical for the success of your store, and each has its respective pros and cons. But this is a highly complex subject, so let's break the question down as simply as possible: yes, the advertising costs have increased slightly.
However, the return on investment (ROI) of these marketing campaigns is greater than the cost increase.
Let's start with Google Ads first. It's much more difficult to say if there's been a general increase in cost-per-click (CPC) rates because it depends heavily on the industry. For example, the average rate for health and medical is $2.62 while the average rate for legal is $6.75.
Amazingly, the lowest average CPC rate across all industries is Ecommerce: it's only $1.16!
So what does this mean? Well, the average ROI for Google Ads is $8 for every $1 spent. Plus, Google Ads is highly customizable, making it an invaluable tool for getting your name out there!
As for Facebook Ads, let's take a moment to look at the following figures:
The average ad price has increased by 2%.
On the other hand, ad impressions have increased by 34%.
Most Facebook ads cost between $0.50 and $2.00
Across all industries, the average CPC is $1.72.
As you can see, costs have increased slightly, but impressions far outgrew those costs and the CPC average remains low. Plus, as of Q3 2020, there are 10 million active monthly advertisers on the Facebook network with the potential to reach nearly 2 billion users!
RELATED ARTICLE: Your Complete Marketing Guide For Dropshipping.
VI) Is "dropsurfing" a more viable retail model?
If you've been wondering about how profitable dropshipping still is, then you may have heard of dropsurfing. What does this mean? Is this some brand new Ecommerce model that's going to shake online retail to its very core?
Not, exactly. "Dropsurfing" simply means dropshipping while checking and using multiple vendors to find the lowest product prices. In other words, you're "surfing" between vendors. That way you can maximize profits by always finding the best prices.
Let's take a moment to unpack everything.
Truthfully, dropsurfing is a just buzzword that's been manufactured by "marketing gurus". They're using it to entice online resellers to shill out for expensive tutorials and courses that don't contain any substantial information.
You probably recognize these scam courses – they say things like: Use this trick to make a million dollars a month with dropshipping! It's spammy stuff and you should always steer clear of it!
In reality, dropsurfing is just one form of dropshipping that's already being used – and it has its drawbacks!
The biggest one is that it results in higher opportunity costs. Basically, this means that you'll be spending more time trying to monitor and compare these prices. You'll always have to stay on top of constantly shifting price points while collating and analyzing all that information.
Make no mistake, this is time-consuming work! So, rather than devoting so much effort to dropsurfing, you could just continue traditional dropshipping with a well-priced dropshipping supplier and spend your time and effort scaling up your online store.
Plus, it's incredibly difficult to maintain consistent quality in all the products. Of course, you can always surf around between multiple suppliers, but you may not be getting the same quality across the board. Besides, many consumers are willing to pay a premium for higher quality products.
In conclusion, don't believe the hype about dropsurfing – it's not worth it!
VII) Dropshipping versus dropservicing – which is better?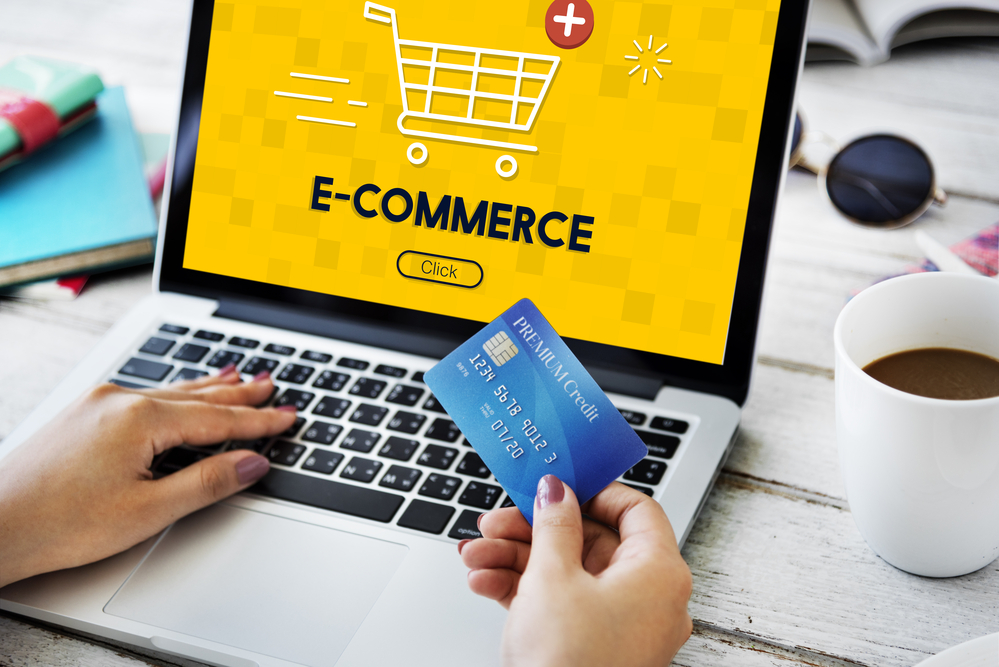 "Dropservicing" became a bit of a hot topic in 2021 and 2022, prompting many online resellers to ask: Is it better than dropshipping?
This question is misleading – neither is better or worse than the other. They're separate retail models, each with its own pros and cons. So what's the difference?
We all know that dropshipping means you sell products and then a supplier stores, packs, and ships them. Dropservicing, on the other hand, means that you sell services to consumers and then outsource the work to other freelancers for less money.
Your profit is then the difference between what you charged the consumer and what you paid the freelancer. You usually have to find these freelancers on sites like Fiverr, Legiit, SEOClerks, or CodeClerks and these services usually include things like:
Logo design and/or animation
SEO services
Web design or development
Video editing
Data entry
Article or blog writing
And so on
Essentially, it really is a different type of business. It requires a different skillset, so it's not really helpful to think of either dropshipping or dropservicing as better or worse than the other – they're just different.
Plus, it has drawbacks, including the fact that you'll be relying on multiple freelancers that may not be reliable or particularly skilled. Additionally, the profit margin is razor-thin and it may take a tremendous amount of time to connect the right freelancer with the right project.
How To Make Your Dropshipping Store More Profitable
How do you make certain that your dropshipping store is still worth it in 2023? You have to make it more profitable! This is totally doable since the dropshipping model allows your store to be 100% scalable as you grow your business and sales.
In this section, we'll go over some basic tips to make your dropshipping store more profitable. However, before we do that, make sure you take a look at the following blog posts to both increase your sales and set your product prices.
Both of these blog posts have everything you need to know about these important topics, and we break it all down for both newcomers and experienced entrepreneurs.
RELATED ARTICLE: How To Increase Dropshipping Sales: Top Tips
That being said, you should also follow these simple steps to make your store more profitable in 2023:
I) Increase traffic to your online store with SEO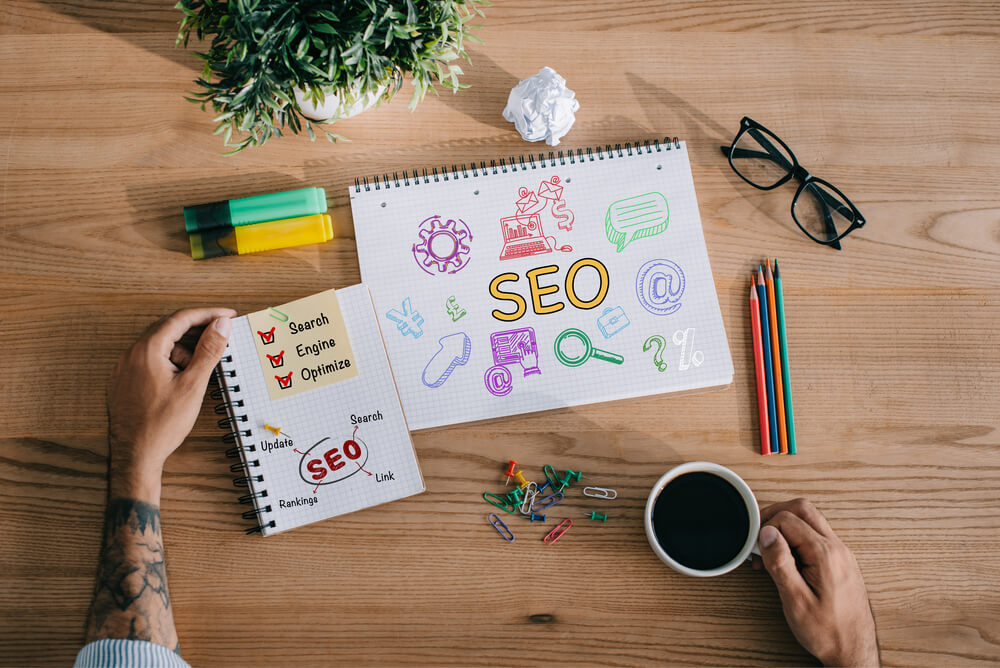 Search engine optimization (SEO) is the practice of using keywords to create content that will be selected by search engines. In other words, your website will rank higher when people search for certain keywords related to your online store.
First and foremost, you have to identify which keywords you're trying to target. For that particular part of the job, the best tool is Google's Keyword Planner. It will give you information on both the keyword as well as related search terms to help you broaden your content.
Plus, it will come into play when you're trying to put together a Google Ads campaign as these tools integrate seamlessly.
Next, you have to create content that is optimized. For a detailed explanation on how to do this, check out this blog post on using SEO for Shopify stores to improve rankings. It's important to note that these SEO strategies can be used for any online store, not just Shopify.
If you're looking for a simplified summary, just make sure you:
Add targeted keywords in your product names.
Have a Meta Title and Meta Description for every page using the targeted keywords.
Create a sitemap and submit it to Google.
Include informative and rich product descriptions with your keywords.
Use alt tags for all product images.
Create content on your site to rank for more keywords and increase traffic.
Get backlinks to your site from other, high-quality sites.
These are the basics of SEO, although there is a lot to the practice and its successful implementation.
II) Use Google Ads & related tools
There are plenty of useful tools to help you create a profitable dropshipping store, including:
Launching ads on Google will help you gain more exposure and get more traffic to your website. It has a comprehensive dashboard where you can compare and contrast multiple campaigns.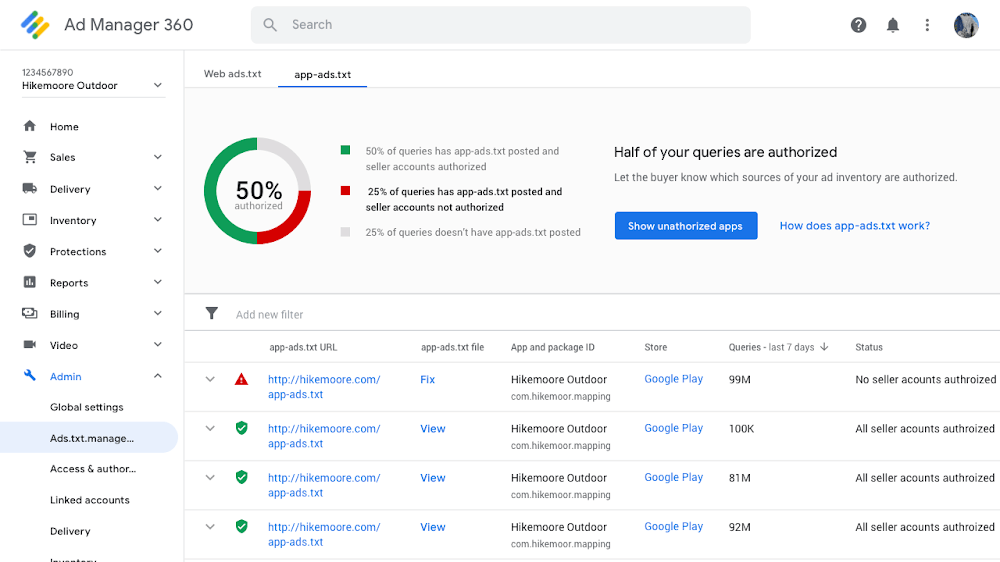 You also have the ability to collate all the necessary and relevant data, including clicks, conversions, cost, and impressions! Using this digital analytics tool will help you determine which ads have the best ROI.
This Shopify app optimizes and simplifies your Google Ads campaign. You can launch various products onto Google ads with just a few clicks, but you can also develop remarketing campaigns to best reach your target audience.
Use this tool to analyze a comprehensive scope of pre-click data in your pay-per-click (PPC) campaigns. You can also determine your average CPC and use it in conjunction with Keyword Planner to identify the right keywords on an ultra-detailed level.
Plus, it will help you identify the most popular ads in your niche as well as your competitors' search and display ads.
III) Use Facebook Ads to target your audience
Like all social media, Facebook gains its value from the users' data. Remember, the more you know about your site visitors, the better. That being said, Facebook has a goldmine of this information that you can use to reach highly specific demographic groups.
You can also easily and effectively customize Facebook Ad campaigns to make sure that your audience outreach is targeted.
Let's take a look at a screenshot for the Facebook Ads Manager platform: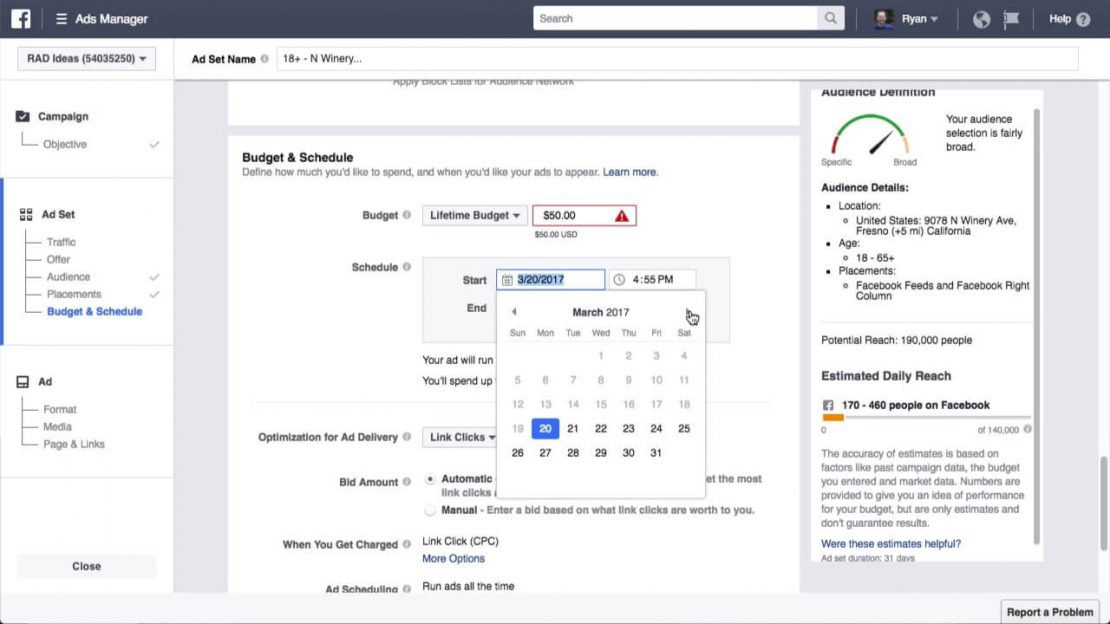 As you can see under Budget & Schedule, you can choose a budget right when you get started! This will allow you to stay within the confines of however much you're willing to spend.
Plus, you can choose from multiple media formats and various placements, including Facebook, Instagram, Audience Network, or Messenger – let's not forget that Facebook owns these other social media platforms.
In fact, Instagram was a huge get for the company, and being able to send Facebook Ads to this potential audience can make a huge difference.
Additionally, follow these tips when designing your Facebook Ads campaign:
Use video. Consumers will be more highly engaged and they convey more information.
Build a contact list. Collect info and use Facebook Custom Audiences to send targeted ads to your contacts.
Use Facebook Pixel. This tool allows you to accurately track and collate all the relevant data.
IV) Build a user-friendly website
Never underestimate the power of a well-designed website! You want to make sure that your visitors have a good user experience (also referred to as UX), but how do you make that happen?
Let's take a look at some basic tips for building a good dropshipping store:
Make sure your products are easy to find.
Include a checkout process that is easy, secure, and convenient.
Use design that is clear and engaging – avoid any clutter or clashing colors.
Make all your shipping rates easy to see and clear.
Write informative product descriptions.
Include outbound links to all your social media accounts.
Incorporate storytelling – consumers want to know who you are!
Include user reviews or customer testimonials to build trust.
You can also check out the following blog post: The Ultimate Guide to Shopify Website Design. Although it focuses on Shopify stores, the information and design principles can really be applied to any dropshipping store.
Choose GreenDropShip As Your Supplier In 2023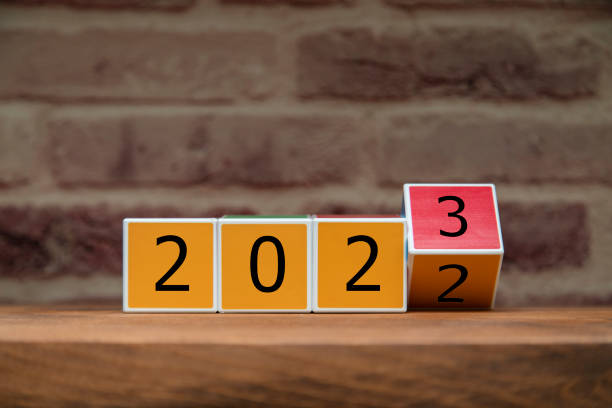 Dropshipping is still worth it and – from the looks of things – will be for quite a while. Just make sure that you choose the right niche, pick a good dropshipping supplier, optimize your website, and provide an excellent UX for your customers.
GreenDropShip is a US-based wholesaler and dropshipping supplier with thousands of natural and organic products, most of which are made in the USA. This includes categories like:
General health and wellness products
Vegetarian, vegan, and plant-based groceries
Various groceries, including beans and rice products
Energy drinks, juice, bottled water, yerba mate, natural soda, coffee, and tea
Organic sugar, honey, and natural sweeteners like Stevia or monkfruit
Dairy and plant-based milk, including soy, oat, almond, and rice milk
All kinds of snacks, including gourmet chocolate, candy, and exotic snacks
Baking ingredients, including flavor extracts and different types of flour
Cooking ingredients, including seasoning, herbs, and spices
Sauces, marinades, and dressings
Vitamins, supplements, minerals, and digestive aids
Meal replacements, protein powders, and weight loss products
Skincare, haircare, and beauty products
Baby products, including food and diapers
Home goods like detergents, soaps, and cleaning supplies
Pet food, treats, and supplements
Essential oils and aromatherapy diffusers
If you have a dropshipping store, you can become a member and we store, pack, and ship the products to your customers. With multiple warehouses throughout the country, our shipping times are always short and your customers get their products faster.
We also offer a dropshipping app for Shopify that makes it easier than ever to add all these products to your store. If you'd rather not use the app, we offer product feeds so you can still use our basic dropshipping platform to sell products on Shopify.